These 12 Italian summer pasta recipes are all vegetarian or vegan except for a couple that call for Parmigiano or pecorino. However, just use a vegetarian or vegan cheese and you're good to go! Most of these pasta dishes are also easy and quick to make. So, perfect for warm days when you don't want to spend much time in the kitchen!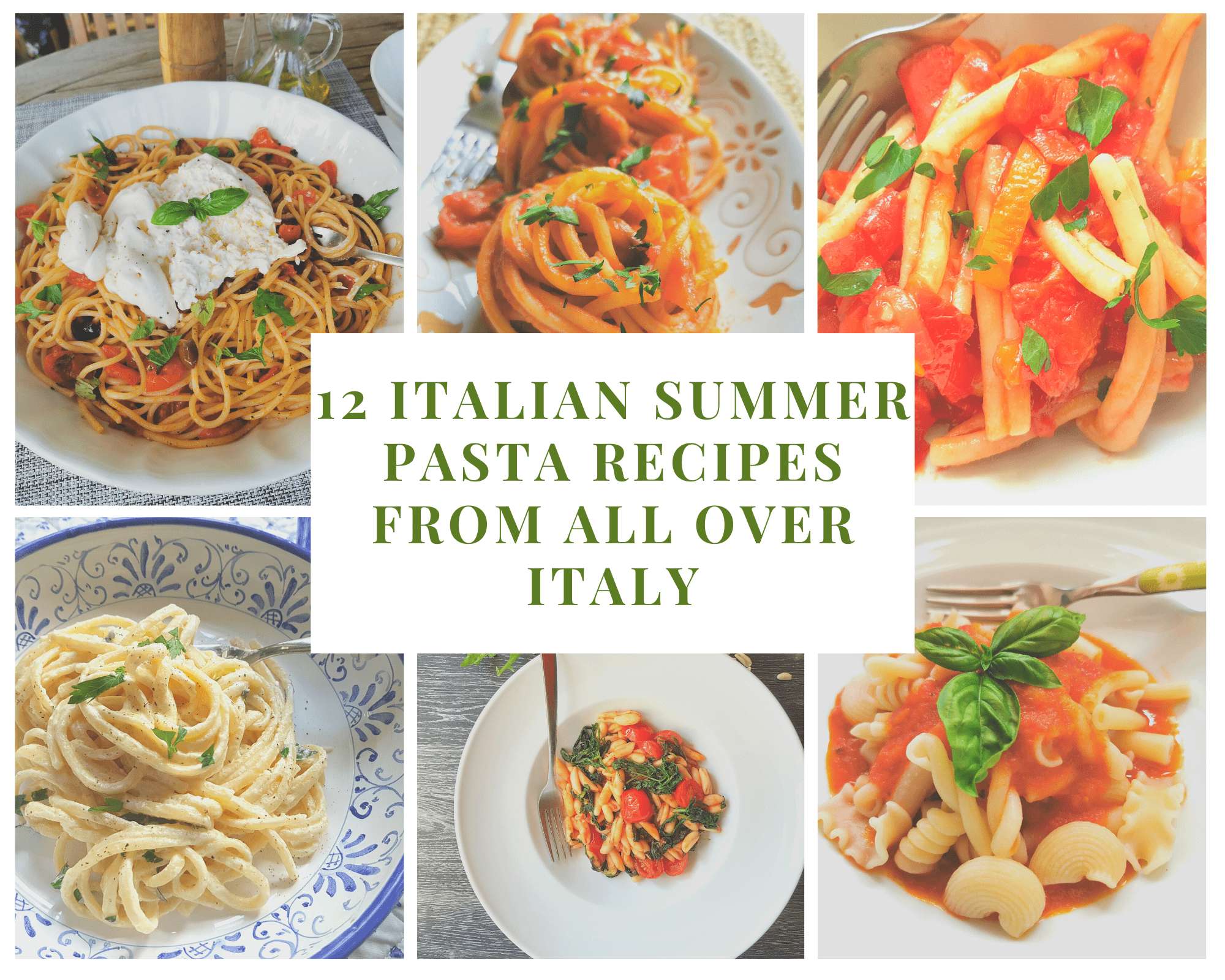 Italians love their pasta and eat it all year round. However, summer is the season for pasta salads and lighter recipes with lots of summer veggies and lots of tomatoes. In fact, many Italians still follow the tradition of making their own passata and tomato sauces in summer. They then preserve the extra for the winter months. Another summer food activity is making pesto, particularly basil pesto. Homemade pesto and fresh basil are both used in abundance in summer pasta dishes.
12 Italian summer pasta recipes
Just click the recipe name to go to the recipe post. If you're looking for light warm weather authentic Italian pasta recipes, I'm sure you'll love this collection!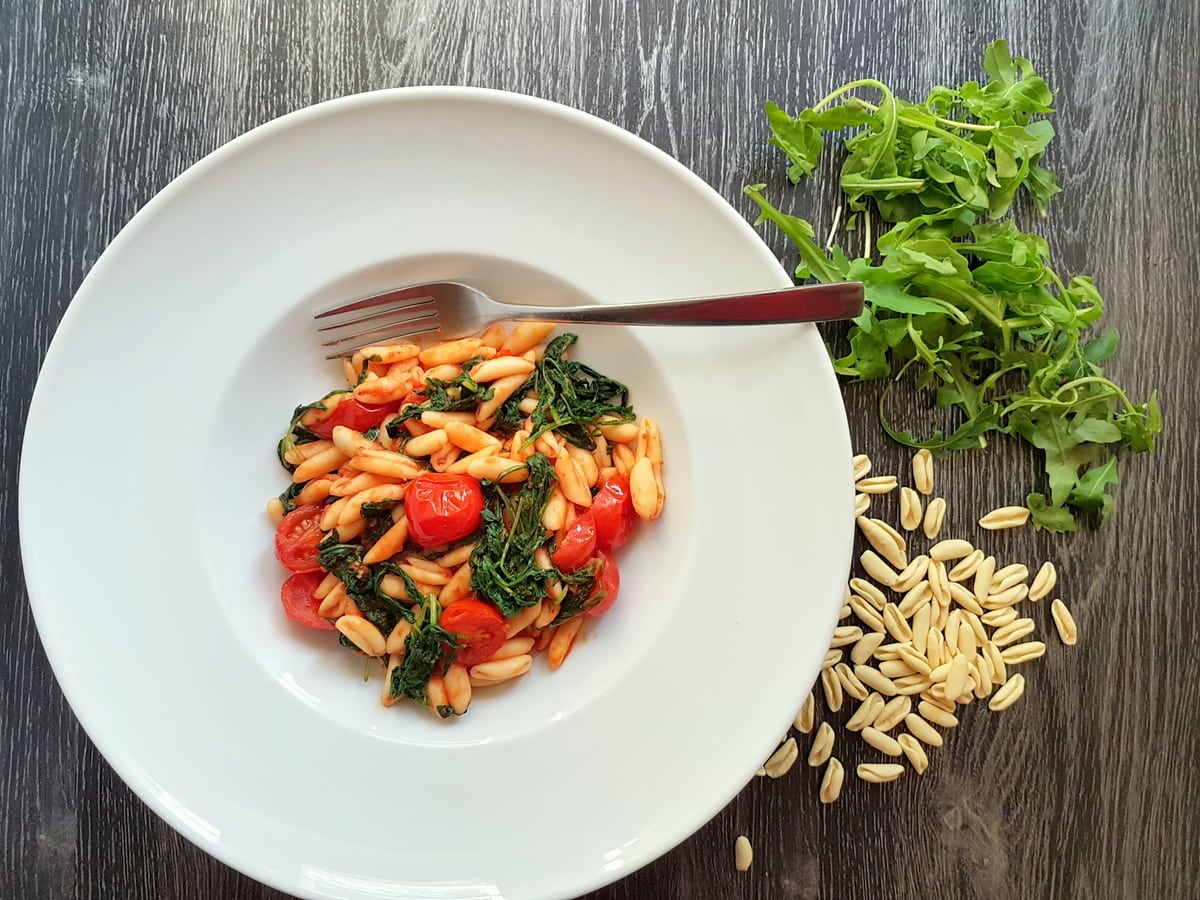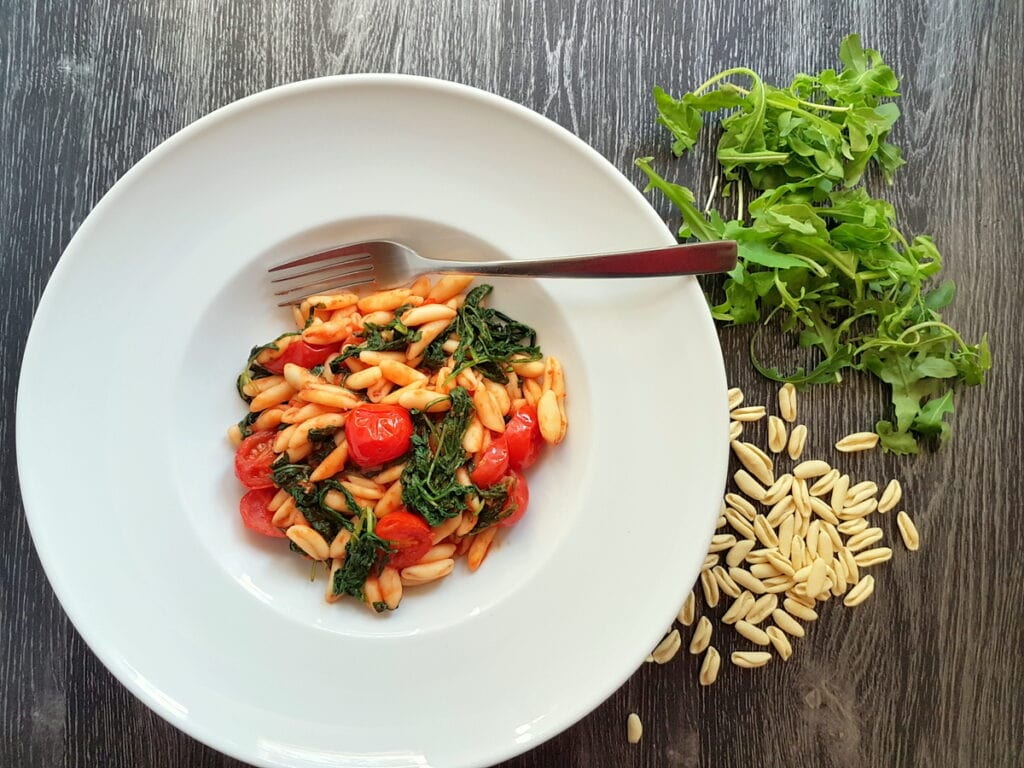 This healthy and delicious vegetarian cavatelli pasta with rocket is a traditional dish from Puglia in Southern Italy. Typical of the Southern Italian culinary tradition, it's one of many simple recipes made with just a few fresh seasonal local ingredients.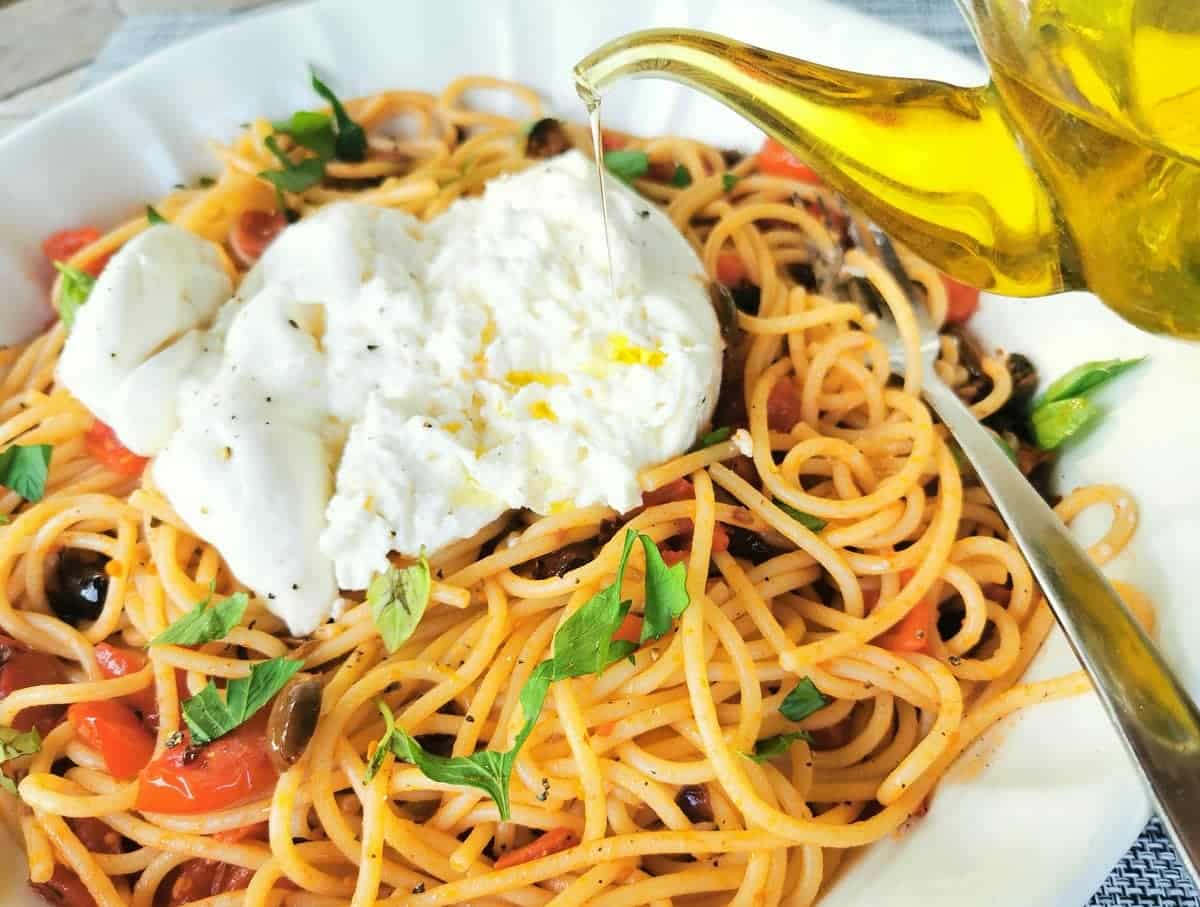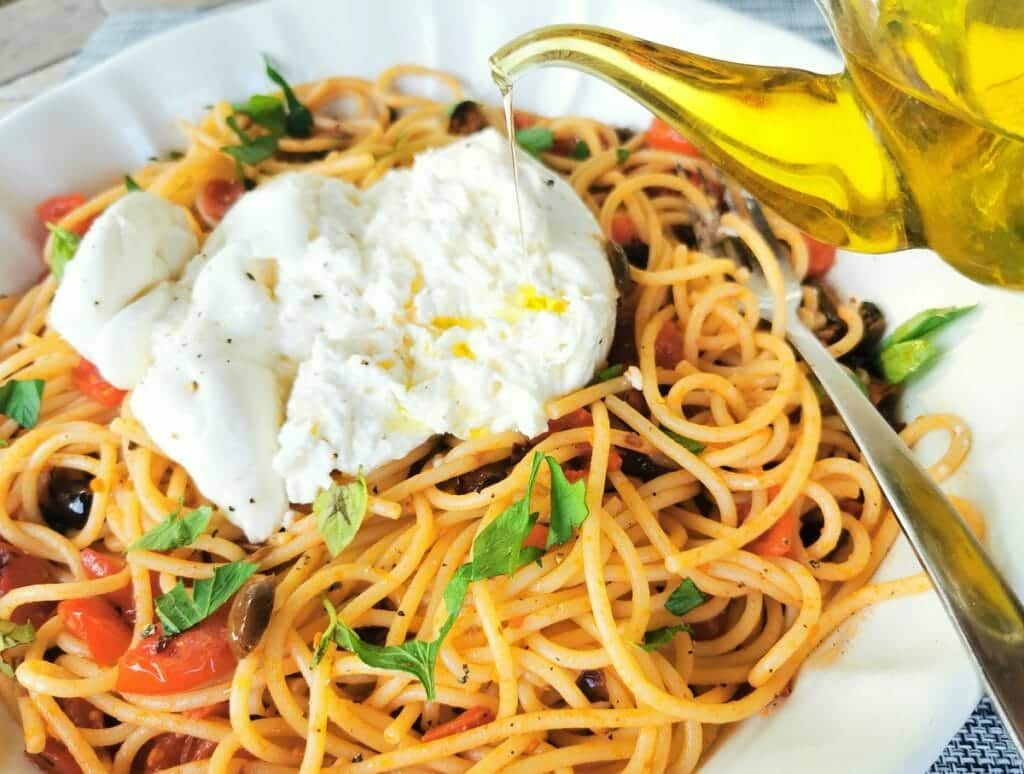 Spaghetti alla checca is a simple but tasty authentic vegetarian Italian pasta recipe from Rome. It's fresh and easy to make and perfect for warm weather meals! I served mine with burrata. You can also use a fresh mozzarella. But, you can make it without the cheese for a vegan or dairy-free version.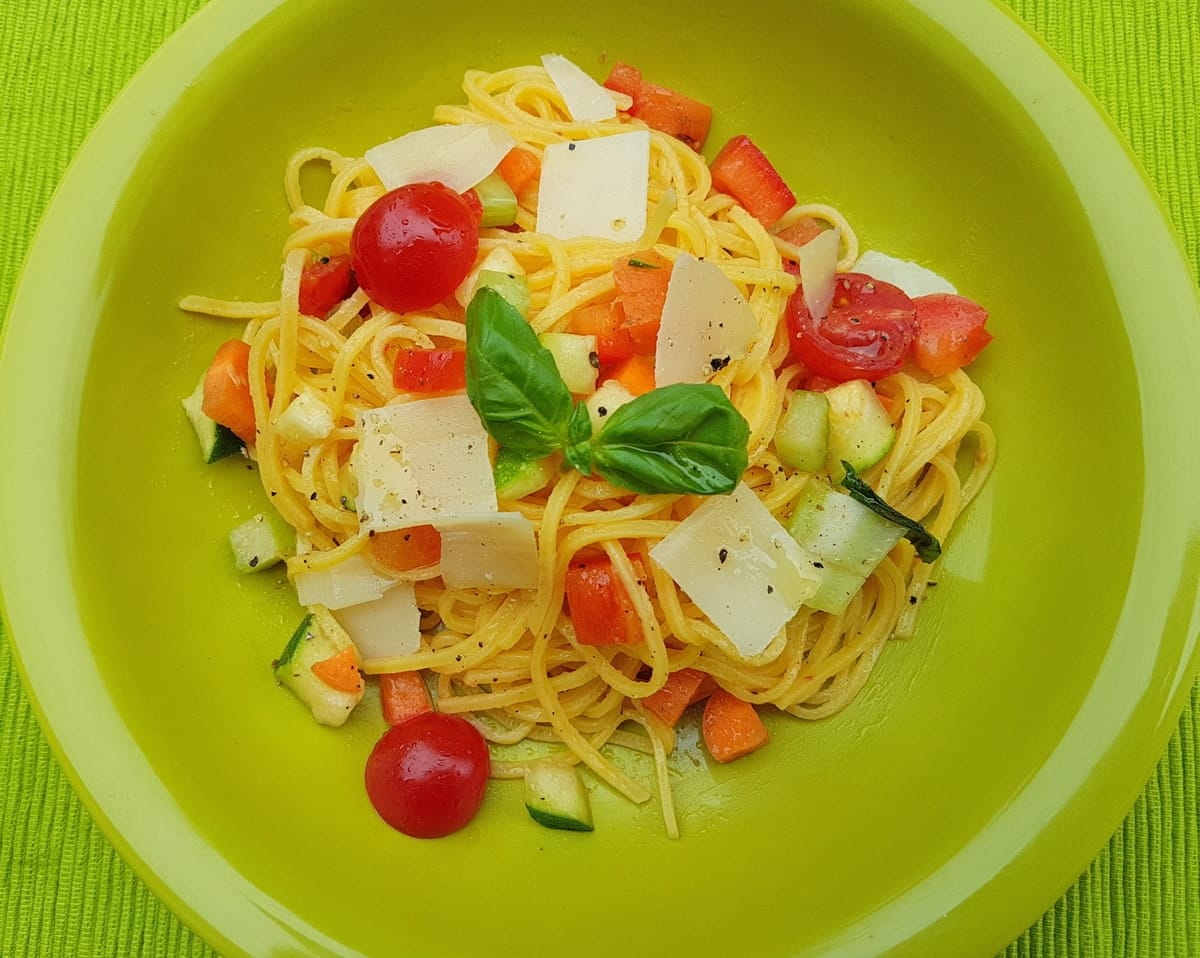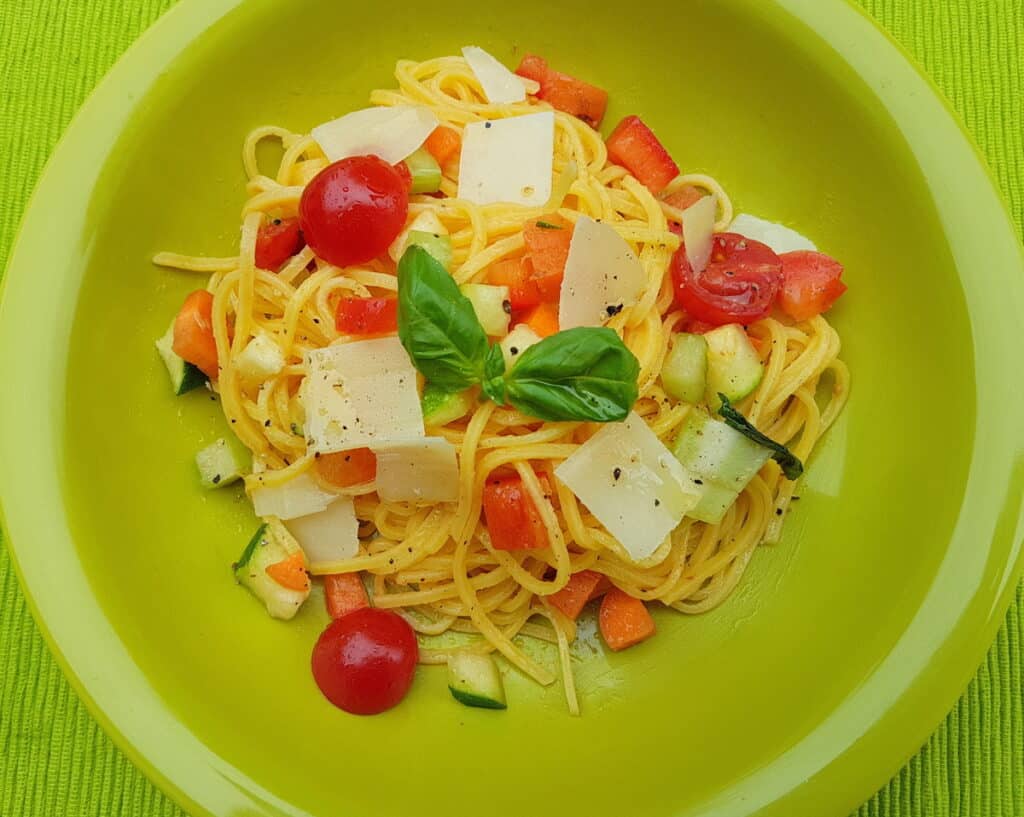 This light summer tagliolini pasta recipe from a restaurant in Bologna is tasty, fresh and healthy. It has a no-cook sauce, meaning all you have to cook is the pasta. The vegetables are just chopped and marinated in olive oil. A perfect garden-to-table recipe for summer and easy weeknight meals.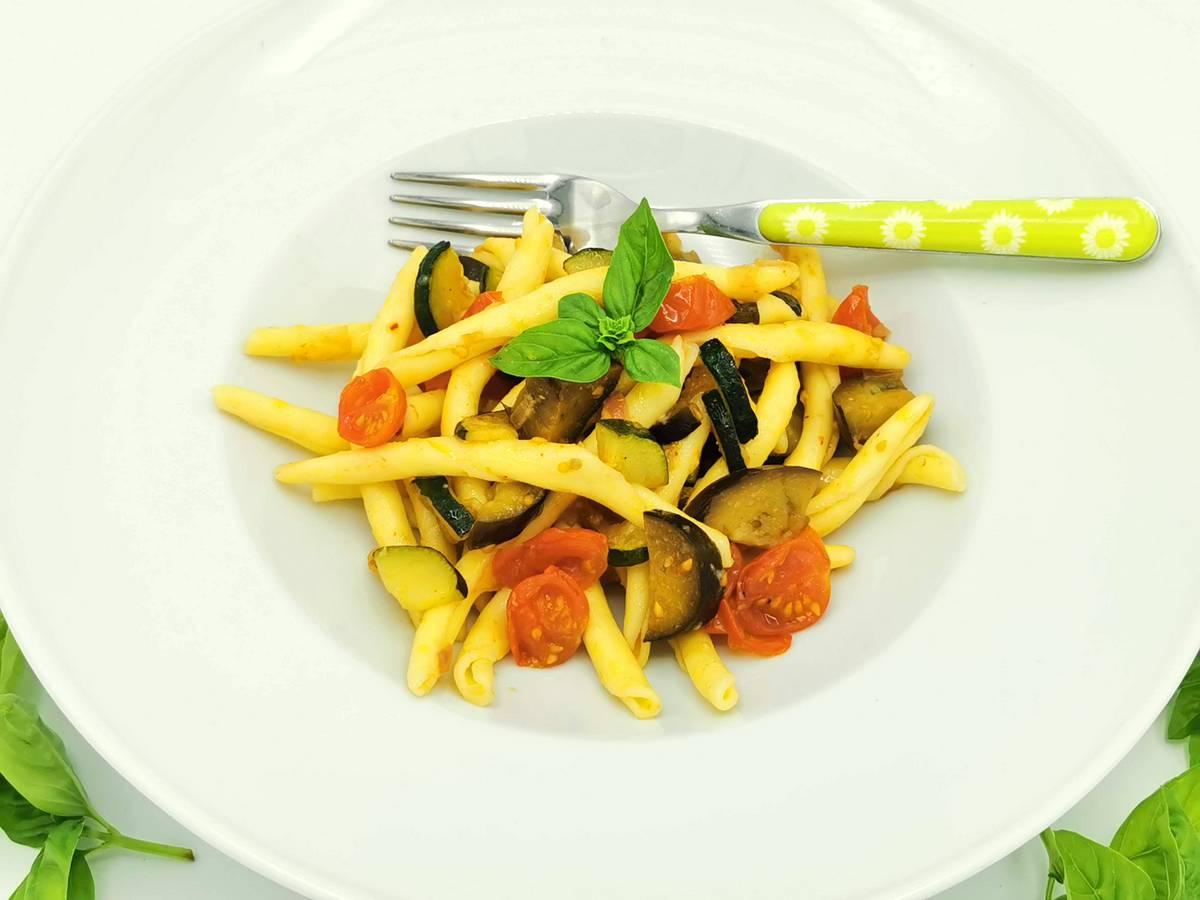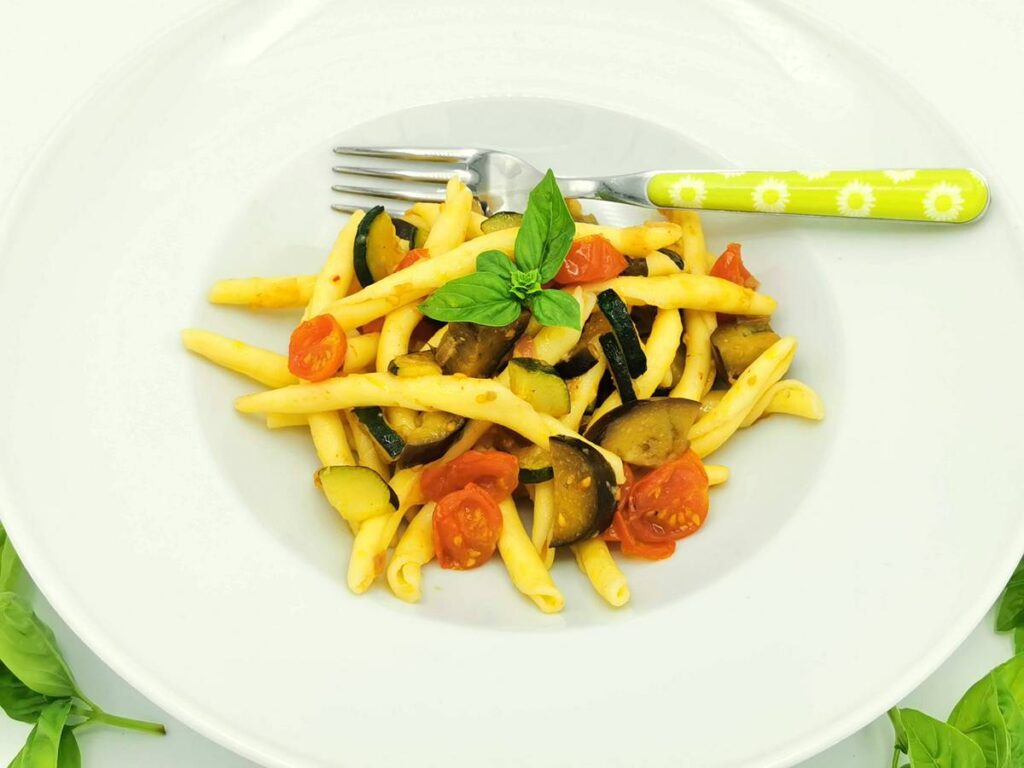 Fileja Tropeana is a typical pasta recipe from Calabria, Southern Italy. It's made with a colourful and fragrant sauce of zucchini, eggplant, tomatoes and red Tropea onion. There's also some peperoncino (red chili pepper) which gives this dish a bit of a kick!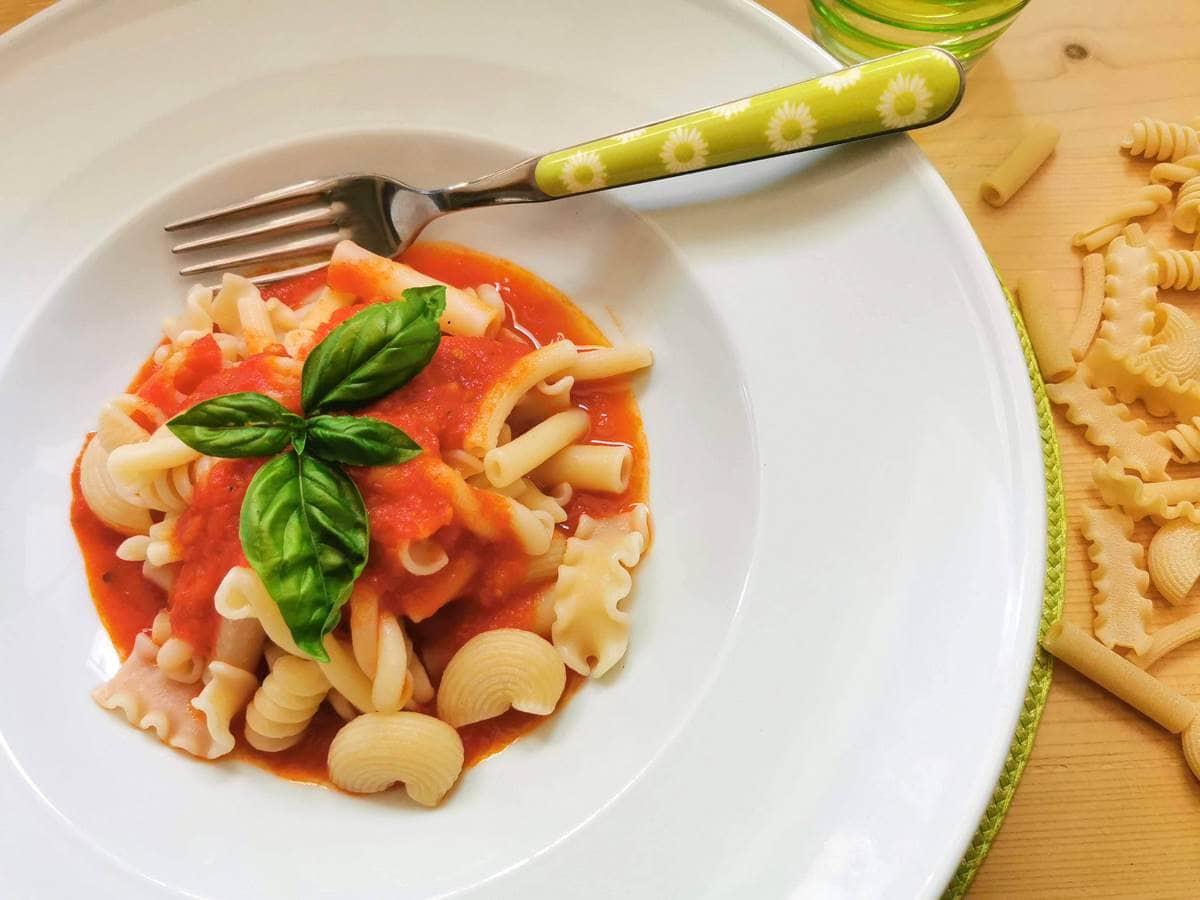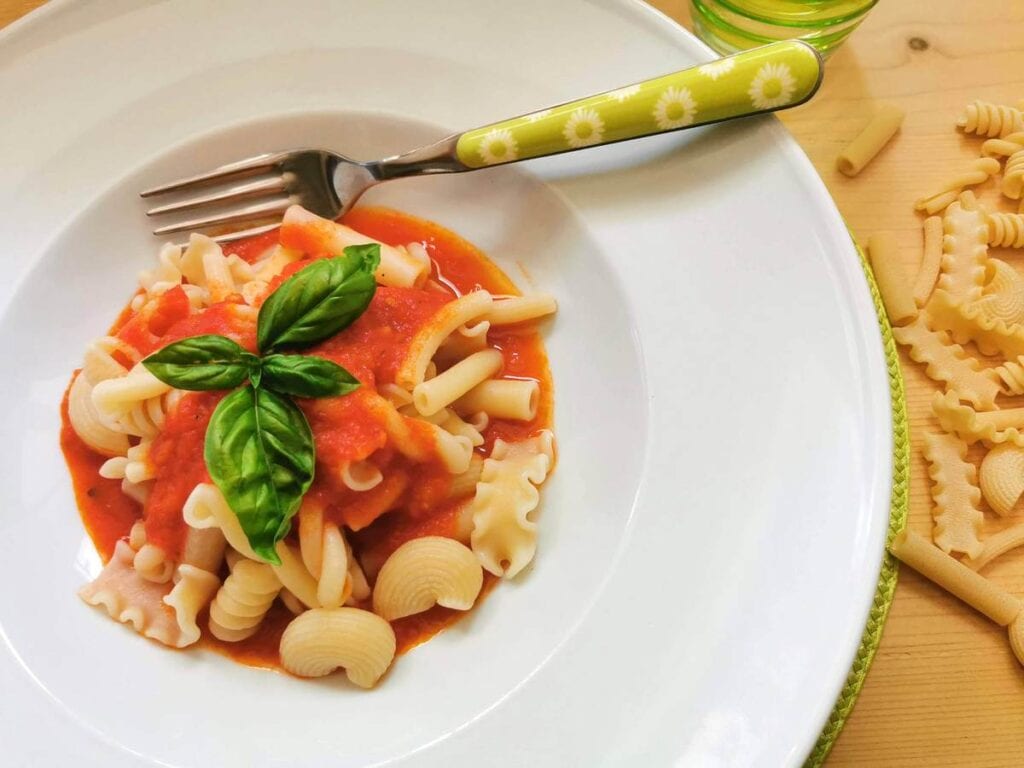 Pomarola is a traditional homemade tomato sauce from Tuscany. Actually, you can make it with a combination of different types of fresh tomatoes or with just one type. In this recipe, I paired my Tuscan pomarola tomato sauce with mixed pasta (pasta mista). This is a brilliant and economical way to use up leftover dried pasta. Of course, you can use your favourite pasta shape instead!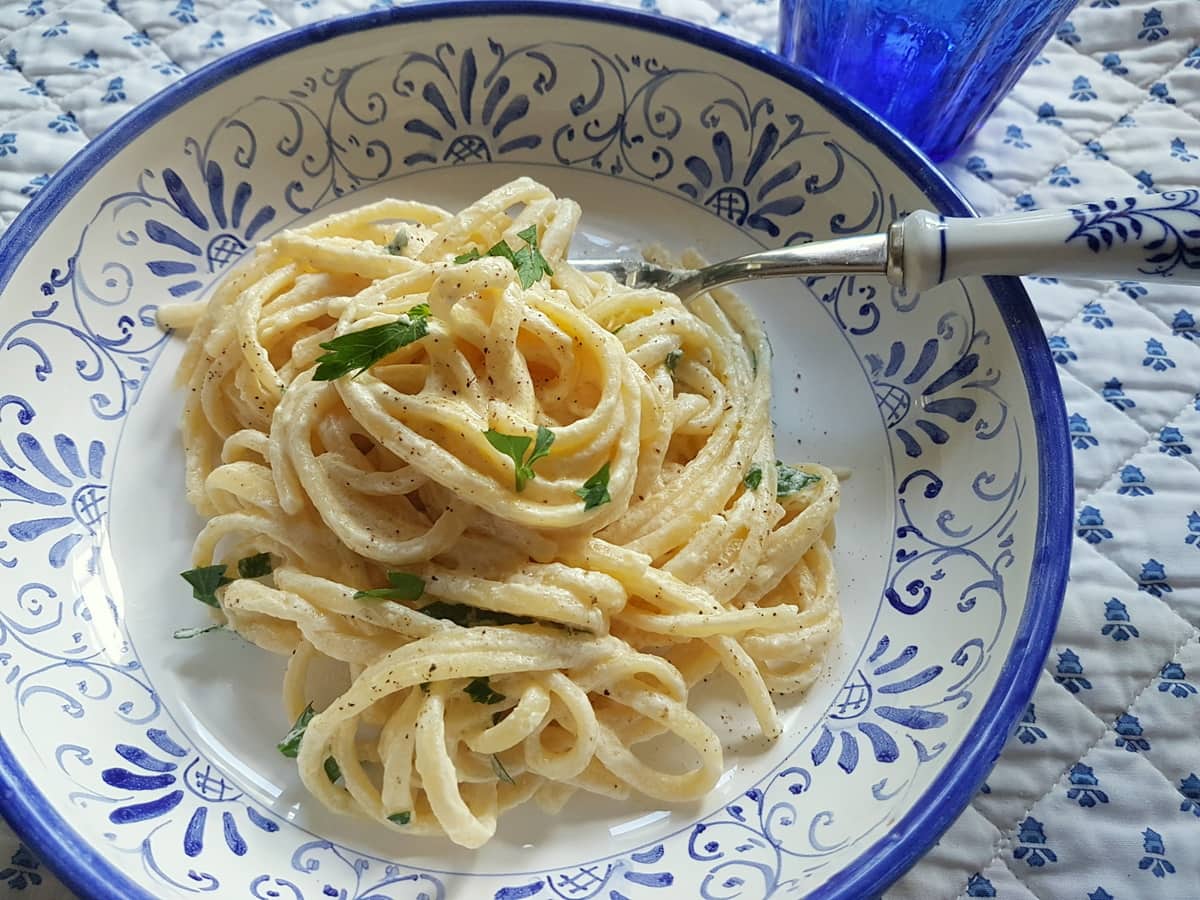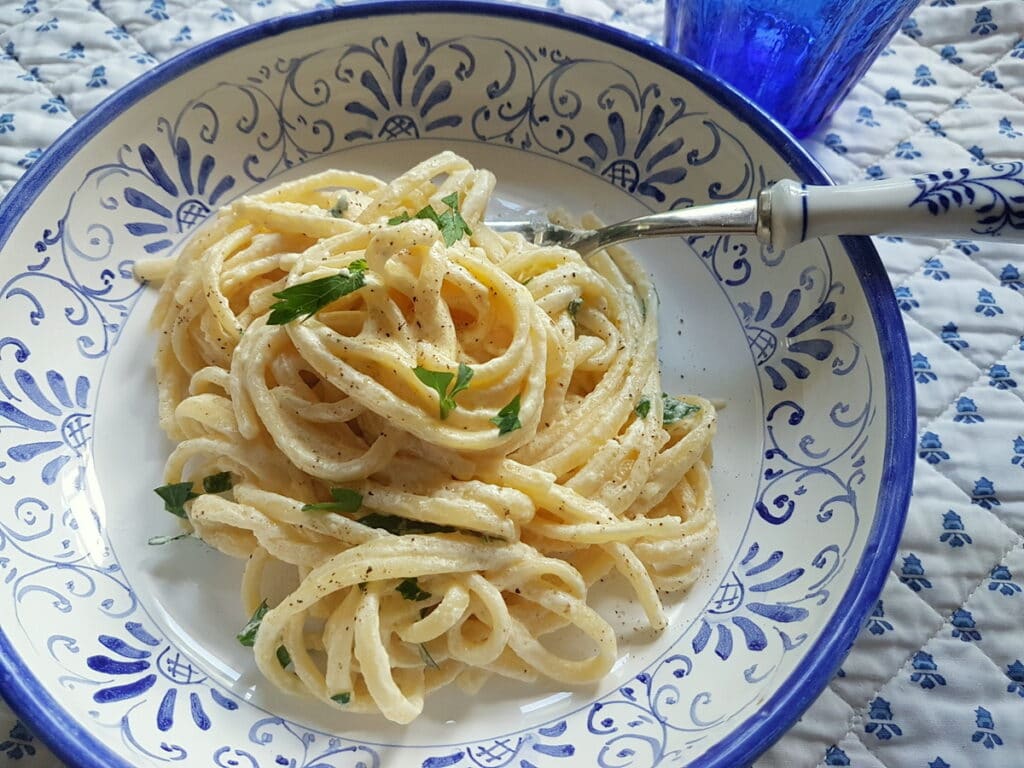 This beautiful creamy linguine al limone recipe comes from Italy's famous land of lemons, Sorrento and the Amalfi coast. It's easy to make and can be ready in the time it takes to boil the water and cook the pasta. This is a perfect summer weather dish. Even though it contains cream it's not heavy. Plus, the lemon adds such a wonderful summery flavour.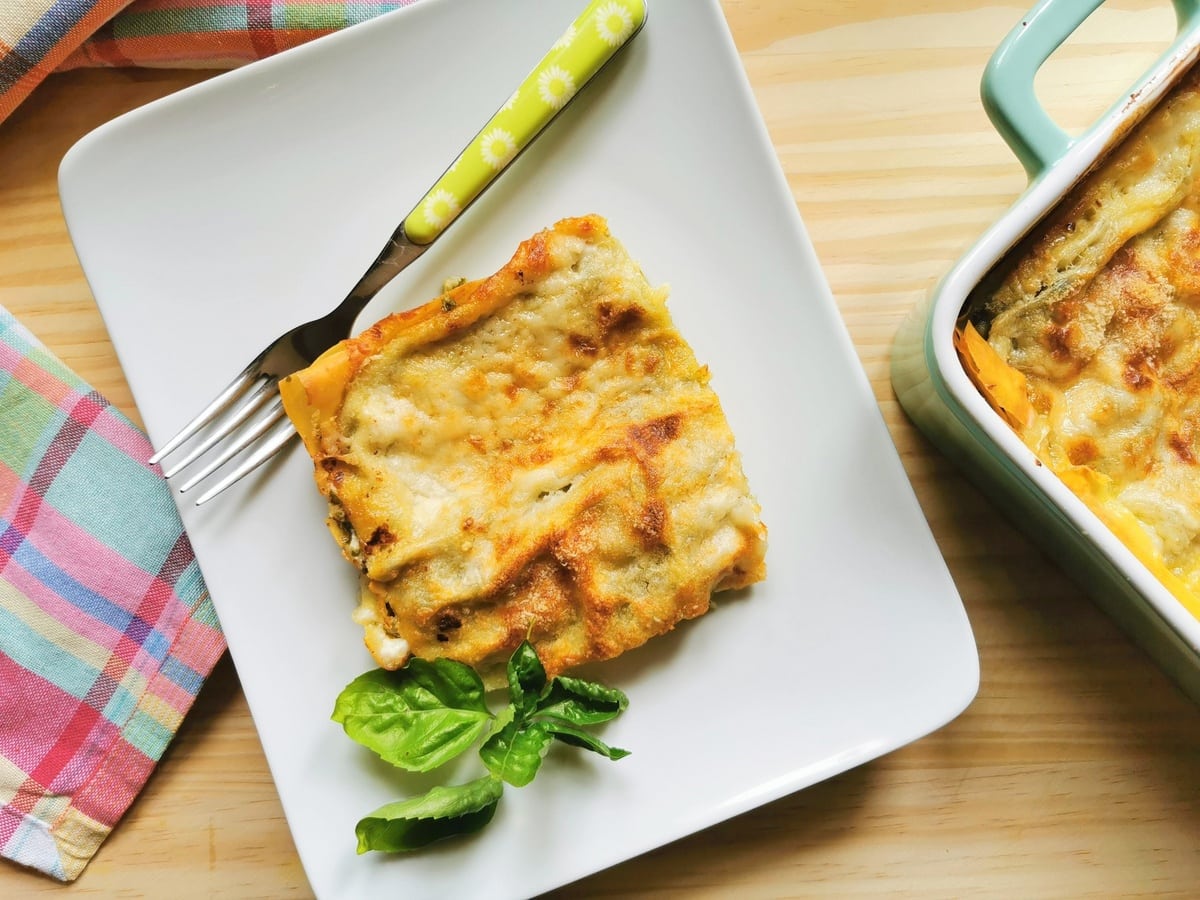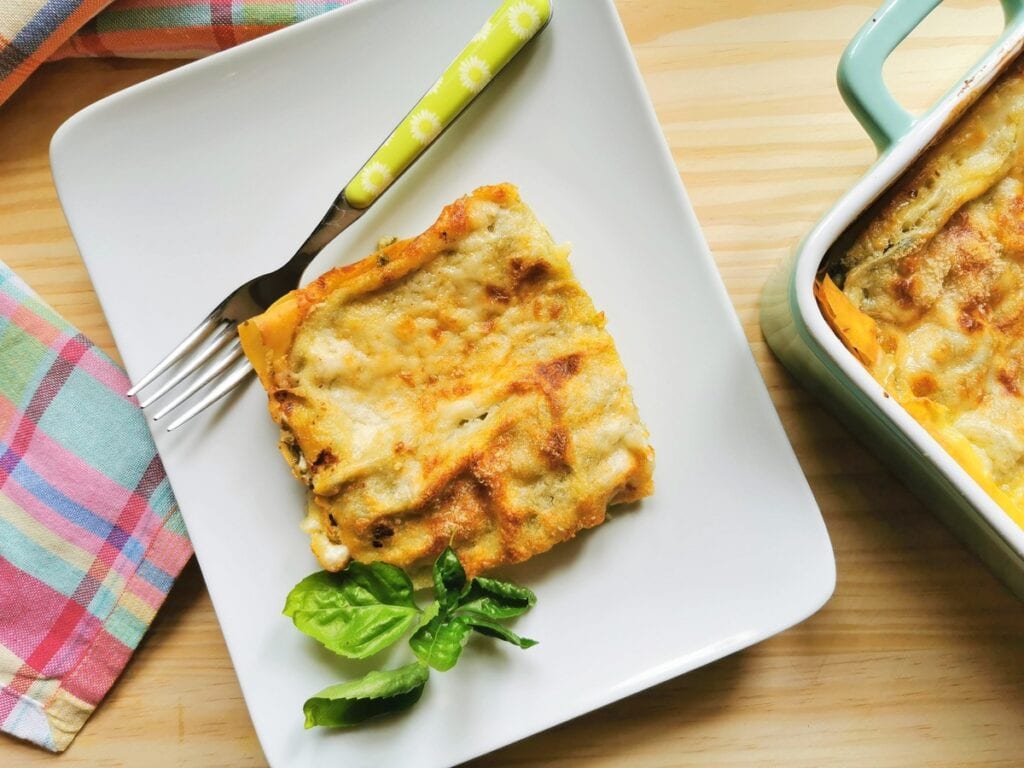 Italian basil pesto lasagne al forno (also called lasagne alla Portofino) is hands down the best summer lasagna recipe. It's light, easily made vegetarian and just totally delicious. If you love pesto, you'll swoon over this dish! I used homemade pesto and béchamel and fresh pasta. But, you can cut prep times by using ready-made pesto, béchamel and pasta. Just assemble and bake!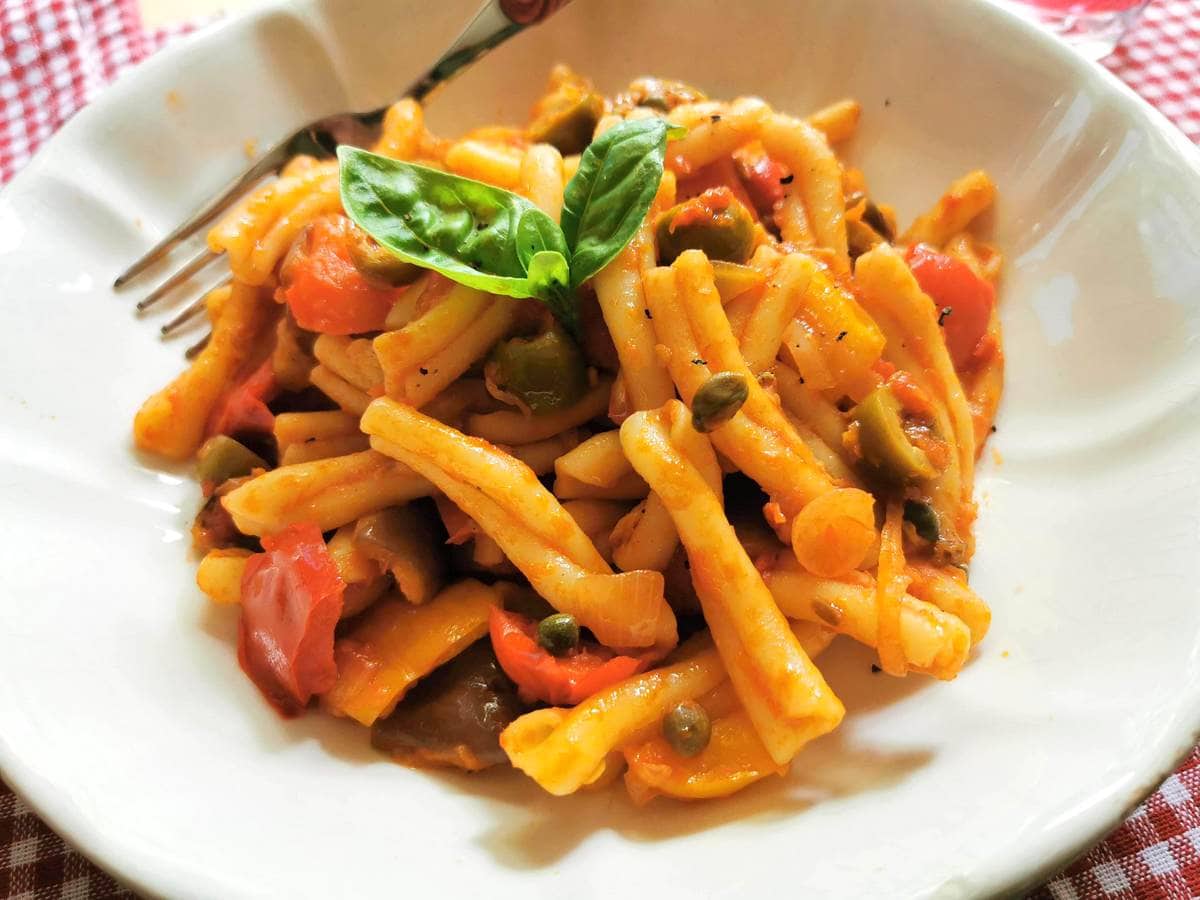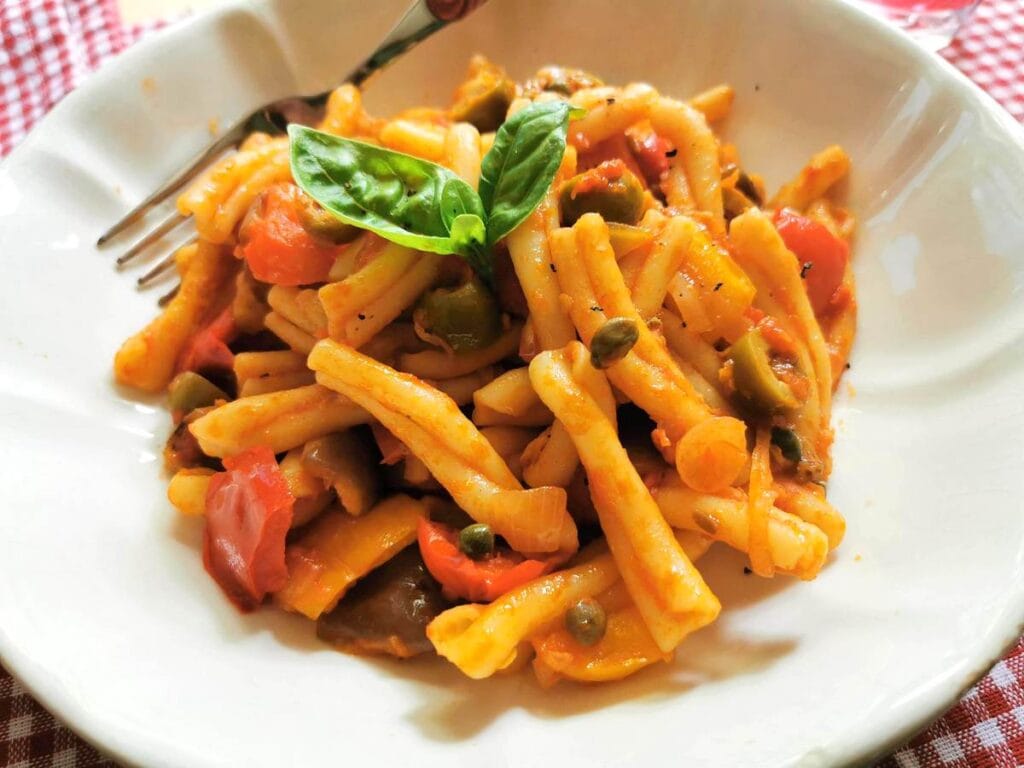 One of the most iconic dishes in Sicilian cooking is caponata. This sweet and sour Mediterranean veggie dish contains eggplant, celery, onions, olives, capers and tomatoes. It is delicious as a side with both meat and fish. Of course, it makes a fabulous pasta sauce too! Pasta alla caponata is great warm or as a pasta salad.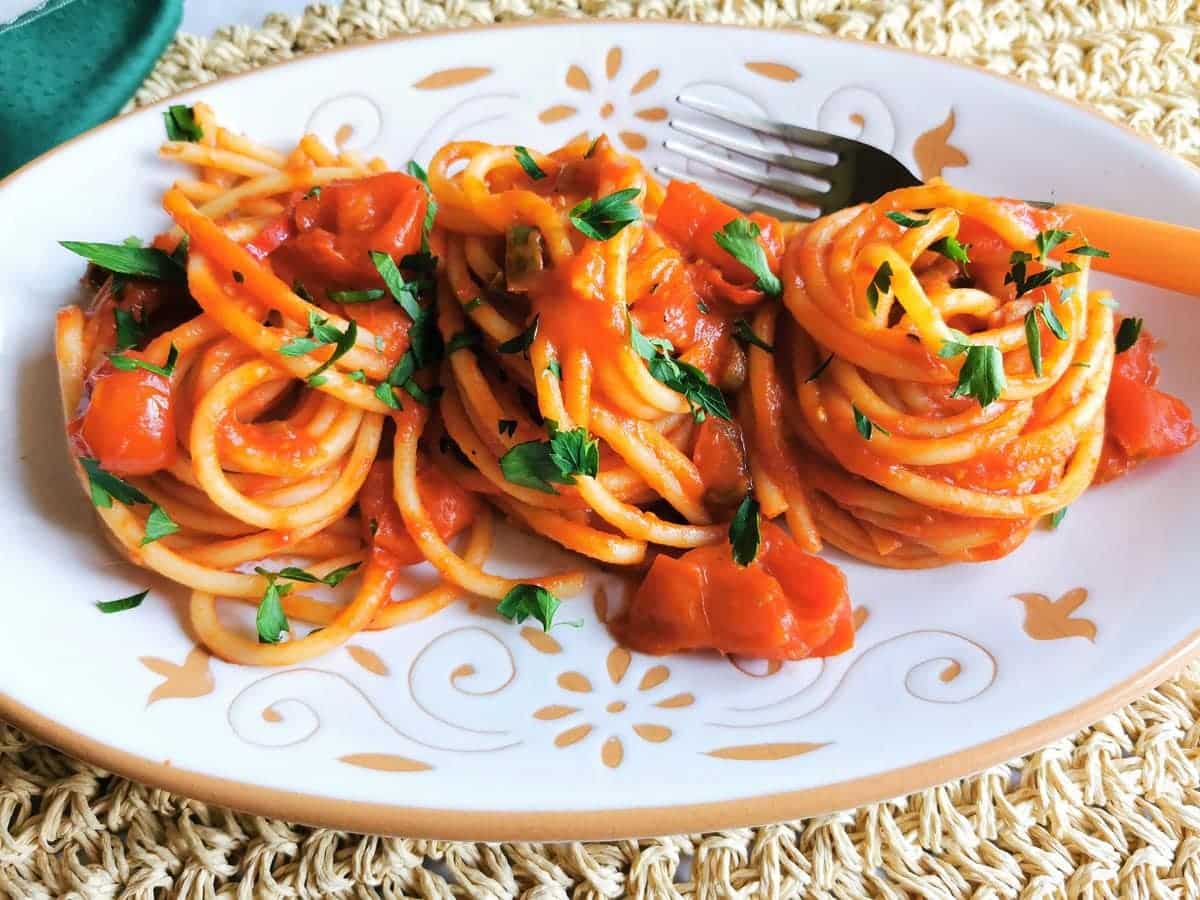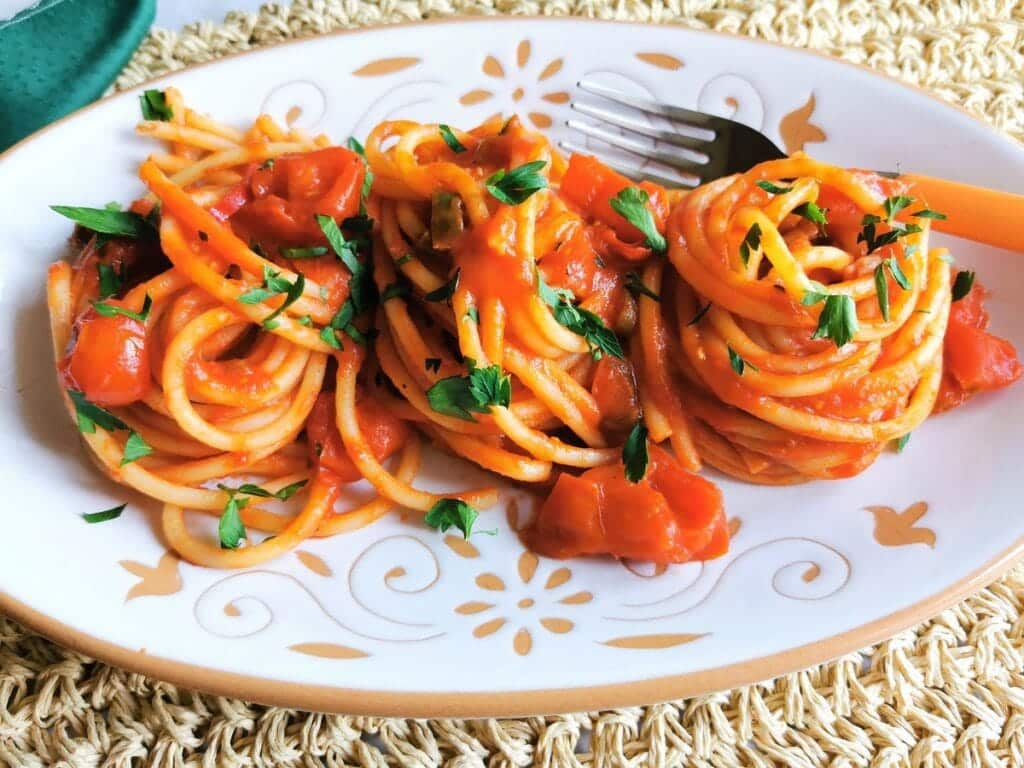 A delicious spicy classic vegetarian pasta dish from Rome. This classic Roman recipe is very quick and easy to make. In fact, all you need is garlic, chilli peppers, tomatoes, parsley, pasta and cheese. Ready in 30 minutes!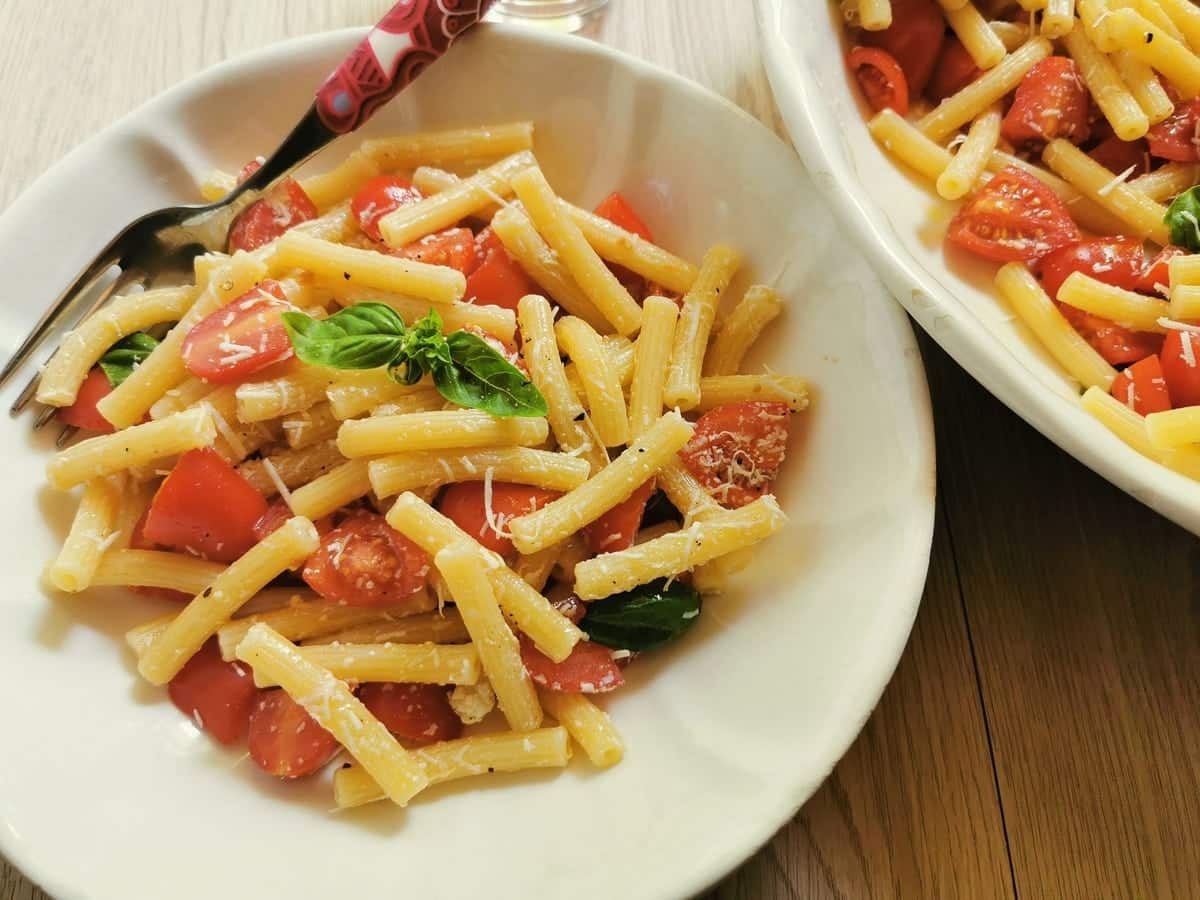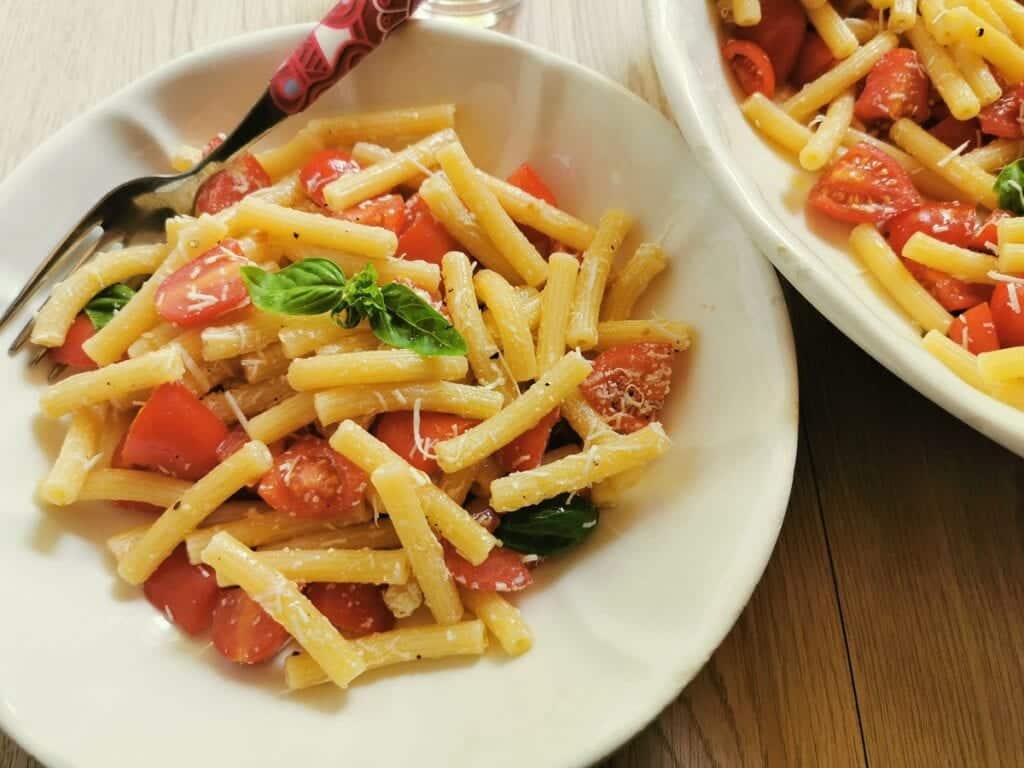 Made with fresh cherry tomatoes, garlic, fresh basil, a sprinkling of hard ricotta or ricotta salata and extra virgin olive oil, this pasta salad crudaiola Barese, also called pasta alla crudaiola, is an incredibly versatile and healthy dish from Bari in Puglia. You can eat it as a one-plate light meal, as part of a cold buffet or at a picnic.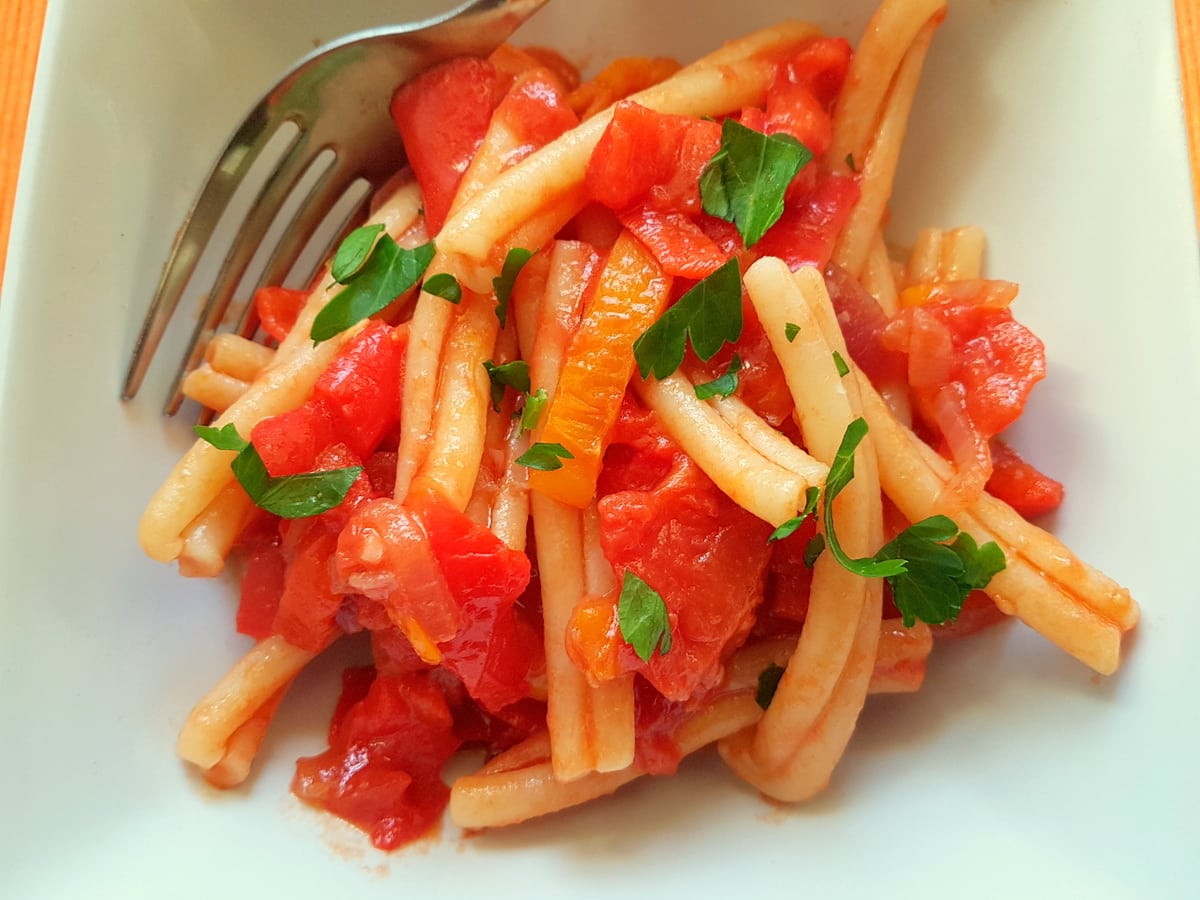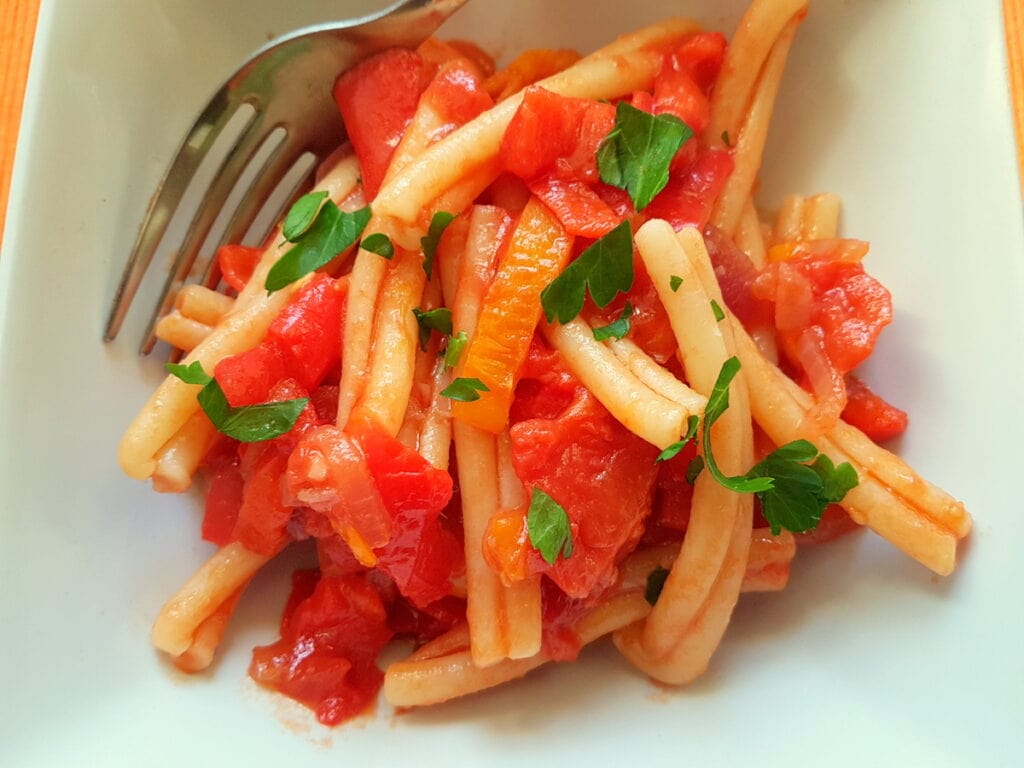 The star of this seriously tasty vegetarian casarecce pasta alla peperonata is a stewed sweet pepper sauce that's very traditional in Southern Italy. You can also eat peperonata as a side dish or on bruschetta. It's simple to make and full of Mediterranean flavours!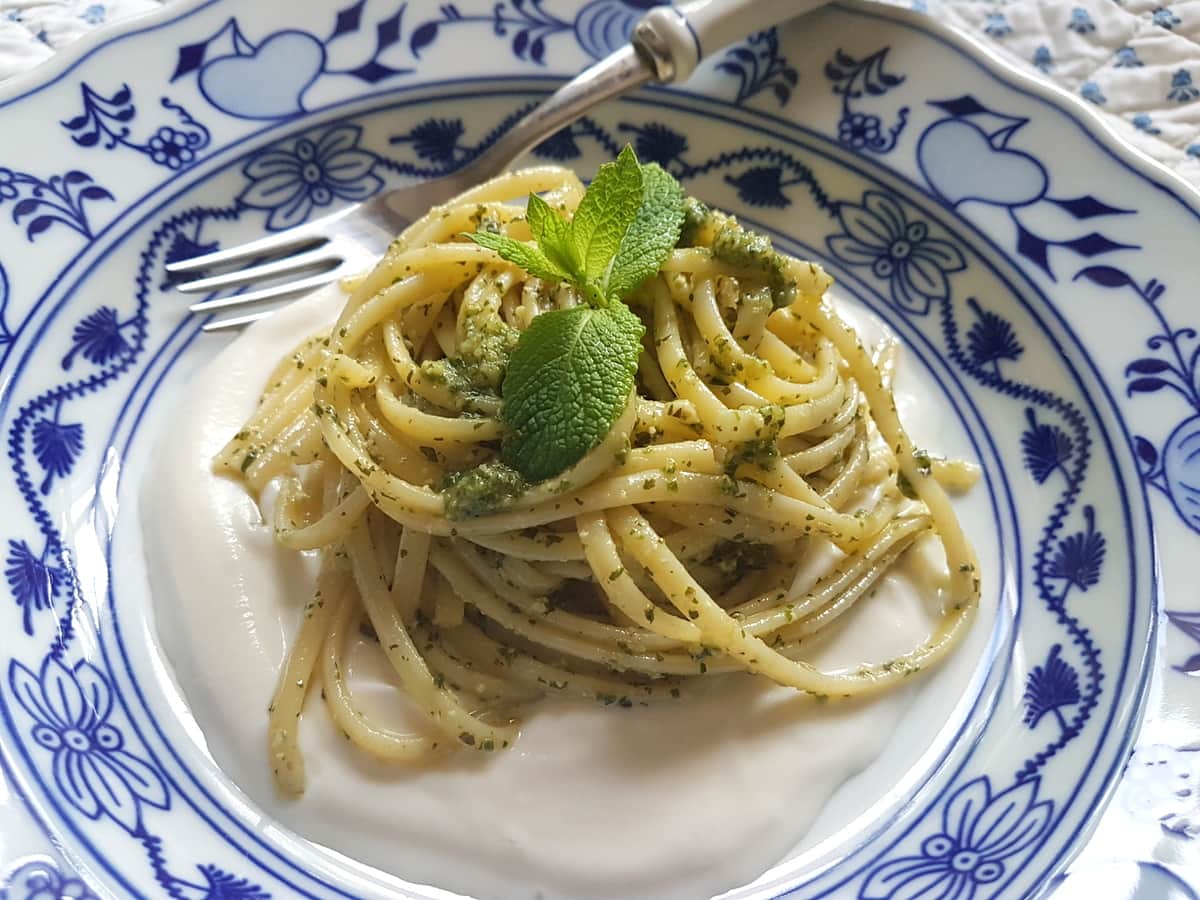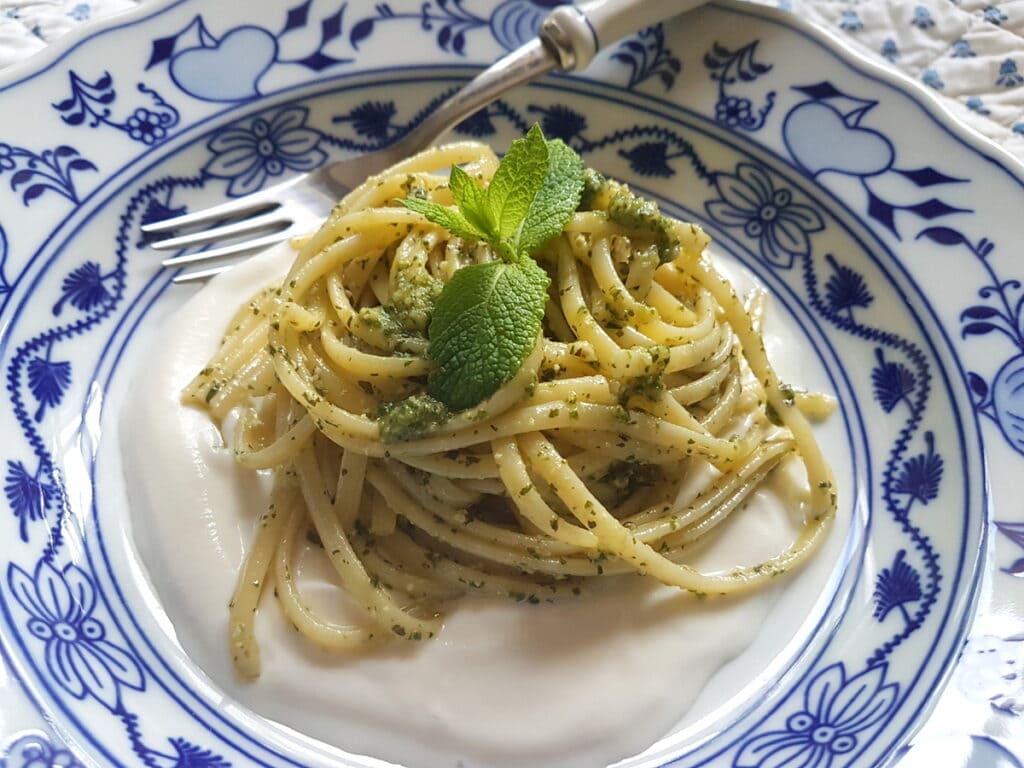 This fresh and tasty contemporary Italian mint pesto recipe is easy to make and perfect for summer meals. Aside from the mint, this pesto has some fresh basil, pine nuts, grated Parmigiano and, of course, extra virgin olive oil. Apart from being delicious this recipe requires no cooking except for the pasta and can be ready in no time!
Let me know what you think.
If you make any of these 12 italian summer pasta recipes I'd love to hear how it turns out and if you liked it. Please leave a comment here on the blog or on The Pasta Project Facebook page. Your feedback is much appreciated.
Looking forward to hearing from you!
Buon Appetito!
Want to save this collection for later?
If you want to save these recipes for later, you can bookmark this page or save it to Pinterest.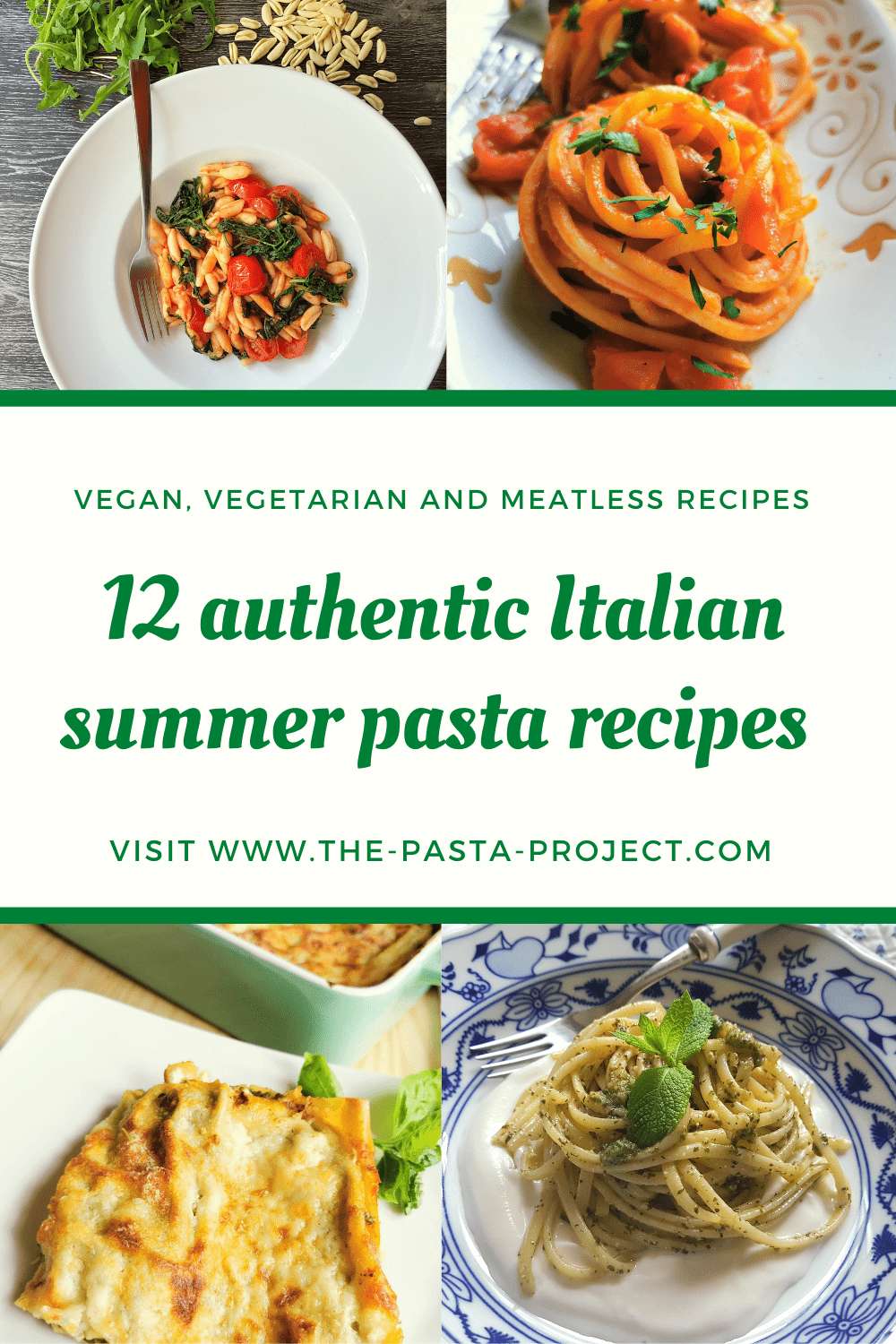 Want to know more about my life in Italy? Why not subscribe to my newsletter? New subscribers get a free series of recipe e-books too!