This casarecce pasta with Sicilian pesto is a super light and fresh recipe from my hubby's home region, Sicily. I used homemade casarecce but, of course, you can use dried pasta too. Known as pesto alla Siciliana, this is a creamy no-cook sauce. So, you can have this dish on the table in the time it takes to boil the water and cook the pasta.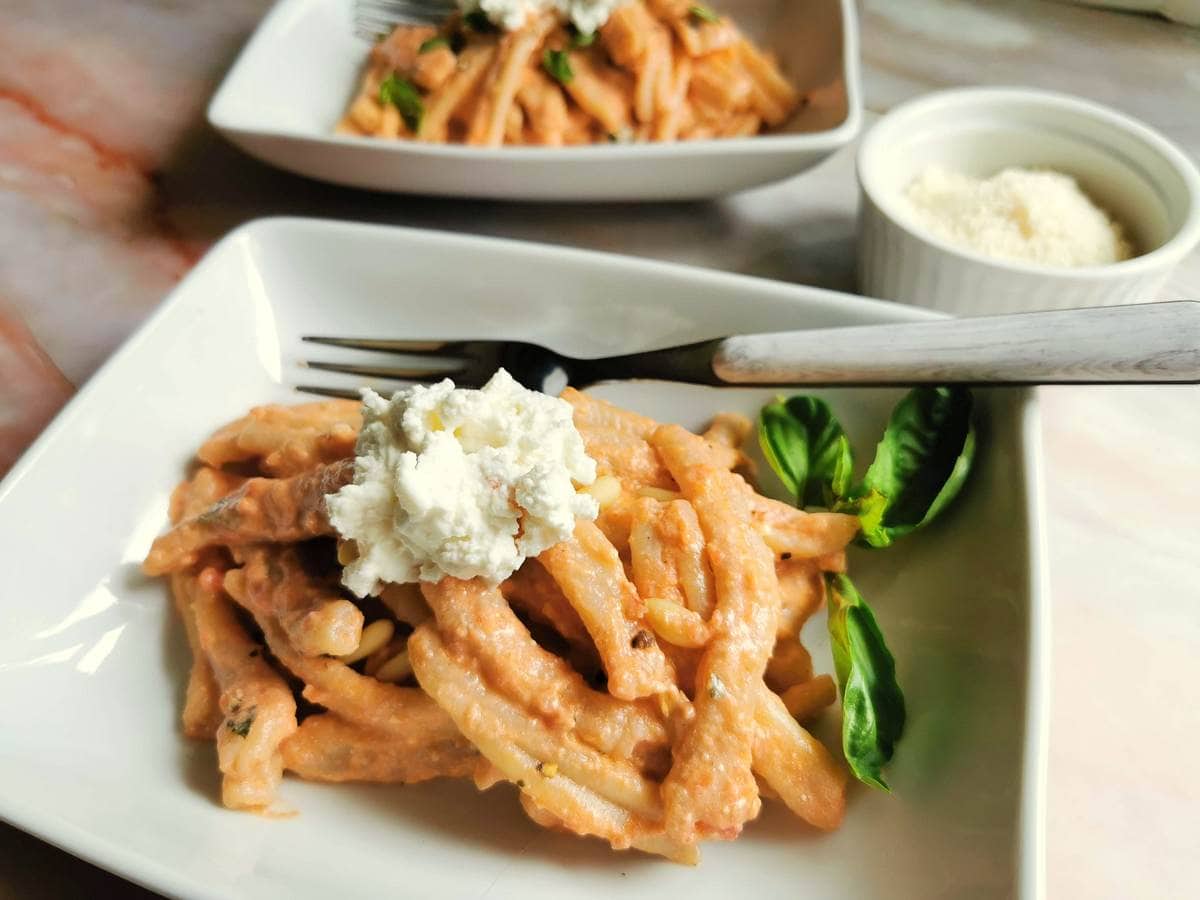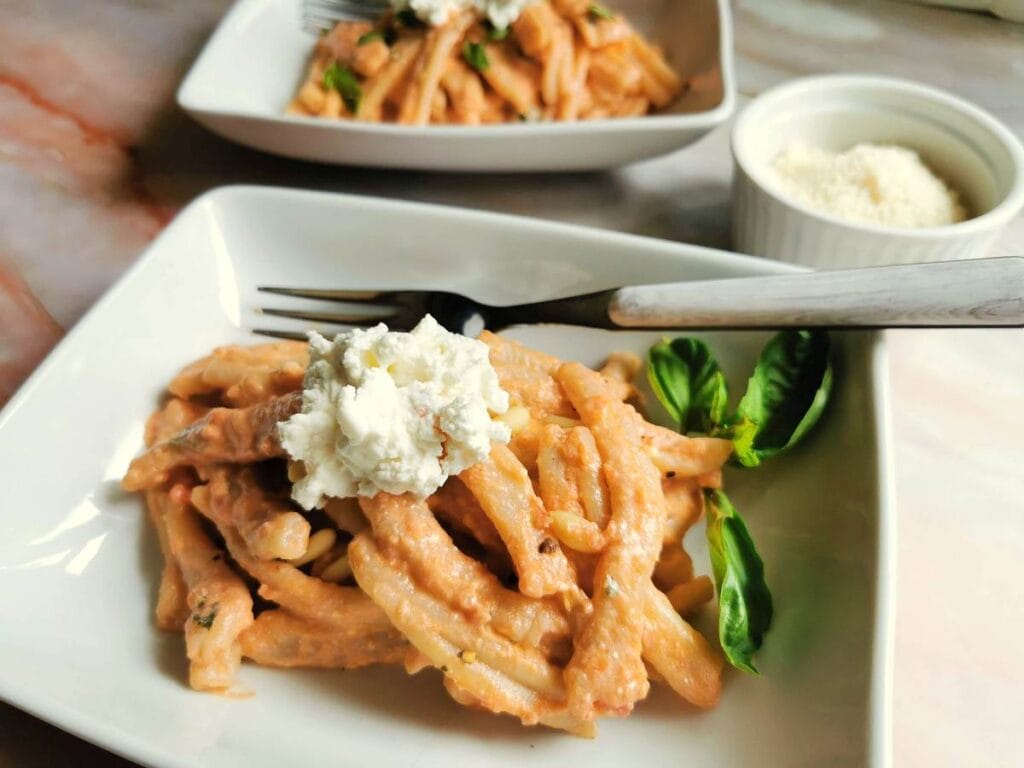 A little pesto alla Siciliana history.
Sicily is not the part of Italy where pesto originated. That, in fact, is Liguria home to pesto Genovese (basil pesto). The Genovese invented basil pesto in the 1800s. Today, it's probably one of the most popular and well-known Italian condiments.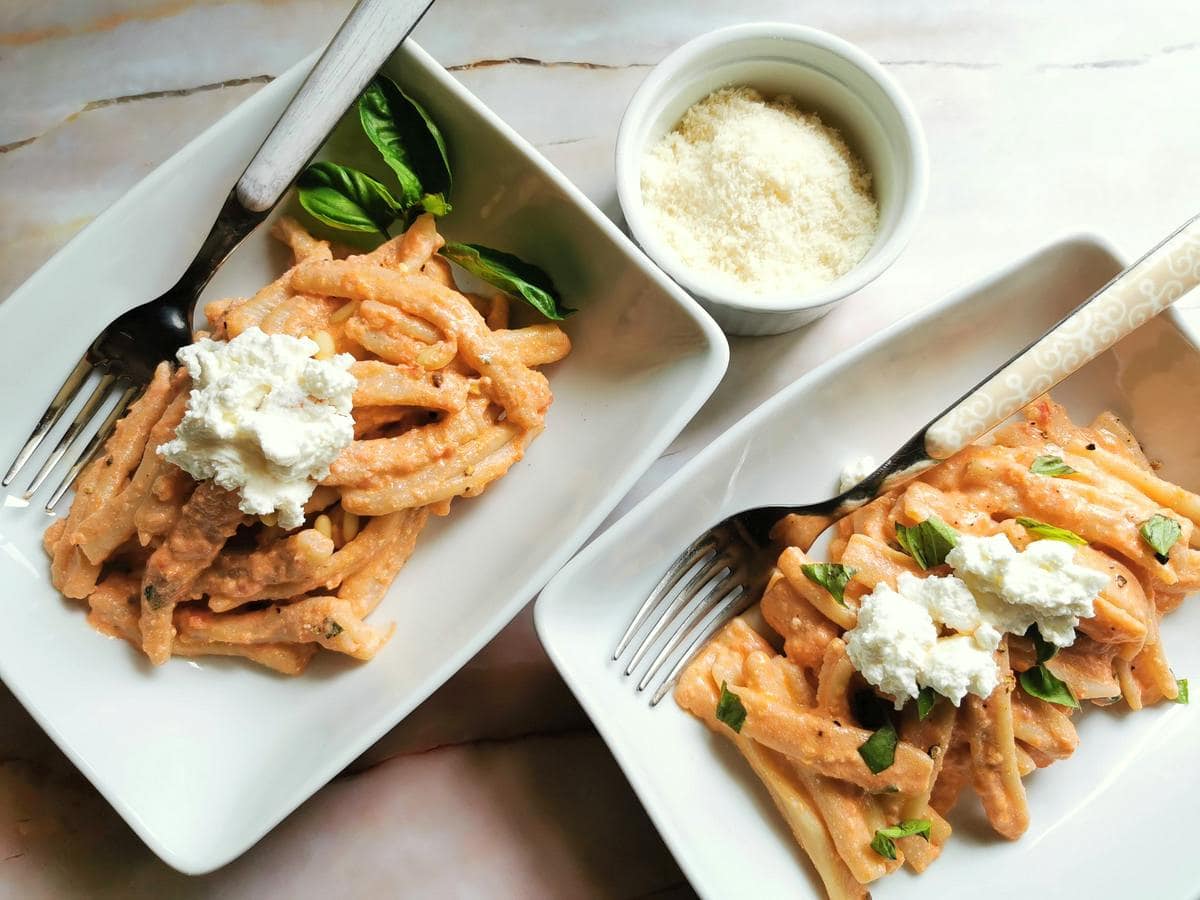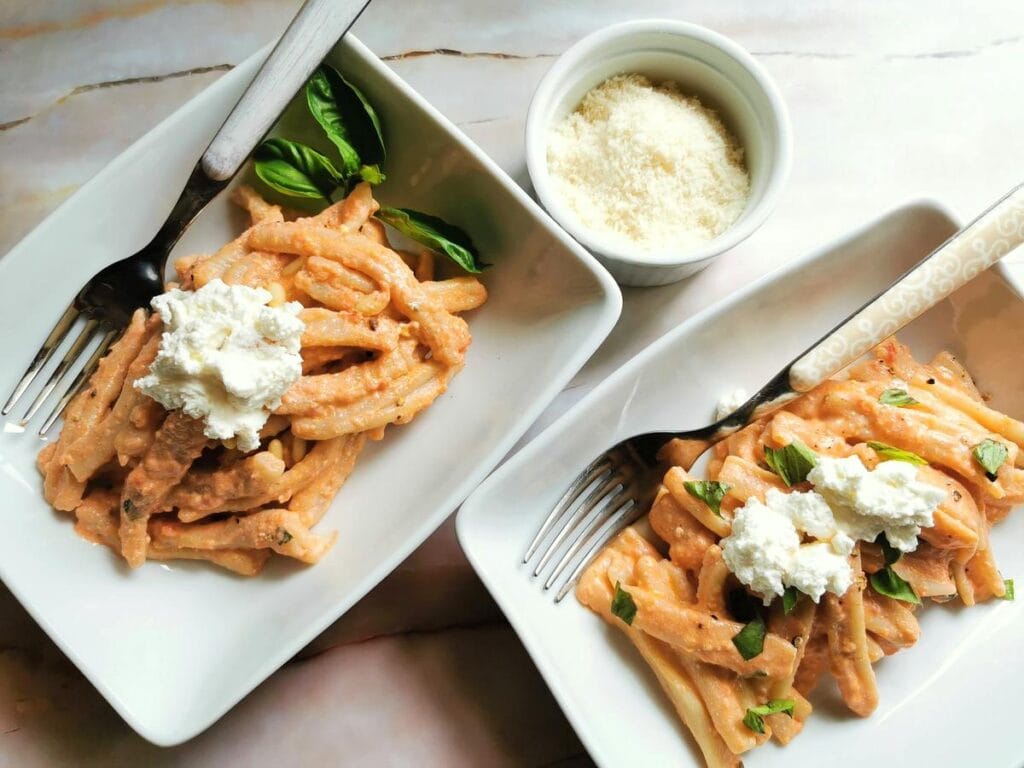 Apparently, it was Genovese sailors who first introduced pesto to the Sicilians, particularly those living in Trapani, which was an important port of call for the Genovese merchant ships. However, the Sicilians started making their own versions of pesto using local ingredients.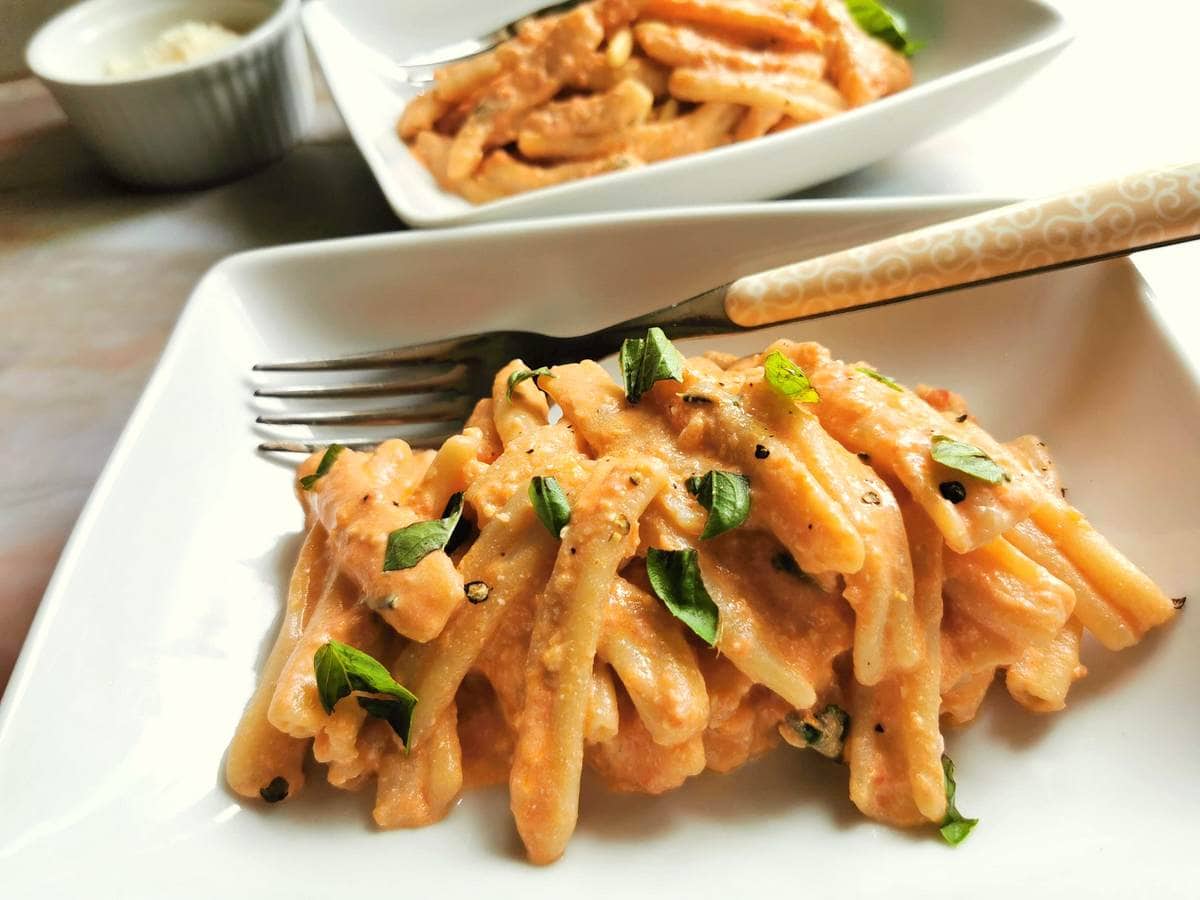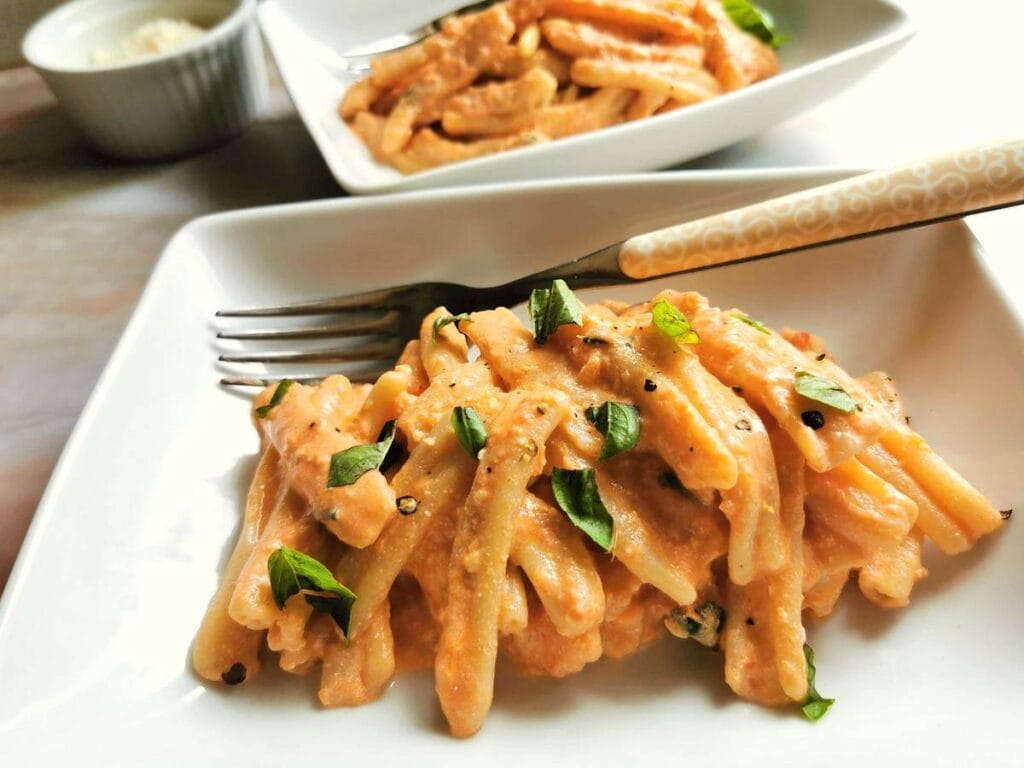 Different Sicilian pesto recipes.
Over time, a number of Sicilian pesto recipes developed. Among the most well-known are pistachio pesto and pesto Trapanese (from Trapani). Some people say pesto Trapanese and pesto alla Siciliana are the same. But I don't think so. Neither does my Sicilian hubby!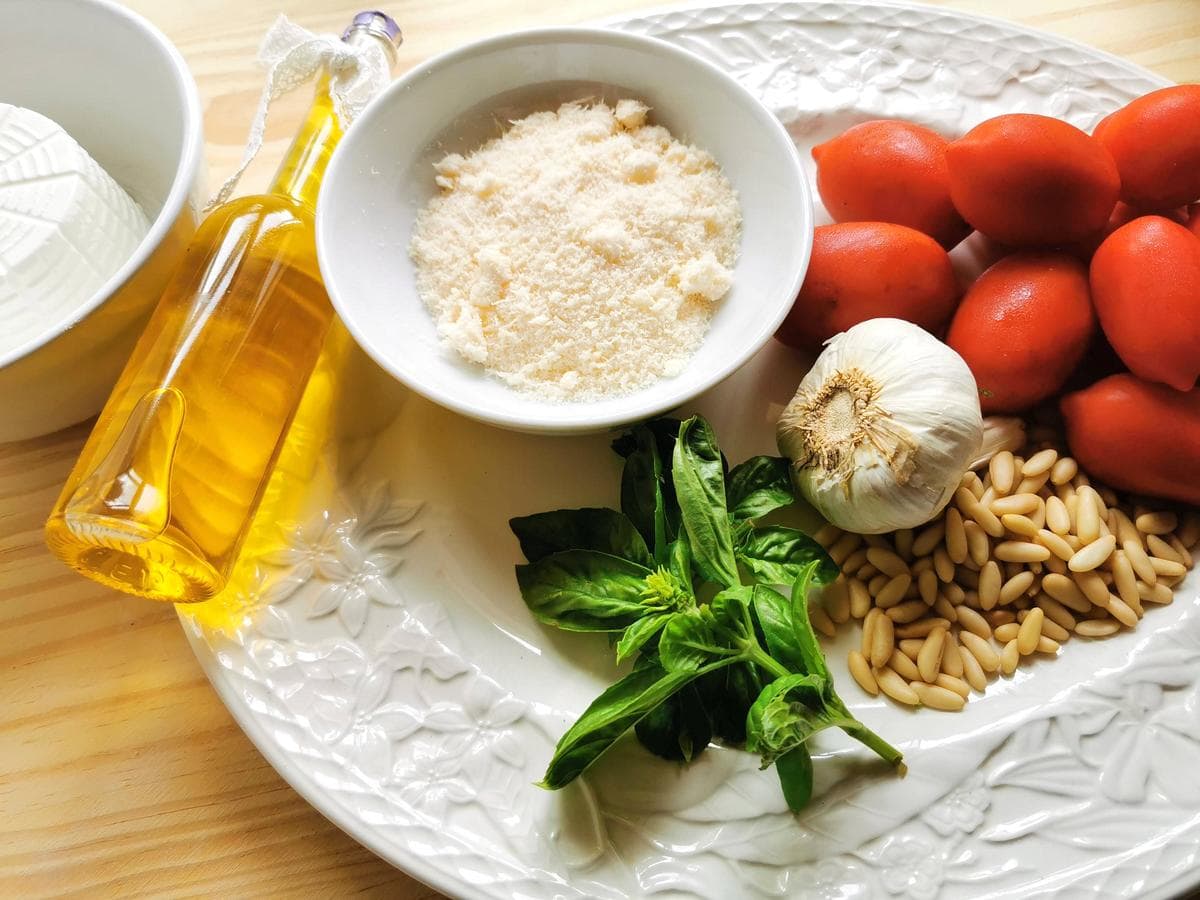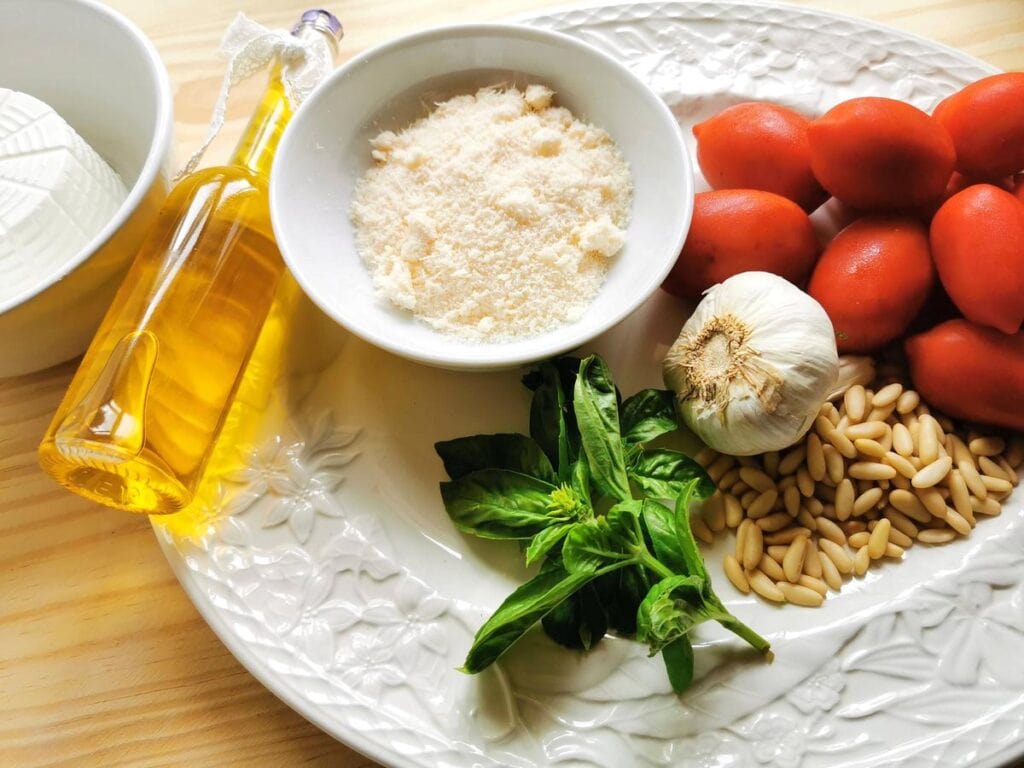 What is the difference between pesto Trapanese and pesto alla Siciliana?
According to most the recipes I looked at (there were a lot), pesto Trapanese contains peeled almonds, whereas pesto alla Siciliana usually has pine nuts. However, some people do make this version with almonds or even with pistachios, both typical Sicilian ingredients.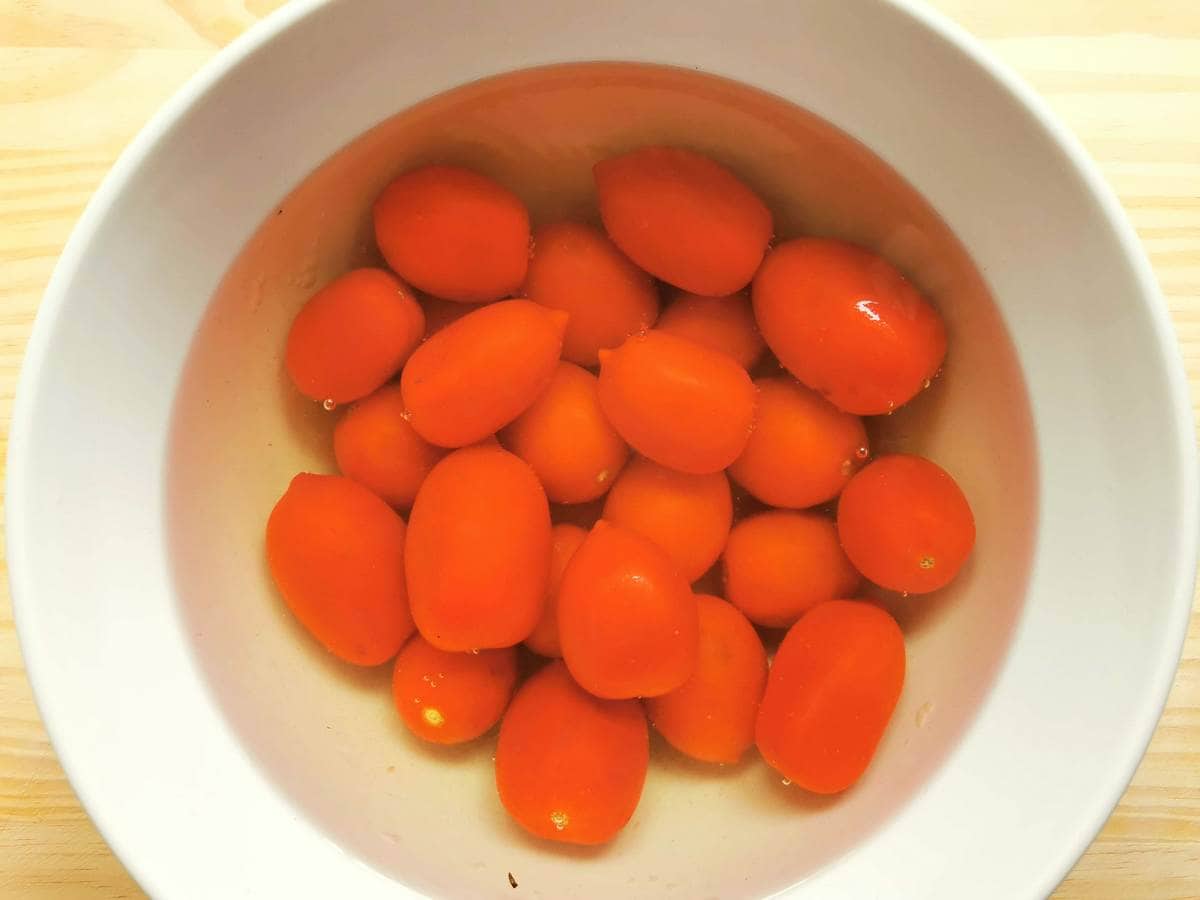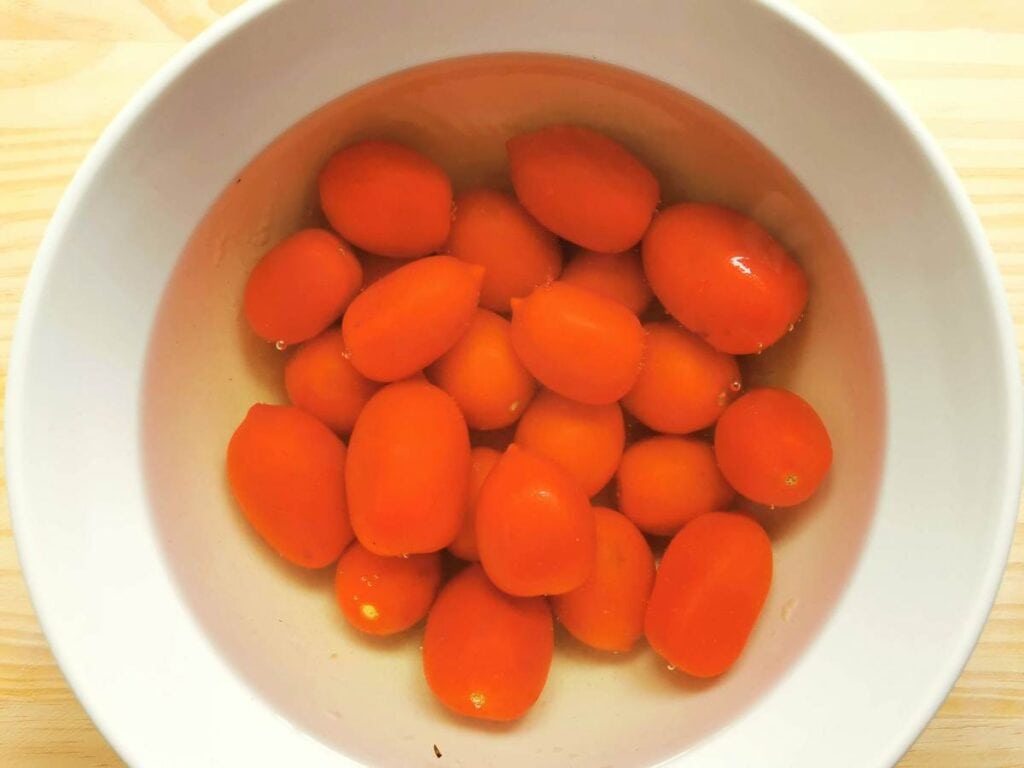 Also, many recipes for pesto Trapanese specify pink garlic (aglio rosso) and the only cheese is normally pecorino. This Sicilian pesto has fresh ricotta as well as Parmigiano or grana. Both recipes have peeled ripe tomatoes and fresh basil. You can check out the full recipe for Trapanese pesto on my busiate with pesto Trapanese post (see link below).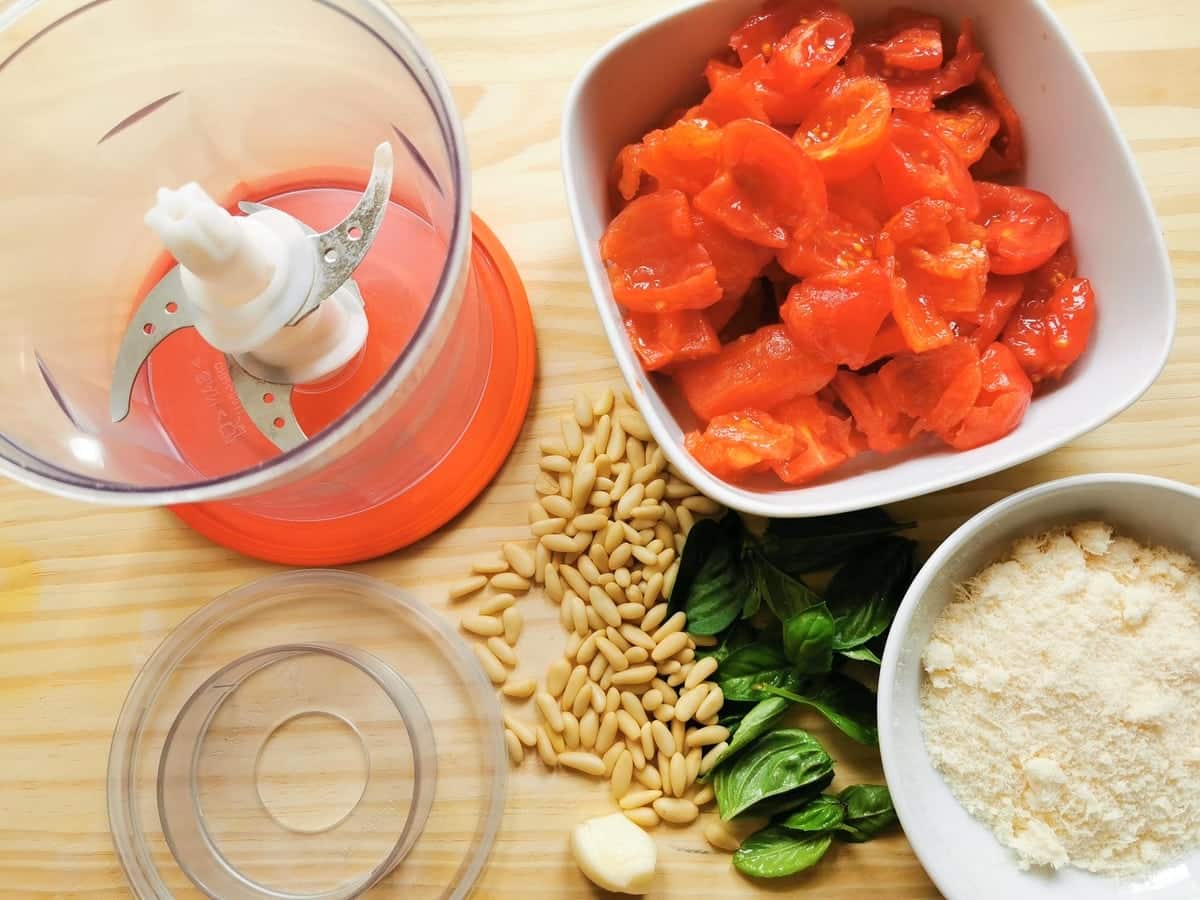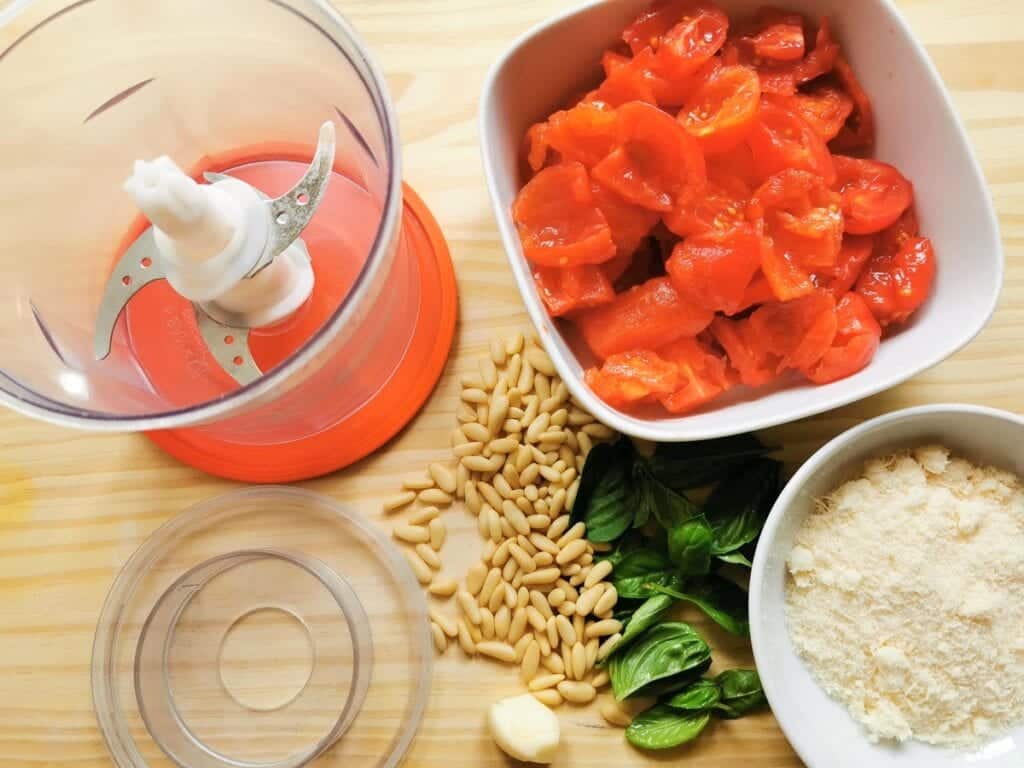 The tomatoes.
Like many traditional Italian recipes, there are some different versions of this Sicilian pesto. However, the differences are quite small. Some people cook the peeled tomatoes before blending them. I didn't. And most the recipes I found don't call for it. Also, not all recipes say to peel the tomatoes. I guess it depends on how thick the skins are and your preference.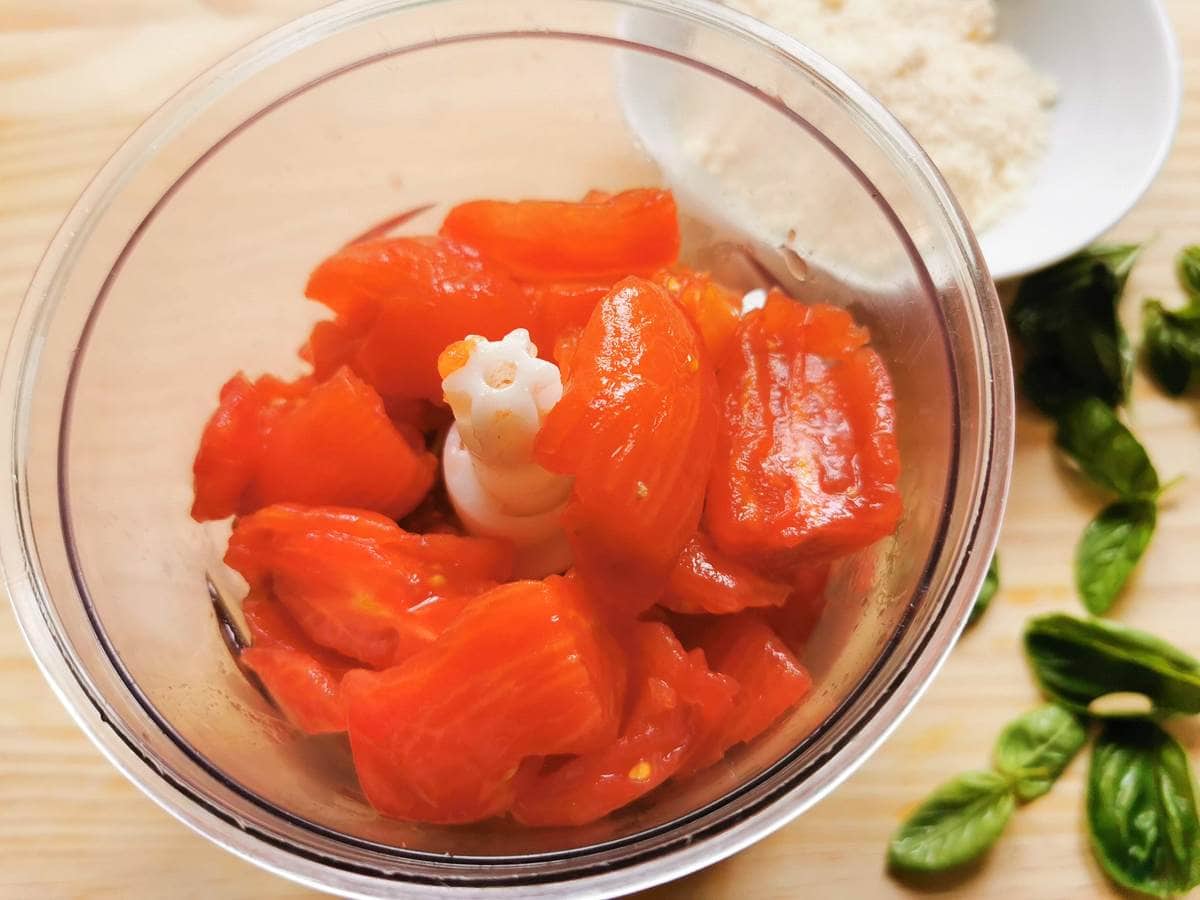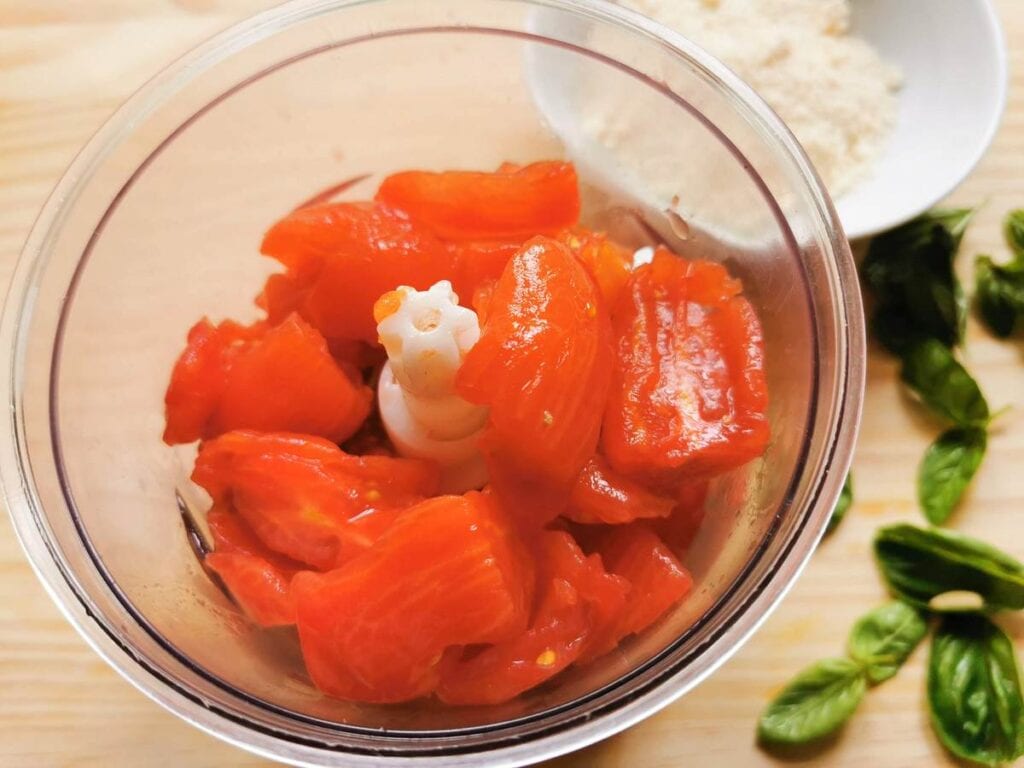 The best tomatoes to use for pesto are deep red ripe San Marzano, datterini (small date tomatoes) or vine tomatoes. Sicilians like to use Pachino tomatoes which are cultivated in Southeast Sicily.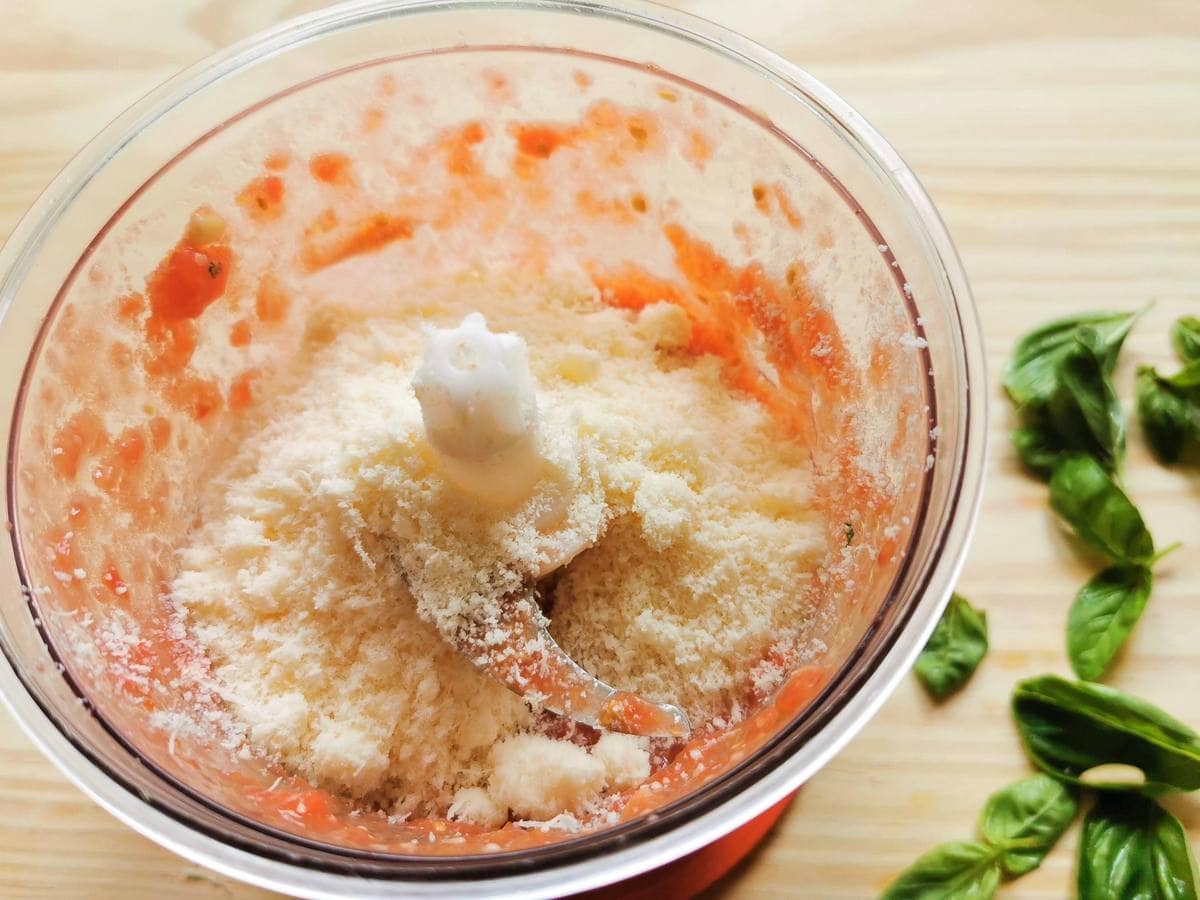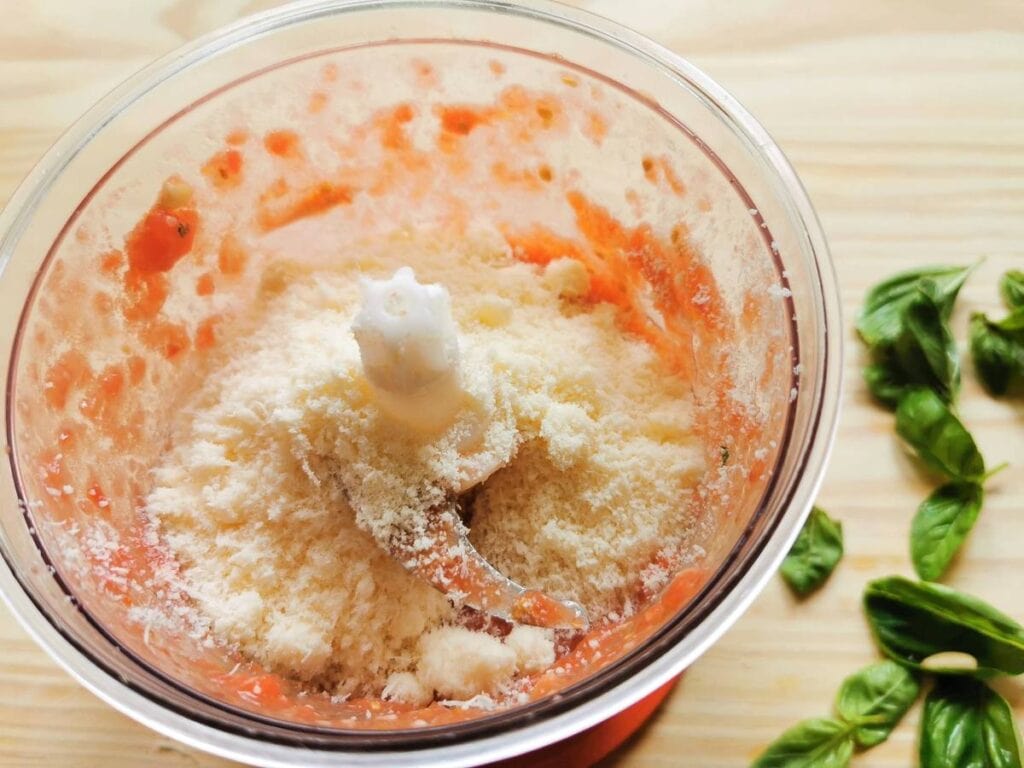 The only time-consuming part to prepping this pesto is peeling the tomatoes if you decide to do it. This can be done with a potato peeler or by cutting an 'x' into the bottom of each tomato and then blanching them in boiling water for 30 seconds and then transferring them to some ice-cold water. The peel should then be easy to remove.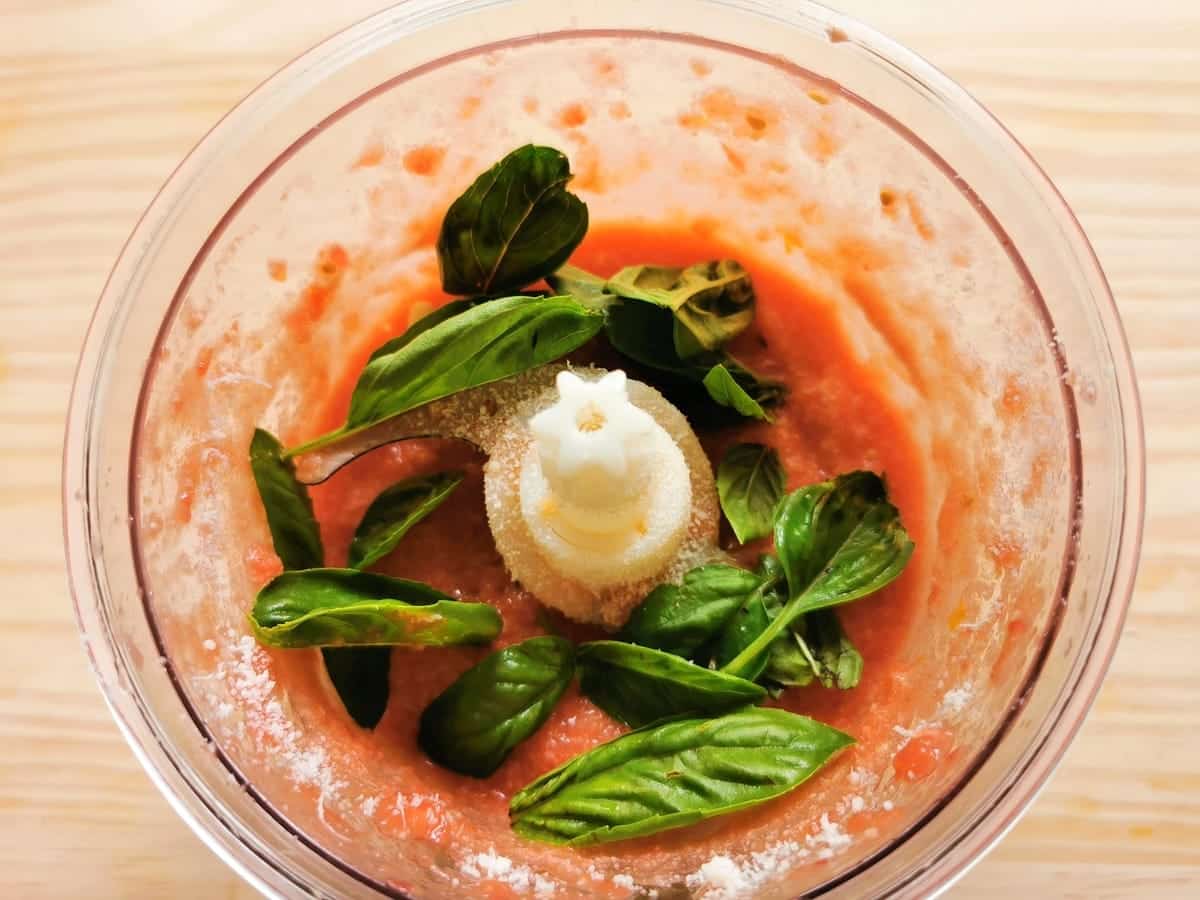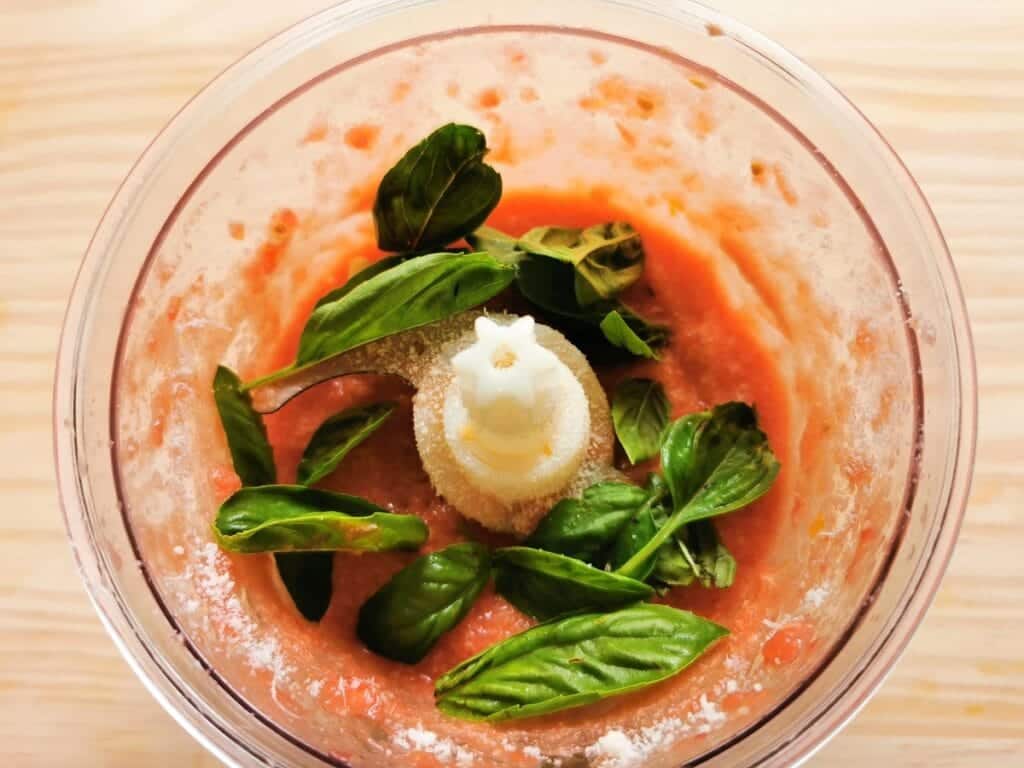 The cheese.
Pesto alla Siciliana has 2 types of cheese in it. The first is fresh ricotta, which can be cow's or sheep's milk ricotta. Pesto with ricotta is so creamy and good! If you've never used ricotta in pasta sauce before, you're in for a delicious surprise!
The second cheese is either Parmigiano or Grana. However, neither of the latter two are vegetarian cheeses. Traditionally, they are made with animal rennet. Strict vegetarians will need to use a vegetarian parmesan or other hard cheese.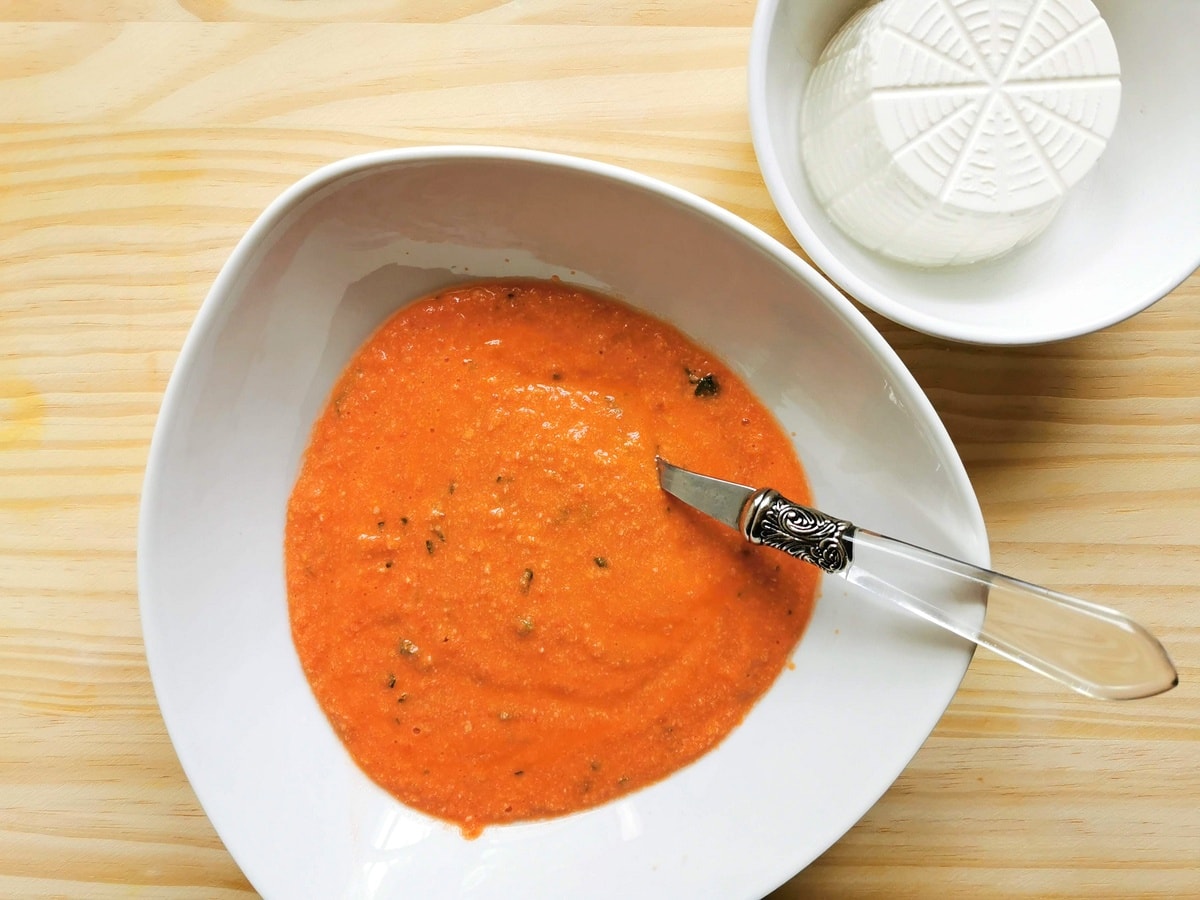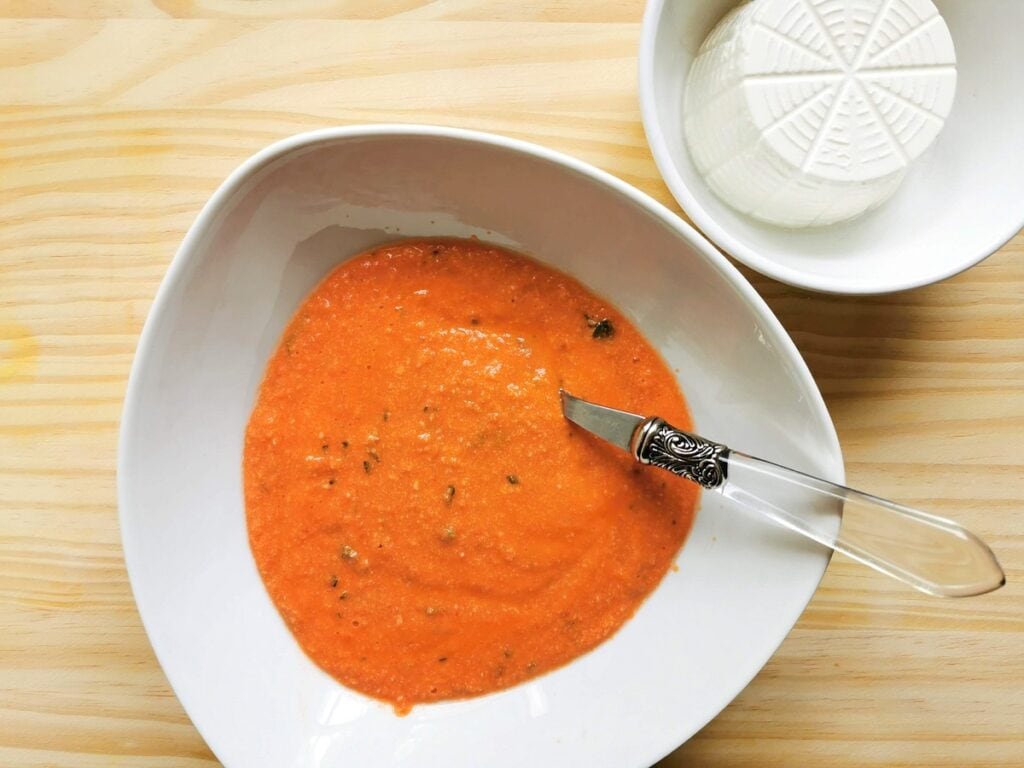 Other ingredients in this pesto with ricotta.
Apart from the tomatoes, cheese and nuts, this Sicilian pesto contains some fresh basil leaves, garlic and extra virgin olive oil. The amount of olive oil is far less than in basil pesto. The tomatoes and ricotta contain liquid and so the olive oil is more for flavour than consistency.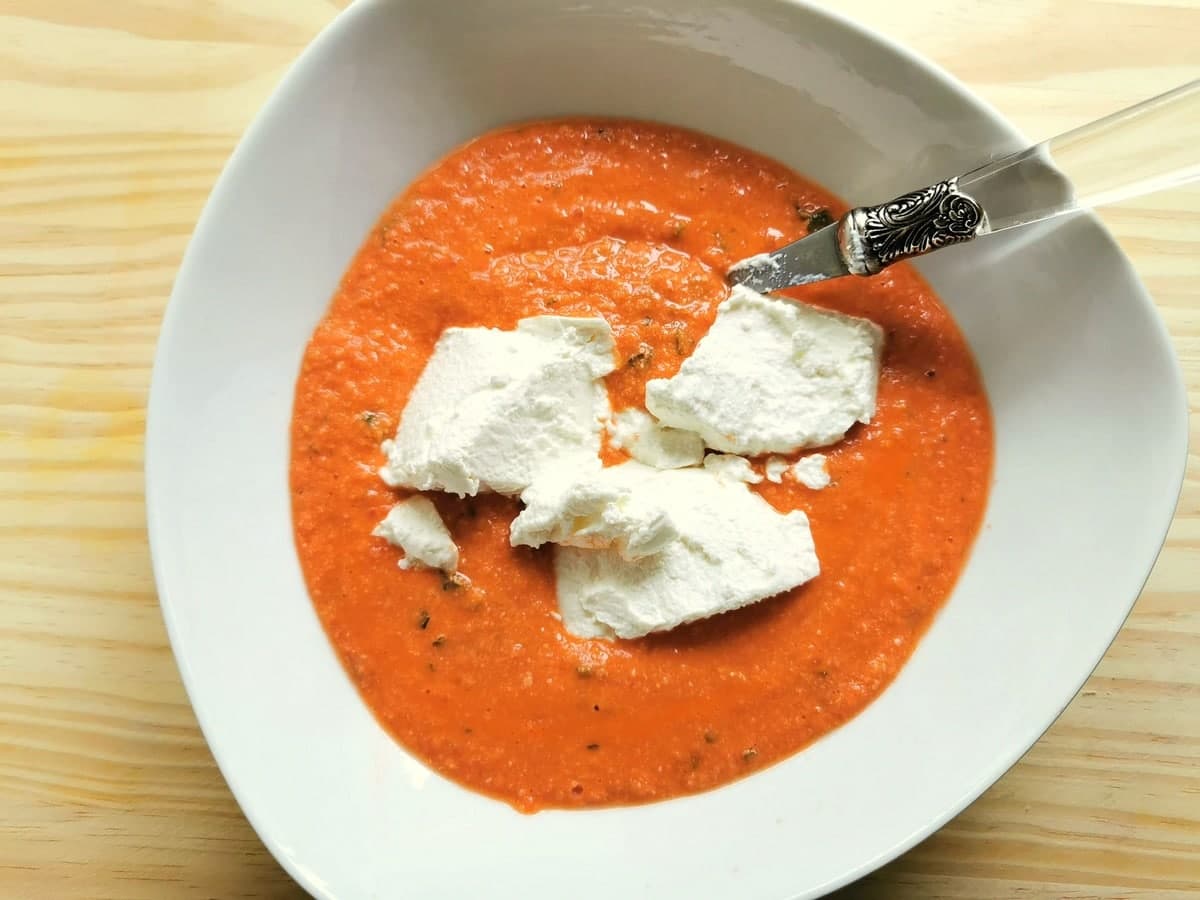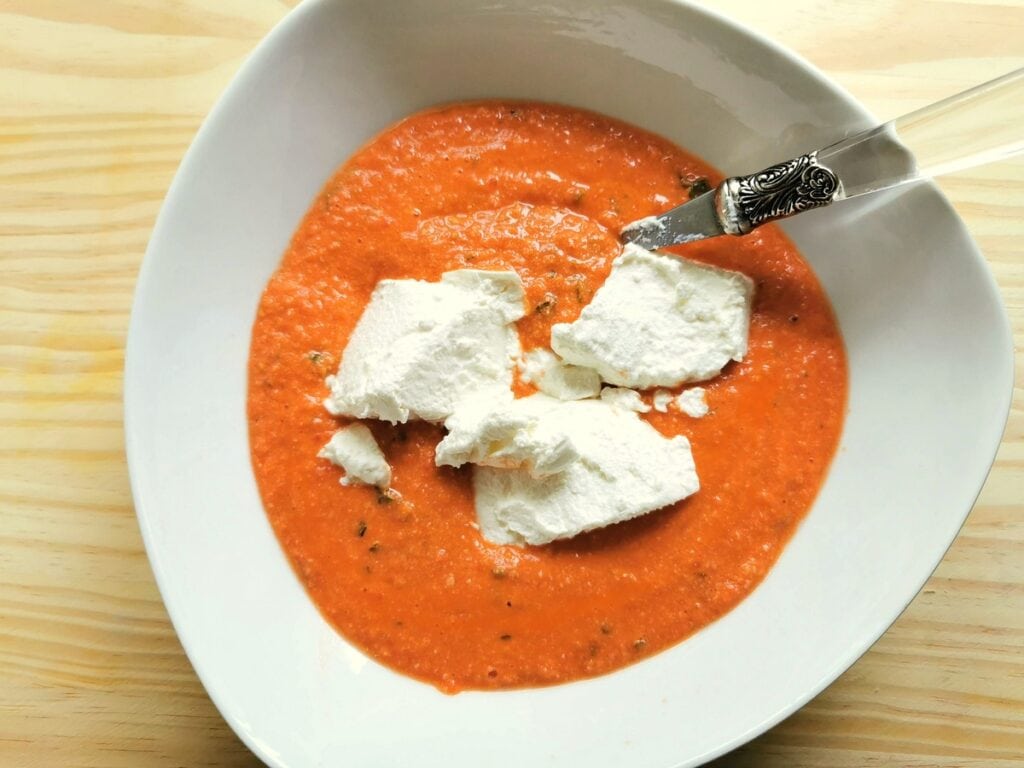 What pasta goes with Sicilian pesto?
As I mentioned above, I served my pesto alla Siciliana with homemade casarecce pasta. Casarecce is a short pasta from Sicily, although it's popular throughout Italy. Many pasta companies make dried casarecce so, it's not difficult to find! However, if you'd like to try making your own, check out my homemade casarecce post. I made it 2 ways, completely by hand and using a pasta dough press.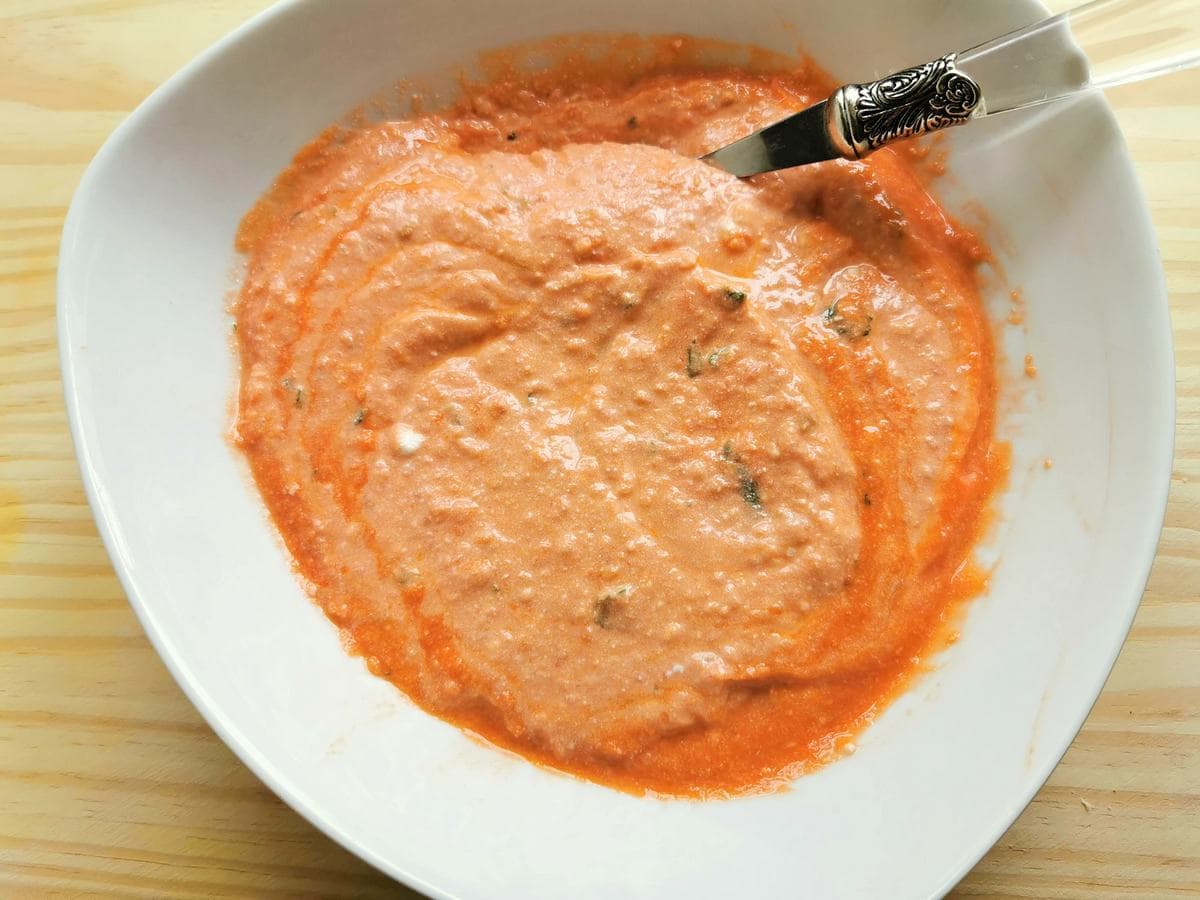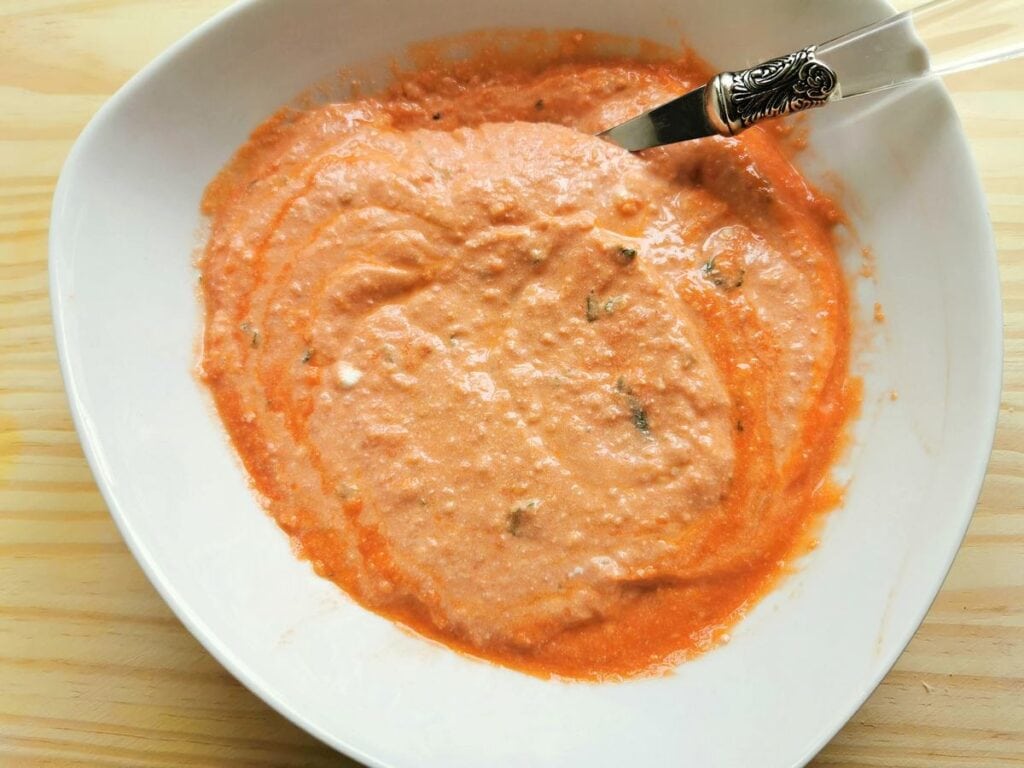 Of course, you can use other types of pasta instead. I think fusilli or short tubes like penne would be great too. I've also come across recipes for this Sicilian pesto with busiate (particularly short busiate), Sicilian maccheroni, spaghetti, orecchiette and farfalle (bow-tie pasta). So, whatever is in your pantry is probably a good pairing!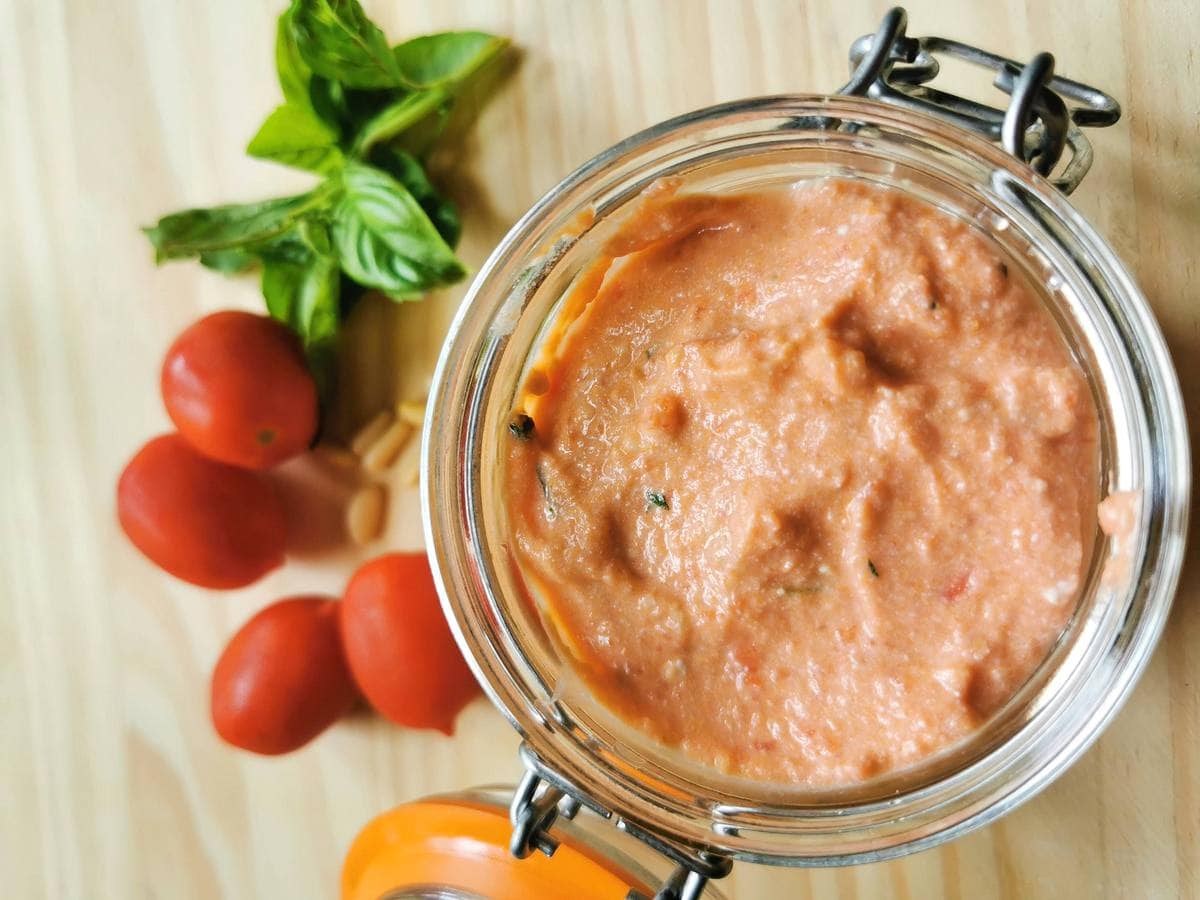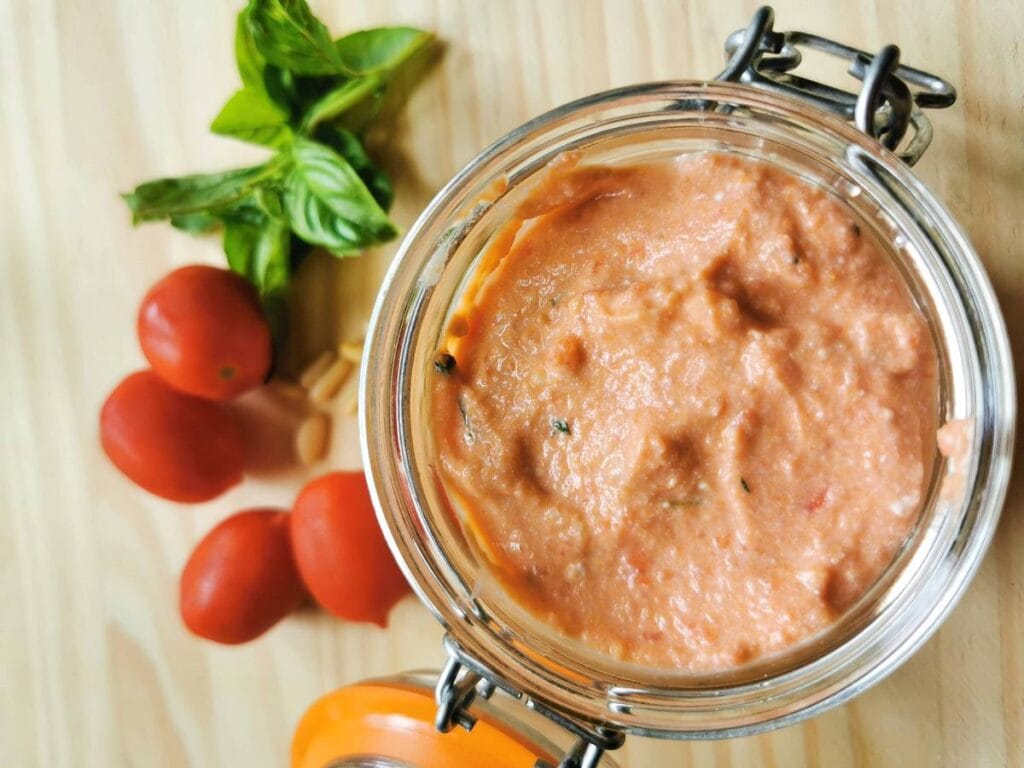 Other serving suggestions for pesto alla Siciliana.
Like most types of Italian pesto, this Sicilian pesto can also be served as a dip, on bruschetta or even on pizza! You can also add some other veggies to the dish such as roasted cherry tomatoes, fried zucchini or fried eggplant!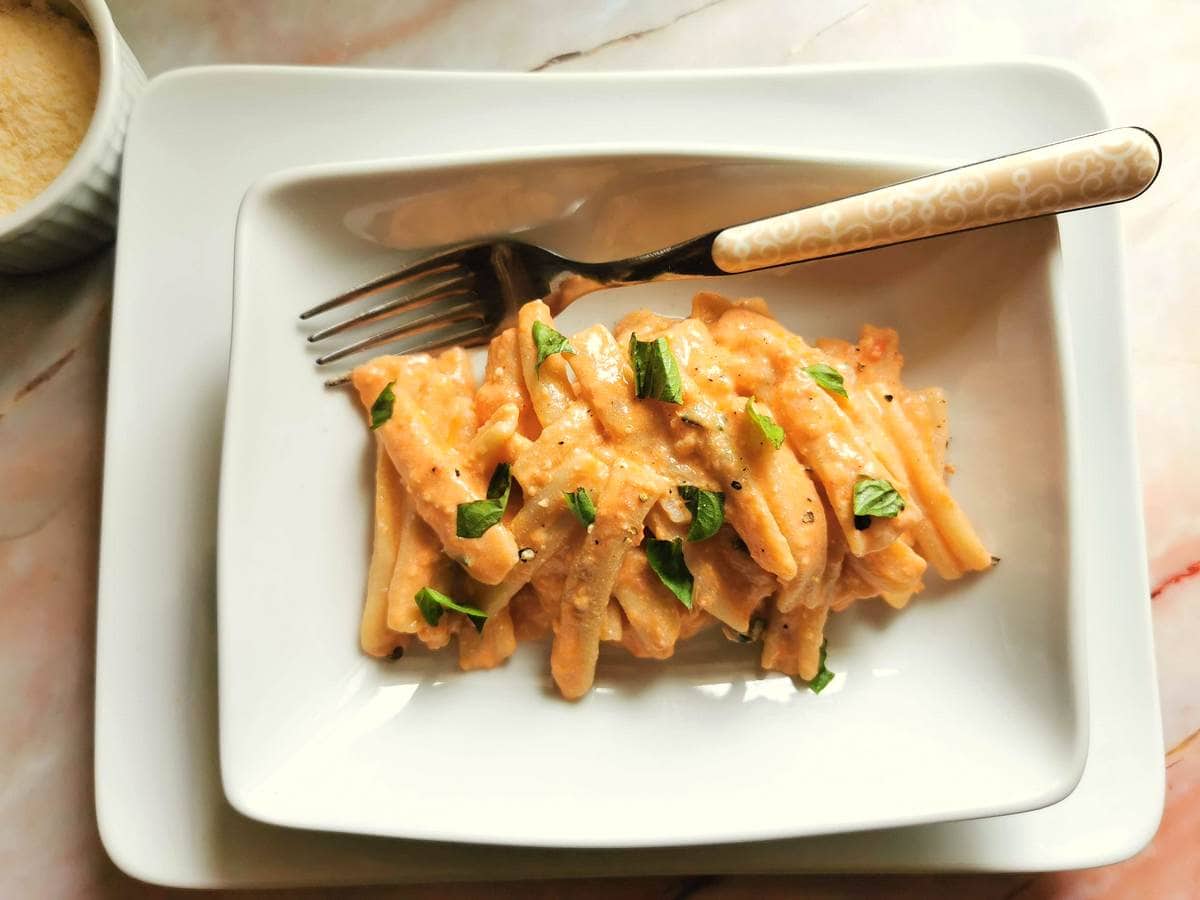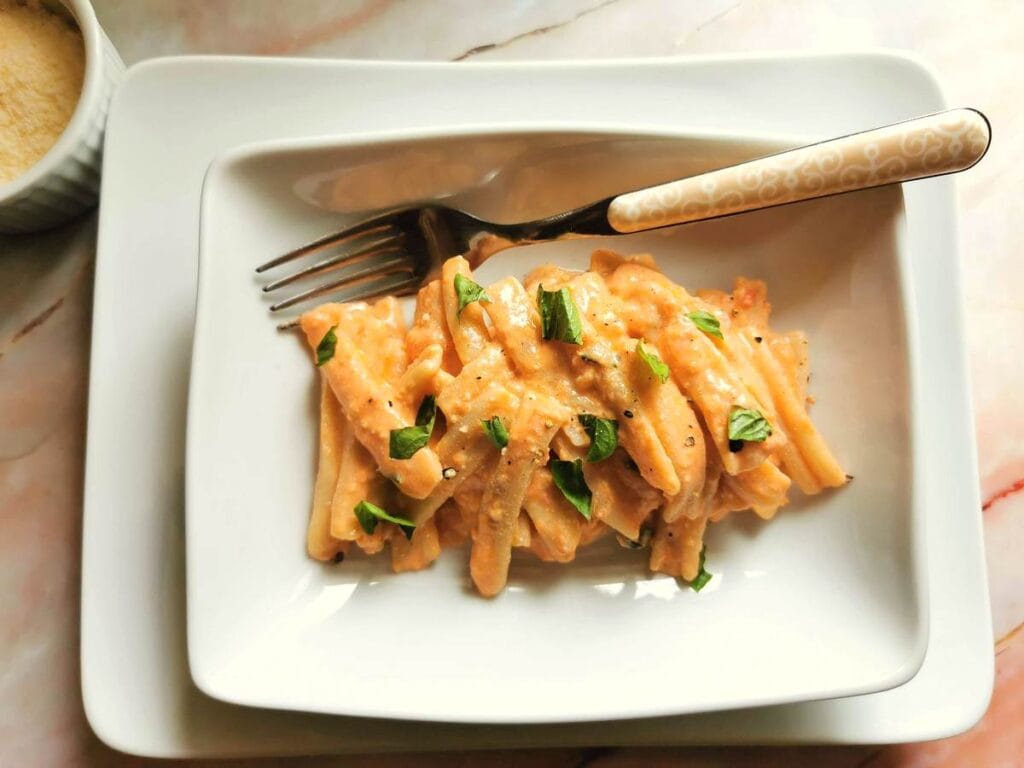 I'm sure once you try this Sicilian pesto, you'll be adding it to your list of favourite summer pasta recipes. It's so light, fresh and easy to make. If you make this recipe I'd love to hear how it turns out and if you liked it. Please leave a comment here on the blog or on The Pasta Project Facebook page.
Looking forward to hearing from you!
Buon appetito!
Other pesto recipes to try.
Why not save this recipe for later?
If you want to save this creamy pesto with ricotta for later, you can print it, bookmark this page or save it to Pinterest.
Want to know more about my life in Italy? Why not subscribe to my newsletter? New subscribers get a free series of recipe e-books too!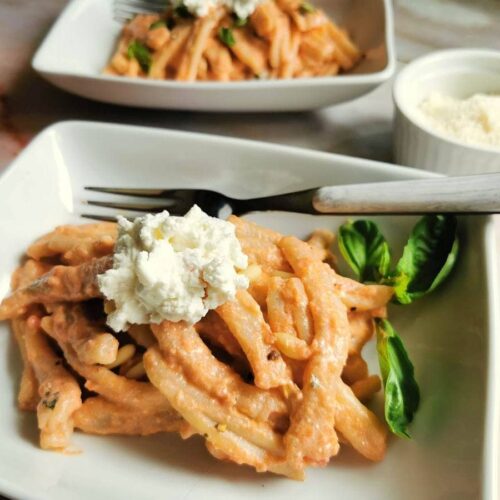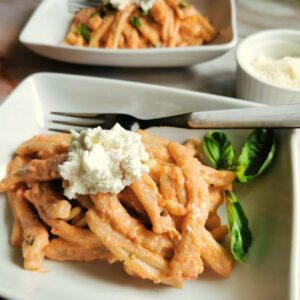 Casarecce Pasta with Sicilian Pesto (pesto alla Siciliana)
This casarecce pasta with Sicilian pesto is a super light and fresh recipe from my hubby's home region, Sicily. I served it with homemade casarecce but, of course, you can use dried pasta too. Known as pesto alla Siciliana, this is a creamy no-cook sauce. So, you can have this dish on the table in the time it takes to boil the water and cook the pasta.
Equipment
food blender or processor
Ingredients
400

g

ripe datterini tomatoes (14oz)

or San Marzano or vine tomatoes. Peeled and chopped

100

g

Parmigiano Reggiano or grana (3.5oz)

Vegetarians should use a vegetarian cheese.

200

g

fresh ricotta (7oz)

Cow's or sheep's milk ricotta.

2

tbsp

pine nuts

1

garlic clove

peeled

1

bunch

fresh basil leaves

2-3

tbsp

extra virgin olive oil.

salt

to taste

400

g

casarecce pasta (14oz)

or other short pasta
Instructions
Prepare the ingredients
Wash and peel the tomatoes (see post for how to peel tomatoes) Cut them in half and remove most the seeds and liquid. You can also use unpeeled tomatoes if you prefer. Peel the garlic. Wash the basil leaves and pat them dry with kitchen paper.
Make the pesto
Add the tomatoes to your blender or food processor and pulse a couple of times. Then add the garlic, pine nuts and Parmigiano. Pulse again a few times. Then add the basil leaves and a little olive oil. Pulse in short spurts to avoid heating the blender and ruining the basil. If your sauce seems too liquid, add more grated cheese.

Pour the pesto into a bowl and add the ricotta and salt to taste. Mix the ricotta in with a fork. Store your pesto in an airtight jar in the fridge for 2-3 days or use immediately.
Cook the pasta
Put a pot of water on to boil for the pasta. Add salt once it starts to boil and bring to the boil again. Cook the pasta al dente according to the instructions on the packet. Homemade casarecce take about 10-15 minutes depending on the size you make them. Test taste before draining.

Save a cup of pasta cooking water, drain the pasta and pour it back into the pot. Add the Sicilian pesto and mix well. If the sauce seems thick add some of the pasta cooking water. Serve immediately with more ricotta or grated cheese.
Notes
It's a nice serving idea to keep back some of the fresh ricotta and add it to the pasta and pesto before serving. This pesto is best kept in the fridge and used within 2-3 days. I don't think it would work to freeze it! 
If you are interested in learning how to make homemade pasta and different types of gnocchi, check out my shop page for some great video online courses from my friends in Rome! Nothing beats learning to make pasta from Italians! Plus while you're there why not order a copy of one of my pasta recipe cookbooks!?