Bucatini or Spaghetti All' Amatriciana.
Amatriciana is a simple and delicious classic Italian pasta recipe from Lazio with pretty ancient origins. It's popular with kids and adults alike throughout Italy and abroad!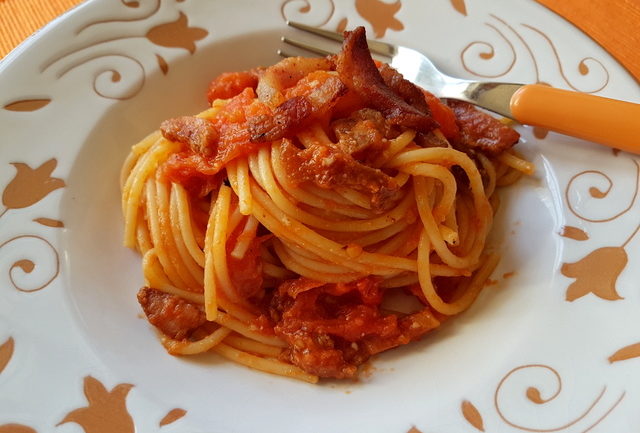 Amatriciana comes from Amatrice in Lazio, Italy.
Sadly because of the devastating 2016 earthquake that destroyed much of the town of Amatrice in Central Italy, amatriciana has become a pasta dish that I cannot help but associate with that tragedy. However, I was very touched by how many restaurants here in Italy and abroad raised funds to help the town's people by donating all or part of the takings from sales of plates of pasta all'amatriciana in the weeks following the quake. (Italians say all'amatriciana but abroad this recipe is often just referred to as amatriciana).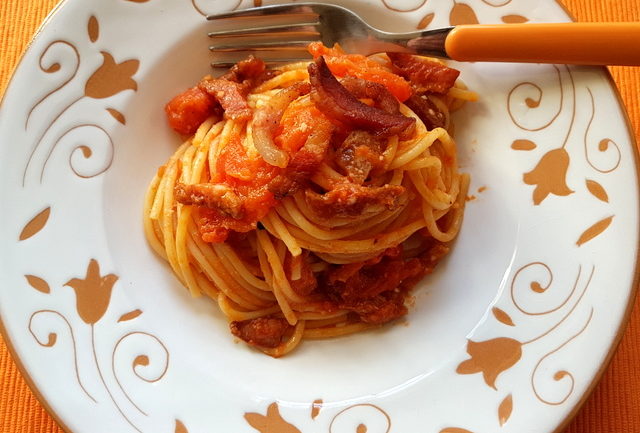 Of course, Amatrice was already well known for its famous pasta recipe even before the earthquake. This dish is based on typical local ingredients. Traditionally the local people use a cast iron frying pan or skillet to make this dish. The original sauce contains only tomatoes, guanciale (pork cheek), pecorino, red chili pepper and white wine. However, like other classic Italian recipes you can find it made with other ingredients in it!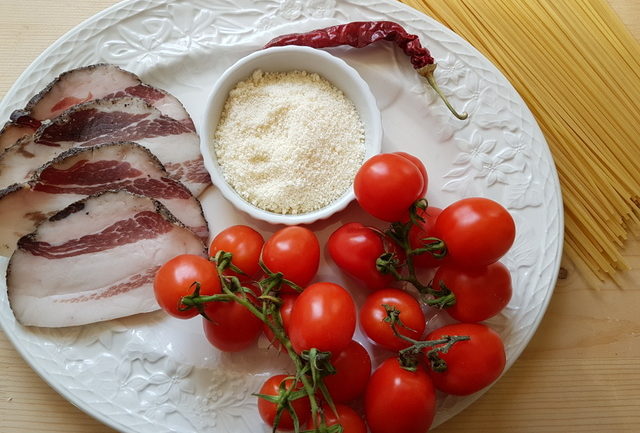 Some Amatriciana history!
Amatriciana, also called matriciana in the local dialect, was originally just a white condiment (no tomatoes!). This original version is called 'alla gricia'. This was apparently the main meal for Amatrice shepherds. The shepherds carried pieces of pecorino in their packs, along with bags of black pepper, dried pasta, cured pork cheek and lard. Between the seventeenth and eighteenth centuries tomatoes were imported to Italy and a tomato sauce was added to the recipe.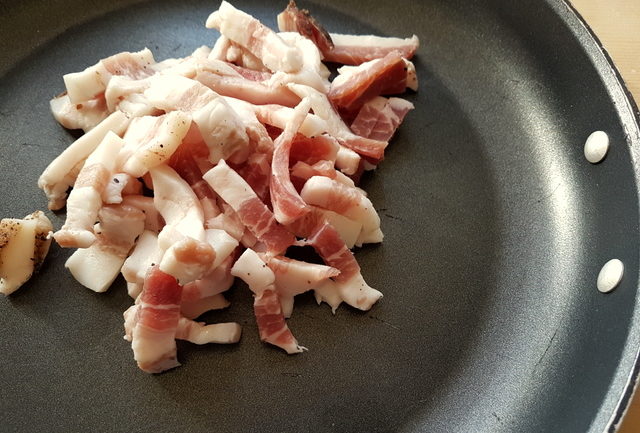 Amatrice became famous for creating this 'new' recipe and in fact the town has held an annual festival in celebration of amatriciana for more than 50 years. In 2016 the festival was cancelled because of the earthquake which happened just a few days before the date of the festival. It was held instead in Rome in December.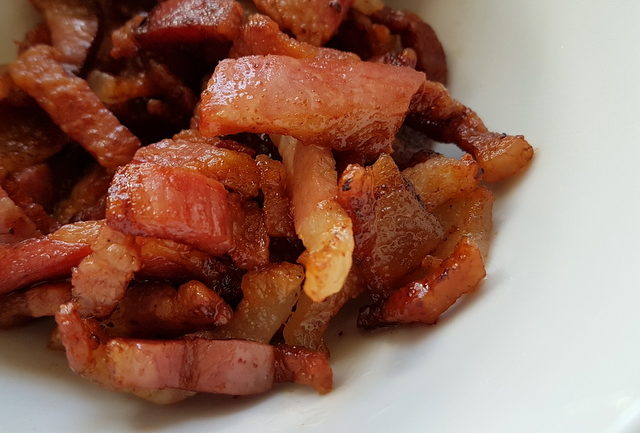 The Romans love Amatriciana!
Although it is not originally from Lazio (during the Kingdom of the Two Siciiys, Amatrice belonged to Abruzzo), amatriciana has become a classic Roman recipe. However, it is more often served with bucatini in Rome and spaghetti in Amatrice. Both pastas work really well in this dish. For this recipe, I used spaghetti but I like it with bucatini too.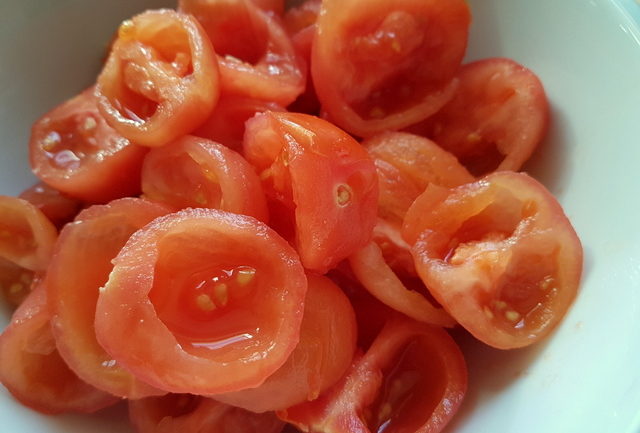 The people of Amatrice are very strict about the ingredients of this sauce and have been known to take offence when chefs become creative with their own versions. There's a lovely story of when two Michelin star chef Carlo Cracco confessed that he put garlic in his amatriciana and the Amatrice town council accused him of 'a lack of judgement' on their Facebook page!!!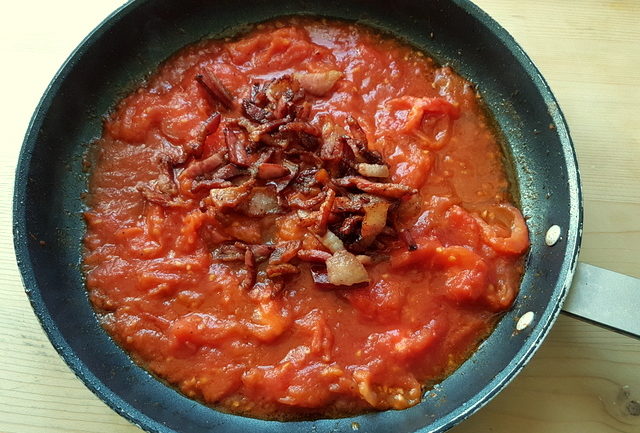 The recipe below is based on the original, except for the use of olive oil instead of lard. Bucatini or spaghetti all'amatriciana is a recipe that everybody loves, especially kids! So, it's well worth adding to your own pasta repertoire if it isn't there already.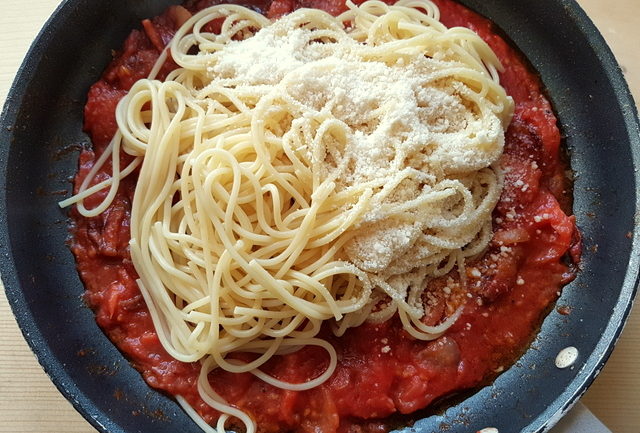 If you do try this bucatini or spaghetti Amatriciana recipe, I'd love to hear what you think. Please write a comment here on the blog or post a comment on the Pasta Project Facebook page.
Your feedback means a lot to me!
Buon Appetito!
(This recipe was originally published in 2017 but I have updated the photos and text)
Other Classic Italian pasta recipes on The Pasta Project
Save this recipe for later?
If you want to save this recipe for later, you can print it, bookmark this page or save it to Pinterest.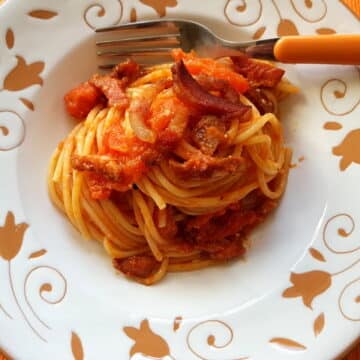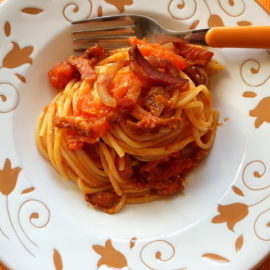 Bucatini (or spaghetti) Amatriciana
This classic Italian pasta recipe from Lazio is loved by both kids and adults all over Italy and abroad. The Amatriciana sauce is very simple and easy to make yet absolutely delicious
Ingredients
400

g

spaghetti or bucatini

(14oz)

150

g

cured pork cheek

(5oz) Guanciale di Amatrice is the traditional type but you can also use thick slices of pancetta but preferably not the ready cubed one .

1

tbsp

extra virgin olive oil

Some cooks believe it's not necessary to add oil as the pork is already quite fatty

1/2

glass

dry white wine

400

g

San Marzano tomatoes

peeled

1

fresh peperoncino or teaspoon of dried peperoncino flakes

100

g

grated pecorino cheese

(3.5oz) Traditionally pecorino from Amatrice which is less salty than other types

black pepper

salt

for pasta and to taste
Instructions
Thoroughly clean the pork cheek and cut it into small strips. Blanch the tomatoes in boiling water and peel them. Cut them in halves or quarters and remove most of the seeds.

Put a pot of water on to boil for the pasta. Add salt when it starts to boil and bring to the boil again.

Heat the oil in a frying pan (traditionally a cast iron pan) and add the pork cheek and let it brown.

Sprinkle with the white wine. Allow the wine to evaporate and add the peperoncino (if using a whole fresh one, remove before serving)

When the pork cheek is browned nicely, remove it from the pan and remove some of the rendered fat too. Add the peeled and cut tomatoes to the pan and cook on a medium heat until they start to soften. If you think you need more sauce you can add a little tomato passata too.

Put the pork cheek into the sauce with some salt and pepper (taking into account that the pork is quite salty already). Simmer for 10-15 minutes.

Meanwhile, cook the pasta al dente in the boiling salted water according to the instructions on the packet

Drain the pasta and add it to the sauce with some of the pecorino, keeping the heat very low while you mix everything well together.

Serve immediately with a sprinkling of more pecorino.
Notes
There are no other ingredients in the original recipe. Some people add onions, garlic, celery or carrot, but the taste of the sauce will change slightly with different ingredients. In Rome, onion is often added.
If you can't find or don't like pork cheek (guanciale) you can also use pancetta.
Pin for Later