Fresh basil pesto or pesto alla Genovese is probably one of the most well-known Italian pasta sauces. This easy to make cold condiment comes from Liguria where it is served in different pasta recipes. However, nowadays, it is also very popular added to minestrone, pizza, seafood, chicken, rice, salads, vegetables and as a dip or on bread. Here you'll find recipes for how to make and use basil pesto Genovese.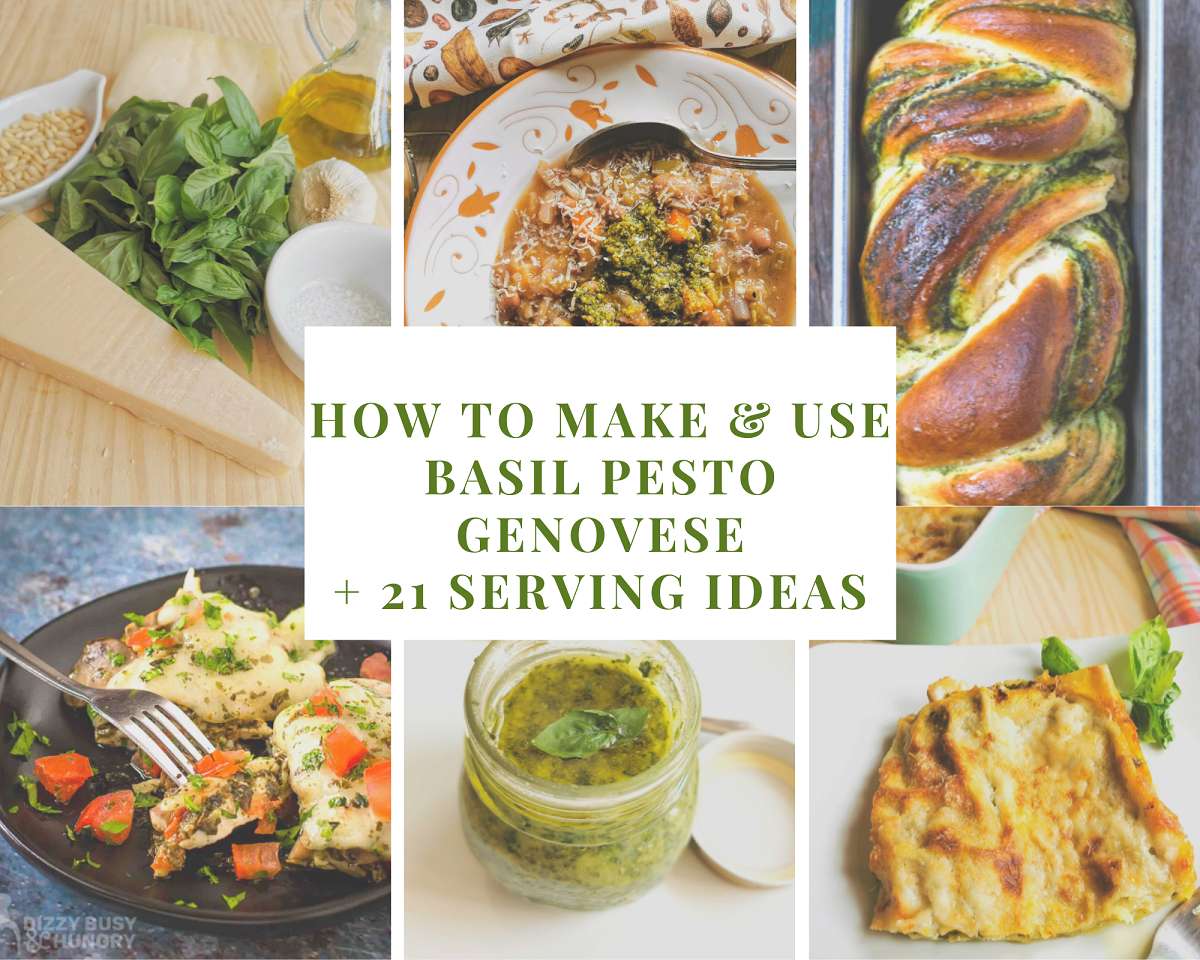 What is pesto sauce?
Pesto sauce is a cold sauce from Italy. The original type of pesto is the basil one made and used in these recipes. It comes from Genova, the capital of Liguria in North-West Italy. Over time, other types of pesto became popular in Sicily and Southern Italy. These are most often made with tomatoes or red peppers.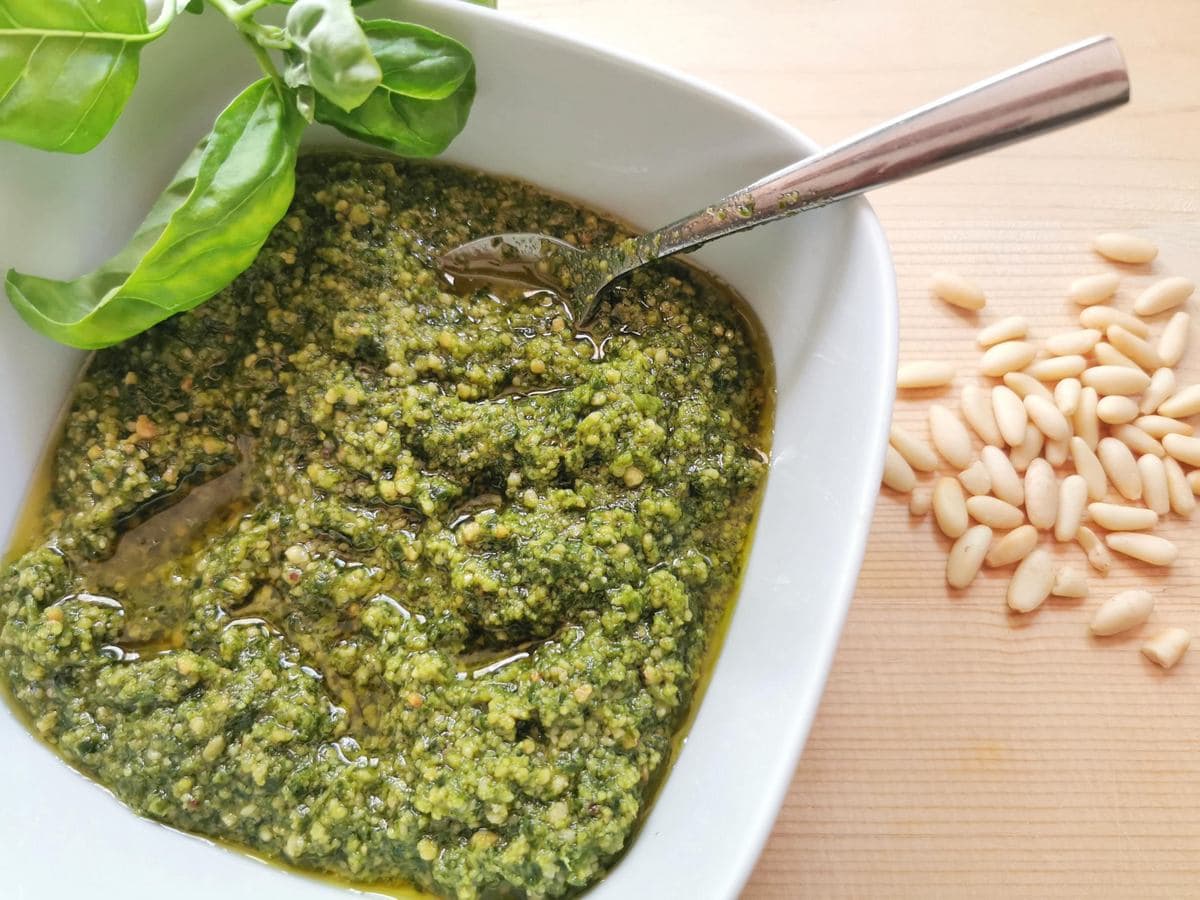 The word 'pesto' comes from the Italian 'pestare', meaning to pound or crush. Traditionally, pesto is made by crushing the ingredients using a marble pestle and mortar, hence the name. Nowadays, many people including Italians make basil pesto with a food processor.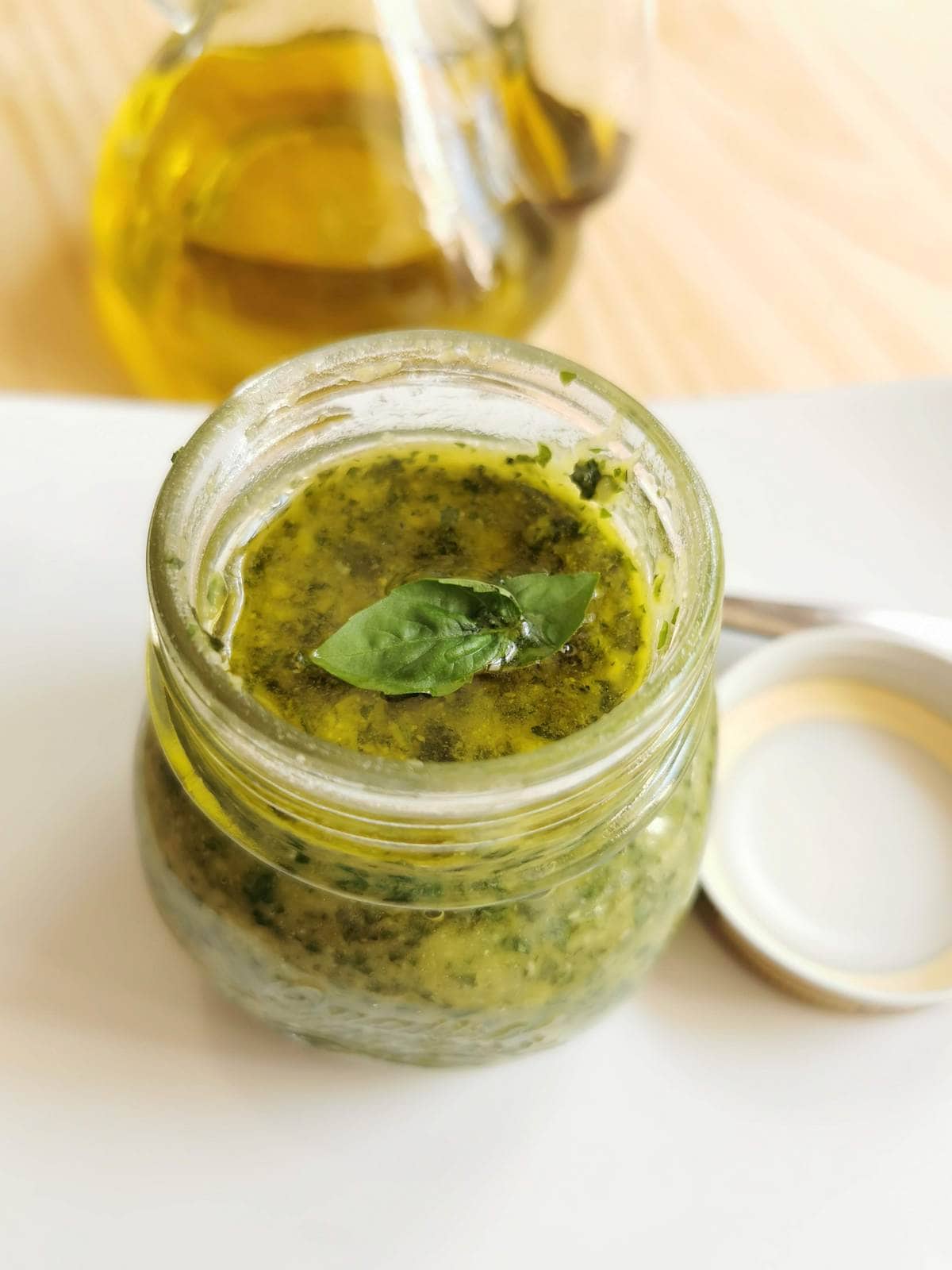 What is pesto made of?
Traditional basil pesto has 7 ingredients: fresh basil, garlic, pine nuts, Parmigiano cheese, Pecorino, salt and extra virgin olive oil. In Liguria, they actually have an official recipe published by the Genoa Chamber of Commerce. This calls for Ligurian basil leaves, Vessalico garlic, Mediterranean pine-nuts, Ligurian extra virgin olive oil, coarse sea salt and both aged Parmigiano and Pecorino from Sardinia.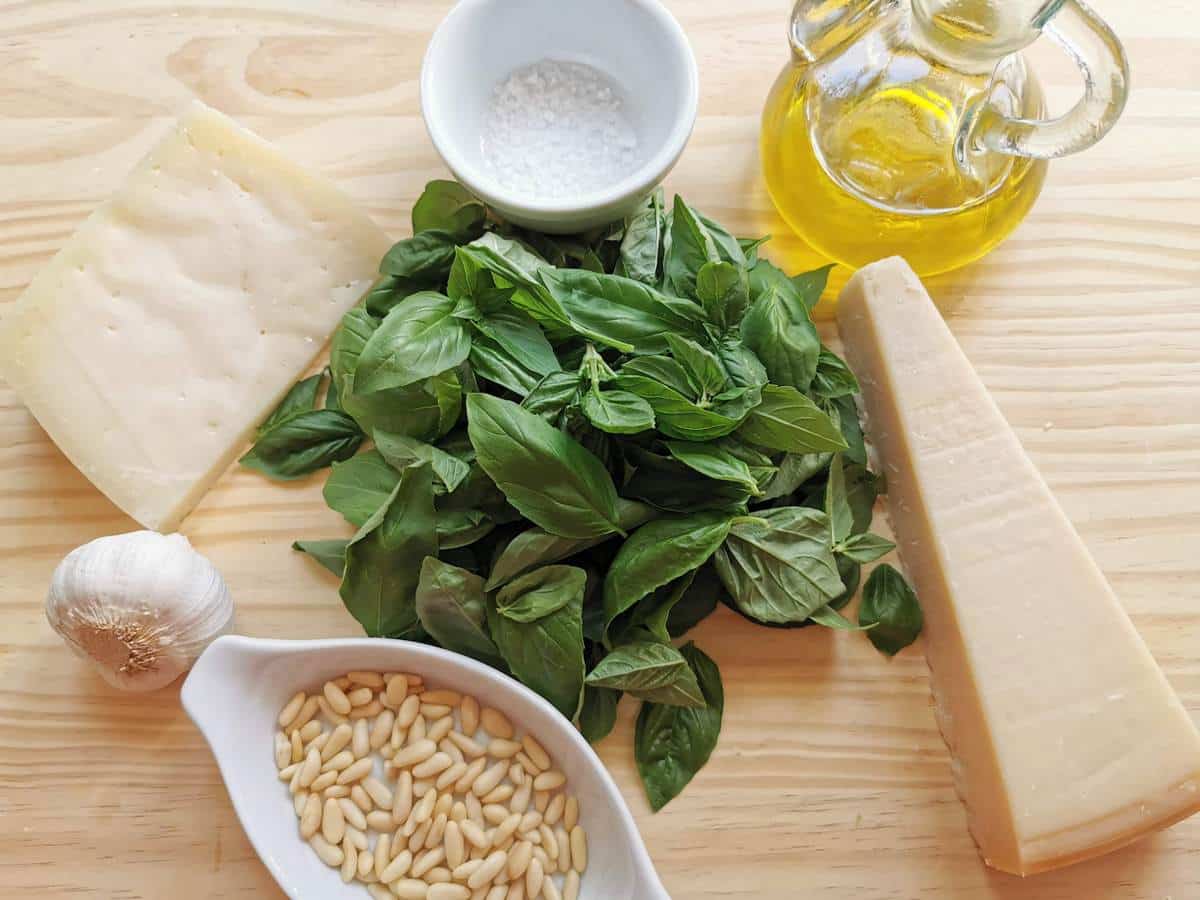 Of course, those exact ingredients aren't easy to find, even where I live in Veneto. So, most people use locally bought or cultivated basil leaves, pine nuts, garlic and extra virgin olive oil. Both cheeses are also not easy to source. In fact, I often make basil pesto with just Parmigiano Reggiano or I use Pecorino Romano instead of Sardinian pecorino. They are pretty similar anyway as Pecorino Romano is actually made in Sardinia!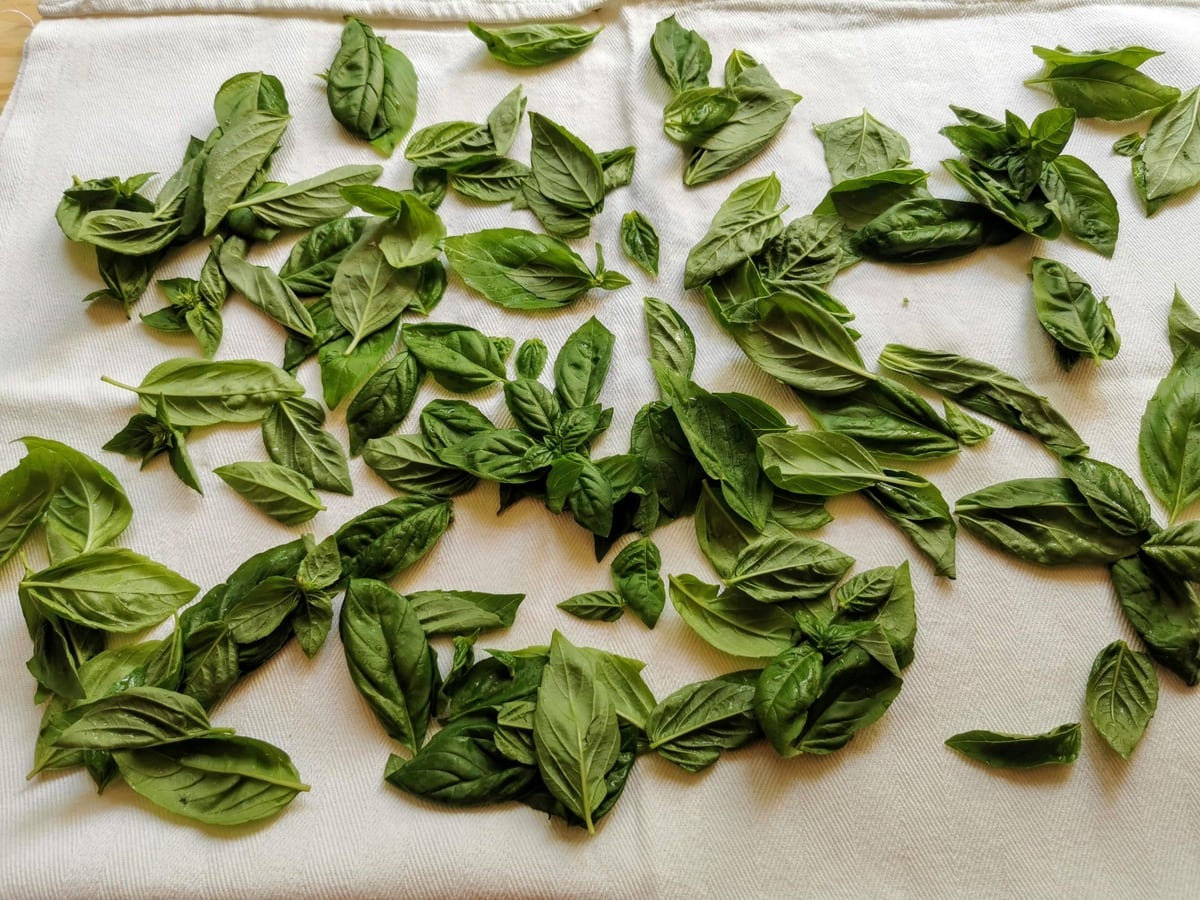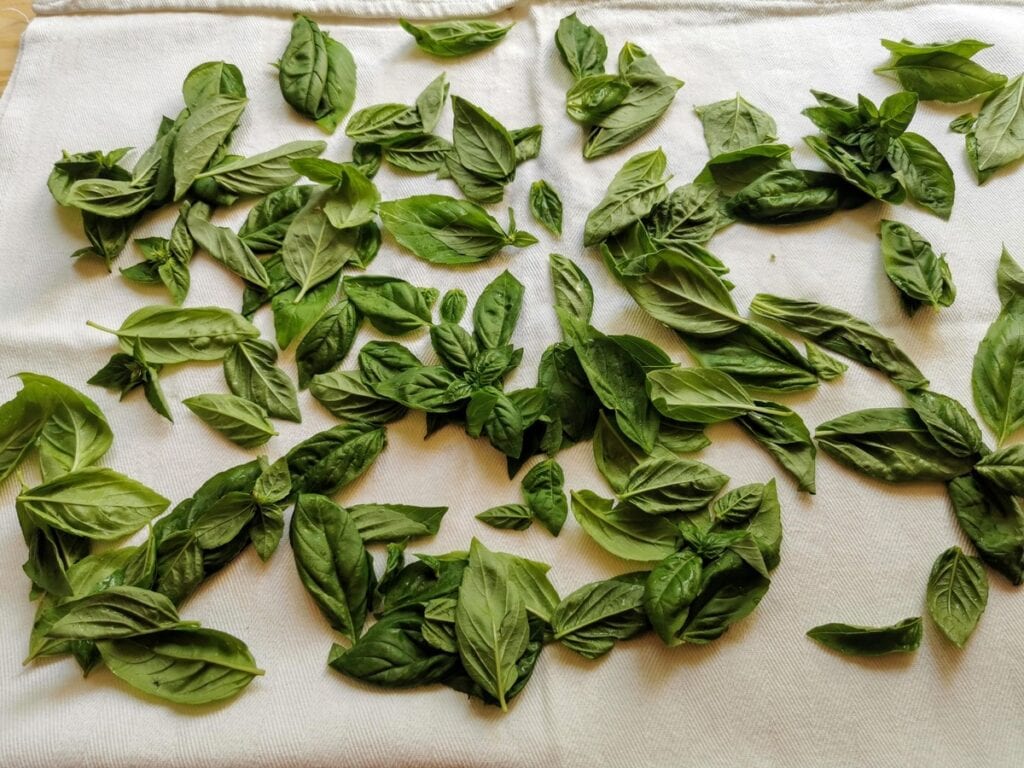 A little basil pesto history.
Italian basil pesto isn't a really old sauce, unlike some others in the Italian kitchen. It was invented in the Liguria region in the 1800s. However, it has pretty ancient predecessors. Food historians believe pesto Genovese was based on a couple of other recipes that date back centuries.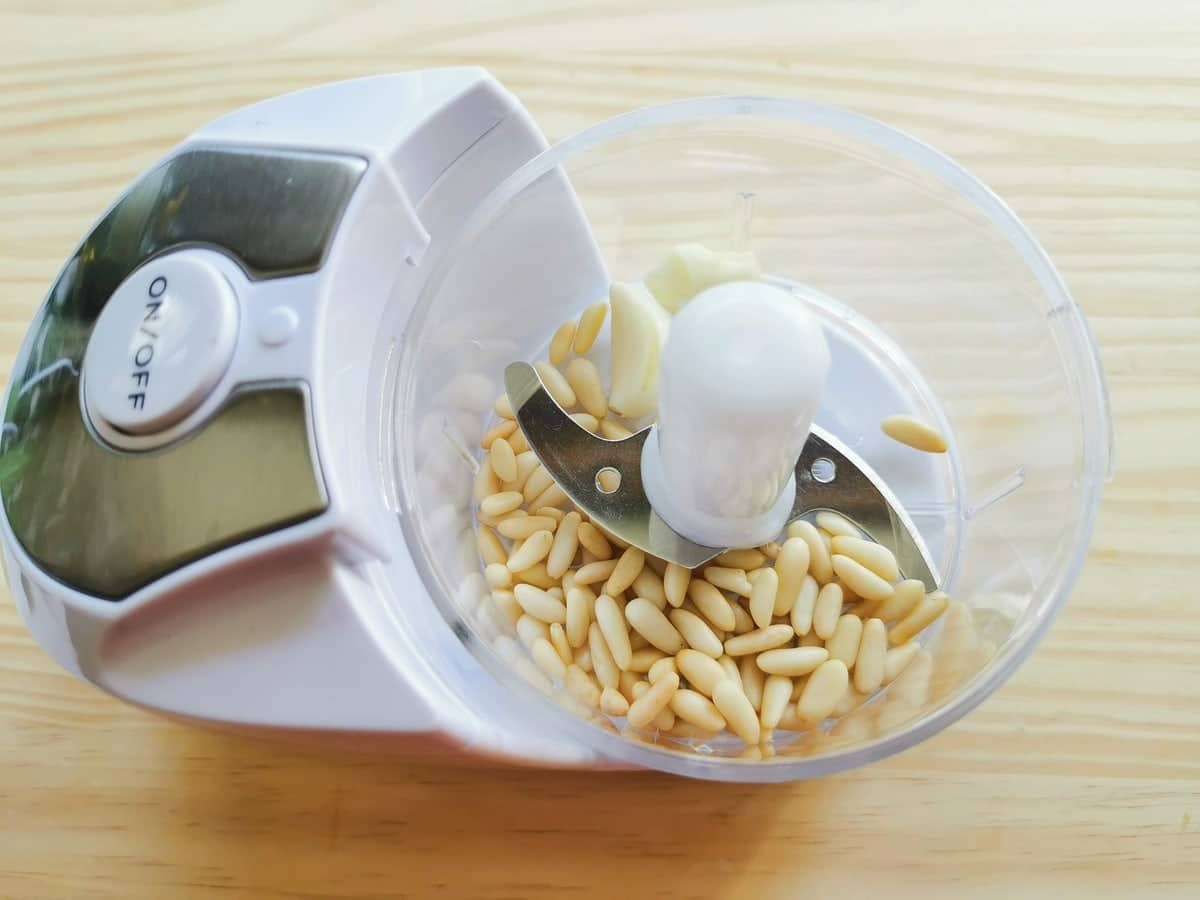 The first was a paste the Ancient Romans ate. Known as 'moretum' this was made with crushed garlic, herbs, salt, cheese, olive oil and vinegar and, sometimes, pine nuts. The Romans ate it mostly with bread and made it using a mortar, hence the name!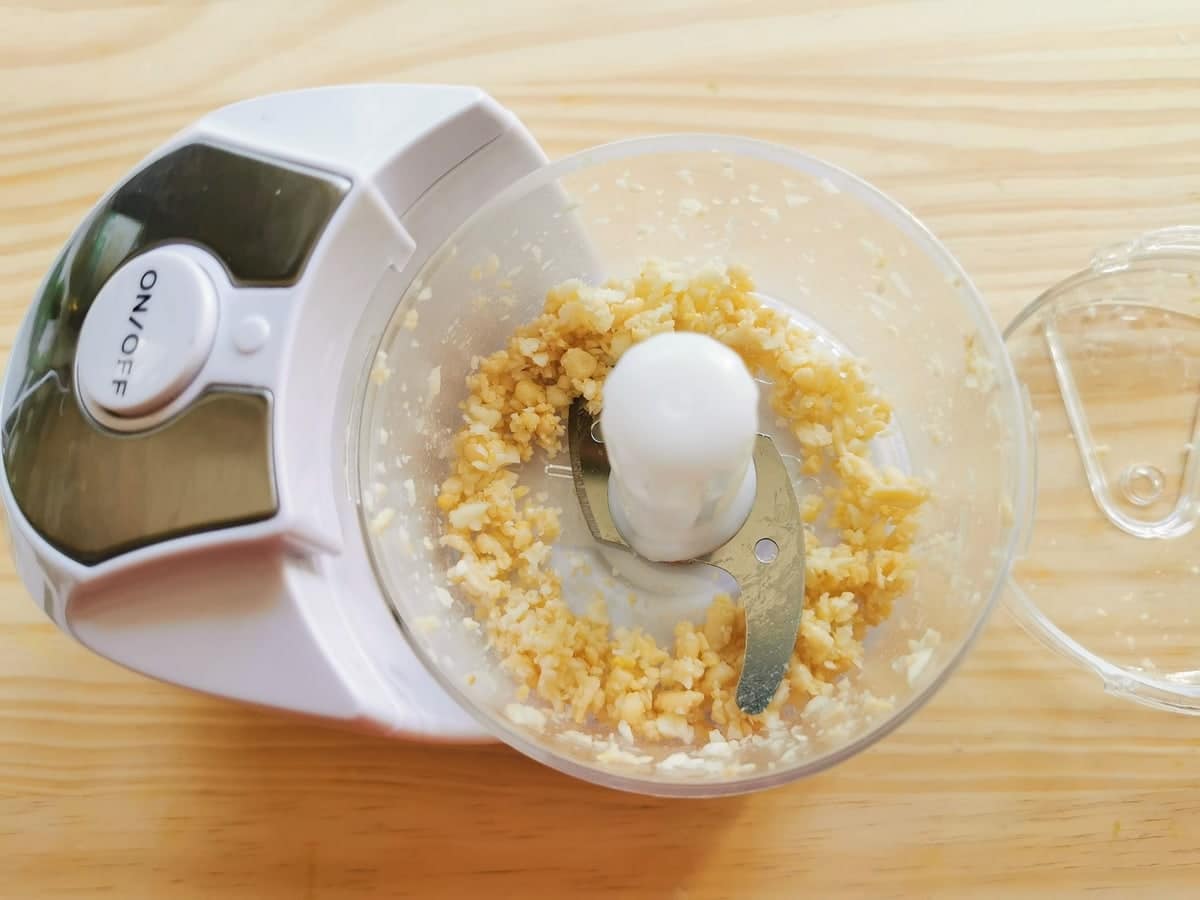 The second sauce that basil pesto is said to be based on is 'agliata', another Ancient Roman sauce made using a mortar. Agliata usually contains garlic, olive oil, breadcrumbs, vinegar, and salt. This garlic sauce is still a traditional Ligurian condiment. Nowadays there are different versions, including one with egg yolk that tastes like a garlic mayonnaise.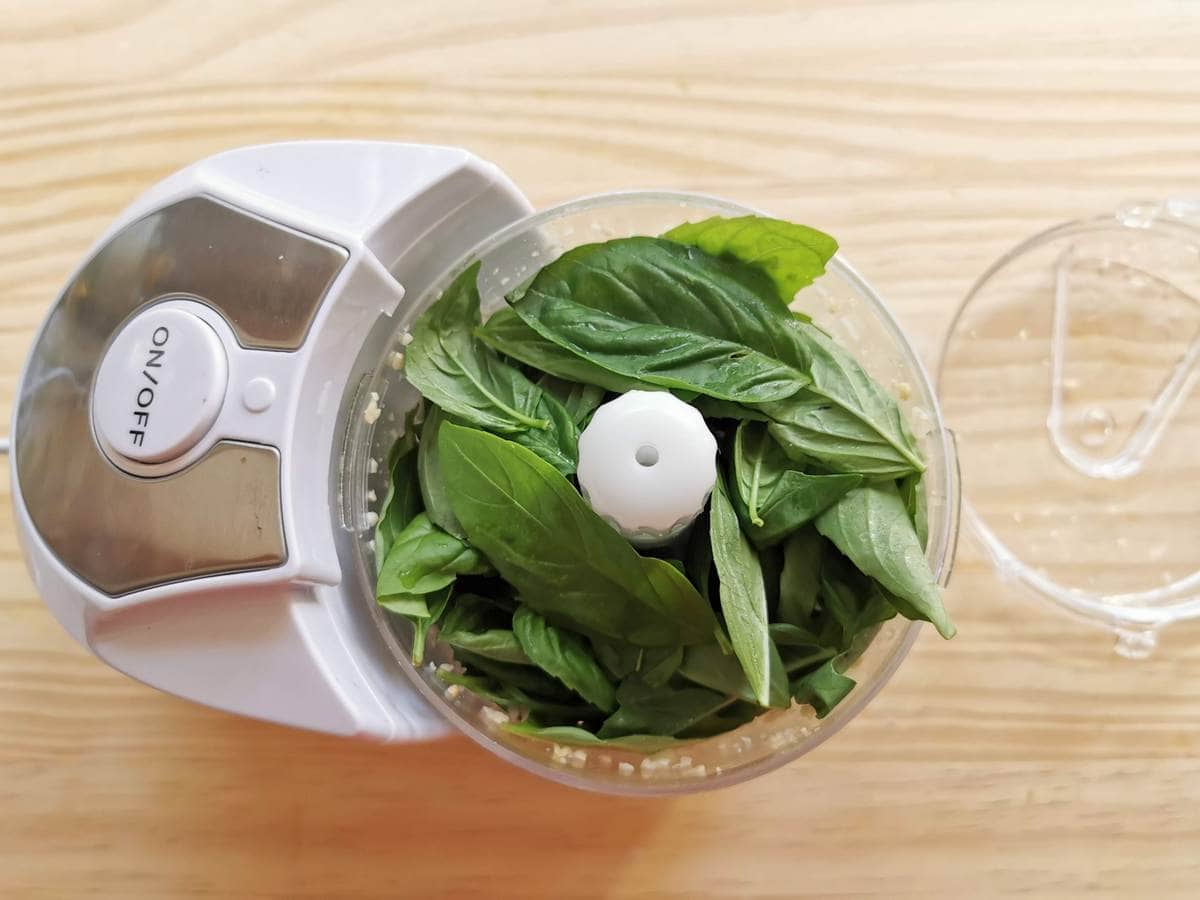 Is basil pesto vegetarian?
Made the traditional way with Parmigiano and pecorino, pesto isn't vegetarian as both those cheeses contain animal rennet. However, you can make pesto with a vegetarian hard cheese or parmesan for a vegetarian version. It may taste slightly different but is still very good.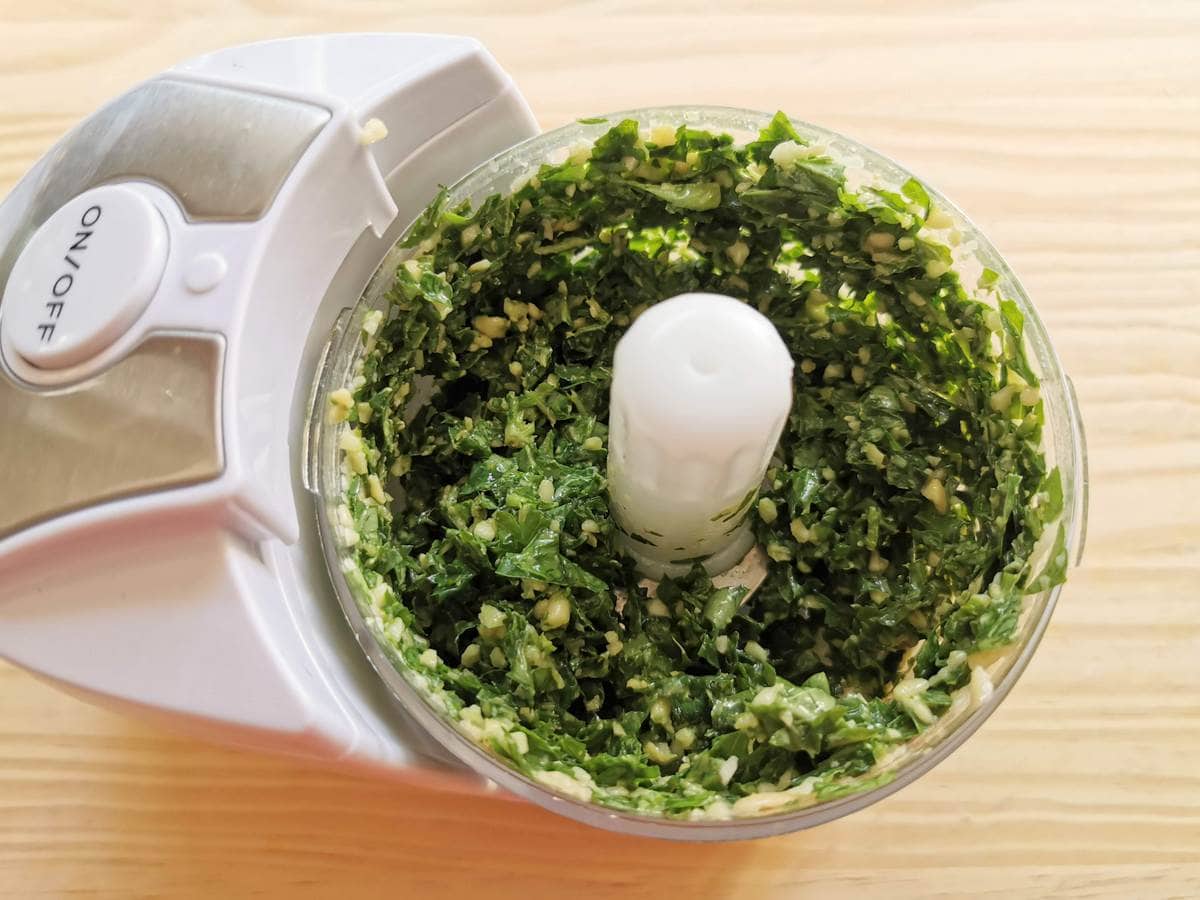 Substitutions for basil and pine nuts in pesto.
Obviously, if you use different ingredients, your pesto won't be authentic and won't taste exactly the same. But, there are many different ways to make pesto using other herbs or leaf vegetables instead of basil. I like to use rocket (arugula) when fresh basil is out of season, and some people use kale, spinach, parsley, watercress or coriander or a combination of different leafy greens.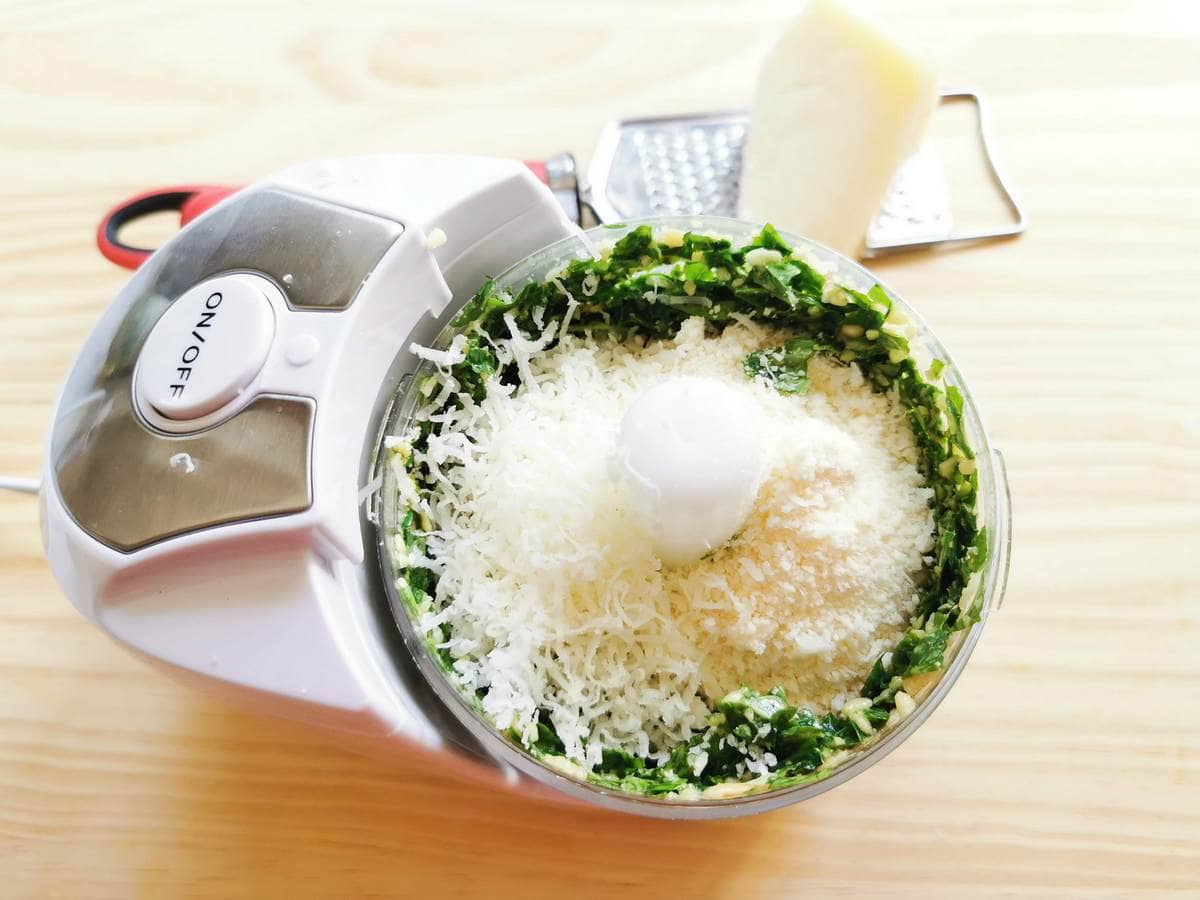 Plus, since Mediterranean pine nuts can be expensive and hard to find, you can substitute them with almonds, walnuts, pistachios or even cashew nuts. Alternatively, you can make pesto without nuts or with sunflower seeds. These other types of pesto can all be used in the ways to use pesto recipes below.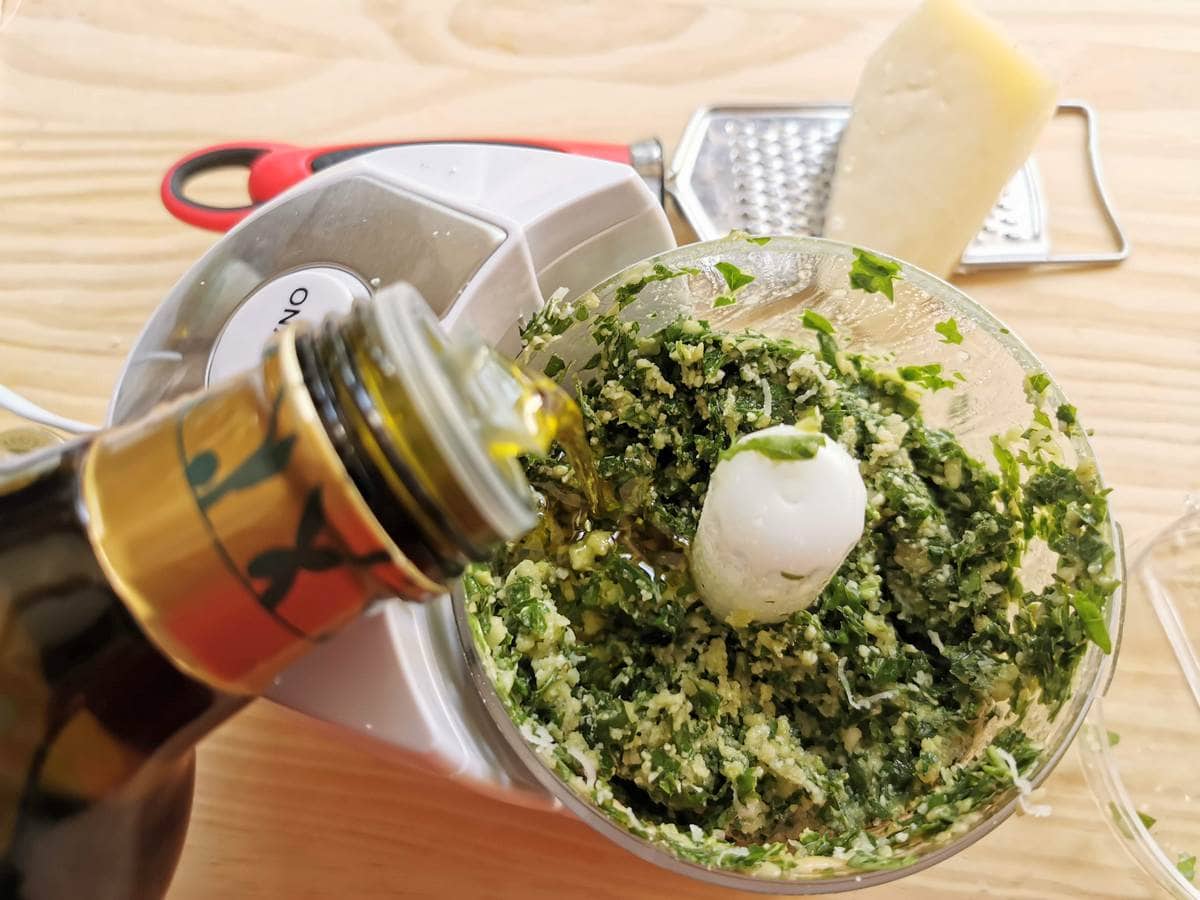 Two ways to make fresh basil pesto.
There are two ways to make basil pesto, with a food processor or with a pestle and mortar. The latter is the traditional way. Yes, it takes longer but the result is more authentic. However, even pesto made with an electrical appliance tastes so much better than most ready-made, store-bought versions. Plus it's a lot healthier.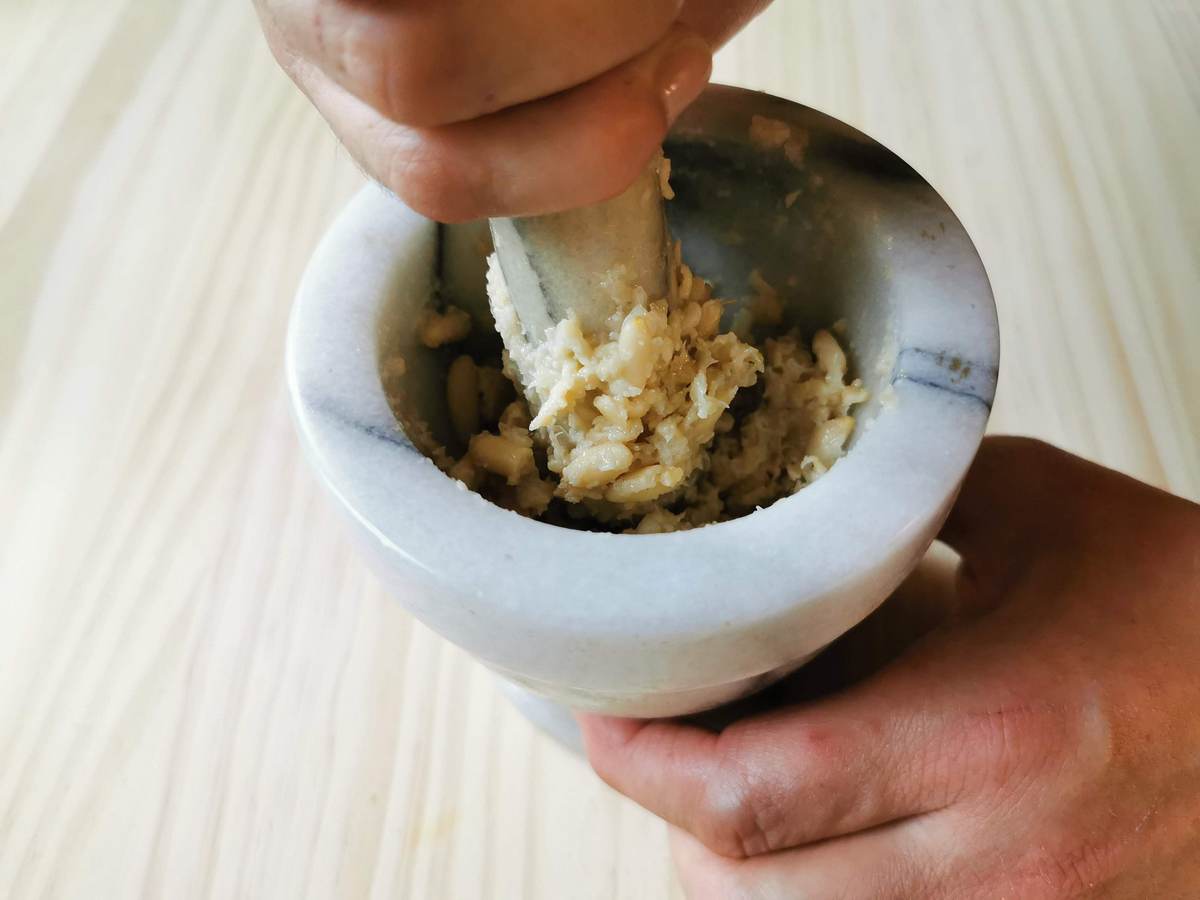 Step-by-step how to make basil pesto.
Below you'll find instructions to make your pesto both ways. When using a food processor many people like to just put all the ingredients into their appliance and blend non-stop until they get the required consistency, maybe adding more olive oil as required.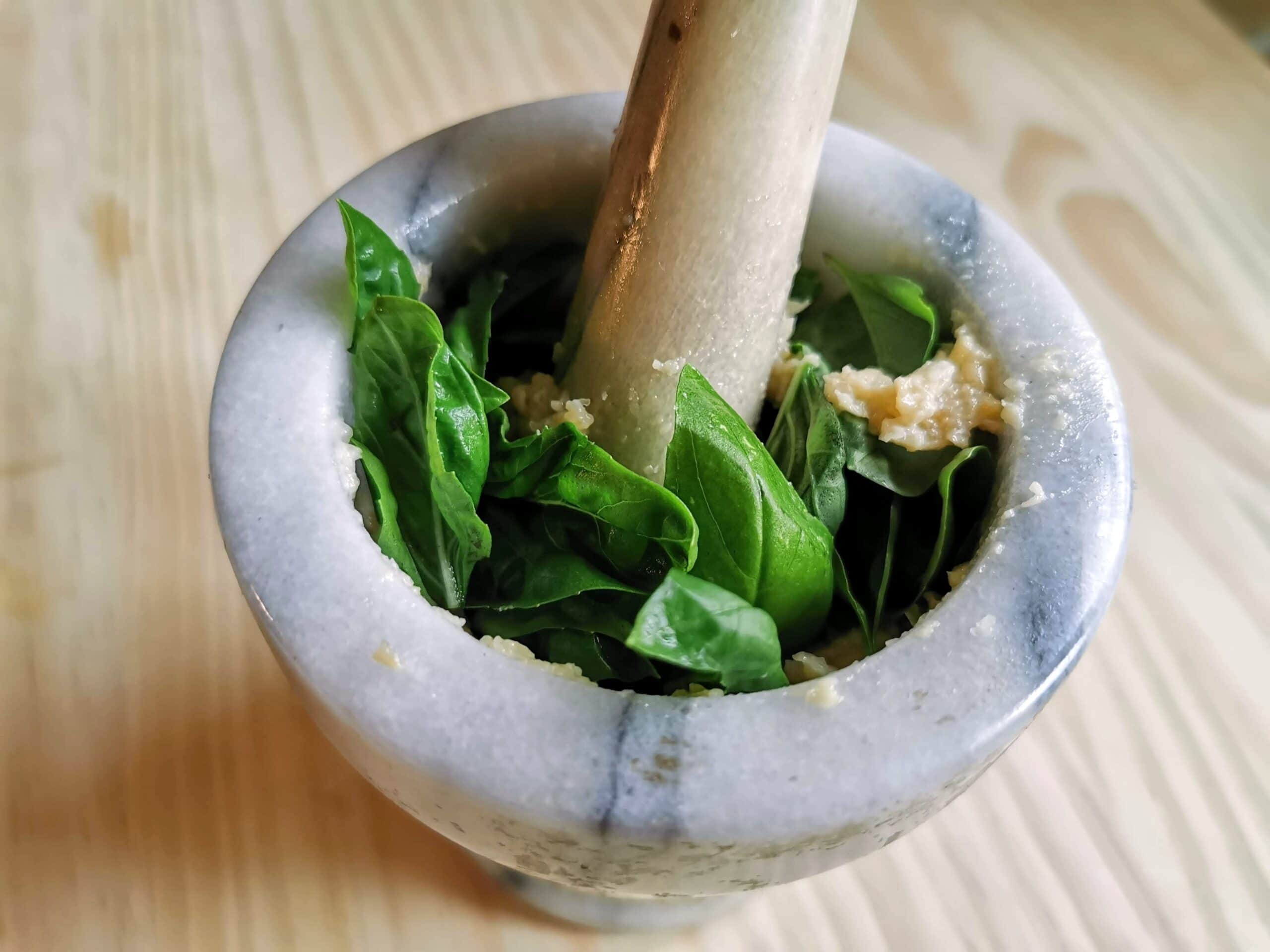 This is NOT the best way as the heat from the blades of the processor can spoil the basil. You can put all the ingredients in at once but use short pulses to prevent the processor blades from heating.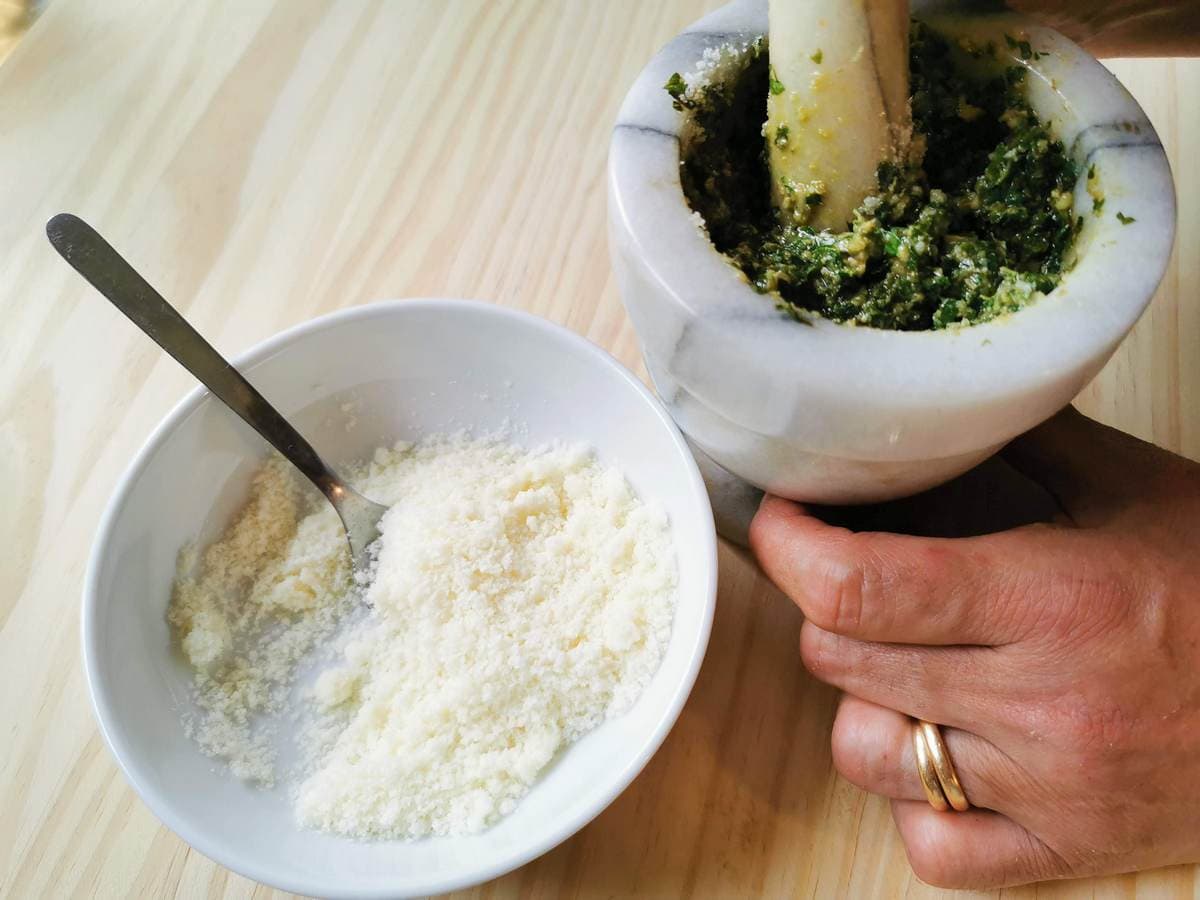 I prefer to add the ingredients a few at a time. So, first the pine nuts and garlic, then pulse until minced. Second some basil and a little olive oil, then a few short pulses. Then more fresh basil and a little olive oil, then a few short pulses.
Finally, some salt and the cheese and some more olive oil followed by a short pulse or two just to mix the cheese and oil in. Or you can remove the pesto from the blender and add the grated cheese after.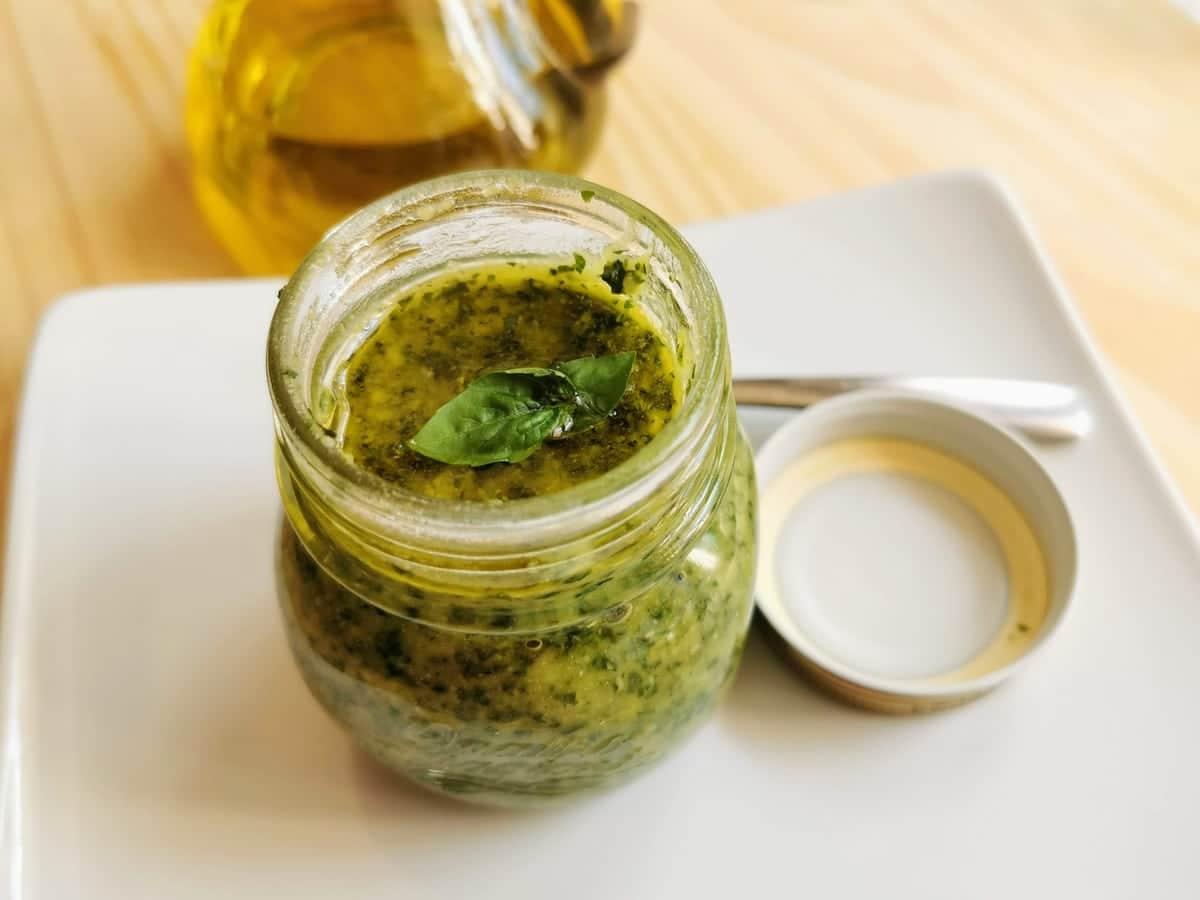 This step-by-step method is also the way fresh basil pesto is made in a pestle and mortar. First the garlic and pine nuts, then the basil and some olive oil a little at a time and finally the grated cheese is mixed in as it does not need to be ground or minced.
How to use fresh basil pesto.
Italians traditionally serve pesto with pasta and there's more than one recipe for that. For example, they use it in lasagna, they add it to minestrone, they mix it with tomatoes or fresh tuna, and they add green beans and potatoes to their pasta with pesto. Below you'll find links to some of the different traditional pasta with pesto recipes from Liguria.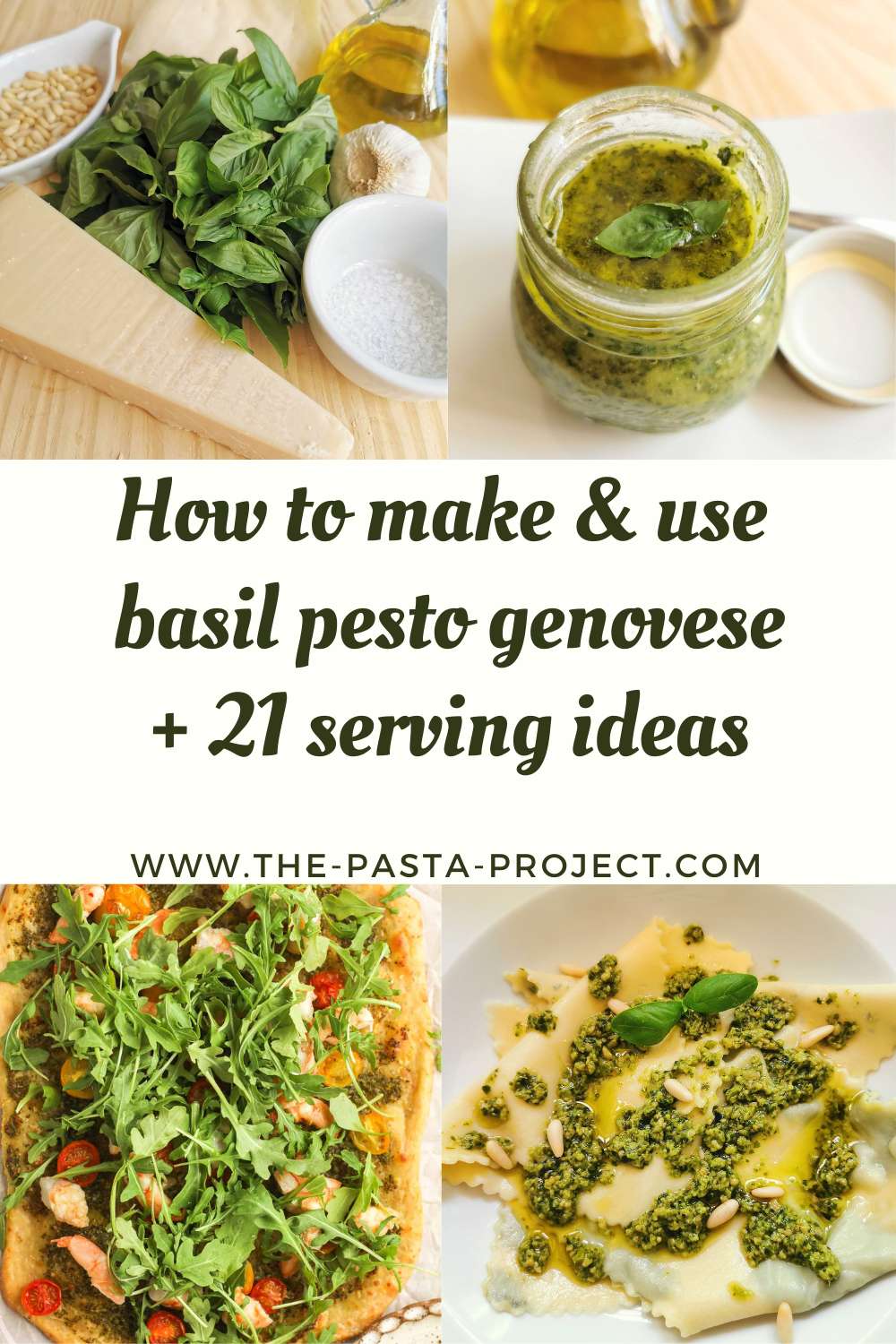 However, as I mentioned above, there are many ways to use pesto that don't include pasta. I love to serve it as a dip or dressing for boiled new potatoes. It's also great in sandwiches, on pizza, on bruschetta and with seafood, as well as various vegetables.
Below you'll find some other great ways to use pesto. These recipes come from some of my favourite fellow bloggers and are all worth checking out.
If you make your own pesto and any of the recipes below, I'd love to hear how it turns out and if you liked it. Please leave a comment here on the blog or on The Pasta Project Facebook page.
Looking forward to hearing from you.
Buon appetito!
21 Traditional and non-traditional ways to use pesto.
Traditional Pesto Pasta Recipes
Other delicious ways to use pesto
If you are interested in learning how to make homemade pasta and different types of gnocchi, check out my shop page for some great video online courses from my friends in Rome! Nothing beats learning to make pasta from Italians! Plus while you're there why not order a copy of one of my pasta recipe cookbooks or checkout some recommended pasta making tools?