Tuna and Pesto Malloreddus (Sardinian gnocchi alla Carlofortina).
This tuna and pesto malloreddus recipe is a fabulous authentic seafood pasta recipe from the island of San Pietro, off the coast of Sardinia. It's perfect for any occasion and can be eaten as a pasta salad too!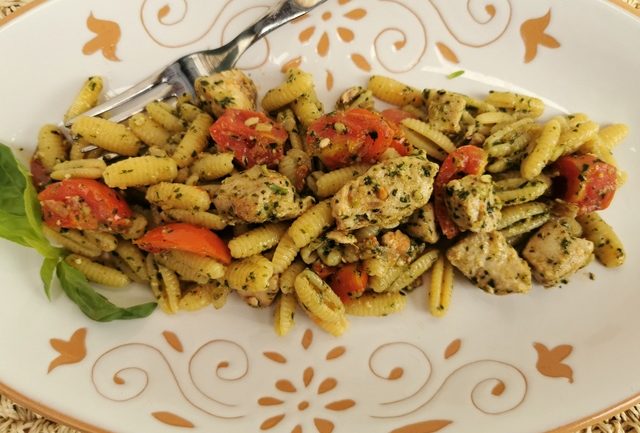 Malloreddus alla Carlofortina.
It's December, actually nearly Christmas, and I've been looking for a new seafood pasta recipe that I can add to our Christmas menu. I wanted something simple and quick to make, but still worthy of our holiday table.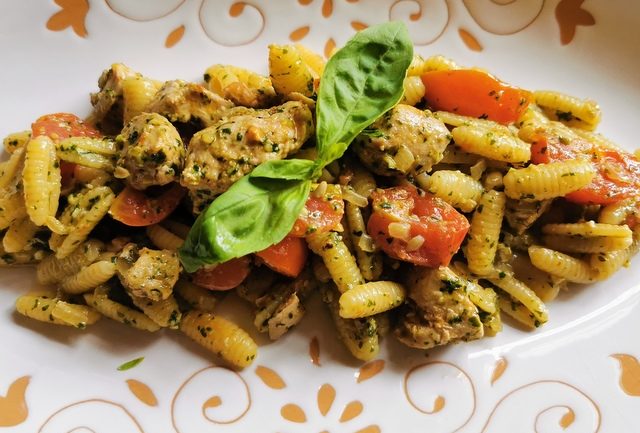 Here in Italy, seafood is very traditional especially on Christmas Eve. However, when you're planning a dinner with lots of dishes, you don't want anything that takes too much time. This tuna and pesto malloreddus (Sardinian gnocchi alla Carlofortina) turned out to be perfect! It really ticked all the boxes. I'm definitely going to make it again over the holidays!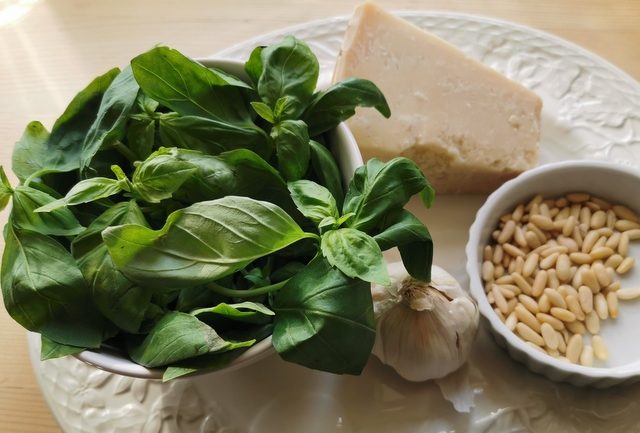 Pasta alla Carlofortina is a recipe from Sardinia. Actually to be more exact it's from the island of San Pietro! Have you ever heard of it?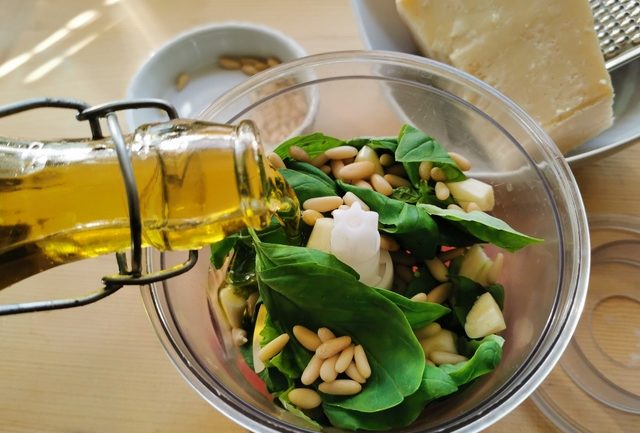 Where is the island of San Pietro?
The island of San Pietro lies off the south-western tip of Sardinia. It is named after St. Peter who, according to legend, took refuge there during a storm while traveling to Rome. It is the second largest island, after Sant'Antioco, in the Sulcis archipelago. The only town on the island is Carloforte. The population there are the descendants of a Genovese coral fishing community established on the Tunisian island of Tabarka in 16th Century.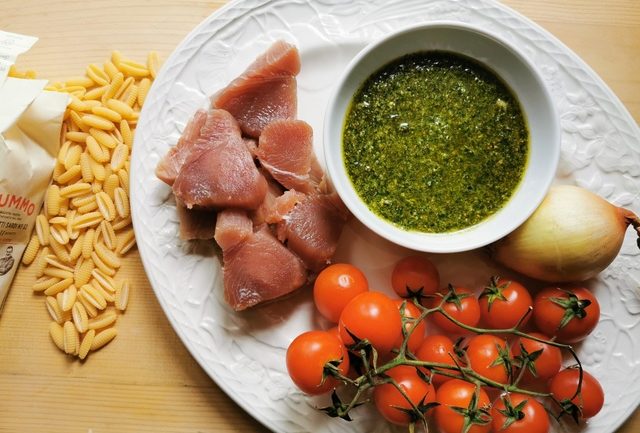 When Tabarko was captured by the Tunisians in 1741, the Genovese community fled. Charles Emmanuel III of Savoy gifted them the Sulcis Islands. Today, many residents still speak the Tabarchino dialect which has words derived from Tunisian Arabic and French!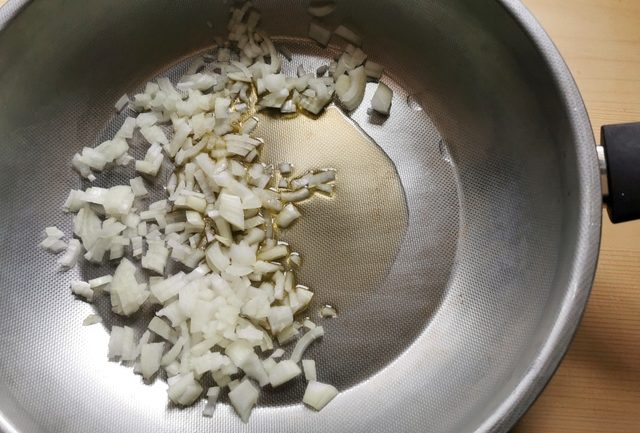 At first the Tabarkan settlers dedicated themselves to the production of salt and to coral fishing. However, their main activity was, and still is, tuna fishing. In fact, the main ingredient of the local cuisine is tuna. The islanders cook it in in many ways, apart from in this malloreddus alla carlofortina recipe. They like it roasted and 'drowned' in red wine, baked with or without potatoes, grilled, cooked with onions, olive oil and white wine or raw as a carpaccio. They also love bottarga, salted and dried tuna roe.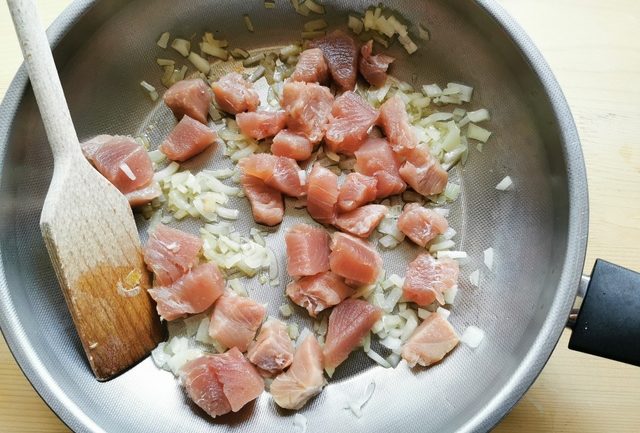 Making this tuna and pesto malloreddus (Sardinian gnocchi alla carlofortina)
Created as a fusion of Sardinian and Ligurian cuisine, pasta alla carlofortina is a specialty of San Pietro. This is a delicious pasta recipe that is ideal for a summer lunch or dinner. You can even eat it tepid as a pasta salad. However, I think it's great any time of the year.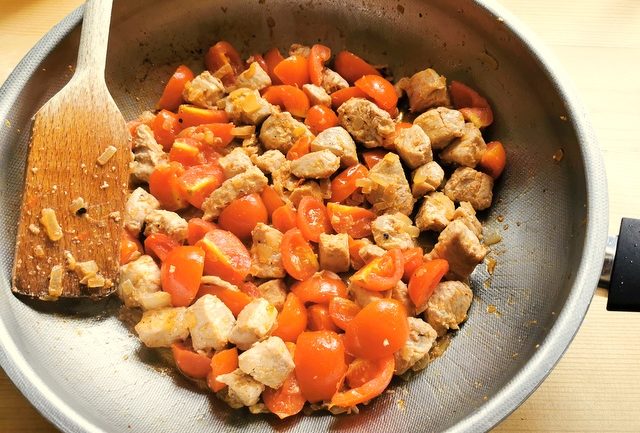 I used frozen tuna fillet to make this Sardinian gnocchi alla carlofortina. Fresh tuna isn't easy to come by at this time of year. Of course, you can use fresh tuna or a good quality canned tuna, preferably fillets.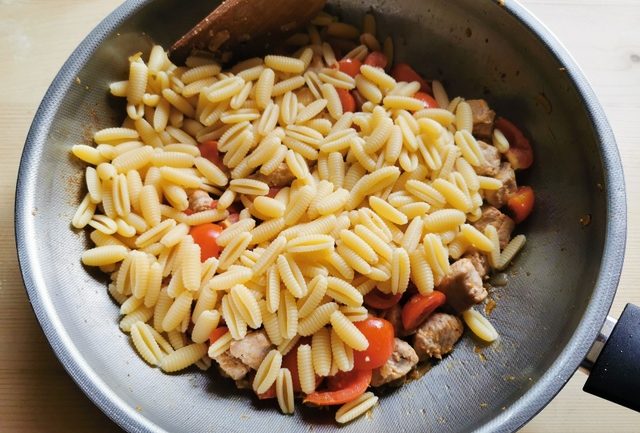 I also made my own pesto alla Genovese (basil pesto). But, to make this a quick meal, you can use a ready-made pesto. In fact, if you use canned tuna and ready-made pesto, this pasta alla carlofortina is super easy and fast, and still delicious. However, for a more special occasion homemade pesto and fresh/frozen tuna would be best!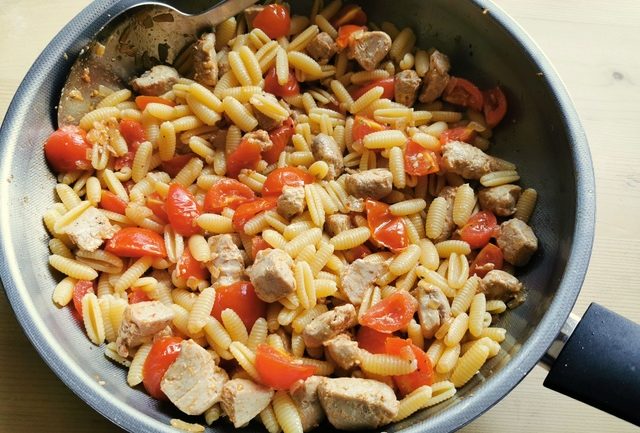 The Pasta.
In Carloforte, this dish is traditionally cooked with Sardinian gnocchi , also called malloreddus, or with trofie. Trofie is a pasta from Liguria that is widely used in Genova for pesto. But, pasta alla Carlofortina also goes well with spaghetti, penne or cavatelli. I used Sardinian gnocchi made by Rummo.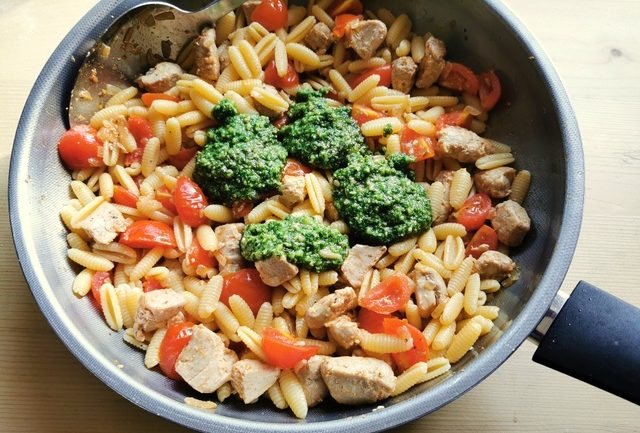 Despite the simplicity of this Sardinian gnocchi with tuna and pesto, I have to say I fell in love with this recipe. The combination of tuna, creamy basil pesto and sweet cherry tomatoes really makes a fabulous dish! Your family or guests are bound to fall in love with it!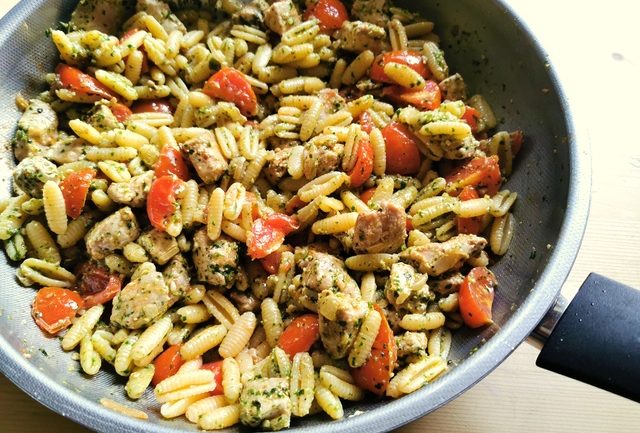 If you do try this tuna and pesto pasta recipe, I'd love to hear what you think. Please, write a comment here on the blog or post a comment on the Pasta Project Facebook page.
Your feedback means a lot to me!
Buon Appetito!
More recipes from Sardinia on The Pasta Project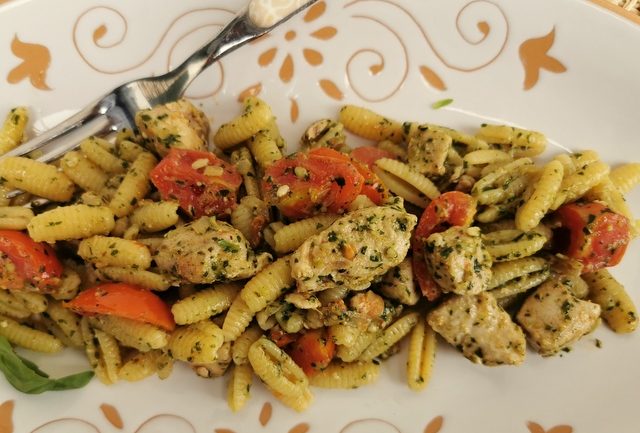 Pin for later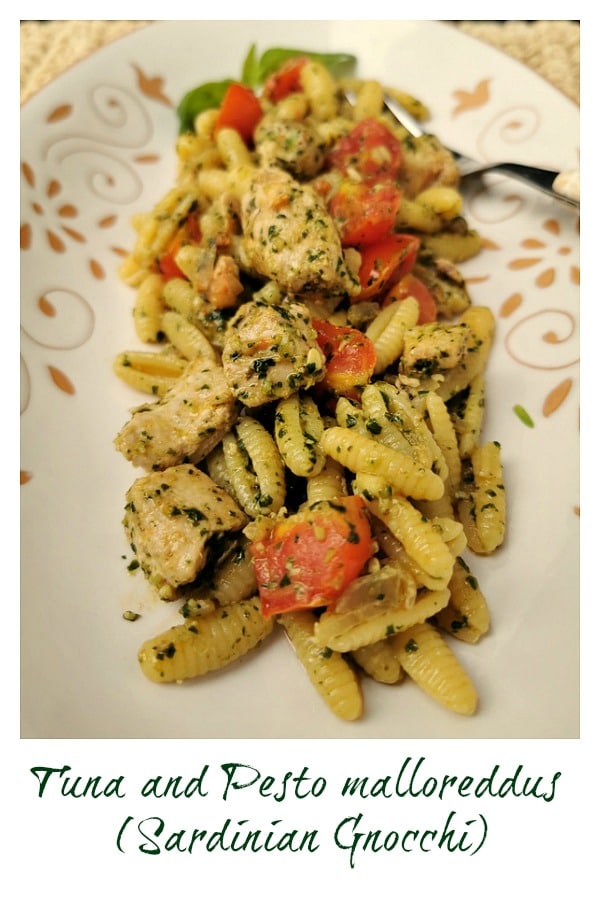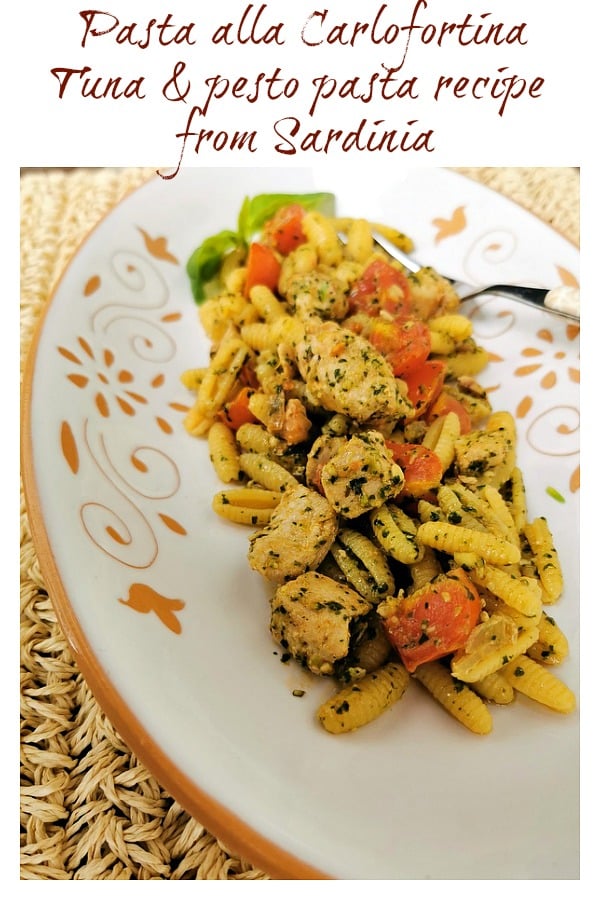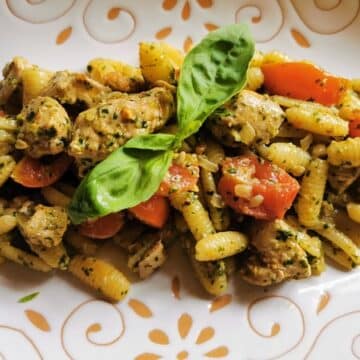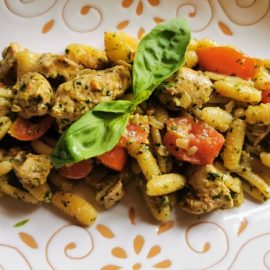 Tuna and Pesto Malloreddus (Sardinian gnocchi alla Carlofortina)
Made with creamy basil pesto, fresh tuna and cherry tomatoes, this tuna and pesto malloreddus recipe is a fabulous authentic seafood pasta recipe from the island of San Pietro, off the coast of Sardinia. It's perfect for any occasion and can be eaten as a pasta salad too!
Ingredients
400

g

malloreddus (Sardinian gnocchi)

(14oz) or trofie

300

g

fresh tuna

(10-11oz) or canned tuna

15-20

cherry tomatoes

cut into halves or quarters

1

onion

small

1/2

glass

white wine

salt

for pasta and to taste

black pepper

to taste

3-4

tbsp

extra virgin olive oil.
For Basil Pesto (or ready made 150g/5oz)
4

handfuls

fresh basil leaves

30

g

pine nuts

(1oz)

50

g

Parmigiano Reggiano or grana

(2oz) grated or pecorino from Sardinia

2

garlic cloves

peeled

salt

to taste

extra virgin olive oil.

as required
Instructions
Make the basil pesto
If it's possible, choose medium sized young basil leaves (brighter green). Rinse the leaves under water and dry them with paper towels. Dry fry the pine nuts for 2-3 minutes if you prefer to have them toasted. Watch they don't burn! I didn't toast them for this recipe!

Put all the ingredients in a mini food processor and pulse a few seconds at a time until you have the right consistency, adding as much olive oil as you need to create a paste. Don't keep pulsing for too long at once as the blender heats up, this can spoil the basil. Put the pesto in a bowl and set aside.
Make the alla Carlofortina sauce
Peel and chop the onion. Cut the tuna into small cubes (if using fresh or frozen tuna) Wash the tomatoes and cut into halves or quarters.

Fry the finely chopped onion in olive oil in a skillet or deep frying pan until it starts to soften. Add the chopped tuna and brown it on all sides then add the white wine and let the alcohol evaporate. At the end add the halved cherry tomatoes, salt and pepper and cook on a medium heat for about 10-15 minutes.
Cook the pasta.
While the sauce is cooking, put a pot of water onto boli for the pasta. Add salt once it starts to boil and bring to the boil again. Cook the pasta al dente  according to the instructions on the packet. When the pasta is ready, save a cup of the cooking water and drain. Add the pasta to the sauce and mix well.

Add the pesto to the pasta and sauce and mix well again. If it seems dry, add a spoonful of the saved pasta cooking water. Serve immediately.
Notes
You can make pasta alla carlofortina with ready-made pesto and canned tuna for a quick and delicious plate of pasta. If you don't have malloreddus or trofie you can use other short pasta like cavatelli or penne or even spaghetti. 
This recipe can also be made with homemade malloreddus.
Pin for later