It's been raining buckets this month here in Northern Italy. But, that hasn't stopped me making some delicious seasonal spring pasta recipes. This Italian shrimp and asparagus farfalle is what we enjoyed last weekend. And, I'll definitely be making it again before asparagus season ends! It is so easy and delicious! Perfect for warm weather lunches and light dinners.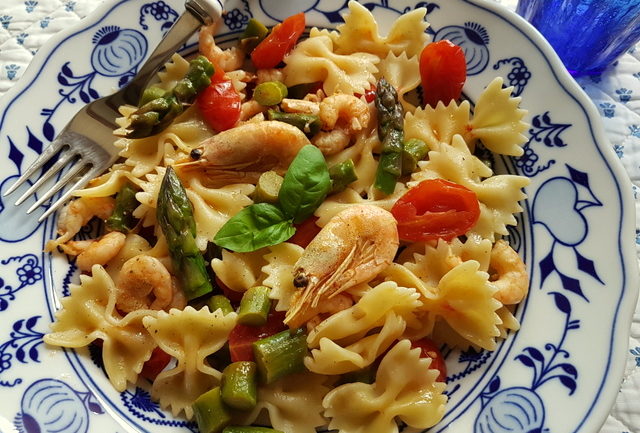 Farfalle con asparagi e gamberetti.
Although the combination of pasta, shrimp and asparagus isn't an old traditional meal, it's very very popular in Italy today. And, of course, all the ingredients are not only Italian and typical but have been cooked and eaten by Italians for generations.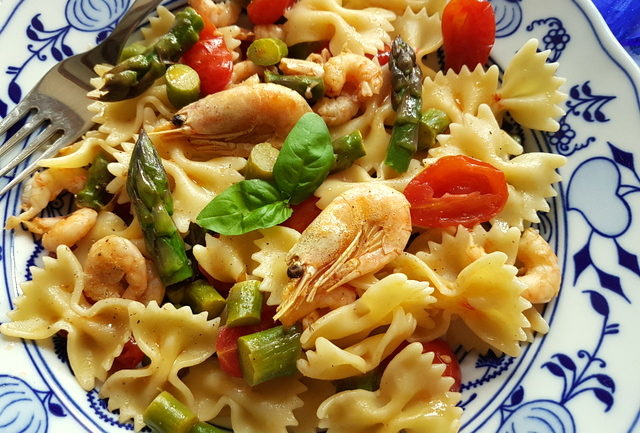 The asparagus.
Italy cultivates the most green asparagus in Europe and is the third largest producer of white asparagus. I'm lucky to live in Veneto, the biggest asparagus growing region in Italy. Here asparagus, both green and white, are an important ingredient in the spring kitchen.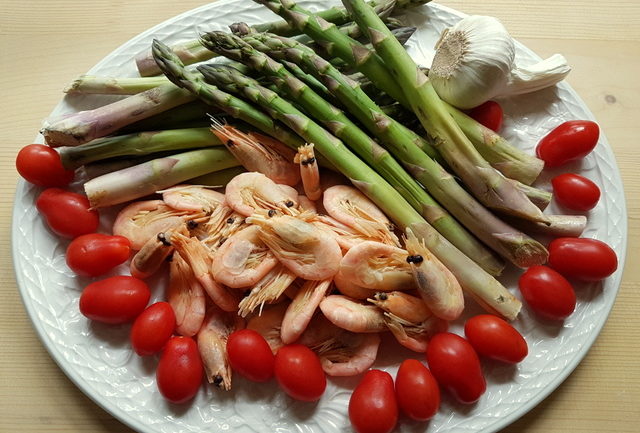 Italians eat asparagus in many different ways but the most popular are in risotto, soup and with pasta. This shrimp and asparagus farfalle recipe is a delicious example of how well asparagus and pasta go together. If you want to read more about the history of asparagus in the Italian kitchen check out my recipe for pasta with asparagus.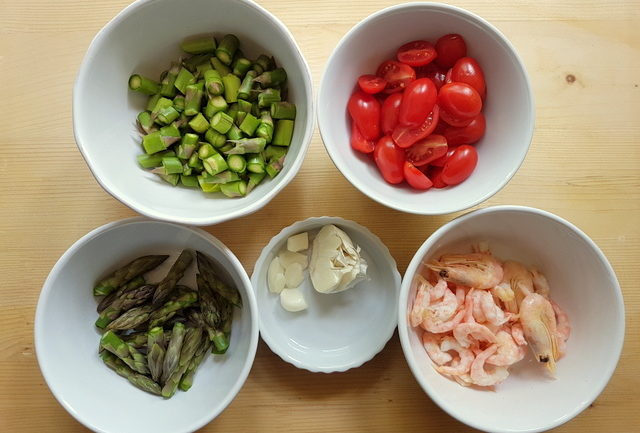 The pasta.
I used farfalle pasta for this recipe. Farfalle, also known outside of Italy as bow tie pasta, are actually a fairly old pasta shape. In fact, farfalle pasta dates back to the 16th century!! I have read that this pasta was invented as a way to use up leftover pasta dough after making filled cappelletti. You can read more about the history of farfalle if you click here.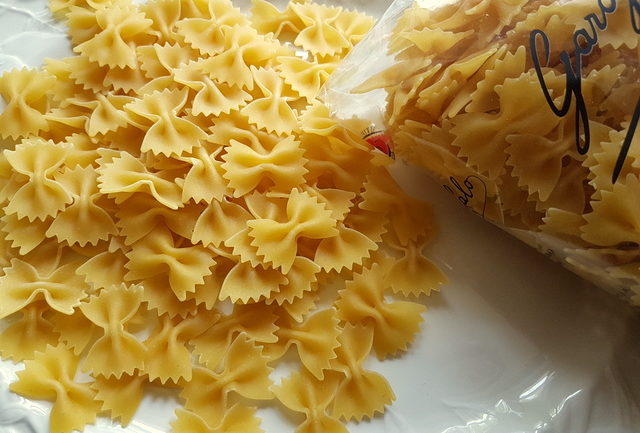 The farfalle I bought to make this shrimp and asparagus pasta recipe was made by Garofalo, one of my favourite producers of Pasta di Gragnano IGP. Pasta di Gragnano IGP is made by a number of different companies located in and around the town of Gragnano, near Naples. This pasta is made according to very strict regulations and is probably one of the best dried pastas in Italy.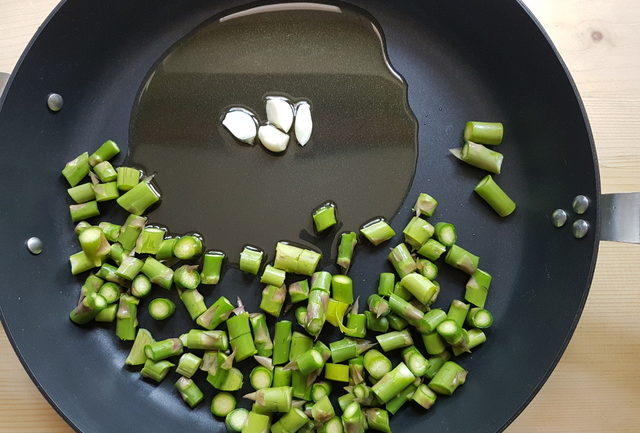 Of course, you can use other brands of farfalle or bow tie pasta if you can't find Pasta di Gragnano. You can also use other types of short pasta such as penne. However, farfalle are great with light seafood sauces. This pasta is very popular with salmon and is also excellent in pasta salads. This Italian shrimp and asparagus farfalle works really well as a pasta salad too.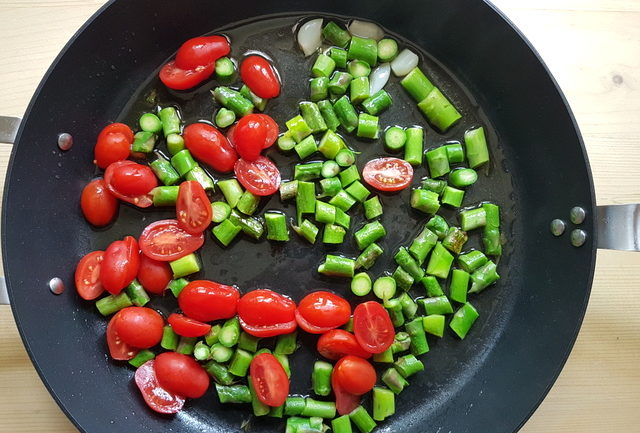 The other ingredients in this pasta, shrimp and asparagus recipe.
Apart from the pasta and asparagus, all you will need to make this delicious and nutritious dish is some cherry tomatoes, garlic (I used fresh garlic), white wine and olive oil. This is an Italian recipe so here it wouldn't be eaten with cheese. You can add a little spice with some peperoncino flakes. If you want to use herbs, the best would be parsley.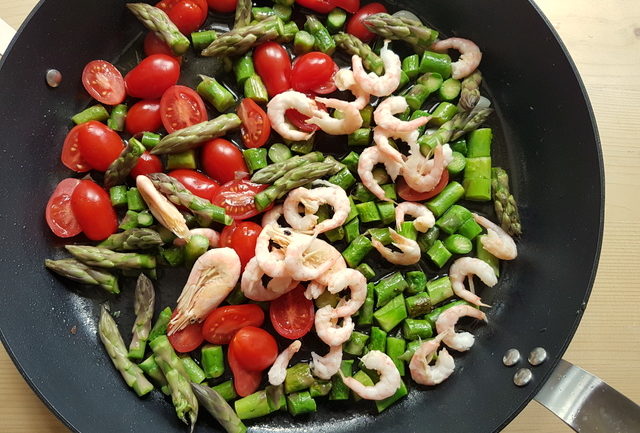 Making Italian shrimp and asparagus farfalle.
This is quite a quick pasta dish to make. The only time consuming part of the preparation is cleaning the shrimp. I used unpeeled frozen shrimps, which I had frozen from fresh. I removed the head, tail and shells from most of them, leaving a few intact for decoration and flavour .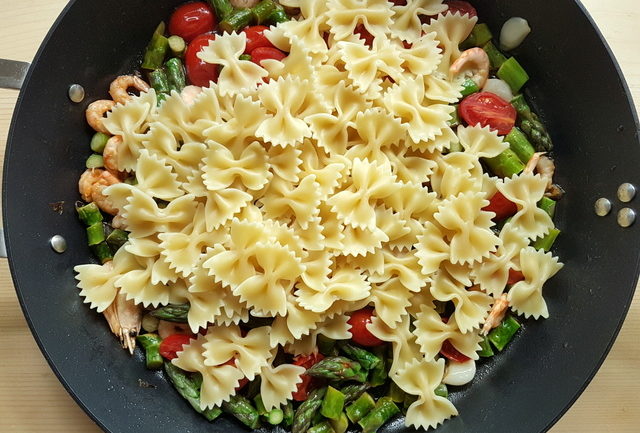 Intact shrimps or prawns add more flavour to the sauce. In fact, when time is not of the essence, I prefer to cook shrimps and prawns intact and shell them after or while eating. You can use fresh or frozen shrimps or prawns for this shrimp and asparagus pasta recipe. For more flavour, I recommend using unpeeled and uncooked ones. But go with what's available! I'm sure you'll love this dish either way!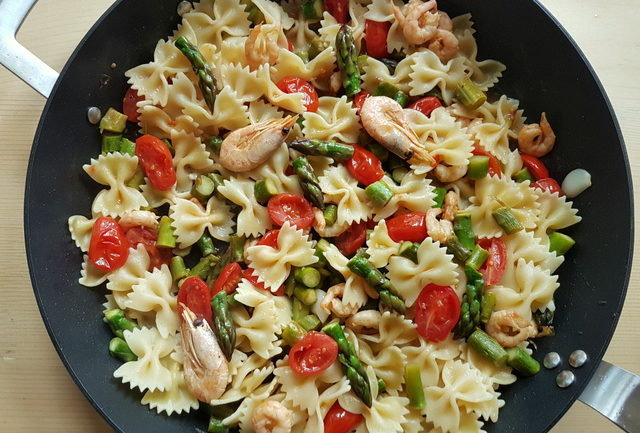 If you do try this recipe, I'd love to hear what you think. Please write a comment here on the blog or post a comment on the Pasta Project Facebook page.
Your feedback means a lot to me!
Buon appetito!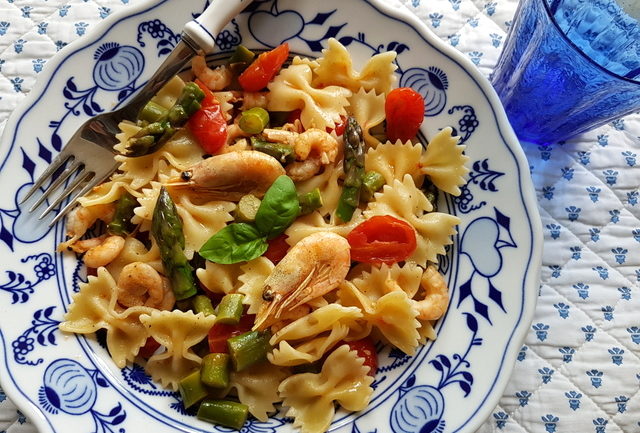 Save this recipe for later?
If you want to save this recipe for later, you can print it, bookmark this page or save it to Pinterest.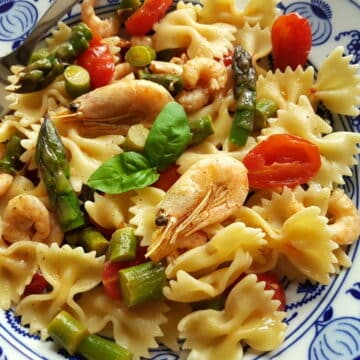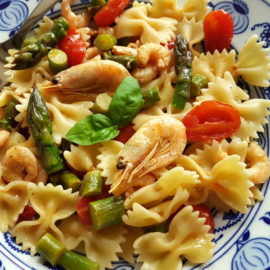 Italian Shrimp and Asparagus Farfalle Recipe
This light and easy to make shrimp and asparagus spring pasta recipe can be eaten warm or as a pasta salad. It's perfect for warm weather lunches or light dinners
Ingredients
400

g

farfalle or bow tie pasta

(14oz) I used Pasta Garofalo

400

g

shrimps

or prawns (fresh or frozen)

400

g

asparagus

(green)

8-10

cherry tomatoes

1-2

garlic cloves

(I used fresh garlic)

1/2

glass

white wine

salt

for pasta and to taste

ground black pepper

to taste

peperoncino flakes

(optional) as required

fresh basil or parsley

(optional)
Instructions
Preparation
Clean the shrimps/ prawns by removing the head and the shell from most of them. Keep 4-8 intact. Rinse them under running water and drain them. Prepare the asparagus by removing the final part of the stem. This is best done by bending them until they break. The lower half of the stalk can be discarded. Wash and cut the cherry tomatoes in half. Peel the garlic.

Put a pot of water onto boil for the pasta. Add salt once it starts to boil and bring to the boil again.

Cut off the asparagus tips from the rest and set aside. Then cut the remaining stalks into smaller pieces.
Make this recipe
In a large saucepan or iron skillet, sauté the garlic in the olive oil for a few moments, add the pieces of asparagus stalk and cook them covered with a lid over a medium heat for about 10 minutes. After this time (the asparagus must be wilted but not too soft), add the washed, dried and halved cherry tomatoes.

Also add the asparagus tips and continue cooking for another 10 minutes. At this point, add the shrimps /prawns and salt and pepper to taste. Add the white wine, turn up the heat and let the alcohol evaporate. Continue cooking on a medium heat for about 5 minutes .

Cook the farfalle al dente according to the instructions on the packet. Before draining, save a cup of the cooking water. Drain the pasta and add to the sauce with a little of the saved cooking water. Mix together well. If the pasta seems too dry, add a little more cooking water. Saute everything together for a minute or two.

Serve immediately sprinkled with chopped parsley/basil or a few peperoncino flakes.
Notes
This dish can also be eaten as a pasta salad. Italians tend to eat pasta salad tepid or room temperature rather than cold. If you wish to refrigerate this dish for later, let it get back to room temperature or reheat slightly with a dash of olive oil before serving.
Pin for Later