This easy cold spaghetti salad recipe comes from the Central Italian region of Marche. The main ingredients are pre-cooked shrimps or tiger prawns, rocket (arugula) and cherry tomatoes tossed with spaghetti in a simple oil and vinegar dressing. This is the kind of pasta salad Italians love to take to a beach picnic but it's also great as a light lunch or for a potluck or buffet.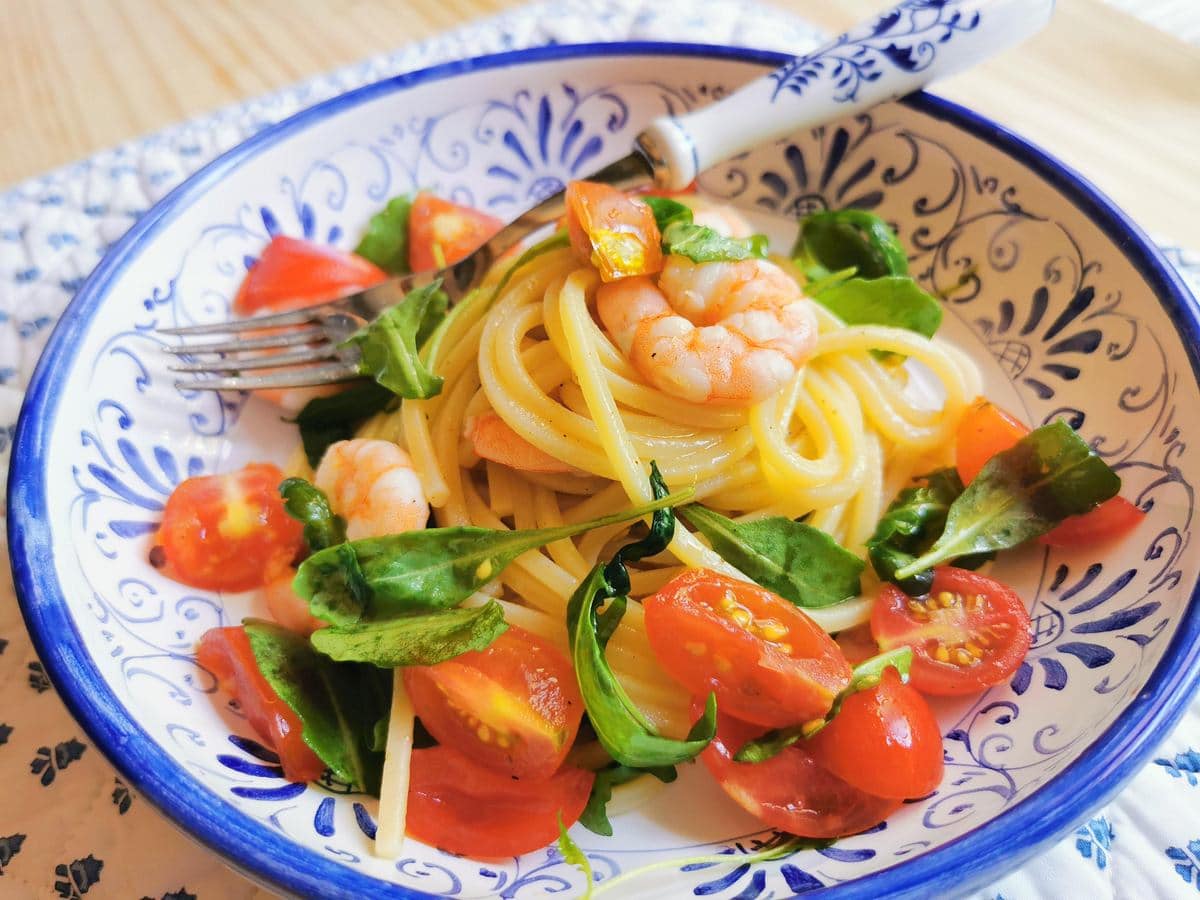 Spaghetti freddi (cold spaghetti salad) from Marche.
Italians refer to pasta salad as pasta fredda, meaning cold pasta. Although the origins of pasta fredda aren't recorded, it seems that this is a dish that has grown in popularity since the 80s and 90s.
Nowadays, there are many Italian pasta salad recipes, most of which are made with short pasta. However, there are a few regional versions with long pasta noodles such as this cold spaghetti recipe from Marche.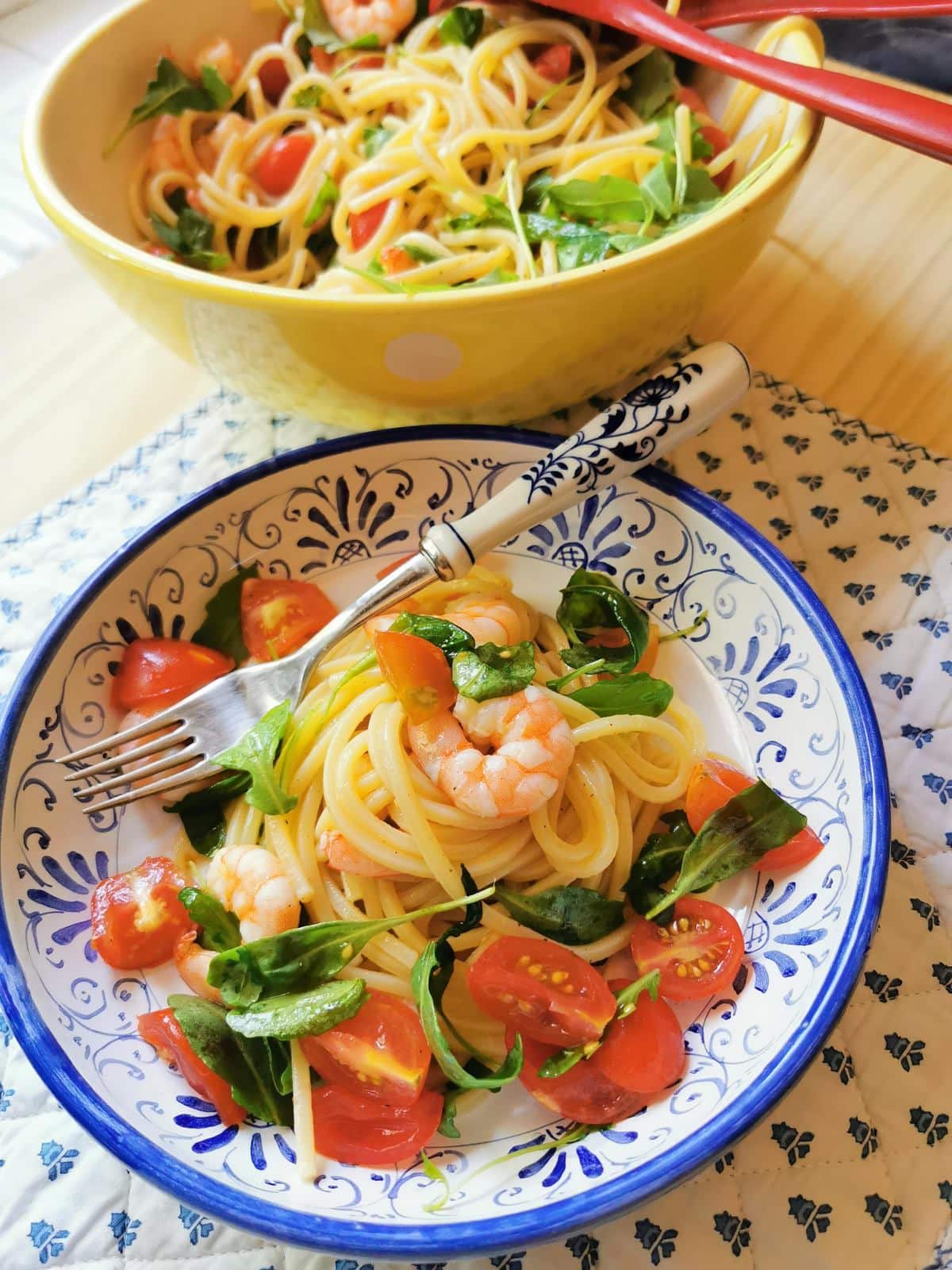 Traditional Italian pasta salad ingredients.
Spring and summer are the seasons for pasta salad here in Italy. Most recipes call for a combination of fresh seasonal veggies. The majority of Italian salads made with pasta are vegetarian. However, some have canned tuna or salmon or, like this spaghetti salad recipe, prawns or shrimps. There are few recipes of this kind with meat, although some people add bresaola or other types of salumi. Cheese is a popular addition.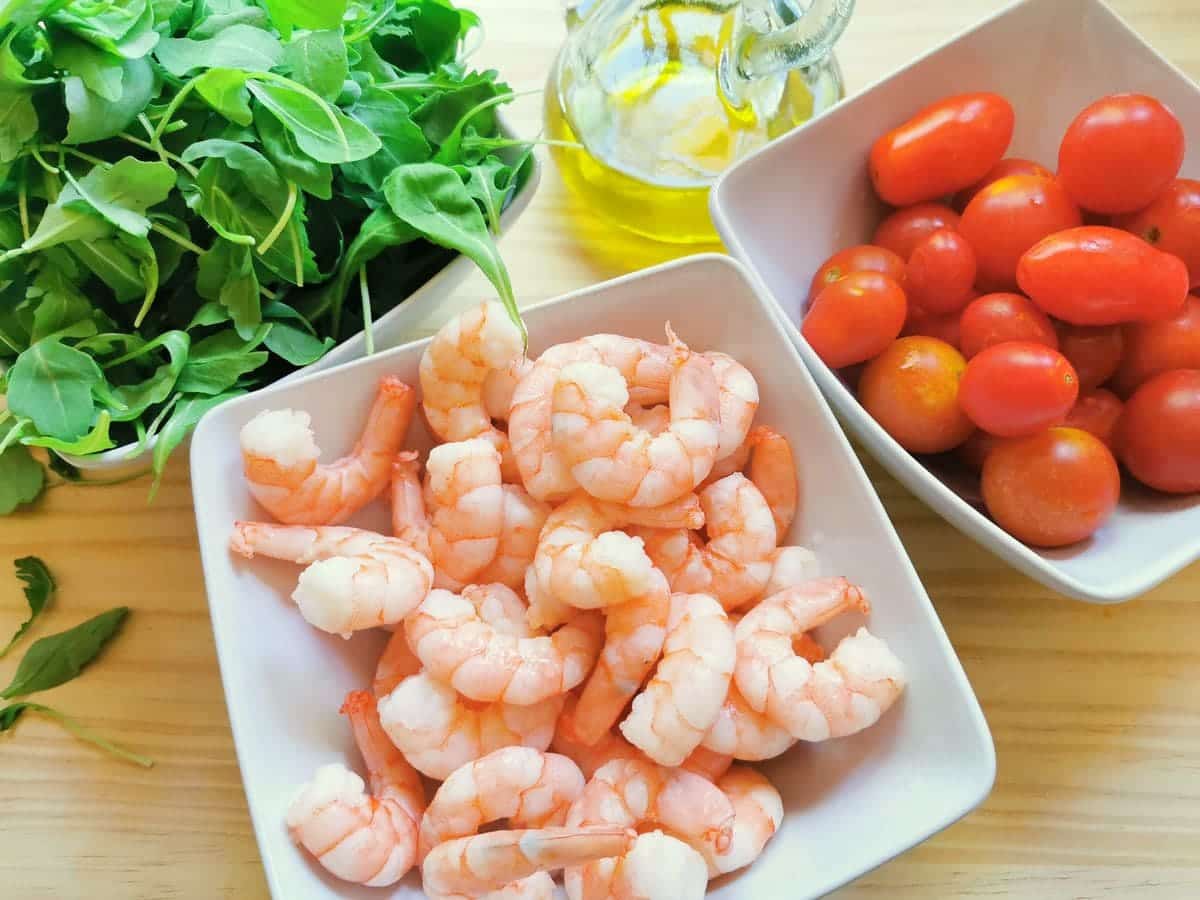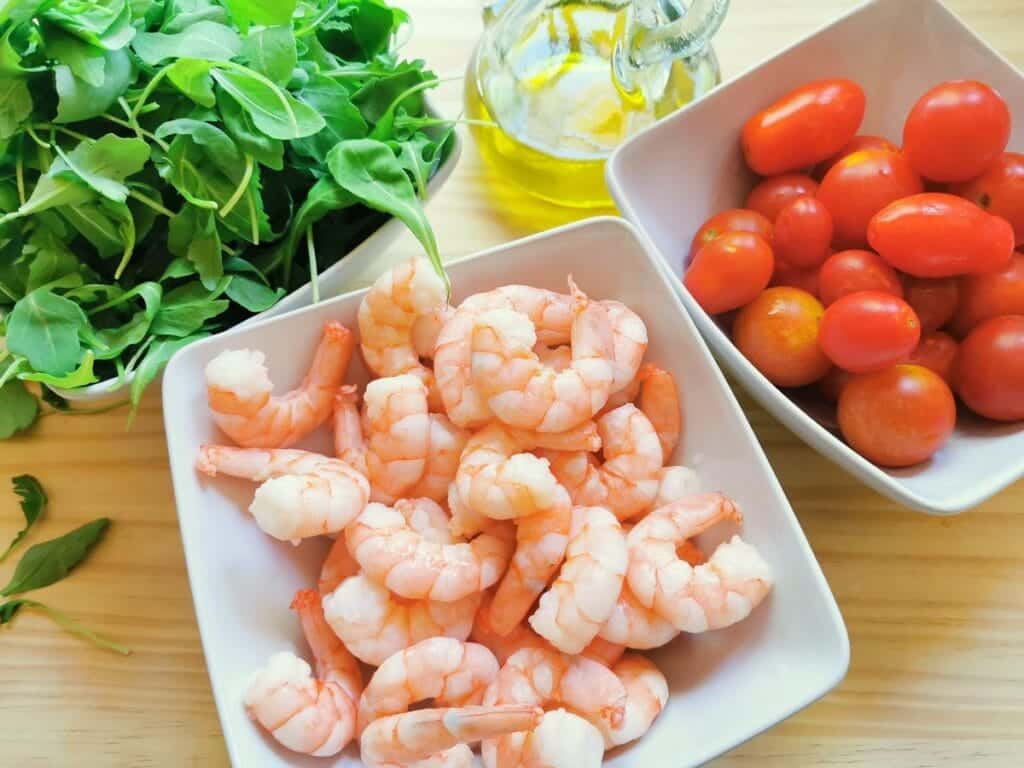 Pasta salad for the beach!
Back in the early post war years, it was common to see Italian families cooking and eating pasta in huts on the beach in August. But over time, the beach huts disappeared and were replaced by restaurants or picnics. However, pasta remained a common beach food and pasta salads replaced the traditional cooking at the beach!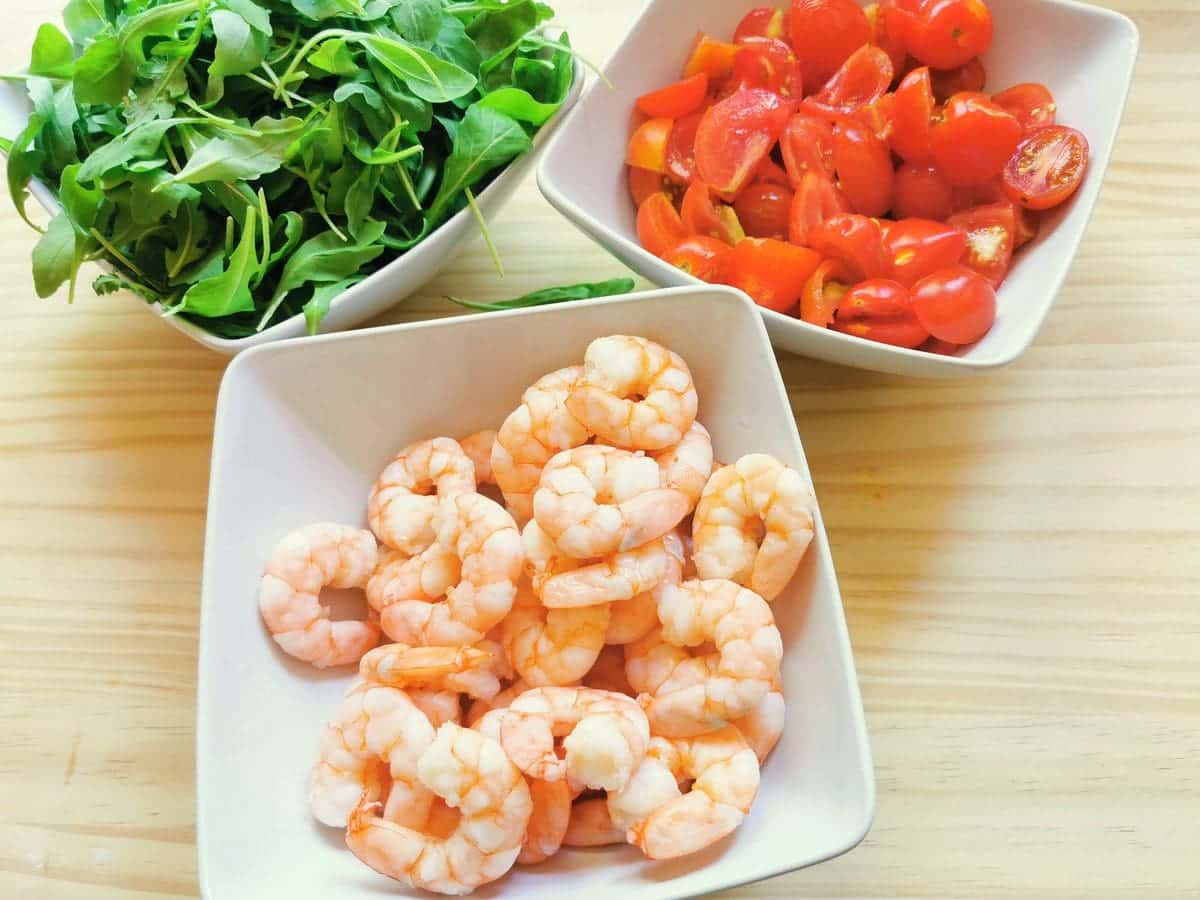 Today, rice salad has become as popular on the beach as pasta salad. In a recent consumer study of Italian posts on Instagram with the hashtag #beachfood, rice or pasta salad are equally the second most uploaded beach food photos after ice-cream.
Away from the beach and other outdoor picnic venues, Italians serve pasta fredda as a cold starter in summer or as part of a buffet at parties and BBQs.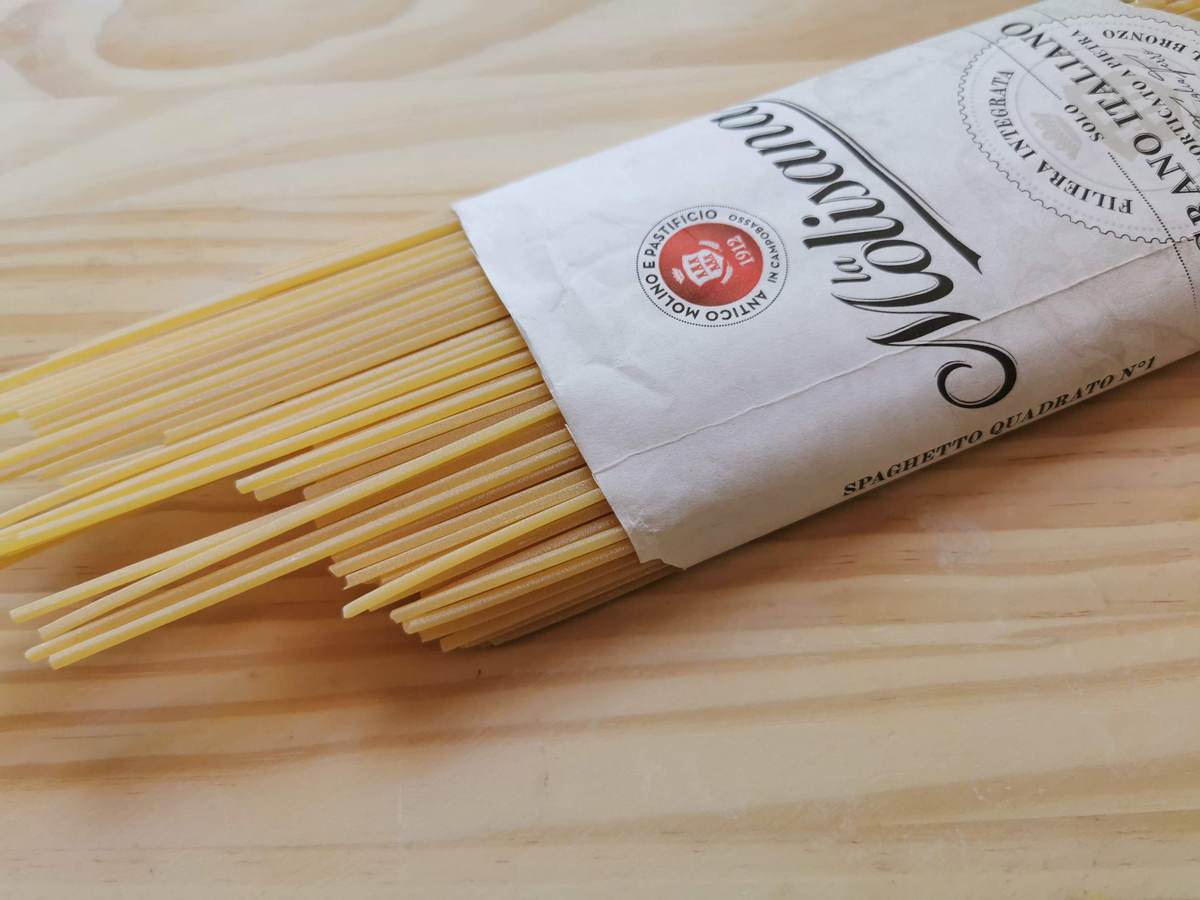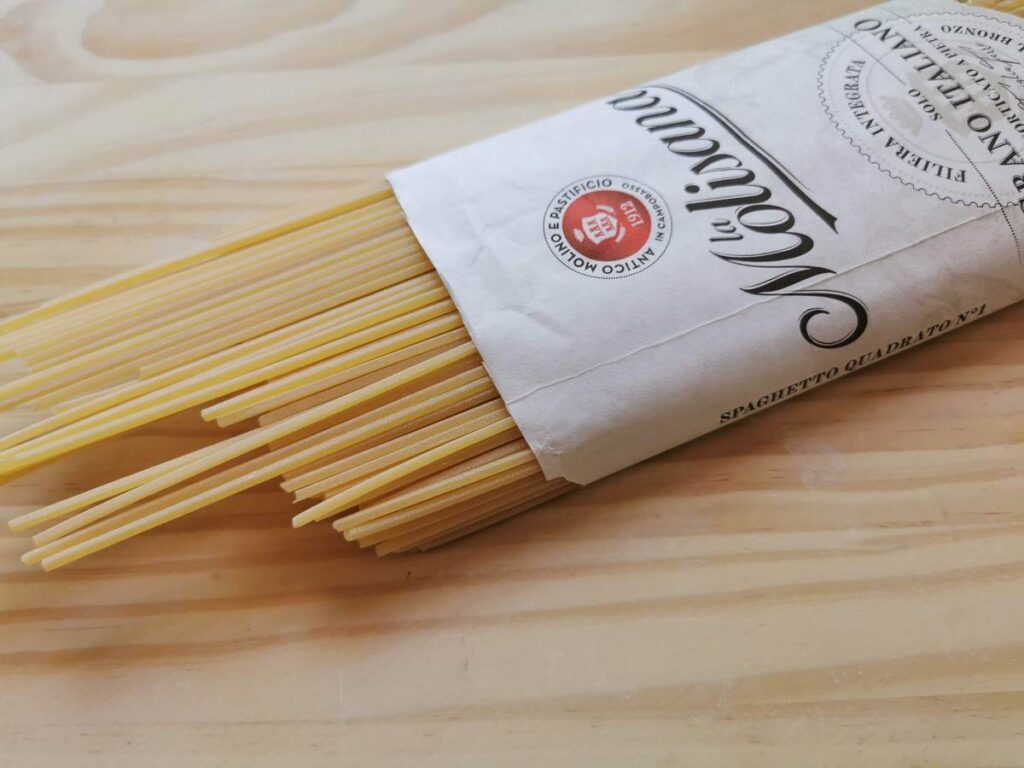 What Italians don't put in pasta salad.
The two main differences between authentic Italian pasta salads and those made in other countries is firstly the condiment or dressing. Salad dressing isn't an Italian thing, despite there being a popular American condiment known as Italian dressing! This was actually invented in the States in 1941 by the daughter of Italian immigrants!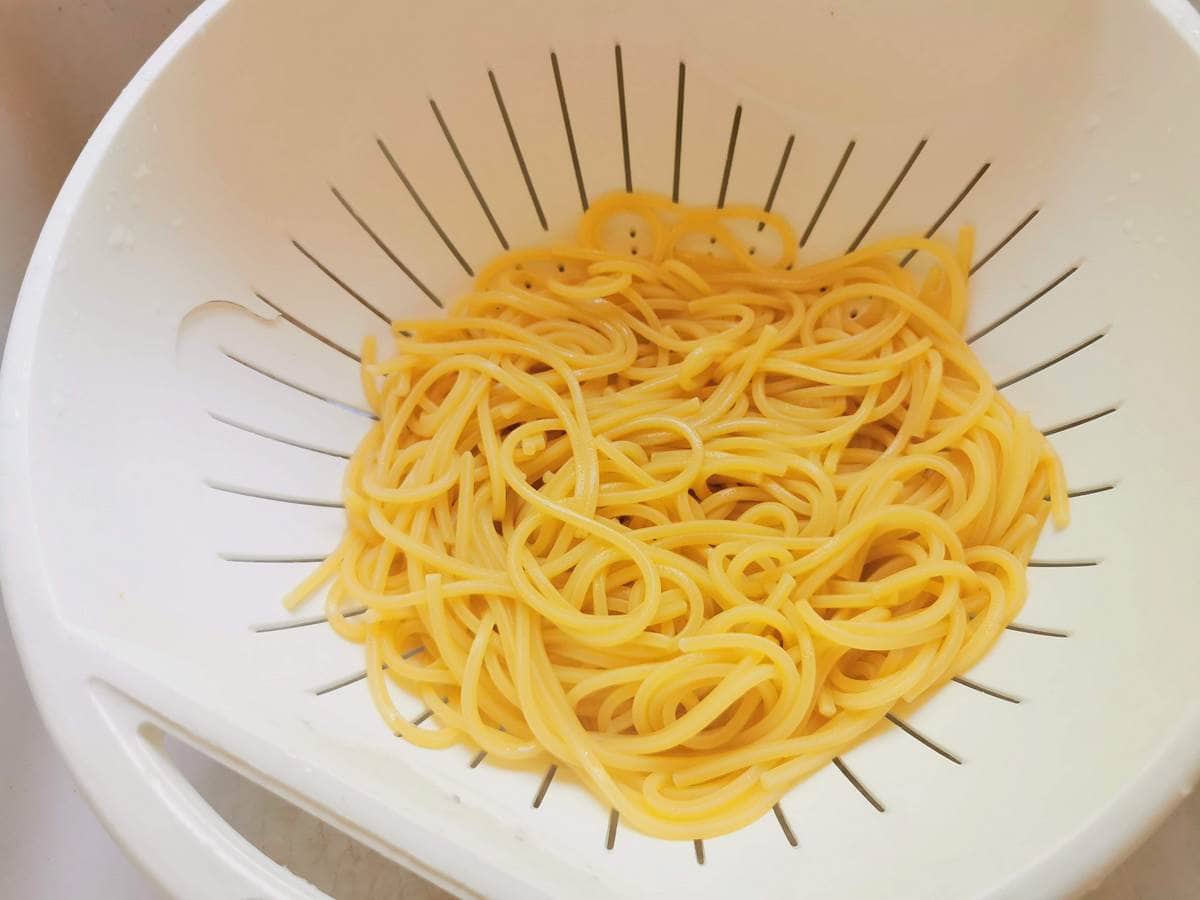 Here in Italy, most types of salads are dressed or flavoured with extra virgin olive oil, maybe some vinegar, herbs like basil and salt and pepper. This is true of salad made with pasta as well.
Mayonnaise has become a popular addition to rice salads but rarely pasta salad and salad dressings such as yogurt, ranch, blue cheese, thousand island etc can't be found in the average Italian pantry.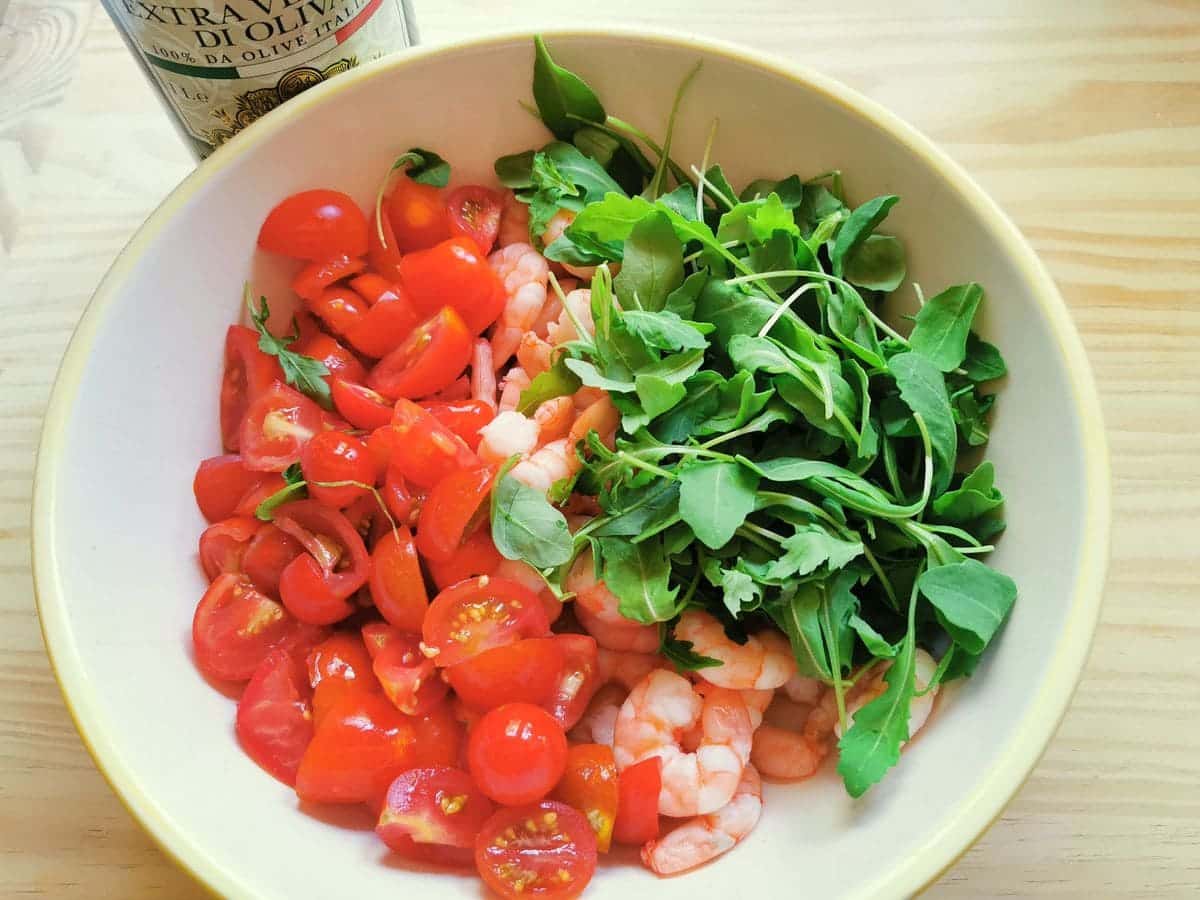 The other ingredient popular abroad but rarely included in pasta fredda is chicken! In fact, chicken isn't very traditional or common (apart from a few exceptions) in hot pasta dishes either! As I mentioned above, Italians add protein to their salads with cheese or seafood or perhaps salumi.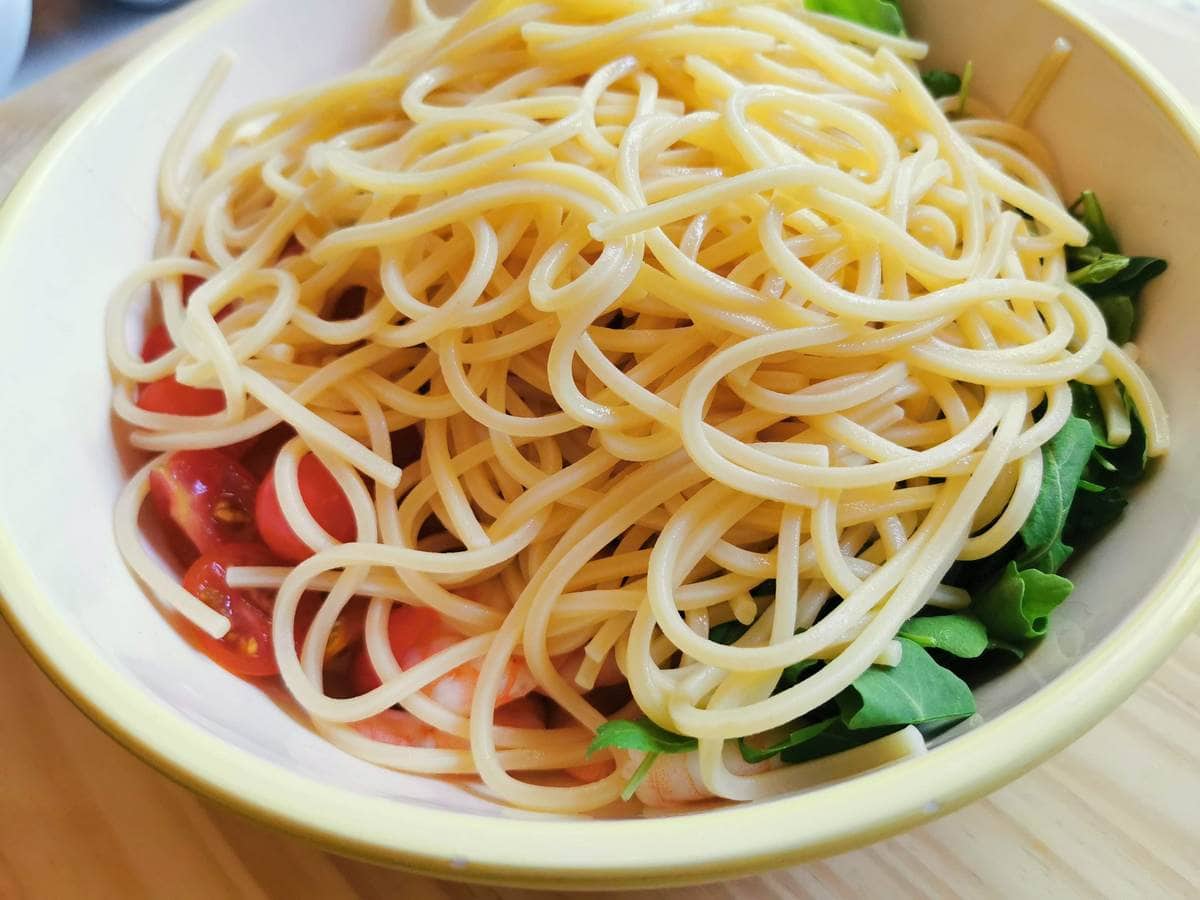 Making this cold spaghetti salad.
I found this cold spaghetti salad recipe in an Italian cookbook of recipes from Marche. Marche or Le Marche (meaning the marshes) is a region on the Adriatic coast in Central Italy. It's one of my favourite Italian regions and a part of Italy I'd love to live in.
Often referred to as 'the next Tuscany', Marche is a fairly unspoilt region with beautiful beaches, mountains, ancient hilltop villages and a unique cuisine. You can read more about this region in my Marche post.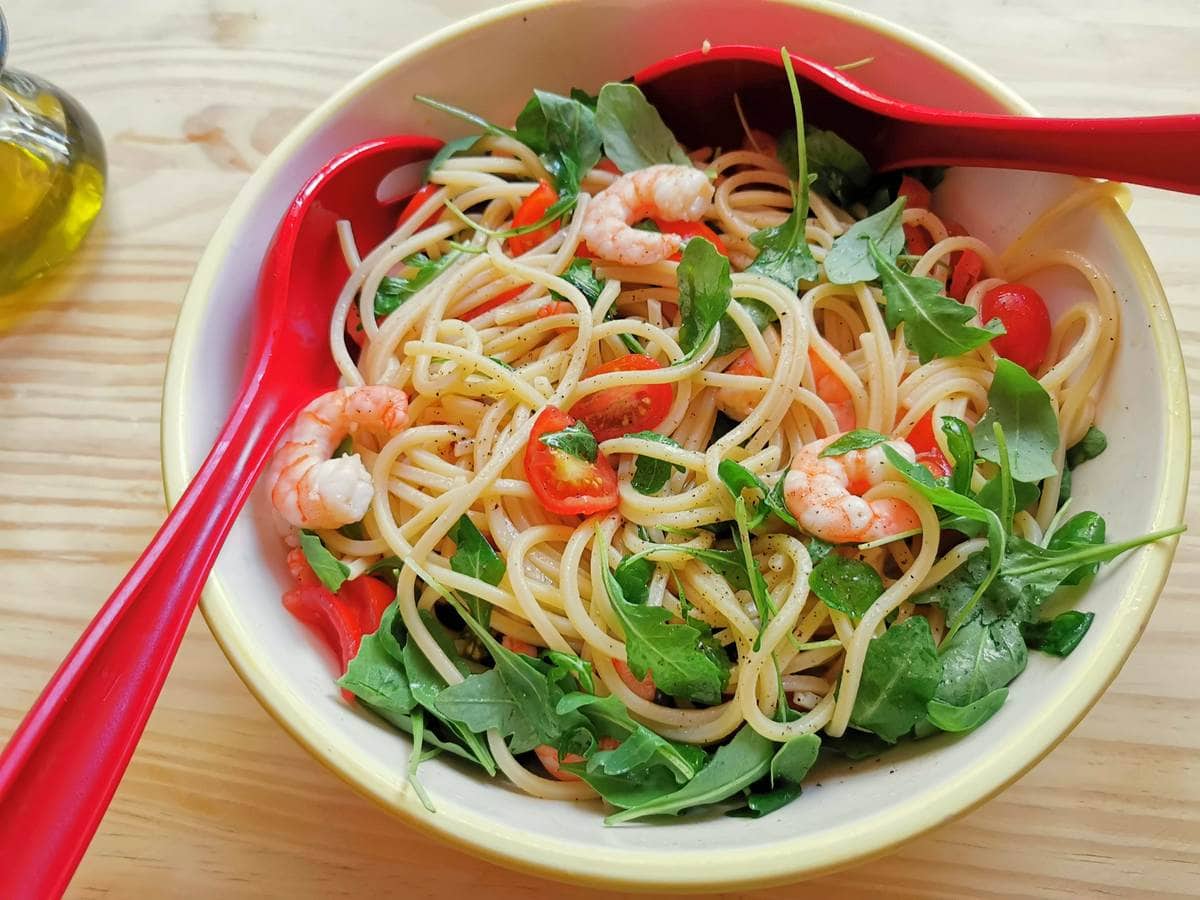 In the cookbook, this pasta salad is called spaghetti freddi (cold spaghetti). It's super simple to make and requires very little cooking. You just have to cook the spaghetti and blanch the precooked shrimps or prawns in boiling water.
The other ingredients are few and there's very little prep. Apart from the pasta and shrimps, you need cherry tomatoes and rocket (arugula). The dressing is simply extra virgin olive oil, a little vinegar, salt and pepper.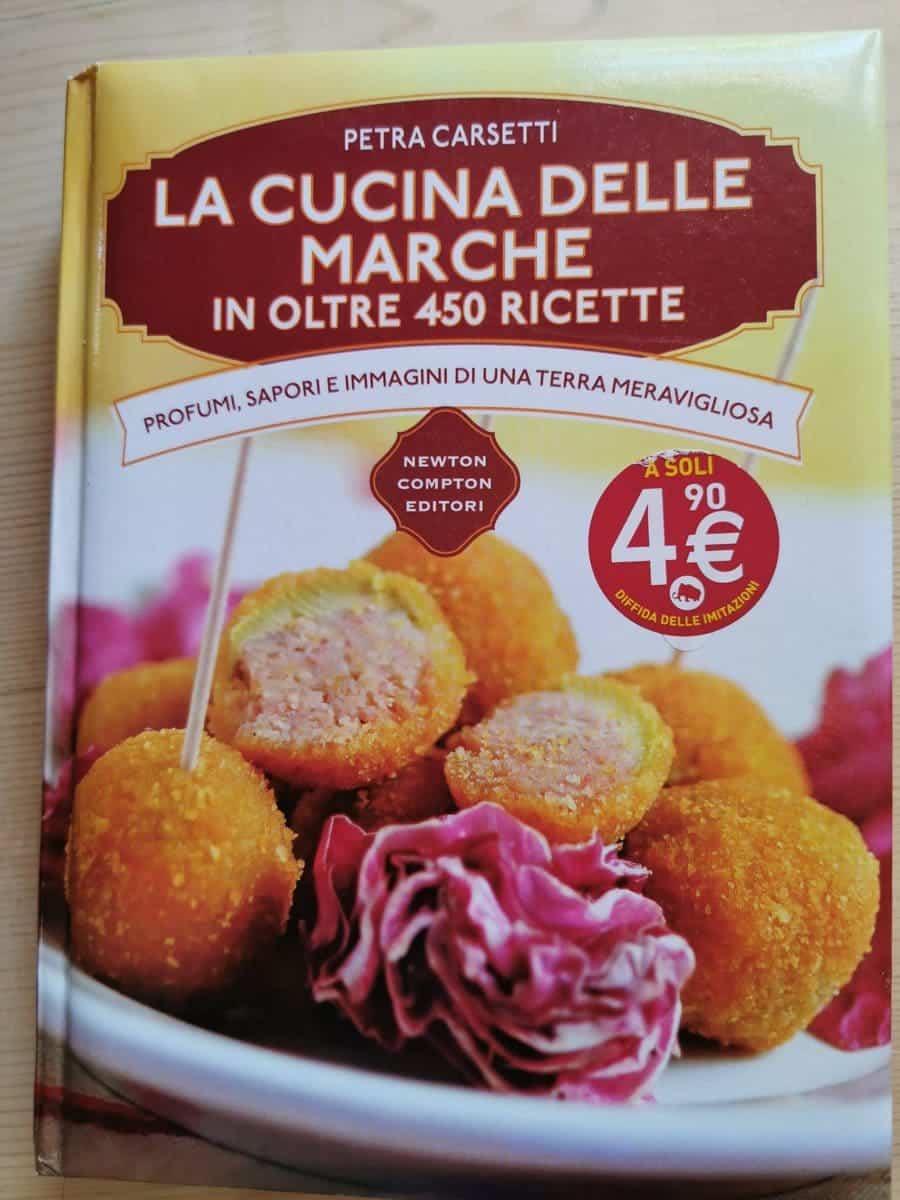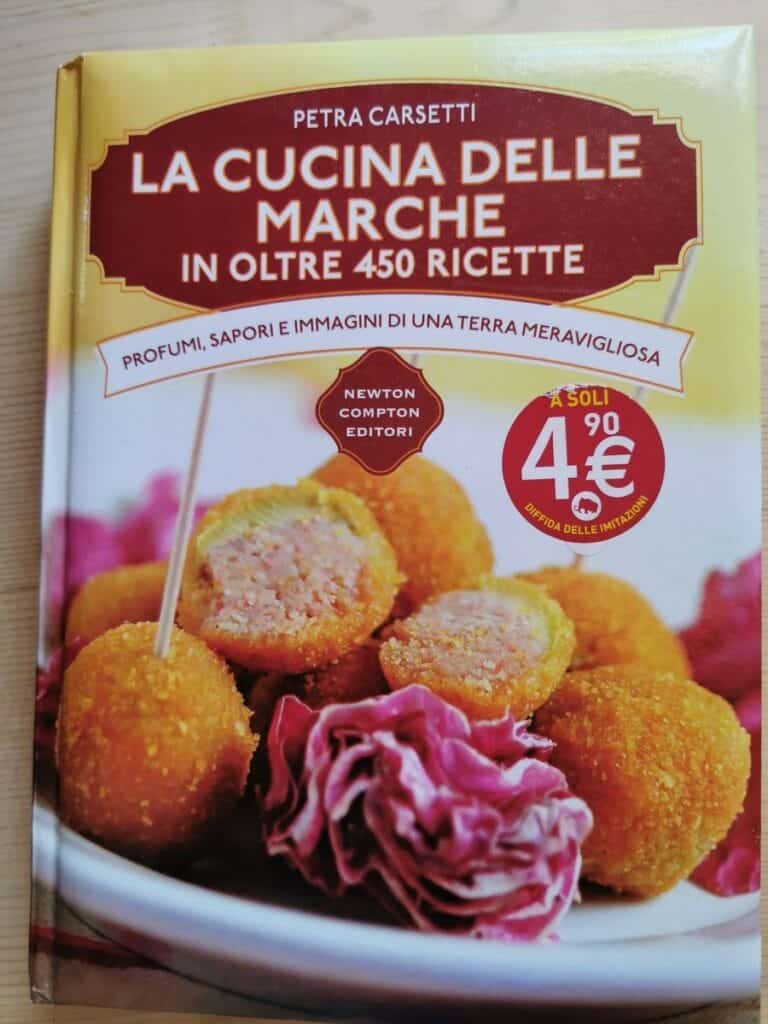 The shrimps or prawns.
This recipe calls for 'gamberetti' which are small shrimps in Italian. I actually decided to use 'mazzancole' or caramote prawns which are a type of tiger prawn. I like them because they're so meaty and I can buy them ready peeled and cooked. Of course, you can use small shrimps instead.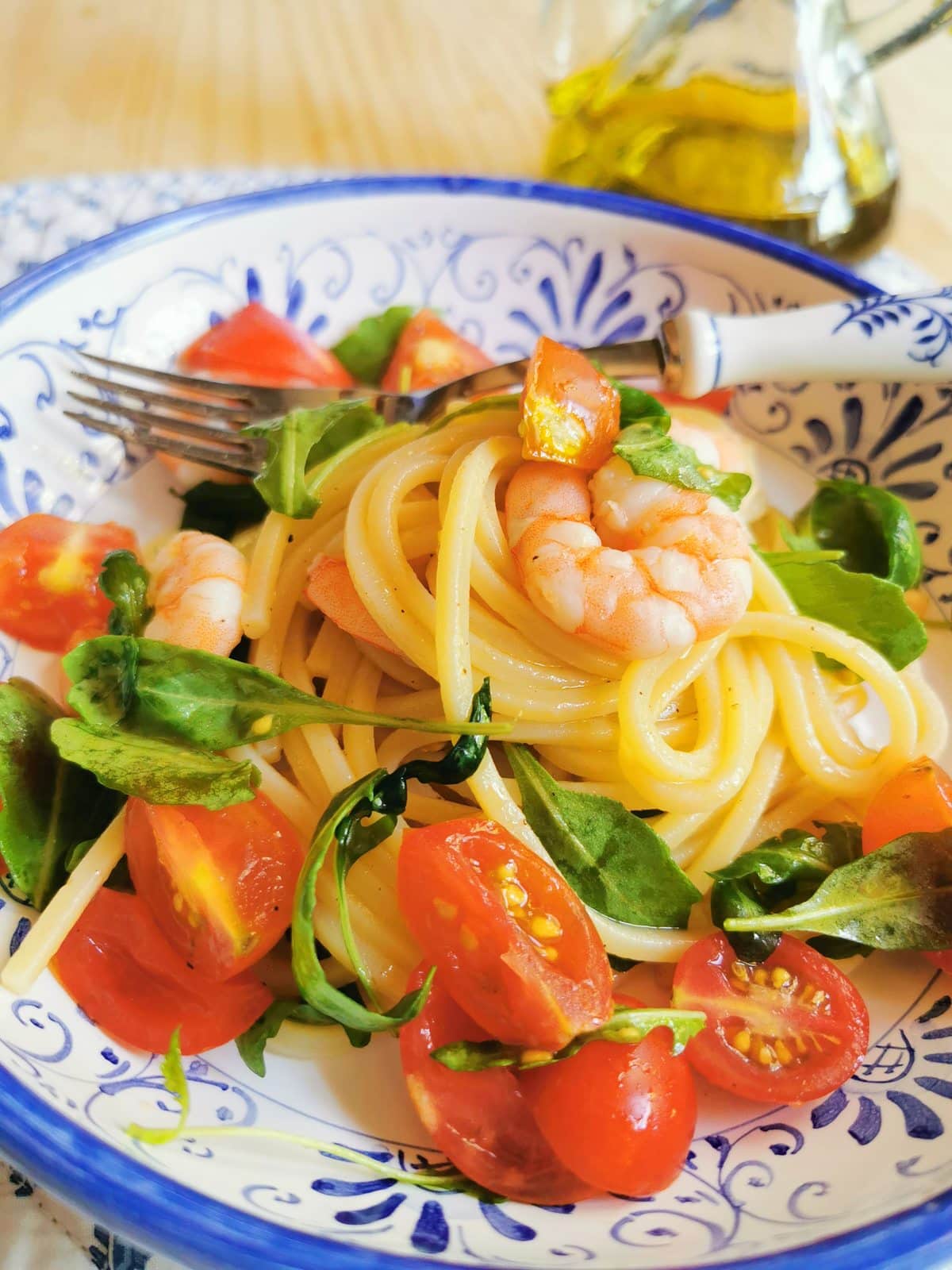 The pasta.
Spaghetti is the traditional pasta for this recipe, but I imagine it would be delicious with many other types of pasta as well. I used square cut spaghetti from La Molisana. Sometimes called spaghetti alla chitarra, instead of being rounded these noodles are square. I like these because they are slightly thicker than normal spaghetti. Of course, normal spaghetti is perfect too.
Make this recipe your own.
This Italian cold spaghetti salad has very few ingredients. We loved it as is, but you can of course add other veggies such as fresh celery or bell peppers to give it some crunch or perhaps a little garlic or pine nuts. But, I wouldn't change it too much.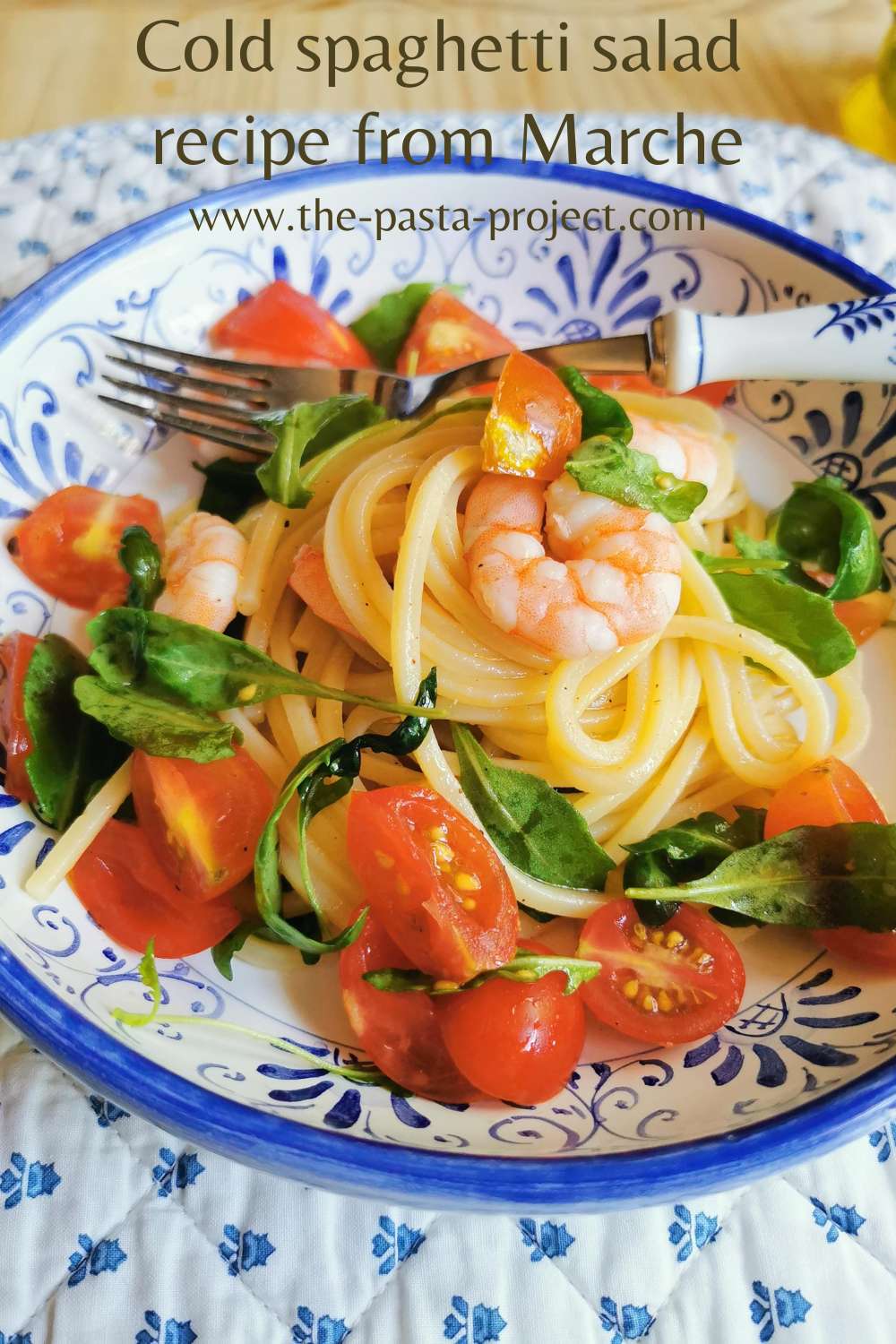 Italian cuisine is famously simple, particularly when the ingredients are fresh and seasonal. Too many additions will make the flavour complex and you'll lose the taste of those summer tomatoes and the fresh rocket (arugula).
If you make this recipe I'd love to hear how it turns out and if you liked it. Please leave a comment here on the blog or on The Pasta Project Facebook page. Looking forward to hearing from you.
Buon appetito!
Other Italian pasta salads to try
Here are some of my favourite summer pasta recipes and pasta salads:
If you are interested in learning how to make homemade pasta and different types of gnocchi, check out my shop page for some great video online courses from my friends in Rome! Nothing beats learning to make pasta from Italians! Plus while you're there why not order a copy of one of my pasta recipe cookbooks or checkout some recommended pasta making tools?