Spring is sprung and asparagus season has started here in Northern Italy! There are so many delish pasta with asparagus recipes but this poached salmon and asparagus lasagne al forno is one you are definitely going to want to try!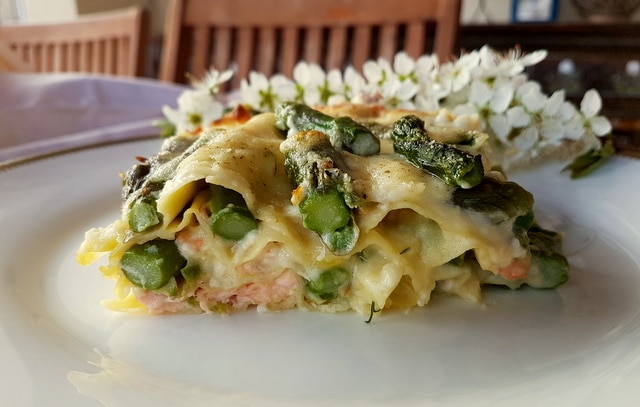 Lasagne con asparagi e salmone.
It's asparagus season and asparagus are everywhere here in Veneto. Fat or thin, green, white or purple, wild or cultivated, Northern Italians love asparagus. Italians have so many recipes for this spring perennial vegetable. They steam or boil the asparagus and serve them with different condiments like Parmesan and butter, gremolata or even with capers and anchovies.
They make asparagus frittata and crepes and asparagus risotto is practically a staple here this time of year. And, of course, asparagus find their way into numerous pasta dishes, like this to-die-for poached salmon and asparagus lasagne.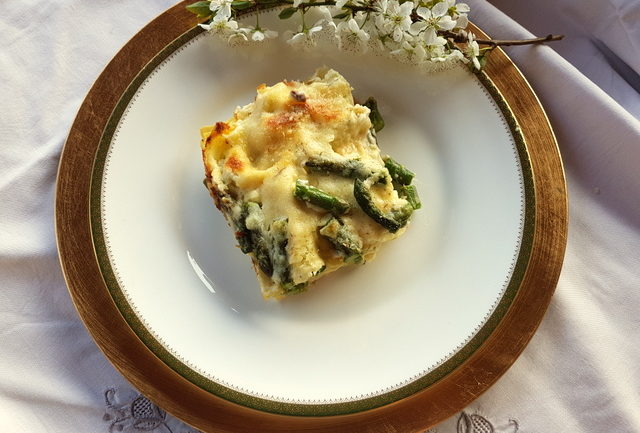 Some asparagus history.
People have been eating asparagus since 3000 B.C. The exact origins of asparagus are hazy. Like many vegetables, asparagus originated as a wild plant (wild asparagus grow in many parts of Italy) . Certainly the ancient Egyptians ate them as they appear in Egyptian writings. And, the ancient Romans and Greeks loved them too! In fact, the word 'asparagus' comes from the Greek 'asparagos' meaning sprout or shoot.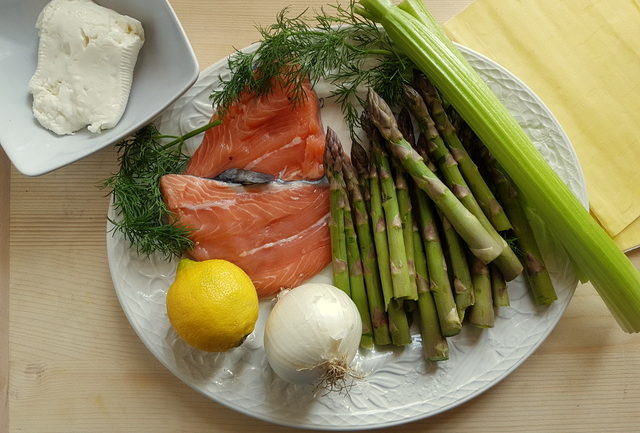 The Romans were the first people to cultivate asparagus. They ate them fresh in season and dried them for the winter. They also froze them! Apparently the Romans sent tons of these veggies high into the alps to freeze them for the feast of Epicurious and the Emperor Augustus even built 'an asparagus fleet' so that asparagus could be shipped all over the Empire!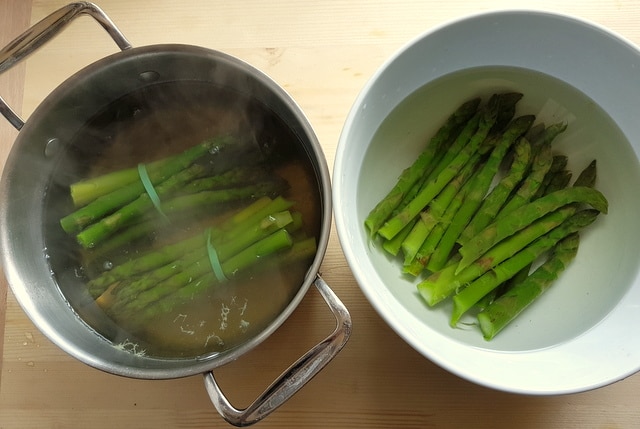 Asparagus in Italy.
After the fall of the Roman Empire, asparagus lost popularity but began to be re-cultivated in Europe in the 1500s. Here in Veneto, asparagus fields abound. Italy is the leading producer of green asparagus in Europe and the third for white asparagus. There are some types of Italian asparagus which have DOP classification from the European Union, such as the white asparagus from Bassano del Grappa.
The purple asparagus 'Violetto d'Albenga' from Liguria was the first type of purple asparagus ever to be developed. A recipe for those is waiting to be made, just as soon as I can get my hands on some of those tasty wonders!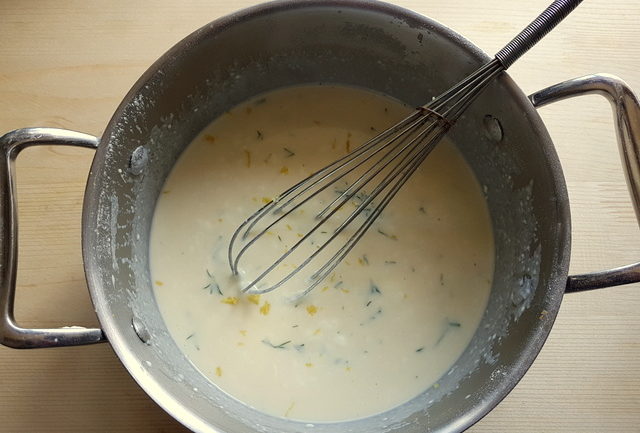 Poached salmon and asparagus lasagne recipe.
Since I live in the region that cultivates the most asparagus in Italy, it's not surprising that we eat so much here in the spring! I love baked pasta so, when I was looking for an asparagus pasta recipe to post and saw this poached salmon and asparagus lasagne al forno, it was love at first sight! It was also love at first bite!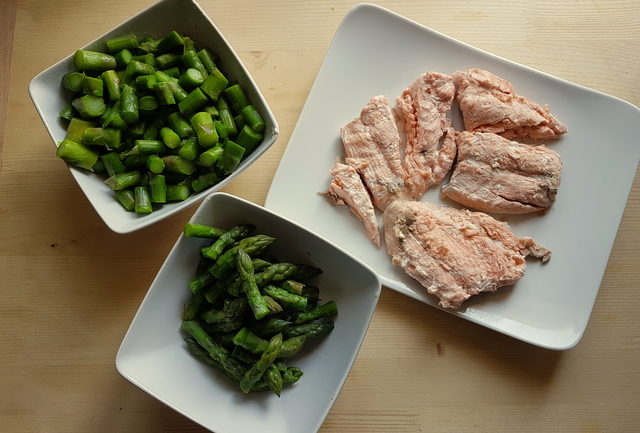 Asparagus and salmon are a delicious combination. I could have cheated with the salmon and used tinned. But, I thought it's never going to taste as good as poaching it myself! Obviously, tinned salmon would make this a much faster recipe. You can also use leftover poached salmon. But, if you have the time, I'd definitely recommend poaching fresh salmon! Divinely delicious!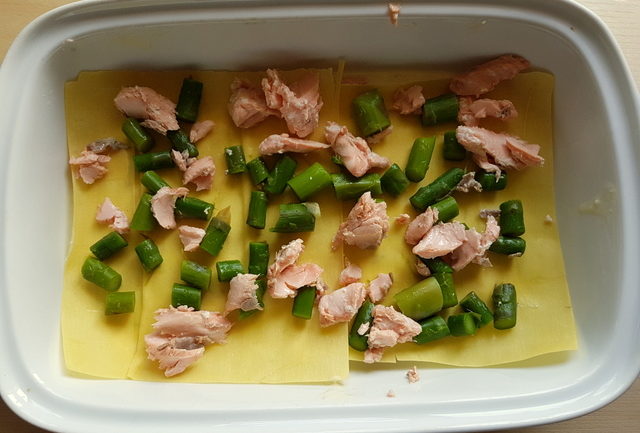 Like other baked lasagna recipes this poached salmon and asparagus lasagne requires a bit of work and needs to be made in stages. However, nothing takes very long. The asparagus can be boiled or steamed but they only need 5 minutes. Poaching the salmon takes about 20-25 minutes and making the béchamel not even ten!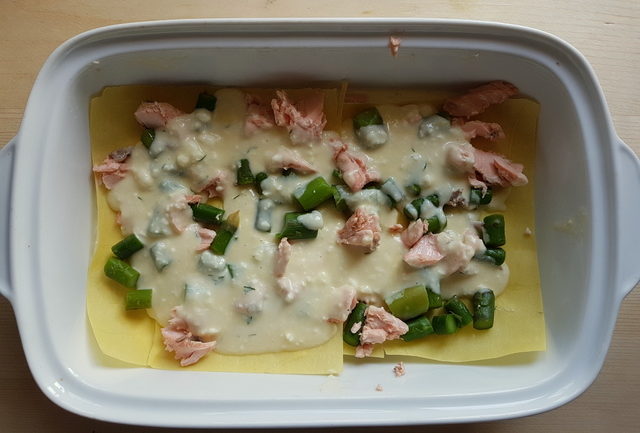 Fresh or dried lasagne sheets?
I used fresh lasagne sheets and didn't precook them. But, you can use dried. However, then you'll need to par-boil the sheets beforehand. Don't forget to keep them very al dente as the pasta will finish cooking in the oven. Then just put it all together and bake for about 25 minutes.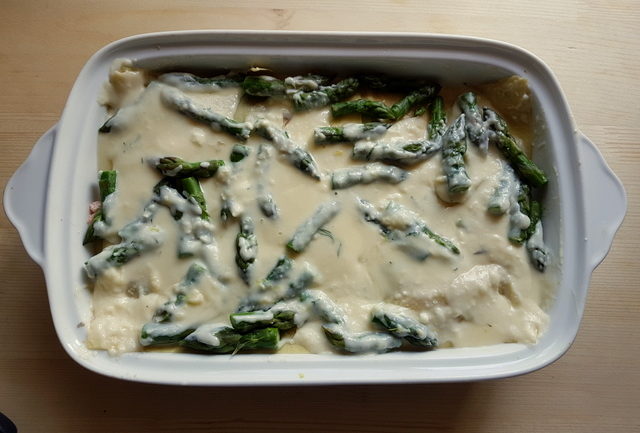 We had this poached smoked salmon and asparagus lasagne for dinner last night and the first thing I wanted to do this morning was share the recipe here. I have some other recipes I have made which are on my list to be posted, but this one had to jump the queue! I'm sure if you try it you'll understand why!
If you make this poached salmon and asparagus lasagna recipe, I'd love to hear how it turns out and if you liked it. So, please leave a comment here on the blog or on The Pasta Project Facebook page.
Looking forward to hearing from you!
Buon appetito!
Other asparagus recipes on The Pasta Project.
Save this recipe for later?
If you want to save this recipe for later, you can print it, bookmark this page or save it to Pinterest.
Pin for later.

This recipe was originally published in 2018 but has been updated.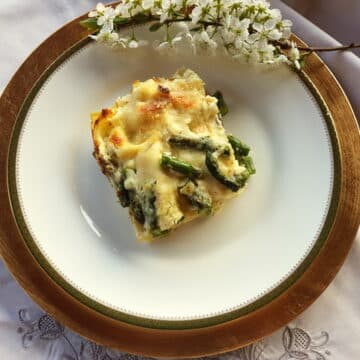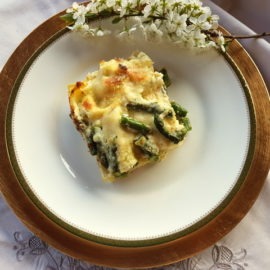 Poached salmon and asparagus lasagne al forno
A divinely delicious baked pasta with fresh seasonal asparagus and poached fresh salmon. Also a great recipe for leftover poached or baked salmon.
Ingredients
300

g

fresh salmon fillets

( 10-11oz) skinless or leftover poached salmon

200

g

lasagne pasta sheets

(7oz) fresh or dried ( I used fresh from Giovanni Rana)

30

g

grated Parmesan

(1oz)

1

kg

asparagus

(2.2lbs) fresh green
For salmon poaching (if using raw salmon)
1

white onion

peeled and sliced

1

stalk

celery

washed and cut into pieces

1

sprig

dill

1

lemon

(juiced)

1

bay leaf

salt
For béchamel
100

g

all purpose flour

(3.5oz)

100

g

butter

(3.5oz)

1-2

tsp

lemon zest

130

g

stracchino cheese

(4.5oz) or burrata or ricotta

1

Lt

fresh milk

(2 pints)

1

tsp

dill

chopped

salt
Instructions
Poach the salmon if using raw uncooked salmon
Place the skinless salmon fillets into a poaching tray with some dill, the bay leaf, the peeled and sliced onion and the celery stalk washed and cut into pieces.

Add enough cold water to cover the fish and add the juice of one lemon. Poach covered from cold on a moderate heat until the salmon is cooked. (about 20-25 minutes)

When the salmon is cooked take it out of the poaching liquid and put it on a plate to cool.
Cook the asparagus
Wash the asparagus and cut off the hard part at the bottom of the stalk ( You can do this by bending the stalks and they will break at the right place)

Boil or steam the asparagus until they are still a little firm. I boiled them in bundles for 5 minutes. Then plunge them in cold water to prevent them continuing to cook.

Cut the asparagus stalks into small pieces keeping the spears intact. Set aside.
Make the béchamel
In a saucepan, let the butter melt over a moderate flame. Add the flour a little at a time, stir carefully and make sure any lumps of flour dissolve. Then pour in the milk a little at a time, continuing to stir until it starts to thicken.

Add salt, some chopped dill, lemon zest and the Parmesan cheese, if you are using it. Continuing stirring until the cheese melts and the béchamel is thick enough. If it gets too thick you can add more milk.

If you are using stracchino or burrata add once the béchamel is ready and cream with a hand held blender.
Assemble your poached salmon and asparagus lasagne
Put a small ladlful of béchamel in the bottom of a rectangular or square oven dish and spread it evenly. Place one layer of lasagne sheets on top. Then make a layer of asparagus stalks and salmon. Spread some more béchamel on top of the salmon and asparagus.

Add another layer of pasta sheets, then some salmon and asparagus stalks and more béchamel. Repeat if you have enough salmon and asparagus stalks. Finish with a layer of pasta. Cover this with the asparagus spears and finally the last of the béchamel and a light sprinkling of parmesan and a few small pieces of butter.

Bake in a preheated oven at 180° for about 20-25 minutes (until the top starts to brown) Be careful not to let the asparagus spears burn.

Let the poached salmon and asparagus lasagne rest for 5-10 minutes before serving.
Notes
I used fresh lasagne sheets so I didn't par-boil them. If you are using dried lasagne you will need to cook themin boiling salted water first. Be careful not to overcook them (half cooked if enough) as they will continue cooking in the oven and can get too soft and mushy. 
For a very quick version of this recipe you can use tinned salmon or leftover poached salmon and ready made béchamel, but I would recommend using homemade béchamel and poaching the salmon yourself for best results.
Pin for Later