Baked Tuscan Gnudi (Malfatti) with mozzarella and homemade tomato sauce.
In this baked Tuscan gnudi (malfatti) recipe, melt-in-your-mouth spinach and ricotta dumplings from Tuscany are cooked in a delicious homemade tomato sauce with mozzarella.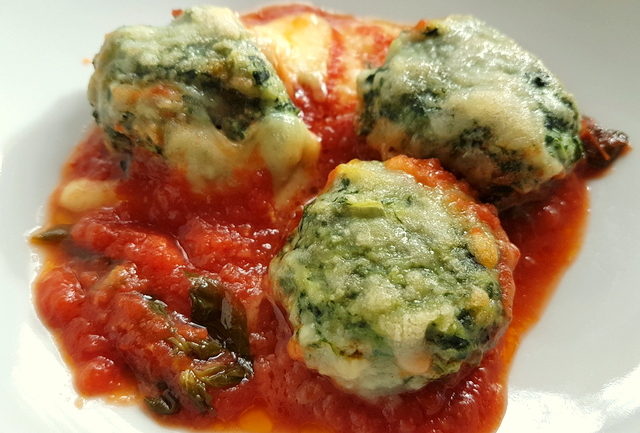 Gnudi al forno.
Tuscan spinach and ricotta gnudi are a type of gnocchi or dumpling from Tuscany. In parts of Tuscany, like Siena, they also call them malfatti, meaning badly made. Malfatti are also eaten in Lombardy. Gnudi or malfatti actually started life as the filling for a type of ravioli or tortelli but became a traditional dish in their own right. Written reference to these  delicious dumplings actually dates back to the 16th century!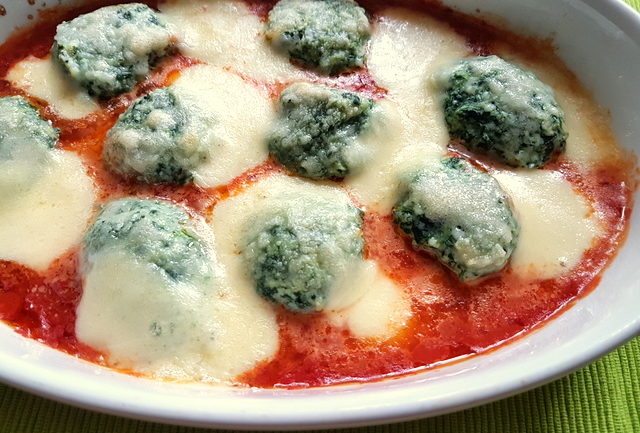 Different ways to serve Tuscan Gnudi
These melt-in-your-mouth ricotta based gnocchi are traditionally made with spinach and eaten with a browned butter or a sage butter sauce. However, baked Tuscan gnudi (malfatti) are divinely delicious too, especially with a homemade tomato sauce and mozzarella! I like them served both ways, so I have included the recipe for sage butter gnudi as well! You can choose to serve yours in two different ways.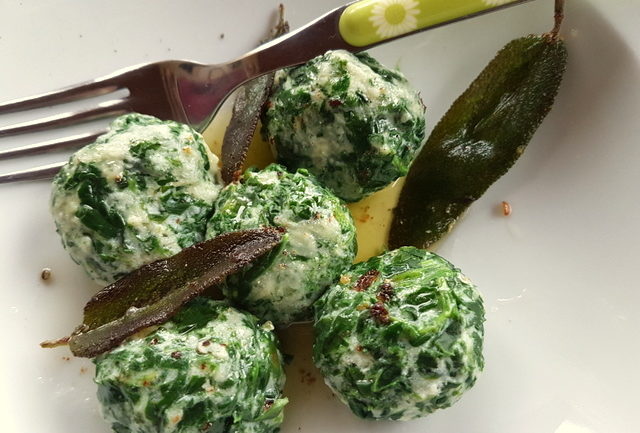 Making baked Tuscan Gnudi (malfatti).
The ingredients for gnudi or malfatti are simply fresh spinach, good sheep or cow ricotta, fresh eggs, plenty of grated Parmigiano Reggiano or aged Pecorino Toscano, flour and salt. Many people also add a pinch of nutmeg. If you are preparing baked Tuscan gnudi (malfatti), you will also need the ingredients to make a tomato sauce and some mozzarella.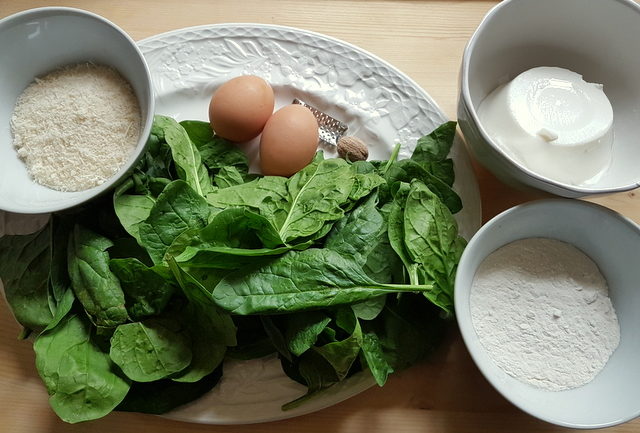 Although Tuscan spinach and ricotta gnudi are pretty easy to make it's important to get the consistency right. If the ingredients are too 'wet', you'll need more flour and the resulting gnudi will be too heavy and floury. So, it's essential that you drain the spinach and ricotta well. Both can actually be squeezed out in a cotton tea towel if necessary.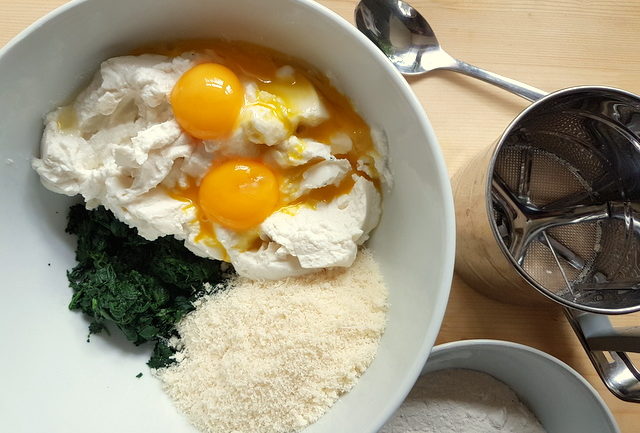 Tuscan gnudi al forno takes a little longer to make than if you are serving the dumplings just with browned butter or sage butter. However, you don't need to bake them for very long and you can make the tomato sauce while the gnudi mixture is resting in the fridge.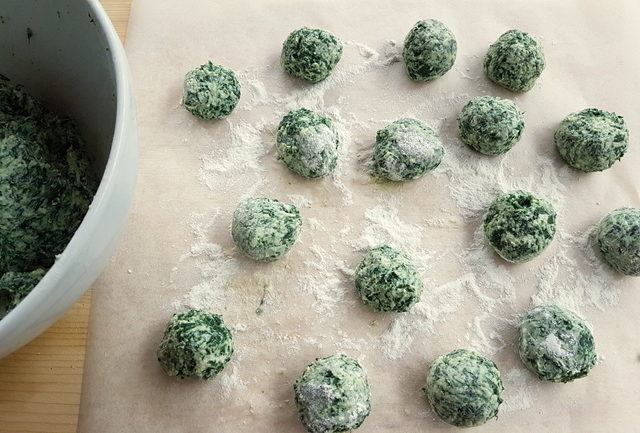 Gnudi can be made the day before.
Some people cook gnudi or malfatti immediately after making the mixture. However, many recipes recommend refrigerating it for at least 2 hours. This is what I do, when I make them. Also, some Italians say that gnudi or malfatti need to be used the day they are made. The ones I used in this baked Tuscan gnudi recipe, I had made the day before.
Some I served with sage butter for guests the same day as making them. The others I boiled and baked the following day. Just as yummy!  So if you need too, you can prepare the raw gnudi the day before and keep them in the fridge until you are ready to cook them.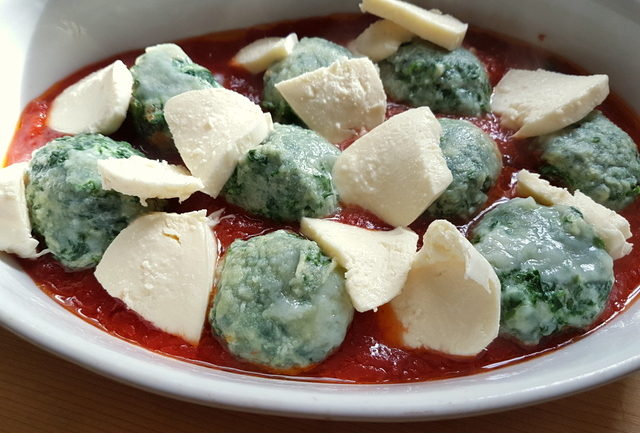 Two recipes in one.
You can use this recipe to cook Tuscan gnudi (malfatti) two ways. First way: Make the gnudi, cook them in boiling water and serve with some sage butter (melted butter with sage leaves cooked in it until crispy). Second way: follow all the recipe instructions and serve your baked Tuscan gnudi al forno in a homemade tomato sauce with melted mozzarella! If you make extra gnudi (malfatti) you can do like I did and eat them both ways! Twice the deliciousness!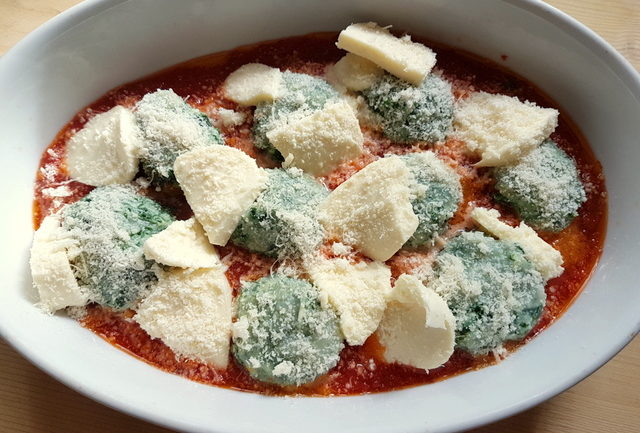 If you make this baked Tuscan gnudi (malfatti) recipe or just serve them with sage butter, I'd love to hear how it turns out. Please write a comment here on the blog, email me or post a comment on the Pasta Project Facebook page.
Your feedback is really appreciated!
Buon Appetito!
Other Gnudi recipes on The Pasta Project
Ricotta Gnudi with black truffles.
Save this recipe for later?
If you want to save this recipe for later, you can print it, bookmark this page or save it to Pinterest.
Pin for later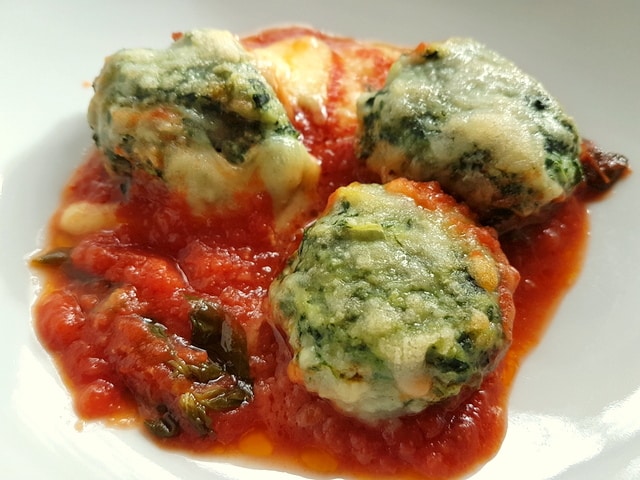 Baked Tuscan gnudi (malfatti) with homemade tomato sauce and mozzarella
In this baked Tuscan gnudi (malfatti) recipe, melt-in-your-mouth spinach and ricotta dumplings from Tuscany are cooked in a delicious homemade tomato sauce with mozzarella.
Cuisine:
Central Italy, Italian, Tuscany
Keyword:
baked pasta recipe, gnocchi, gnudi, homemade gnocchi, malfatti, ricotta, spinach
Ingredients
400

g

fresh ricotta

(14 oz) sheep or cow's ricotta

400

g

fresh spinach

1

egg

1

egg yolk

100

g

Parmigiano Reggiano

(3.5oz) grated or hard cheese without rennet for vegetarians

60

g

All purpose flour

(2oz) or Italian 00 flour

1

pinch

nutmeg

grated

salt

to taste

black pepper

to taste
For tomato sauce and mozzarella
350

g

Tomato passata

(12oz) I use Cirio rustica. It's chunkier.

2

garlic cloves

peeled

6-8

basil leaves

400

g

fresh mozzarella

(14oz)
For sage butter
6-8

sage leaves

100

g

butter

(3.5oz)
Instructions
Make the gnudi (malfatti)
Wash your spinach and boil in a little salted water for about 8 minutes, then drain and leave to cool a bit, wring out well and chop finely.

Drain the ricotta of any liquid and put it in a bowl with the spinach, 2/3 of the grated Parmigiano, the egg, the egg yolk and the flour, after passing it through a sieve. Grate a little nutmeg into the mixture. Add salt and pepper as required.

Mix everything carefully with a fork. You can also use your hands but you don't want to knead this dough, just make sure all the ingredients are well incorporated. Cover the bowl with cling film and leave it to rest for at least 2 hours in the fridge.
Make the tomato sauce if baking your gnudi
Peel the garlic. Heat the olive oil in a frying pan. Add the garlic, once it starts to soften add the tomato passata and basil leaves. Simmer for 15-20 minutes. Add salt and pepper to taste and remove the garlic cloves when the sauce is ready.

Drain the mozzarella and cut into small slices or cubes.
Finish the gnudi
Place some baking paper on a tray and sprinkle with flour. Take about a flat tablespoon full of gnudi mixture and form into a ball. You can use wet hands to make the balls. I use an ice-cream/melon scope or a tablespoon to get the same quantity of gnudi mixture for each ball. Place the gnudi on the tray and roll a little to cover each ball slightly in flour.

Put a pot of water onto boil. Cook the gnudi in the boiling water for 2-4 minutes, when they come to the surface, allow a few seconds and then remove with a slotted spoon. The time it takes your gnudi to rise to the surface will depend on how big they are.
If serving with sage butter
If you are serving with sage butter while the water is boiling and the gnudi are cooking, melt the butter in a skillet or frying pan. Add the sage leaves to the butter and cook until they start to crisp. Both the butter and the sage need to be a little brown but not burnt. Plate the gnudi and pour over the sage butter. Add some grated parmesan and black pepper if required.
If baking your gnudi
If you are making baked Tuscan gnudi, put the tomato sauce into an oven dish. Place the cooked gnudi in the sauce. Add the pieces of mozzarella. Sprinkle with grated Parmesan and bake in a preheated oven at 180 ° until the mozzarella has melted and the top has just started to brown. 10-15 minutes. Serve immediately!
Recipe Notes
The number of gnudi (malfatti) you make will depend on the size. Cooking times will also vary depending on the size of your gnudi. 
Want to know more about my life in Italy? Go to the homepage and subscribe to my newsletter. New subscribers get a free recipe e-book too! https://www.the-pasta-project.com
Pin for Later