In this baked Tuscan gnudi (malfatti) recipe, melt-in-your-mouth spinach and ricotta dumplings from Tuscany are cooked in a delicious homemade tomato sauce with mozzarella.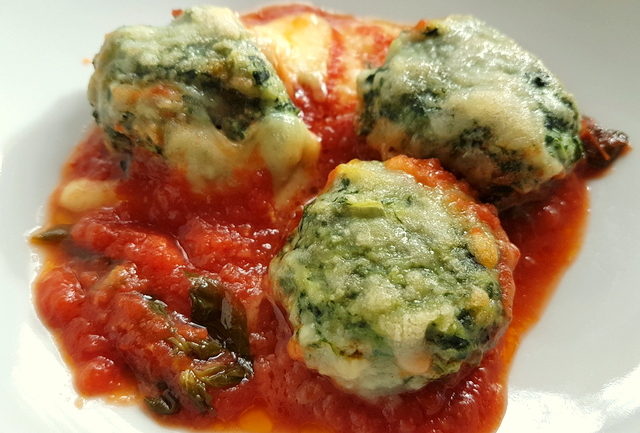 Gnudi al forno.
Tuscan spinach and ricotta gnudi are a type of gnocchi or dumpling from Tuscany. In parts of Tuscany, like Siena, they also call them malfatti, meaning badly made. Malfatti are also eaten in Lombardy. Gnudi or malfatti actually started life as the filling for a type of ravioli or tortelli but became a traditional dish in their own right. Written reference to these delicious dumplings actually dates back to the 16th century!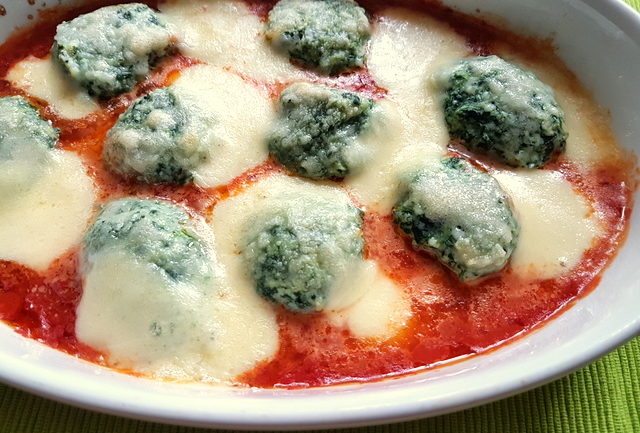 Different ways to serve Tuscan Gnudi
These melt-in-your-mouth ricotta based gnocchi are traditionally made with spinach and eaten with a browned butter or a sage butter sauce. However, baked Tuscan gnudi (malfatti) are divinely delicious too, especially with a homemade tomato sauce and mozzarella! I like them served both ways, so I have included the recipe for sage butter gnudi as well! You can choose to serve yours in two different ways.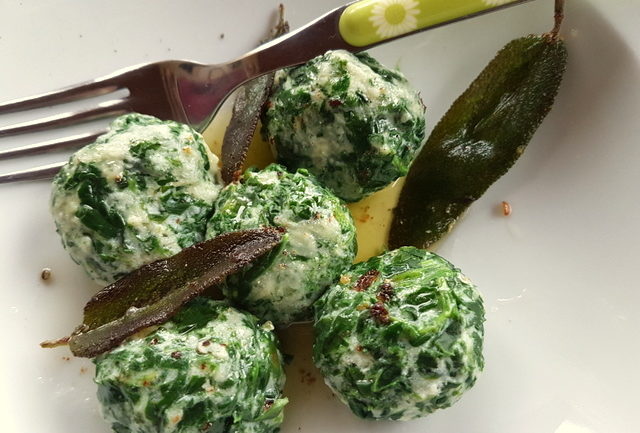 Making baked Tuscan Gnudi (malfatti).
The ingredients for gnudi or malfatti are simply fresh spinach, good sheep or cow ricotta, fresh eggs, plenty of grated Parmigiano Reggiano or aged Pecorino Toscano, flour and salt. Many people also add a pinch of nutmeg. If you are preparing baked Tuscan gnudi (malfatti), you will also need the ingredients to make a tomato sauce and some mozzarella.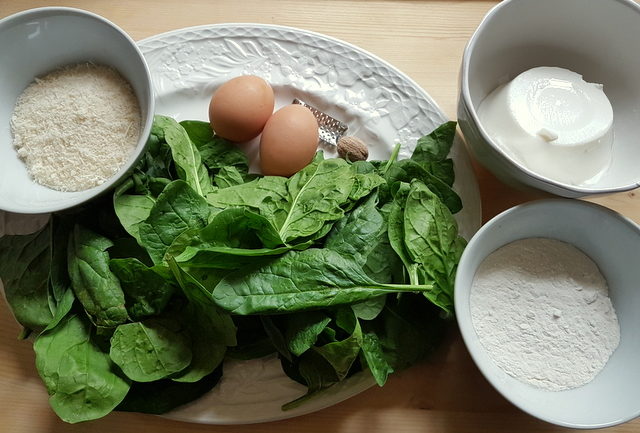 Although Tuscan spinach and ricotta gnudi are pretty easy to make it's important to get the consistency right. If the ingredients are too 'wet', you'll need more flour and the resulting gnudi will be too heavy and floury. So, it's essential that you drain the spinach and ricotta well. Both can actually be squeezed out in a cotton tea towel if necessary.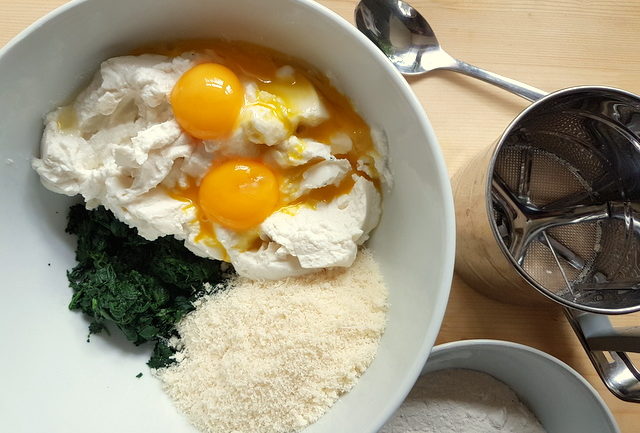 Tuscan gnudi al forno takes a little longer to make than if you are serving the dumplings just with browned butter or sage butter. However, you don't need to bake them for very long and you can make the tomato sauce while the gnudi mixture is resting in the fridge.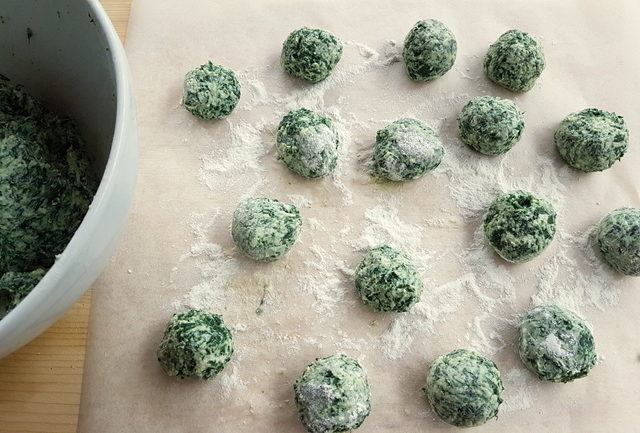 Gnudi can be made the day before.
Some people cook gnudi or malfatti immediately after making the mixture. However, many recipes recommend refrigerating it for at least 2 hours. This is what I do, when I make them. Also, some Italians say that gnudi or malfatti need to be used the day they are made. The ones I used in this baked Tuscan gnudi recipe, I had made the day before.
Some I served with sage butter for guests the same day as making them. The others I boiled and baked the following day. Just as yummy! So if you need too, you can prepare the raw gnudi the day before and keep them in the fridge until you are ready to cook them.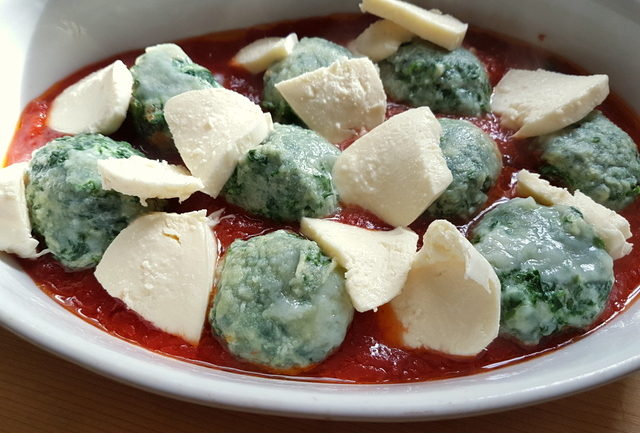 Two recipes in one.
You can use this recipe to cook Tuscan gnudi (malfatti) two ways. First way: Make the gnudi, cook them in boiling water and serve with some sage butter (melted butter with sage leaves cooked in it until crispy). Second way: follow all the recipe instructions and serve your baked Tuscan gnudi al forno in a homemade tomato sauce with melted mozzarella! If you make extra gnudi (malfatti) you can do like I did and eat them both ways! Twice the deliciousness!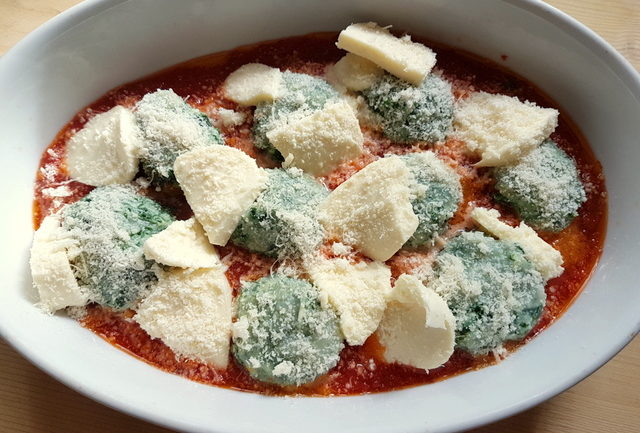 If you make this baked Tuscan gnudi (malfatti) recipe or just serve them with sage butter, I'd love to hear how it turns out. Please write a comment here on the blog, email me or post a comment on the Pasta Project Facebook page.
Your feedback is really appreciated!
Buon Appetito!
Other Gnudi recipes on The Pasta Project
Ricotta Gnudi with black truffles.
Save this recipe for later?
If you want to save this recipe for later, you can print it, bookmark this page or save it to Pinterest.
Pin for later

Pin for Later