Ricotta Gnudi with Black Truffle.
Ricotta gnudi with black truffle is a heavenly dish made with Tuscan gnudi. Even without black truffles you will love these divine ricotta dumplings!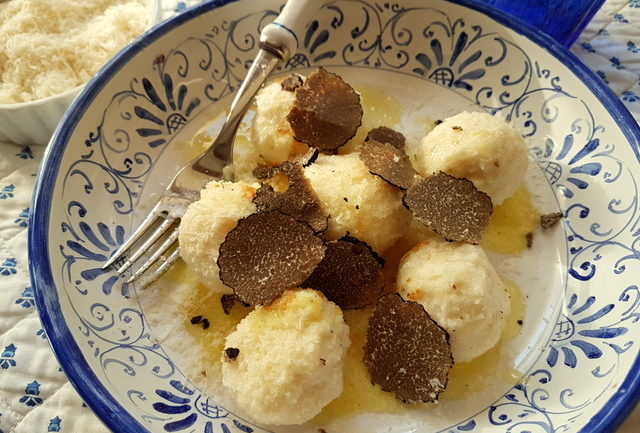 Gnudi di ricotta con tartufo.
We all know that there are a lot of mouthwatering dishes in Italian cuisine. The list is endless even if I just stick to pasta and gnocchi. I include gnocchi under the pasta banner because types of gnocchi include similar ingredients to pasta and Italians serve and cook them in the same way. In fact, there are many 'sauces' that can be, and are, eaten with either pasta or gnocchi!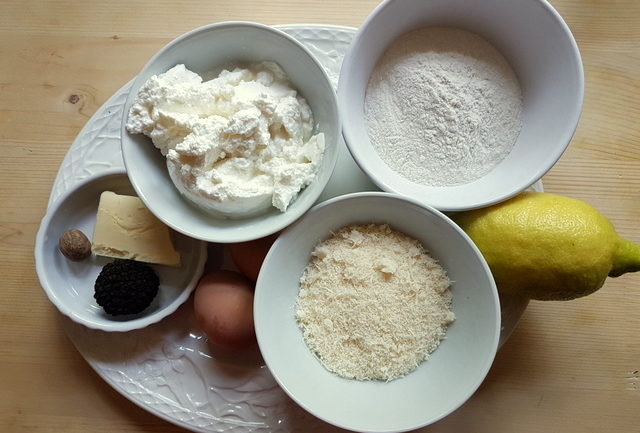 One particular totally (and I mean totally) mouthwatering dish I fell in love with many years ago was ricotta gnudi. Until now, I hadn't made them myself. But, finally I have crossed one thing off my bucket list! I have made ricotta gnudi!!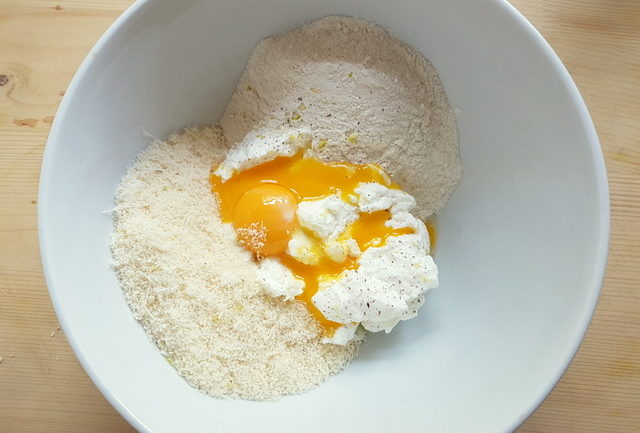 What are ricotta gnudi?
Gnudi are dumplings from Tuscany, where they usually make them with spinach in the dough. In reality they are a ravioli filling without the pasta. However, these ricotta gnudi don't have spinach. These are melt-in-your-mouth dumplings made with ricotta, eggs, flour, Parmesan, lemon zest and nutmeg.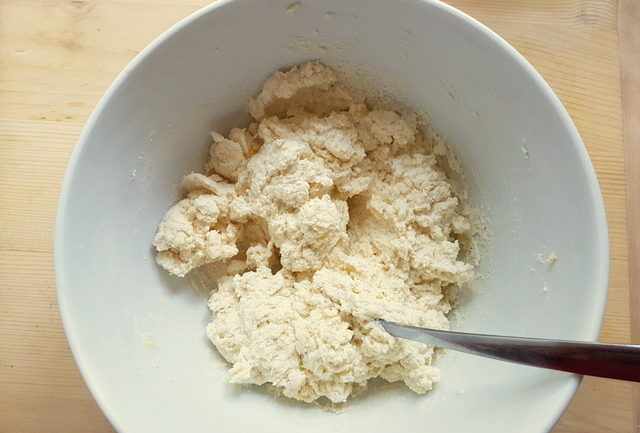 Why ricotta gnudi without spinach?
I decided to make these gnudi without spinach because I had some black truffles to use up! Amazing thing to be able to say, but my hubby came home with a bag full of black truffles the other day; actually about 20! The first recipe I made with these marvels was tagliolini with taleggio and black truffles. Check out that recipe to read more about truffles in Italy and how I ended up with so many!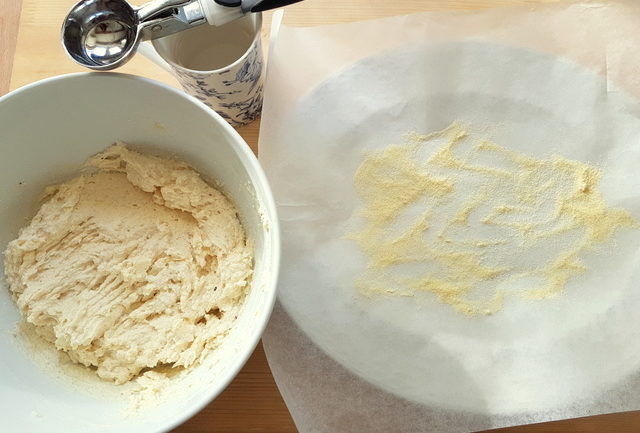 So, because truffles have such a umami flavour that doesn't go with everything, spinach was out. At least for this gnudi recipe. First, I kept it very simple and dressed the ricotta gnudi with black truffle shavings, browned butter and a sprinkling of Parmigiano. However, I made extra gnudi, kept them in the fridge and served them to friends the next day with the same taleggio sauce as the other black truffle recipe I mentioned above (sadly no photos of that as it was evening and the light wasn't good enough).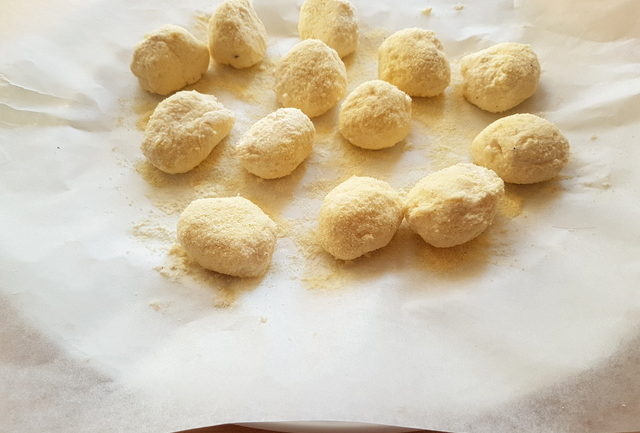 Simple to make.
Ricotta gnudi are pretty simple to make. However, you do need to keep the dough in the fridge for a while before cooking. At least I think so. I have read different opinions about that. Some people cook them immediately, others leave them in the fridge for 24 hours. I left the dough for the first lot in the fridge for about 3 hours. Then formed all the gnudi, rolled them in semolina flour and boiled the first batch in unsalted water. They were fantastic!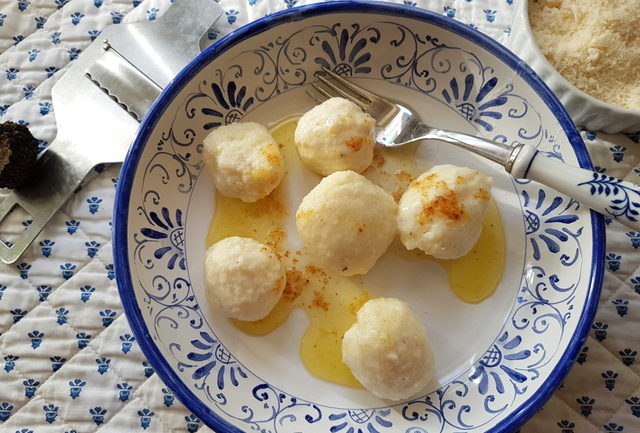 The remaining gnudi I used the following day had been in the fridge for more than 24 hours. They were really yummy too, just a little firmer and slightly heavier than the first batch. But, as I'm sure you can imagine, they were divine with the taleggio sauce and black truffle shavings.
Other ways to serve ricotta gnudi.
If you don't have black truffles you can serve these ricotta dumplings with just the browned butter and grated cheese. Otherwise, they are delicious with a porcini mushroom sauce like in my recipe for tagliatelle with porcini or just a sage butter like in my recipe for homemade pumpkin gnocchi with sage butter. Ricotta gnudi nudi are also delicious with a homemade tomato sauce.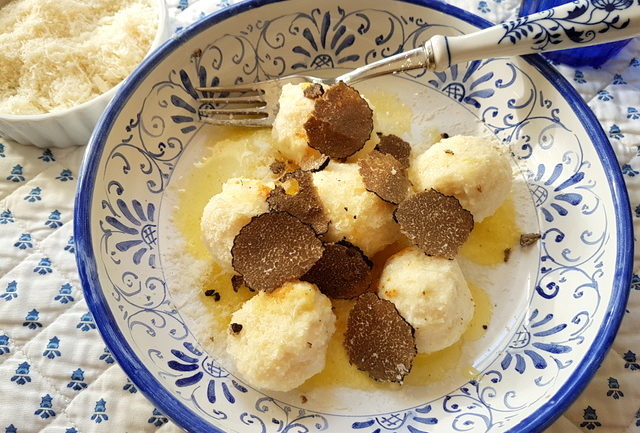 Whichever way you serve these ricotta gnocchi, I'm sure you're going to agree that they are one of the most mouthwatering Italian recipes you have tried!
If you do make this ricotta gnudi with black truffle recipe, I'd love to hear how it turns out and if you liked it. So, please leave a comment here on the blog or on The Pasta Project Facebook page.
Looking forward to hearing from you!
Buon Appetito!
Some other black truffle recipes on The Pasta Project
Save this recipe for later?
If you want to save this recipe for later, you can print it, bookmark this page or save it to Pinterest.
Pin for Later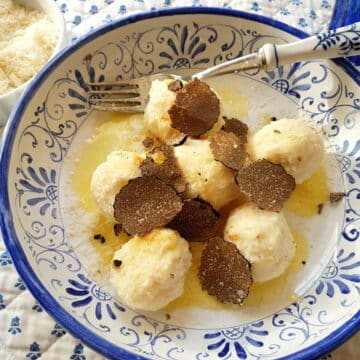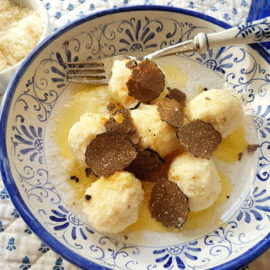 Ricotta gnudi with black truffle
Ricotta gnudi with black truffle is a heavenly dish made with Tuscan gnudi (gnocchi). Even without black truffles you will love these divine ricotta dumplings!
Ingredients
400

g

fresh ricotta

(14oz) cow's or sheep's ricotta

60

g

flour

(2oz) all purpose or '00'.

90

g

Parmigiano

(3oz) grated

1

egg

1

egg yolk

1

pinch

nutmeg

1

tsp

lemon zest

black pepper

as required

salt

as required
Instructions
Drain the ricotta of any liquid and put it in a bowl with 2/3 of the grated Parmigiano, the egg, the egg yolk and the flour, after passing it through a sieve. Grate a little nutmeg and some lemon zest and a pinch of salt into the mixture.

Mix everything carefully with a fork. You can also use your hands but you don't want to knead this dough, just make sure all the ingredients are well incorporated. Cover the bowl with cling film and leave it to rest for at least 2 hours in the fridge.

Place some baking paper on a tray and sprinkle with semolina flour (or normal flour) You can use wet hands to make the balls. I used an ice-cream/melon scope to get the same quantity of gnudi mixture for each ball. Place the gnudi balls on the tray and roll a little to cover each ball slightly in flour.

Put a pot of water onto boil and, in the meantime, melt the butter in a skillet or frying pan. It needs to brown but not burn. Cook the gnudi in the boiling water for 2-4 minutes, as soon as they come to the surface remove with a slotted spoon.

The cooking time will depend on the size of your gnudi. Then either add them to the pan with the melted the butter or plate them and pour the butter over them. Serve with a sprinkling of Parmigiano and truffle shavings.
Notes
If you don't have black truffles you can serve these ricotta gnudi with just the browned butter and grated cheese. Otherwise, see the article for other recipe ideas.
Nutrition
Calories:
349
kcal
Carbohydrates:
16
g
Protein:
23
g
Fat:
21
g
Saturated Fat:
13
g
Polyunsaturated Fat:
1
g
Monounsaturated Fat:
6
g
Trans Fat:
0.01
g
Cholesterol:
156
mg
Sodium:
463
mg
Potassium:
164
mg
Fiber:
1
g
Sugar:
1
g
Vitamin A:
746
IU
Vitamin C:
1
mg
Calcium:
489
mg
Iron:
2
mg
Great News! The Pasta Project has been awarded 3rd place in the 50 best Italian Food Blogs and websites to follow in 2018 by Feedspot. This list is compiled using search and social metrics, which boils down to not only the quality of the site but also its popularity! So a big thank you to all my followers and visitors. Please come back soon and show some more pasta love! Take a look at the list. I am really honoured to be in such delicious company!
Pin for Later