This unique Italian recipe combines delicate homemade fagottini pasta filled with a rich, savory filling of eggplant and mozzarella and served in a vibrant cherry tomato sauce. It's a perfect dinner for those who love creative and authentic Italian cooking.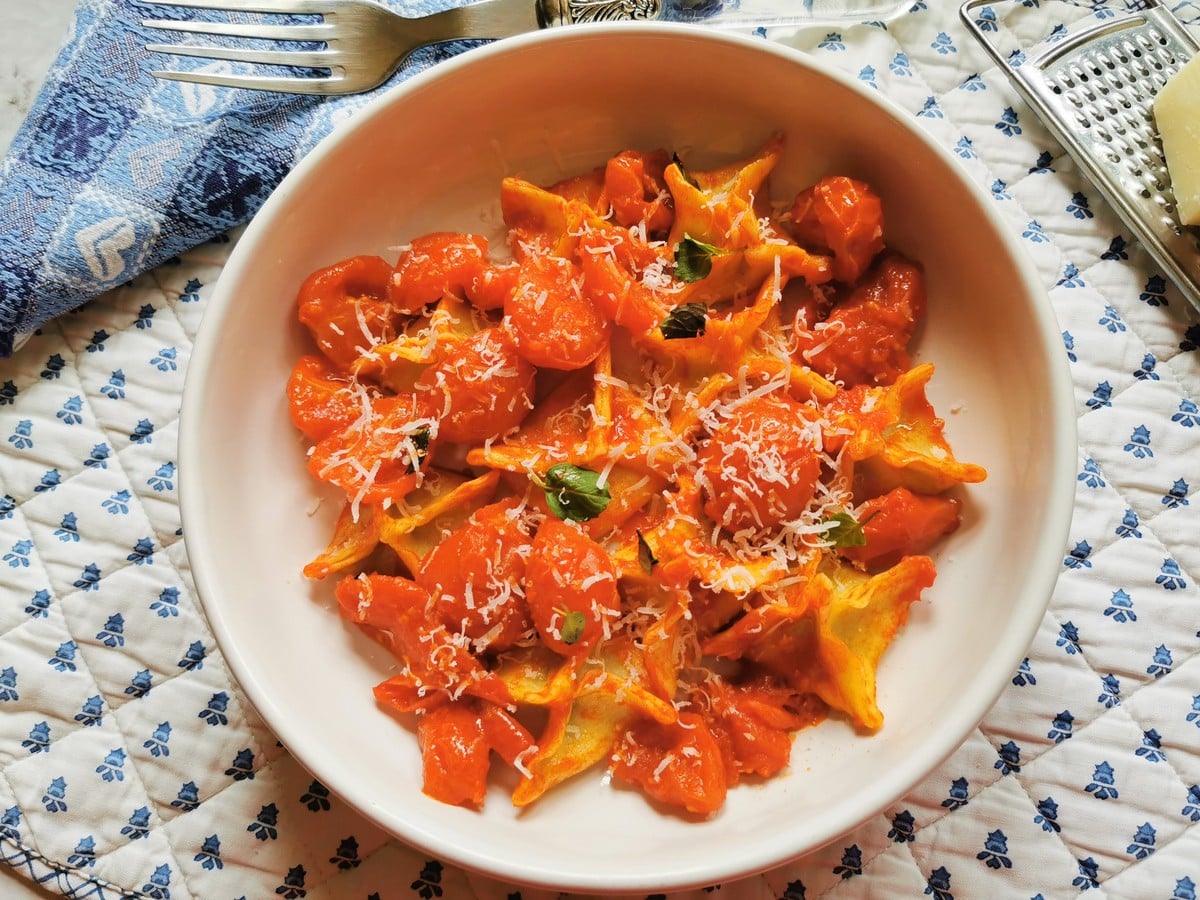 What is Fagottini Pasta?
Fagottini is an Italian term translating to "little bundles". This delightful pasta variety is crafted by enveloping flavorful fillings inside small pockets of pasta dough, resulting in a shape that resembles tiny parcels or pouches.
You will find this stuffed pasta more commonly served in central and northern Italy and it is a somewhat modern version of tortellini, cappelletti and agnolotti etc.
These artisanal pasta creations are made by hand, with each little bundle meticulously filled and folded to encase a variety of delicious ingredients. The fillings can range from traditional meat mixtures to delicious vegetarian options, showcasing the versatility of Italian pasta-making.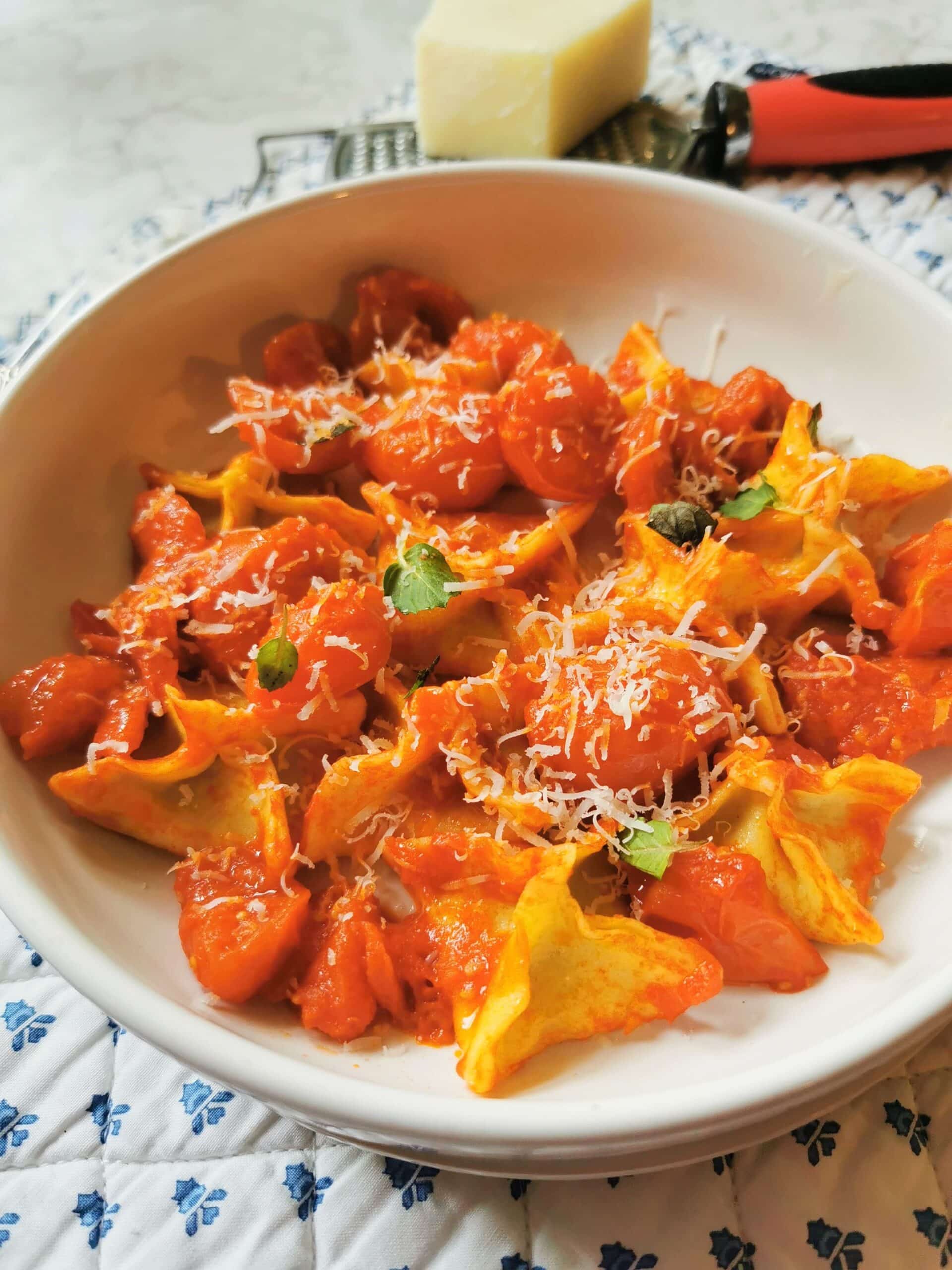 Ingredients
Eggs: These are crucial for binding the pasta dough, giving it structure and richness.
Italian 00 Flour: This finely milled flour is softer than all-purpose flour, producing a smooth and easily workable pasta dough.
Durum Wheat Semolina Flour: It's a high-protein flour that helps maintain the shape of the fagottini while cooking.
Eggplants: Pick fresh and firm eggplants. Once cooked, they will provide a creamy texture and a mildly sweet, earthy flavor that pairs wonderfully with the cherry tomato sauce.
Fior di Latte Mozzarella: Fior di latte is a high-quality type of fresh cow's milk mozzarella. If you can't source Fior di latte, use a regular fresh cow's mozzarella.
Breadcrumbs: You can use homemade or store-bought breadcrumbs. Just make sure they are finely ground to better incorporate and bind the filling.
Fresh Mint: Adds a refreshing, aromatic lift to both the filling and the final dish.
Extra Virgin Olive Oil: A good quality olive oil will add more flavor to your sauce.
Cherry Tomatoes: Their natural sweetness and acidity make a delicious sauce that pairs wonderfully with the fagottini pasta. Fresh, ripe cherry tomatoes work best, but you can also use good-quality canned tomatoes if needed.
Garlic: A foundational flavor for the tomato sauce. It should be fresh and cut into thick slices for this recipe.
Parmigiano Reggiano: Finish your dish with a serving of grated Parmigiano Reggiano to add an umami kick to your recipe.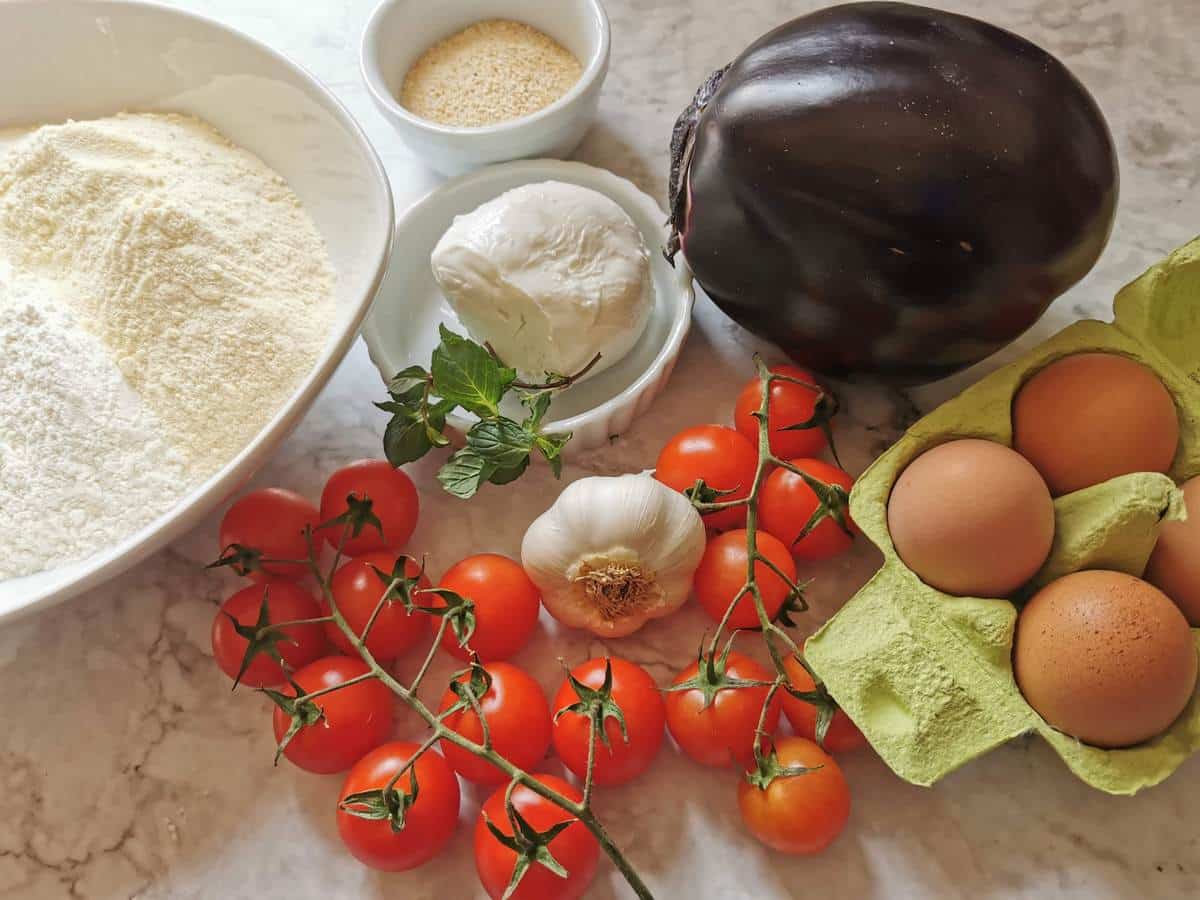 Expert Tips
Handling the Dough: When making the pasta dough, ensure the surface and your hands are well-floured to prevent sticking. Knead the dough until it's smooth and elastic. This will make it easier to roll out and shape your fagottini.
Tomato Sauce Consistency: The cherry tomato sauce should be simmered until it thickens slightly but remains fluid enough to coat the pasta well. If the sauce becomes too thick, thin it out with a little pasta cooking water.
Cooking Fagottini: Monitor the fagottini closely while boiling. They are done when they float to the surface. Overcooking can make them lose shape and become overly soft.
Step by Step Instructions
Prepare the fagottini filling.
1) Cook the eggplant cubes gently in a non-stick pan, together with a drizzle of extra virgin olive oil, for about 15 minutes.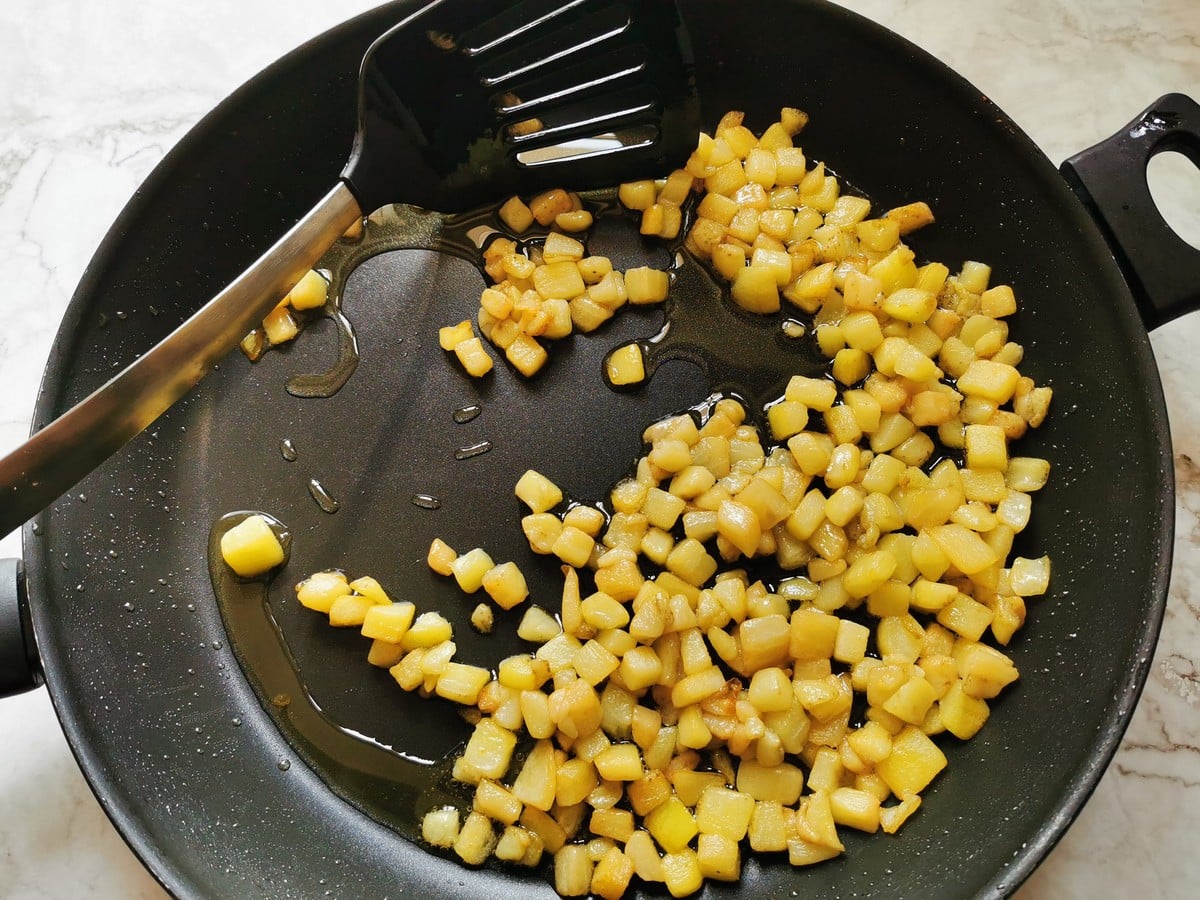 2) Allow to cool and blend together with the mozzarella cubes, the breadcrumbs, salt, pepper and some of the mint.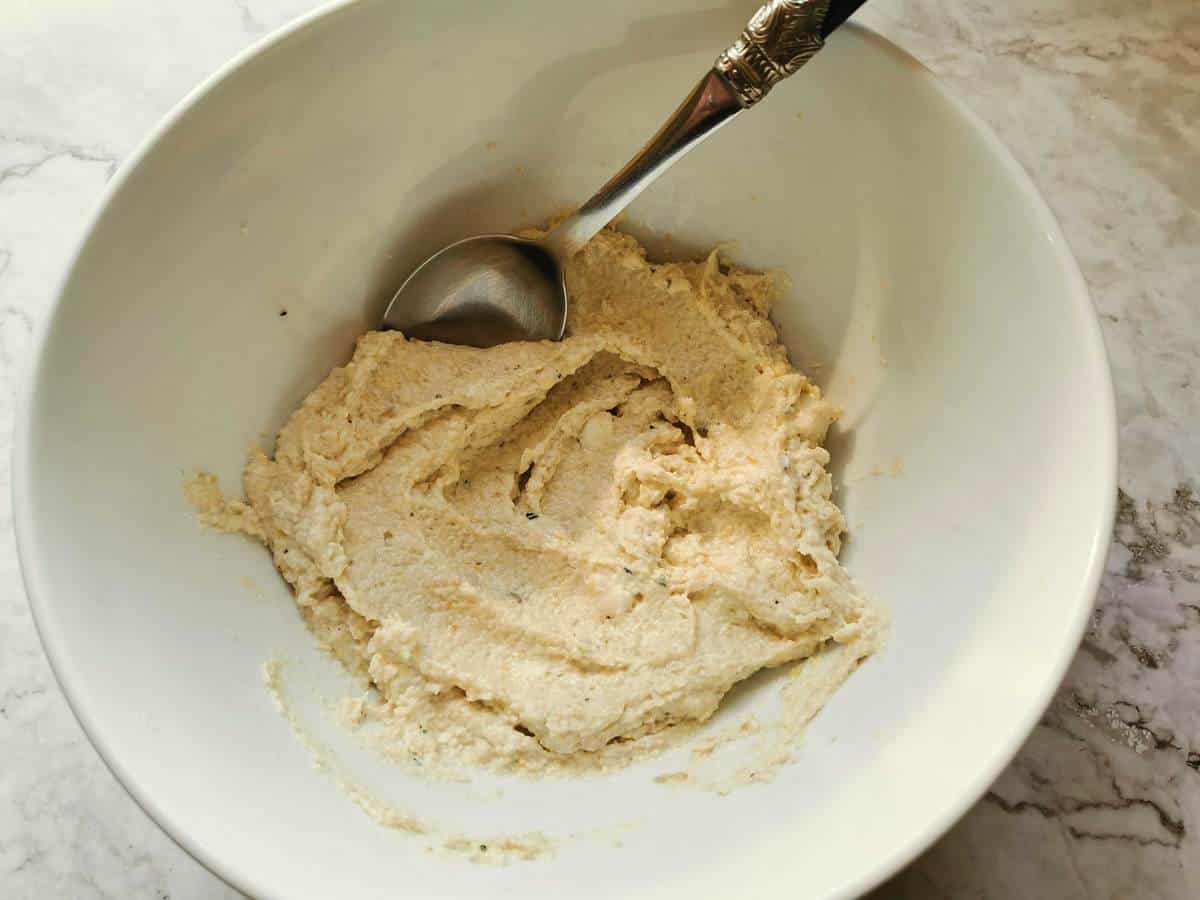 Make the dough.
3) Sift the two flours into a bowl, add salt and mix them together. Create a well in the center. Crack the eggs into the well and beat them lightly with a fork. Gradually incorporate the flour into the eggs until a rough dough forms.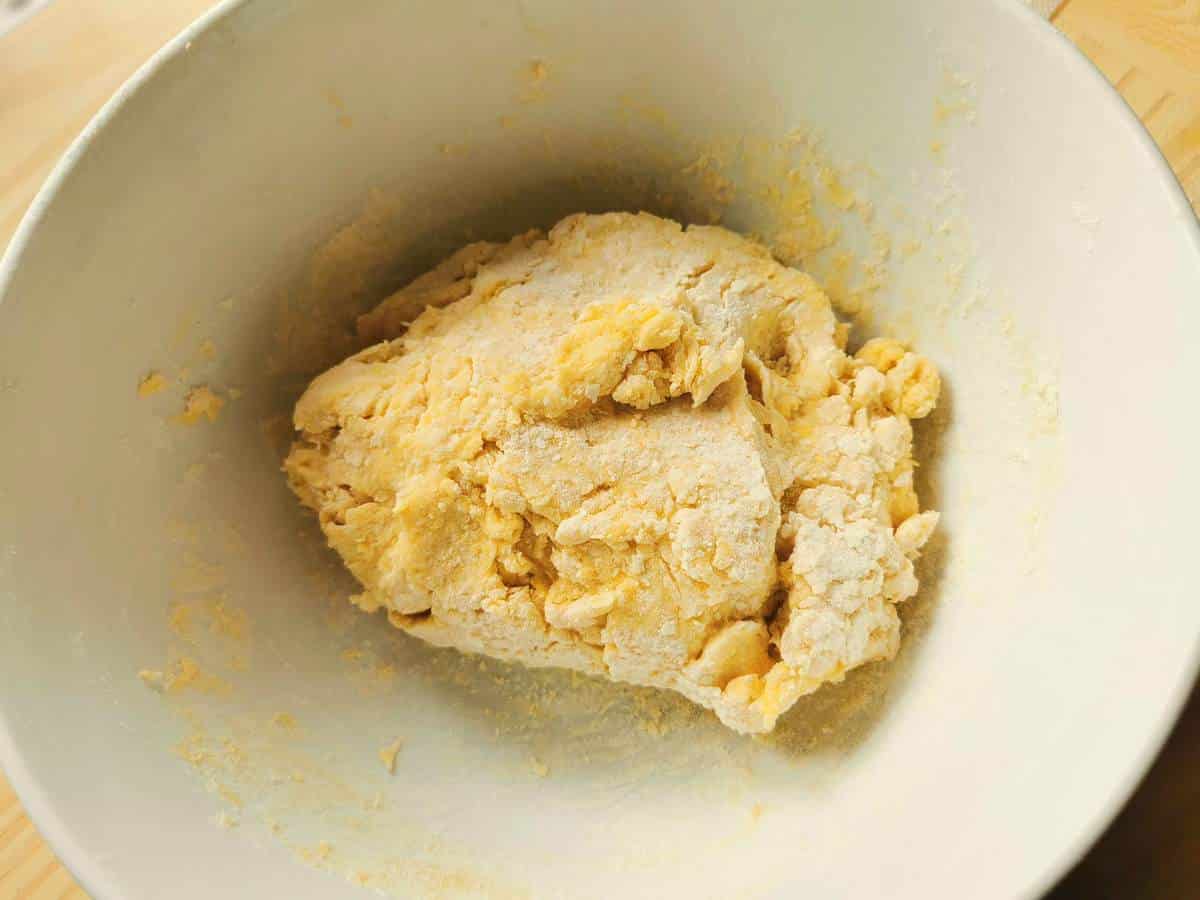 4) If the dough seems too dry, add a little water, one tablespoon at a time, until it comes together. Transfer the dough to a floured surface and knead it for about 5-10 minutes until it becomes smooth and elastic.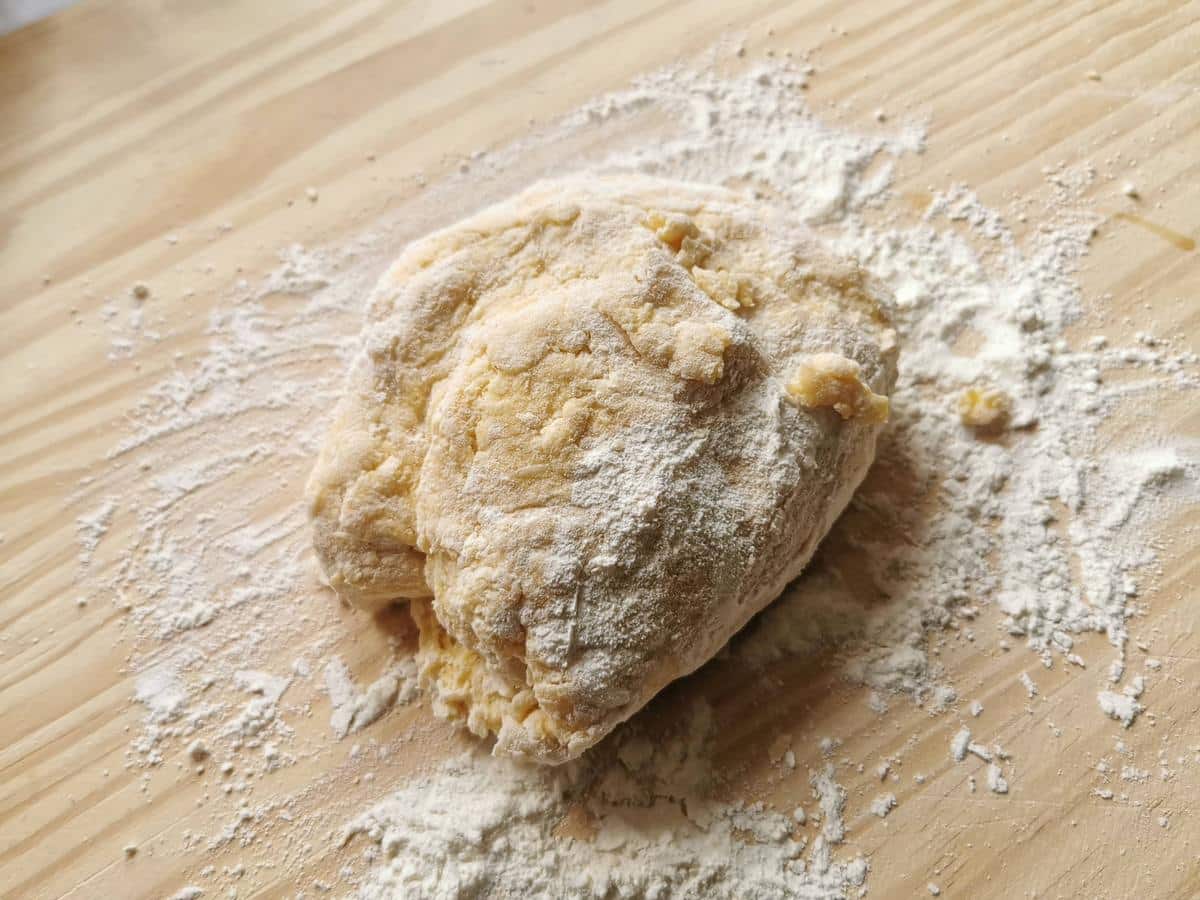 5) Roll the dough into a ball and wrap it in plastic wrap (clingfilm) and let it rest for at least 30 minutes.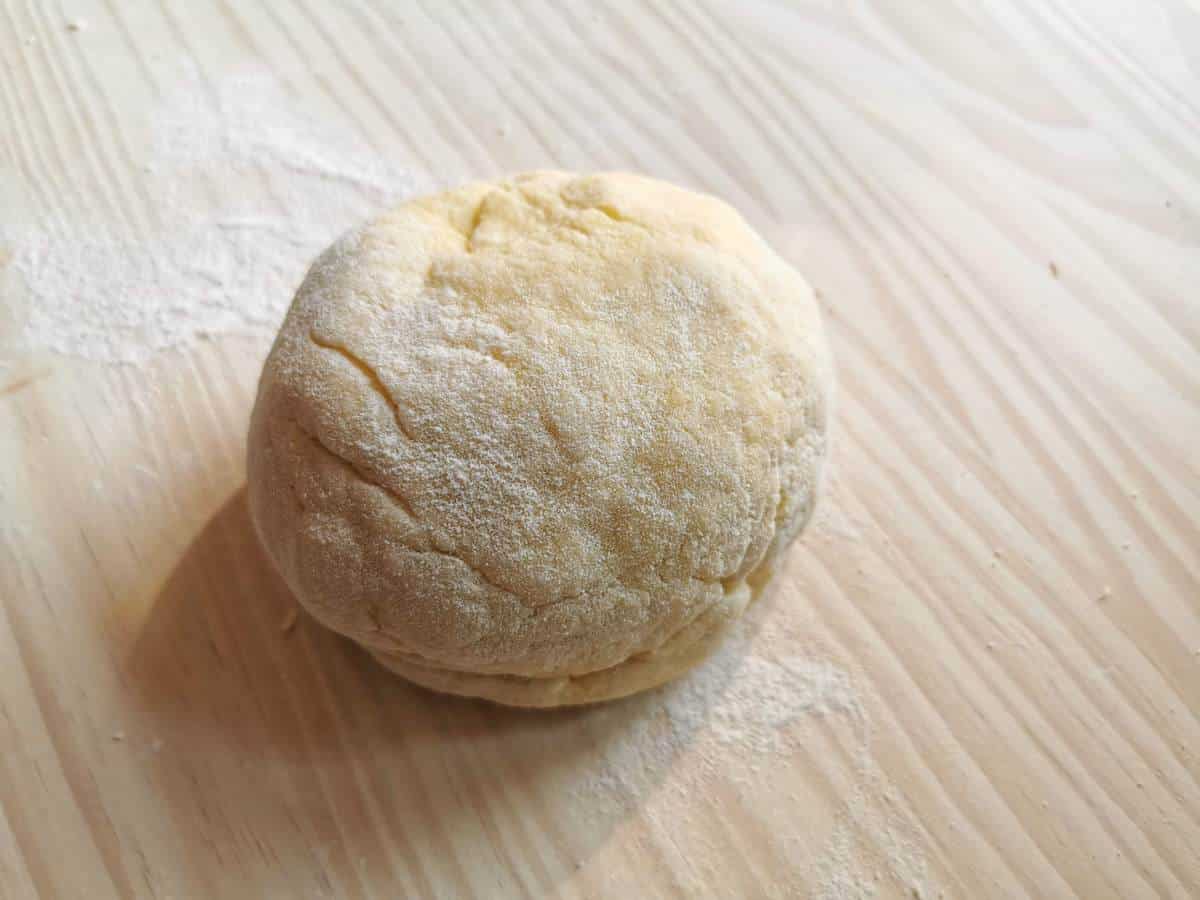 Make the fagottini.
6) Roll out the dough on a floured pastry board (with a rolling pin or using a pasta machine) into a sheet that is not too thin. Using a pastry cutter, cut out squares measuring 5-6 cm on each side.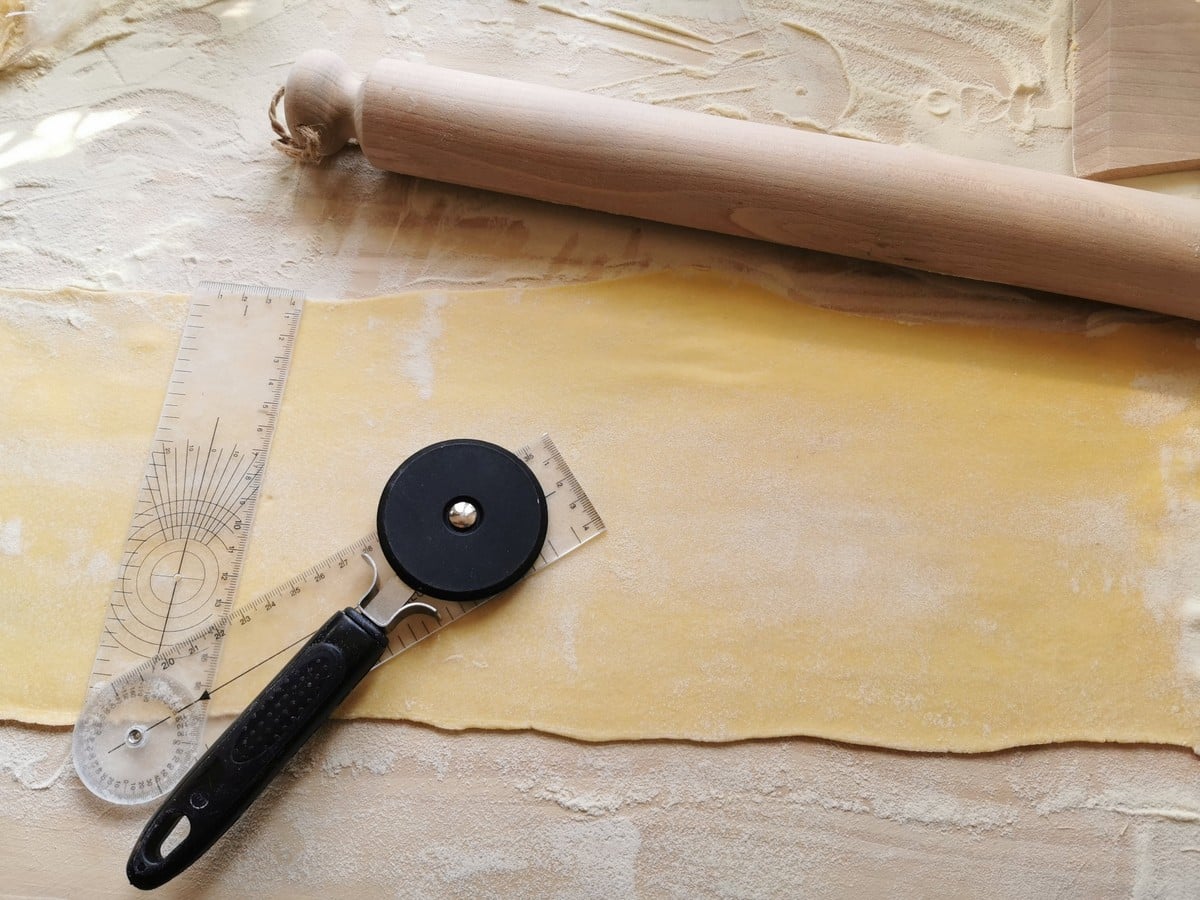 7) Transfer the filling into a piping bag with a smooth nozzle and place grape-sized portions of the filling in the center of each square.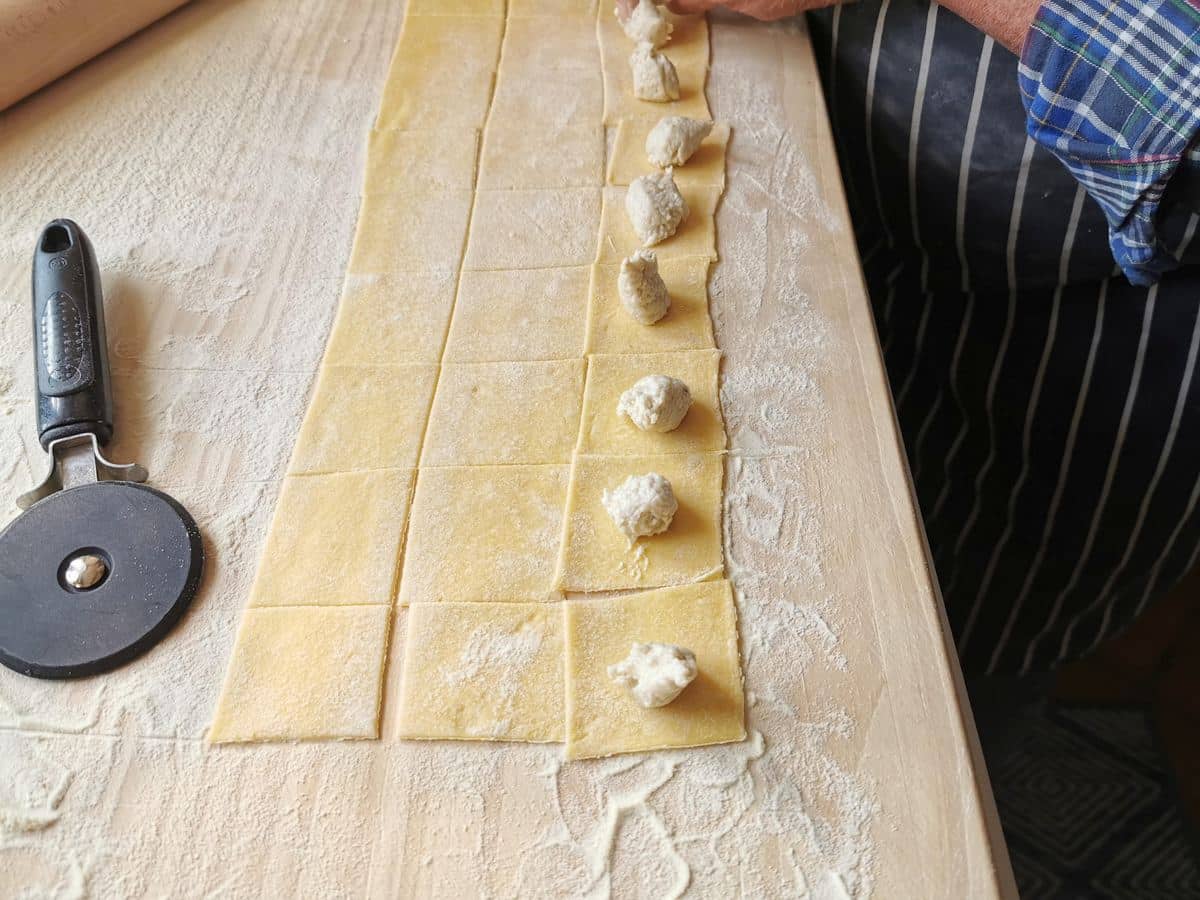 8) Close each pasta square by first joining the two opposite ends, then adhere the two lateral triangles along the edges, sealing well with your fingertips.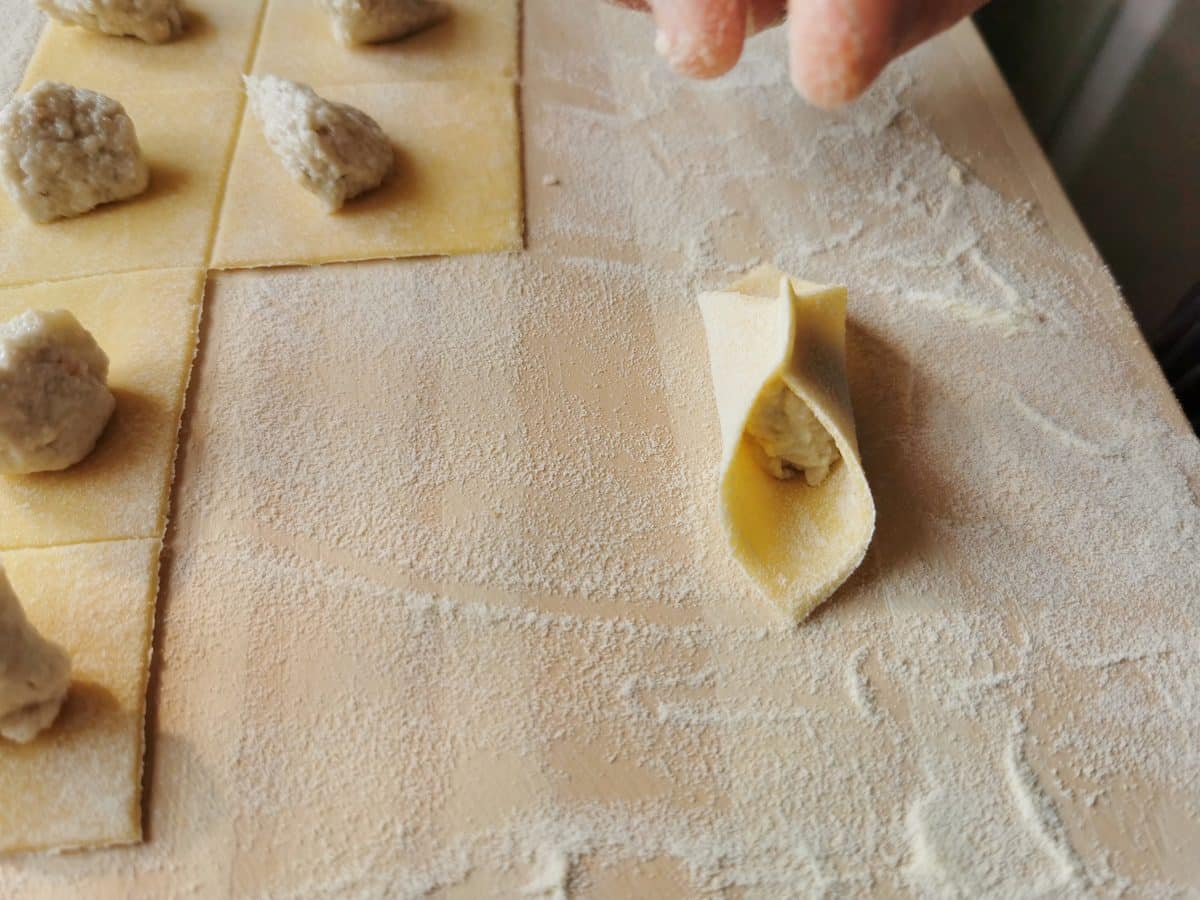 9) Place ready fagottini on a flour-dusted work surface or tray.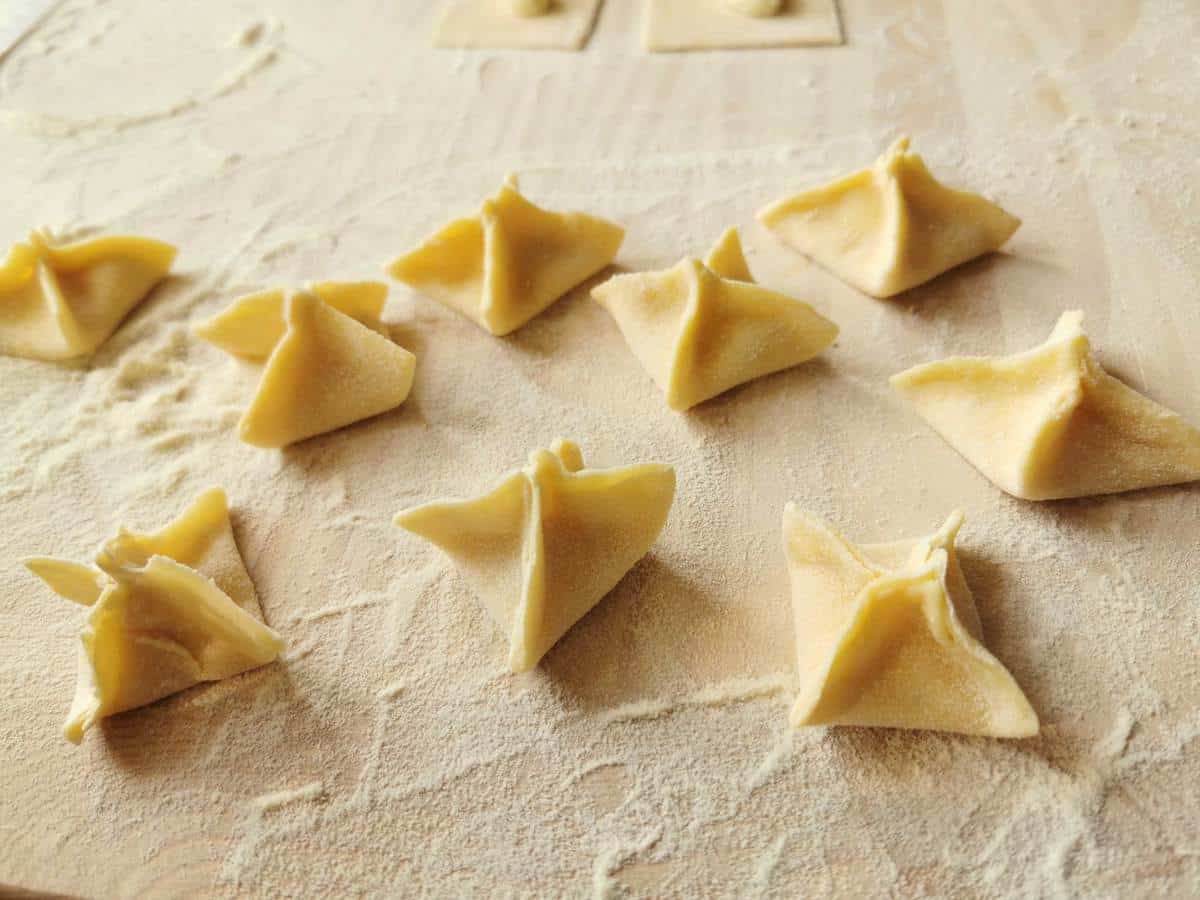 Prepare the sauce, finish and serve.
10) Prepare the sauce: in a large pan, let the oil heat together with the garlic cloves, add the cherry tomatoes cut into pieces and season with salt and pepper. Cook until the cherry tomatoes start to soften and break down.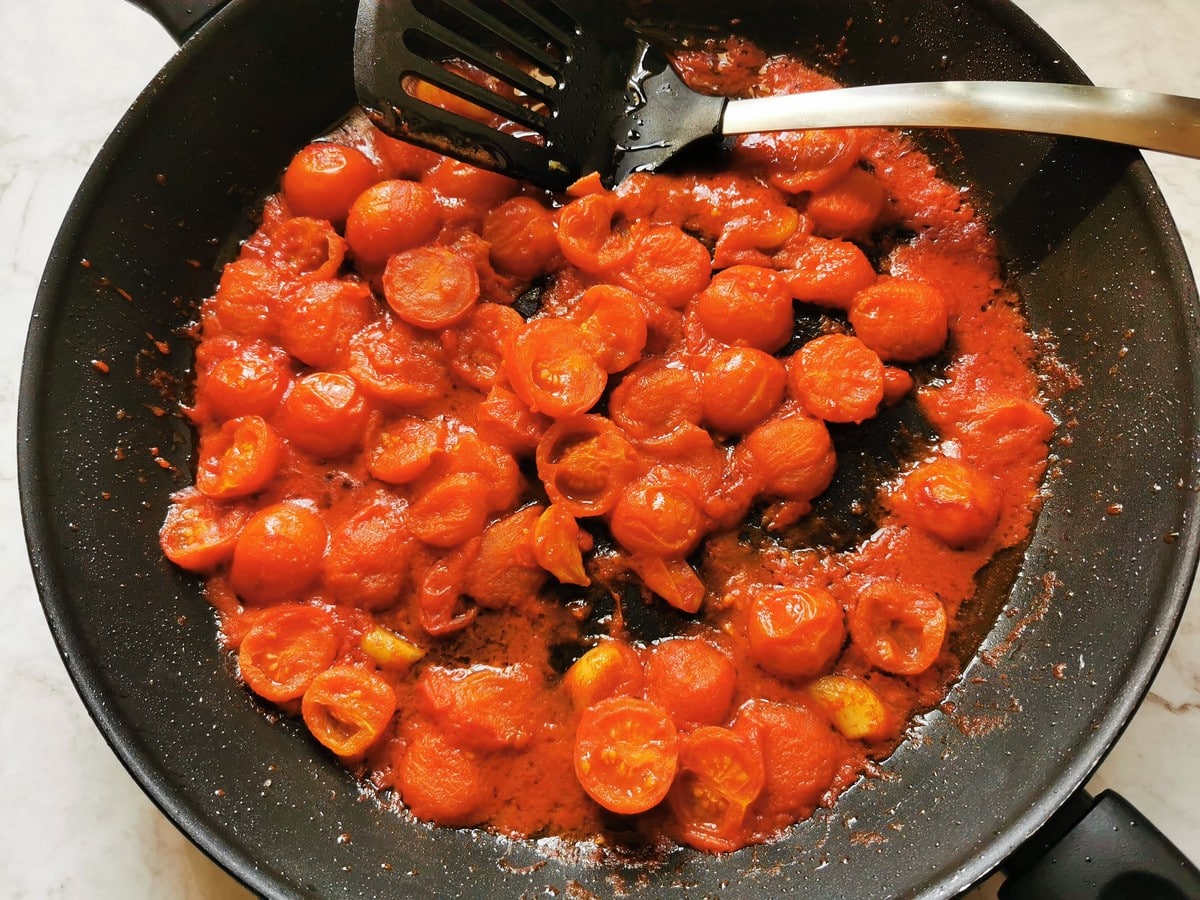 11) In the meantime, put a pot of water on to boil for the pasta. Add salt once it starts to boil and bring it to a boil again. Cook the fagottini in boiling salted water until they rise to the surface (1-2 minutes), drain them, and add them to the tomato sauce.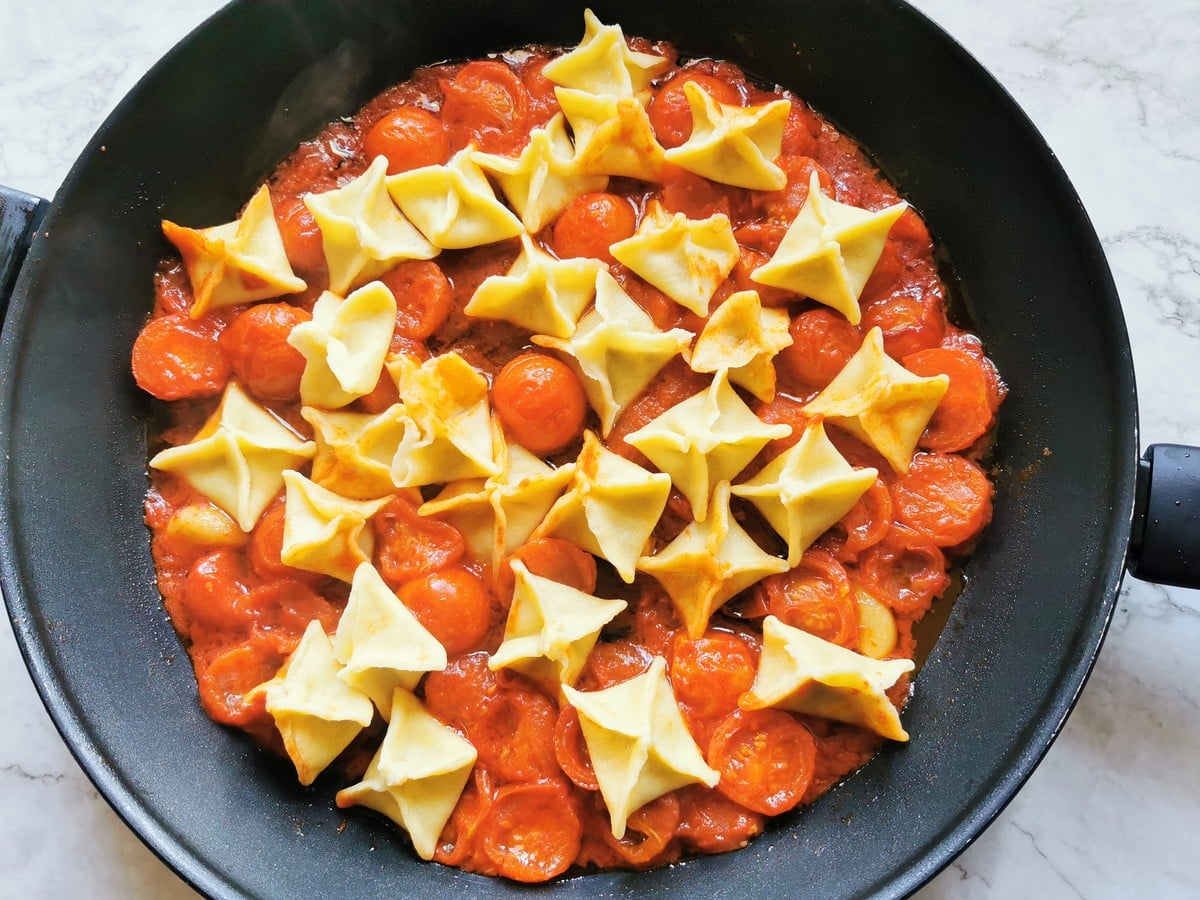 12) Sauté the pasta briefly in the sauce, stirring gently. Transfer to serving plates and complete with grated Parmigiano Reggiano and a few mint leaves. Serve immediately.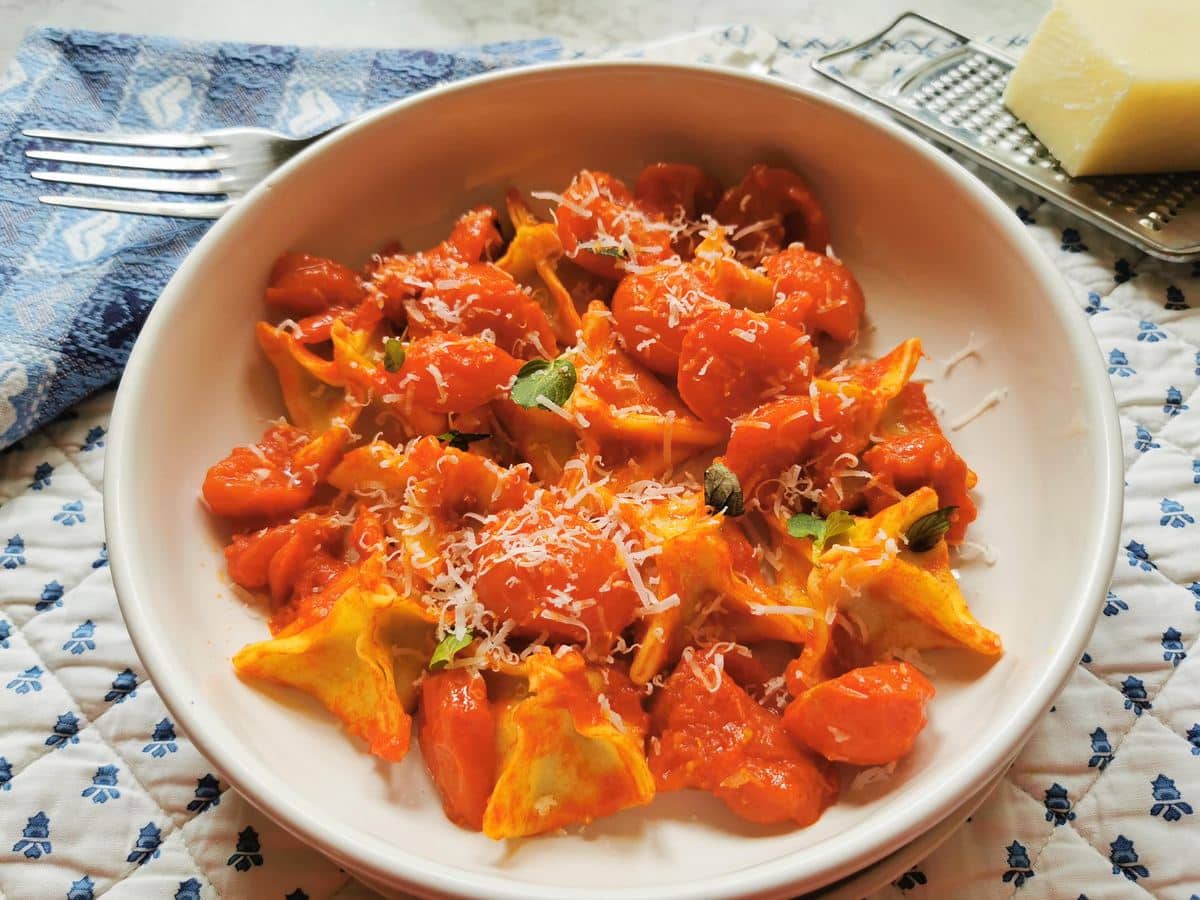 Storage and Leftovers
Once the fagottini pasta and sauce has cooled to room temperature, transfer to an airtight glass container. Store the airtight container in the refrigerator. The pasta dish will stay fresh and retain its quality for up to 2 days.
If using a microwave, transfer the pasta and sauce to a microwave-safe dish, cover it loosely, and heat for 2 minutes. Stir, then continue heating in 30-60 second intervals until hot throughout.
To reheat on the stovetop, place the pasta and sauce in a pan over medium heat. Add a splash of water to loosen the sauce and cook while stirring frequently until hot throughout.
The homemade fagottini can also be frozen before cooking. Place them on a baking sheet lined with parchment paper, ensuring they are not touching. Once frozen, transfer them to a freezer-safe bag or container. They can be cooked directly from frozen; just add a couple of minutes to the boiling time.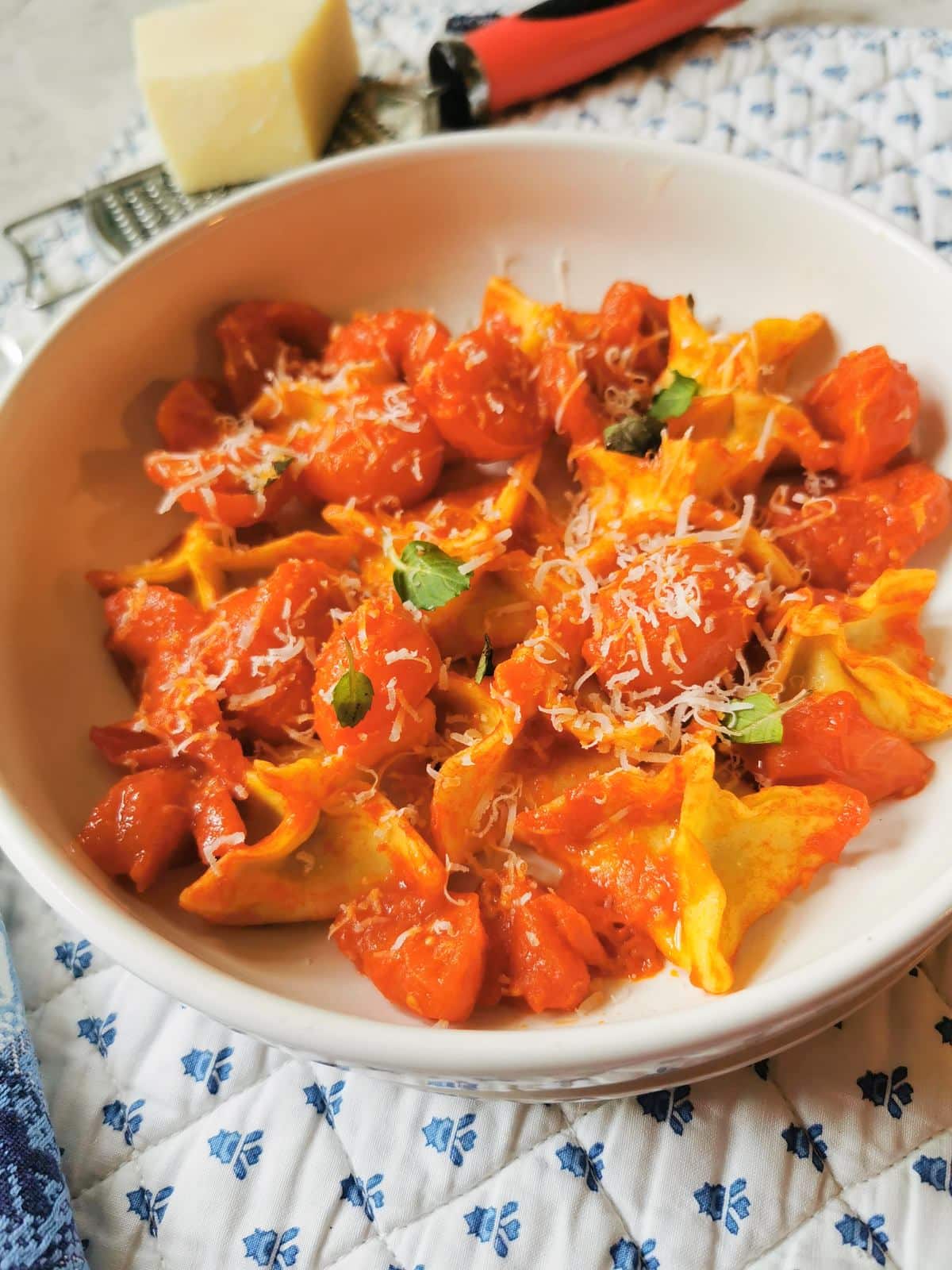 FAQs
Can the Fagottini be made in advance?
Yes, you can prepare Fagottini pasta in advance. The stuffed pasta can be made and stored in the refrigerator for a day before cooking. Just be sure to keep them well-covered to prevent drying out.
How do I know when the Fagottini are perfectly cooked?
Fagottini are cooked when they float to the surface of the boiling water and have a tender but firm, al dente texture. This usually takes about 1-2 minutes after they start floating. Be careful not to overcook them, as the pasta can become too soft and may rupture, letting the filling escape.
What's the ideal thickness for rolling out the Fagottini pasta dough?
Aim for a thickness of about 1.5 millimeters or when you can just see your fingers through the sheet. This will ensure the pasta is thin enough to cook quickly but still sturdy enough to hold the filling without tearing.
More Recipes You May Like:
If you liked this recipe, try my other fagottini recipe that is with a cheese filling or a meat and spinach filling. Some other homemade pasta recipes include:
If you make this recipe I'd love to hear how it turns out and if you liked it. Please leave a comment here on the blog or on The Pasta Project Facebook page. Looking forward to hearing from you.
Buon appetito!
Pin for Later: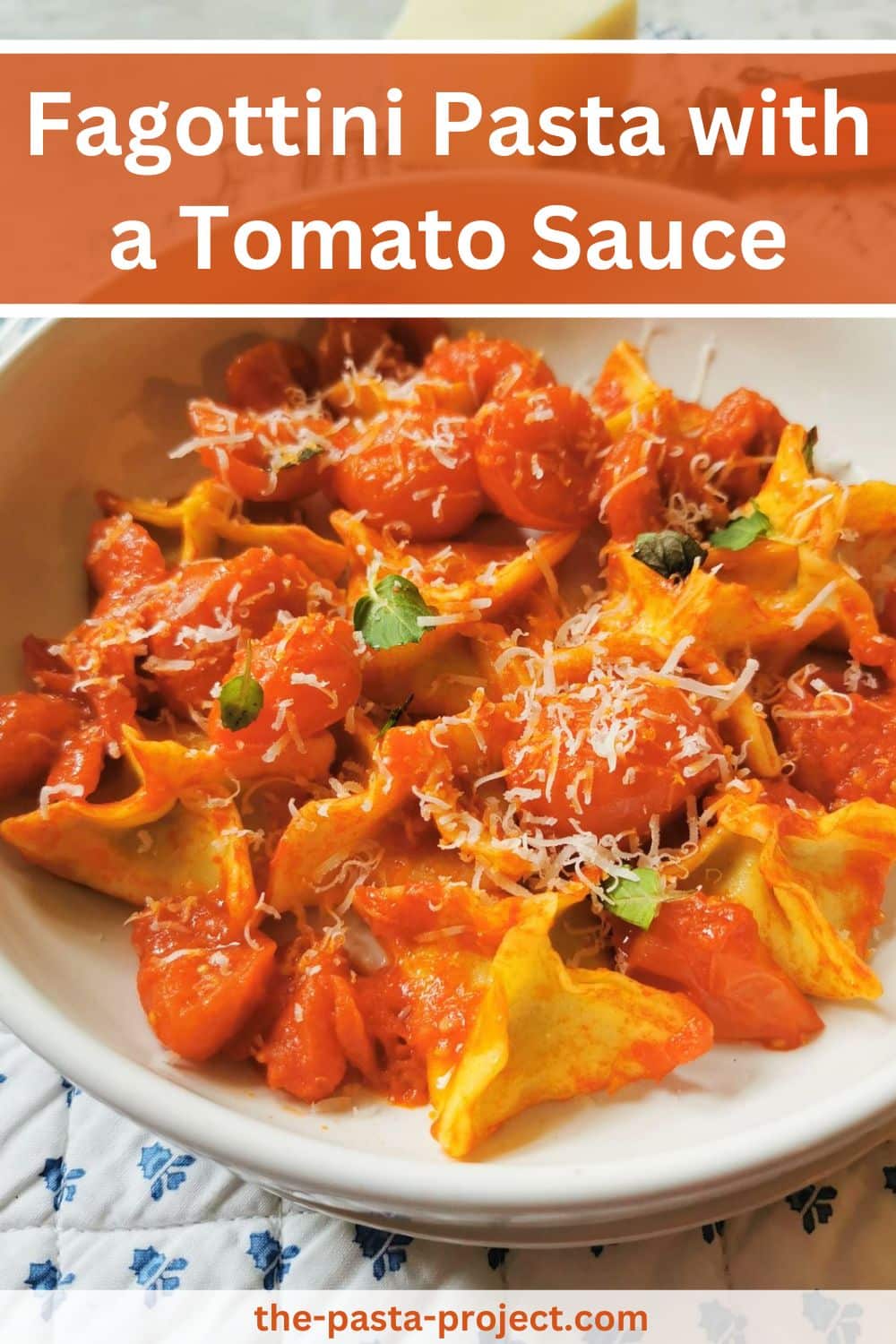 If you are interested in learning how to make homemade pasta and different types of gnocchi, check out my shop page for some great video online courses from my friends in Rome! Nothing beats learning to make pasta from Italians! Plus while you're there why not order a copy of one of my pasta recipe cookbooks?!