Fagottini pasta, sometimes called sacchetti or saccottini, is a stunning type of Italian tortellini that adds a touch of elegance to any meal. This fresh egg pasta can be made with lots of delicious fillings and served in all kinds of ways. Here, you'll find two traditional methods to fill and serve your own homemade fagottini, with four cheeses or with meat and spinach!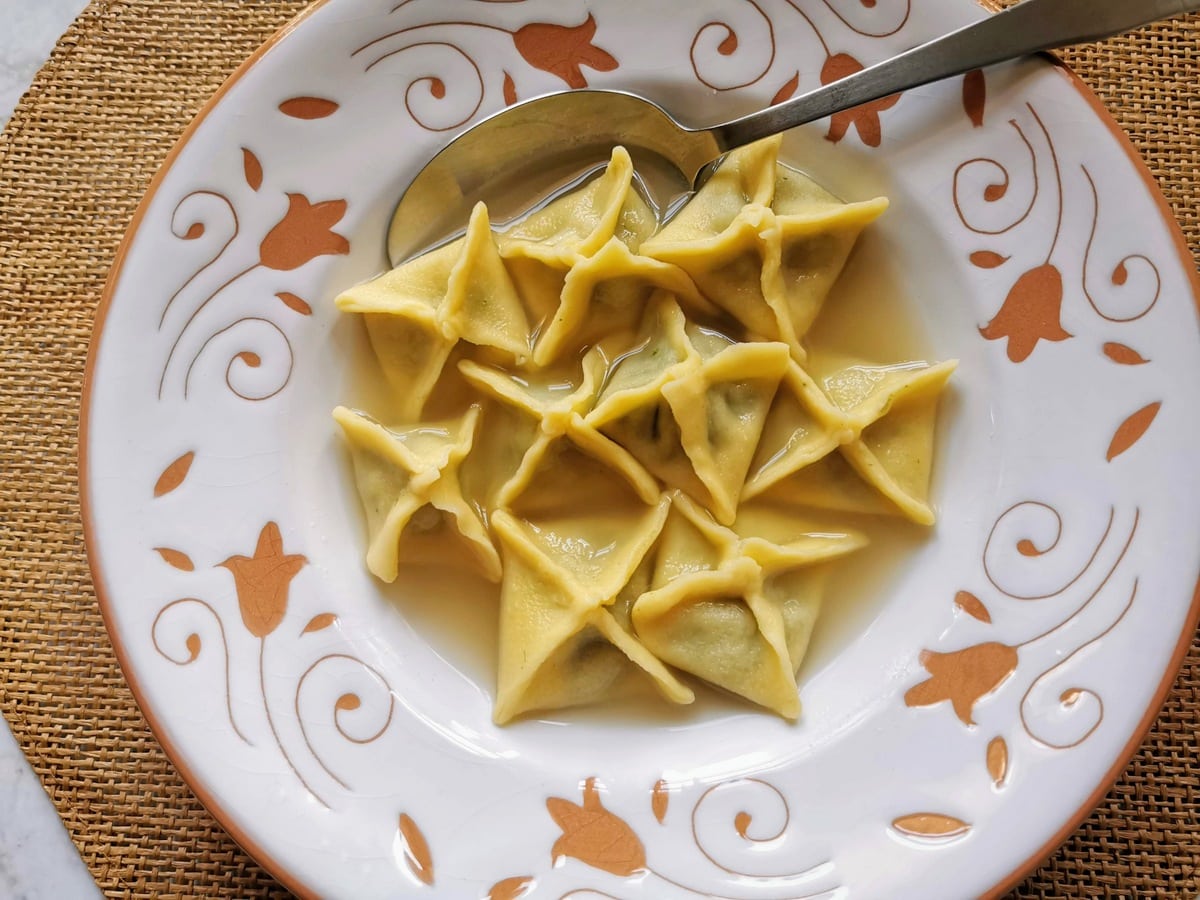 What is fagottini pasta?
Fagottini pasta is a type of Italian filled egg pasta that is characterized by its small, purse-like shape. The word 'fagottini' translates to 'little bundles' or 'little packages' in Italian. It comes from the old French 'fagot' and Italian 'fagotto' both originally used to mean a bundle of sticks, not anything derogatory!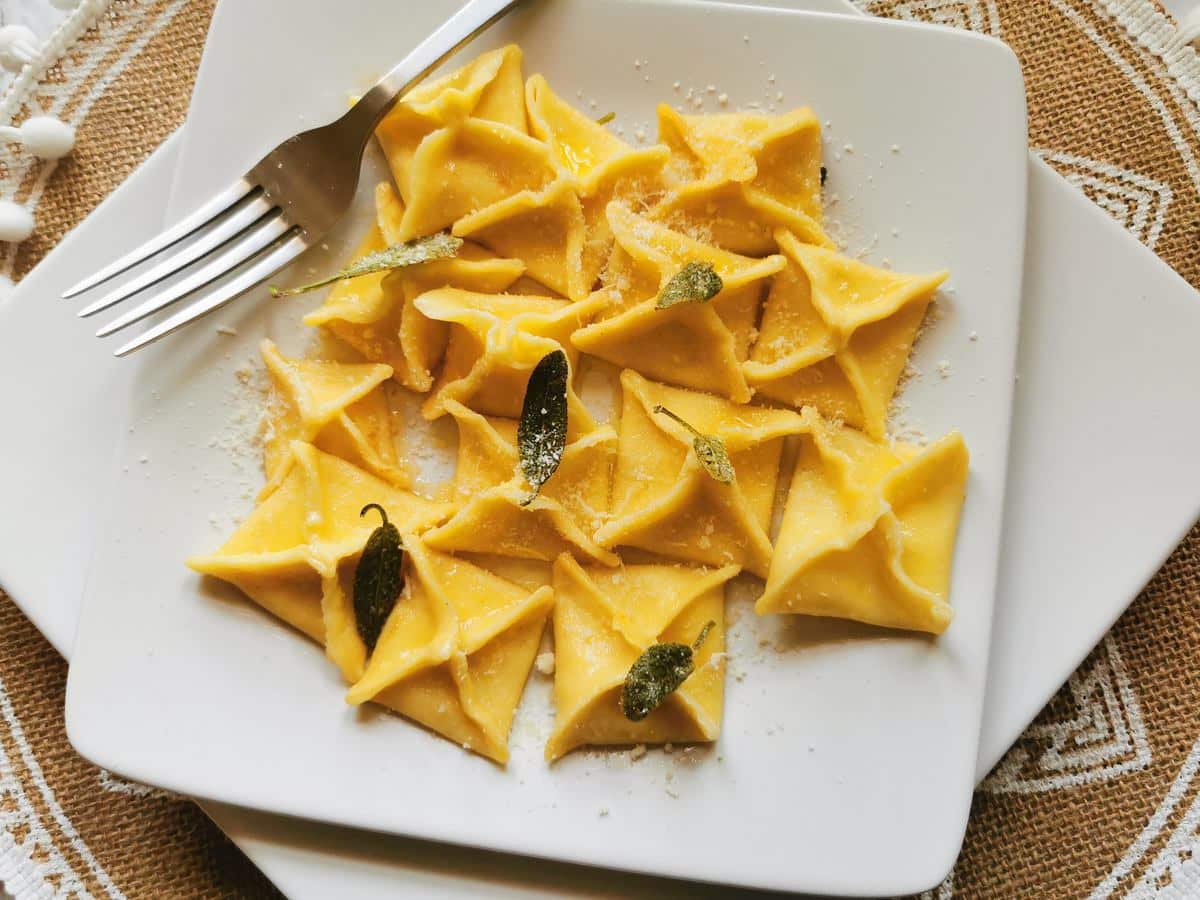 The pasta dough is usually made with durum wheat flour and soft wheat flour, eggs, and water. Once ready, it is rolled out into thin sheets. The sheets are then cut into small squares or circles, which are used to enclose a filling by folding and sealing them to create a pouch like shape.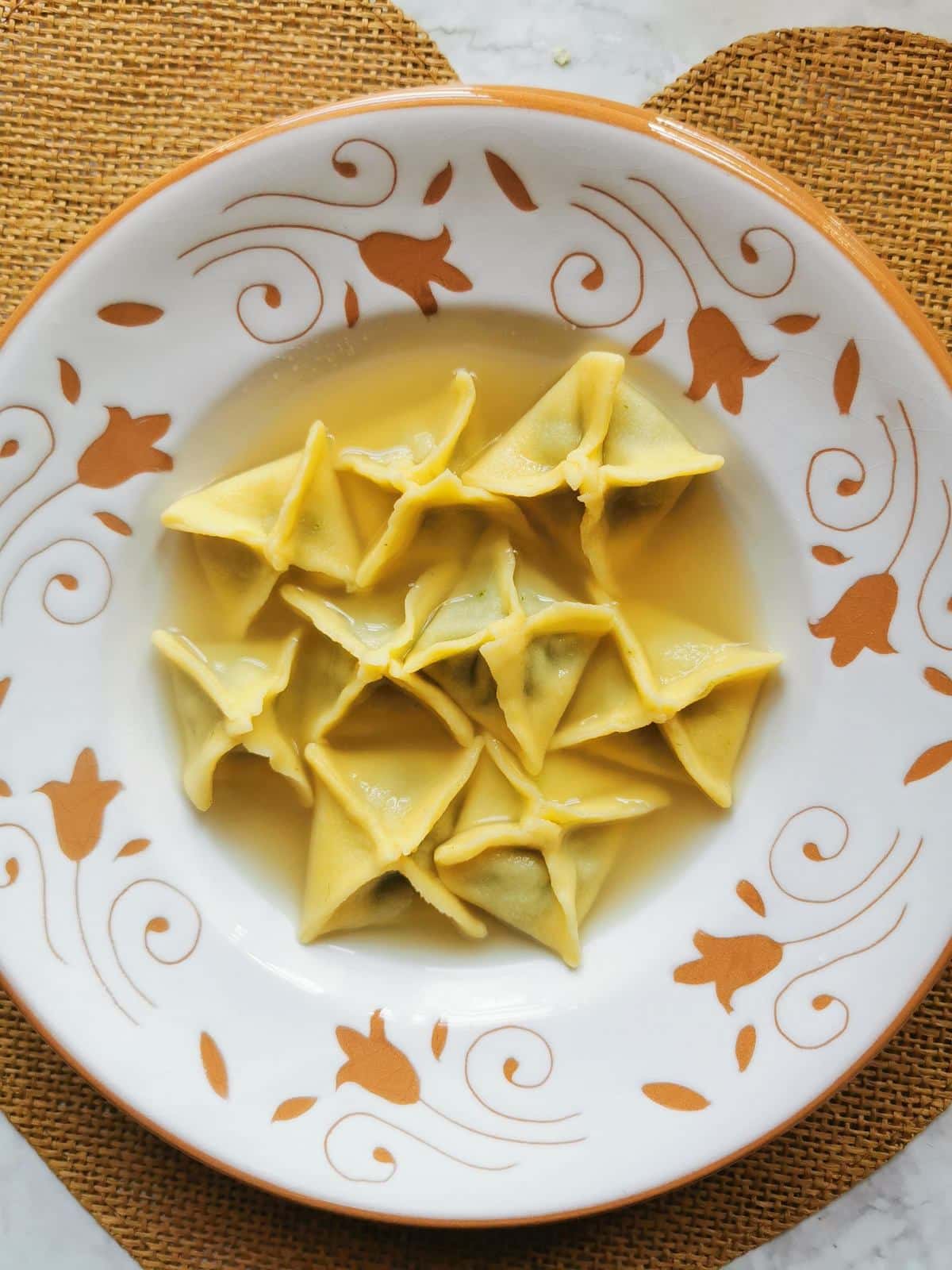 Some Italians also refer to fagottini as saccottini. However, in general, the latter are made with pasta circles and look more like sacks as the name suggests. In the same vein, saccottini are also sometimes called fagottini.
In addition, fagottini is also the Italian name for small sweet and savoury hand pies of shortcrust or puff pastry.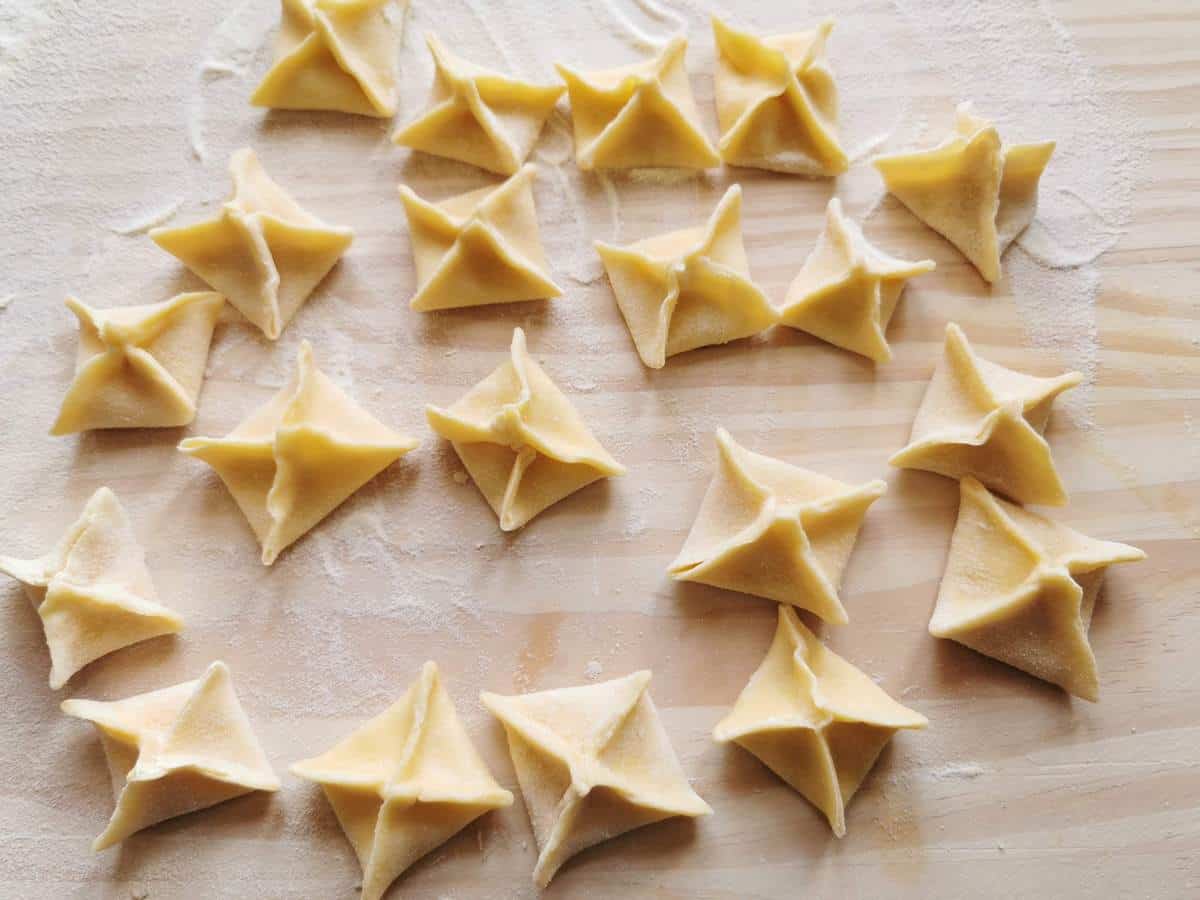 The filling for these pasta bundles.
Fagottini pasta filling can vary but often includes ingredients like cheese, vegetables, meat, or a combination of these. Some popular fillings include ricotta cheese, spinach, mushrooms, prosciutto, or a mix of different cheeses.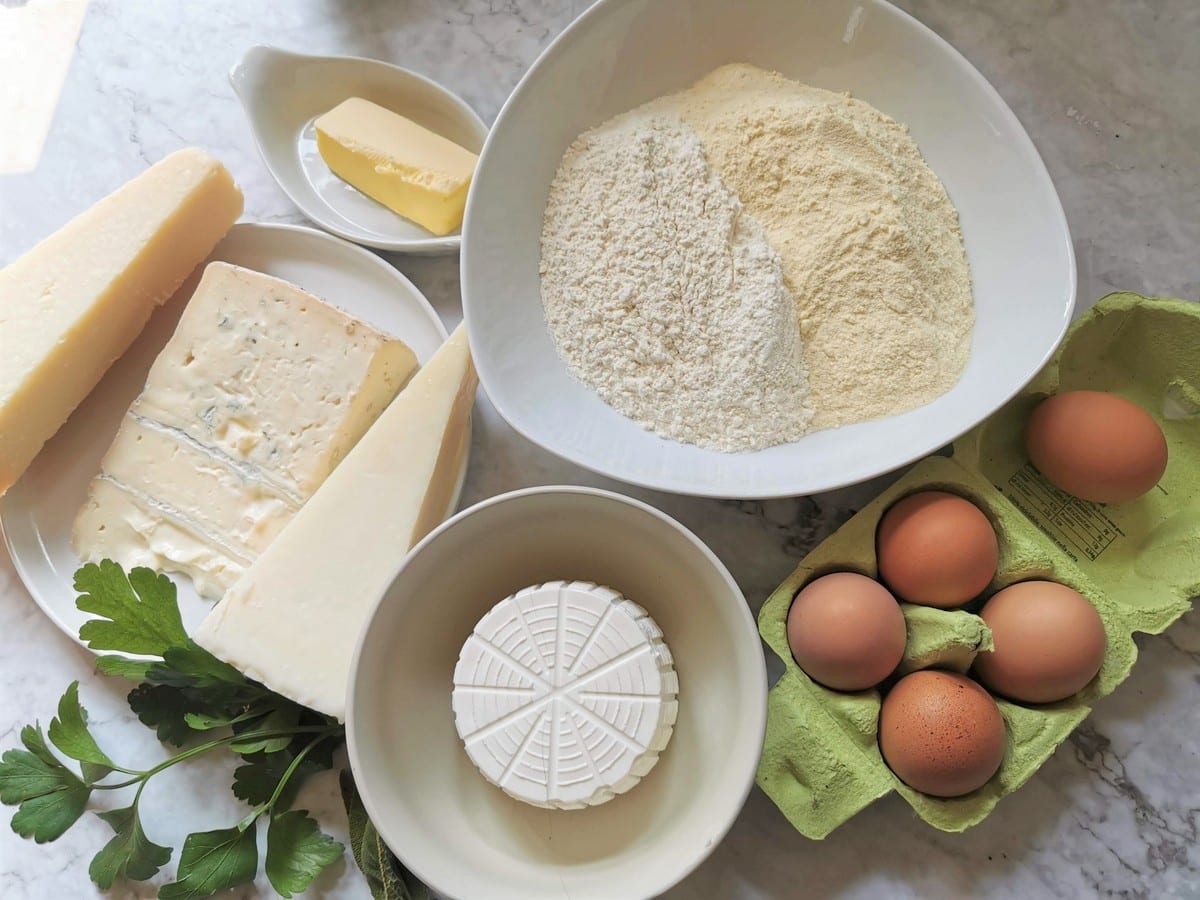 I made my fagottini with two different fillings and served it two different ways. Actually, I should say 'we' because my Sicilian husband helped a lot!
The first filling was with meat and spinach. I used the same filling for my homemade agnolotti recipe. We served this fagottini in broth. The second filling was with four cheeses, and we ate this pasta with melted butter and crispy sage. Both types of fagottini were outstandingly delicious.
How to make fagottini pasta.
Making this pasta involves a few steps, including preparing the pasta dough, creating the filling, assembling the fagottini, preparing the sauce (if needed) and cooking the pasta.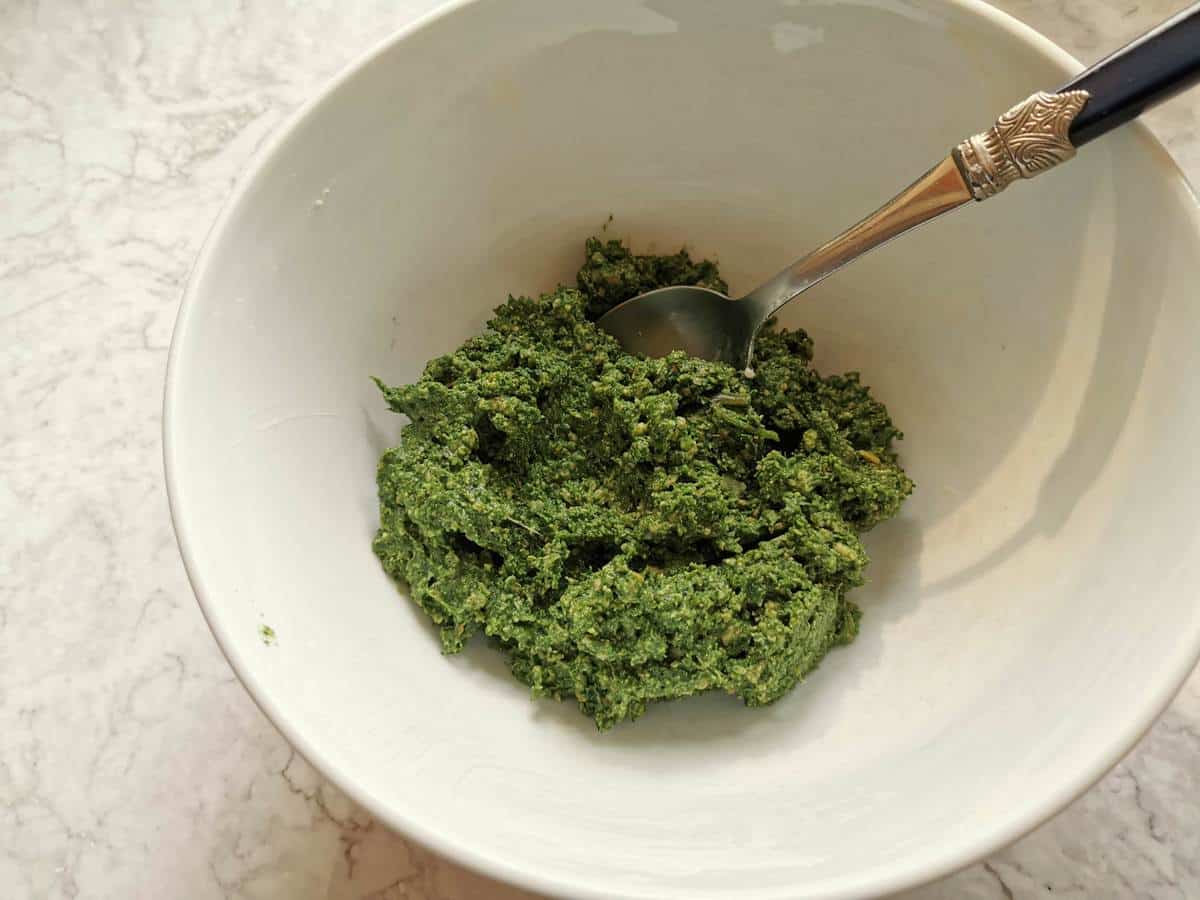 Some fillings require a bit of time to make, like the meat and spinach one I used for some of my fagottini. This type of filling is best prepared first, before making the pasta dough. You can see step by step photos of making this filling in my agnolotti recipe.
Other fillings, like the four cheese one I used in the rest of my fagottini, don't take long and you can make it whilst the pasta dough rests.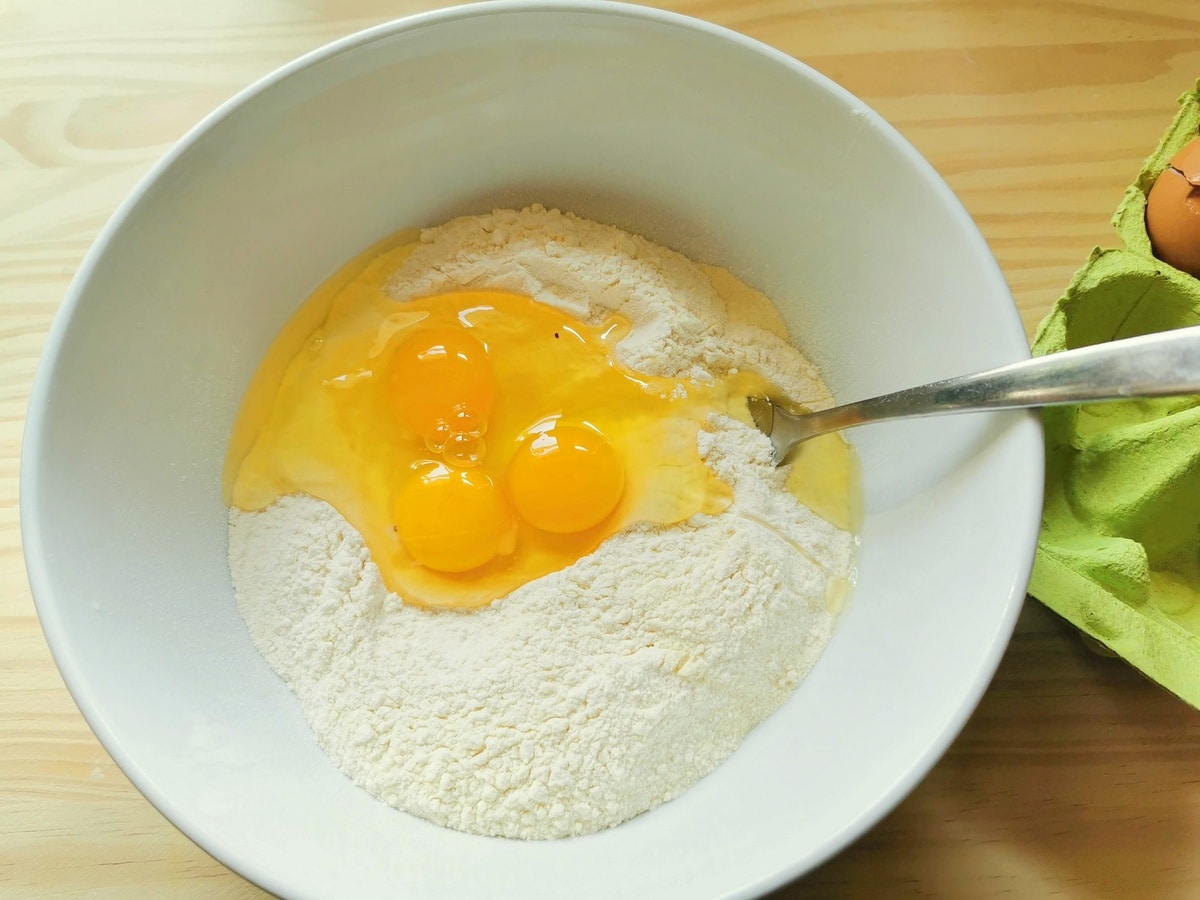 How to make the pasta dough.
In a mixing bowl, combine the two flours and salt. Create a well in the centre. Crack the eggs into the well and beat them lightly with a fork. Gradually incorporate the flour into the eggs until a dough forms.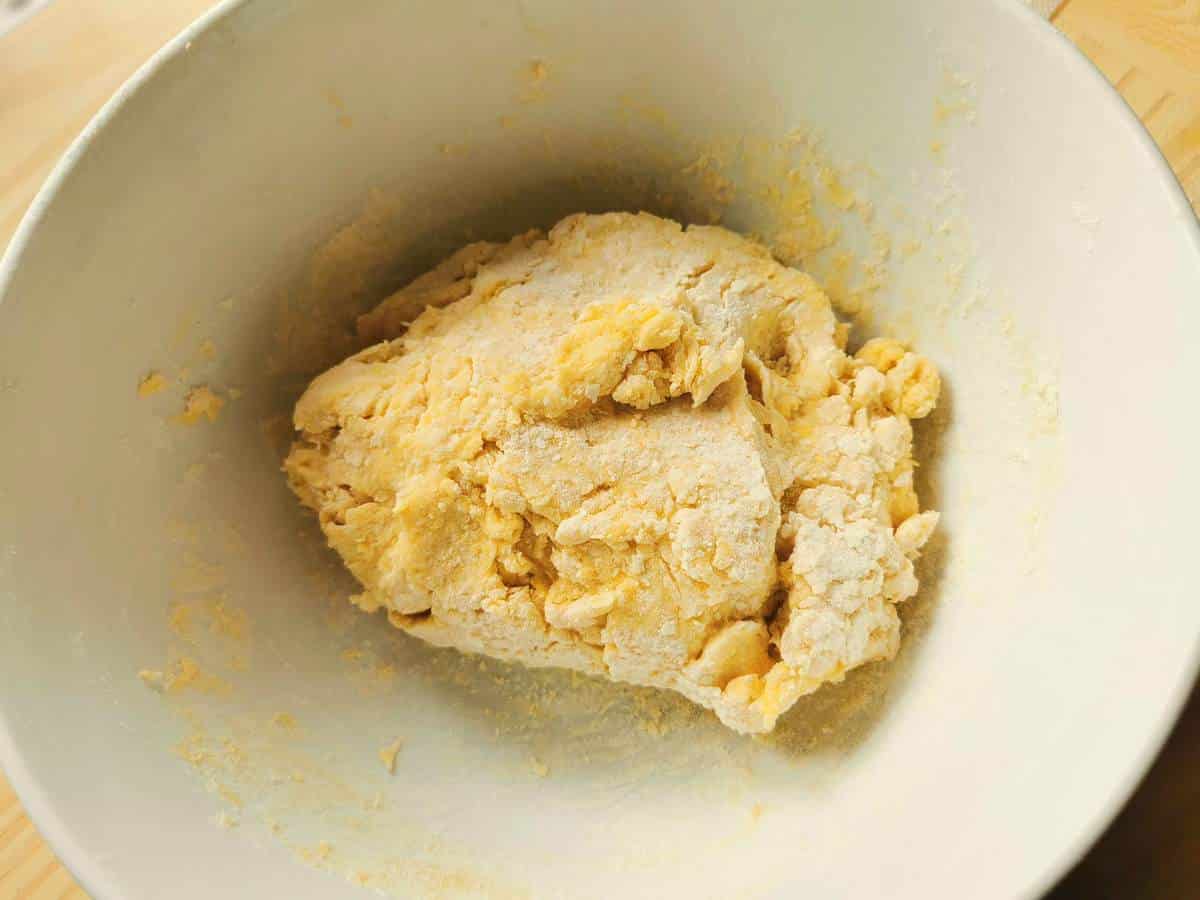 If the dough seems too dry, add a little water, one tablespoon at a time, until it comes together. Transfer the dough to a floured surface and knead it for about 5-10 minutes until it becomes smooth and elastic.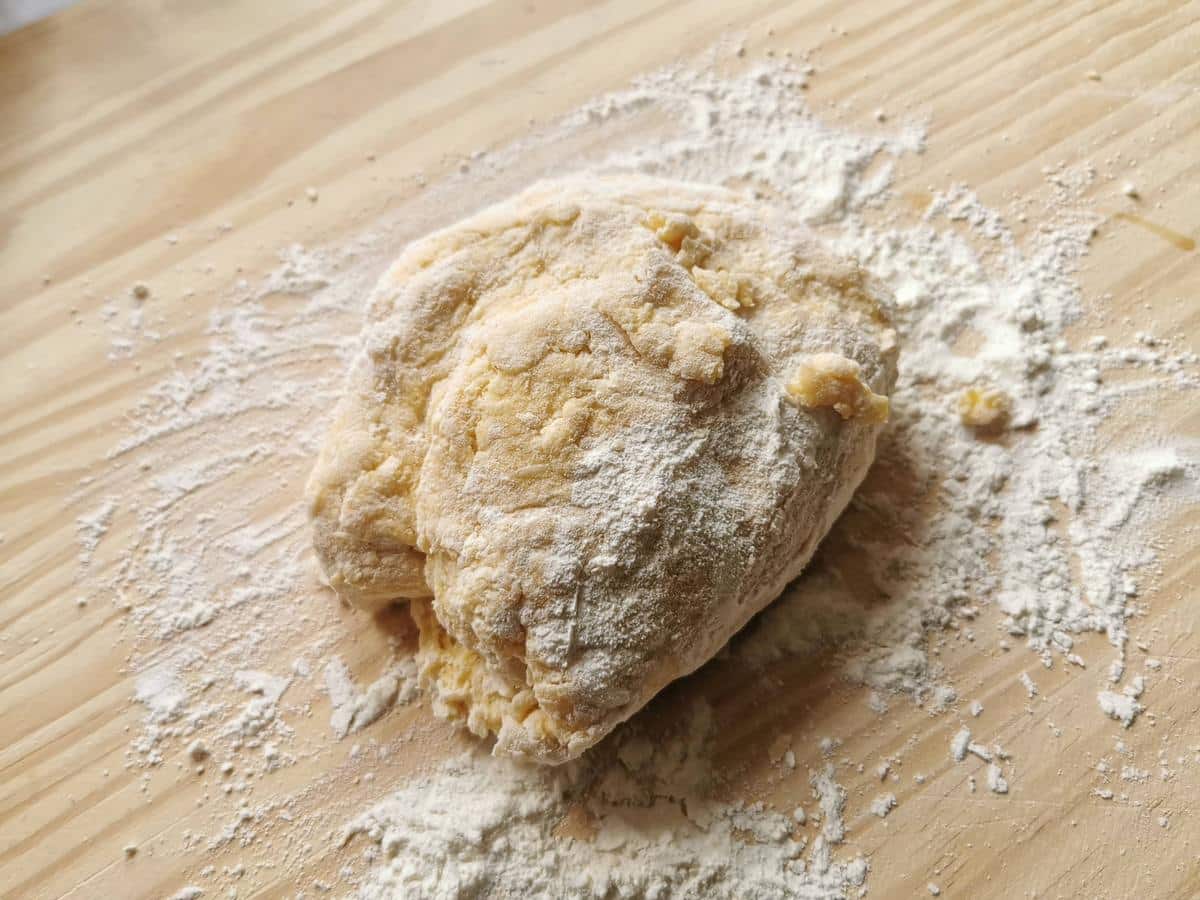 Roll the dough into a ball and wrap it in plastic wrap (clingfilm) and let it rest for at least 30 minutes.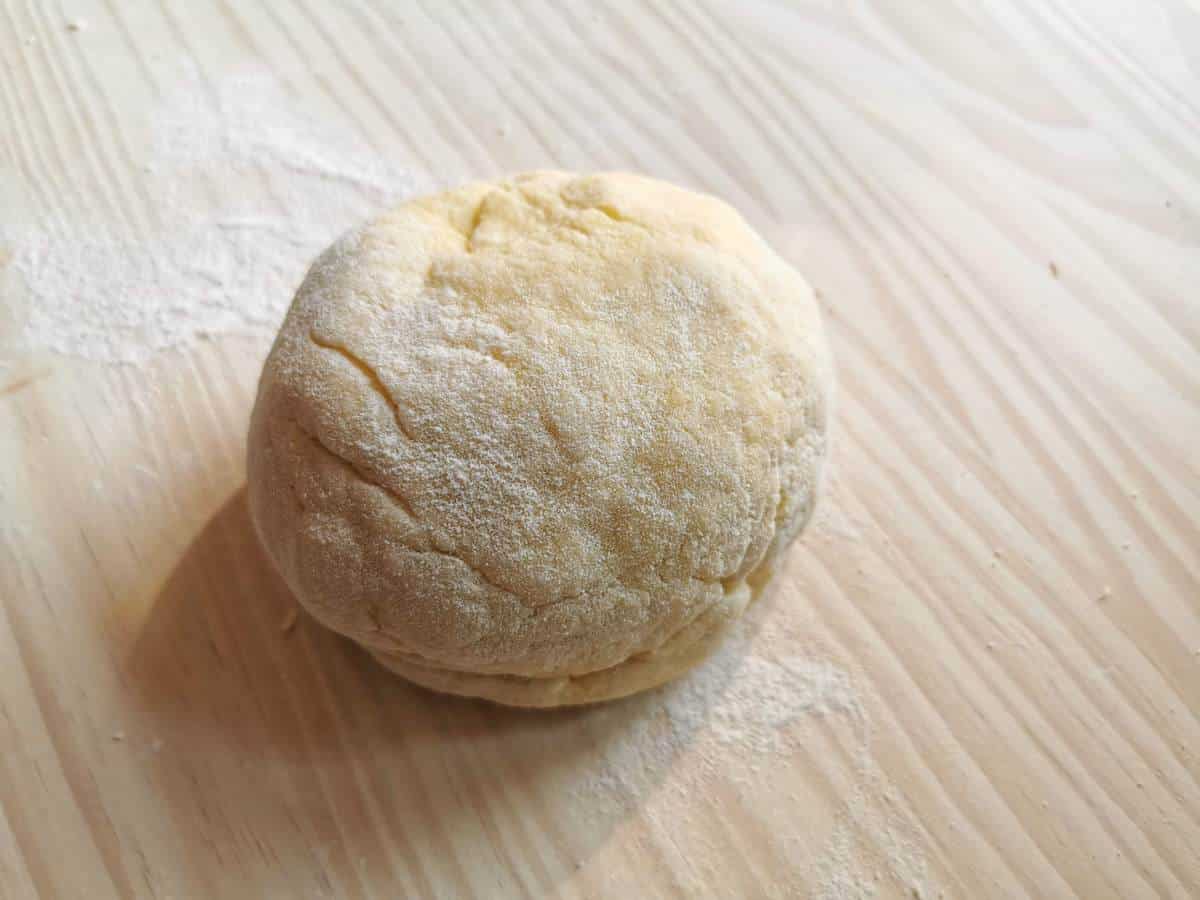 How to roll out the dough
Divide the rested dough into quarters. Take one quarter and flatten it with your hands. Roll the dough out into thin sheets. Aim for a thickness of about 1/16 inch (1.5 mm).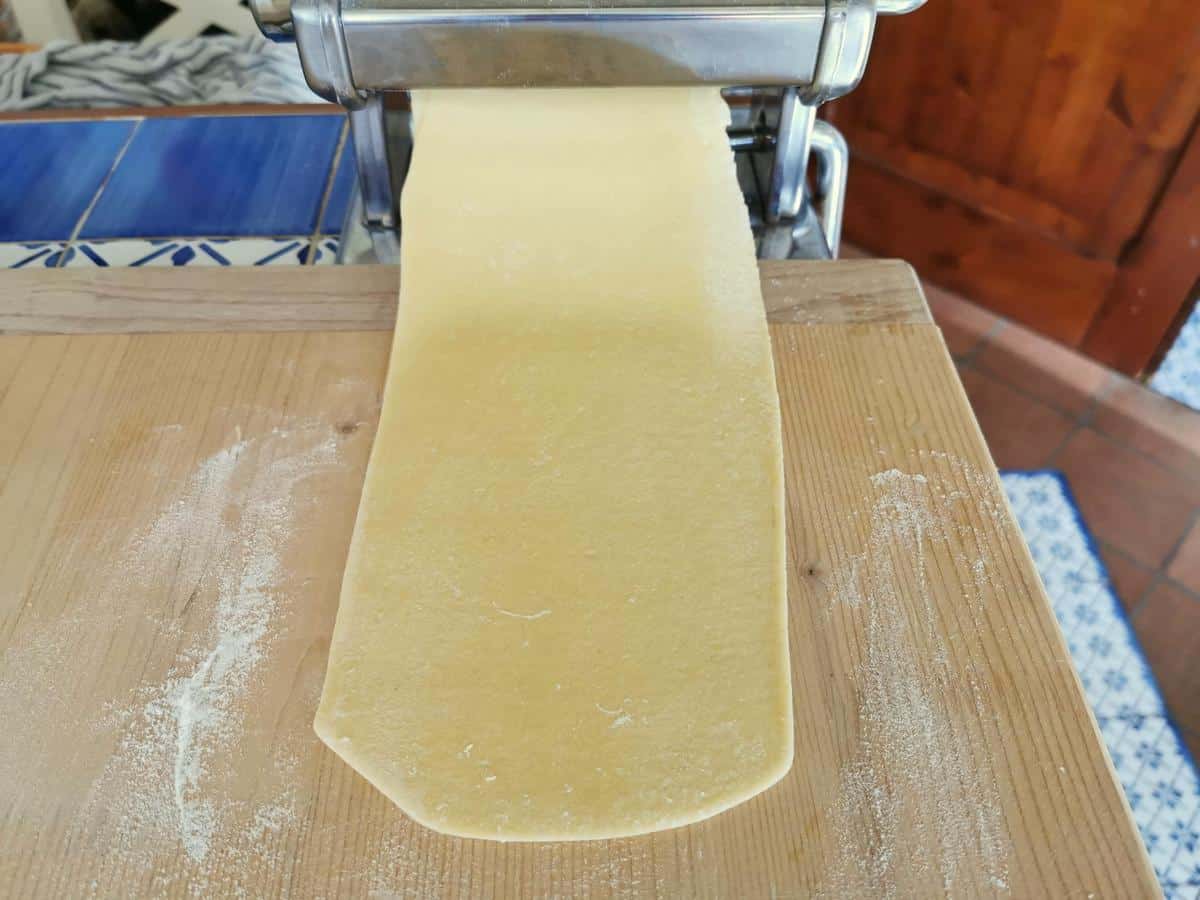 I used my pasta machine to roll the dough out. But, you can also use a rolling pin.
Assemble your homemade fagottini.
Cut the rolled dough into small squares, roughly 1.5-2 inches in size (4-5cm). You can also use a square ravioli cutter to do this. Place a small amount of your chosen filling (about a teaspoon) in the centre of each square. You can use a teaspoon or a piping bag.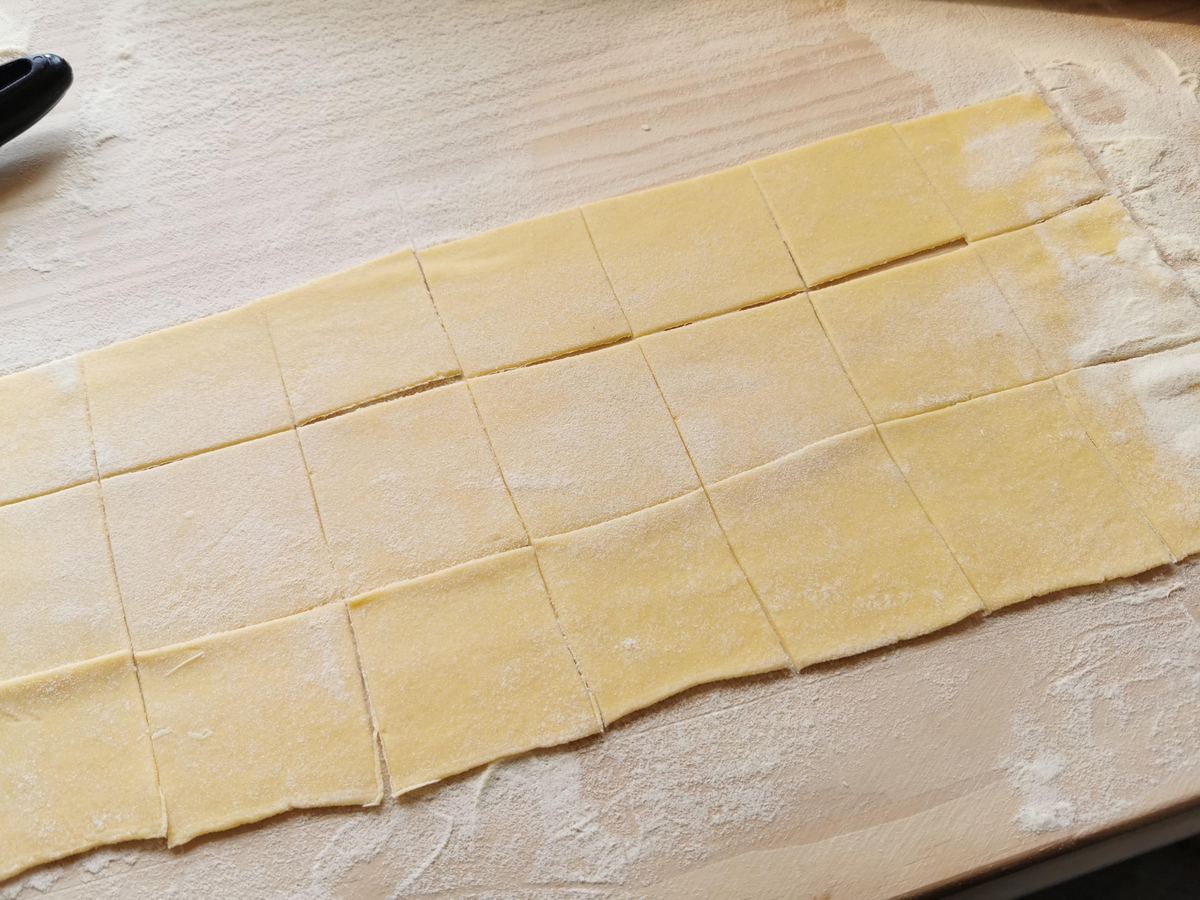 Fold the dough over the filling to create a triangle by joining two opposite corners of the pasta square and then press the top of the triangle to seal it.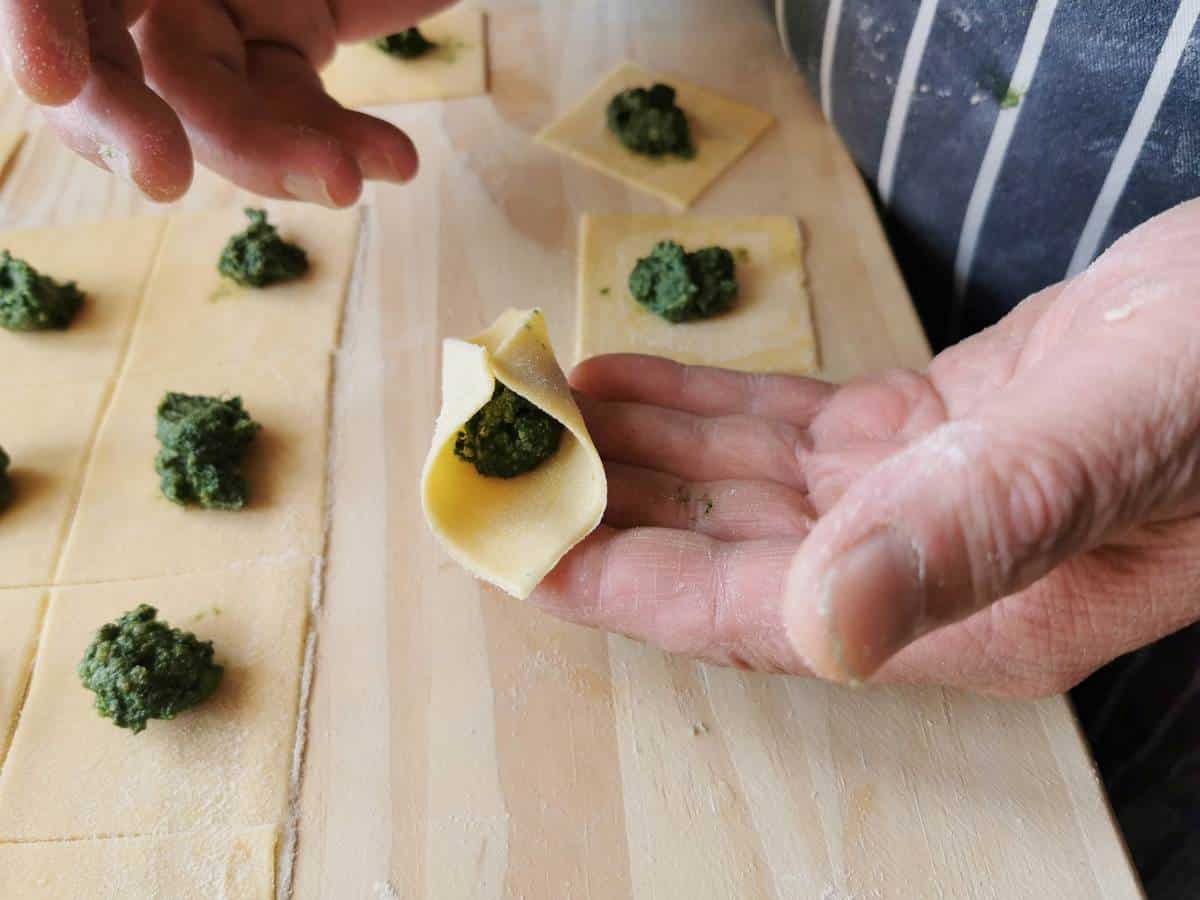 Next, take the remaining two opposite corners of the pasta and bring them together, pressing to seal them to the top of the triangle.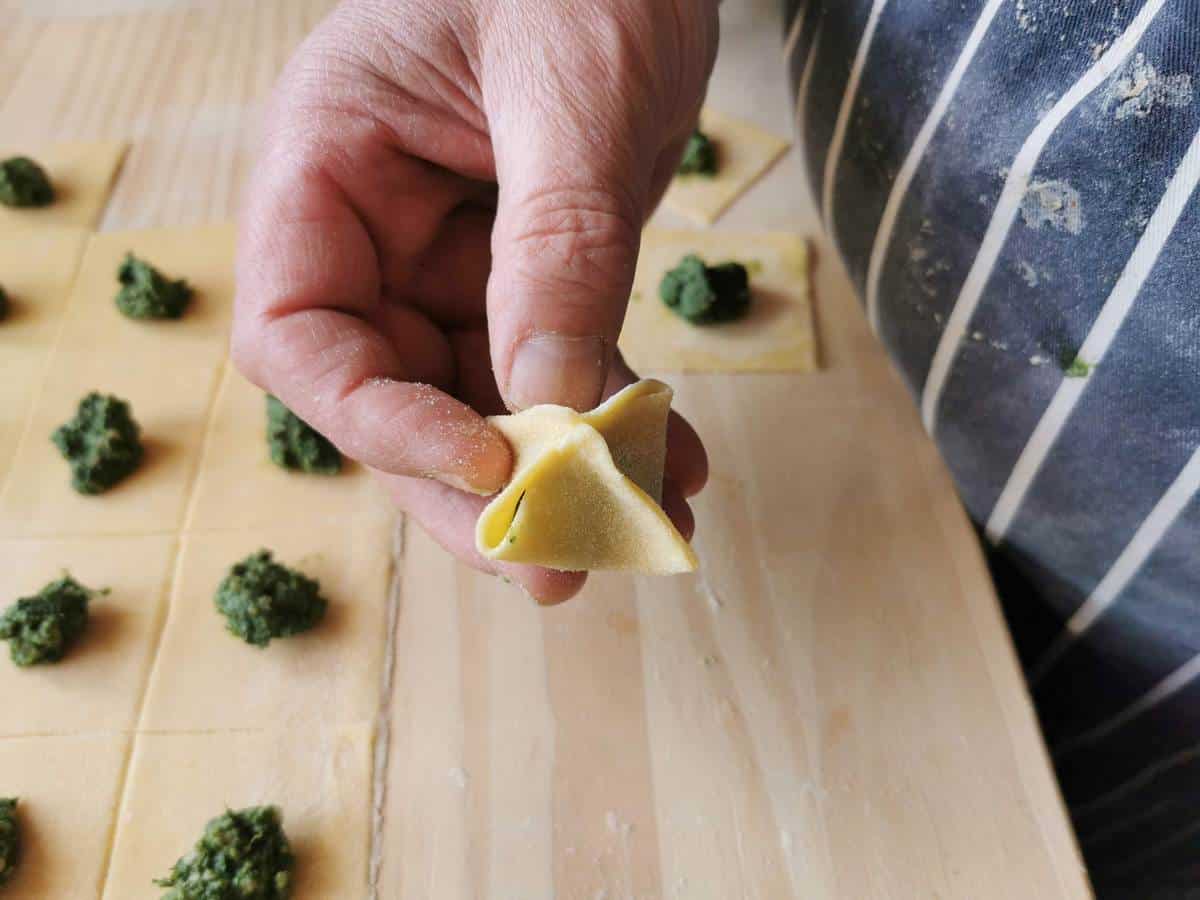 Then press the edges together where they meet firmly to seal the fagottini, to form a little bundle shape, ensuring there are no air pockets.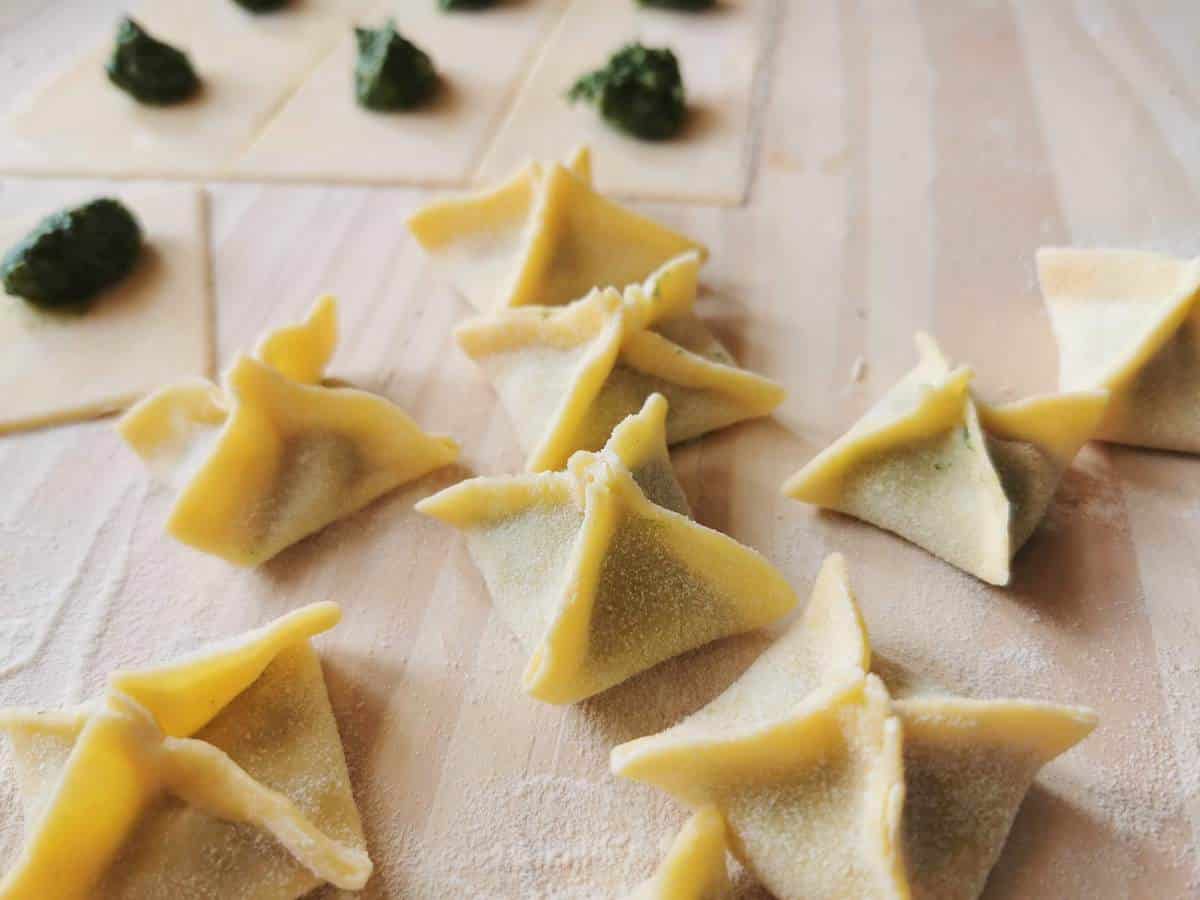 Cook the fagottini.
Like most types of ravioli, homemade fagottini is typically boiled in salted water until al dente. This means the pasta has a firm and slightly chewy texture.
You can also cook these pasta bundles in broth and then serve them with the broth as I did with my meat and spinach filled fagottini. Or, once boiled in salted water, you can add the pasta to the sauce in a pan to coat it, or plate it and pour the sauce over it.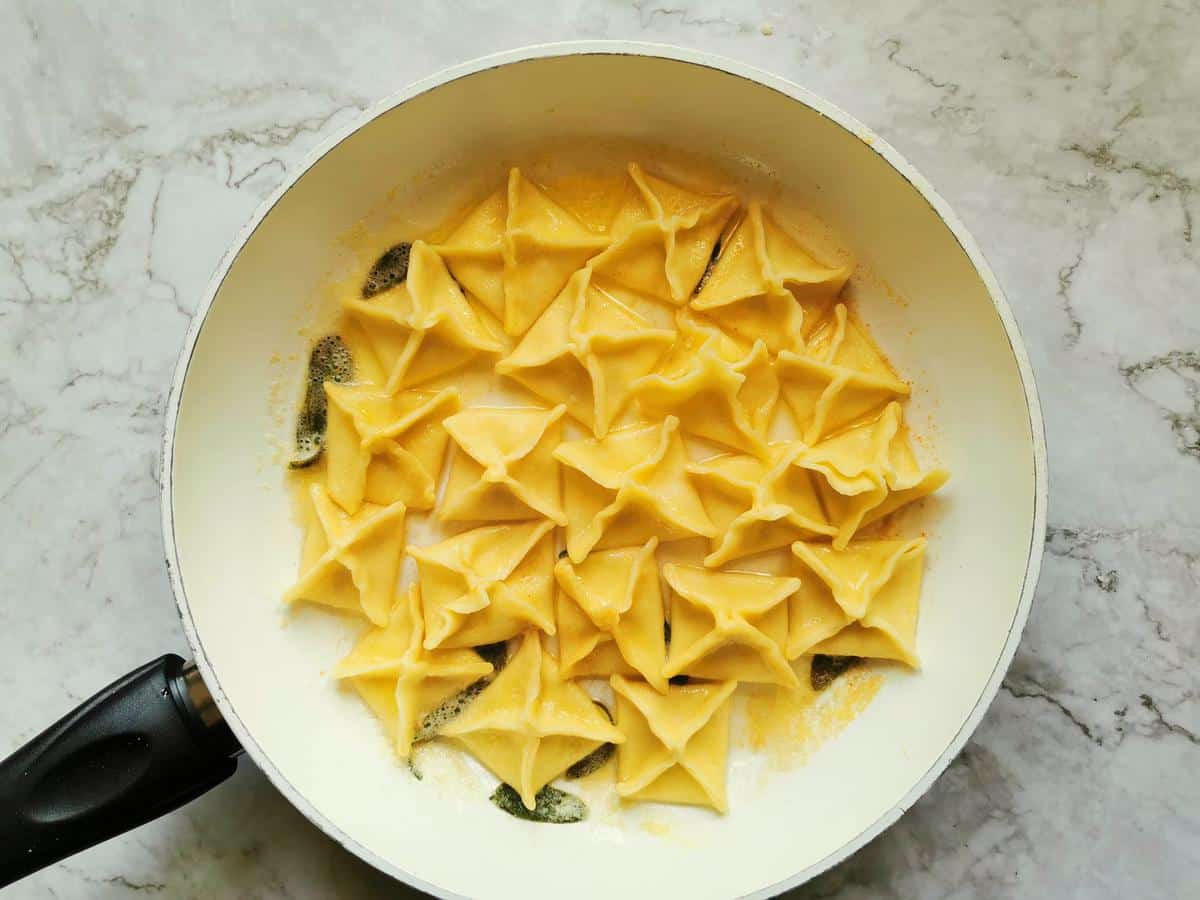 What to do with leftovers.
Like most homemade filled pasta, cooked fagottini can be kept in the fridge in a sealed container for 2-3 days. Uncooked filled pasta tends to get soggy in the fridge if left more than a day, so I usually freeze it and cook from frozen.
To freeze for later, place the fagottini on a baking sheet lined with parchment paper and freeze until solid. Once frozen, transfer the pasta to a freezer-safe container or bag.
When you're ready to enjoy them, cook the frozen filled pasta in boiling water according to the original instructions, adding a few extra minutes to the cooking time.
Pin for later.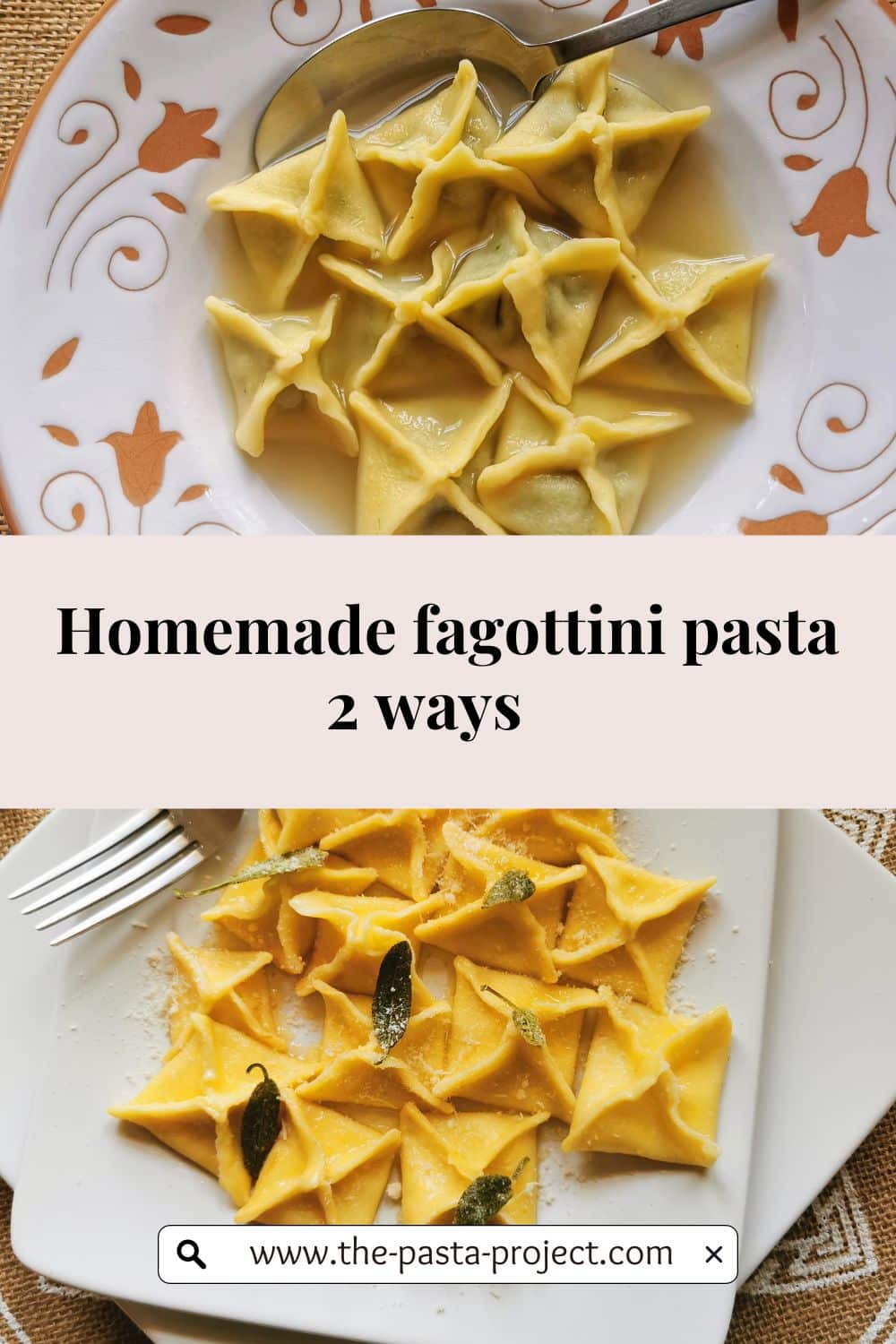 Ways to use leftover filled pasta.
1 To change things up a bit, you can serve your leftover fagottini with a different sauce.
2 Add the leftover pasta bundles to a pot of simmering soup broth. You can use a vegetable, chicken, or tomato-based broth depending on your preference.
Let the pasta cook in the soup until it becomes tender (if frozen it will take longer). This is a quick and comforting way to enjoy your leftover fagottini.
3 Bake the leftover pasta. Layer the leftover cooked fagotttini pasta in a baking dish with tomato sauce, grated or shredded cheese, and any additional toppings you desire. Bake in the oven at 375°F (190°C) until the cheese is melted and bubbly. This creates a flavourful and comforting casserole dish.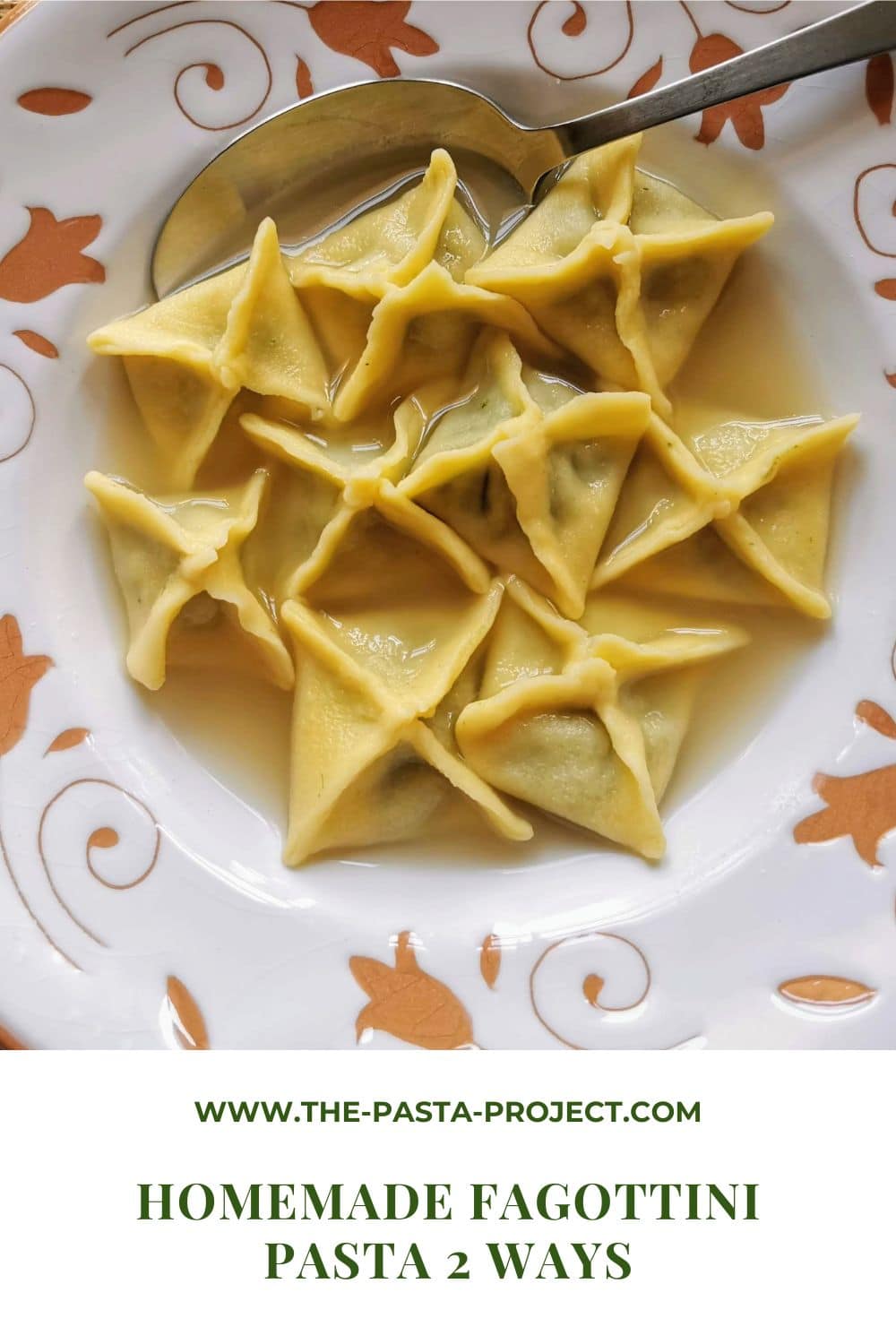 Let me know what you think.
Whether you make your homemade fagottini with the four-cheese filling or the meat and spinach filling, I'm sure you'll love this elegant and delicate pasta. This is a beautiful pasta that will really impress family, friends or other guests.
If you make this recipe I'd love to hear how it turns out and if you liked it. Please leave a comment here on the blog or on The Pasta Project Facebook page. Looking forward to hearing from you.
Buon appetito!
More homemade filled pasta to enjoy!
If you are interested in learning how to make homemade pasta and different types of gnocchi, check out my shop page for some great video online courses from my friends in Rome! Nothing beats learning to make pasta from Italians! Plus while you're there why not order a copy of my autumn/winter pasta recipes cookbook!?