Puntarelle Pasta with Burrata.
The Romans are crazy about puntarelle, the flower shoots of Catalonian chicory, and you will be too after you have tried this delicious puntarelle pasta with burrata.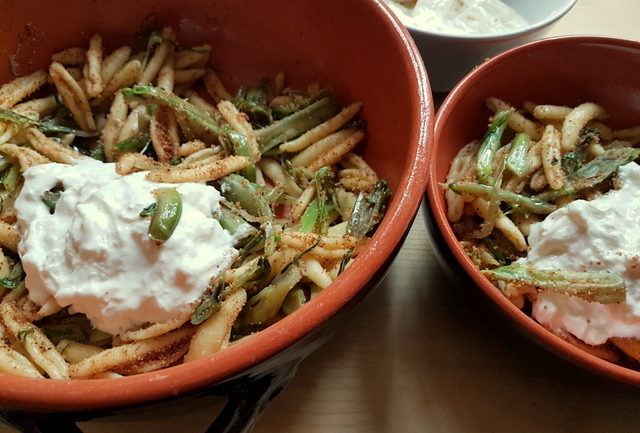 Cavatelle con Puntarelle e Burrata.
Puntarelle are most probably a vegetable that many have never heard of. They are, in fact, the flower shoots of Catalonian chicory (cicoria catalogna), a member of the chicory family that also includes endive, escarole and all those delicious varieties of radicchio, such as Castelfranco, Verona, Treviso and Tardivo.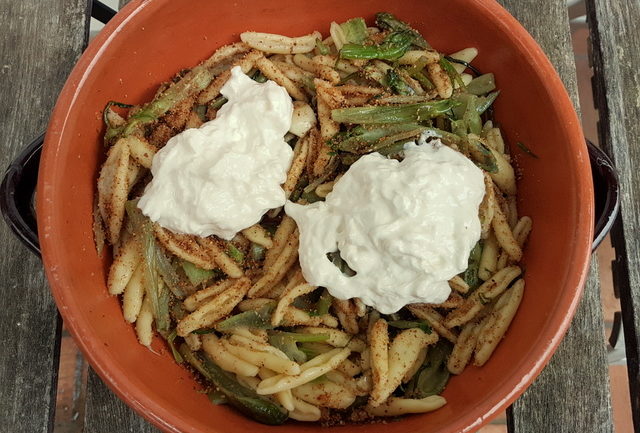 Italians love chicories, many of which have been cultivated here in Veneto, where I live, since the 15th century. However, puntarelle, also known as asparagus chicory, are cultivated further south and are especially popular in Rome and Puglia.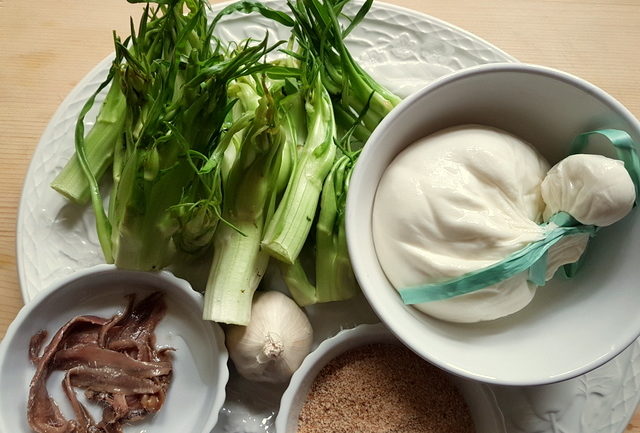 Roman recipes for puntarelle
The Romans eat puntarelle both in a delicious traditional salad with an anchovy sauce, called puntarelle alla romana, and in pasta. Although uncommon outside of Italy, puntarelle are beginning to become popular with restaurant chefs in US and other countries. So, some farmers are growing this type of chicory now. And, I know it's possible to find it at some UK or US farmers markets. If you see them, buy them! You won't be disappointed!
The most traditional Roman way to serve puntarelle with pasta is very similar to this recipe, although without the burrata and with spaghetti. However, the puntarelle I bought came from Puglia. In fact, Puglia cultivates the most puntarelle in Italy. So, I decided to prepare this puntarelle with pasta and another typical ingredient from Puglia, namely cavatelli pasta and the burrata.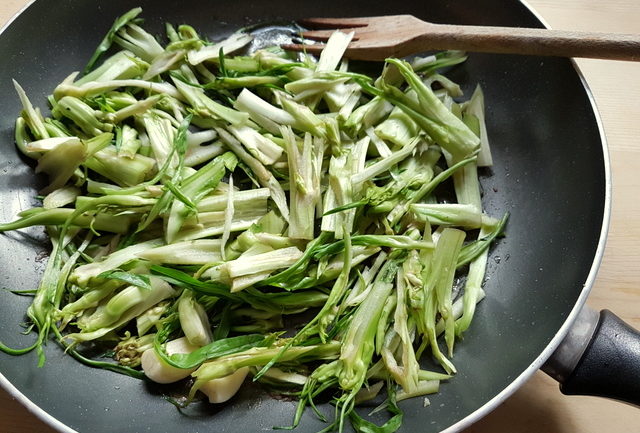 Like other types of chicory, puntarelle can be a little bitter but if you soak them in ice-cold water after removing the leaves and cutting them into thin strips, the bitterness goes. They also curl up in the water. In Rome, you can find vegetable sellers with bowls of puntarelle already soaking and ready to use.
How to make puntarelle with pasta and burrata
For this puntarelle with pasta recipe I didn't soak them for very long since I wanted to cook them, not eat them raw. Most chicories become less bitter when cooked. Apart from the puntarelle, this recipe has very few ingredients.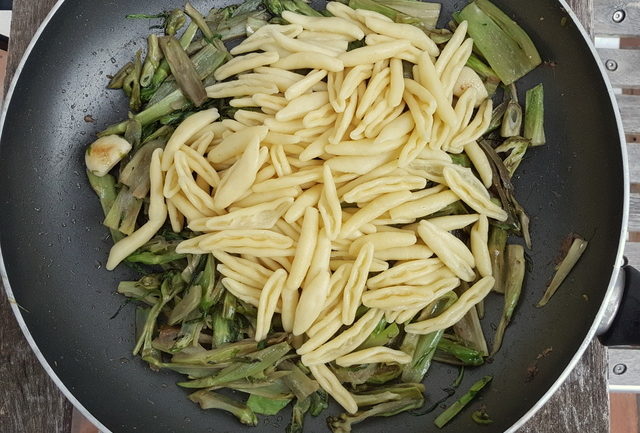 As is typical in Lazio and Southern Italy, I melted anchovy fillets in the heated olive oil before adding the garlic and vegetables. Many people don't like anchovies. However, in Italian cuisine, they are not used to add a fishy flavour to a dish, but rather to add depth and complexity and give the dish an umami quality. You really don't taste the anchovies.
Apart from the anchovies, this puntarelle pasta recipe includes just some garlic, burrata from Puglia and toasted breadcrumbs. The latter are used instead of grated cheese on many pasta dishes in Southern Italy!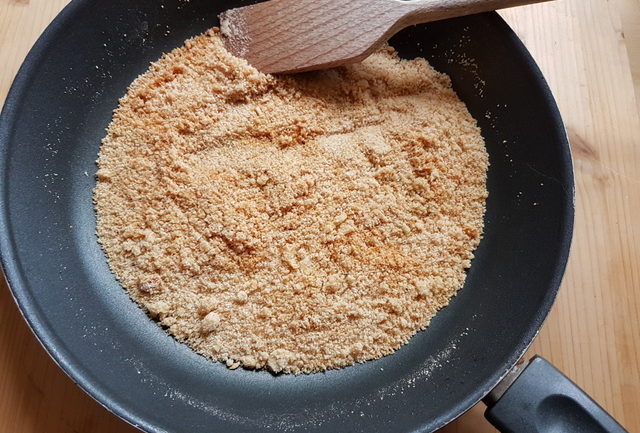 This puntarelle with pasta recipe can be made with other types of pasta. Spaghetti is traditional in Rome. I like using cavatelli as I think it works better with chunkier sauces. If you want to make your own cavatelli, check out my recipe for homemade cavatelli with oyster mushrooms. You could also use other types of short pasta like casarecce, fusilli or olive leaf pasta.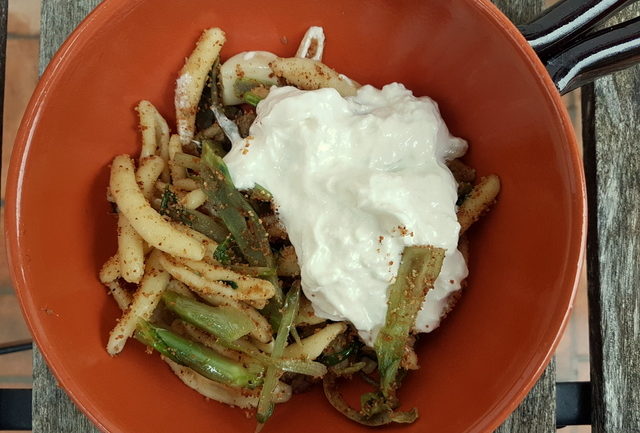 This recipe can be used with other veggies such as endive, escarole or even broccoli. However, of course the flavours will be different.
If you make this puntarelle pasta with burrata recipe, I'd love to hear how it turns out. Please write a comment here on the blog or post a comment on the Pasta Project Facebook page.
Your feedback means a lot to me!
Buon Appetito!
Other delicious cavatelli recipes on the Pasta Project.
Cavatelli with peperoni cruschi (Senise peppers)
Save this recipe for later?
If you want to save this recipe for later, you can print it, bookmark this page or save it to Pinterest.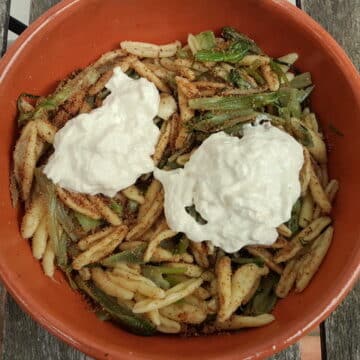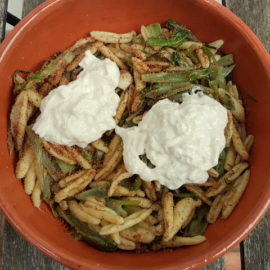 Puntarelle pasta with burrata
The star of this recipe is puntarelle, the flower shoots of a type of chicory called Catalonian chicory, which together with anchovies, garlic, toasted breadcrumbs and burrata makes this is a mouthwatering recipe full of typical Southern Italian flavours.
Ingredients
400

g

cavatelli pasta

(14oz)

400

g

puntarelle chicory

(14oz) weight without all the leaves

4

anchovy fillets

(preserved in oil or salt)

1

garlic clove

peeled

3-4

tbsp

extra virgin olive oil

100

g

breadcrumbs

(3.5oz)

200

g

burrata

(7oz)

salt

for pasta and to taste

ground black pepper

to taste

peperoncino flakes (red chili pepper)

optional as required
Instructions
Clean the puntarelle: If you have bought a whole Catalonian chicory you will have to remove all the outer leaves to get to the puntarelle, which are in the 'heart' of the chicory. These leaves can be cooked too although they are quite bitter, they're good in soups. Once you have removed the dark outer leaves and their stalks cut off a little of the bottom of the puntarelle and separate them. slice them finely lengthwise. Soak the cut shoots in some ice cold water for 15 minutes, drain and pat dry.

In the meantime, bring a pot of water to the boil. Add salt and bring to the boil again. Cook the pasta al dente according to the instructions on the packet. Fresh pasta will cook very quickly.

Heat the extra virgin olive oil in a pan and melt the anchovies into it, with the garlic clove and some chilli pepper flakes if using.

Add the puntarelle and let it cook for a few minutes, stirring continuously. if the puntarelle get too dry add a few tablespoons of pasta cooking water.

In a separate small frying pan, toast the breadcrumbs with two tablespoons of extra virgin olive oil. Stir frequently and be careful not to burn the breadcrumbs.

Drain the pasta al dente and add to the puntarelle. Add the breadcrumbs. Mix everything together over a high heat.

Drain and cut the burrata into pieces. Add the burrata to the pasta, don't mix it in. It's nice to do it while eating. Serve immediately.
Notes
Puntarelle are the flower shoots of Catalonian chicory. In Italy, it is possible to buy just the puntarelle but you may have to buy a whole chicory and remove the outer leaves to get to the puntarelle.
This recipe can be made with other types of chicory, such as endive or escarole but the flavours will be slightly different.
In Rome spaghetti is the most traditional pasta for puntarelle pasta. But other short pasta, such as casarecce or fusilli,  works well too.
This recipe can also be made with homemade cavatelli.
Pin for Later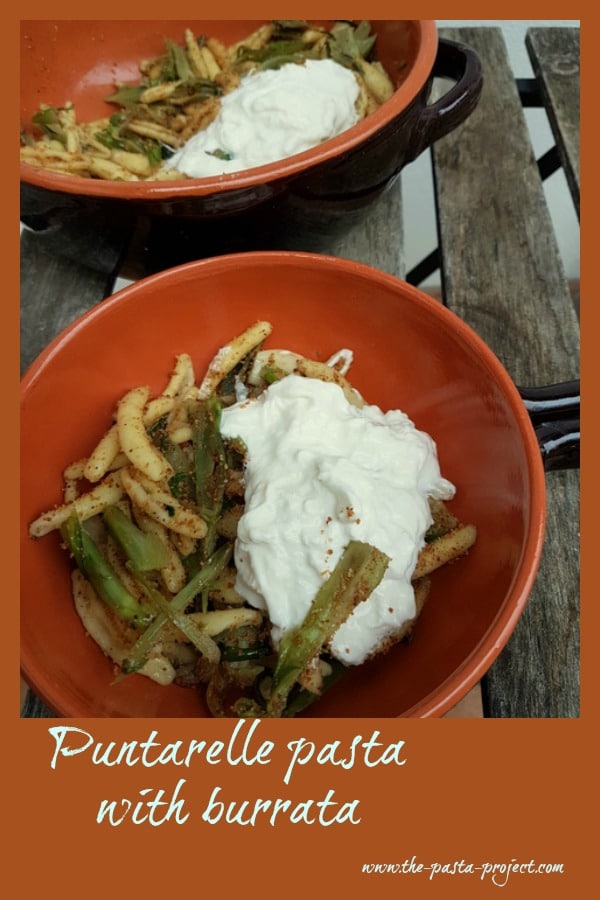 Watch this video from West Coast seeds to learn more about puntarelle.