Olive leaf pasta (foglie d'ulivo)
As you can imagine olive leaf pasta is shaped like olive leaves! Called 'foglie di ulivo' in Italian, this pasta is traditional in the Italian regions where olive trees abound. However, it's most typical in Puglia and Liguria both regions famous for their olive oil.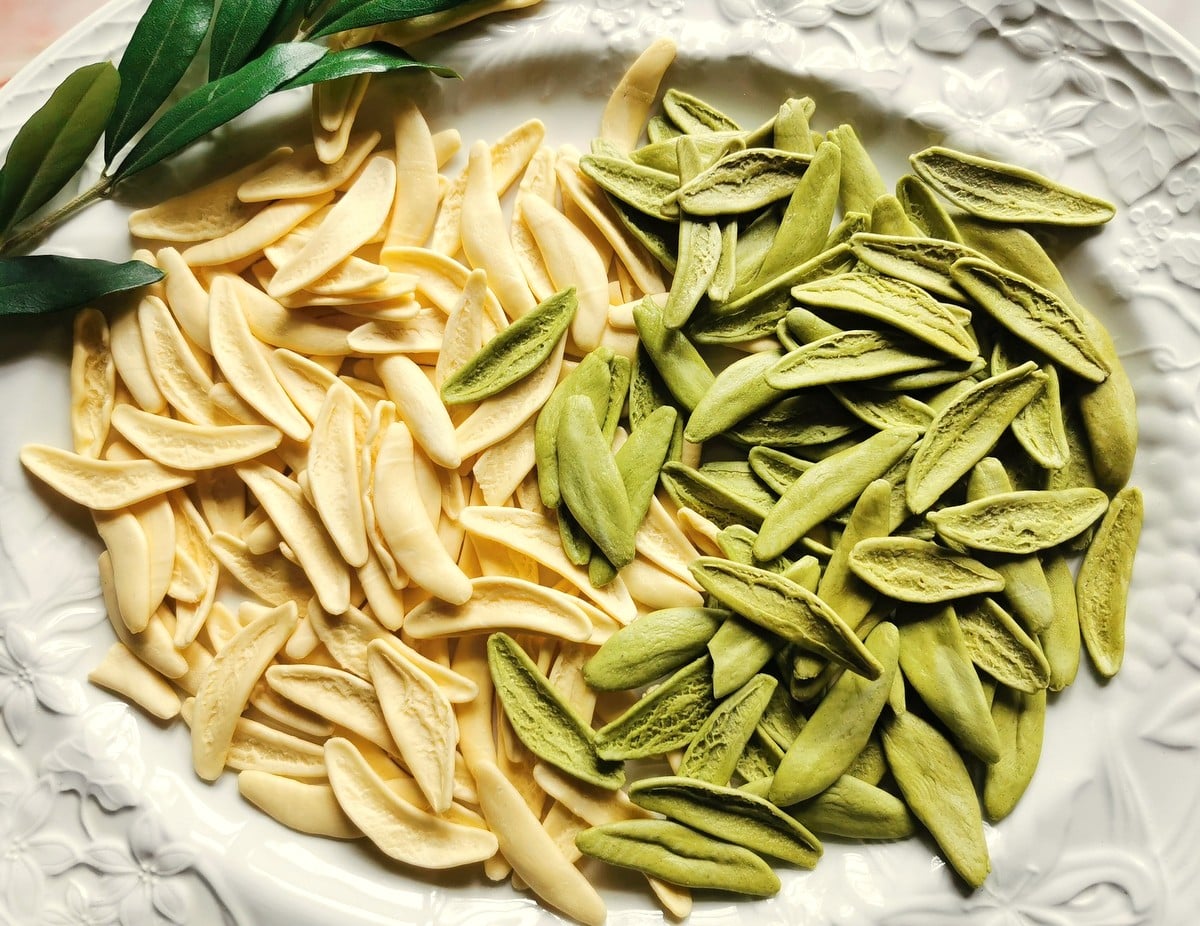 Where is olive leaf pasta from?
Despite the fact that olive leaf pasta is an ancient type of pasta, I wasn't able to find much information about its actual origins on Italian websites. However, it is part of a family of pasta the Southern Italians refer to as strascinati.
These are rustic pasta shapes made by rolling flour and water pasta dough into 'snakes'. Then, these snakes are cut into small pieces and shaped using fingers, thumb, a knife or other tools. Orecchiette and cavatelli are the most well-known types of strascinati.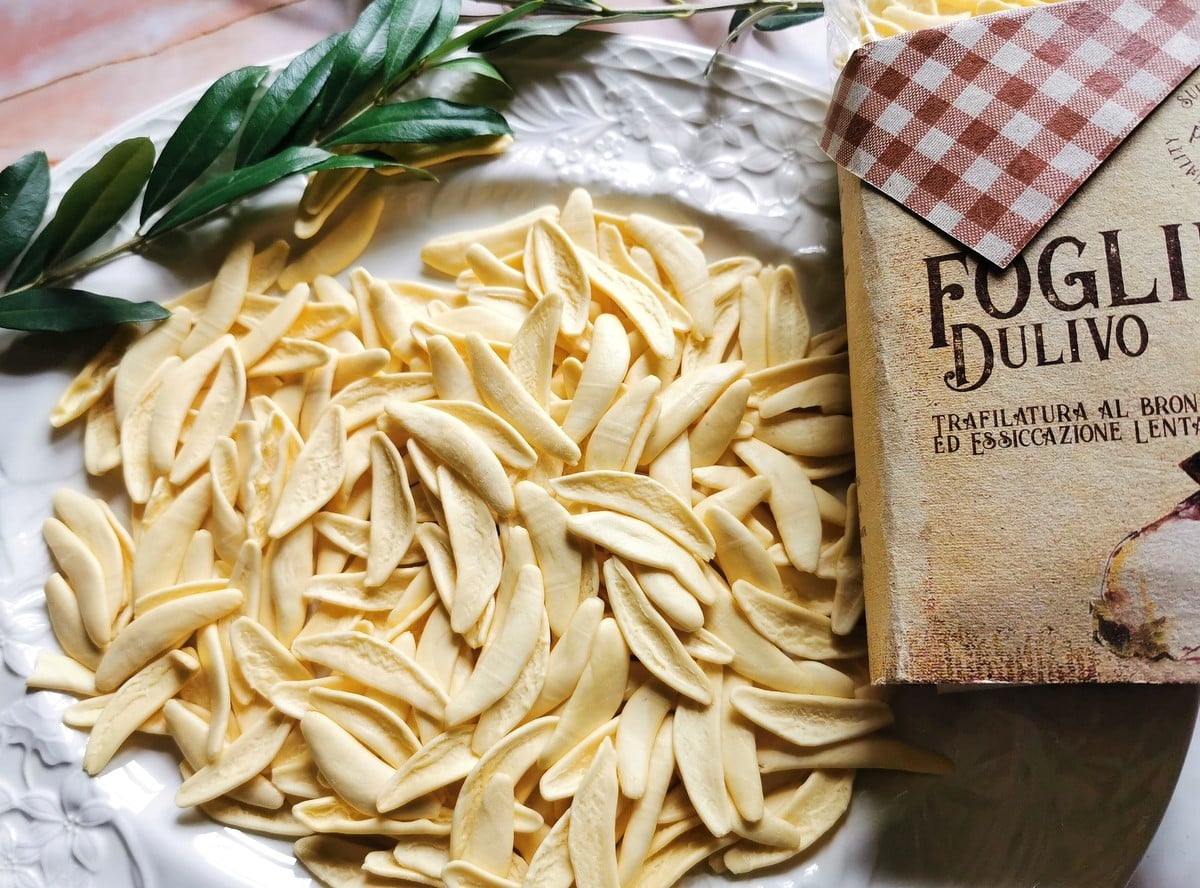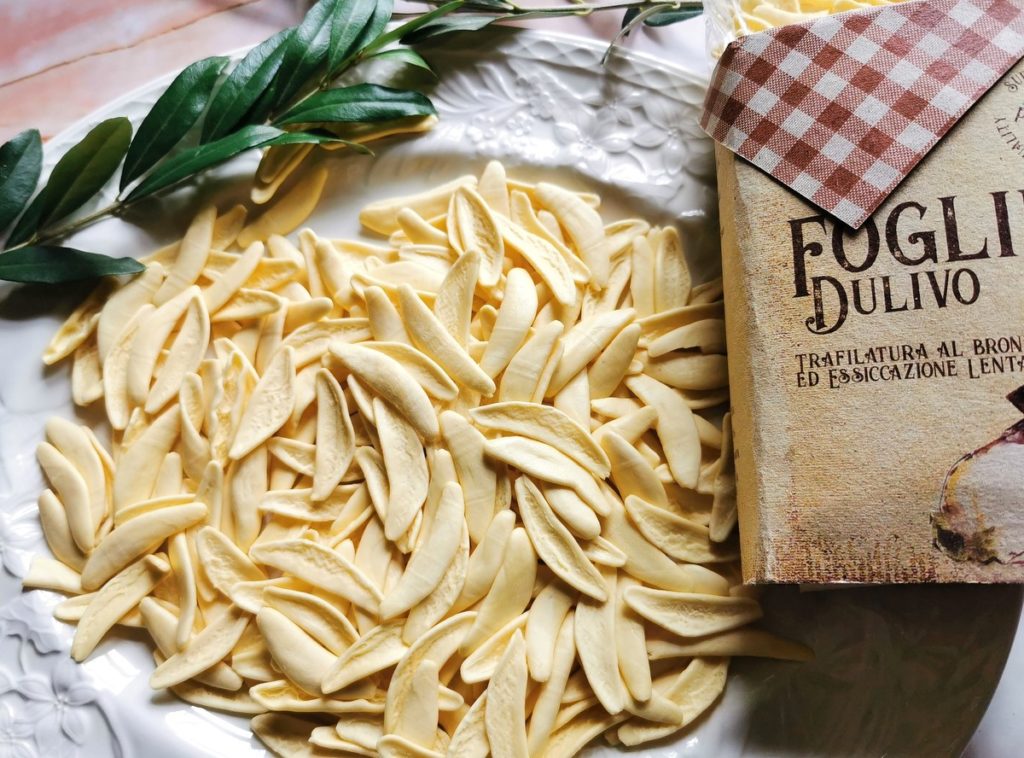 According to some sources, olive leaf pasta originated as badly hollowed orecchiette which were stretched so as not to throw the pasta away. Over time, foglie di ulivo became a typical fresh pasta in its own right. This may be true in Puglia. But, as I mentioned above, this pasta is also traditional in Liguria, where they don't make orecchiette! Plus, you can find it in Calabria and Sicily, both regions with lots of olive groves but no orecchiette either!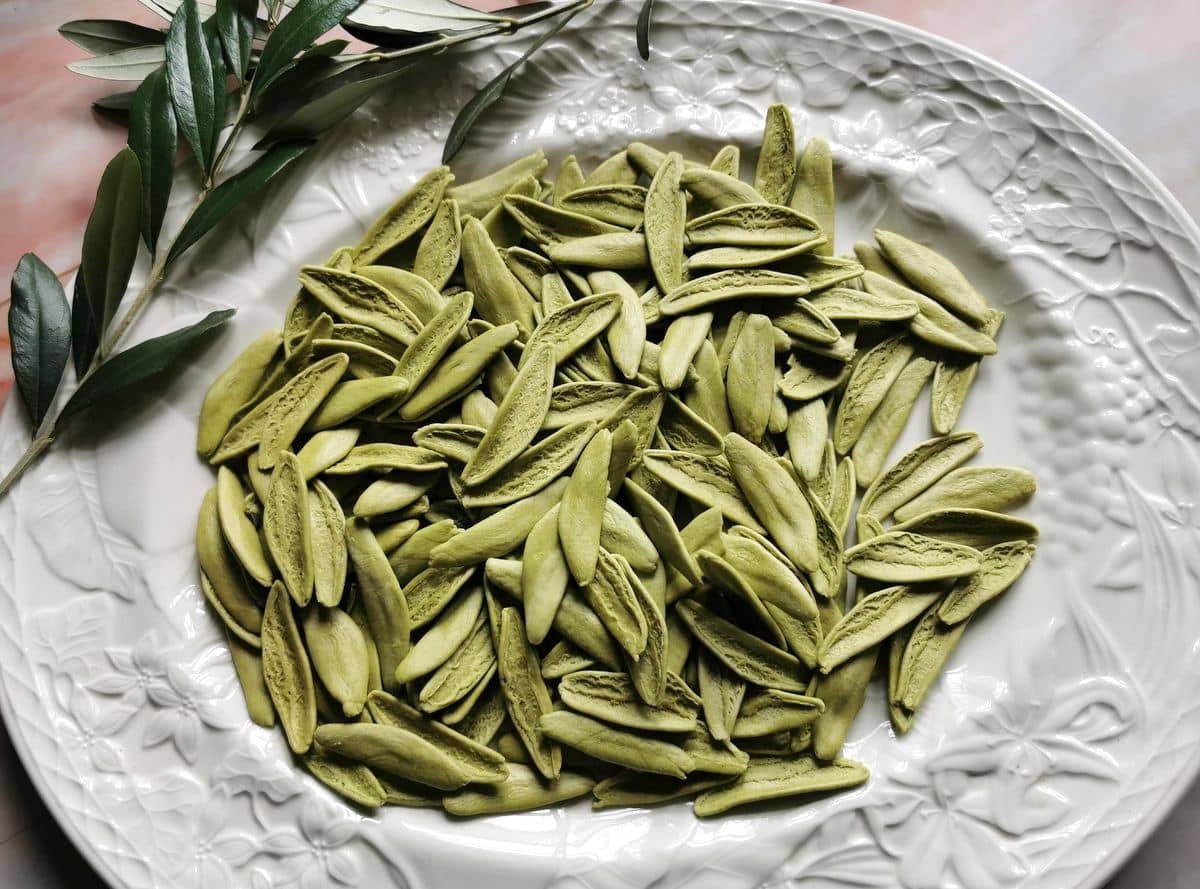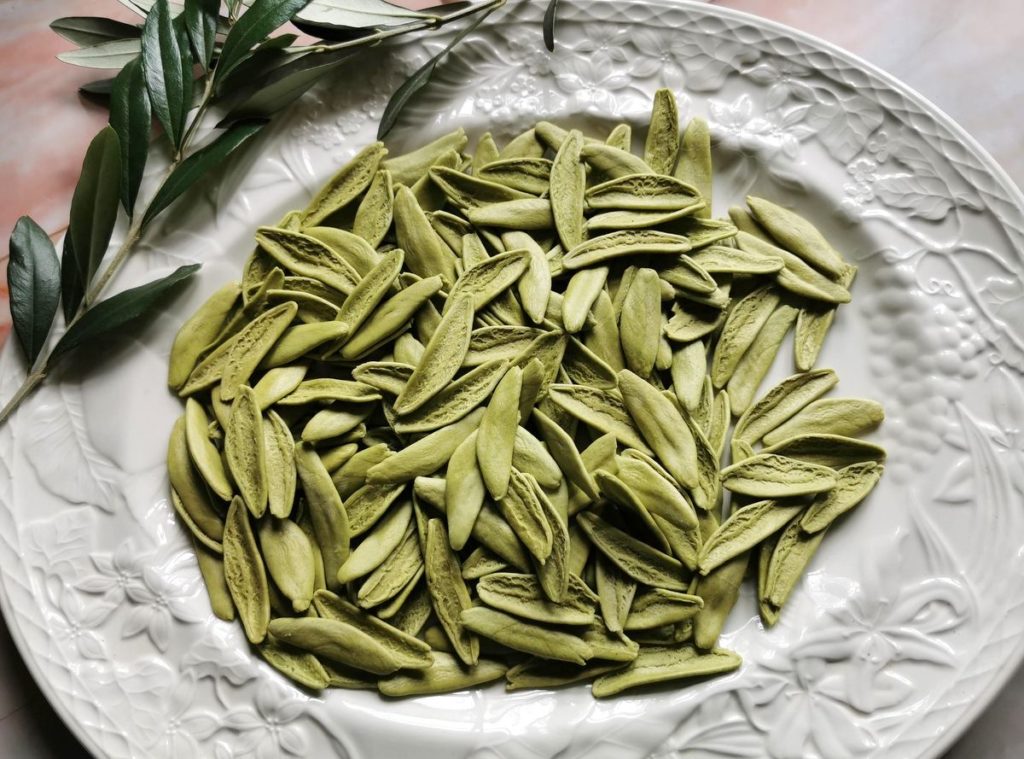 Olive leaf pasta in Puglia.
Foglie d'ulivo is one of the pasta types particularly traditional in the Monti Dauni area of Puglia. The Monti Dauni or Daunian Mountains are a mountain range in Southern Italy on the northern border of Puglia with Molise and Campania. This area is often referred to as the green soul of Puglia! Like other mountainous parts of Italy, the cuisine is based on foraged foods and peasant traditions.
There you can find lots of salumi and sausages, particularly made from black pigs and cheeses such as caciocavallo, ricotta and cacio ricotta. Foraged foods include various mushrooms and truffles. However, the star of the local kitchen is wild herbs that grow luxuriantly in the fields in the different seasons of the year.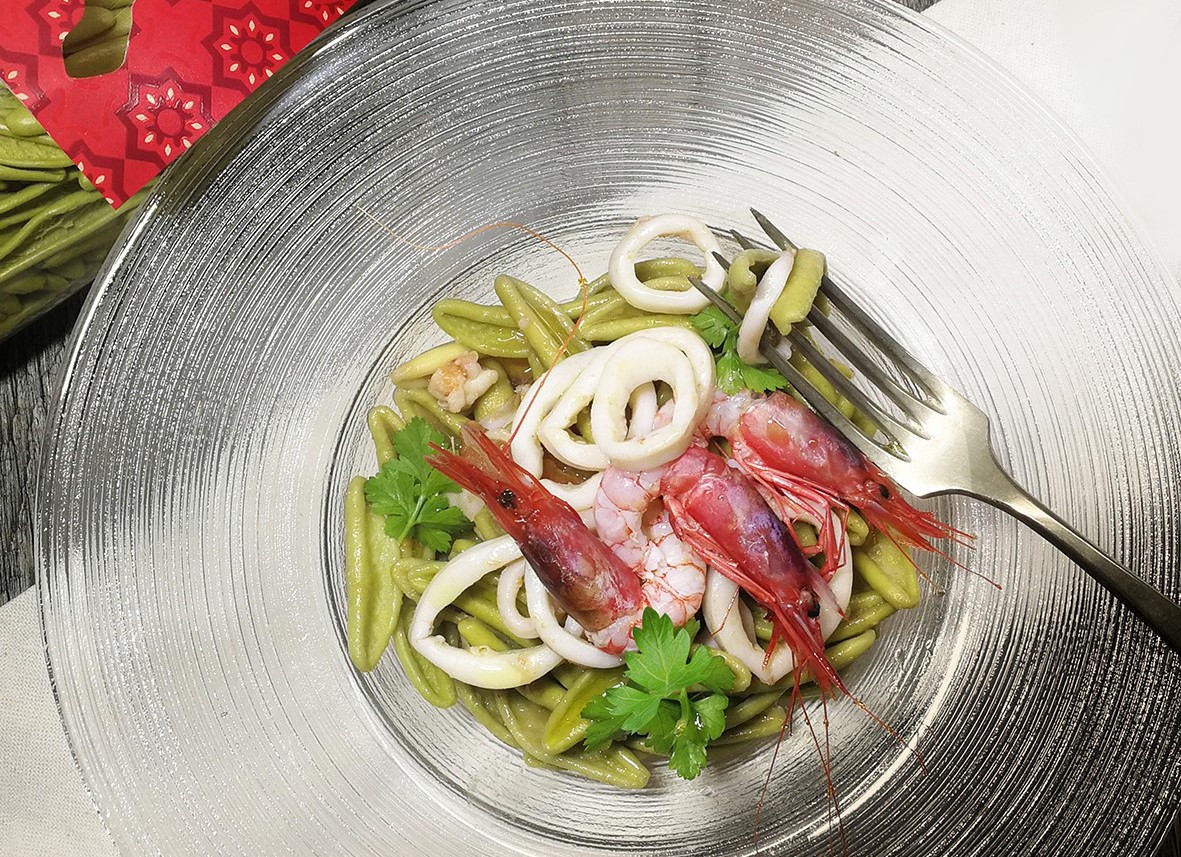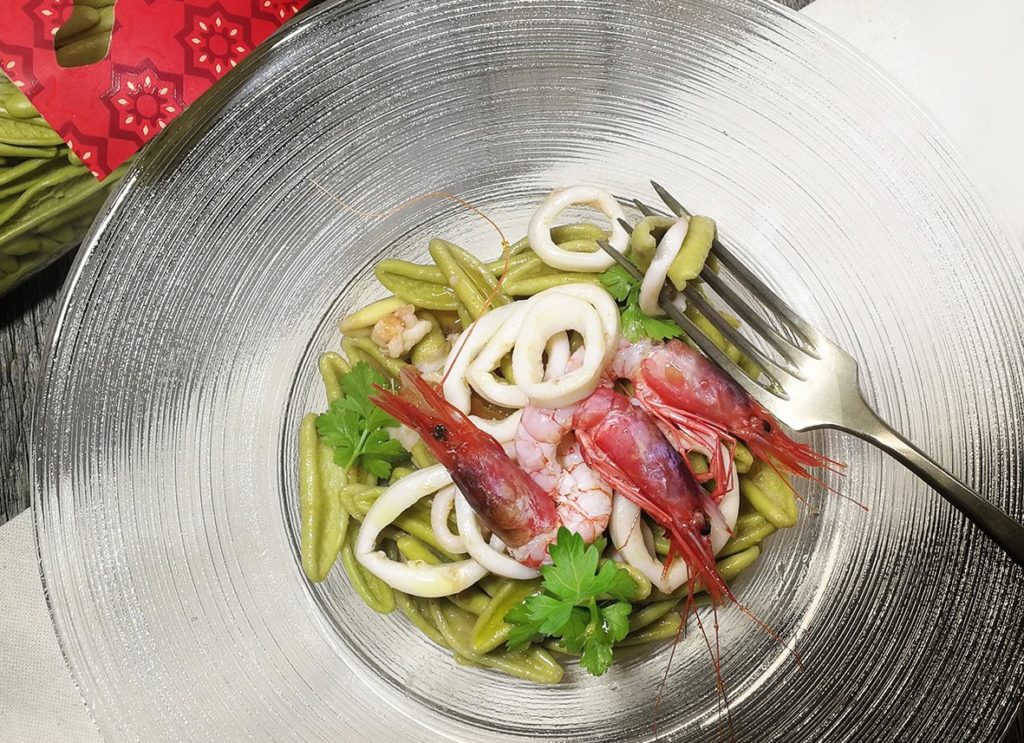 I came across a recipe with olive leaf pasta from this area by a local chef that looked delicious. It includes rapini, tomatoes, white onion, cacciocavallo cheese, basil and guanciale. Definitely on my to make list!
Green and white versions.
Olive leaf pasta is made in both a white and green version. Italians mostly use pureed spinach for the green colour. This actually makes it even healthier! Although traditionally homemade, this pasta is widely available dried. You can also find it in packets of green and white pasta leaves together.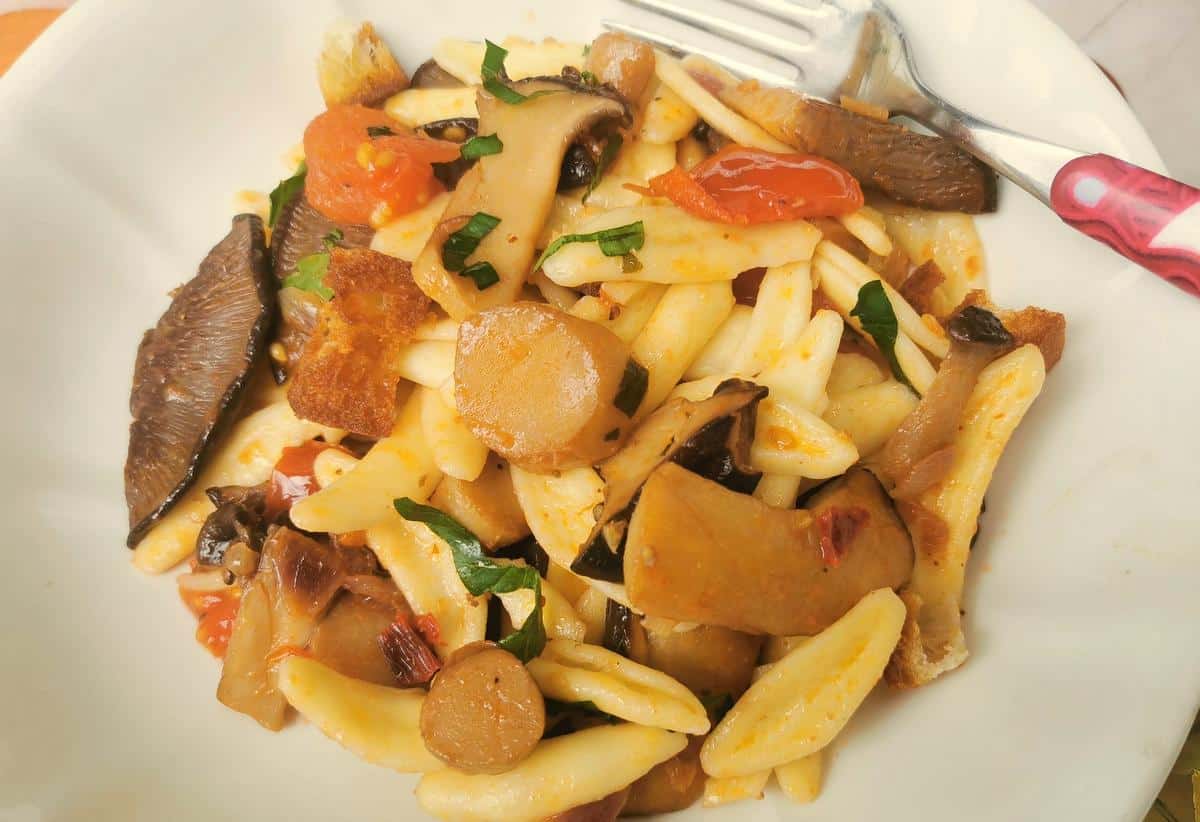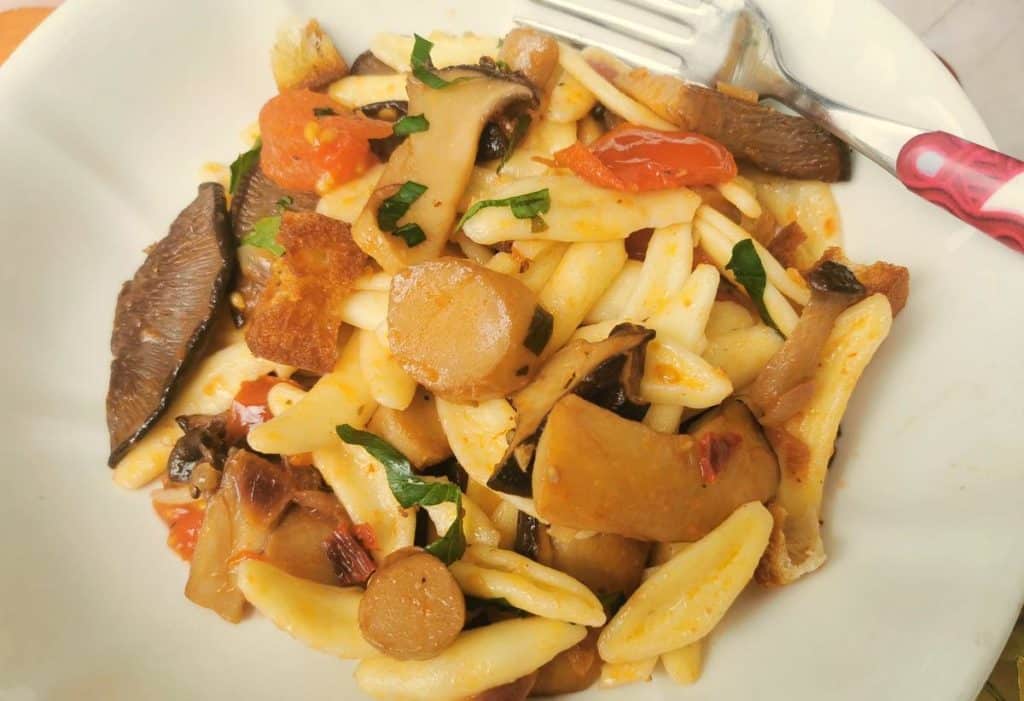 Where to buy this pasta.
Most well-known commercial pasta companies don't seem to make this pasta. The ones that do are mostly artisan pasta companies either from Puglia, Liguria or Calabria. However, I've seen that Eataly have it. Also, if you search online you're bound to find it in some Italian specialty online shops.
Recipes for olive leaf pasta.
Apulian olive leaf pasta is traditionally made by hand with durum wheat semolina flour and water. There they eat it with lots of different condiments such as ragu, with seafood or with foraged mushrooms like king oysters (cardoncelli). However, the most typical pairing is with fresh tomatoes, burrata and a pinch of red chilli.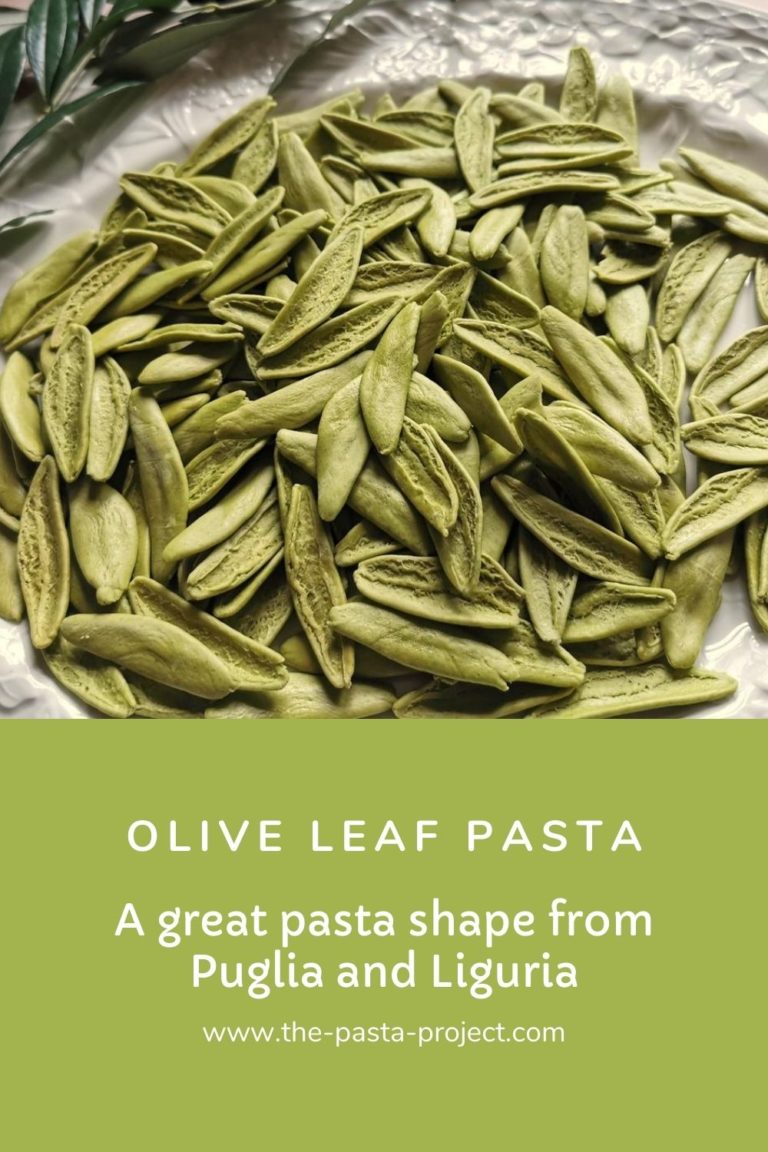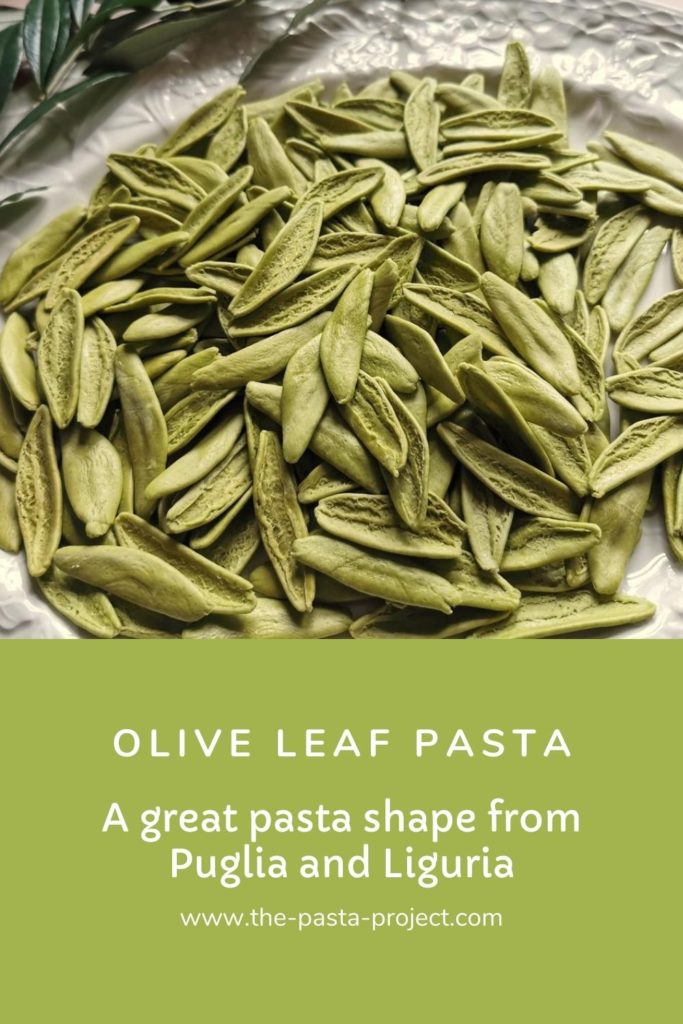 In Liguria, they often serve this pasta with a sauce of tomatoes and porcini mushrooms. I've also seen a Ligurian recipe for olive leaf pasta, mackerel, taggiasca olives (also from Liguria) and lemon. I'm sure my hubby would like that as he loves oily fish like sardines, mackerel and anchovies!
In the meantime, my first olive leaf pasta recipe is one from Puglia with the abovementioned king oyster (cardoncelli) mushrooms. It was unbelievably good. The pasta reminds me of orecchiette, a little chewy around the edges and softer in the middle. King oysters are my second favourite mushrooms after porcini. If you can find the pasta and the mushrooms, I highly recommend you give that recipe a try!
Pin for later.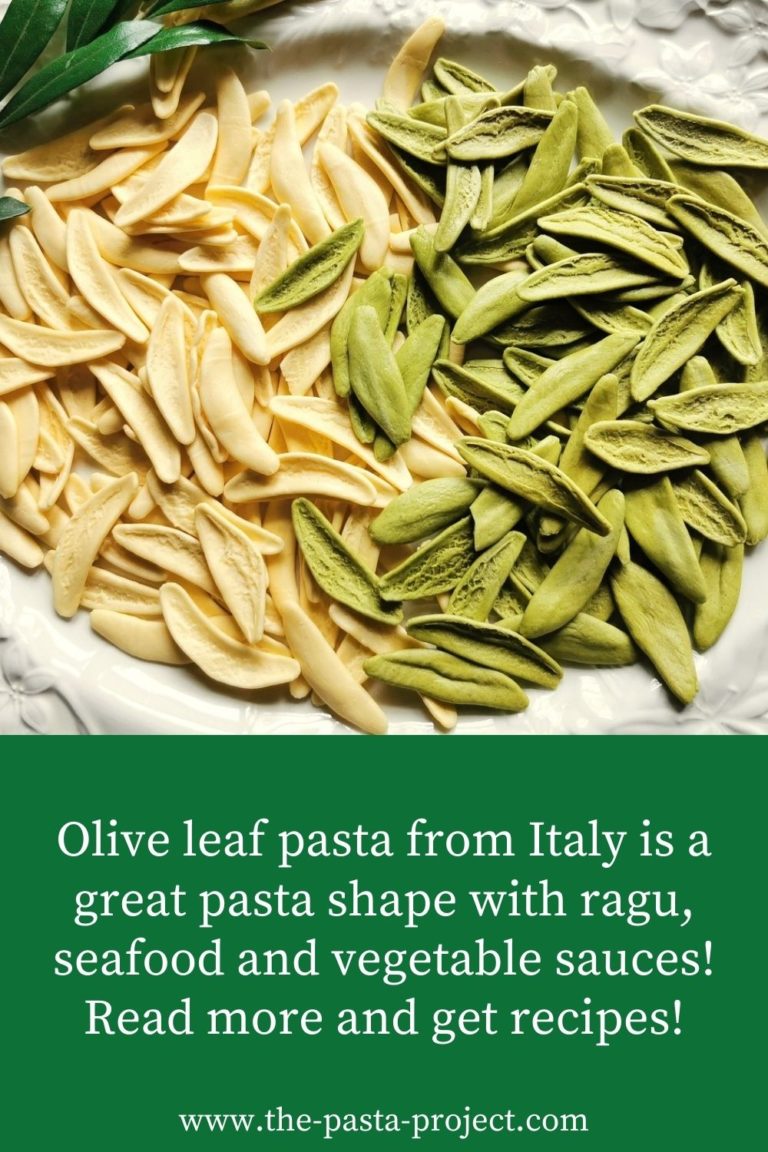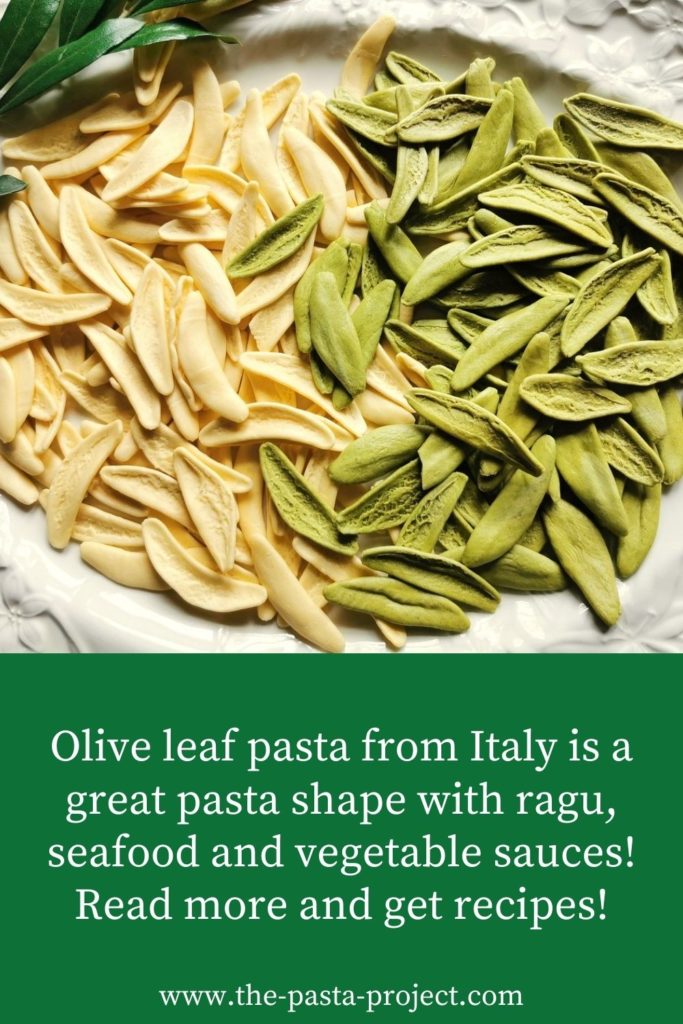 Want to know more about my life in Italy? Go to the homepage and subscribe to my newsletter. New subscribers get a free recipe e-book series too! https://www.the-pasta-project.com