Pasta with mushrooms has long been a favourite of mine. This vegan/vegetarian olive leaf pasta with king oyster mushrooms is a traditional dish from Puglia in Southern Italy. It's easy to make and one of the best mushroom pasta recipes ever!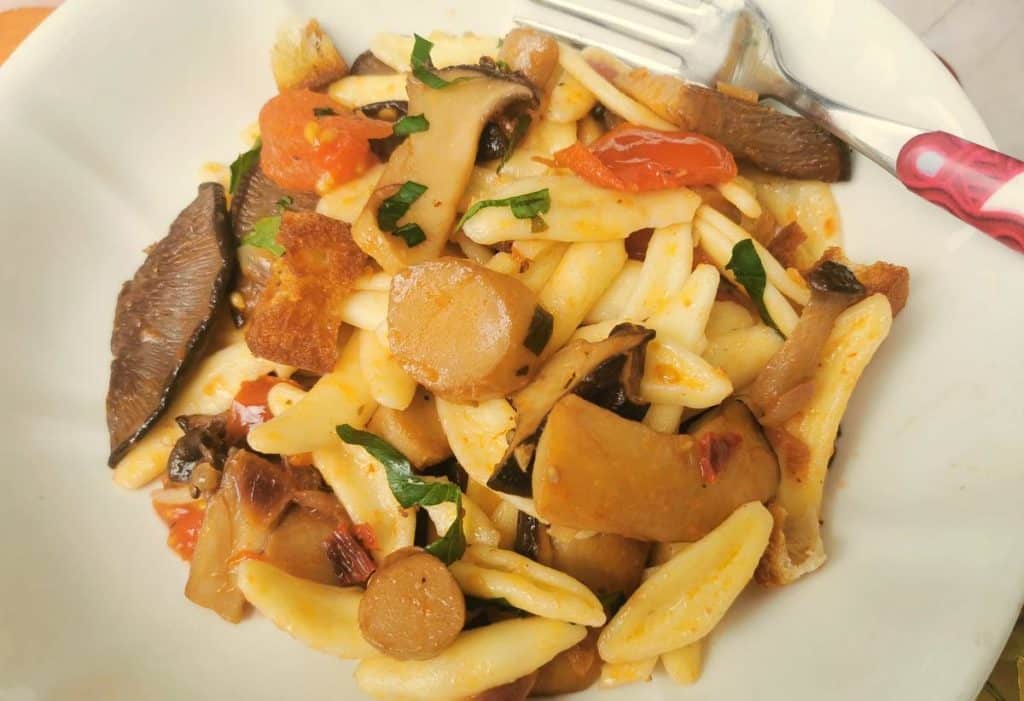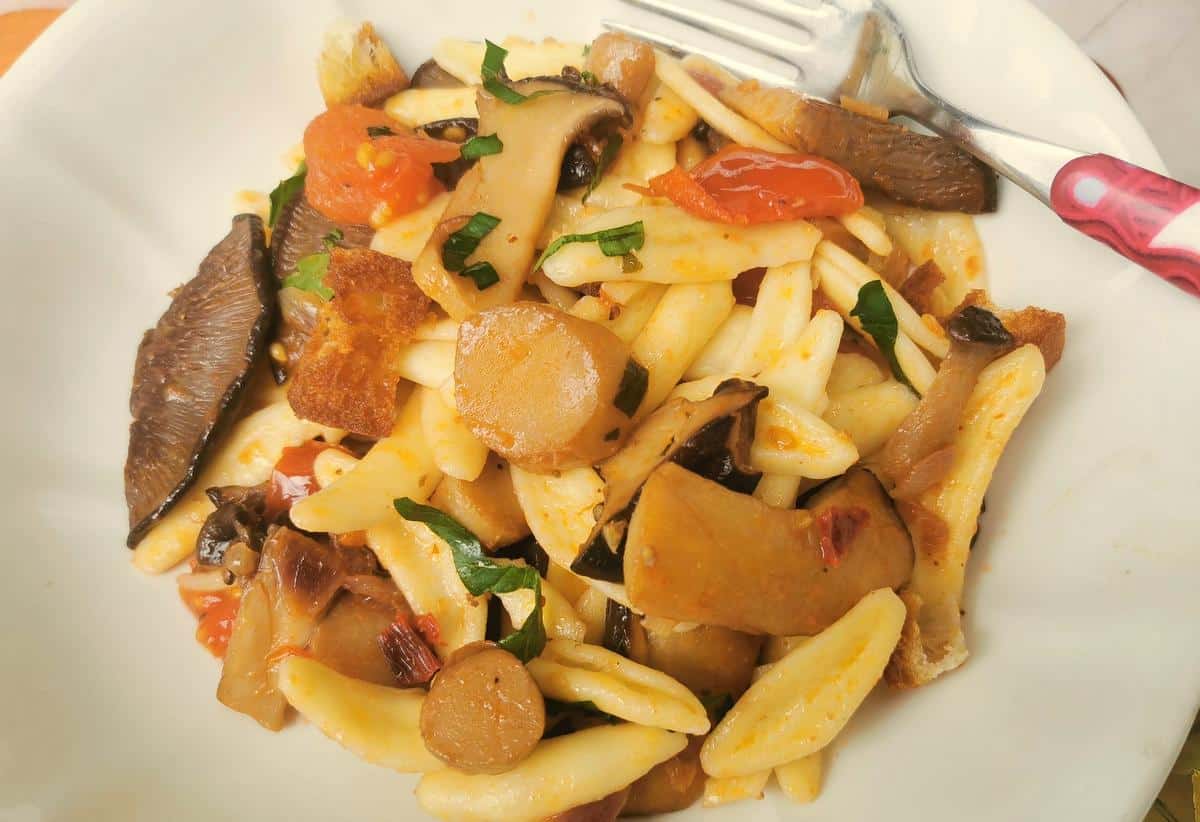 Foglie di ulivo con cardoncelli.
Pasta with king oyster mushrooms, also called trumpet mushrooms, is one of the best mushroom pasta recipes I have eaten in a while. That doesn't mean that other mushroom pasta recipes aren't good. Pasta and mushrooms is a popular and delicious combo, no matter what mushrooms you use!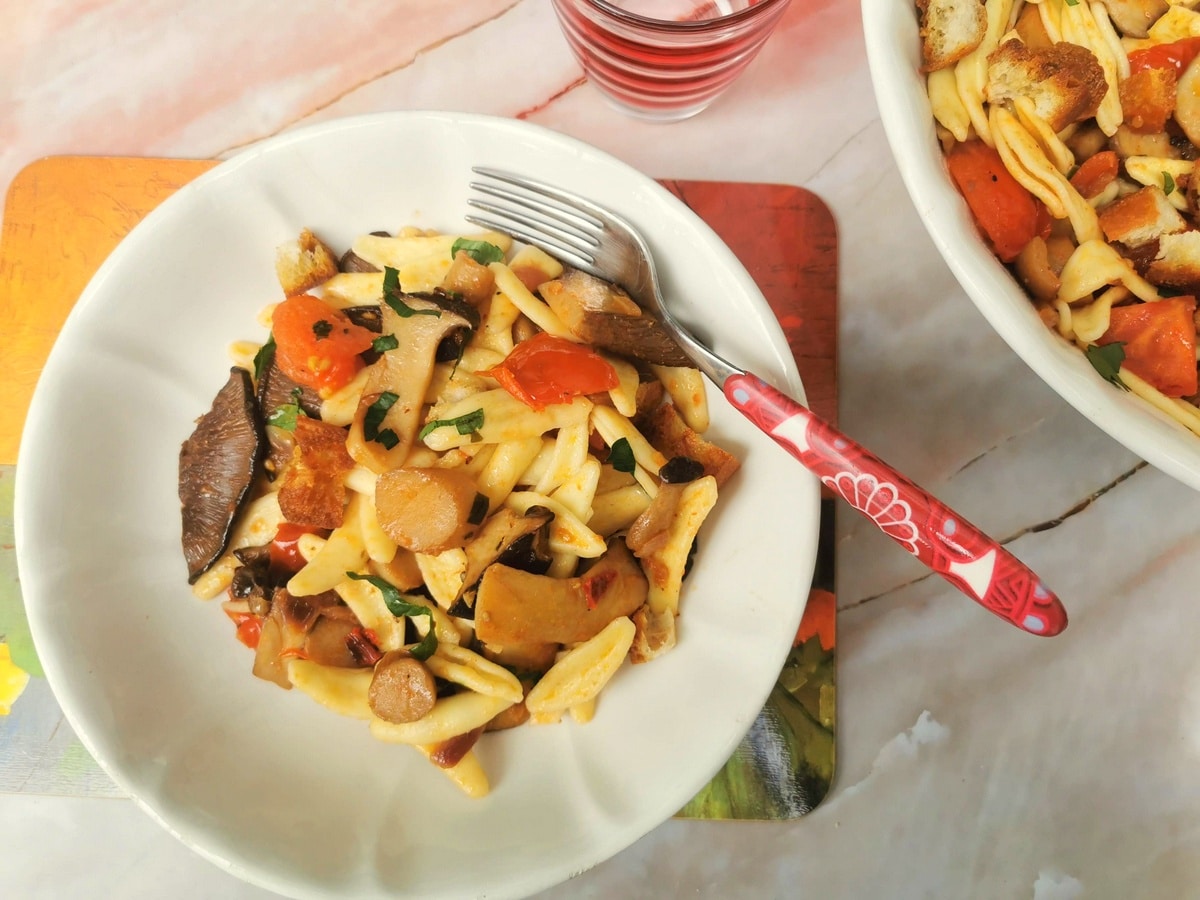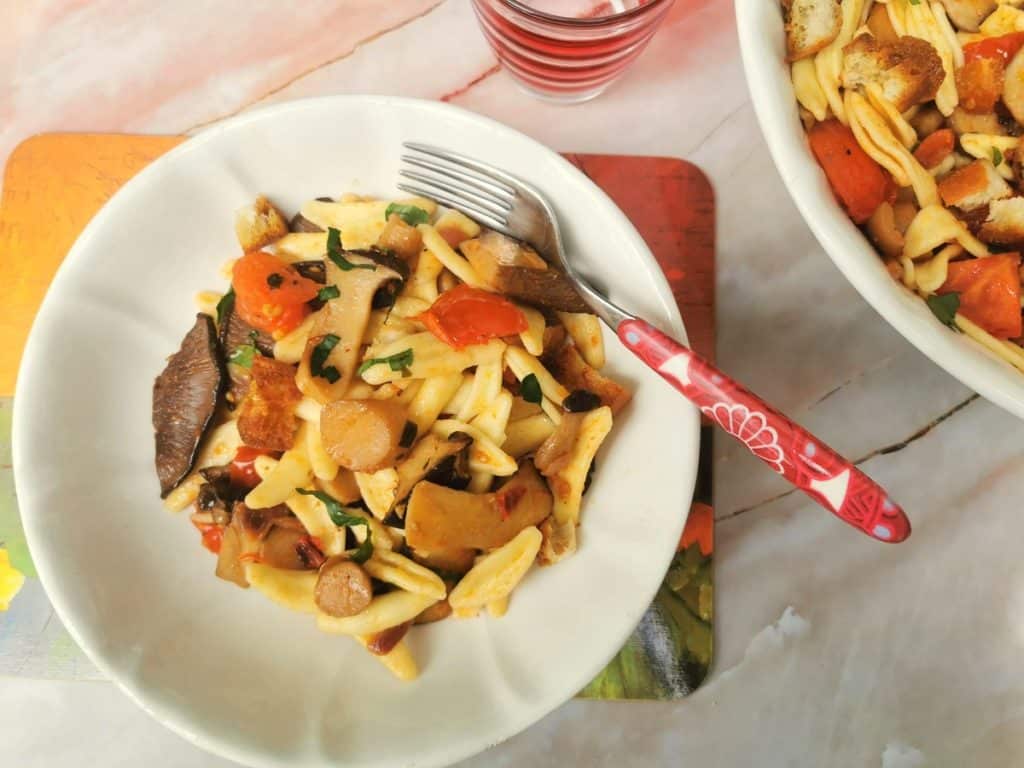 BUT, in my opinion, king oyster mushrooms are king in comparison to many other fungi! Some people call them the cheap porcini! They are definitely my second favourite mushroom after porcini (ceps).
What are king oyster mushrooms?
The Latin name for cardoncelli is pleurotus eryngii, also known as the king trumpet mushroom, French horn mushroom and, of course, king oyster mushroom.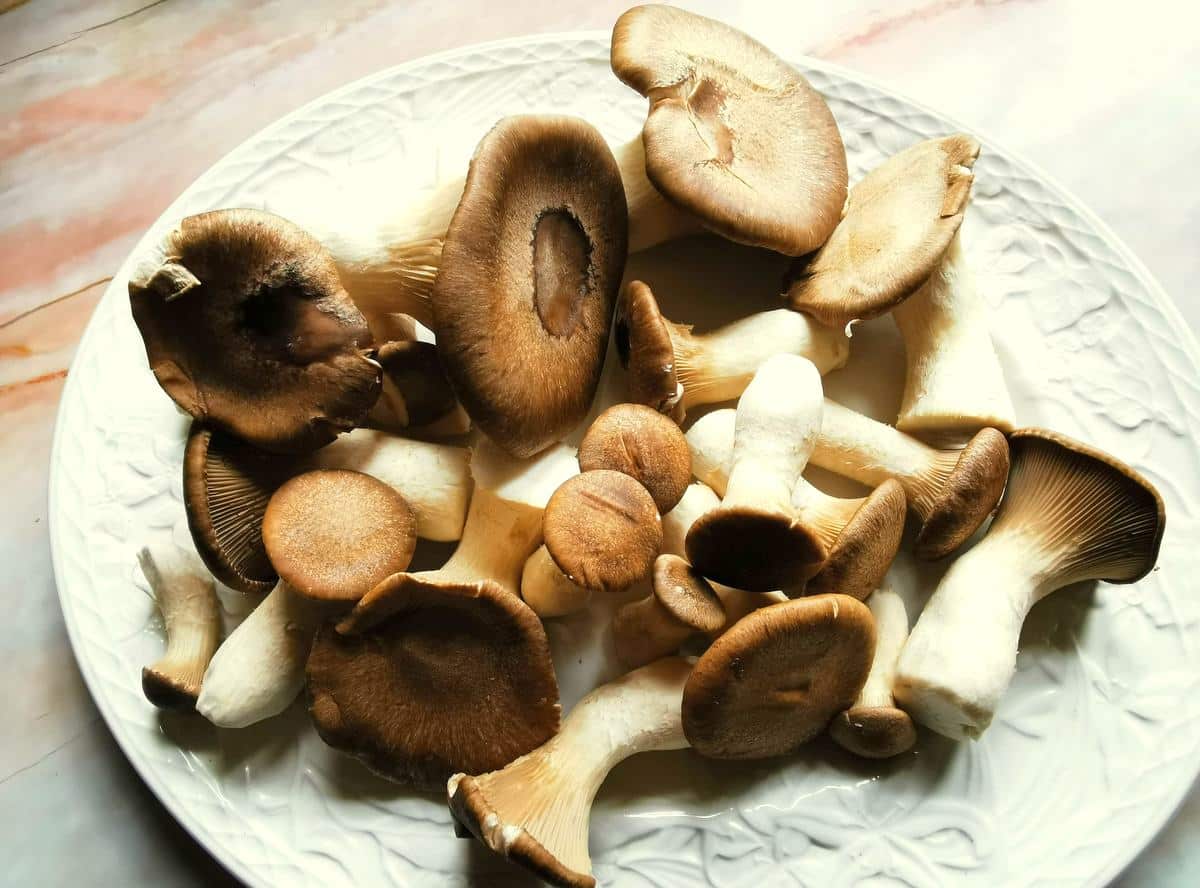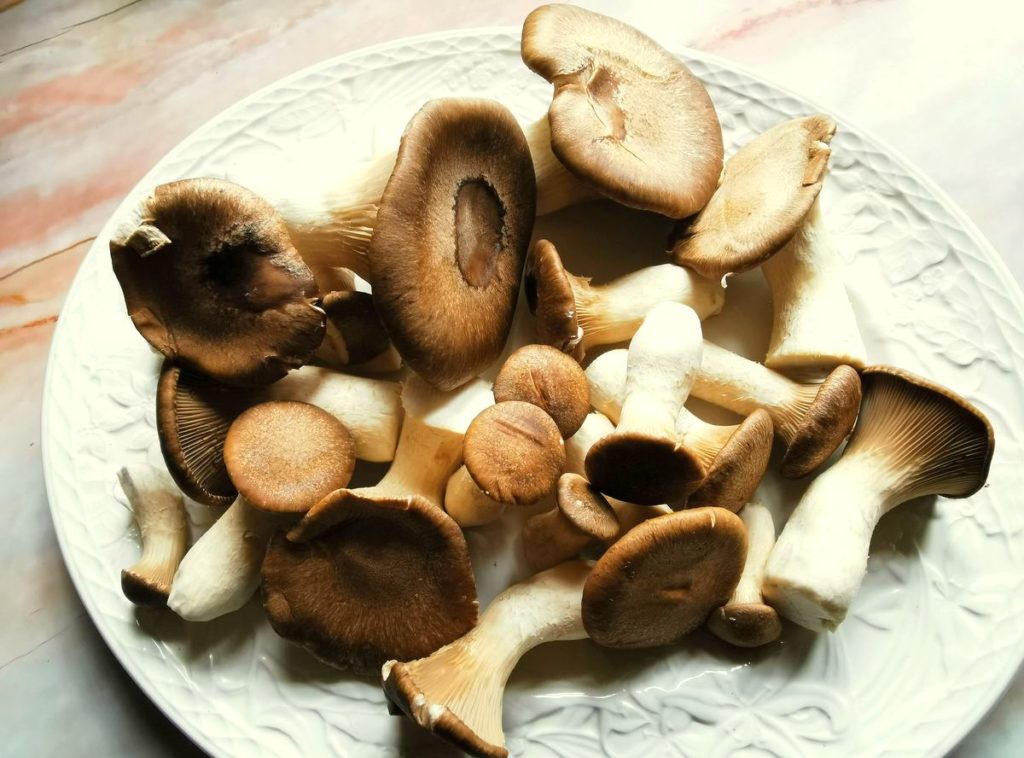 These mushrooms are a type of oyster mushroom with a thick white stem and a flat brown cap. When cooked, they have a really meaty texture, which is comparable to seafood such as calamari, abalone or scallops. In fact, they are a great substitute for meat for vegetarians and vegans.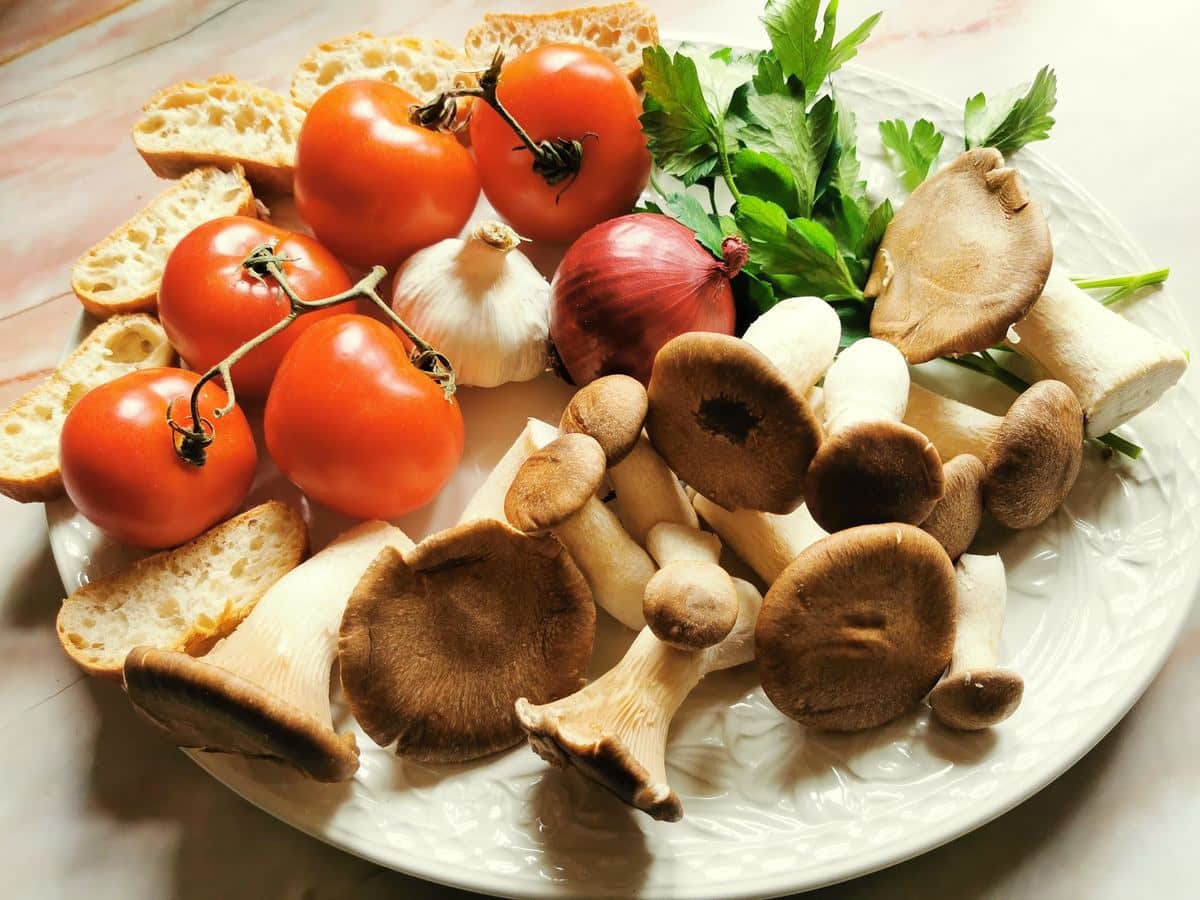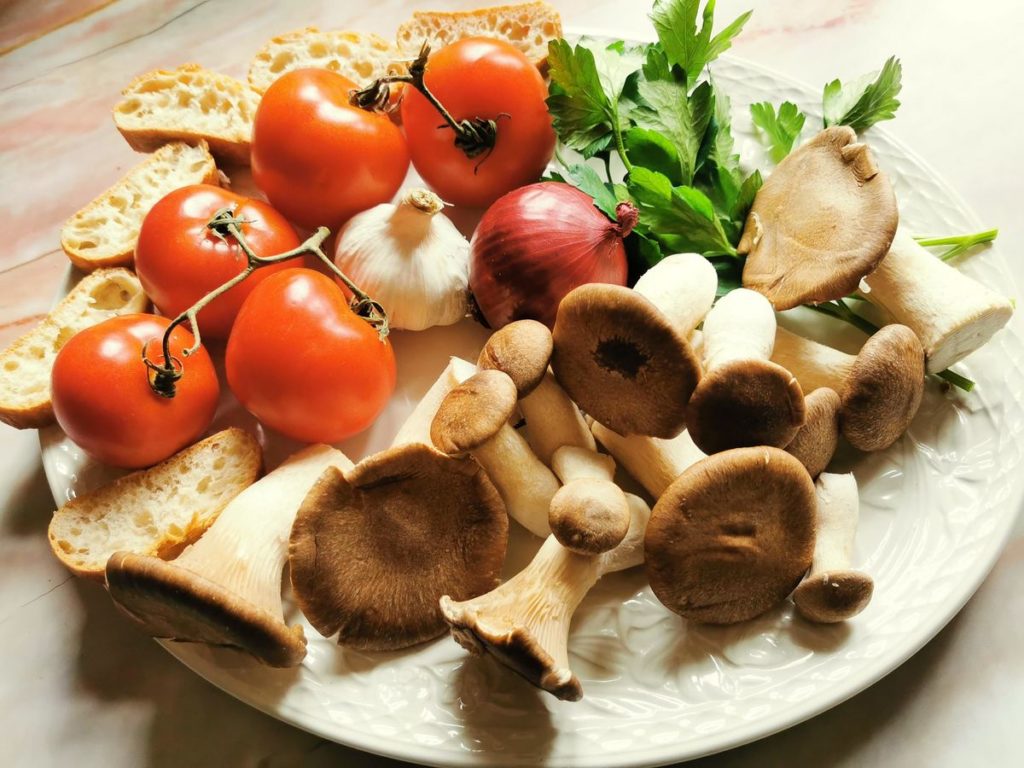 King oyster/king trumpet mushrooms grow wild in cooler climates throughout the Middle East, Europe, and North Africa. They are fungi that feed on the stems of herbaceous plants. It is actually possible to grow these mushrooms at home!
King oyster mushrooms in Italy.
Here in Italy, king oyster mushrooms are foraged in Puglia, Basilicata, Sicily, Sardinia, Calabria and parts of Lazio. However, the biggest concentration of wild and farmed king oyster mushrooms is on the Murge Plateau (La Murgia) in Puglia. This is a 4,000 km² subregion which includes the Alta Murgia national park. The Murge covers the centre of Puglia and part of the province of Matera in Basilicata.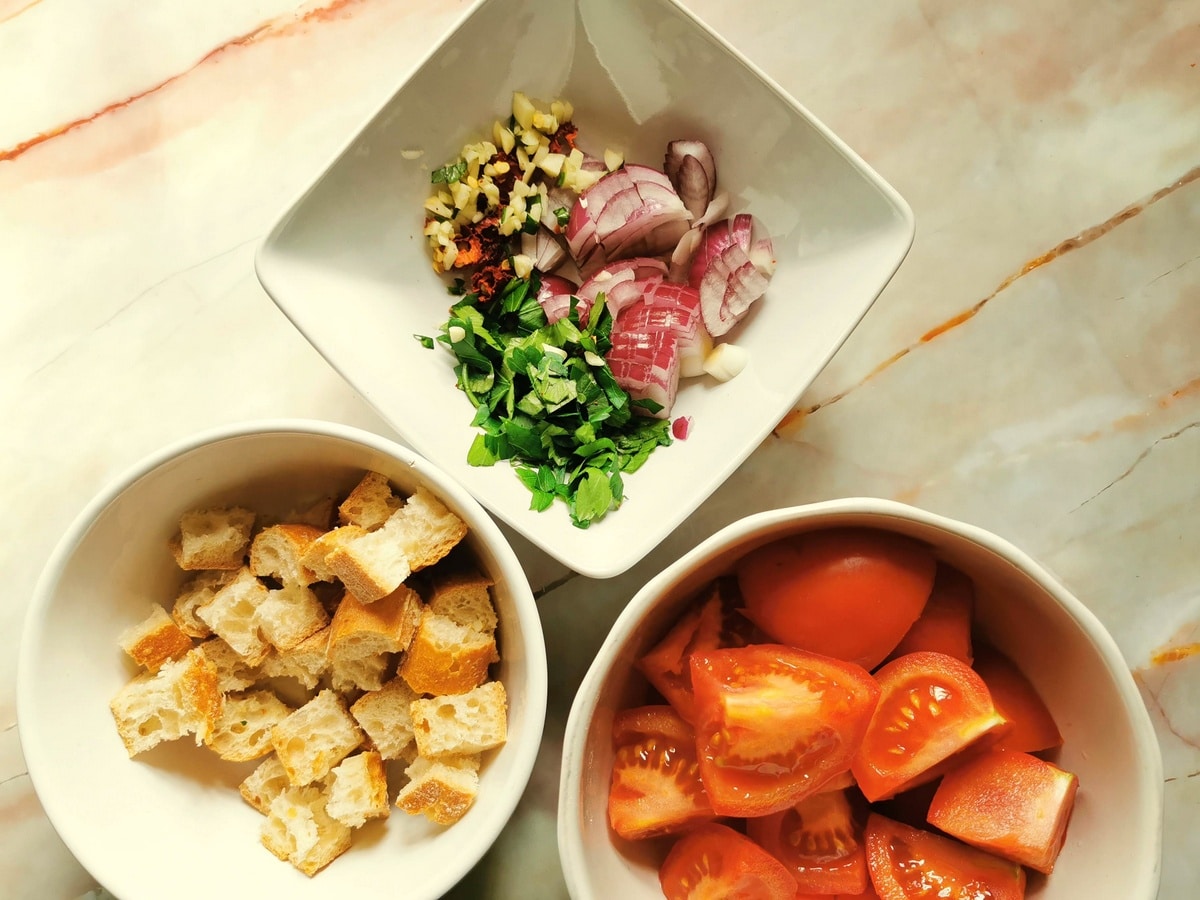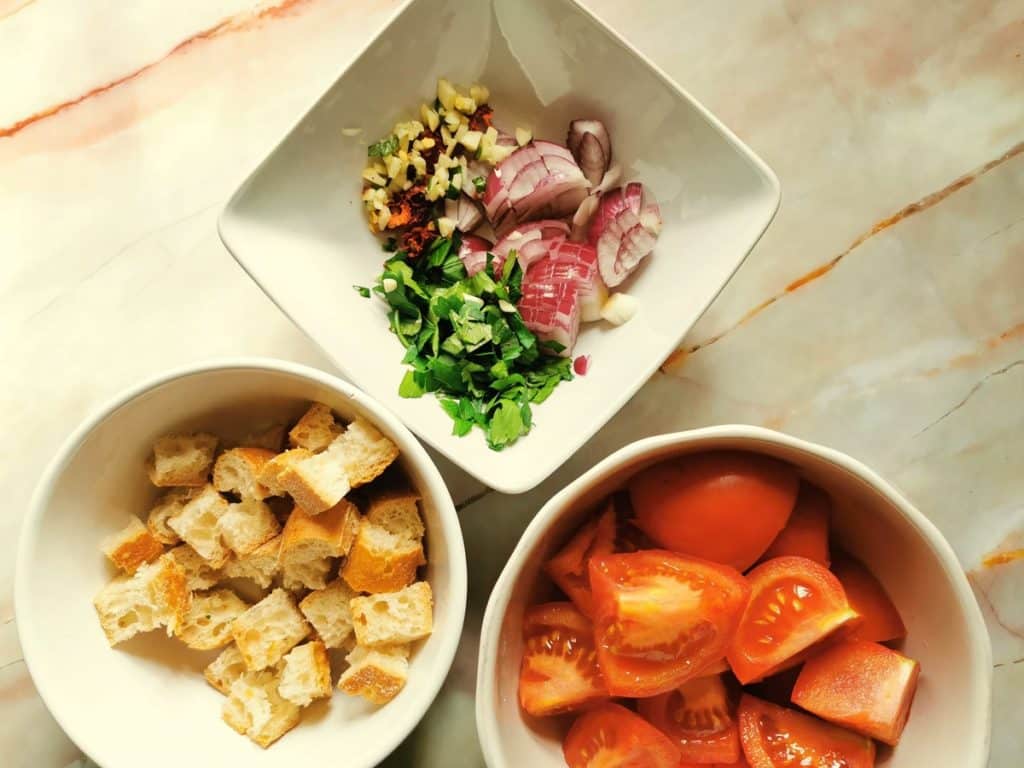 This is a part of Puglia I haven't been to except for the town of Alberobello in what is called the lower or low Murge. Alberobello is famous for its trulli houses. The Alta Murgia Park is a large, protected area that consists of mainly calcareous rocks, deposits of clay and tuff, ancient villages and fortified farms. It is considered a perfect example of a Mediterranean steppe.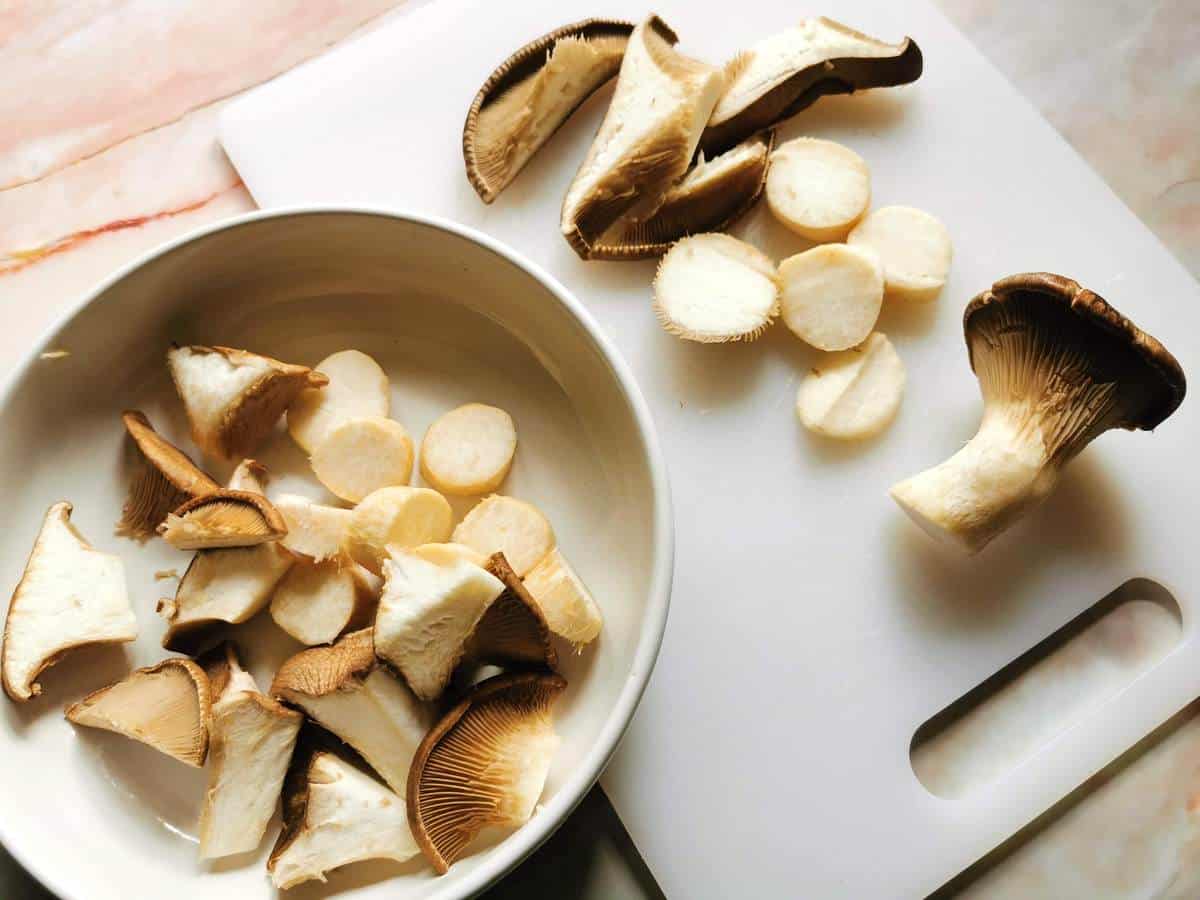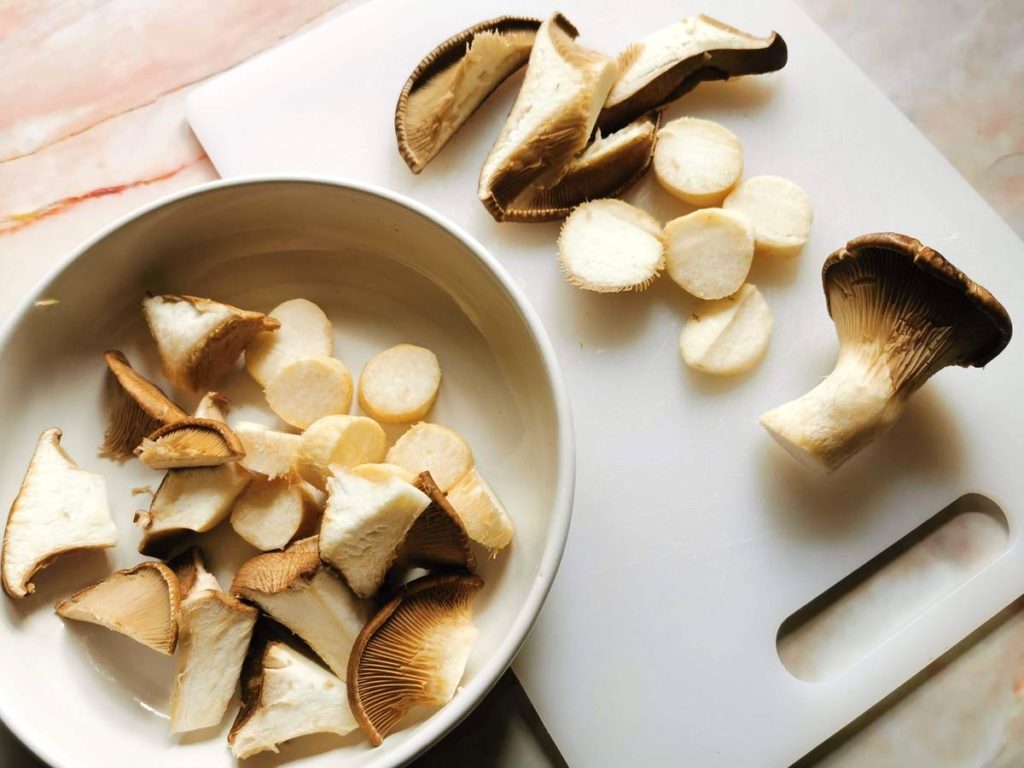 Although much of the landscape is pretty wild, La Murgia is rich in places of outstanding cultural and archaeological interest. For example, the De Lucia quarry, with thousands of dinosaur footprints dating back to about 70 million years ago. Plus, the Lamalunga cave, where there is the only complete skeleton of a man, known as the Altamura man, in existence dating back to 130,000- 100,00 years ago!!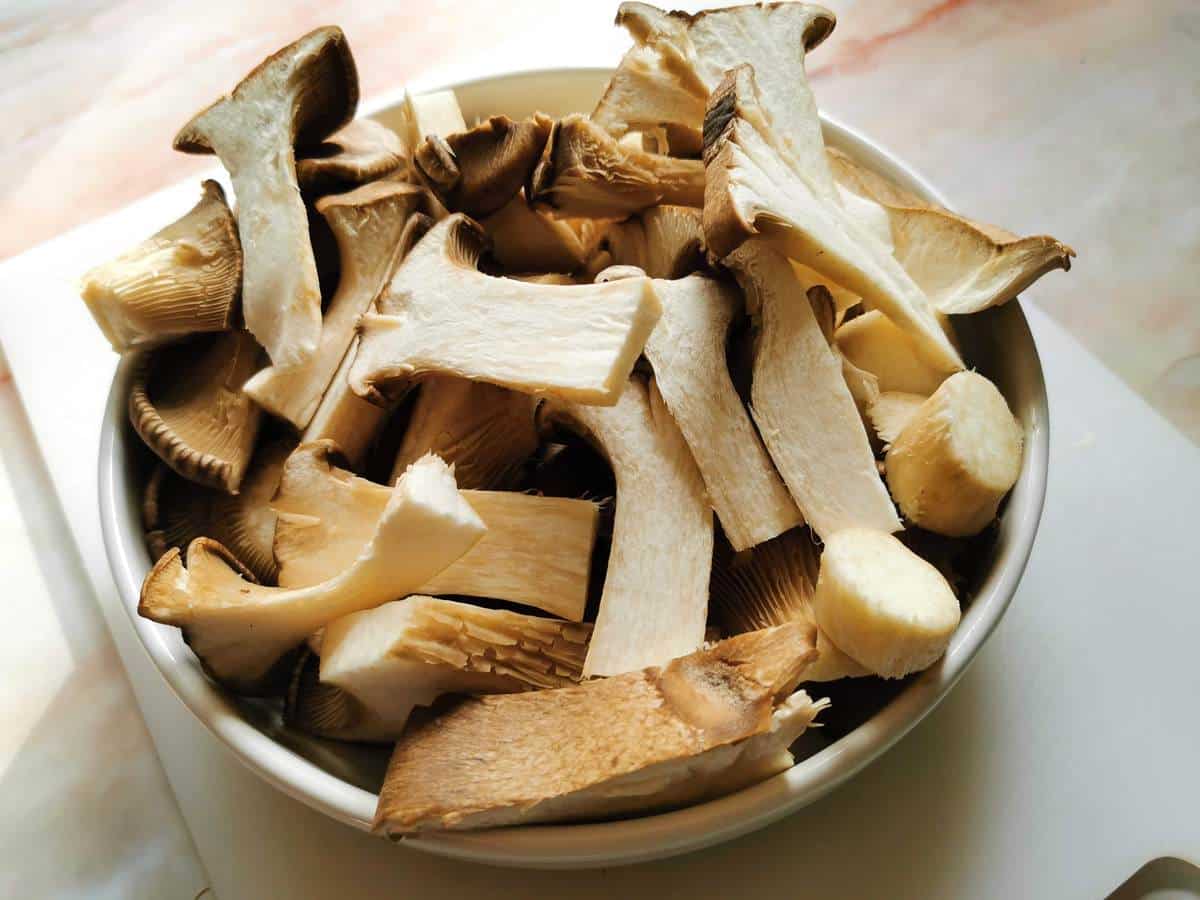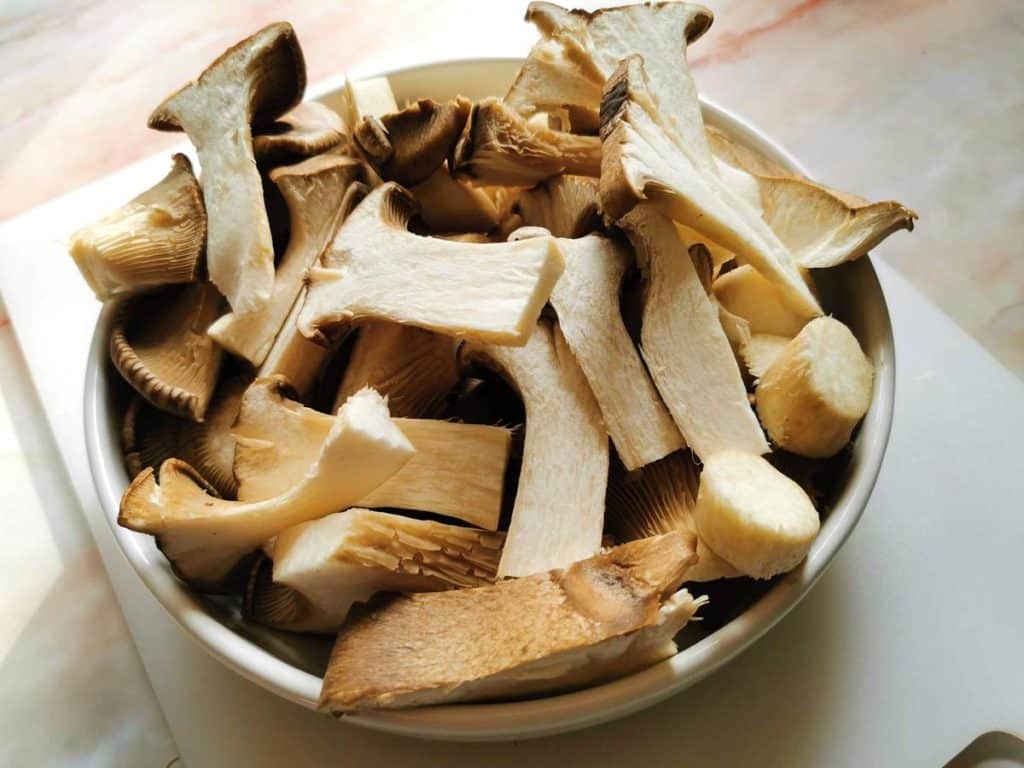 Apparently, this area is also among the Italian territories with the highest density of typical local products. Apart from man made products like olive oil, cheese, bread, pasta and wine, La Murgia is also famous for game and lots of wild herbs, legumes, edible plants and mushrooms. However, the true pride of the Alta Murgia is the king oyster mushroom. In fact, it's such a versatile and appreciated ingredient that locals use it in many many types of recipes.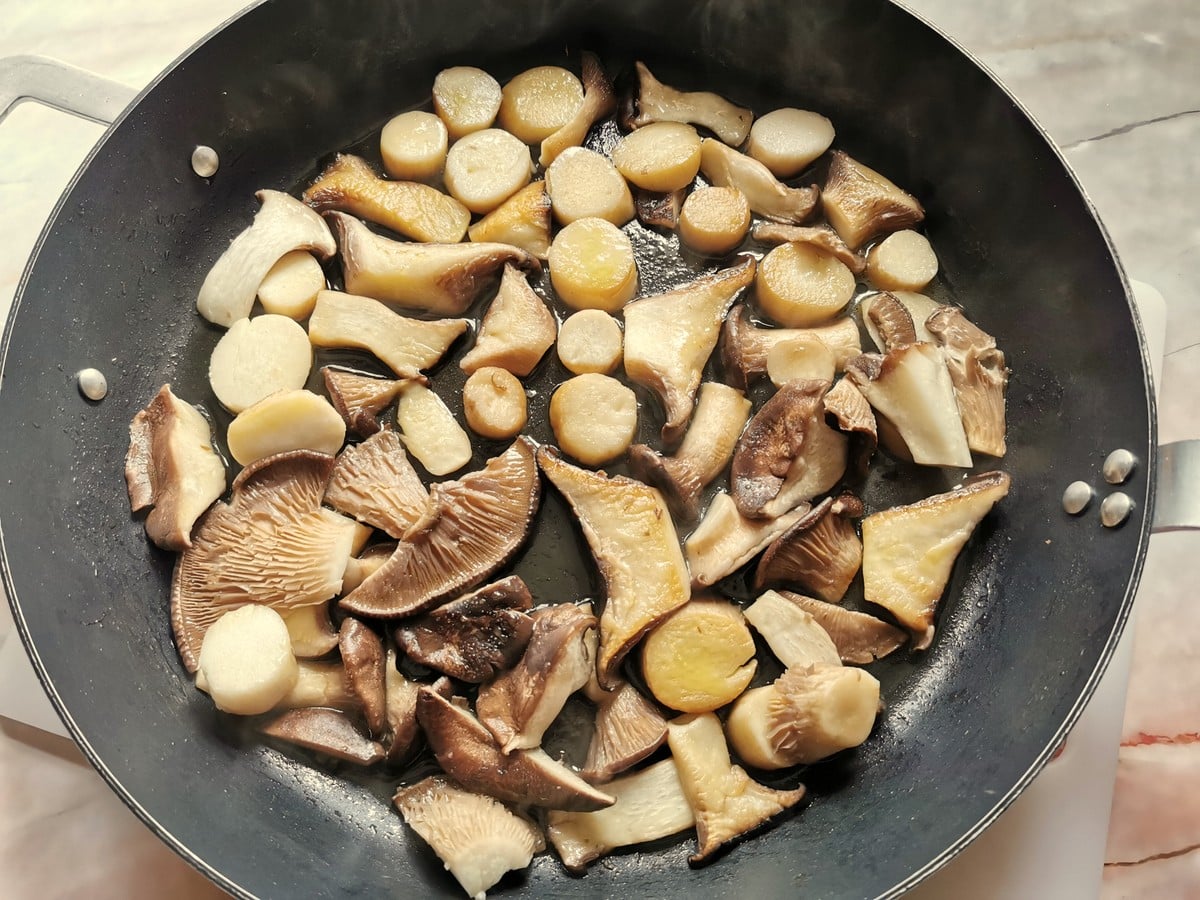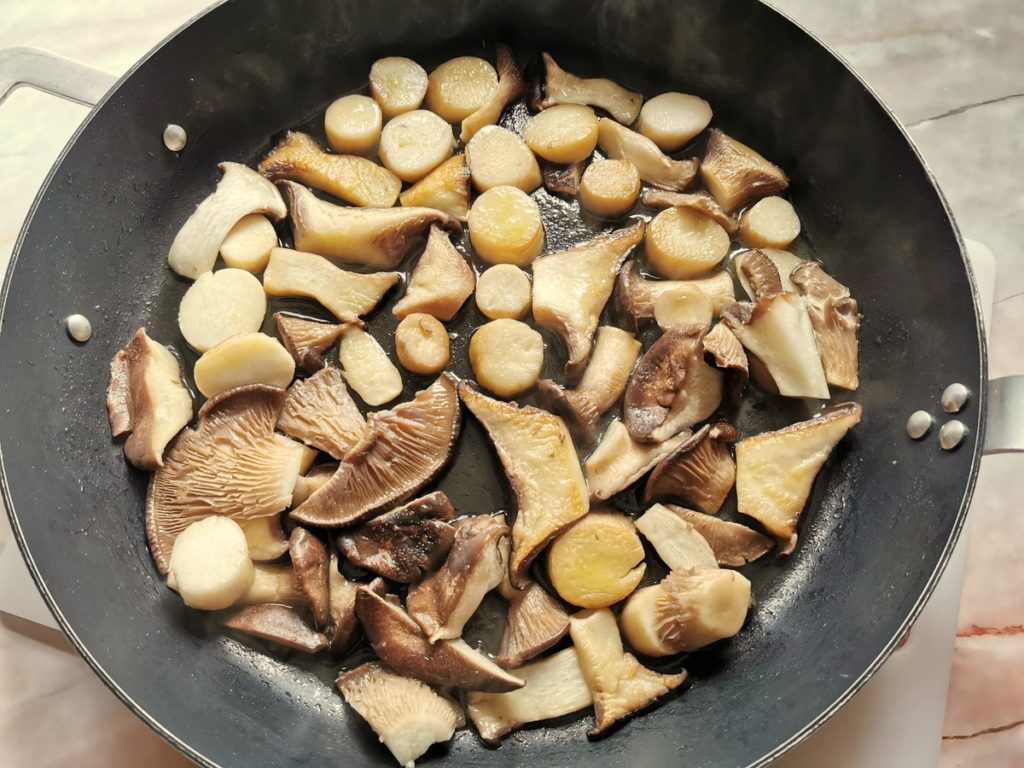 Are king oyster mushrooms healthy?
Cardoncelli mushrooms have been foraged since ancient times. Even in the Middle Ages, they were much sought after. Then, it was believed that they had aphrodisiac properties! In fact, the Catholic church added them to a list of foods capable of distracting Christians during penance!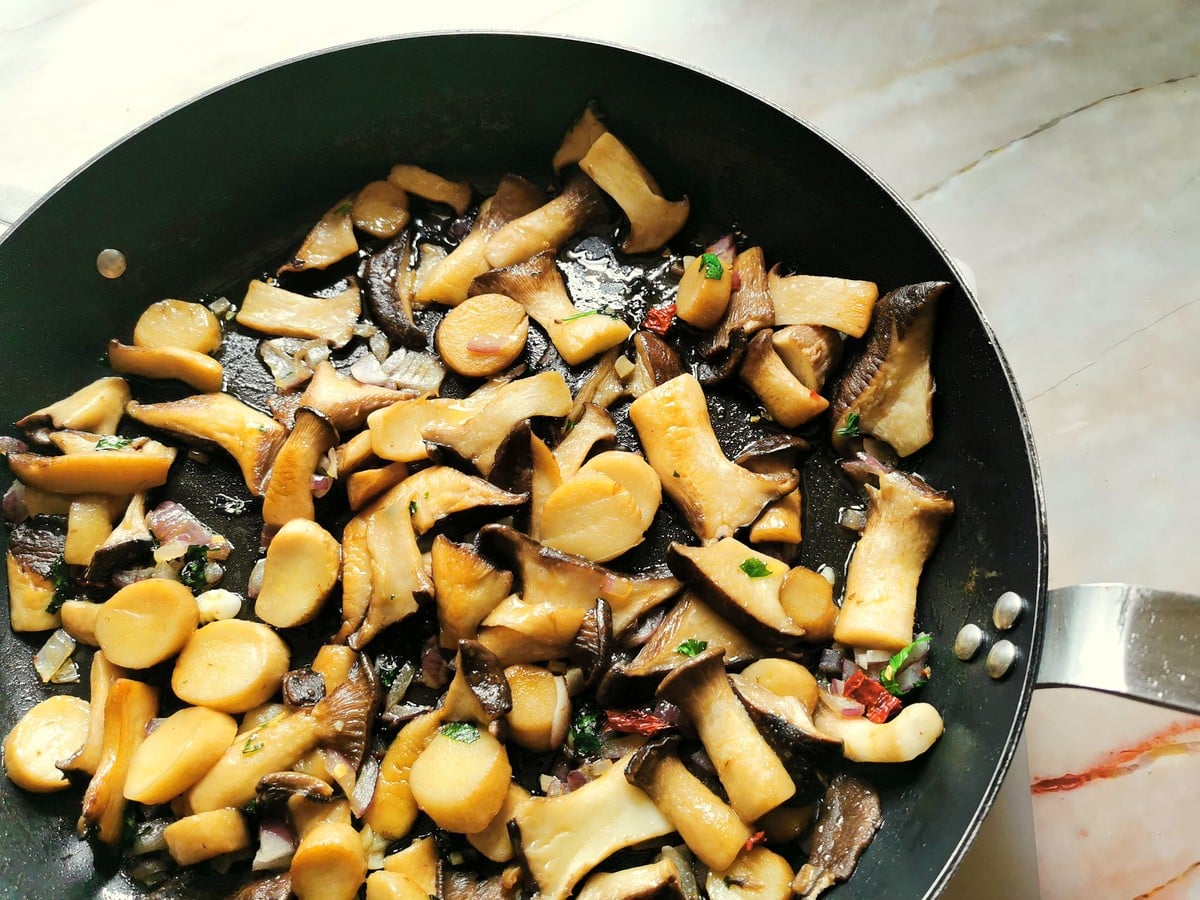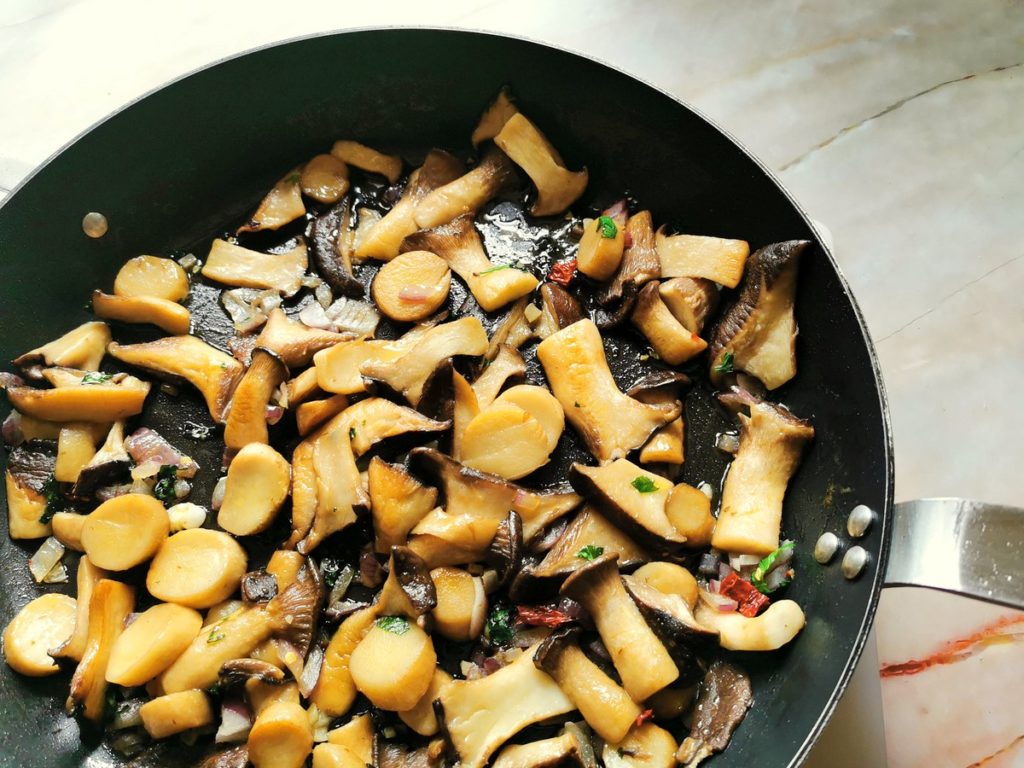 Today, king oysters aren't considered to have aphrodisiac properties! But, they are certainly excellent for protecting the cardiovascular system and strengthening the immune system. They are rich in vitamins and biotin, as well as being very low in fat. This makes them an ideal food for those on a low-fat diet (only 28 calories per 100 g).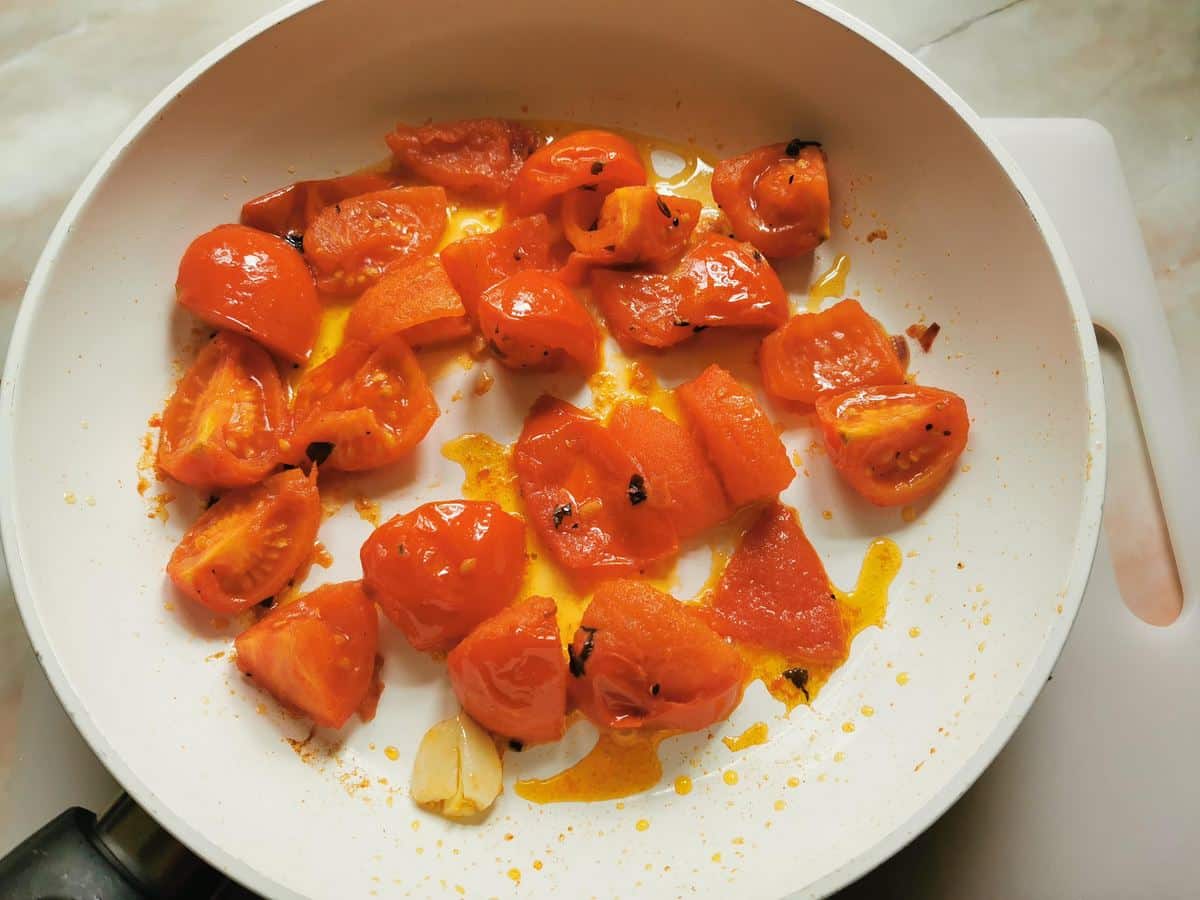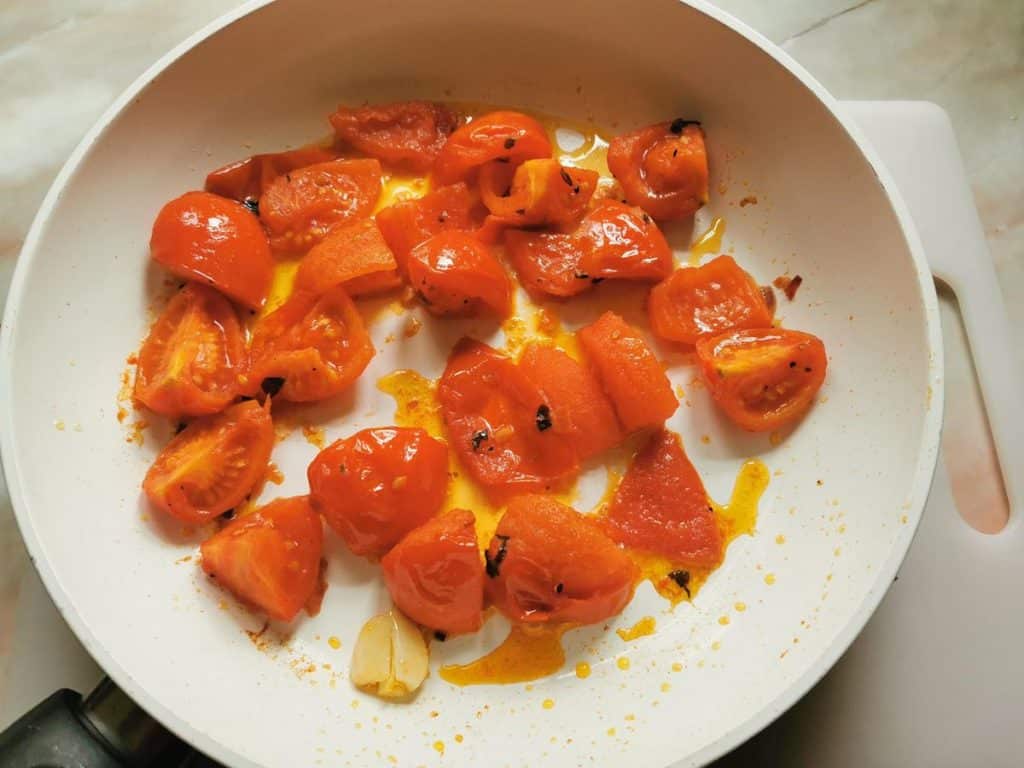 The pasta for this recipe.
I used olive leaf pasta with the king oyster mushrooms for this recipe. As I'm sure you have guessed, this pasta is shaped like olive leaves. This is a quite particular pasta typically found in the Italian regions where olive trees abound! One of these is, of course, Puglia. In fact, Puglia is the region where the most olive oil is produced in Italy!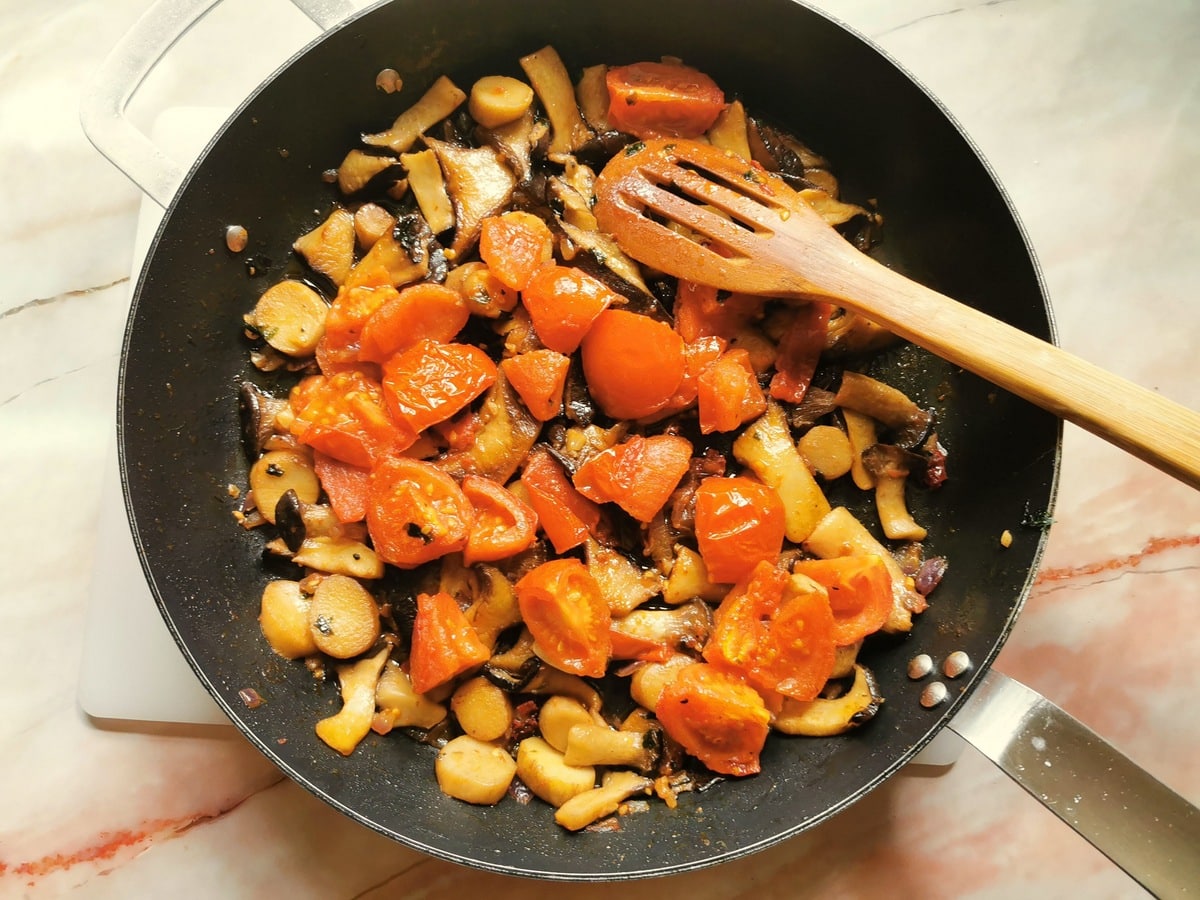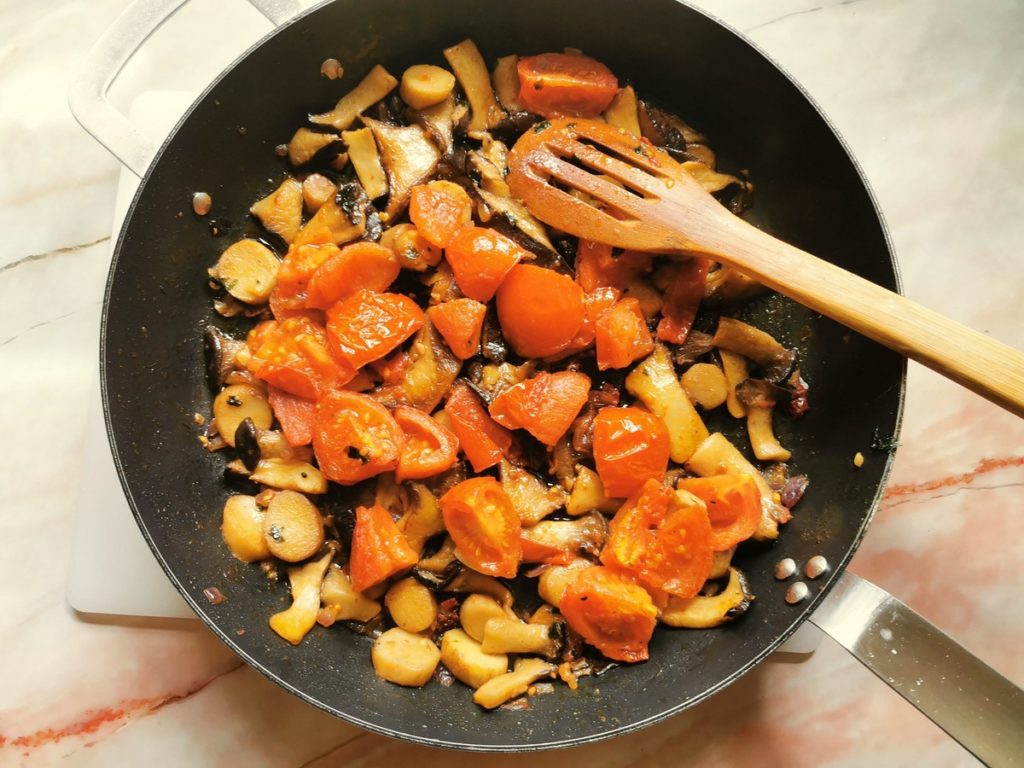 You can read more about this pasta in my olive leaf pasta post. But, in short, this is an ancient type of pasta very similar to orecchiette and cavatelli. Both of these are also traditional Apulian pasta shapes! I have made orecchiette and cavatelli by hand. But, have yet to try olive leaf pasta. So, to make this oyster mushroom pasta dish, I used dried olive leaf pasta which I bought in Calabria (another region famous for olive oil).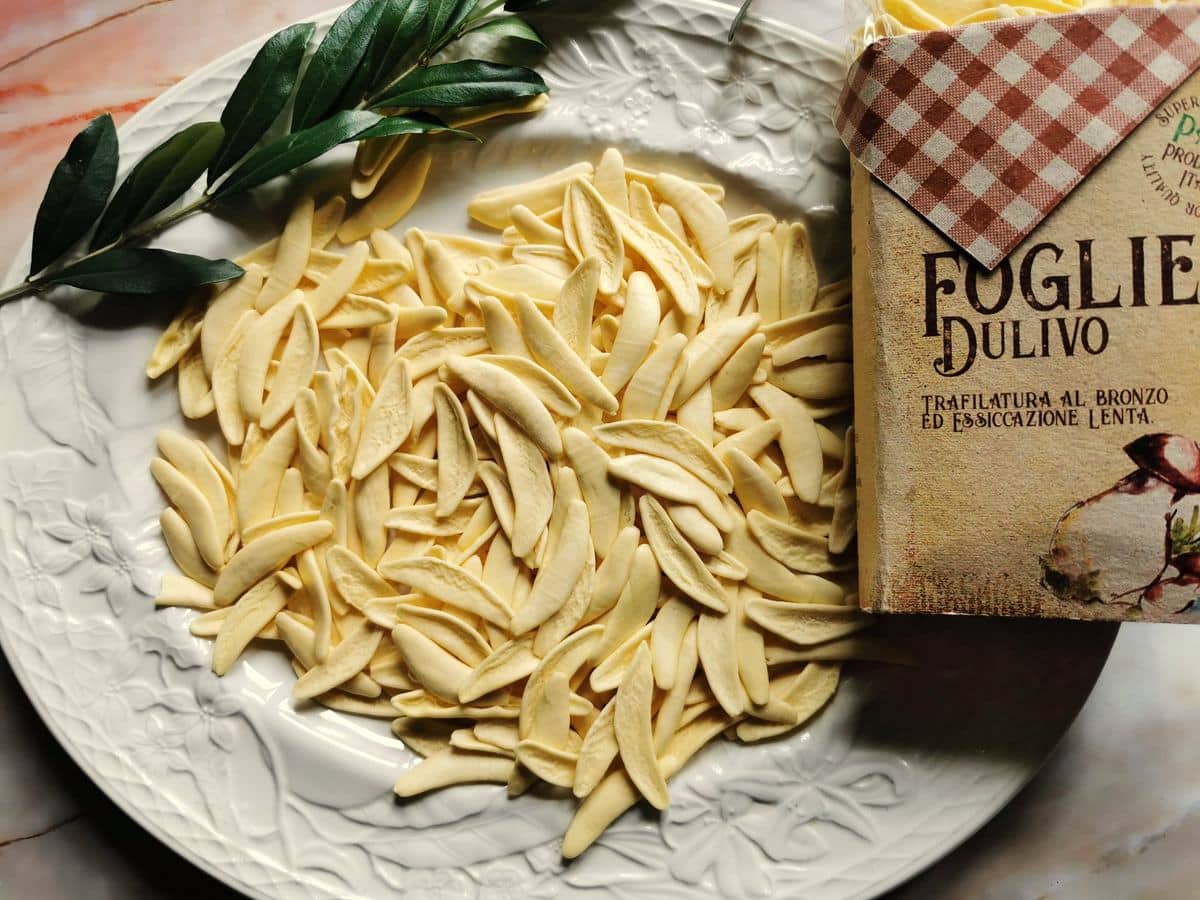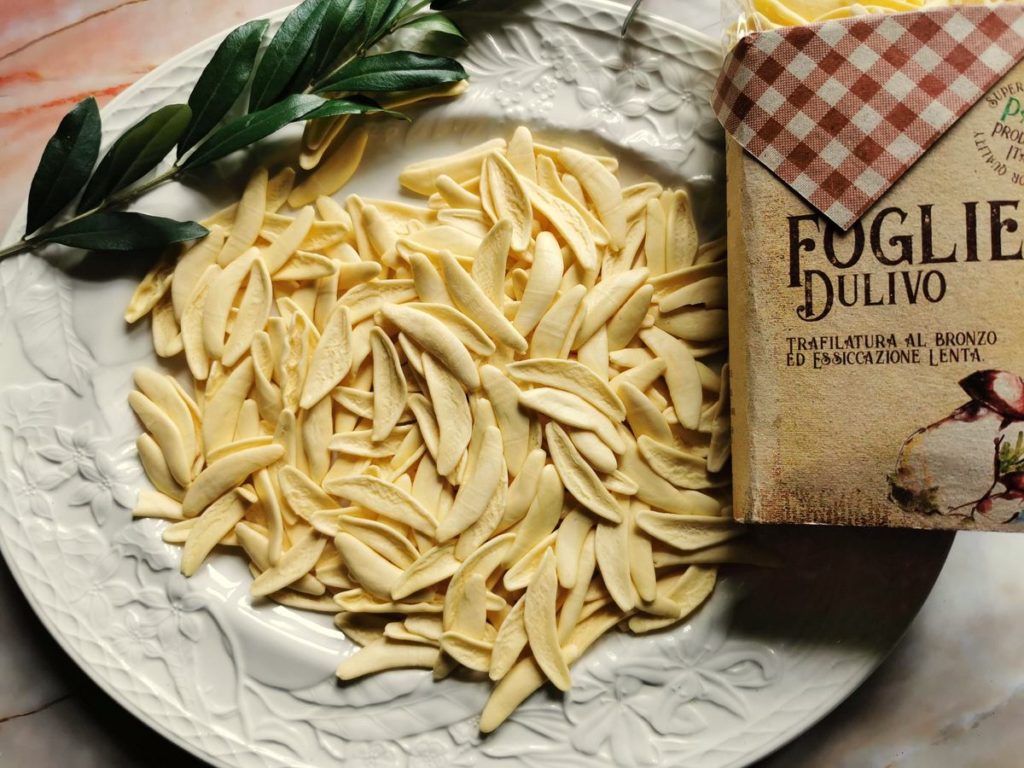 Dried olive leaf pasta is usually available either white or green, or a mix of both colours. I used a white pasta. But, if you can't find olive leaf pasta, you can use cavatelli, casarecce or orecchiette for this traditional recipe.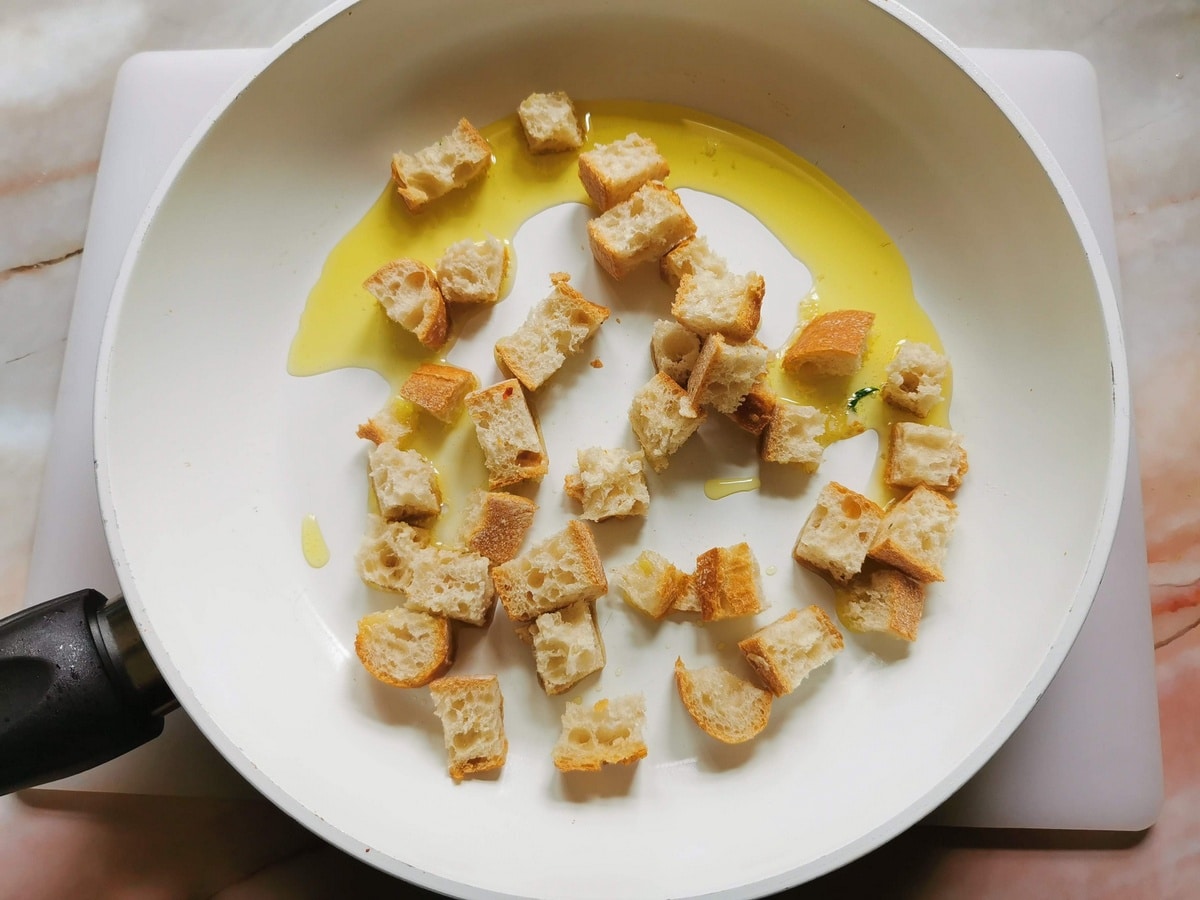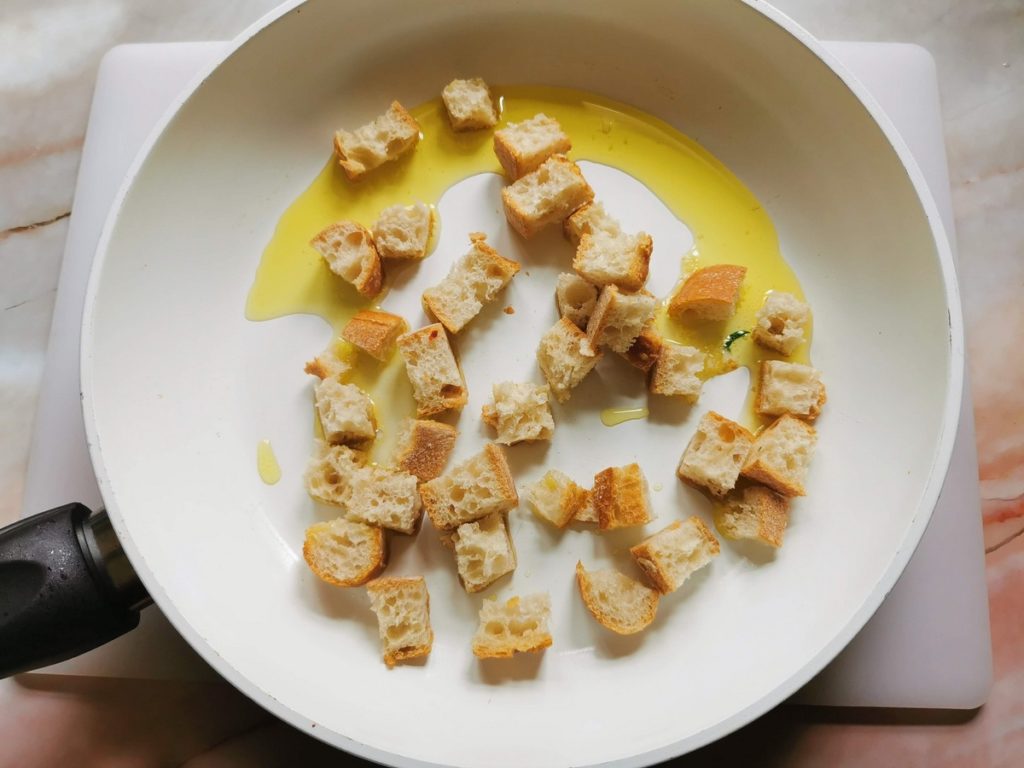 Other ingredients for this king oyster pasta recipe.
Like many traditional Italian pasta recipes, this one doesn't have a lot of ingredients and is pretty simple to make! Apart from the pasta and the mushrooms, all you need is some garlic, onions, peperoncino, tomatoes, parsley and bread croutons.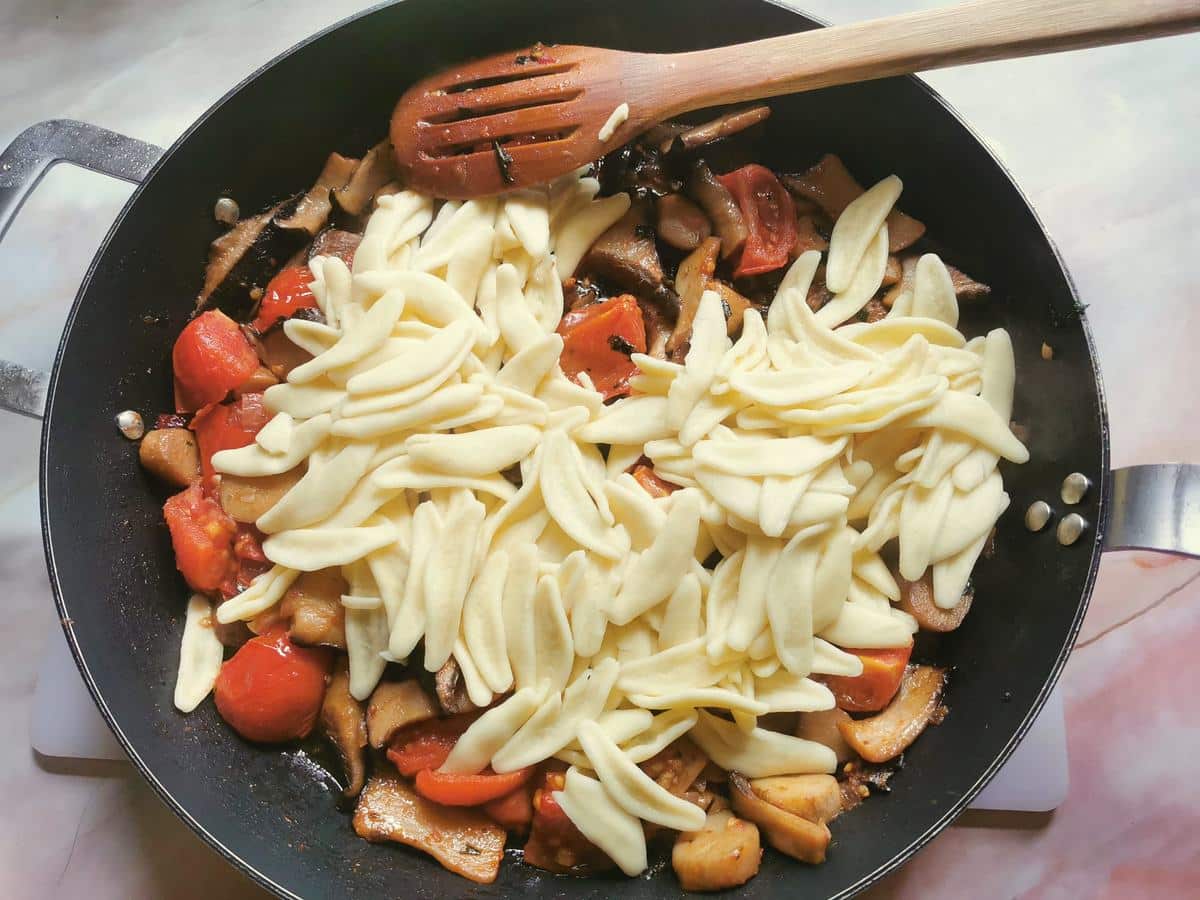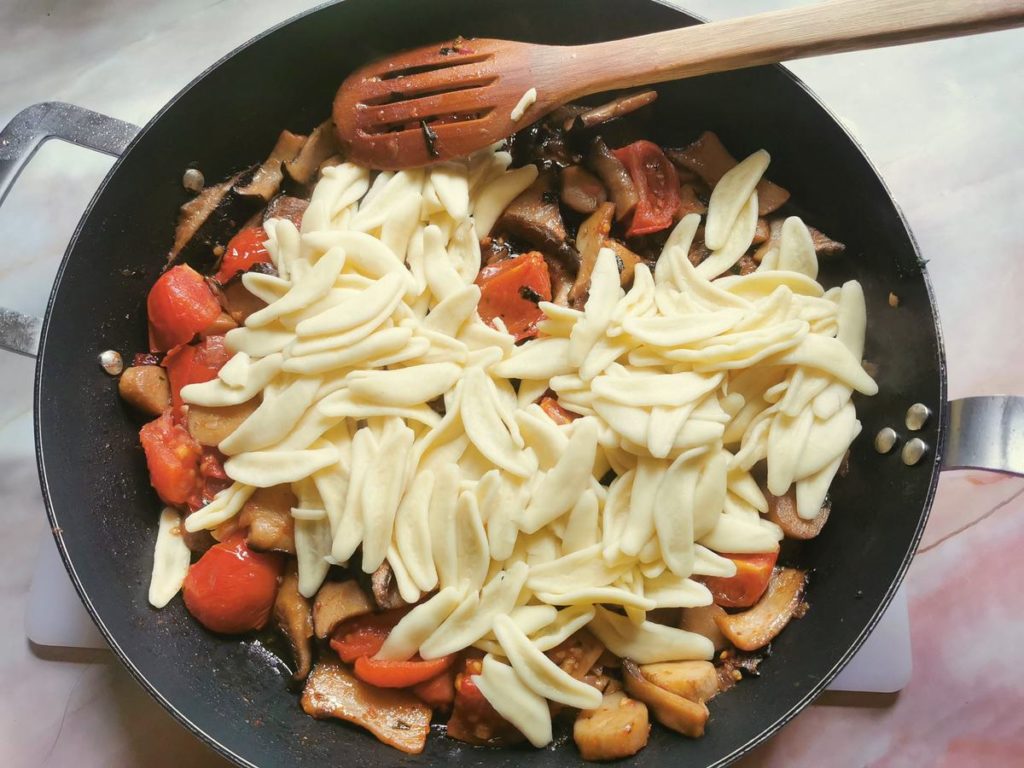 Cook mushrooms and tomatoes separately.
However, to get the best out of the ingredients you will need to cook some things in batches. I sautéed the mushrooms and tomatoes separately before putting them together with the rest of the sauce ingredients. Because king oyster mushrooms are pretty meaty, they take a little while to cook. However, they taste amazing when slightly browned!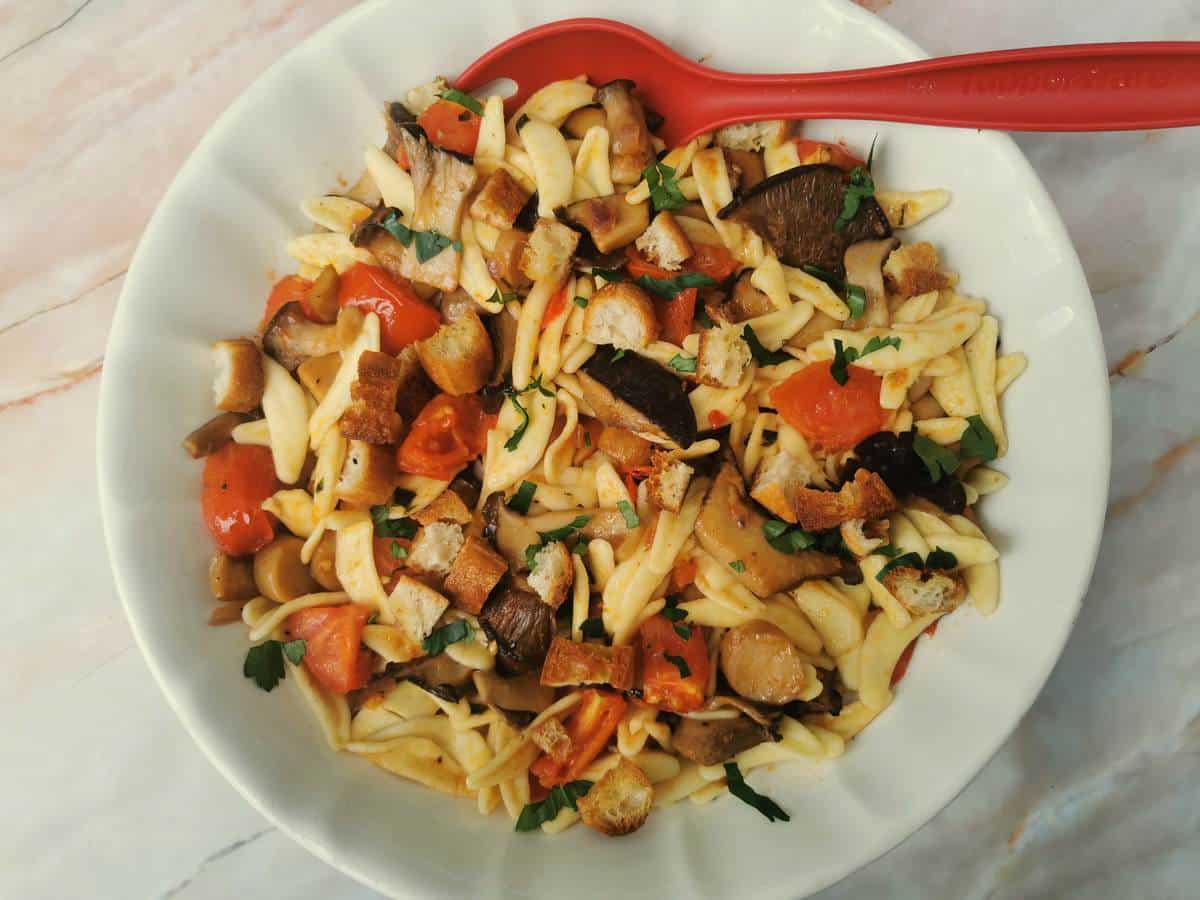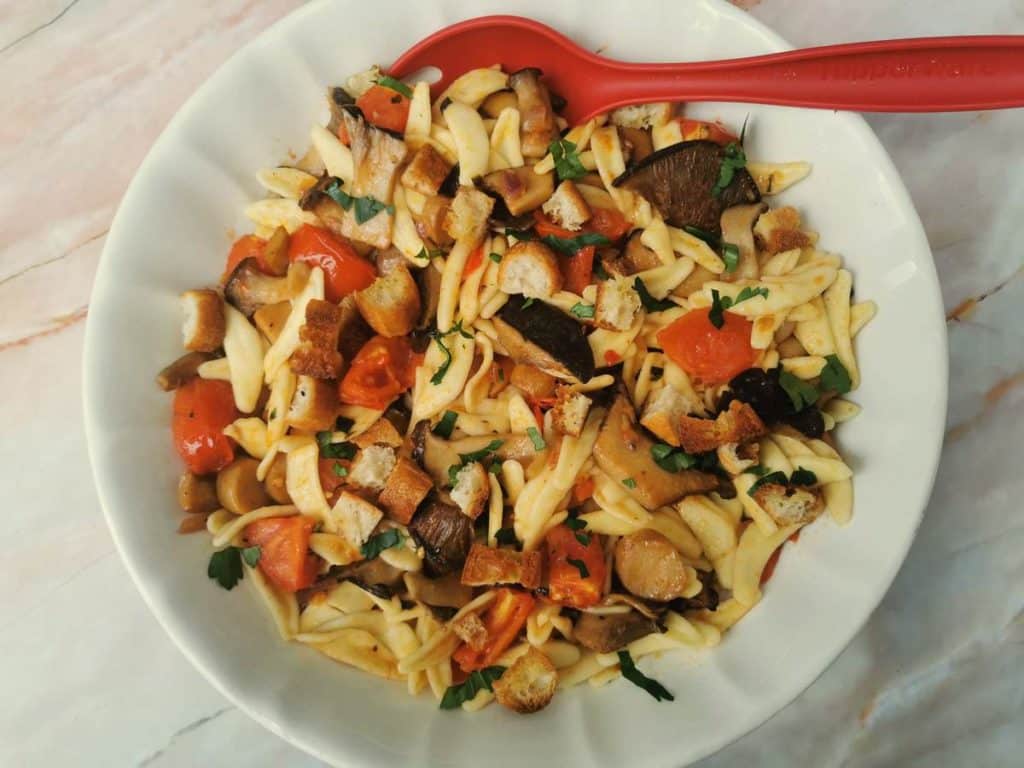 I also cut the mushrooms in different ways depending on their size. I cut the thick white stems of the bigger mushrooms into thick rounds. They actually look like scallops when cooked (They taste a bit like scallops too!). Then I sliced the larger caps and the smaller mushrooms.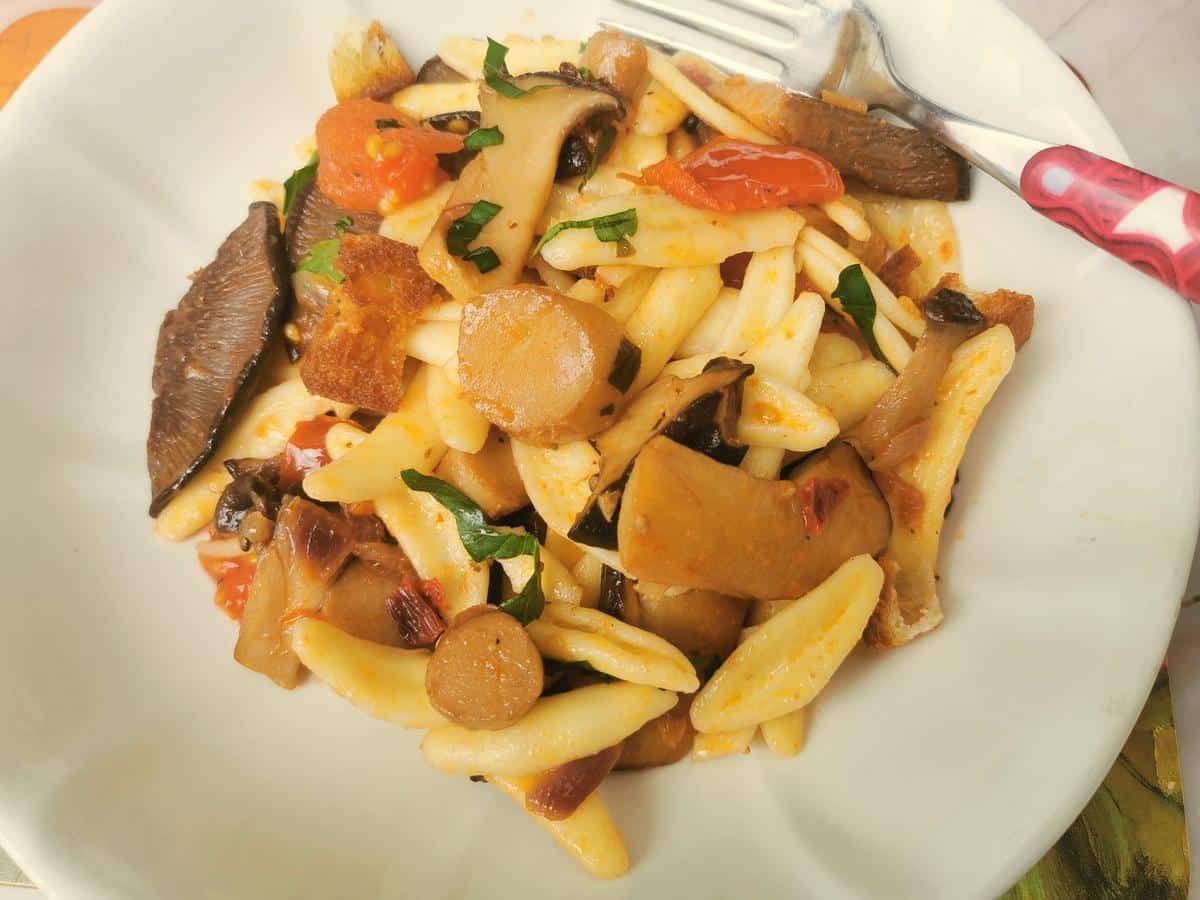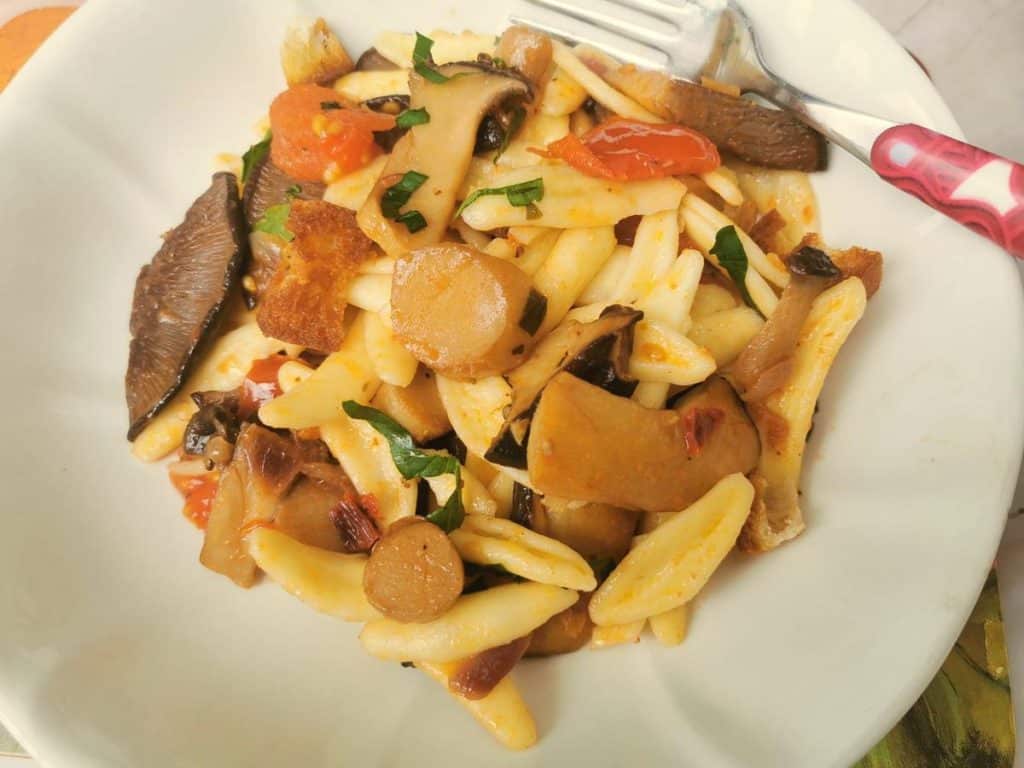 The tomatoes also need to be sautéed separately to really soften and develop a good flavour. I used largish vine tomatoes cut into cubes. Halved cherry tomatoes would be a good alternative. Once you have prepared the mushrooms and tomatoes, the rest is quite fast. In fact, the whole recipe doesn't take much more time than what you need to boil the water and cook the pasta!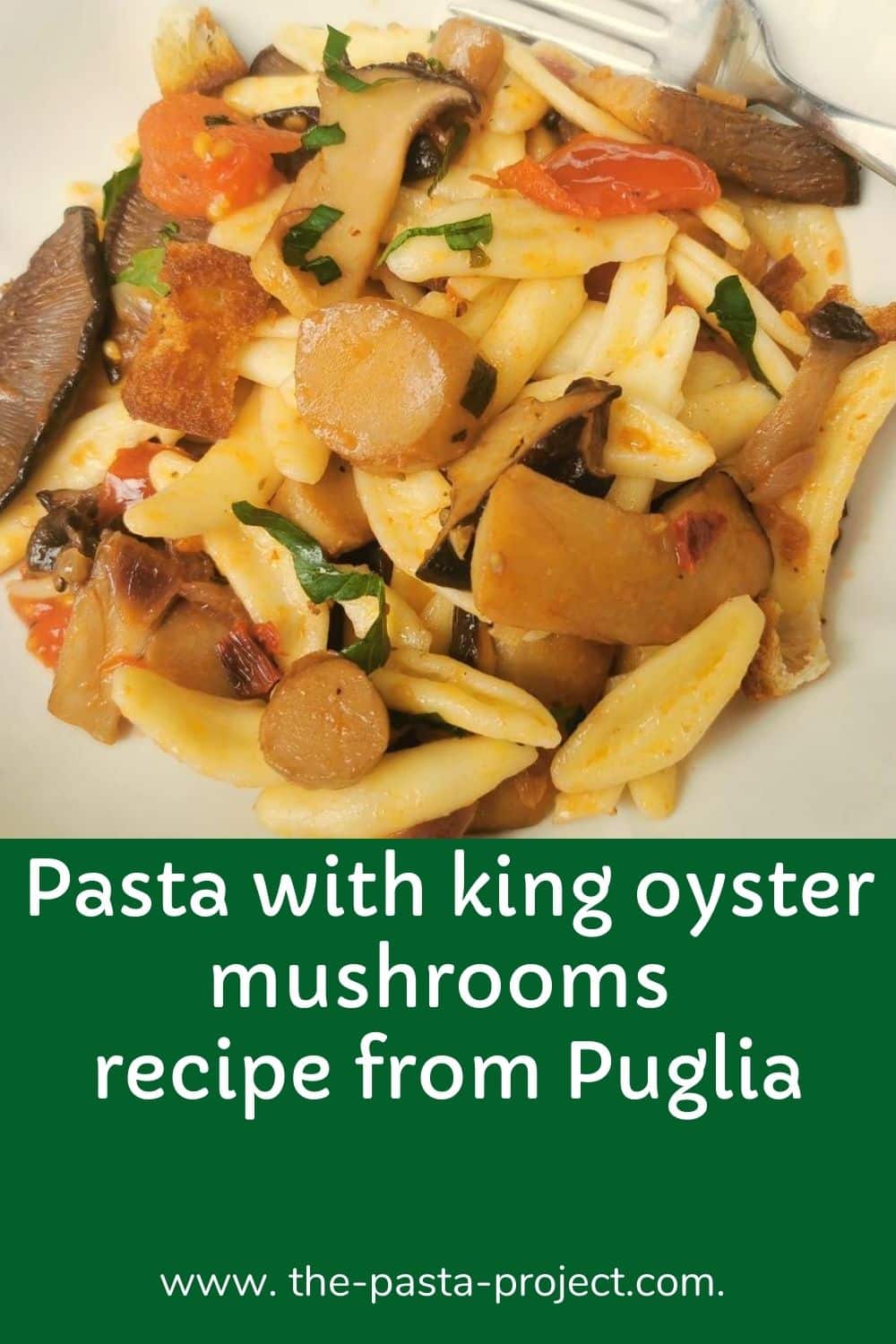 If you make this king oyster mushroom pasta, I'd love to hear how it turns out and if you liked it. Please leave a comment here on the blog or on The Pasta Project Facebook page.
Looking forward to hearing from you!
Buon Appetito!
SAVE THIS RECIPE FOR LATER?
If you want to save this recipe for later, you can print it, bookmark this page or save it to Pinterest.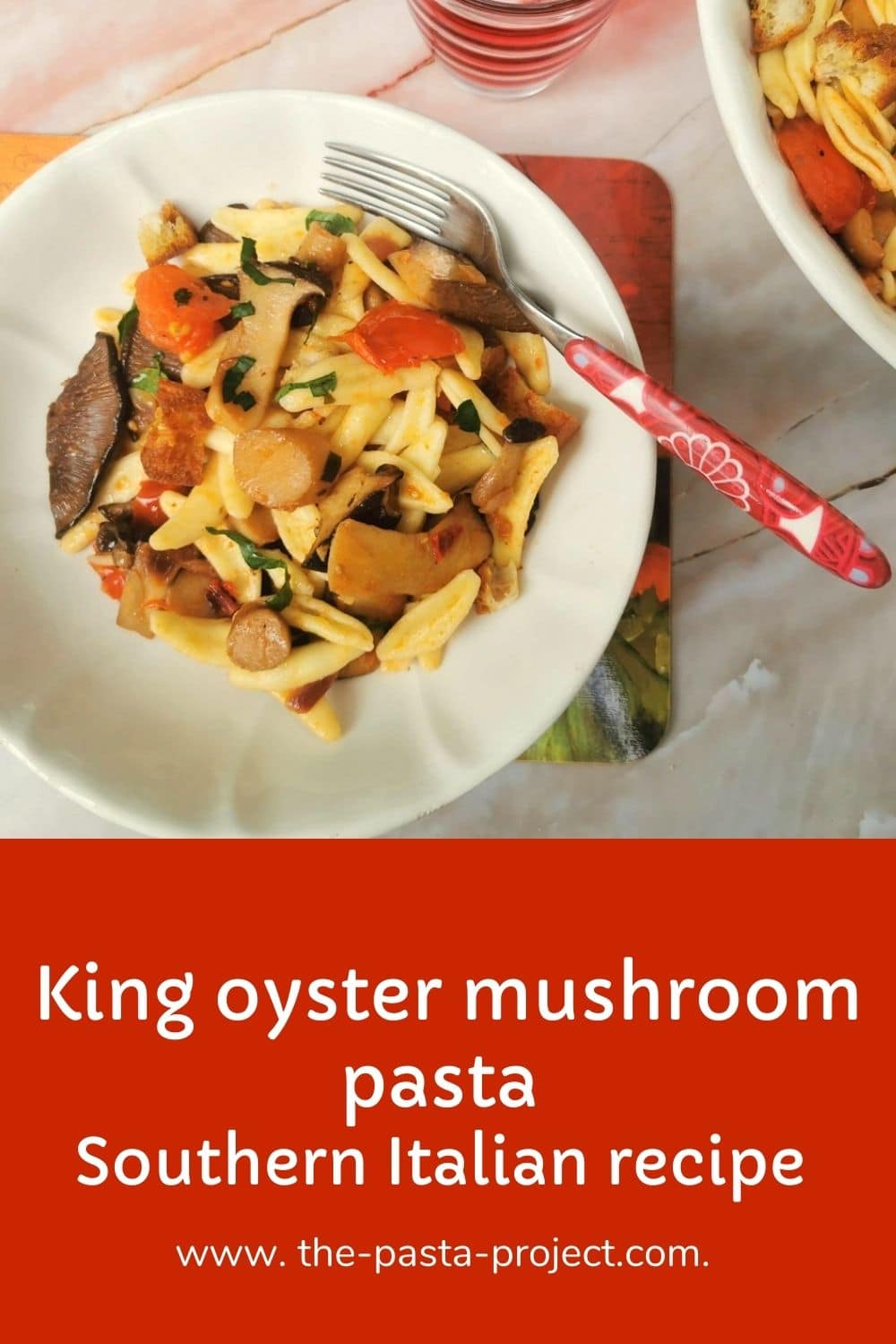 If you are interested in learning how to make homemade pasta and other types of gnocchi, check out my shop page for some great video online courses from my friends in Rome! Nothing beats learning to make pasta from Italians! Plus while you're there why not order a copy of my newly published autumn/winter pasta recipes cookbook!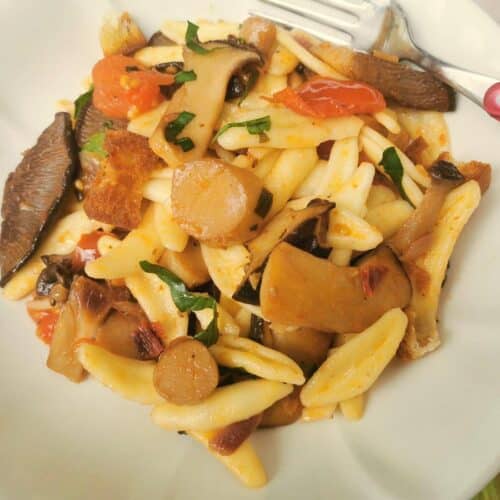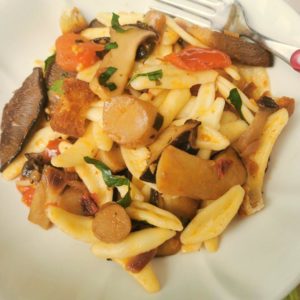 Olive Leaf Pasta with King Oyster Mushrooms Recipe from Puglia.
This traditional vegan/vegetarian mushroom pasta recipe from Southern Italy is one of the best mushroom pasta dishes ever! Easy to make and full of flavour! The star of this dish is king oyster mushrooms aka king trumpet mushrooms but you can use other kinds too! Great with orecchiette or cavatelli as well!
Ingredients
400

g

olive leaf pasta

(14oz) or orecchiette, cavatelli or other short pasta

400

g

king oyster mushrooms (cardoncelli)

(14oz) also called king trumpet mushrooms or other mushrooms

1

onion

peeled and sliced

4-5

vine tomatoes

or 8-10 cherry tomatoes

3

garlic cloves

2 peeled and finely chopped. 1 just peeled

2

slices

stale country bread

or more slices stale baguette

1/2

glass

white wine

fresh parsley

washed and chopped

1

tsp

peperoncino flakes

or 1/2 a peperoncino (red chili pepper) finely chopped. Remove seeds for less spice.

4

tbsp

extra virgin olive oil.

salt

for pasta and to taste

freshly ground black pepper.

to taste
Instructions
Prepare the ingredients
Clean the mushrooms with damp kitchen paper. I know that mushrooms aren't meant to be washed, but I usually give these a quick rinse under running water if they still have dirt on them. I then pat them dry with kitchen paper.

Cut the mushrooms. I cut the thick white stems of the bigger mushrooms into thick rounds. Then I sliced the larger caps and the smaller mushrooms. Wash and cut the tomatoes into pieces. Peel and finely chop the onion and 2 of the garlic cloves. Just peel the 3rd one. Wash and chop the fresh parsley. Cut the stalebread into small cubes. If using a whole chili cut half into very small pieces. Remove the seeds to make it less spicy.
Cook the mushrooms
Put 2 generous tablespoons of extra virgin olive oil in a skillet and add the cut mushrooms. Cook over a relatively high heat without adding salt. Adding the salt at this time will make the mushrooms lose water, making them soft and slimy. Plus, cooking over high heat helps maintain the meatiness of the mushrooms. When the mushrooms have started to brown, remove them from the pan.

Add a little more olive oil to the same pan along with the chopped onion and garlic and the parsley. Sauté until the onions start to soften. Then add back the mushrooms. Pour in the white wine and let it evaporate. Set aside while you cook the tomatoes.
Cook the tomatoes and bread croutons
Add a tbsp of olive oil and one peeled clove of garlic to another pan and let the garlic brown gently. Then, add the washed and cut tomatoes and cook over a medium to high heat. Add salt and black pepper to taste. Once the tomatoes have really softened add them with their juices to the mushrooms.

Put the bread cubes and a tbsp of olive oil in a small frying pan and let the croutons brown. You will need to turn them so they brown on both sides. I used the same pan I had cooked the tomatoes in. When the croutons are ready remove from the pan and place on a plate with kitchen paper to absorb any excess oil.
Cook the pasta
Put a pot of water on to boil for the pasta. Add salt once it starts to boil and bring to the boil again. Cook the pasta for one minute less than recommended on the packet. Save a cup of the pasta cooking water and drain the pasta. Add it to the mushroom and tomato sauce.
Finish the dish.
Mix the pasta with the sauce and cook everything together over a medium to high heat for a couple of minutes, stirring well so that the sauce is absorbed by the pasta. If the sauce seems dry add some of the saved pasta cooking water. Serve immediately with the toasted bread croutons scattered on each plate.
Other mushroom pasta recipes to try.
Want to know more about my life in Italy? Why not subscribe to my newsletter? New subscribers get a free series of recipe e-books too!