Homemade Cavatelli Pasta with Oyster Mushrooms and Sausage; recipe from Puglia.
This yummy homemade cavatelli pasta with oyster mushrooms and sausage is a traditional dish from Puglia in Southern Italy. There, they use cardoncelli aka king oyster mushrooms, but you can use other types of mushrooms too.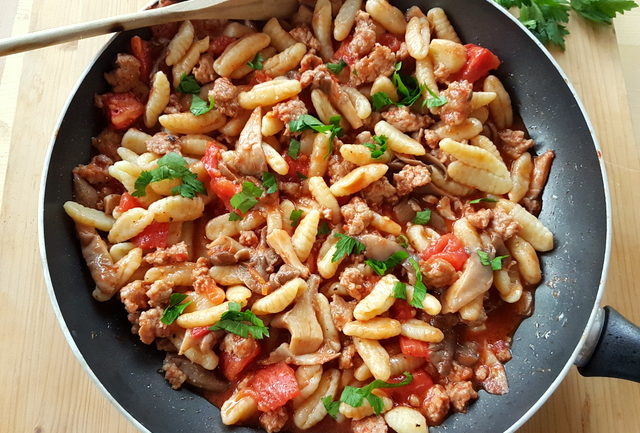 Since starting this blog, I have become rather addicted to pasta sauces with sausage meat. Previously, I had never used sausage meat myself in pasta dishes. What a lot of pastaliciousness I was missing!!! There are many different sausage pasta sauces throughout Italy. Among those also here on the Pasta Project are gramigna with sausage ragu, a traditional recipe from Emilia-Romagna, and pasta alla Norcina, from Umbria.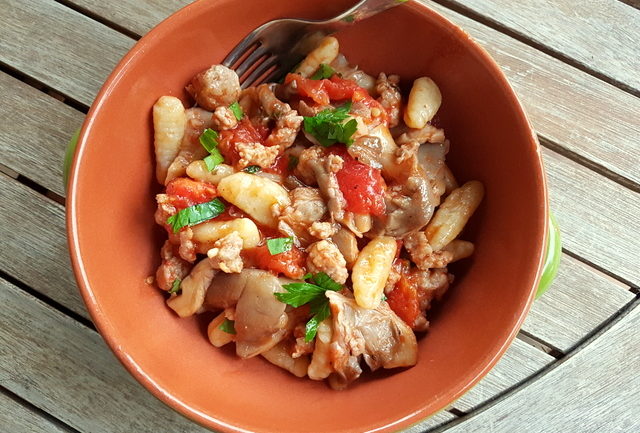 Another favourite sausage pasta recipe of mine is tagliolini alla Langerola, from Piemonte! And, I also love bigoli pasta with luganega sausage from here in Veneto where I live. Each of these recipes has a particular taste as a result of the type of sausage used (normally different kinds of local pork sausage), as well as the other ingredients and the type of pasta used.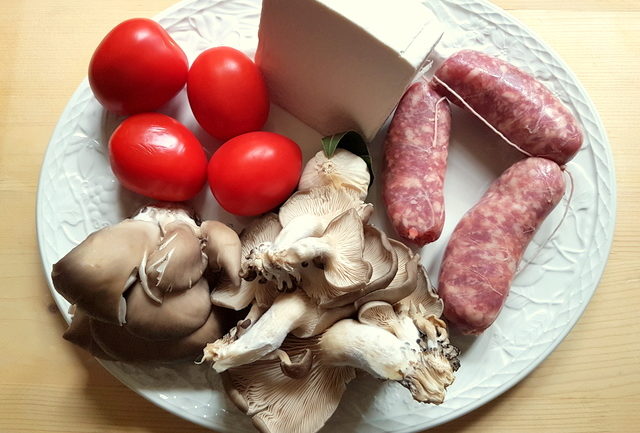 This homemade cavatelli with oyster mushrooms and sausage is as delicious as any of the other sausage pasta recipes I have mentioned and a bit special coz I served it with homemade cavatelli pasta. But, of course you can used dried cavatelli instead!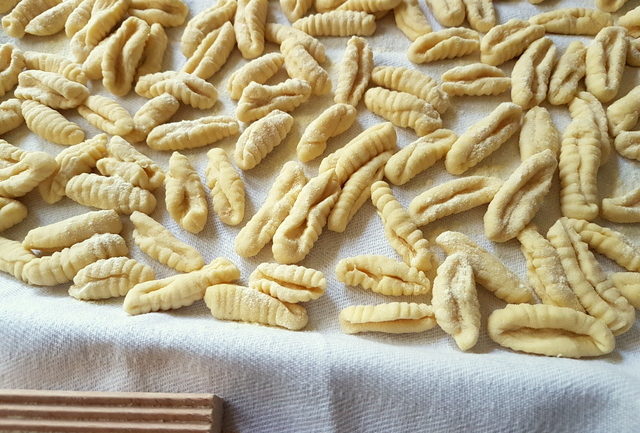 The pasta.
If you have seen my post about cavatelli you will have read that this is probably the most popular type of homemade pasta in Southern Italy. I have long wanted to try my hand at making it myself. Having seen cavatelli made in Sicily and on various videos, I decided that this is a pasta most people can manage to make, including me! In fact, I was very happy with how my homemade pasta turned out for this homemade cavatelli with oyster mushrooms and sausage recipe. I made ridged cavatelli (cavatelli rigate) using an gnocchi board but you can also make smooth ones with this recipe.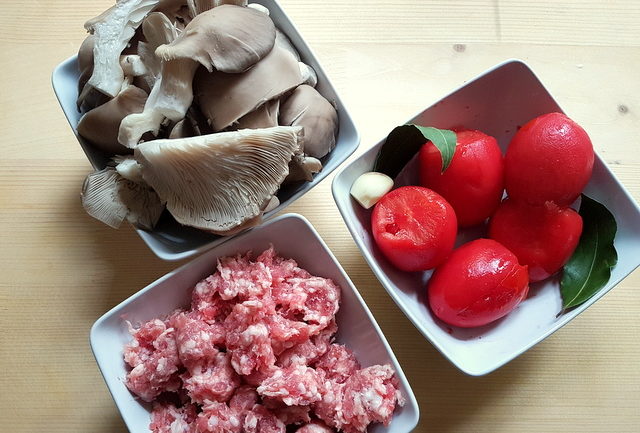 The dough.
The dough for homemade cavatelli is simple; no eggs, just durum wheat semolina flour, tepid water and salt. Some people also add olive oil, but I didn't. Others use two types of flour; '00' durum wheat flour together with the semolina flour I mentioned before. Italians call this flour 'semola di grana dura rimacinata'. This means that it has been milled twice to make it finer. What Italians call semola is not the same as what people call semolina in English speaking countries. Although both are made from durum wheat, semolina is coarser, more like corn meal. Semola is finer. Semola is more popular in Southern Italy because most homemade pasta is eggless. It is also the flour used in making most types of commercial and artisan dried pasta.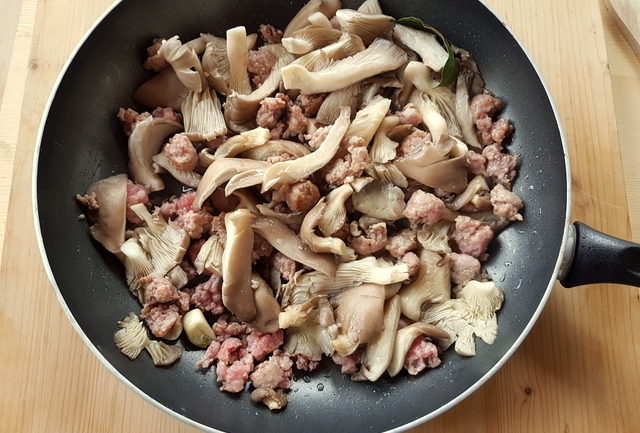 The mushrooms.
The mushrooms typically used in this homemade cavatelli pasta with oyster mushrooms and sausage recipe are known as cardoncelli in Puglia. Cardoncelli (Pleurotus eryngii) are the largest of the oyster mushroom genus. In fact, they are also called king oyster mushrooms. They aren't usually eaten raw because they don't have much flavour. But, they have been popular in Italy since the times of Ancient Rome. These highly prized mushrooms look similar to other oyster mushrooms, but are darker, meatier and richer in flavour when cooked.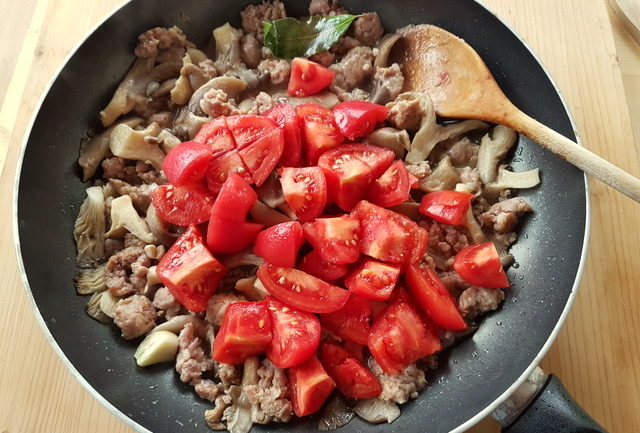 I used other oyster mushrooms for this recipe, as I couldn't find cardoncelli. However, the sauce was very flavourful even though these oyster mushrooms had a milder taste than cardoncelli. You could also use shiitake or even porcini or a mix of different mushrooms. But, porcini will change the taste of the sauce because they have such a strong flavour.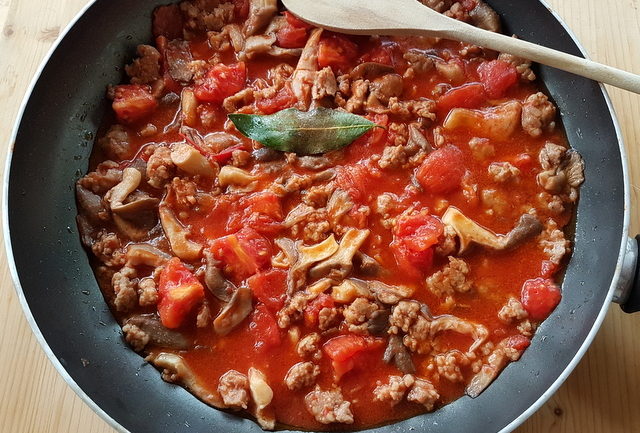 Other ingredients in this homemade cavatelli with oyster mushrooms and sausage recipe.
Apart from the ingredients to make the pasta and the mushrooms, I used fresh Italian pork sausages, sauce tomatoes, garlic, white wine, bay leaves and sheep's ricotta. In Puglia, the most common ricotta for this recipe is ricotta marzotica.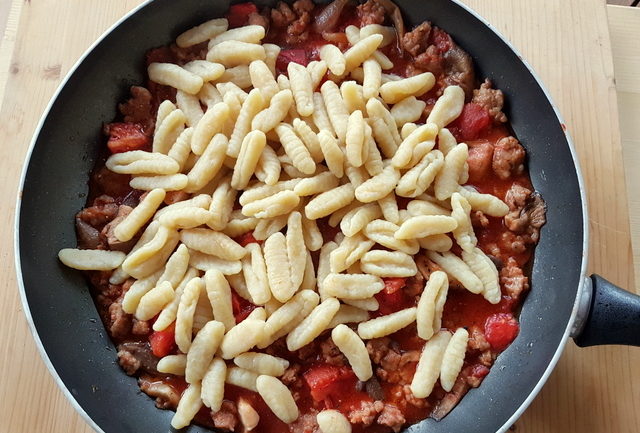 The cheese.
This is a type of salted ricotta usually made from sheep's milk. The name ricotta marzotica comes from the period of the year they make this cheese, around March-April ('marzo' means March in Italian). However, since it's a ripened cheese you can usually buy it all year round (at least in Puglia!). I didn't use marzotica ricotta but another sheep's ricotta that's similar. If you can't find marzotica ricotta you can also use Sicilian ricotta salata (salted ricotta) or even feta! Pecorino Romano or Greek mizithra can also substitute salted ricotta.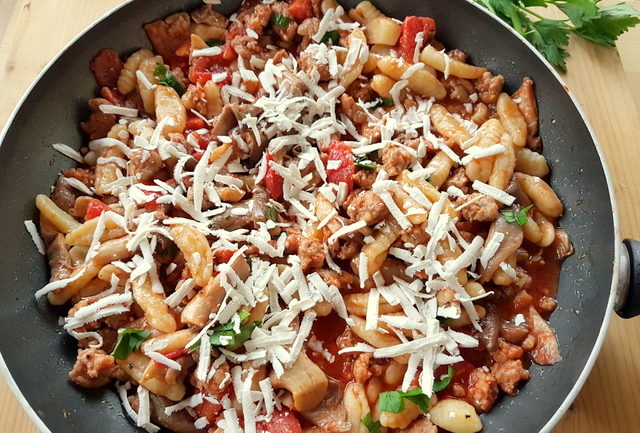 A perfect autumn/winter dish.
Homemade cavatelli with oyster mushrooms and sausage is a perfect comforting autumn/winter dish with a rich flavour. The sauce comes together pretty quickly and doesn't take long to cook. Of course, if you use homemade cavatelli, preparation times will be longer. But, making your own pasta is such a satisfying things to do! However, if you don't feel up to trying your hand at homemade cavatelli, use the dried version or orecchiette. Orecchiette are also often served with this recipe in Puglia!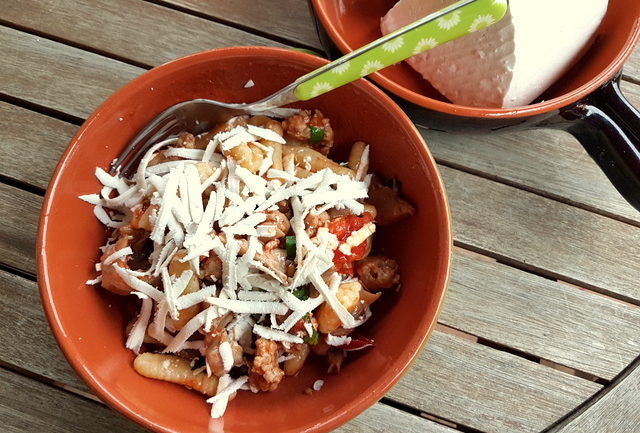 If you make this homemade cavatelli pasta with oyster mushrooms and sausage recipe, I'd love to hear how it turns out and if you liked it. So, please leave a comment here on the blog or on The Pasta Project Facebook page.
Buon appetito!
Want to save this recipe for later?
You can bookmark this page, print this recipe or pin it for later.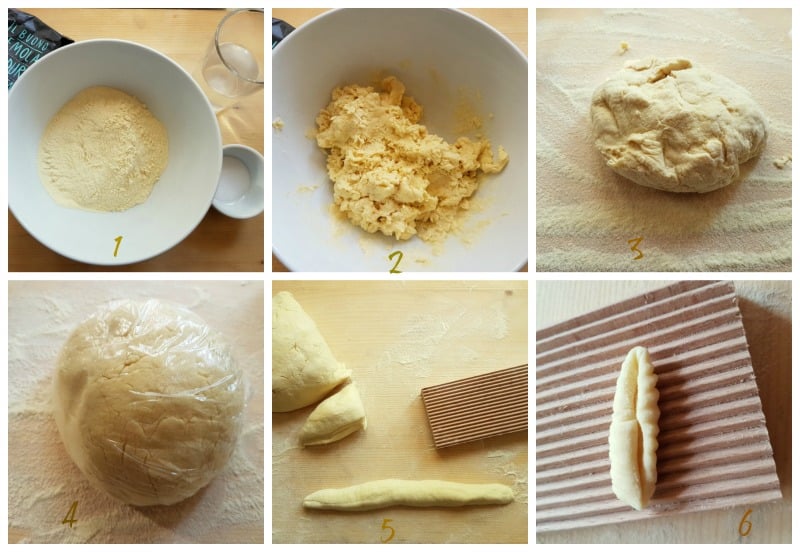 See the video from Pasta Grannies below to see ridged cavatelli being made in Puglia.
Pin for later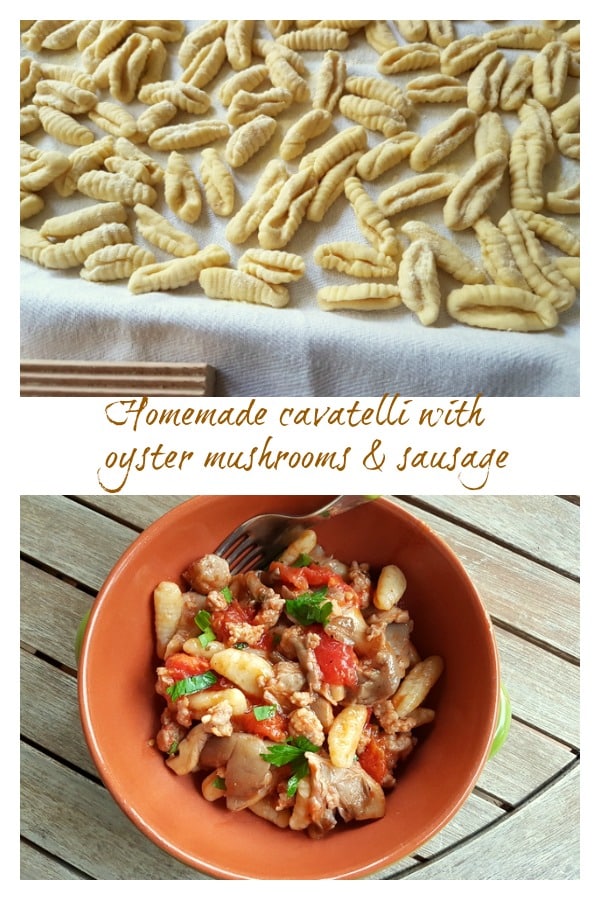 Watch this video from Pasta Grannies to see ridged cavatelli being made in Puglia Here, they use one finger. I used 2 to make bigger cavatelli.