This gramigna pasta recipe from Bologna is among the easiest sausage pasta dishes to prepare! With just three primary ingredients, it makes a delicious, hearty meal that is particularly popular with children in Italy.
Despite not being as well-known as other classic pasta dishes from Bologna, gramigna with sausage is a common and popular menu item in Bologna's homes, restaurants and trattorias. The simplest and most traditional version of this sauce only has three ingredients: sausage, tomatoes, and onion.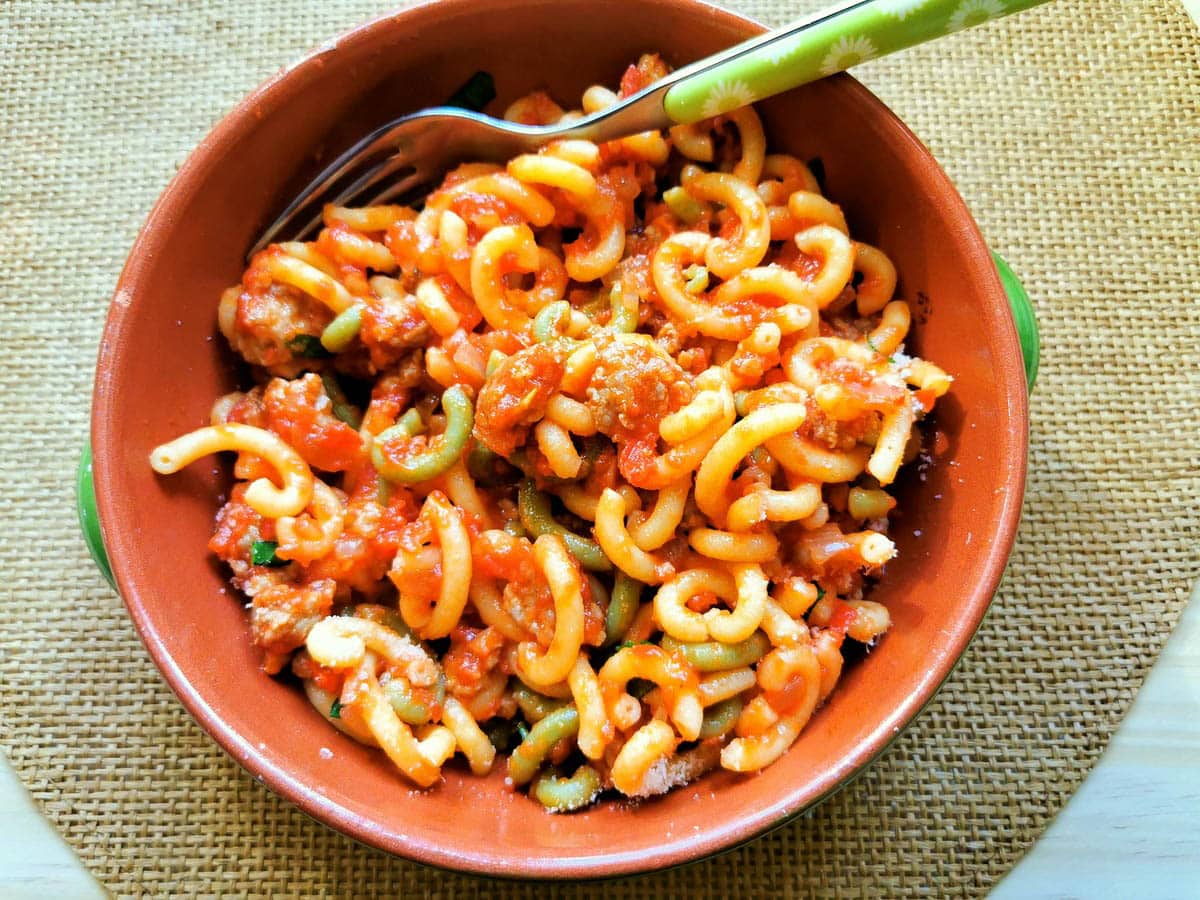 Having made this recipe a number of times, I can safely say that it is absolutely delicious despite its simplicity. In fact, it's hard to think of another pasta dish which is not only so simple but at the same time hearty and filling, whilst being so easy to make.
The use of sausage meat instead of ground beef certainly adds depth of flavour. I'm sure that once you've tried it, it will be a regular addition to your family menu repertoire!
What is Gramigna?
Gramigna is short squiggly hollow tubes of pasta, originally handmade but now mostly made with an extruder.
This pasta used to be only eaten as a fresh pasta but, nowadays, it is also available dried, although production is mostly artisan and gramigna is not so easy to find in shops or supermarkets outside of Italy.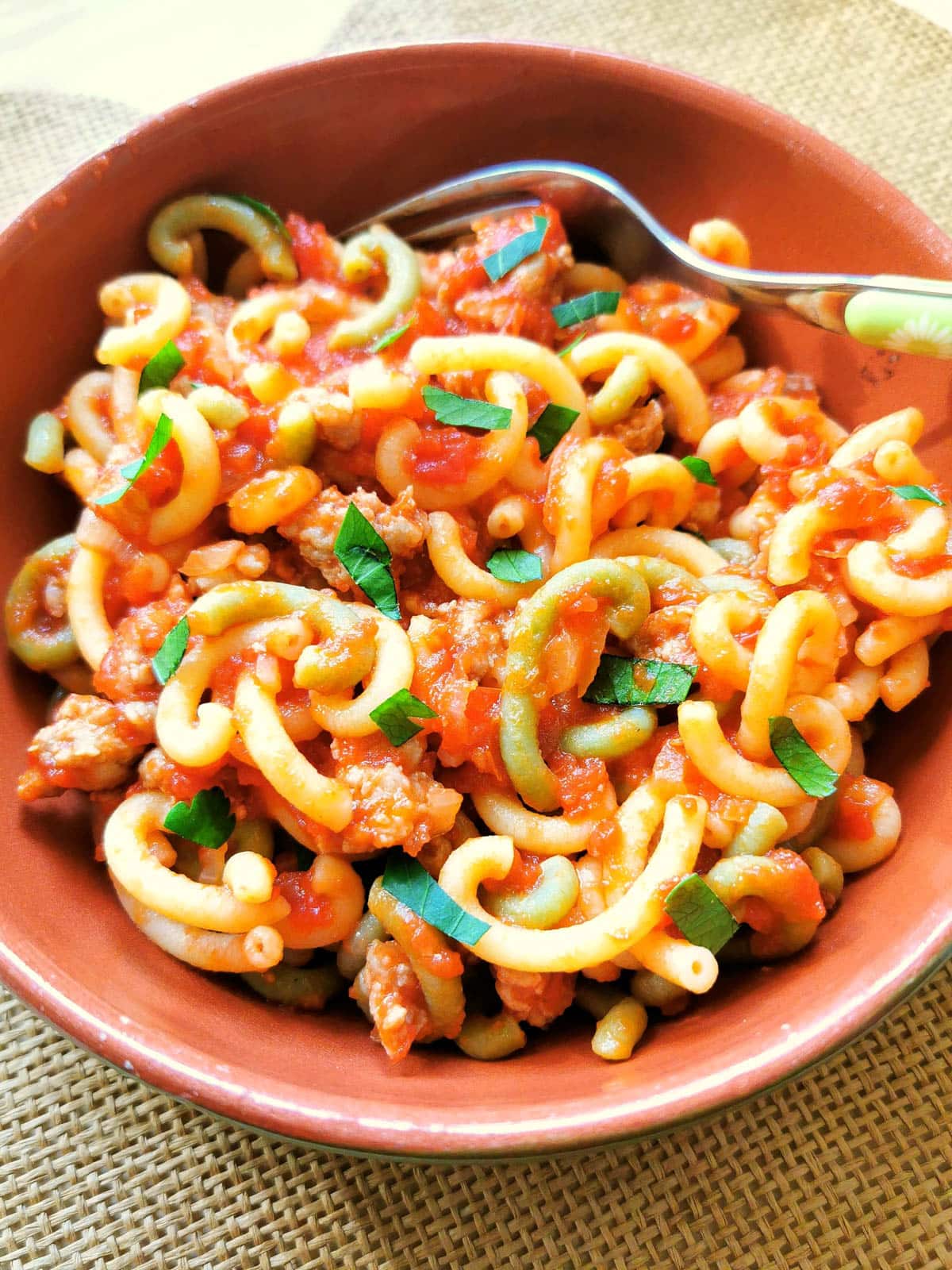 However, you can buy gramigna on Amazon.com and there are also many artisan Italian pasta makers who have online shops and will send even small orders overseas.
Like many Italian pasta shapes, gramigna evolved over time, however this isn't an ancient type of pasta. When extruded, the fresh homemade and dry factory versions look similar, but the homemade pasta tends to be less uniform and actually slightly less squiggly!
Ingredient Notes
Gramigna: You can use both fresh or dried gramigna. Some other alternative kinds of pasta are fusilli, elbow marconi or even spaghetti.
Sausage: Use an Italian pork sausage; these sausages are well seasoned with spices and add a ton of flavor to the sauce.
White Wine: Use a dry white wine; this helps cut through the richness of the sausage mince, adding more balance and overall flavors. Some great dry white wines include Pinot Grigio, Sauvignon Blanc and Chardonnay. If you want to use an Italian dry white wine, you can use an Italian Pinot Grigio.
Tomatoes: Use good-quality passata or sieved tomatoes; one of my favorites is San Marzano.
Parmigiano: I used Parmigiano Reggiano for this recipe, but you could also use Grana Padano. They both work best freshly grated, although you can use pre-grated if you are in a rush.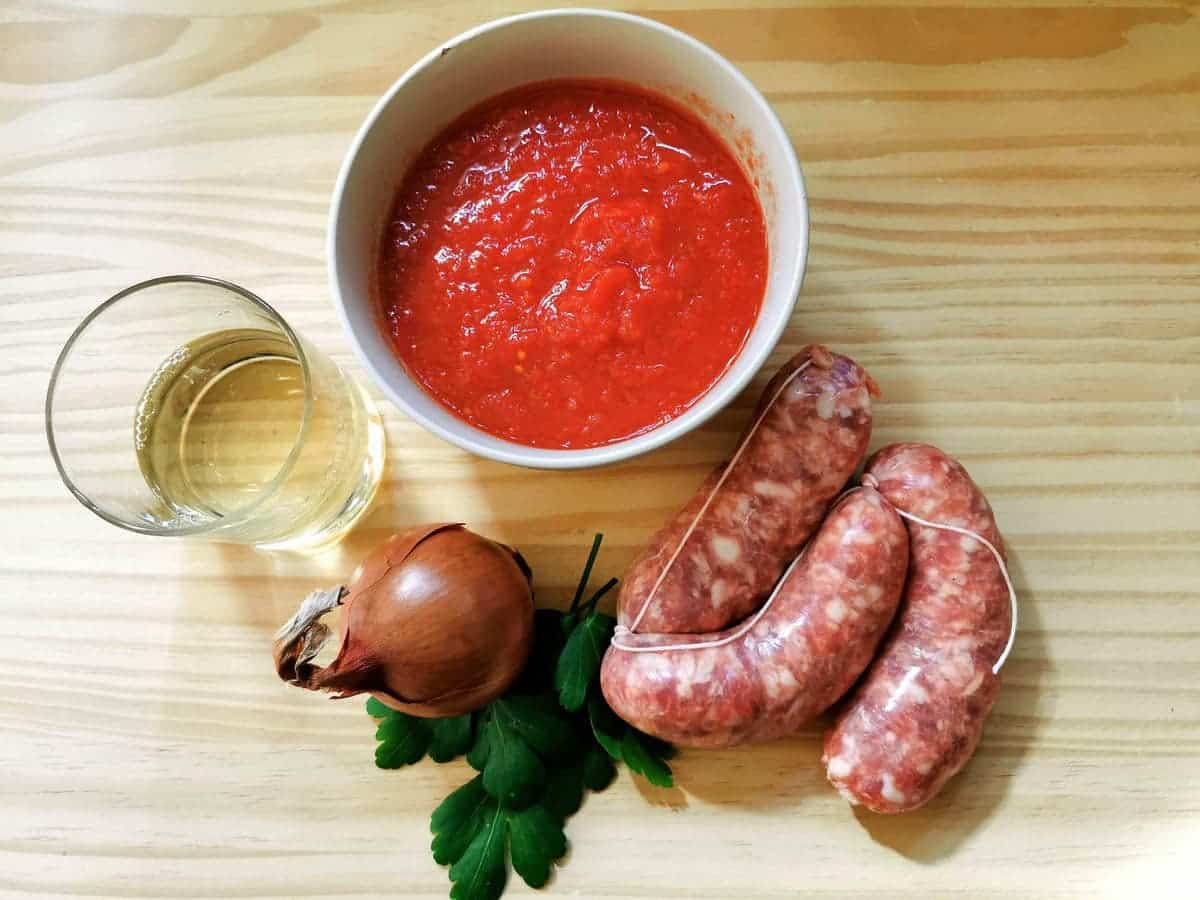 Variations
There are other versions of this sausage sauce apart from the simple 3-ingredient one I used in the recipe. Some people include cream or milk, garlic, rosemary or other herbs and celery or carrots. I have also made a version with sausage, peas and cream which is really good. However, this recipe is for the simplest version.
Step by Step Instructions
1) Decase the sausages by making a shallow lengthways cut along the sausage from top to bottom. Gently push the sausage mince out of the casing and onto a chopping board.
2) After all the sausages are decased, roughly chop the mince meat until it's in small chunks and then place in a bowl.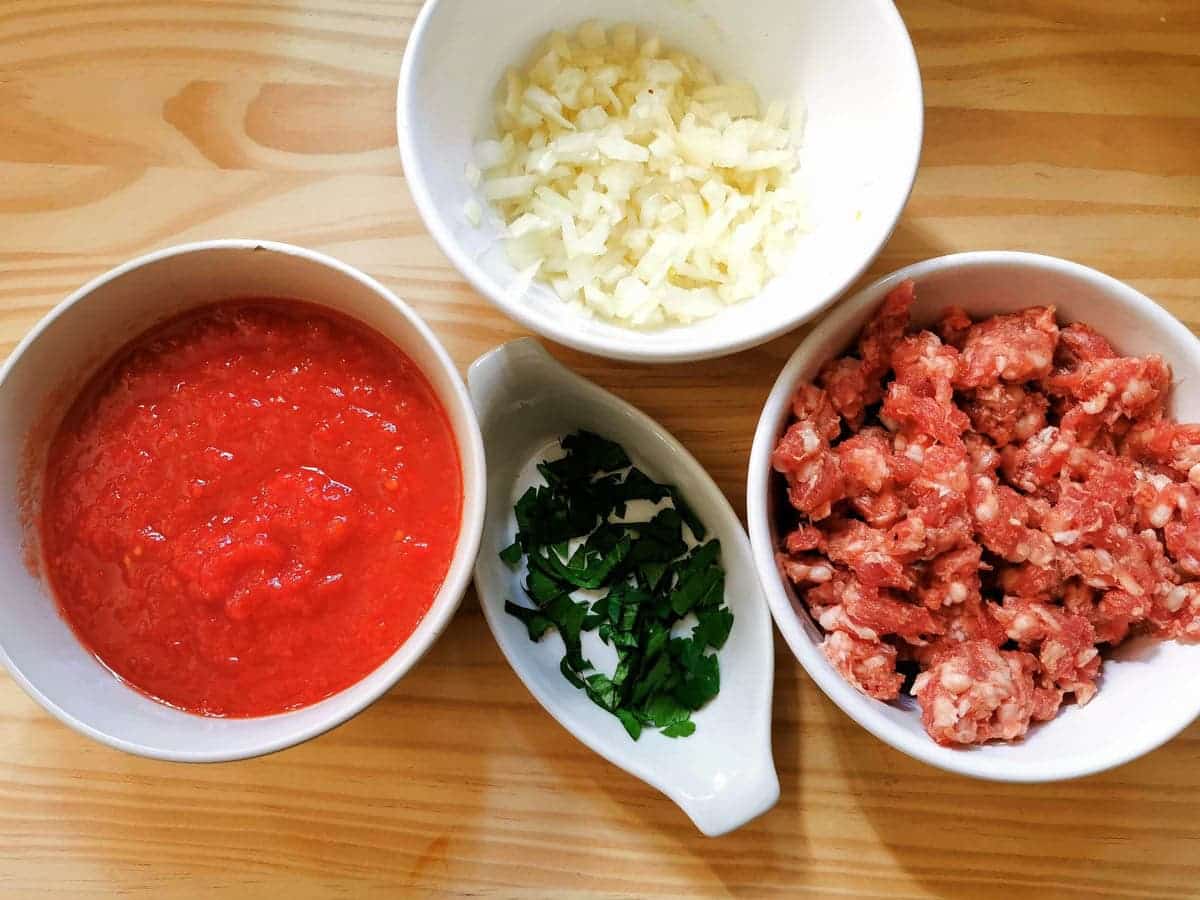 3) In a large sauté or frying pan, soften the onions for 4 to 5 minutes. Once softened, add the sausage mince meat.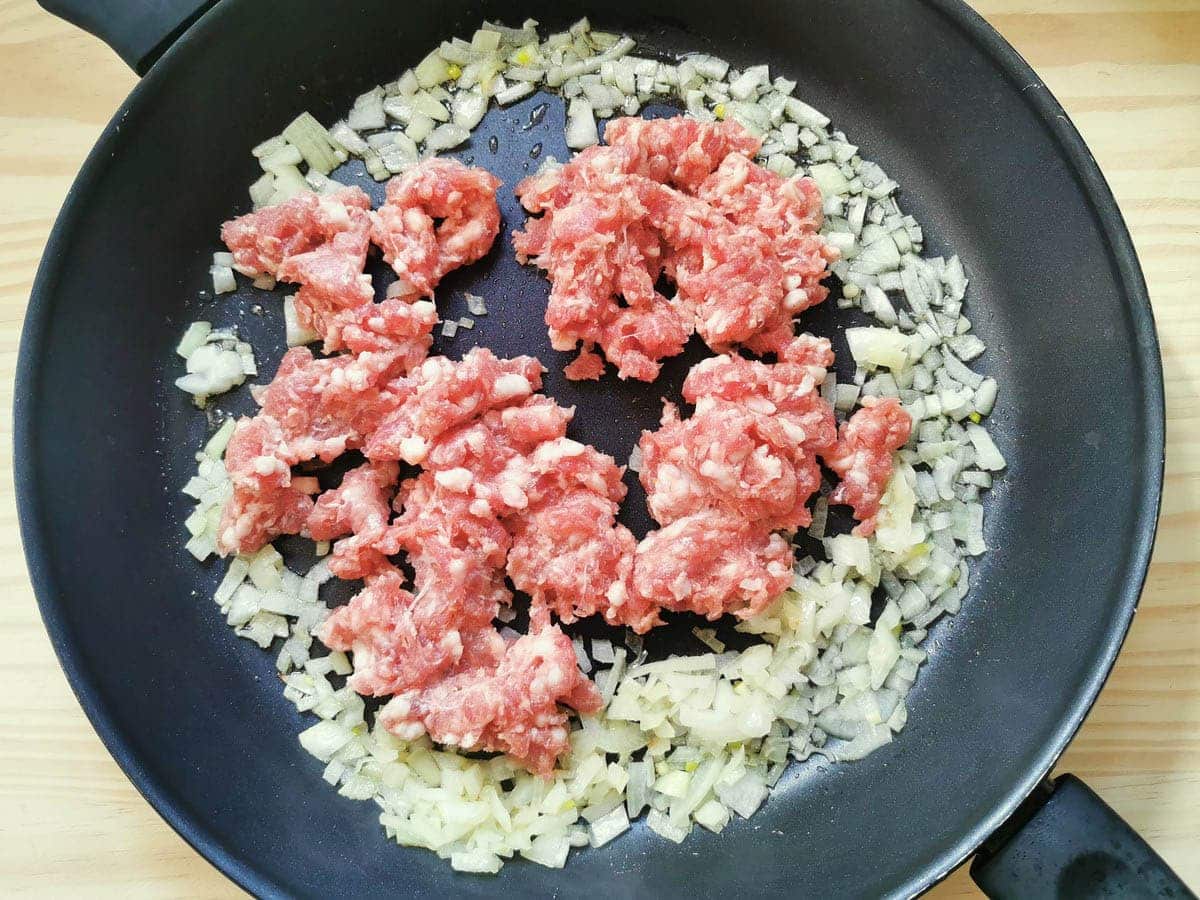 4) Brown the minced meat in the pan; this should take around 4 to 5 minutes.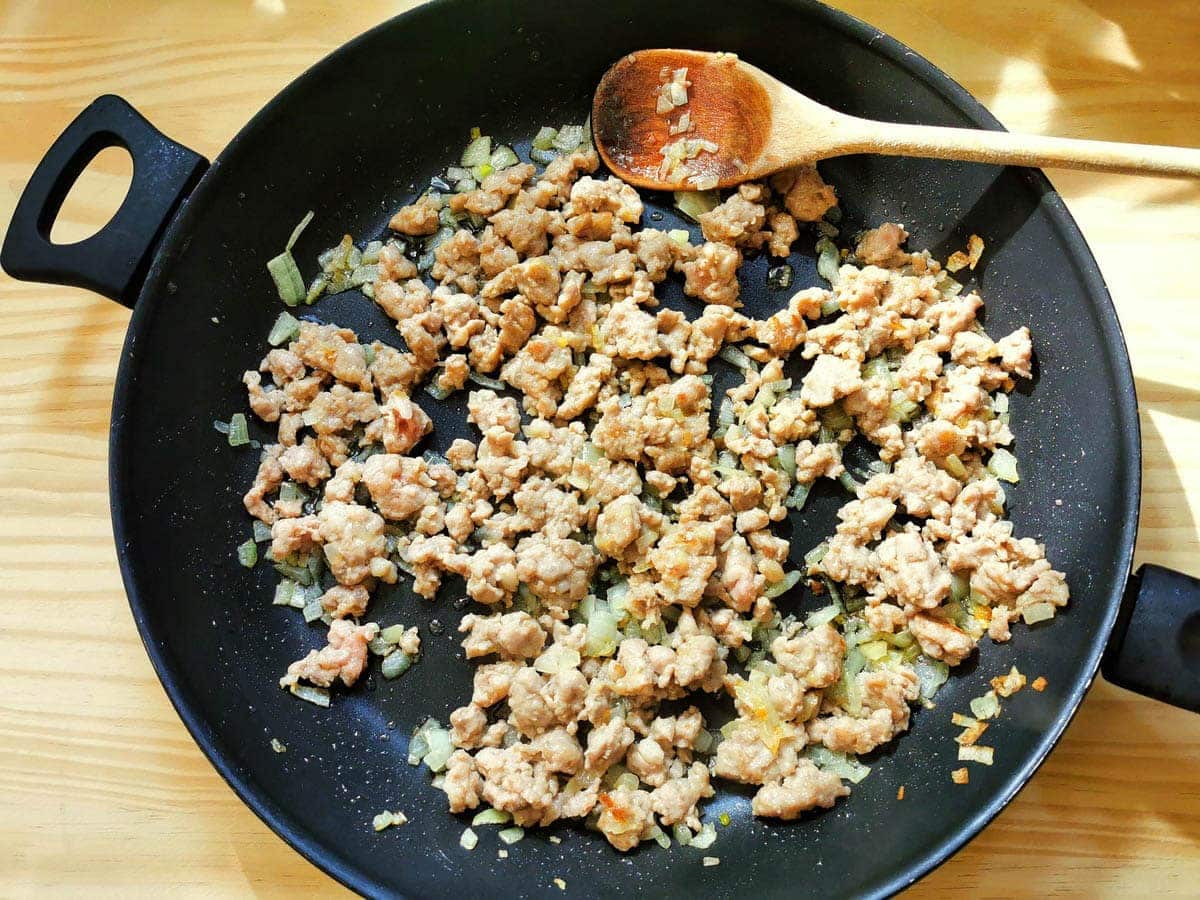 5) Add white wine and deglaze the pan by scrapping any brown bits of the bottom with a wooden spoon. Reduce for 3 to 4 minutes, then taste to season with salt and pepper.
6) Mix in the passata and leave to simmer for 20 to 25 minutes (mixing occasionally and adding a splash of water or white wine if the sauce gets to dry).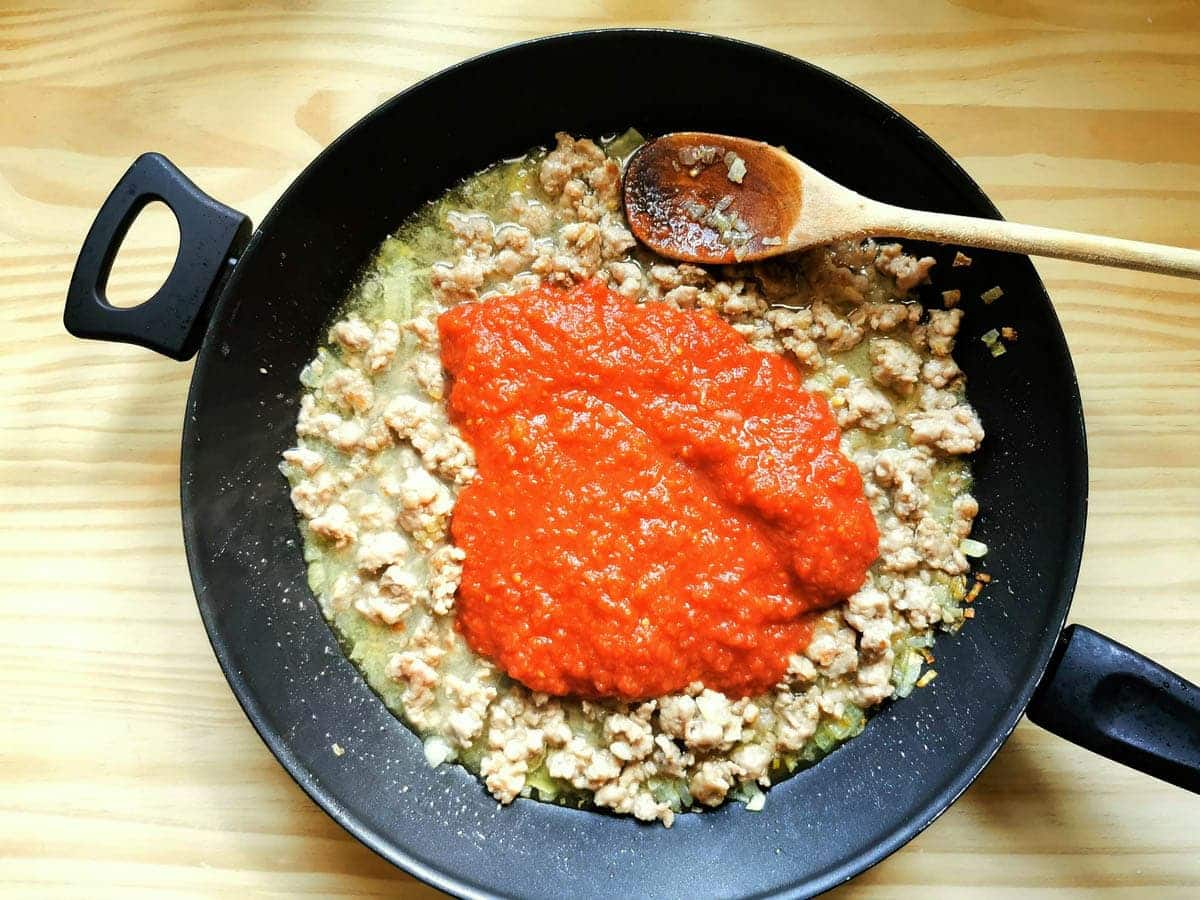 7) While the sauce is simmering, bring a large pot of water to a boil. Generously season with salt and allow it to return to a boil. Once boiling, add the Gramigna and cook to al dente, following the packet's instructions.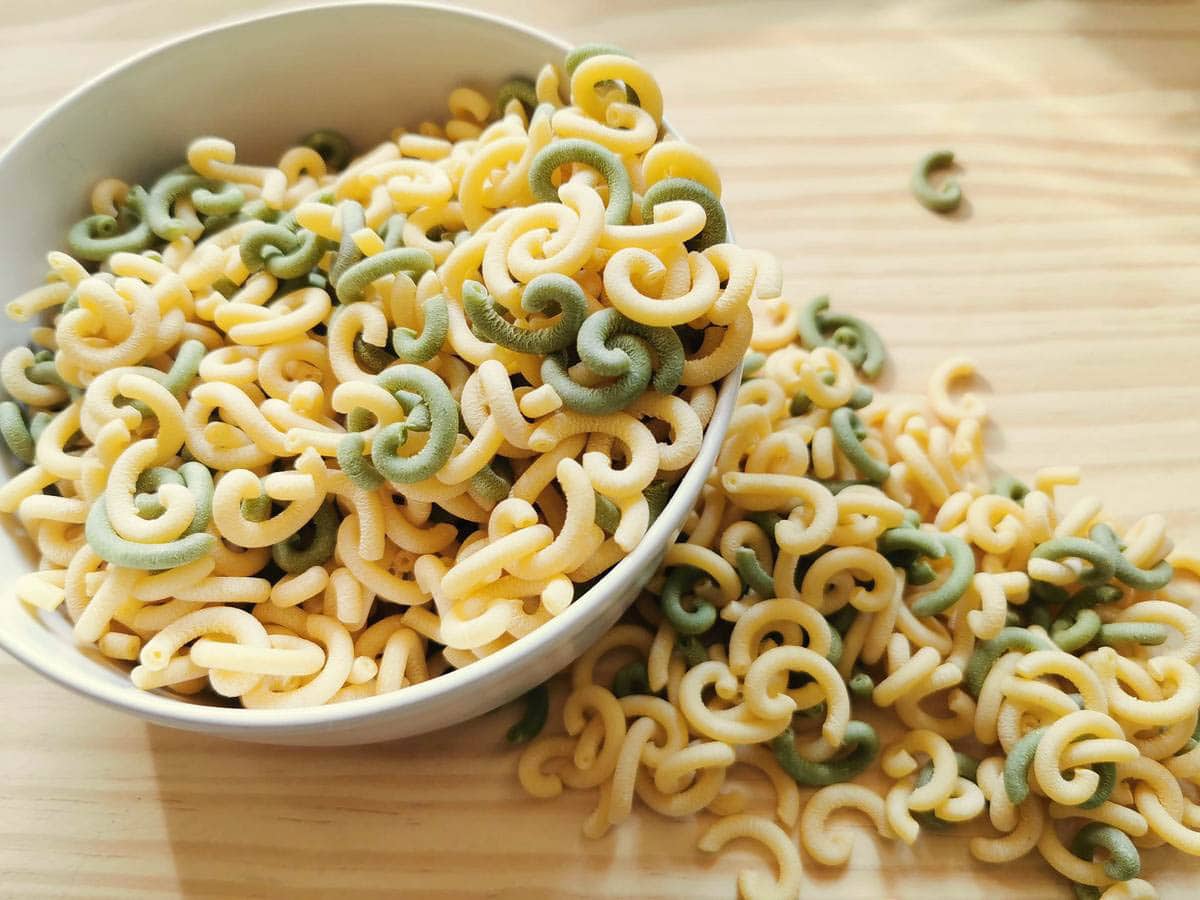 8) Once the gramigna is cooked, strain it in a colander and add it to the pasta sauce.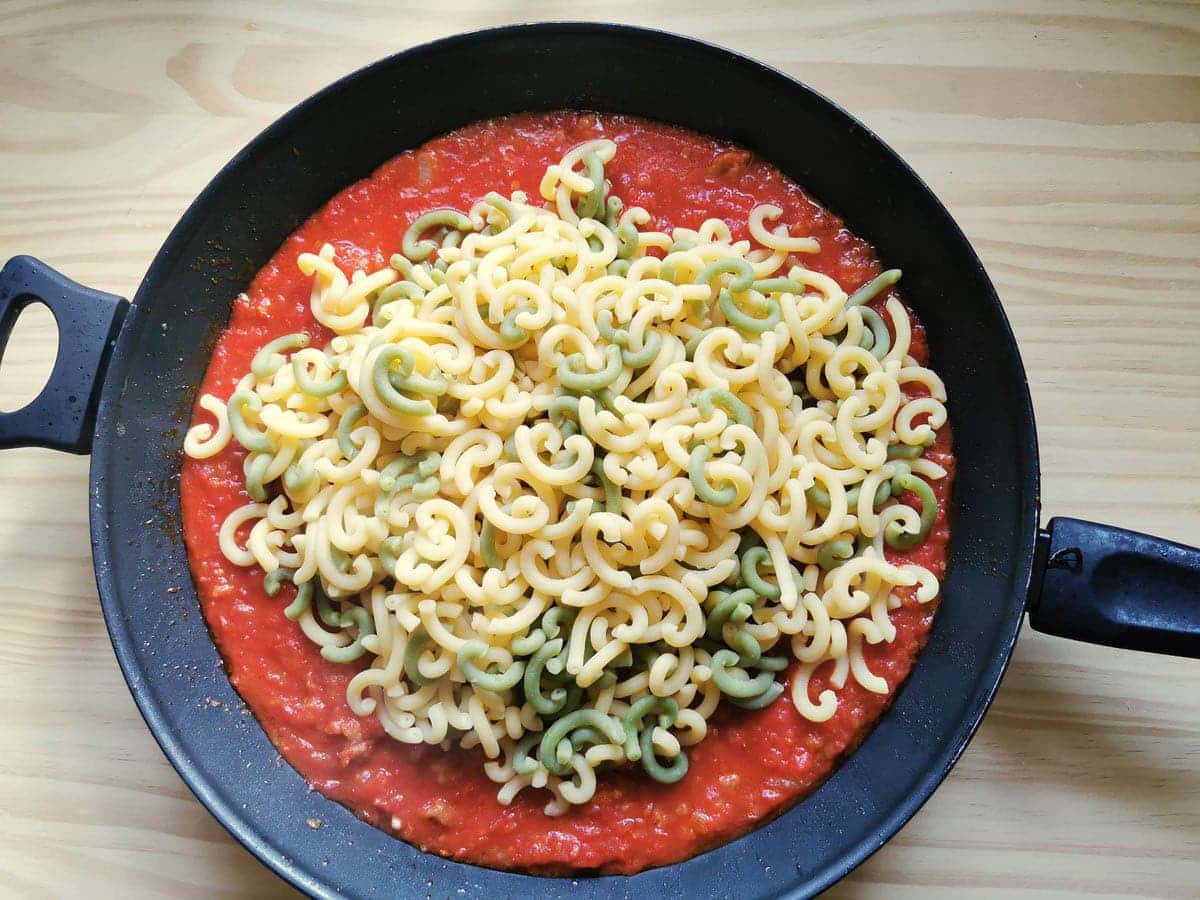 9) Mix the gramigna with the sausage pasta sauce and cook for a further minute while mixing the pasta.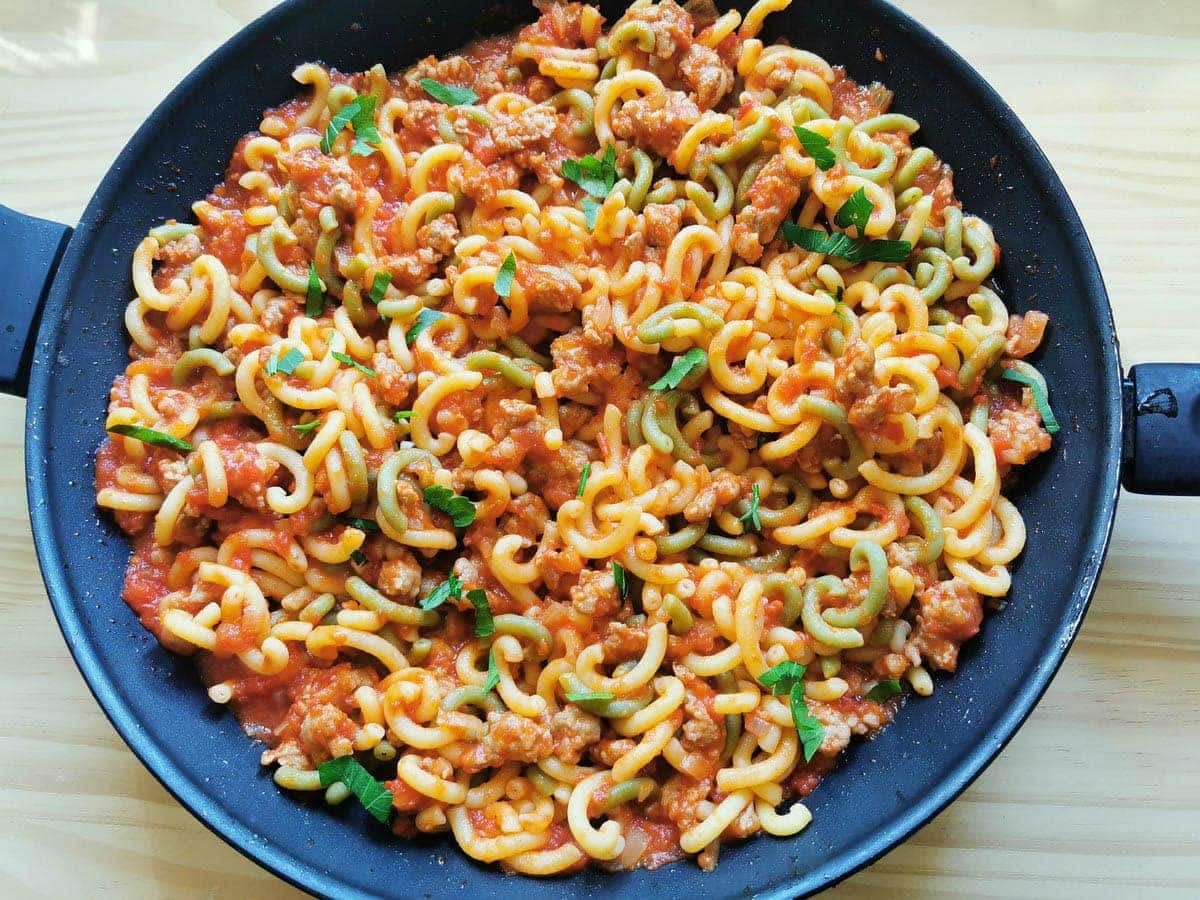 10) Serve immediately with grated Parmigiano Reggiano.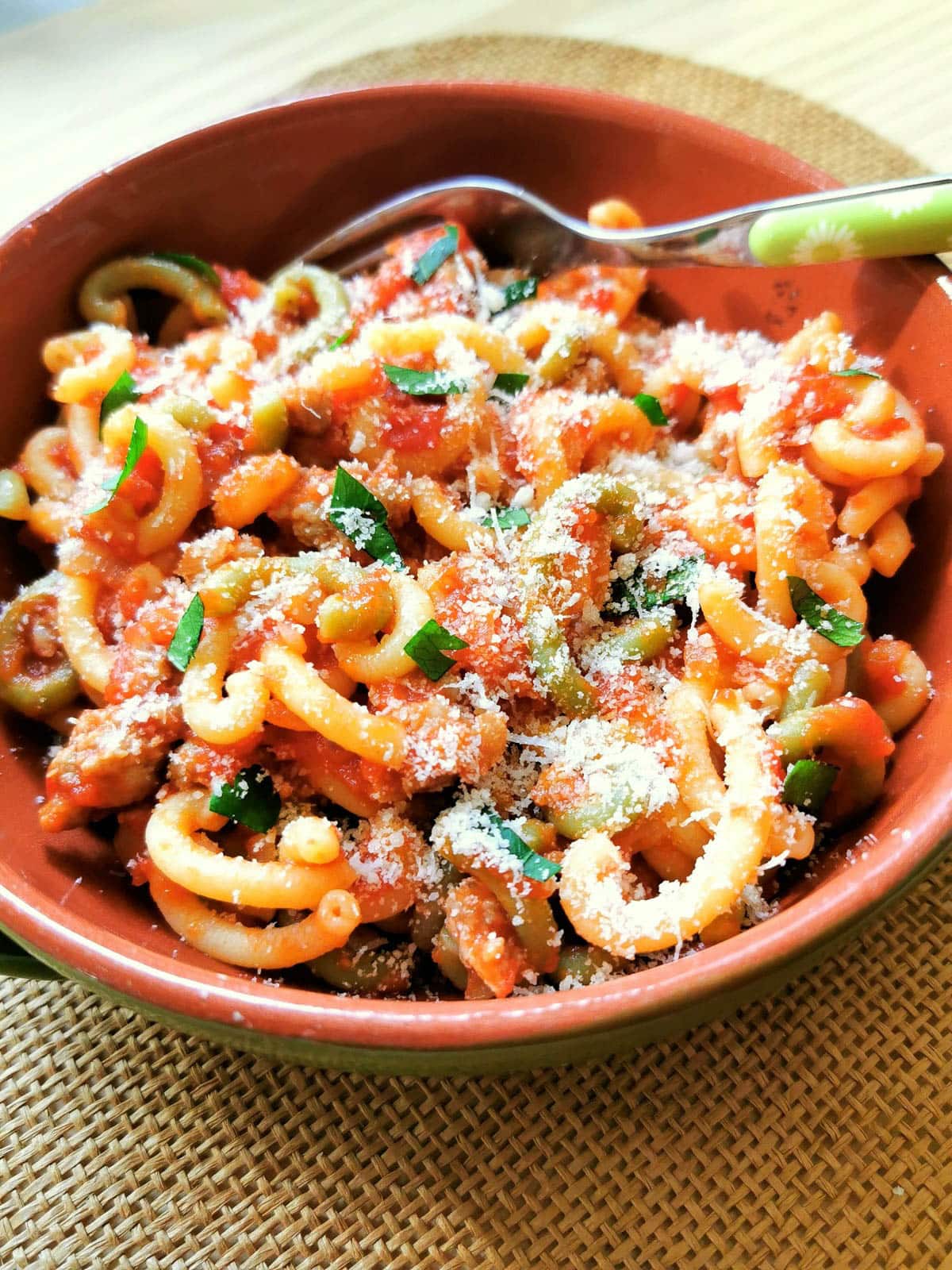 If you do try this gramigna with sausage recipe, I'd love to hear what you think. Please write a comment here on the blog or post a comment on the Pasta Project Facebook page. There are also more tasty Italian sausage pasta recipes to choose next.
Buon Appetito!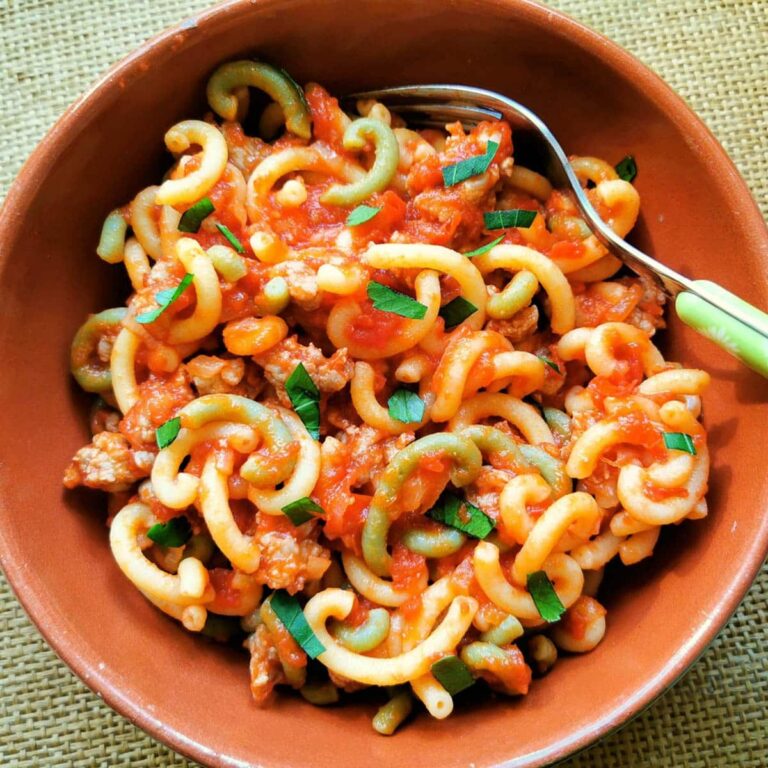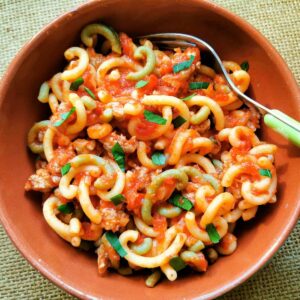 Gramigna alla Salsiccia (Sausage)
This gramigna pasta recipe from Bologna is one of the simplest sausage pasta recipes to make! It only has 3 main ingredients but it's really tasty, hearty and filling! A great favourite with children here in Italy.
Ingredients
14

oz

Gramigna

(400g) dried will take longer to cook than fresh

16

oz

Pork sausages

(450g) Italian

1

medium

Onion

peeled and finely diced

1

glass

White wine

20

oz

Tomato passata

(500g)

2

tablespoons

Olive oil

2

oz

Parmigiano Reggiano

(50g)

Salt

to cook the pasta and to taste

Black pepper

to taste
Instructions
Remove the skin from the sausage and chop into chunks.

Fry the onion in olive oil until it starts to soften

Add the sausage meat and continue cooking until it starts to brown.

Add the white wine and cook for a further few minutes.

Add salt and pepper to taste.

Put water on to boil for the pasta. Add salt once it starts to boil.

Add the passata or chopped tomatoes and simmer the sauce for 20-25 minutes ( If it gets too dry you can pour in a little water or more wine)

Cook the pasta al dente according to the instructions on the packet.

When the pasta is cooked and strained add it to the sauce and cook everything together for a further minute, stirring the sauce into the pasta.

Serve with grated Parmigiano Reggiano.
Notes
You can season the ready dish further if required with parsley or peperoncino flakes. ( We added some peperoncino!)
Another way to spice it up is to add a little Nduja when you are cooking the sausage.
If you don't have gramigna this dish is still delicious with other short pasta such as fusilli, elbow macaroni or even spaghetti.

Tomato passata can be swapped with fresh peeled and chopped tomatoes
Nutrition
Calories:
850
kcal
Carbohydrates:
90
g
Protein:
38
g
Fat:
36
g
Saturated Fat:
13
g
Polyunsaturated Fat:
5
g
Monounsaturated Fat:
15
g
Trans Fat:
0.2
g
Cholesterol:
91
mg
Sodium:
1062
mg
Potassium:
1203
mg
Fiber:
6
g
Sugar:
11
g
Vitamin A:
935
IU
Vitamin C:
18
mg
Calcium:
236
mg
Iron:
6
mg
More sausage pasta recipes:
Pin for Later: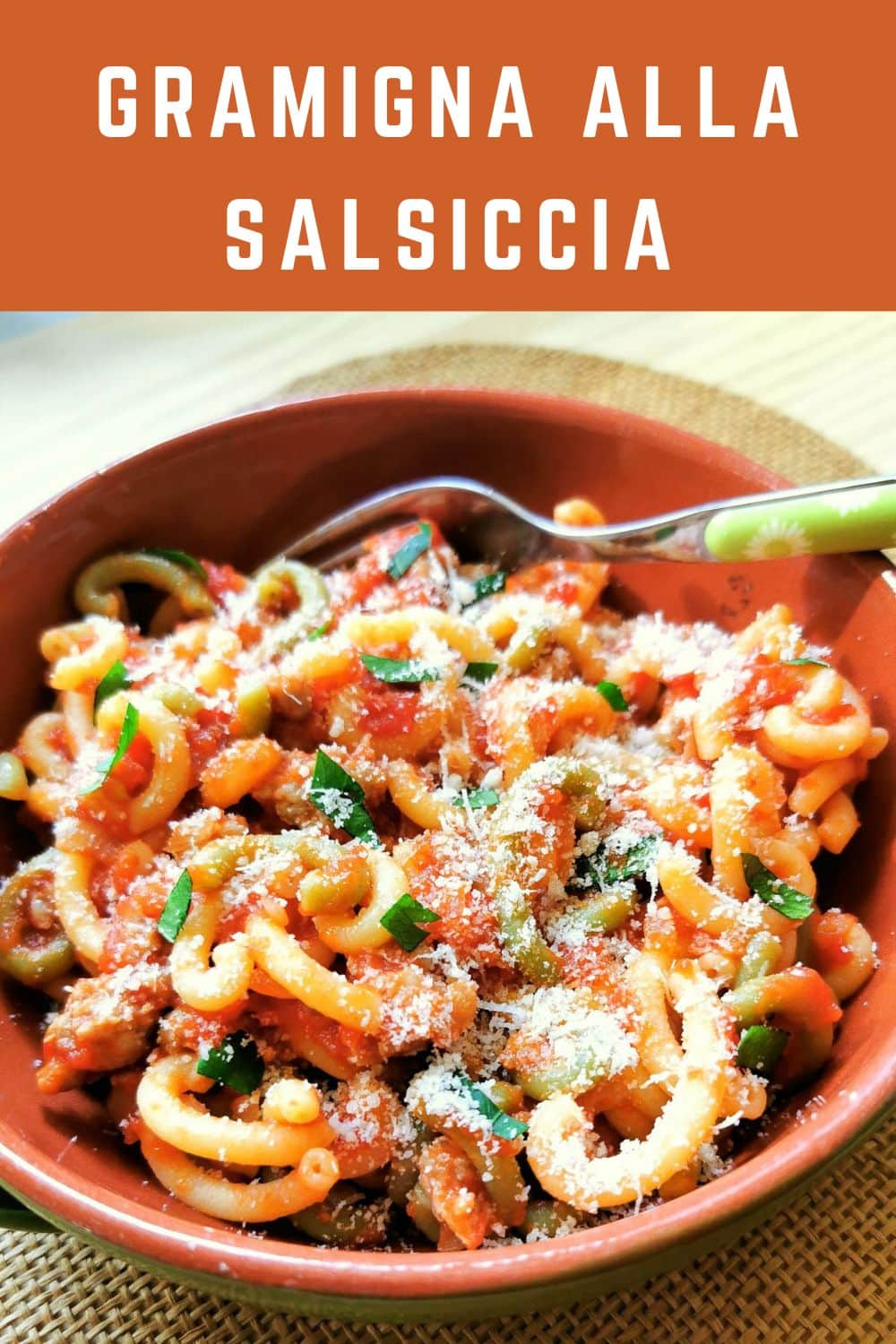 If you are interested in learning how to make homemade pasta and different types of gnocchi, check out my shop page for some great video online courses from my friends in Rome! Nothing beats learning to make pasta from Italians! Plus while you're there why not order a copy of one of my pasta recipes cookbook!?