If you have never tried making Italian sausage pasta, you are in for a treat! These Italian recipes with sausage and pasta are seriously delicious, and the best part is that most of them are incredibly easy to make and budget-friendly!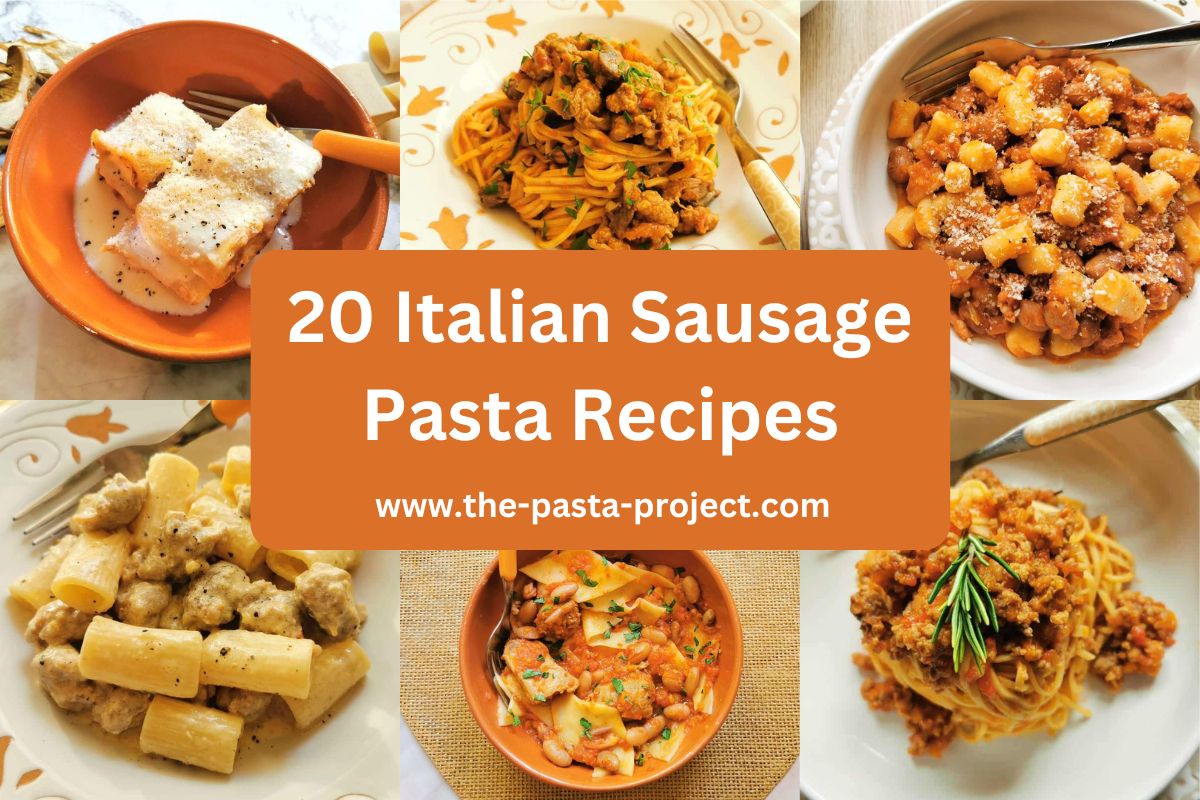 Italian Sausage History
Sausages have a rich history in Italian cuisine that dates back to Ancient Roman times and even earlier. Pork has been a staple meat in the Italian diet throughout the centuries. Traditionally, most rural and farming families raised pigs to provide meat throughout the year.
In the past, owning a pig was a guarantee of food self-sufficiency, a tradition aimed at survival for the poorest. These animals were often the only secure source of protein available apart from legumes.
Pigs were slaughtered in the late autumn or around Christmas. And, families made pork sausages, salami, hams, bacon and lard from them, as well as sausage casing, bone broth and soap. Italians have a saying, 'del maiale non si butte niente', meaning throw nothing away from a pig!
Different types of Italian sausages.
Sausages were among the first type of pork product originally made to use up less desirable cuts of the meat and the fat. They are also a product that can be found throughout the Italian peninsula. Each region has its own traditional sausages, often more than one type. Consequently, every one of Italy's 20 regions has traditional sausage pasta recipes.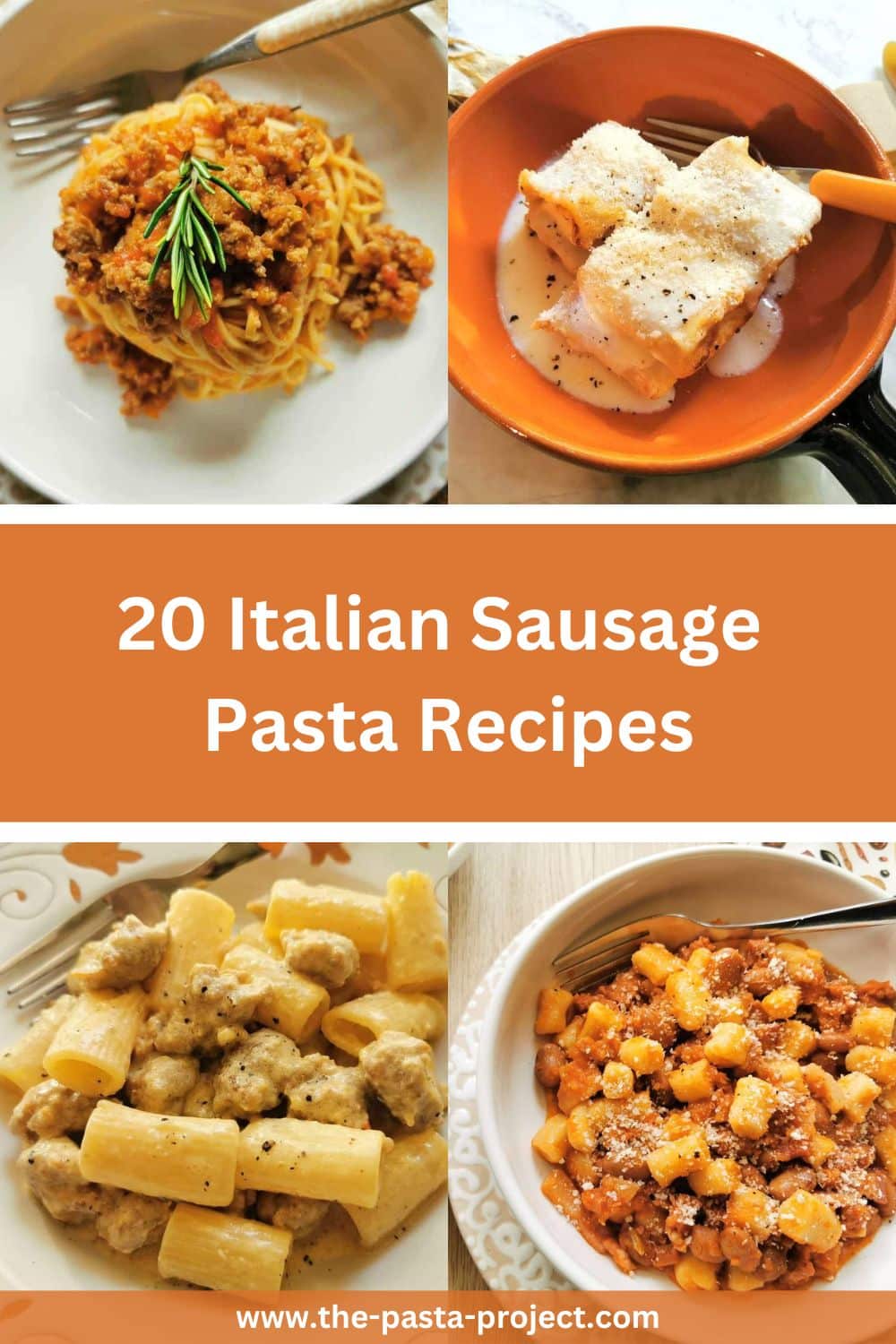 The most common type of pork sausage used in Italian sausage pasta recipes is 'salsiccia fresca'. This usually refers to a simple fresh pork sausage made from a mixture of lean and fatty pork cuts, ground and mixed together with a little salt and wine, usually red.
There are also types of salsiccia which have spices or herbs such as rosemary, fennel seed, nutmeg, black pepper, chili pepper (peperoncino) etc.
For most of these Italian recipes with sausage and past the best is just a plain salsiccia. However, there are a couple that call for a spicy sausage and one for beef sausage.
How to remove the casing from Italian Sausages:
While preparing your Italian sausage pasta recipes, you might need to skin or remove the casing from the sausages. Here's a simple method of how to do this:
Slit the Casing: Using a sharp knife, make a lengthwise cut along the sausage.
Peel Off the Casing: Start from one end, and use your fingers to gently peel the casing away from the meat. It should come off relatively easily.
Break Up the Meat: Once the casing is removed, you can break up or crumble the sausage meat to your desired consistency, especially if you're using it as a filling or incorporating it into a sauce.
Italian Sausage Pasta Recipes
Click the recipe name to learn more and get ingredients and instructions.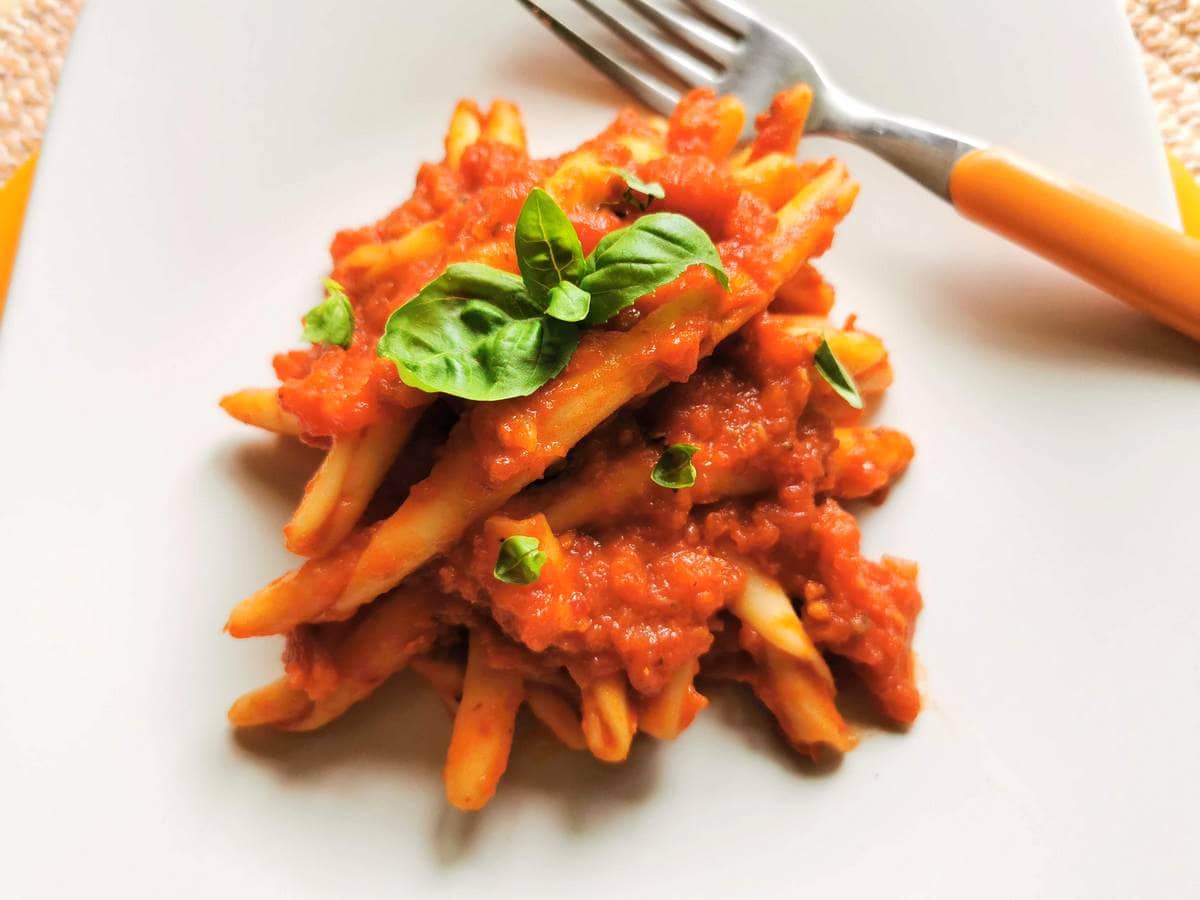 Dive into the vibrant flavors of Calabria with this classic sausage pasta recipe. Famed for its effortless yet strikingly flavorful combination, this dish uses red onion, tomato passata, and the unique nduja - a spicy, spreadable pork salumi with fiery red chili peppers.
If you're craving a taste of the south, this widely-available nduja (pronounced en-doo-ya) recipe will take you there!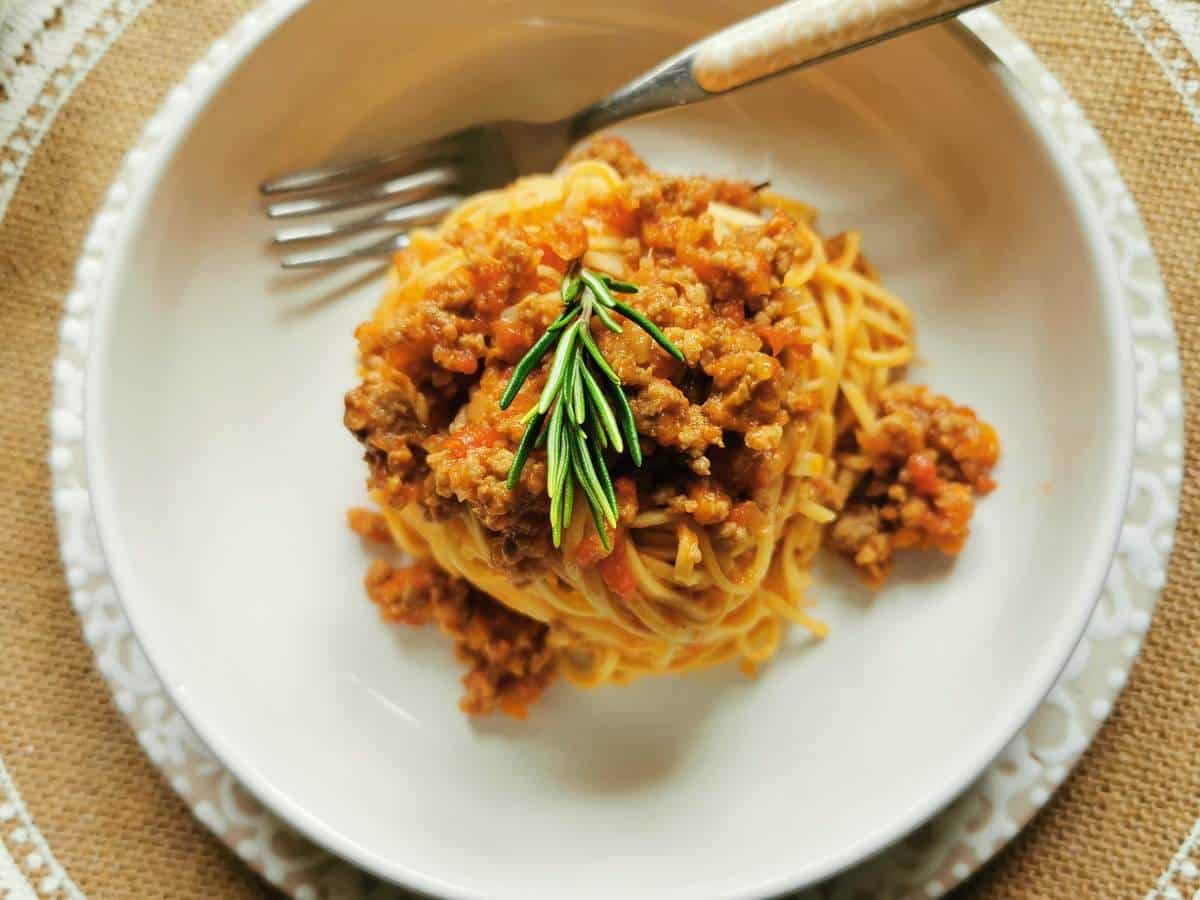 Enjoy the richness of Piedmont cuisine with this authentic sausage pasta recipe. It showcases tajarin—a egg-rich thin pasta noodle paired with a local fresh Italian beef sausage (salsiccia di Bra).
This recipe is easy to make and perfect for family meals or entertaining. Of course, you can use other egg pasta noodles too!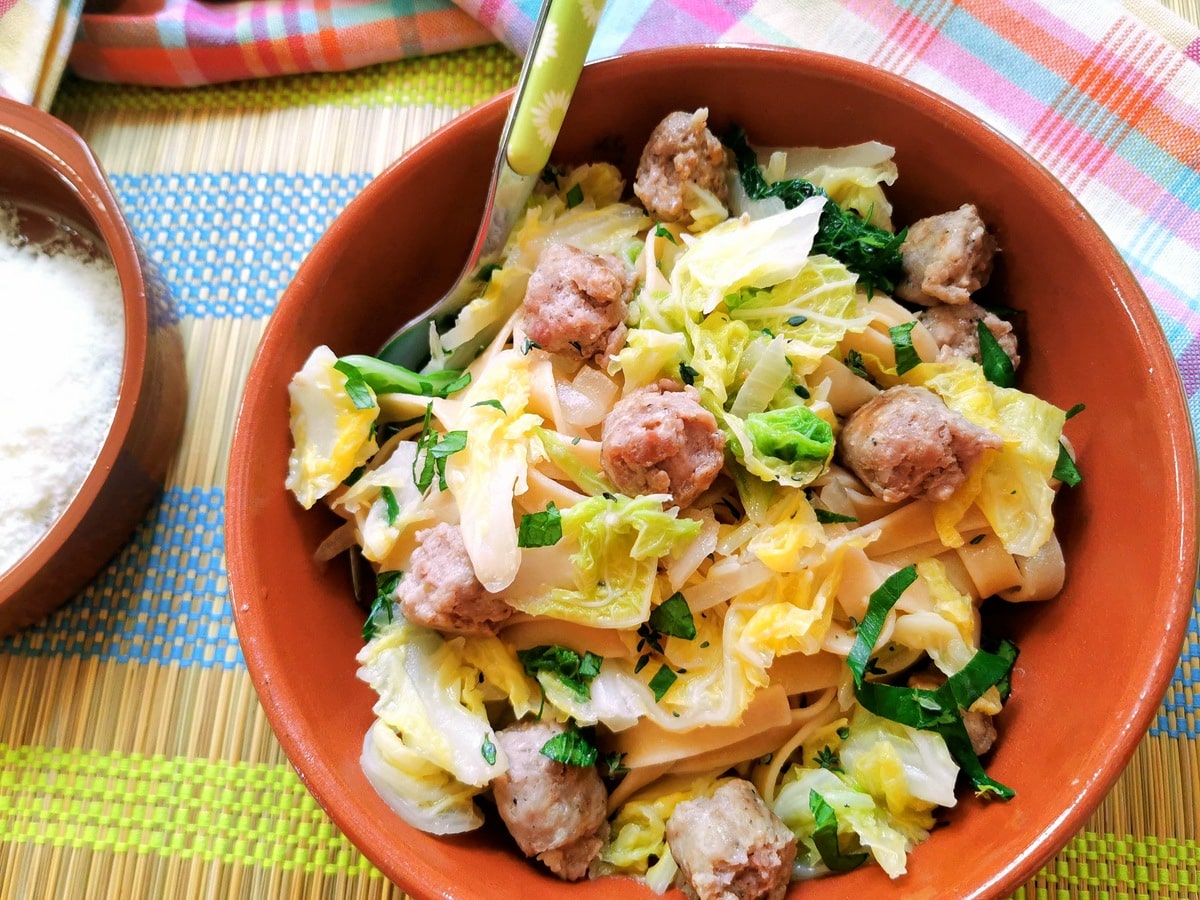 Journey through the Italian mountains with this beloved dish from Trentino-Alto Adige. This simple rustic but hearty sausage pasta recipe is perfect for the colder seasons using hearty flavors.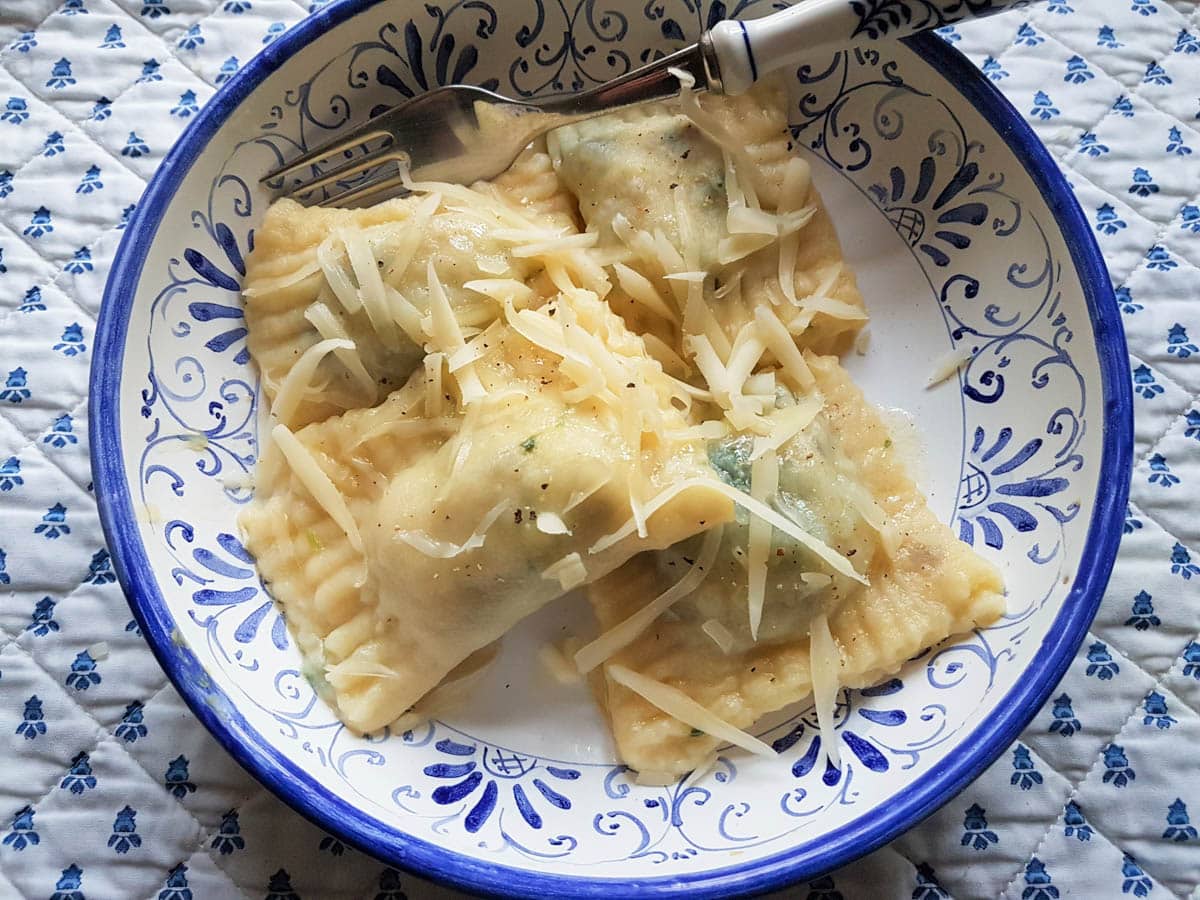 Ofelle alla Triestina is a slightly unusual but very tasty homemade gnocchi ravioli from Trieste in Friuli Venezia Giulia. It's stuffed with a sumptuous mix of sausage, veal, and spinach and drizzled in butter and cheese, making it a rich and tasty sausage pasta dish.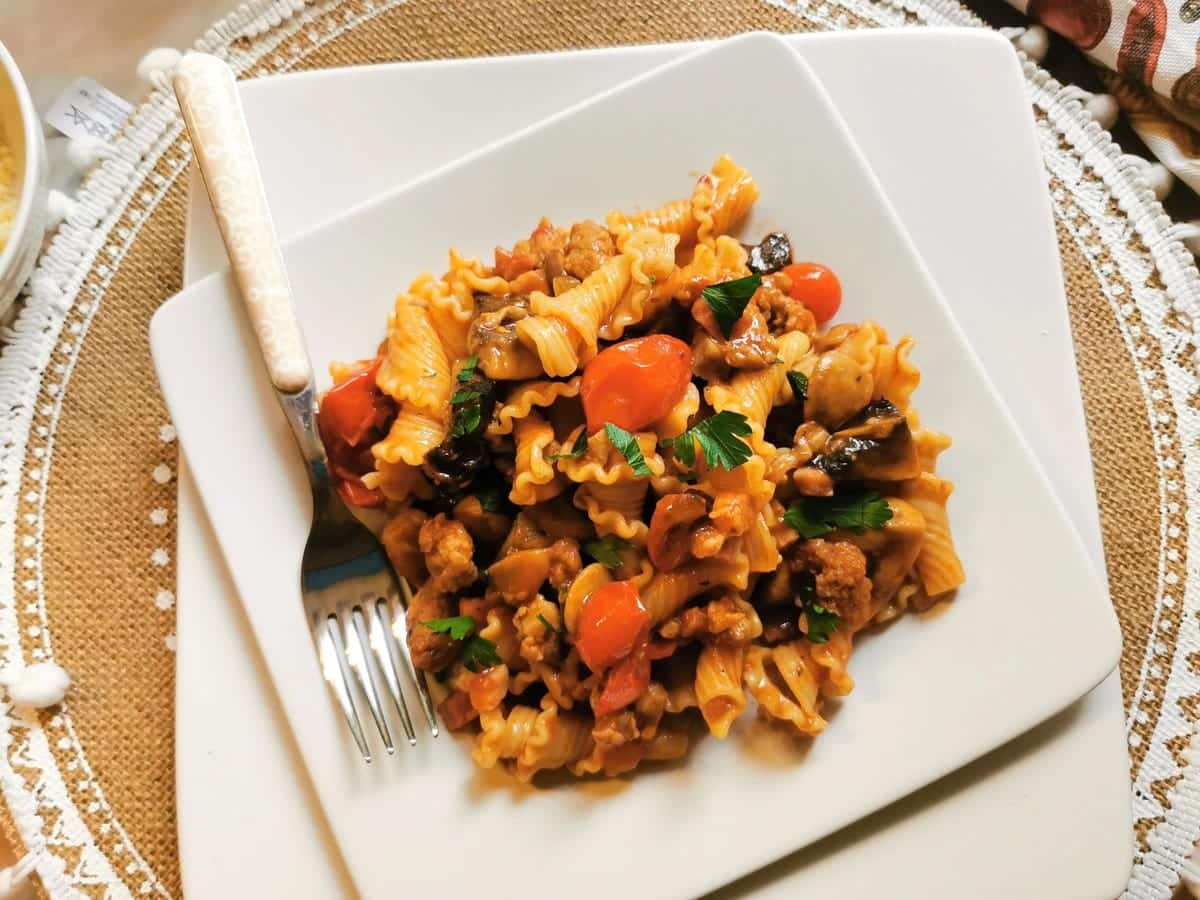 Pasta alla boscaiola is one of the most delicious traditional autumn/fall sausage and mushroom pasta recipes ever! This timeless sausage and mushroom combination is traditionally a way to use freshly foraged porcini. However, you can also use dried porcini if fresh porcini aren't available. It's still outstanding!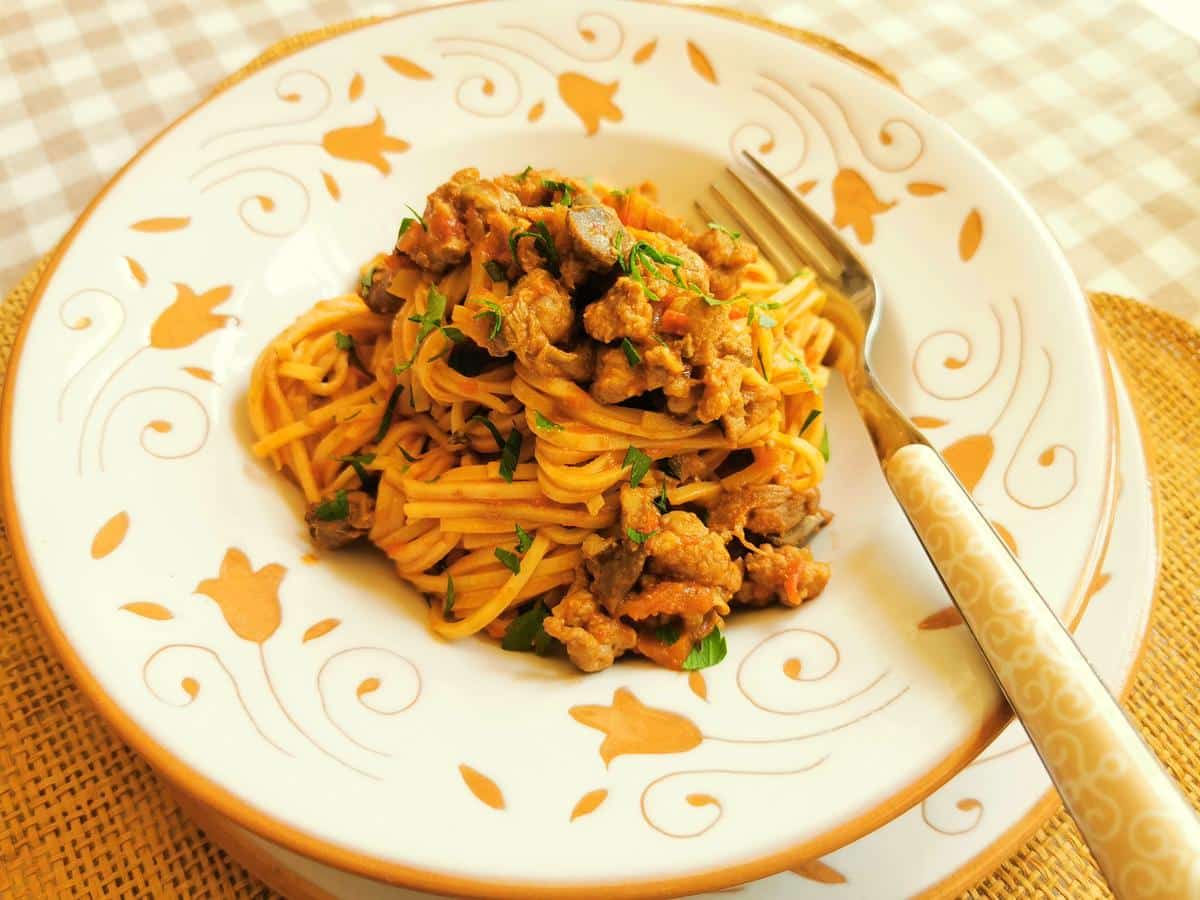 Tagliolini alla Langarola is one of the richest and most flavourful meat pasta recipes I know. This traditional sausage pasta dish originates from the beautiful Langhe area in the Piemonte (Piedmont) region in North West Italy.
In fact, 'langarola' comes from the word 'Langa', which is the local name for the area. This part of Piemonte is a UNESCO World Heritage site, an area famed for its white truffles, hazelnuts, and Barolo wines.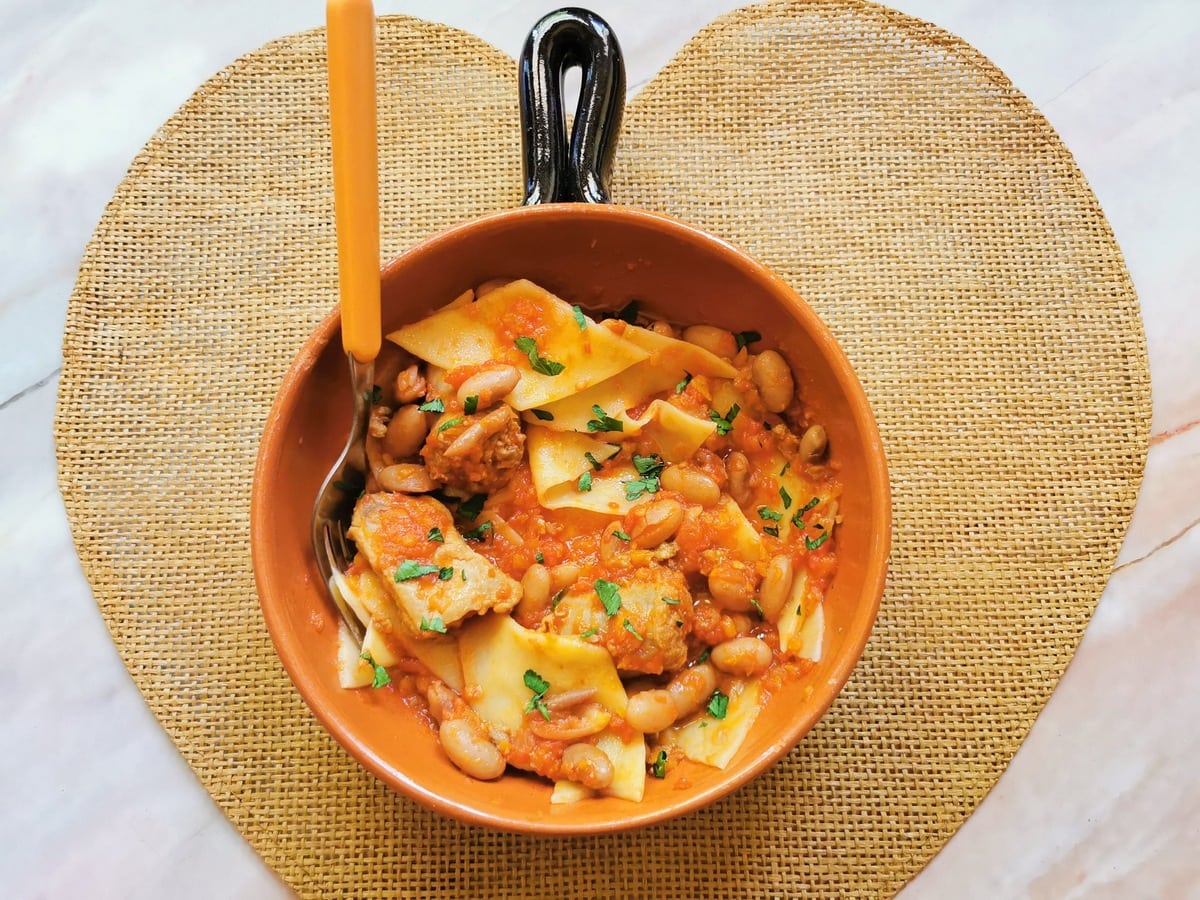 This rustic homemade maltagliati recipe comes from the Central Italian region of Marche. Known as cresc'tajat in the local dialect, the blend of corn and wheat flour pasta pairs exquisitely with a robust sauce of sausages, pork ribs, beans, and tomatoes.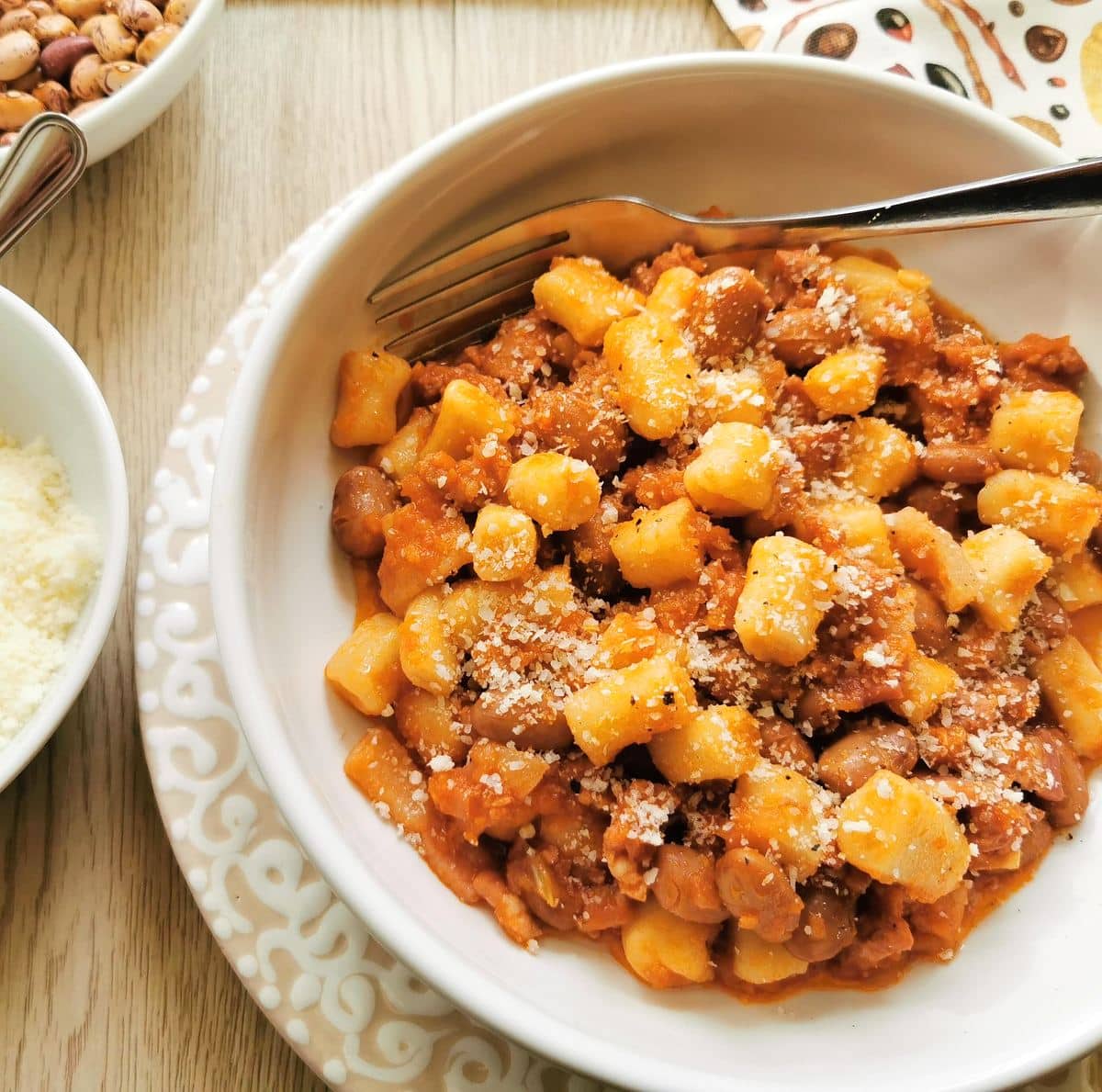 This breadcrumb gnocchi with sausage and beans is a seriously good, hearty traditional dish from Umbria.
Crafted simply with breadcrumbs, flour, and water, this gnocchi goes perfectly with its rich, flavorful sauce. Definitely, a great recipe for those cozy, chilly nights! Of course, you can use other types of gnocchi instead. Potato gnocchi works really well.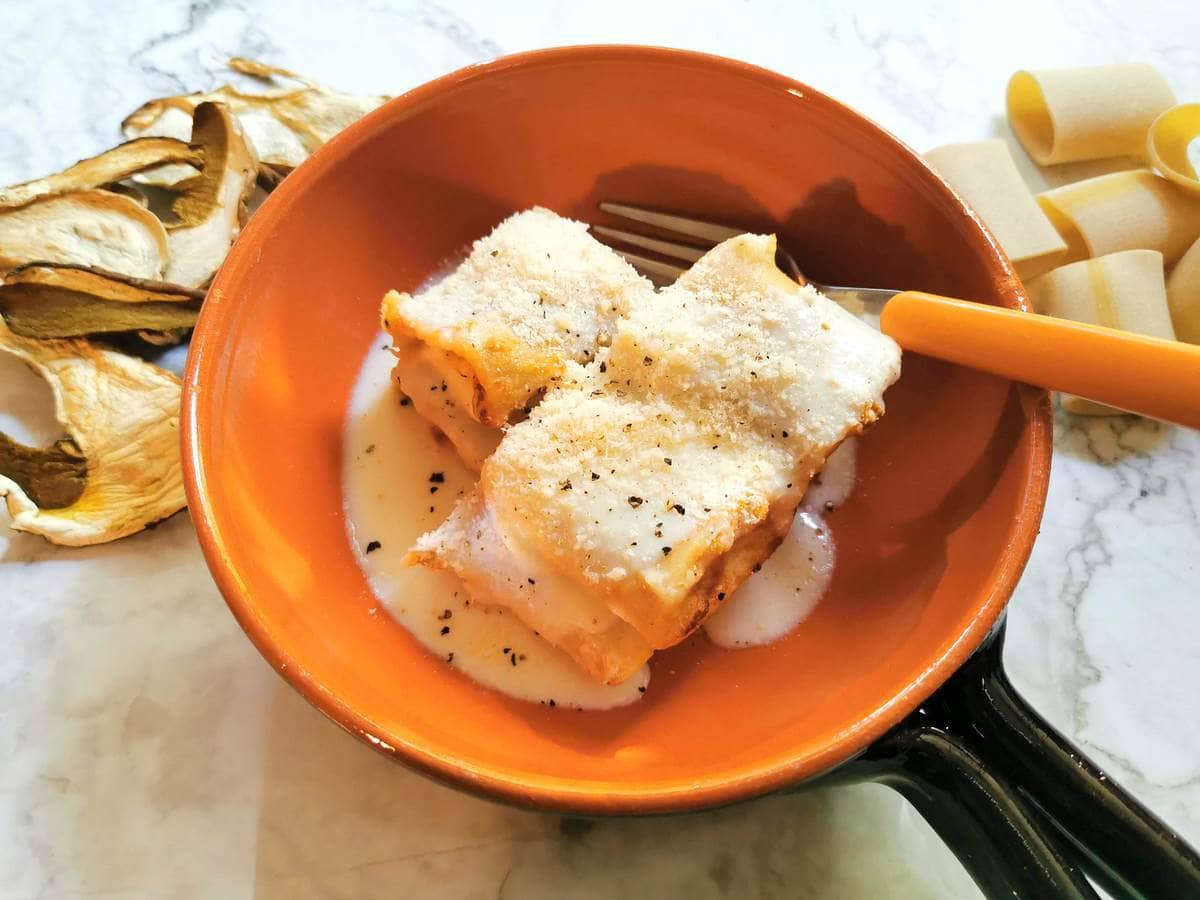 Sundays in Italy come alive with the aroma of baked pasta, and among the choices, this baked stuffed paccheri holds a special place.
It takes a little more work than the classic mixing the cooked pasta with sauce, adding cheese on top and baking. However, it's well worth the effort! The pasta tubes are stuffed with a delicious creamy porcini, sausage and ricotta filling and then baked in a cheesy béchamel. Sounds amazing, doesn't it?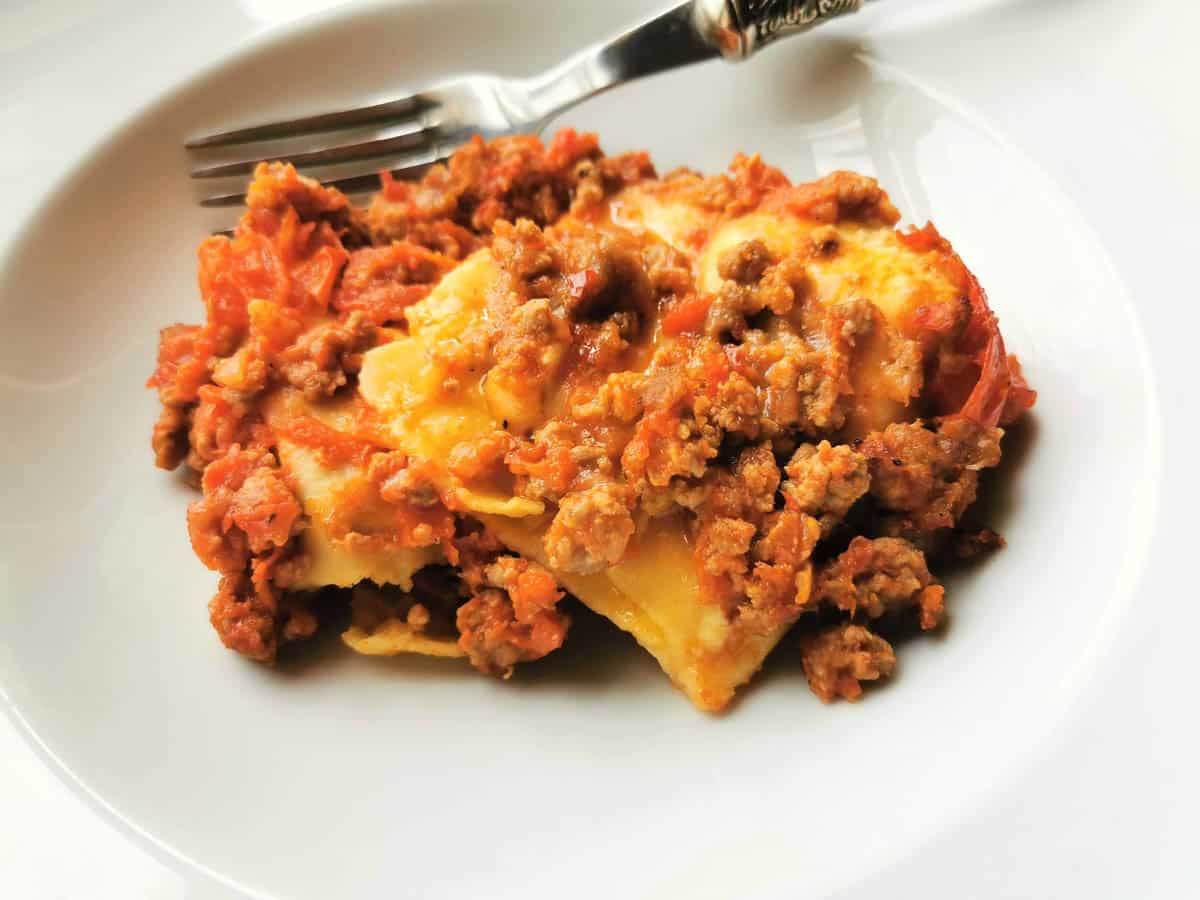 Delicate handkerchief pasta squares cradle a savory meat and sausage ragu, offering a tasty twist to traditional lasagna. This recipe is also known as fregnacce Abruzzesi and is from the Abruzzo province.
It's actually one of my favorite ways to use up any leftover homemade lasagne sheets.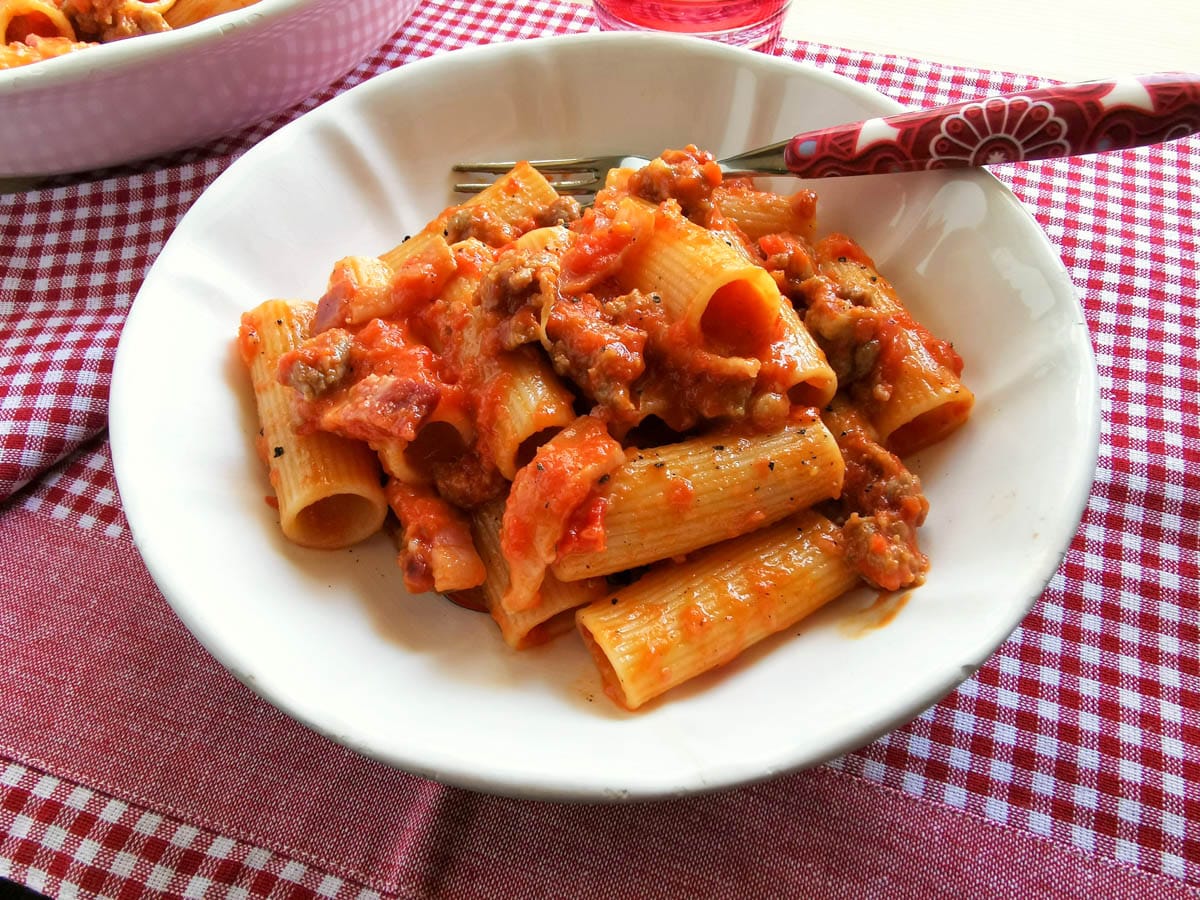 Dive deep into the heart of Roman culinary traditions with this sausage rigatoni alla Zozzona. An excellent recipe that uses traditional Roman ingredients—guanciale, Pecorino, tomatoes, and sausage—this dish is a testament to the city's love for hearty, sustainable ingredients.
This is one of the best Italian recipes with sausage and pasta I know. Definitely worth trying.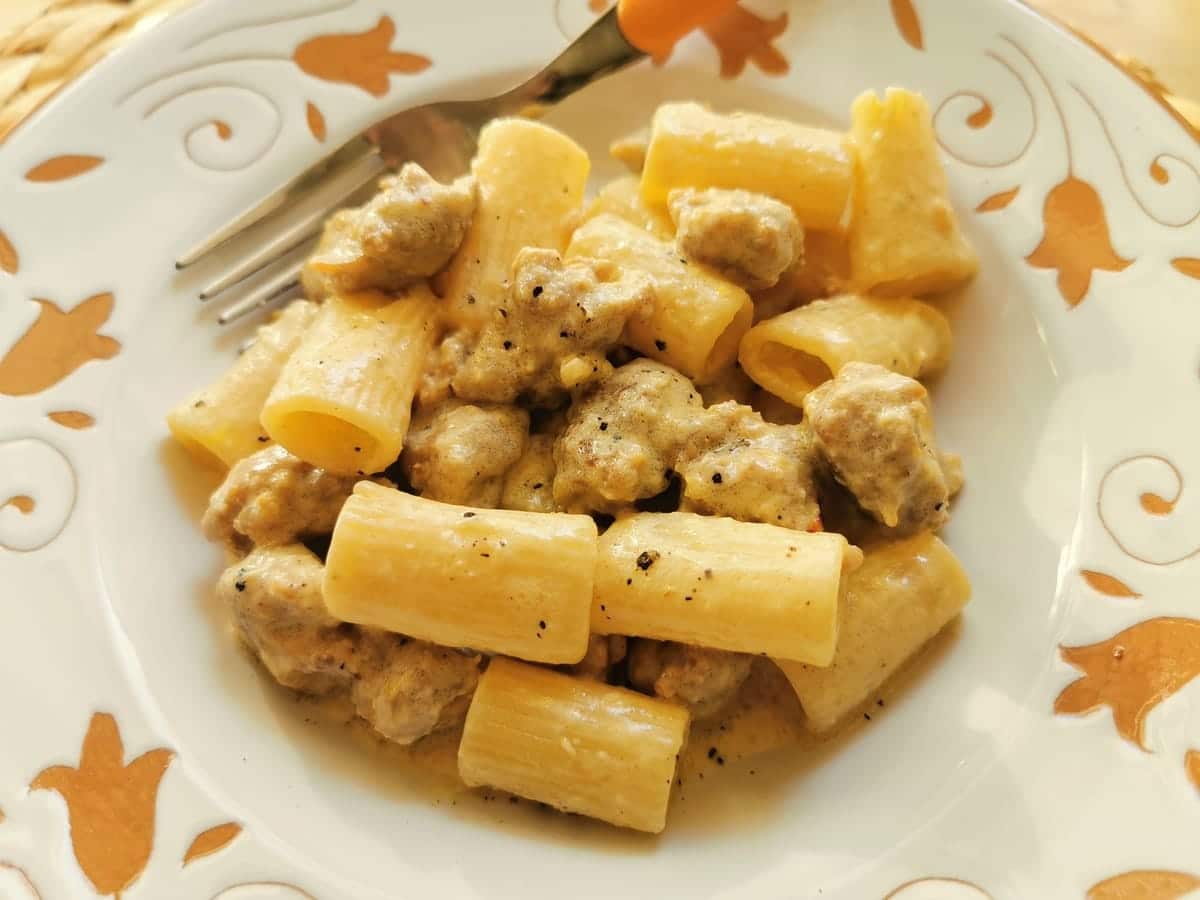 This creamy sausage and saffron pasta recipe from Lombardy is actually very simple to make, using just 4 main ingredients. It is simple enough for a great weeknight dish but also rich and luxurious enough for guests!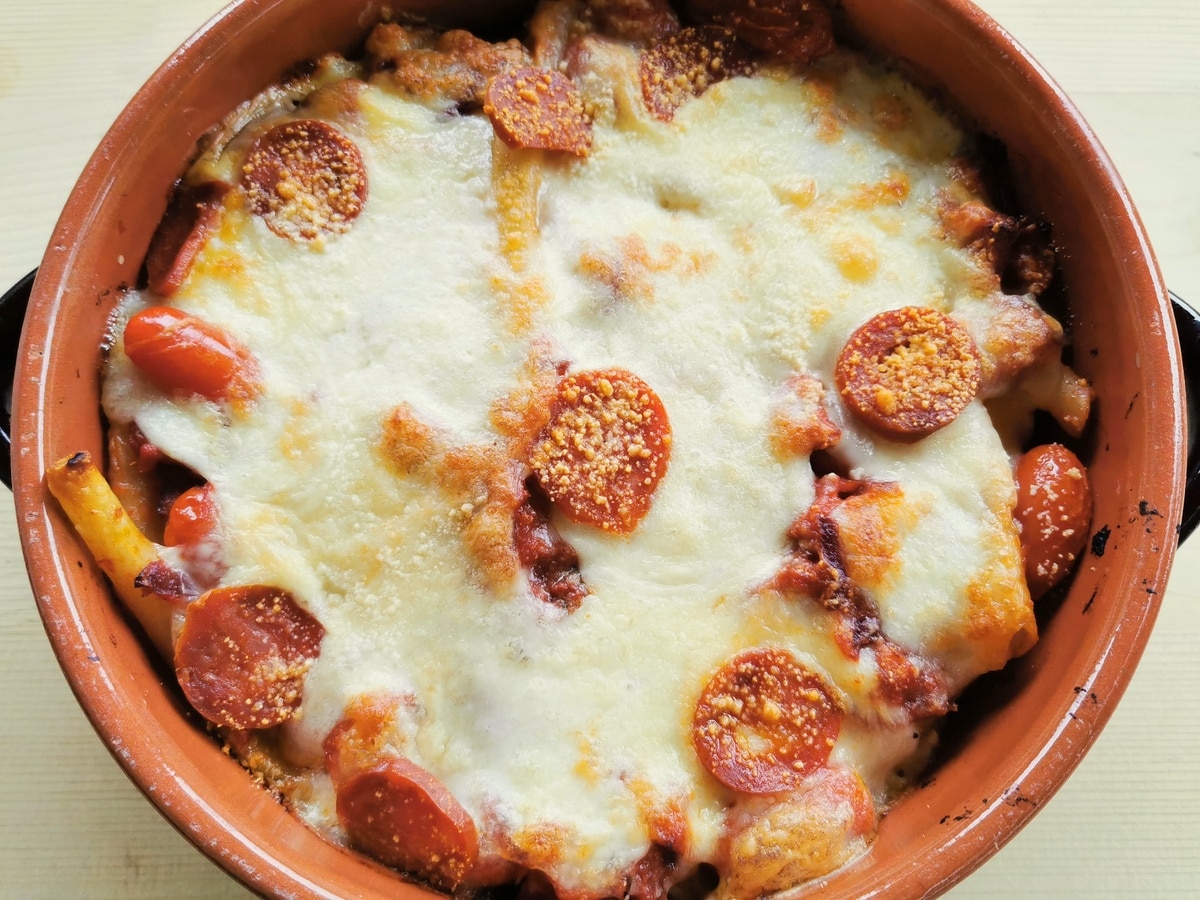 This fantastic baked ziti pasta with spicy sausage, sometimes called 'ziti alla diavola', is a delicious Neapolitan baked pasta dish. It's an excellent sausage pasta recipe for people who love spicy food! We used a calabrian sausage but this dish is great with chorizo too!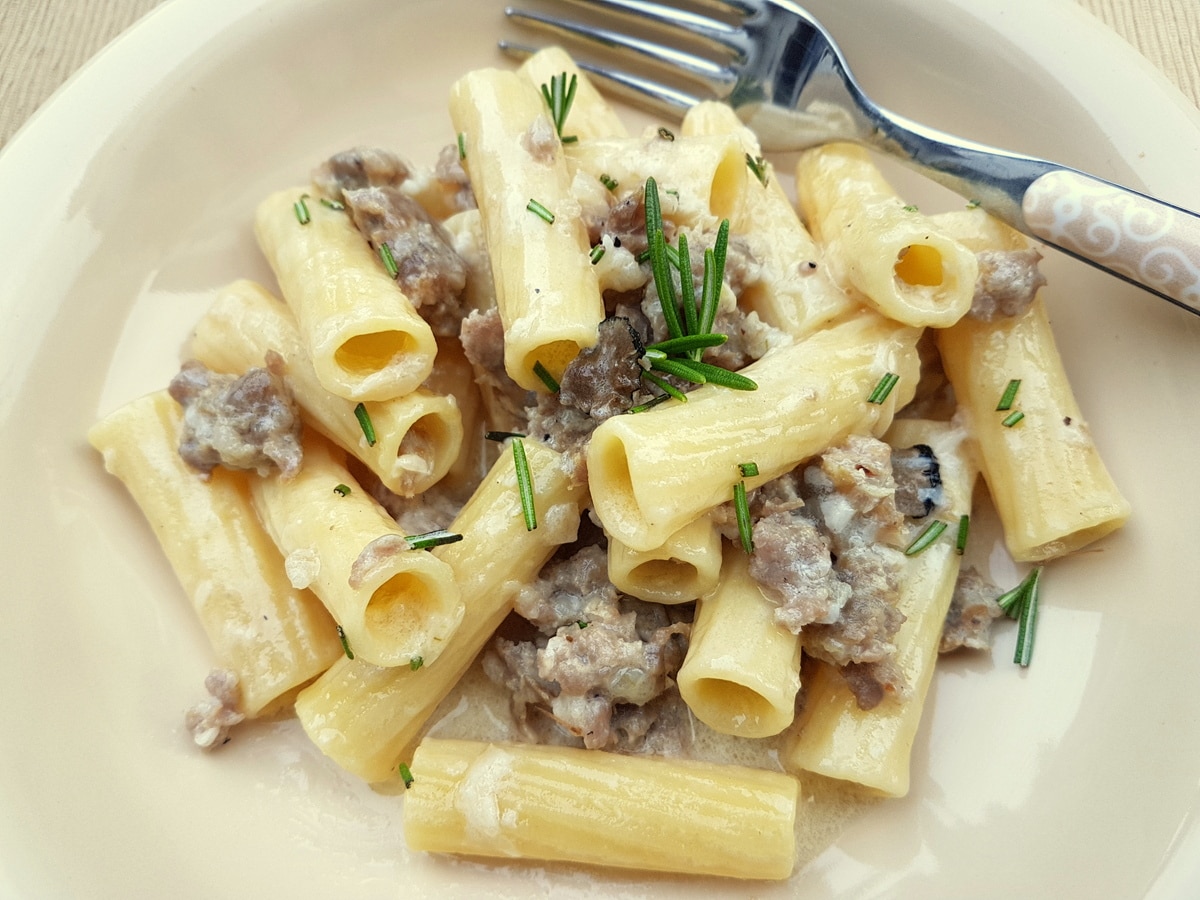 Bring a taste of Umbria to your table with pasta alla Norcina, from the ancient town of Norcia, celebrated for its sausages and cured meats. Infused with the richness of Norcia sausage, fresh cream, truffle, and pecorino, this is a creamy delight.
Minimal in ingredients yet boundless in flavor, this is a dish that'll easily find its way into your regular rotation—even without the truffles.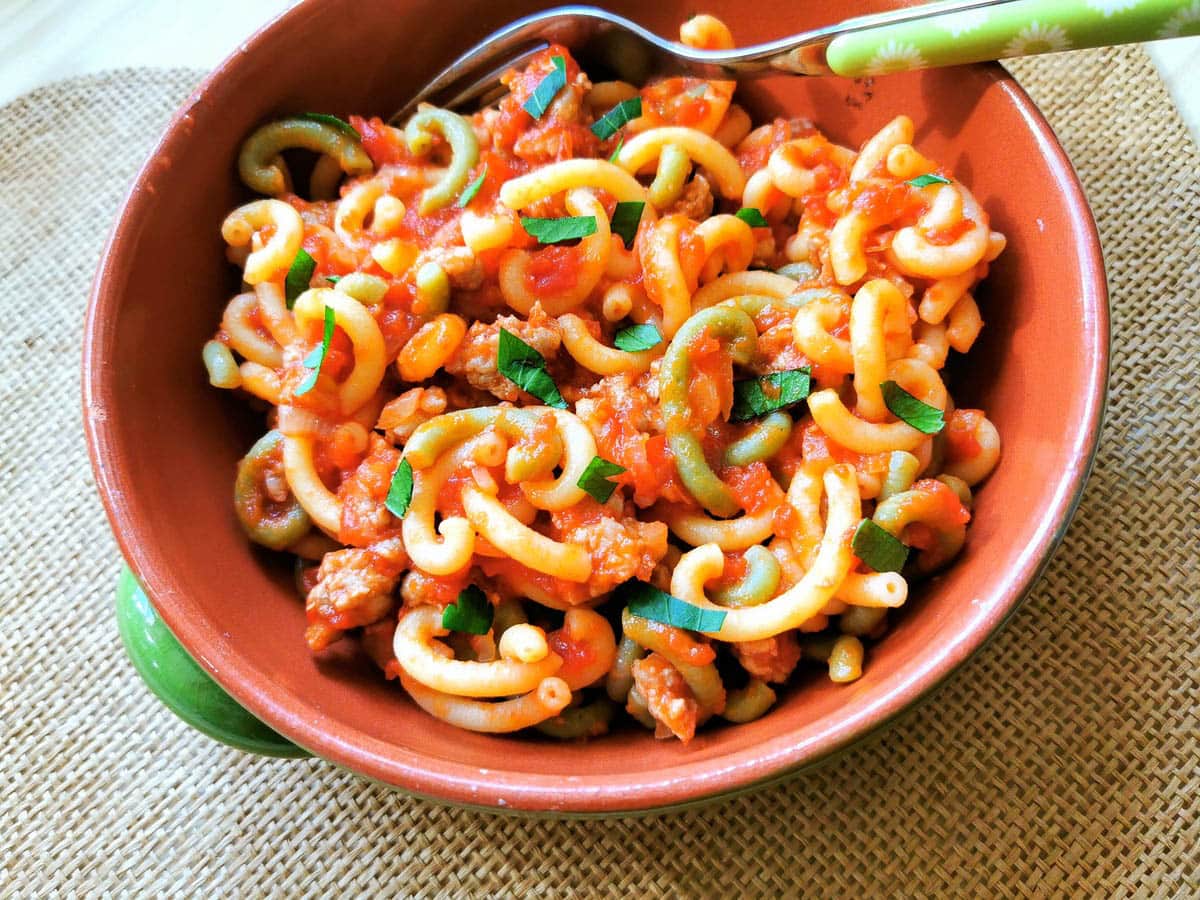 Taste the flavors of Bologna with gramigna alla salsiccia, a staple in local homes and eateries alike. While its fame might not rival other Bolognese classics, its simplicity shines through—a harmonious trio of sausage, tomatoes, and onion, ensuring each bite is packed with flavor.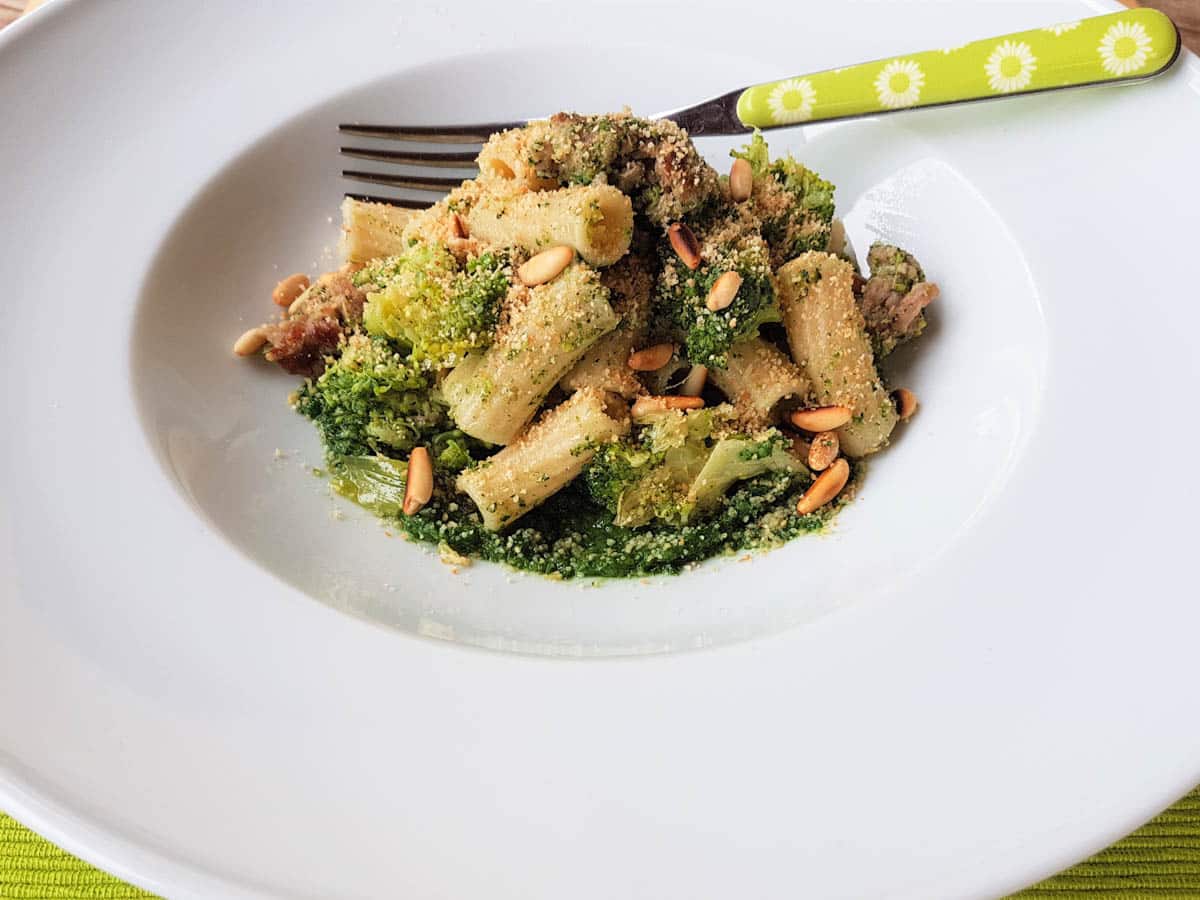 My Sicilian hubby introduced me to this sausage pasta with broccoli and it really was love at first bite! Since then, I have eaten different versions of this typical Southern Italian dish.
It's super tasty and healthy too, especially if you make it with organic ancient-grain pasta from Sicily, as I did!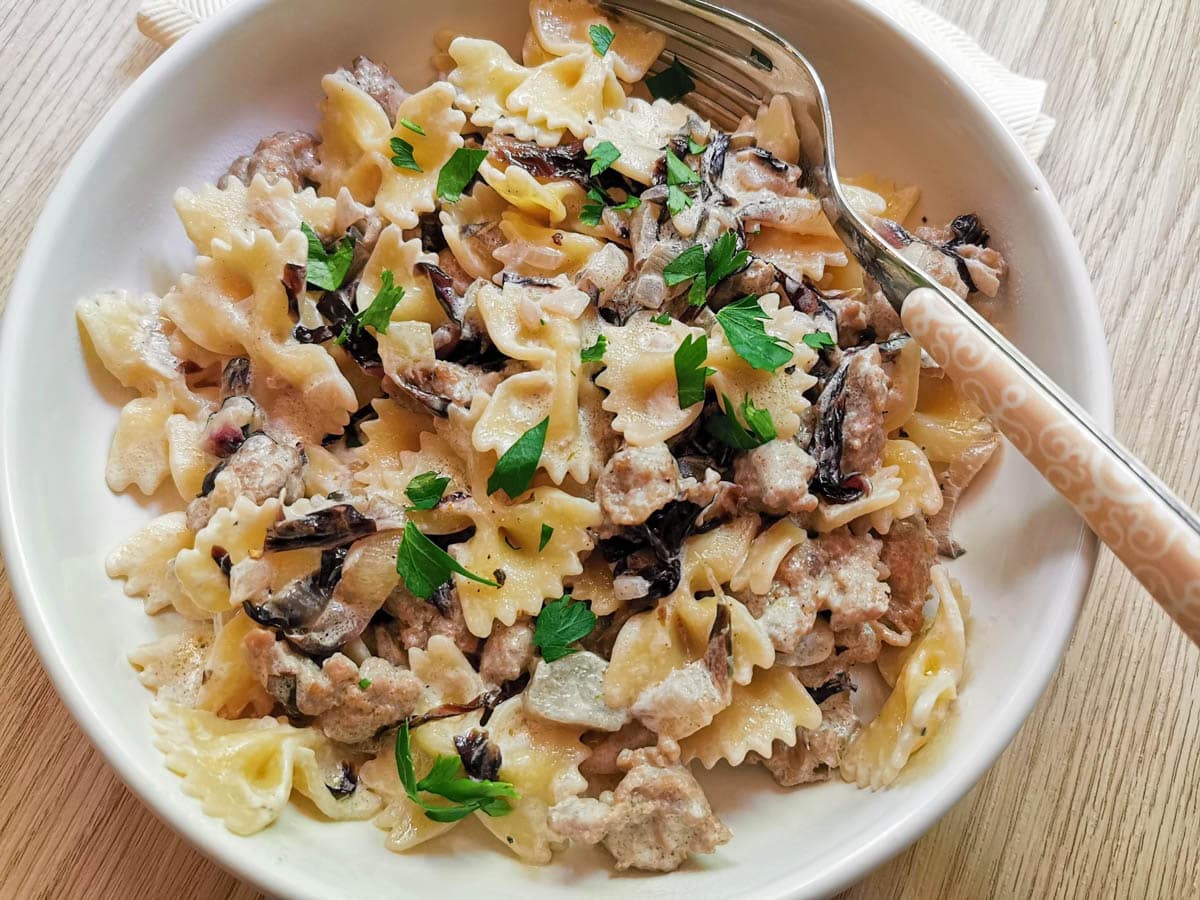 Sausage and radicchio (Italian chicory) is a popular combination for both pasta and risotto recipes, particularly here in Northern Italy, where most of the country's radicchio is grown.
This sausage and radicchio pasta recipe has only 3 main ingredients and is super simple to make. While its ingredients are minimal, the flavor is authentically rich and deeply satisfying.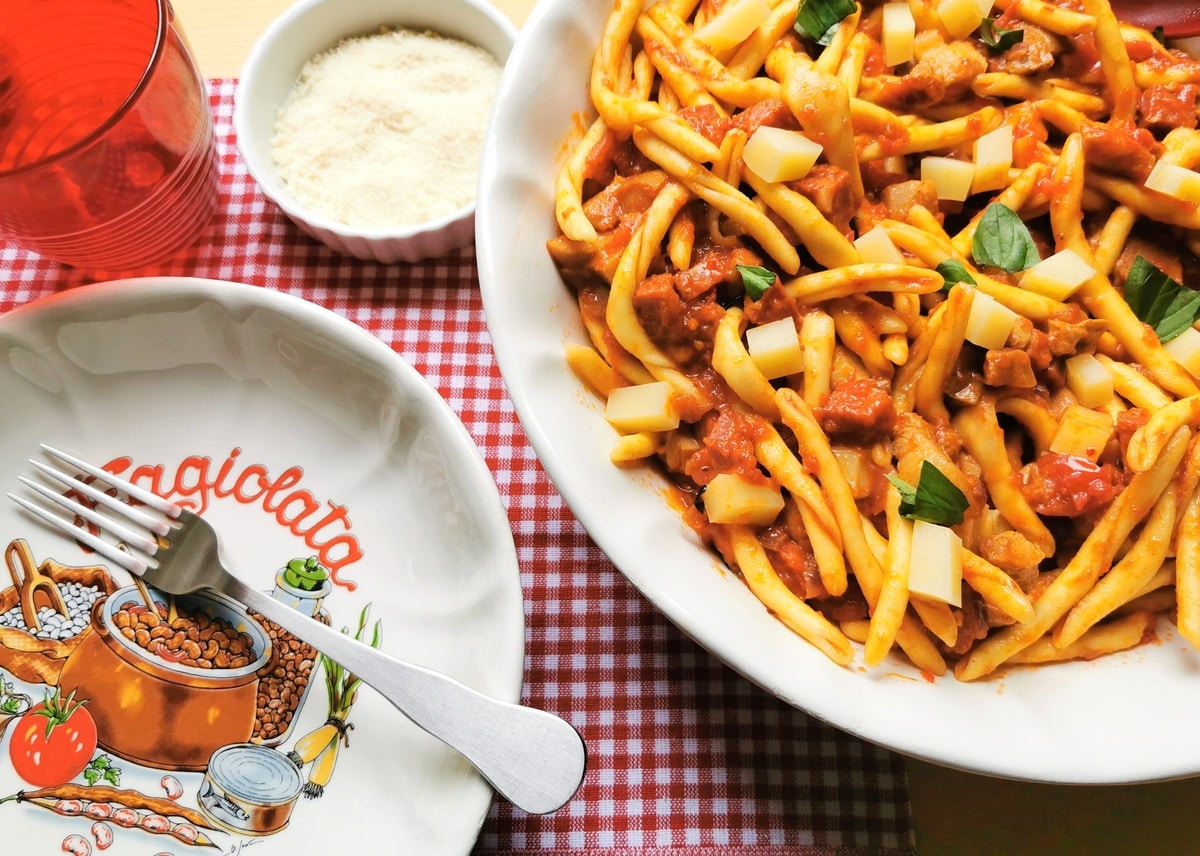 Another hearty Italian sausage and pasta recipe from Calabria is this fileja alla Silana from the Sila mountains. One of the most well-known pasta dishes from this part of Italy, this very filling and hearty recipe is a veritable feast of typical Sila foods including tomatoes, sausage, guanciale, mushrooms, caciocavallo cheese, peperoncino and pecorino!
Of course, you can use other types of pasta instead.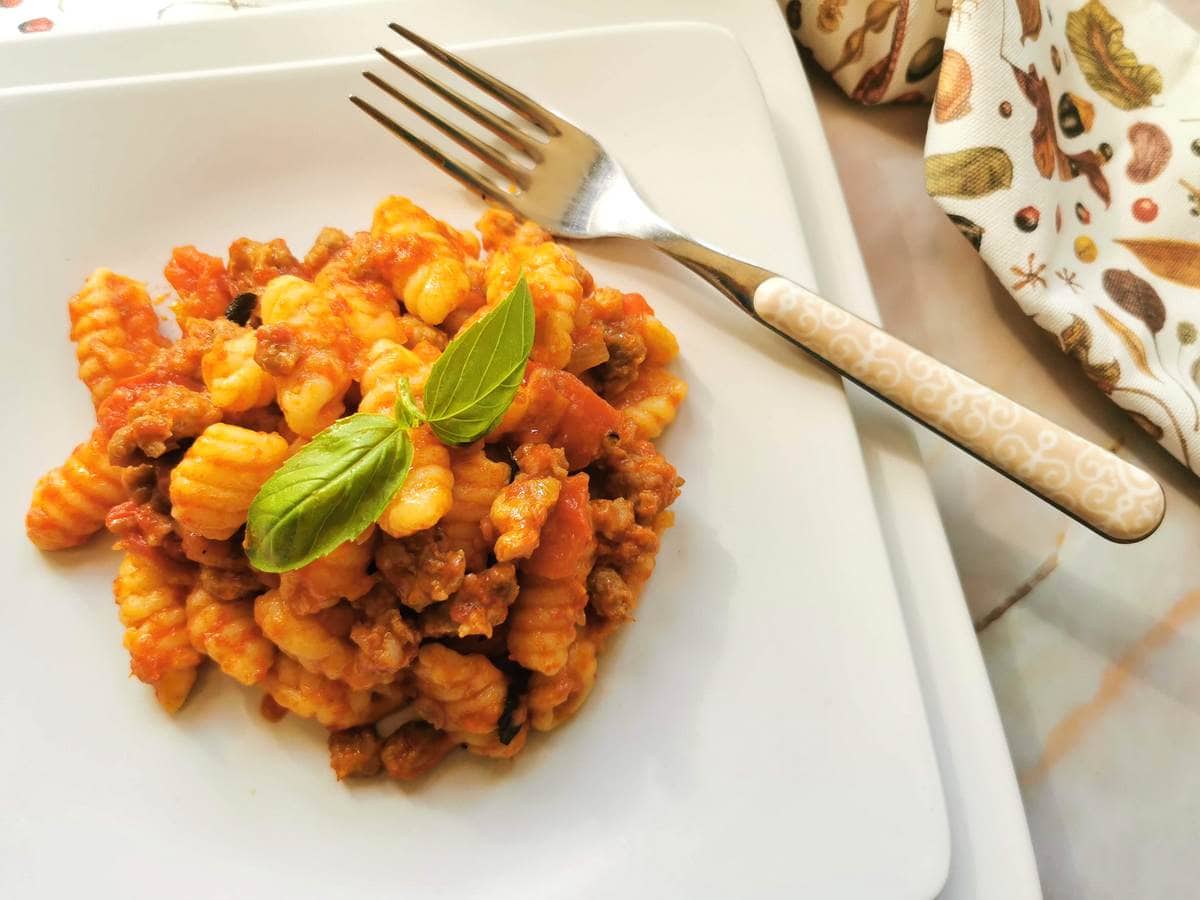 Dive into Sardinia's rich culinary tradition with this iconic Sardinian gnocchi (malloreddus) recipe. Served with pork sausage enriched with fennel and saffron notes, and fresh tomatoes, this is a classic Italian sausage and pasta recipe.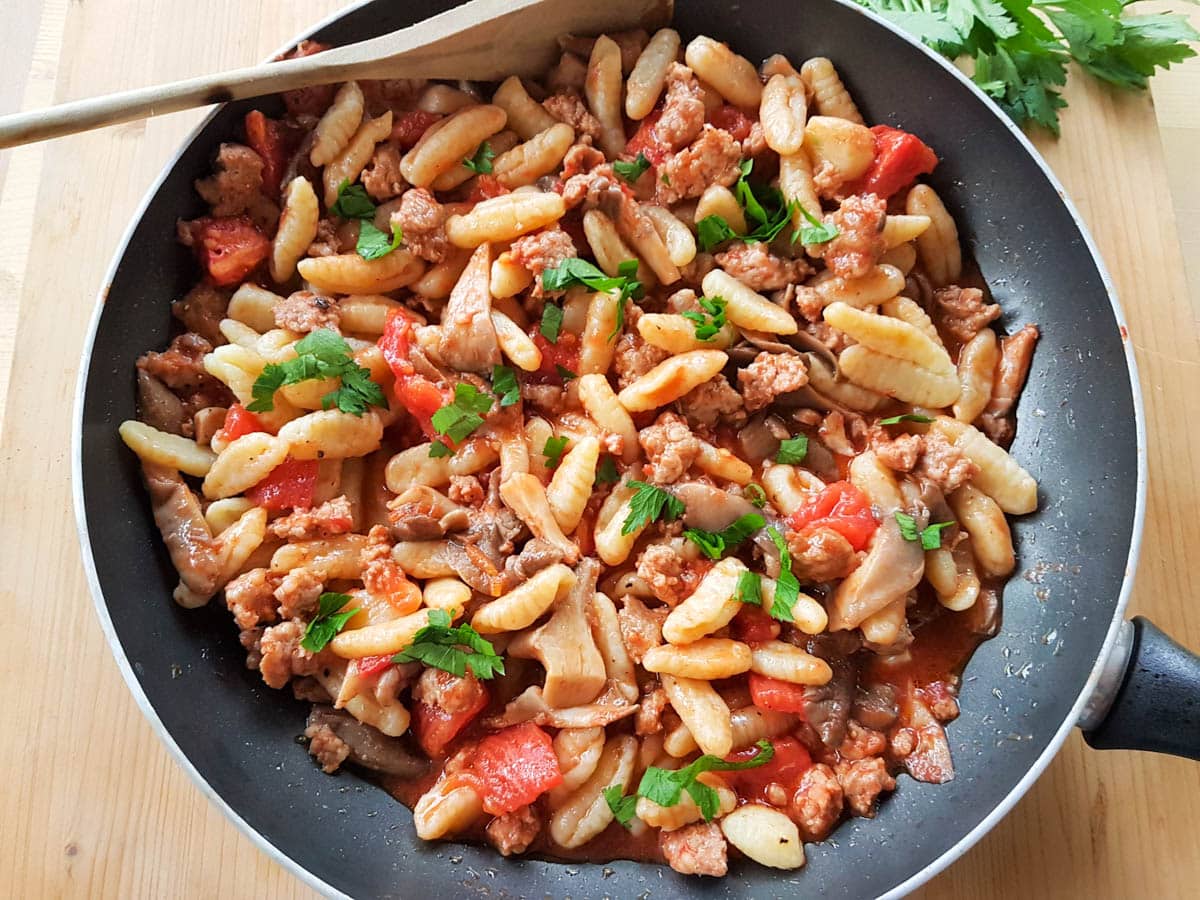 This easy to make Southern Italian sausage pasta comes from Puglia but is popular throughout Southern Italy. It contains a savory combination of mushrooms and sausage and homemade pasta.
This dish is perfect comfort food for the cold months. The sauce comes together pretty quickly and doesn't take long to cook. Of course, if you use homemade cavatelli, preparation times will be longer but you can use other pasta instead.
More recipe collections you may like:
Pin for Later: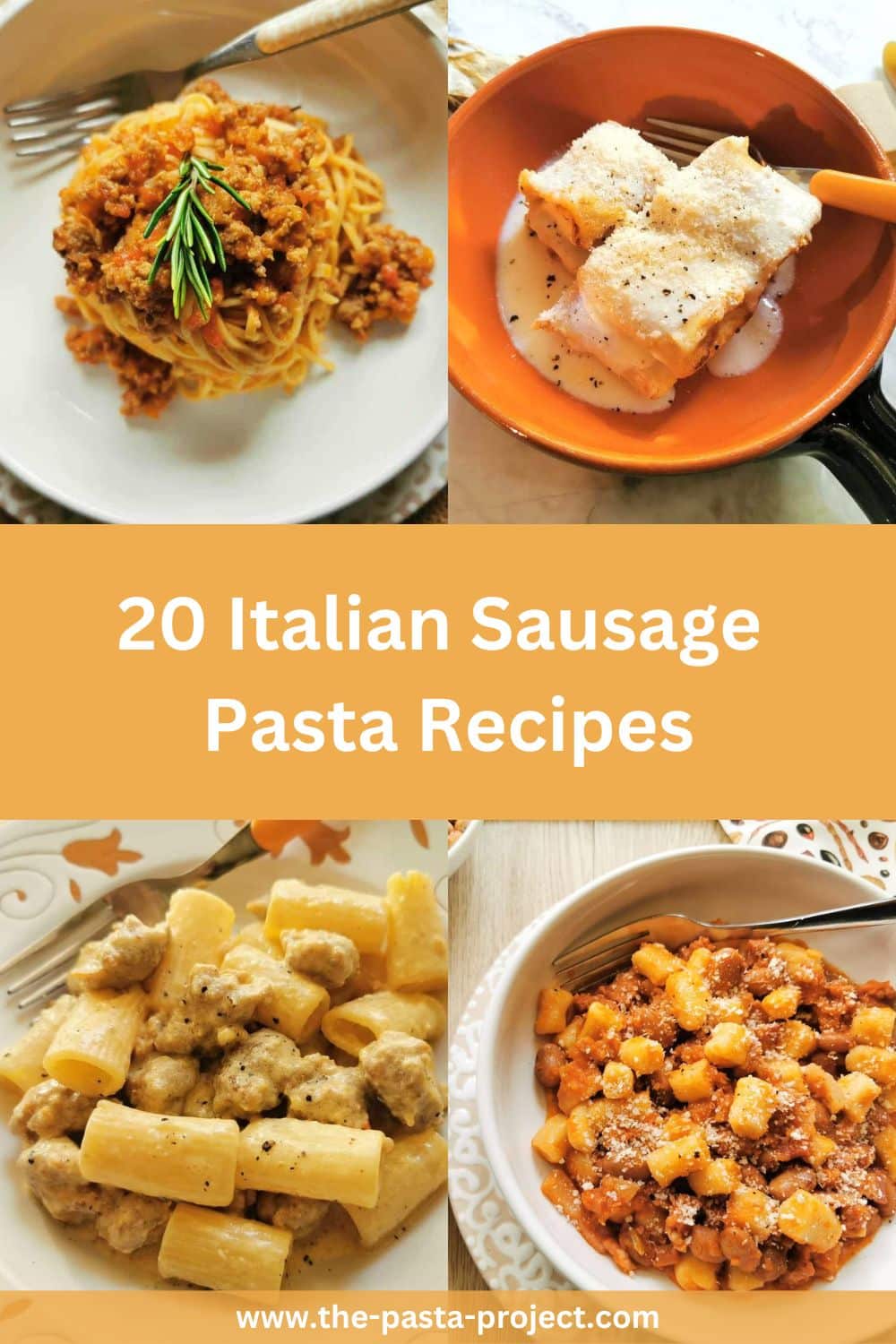 If you make any of these Italian sausage pasta recipes, I'd love to hear how they turn out and if you liked them. Please leave a comment here on the blog or on The Pasta Project Facebook page.
Looking forward to hearing from you!
Buon appetite!
If you are interested in learning how to make homemade pasta and different types of gnocchi, check out my shop page for some great video online courses from my friends in Rome! Nothing beats learning to make pasta from Italians! Plus while you're there why not order a copy of my autumn/winter pasta recipes cookbook!?