Fileja Pasta alla Silana Recipe from Calabria, Southern Italy.
This fileja pasta alla Silana is a typical rich and hearty Calabrian recipe. It contains some of the tastiest and best known products of this Southern Italian region, including spicy sausage and peperoncino. Perfect winter comfort food!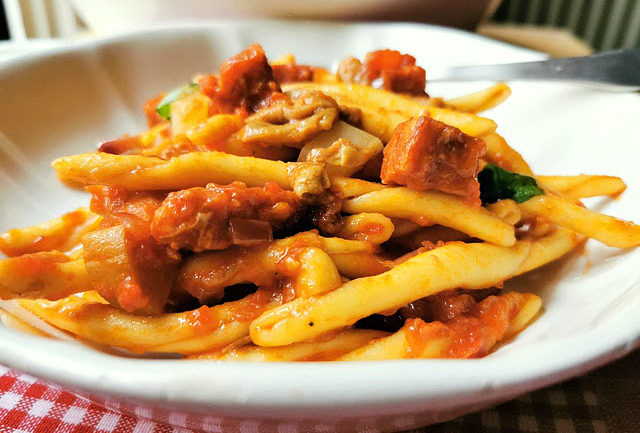 La Sila.
Pasta alla Silana originated in La Sila or the Sila, a mountainous plateau and historic region in Calabria. This extraordinary territory is the only mountain massif that rises in the heart of the Mediterranean. The centre of the Sila is a huge national park of forests, valleys, rivers, waterfalls, arboreal giants, cliffs and canyons. It's also home to a lot of wild life including bears and wolves! The earliest traces of human presence go back to 3,500 B.C., proved by the archaeological remains of a Neolithic village which were found a few years ago on the south shore of Lake Cecita.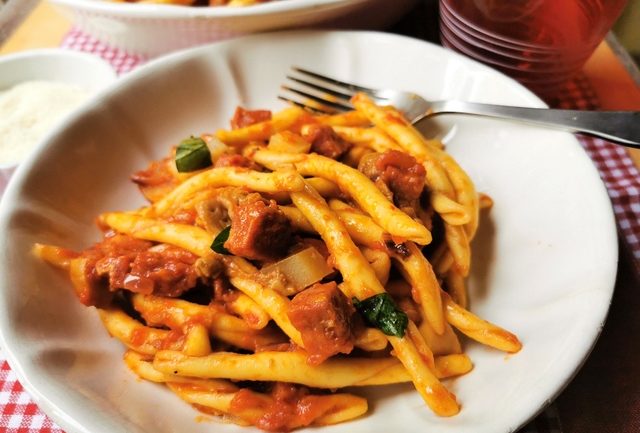 The cuisine of La Sila.
The kitchen of the modern day inhabitants of La Sila is still rooted in ancient traditions. Foraged mushrooms, beans, potatoes, and cheeses (like Silano caciocavallo), chili peppers (peperoncino) and sheep and pig meat are the basis of the Sila cuisine.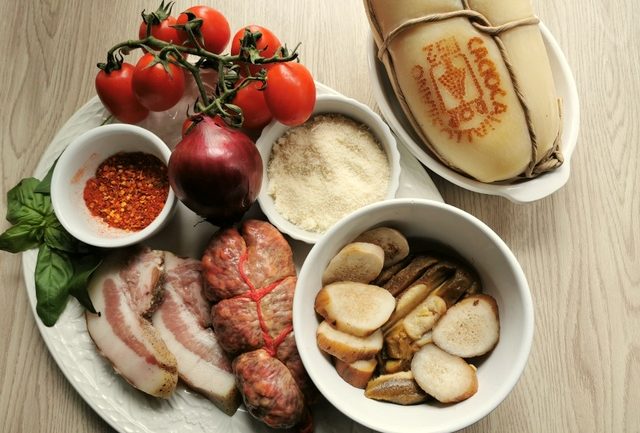 Being a mountainous area that was isolated from the rest of Italy, especially in winter, the people of La Sila developed ways to process and preserve food. They are well known for their pork products like soppressata, lardo, capicollo, pancetta, sausages, prosciutto and the typical Calabrian soft spicy sausage nduja. They also pickle mushrooms, grapes, vegetables and olives according to ancient traditions.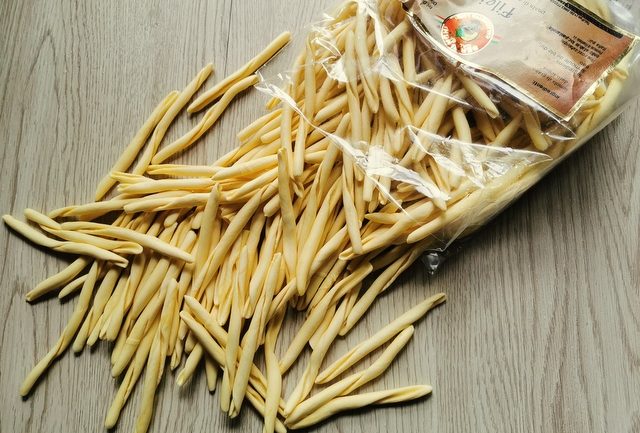 Fileja pasta alla Silana.
Pasta alla Silana is one of the most well-known pasta dishes from this part of Calabria. This very filling and hearty recipe is full of typical Sila foods. It is actually a pretty popular recipe in other parts of Italy and Calabria, so there are some slightly different versions. However, the main ingredients are mostly the same, tomatoes, sausage, guanciale, porcini mushrooms, caciocavallo cheese, peperoncino and pecorino.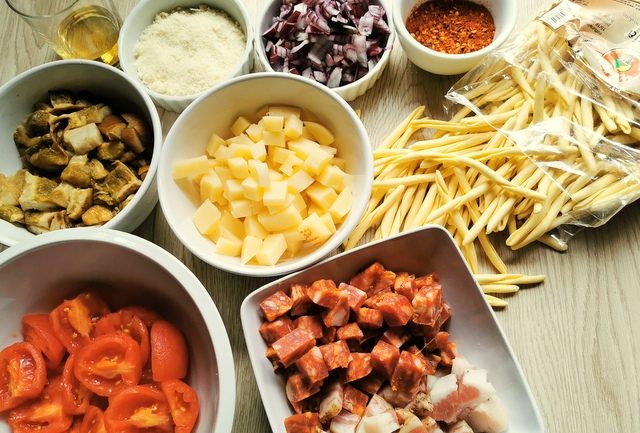 The main differences I found in versions of this recipe was that most called for aged Calabria sausage, without specifying which type. However, one recipe specified soppressata. Since I had some fabulous slightly spicy Calabrian soppressata, I used that.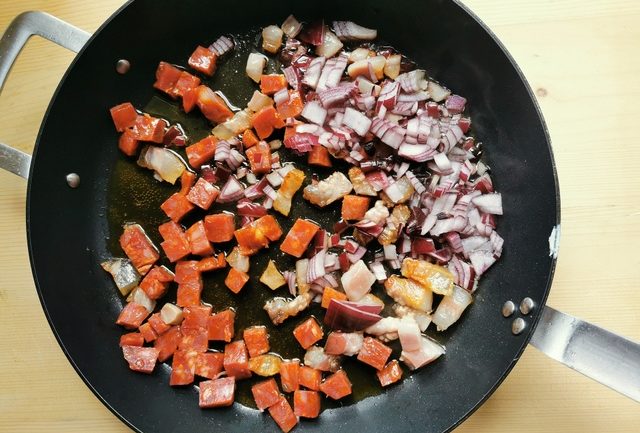 For those who don't know it, soppressata is a type of salami made with pieces of lean pork, lardo, black pepper, sometimes a little fennel and peperoncino or sweet red peppers. You can also use other types of Calabrian sausage or salami. I think even chorizo would work.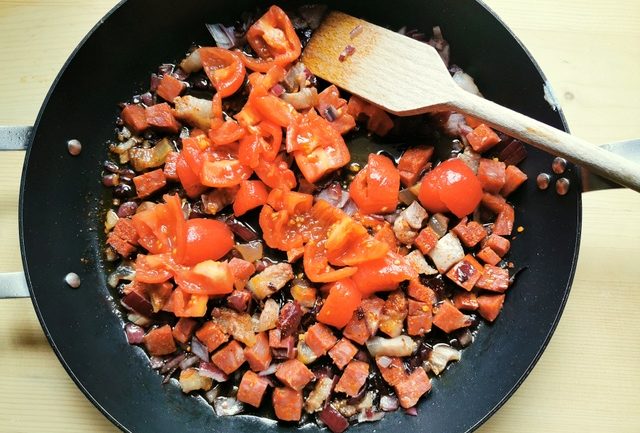 Other variations of pasta alla Silana
Some pasta alla Silana recipes also include prosciutto crudo, but I didn't add it. If you don't have any guanciale (pork cheek), you can also use pancetta. I came across a number of versions with it. In addition, not all recipes include porcini mushrooms and when they do, they are usually dried porcini. However, I used frozen porcini.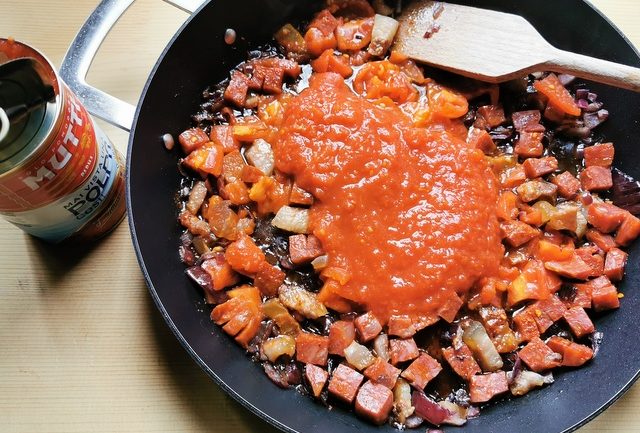 Also, I was lucky enough to have some caciocavallo Silano cheese from La Sila! This is probably the most well-known cheese from Calabria. The word 'caciocavallo' actually means 'cheese on horseback'! It probably originates from the ancient custom of drying the cheese forms attached in pairs over a horizontal eave or beam. But, you can also use provola, provolone or even mozzarella.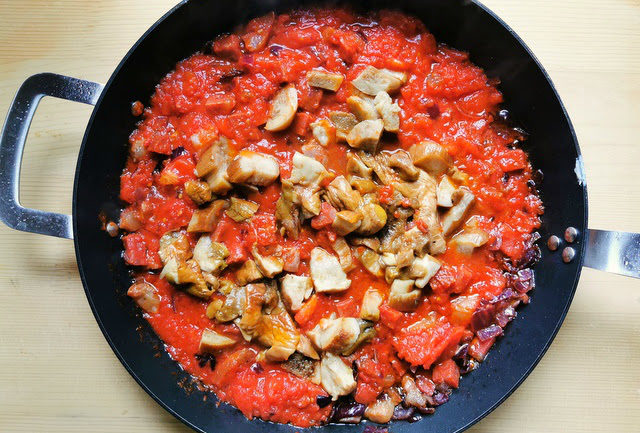 The fileja pasta.
Many online pasta alla Silana recipes are made with rigatoni. However, in La Sila, you are more likely to find it with 'macaroni al ferretto' also called fileja. Fileja is a very typical Calabrian pasta of ancient origin. This pasta actually has different names in different parts of Calabria. However, traditionally, it's made by wrapping 2-3in pieces of flour, salt and water pasta dough around a thin wooden stick or piece of metal (ferretto).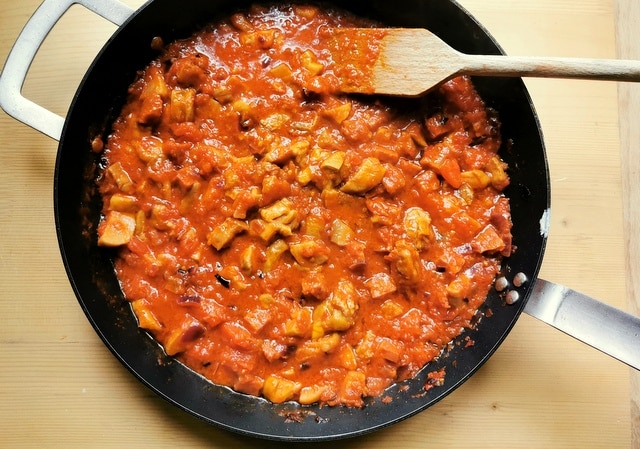 You can read more about this pasta in my fileja post. Although fileja is traditionally a fresh pasta, nowadays you can buy it dried.
Bottega di Calabria.
I recently discovered a wonderful online shop that sells typical Calabrian food! Bottega di Calabria is the place to go for Calabrian culinary goodies if you can't find them where you live. This company sent me a selection of their products to use in some of my recipes. I started with their fileja pasta, but they actually sell all the main ingredients you would need for this recipe.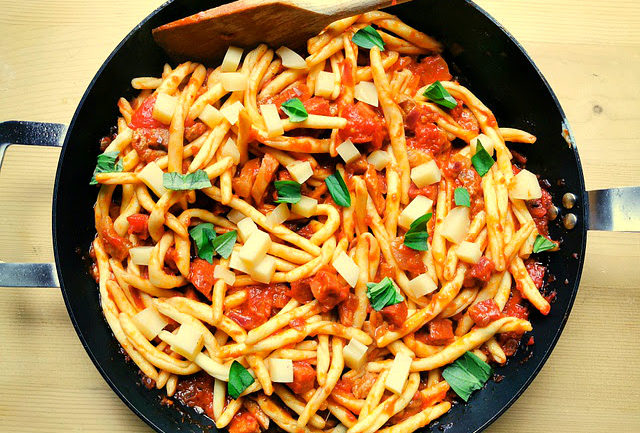 On their site you can find fileja pasta, soppressata, caciocavallo Silano, Calabrian pecorino and provola as well as Calabrian pancetta and guanciale! Of course they also sell my favourite Calabrian product, nduja! This spicy soft salami is the main ingredient in pasta with nduja.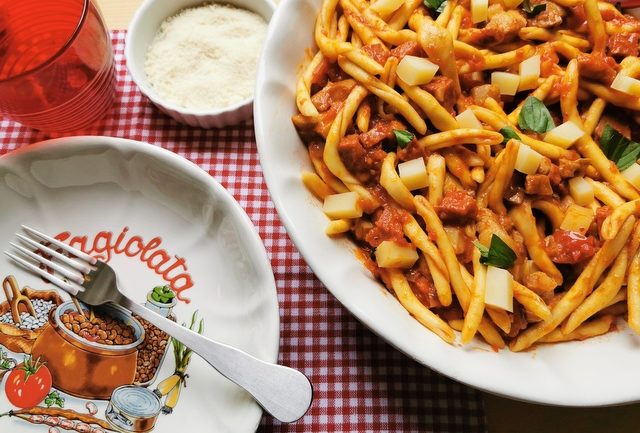 Unfortunately, Bottega di Calabria don't currently ship to the USA. But, if you are located in UK or the rest of Europe, you might want to check them out! I loved their fileja and can't wait to try the other products I have. Here's a link to the fileja pasta I used.
Fileja Pasta from Bottega di Calabria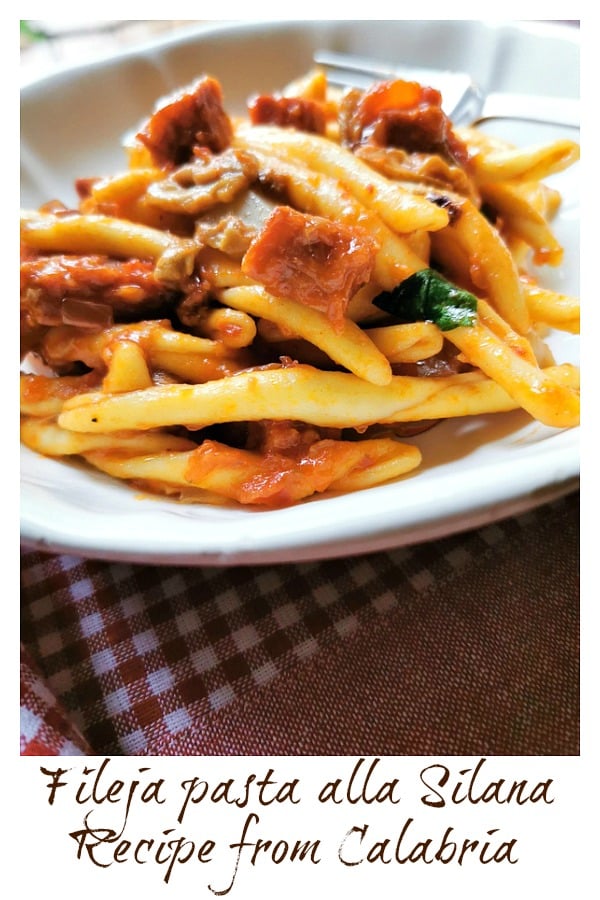 If you do try this fileja pasta alla Silana recipe, I'd love to hear what you think. Please write a comment here on the blog or post a comment on the Pasta Project Facebook page.
Your feedback means a lot to me!
Buon Appetito!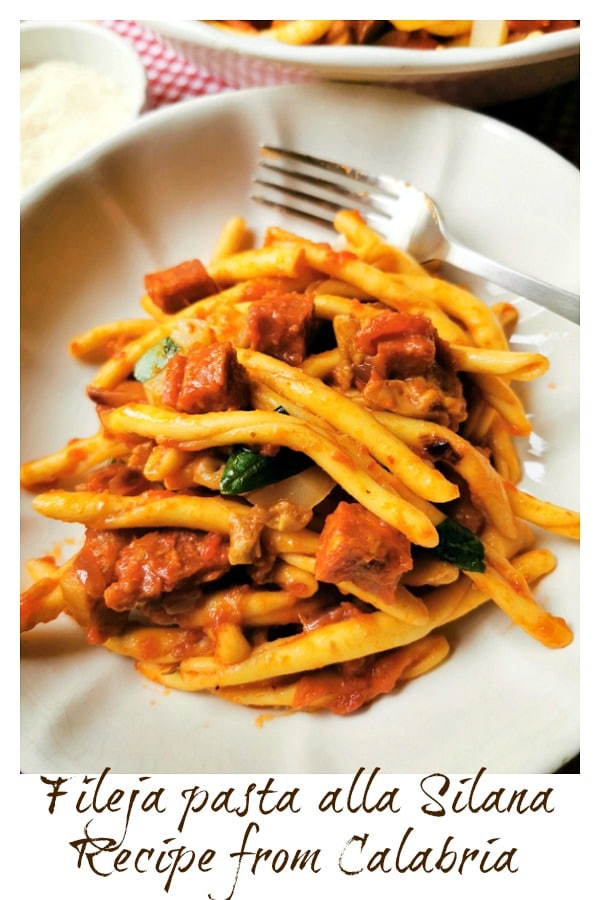 Save this recipe for later?
If you want to save this recipe for later, you can print it, bookmark this page or save it to Pinterest.
Disclaimer: Although this post is sponsored by Bottega di Calabria, all opinions are my own.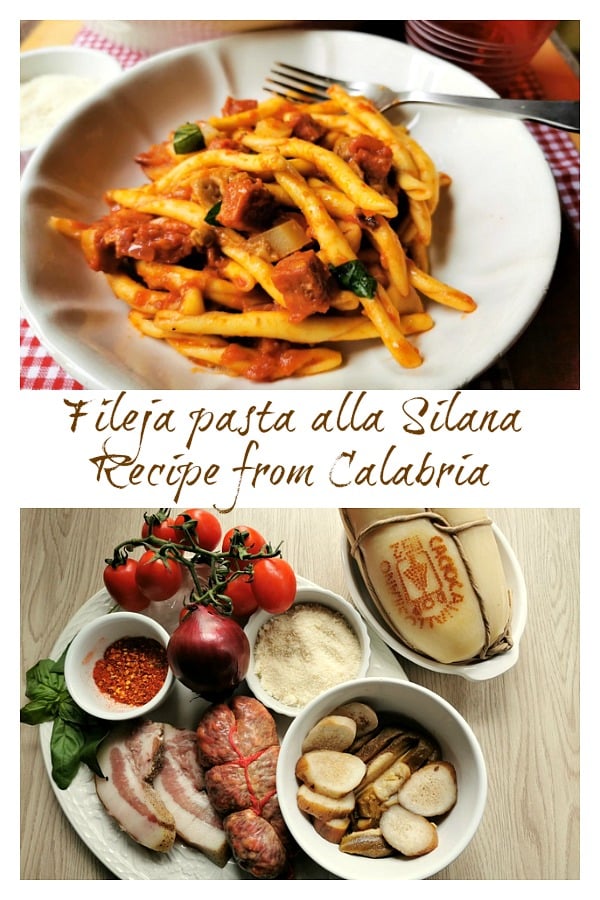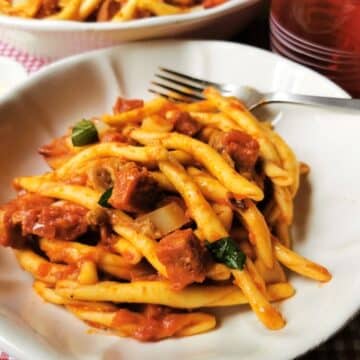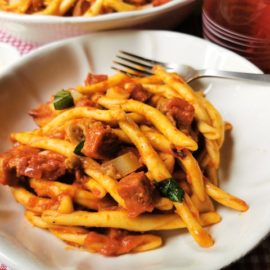 Fileja Pasta alla Silana from Calabria
This fileja pasta alla Silana is a typical rich and hearty Southern Italian pasta recipe made with some of the tastiest and best known products of Calabria, including spicy sausage and peperoncino.
Ingredients
400

g

fileja pasta

(14oz) or rigatoni or other short pasta tubes

10

fresh tomatoes

blanched and peeled (see note)

400

g

tomato passata

(14oz) or polpa. I used polpa from Mutti

100

g

guanciale (pork cheek)

(3.5oz) 2 thick slices cut into small cubes or pancetta

100

g

soppressata

(3.5 oz) or other spicy salami/sausage cut into cubes

150

g

caciocavallo Silano

(5 oz) or provola, provolone or mozzarella cut into cubes

1

red onion

I used a Tropea onion from Calabria. Peeled and chopped

50

g

dried porcini

(2oz) or 100 g frozen. Dried need to be soaked in warm water.

1

handful

pecorino

grated

1

handful

basil leaves

1-2

tsp

peperoncino flakes (red chili pepper)

as required

2-3

tbsp

extra virgin olive oil.

1

measure

whiskey or brandy

salt

for pasta and to taste

Freshly ground black pepper.

to taste
Instructions
Preparing the ingredients
If using dried porcini soak them in some warm water for 20-30 minutes before using. Peel and chop the onion. Remove the casing from the soppressata/ sausage, then cut it into cubes, and also cut the guanciale or pancetta into cubes. If using fresh tomatoes, blanch them in boiling water and peel. Cut the peeled tomatoes into quarters and remove most of the seeds. Cut the caciocavallo into small cubes.
Cook your pasta alla Silana
Cook the onion in a little olive oil together with the guanciale, soppressata and  peperoncino flakes until the guanciale fat starts to become translucent. Add the whiskey and let the alcohol evaporate.

When the meats are nice and crispy, add the peeled tomatoes and cook over a moderate heat until they start to soften. Then add the tomato polpa/passata if using.

Put a pot of water on to boil for the pasta. Add salt once it starts to boil and bring to a boil again.

Add the dried porcini mushrooms with their filtered water to the sauce. (Fresh or frozen porcini don't have any liquid with them) Mix well and add salt and pepper to taste and let the sauce simmer on a low heat while you cook the pasta.

Cook the pasta al dente according to the instructions on the packet. Then drain it. Add the cooked pasta to the sauce. Mix well then add the basil and diced caciocavallo. Let it rest for a minute to melt the caciocavallo.

Serve immediately with the grated pecorino.
Notes
I like to use a mixture of fresh peeled tomatoes and polpa or passata. However, you can use just peeled tomatoes or just polpa or passata. In which case, increase the quantity of which ever you use. Double the number of tomatoes or use 50% more passata.
I used dried fileja pasta from Bottega di Calabria (see post for more info). You can use other types of short pasta like rigatoni if you don't have fileja.
If you have leftovers, they are fabulous baked. Just put the leftovers in an oven dish, add more pieces of caciocavallo and a sprinkling of pecorino on top. Bake in a preheated oven (180°c) until the top is crispy.
Nutrition
Calories:
968
kcal
Carbohydrates:
109
g
Protein:
36
g
Fat:
45
g
Saturated Fat:
16
g
Polyunsaturated Fat:
3
g
Monounsaturated Fat:
12
g
Cholesterol:
76
mg
Sodium:
1070
mg
Potassium:
1747
mg
Fiber:
11
g
Sugar:
17
g
Vitamin A:
3353
IU
Vitamin C:
55
mg
Calcium:
274
mg
Iron:
5
mg
More recipes from Calabria on The Pasta Project