Dive into the heart of Calabria with this robust and flavorful spicy sausage pasta! A traditional pasta recipe from La Sila, a picturesque mountainous plateau in Southern Italy, this dish beautifully showcases the region's traditional ingredients.
It's perfect for spicy food lovers, and the best part? You can bring this Italian classic to your table in under an hour!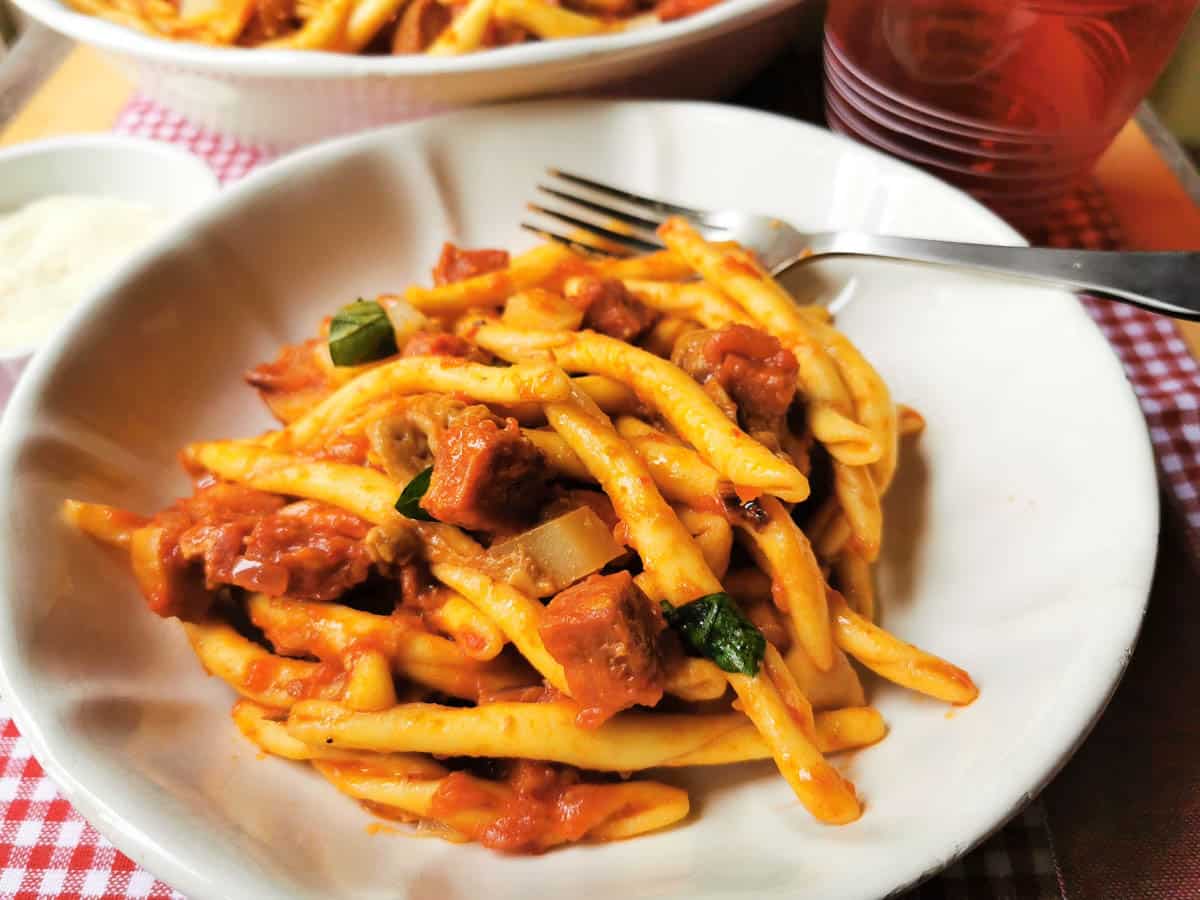 History
This spicy Italian pasta recipe, known in Italy as pasta alla Silana, is one of the most well-known pasta dishes from this part of Calabria. This very filling and hearty recipe is full of typical Sila foods. It is actually a pretty popular recipe in other parts of Italy and Calabria, so there are some slightly different versions. However, the main ingredients are mostly the same: tomatoes, sausage, guanciale, porcini mushrooms, caciocavallo cheese, peperoncino and pecorino.
The main differences I found in versions of this recipe was that most called for aged Calabria sausage, without specifying which type. However, one recipe specified soppressata. Since I had some fabulous slightly spicy Calabrian soppressata, I used that.
For those who don't know it, soppressata is a type of salami made with pieces of lean pork, lardo, black pepper, sometimes a little fennel and peperoncino or sweet red peppers.  You can also use other types of Calabrian sausage or salami. I think even chorizo would work.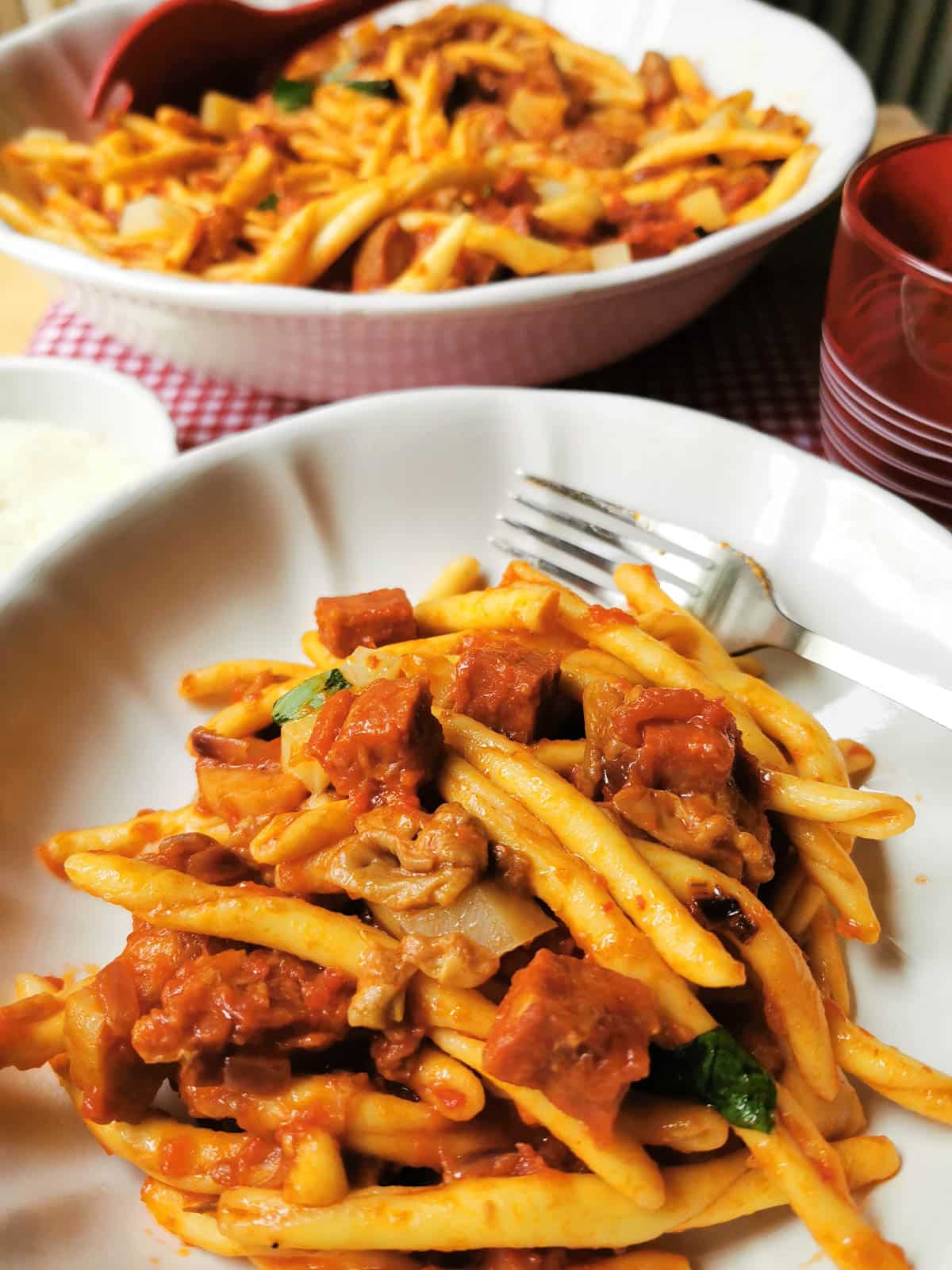 Other variations of pasta alla Silana
Some pasta alla Silana recipes also include prosciutto crudo, but I didn't add it.  If you don't have any guanciale (pork cheek), you can also use pancetta. I came across a number of versions with it. In addition, not all recipes include porcini mushrooms and when they do, they are usually dried porcini. However, I used frozen porcini.
Also, I was lucky enough to have some caciocavallo Silano cheese from La Sila! This is probably the most well-known cheese from Calabria. The word 'caciocavallo' actually means 'cheese on horseback'! It probably originates from the ancient custom of drying the cheese forms attached in pairs over a horizontal eave or beam.  But, you can also use provola, provolone or even mozzarella.
The cuisine of La Sila.
The kitchen of the modern day inhabitants of La Sila is still rooted in ancient traditions. Foraged mushrooms, beans, potatoes, and cheeses (like Silano caciocavallo), chili peppers (peperoncino) and sheep and pig meat are the basis of the Sila cuisine.
Being a mountainous area that was isolated from the rest of Italy, especially in winter, the people of La Sila developed ways to process and preserve food. They are well known for their pork products like soppressata, lardo, capicollo,  pancetta, sausages, prosciutto and the typical Calabrian soft spicy sausage nduja. They also pickle  mushrooms, grapes, vegetables and olives according to ancient traditions.
Ingredients and Substitutes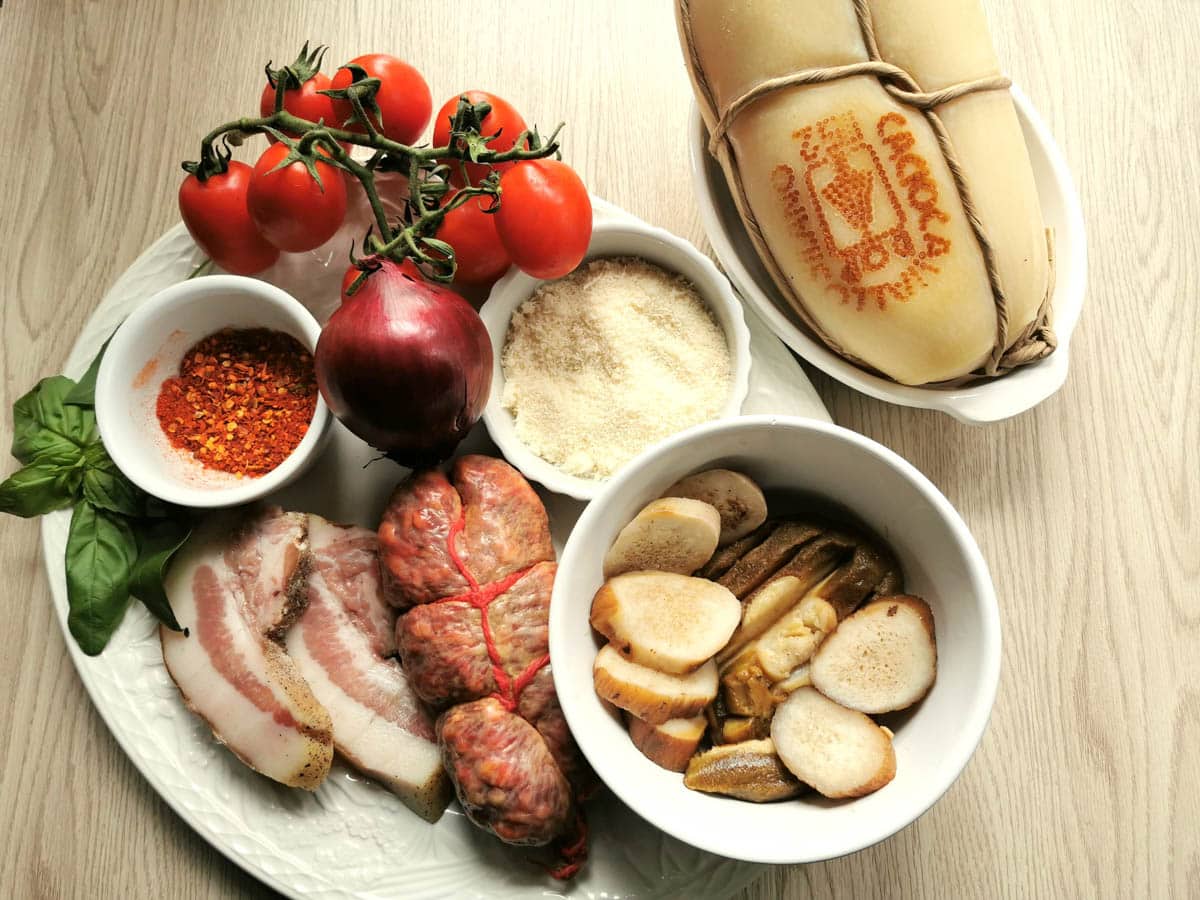 Fileja Pasta: This pasta variety and its distinct shape is excellent at catching the sauce. If you can't source fileja, rigatoni or other short pasta tubes are excellent alternatives.
Soppressata (Spicy Italian Sausage): This spicy sausage pasta can be made using either the spicy (piccante) or sweet (dolce) version of soppressata. If you're going with the sweet variety, add extra peperoncino flakes for a spicy kick. If soppressata isn't available, other spicy Italian sausages can be used as a substitute.
Peperoncino Flakes: Control the heat by adjusting the quantity. Modify based on the Soppressata type or other Italian sausage you're using.
Guanciale: This cured pork cheek adds a rich flavor. If guanciale is unavailable, pancetta or even bacon can serve as alternatives.
Tomato Passata and Fresh Peeled Tomatoes: I like to use a mixture of fresh peeled tomatoes and polpa or passata. However, you can use just peeled tomatoes or just polpa or passata. In which case, increase the quantity of whichever you use. Double the number of tomatoes or use 50% more passata.
Caciocavallo Silano Cheese: A traditional cheese from Calabria that is known for its creaminess and distinct taste. If you can't find it, provola, provolone, or mozzarella are suitable replacements.
Porcini Mushrooms: You can use both dried or frozen porcini mushrooms. If you use dried ones, remember to soak them beforehand.
Red Onion: Contributes subtle sweetness and depth to the sauce. Yellow or white onions can be used, though they might slightly alter the flavor profile.
Pecorino: This sheep's milk cheese provides a sharp and salty punch. Parmigiano Reggiano or Grana Padano can be a backup if unavailable, though it will have a less sharp flavor.
Whiskey: This adds depth to the sauce and deglazes the pan. For an alcohol-free version, water, chicken or vegetable broth can replace it, though the flavor might vary slightly.
Basil Leaves: Fresh basil brings an aromatic herbal touch. Make sure to use fresh basil and not dried.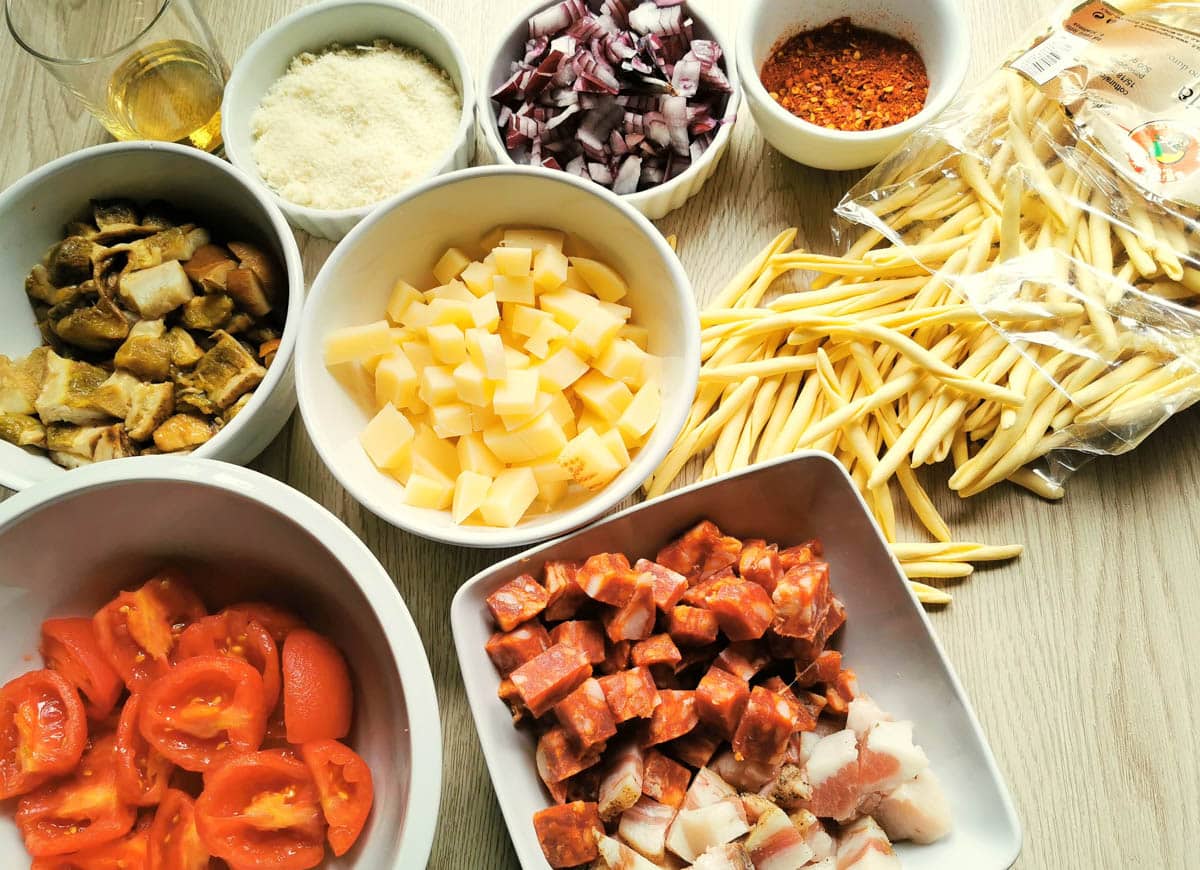 Step by Step Instructions
1) If using dried porcini, soak them in warm water for 20-30 minutes.
2) In a large pan, heat the olive oil. Add the guanciale, soppressata, and peperoncino flakes. Cook until the guanciale fat starts to become translucent. Pour in the whiskey and allow the alcohol to evaporate.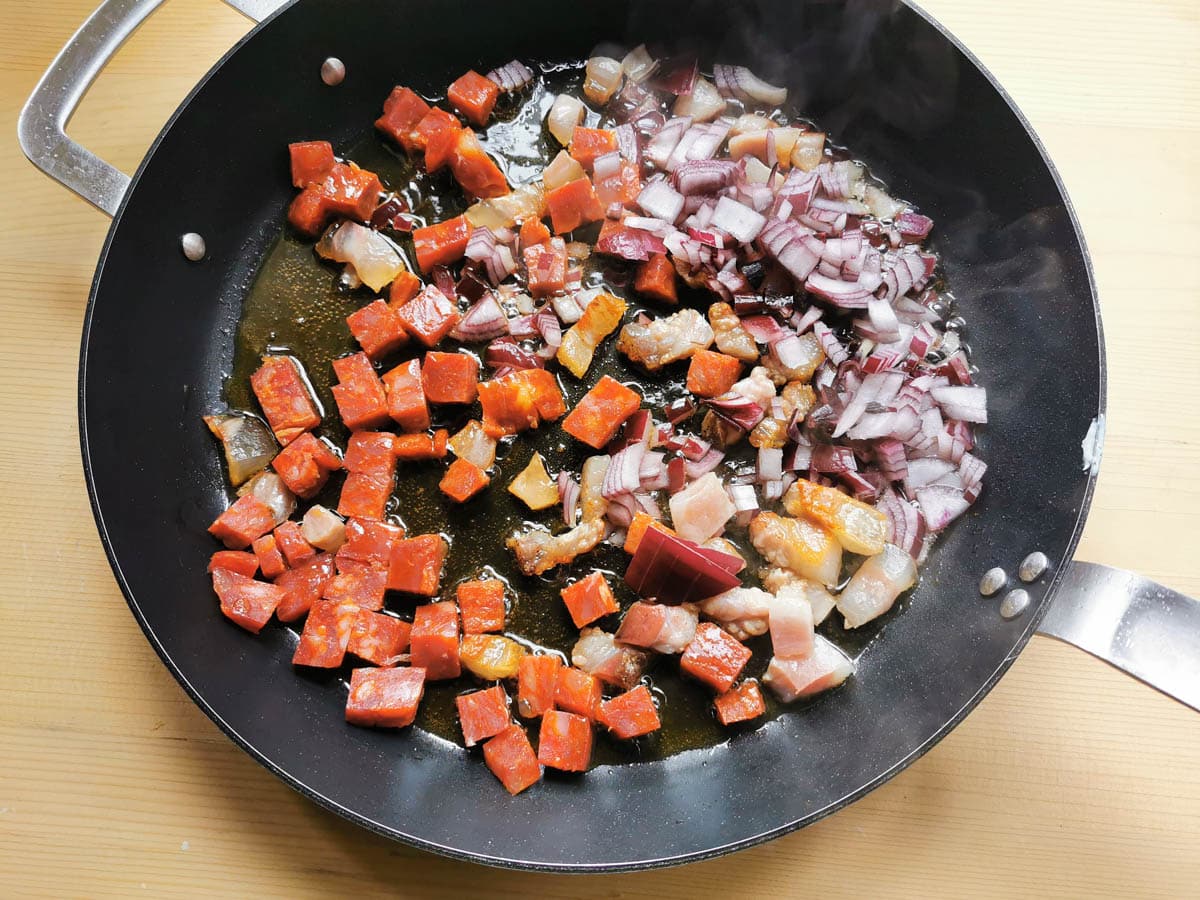 3) As the guanciale turns crispy, add the peeled tomatoes and cook over moderate heat until they start to soften.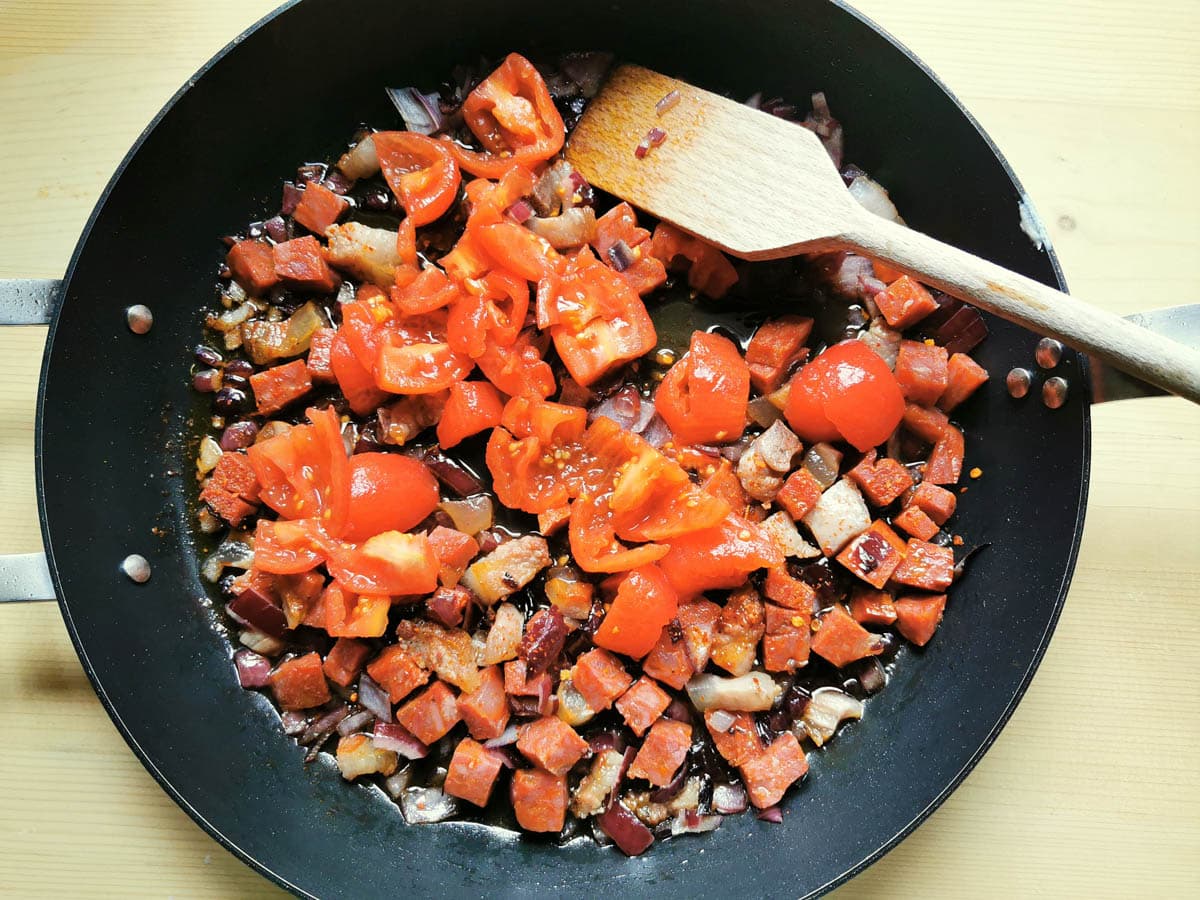 4) After mix in the tomato passata until well incorporated.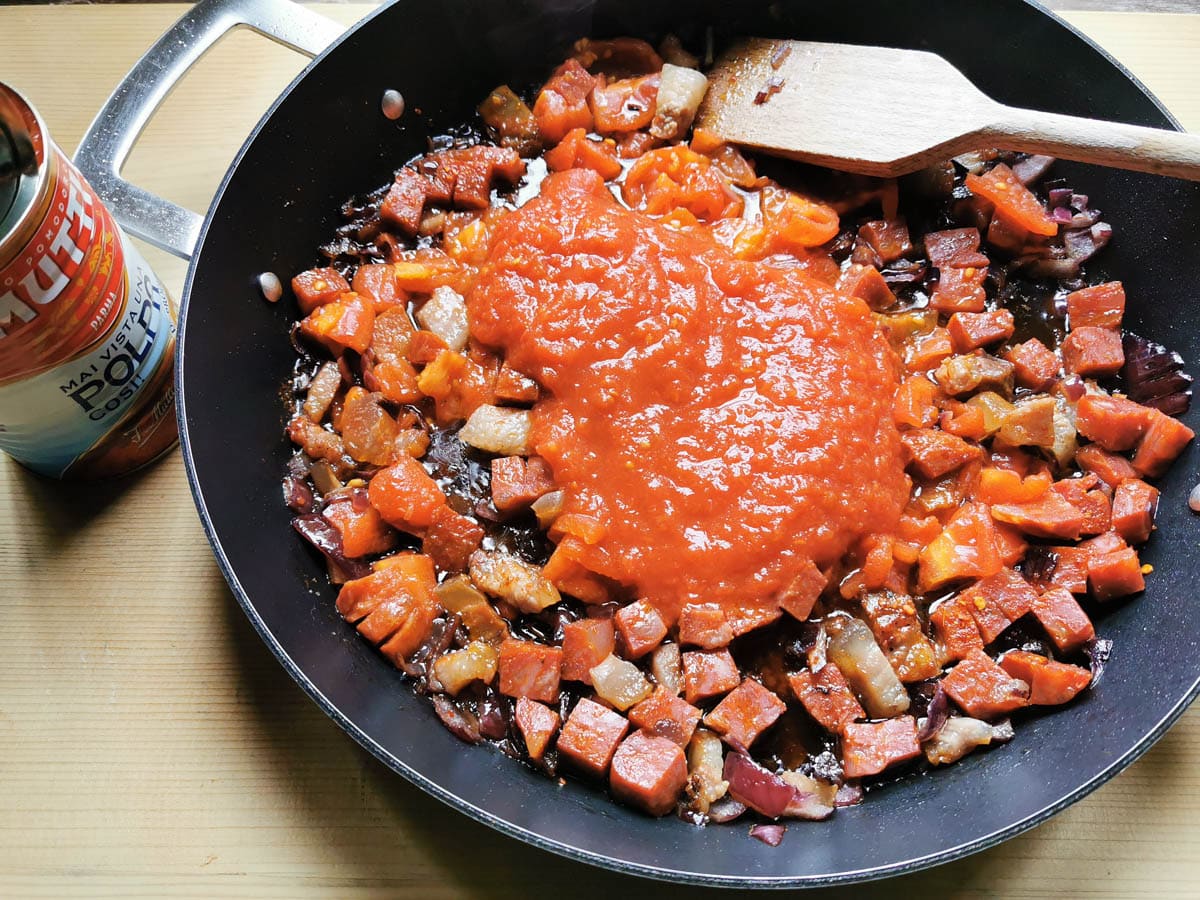 5) Put a pot of water on to boil for the pasta. Add salt once it starts to boil. Once the water returns to a boil, cook the pasta al dente based on its packaging instructions.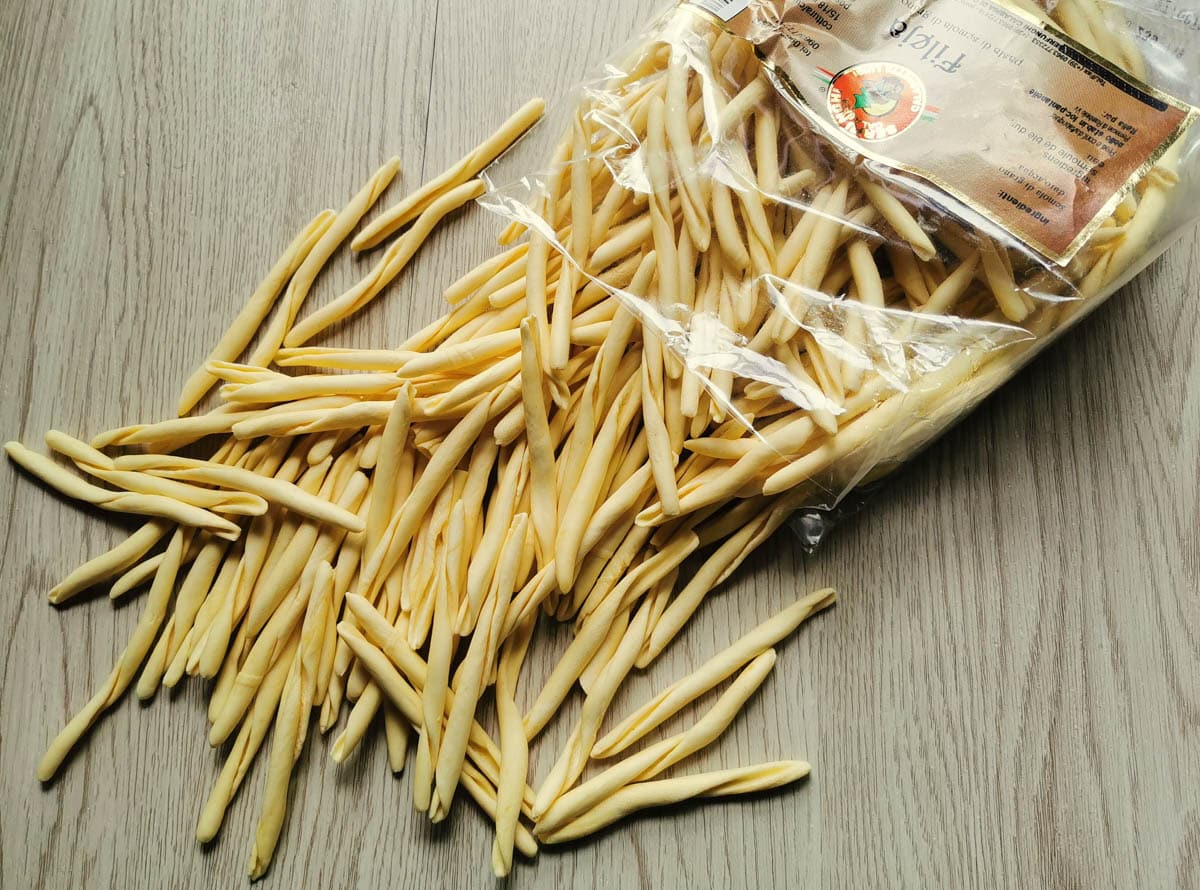 6) Meanwhile, as the pasta is cooking, add the soaked porcini mushrooms and its soaking liquid to the pan with the sauce. Adjust the seasonings with salt and black pepper, and let it simmer on low heat until the pasta is ready..
7) Drain the cooked pasta and mix it into the sauce. Fold in the basil and caciocavallo cheese. Let it sit briefly to allow the cheese to melt slightly before serving.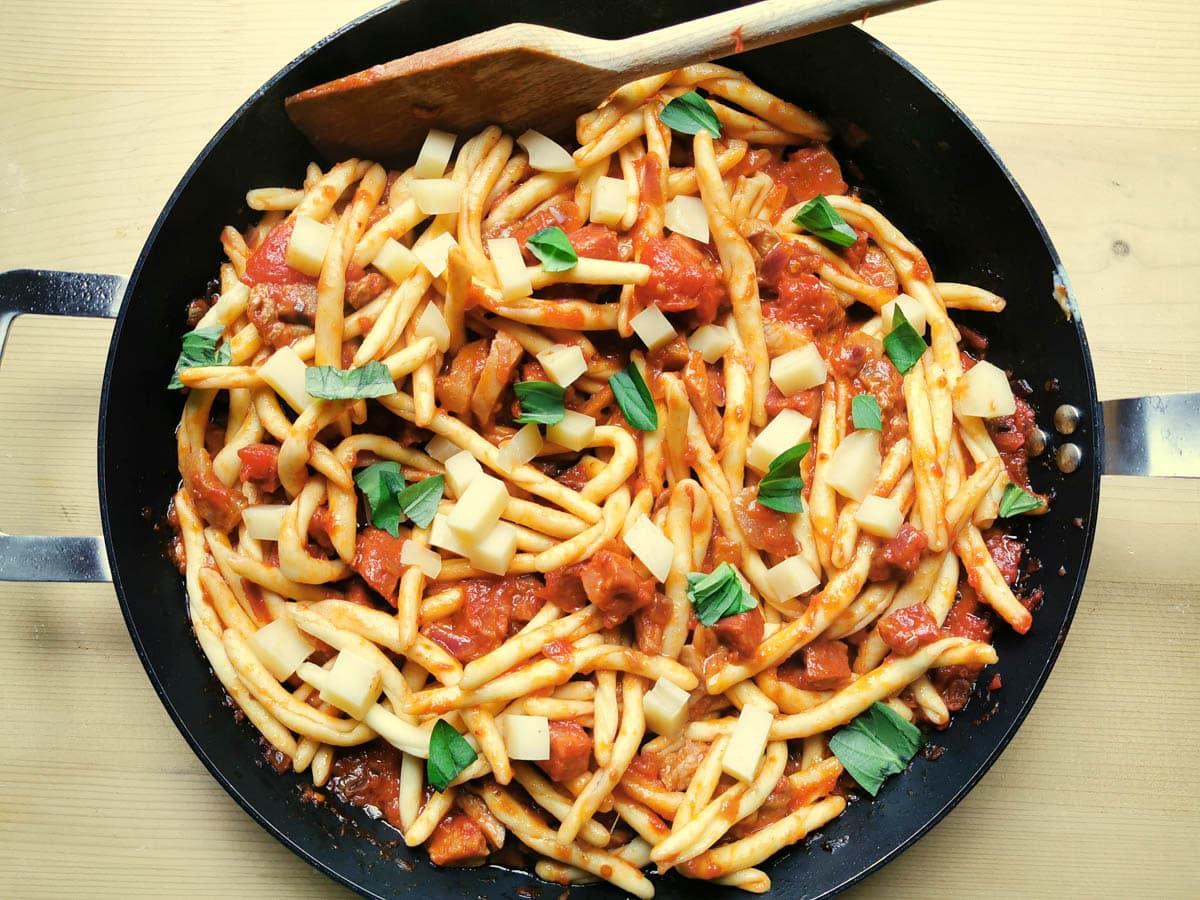 8) Serve the pasta immediately, finishing it off with a sprinkle of grated pecorino.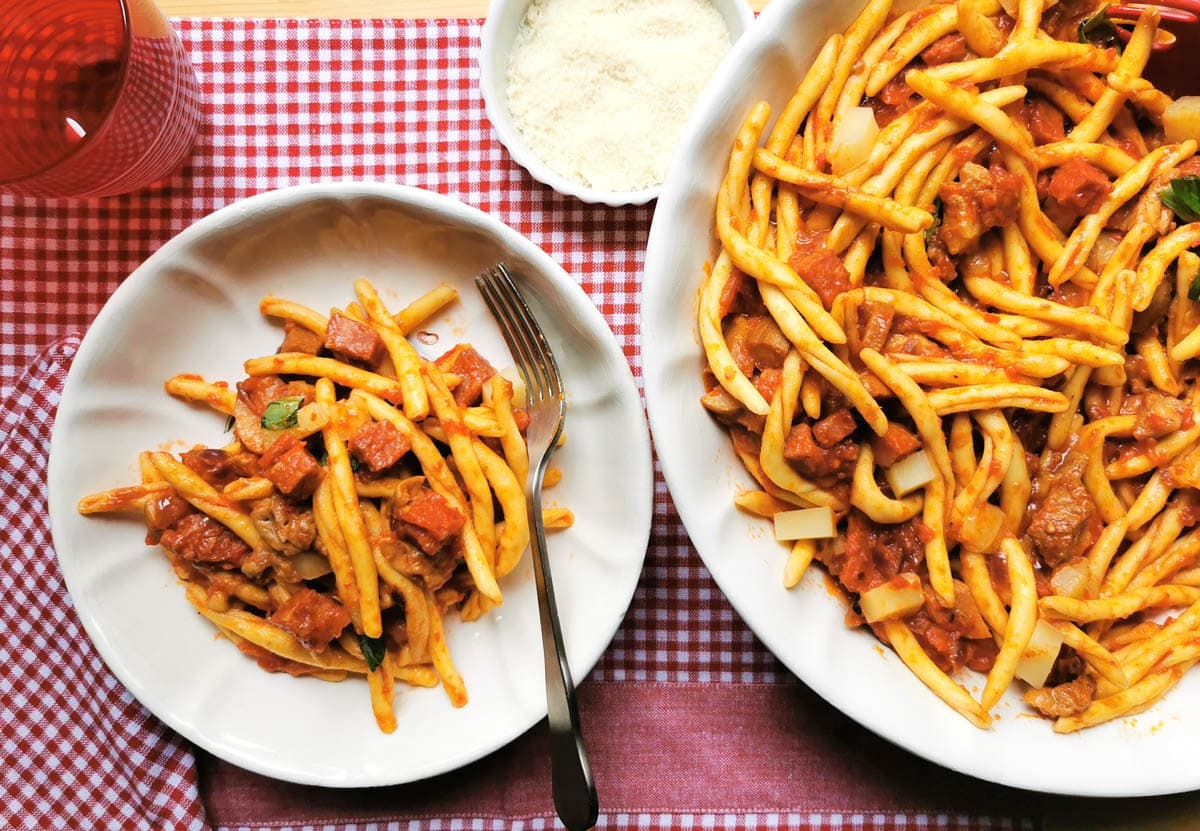 Storage and Leftovers
Allow the spicy sausage pasta to cool to room temperature before transferring to a storage container. Store the leftover pasta in an airtight container in the refrigerator for up to 3-4 days.
To reheat, transfer the desired portion to a microwave-safe dish, cover loosely, and microwave in short intervals, stirring in between, until heated throughout. Alternatively, you can bake leftovers in a preheated oven at 180°c (356°F) until hot through. Sprinkle with some grated pecorino or Parmigiano before baking.
FAQs
What is soppressata?
Soppressata is an Italian salami (a fermented and dried sausage) and a specialty in the southwestern Italian region of Calabria. While there are variations, the primary distinction lies between the sweet (dolce) and spicy (piccante) versions.
Where does this spicy pasta recipe originate from?
Pasta alla Silana originated in La Sila or the Sila, a mountainous plateau and historic region in Calabria. This extraordinary territory is the only mountain massif that rises in the heart of the Mediterranean.
Is fileja pasta readily available?
While fileja pasta is a very typical Calabrian pasta, it is less common in general supermarkets outside of Italy. However, specialty Italian grocery stores or online retailers often carry it. If unavailable, rigatoni is a good substitute.
More Recipes You May Like:
If you do try this spicy sausage pasta recipe, I'd love to hear what you think. Please write a comment here on the blog or post a comment on the Pasta Project Facebook page.
Your feedback means a lot to me!
Buon Appetito!
Pin For Later: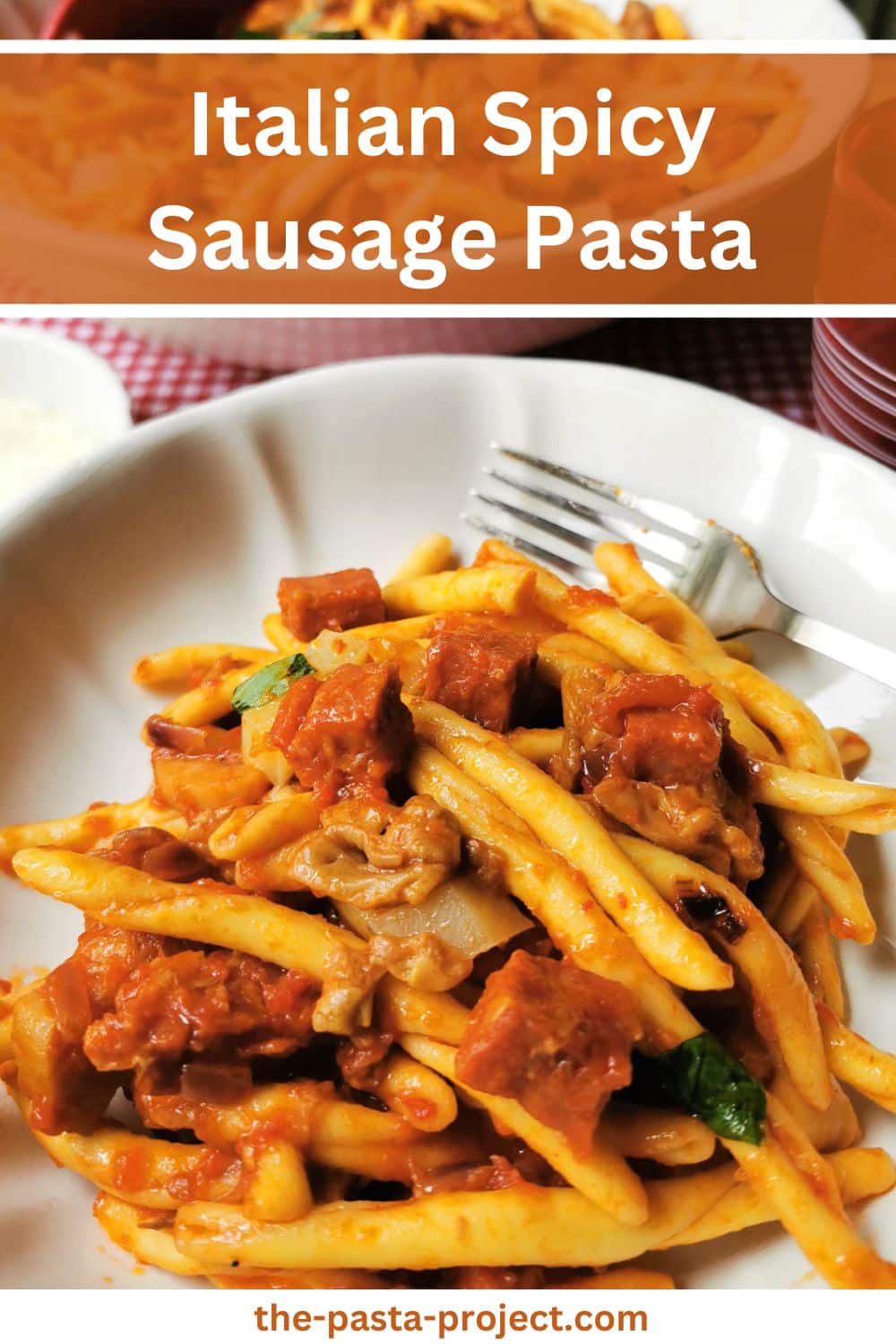 If you are interested in learning how to make other homemade pasta and different types of gnocchi, check out my shop for some great video online courses from my friends in Rome!
Nothing beats learning to make pasta from Italians! Plus, while you're there, why not order a copy of one of my pasta recipe cookbooks or check out some recommended pasta-making tools?