Pasta alla norcina is a typical recipe from Umbria; specifically the ancient town of Norcia, famous for its sausages and cured meats. There are actually two versions of pasta alla norcina. This one is made with Norcia sausage crumbled into a pan with oil and onion, fresh cream, truffle and pecorino. This is a very simple recipe with few ingredients but so flavourful and creamy you'll want to make it part of your regular pasta menu.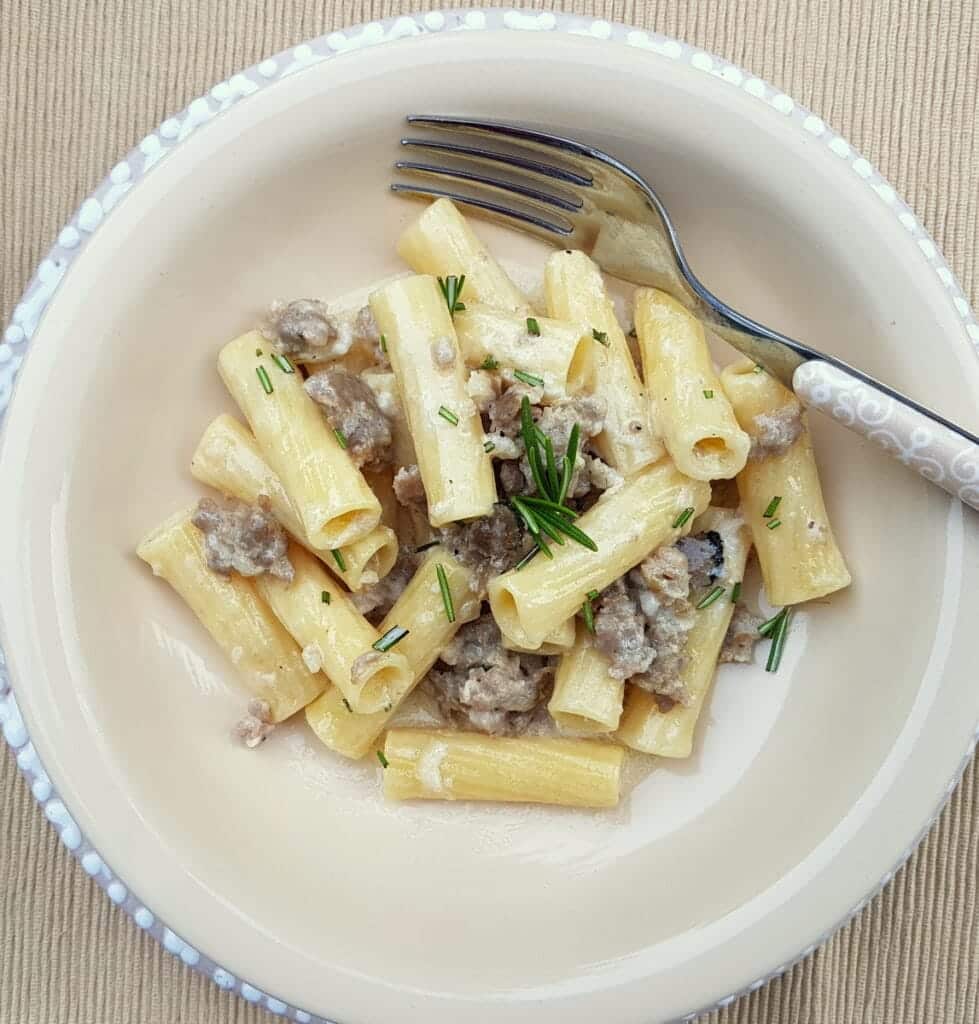 A popular creamy sausage pasta recipe from Umbria
The other version of pasta alla norcina is usually made with long pasta like spaghetti or tagliatelle, which is dressed with only black truffles, garlic and anchovies, to which you can also add foraged mushrooms. I'm looking forward to giving that version a try soon. But for now let's talk about this one!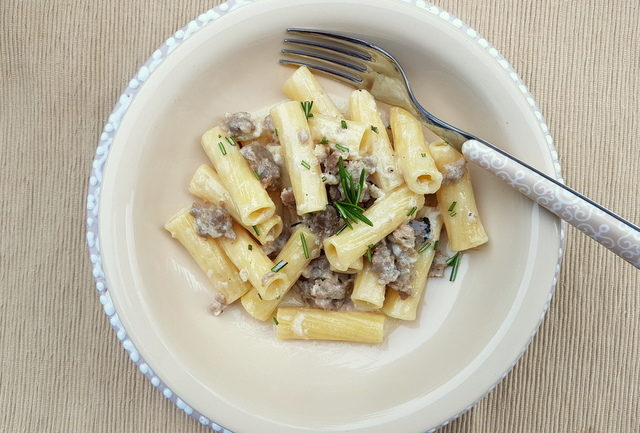 Norcia; a little town with a big culinary reputation!
Umbria is well-known for its pork, hams, sausages, and other cured meats. The best of these come from Norcia. This town has become so famous for its method of pork butchery and preparation of cured meats, that butchers across Italy now use the term 'norcino' to refer to all kinds of meat preserved in the 'Norcia' way and the name 'norcineria' is used for butchers that specialize in preparing, curing and selling pork products.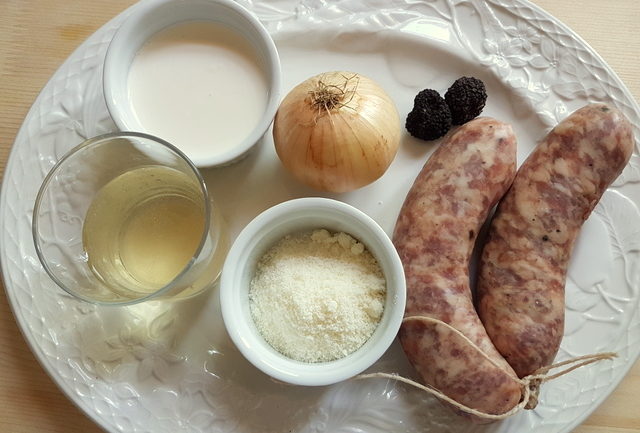 Norcia is also famous for black truffles. In fact, the truffles found around Norcia are highly prized and considered a gastronomic gem. Every year at the end of February or beginning of March, there is an important Italian Black Truffle fair in the town. Visitors to the fair can taste all the gastronomic specialties of Umbria cuisine, and especially those with truffle, of course. These specialties include cured meat and cheese seasoned with truffles, as well as pasta dishes like this pasta alla norcina.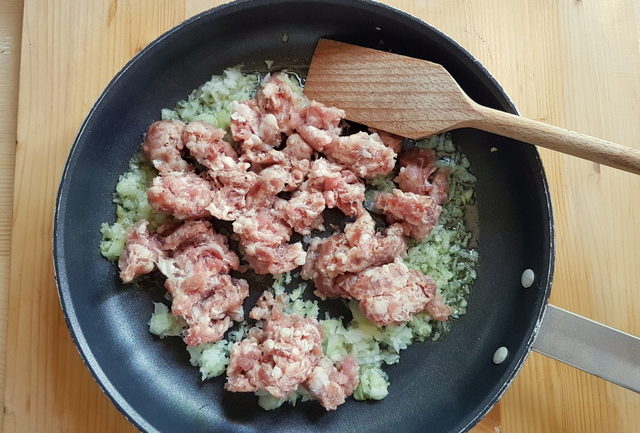 The Pasta for alla Norcina.
This recipe is usually prepared with short pasta such as penne or rigatoni. I used Italian maccheroni made by La Molisana but you can also use any short pasta of your choice.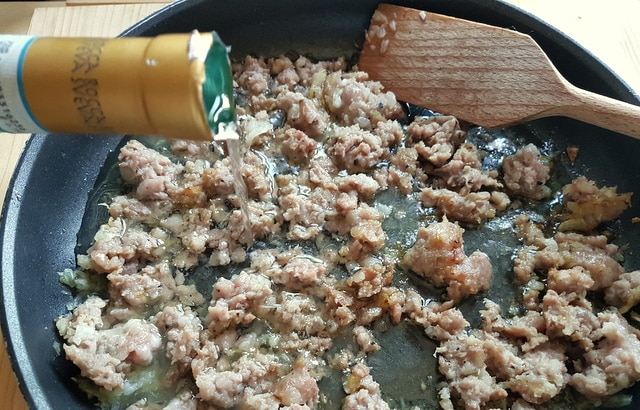 Can you use other types of sausage?
Finding Norcia sausages isn't easy outside of Italy. So, of course, you can use any good quality Italian pork sausage. The dish will still taste fabulous. I would try to find Italian sausage without fennel but with garlic if possible, or rosemary.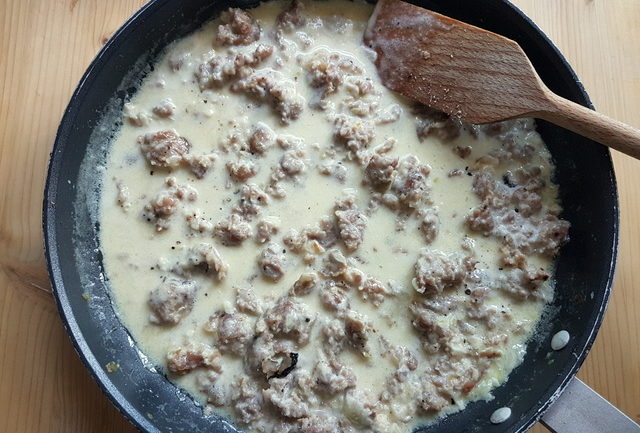 Can you use truffle oil?
To be honest, rather than use truffle oil, I'd probably leave the truffle out. Although, you could try just a tiny amount of truffle oil or perhaps some truffle paste. However, even in Umbria, this dish is often served without truffle when they're not available or out of season. I used frozen truffles as I'm lucky enough to source truffles from the area I live in and often freeze them for later use!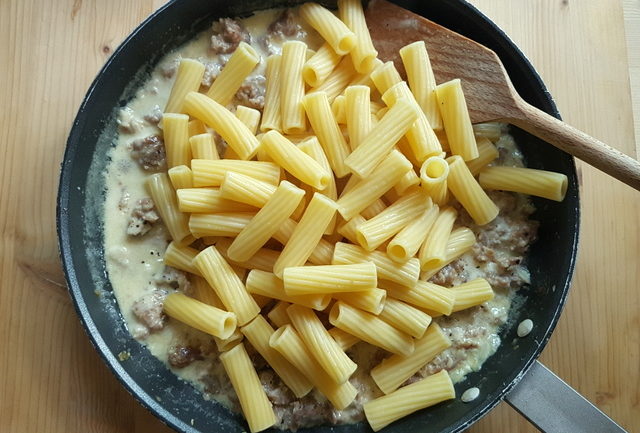 What are the other ingredients in pasta alla Norcina?
Apart from the sausage and truffles (if using them), this pasta alla Norcina recipe has very few ingredients. All you need is some fresh cream, grated pecorino, white wine and onion. The sauce doesn't take long, so you can prepare it while boiling the water for, and cooking, the pasta. All in all not much work for a totally yummy plate of pasta that I'm sure will become a firm favourite before you've even finished the bowl!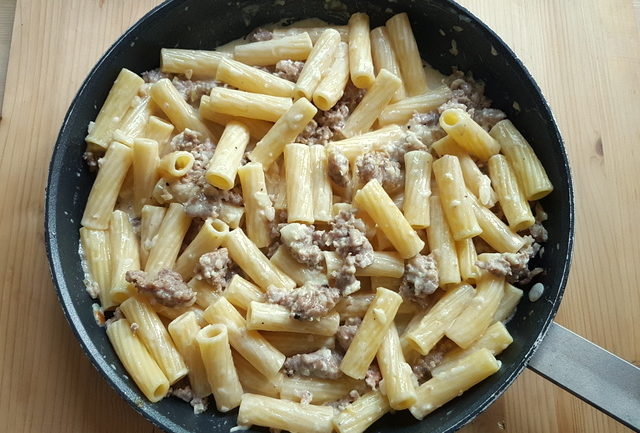 If you make this recipe I'd love to hear how it turns out and if you liked it. Please leave a comment here on the blog or on The Pasta Project Facebook page. Looking forward to hearing from you.
Buon appetito!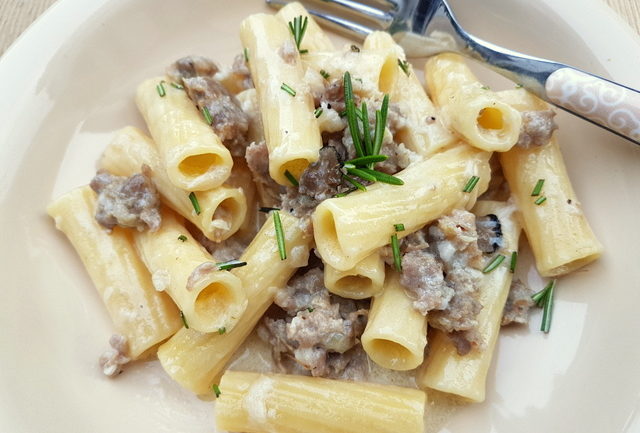 Save this recipe for later so it's easy to find.
If you want to save this pasta alla norcina recipe for later, you can print it, bookmark this page or save it to Pinterest.
Pin for Later

Have a look at my favorite Italian sausage pasta recipes if you're interested in more delicious recipes like this one!
If you like pasta with sausage you will love these other recipes..
Don't forget to Pin for Later!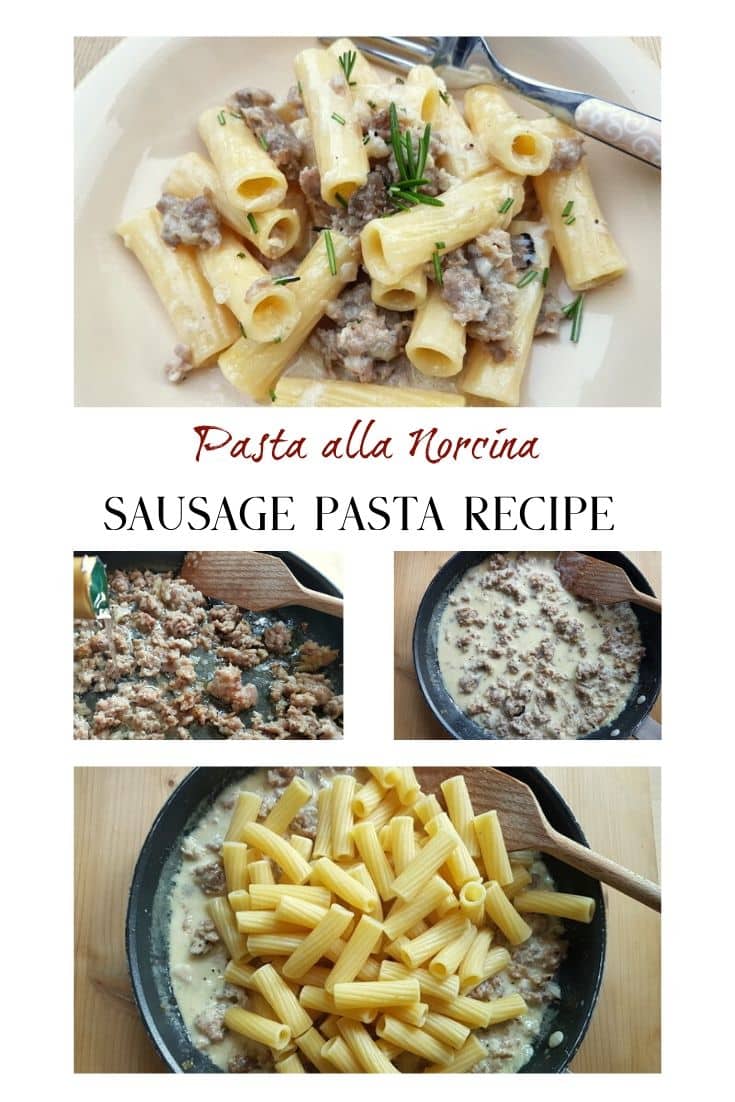 If you are interested in learning how to make homemade pasta and different types of gnocchi, check out my shop page for some great video online courses from my friends in Rome! Nothing beats learning to make pasta from Italians! Plus while you're there why not order a copy of one of my pasta recipe cookbooks or checkout some recommended pasta making tools?