Tagliolini alla Langarola is a rich and hearty sausage pasta dish typical of the beautiful Langhe area in the Piemonte (Piedmont) region in North West Italy.
In fact, 'langarola' comes from the word 'Langa', which is the local name for the area. This part of Piemonte is a UNESCO World Heritage site renowned for its white truffles, Barolo wines and hazelnuts as well as its tagliolini recipes.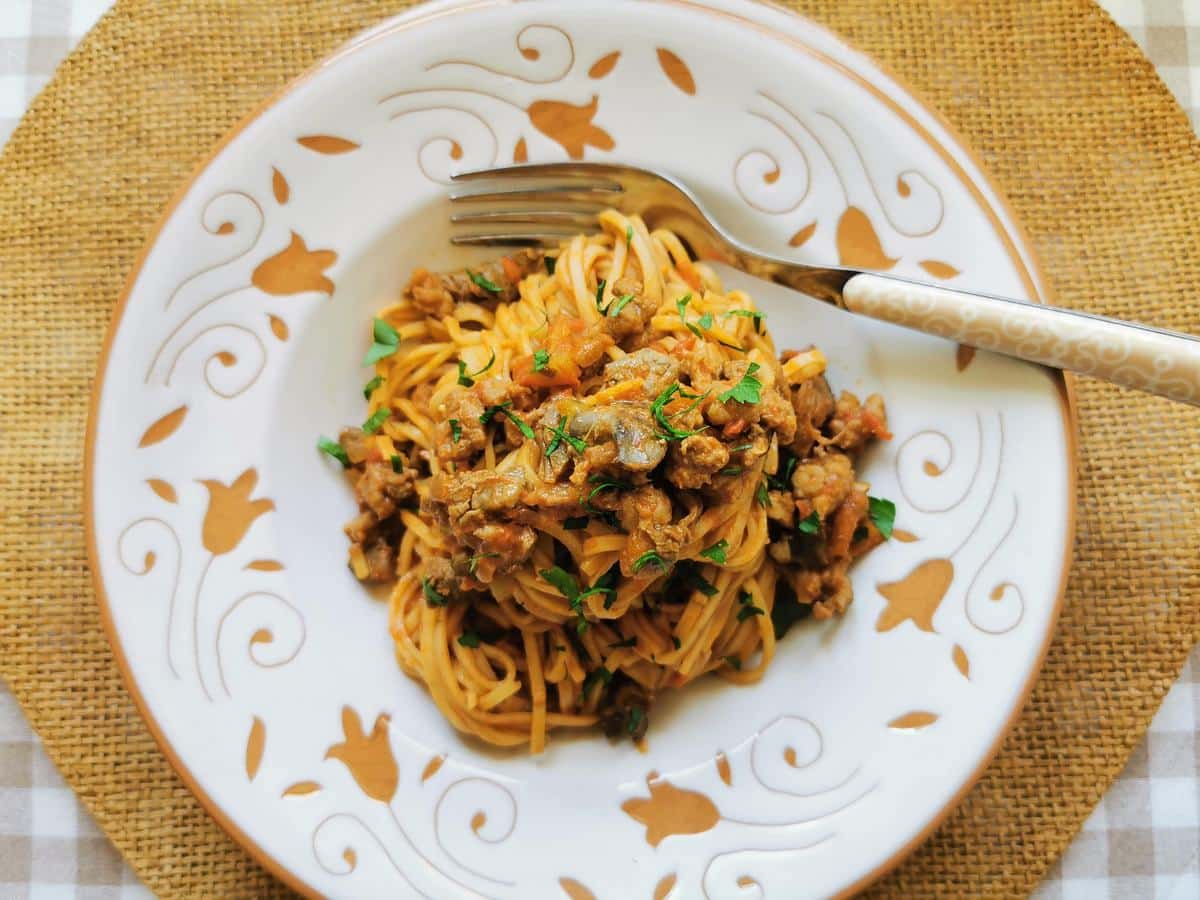 History
Known as tajarin in the local dialect this normally fresh tagliolini pasta is very traditional in Piemonte. Tagliolini is quite similar to tagliatelle but narrower and finer, only 2-3mm in width.
Homemade tajarin in Piemonte is very egg-yolk rich with up to 30-40 egg yolks being used for a kilo of flour! This gives the pasta a strong golden color and rich taste.
Often paired with the Alba white truffles for which the Langhe area is famous, Piemontese tagliolini are also served with porcini mushroom ragu or ragu made from braised meat or sausage, just liver or, like in this recipe, liver and meat.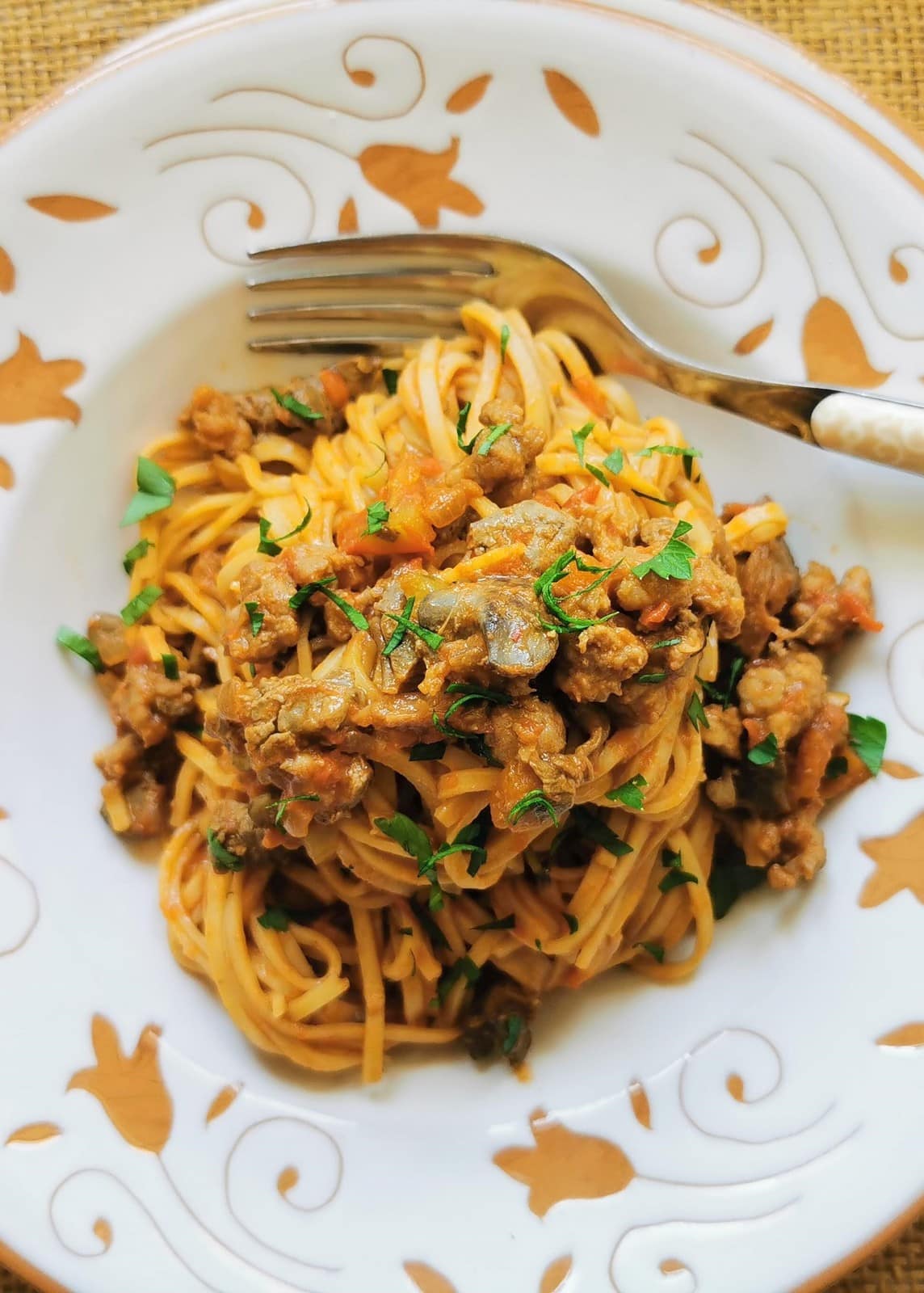 Historic Versions
This tagliolini pasta alla langarola, is made with chicken livers, sausage and porcini mushrooms. However, there are other versions of this sauce with the same name which use ground meat (usually beef or veal) or just liver. Whichever meat is used, this recipe nearly always includes porcini mushrooms.
I decided to try the sausage and liver version of this tagliolini pasta alla Langarola because, although I have made, eaten and posted recipes for pasta with sausage ragu and pasta with chicken liver, combining them was new to me.
This ragu was really rich and hearty! Perfect comfort food for the cold days we experience here in Verona!
I loved the combination of the meat with the porcini. I used frozen porcini but dry would work well too. Normally, I find dry porcini too strong but here the ragu is rich and the mushrooms need to have a strong flavor in order to compete with the meat and liver.
If you're interested in exploring a different take on this recipe, I also made an alternative version using Tajarin pasta with beef sausage.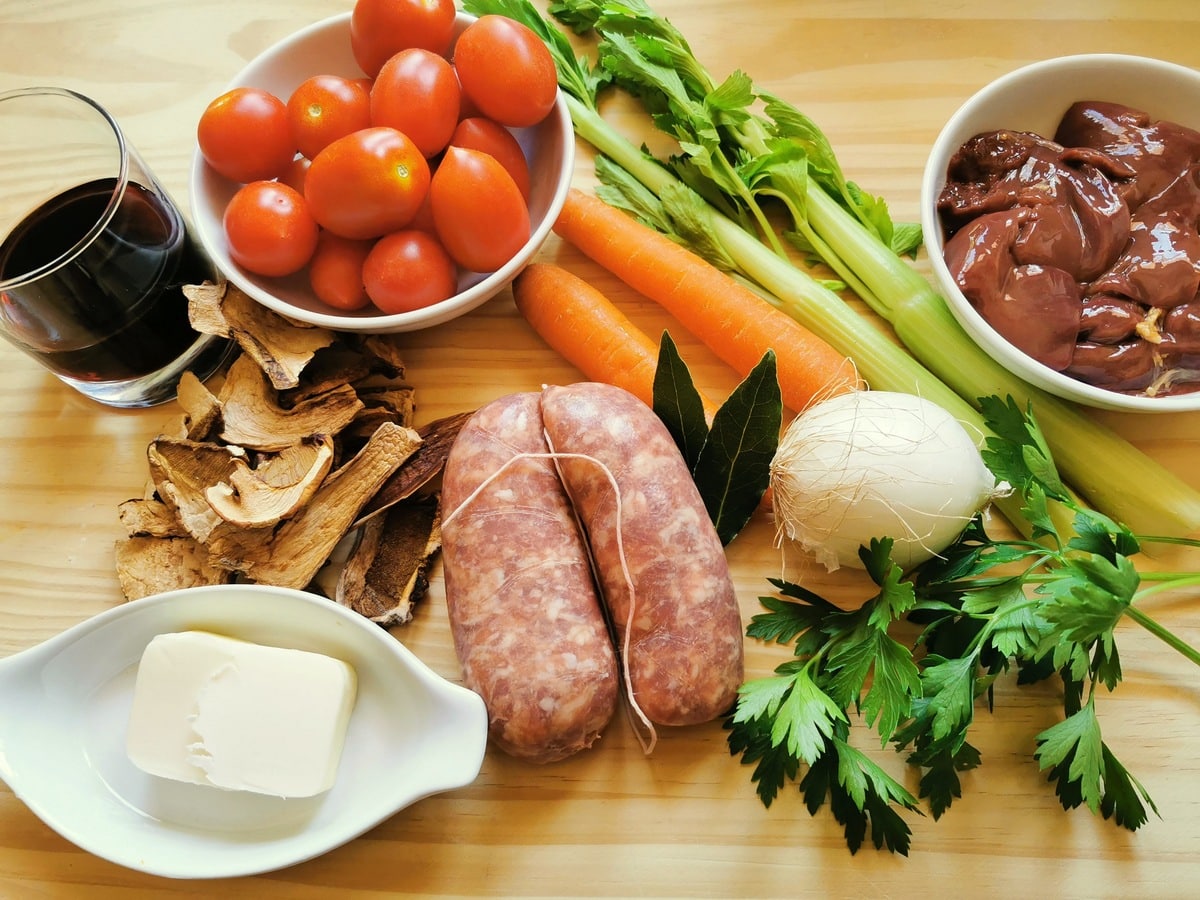 The Pasta!
Tagliolini is really a fantastic pasta especially when fresh or homemade. Luckily for me, I can find fresh tagliolini.
However, I definitely want to try making it myself in the same way they do it in Piemonte. If you can't find tagliolini, you can, of course, use other long or ribbon pasta. Tagliatelle would be great and even spaghetti would work well.
I've added eating this tagliolini pasta alla Langarola dish in Langhe to my bucket list, but until that happens I may have to repeat it at home myself! I'm sure you'll feel the same once you try it!
Ingredients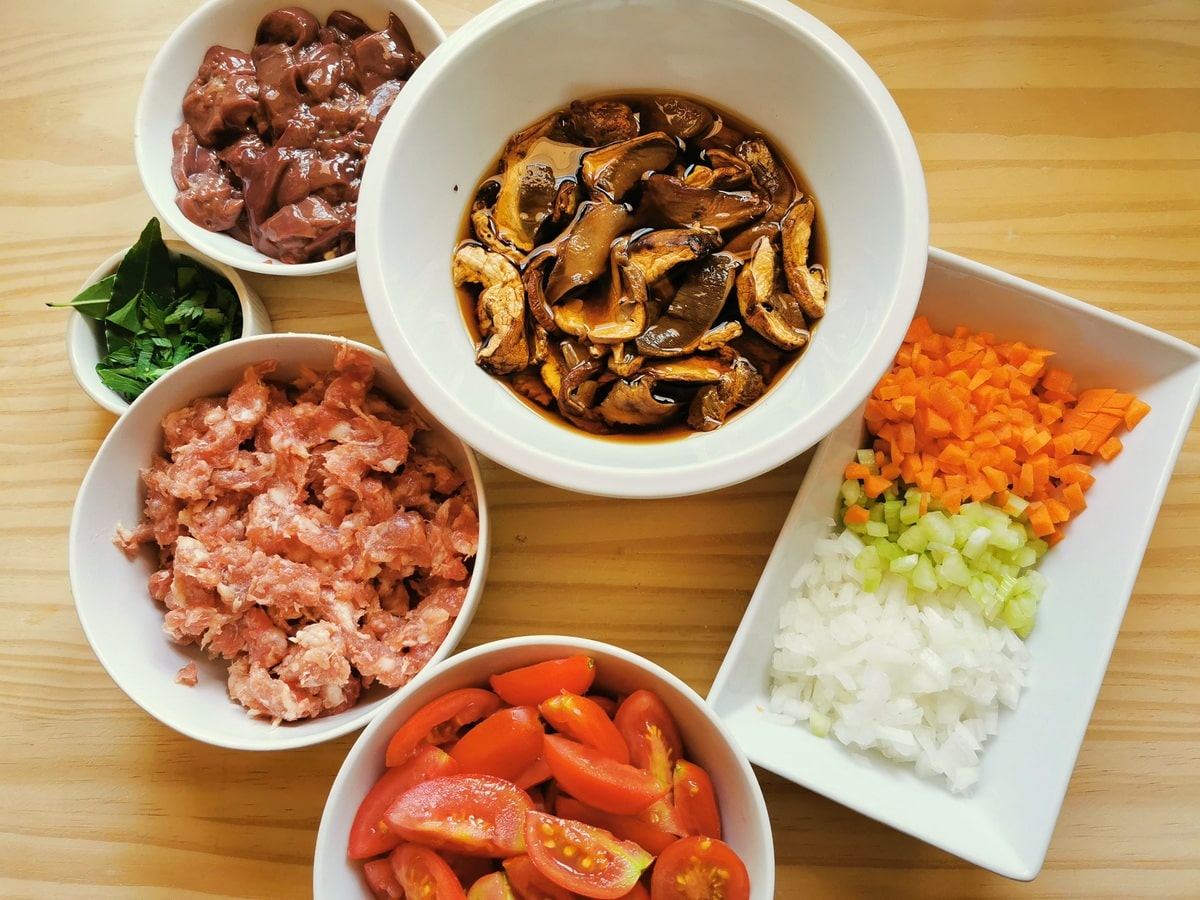 Tagliolini Pasta: Tagliolini is also known as 'tajarin' in the local Piemontese dialect. It's a flat long ribbon pasta that is narrower and finer than tagliatelle. If you can't find tagliolini, tagliatelle is a great substitute.
Dried or Frozen Porcini: These rich mushrooms add a savory kick to the recipe. You can use frozen or dried, but if you're using dried porcini, ensure to soak them in warm water beforehand.
Onion, Carrot, and Celery (1 each): Together these are known as a soffritto (Italian mirepoix) and are part of the base of the ragu. Make sure to finely chop them for a more harmonious blend of flavors in the sauce.
Chicken Livers: These should be thoroughly cleaned and chopped before use.
Italian Pork Sausage: Here we're using only the sausage meat, discarding the casing. This flavorful ingredient adds a meaty richness to the dish.
Red Wine: Adding a splash of red wine to the sauce helps to deepen the flavor.
Tomato Passata or Cherry Tomatoes: You can use either passata or cherry tomatoes, depending on your preference.
Bay Leaves: Fresh bay leaves give a subtle depth to the sauce's flavor profile. Remember to remove them before serving.
Butter: Butter is used for both sautéing and finishing the dish and adds richness to the dish.
Grana Padano: This is a type of parmesan cheese from northern Italy. If you can't find Grana Padano cheese, Parmigiano Reggiano is an excellent alternative.
Expert Tips
Prepping Sausages: To remove the skin from your Italian pork sausages, make a shallow cut along the length of the sausage with a sharp knife. Peel back the casing; it should come away easily.
Hydrating Porcini: If you're using dried porcini, it's essential to hydrate them in hot or warm water before using them.
Preparing Chicken Livers:
Setup: Start by setting up a clean work area. Have a clean cutting board, a sharp paring knife, and two bowls - one for the prepared livers and one for the trimmings.
Rinse: Rinse the chicken livers gently under cold running water to remove any debris.
Trim: Place a liver on the cutting board. With your knife, carefully cut away any visible fat or connective tissue. These parts can give the liver a tough, chewy texture when cooked.
Separate Lobes: Each chicken liver has two lobes connected by a thin membrane. Use your knife to cut this membrane and separate the lobes.
Inspect and Cut: Look over the separated lobes and if there are any greenish spots (gallbladder remnants) remove them. After, chop the chicken livers into small chunks.
Step by Step Instructions
1) If you're using dried porcini, soak them in warm water for 20-30 minutes then drain and chop them.
2) In a large skillet over medium-high heat add the butter, chopped chicken livers and bay leaves.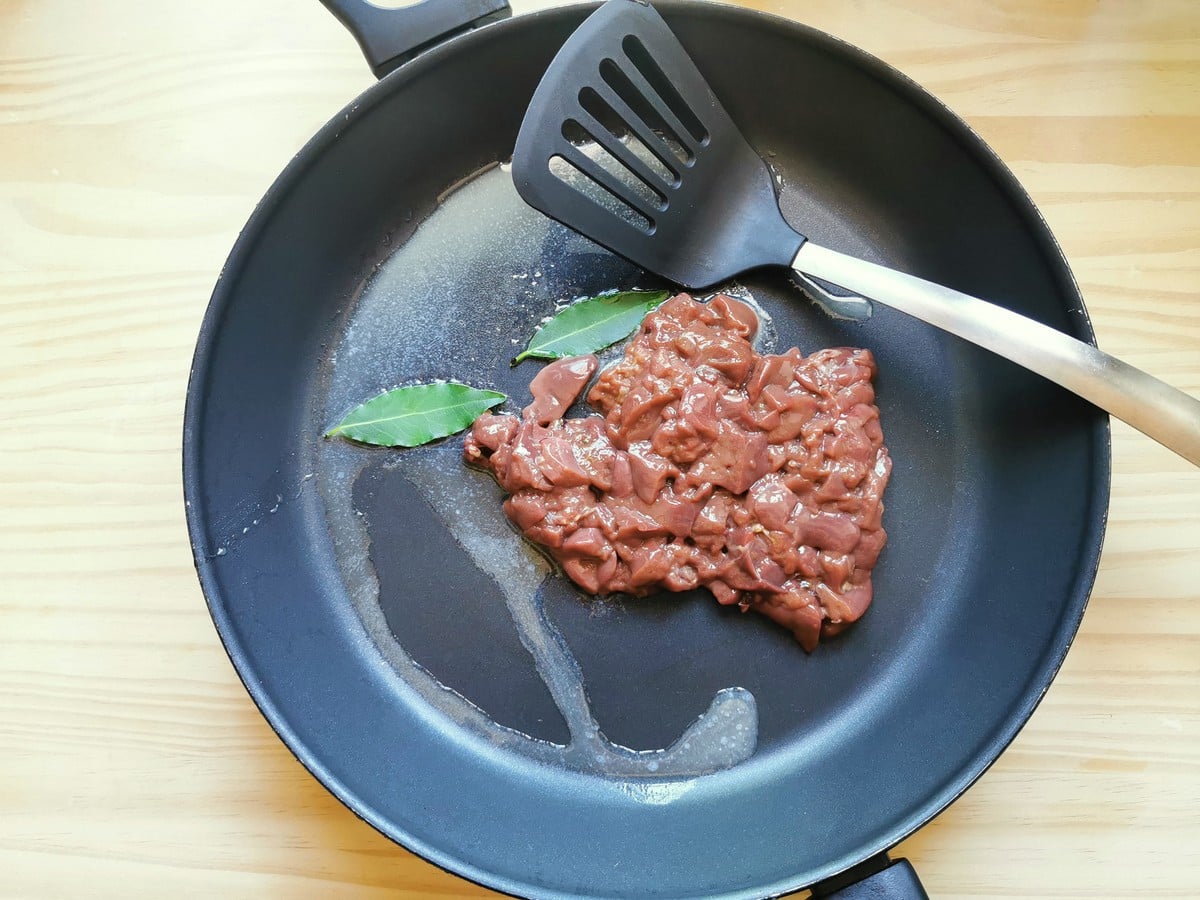 3) Cook the chicken livers until they are brown, then add the chopped sausage meat, stirring to combine.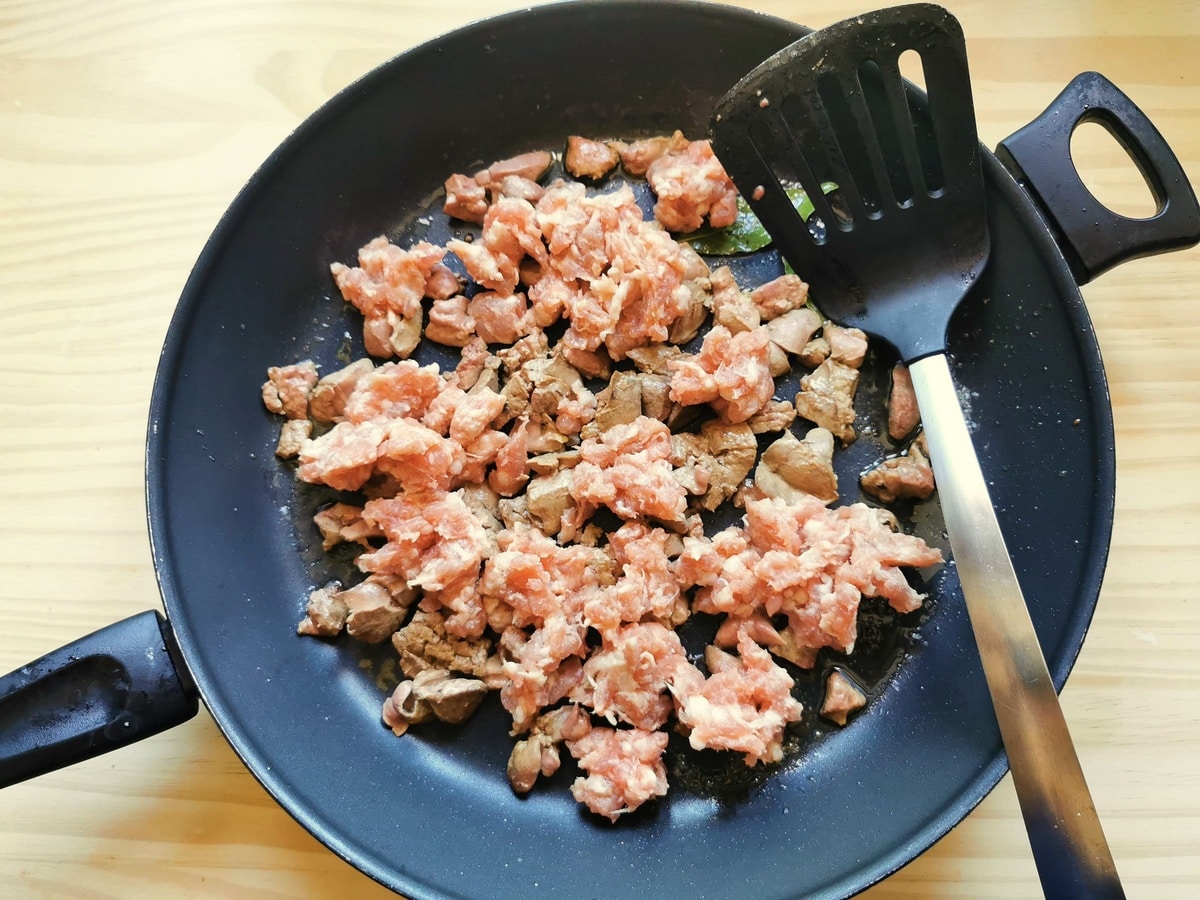 4) Add another small knob of butter and add the chopped onion, celery and carrot. Sauté the vegetables for about 4-5 minutes until they are softened.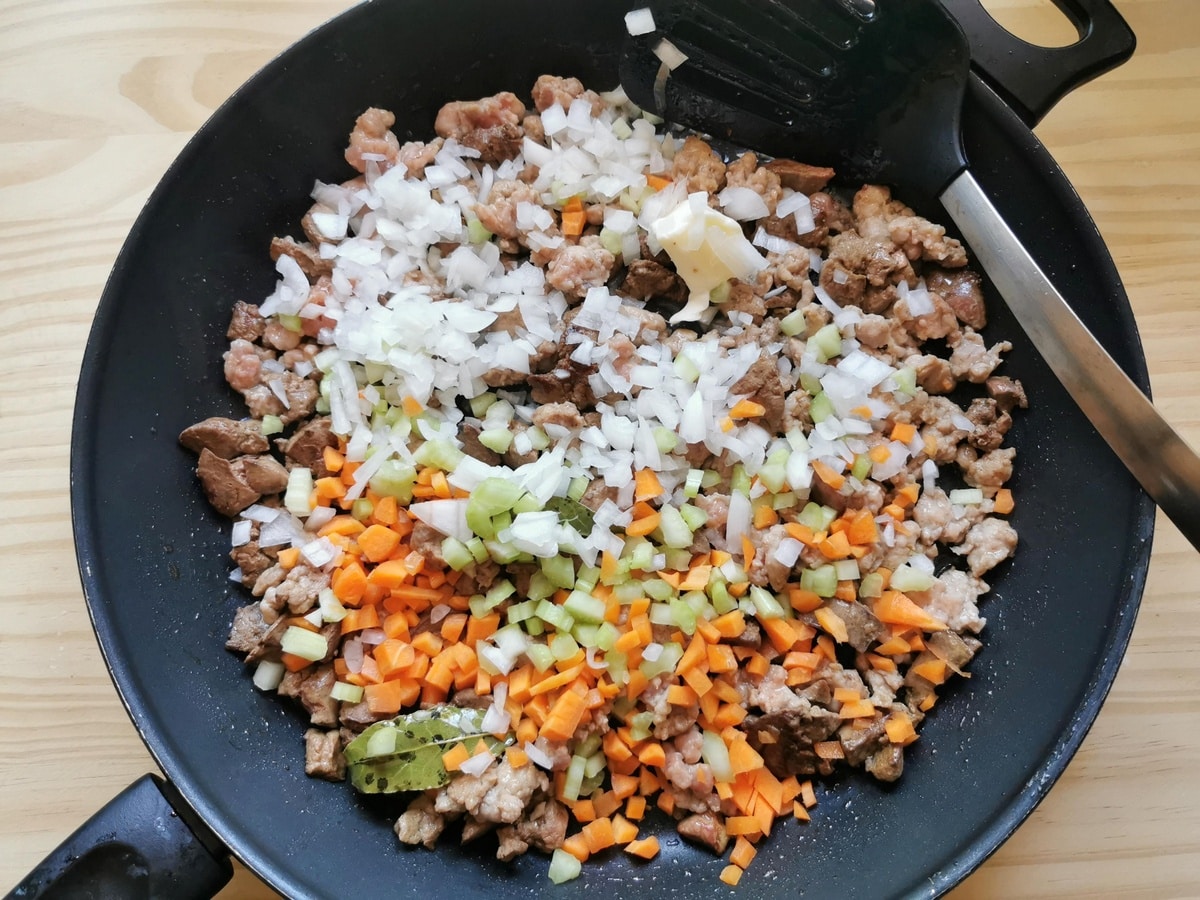 5) Add the chopped porcini to the skillet and continue to sauté the mixture for another 4 minutes.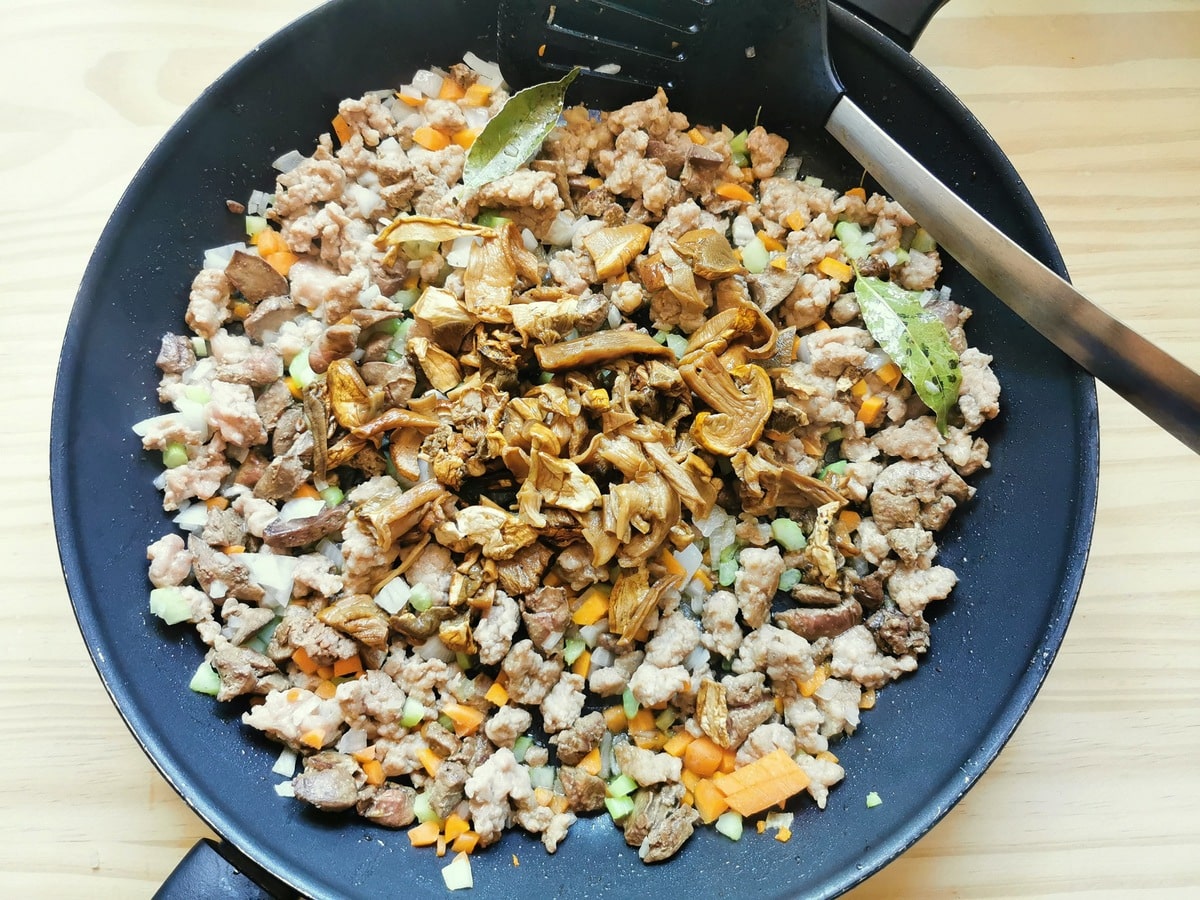 6) Pour in half a glass of red wine, let it evaporate, then add the tomato passata/cherry tomatoes. Season with salt and pepper to taste.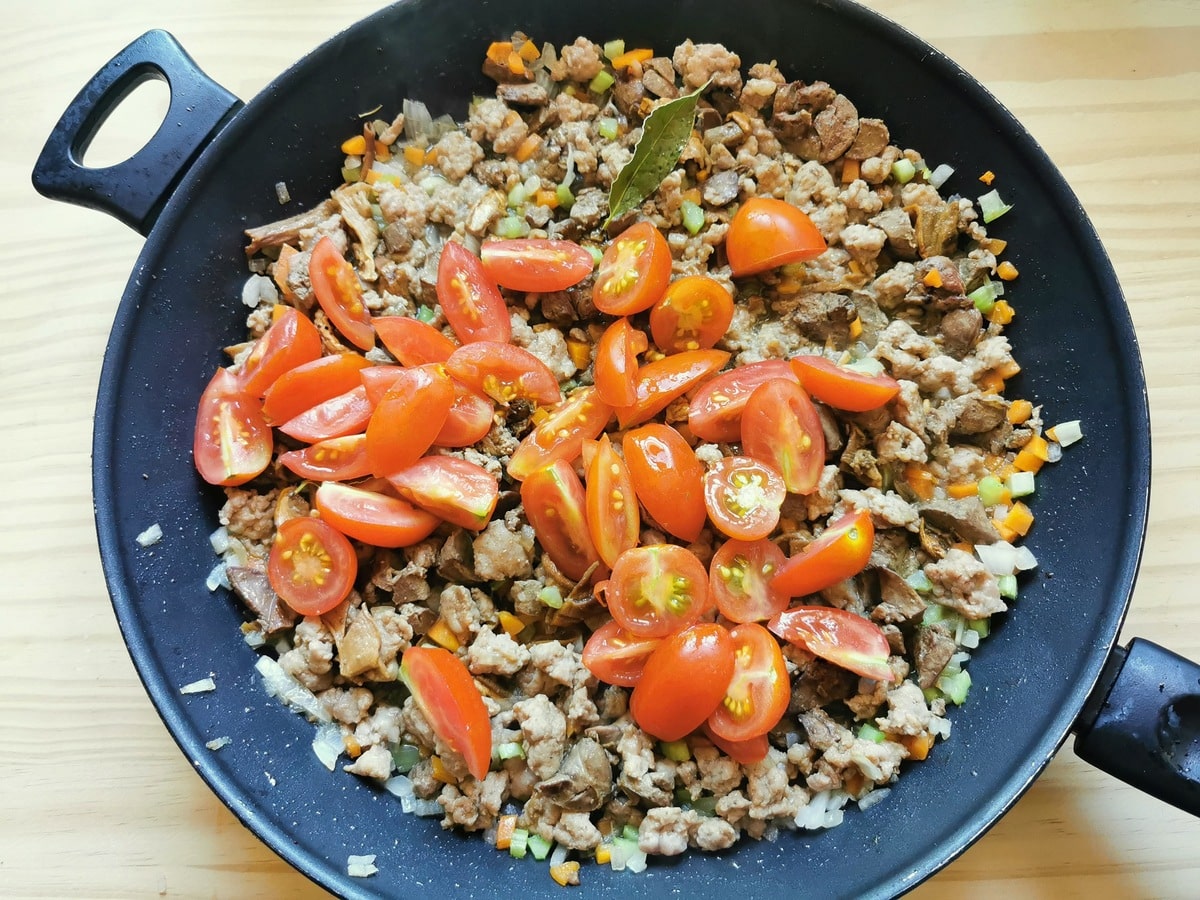 7) Cover the skillet and simmer the sauce over a low heat for at least 30 minutes.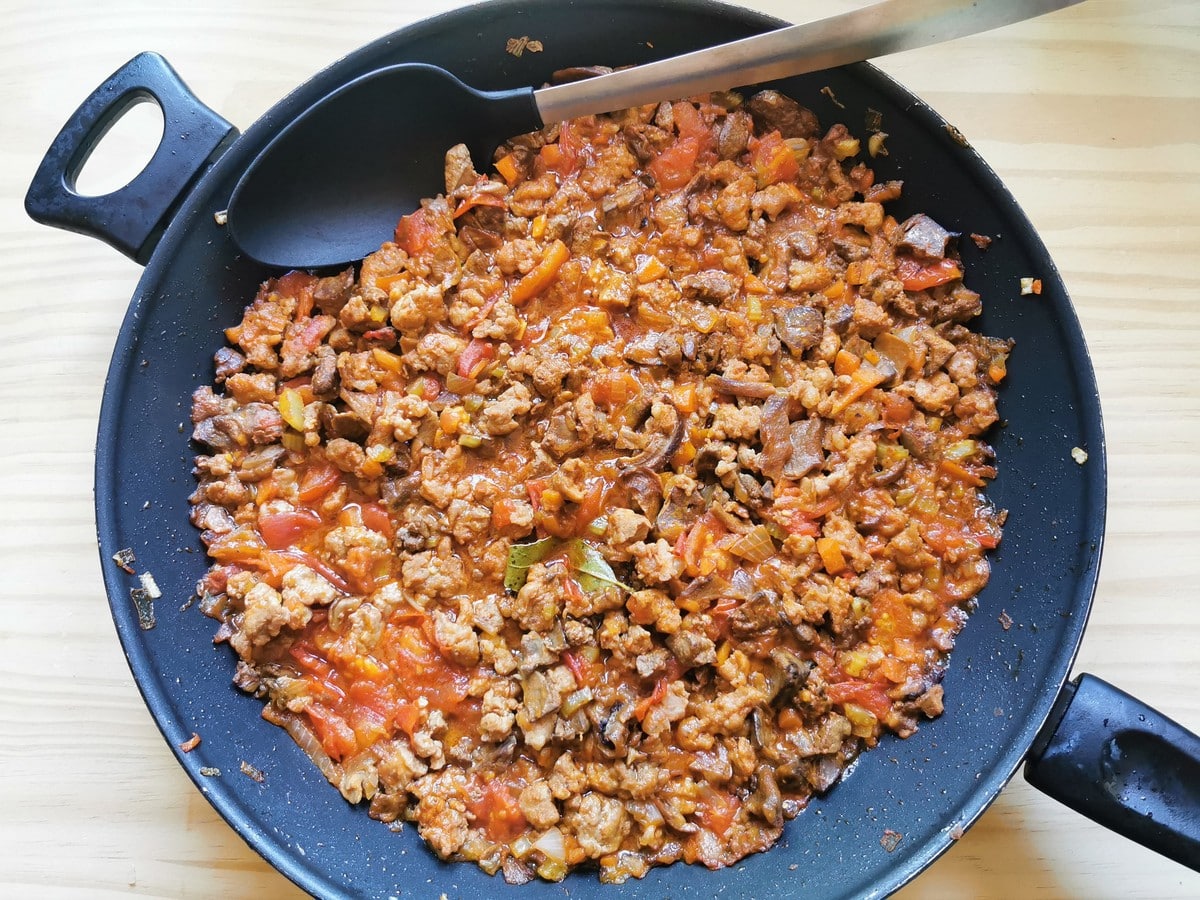 8) Meanwhile, boil a large pot of water for the pasta. Add salt once it starts to boil and bring it back to a boil. Cook the pasta according to the package instructions until al dente. Once the pasta is done, drain it.
9) Stir in another knob of butter of butter into the sauce then mix in the pasta gently, making sure the it is well-coated.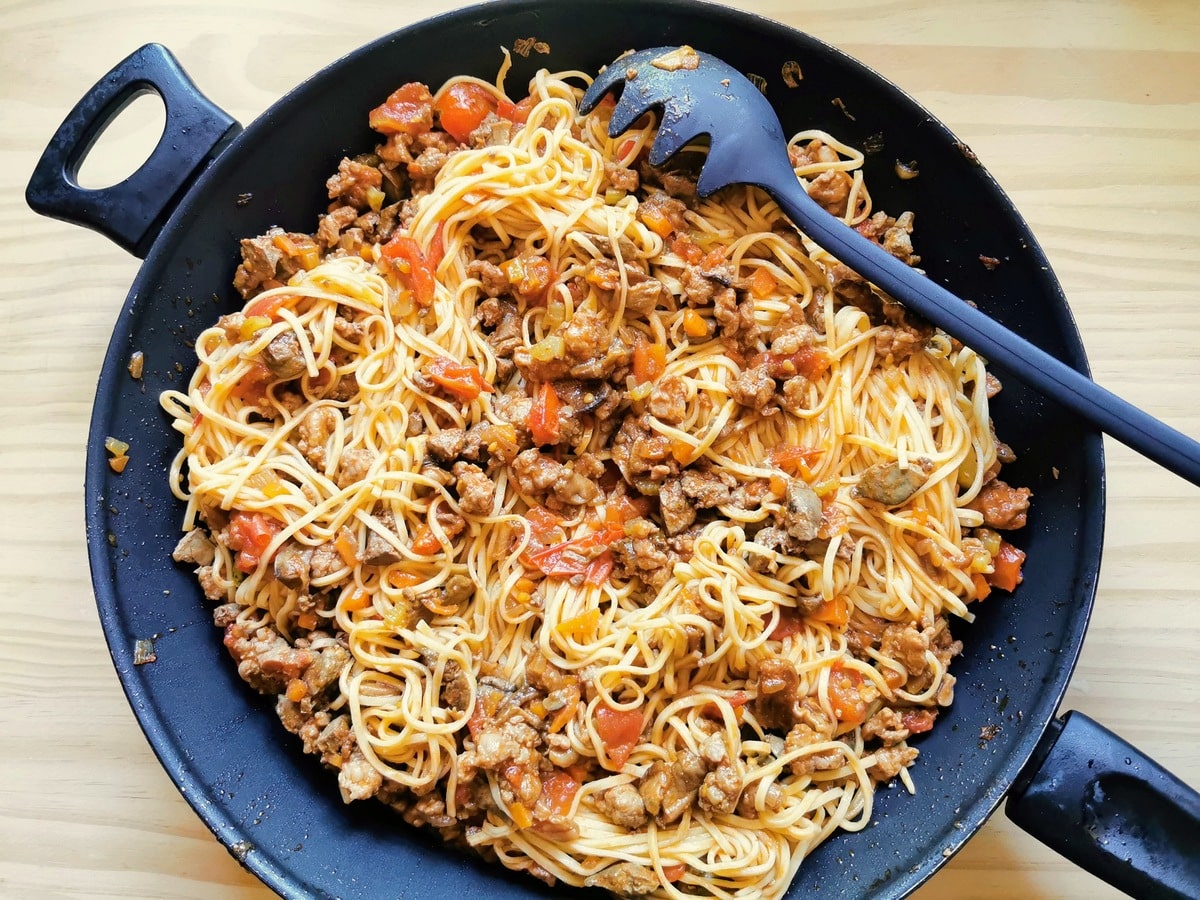 10) Plate the pasta and garnish with a sprinkle of fresh parsley and a good amount of grated Grana cheese.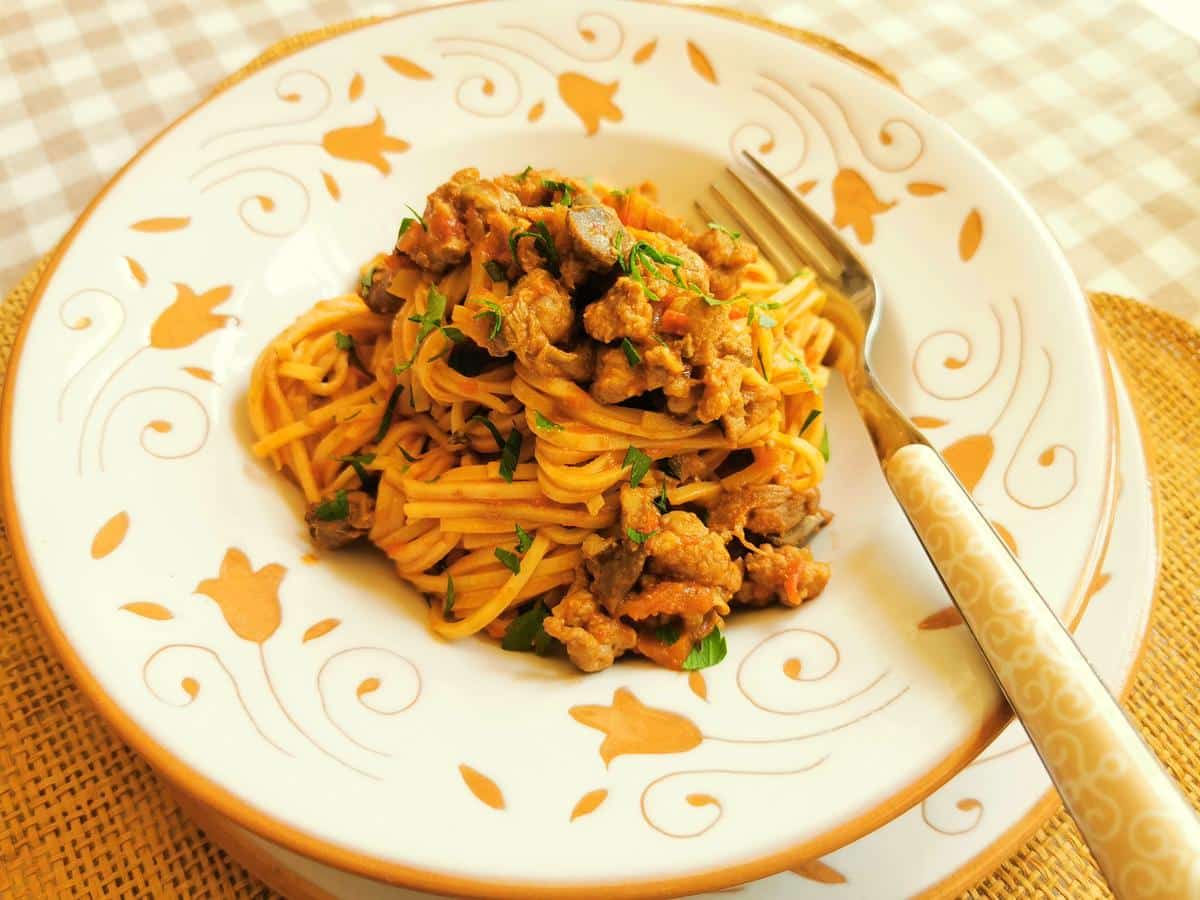 Storage and Leftovers
If you have leftovers, transfer them to an airtight container and refrigerate. They should keep well for up to 2 days.
When you're ready to enjoy them again, transfer the leftovers to a microwave-safe bowl, cover and heat until hot. Be sure to stir the pasta halfway through to make sure the pasta and it's sauce reheats evenly.
Recipes You May Like
If you make this tagliolini alla Langarola recipe, I'd love to hear how it turns out. Please write a comment here on the blog, email me or post a comment on the Pasta Project Facebook page.
Your feedback is really appreciated!
Buon appetito!
PIN FOR LATER: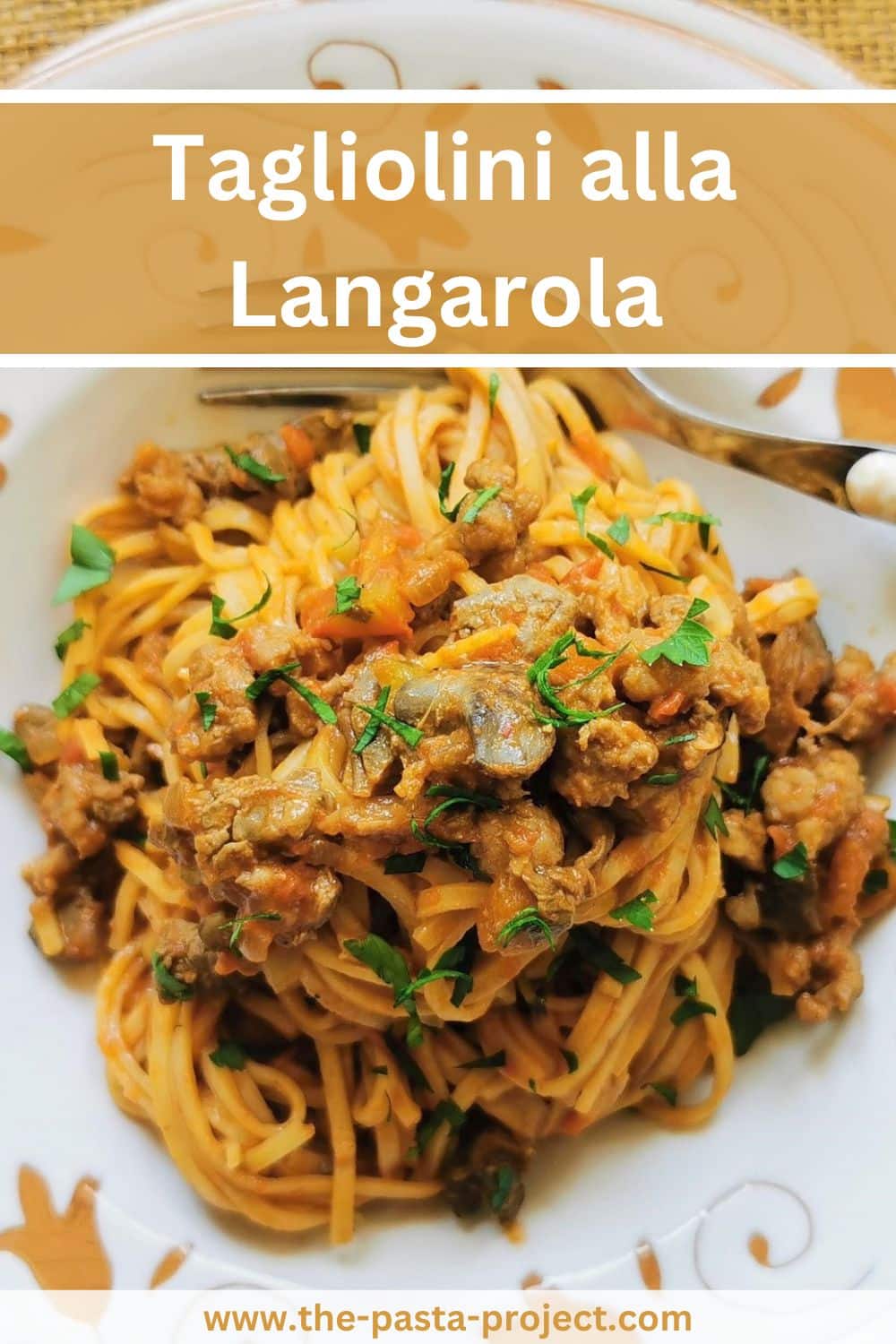 If you are interested in learning how to make homemade pasta and different types of gnocchi, check out my shop page for some great video online courses from my friends in Rome! Nothing beats learning to make pasta from Italians! Plus while you're there why not order a copy of one of my seasonal pasta recipes cookbook!?