Tagliolini pasta alla Langarola with sausage, chicken liver and porcini ragu from Piedmont.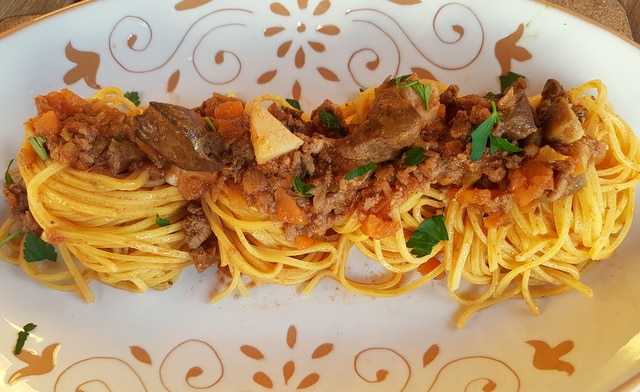 Tajarin al ragu alla Langarola
Tagliolini pasta alla Langarola is a rich and hearty pasta dish typical of the beautiful Langhe area in the Piemonte (Piedmont) region in North West Italy. In fact, 'langarola' comes from the word 'Langa', which is the local name for the area. This part of Piemonte is world renowned for its white truffles, Barolo wines and hazelnuts as well as its tagliolini recipes.
(click here to see the recipe on the next page)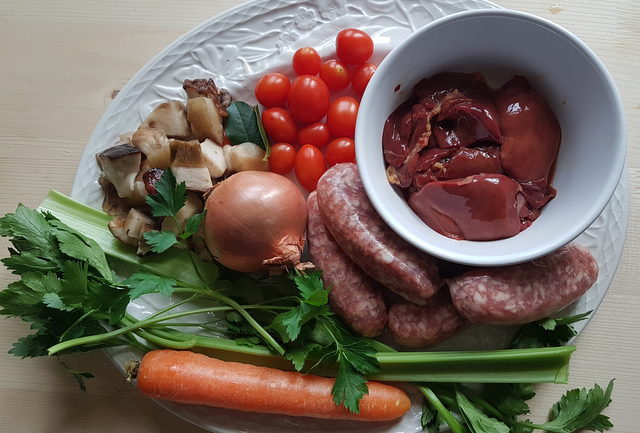 What is tagliolini pasta?
Known as tajarin in the local dialect this normally fresh pasta is very traditional in Piemonte. Tagliolini is quite similar to tagliatelle but narrower and finer, only 2-3mm in width. Homemade tajarin in Piemonte is very egg-yolk rich with up to 40 eggs being used for a kilo of flour! This gives the pasta a strong golden colour and rich taste. Often paired with the Alba white truffles for which the Langhe area is famous, Piemontese tagliolini are also served with porcini mushroom ragu or ragu made from braised meat or sausage, just liver or, like in this recipe, liver and meat.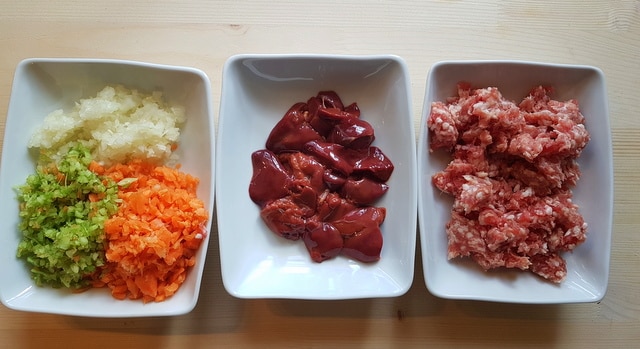 This tagliolini pasta alla langarola, is made with chicken livers, sausage and porcini mushrooms. However, there are other versions of this sauce with the same name which use minced meat (usually beef or veal) or just liver. Whichever meat is used this recipe nearly always includes porcini mushrooms.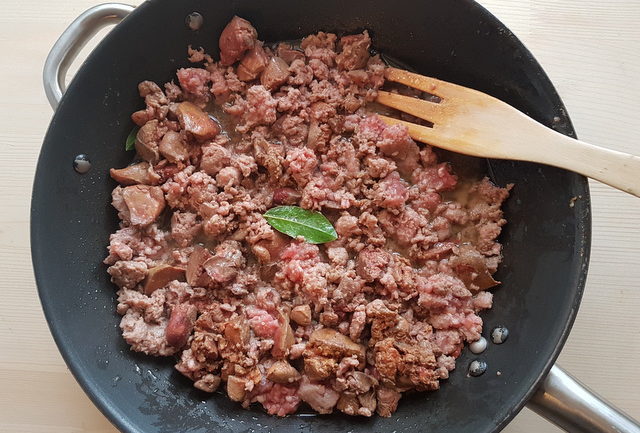 I decided to try the sausage and liver version of this tagliolini pasta alla Langarola because, although I have made, eaten and posted recipes for pasta with sausage ragu and pasta with chicken liver, combining them was new to me. This ragu was really rich and hearty! Perfect comfort food for the cold days we are still experiencing here in Verona!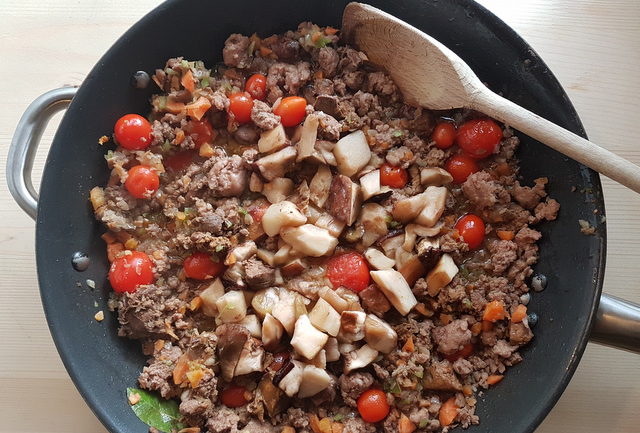 I loved the combination of the meat with the porcini. I used frozen porcini but dry would work well too. Normally, I find dry porcini too strong but here the ragu is rich and the mushrooms need to have a strong flavour in order to compete with the meat and liver.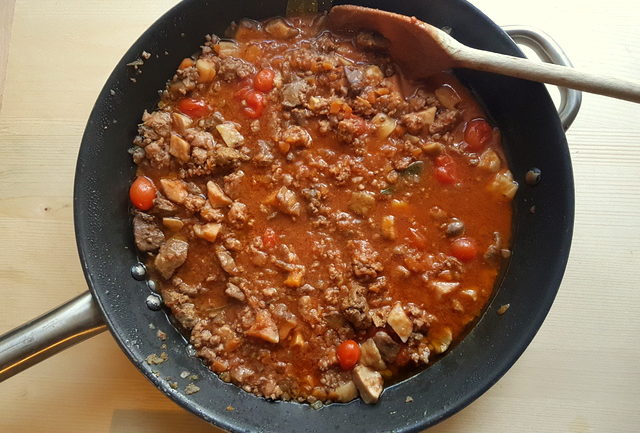 The Pasta!
Tagliolini is really a fantastic pasta especially when fresh or homemade. Luckily for me, I can find fresh tagliolini. However, I definitely want to try making it myself in the same way they do it in Piemonte. If you can't find tagliolini, you can, of course, use other long or ribbon pasta. Tagliatelle would be great and even spaghetti would work well.
I've added eating this tagliolini pasta alla Langarola dish in Langhe to my bucket list, but until that happens I may have to repeat it at home myself! I'm sure you'll feel the same once you try it!
Buon appetito!
(go to the next page to see the recipe. Just scroll down and click 2)