This hearty homemade maltagliati recipe comes from the Central Italian region of Marche. There, the rhomboid shaped maltagliati in this traditional dish are known as cresc'tajat in the local dialect. This corn and wheat flour pasta is very easy to make, and the rustic sauce has sausages, pork ribs, beans, and tomatoes. A filling one plate sausage pasta meal typical of the Italian cucina povera, meaning peasant kitchen.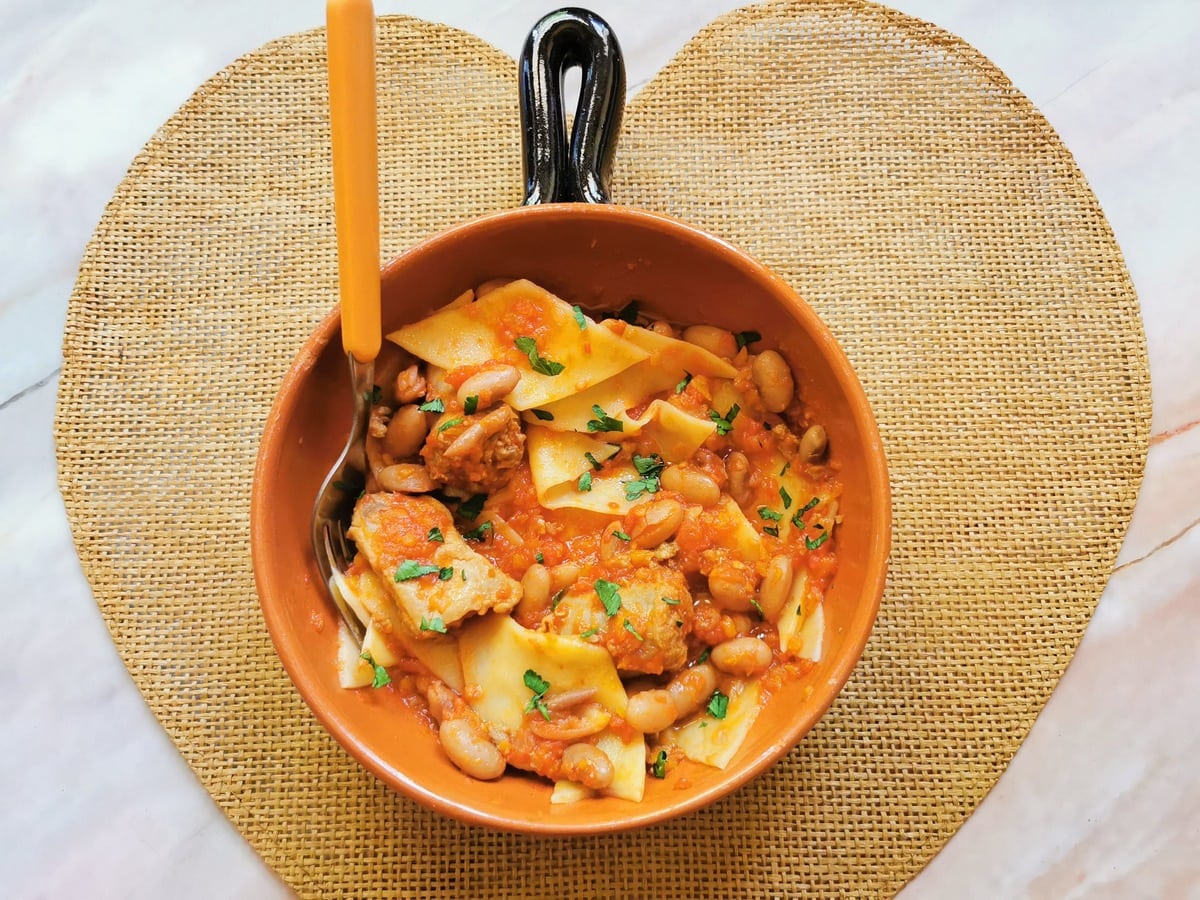 What is maltagliati pasta?
The word 'maltagliati' means badly cut. Nowadays, it's used as an umbrella term for differently shaped short flat noodles. Originally, these flat pasta pieces started as a way to use up leftover dough after making other types of pasta.These leftover dough cuts were mostly used in soups and broths. In English speaking countries, homemade maltagliati are similar to what they call 'pasta rags'.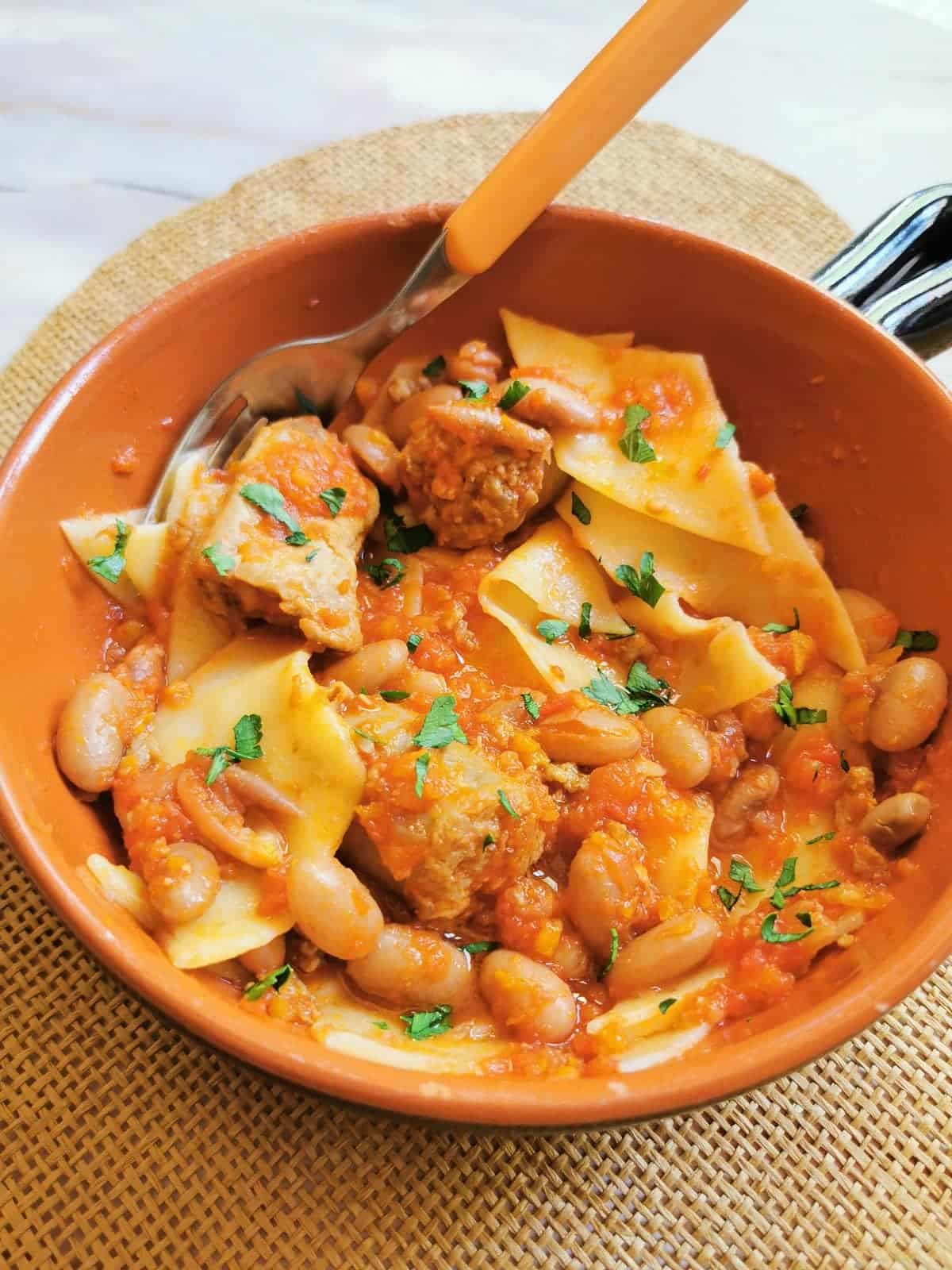 In some Italian regions, the local name for flat pasta pieces made from leftover dough is simply maltagliati. In Emilia-Romagna, this pasta is considered a traditional agrifood product (P.A.T.). There, they traditionally use soft wheat egg pasta dough remains after making tagliatelle or ravioli.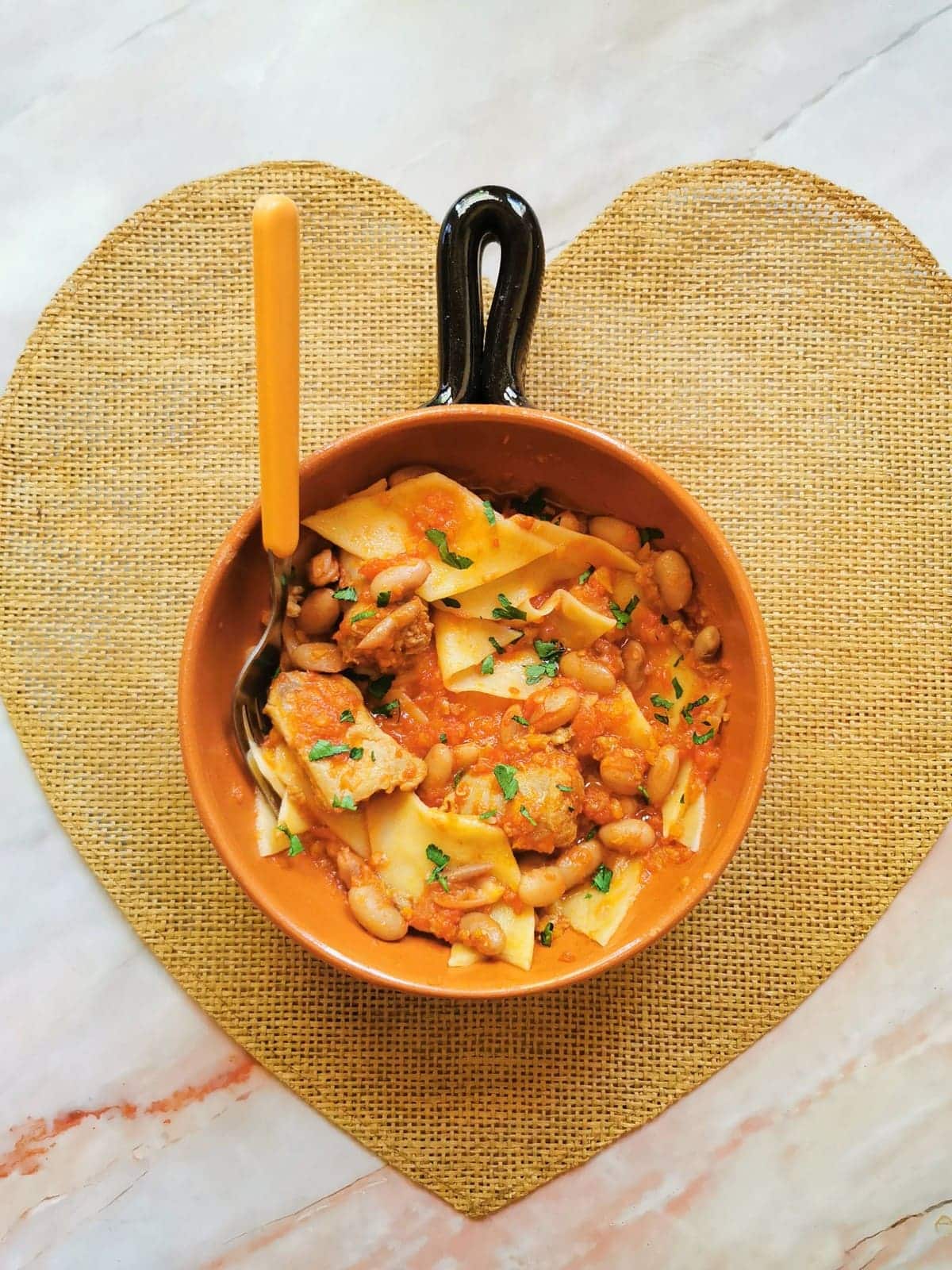 In other regions, they use different names for pasta made with leftover dough. They cut it into various shapes and the dough can also be semolina flour and water or have other types of flour in it. For example, in the Valtellina, in Lombardy, they make small homemade maltagliati from leftover buckwheat flour pizzoccheri dough. They call it 'pizzoccherini'. You can read more about 'badly cut' pasta in my maltagliati post.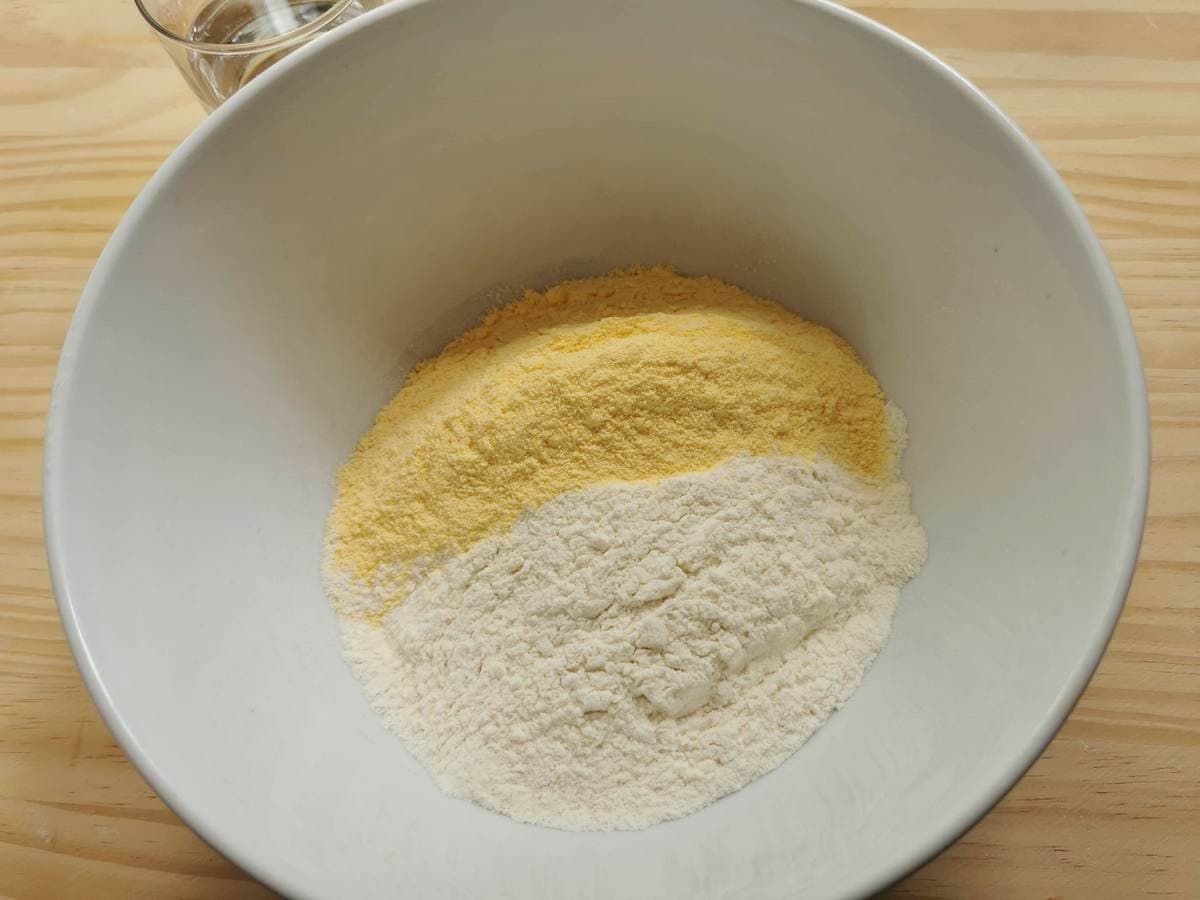 What is cresc'tajat?
Also called crestaiate or cristaiate, cresc 'tajat is a traditional peasant pasta from Marche, particularly the province of Pesaro Urbino. Originally, made with polenta, this type of freshly made pasta was invented as a way to use up leftover cooked polenta.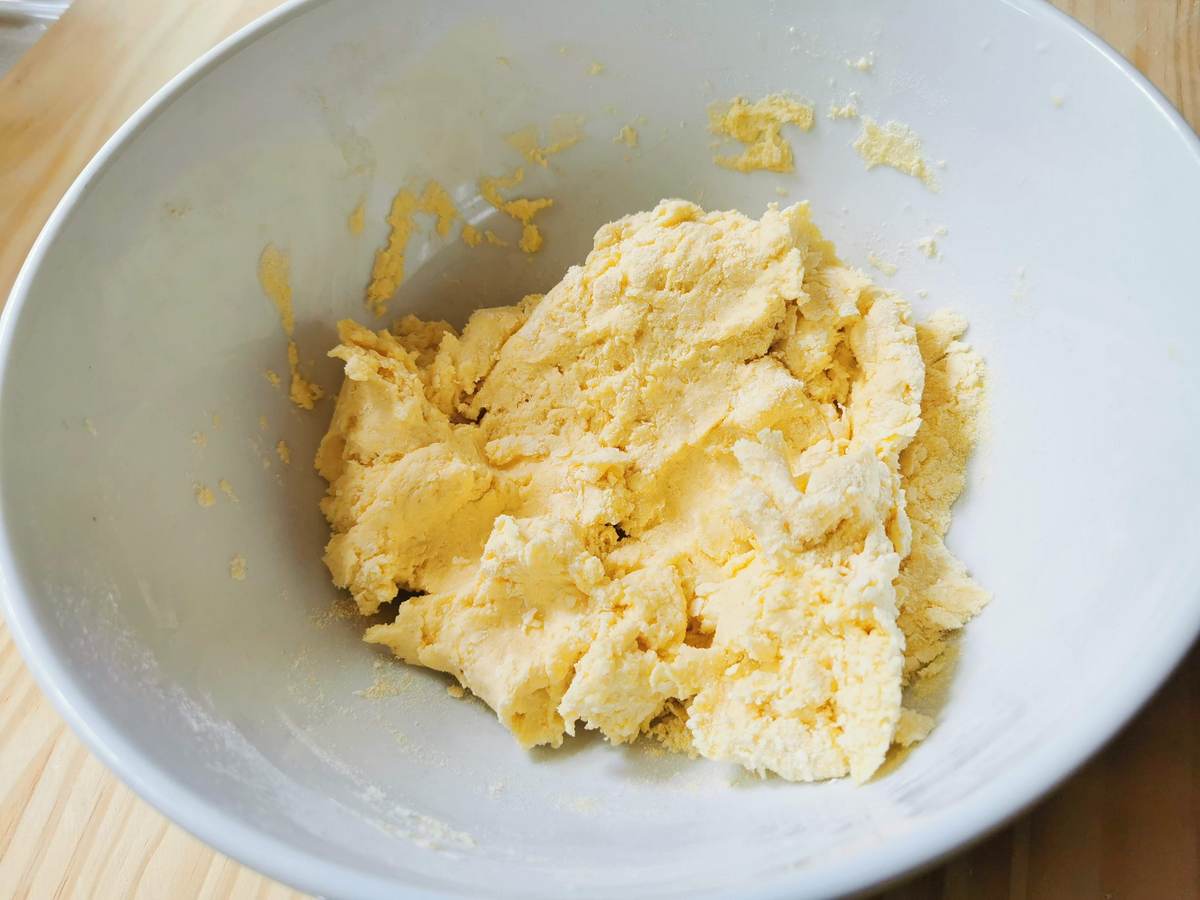 In the past, they mixed cold polenta with soft wheat flour and water or eggs and then rolled it out into a circular dough sheet similar to a local flatbread called 'la crescia', hence the name cresc' tajat. The word tajat comes from the Italian tagliate, meaning cut.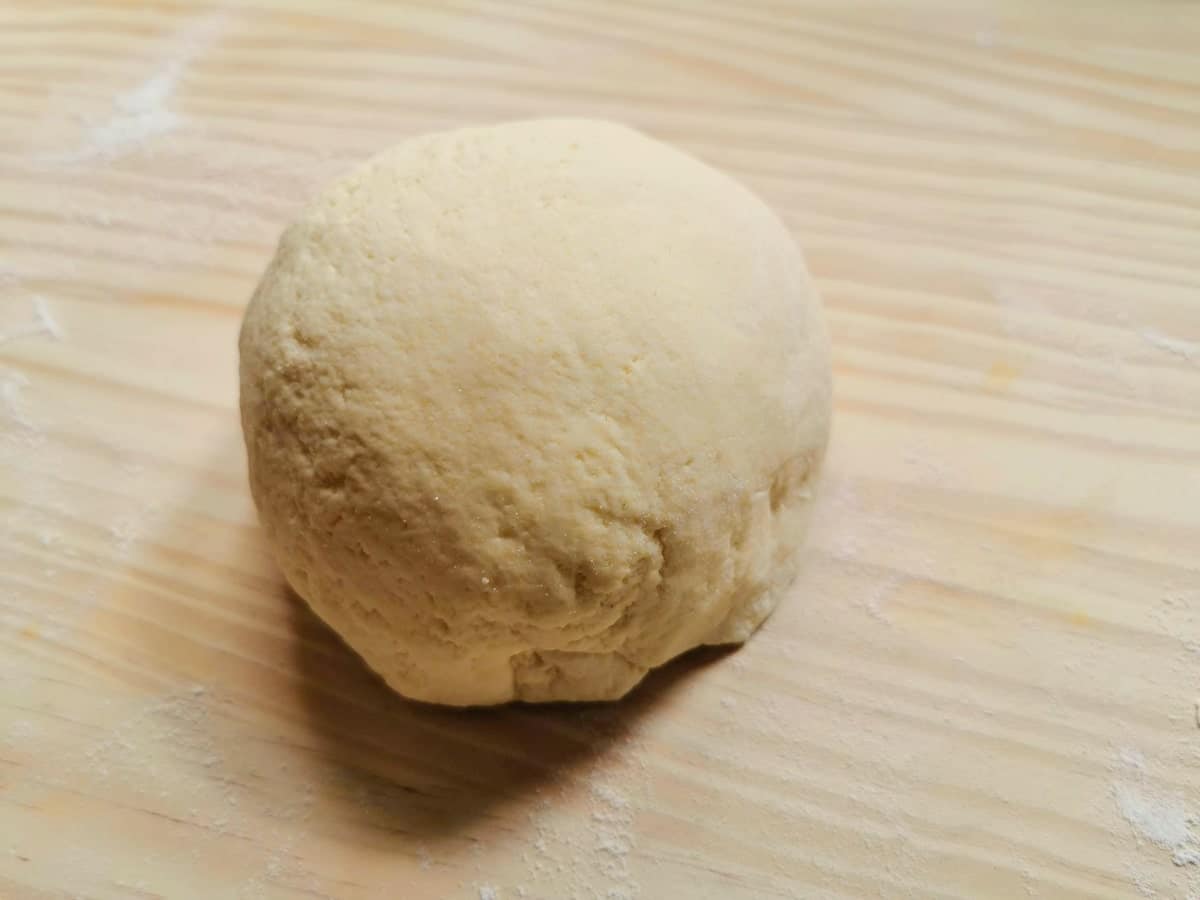 Nowadays, most recipes I've found for homemade cresc'tajat call for corn flour rather than leftover cooked polenta. However, there are also some cooks who cook the polenta specifically to make pasta with it. I used corn flour this time. But, I'd like to try this type of maltagliati in the original way too.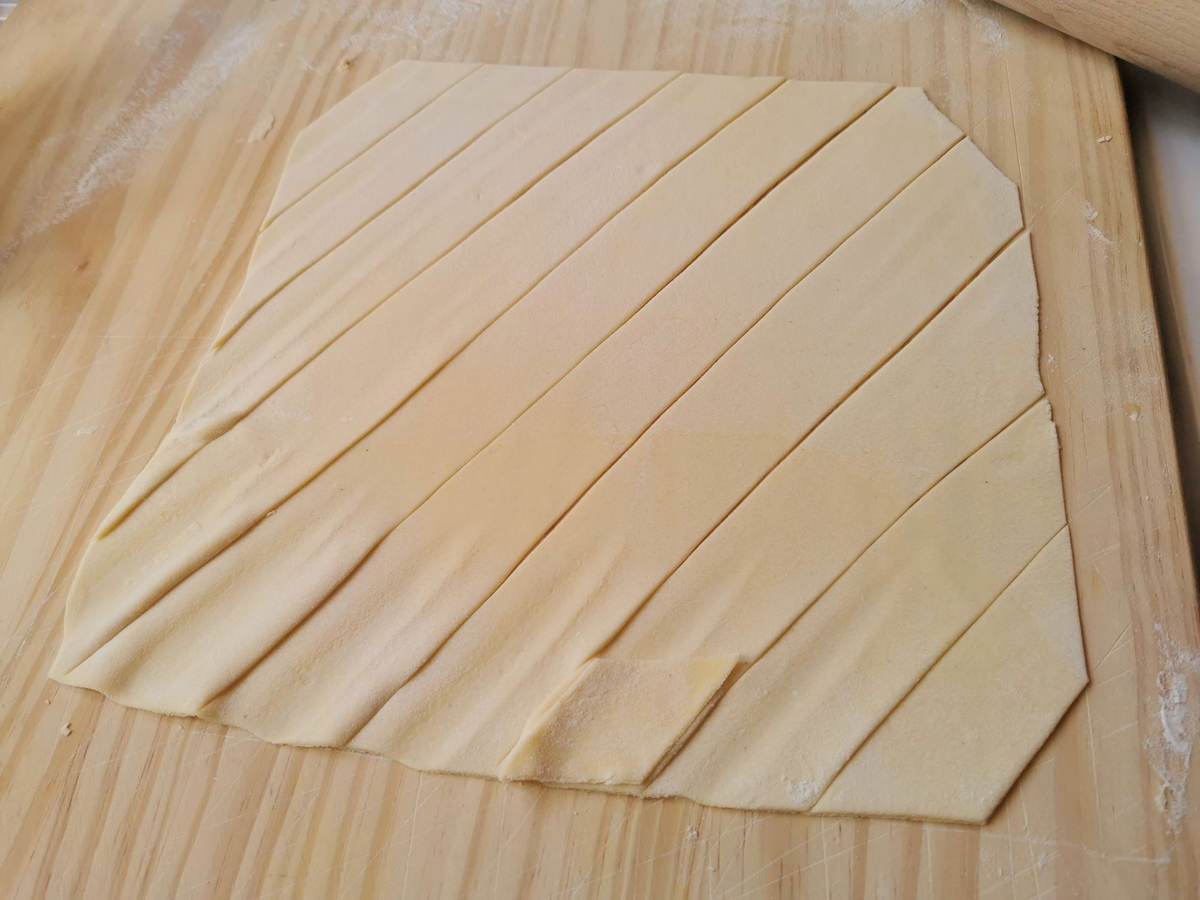 You can check out the video from Pasta Grannies below to see how to make cresc'tajat with polenta. The sauce in the video is similar to the recipe below but includes pork fat and pig skin. I used pork ribs and more sausage instead.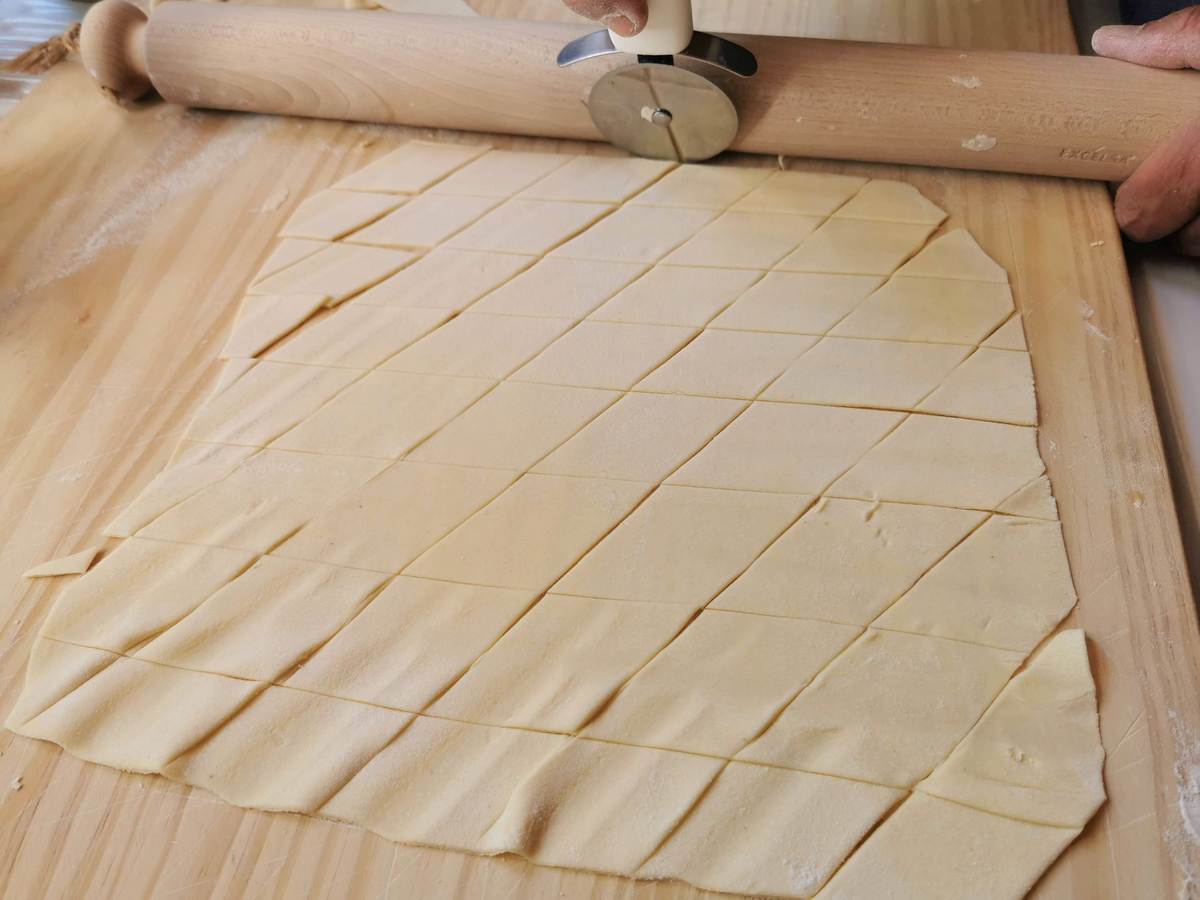 La cucina povera.
As I mentioned above, this recipe is typical of what Italians call la cucina povera or peasant kitchen. These are dishes which originated in the homes of Italy's peasant and rural populations of the past. The 2 main characteristics of these recipes is that firstly, home cooks mostly made them from their own produce and livestock or ingredients that they foraged or could barter for or buy locally when in season.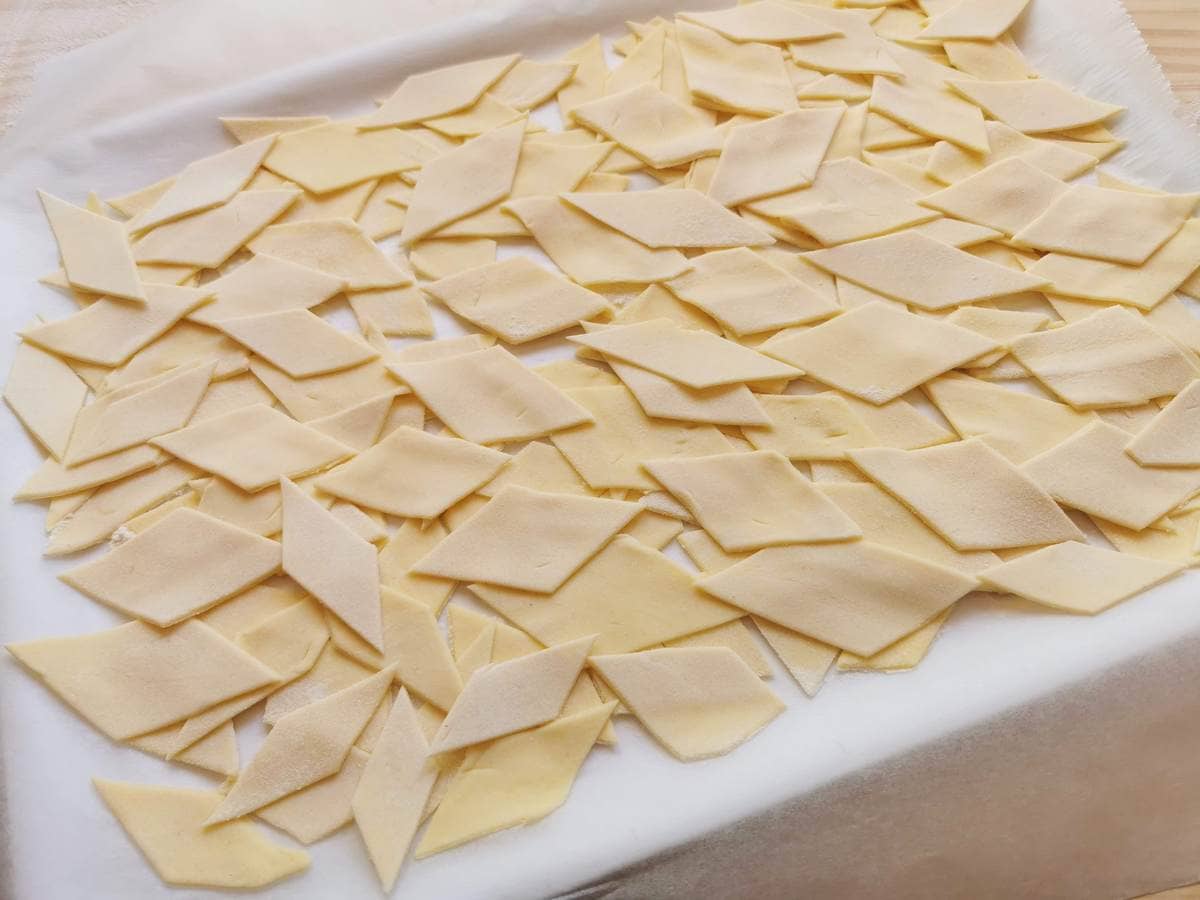 Secondly, the Italian peasant kitchen is based on the principle of not wasting anything. This concept, born out of poverty, ensured that nothing was thrown away. The use of leftover cooked polenta in the original recipe for this maltagliati pasta is a great example of how necessity really was the mother of invention in the kitchens of the poor.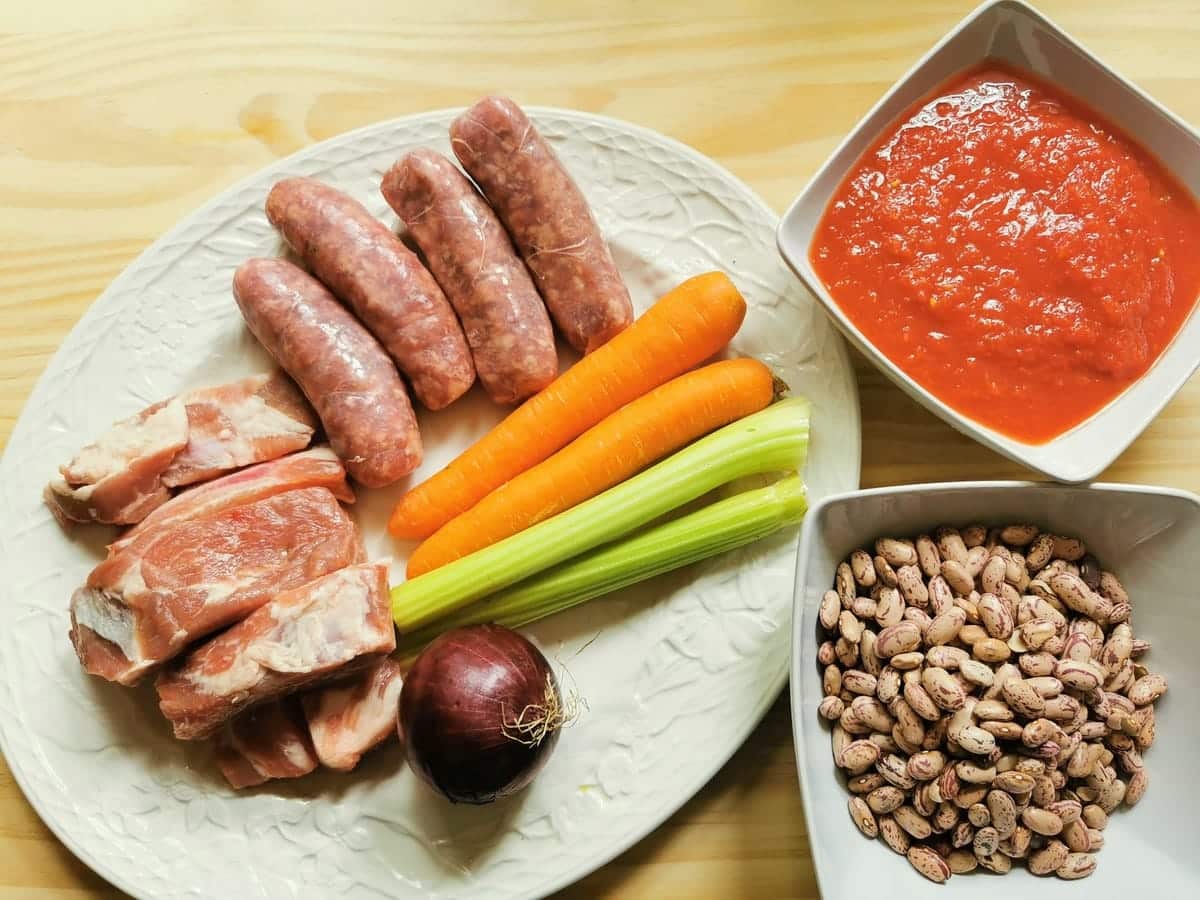 'Del maiale non si butta via niente.'
The inclusion of pork fat and pig skin in the preparation of the sausage and bean sauce on the Pasta Grannies video is another example of not throwing anything away. In fact, there's an Italian proverb 'del maiale non si butta via niente', meaning nothing is thrown away from the pig.
Families who were fortunate enough to have a pig or pigs usually slaughtered them in the autumn and then used every part of the pig to make lard, salami, sausages, ham etc to see them through the winter.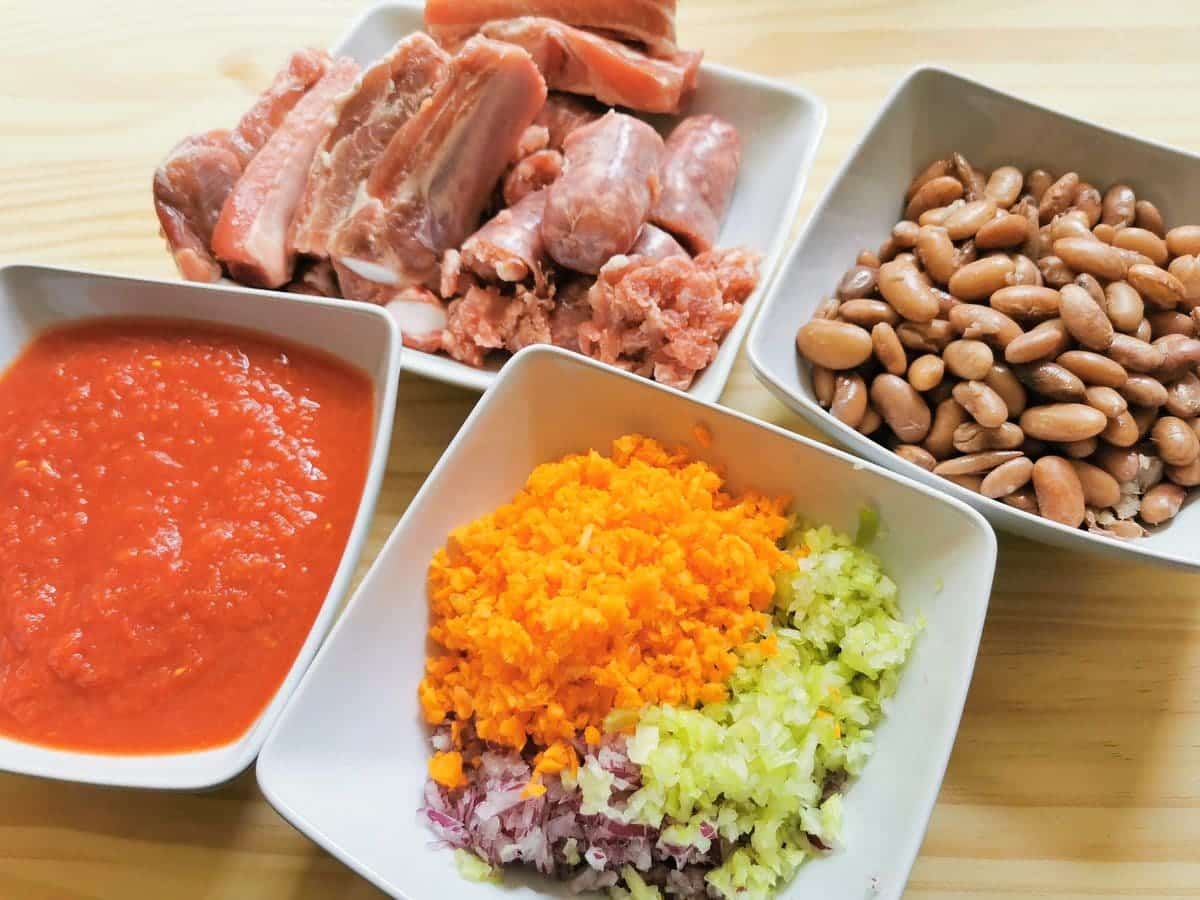 I imagine that the abundance of wonderful Italian salumi originated from this tradition. However, nowadays it's not so common to use some pork cuts or pieces, especially fat. That's probably why most recipes I found for this homemade maltagliati sausage pasta don't call for pig skin or lard.
How to make cresc' tajat (homemade maltagliati from Marche).
Like all types of maltagliati, cresc'tajat is easy to make. Of course, you can make the dough in a stand mixer and roll the sheets out using a pasta machine, but neither are really necessary.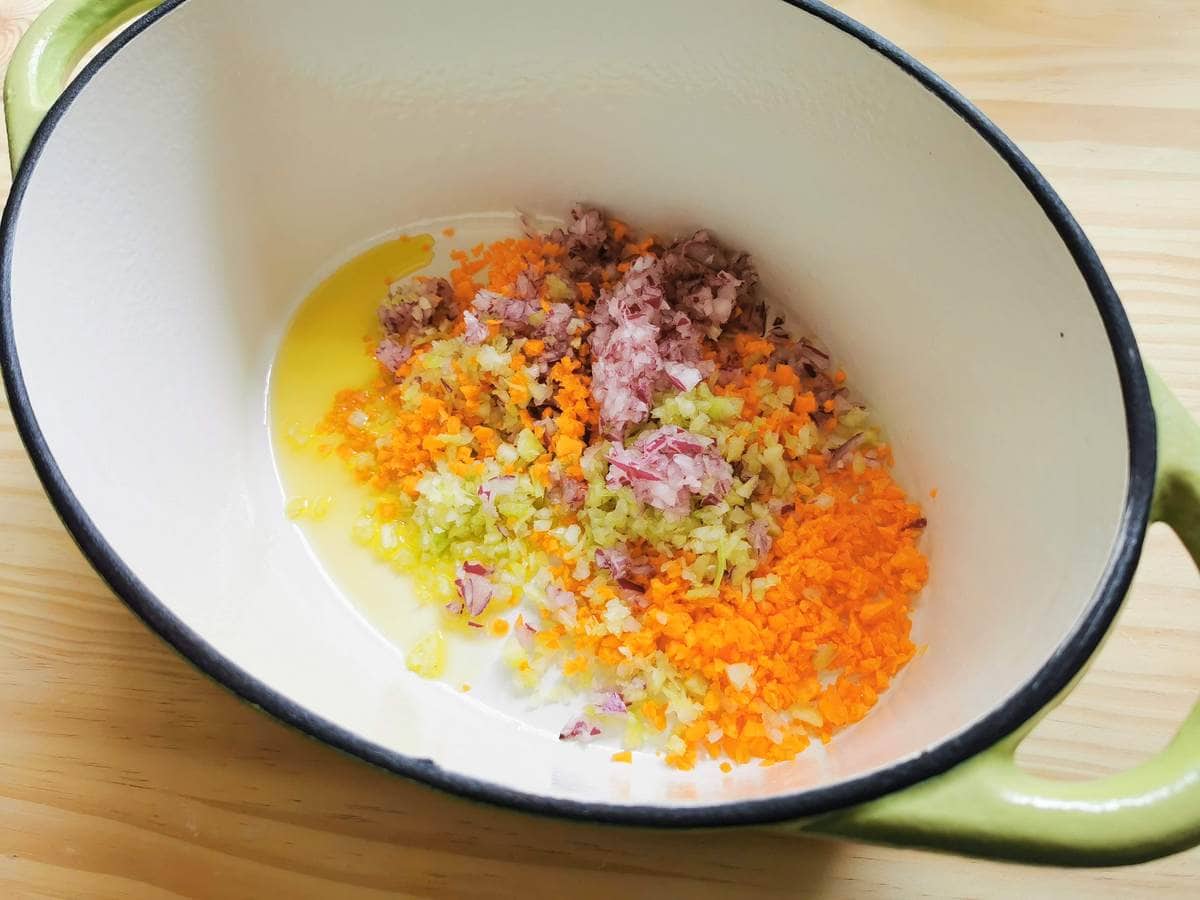 I like to mix the flours and water together in a bowl and once I have the start of a dough, I turn it out onto a floured pastry board and knead until it's quite smooth and elastic. I use this method for many types of pasta. Then after allowing the dough to 'rest', you can roll it out a piece at a time just using a rolling pin. Maltalgliati dough doesn't need to be super thin.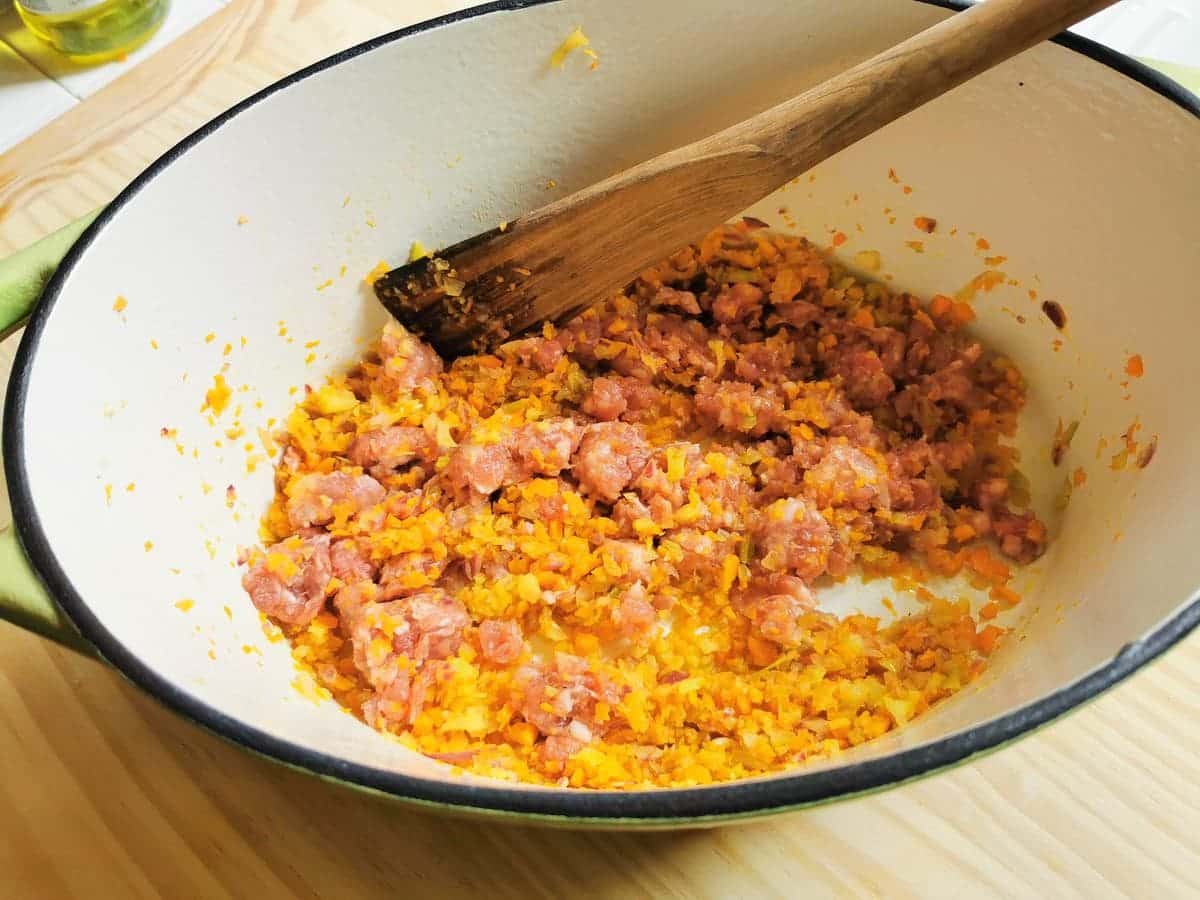 Finally, I use a pastry cutter to cut the dough into strips and then diamonds (rhombi). You can leave the ready maltagliati pasta on a dusted tea towel or piece of baking paper while you cook the sausage and bean sauce. You can also freeze it or let it dry on a pasta drying tray. I often use the trays from my food dehydrator, which I use to dry tomatoes from our garden!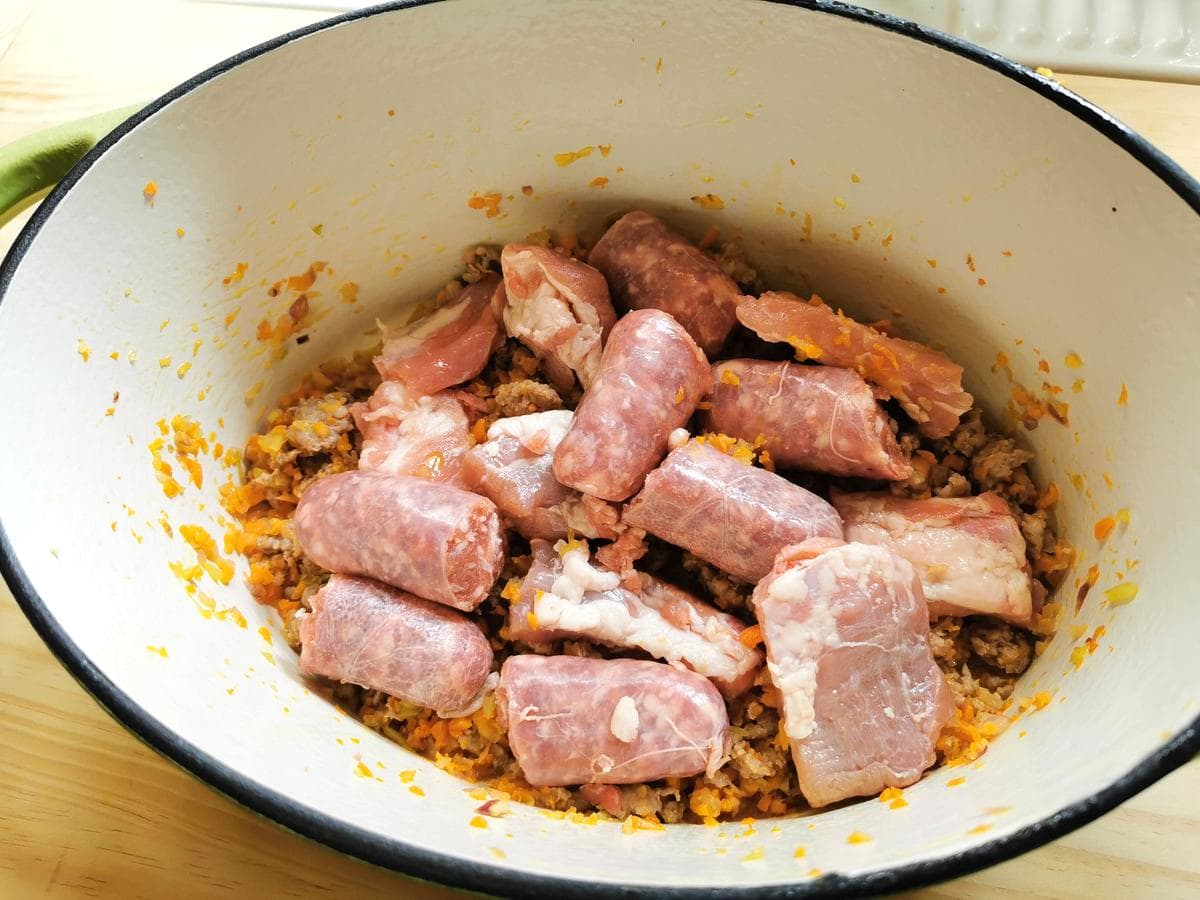 Making the sausage and bean sauce.
This is a hearty rustic sauce that together with pasta is filling enough to serve as a one plate meal. You first need to finely chop the onion, celery and carrots for your soffritto (mirepoix). Then remove the sausage meat from the casing of 2 sausages and cut or break it into small pieces. Cut the other 2 sausages into chunks.
I used short baby back ribs but cut the longer ones in half. You can also make this sauce without pork ribs and use pancetta instead.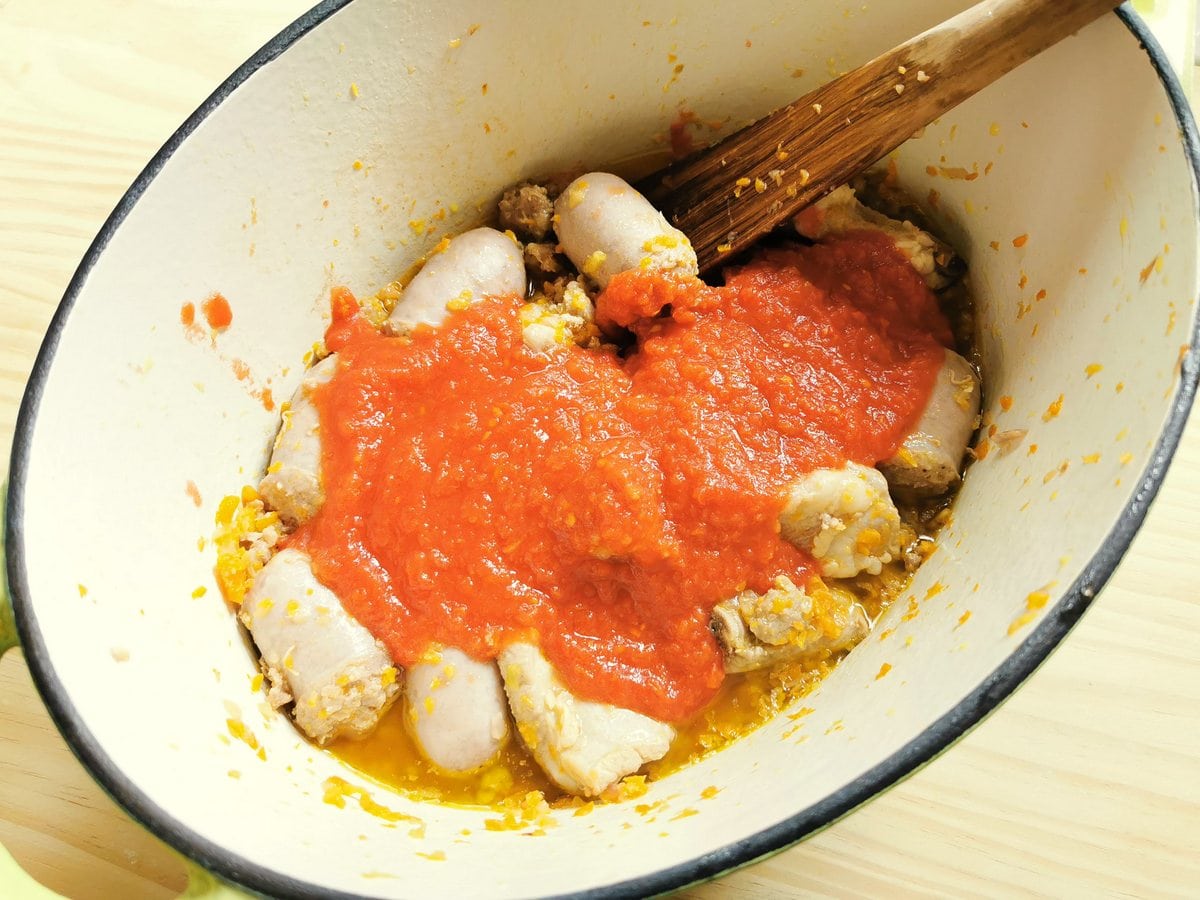 The beans.
The traditional beans for this maltagliati recipe are dried borlotti beans (cranberry beans). These need to be soaked overnight and then drained and cooked in boiling water for about 45 minutes. Of course, it's possible to use canned beans. If you can't find borlotti beans, substitute with pinto beans or red kidney beans.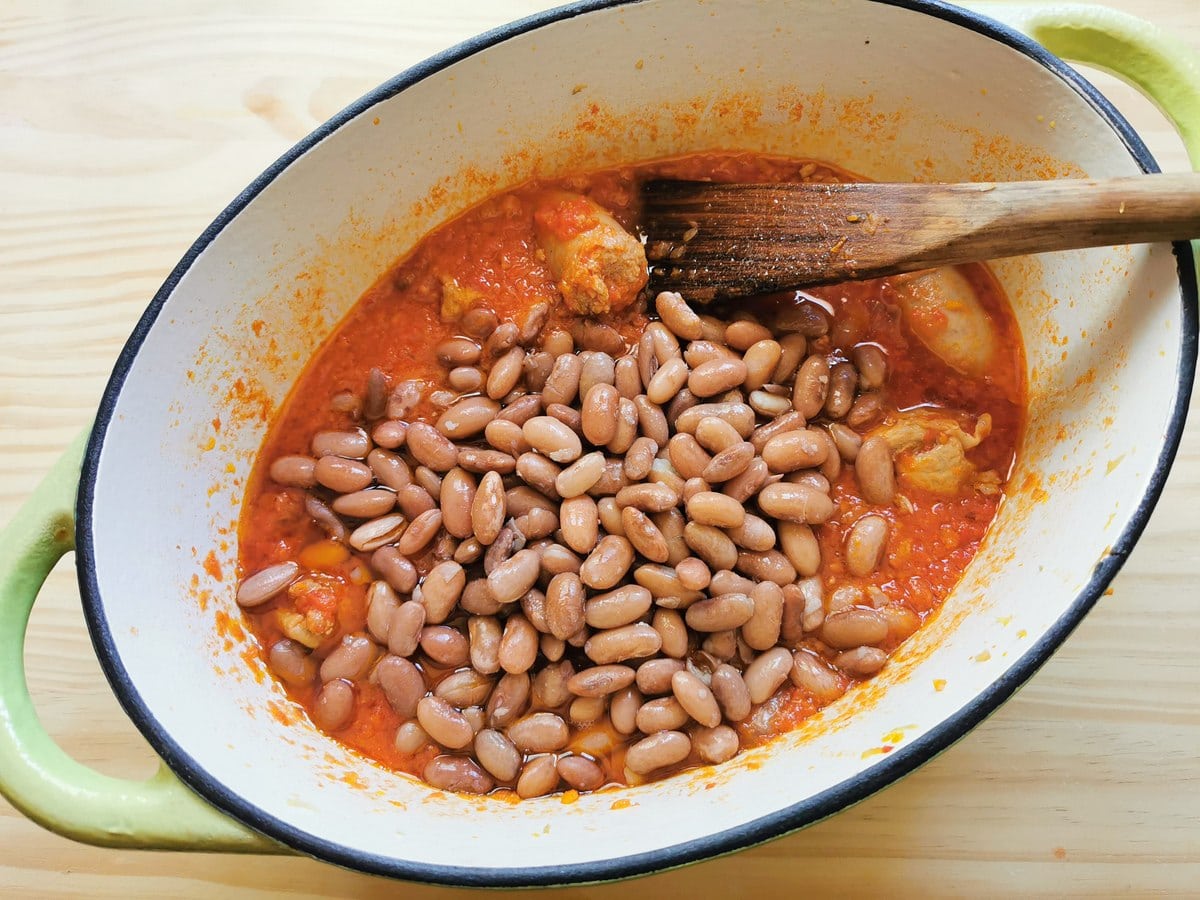 Make the sauce.
Once the ingredients are ready, sauté the onions, carrots and celery in olive oil until they start to soften. Then add the sausage meat (without casing) and brown it. Next add the ribs and sausage pieces and brown them too. When the meat has taken on some colour add the white wine and let the alcohol evaporate.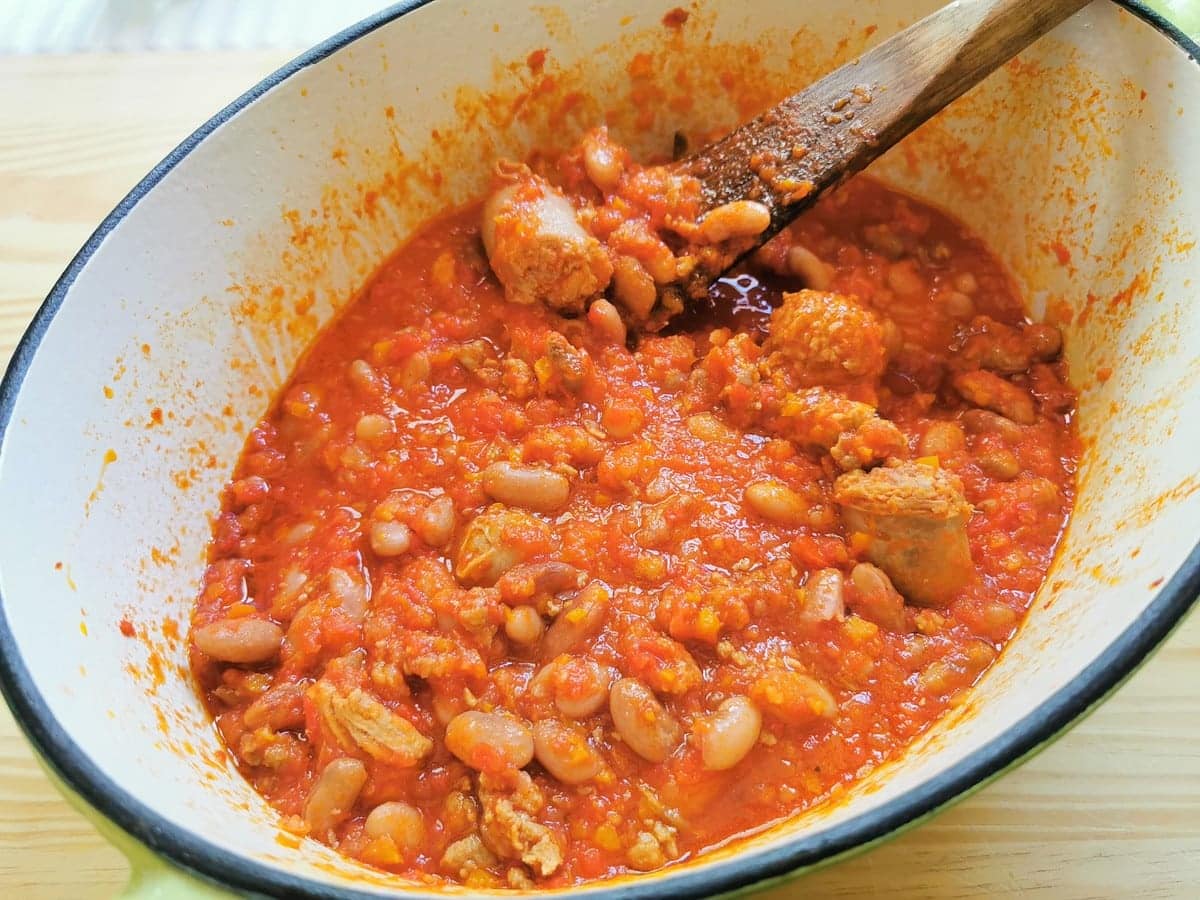 The next step is to pour in your tomato passata and a little meat broth. Mix everything together and simmer for about 30 minutes. Season with salt and pepper, then add the cooked or canned beans. If you have cooked the beans yourself, you can add some of the cooking liquid. Canned beans are best drained and rinsed in a colander first.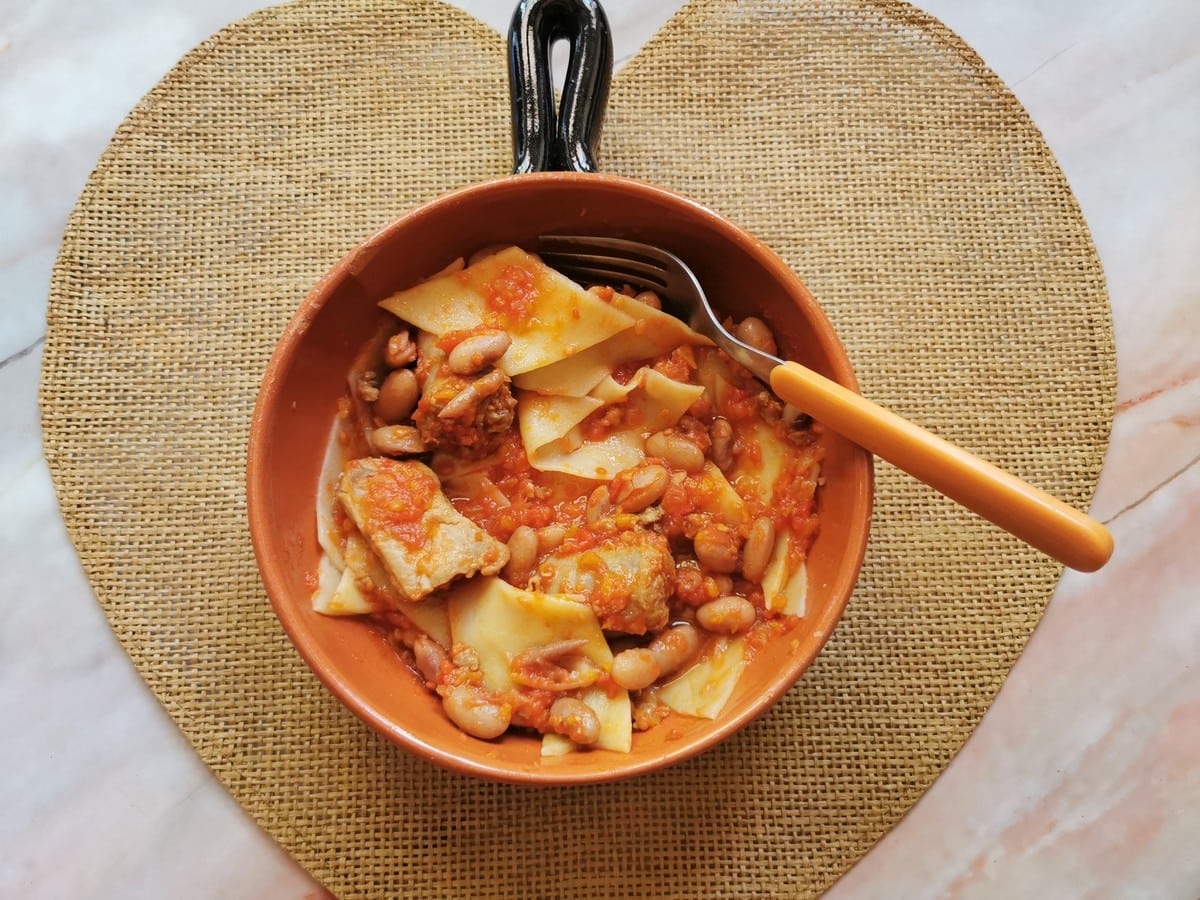 Finally, let the beans and sauce simmer for another 15 minutes. While the sauce is simmering you can put the water on to boil for the pasta. Of course, you can make the sauce in advance and then just heat it through when ready to serve.
Finish and serve.
Homemade maltagliati doesn't take long to cook but cooking times will depend on the thickness of your pasta. Add the pasta pieces to a pot of boiling salted water and once they rise to the surface, wait for half a minute then drain and add the pasta to the sauce.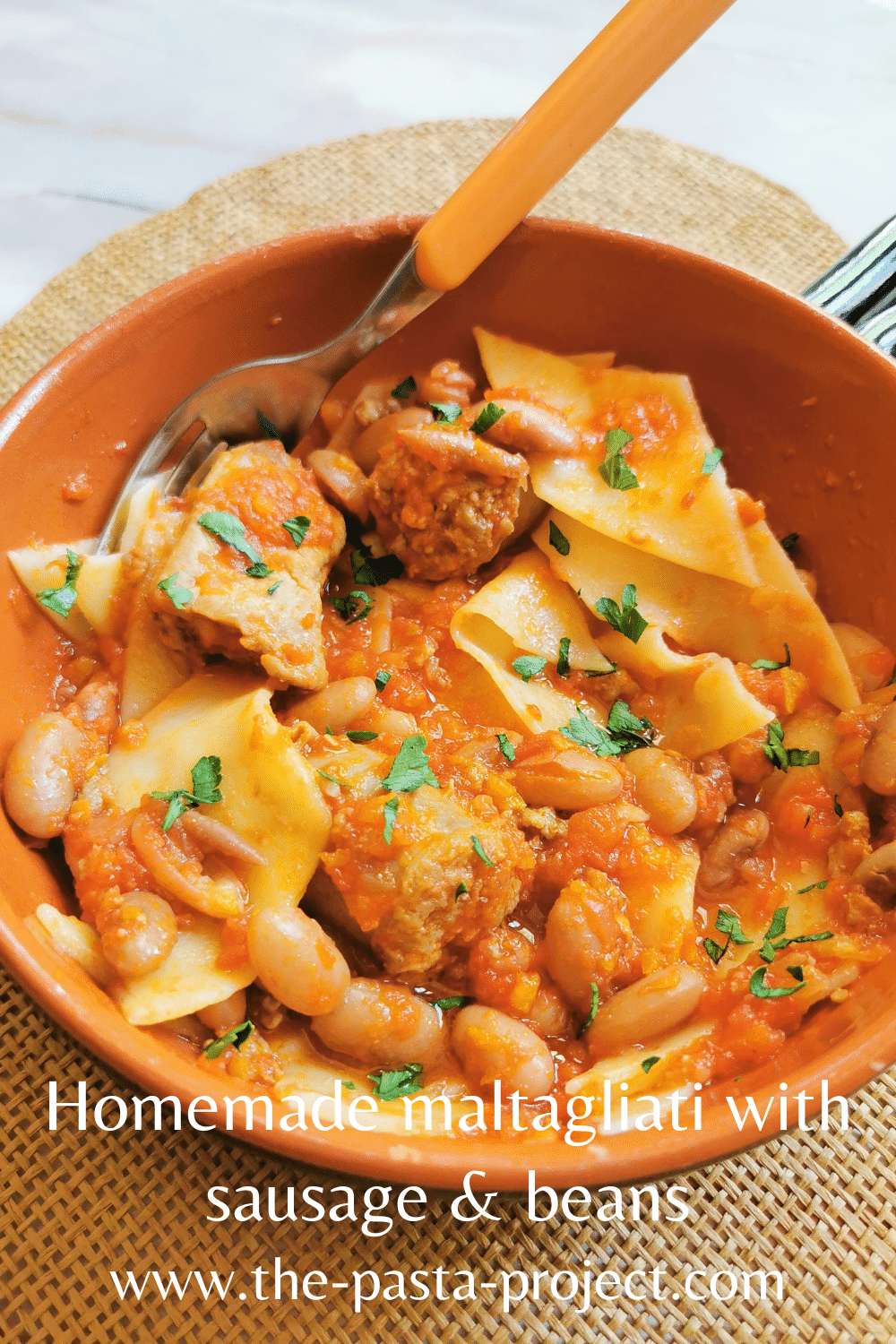 Mix everything together carefully and serve immediately with a sprinkling of extra virgin olive oil, chopped fresh parsley and, if required some grated pecorino or Parmigiano. You can keep leftovers sealed in the fridge for a day or two and reheat in the microwave. The pasta will be softer as it absorbs the sauce, but still really delicious.
If you make this recipe I'd love to hear how it turns out and if you liked it. Please leave a comment here on the blog or on The Pasta Project Facebook page. Looking forward to hearing from you.
Buon appetito!
Other ways to serve homemade Maltagliati from Marche.
This type of maltagliati is also traditionally served with what Italians call 'sugo finto', meaning fake sauce. This is basically a meatless tomato sauce that uses pork back fat (lardo in Italian) or guanciale to give it a meaty taste! You can also serve it with a simple tomato sauce or a tomato and pancetta sauce like in this very similar recipe for triangular maltagliati from Abruzzo called patellette.
Other maltagliati recipes on The Pasta Project.
More delicious sausage pasta recipes to try.
If you are interested in learning how to make other homemade pasta and different types of gnocchi, check out my shop page for some great video online courses from my friends in Rome! Nothing beats learning to make pasta from Italians! Plus while you're there why not order a copy of my autumn/winter pasta recipes cookbook!?