Sausage and cabbage pasta is a popular and traditional recipe in Northern and Central Italy, particularly in the mountain areas. This simple rustic but hearty version comes from the northernmost Italian region of Trentino-Alto Adige. The sausage and cabbage are paired with wholewheat tagliatelle but you can use other pasta types.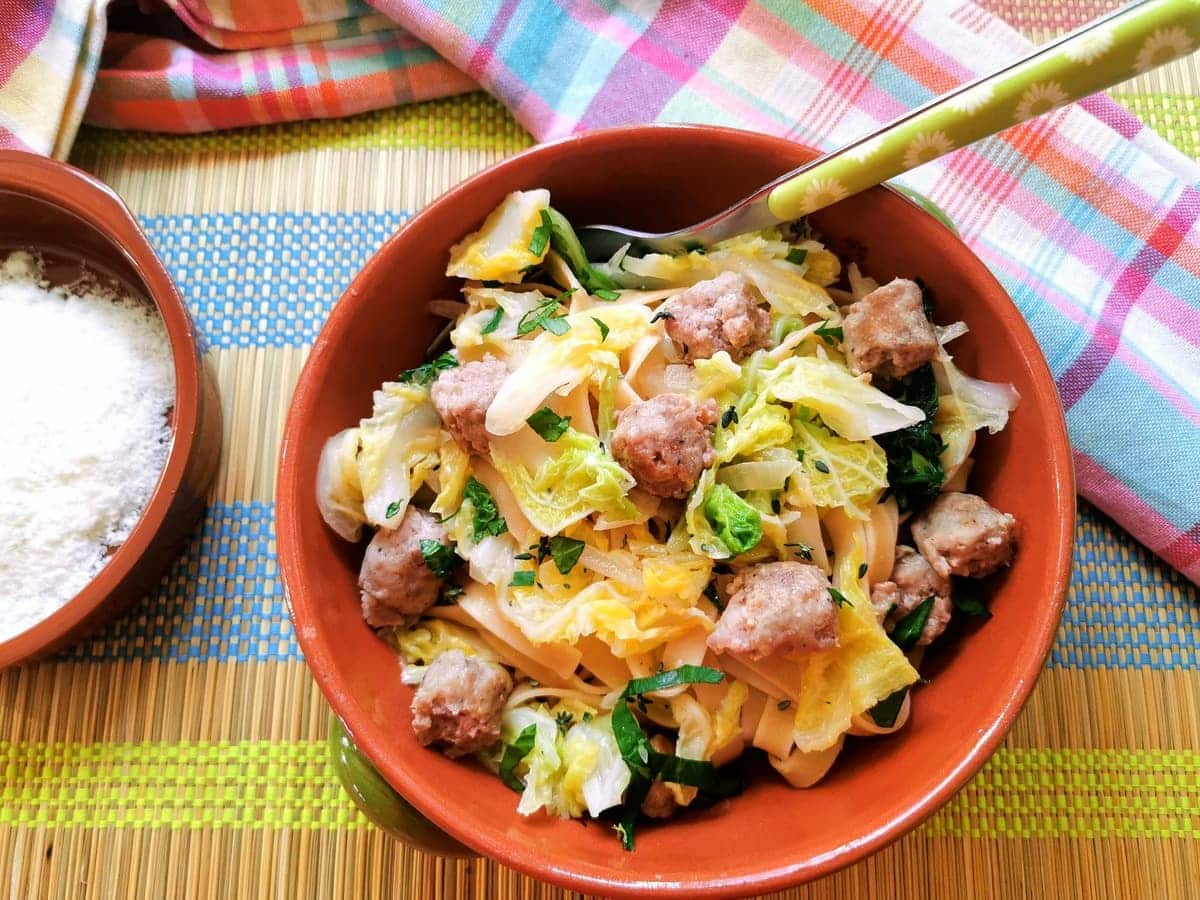 Sausage and cabbage is a popular combo.
You can find sausage and cabbage dishes in a lot of countries, particularly throughout Eastern and Central Europe and in the USA. There are many versions of these dishes made with different kinds of sausage and ways of preparing the cabbage.
Here in Italy, as in other countries, both sausages and cabbages were originally staple foods for the rural population. Cabbages are hardy plants that don't require much care to cultivate and give good yields. They can be eaten raw or cooked. Plus, they are also easy to ferment or preserve, so a good source of vitamin C during the winter.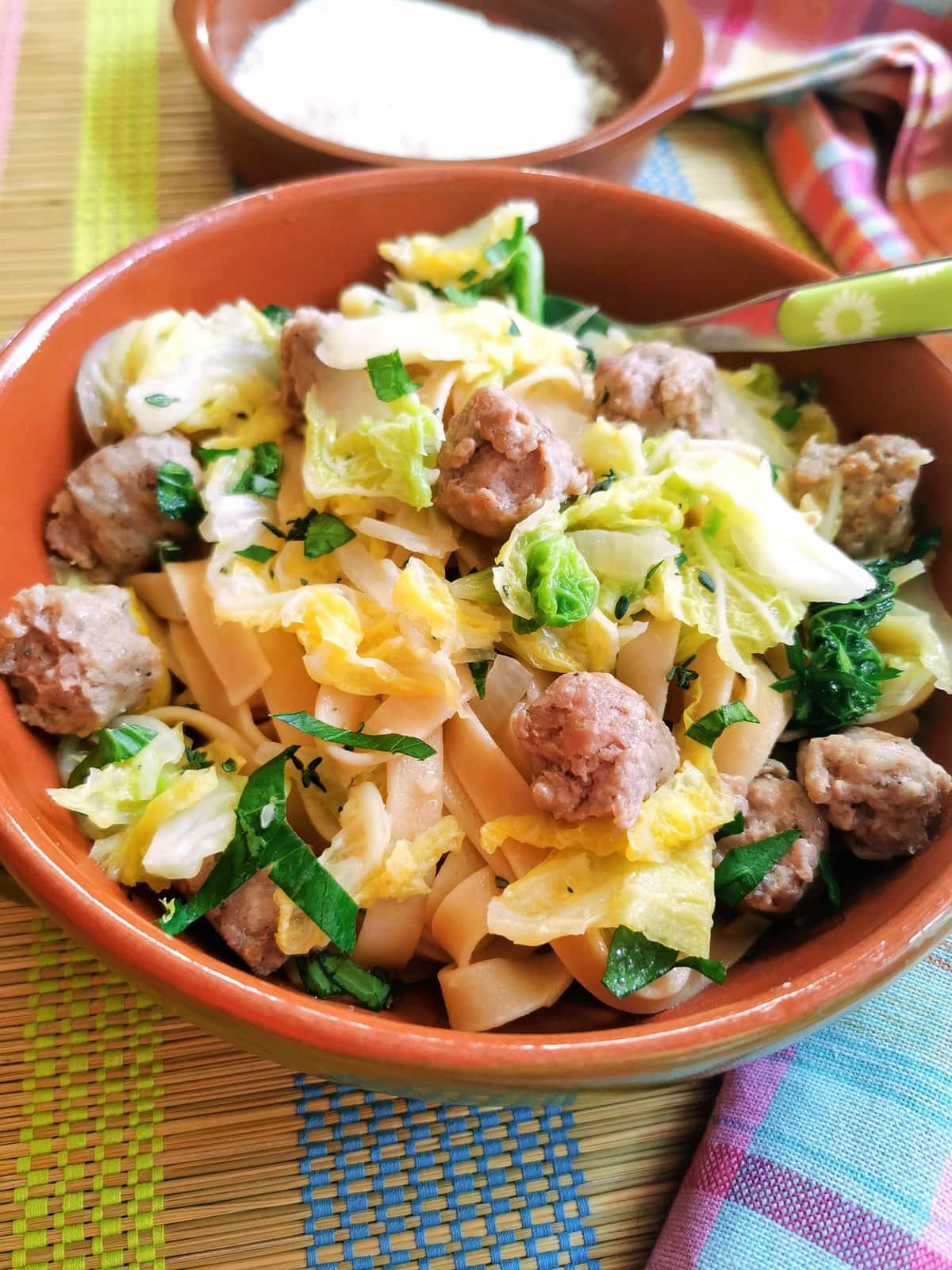 Most European populations eat a lot of pork, at least more than in other parts of the world. This includes pork sausages or other types of salumi, or cold cuts made with pork. The high consumption of pork sausages and salumi dates back centuries to times when it was necessary to find a use for the less desirable parts of a slaughtered pig, rather than waste them.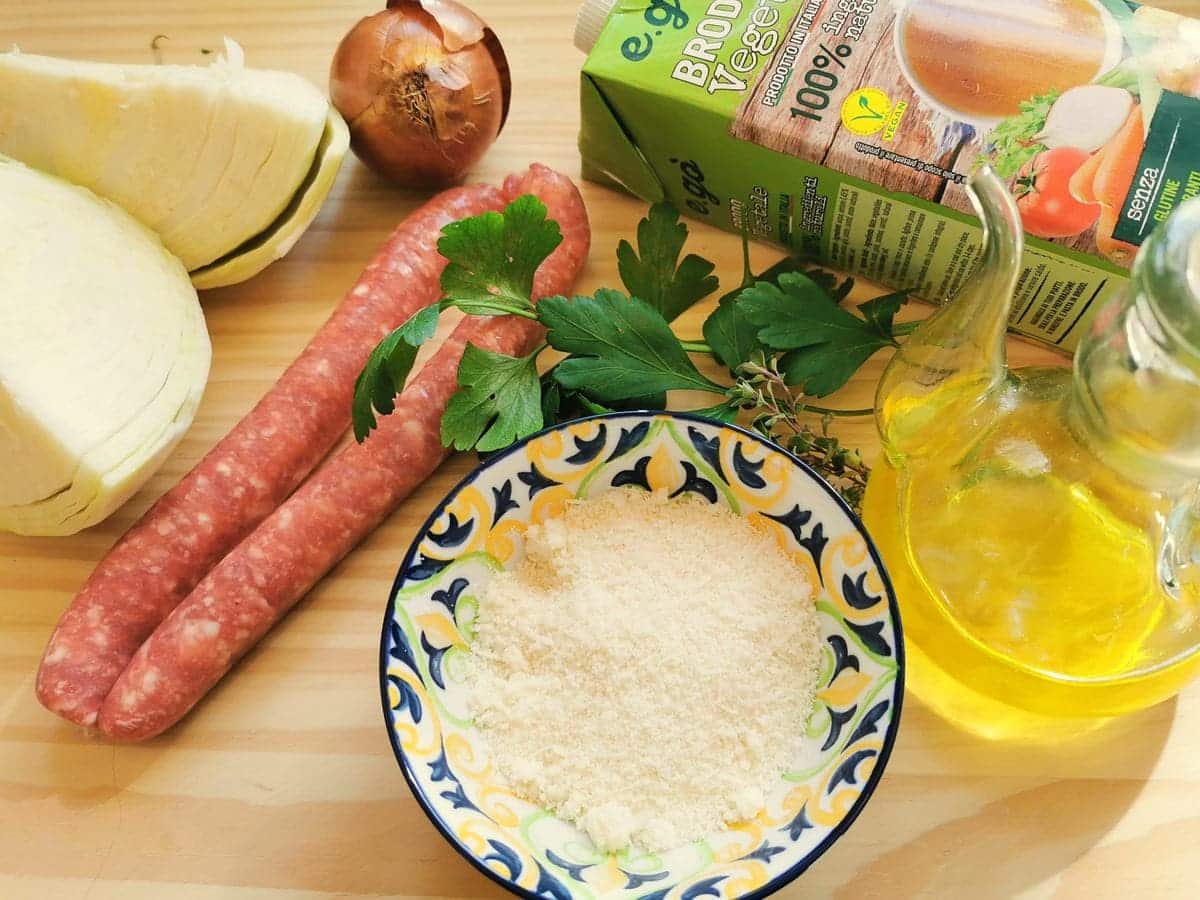 The sausage in this recipe.
This traditional sausage and cabbage pasta recipe calls for luganega sausage. Luganega is a long, slim Italian sausage that hasn't been divided into smaller links. Some Italians call it 'salsiccia al metro' (sausage by the metre) because in some places they sell it by the metre!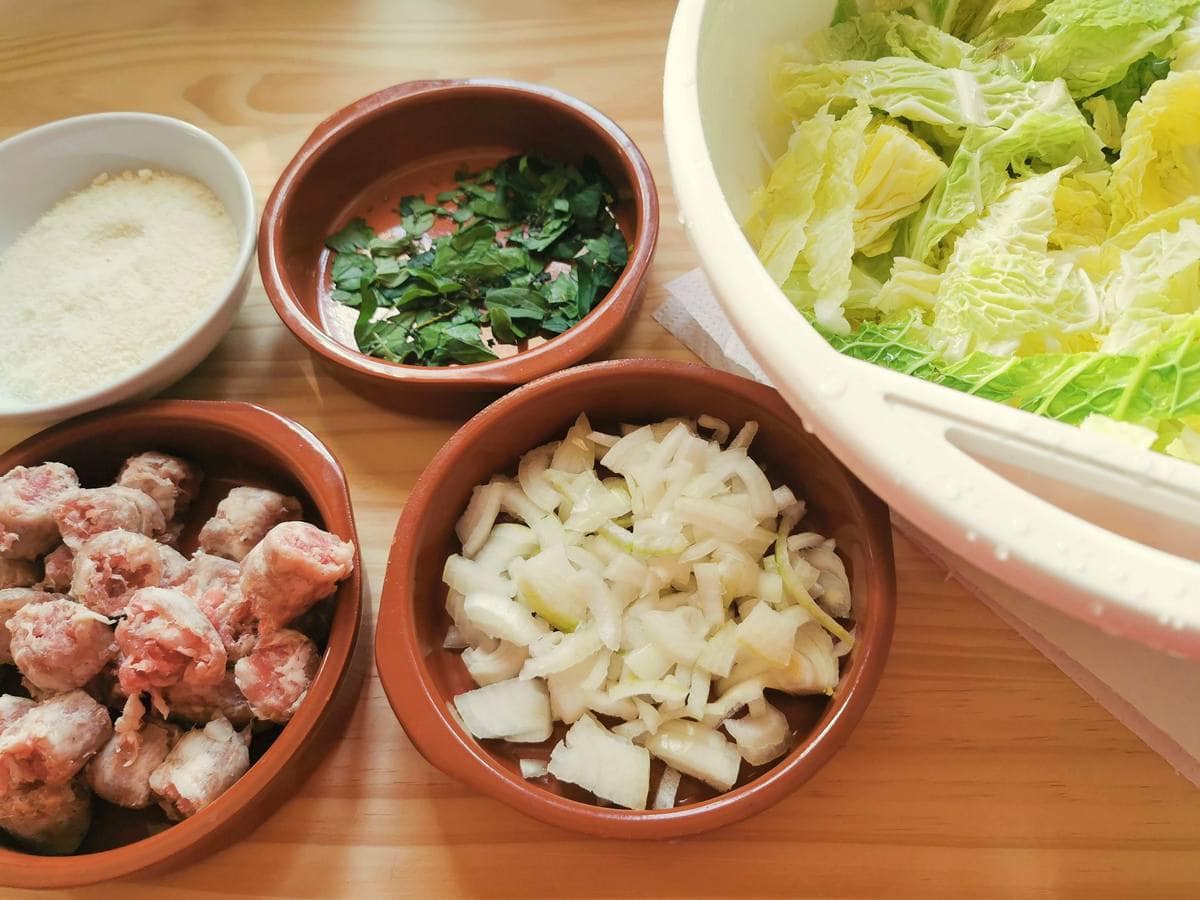 It is usually a fresh pork sausage made from the cheek or neck of the pig. However, in some regions they use the pork shoulder or rib meat too. Luganega is particularly popular in Northern and Central Italy, although it apparently originated in Basilicata.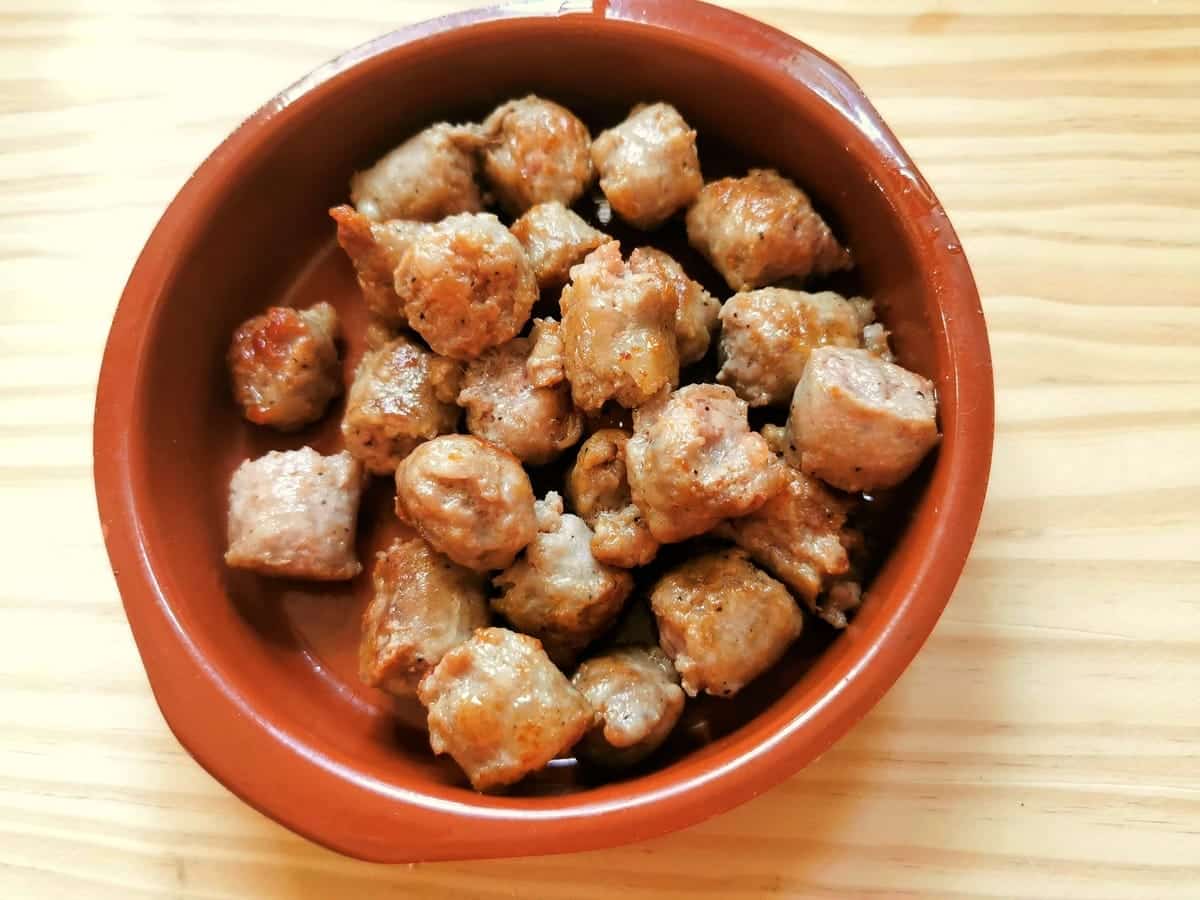 Not all types of this sausage are made the same way. In Basilicata, they often add wild fennel or red chilli pepper (peperoncino) to the sausage meat. In Lombardy, the most famous luganega sausage comes from Monza. There, they make it with Parmigiano or Grana cheese, Marsala wine and meat broth and serve it in a risotto or pasta dish called alla monzese!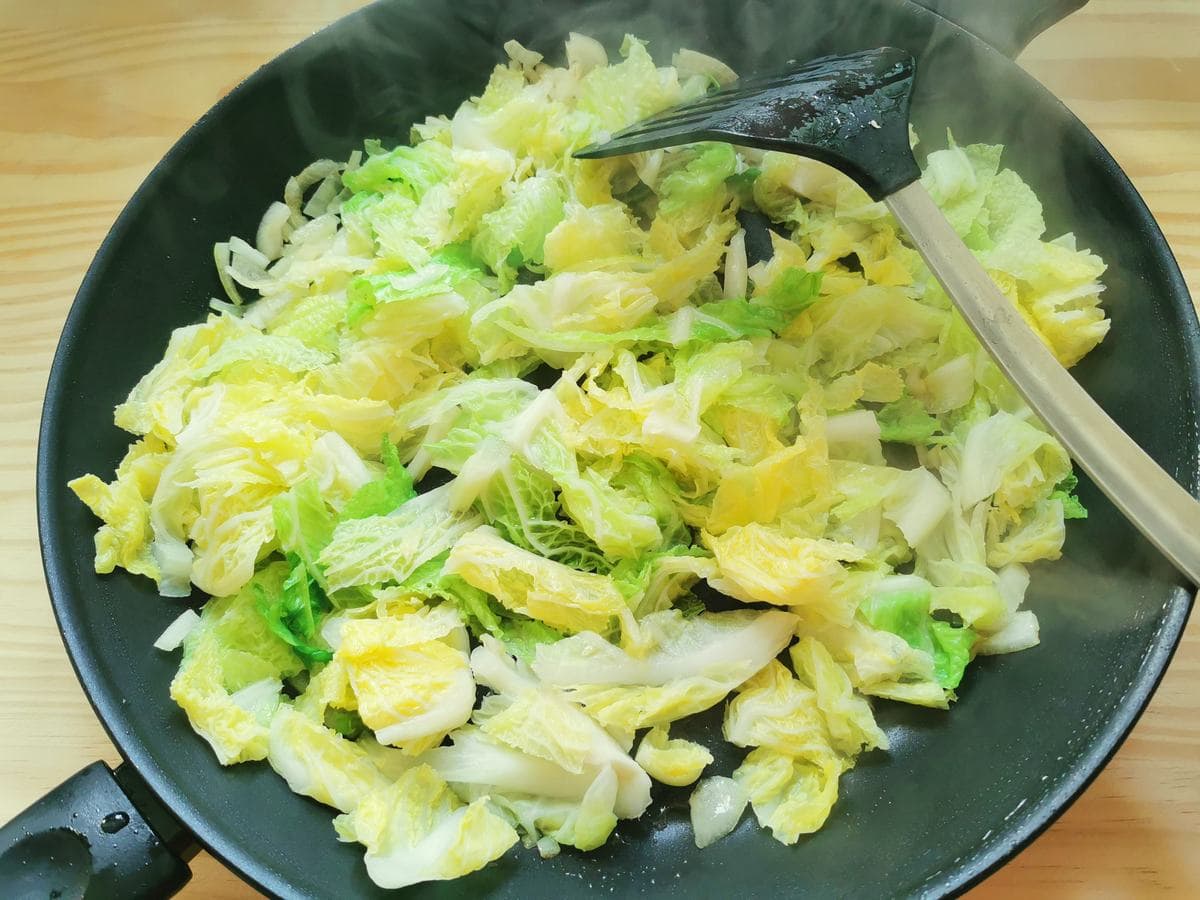 In Trentino-Alto Adige, where this sausage and cabbage pasta comes from, they make luganega with lean pork meat and lardo (pig back fat). The meat is seasoned with salt, pepper and garlic. I used luganega from Veneto where I live. It's similar to the Trentino one but without the garlic and lardo.
What other types of sausage can you use?
Of course, luganega isn't easily available outside of Italy. You can use other types of Italian pork sausages. But, it's better if they are slim sausages. Unlike other sausage pasta recipes, the sausage meat isn't crumbled after removing the casing. Instead, you need to just cut into small bite-size pieces.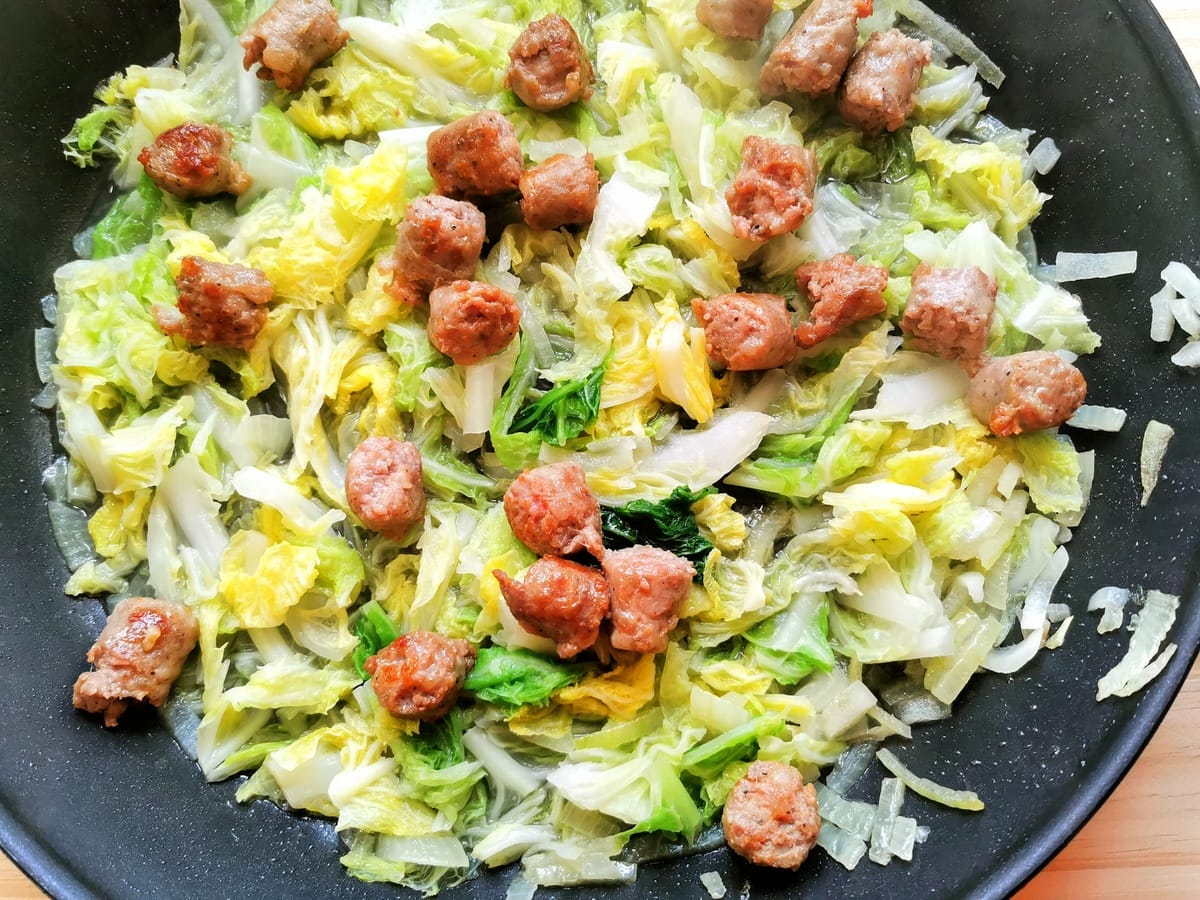 Cabbage in the Italian kitchen.
Italians use cabbage (verza in Italian) in many dishes. Well-known ones that come to mind are 'capunet piemontesi' (stuffed cabbage rolls from Piemonte), 'la Jota', a cabbage, potato and bean soup from Trieste also eaten in parts of Croatia, and pork ribs with cabbage or the similar 'cassoeula' from Lombardy.
There are other Italian recipes for soups with cabbage or cabbage as a side dish or together with cuts of pork. However, another popular way to use this nutritious veg is with pasta. On my to make list are a cabbage lasagna and cabbage pesto, although these are contemporary recipes.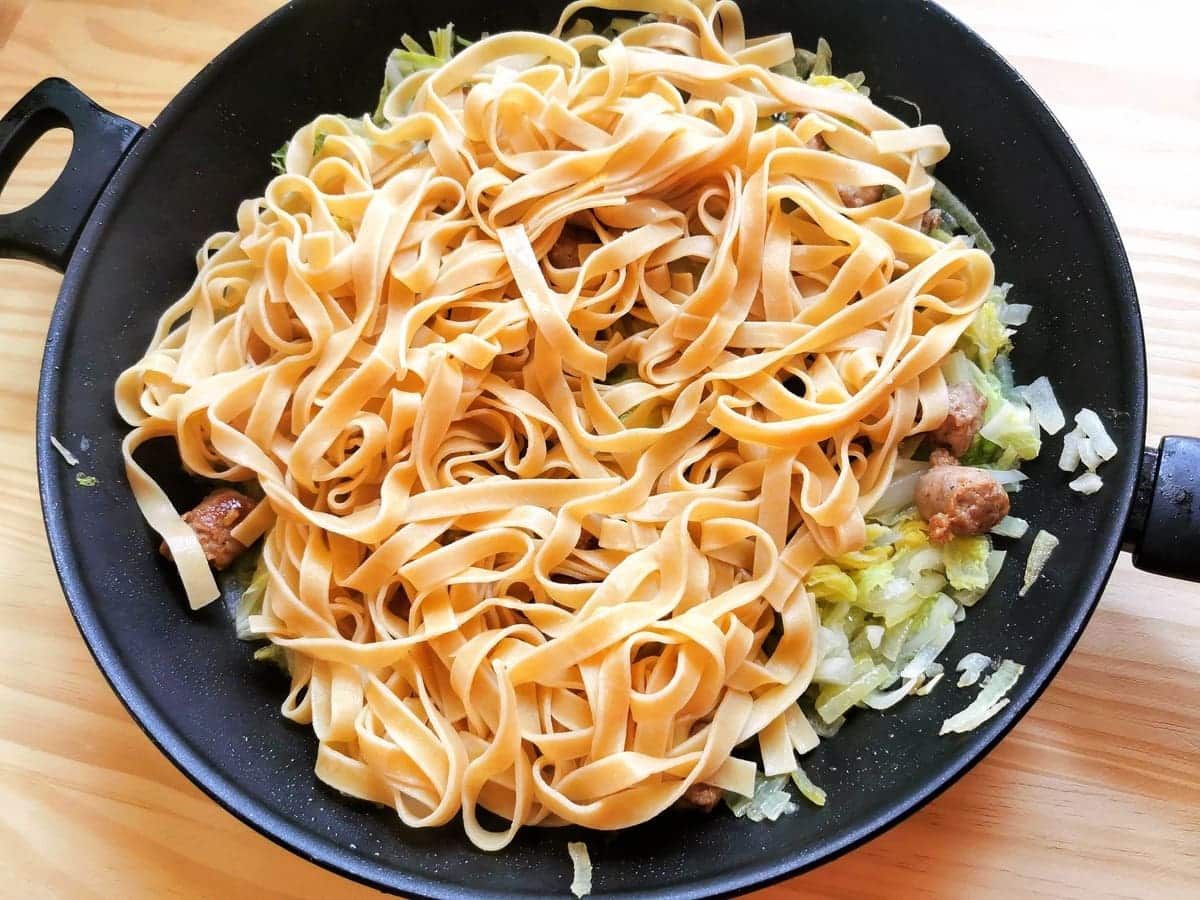 A well-known traditional cabbage pasta recipe I have published is pizzoccheri alla valtellinese made with buckwheat pasta, cabbage, potatoes, butter and cheese. This is another rustic pasta dish full of the flavours of the Italian Alps.
Italians don't usually ferment cabbage for the winter. Maybe because it is a winter crop and not a veg typically eaten in the warmer months. However, they do sometimes use cabbage with other vegetables in a pickled vegetable mix called la giardiniera. This is popular as an antipasto or a side dish with grilled meats.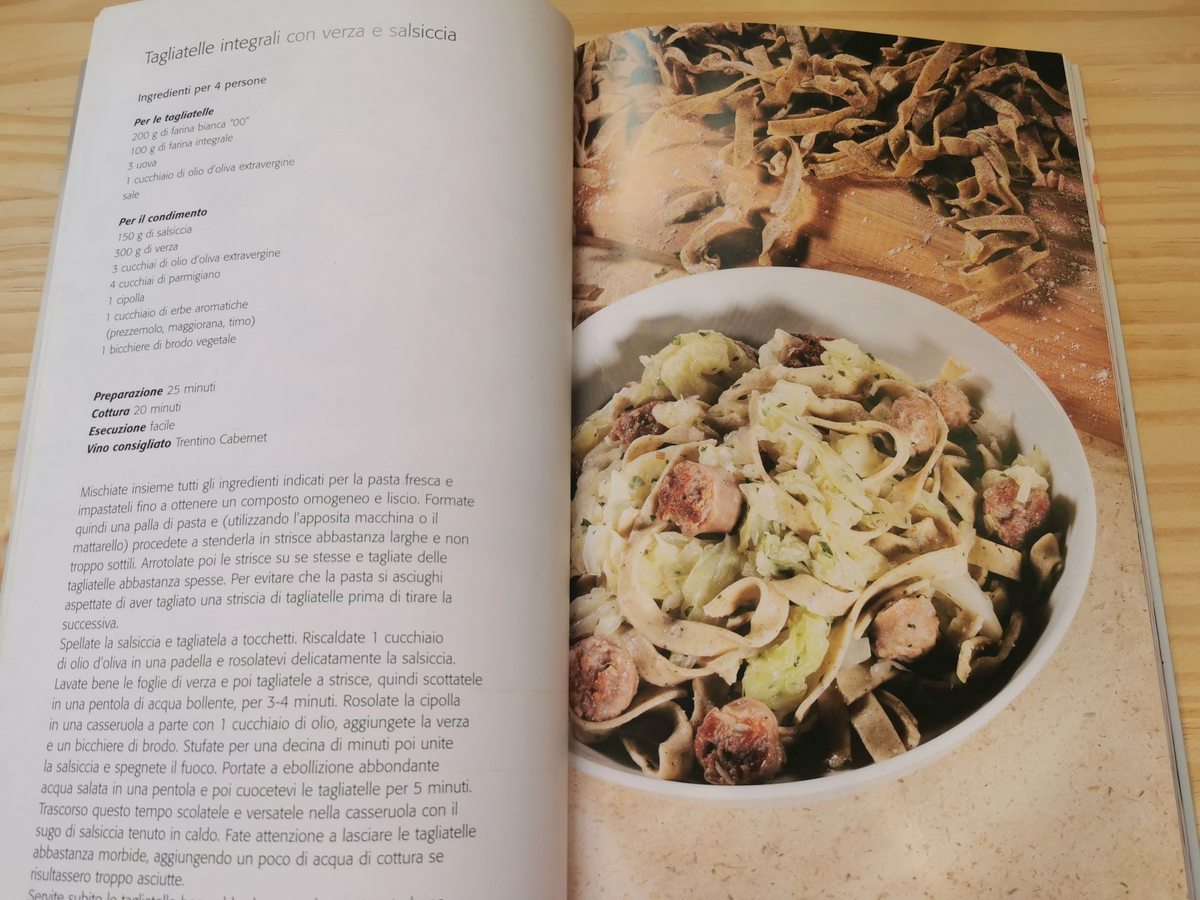 The pasta for this sausage and cabbage recipe.
I found this recipe in an Italian cookbook of recipes from Trentino-Alto Adige, the beautiful mountainous Italian region that borders with Austria. Pasta is not as traditional there as in other parts of Italy. However, they use a lot of tagliatelle, often made with different grains such as rye.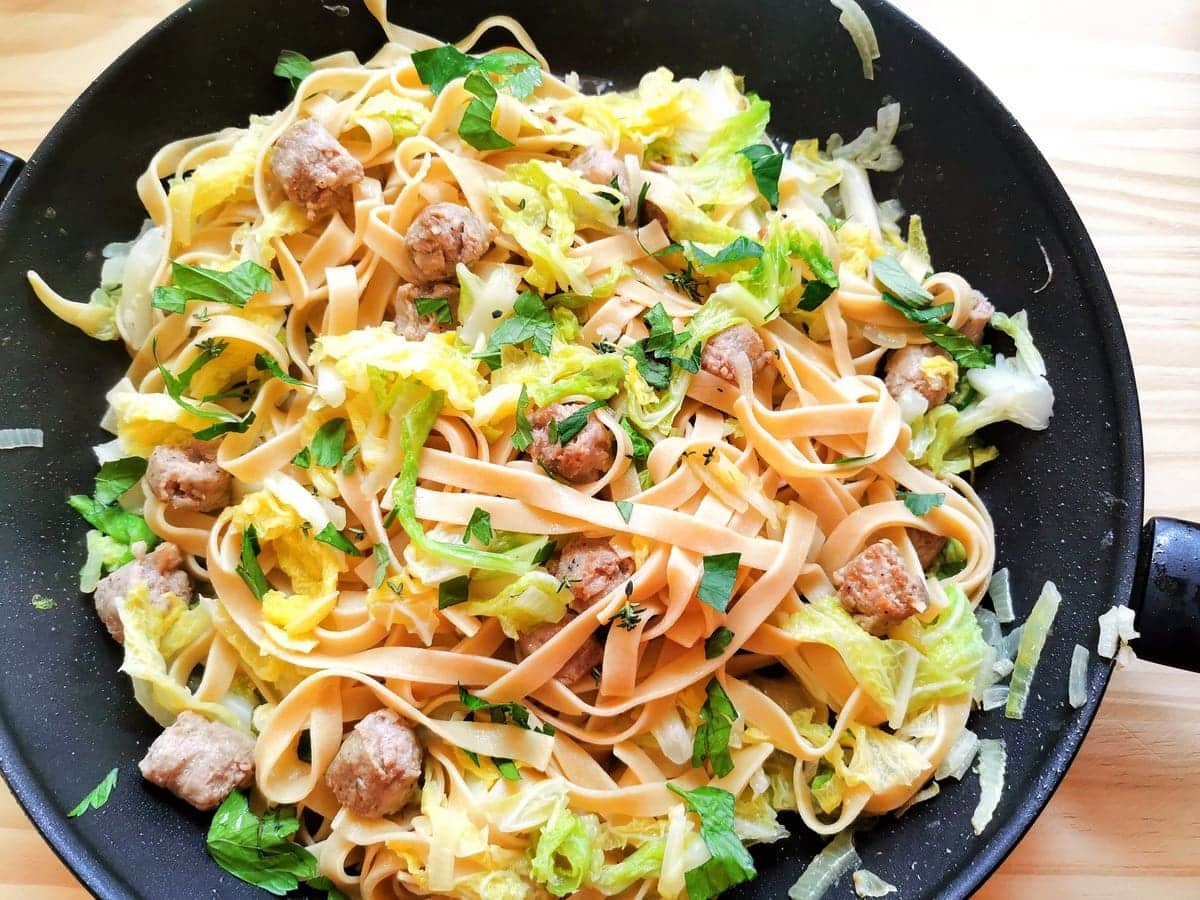 As I mentioned above, this sausage and cabbage pasta recipe calls for wholewheat tagliatelle or tagliatelle integrali in Italian. Of course, you can use other types of tagliatelle or even other pasta ribbons or shapes. I think tubes like rigatoni would work well.
Making your sausage and cabbage tagliatelle.
The first step to making this easy recipe is to prepare the ingredients. Separate the cabbage leaves, wash and chop them into wide slices. Remove the sausage meat from the casing and cut into bite-size pieces. Then, peel and chop the onion.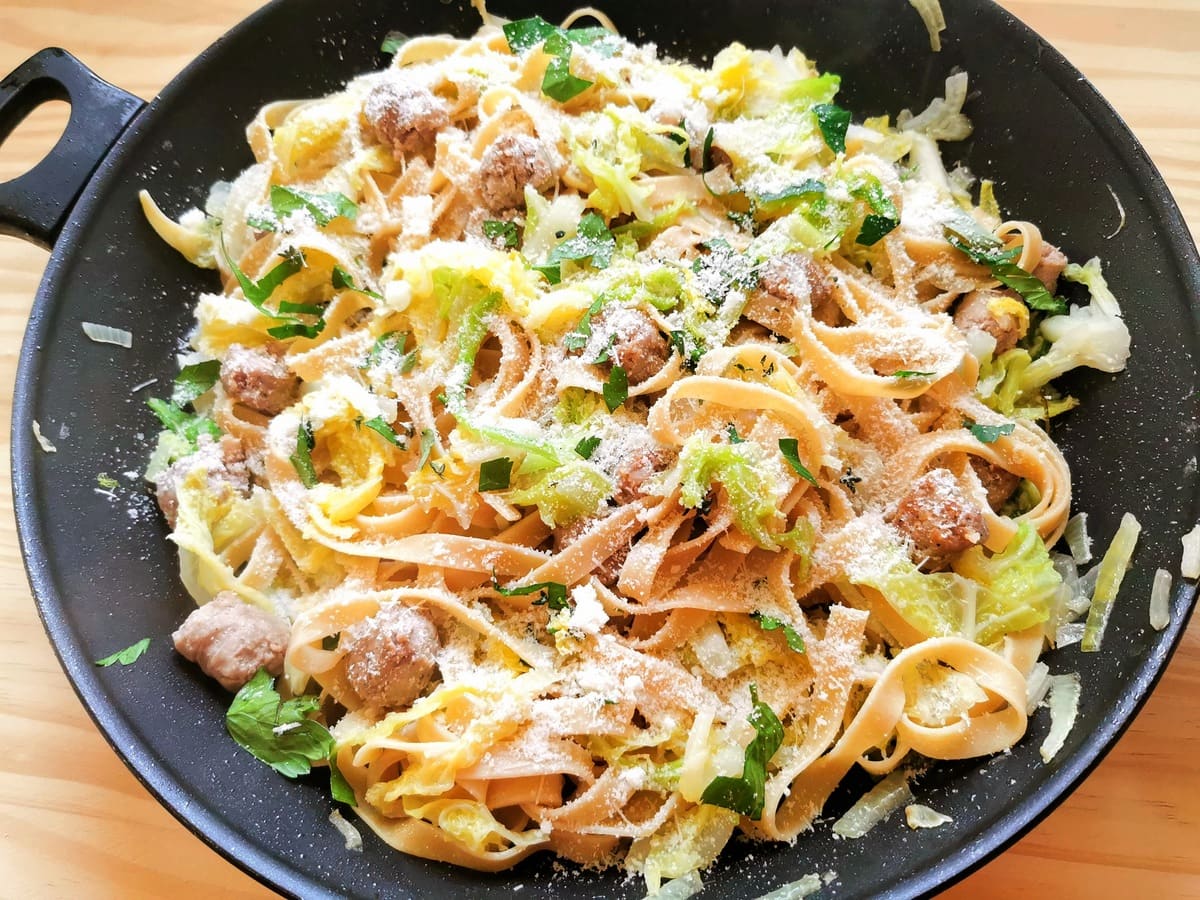 Cook the cabbage in boiling salted water for 3-5 minutes then drain it. You can keep the water boiling for the pasta if you remove the cabbage with a slotted spoon. Fry the sausage pieces in a little olive oil until they are browned.
Remove the sausage from the pan and then fry the onion in the same pan until it starts to soften. Add the cabbage and some vegetable broth and cook on a low heat for about 10 minutes.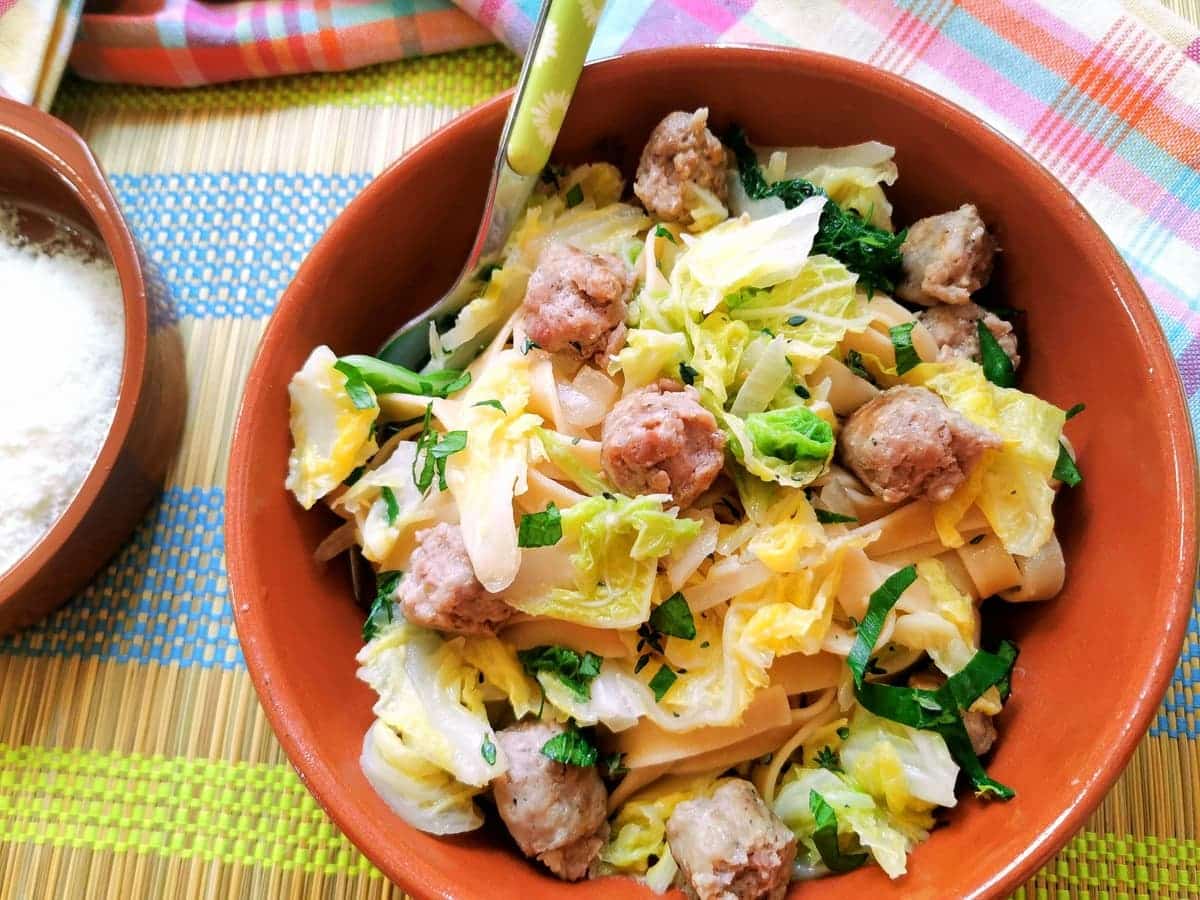 While the cabbage is cooking, cook the pasta until al dente and then save some of the cooking water and drain. Add the sausage to the cabbage and then the cooked pasta, plus the herbs. If the sauce seems dry, pour in a little of the pasta cooking water. Mix everything together and finally sprinkle with the parmigiano and mix again.
What to do with leftovers.
Leftovers can be kept in the fridge in a sealed container for 1-2 days. However, the pasta may get a little soft and soggy because of the liquid in the sauce. I like to reheat leftovers in the oven quickly with extra cheese on top. Of course, you can also reheat in the microwave.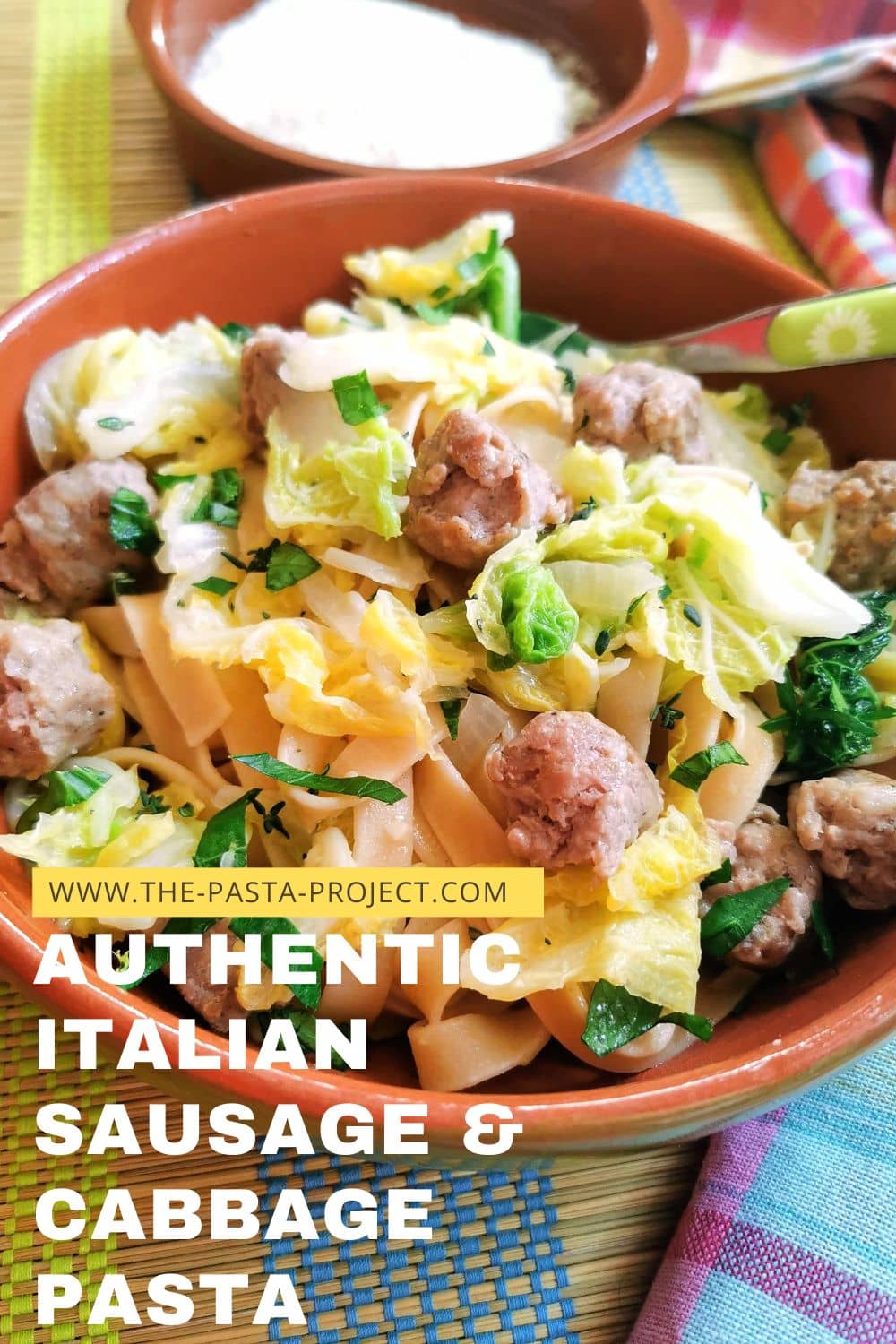 Let me know what you think.
This sausage and cabbage pasta is a simple rustic dish that's fabulously quick to make and yet very satisfying. Made with mostly pantry staples, this recipe is also great for getting the kids to eat more greens.
You can use other veg instead of the cabbage such as kale or spinach. The latter is better wilted in the pan with the sausages instead of preboiled.
If you do try this recipe, I'd love to know what you think. Please write a comment here on the blog or post a comment on the Pasta Project Facebook page.
Your feedback means a lot to me!
Buon Appetito!
Glossary of Italian words in this recipe post.
Luganega sausage: A traditional long slim pork sausage type, popular in North and Central Italy. This sausage has no links and may be sold by the metre! Apart from pork, ingredients may differ from maker to maker.
Salsiccia: Italian term for many types of fresh pork sausage.
Verza: Italian word for cabbage.
Pizzoccheri: Traditional buckwheat pasta from the Valtellina valley in Lombardy.
Integrali: Italian word for whole wheat/ whole grain.
Al dente: Translates to 'to the tooth'. Describes pasta or rice that is still a little firm in the centre once cooked.
Some more sausage pasta recipes to check out!
If you are interested in learning how to make homemade pasta and different types of gnocchi, check out my shop page for some great video online courses from my friends in Rome! Nothing beats learning to make pasta from Italians! Plus while you're there why not order a copy of my autumn/winter pasta recipes cookbook!?