Pork Fillet Tagliatelle alla Castellana: Recipe from Trentino-Alto Adige.
This creamy pork fillet tagliatelle is a beautiful elegant fresh pasta recipe from Trentino-Alto Adige known as tagliatelle alla Castellana in Italian. The fairly easy pork fillet sauce includes mushrooms, cream, brandy and pancetta! A delicious rich and filling Italian mountain recipe!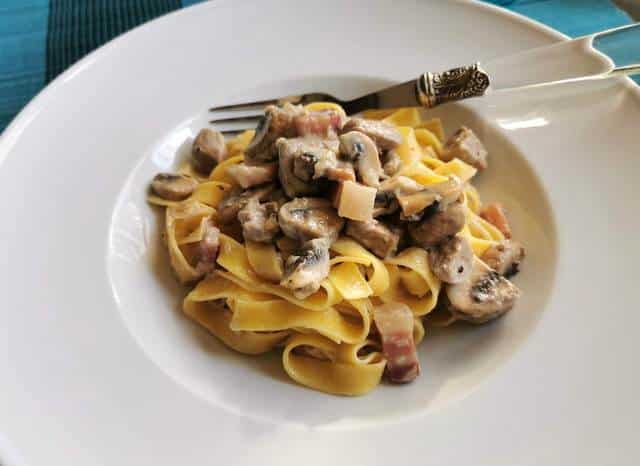 Tagliatelle alla Castellana.
I always find it so interesting how different the cuisine is in Italy's regions, even though on a global scale Italy is a small country! So many dishes in the South of the country are made with olive oil, tomatoes and plenty of garlic. And, the pasta is either dried or homemade with just flour and water. Butter and cream are hardly ever used. In fact, Southerners traditionally don't make pasta recipes like this mushroom and pork fillet tagliatelle alla Castellana.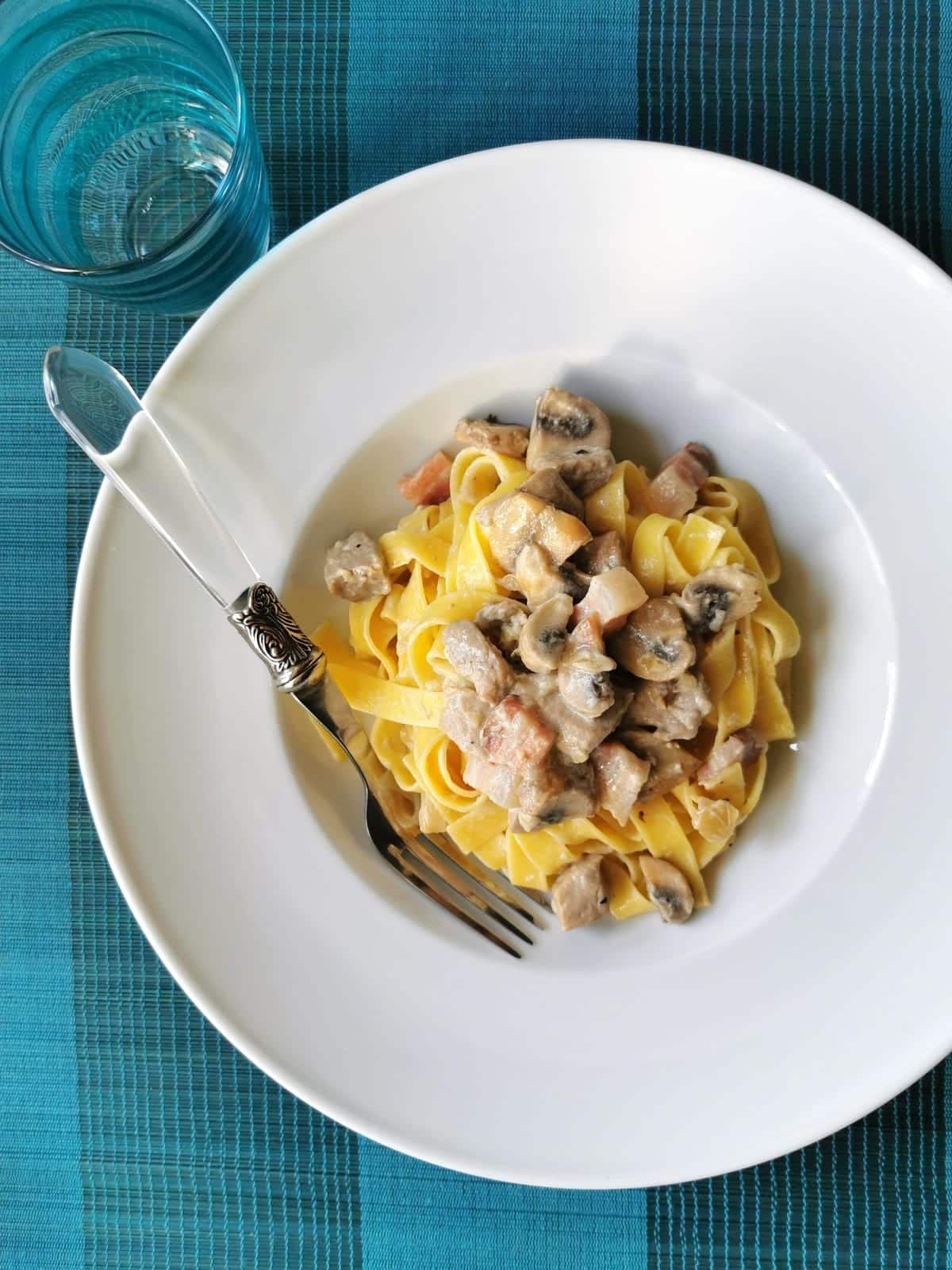 In Northern Italy, on the other hand, dairy products find their way into lots of dishes and pasta is mostly made with eggs, even dried pasta.
The cream and butter.
In my opinion, the best cheese, milk, cream and butter in Italy come from the Alpine mountain areas. This is most probably because the dairy cows don't spend their whole lives eating forage in a stall, but get to eat real grass in high mountain pastures and meadows! Even today, sheep and cows are still taken up to the pastures in summer and left to graze, under the watchful eye of herders or the farmer and his family.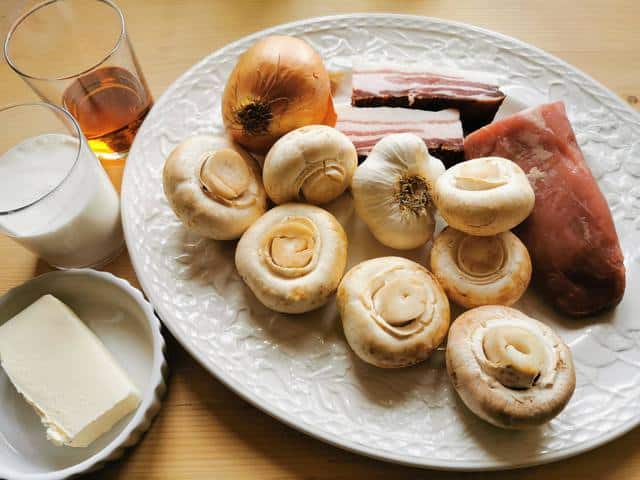 In fact, we know a family who have a dairy farm near us. Every summer, the father takes his cows up to pasture. He spends most of the summer with them there. The cows are milked on the mountain. In fact, there are a number of delicious Italian cheeses made only with the raw milk from meadow grazing cows in summer!! This movement of livestock from the valleys to the mountain pastures is called Alpine transhumance. This is actually a very old pastoral tradition that dates back to the Bronze Age!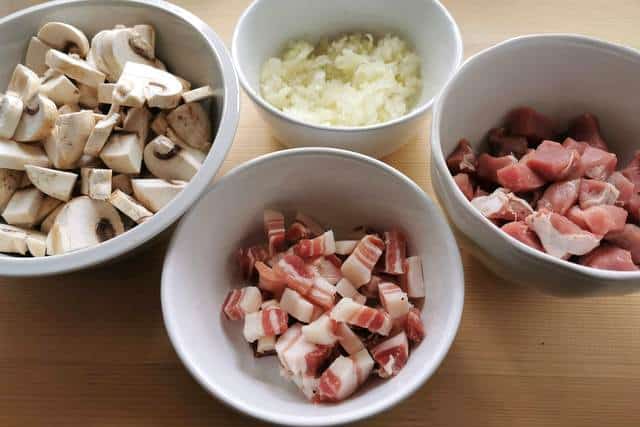 Needless to say, many Alpine recipes, like this creamy pork fillet tagliatelle alla Castellana, have a generous amount of dairy in them. This sauce is cooked with butter not olive oil and enriched with cream. It also includes brandy, although grappa would be more typical!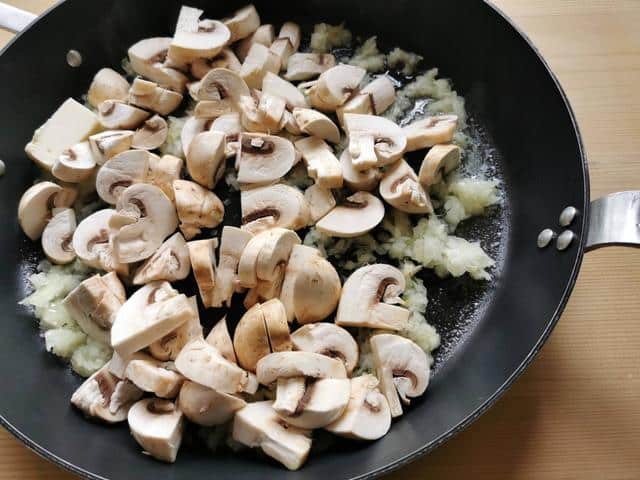 The pasta.
In the past, pasta wasn't so popular in the Italian Dolomites. Polenta, bread and rice were the main staple ingredients of most dishes. And, they still form the basis for many recipes. However, nowadays, there are many great pasta recipes enjoyed in Italy's mountain areas.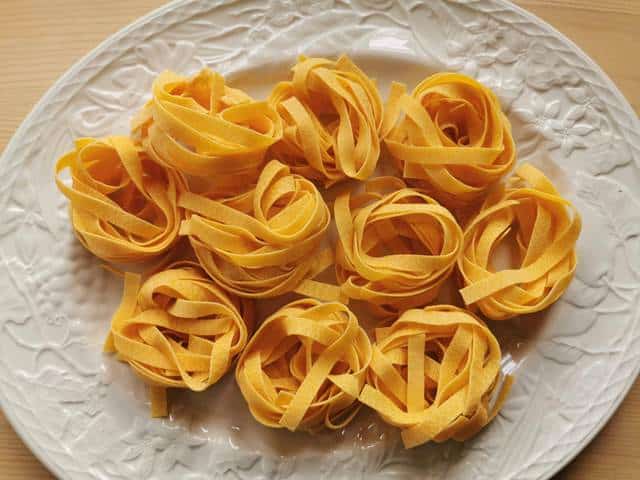 Tagliatelle is by far the most popular fresh egg pasta in Trentino- Alto Adige. In fact, I have a number of tagliatelle recipes from this region that I want to publish here on The Pasta Project. Among my favourites published so far is schuttelbrot tagliatelle with chanterelle mushrooms and speck. The pasta in that recipe is made from rye bread!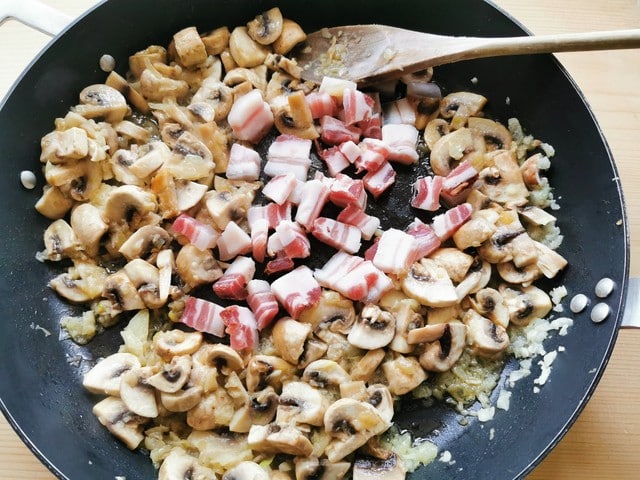 The pasta I used for this creamy pork fillet tagliatelle was a dried tagliatelle from our local pasta maker. Here in Italy, most towns have a small 'pastificio' (pasta maker), where you can buy fresh pasta. It's a bit like going to the bakers! Many of these places also dry some of the pasta they make, so you can purchase dried too!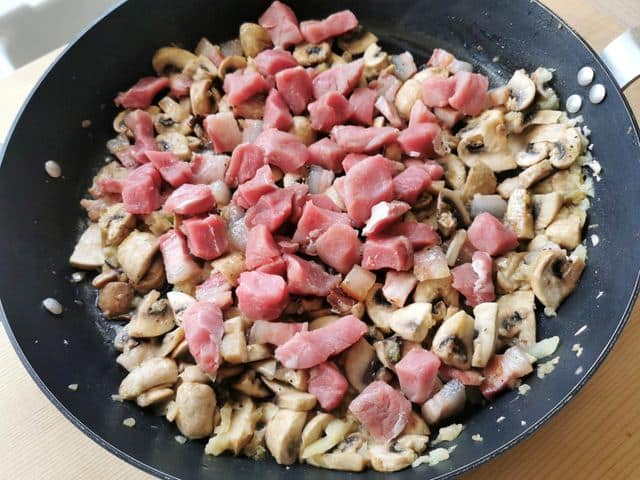 The pork fillet (tenderloin).
Pork is probably the most popular meat in Italy. There are some delicious Italian pork recipes. Plus, every region has its famous hams, sausages, salami and other cured pork products (salumi). Salumi or cold cuts were traditionally made when pigs were butchered in the late autumn. These were then stored to guarantee a supply of meat during the cold winter months.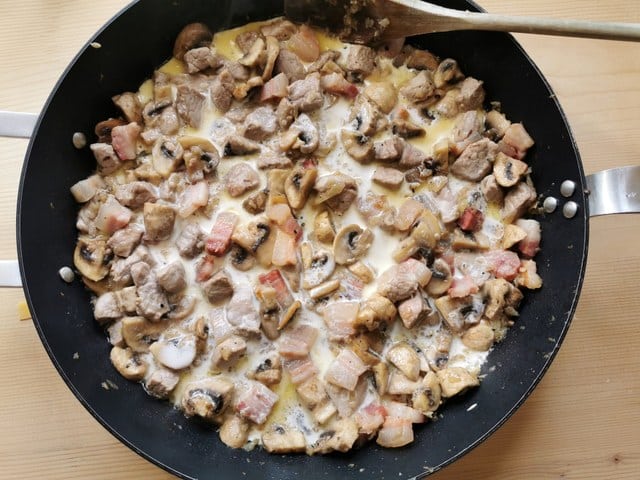 This tagliatelle alla Castellana has two types of pork in it, pork fillet and pancetta. Some recipes I found for this dish included pork loin, instead of fillet and speck, instead of pancetta. So, you could use any combination. In other words, fillet and speck or loin and pancetta. However, pork fillet (also called tenderloin) needs much less cooking than pork loin. Plus it's a lot more tender. I definitely prefer it for this recipe.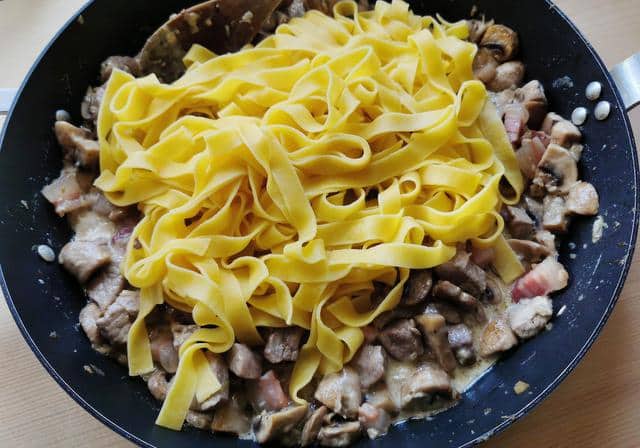 Other ingredients in this creamy pork fillet tagliatelle.
Apart from the pork, pasta and dairy, tagliatelle alla Castellana calls for mushrooms, brandy, one clove of garlic and a small onion. In the original recipe, the mushrooms are fresh porcini. I can imagine how good this dish would taste with them. Foraged mushrooms are a common ingredient in Italian mountain pasta recipes. However, dried porcini have a much stronger flavour that would swamp the other ingredients.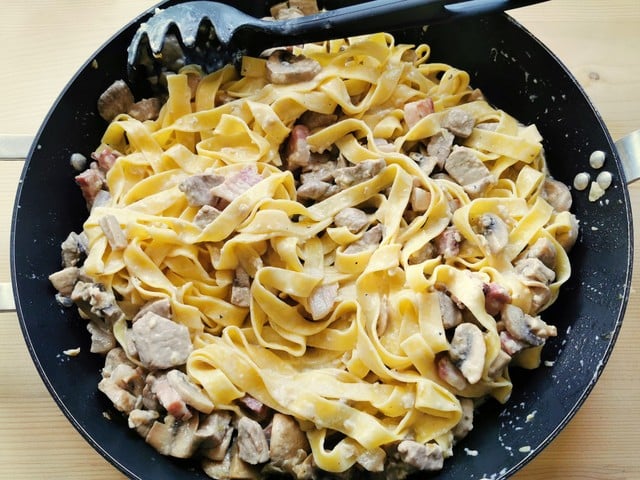 There are many versions of this recipe with other types of mushrooms. Since now is not the season for fresh porcini anyway, I used normal white champignons (button mushrooms). You can also use cremini (chestnut mushrooms or baby bella).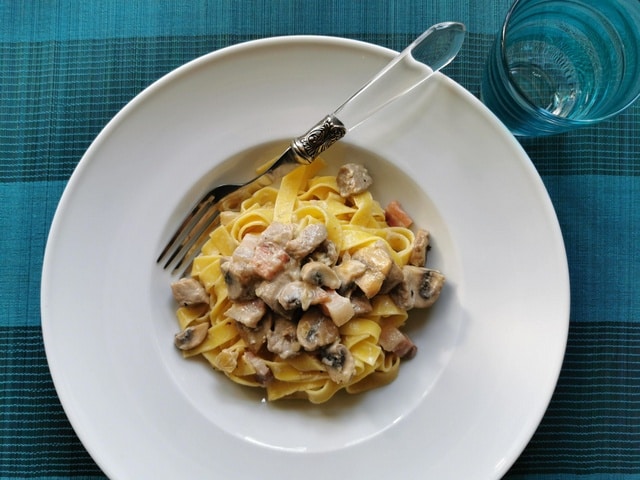 Making Tagliatelle alla Castellana.
This pasta recipe reminds me a little of a pork stroganoff. It's got a rich creamy mushroom flavour that combines so well with the pork and pancetta. It's also pretty easy to make and doesn't take long. None of the sauce ingredients need long cooking. In fact, I actually put it all together in the time it took me to boil the water and cook the pasta. This is definitely a recipe that you will love once you try it!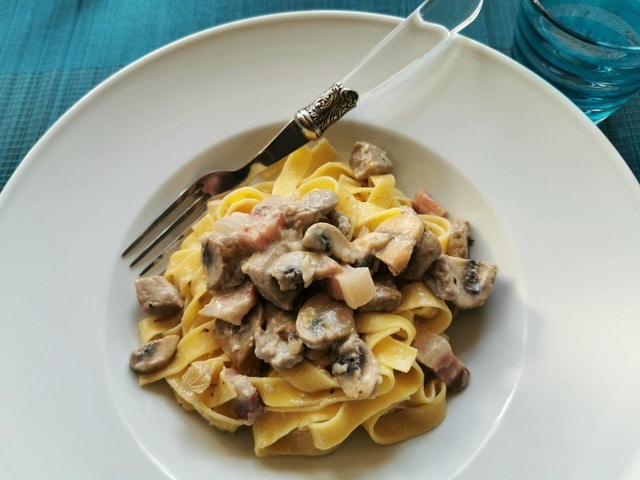 If you make this tagliatelle alla Castellana recipe, I'd love to hear how it turns out and if you liked it. So, please leave a comment here on the blog or on The Pasta Project Facebook page.
Looking forward to hearing from you!
Buon appetito!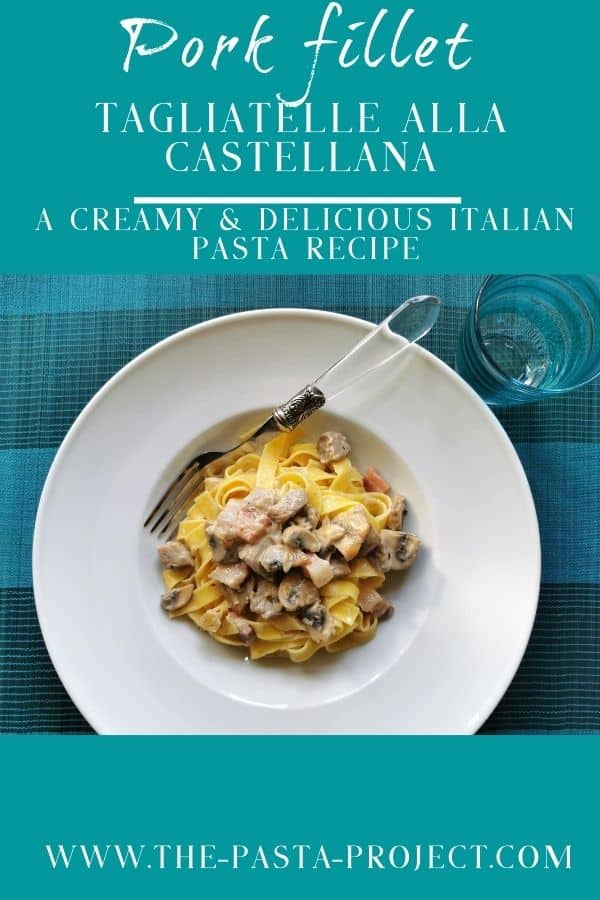 Other pork pasta recipes on The Pasta Project.
Save this recipe for later?
If you want to save this recipe for later, you can print it, bookmark this page or save it to Pinterest.
Pin for later.