This pasta with cinnamon spiced pork ragu is a unique Italian pasta recipe from Friuli Venezia Giulia, the Italian region where the cuisine is much influenced by neighbouring Austria and Slovenia.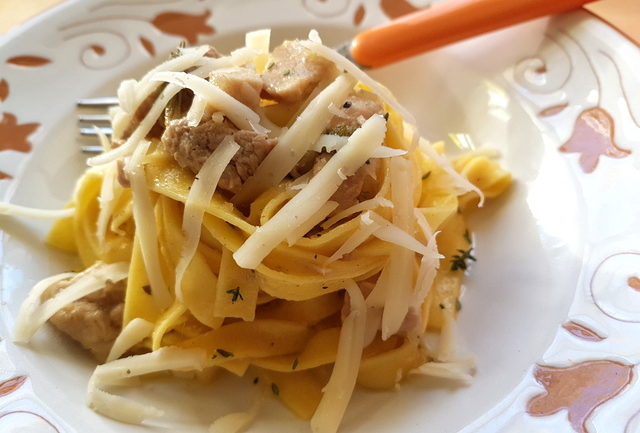 Pastesùte cu' la cjâr di purcìt (local dialect!)
The capital city of Friuli Venezia Giulia is Trieste on the Adriatic coast near the border with Slovenia. Throughout history, Trieste has been an important port. Even today, it is one of the leading coffee importing and roasting cities in Europe.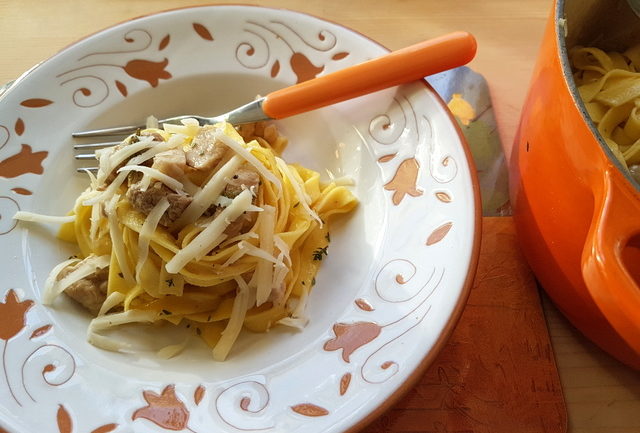 Trieste was also a major spice port during the time it was part of the Austro-Hungarian Empire. Cinnamon, nutmeg, cloves, poppy seeds, pepper and other flavors and spices became part of the local cuisine as they were transported to Vienna and Budapest. This influence is still very much present in both sweet and savoury dishes from this region, like this tagliatelle pasta with cinnamon spiced pork ragu.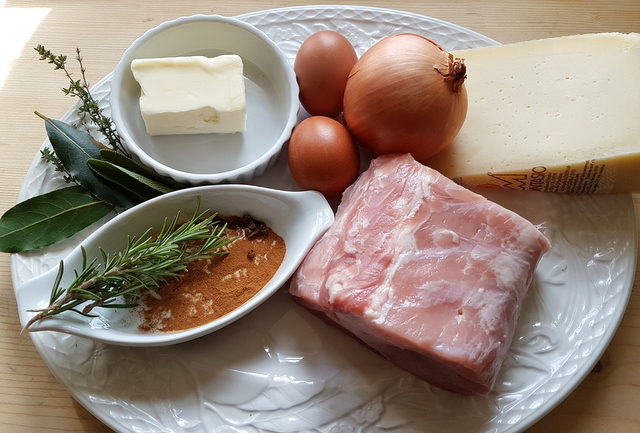 Not typically Italian!
This pasta with pork ragu is definitely not stereotypical Italian. Firstly there are no tomatoes or garlic or olive oil!! Secondly it contains cinnamon and cloves and thirdly you have to add raw eggs to the pasta before serving! Well, I guess the last part is rather reminiscent of carbonara or tagliatelle with chicken livers from Emilia Romagna! And even one of my more recent recipe posts for mezzi-paccheri with mushrooms and cream!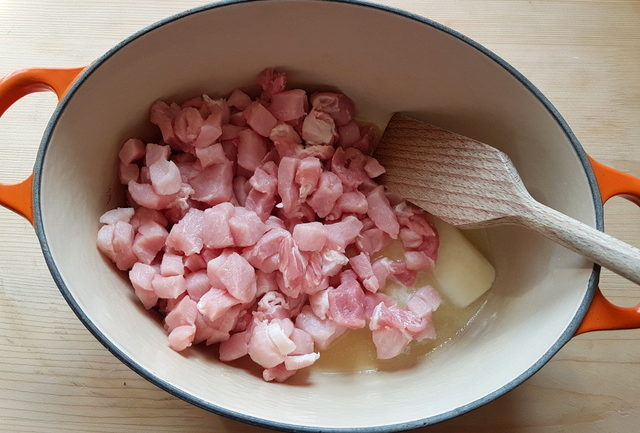 Despite the use of unusual spices, or maybe because of them, this pasta with pork ragu is outstandingly delicious. It's also pretty easy to make. Yes it takes a little while to cook, but so do so many wonderful pasta sauces. (think Bolognese!).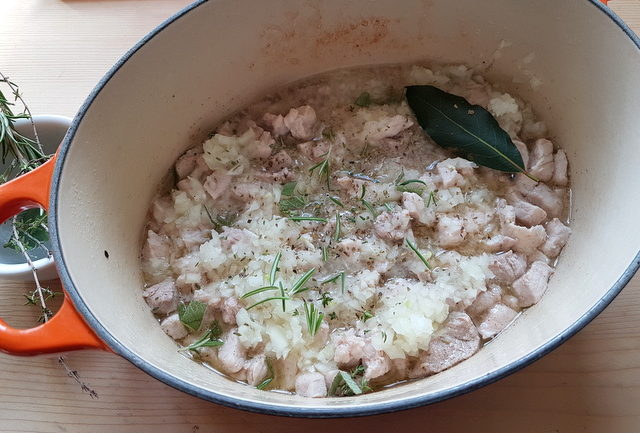 The meat
The recipe I followed called for pork tenderloin but you can also use shoulder. Tenderloin cooks faster so if using other cuts you may need to increase cooking time for the meat to be soft and tender.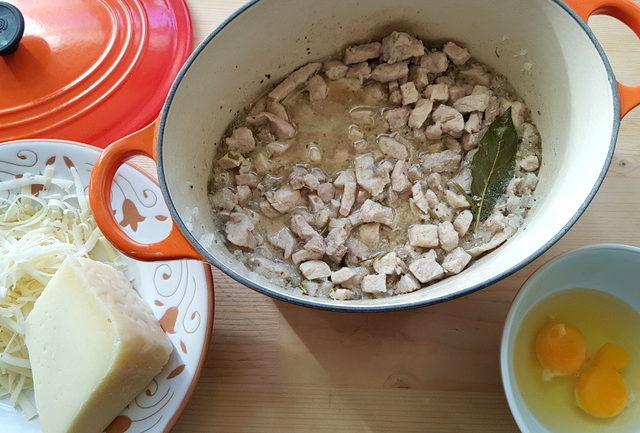 The pasta
Pasta is traditionally more often fresh in Friuli Venezia Giulia and pasta ribbons such as mafaldine, tagliatelle and lasagnette are popular. I used fresh tagliatelle from Giovanni Rana. However, this recipe can also be made with dried pasta tubes such as penne or rigatoni or even spaghetti.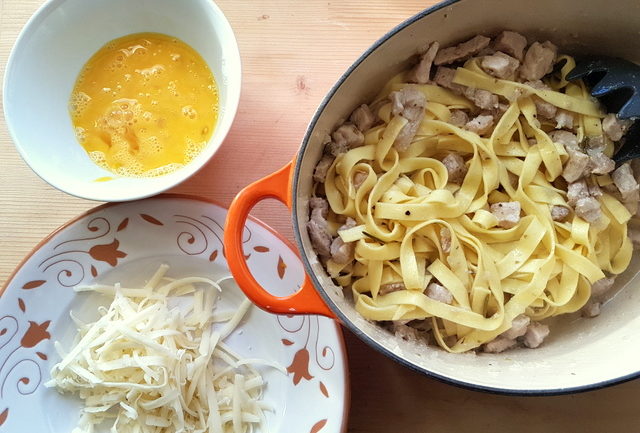 The cheese
The cheese used in this recipe is Montasio. This is a mountain cheese made from cow's milk in both Veneto and Friuli Venezia Giulia. You can buy it in four versions, fresh, semi-mature, mature and aged (Italians say 'stagionata' for aged or mature cheese). Fresh Montasio is quite mild but the flavour intensifies with age. Aged Montasio is a popular cheese for making cheese baskets or crisps. I used a mature Montasio for this pork ragu recipe. However, you can also use Parmigiano or grana.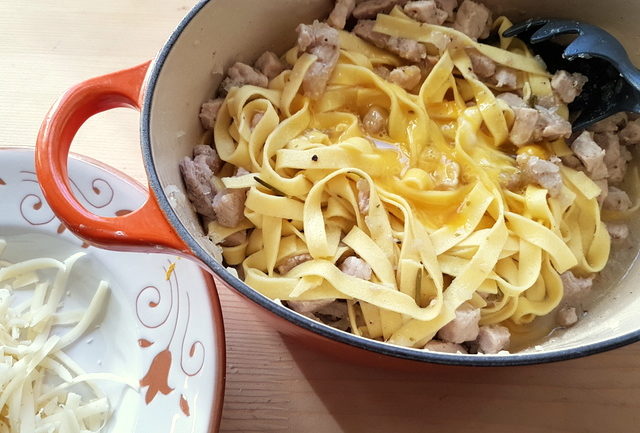 Making this pasta with pork ragu
Apart from the many herbs and spices the sauce for this pasta with cinnamon spiced pork ragu contains only the meat, onions, wine and eggs. As I said before, it's pretty simple to make but absolutely delicious. Definitely different to what most people imagine an Italian meat ragu to taste like, but so worth trying! Another worth trying is this pork rib ragu!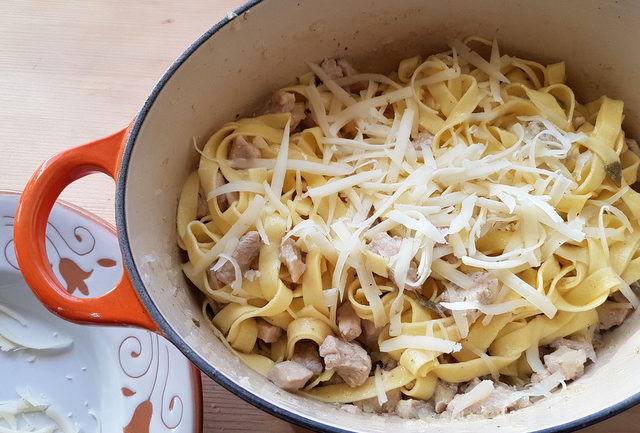 If you do try this pasta with cinnamon spiced pork ragu, I'd love to hear what you think. Please write a comment here on the blog or post a comment on the Pasta Project Facebook page.
Your feedback means a lot to me!
Buon Appetito!
More Recipes You May Like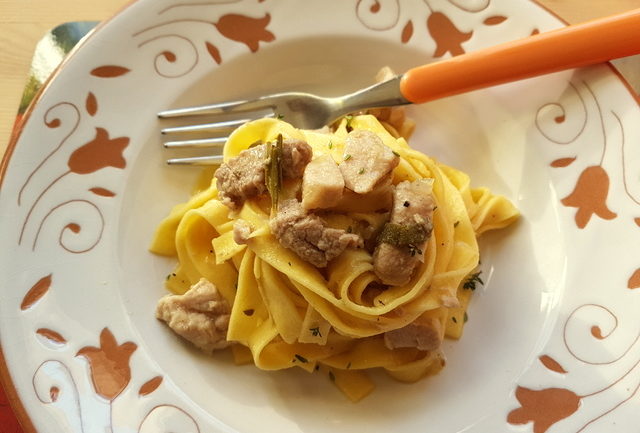 Save this recipe for later?
If you want to save this recipe for later, you can print it, bookmark this page or save it to Pinterest.
Pin for Later