Tagliatelle pasta with fresh peas and pancetta; recipe from Veneto.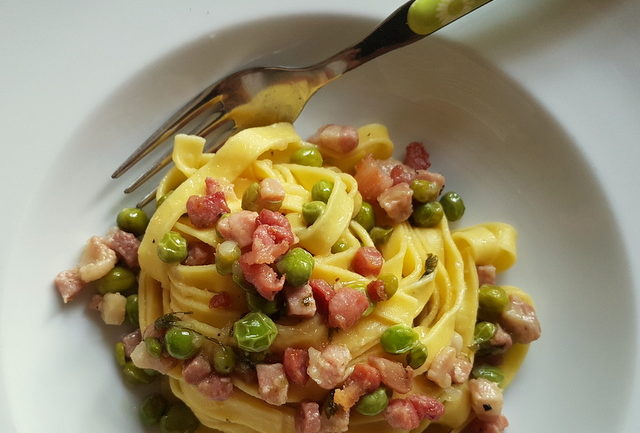 Pasta coi bisi!
Pasta with fresh peas, or 'pasta coi bisi' in local dialect, is a traditional spring recipe here in the Northern Italian region of Veneto. This simple pasta dish is more than the sum of its parts, which are few! In fact, the first time I had this dish I was really quite surprised how tasty it is. Of course, the secret ingredient is fresh peas!
(Click to go straight to recipe)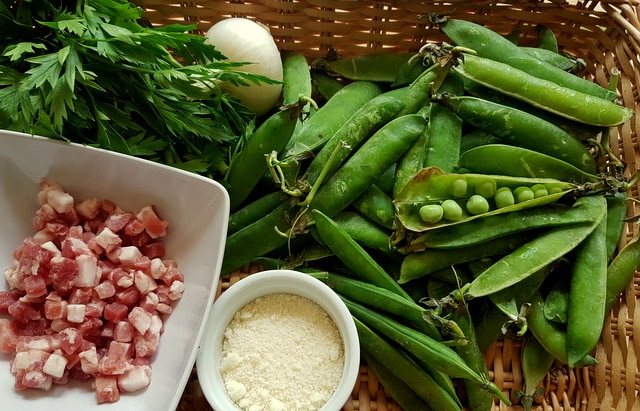 The peas
Peas have been cultivated and eaten in Italy since Roman times and before. Nowadays, this tasty and healthy spring legume is an important crop in Emilia-Romagna, Puglia, Sicily, Campania and Veneto.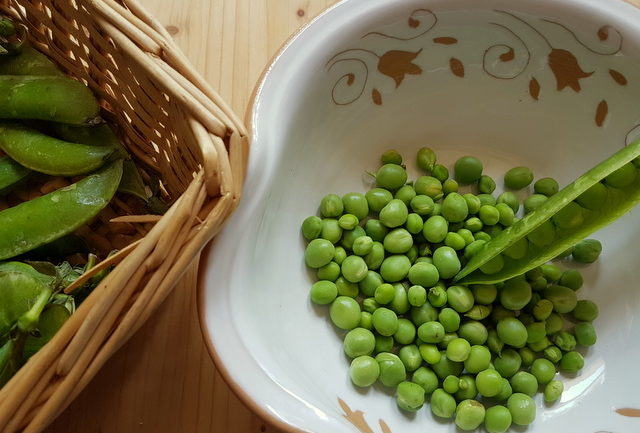 In Veneto, a number of towns or areas are famous for their peas, in particular an area of the Berici hills near Vicenza. Here, there is a local variety of peas that they say are the best peas in Italy. Lumignano peas have been grown in this part of Veneto since 1000 AD and were introduced to the area by Benedictine monks.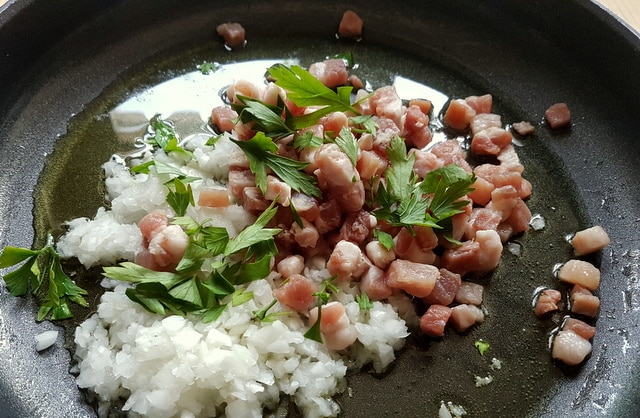 These peas have apparently been prized for centuries. The Doges of Venice used to order them as the primary ingredient of their 'Risi e Bisi' (rice and peas). A dish that was traditionally served to the Doges on the Feast of Saint Mark, the patron saint of Venice. Risi e Bisi is still a traditional way that peas are served here in Veneto.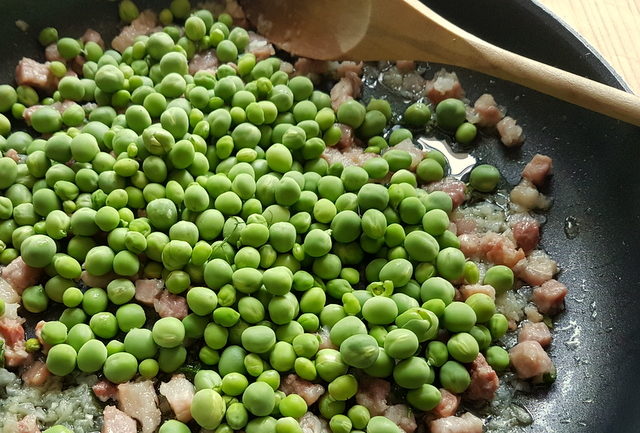 Pea festivals!
I love the rural Italian tradition of holding annual festivals to celebrate the harvest of the main local crop. I live in the wine producing area of Soave. Soave is a beautiful Medieval walled town with a castle and every year there is the local wine festival, which we happily attend!. The area I live in is famous for cherries too, so there are also cherry festivals held annually in a number of local villages!
Many of the towns and villages where peas are cultivated hold annual pea festivals (sagra dei bisi) in May. The Lumignano festival is usually held in mid-May. Among others, there's also the 'festa dei bisi di Baone' in the Euganean hills area near Padova and closer to where I live the 'sagra dei bisi' in Colognola ai Colli. Visitors to these festivals can buy and eat a number of traditional pea based dishes. The most popular are the rice and peas I mentioned before, as well as pasta with fresh peas made the same way as in this recipe.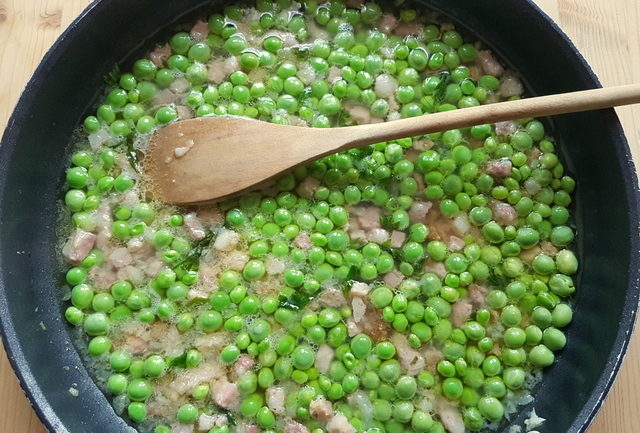 The pasta.
Traditionally this recipe is served with flat ribbon pasta such as lasagnette, tagliatelle or pappardelle. I used fresh tagliatelle. However, short pasta such as penne are good in it too.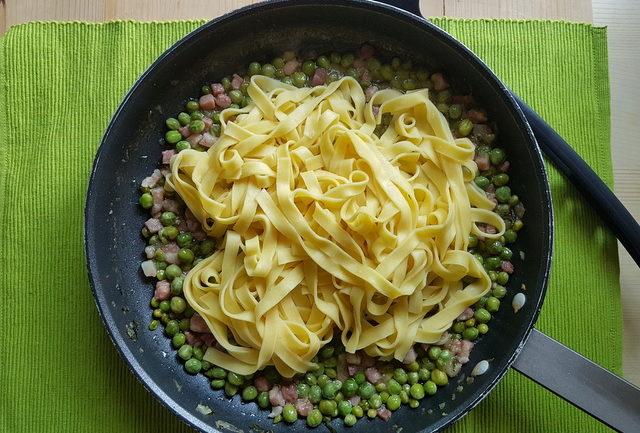 Making pasta with fresh peas.
This dish is super simple to make. All you need for the sauce is fresh peas, pancetta, onions and vegetable stock. Some people use beef stock but I prefer vegetable. After frying the onion and pancetta, you simply add the peas and the stock and let the peas cook in the liquid. The result is really tasty. I don't think frozen or tinned peas would work so well as fresh peas take longer to cook and this is necessary for them to absorb the other flavours and for the sauce to thicken.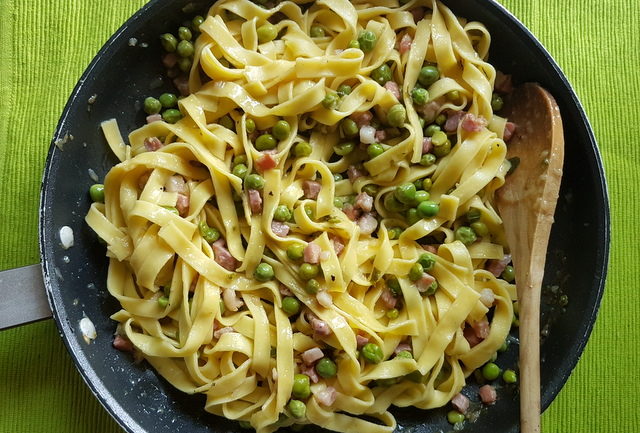 Fresh peas are so good for you!
Of course buying fresh peas normally means having to shell them but it's definitely worth doing if you want to experience the authentic taste of this dish. Kids usually like shelling them and that might motivate them to eat them too! So, get them to help! Fresh peas are much healthier anyway. They contain a long list of vitamins and nutrients some of which may be lost when the peas are canned or frozen .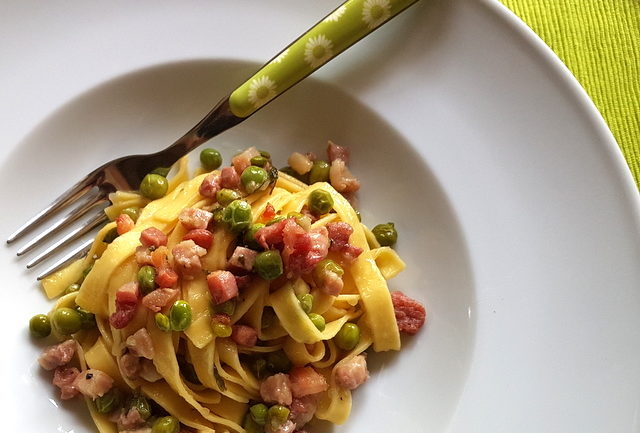 If you make this recipe I'd love to hear how it turns out and if you liked it. Please leave a comment here on the blog or on The Pasta Project Facebook page. Looking forward to hearing from you.
Buon appetito!
(The recipe is on the next page. Just scroll down and click 2!)