Tagliatelle pasta with fresh peas and pancetta; recipe from Veneto.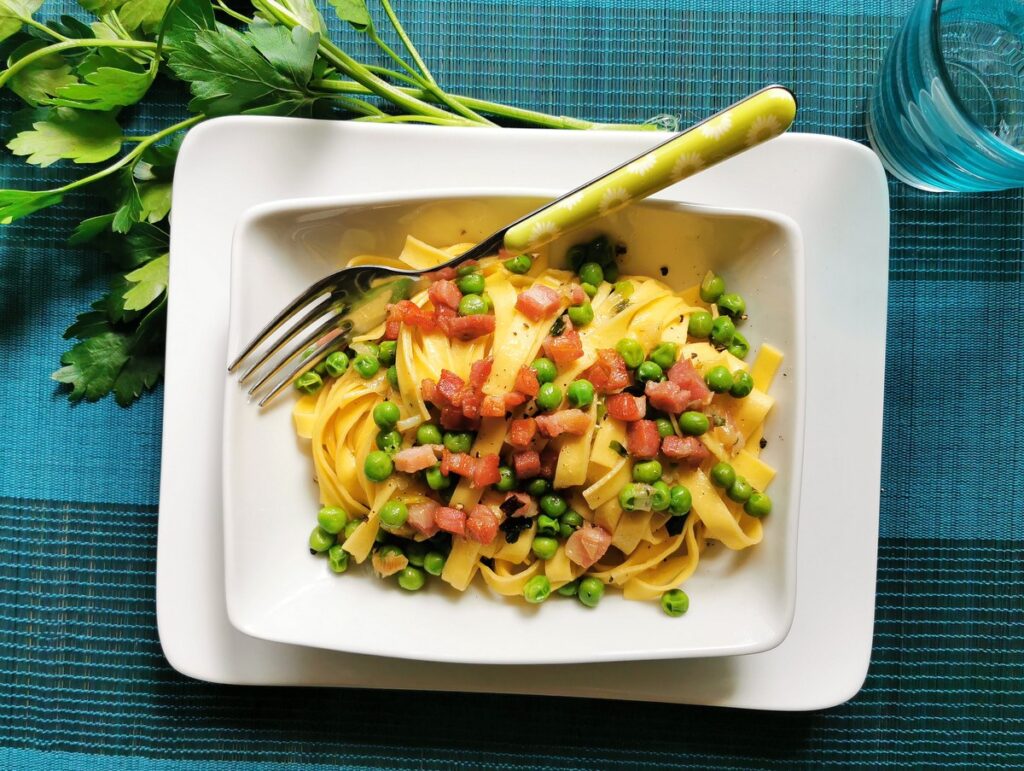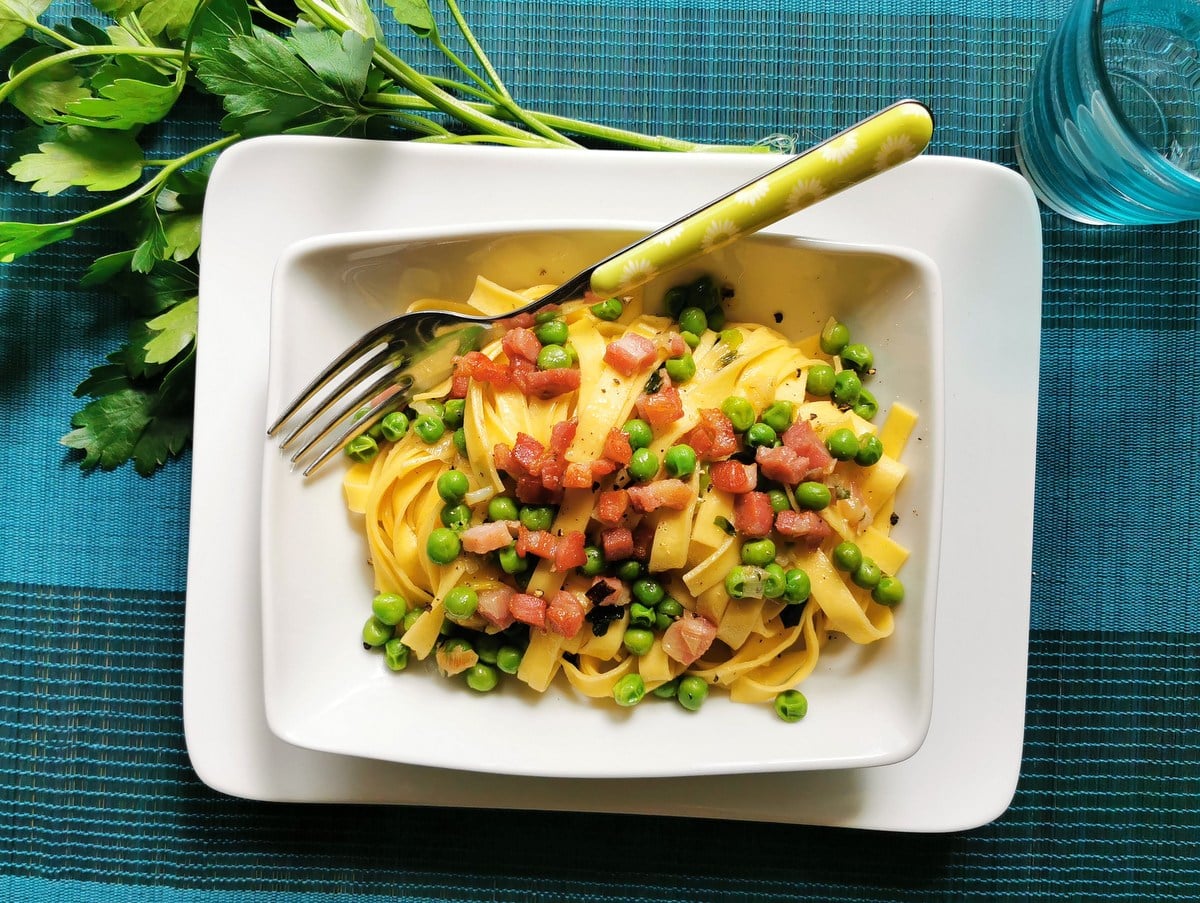 Pasta coi bisi!
Pasta with fresh peas, or 'pasta coi bisi' in local dialect, is a traditional spring recipe here in the Northern Italian region of Veneto. This simple pasta dish is more than the sum of its parts, which are few! In fact, the first time I had this dish, I was really quite surprised how tasty it is. Of course, the secret ingredient is fresh peas!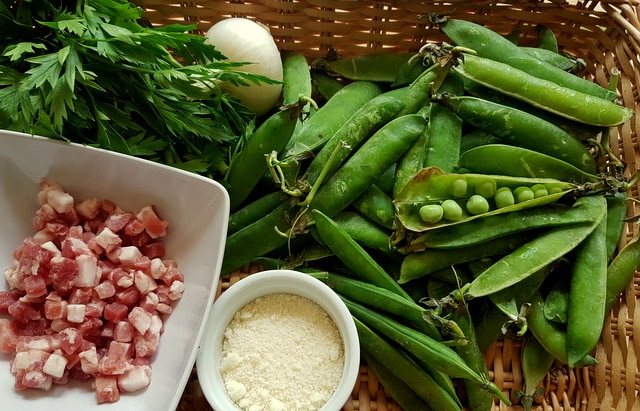 The peas
Peas have been cultivated and eaten in Italy since Roman times and before. Nowadays, this tasty and healthy spring legume is an important crop in Emilia-Romagna, Puglia, Sicily, Campania and Veneto.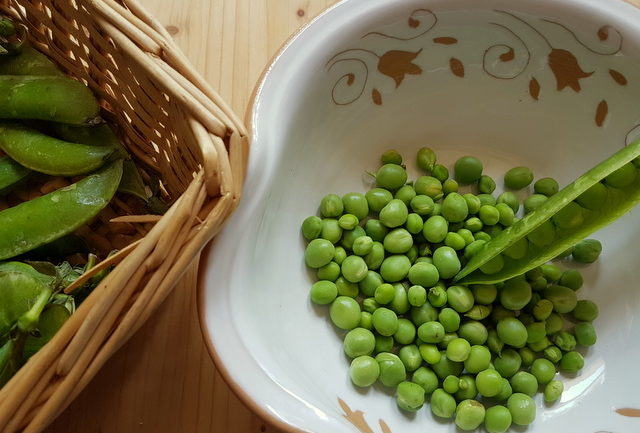 In Veneto, a number of towns or areas are famous for their peas, in particular an area of the Berici hills near Vicenza. Here, there is a local variety of peas that they say are the best peas in Italy. Lumignano peas have been grown in this part of Veneto since 1000 AD. It was Benedictine monks who first introduced them to the area.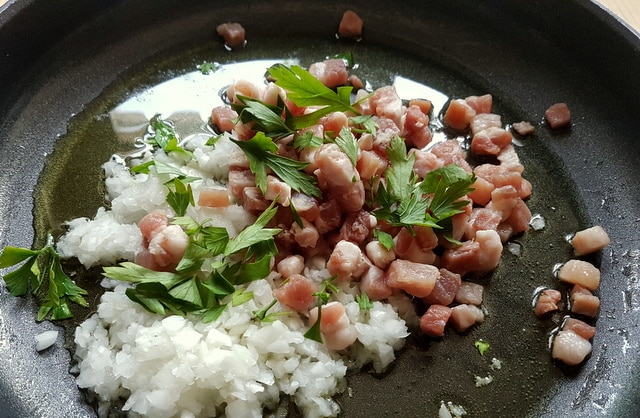 These peas have apparently been prized for centuries. The Doges of Venice used to order them as the primary ingredient of their 'Risi e Bisi' (rice and peas). This was a dish the Doges traditionally ate on the Feast of Saint Mark, the patron saint of Venice. Risi e Bisi is still a traditional way to eat peas here in Veneto.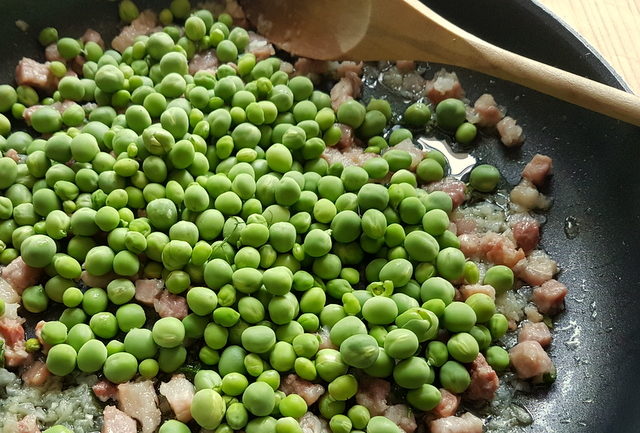 Pea festivals!
I love the rural Italian tradition of holding annual festivals to celebrate the harvest of the main local crop. I live in the wine producing area of Soave. Soave is a beautiful Medieval walled town with a castle and every year there is the local wine festival, which we happily attend!. The area I live in is famous for cherries too, so there are also cherry festivals held annually in a number of local villages!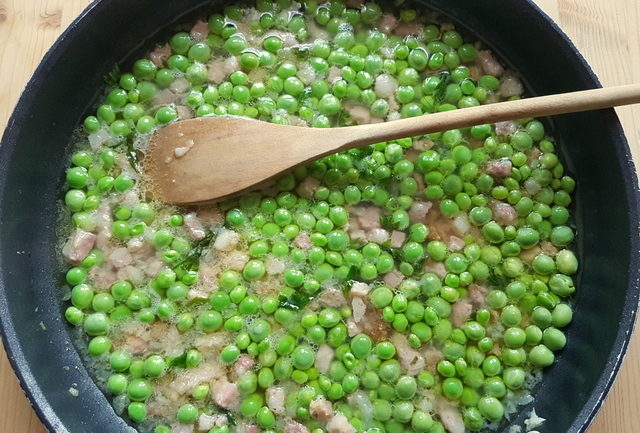 Many of the towns and villages where they cultivate peas hold annual pea festivals (sagra dei bisi) in May. The Lumignano festival is usually held in mid-May. Among others, there's also the 'festa dei bisi di Baone' in the Euganean hills area near Padova. Then, closer to where I live is the 'sagra dei bisi' in Colognola ai Colli. Visitors to these festivals can buy and eat a number of traditional pea based dishes. The most popular are the rice and peas I mentioned before, as well as pasta with fresh peas made the same way as in this recipe.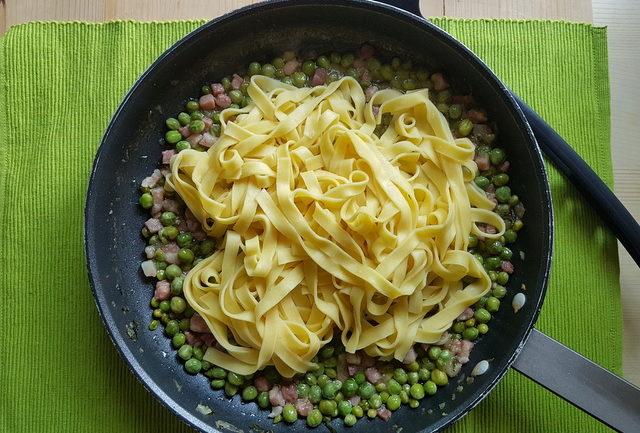 The pasta.
Traditionally this recipe is served with flat ribbon pasta such as lasagnette, tagliatelle or pappardelle. I used fresh tagliatelle. However, short pasta such as penne are good in it too.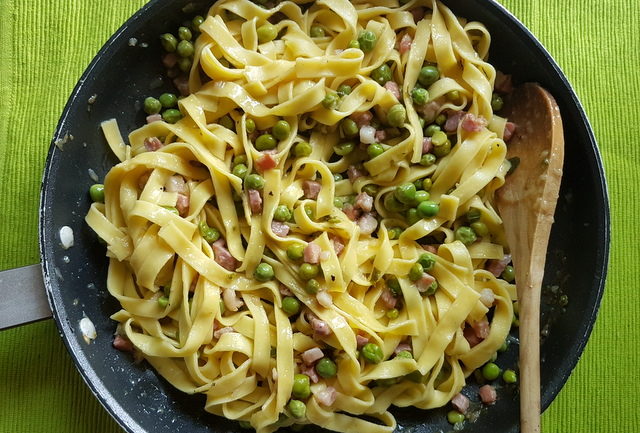 Making pasta with fresh peas.
This tagliatelle pasta with fresh peas is super simple to make. All you need for the sauce is fresh peas, pancetta, onions and vegetable stock. Some people use beef stock but I prefer vegetable. After frying the onion and pancetta, you simply add the peas and the stock and let the peas cook in the liquid. The result is really tasty.
If you want to make this dish at other times of the year, you could use frozen or tinned peas. However, the result might not be as flavourful. Fresh peas take longer to cook and this is necessary for them to absorb the other flavours and for the sauce to thicken.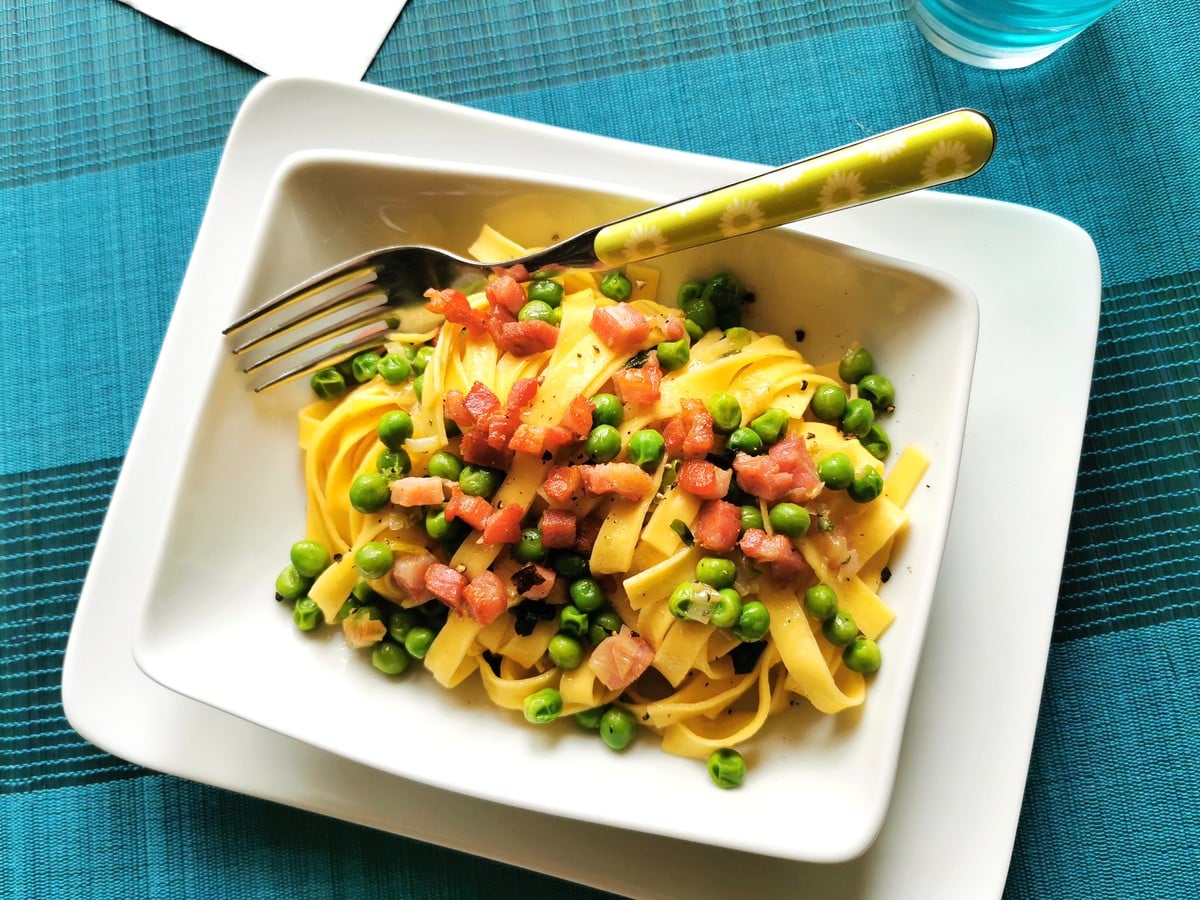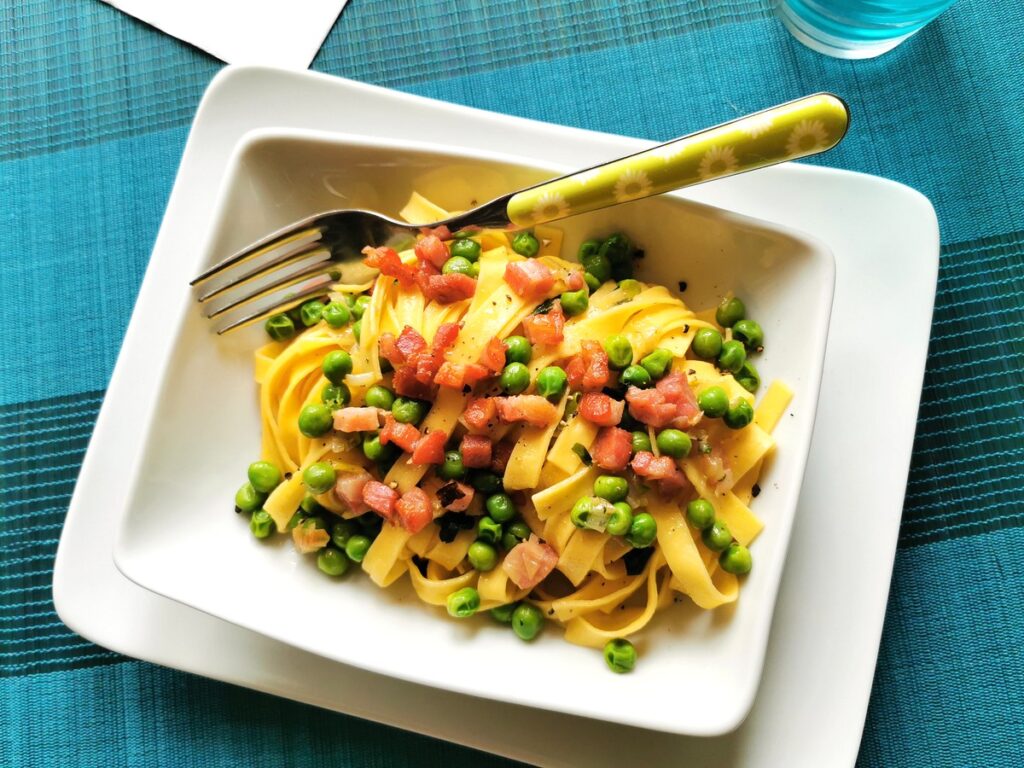 Fresh peas are so good for you!
Of course, buying fresh peas normally means having to shell them. But, it's definitely worth doing if you want to experience the authentic taste of this dish. Kids usually like shelling them and that might motivate them to eat them too! So, get them to help! Fresh peas are much healthier anyway. They contain a long list of vitamins and nutrients some of which may be lost when the peas are canned or frozen .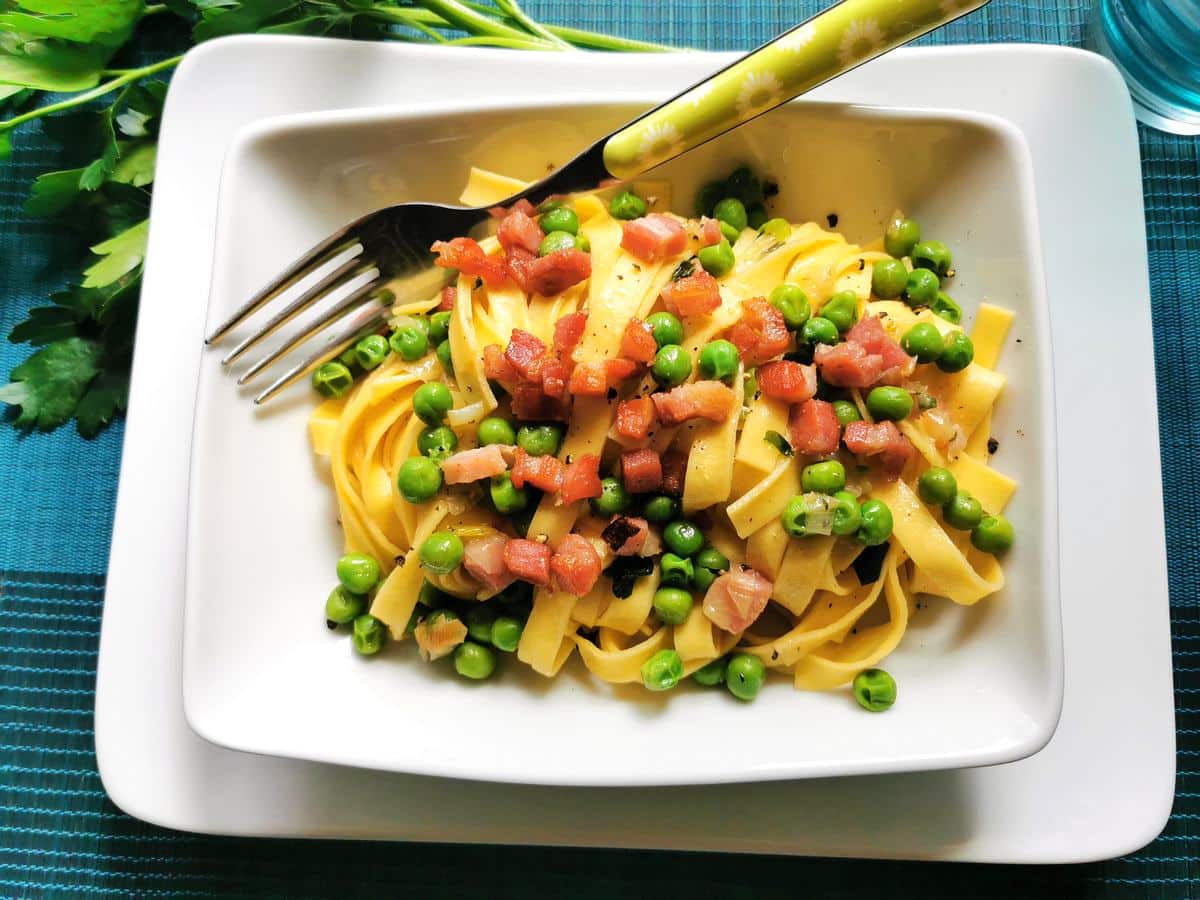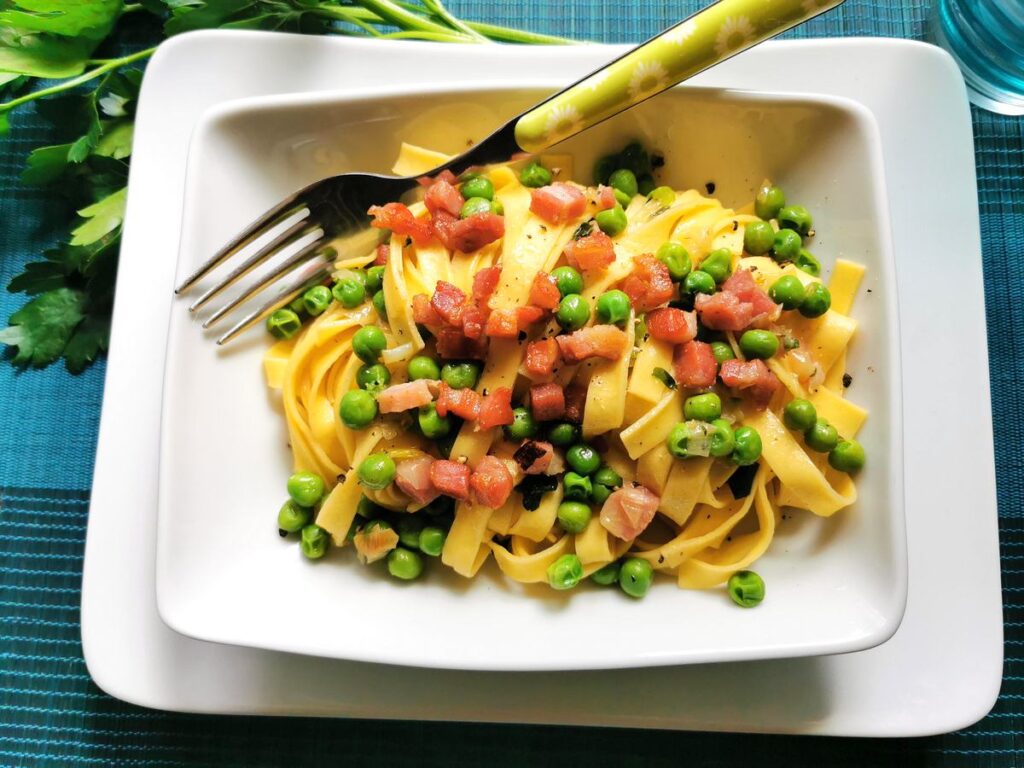 If you make this tagliatelle pasta with fresh peas recipe I'd love to hear how it turns out and if you liked it. Please leave a comment here on the blog or on The Pasta Project Facebook page. Looking forward to hearing from you.
Buon appetito!
Other spring pasta recipes.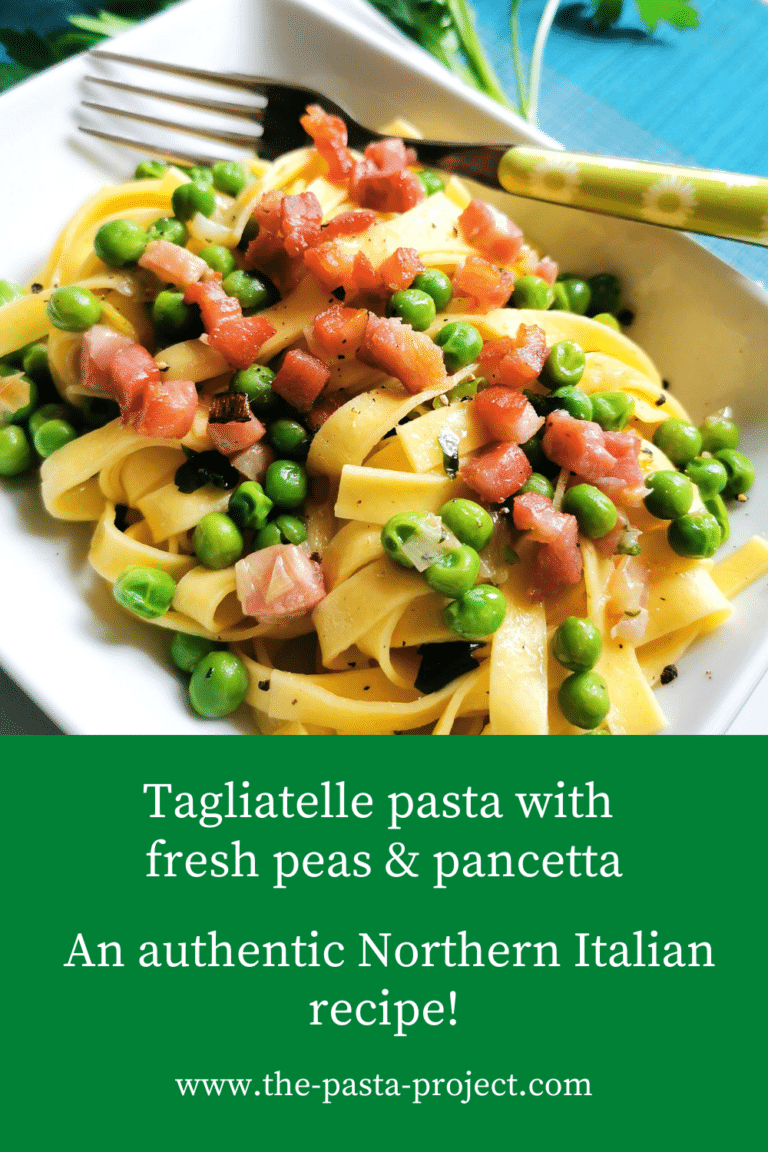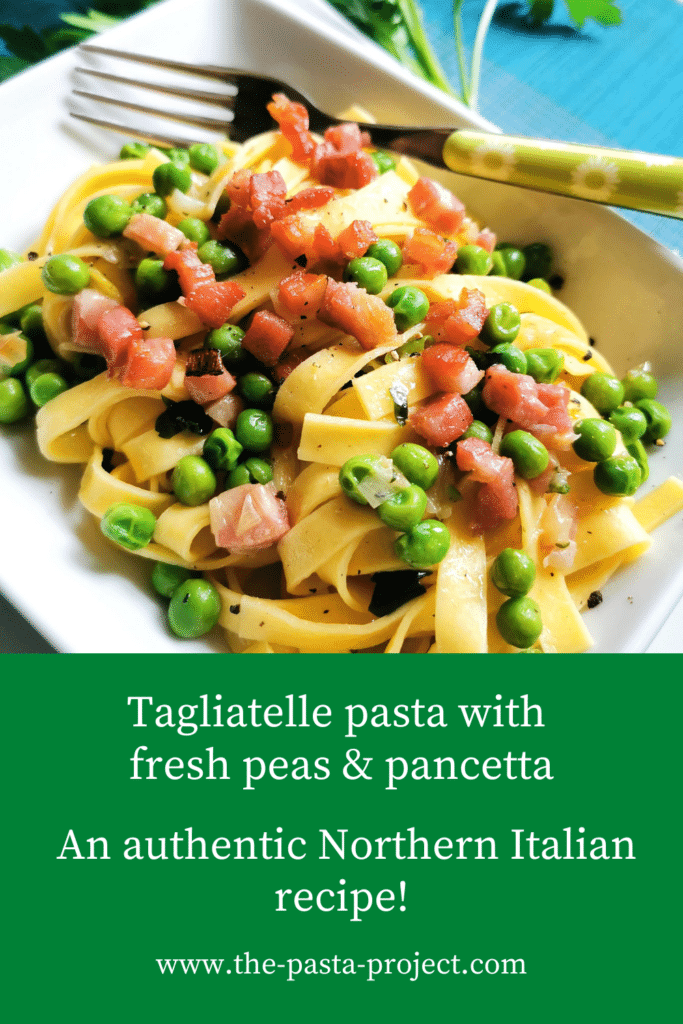 If you are interested in learning how to make homemade pasta and different types of gnocchi, check out my shop page for some great video online courses from my friends in Rome! Nothing beats learning to make pasta from Italians! Plus while you're there why not order a copy of my newly published autumn/winter pasta recipes cookbook!?
Save this recipe for later?
If you want to save this recipe for later, you can print it, bookmark this page or save it to Pinterest.
Pin for later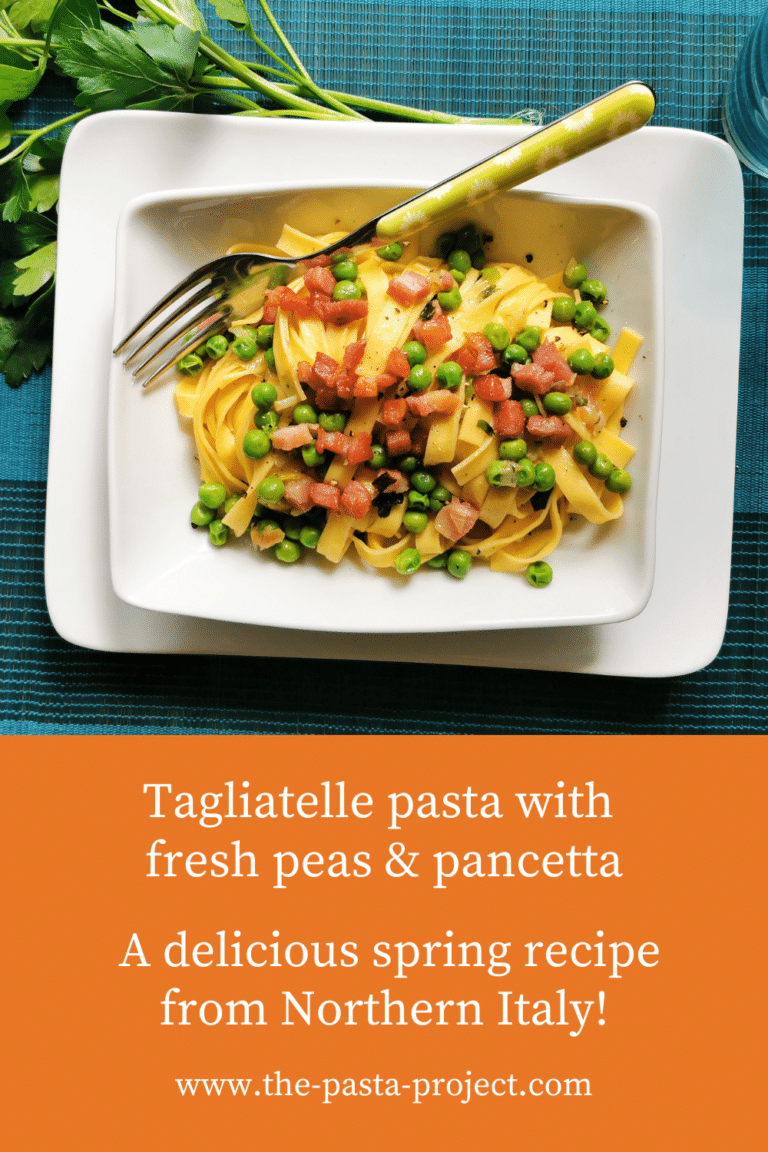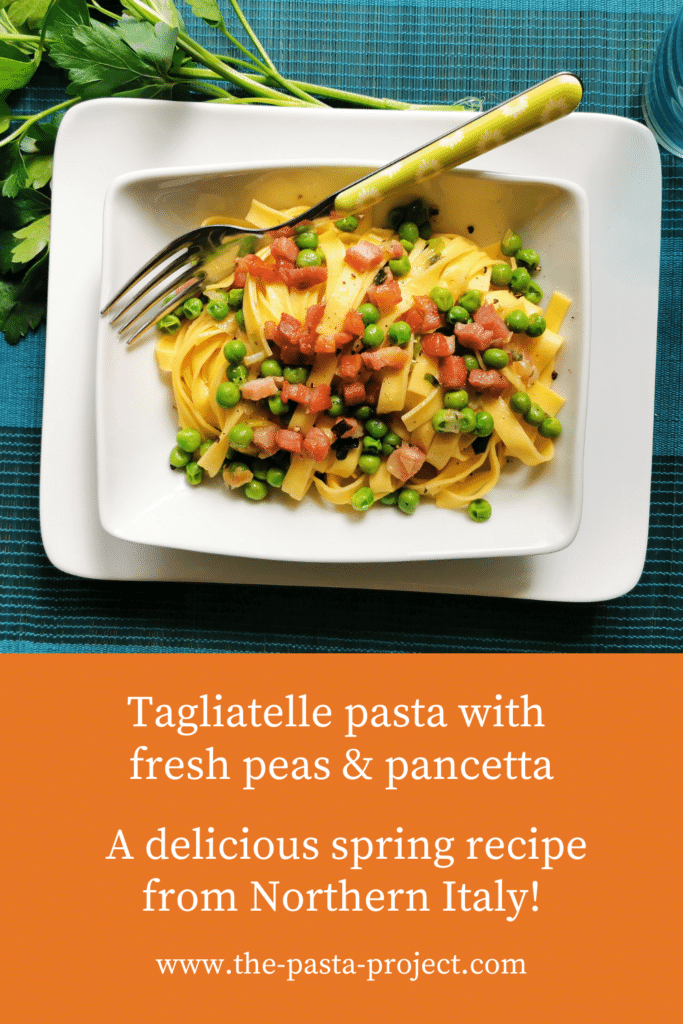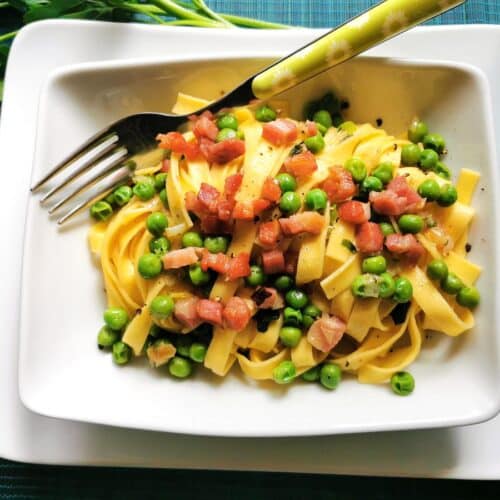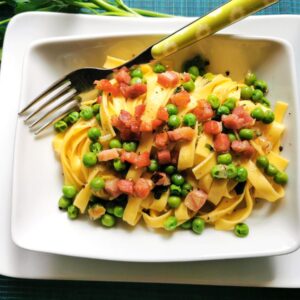 Tagliatelle pasta with fresh peas and pancetta, recipe from Veneto
A delicious spring pasta and peas recipe from Northern Italy that is simple to make and very tasty!
Ingredients
400

g

tagliatelle pasta

(14oz) you can use fresh or dried tagliatelle or other ribbon pasta like lasagnette. I used Giovanni Rana fresh tagliatelle

800

g

fresh peas

(1.5lbs)

1-2

spring onions (large)

80

g

pancetta

(3oz) cut into cubes

1

cup

vegetable stock

you can also use beef

2-3

tbsp

extra virgin olive oil

1

handful

fresh parsley

chopped

50

g

Parmigiano Reggiano or grana

(2oz) grated

salt

for pasta and to taste

black pepper

to taste

1

knob

butter
Instructions
Shell and wash the peas. Cut the pancetta into small cubes, peel and finely chop the spring onion and chop a handful of parsley.

Heat the olive oil in a frying pan or skillet and add the onion, pancetta and parsley. Cook over a low heat until the onion softens and the pancetta turns pink, add the peas and a cup of broth.

Season with salt (not too much as pancetta is quite salty) and black pepper and cook, stirring occasionally until the peas are tender and the sauce thickens. About 10-15 minutes.

Meanwhile, boil some water in a saucepan for the pasta. Add salt once it starts to boil and bring to the boil again. Cook the pasta al dente according to the instructions on the packet. Fresh pasta only needs about 3 minutes..

Drain the pasta. add it to the pan with the sauce and add a knob of butter and a sprinkling of Parmigiano cheese. Mix everything together well and serve.
Notes
I like to fry some extra pancetta until it gets crispy and add it to the plate before serving! But you can also make this dish without pancetta for a vegetarian version. Add mushrooms instead!
I used fresh tagliatelle from Giovanni Rana but other pasta ribbons, such as lasagnette or pappardelle are traditional too. You can also use short pasta like penne.
Want to know more about my life in Italy? Go to the homepage and subscribe to my newsletter. New subscribers get a free recipe e-book too! https://www.the-pasta-project.com
This recipe was originally published in 2018 but has been updated.
Want to know more about my life in Italy? Why not subscribe to my newsletter? New subscribers get a free series of recipe e-books too!