Whether you use fresh or frozen peas, this simple Italian pasta with peas recipe is surprisingly delicious even though it has only 4 main ingredients. Traditionally a spring recipe made during fresh pea season, you can make and enjoy this classic dish all year round.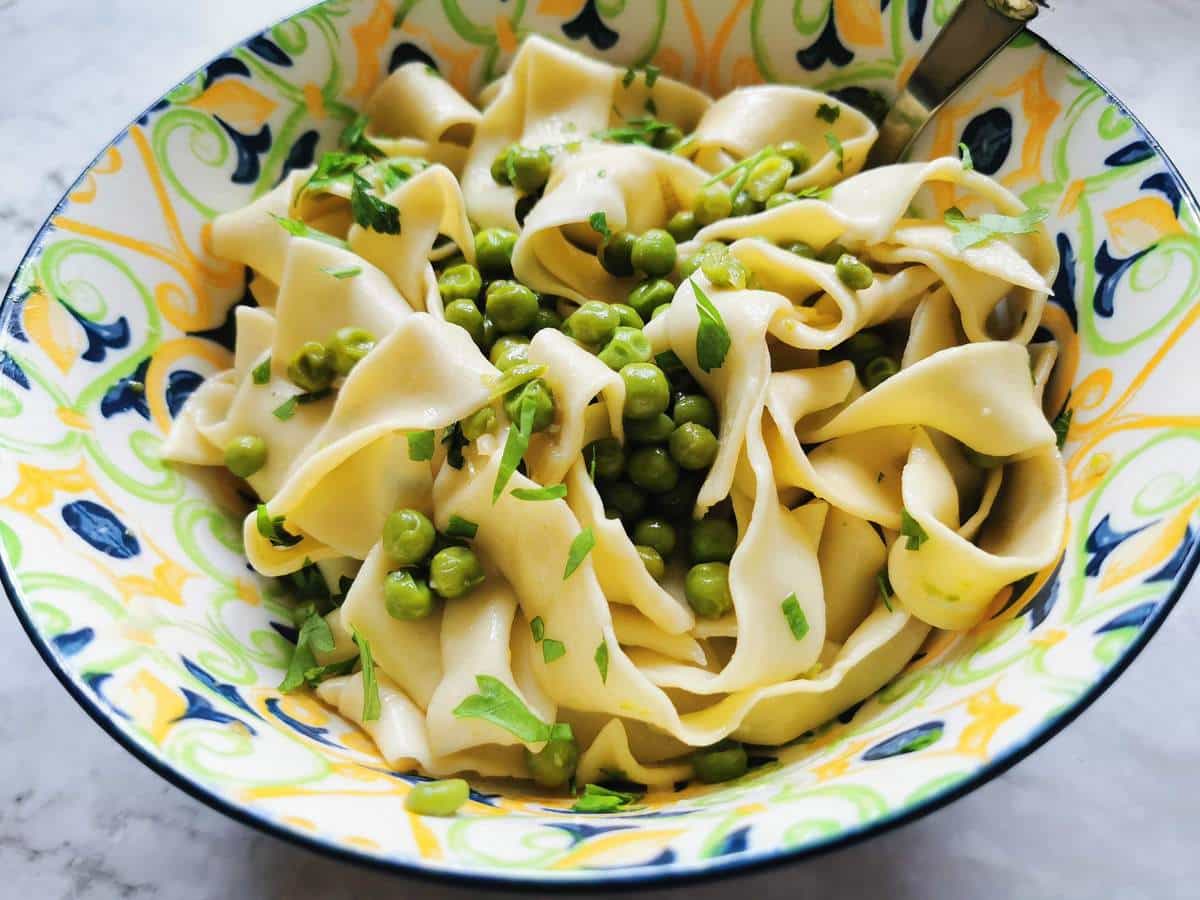 Pasta e piselli.
Pasta with peas or, as the Italians say, pasta e piselli, is a super simple Italian recipe that's popular in both North and South Italy. Traditionally made in the spring with fresh peas, you can enjoy this dish throughout the year using frozen or canned peas. It calls for just 4 ingredients and is a great way to get the kids to eat more veg!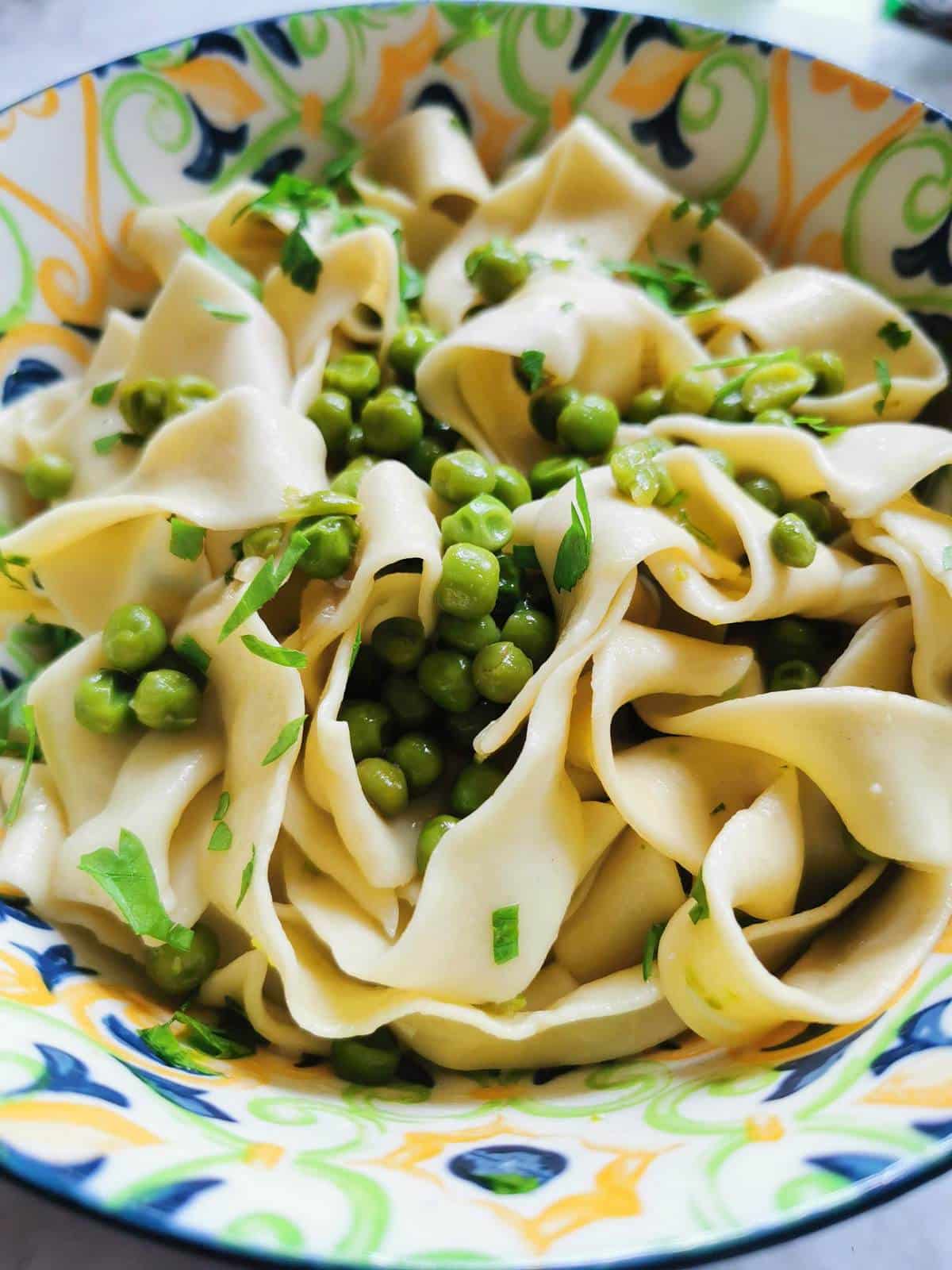 This is one of my Italian husband's favourite recipes. Most years, we grow our own peas and, after shelling them all, the first recipe he uses them in is this one. We also freeze our homegrown peas so we can enjoy this dish all year round. When we don't have any homegrown peas, we often make it with good quality frozen ones.
Different versions of pasta with peas.
Italians prepare pasta with peas in slightly different ways depending on whether the recipe is from the South or the North of the country. In Naples, Calabria, Puglia and Sicily, they normally use ditalini pasta or broken spaghetti. Here in the North, egg pasta ribbons such as tagliatelle, pappardelle or fettuccine are more popular.
Most versions of this recipe have some protein added. In Southern Italy, you can find pasta with peas recipes which include ham, sausage, and even canned tuna. However, the most popular 'meat' is pancetta. Pancetta is also a very common addition here in Northern Italy.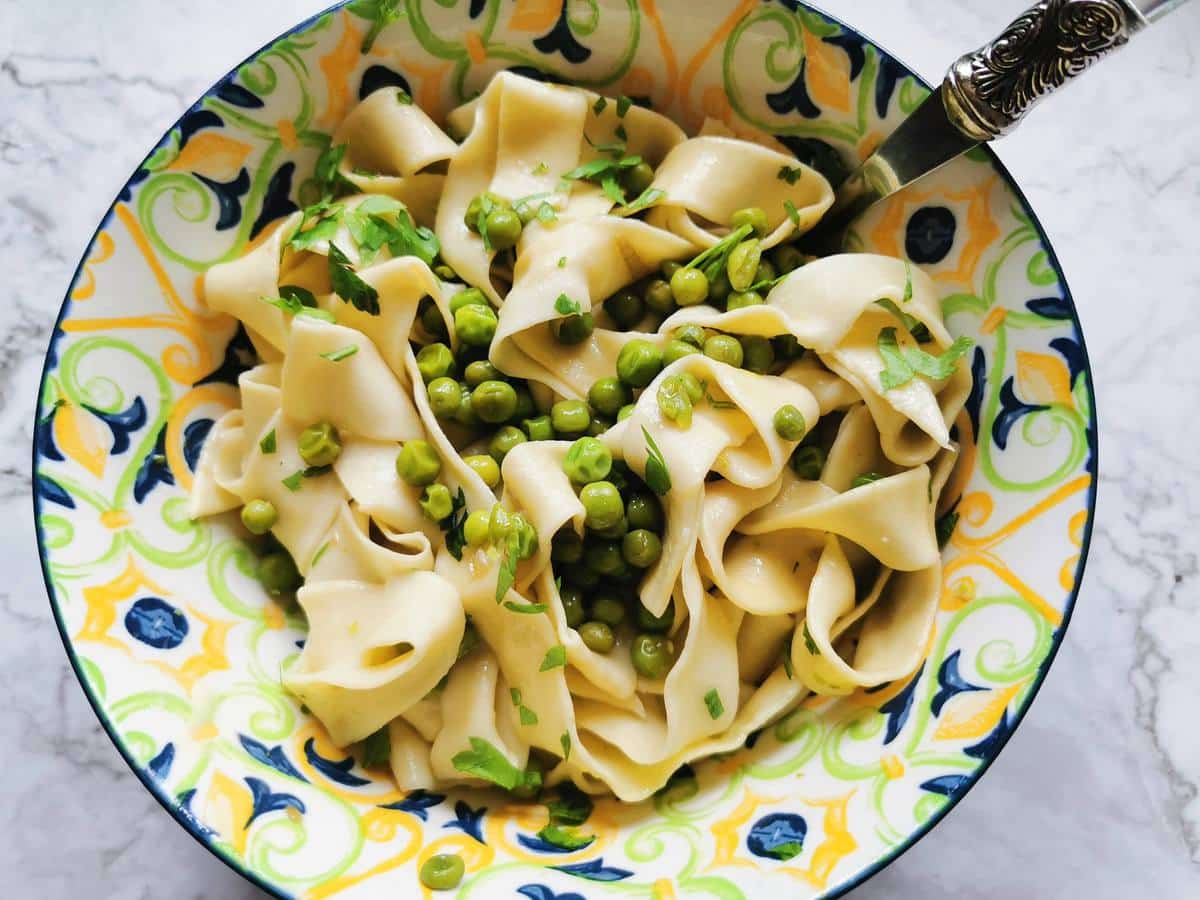 The recipe below is vegetarian, so I didn't include pancetta. But, if you'd like to add it, why not checkout my tagliatelle with peas and pancetta recipe.
Apart from the difference in types of pasta used in Italian green pea pasta, the herbs added can differ too. I use parsley. But other recipes can call for mint or basil instead.
Finally, in Southern Italy, some people cook the pasta in the same pot with the peas and broth, rather than boiling it beforehand.
Italians call this method 'risottata' because it's similar to making a risotto. However, this is only possible with short, dried pasta and not with egg noodles which are too delicate.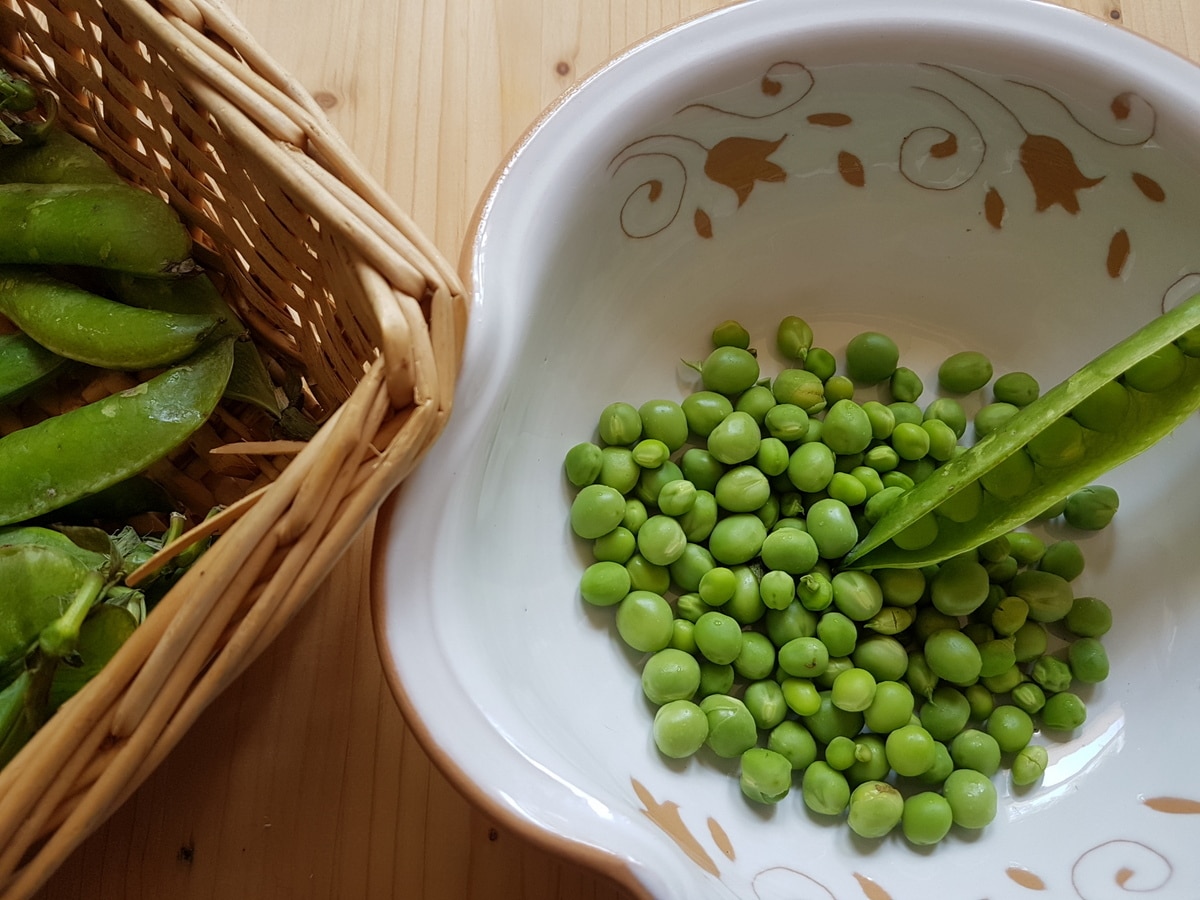 Peas in Italy.
They have been cultivating peas in Italy since Roman times and even earlier. These days, this healthy spring legume is an important crop in the regions of Emilia-Romagna, Puglia, Sicily, Campania and Veneto.
Here in Veneto, there are a number of towns or areas which are famous for their peas. One of these areas in particular is located in the Berici hills near the city of Vicenza. There, they grow a local variety of peas that is said to be the best in Italy.
Lumignano peas have been cultivated in the Berici Hills since 1000 AD. Apparently, they were introduced to the area by Benedictine monks. These peas have been prized for centuries. The Doges of Venice traditionally ordered them as the main ingredient of their 'Risi e Bisi' (rice and peas).
This dish was traditionally served to the Doges on the Feast of Saint Mark, the patron saint of Venice. Risi e Bisi is another traditional recipe for peas in Veneto.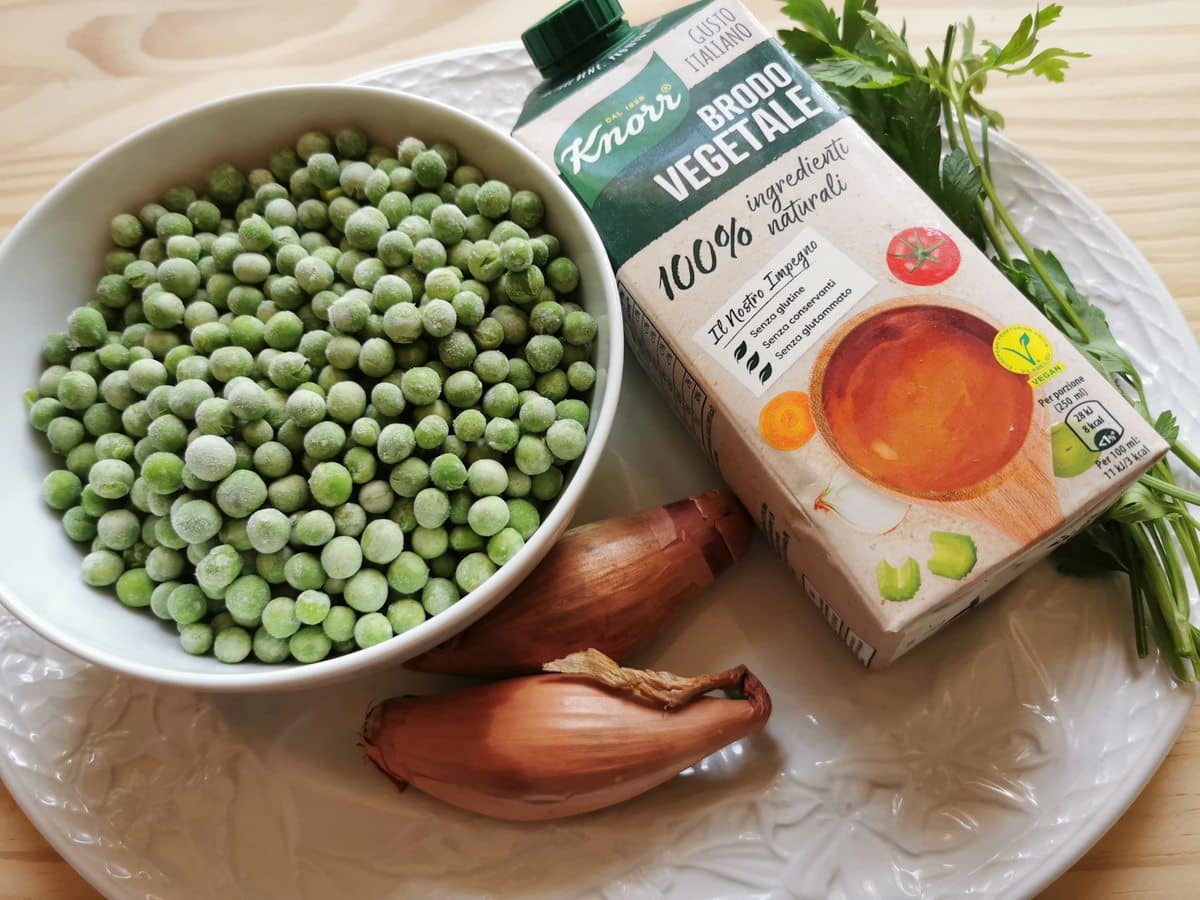 Northen Italian pasta with peas.
This pasta with peas recipe is based on the traditional version from Verona where I live. Known as 'paparele ai bisi' or 'pasta coi bisi' in the local dialect, this dish is typically eaten on the feast day of the city's patron saint, St Zeno. Until a few years ago, St Zeno's Day was on the 12th April but in 2012 it was moved to the 21st May as it previously often fell within the Easter holidays.
Ingredients.
Peas: You can make this recipe with fresh, frozen or canned green peas. Fresh peas take longer to cook, and canned peas need to be drained first. Personally, I prefer not to use canned peas as I find they get mushy quickly.
Onion: I used shallots, but white or yellow onions are a good choice too.
Vegetable stock: If you have enough stock, you can also use it instead of water to cook the pasta in as well as for the sauce. Homemade or a good quality vegetable stock/broth is the best choice for both flavour and goodness.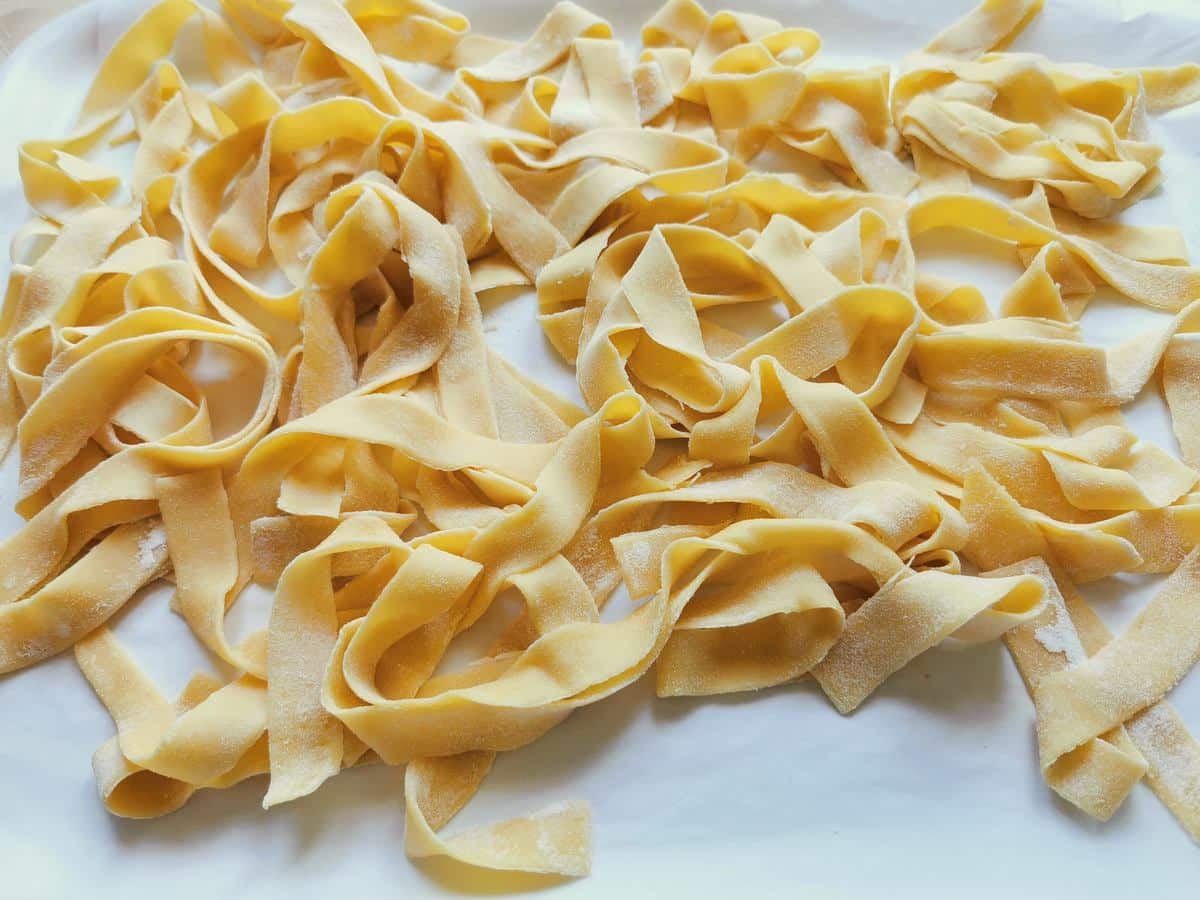 Pasta: In this version, I used homemade egg pasta ribbons similar to pappardelle but not as wide. Obviously homemade pasta makes this dish extra special. But, other types of egg pasta ribbons such as tagliatelle or fettuccine are perfect as well. If you'd like to make pasta like mine, check out my post for different colored homemade pasta.
Herbs: Fresh parsley, mint or basil all add flavour (and some extra nutrients) to this pasta with peas. Go with your favourite or what's available. However, it's best if the herbs are fresh not dried.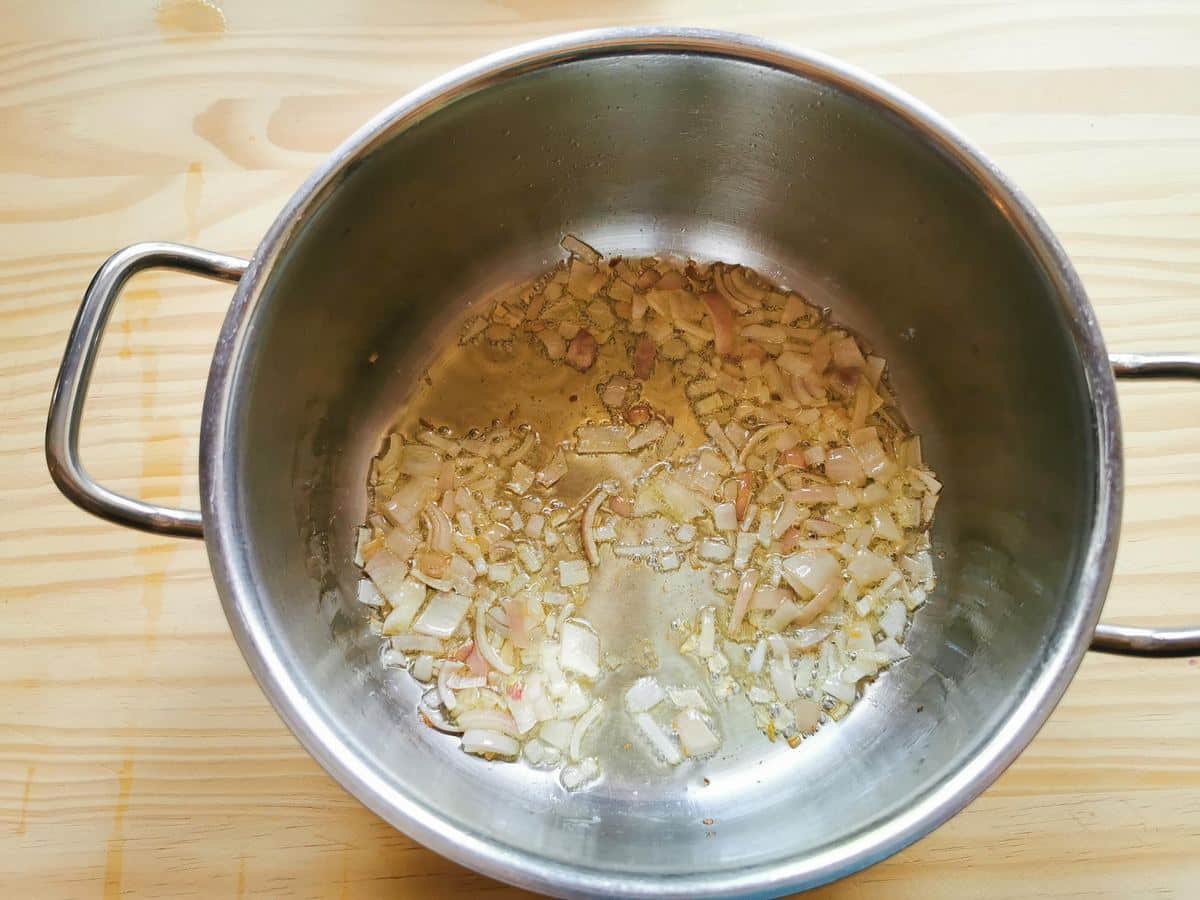 How to make this pasta with peas.
The only preparation this recipe requires is shelling peas if they are fresh, peeling and finely chopping the shallots or onions and washing and chopping the fresh herbs.
Step by Step instructions.
1: Sauté the shallots or onion in olive oil until they start to soften. Then add the peas. Let them cook a little with the onion and olive oil.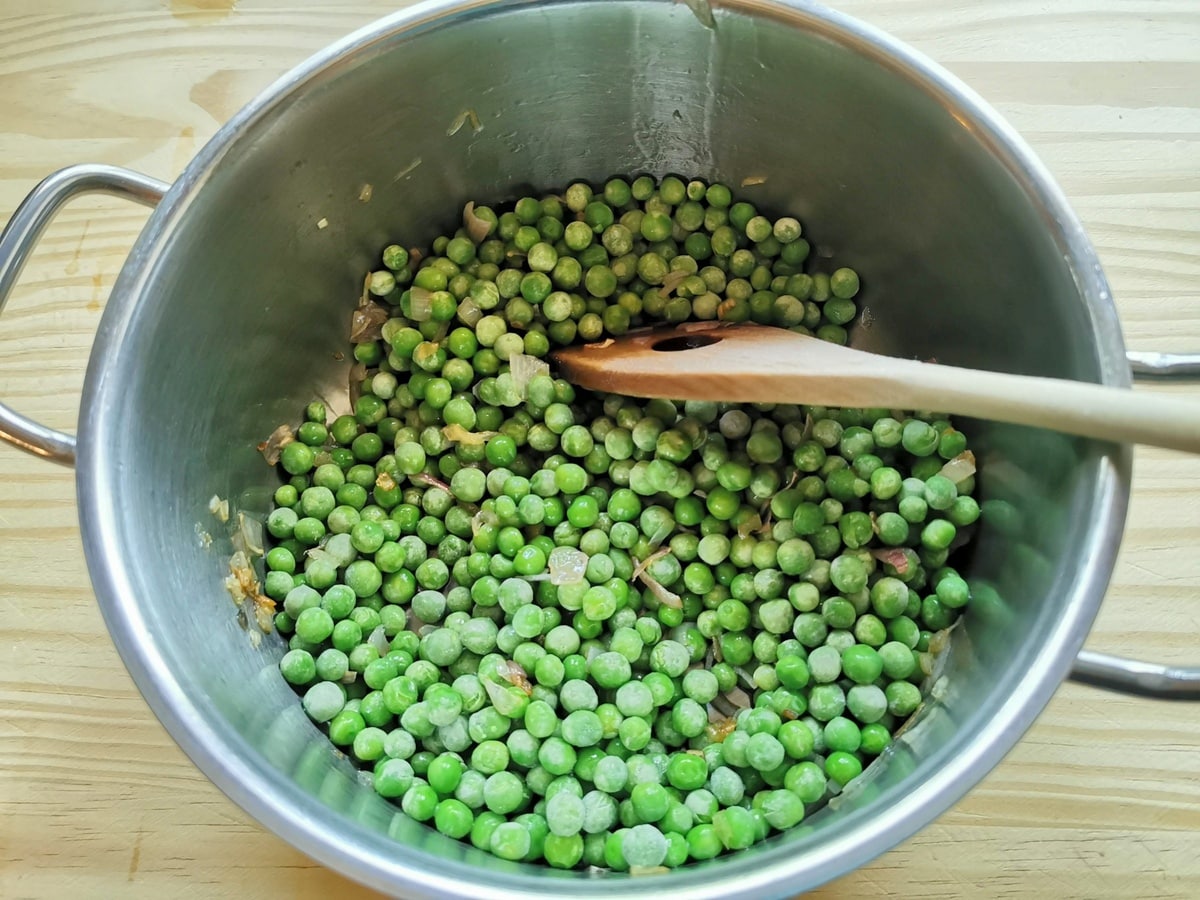 2: Add the vegetable broth and simmer until peas are cooked. Fresh peas will take longer, 10-15 minutes. Add salt and pepper to taste.
3: Put a pot of water on to boil for the pasta. Add salt once it starts to boil and bring to the boil again. Cook the pasta al dente according to the instructions on the packet. Fresh or homemade egg pasta ribbons take only a few minutes to cook.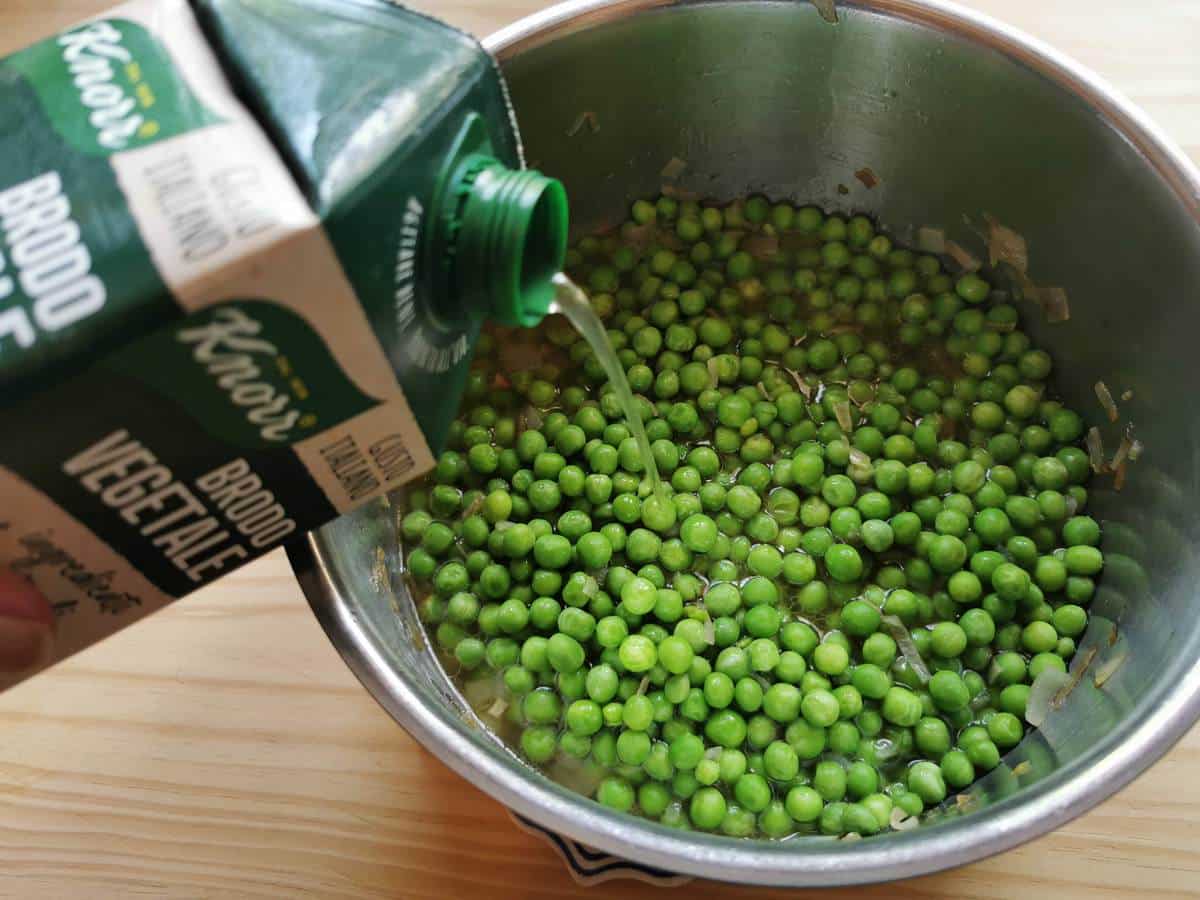 4: Drain the pasta and add it to the pan with the peas. If the pan is too small, pour the peas into a bowl and then add the pasta and mix. If you like, add a knob of butter and mix it into the pasta with peas.
5: Serve immediately sprinkled with fresh parsley or another herb.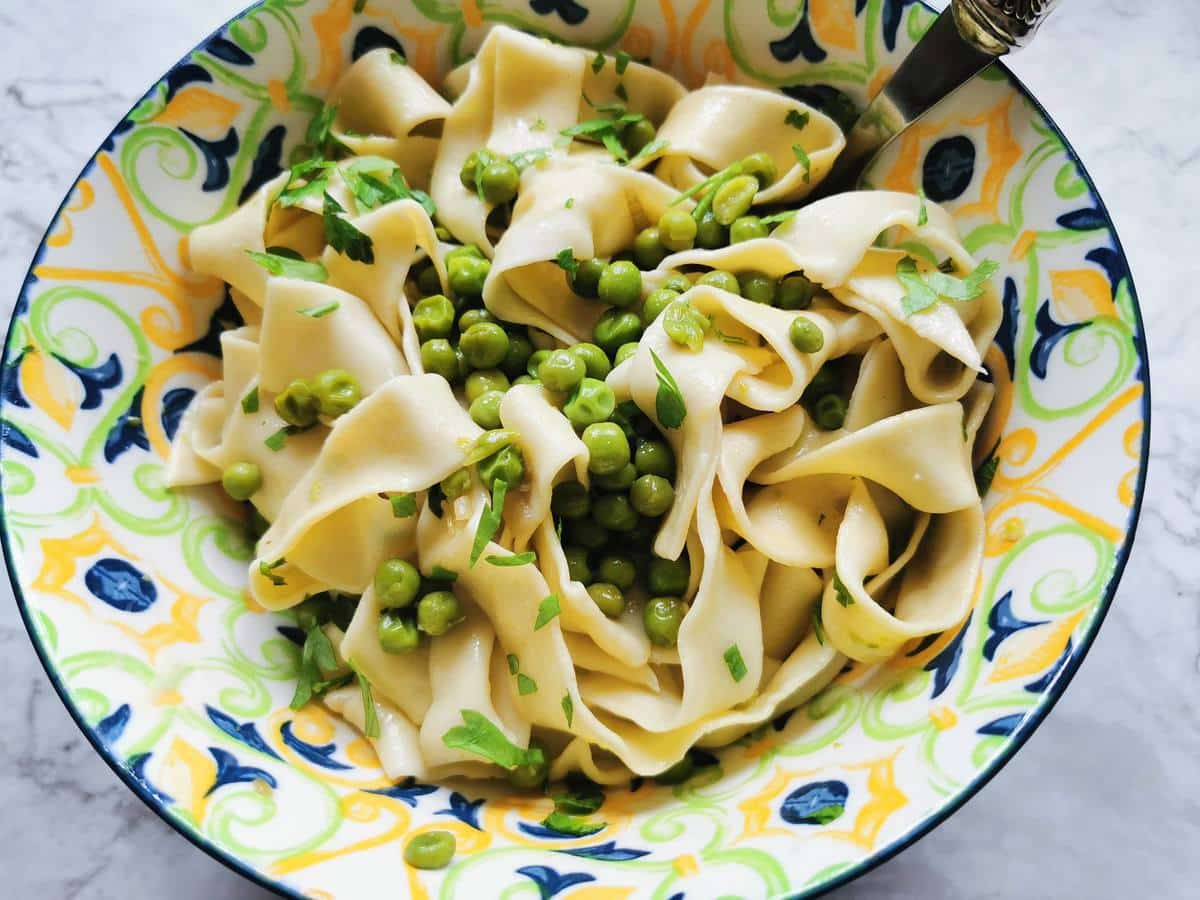 What to do with leftovers.
Leftovers of this pasta and peas can be stored in the fridge in a sealed container for up to 3 days. Reheat with a little butter or broth on the stove top or in the microwave. Freezing isn't recommended.
Can I serve this recipe with grated cheese?
Yes, if you like, you can serve this pasta with peas with some grated Parmigiano or Grana cheese. However, neither of these are vegetarian as they contain animal rennet. Omit cheese for vegans and use vegetarian parmesan if vegetarian.
Can I add other vegetables to this recipe?
Yes, some Italians make this recipe with mushrooms or finely chopped carrots. Both need to be sautéed with the onions before adding the peas.
Can I make this recipe vegan?
Making this recipe vegan is easy. Just use pasta made without eggs and omit cheese or butter.
Pin for later.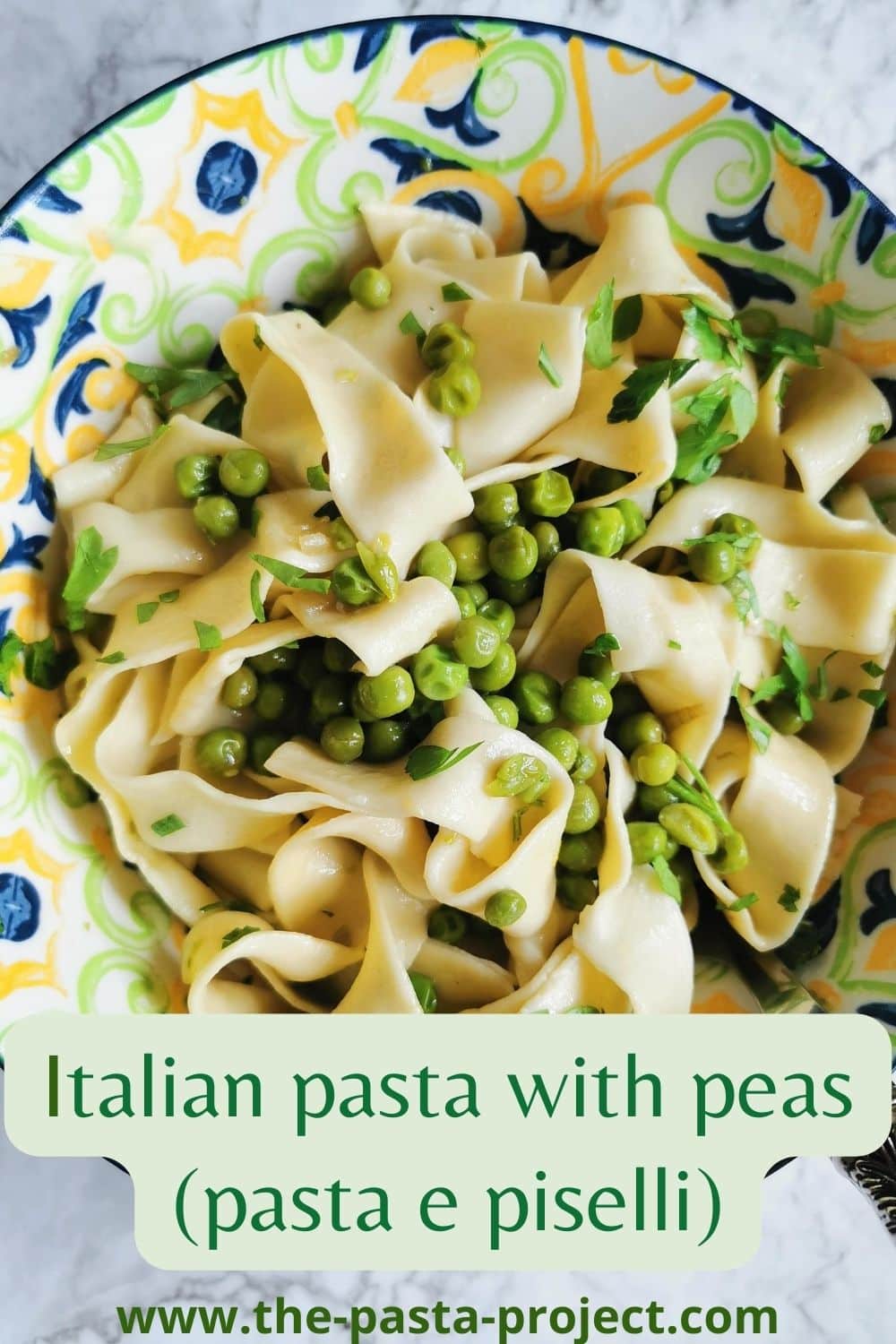 If you try this pasta with peas recipe, do please let me know what you think by commenting here on the blog or on The Pasta Project Facebook page. Your feedback is much appreciated!
Buon appetito!
Glossary of Italian terms in this recipe post.
Bisi: Venetian word for peas.
Piselli: Italian word for peas.
Risottata: Cooking pasta the same way as a risotto.
Lumignano peas: a variety of peas cultivated in the Berici Hills, Vicenza.
Risi e Bisi: A traditional Venetian recipe for rice and peas.
Doges of Venice: Leaders of the Republic of Venice from 726AD to 1796
Other Italian pasta recipes with peas.
If you are interested in learning how to make other homemade pasta and different types of gnocchi, check out my shop page for some great video online courses from my friends in Rome!
Nothing beats learning to make pasta from Italians! Plus while you're there why not order a copy of one of my pasta recipe cookbooks or checkout some recommended pasta making tools?