Baked Anelletti from Palermo.
A timballo of oven-baked anelletti is the most popular "pasta bakes" in Sicily, particularly for Sunday lunches, special occasions and holidays such as Christmas. It takes a little time to make but the looks on your guests' faces will make it worth it!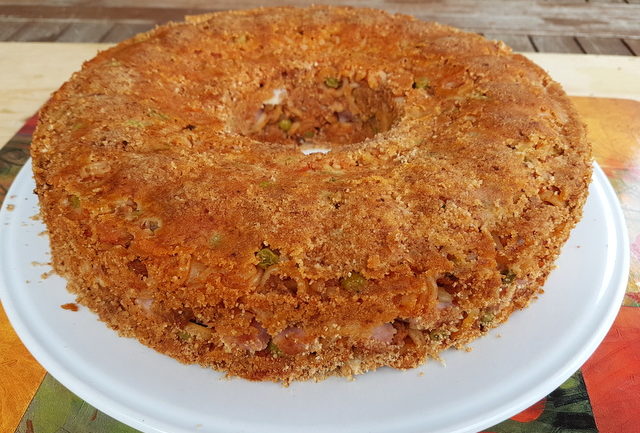 Timballo di Anelletti.
The first time I saw this dish I thought it must be quite difficult to make. But, having done it (I confess with my Sicilian husband's help!), I can say the only aspect that needs to be taken into account is that, for a pasta dish, it takes quite a long time to make. However, the looks on your family or guests' faces will be worth the time you put in..I promise you!
(This post first appeared in 2017 but has been updated)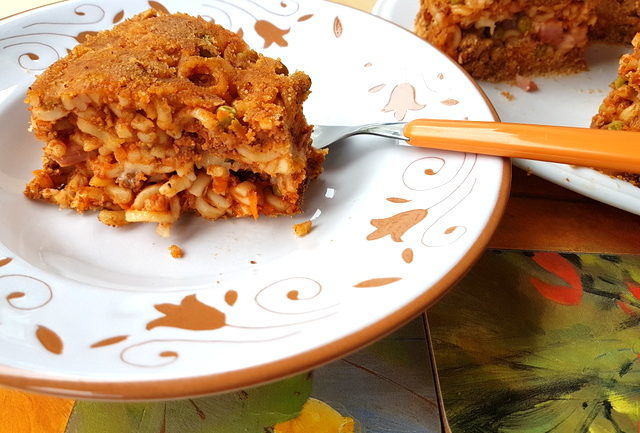 The Pasta
Anelletti are little rings of dry pasta of about one centimeter in diameter. In Palermo, baked anelletti can be found in most restaurants and eateries, from fast food establishments to the bars with delis. This pasta is also cooked a lot at home, although the recipe here is made mostly on Sundays and feast days because of the long preparation required.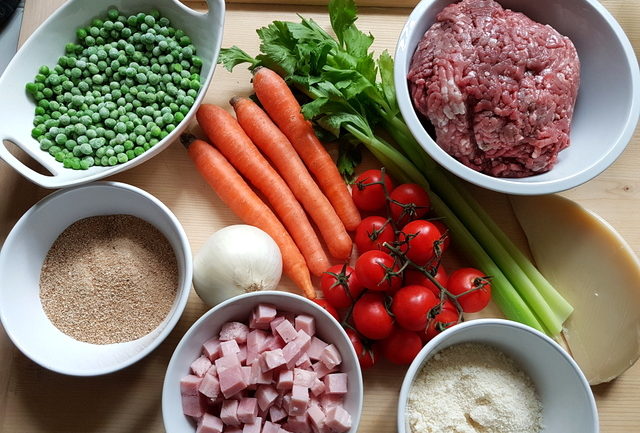 Rather than make a timballo many people also just bake the pasta with meat sauce in a normal oven dish, which is easier but doesn't look as impressive!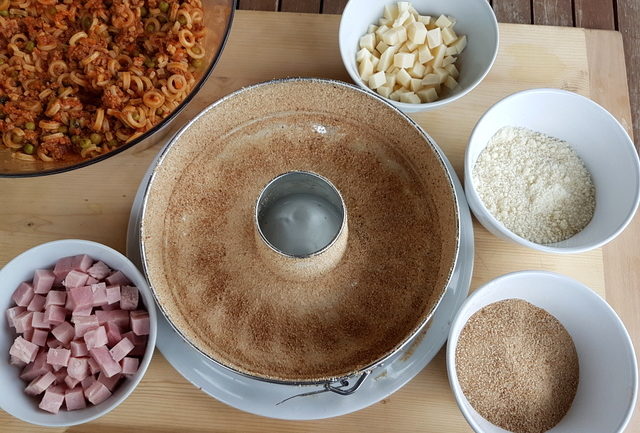 In Sicily, you can also find single portions of baked anelletti, called "timbaletti". These are prepared in aluminum containers in the shape of a truncated cone and are a popular takeaway snack.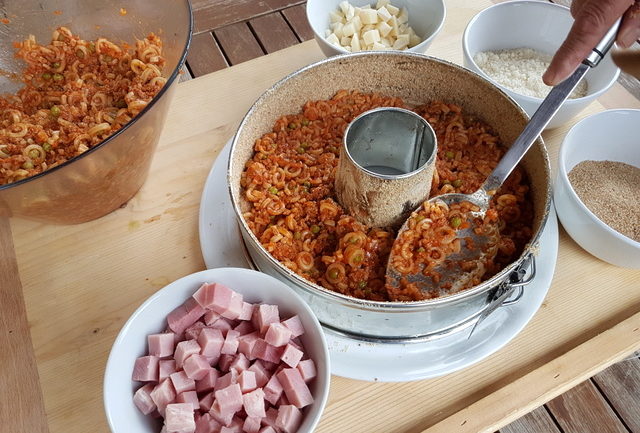 The base of this baked anelletti dish is a ragu similar to Bolognese. However, in Sicily, the ragu is almost always made with the addition of peas. Apart from the meat sauce ingredients and the anelletti pasta, you only need some cooked ham and cheese. For the inside of the timballo, I used caciocavallo, a stretched-curd cheese produced throughout Southern Italy. I also covered the top with grated Parmigiano Reggiano. You can also use pecorino.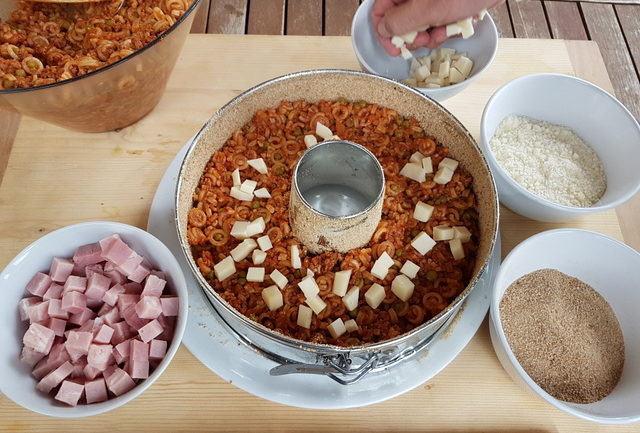 Different versions of baked anelletti timballo
Among the many variations of this recipe are some with boiled eggs in the filling, and cheeses other than caciocavallo for example, provola or primo sale. Sometimes the pasta is encased in pastry or the outside of the 'timballo' is covered with slices of fried egg plant instead of breadcrumbs. This looks absolutely amazing! Take a look at my parmigiana timballo recipe to see an example.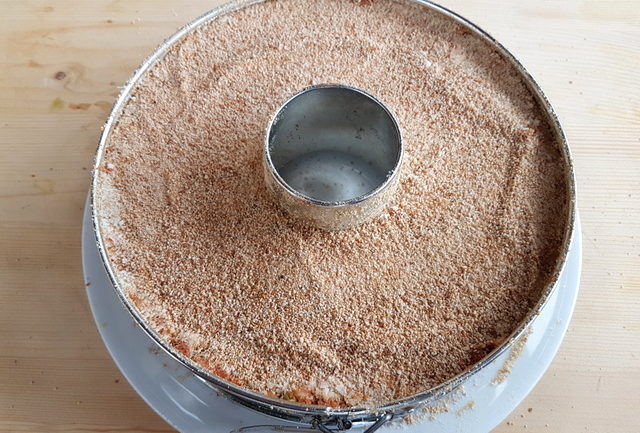 I hope you give this timballo a go because it's a wonderful dish, perfect for family occasions and holidays.
If you do make this Sicilian baked anelletti timballo recipe, I'd love to hear how it turns out and if you liked it. So, please leave a comment here on the blog or on The Pasta Project Facebook page.
Looking forward to hearing from you!
Buon Appetito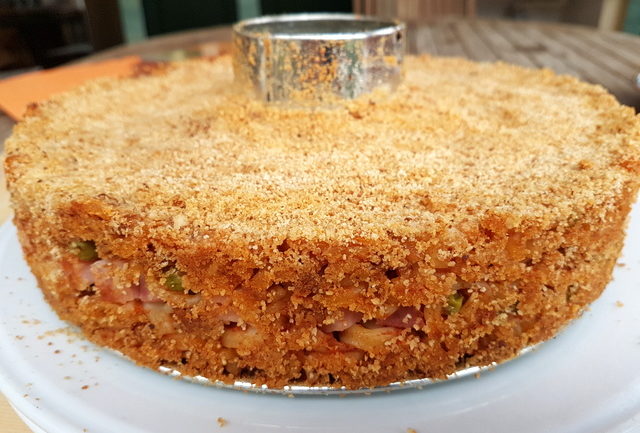 Want to know more about my life in Italy? Why not subscribe to my newsletter? New subscribers get a free series of recipe e-books too!
Another anelletti recipe to try.
Anelletti pasta egg plant boats!

Save this recipe for later?
If you want to save this recipe for later, you can print it, bookmark this page or save it to Pinterest.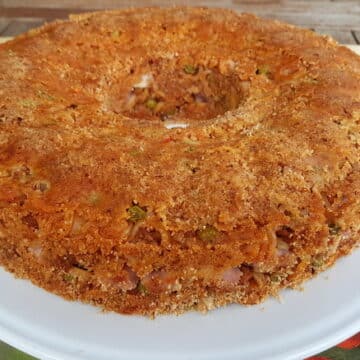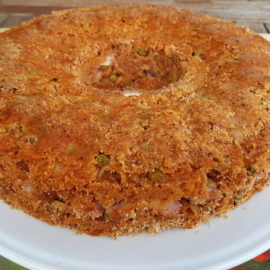 Baked Sicilian Anelletti Timballo
A delicious and impressive looking baked pasta dish from Sicily, which will wow your guests!
Ingredients
For the meat sauce (ragu)
400

g

ground beef or beef and pork or veal mix

(14oz)

1/2

glass

red wine

150

g

peas

(5oz)

2-3

carrots

2-3

celery stalk

1

medium sized onion

peeled

3

garlic cloves

peeled

Extra virgin olive oil

1

handful

basil leaves

350

g

tomato passata rustica

(12oz)

salt and pepper to taste
For the Timballo
400

g

anelletti

(14 oz)

breadcrumbs

as required

3

tbsp

extra virgin olive oil

50

g

grated parmesan

(2oz) grana or pecorino

150

g

cooked ham

(5oz) cut into cubes

150

g

Caciocavallo or Primo sale cheese

(5oz) cut into cubes
Instructions
First make the meat sauce.

Chop the carrot, onion, garlic and celery finely. Fry the vegetables in olive oil until they start to soften. Be careful not to let them to burn!

Add the minced meat and cook until browned. Add the glass of red wine and stir well

When the wine has evaporated pour in the passata and mix it in well with the meat. Add the fresh basil and salt and pepper as required.

Cover the sauce and allow to simmer on a low heat for at least an hour, stirring occasionally so it doesn't stick. If it gets too thick add some water.

10 minutes before the sauce is cooked, add the peas.
While the sauce is cooking you can get on with the rest of the dish.
Put water on to boil for the pasta. Add salt once it starts to boil. Cook the pasta 2-3 minutes less than instructed on the packet. Drain and add the anelletti to the meat sauce when it is ready. Mix the pasta and sauce well and allow to cool.

Grease the sides and base of a deep cake tin with olive oil (I use a spring form tin which makes getting the timballo out easier!)

Line the sides and base of the tin with breadcrumbs.

Once the pasta and meat mixture has cooled spoon a thick layer into the base of the tin.

Make another layer from the chopped ham and caciocavallo cheese and finish off with another thick layer of the pasta and meat sauce.

Press the mixture down and cover the top with more breadcrumbs and grated parmesan cheese.

Cook the timballo at 200 degrees in a preheated oven for 25-30 minutes.

When it is ready, allow to cool for 15 minutes before inverting it onto a serving plate and removing the tin.
Pin for Later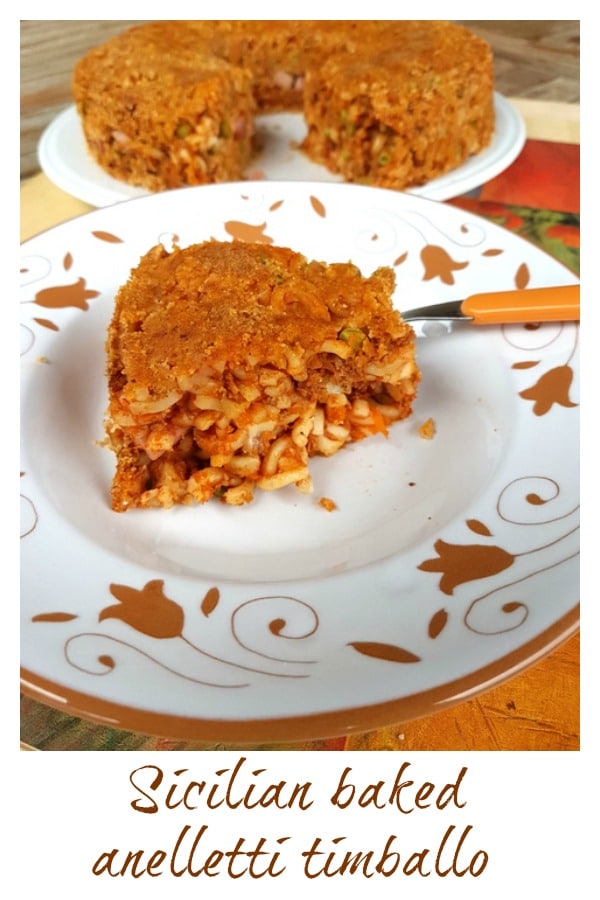 If you are interested in learning how to make homemade pasta and different types of gnocchi, check out my shop page for some great video online courses from my friends in Rome! Nothing beats learning to make pasta from Italians! Plus while you're there why not order a copy of my newly published autumn/winter pasta recipes cookbook?