Parmigiana Timballo with Ziti or Zitoni.
This parmigiana timballo is based on a Neapolitan recipe developed by French chefs working for the nobility in the Kingdom of Sicily and Naples more than 150 years ago.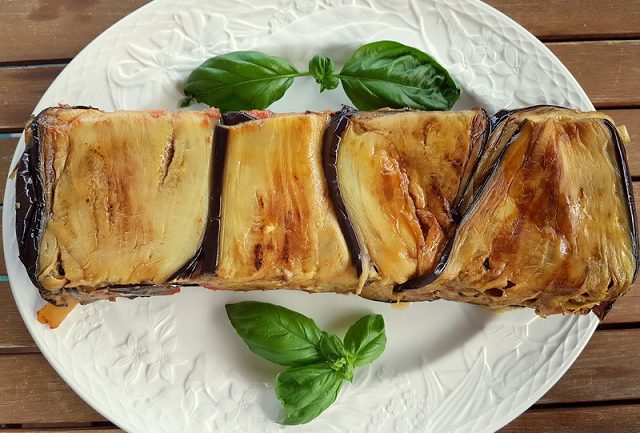 Many types of Italian 'timballo' require a lot of preparation, mostly because they are made with a meat sauce or ragu, which has to cook for quite a long time before you even begin to put the ingredients together to bake the timballo in the oven. This parmigiana timballo (without meat) doesn't take so long and in my opinion the result is just as tasty and beautiful looking as any other timballo!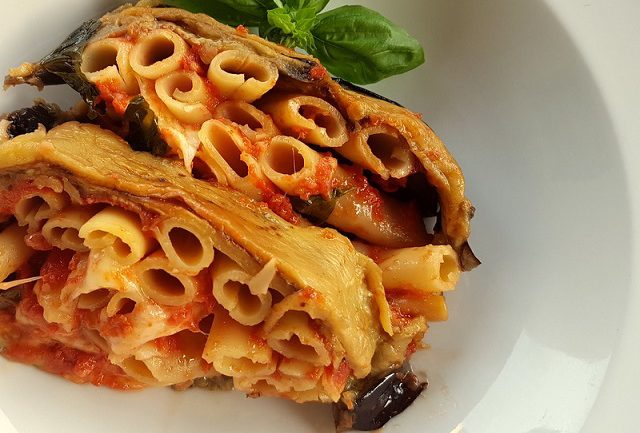 Some Timballo History!
As with many other Italian pasta dishes, there are various opinions about the origins of the timballo! Some food historians credit the Arabs with its invention, others say that it was invented during the Renaissance and others accredit it to the French chefs who worked for the ruling families of the Kingdom of Sicily during the 18th and 19th century. These chefs were known as the monzù, from the word monsieur. The term was at first used only to describe French chefs, but was later extended to the local Sicilians and Neapolitans who had worked under them.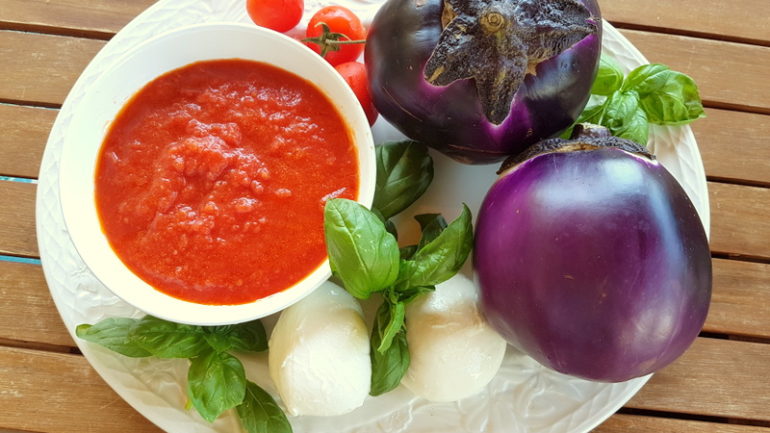 I would imagine that the Arab version was simpler and the French chefs reinvented the recipe to be more elaborate and acceptable to Royalty! Whatever its origin, the word 'timballo' originally referred to a drum-like percussion instrument, like a kettledrum. Subsequently, this name was extended to the semi-spherical copper molds in which various pasta or rice dishes were cooked in a way that, once ready, they maintained the shape of the mold. Of course, in time these dishes started to be called 'timballo' too.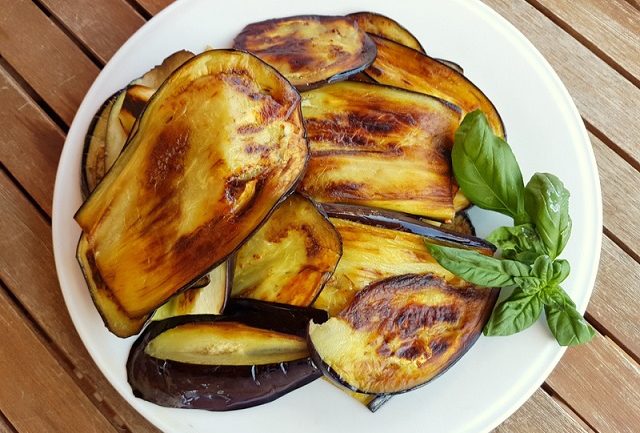 Timballo shapes and fillings.
Nowadays, a timballo no longer needs to be round! It's the method of cooking that counts not the shape of the finished dish! There are many kinds of timballo. For example, there are elaborate ones encased in pastry and looking like a big pie. There are others which have only breadcrumbs around them like the baked anelletti timballo from Palermo, Sicily, which I posted about last month. And there are those, like this parmigiana timballo, which are enclosed in a vegetable wrap (very often eggplant).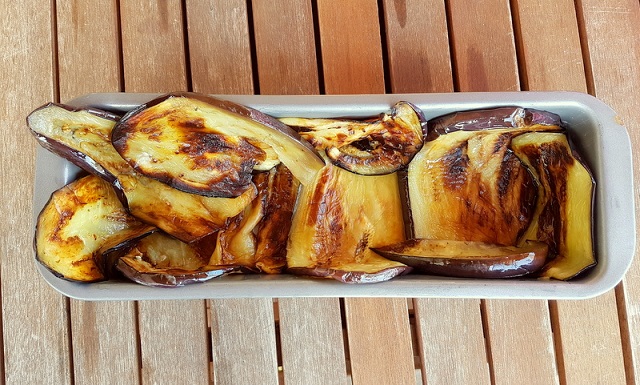 Ingredients for timballo vary, but most often they contain pasta or rice, two different cheeses, various vegetables and a tomato sauce or meat ragu as well as other meat such as ham, sausage, small meatballs etc. The ingredients are layered, like in lasagna, and baked in the oven. Once the timballo is ready, it is turned out onto a flat serving plate and cut into slices.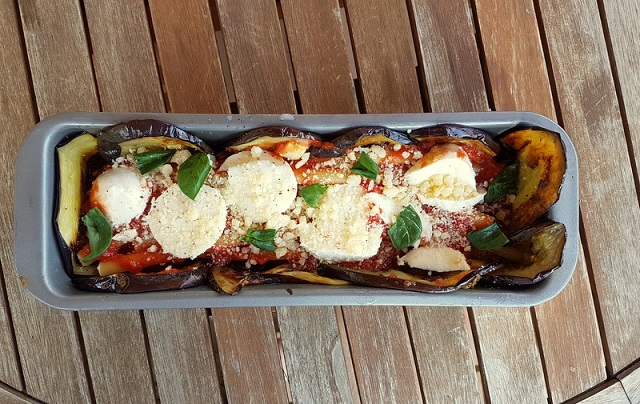 Traditionally a Sunday lunch recipe.
Because it is so filling and often time-consuming to make, timballo is mostly eaten on Sundays, holidays and special occasions, it's particularly popular in Southern Italy; Sicily, Calabria, Puglia etc, however, there are timballo recipes from other regions such as the timballo de' Medici from Tuscany, the timballo alla Bonifacio VIII from Lazio and a timballo from Abruzzo made with scrippelle. All recipes waiting to be made!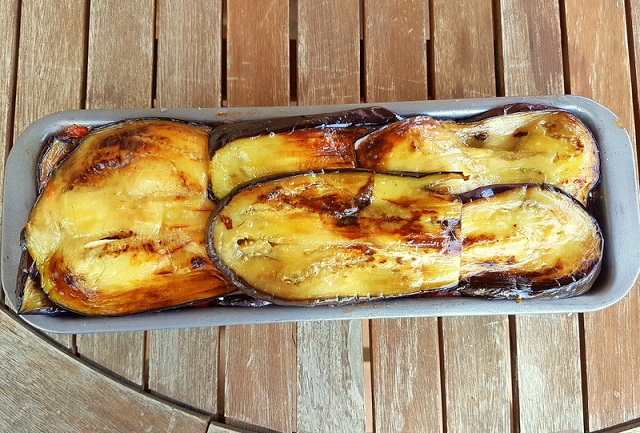 However for now, take a look at this parmigiana timballo, which, despite its simplicity, is based on a Neapolitan recipe developed by those French chefs I mentioned before and dates back 150 years. It's made with 25cm long zitoni pasta and the main ingredients of an eggplant parmigiana; tomato sauce, fried eggplant and mozzarella. So for parmigiana fans, there's no contest. Plus, it looks very beautiful and will impress your guests no end!
If you make this recipe I'd love to hear how it turns out and if you liked it. Please leave a comment here on the blog or on The Pasta Project Facebook page. Looking forward to hearing from you.
Buon Appetito!
(see the recipe on the next page.just scroll down and click 2)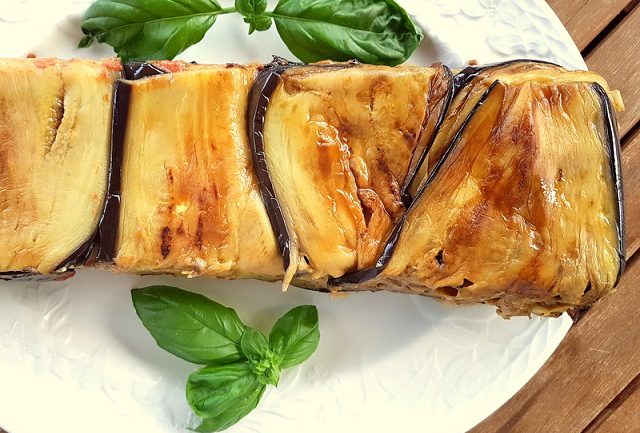 c