Save this recipe for later?
If you want to save this vegetarian timballo recipe for later, you can print it, bookmark this page or save it to Pinterest.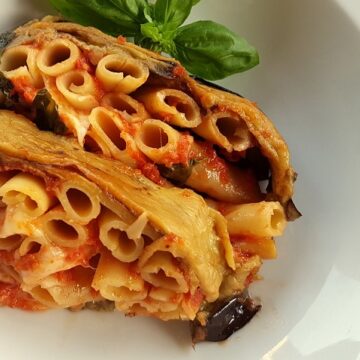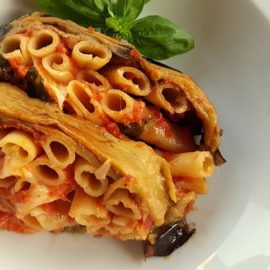 Parmigiana Timballo with Ziti or Zitoni
This divine vegetarian parmigiana timballo (based on a 150 year old recipe) doesn't take so long to make and yet it's as tasty and beautiful looking as any other timballo!
Ingredients
320

g

Ziti or Zitoni pasta

500

g

tomatoes

San Marzano

2-3

large eggplants

long or oval

250

g

mozzarella

100

g

parmigiano reggiano

grated

olive oil

extra virgin

salt

for pasta water and to taste

6-8

basil leaves

chopped

1

egg

white only
Instructions
Prepare a tomato sauce by peeling and cooking the San Marzano tomatoes in a tablespoon of heated olive oil for 15-20 minutes with a pinch of salt, adding a generous amount of the basil at the end of cooking. (you can also use ready- made passata instead of fresh tomatoes. I prefer passata rustica which is thicker)

Cut the eggplants into long and thick slices ( just over half a inch).

Immerse them in cold abundantly salted water.

Remove them from the water after a couple of minutes, pat them dry and brush with a little olive oil.

Cook the eggplant slices on both sides on a hot plate for a less oily result.

Alternatively, you can fry them, but make sure to pat them with kitchen paper after to remove as much of the oil as possible. (I fried mine!)

Once the eggplant slices are ready, take a loaf tin (30 x 13 x 5.8cm), grease it with butter and place the eggplant slices on the bottom and up the sides. B

rush all the inner parts with beaten egg white to fix the casing. (The loaf tin needs to be 30cms in length to fit the pasta)

Cook the pasta in boiling salted water for half the time indicated on the packet, preferably in a pot that allows long ziti or zitoni to cook without breaking.

Strain the pasta well and season it with a few tablespoons of tomato sauce and plenty of grated Parmesan cheese.

Now, place a layer of pasta on the eggplant at the bottom of the baking tin, add some tomato sauce, the grated Parmesan cheese, some basil and some mozzarella pieces.

Continue with another layer of pasta and then with the other ingredients until you reach the top of the tin.

Cover the top with more eggplant slices and brush with egg white.

Bake for about 20 minutes in a hot oven at 180 degrees.

Before serving allow the timballo to sit for 10-15 minutes,

Turn the timballo out onto a flat plate and serve immediately in thick slices.
Notes
This recipe works best with long thick pasta with a hole in the middle, namely ziti or zitoni. You could also use candele, which are twice as long so you would need to break the pasta pieces in half.
Pin for Later