Baked Pasta with Pumpkin and Zucchini (pasta al forno con zucca e zucchine)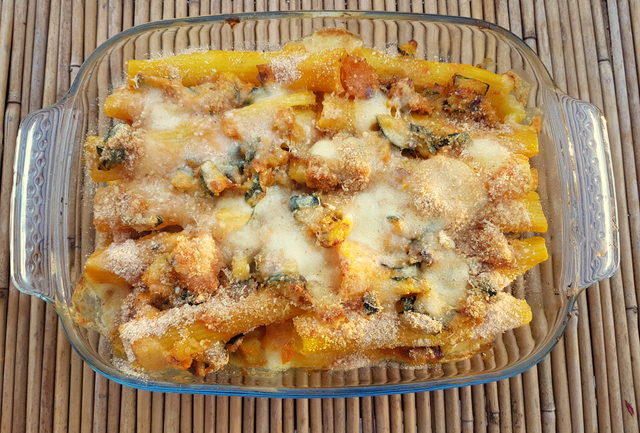 Pasta and Pumpkins!
One of the nicest things about this time of year in the kitchen is pumpkins! In Italy, pumpkins and squash are all given the same name 'zucca'. However, there are many types of 'zucca' grown in North and South Italy, particularly in Veneto, Lombardy, Emilia-Romagna, Puglia and Campania. This time of year the markets are full of both edible zucca and those used for decoration. It's not an Italian custom to hollow out a pumpkin to make a Jack O'Lantern for Halloween, but many homes and restaurants use ornamental pumpkins to add an autumnal 'country' feeling to a room or table.(go straight to recipe)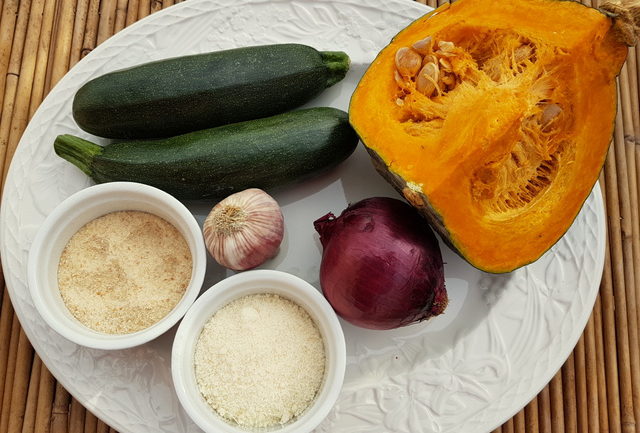 Pumpkins and squash are an important ingredient in the Italian autumn kitchen and both are used in a myriad of recipes. Interestingly, most Italian recipes call for 'zucca' without specifying which type. But, I guess in many cases pumpkin or squash can be used. After all, pumpkin is a type of squash! Despite their popularity in America, I recently read that more pumpkins are grown in Italy than USA!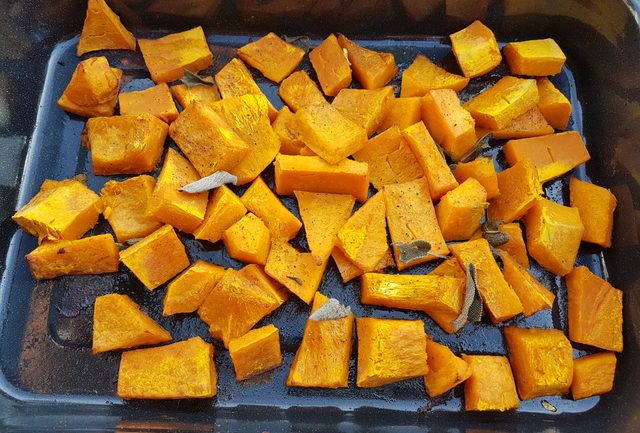 Italians use 'zucca' in soups, in risotto, as a side dish and in desserts. Pumpkin and pasta is a match made in heaven and pumpkins are used not only in pasta sauces but also in fillings for ravioli and other filled pasta, and to make gnocchi. Pumpkin gnocchi are divine and I'm planning to make some soon! Pasta and pumpkin recipes work best with the sweeter types of pumpkin/squash such as butternut squash, Calabaza squash, Kabocha squash, Italian zucca Mantovana, Delica pumpkins and zucca Marina di Chioggia, the last being one of the most popular with Italian chefs.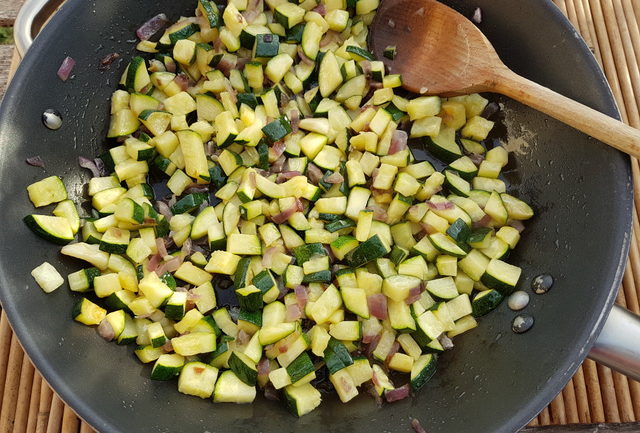 The first pumpkin pasta recipe I have made this autumn is this baked pasta with pumpkin and zucchini. I liked the idea of this recipe as it was the first baked pasta with pumpkin I had made and I was curious to see how it would taste. The result….delicious, slightly sweet (probably more so because the pumpkin is roasted first) , creamy and crunchy!!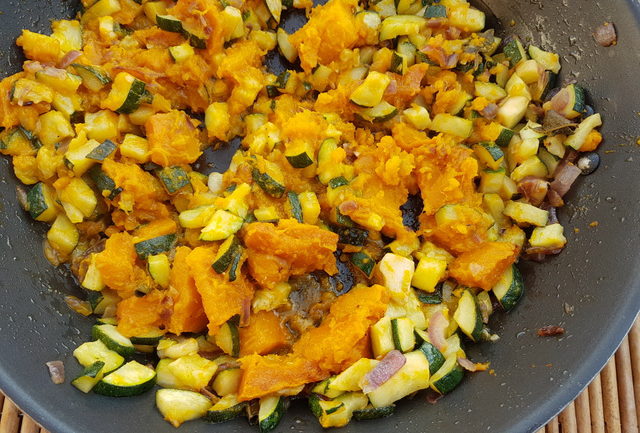 How to make your vegetarian pasta dishes great!
The secret with many vegetarian pasta recipes is firstly to cream or liquidize half or one third of the cooked main vegetable, so that you get a creamy sauce and then add some of the pasta cooking water to it so that it isn't too dry! I do this in my spaghetti with fried zucchini (alla Nerano) recipe and the result is always perfect!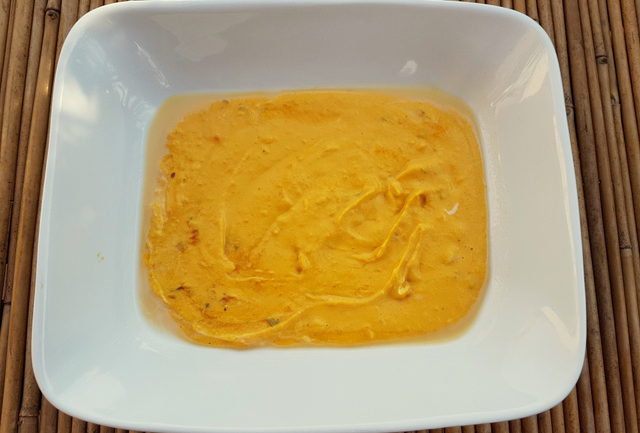 The pasta I used was an unusual grooved long pasta tube called Trescatori rigati, which I had bought in Abruzzo earlier this summer. Made by an artisan pasta maker called Maiella, this pasta is really excellent. However, it isn't widely available, although, I found some Maiella pasta types can be bought from a company in UK called Pasta & Truffles. For this pasta with pumpkin recipe, you can also use other pasta tubes such as ziti, zitoni, candele, penne or mezze maniche. If possible use grooved or ridged (rigate) pasta. The sauce adheres better to this type of pasta.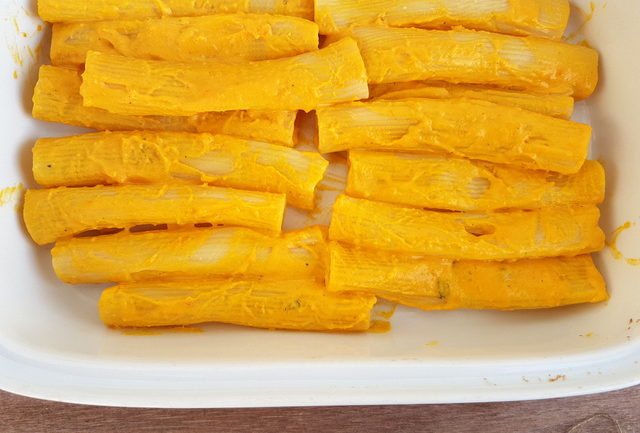 In this recipe I roasted the pumpkin, added half to the fried onion and zucchini and creamed the rest. The dish is finished off in the oven with some mozzarella, grated parmesan and breadcrumbs. Sounds good, doesn't it? I'm sure you'll love it. Let me know how it turns out!
Buon appetito!
(see the recipe on page 2)