This delicious baked pumpkin pasta recipe is a traditional dish that captures the very essence of Italy's love for seasonal ingredients.
It's perfect for those cozy nights when you crave a touch of Italy's rustic charm without wanting to spend all day in the kitchen.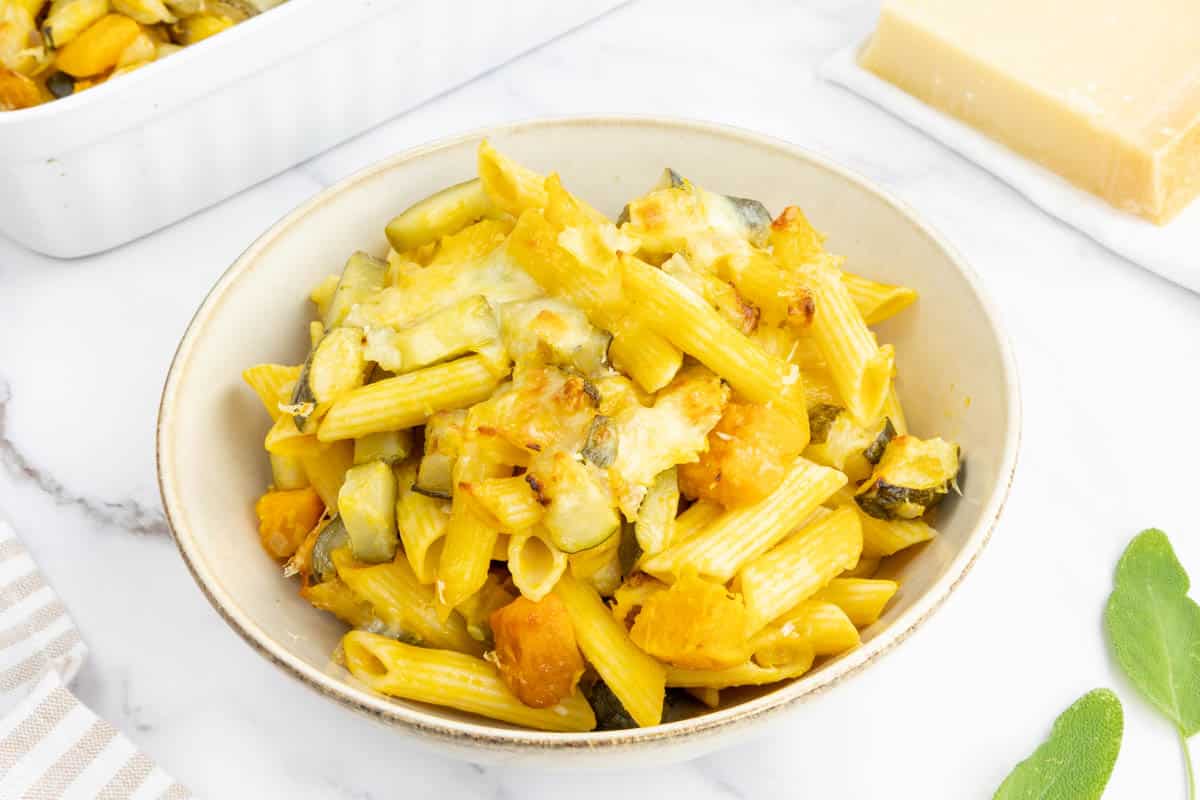 Pumpkin in Italy
In autumn/fall, Italian markets are full of both edible zucca (Italian name for pumpkin and squash) and those used for decoration. It's not an Italian custom to hollow out a pumpkin to make a Jack O'Lantern for Halloween, but many homes and restaurants use ornamental pumpkins to add an autumnal 'country' feeling to a room or table.
Pumpkins and squash are an important ingredient in the Italian autumn kitchen and both are used in a myriad of recipes. Interestingly, most Italian recipes call for 'zucca' without specifying which type. But, I guess, in many cases pumpkin or squash can be used.
After all, pumpkin is a type of squash! Despite their popularity in America, I recently read that more pumpkins are grown in Italy than USA! Italians use 'zucca' in soups, in risotto, as a side dish and in desserts.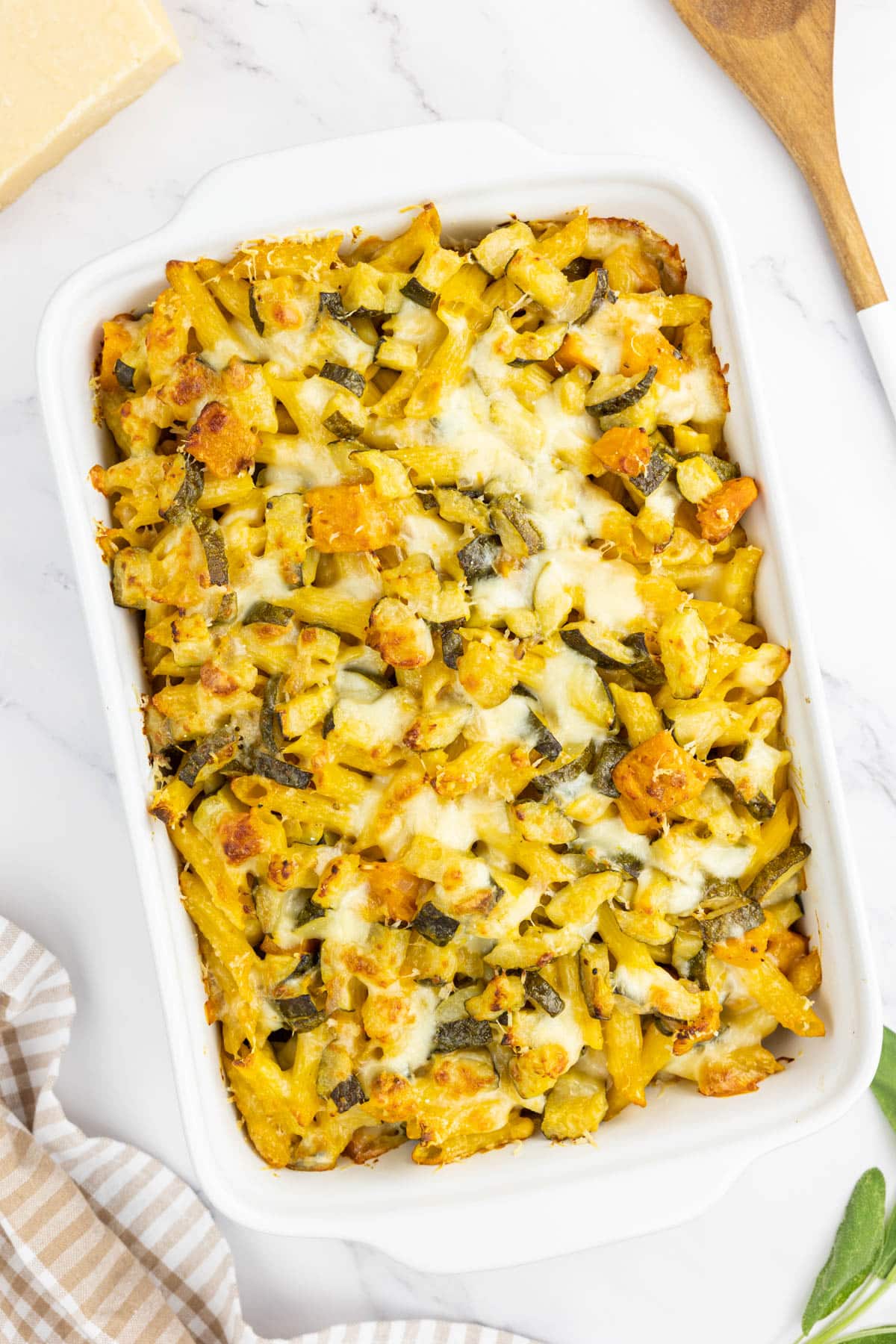 Pumpkin and pasta is a match made in heaven and pumpkins are used not only in pasta sauces but also in fillings for pumpkin tortelli, ravioli and other stuffed pasta recipes, and to make pumpkin gnocchi.
Pasta and pumpkin recipes work best with the sweeter types of pumpkin/squash such as butternut squash, Calabaza squash, Kabocha squash, Italian zucca Mantovana, Delica pumpkins and zucca Marina di Chioggia, the last being one of the most popular with Italian chefs.
Ingredient Notes
Pasta: The structure of penne holds sauces well, but feel free to replace it with another type of pasta such as Ziti or Trescatori.
Pumpkin: Choose a firm, fresh pumpkin. You can also substitute pumpkin with butternut squash if desired.
Zucchini (Courgettes): Go for zucchinis with a bright green hue that are firm to the touch.
Red Onion: This adds a mild and slightly sweet flavor. Red onions can also be substituted with yellow onions if needed.
Sage: Fresh sage adds an earthy, aromatic flavor that complements the pumpkin perfectly.
White Wine: Opt for a dry variant. It helps in deglazing the pan and adds depth to the dish. If you prefer non-alcoholic options, half the amount of water or vegetable broth can be an alternative.
Cooking Cream: Panna di cucina in Italian. It's similar to heavy cream. This gives the sauce a rich texture. If you want a lighter version, milk can be used.
Fresh Mozzarella: Ensure it's well-drained to avoid excess moisture.
Parmigiano Reggiano: Freshly grated Parmigiano Reggiano provides a rich, umami flavor. If it's not available, Grana Padano is a suitable substitute. However, neither of these cheeses are vegetarian. If needed use vegetarian parmesan instead.
Breadcrumbs: While store-bought works well, homemade breadcrumbs or panko breadcrumbs can offer more texture.
Butter: Used to grease the oven dish, ensuring your pasta doesn't stick and has a slight buttery undertone.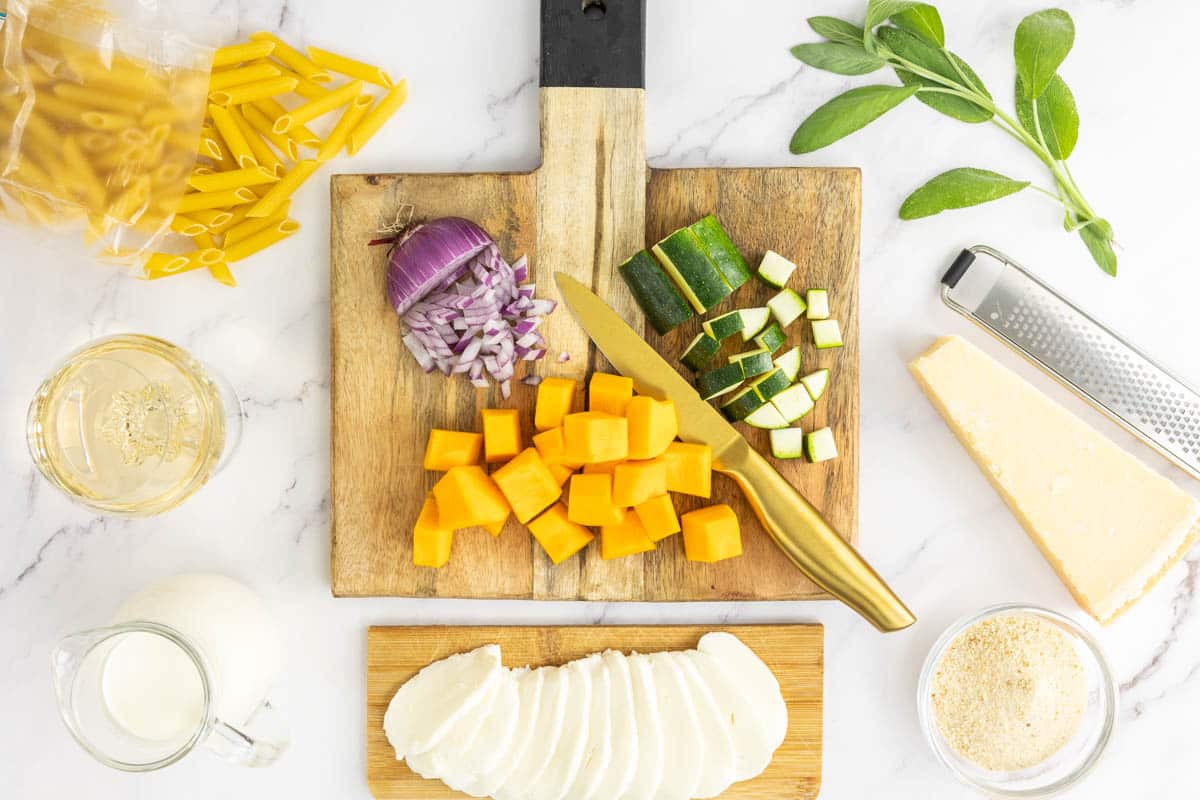 Expert Tips
Roasting Pumpkin: Roasting the pumpkin cubes until they have caramelized edges will deepen their flavor, adding a rich sweetness to the dish.
Sauce Consistency: When preparing the pumpkin sauce, aim for a slightly thinner consistency than you think you need. The sauce will thicken as it bakes, so starting with a thinner sauce ensures the finished dish isn't too dry.
Layering Importance: To achieve the perfect blend of flavors in every portion, ensure your layers in the pasta bake are evenly spread out.
Baking Time: Some ovens are slightly hotter then others. To get that golden-brown, crispy topping, keep a close watch on your pasta bake, especially during the last 5 minutes.
Step by Step Instructions
1) Preheat the oven to 355°F (180°C). Spread pumpkin cubes on an oven tray.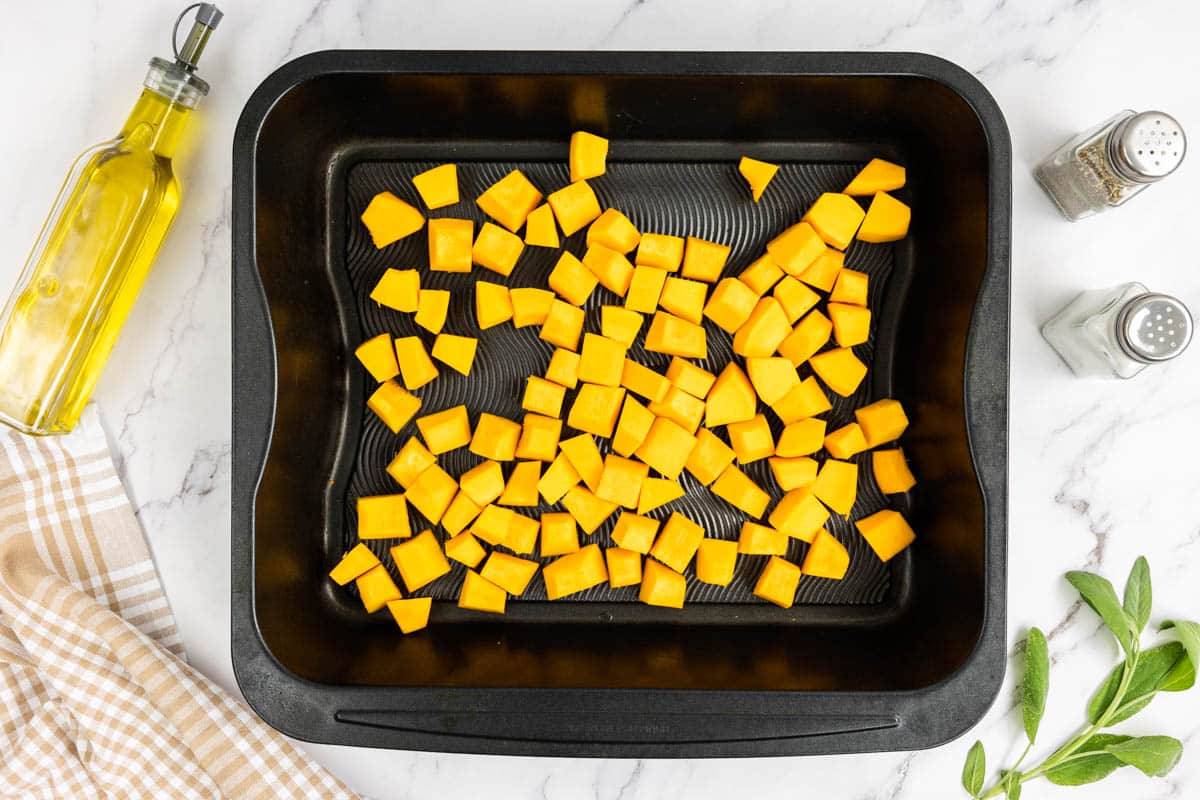 2) Drizzle with extra virgin olive oil, sprinkle with pepper and sage, and toss on the tray until the pumpkin is well coated. Place the tray in the oven and bake the pumpkin for 20-25 minutes.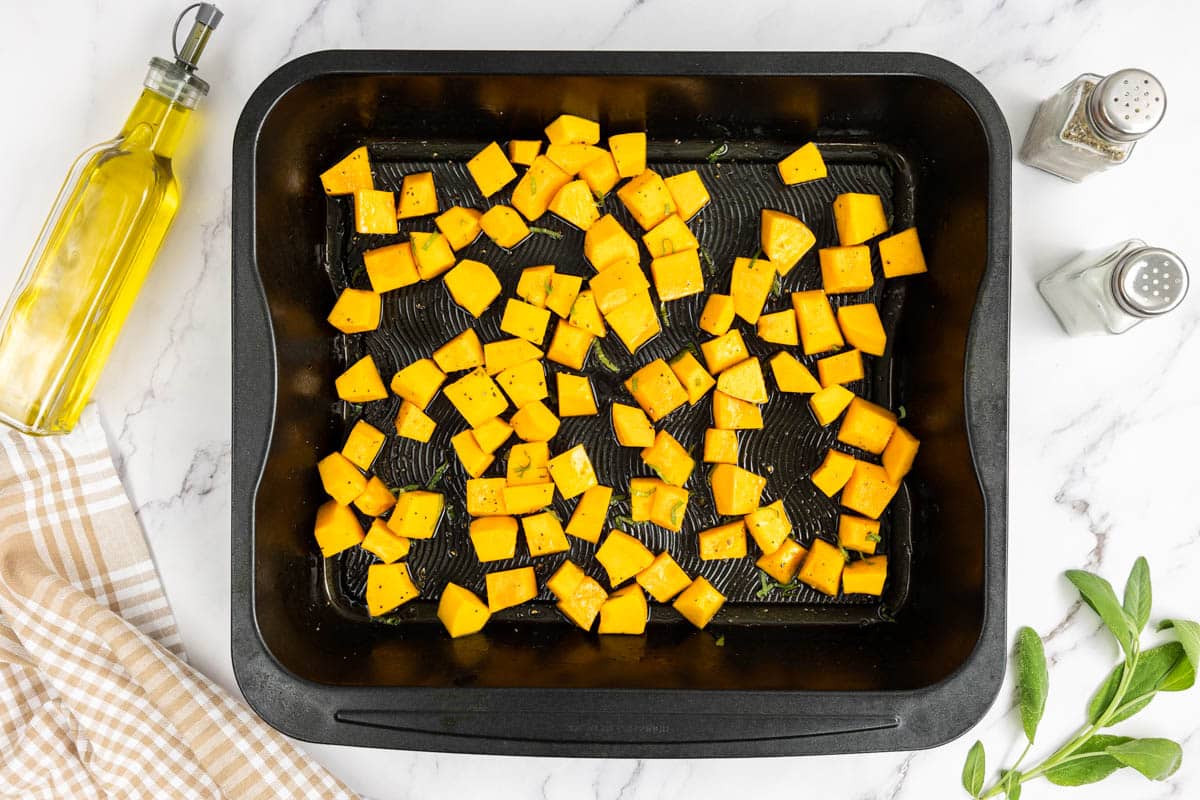 3) While the pumpkin is baking, heat some extra virgin olive oil over medium heat in a skillet and sauté the onions until they soften. This should take around 4-5 minutes.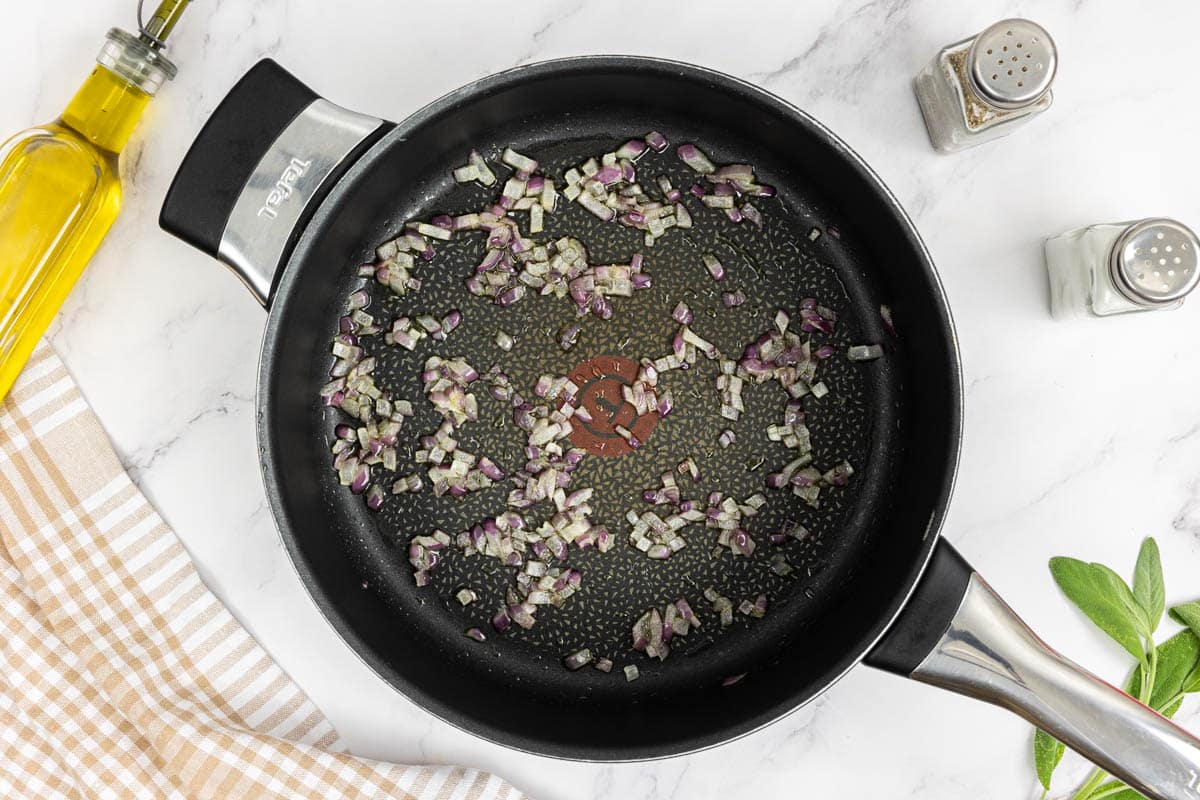 4) Add the zucchini, season with salt and pepper, and continue cooking until they become tender, about 7-8 minutes.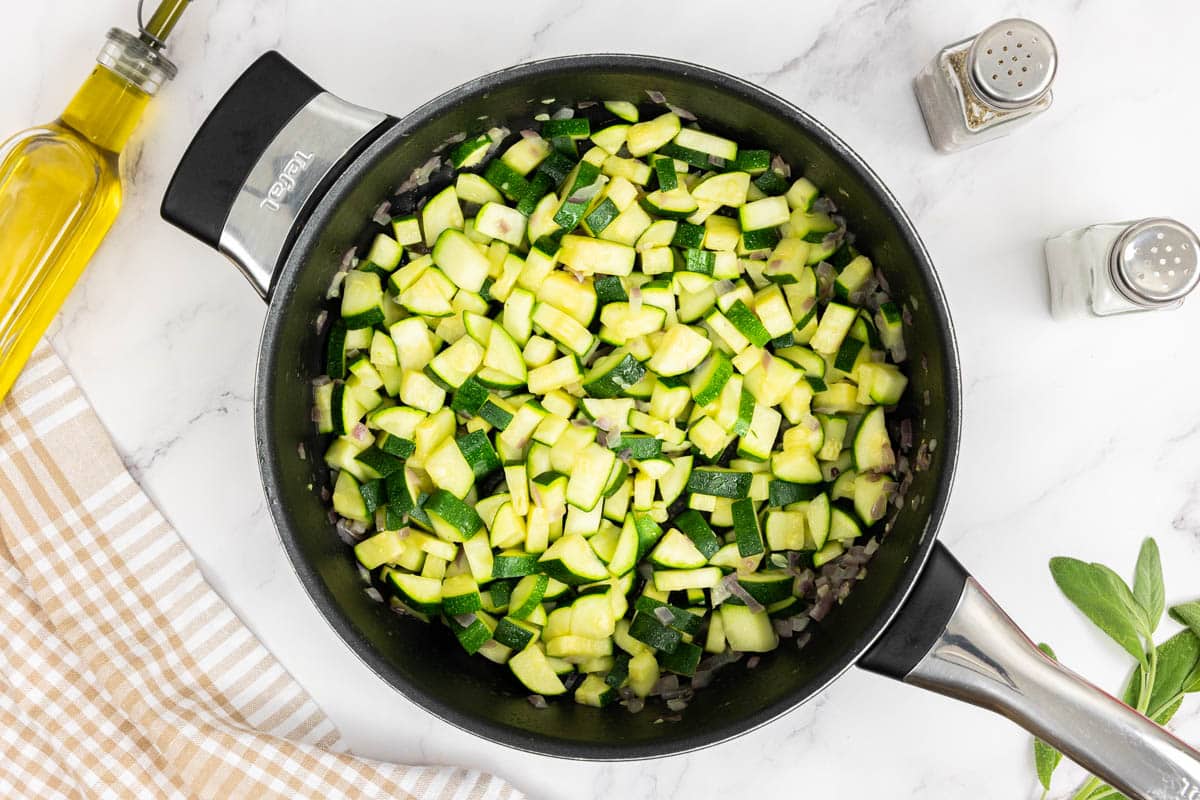 5) Once the pumpkin is baked, mix half of it with the zucchini and onions in the skillet. Add the white wine and simmer for an additional 10 minutes.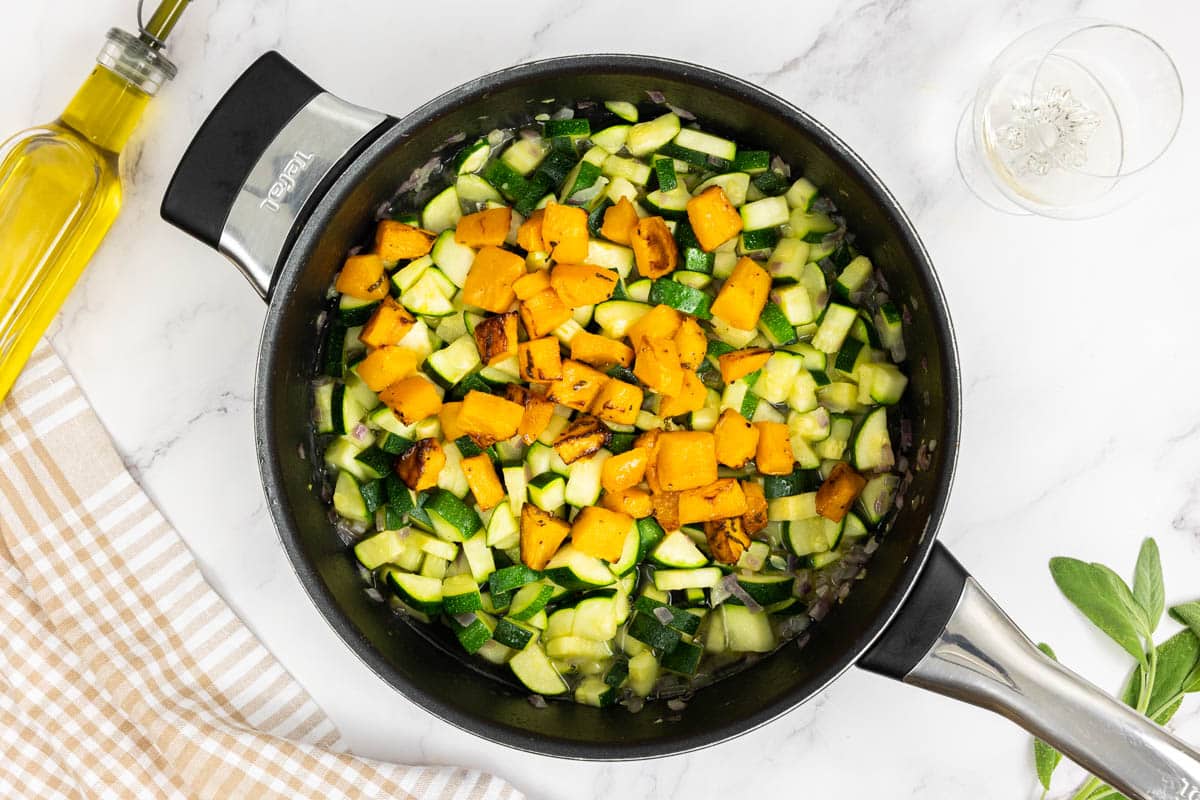 6) Using a blender, puree the remaining half of the roasted pumpkin with the cream or milk until you achieve a smooth sauce consistency.
Tip: Let the pumpkin cool slightly before blending to reduce the chance of the heat curdling the cream.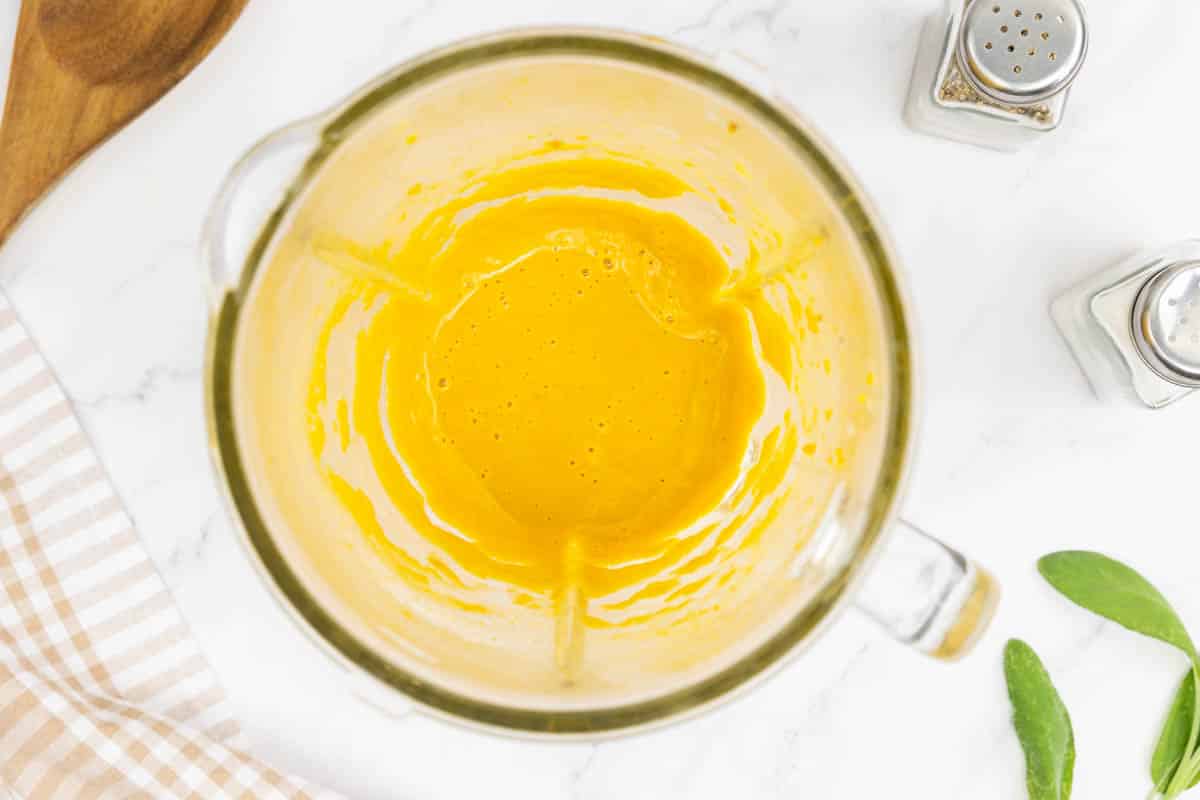 7) While the vegetables cook, bring a large pot of water to boil. Once boiling, salt the water and then add the pasta and cook to al dente according to the packet's instructions. Before draining, set aside a cup of the pasta water, then drain and return the pasta to the pot.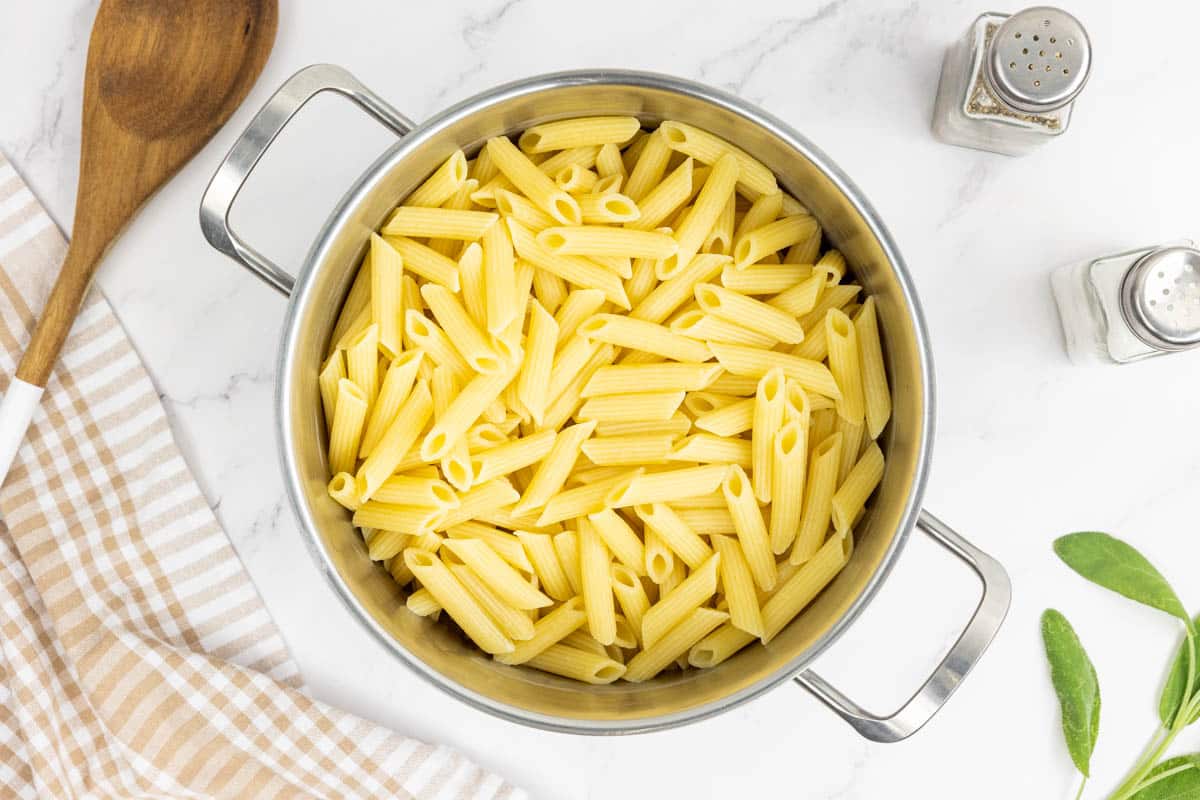 8) Pour the pumpkin sauce over the drained pasta, stirring to combine. Mix well and, if needed, adjust the sauce consistency with the reserved pasta water.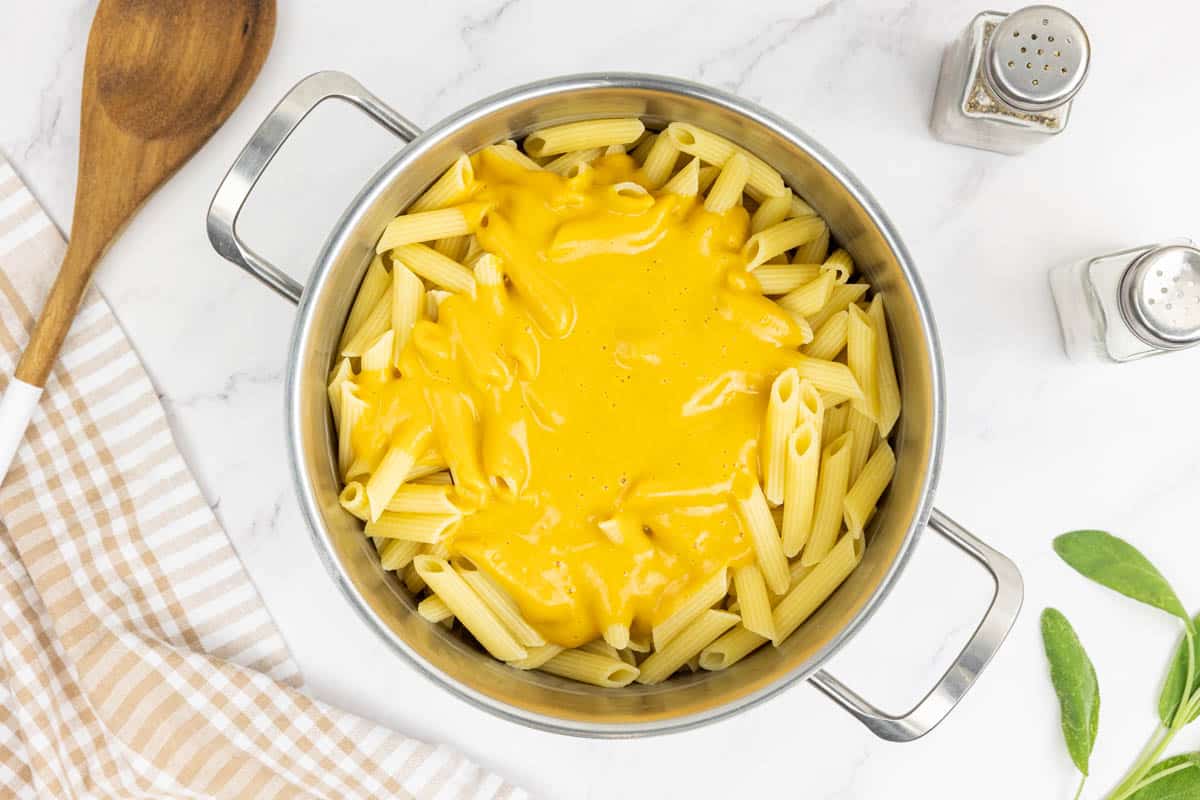 9) Grease an oven dish with butter. Cover the bottom of the dish with a layer of pasta with pumpkin cream.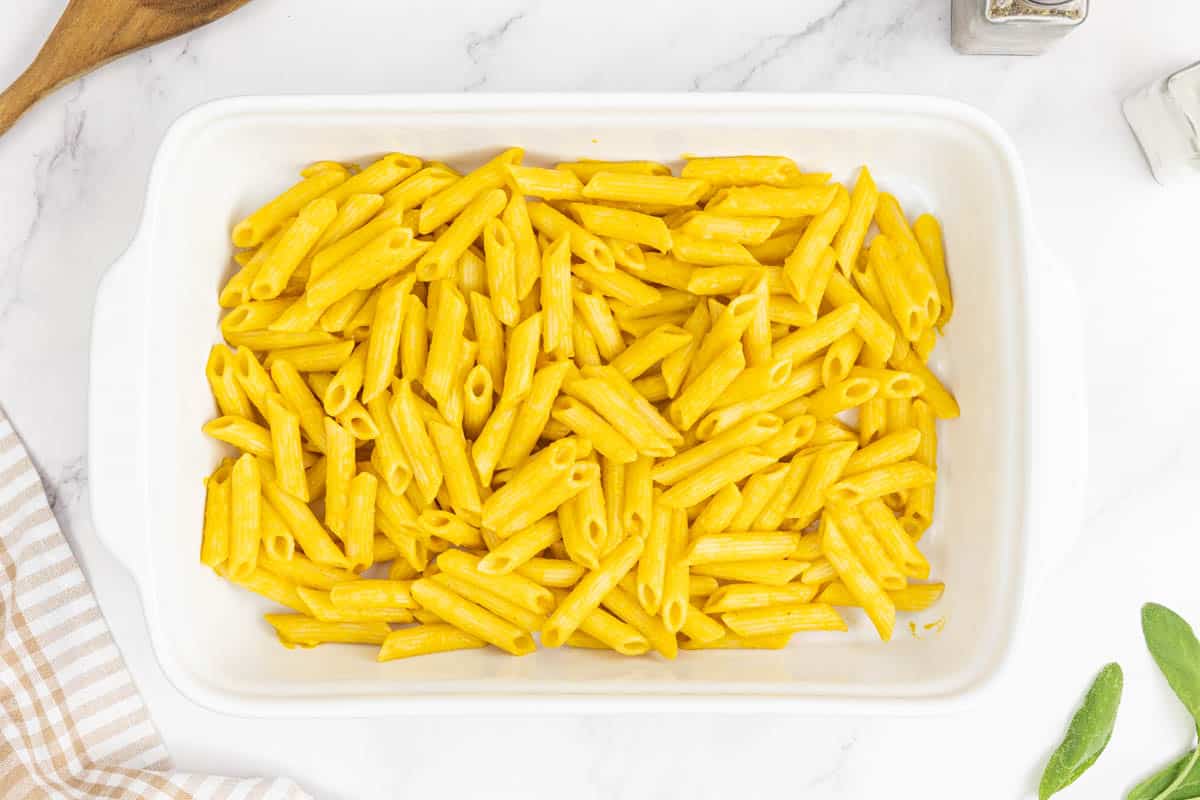 10) Add a portion of the skillet-cooked vegetables. Dot with mozzarella pieces and sprinkle some grated cheese over.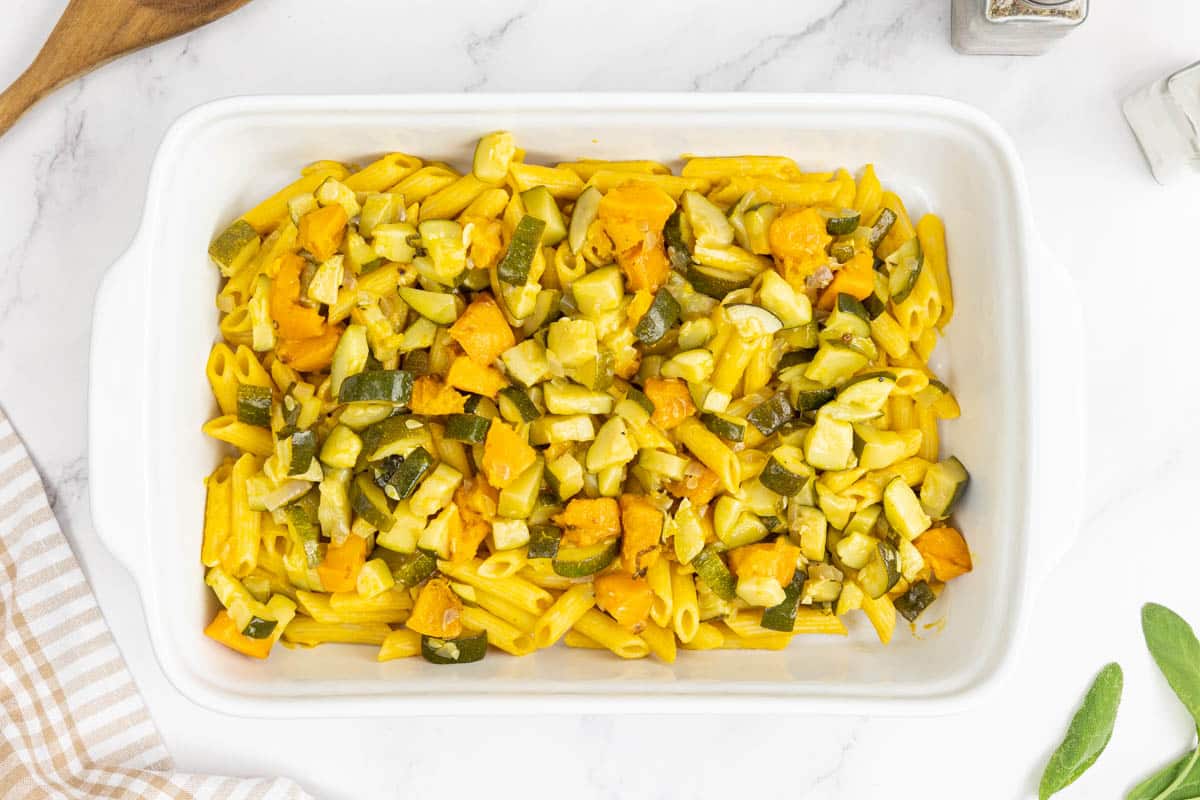 11) Continue layering in this manner then finish with a breadcrumb sprinkle on top.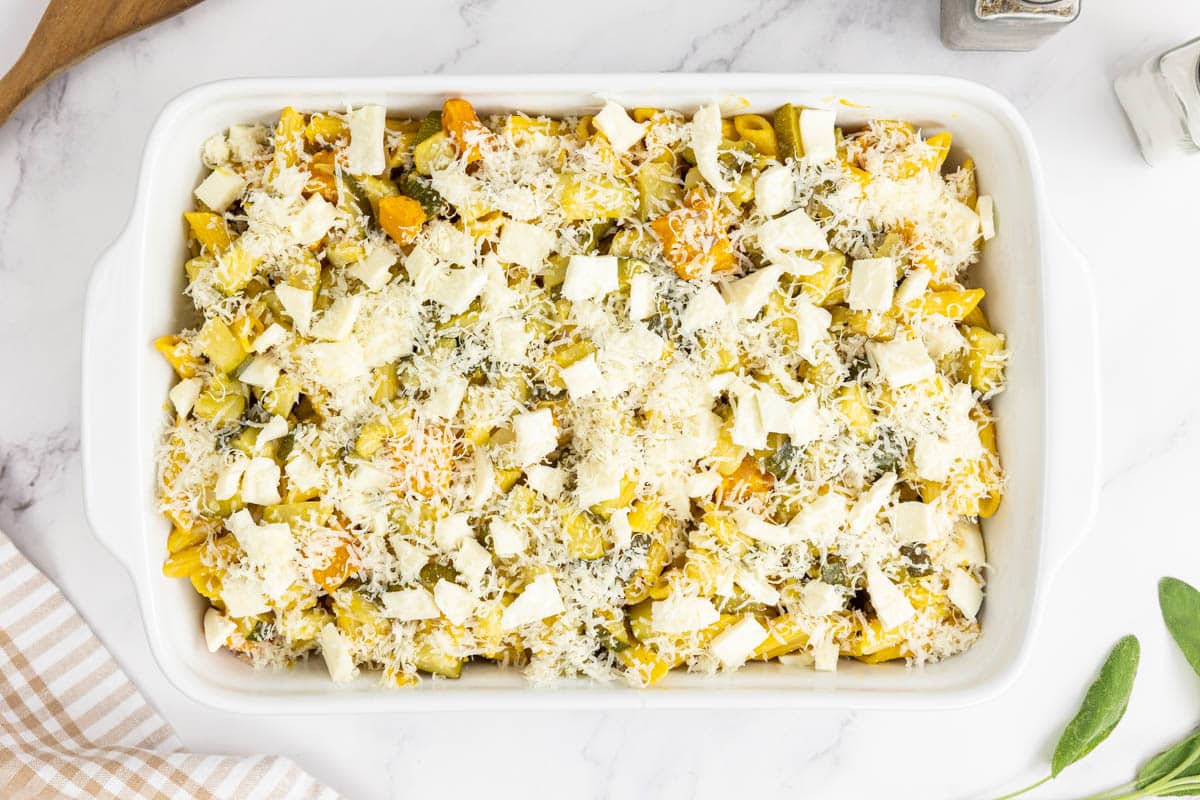 12) Bake in a preheated oven at 355°F (180°C) until the top becomes golden and crispy, roughly 15-20 minutes. Once done, allow it to rest for about 5 minutes before diving in.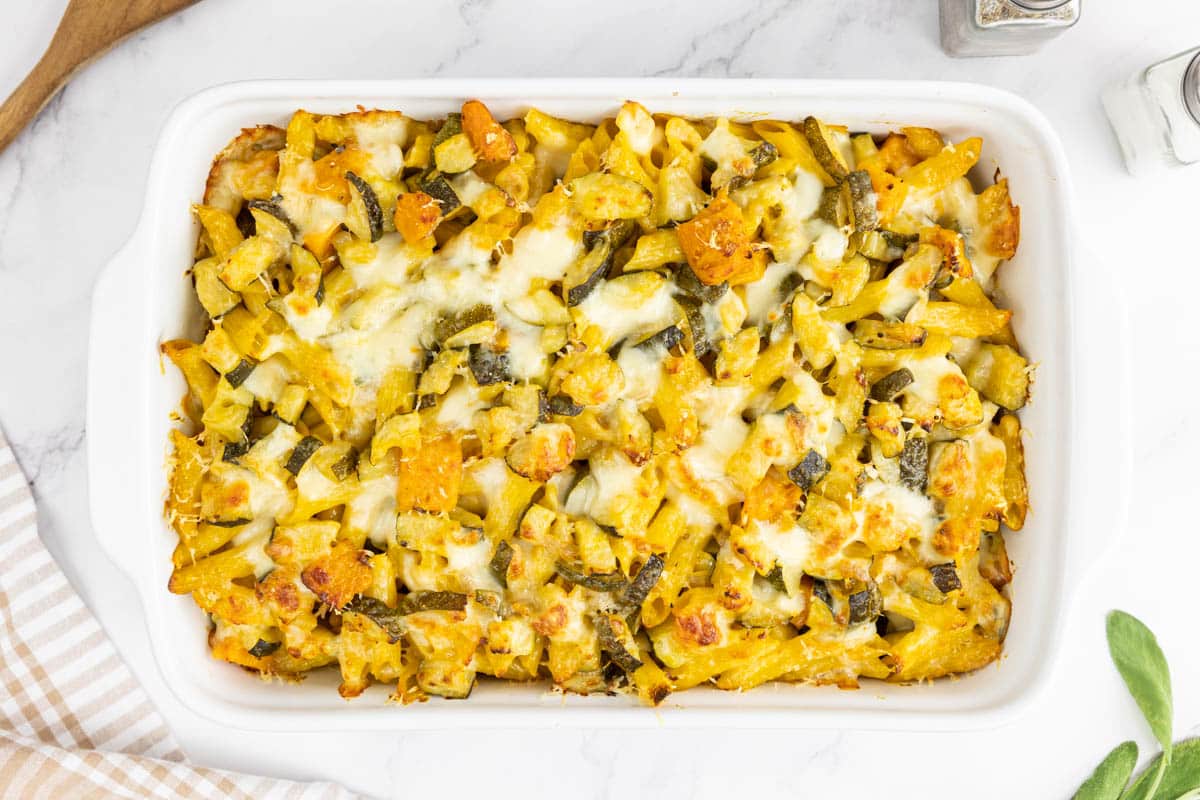 Storage and Leftovers
Refrigerating: Let the pasta cool before transferring it into an airtight container or cover the baking dish with plastic wrap or aluminum foil. It can be stored in the refrigerator for up to 3-4 days.
Freezing: If you're planning to freeze leftovers, portion the baked pasta into individual serving sizes in freezer-safe containers. This will make it easier to reheat only what you need later. The dish can be frozen for up to 3 months.
Reheating: When ready to eat, if reheating from the refrigerator, you can use the oven or microwave. If using the oven, preheat to 325°F (165°C), cover the pasta with foil, and bake until heated through (about 20 minutes). For the microwave, reheat in 60 to 90 second intervals, stirring in between to ensure even heating. If reheating from frozen, it's best to first thaw overnight in the refrigerator.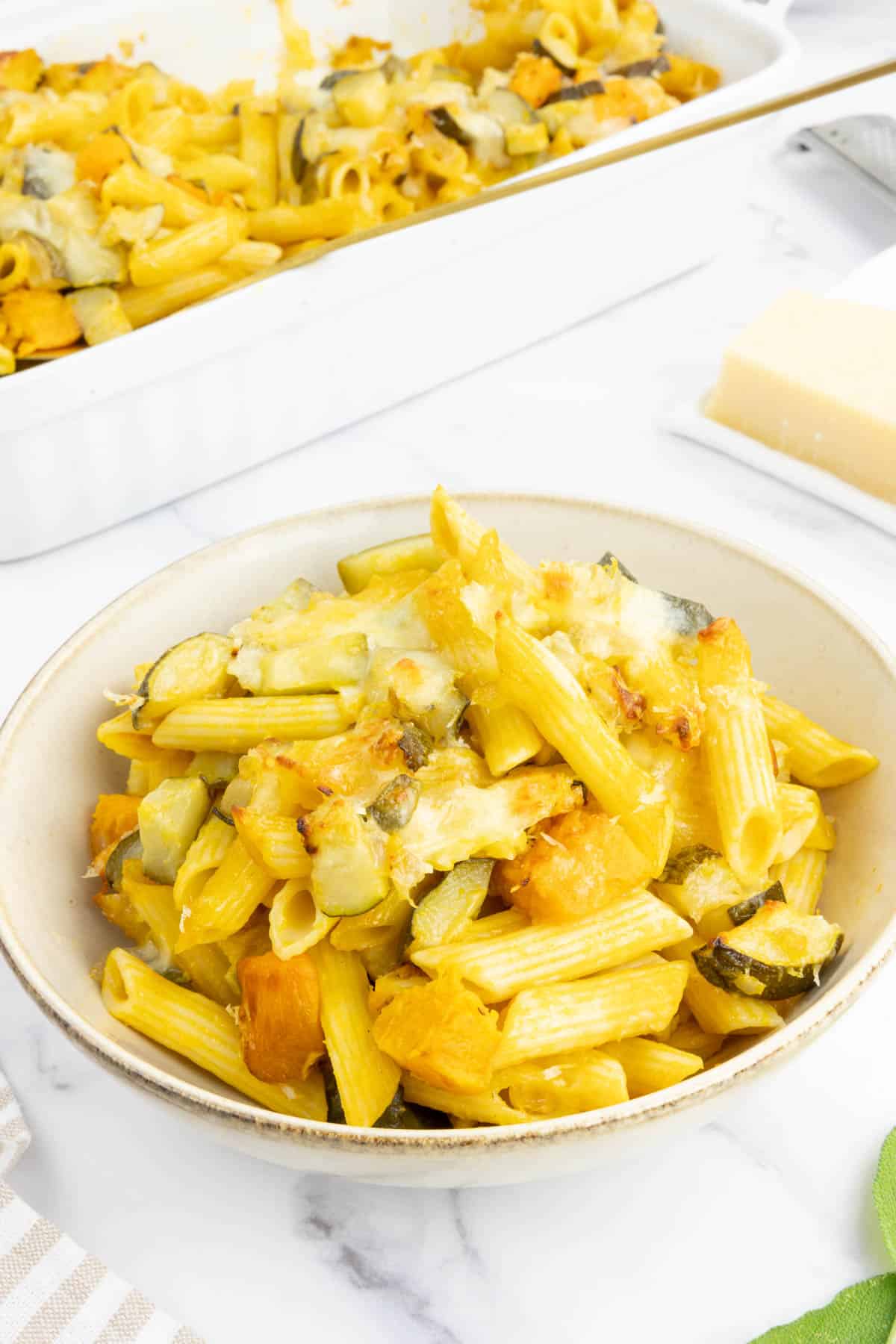 More Recipes You May Like:
If you try this baked pumpkin pasta recipe, do please let me know what you think by commenting here on the blog or on The Pasta Project Facebook page. Your feedback is much appreciated!
Buon appetite!
Pin for Later: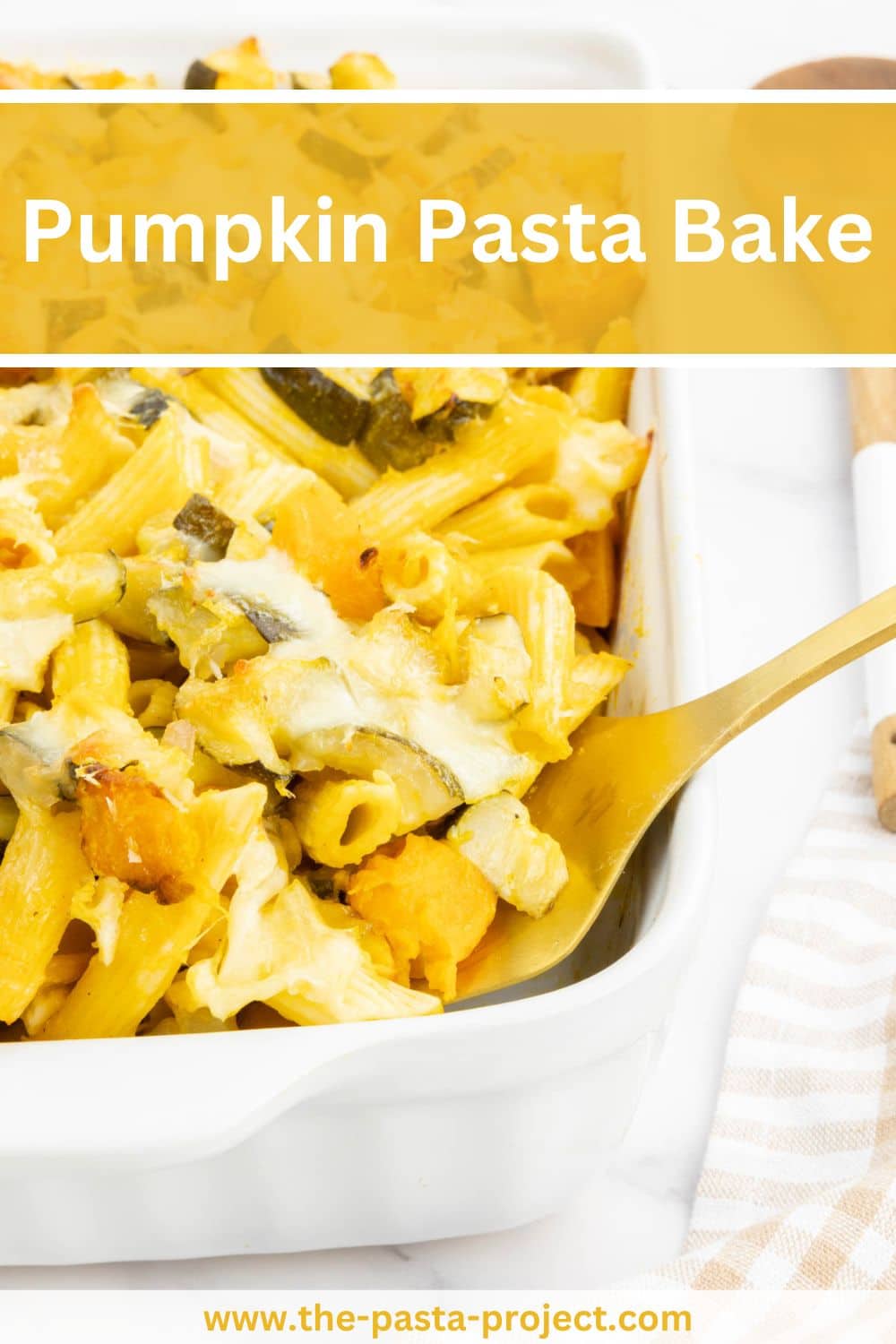 If you are interested in learning how to make homemade pasta and different types of gnocchi, check out my shop page for some great video online courses from my friends in Rome! Nothing beats learning to make pasta from Italians! Plus while you're there why not order a copy of one of my pasta recipe cookbooks or checkout some recommended pasta making tools?