This pasta risotto with pumpkin is a traditional Neapolitan dish known as 'pasta e cocozza' in the local dialect. Like many Neapolitan pasta recipes, this simple dish originated in what Italians call 'la cucina povera', the peasant kitchen. However, despite its simplicity this is one of the most flavourful pasta and pumpkin recipes I know.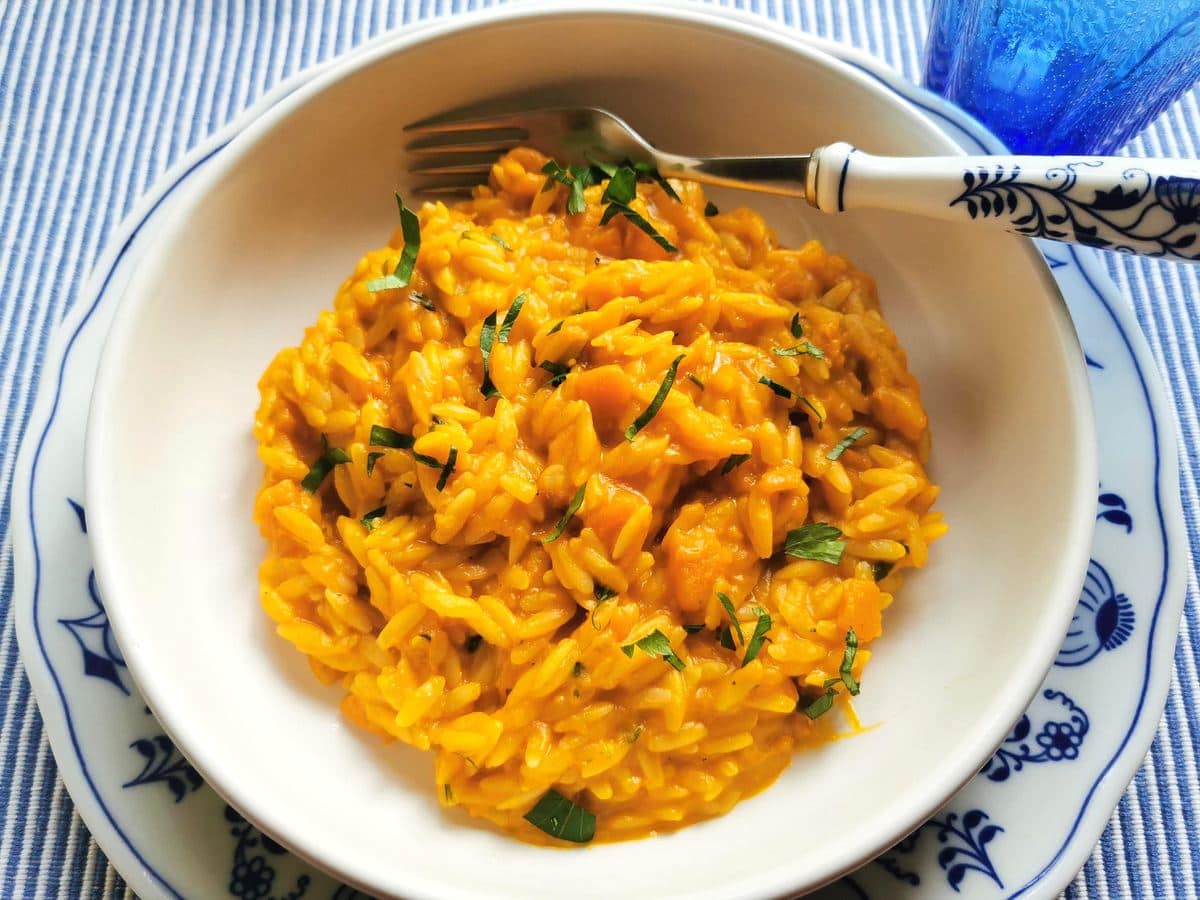 Pasta e Cocozza.
In Naples and much of Southern Italy, people cook many vegetables and legumes with pasta. They make pasta and peas (pasta e piselli), pasta and beans (pasta e fagioli), pasta with lentils (pasta e lenticchie), pasta with chickpeas (pasta e ceci) and pasta and potatoes (pasta e patate), to name few!
A little less well-known outside of Campania, but still very popular in Naples, is this pasta e cocozza (pasta risotto with pumpkin or winter squash).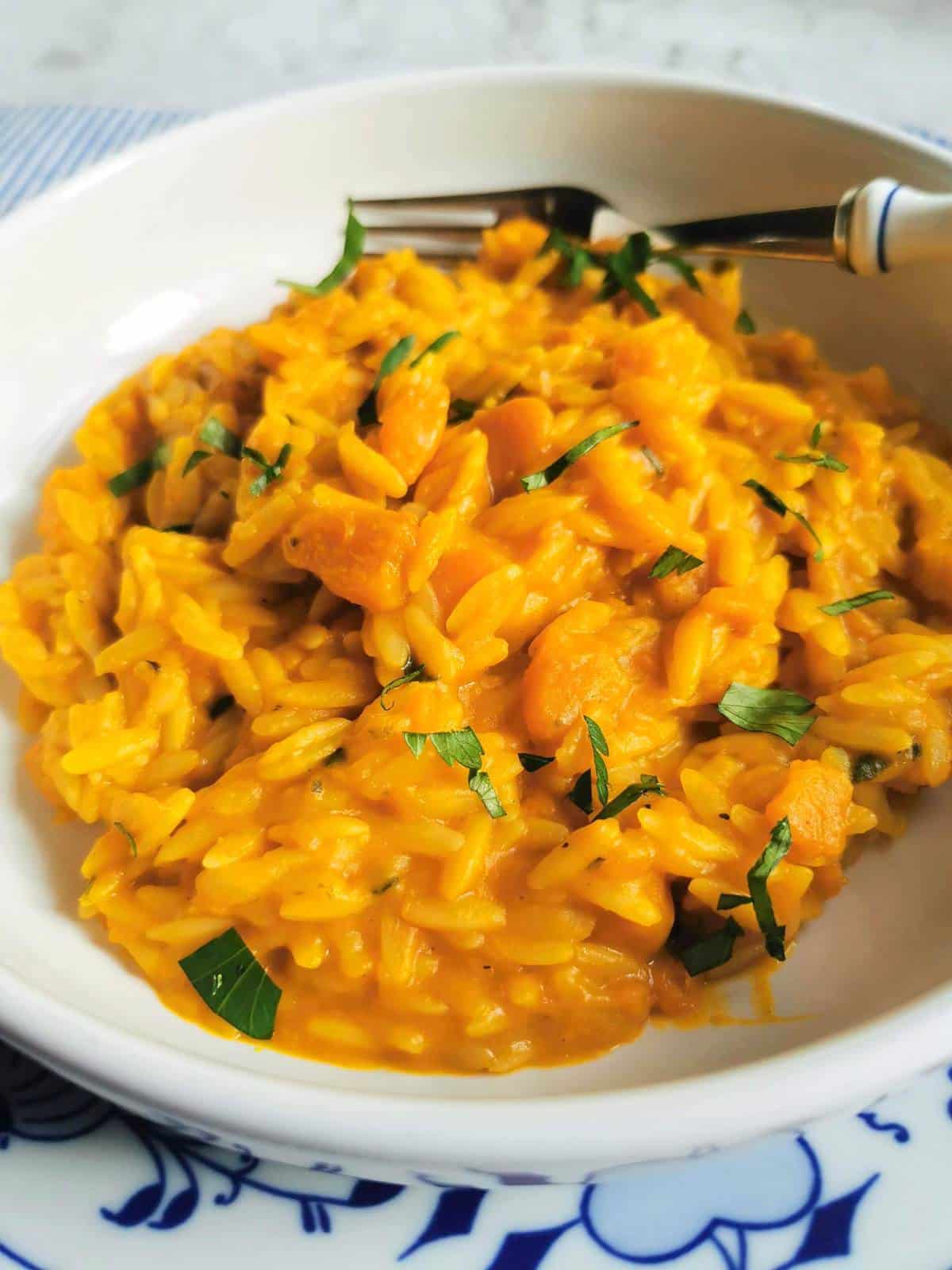 A lot of Italian cuisine has its roots in the simple dishes of the rural population, back in the times when the farmers and village folk lived mostly on foods they produced, cultivated or foraged themselves.
Interestingly, these dishes were (and are) mostly healthy and nutritious. Even more fascinating is the fact that today you can find many of these recipes becoming really trendy and oftentimes on the menu of prestigious restaurants! Think cacio e pepe or pasta with nduja!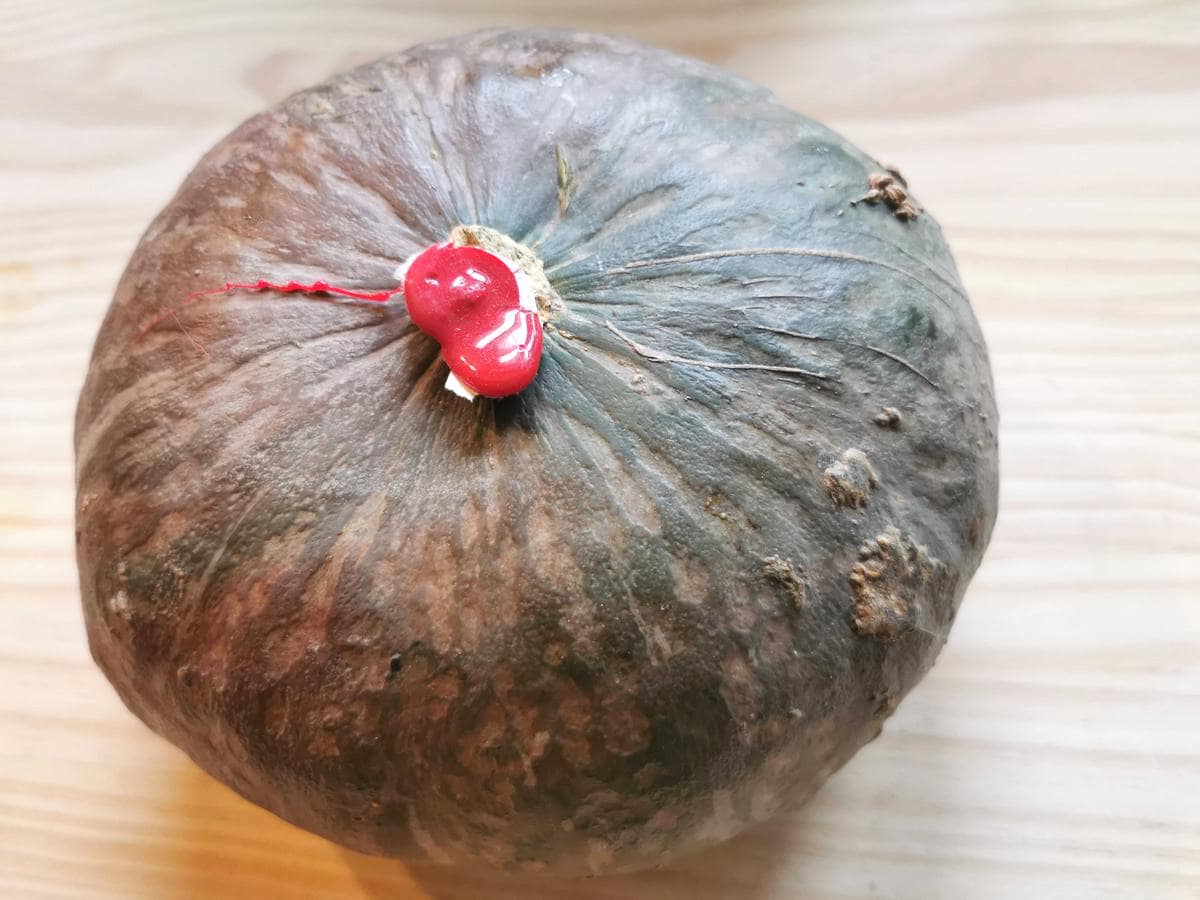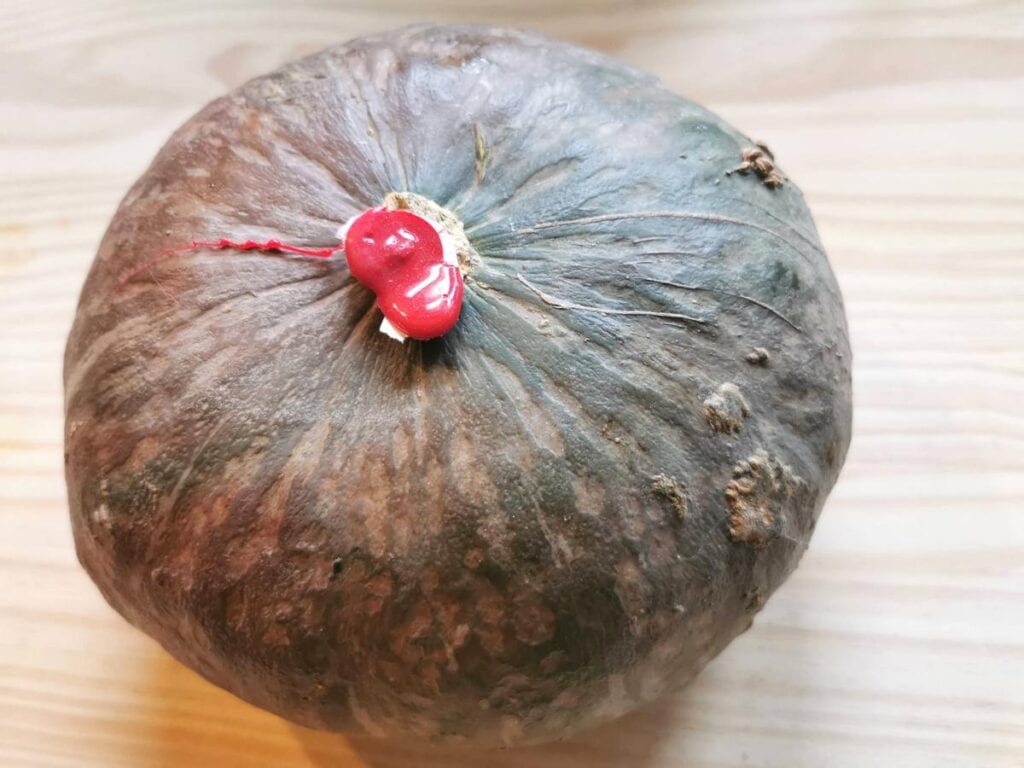 The pumpkin/winter squash in this recipe.
If you were to eat this risotto style pasta and pumpkin dish in Naples, it would be made with a Neapolitan long winter squash. Italians call both pumpkin and squash 'zucca'. So, sometimes I'm not sure which to call it in English!
The Neapolitan winter squash (cucurbita moschata) is a pretty long gourd, similar to a bottle gourd. Neapolitans call it 'cocozza zuccharina', meaning sweet pumpkin. They also make jam with it!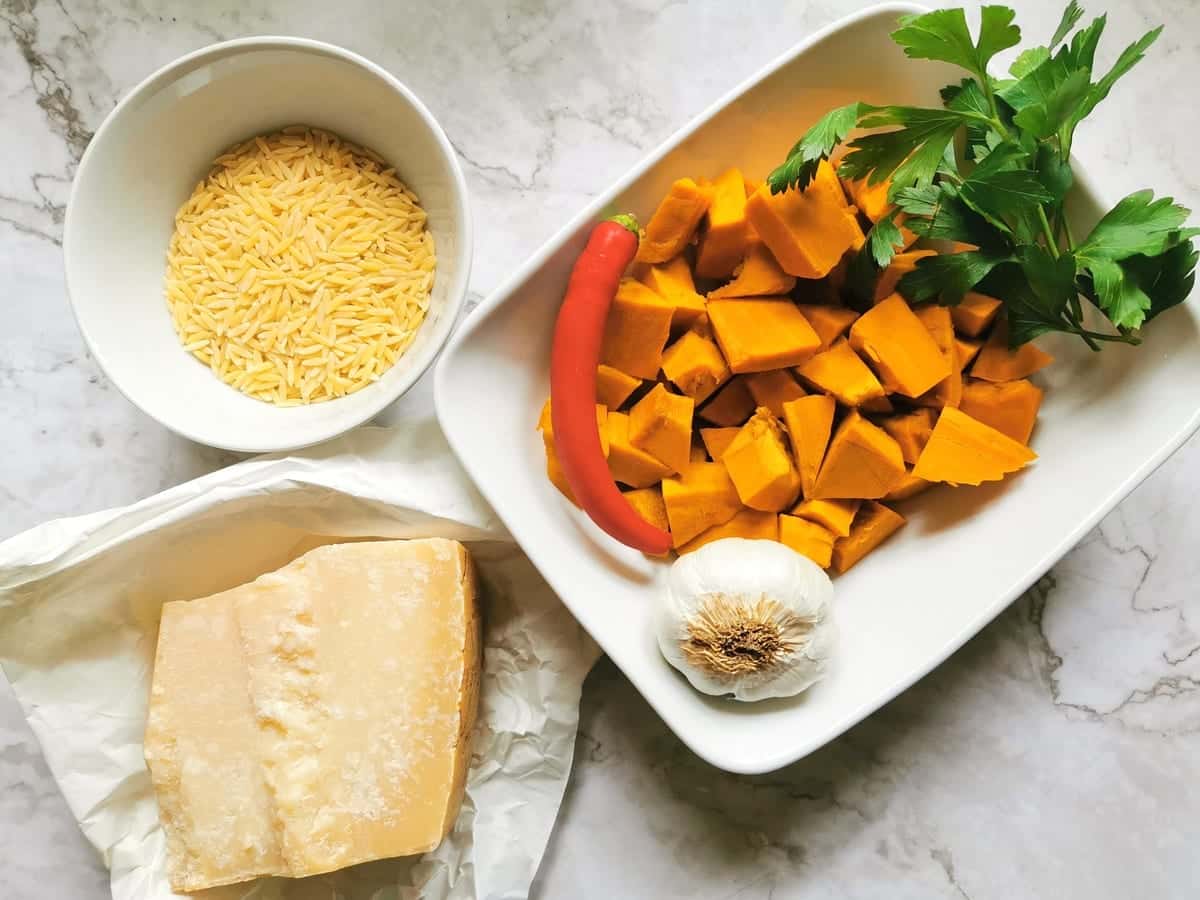 Delica pumpkin from Mantova.
Since I can't find Neapolitan winter squash where I live, I used a Delica pumpkin from Mantova. The Delica pumpkin (cucurbita maxima) is a squat, green-grey pumpkin. Beneath the skin, though, is a dense and vivid orange flesh, which is intensely sweet, buttery, and reminiscent of cooked chestnuts.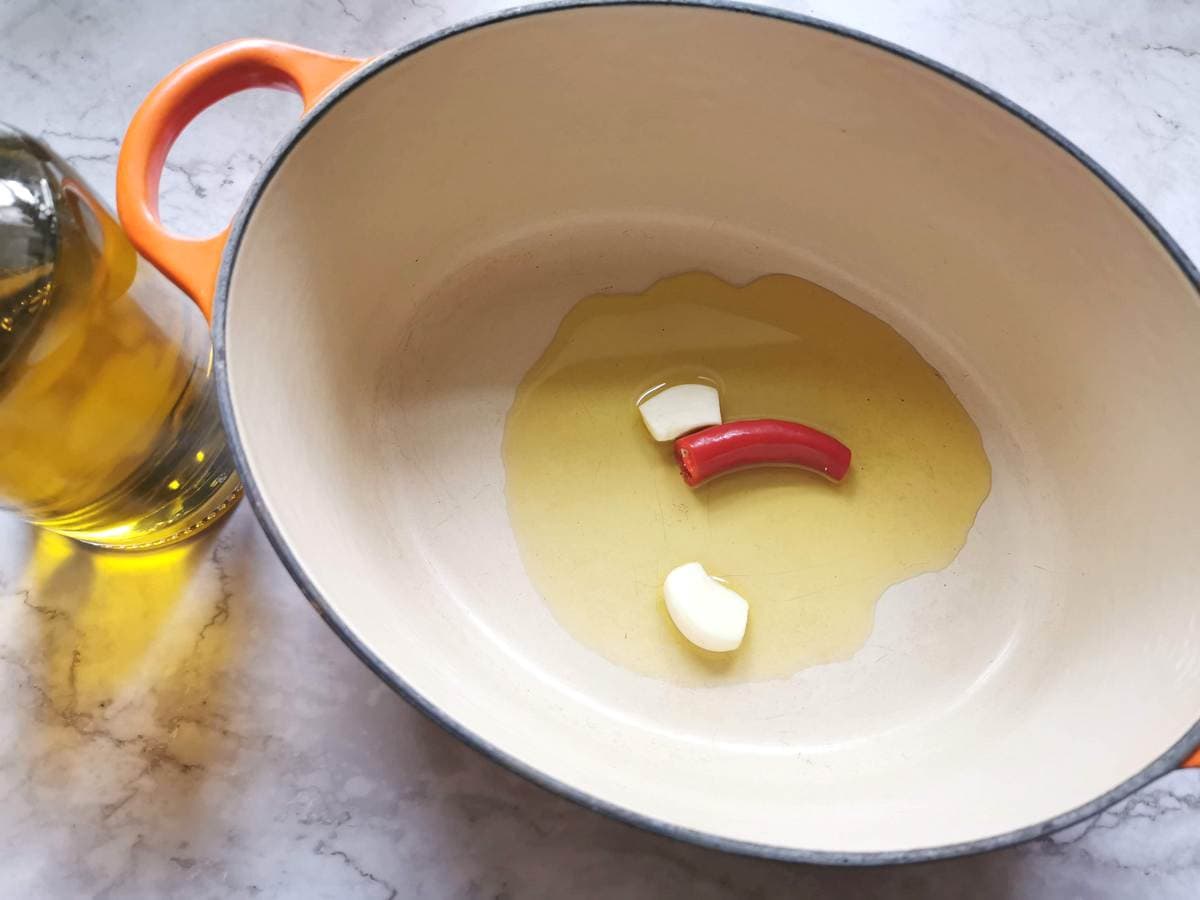 This early-maturing cultivar was first developed in Japan and is a type of kabocha squash. While Delica pumpkins are widespread across Japan, they have also become one of the most popular varieties grown here in Italy.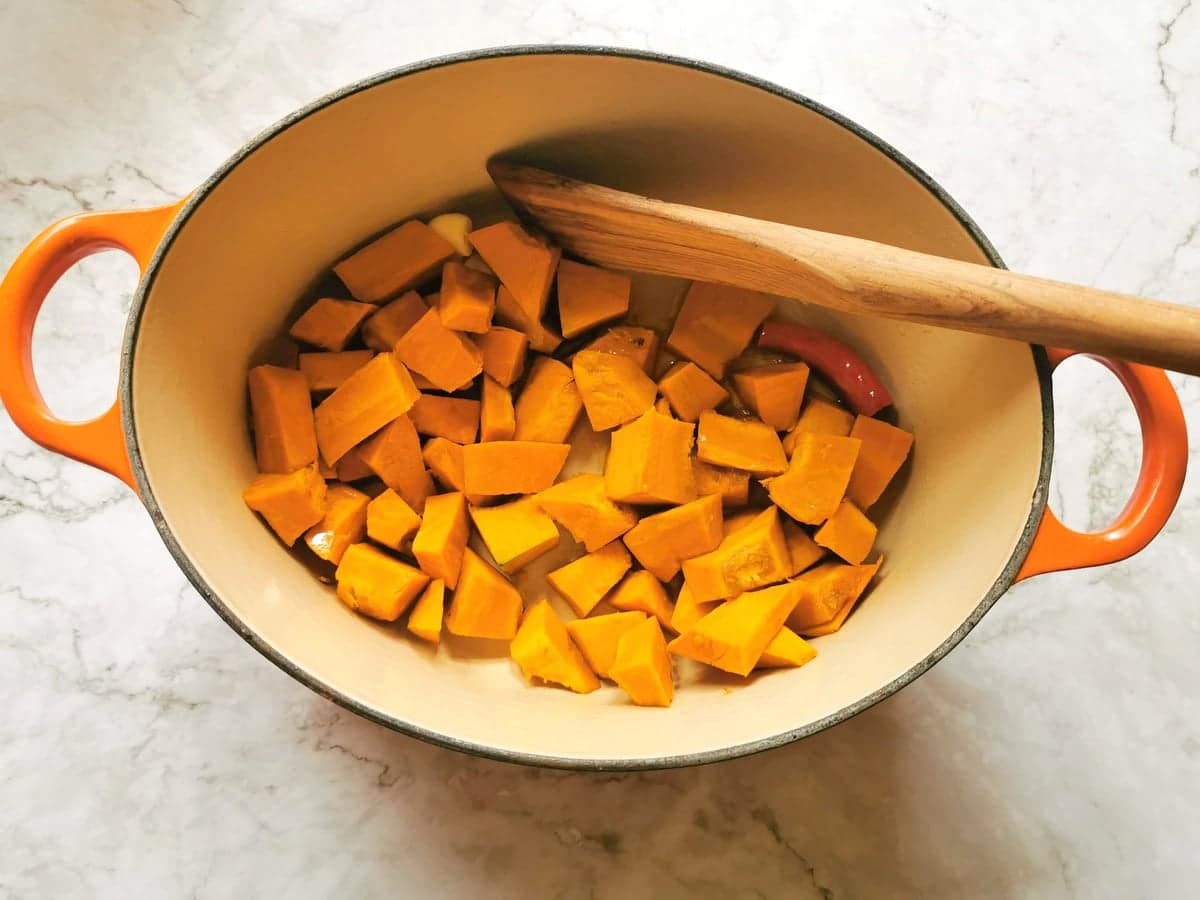 These are one of the first varieties available in the season and are often sold in local Italian markets with a signature red wax on the stems (see my photo above) to extend the storage life and prevent the pumpkin from ripening too quickly.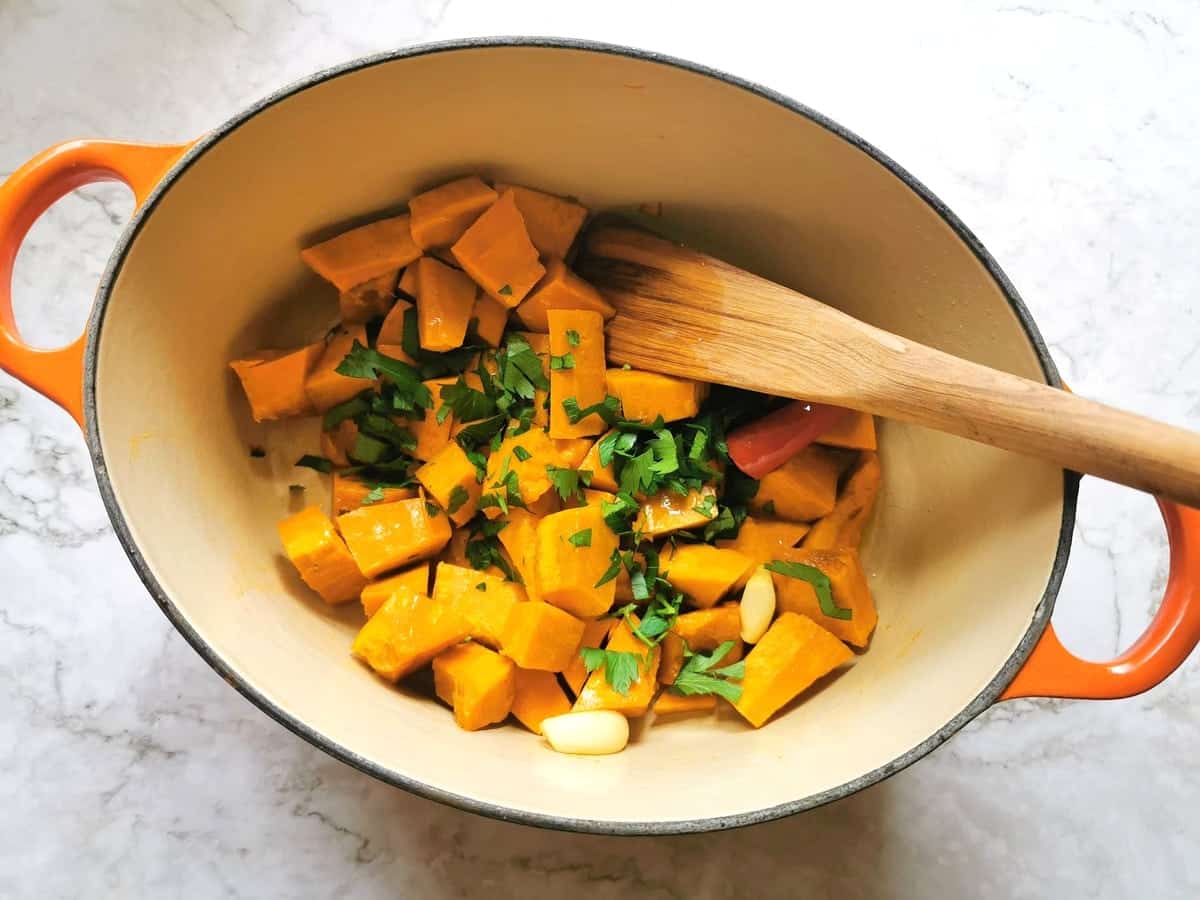 Some consider the Delica to be the most prized of the winter pumpkin/squash varieties! Here in Northern Italy, it's thought of as one of the sweetest. In Mantova, it's the star ingredient in traditional Christmas pumpkin tortelli made with amaretti biscuits!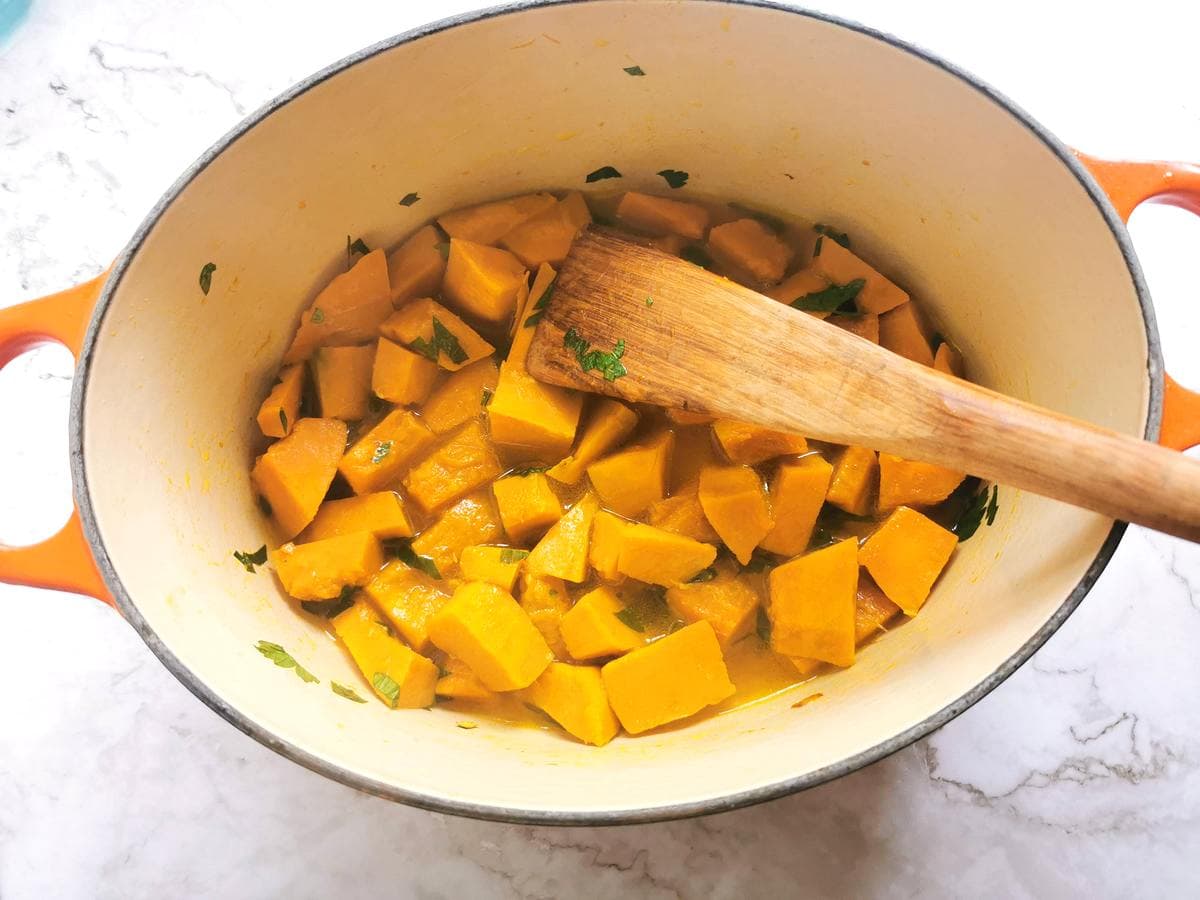 Of course, you can use other types of pumpkin or squash for this orzo pasta risotto recipe. I think butternut squash would work well or a another type of kabocha which is sweeter than butternut.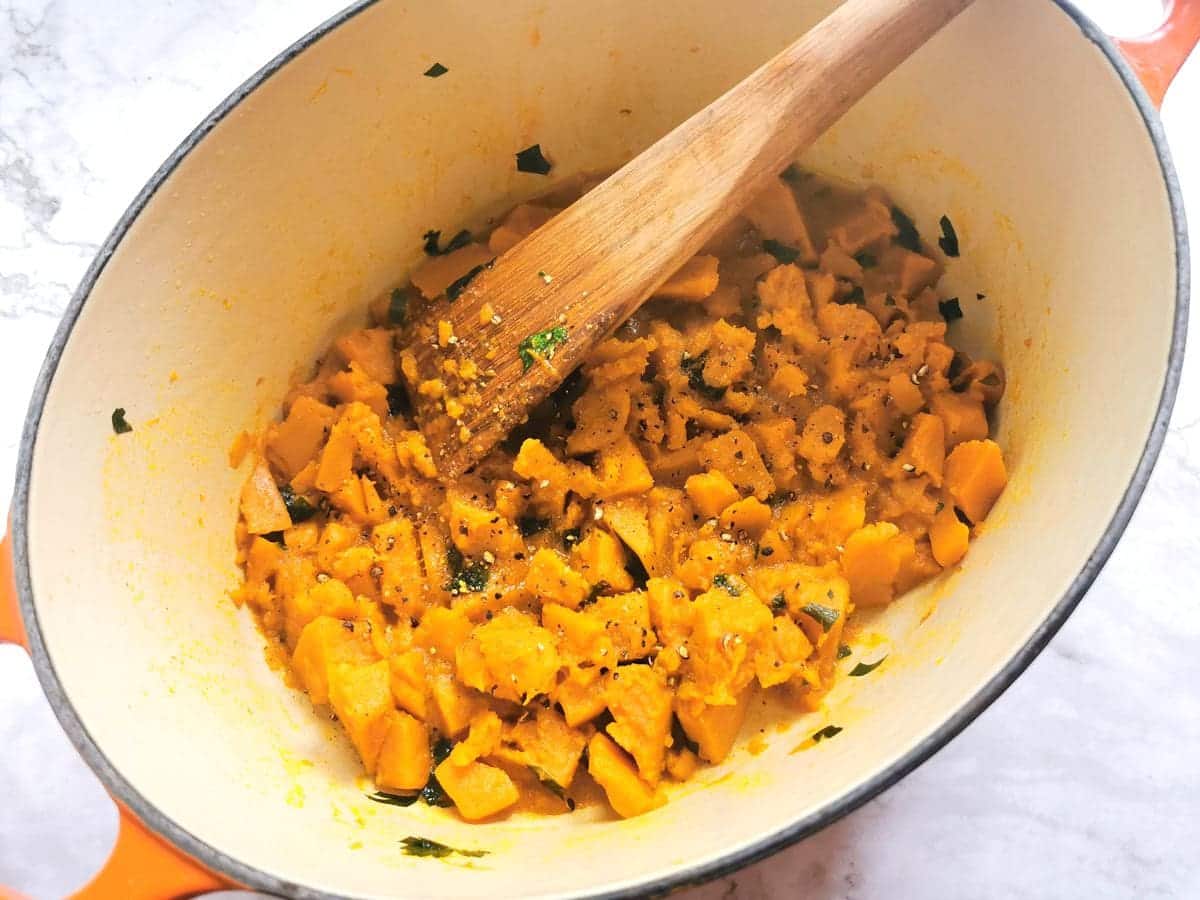 The pasta in this recipe.
When looking for versions of this Neapolitan risotto style pasta with pumpkin, I came across recipes calling for different types of pasta. Many Neapolitans make it with broken spaghetti, whilst others use small pasta tubes (tubetti) like ditalini or ditali or even maltagliati.
However, I think you can use any small pasta tube or broken longer pasta. I used orzo pasta (risoni). I particularly love this type of pastina (small soup pasta) because the finished dish really looks like it's been made with rice! That is why this dish is called a pasta risotto or risoni risotto.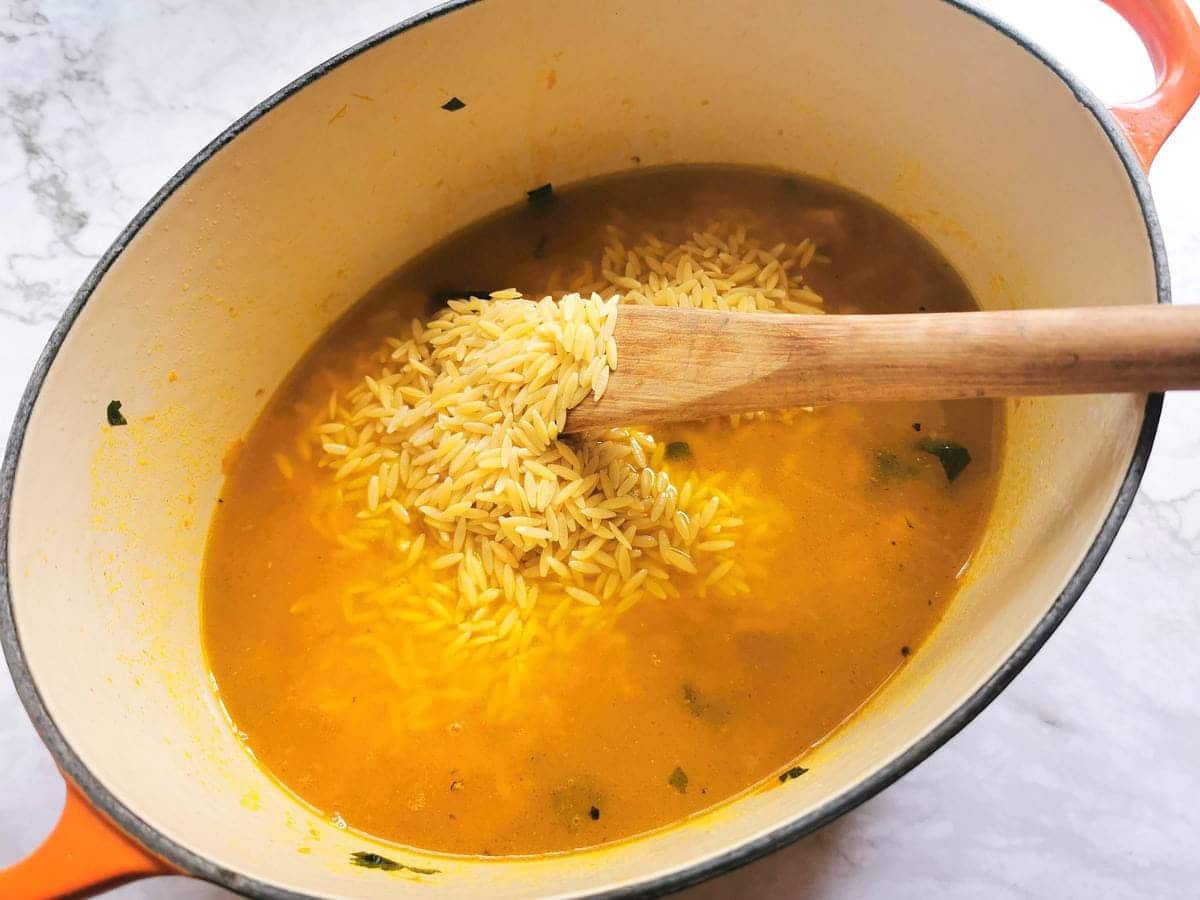 What does risotto-style pasta mean?
Risotto style (risotatta in Italian) means cooking the pasta as you cook rice in risotto. So, you need to cook the pasta in the sauce, stirring often and adding more liquid as necessary until the pasta is cooked.
This isn't the first time I've used orzo/risoni in a pasta risotto recipe. Earlier this year I made a risotto-style zucchini flower pasta which is absolutely fabulous!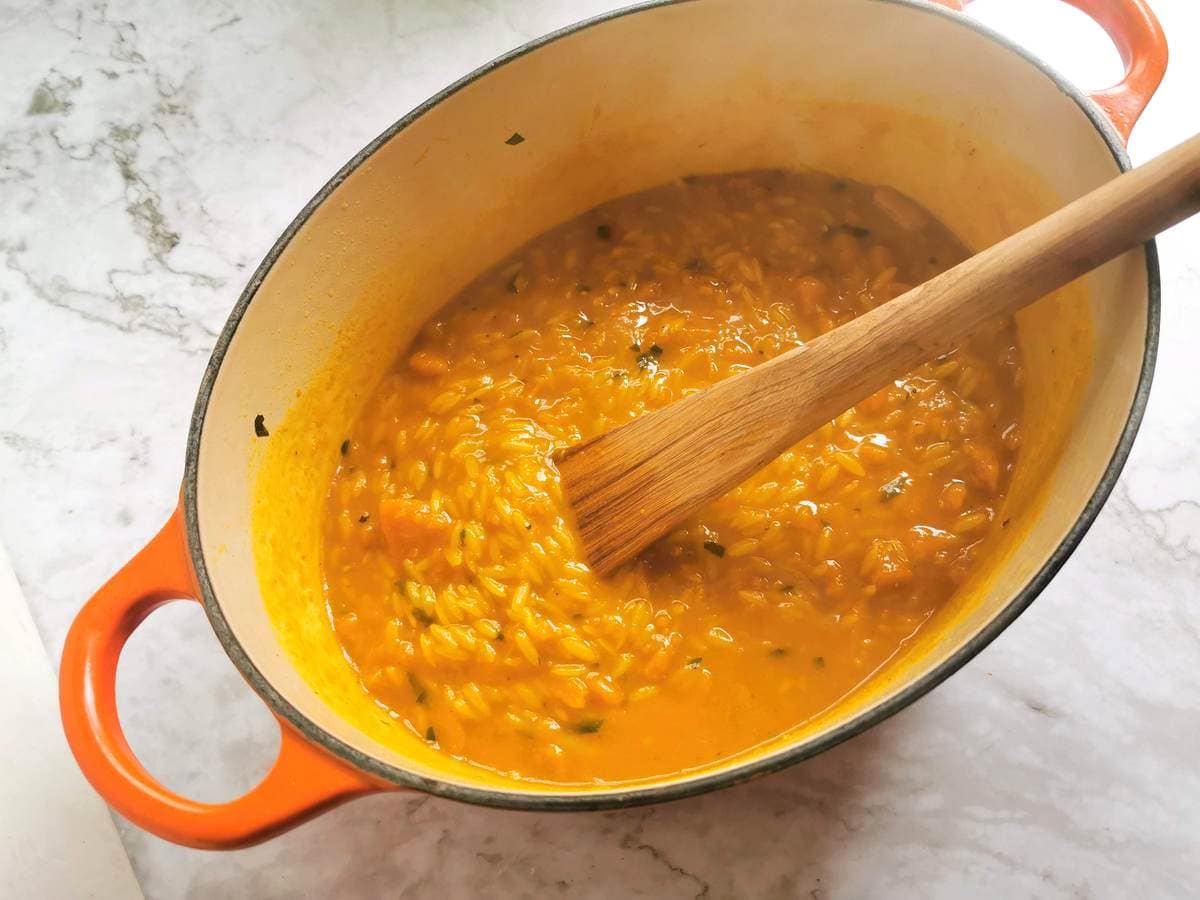 Other ingredients.
As I mentioned above, this is a simple recipe. Apart from the pumpkin and the pasta, all you need is garlic, peperoncino (red chili pepper), vegetable stock or water, parsley and Parmigiano or a vegetarian cheese if you want to keep it strictly vegetarian.
Italian Parmigiano Reggiano is made with animal rennet, so it's not actually vegetarian. For a vegan version, you can just leave out the cheese.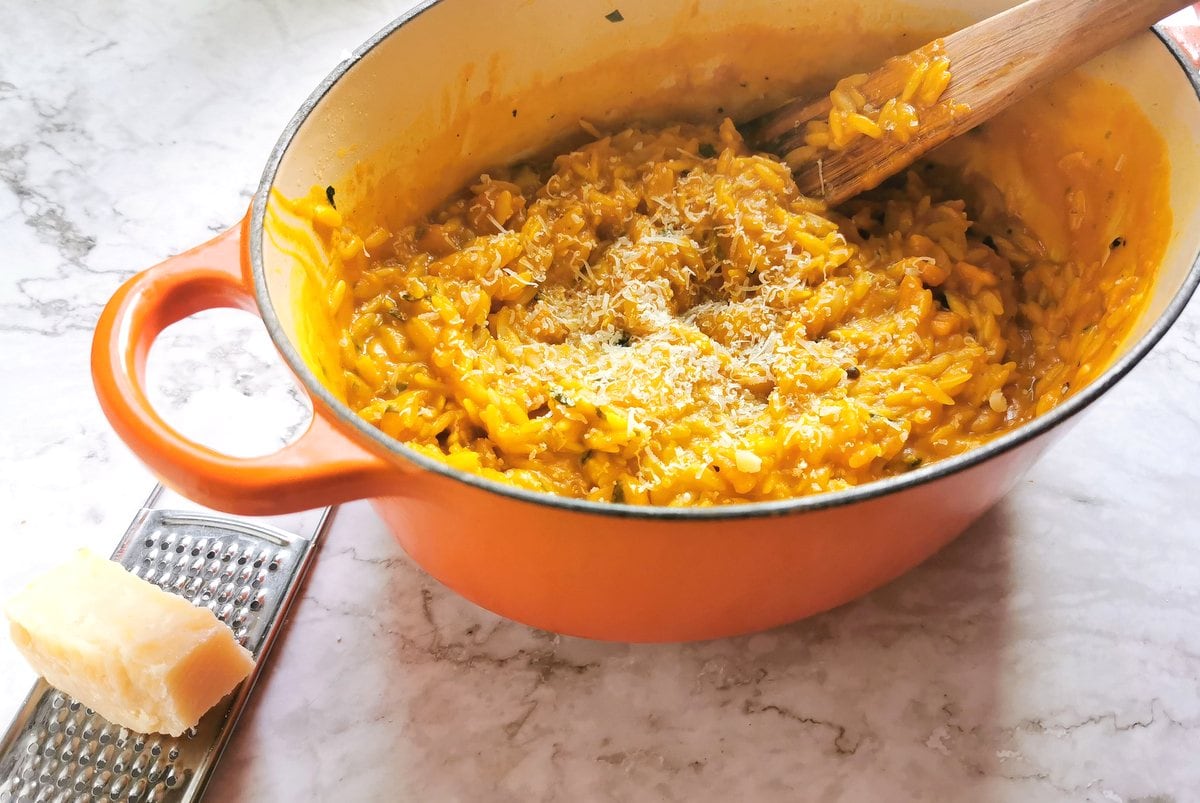 Step by step instructions.
1: Prepare the ingredients according to the recipe instructions below.
2: Once you have removed the peel and seeds from the pumpkin, cut it into small cubes and sauté it with the garlic and peperoncino.
3: Then remove the garlic and chili pepper and add some parsley and water or stock. Cook until the pumpkin is soft, then mash it a bit and add more water or stock and the pasta.
4: Cook the pasta and stock together like you would a risotto, adding more liquid a little at a time and stirring until the pasta is cooked.
5: Serve with more parsley and some grated Parmigiano or vegetarian cheese.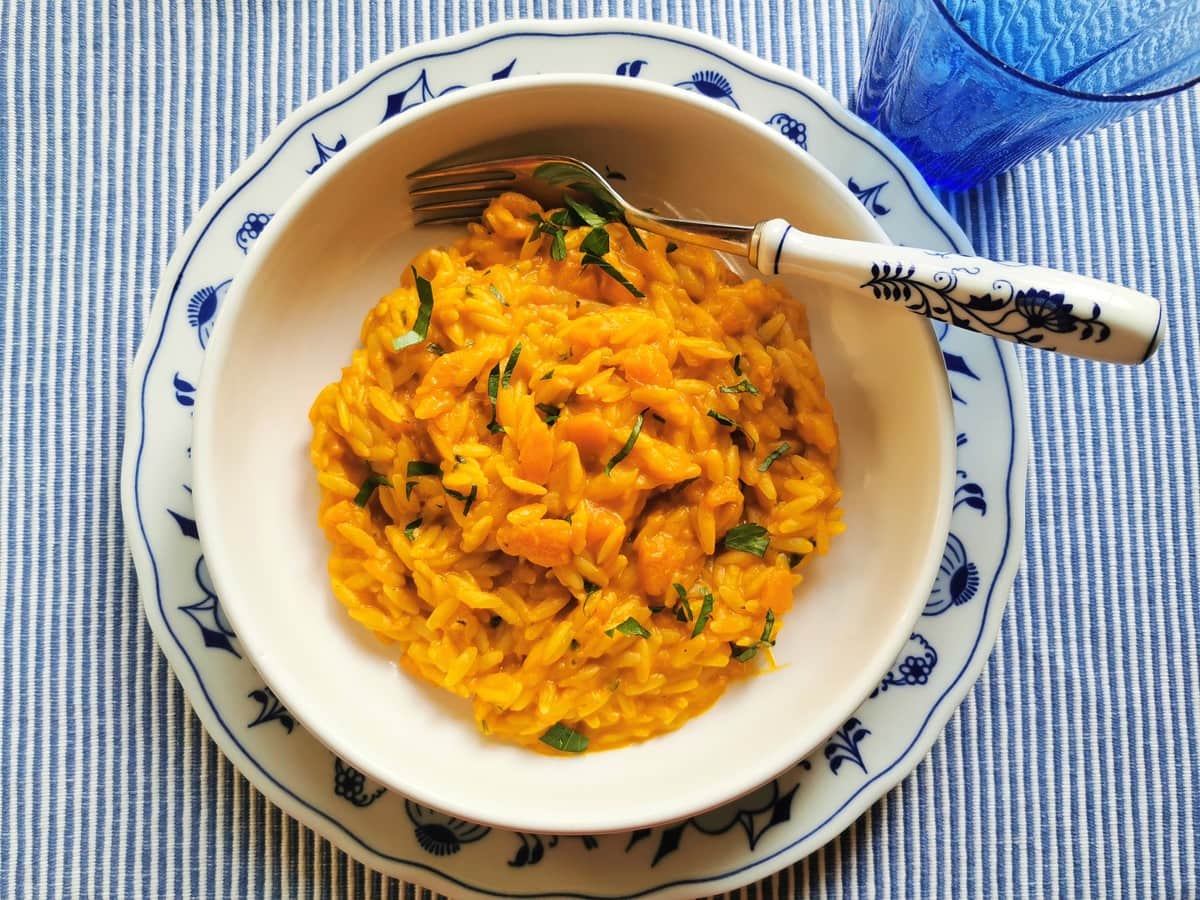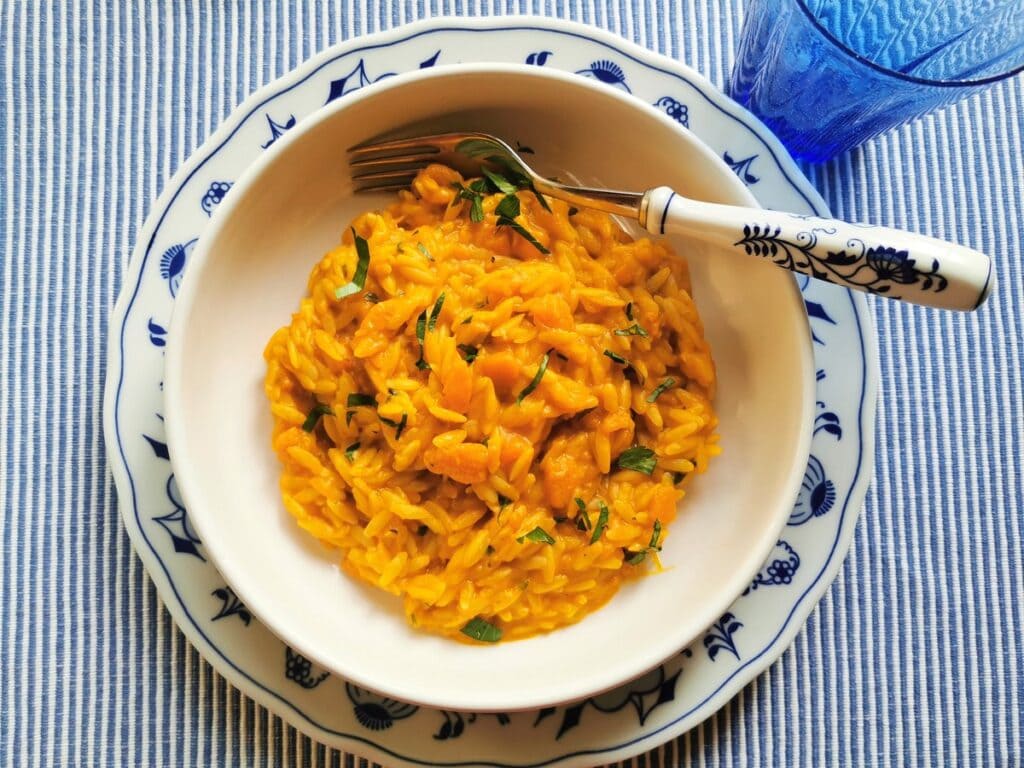 Can this pasta risotto be made vegan?
Yes, all you need to make this recipe vegan is to omit the cheese.
What is the best kind of pumpkin or squash to use?
I used an Italian Delica pumpkin, which is a type of kabocha. Butternut squash, acorn squash or other types of kabocha work really well too.
Can I use other types of pasta for pasta risotto?
In Naples they use broken spaghetti or small tubes but the dish is more like a soup. Risoni or orzo are the best to give this recipe the texture of risotto.
Impress your family and friends!
My Sicilian husband, Salvatore, isn't a big fan of pasta with pumpkin or pumpkin risotto, but he loved this pasta risotto. I did too. The pumpkin was so creamy and sweet and using pasta instead of rice makes this dish much less starchy, lighter and less filling than a normal pumpkin risotto.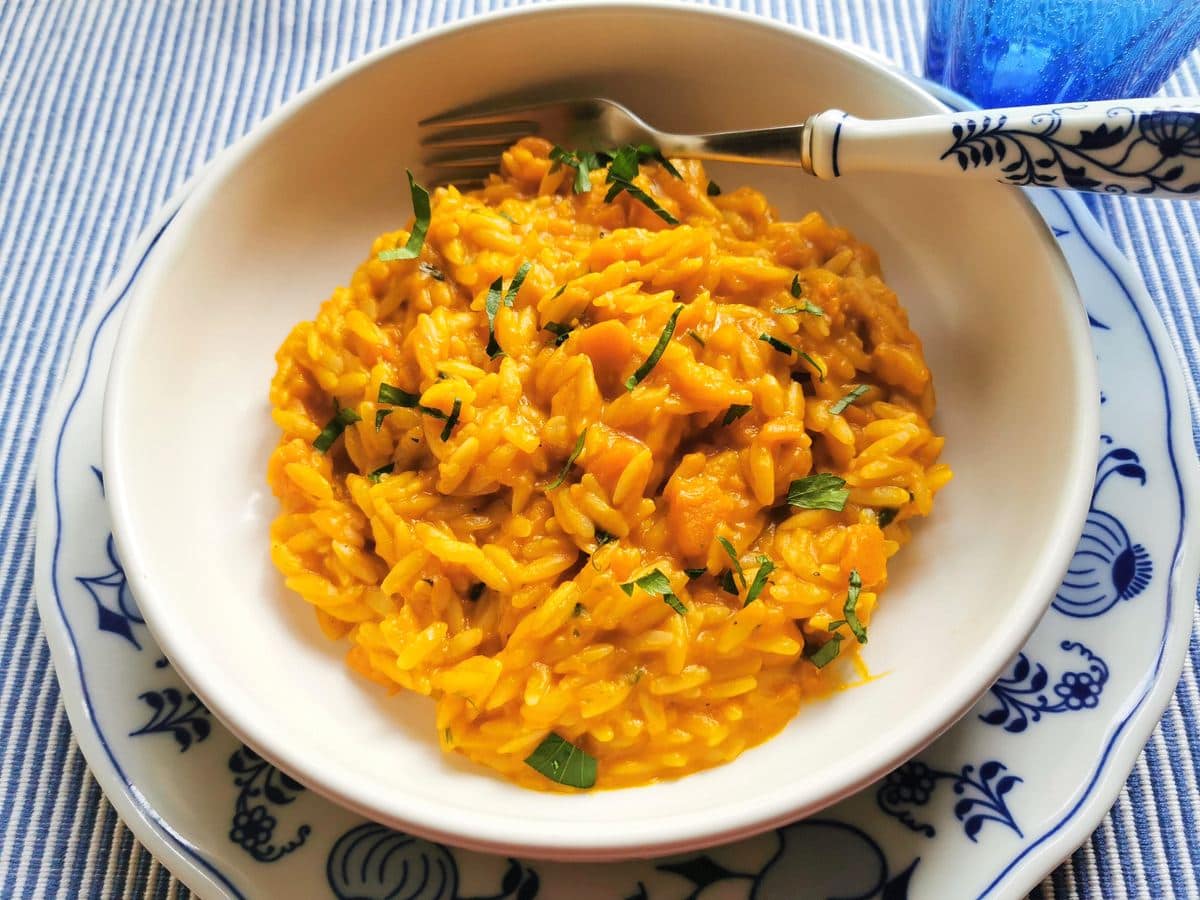 I'm sure if you give this Neapolitan pasta risotto with pumpkin recipe a try, you'll love it as much as we do! If you use risoni (orzo) like I did, see if your guests realize it's pasta not rice! Either way, I'm really sure they will be so impressed!
This is a great dish for fall/autumn and even Thanksgiving. Serve it as a starter, side dish or as a meatless weeknight meal.
If you make this recipe, I'd love to hear how it turns out. Please write a comment here on the blog, email me or post a comment on the Pasta Project Facebook page.
Your feedback is really appreciated!
Buon Appetito!
Other delicious pasta recipes from Naples.
Want to save this recipe for later?
If you want to save this recipe for later, you can print it, bookmark this page or save it to Pinterest. Or, make your own online recipe box by clicking the ❤️ in the lower right corner of your screen & following the quick and easy instructions!
Glossary of Italian terms in this recipe post.
Zucca: Italian word for most types of pumpkin and winter squash. Shops may add the name of the type or origin. For example, zucca butternut or zucca Mantova.
La cucina povera: Refers to the kitchen of the rural/peasant population in the past. Many traditional and well-known Italian dishes originated from there.
Risottata: Means cooked using the same method as a risotto. The expression risottare la pasta was actually invented by chefs to explain this technique.
Pastina: A collective noun for a number of different small soup pasta types of which orzo/risoni is just one.
Peperoncino: Italian red or green chilli pepper. Often misspelt outside of Italy , so not 'pepperoncino'. Italian chilli peppers rate between 15,000 to 30,00 on the Scoville scale.
If you are interested in learning how to make homemade pasta and different types of gnocchi, check out my shop page for some great video online courses from my friends in Rome! Nothing beats learning to make pasta from Italians! Plus while you're there why not order a copy of one of my pasta recipe cookbooks or checkout some recommended pasta making tools?