Mezzi Paccheri with Mushrooms and Cream; Recipe from Naples
Known as 'miezi paccheri alla capa 'e' mbrello in the local dialect, this Neapolitan recipe for mezzi paccheri with mushrooms and cream is super simple to make and outstandingly delicious!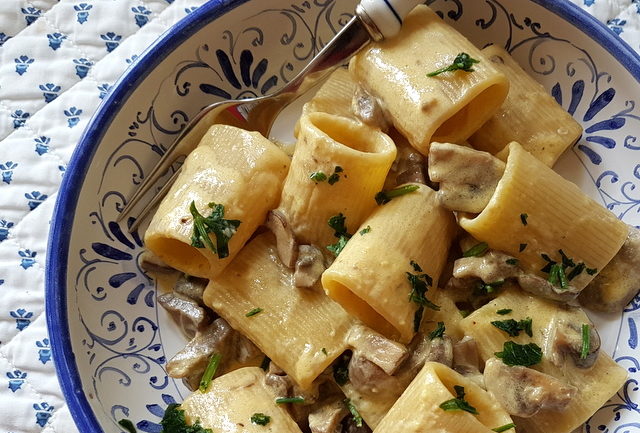 'Miezi paccheri alla capa' e 'mbrello'.
In Neapolitan dialect, 'si'na capa' e 'mbrella' is an idiom that means doing things in a rough and haphazard way without thinking! I was unable to discover exactly when this pasta recipe got its name. But, I imagine that it was invented by someone putting ingredients together without following a particular recipe and just using what's available. Something, I guess, we have all done at times, often with great results!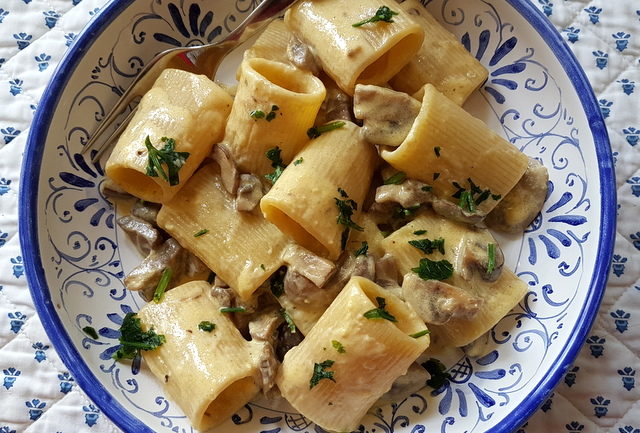 Cream is not a common ingredient in the Neapolitan kitchen. However, this mezzi paccheri with mushrooms and cream recipe can apparently be found in a famous Neapolitan cookbook called 'Frijenno Magnanno' a thousand and one recipes compiled by Luciano de Crescenzo. This cookbook is a collection of recipes from Campania and the author a well-known writer, actor and director from Naples.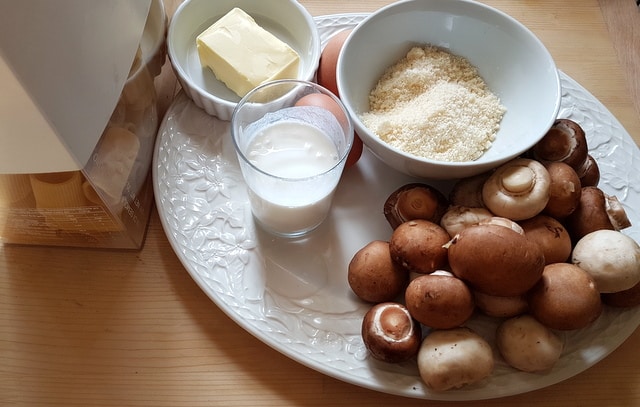 The Mushrooms.
You can choose to use dried or fresh mushrooms. If using dried mushroom, you will need to soak them for about 20-30 minutes before cooking. I used fresh cremini and white button mushrooms this time, but I'd like to repeat this recipe with dried mushrooms one day soon!

The Pasta.
Traditionally this recipe calls for mezzi paccheri. Paccheri are quite large wide pasta tubes which are typically Neapolitan. You can read more about paccheri in my post about this pasta. Mezzi paccheri are 'half' paccheri so, shorter pasta tubes. I used a pasta that's very similar to mezzi paccheri called tuffoli. Tuffoli are a ridged pasta tube made by a company called Pasta Mancini from Le Marche, Central Italy.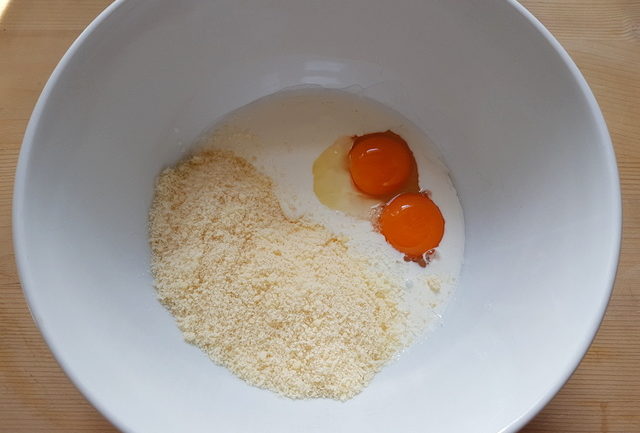 In my opinion, Pasta Mancini is the equivalent of a 'designer label' pasta. This company makes its pasta from durum wheat it grows itself using sustainable farming methods and following a set of rules known as Good Agricultural Practices (GAP). In fact, its pasta factory is located in the middle of its own wheat fields!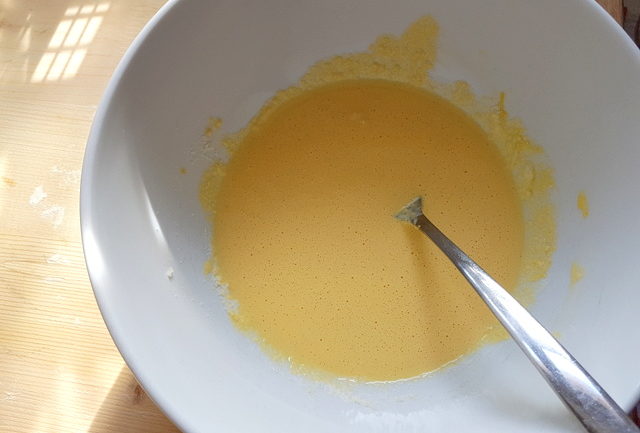 Needless to say this company's pasta is, like other high quality artisan pasta, extruded through bronze dies and slow dried. Definitely worth buying if you come across it.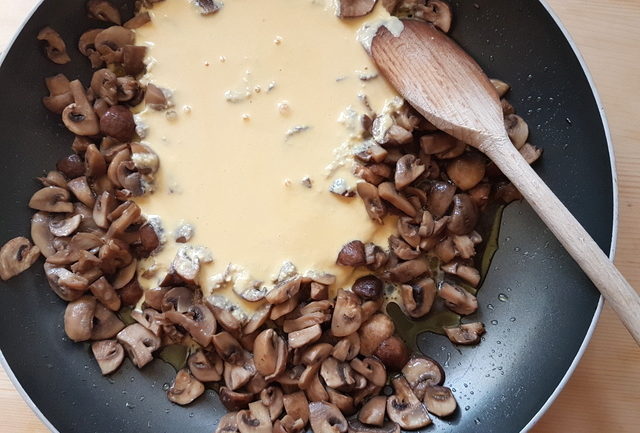 How to make this mezzi paccheri with mushrooms and cream.
Mushrooms, cream, butter, eggs and parmesan are the main ingredients of this super simple recipe. The mushrooms are cooked in butter, while the eggs, cheese and cream are just mixed together and then added to the mushrooms.  Once the pasta is cooked, you just mix it with the sauce and it's ready.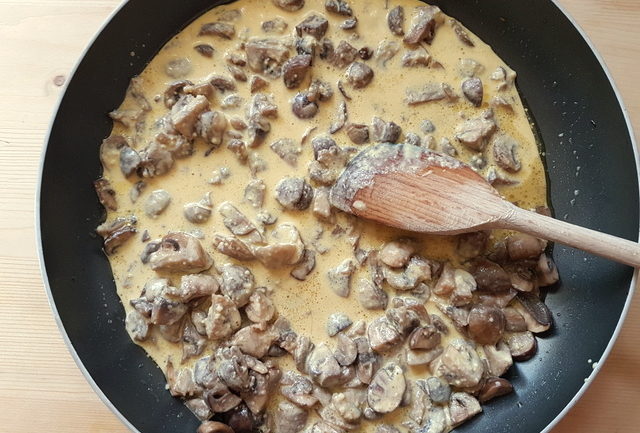 This mezzi paccheri with mushrooms and cream is a bit like a carbonara with cream with mushrooms instead of guanciale. The combination of the eggs, cream and grated Parmigiano combined with the mushrooms cooked in butter create a fabulous sauce that really needs no other seasoning or flavours.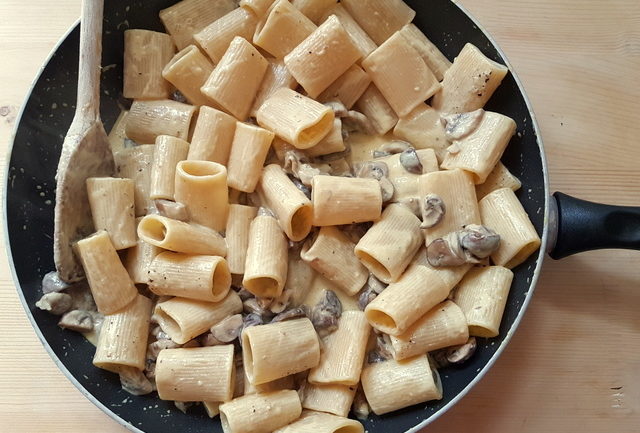 Like carbonara, this recipe also has no onions, garlic or herbs. I added a sprinkling of parsley mostly for a bit of colour, but parsley isn't in the original recipe, so you can omit it.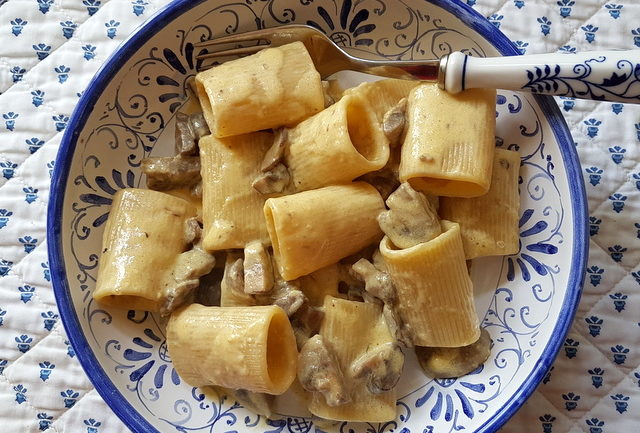 If you do try this mezzi paccheri with mushrooms and cream, I'd love to hear what you think. Please write a comment here on the blog or post a comment on the Pasta Project Facebook page.
Your feedback means a lot to me!
Buon Appetito!
Other paccheri recipes on The Pasta Project
Save this recipe for later?
If you want to save this recipe for later, you can print it, bookmark this page or save it to Pinterest.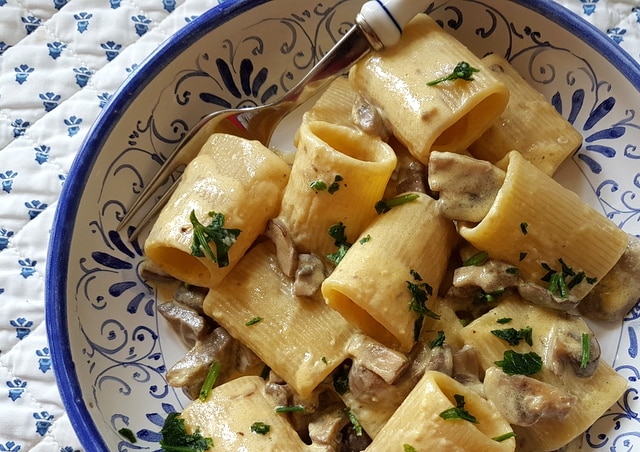 Mezzi Paccheri with Mushrooms and Cream
This super simple Neapolitan recipe has only 5 main ingredients and can be made in the time it takes to boil the water and cook your pasta! A perfect vegetarian pasta recipe for week nights that all the family will love!
Cuisine:
Campania, Italian, Southern Italian
Keyword:
mushrooms, paccheri, pasta recipe, vegetarian
Ingredients
400

g

mezzi paccheri

(14oz) or tuffoli from Pasta Mancini

300

g

mushrooms

(10oz) or 100 g dried mushrooms

50

g

Parmigiano Reggiano

(2 oz) grated

50

g

butter

(2 oz)

2

eggs

1/4

lt

fresh cream

(8.5 floz)

salt

for pasta and to taste

black pepper

to taste

fresh parsley

as required (optional)
Instructions
Clean the mushrooms and cut them into small slices or quarters. If using dried mushrooms, soak in warm water for 20-30 mins then drain and cut into small pieces.

Melt the butter in a deep frying pan or skillet on a very low flame, so that it does not burn. Add the cut mushrooms and cook for 15 minutes or so.

While the mushrooms are cooking, put one egg and one egg yolk into a bowl, with the Parmigiano and the cream beat together gently until you have a smooth mixture.

Put a pot of water on to boil for the pasta. when it starts to boil add salt and bring to the boil again. Cook the pasta al dente according to the instructions on the packet.

Just before the pasta is ready, add the mixture of eggs, cheese and cream to the mushrooms cooked in butter and mix ( but don't cook it further). Add salt and pepper to taste.

When the pasta is cooked, drain it and add it to the sauce. Immediately, mix the sauce and the pasta together well over a low heat. You want the sauce to heat through and coat the pasta without the eggs becoming scrambled.

Serve immediately with a sprinkling of parsley (optional) and some more grated parmigiano.
Recipe Notes
If you don't have mezzi paccheri you can use other pasta tubes such as rigatoni, penne or tortiglioni.
I had some leftovers from this dish to which I added some fried pancetta and béchamel (white sauce) and baked the following day with some more grated cheese on top! It was delicious. Keep leftovers in the fridge covered with cling film, otherwise the pasta will dry out.
Pin for Later