Paccheri with calamari and potato; a pasta recipe from Naples.
Paccheri with calamari and potato is a flavourful traditional pasta dish from Naples and the island of Ischia.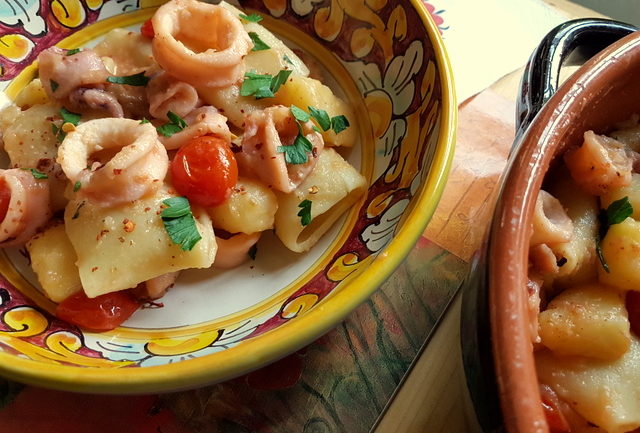 Paccheri con calamari e patate.
This paccheri with calamari and potato recipe originates from a style of cooking the Italians refer to as 'la cucina povera' (the kitchen of the poor or peasants). In the past, every country had its peasant class who, having little money to spend on food, made good use of seasonal ingredients they could grow or produce themselves. Pasta was a staple for the Italian peasants especially in the South. And cooking it with legumes or potatoes made a filling meal in times when meat was scarce or considered a luxury!
(click to go straight to recipe)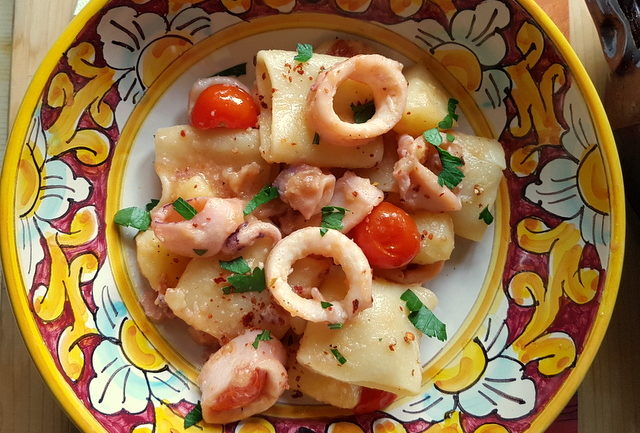 Today, many of these peasant recipes are still very popular. However, they are often adjusted to suit modern tastes. I'm not sure when people started to add seafood, such as calamari (squid). But, certainly the fishermen and those living by the coast have been doing so for a long time. Seafood is a very large part of traditional and contemporary Neapolitan cuisine.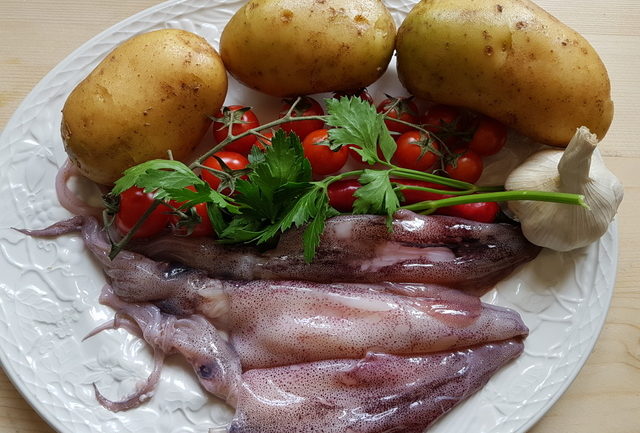 Different recipe versions
There are a number of versions of this paccheri with calamari and potato recipe, although most are very similar. Some people puree half of the potato to make the sauce creamier, others use a different type of squid which Italians call totani (European flying squid). There is also a traditional recipe for pasta with mussels and potato, which I'd love to try.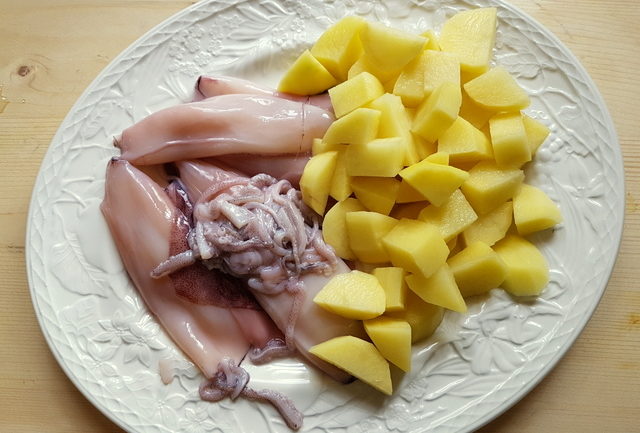 The herbs and spices in this recipe are probably fairly contemporary additions. But, the fresh peperoncino, garlic and parsley help to make this paccheri with calamari and potato extremely flavourful and appetizing. The calamari and potato condiment is really delicious and I think it's great even without the pasta and can be eaten as a one plate meal by itself (although I probably shouldn't say that!).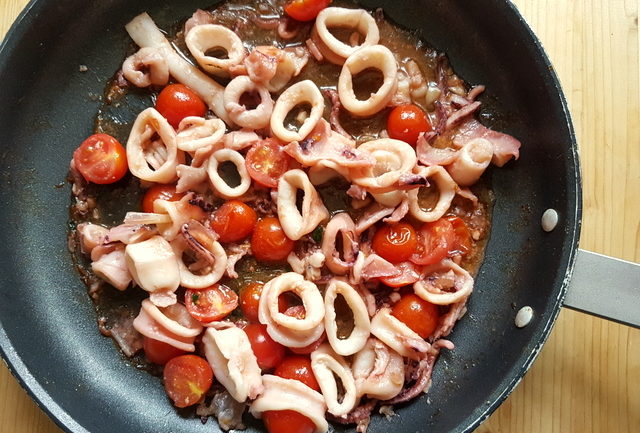 The Pasta
Most Italian recipes recommend a normal serving of pasta as 100g per person. This paccheri with calamari and potato is more filling than many pasta dishes because of the presence of potato, so I would recommend a smaller quantity of pasta per person, especially if you are going to eat it with other dishes.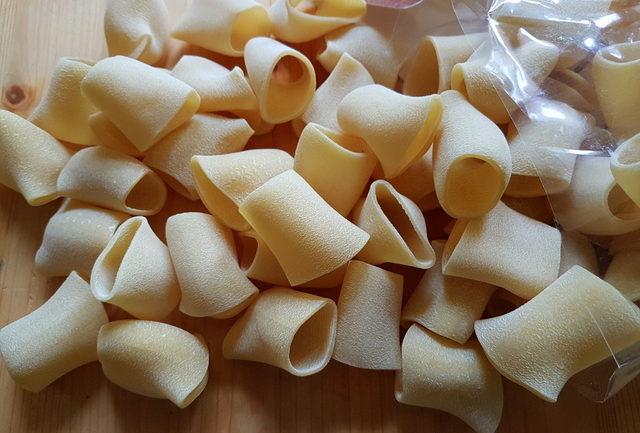 Paccheri is one of the most traditional Southern Italian pastas. It has an interesting history which you can read in my post about paccheri. The beautiful paccheri pasta I used I bought recently in Sicily. However, paccheri is widely available everywhere. It is the most popular pasta for this kind of recipe but you can also use calamarata, a wonderful calamari ring shaped pasta which also comes from Campania.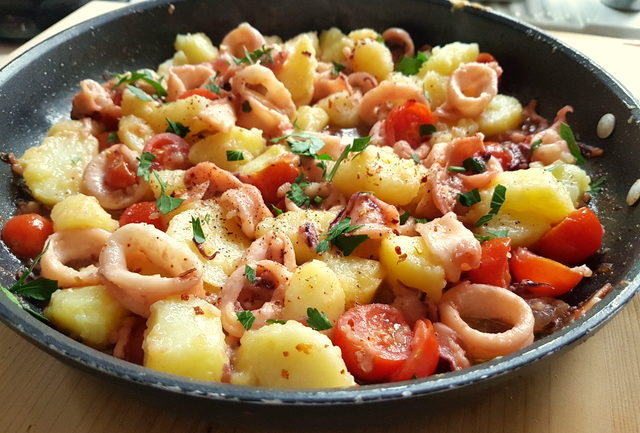 It doesn't take long to make.
This pasta and calamari recipe is pretty simple and doesn't take long to make. Calamari shouldn't be cooked for very long anyway, as it will become rubbery. And because the potatoes are cut into small cubes, they would get mushy if overcooked. The idea of pasta and potato together may sound strange to some. After all, it isn't a very common combo outside of Italy. But, I'm sure once you try it, you'll understand why the Italians like it so much.
Buon appetito!
(See the recipe on the next page. Just scroll down and click 2)