Calamarata Pasta and Calamari!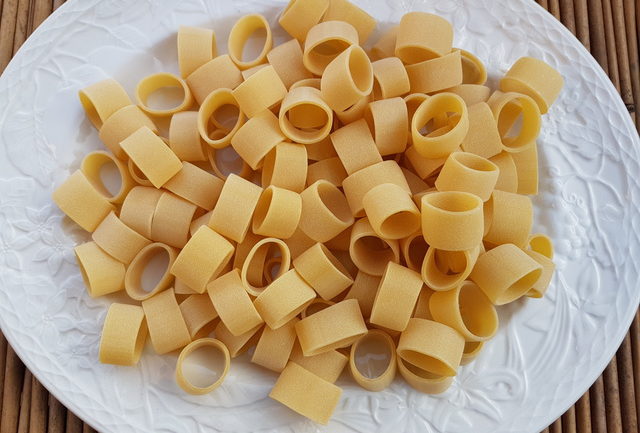 If you like seafood pasta dishes, especially with calamari (squid), mussels, shrimps etc, then calamarata is the pasta to make them with. As the name implies, calamarata takes its name from calamari and is shaped like calamari rings. It is normally a little thick and often with a slightly rough surface, similar to paccheri but narrower, and comes from southern Italy.
Calamarata pasta is used in traditional pasta dishes in coastal Campania, Calabria and Sicily most especially, and needless to say, with calamari . In fact, the most common traditional pasta dish made with squid in Campania is called La Calamarata taking its name from the pasta itself. The perfect La Calamarata has calamari rings which are more or less the same size and colour as the pasta!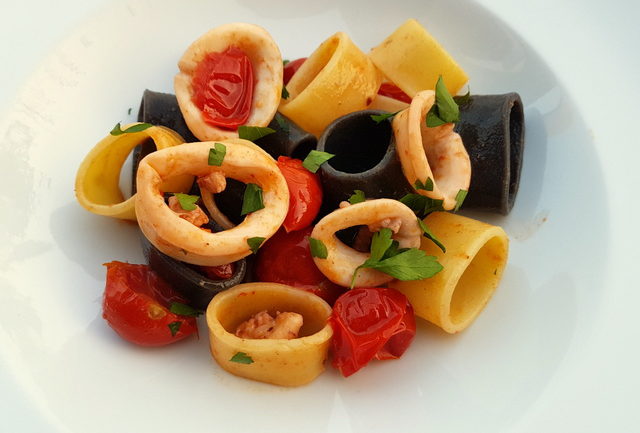 However la Calamarata may also include other types of seafood (as long as there is calamari too!) and is often served 'al cartoccio', meaning the last 5 minutes of cooking take place in the oven. The pasta and sauce are mixed together and wrapped in aluminium foil or baking paper, cooked for 5 minutes in a hot oven and then served immediately. This is a great way to serve pasta when you have guests!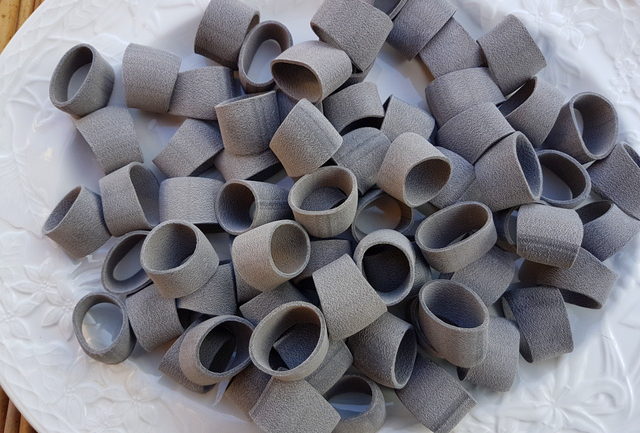 Other ways of serving this calamari shaped pasta!
Calamarata pasta is also often served with other seafood such as 'frutti di mare' or fresh tuna as well as vegetable or vegetable and cheese sauces but rarely with meat sauces.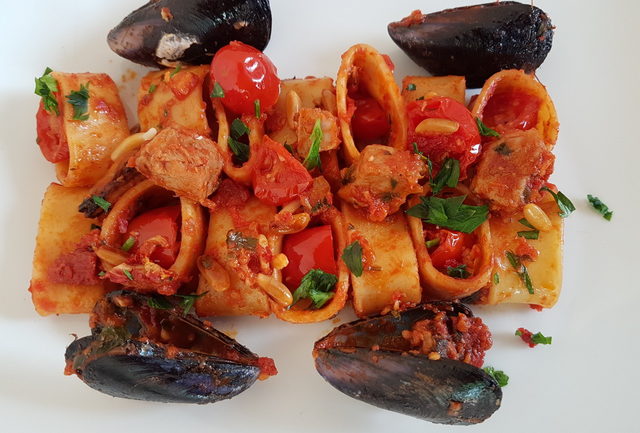 In Sicily, calamarata is typically prepared with swordfish and pachino tomatoes, as well as with black rockfish and Bronte pistachios, Sicilian pesto and almonds and with moscardini (curled octopus). In fact there are quite a few wonderful and unusual southern Italian pasta recipes that can be made with this pasta and I'm looking forward to sharing some of these with you in the coming weeks.
Here in Italy, calamarata pasta can be found in both fresh and dry versions, although dry is more common and there is also black calamarata which has been coloured with cuttlefish ink. Production is nearly always using artisan bronze dies and the dough is made with only durum wheat and water and then dried slowly at low temperatures. If you can't find this pasta locally you can try ordering it online. Today there are many Italian artisan pasta makers who will ship abroad.