Calamarata Pasta with Stewed Cuttlefish and Peas.
Stewed cuttlefish and peas is a delicious classic Italian seafood recipe that can be served as a main course or, as I have done, with pasta. In Italy, it's eaten all year round, but is especially popular in the spring when fresh peas are available!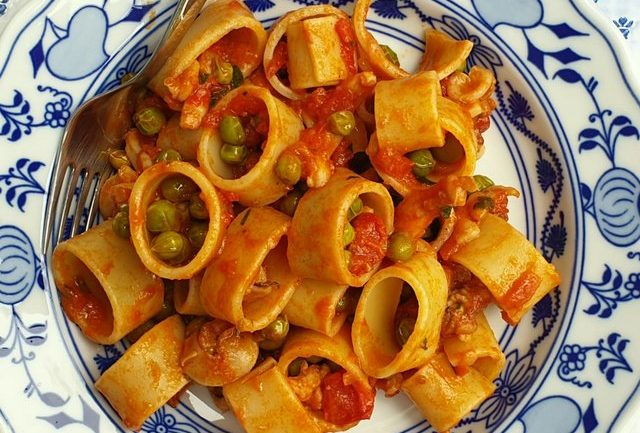 Calamarata con seppioline e piselli.
Stewed cuttlefish and peas is a popular and traditional recipe in Central and Southern Italy. In fact, a number of different regions consider it a typical regional dish. You can find this recipe 'alla Romagnola' (from Emilia-Romagna) 'alla Napoletana' (from Campania) and 'alla Siciliana' (from Sicily). I followed an 'alla Romana' recipe from Lazio. It's also made in Le Marche and Abruzzo.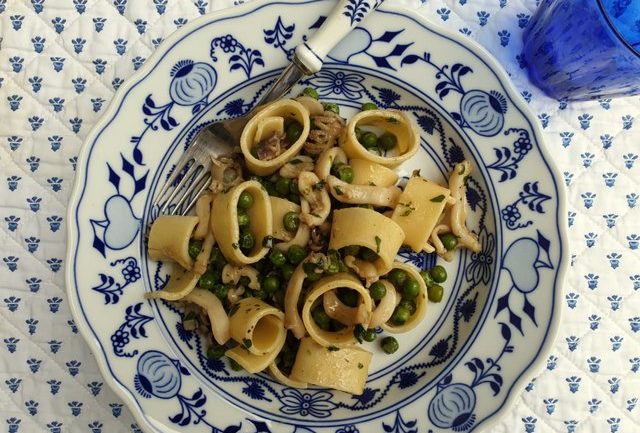 Unlike some other traditional dishes, this recipe is practically the same throughout the regions it is eaten in. Slight variations are the use of garlic instead of onion and the inclusion of basil rather than parsley, as well as the addition of peperoncino (red chili pepper). Those versions are more Southern Italian. Some people make a 'white' version, meaning without tomatoes. I made that too so you can see the difference. Taste wise it's hard to choose. Both versions are delicious and I particularly like it with calamarata pasta.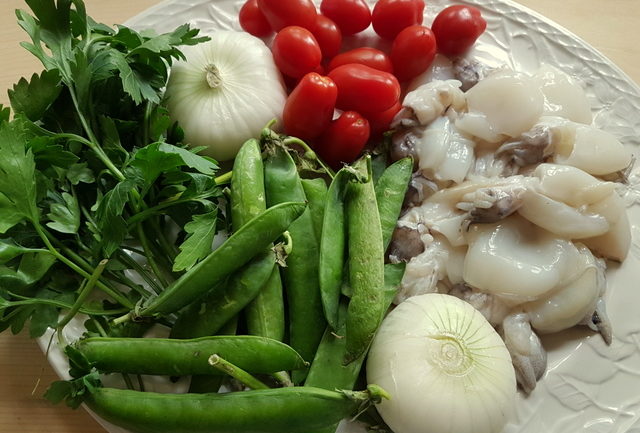 Cuttlefish is not squid!
This calamarata pasta with stewed cuttlefish and peas can be made with large or small (baby) cuttlefish. When Italians cook this dish as a main course using baby cuttlefish, they often keep the cuttlefish whole! For pasta, you need to cut the cuttlefish into smaller pieces whatever their size. I used baby cuttlefish, called seppioline in Italian.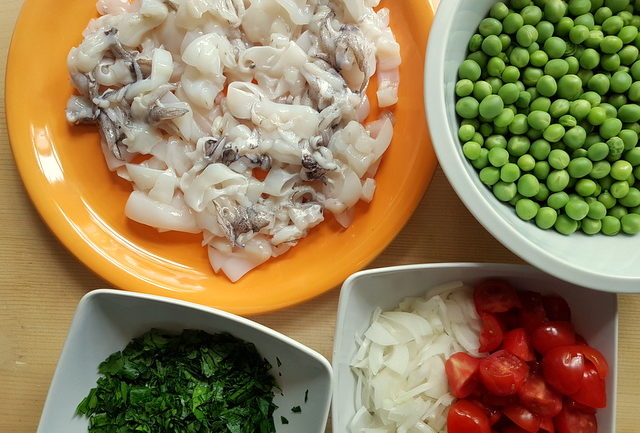 Although some people confuse them, cuttlefish are not squid! They are a separate species of the Cephalopoda family which includes squid and octopus. Most of the species in this family produce ink which they release into the water to help them escape from predators! However, it is actually mostly cuttlefish ink that is used in Mediterranean and Japanese cuisine, even if the label says squid ink!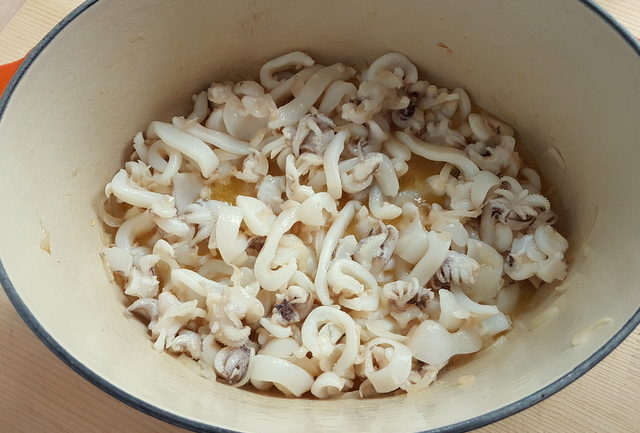 I used baby cuttlefish for this calamarata pasta recipe but you can also use larger cuttlefish, calamari or moscardini (musky octopus). The cuttlefish can be fresh or frozen. Like squid and octopus, cuttlefish are actually more tender when frozen. So, using frozen is okay. Also fresh cuttlefish can be messy to clean because of the ink sacs. Frozen ones have normally had the ink sacs and innards removed.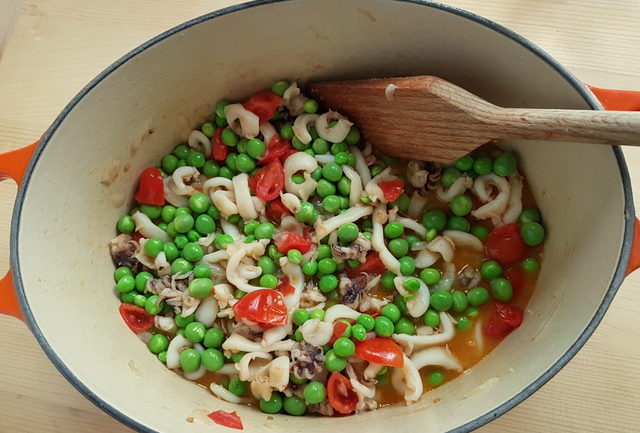 The pasta.
As mentioned above, stewed cuttlefish and peas is eaten here in Italy as a main course or with pasta. Of course, I served it with pasta. However, you can eat this dish with bread, potatoes, rice or polenta!
The pasta I used is calamarata. I love this pasta. It's originally from Naples, where they usually eat it with seafood. As you may imagine, the word 'calamarata' comes from calamari. This pasta resembles calamari rings. In fact, there is a fabulous traditional recipe from Naples with this pasta and calamari called La Calamarata . Check out the recipe for that by clicking the link below.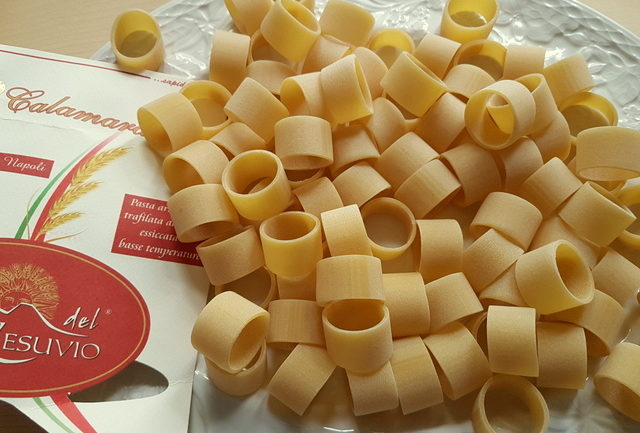 I bought calamarata pasta made by a company called Le Gemme del Vesuvio located in Naples. This pasta was really good and I would use it again. But, I'm not sure how widely available it is outside of Italy. However, many well-known pasta makers produce calamarata pasta. Among those I'd recommend are Pastificio dei Campi, Rummo, Di Martino, La Molisana, Afeltra and De Cecco. (There are others of course!)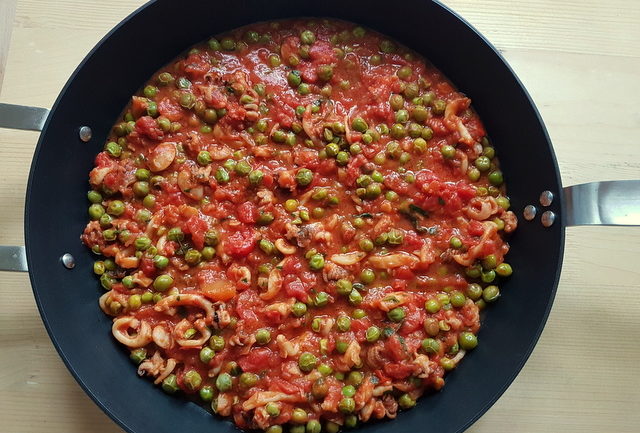 If you can't find calamarata pasta, you can make this dish with other large pasta tubes like mezze maniche, pennoni (large penne), paccheri etc.
Making this calamarata pasta with stewed cuttlefish and peas.
As with many Italian pasta recipes, this dish doesn't have a ton of ingredients. Apart from the pasta and cuttlefish, you only need a white onion, white wine, parsley, vegetable broth, seasoning, peas (fresh or frozen) and tomatoes (fresh or canned).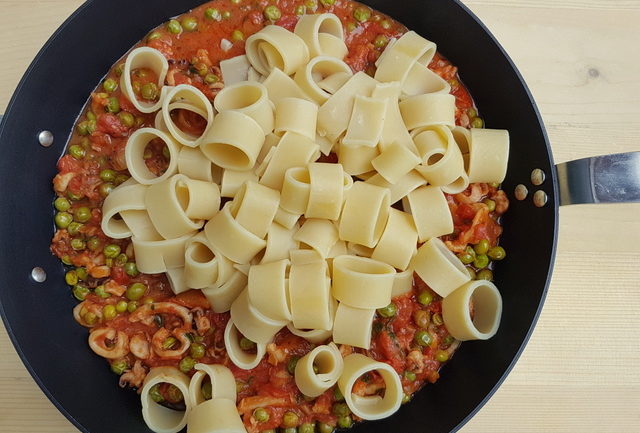 Like calamari and octopus, cuttlefish need to be cooked either very fast or slow. This is because these sea creatures have a lot of connective tissue. When cooked fast these tissues don't have time to harden so the cuttlefish stays soft and tender. In fact, you can even eat them raw!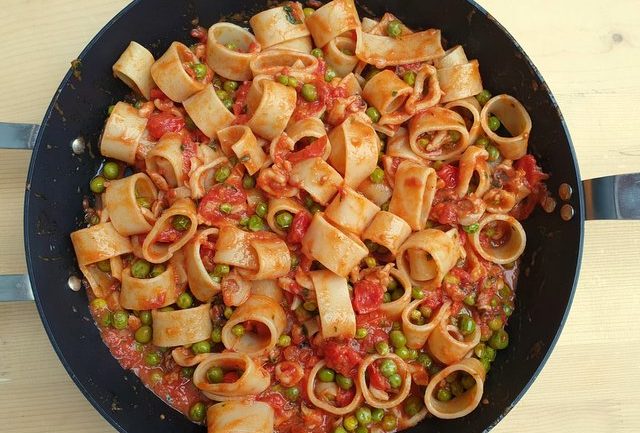 When slow cooked, the connective tissues break down and the cuttlefish becomes tender. Since this is a stewed cuttlefish recipe it requires about one hour of cooking in total. If not cooked enough, the cuttlefish will be tough. Just cook it longer to soften it further!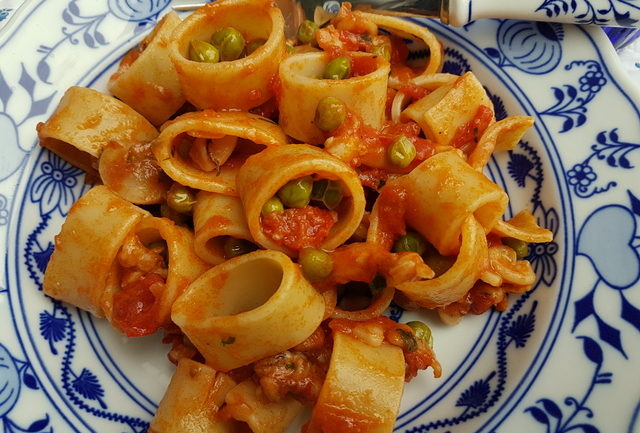 As I have mentioned you can make this stewed cuttlefish and peas recipe as a main course or with pasta. You can add tomatoes or, if you prefer, make it white (bianco). Whichever way you decide to prepare this dish, I'm sure you will love it!
If you do try this recipe, I'd love to hear what you think. Please write a comment here on the blog or post a comment on the Pasta Project Facebook page.
Your feedback means a lot to me!
Buon appetito!
Other calamarata recipes on The Pasta Project.
Save this recipe for later?
If you want to save this recipe for later, you can print it, bookmark this page or save it to Pinterest.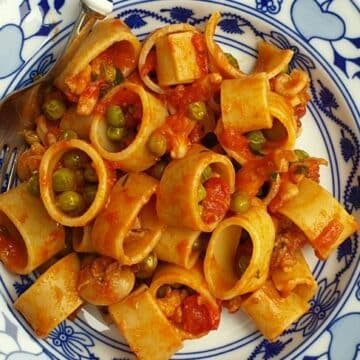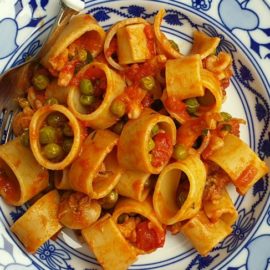 Calamarata Pasta with Stewed Cuttlefish and Peas
A classic Italian seafood recipe, this stewed cuttlefish and peas can be served as a main course or with pasta. You can add tomatoes or, if you prefer, make it white (bianco). Either way it's sure to be a winner with seafood lovers!
Ingredients
400

g

calamarata pasta

(14oz) or other large pasta tubes

700

g

cuttlefish

(24oz) I used baby cuttlefish

250

g

fresh peas

(9oz) or frozen (weight after shelled)

12

cherry tomatoes

washed and cut in half

400

g

tomato passata

(14oz) Use half if serving as a main course

1-2

white onions

peeled and chopped

1/2

glass

white wine

1

handful

fresh parsley

chopped

1

cup

vegetable stock

(homemade or ready made)

3-4

tbsp

extra virgin olive oil

salt

for pasta and to taste
Instructions
If your cuttlefish are fresh, you can ask your fishmonger to clean them. If not you will need to clean them. Cut below the eyes to remove the tentacles and gently pull the head out along with the guts, taking care not to burst the ink sack. Reserve the ink sac for another recipe or just discard it.

Rinse in cold water to wash away any sand or spilled ink. Pull out the beak and discard, and pull the outer membrane from the body (you may need to aid your grip with a tea towel). You'll be left with a bright, brilliant white tube and the tentacles. Cut everything into small pieces.

Even frozen cuttlefish may have to have the head, membrane and beak removed.

Peel and chop the onion. Clean the tomatoes and cut them in half. Wash and chop the parsley. Shell the peas if using fresh ones. Heat the vegetable broth.

Heat the olive oil in a deep pan or skillet. I used my Dutch oven. Add the onion, to the oil and soften it. Then add the cuttlefish and a ladle of broth. When the liquid has reduced, add the white wine. When all the alcohol has evaporated and you no longer smell the wine, add the tomatoes and peas (if using fresh).

Let the flavors blend together without adding more liquid, stirring over a low heat for about 10 minutes. Then add the passata and the peas (if using frozen). Add salt as needed and continue cooking until the cuttlefish becomes tender (about 20 minutes depending on the size). Add more broth if the sauce dries out.

In the meantime put a pot of water on to boil for the pasta. Add salt once it starts to boil and bring to the boil again.

Cook the pasta al dente according to the instructions on the packet. When the pasta is ready, drain it and add to the sauce. (I transferred the sauce from my Dutch oven to a deep skillet before doing this). Mix everything together well, sprinkle with fresh parsley and cook for another minute.

Serve immediately with more fresh parsley if required.
For sauce without tomatoes.
Instead of tomatoes you can use more broth to cook the cuttlefish and peas. Then add a little pasta cooking water to the sauce before adding the drained pasta.
Notes
You can eat this dish with bread, potatoes, rice or polenta, instead of pasta. 
Pin for Later