Mezze Maniche Pasta (half-sleeves)
Mezze maniche pasta is one of my favourite types of pasta tubes. Said to be originally from the North of Italy, this pasta is great in many different recipes. You can pair it with vegetables, meat and seafood, as well as use it in pasta salad!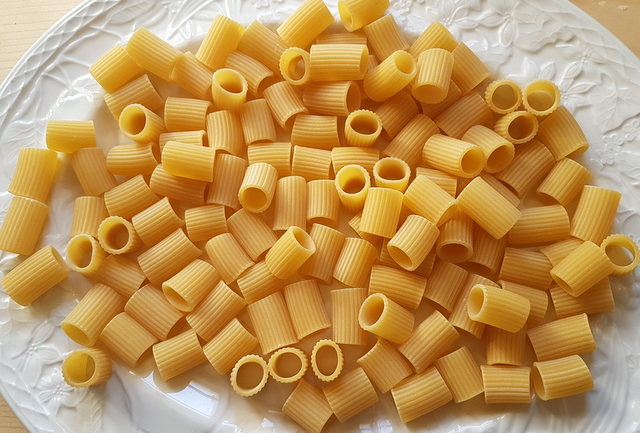 There are somewhere in the region of 30-40 types of pasta tubes here in Italy!! Some are long and narrow, such as bucatini, which looks like thick spaghetti with a hole! Others are wide and short like calamarata, so called because this pasta resembles calamari rings.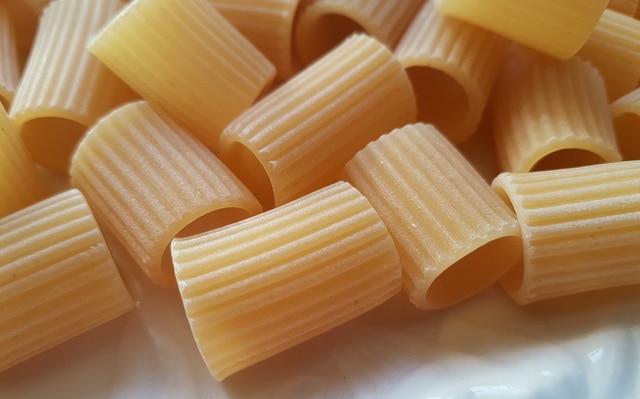 Although some pasta tubes definitely started life as rolled fresh pasta ( e.g. cannelloni or manicotti) most have only ever been produced using machines rather than hand made. Therefore, most pasta tubes are a fairly contemporary type of pasta.
One old traditional recipe.
However, there is an old traditional recipe from Piacenza in Emilia–Romagna for fresh mezze maniche pasta. There, it is called mezze maniche dei frati, meaning monks' sleeves. The pasta dough is rolled out into a rectangle and then rolled around a 'sausage of filling' and cut into short pieces (mezze maniche). It's cooked in broth and traditionally served on Christmas Eve.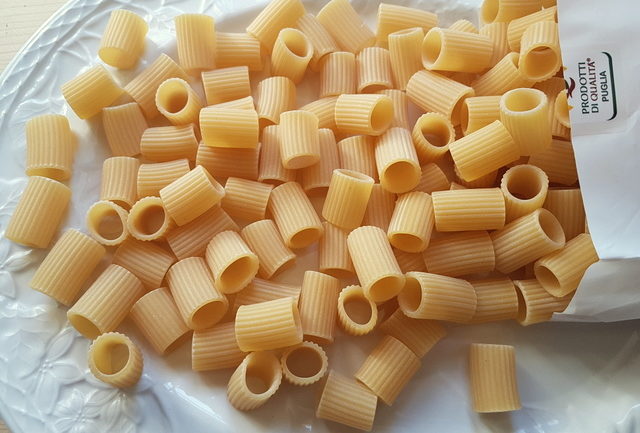 This recipe is definitely on my to make list but it's the only traditional recipe for fresh mezze maniche that I have been able to find. So, although it supports the belief that this pasta originated in Northern Italy; it seems that, like other dried pasta tubes, the widespread use of mezze maniche is fairly recent. Well, certainly if you think that pasta in some form has been around since the times of the Roman Empire!
Mezze Maniche means half sleeves.
Dried mezze maniche pasta tubes are usually grooved (rigate) and about half the size of rigatoni. The name 'mezze maniche' means short sleeves (or half sleeves). I've read many Italians think this pasta has a summery feeling about it because of the name. As a result, they believe this pasta is more suited to lighter pasta recipes. I'm not sure how true that is. Like most ridged pasta tubes, this pasta is used in so many different recipes!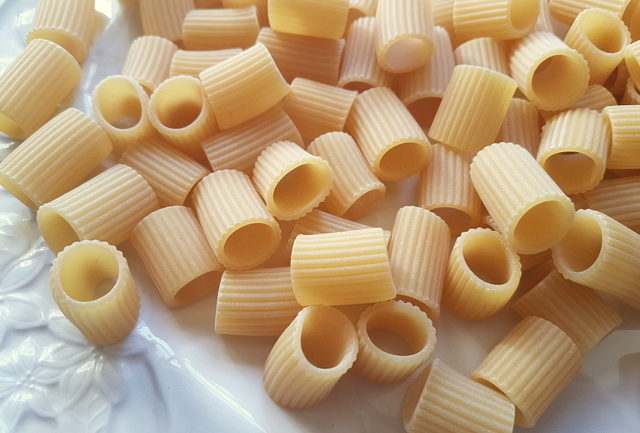 Mezze maniche recipes.
If I search mezza maniche recipes in Italian I get about 800,000 results! It's true that many recipes for this pasta are either vegetarian or with seafood, but there are also many with sausage, speck or pancetta. Not, however, normally with a meat ragu or al forno. But, that doesn't mean to say you can't serve this pasta with ragu or al forno. I would think it's good both ways!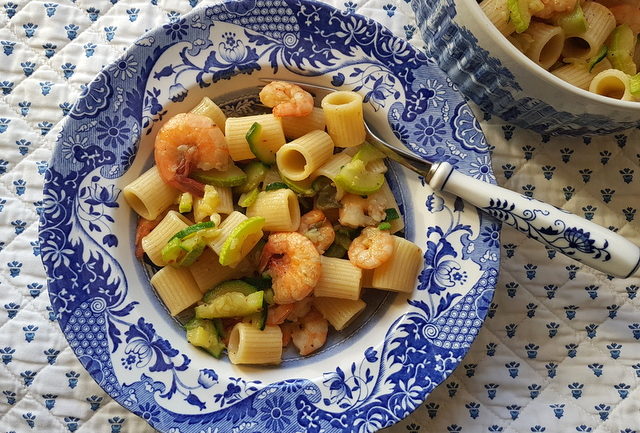 It seems that Italians also use mezze maniche in some classic recipes that would traditionally be eaten with a different kind of pasta. I found recipes for mezze maniche all'arrabbiata, all'amatriciana, alla norma and alla gricia, as well as carbonara and puttanesca. All recipes you can find here on The Pasta Project.
Mezze Maniche pasta recipes on The Pasta Project.
One of the first recipes I have made using dried mezze maniche is with zucchini and prawns. Zucchini is a popular summer vegetable here in Italy, although we can but it almost all year round. It's also often used in pasta recipes, particularly those with fish or seafood. This is, like many Italian pasta recipes, pretty simple and easy to make, but full of flavour.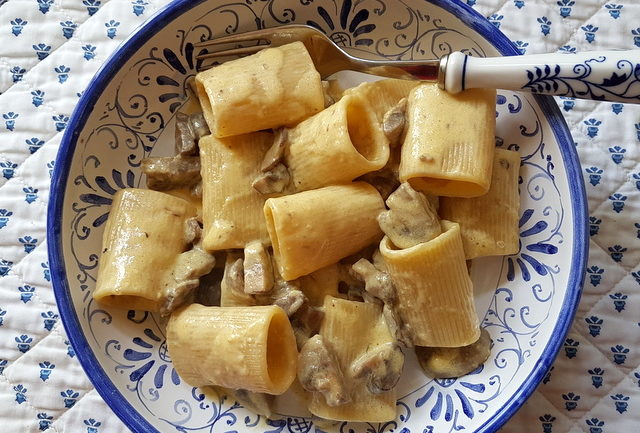 There are many more mezze maniche recipes to come! But, in the meantime, you might also like to take a look at some other recipes you can use these pasta tubes in like the delicious Neapolitan recipe for mezzi paccheri with mushrooms and cream which I posted a short time ago. Buon appetito!