Homemade Stuffed Mezze Maniche in Osso Buco broth.
This divinely delicious stuffed mezze maniche in broth from Piacenza in Emilia-Romagna is one of the most delicious pasta in broth recipes I have ever tasted. If you try it, I'm sure you'll think the same!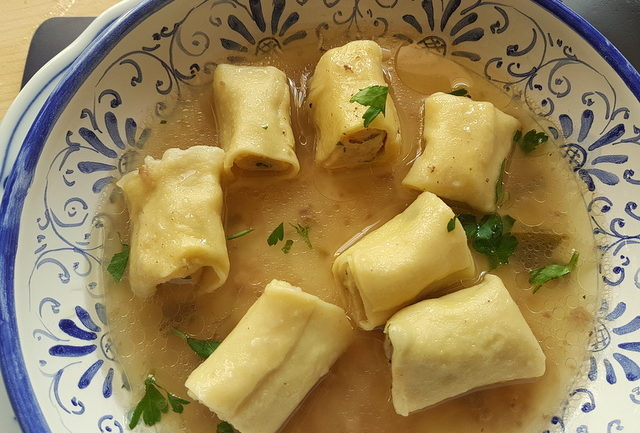 Mezze maniche dei Frati.
Homemade stuffed mezze maniche is a traditional pasta from Piacenza in Emilia-Romagna. This fabulous filled pasta is known in Italian as mezze maniche dei frati, meaning monks' half sleeves.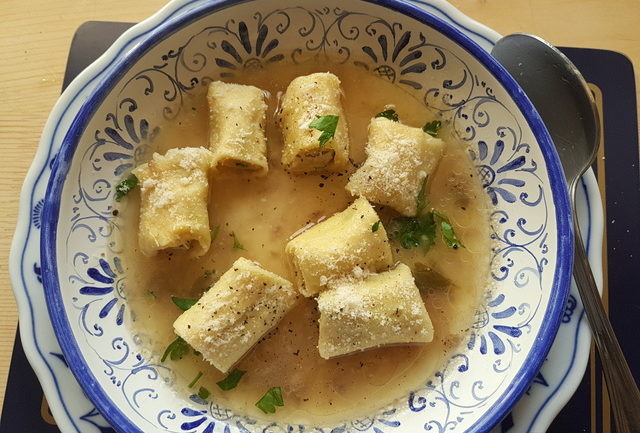 Actually, to be more precise this pasta originates from the Val d'Arda, a valley south east of Piacenza city itself. The people of the Val d'Arda call this pasta 'Mes mànag da frè' in their local dialect.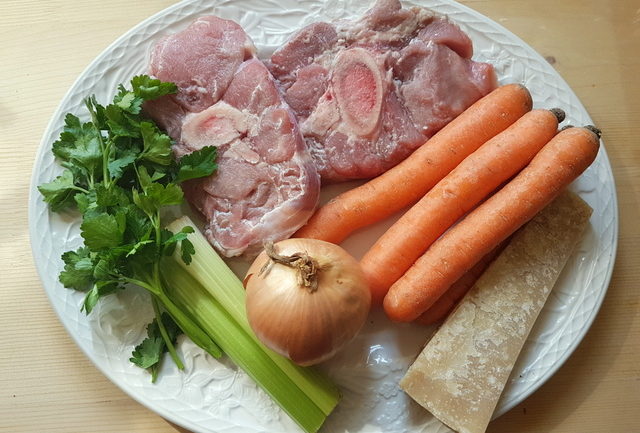 Stuffed mezze maniche is actually typical Christmas Eve fare. As I have mentioned in other recipes, Christmas Eve is considered to be a day of abstinence in Italy (at least in the past!). On those days, Italians don't eat meat and homemade stuffed mezze maniche are made without meat. These delicious filled pasta tubes are served either in a tomato and mushroom sauce or a clear broth.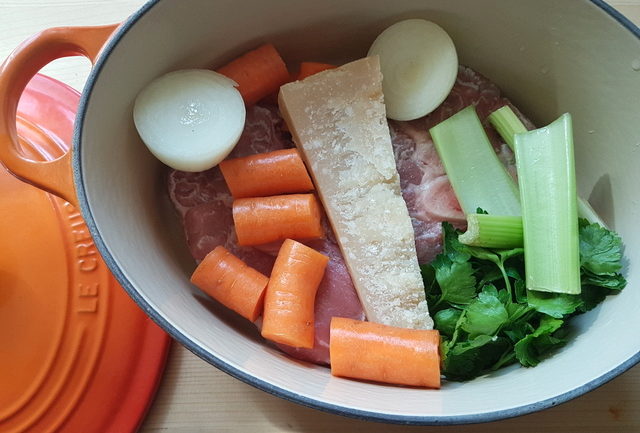 Ossobuco broth.
Homemade filled mezze maniche can be served in different kinds of broth. Capon is a popular choice for pasta in broth in Italy, as is chicken or beef. For these divine homemade stuffed pasta tubes, I chose to cook and serve them in an veal osso buco broth! Absolutely delicious! My Sicilian hubby and the friends who tried this dish fell totally in love with it!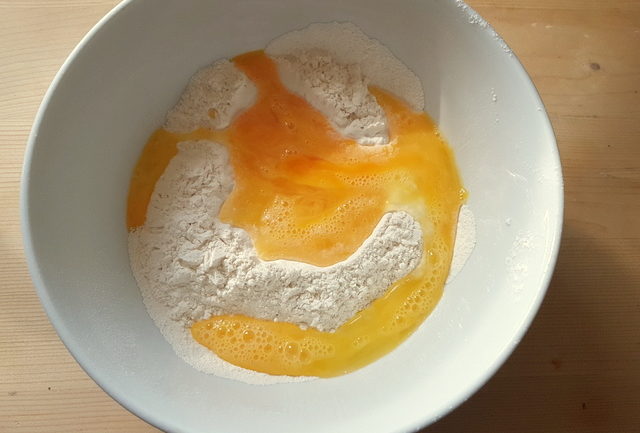 Traditionally Italians strain the broth before cooking the pasta in it. Depending on the ingredients, they then eat the meat and veggies separately. This is what we did. I served the stuffed mezze maniche in broth first with some parsley and grated Parmigiano.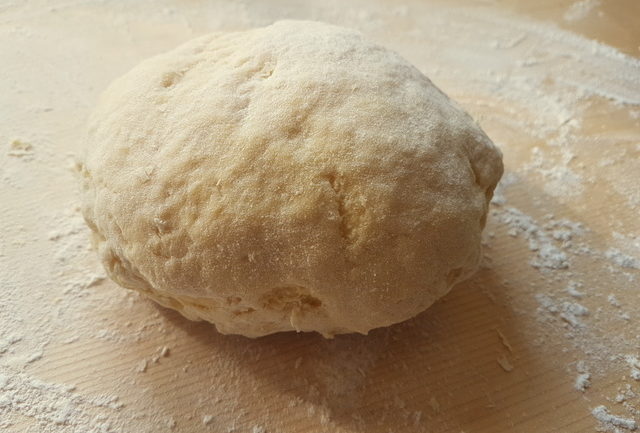 We then had the melt in your mouth tender veal pieces with the carrots afterwards. However, you can cut the meat and veggies into small pieces and eat everything together in one bowl. This is a delicious one plate meal!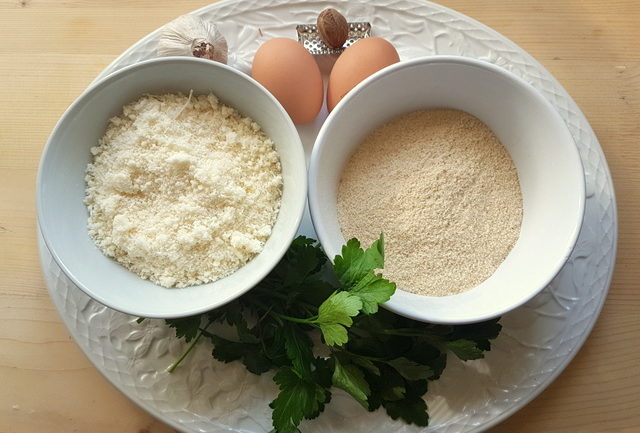 Making homemade stuffed mezze maniche in broth.
I guess it's obvious that it takes a little time to make this homemade stuffed mezze maniche in broth. But, it is so worthwhile! These fresh filled pasta tubes are fantabulous! If you time things well, this dish will take about 2.5 hours to make.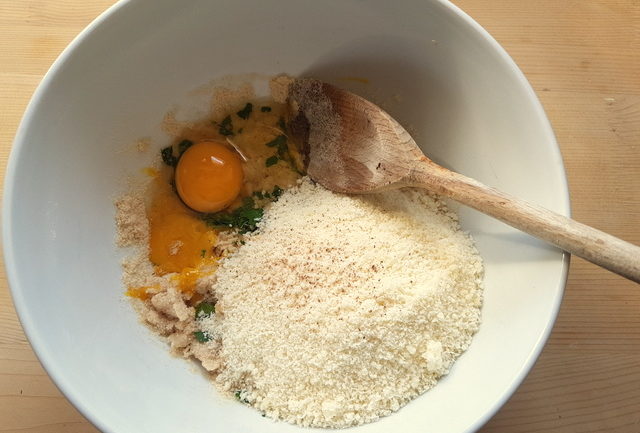 The first step is to start cooking the broth as it takes 2 hours. Beef will need a bit longer. While the broth is cooking, make the pasta dough as it needs to rest for at least 30 minutes. While the pasta dough is resting make the filling.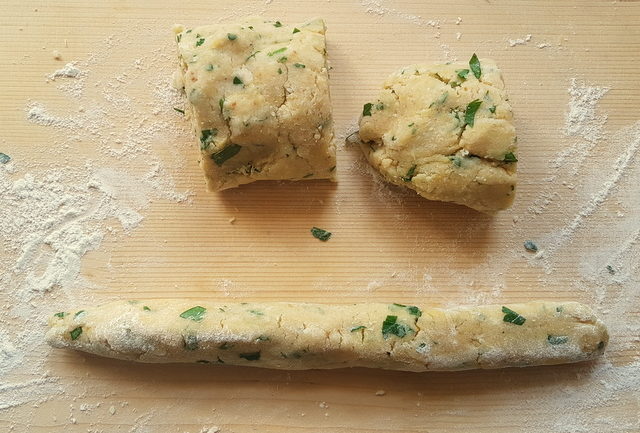 The last stage is to roll out the dough and fill and cut it. I used my pasta machine to roll the sheets out. I put the pasta through the machine 4 times, twice at 7 setting and twice at 5.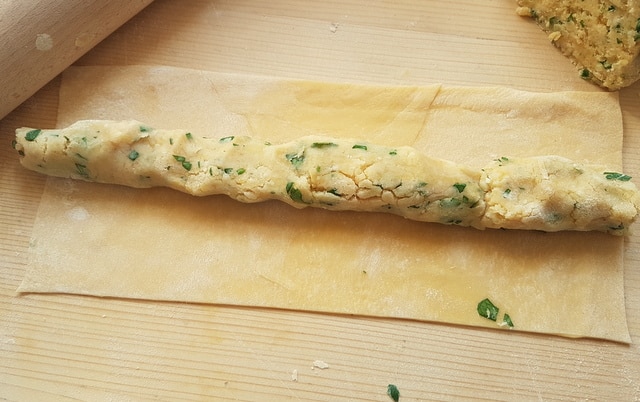 Finally, strain the broth and cook the filled mezze maniche in the clear broth. None of the above mentioned steps are madly difficult and you will be so proud of the result, I promise you!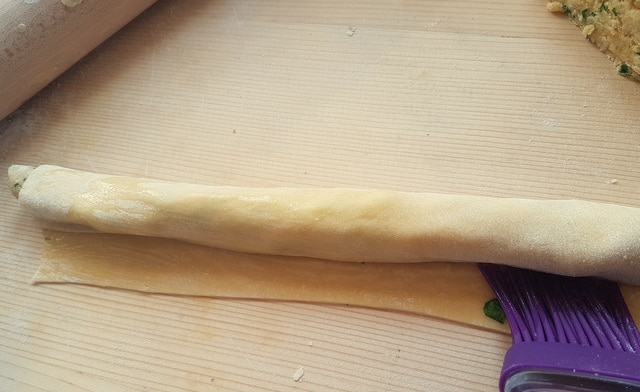 If you do try this homemade stuffed mezze maniche in broth recipe, I'd love to hear what you think. Please write a comment here on the blog or post a comment on the Pasta Project Facebook page.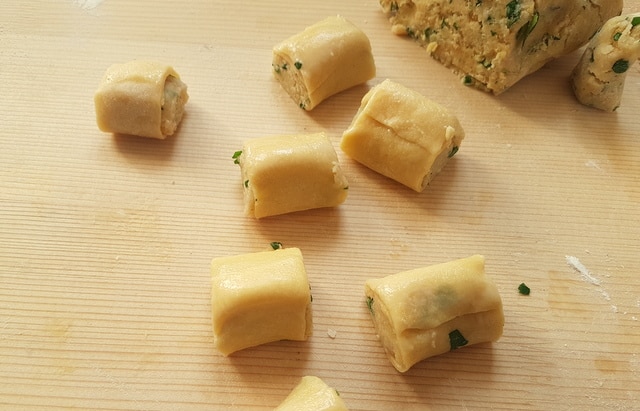 Your feedback means a lot to me!
Buon Appetito!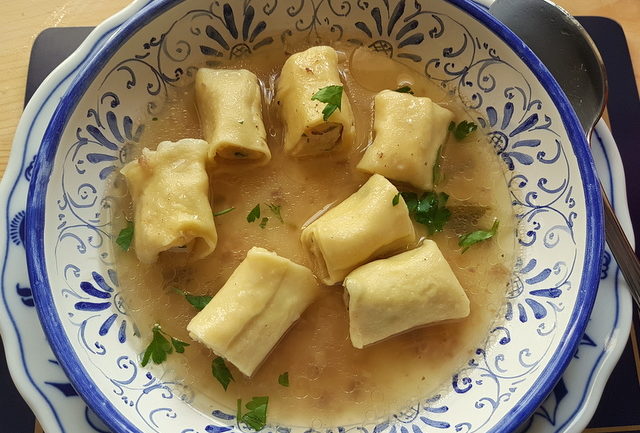 Save this recipe for later?
If you want to save this recipe for later, you can print it, bookmark this page or save it to Pinterest.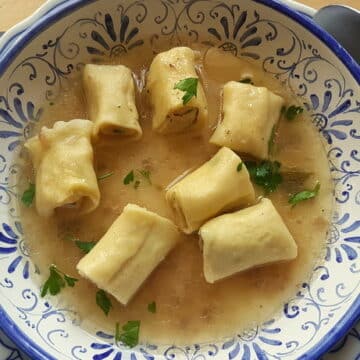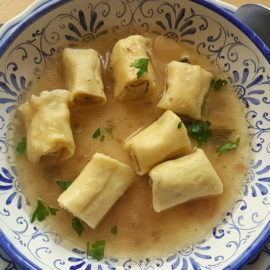 Homemade stuffed mezze maniche in osso buco broth
This divine stuffed mezze maniche in osso buco broth is a little bit time consuming to make but so worth the effort! I'm sure you have never tasted such delicious pasta in broth!
Ingredients
For the broth
2-4

veal osso buco

3-4

carrots

washed and cut into pieces

2

celery stalks

washed and cut into pieces

1

onion

peeled and cut in half

fresh parsley

1

piece

Parmigiano crust

salt

to taste

black pepper

to taste
For the pasta
3

eggs

300

g

Italian 00 flour

(10.5oz) or all purpose flour
For the filling
200

g

Parmigiano Reggiano

(7oz) grated or grana

100

g

breadcrumbs

(3.5oz)

1

egg

1

egg yolk

(use the white to seal the pasta)

1

handful

fresh parsley

chopped finely

1

garlic clove

peeled and finely chopped

1

pinch

nutmeg

grated

1/2

cup

meat broth

use the broth you are cooking

salt

to taste

black pepper

to taste
Instructions
Make the broth
Wash and cut the carrots and celery into largish pieces. Peel the onion and cut in half.

Put the veal osso buco, carrots, onions, celery, parmigiana crust and some parsley into a pot with a lid. I used my dutch oven. Cover with water and add salt and pepper. Bring to a boil and lower the heat. Let simmer for partly covered for about 2 hours, stirring occasionally.

I didn't skim the fat because firstly the cheese becomes frothy but you don't want to remove it. Eventually it melts and gives the broth such an amazing flavour! Secondly veal doesn't have much fat so what there is just adds to the flavour too.
Make the pasta dough
Put the flour in a bowl and make a hole in the middle. Pour the lightly beaten eggs into the center and mix everything together with your hand until you can make a ball of dough. Turn the dough out onto a floured surface and knead until smooth and homogeneous. Form the dough into another ball and place it in a plastic freezer bag and let it rest for at least 30 minutes.
Make the filling
Put all the filling ingredients into a bowl and mix very well together until you have a homogeneous and compact mixture. Like the pasta dough, you can turn this mixture out onto a floured surface and finish shaping it there. Cut the filling into 3-4 pieces and roll each piece out into a long sausage shape, about the length of your pasta.
Finish the stuffed mezze maniche
After the dough has rested, divide it into 3 equal parts and roll it out into rectangular sheets about as wide as lasagna sheets (about 3-4 in or 7-10cms). I used my pasta machine to roll the sheets out. I put the pasta through the machine 4 times, twice at 7 setting and twice at 5. I didn't want the pasta to be too thin and at risk of breaking. I then rolled it out a little more on the pasta board.

If necessary, cut the pasta sheet into a neat rectangle. Place a filling sausage lengthwise on the ready pasta sheet and roll the pasta and filling together as tightly as possible so the pasta wraps around the filling. You don't want a double layer of pasta, so the overlap should only be about 2cm (1/2in). Brush some egg white along the inside rim before closing the seam.

Cut the filled pasta roll into 3-4 cm pieces (1-1.5in). Brush the 2 ends of each filled mezze maniche with egg white. Place all the ready stuffed pasta on a floured surface until you are ready to cook them.

I suggest doing the pasta sheets and the filling sausages one at a time so nothing dries out. So roll out a pasta sheet and fill it. Then roll out another, make the filling sausage and make the mezze maniche. Continue this way for all the pasta and filling.
Finish the dish
By now your broth should be ready. Strain the broth and keep the meat and vegetables for later. I just kept the carrots and veal osso buco. The rest I discarded.

Bring the broth back to a gentle simmer and add the stuffed mezze maniche to it. Cook them for about 5 minutes. (try one before serving as the thickness of the pasta and size of the mezze maniche will affect cooking times). Serve with grated Parmigiano and a sprinkling of chopped fresh parsley and ground black pepper.
Notes
You can make the broth with beef, chicken or capon. But, I think veal works best as it doesn't need skimming. There's very little fat in veal.
I made extra stuffed mezze maniche and froze them for another recipe. If you do the same, I suggest cooking from frozen. However, cooking times will differ.
Nutrition
Calories:
807
kcal
Carbohydrates:
85
g
Protein:
58
g
Fat:
25
g
Saturated Fat:
12
g
Polyunsaturated Fat:
3
g
Monounsaturated Fat:
8
g
Trans Fat:
0.02
g
Cholesterol:
331
mg
Sodium:
1298
mg
Potassium:
797
mg
Fiber:
5
g
Sugar:
6
g
Vitamin A:
8493
IU
Vitamin C:
6
mg
Calcium:
727
mg
Iron:
7
mg
Pin for Later