How to make Italian Potato gnocchi!
Potato gnocchi are the most common type of gnocchi in Italy. With the right kind of potato they are easy to make and once you have done it, you'll never go back to buying ready-made!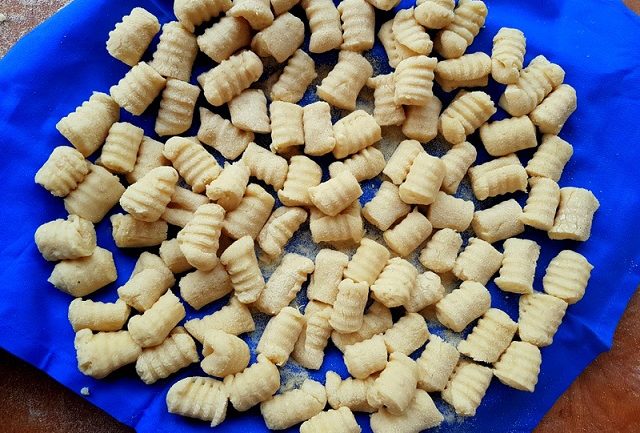 Although gnocchi are served very much like pasta in Italy, I actually rarely eat them as a primo or first course as many Italians do. They are just so filling! Better as a one plate meal. Also Italians often eat gnocchi with quite rich sauces based on butter and cream, cheese or meat. All wonderfully delicious, but they leave little room for more food! I'd rather just have a second helping of gnocchi!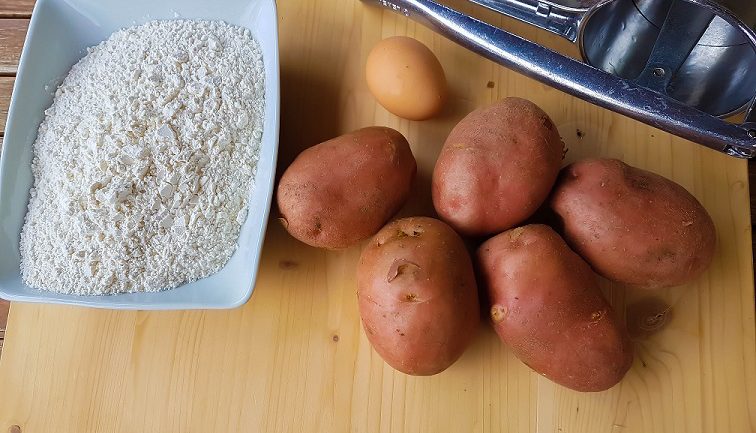 Potato gnocchi are the most common type of gnocchi in Italy but there are other types of gnocchi such as the divine gnocchi alla Romana made from semolina or the more rustic polenta gnocchi. A favourite of mine are canederli from Northern Italy made with bread, flour and milk. Another type of gnocchi I love are those made with ricotta.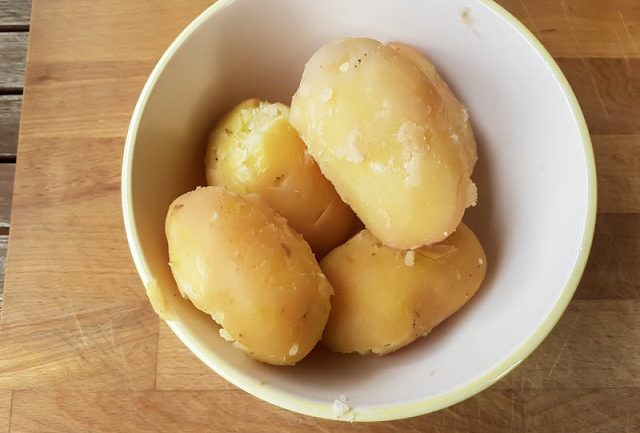 Making these potato gnocchi.
These gnocchi are basically boiled and mashed or pressed potatoes combined with egg, a pinch of salt and some '00' flour and made into a dough, which is then cut and shaped by hand. The gnocchi are then briefly boiled. While potatoes are the most well-known ingredient, this style of gnocchi can also be made with other starchy vegetables, such as sweet potatoes.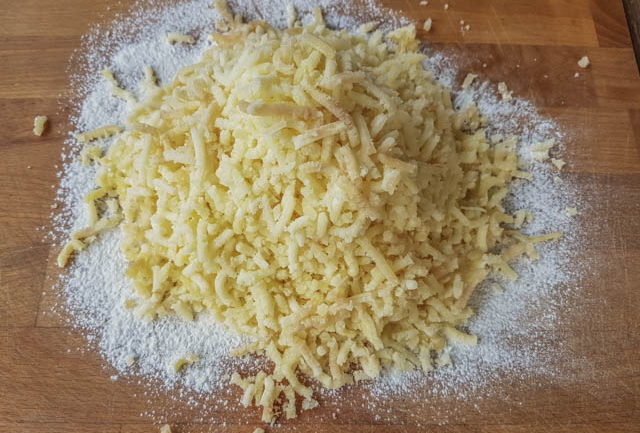 What are the best potatoes to use?
The main difficulty in making gnocchi is having the right potatoes. Potatoes which are too watery will require more flour and the result will be 'gummy' gnocchi! In Italian supermarkets, potatoes are labelled as being the right type for gnocchi! Obviously that isn't the case outside of Italy.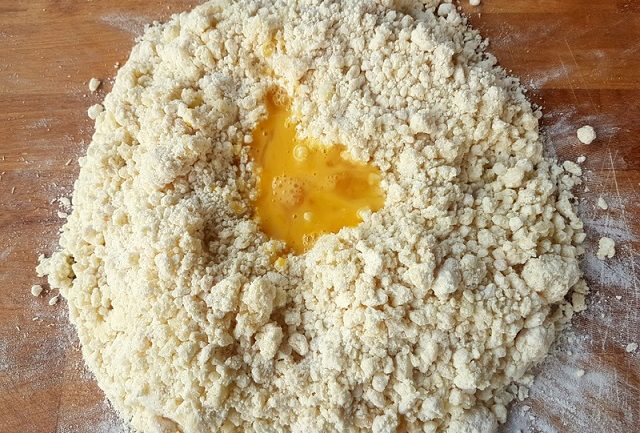 The best potatoes are dry and floury with white flesh. I used Russet potatoes, which are the most popular here in Italy, but I have read you can also use Desiree potatoes or even King Edwards.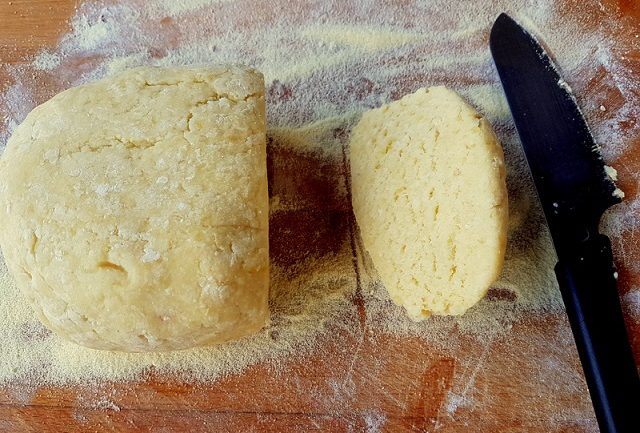 The other slight difficulty in making potato gnocchi is that you have to peel and press or mash the potatoes while they are still quite hot! But where there's a will there's a way! I held the hot potatoes in a tea towel while peeling them and only suffered minor burns! No seriously! I survived unburnt! You can also keep the hot potato on a fork while peeling it. Watch gnocchi being made in this video.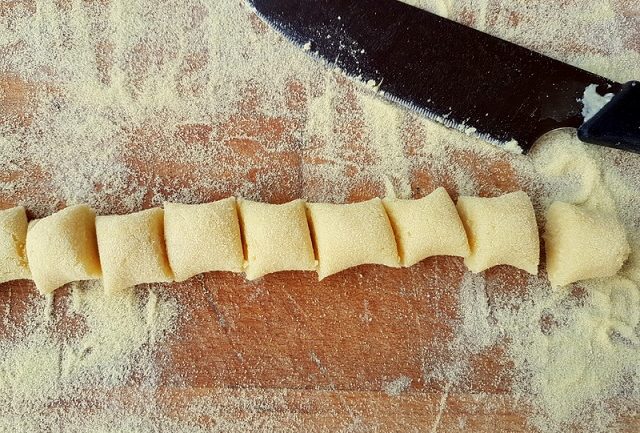 I once read that if you make gnocchi at home, you'll never go back to buying ready-made gnocchi. Can't remember who wrote that but they were so right!! Here in Italy, nearly all supermarkets stock fresh gnocchi and until making them myself that's what had I used. Now, however, I've joined the ranks of homemade gnocchi makers! And I ain't never going back!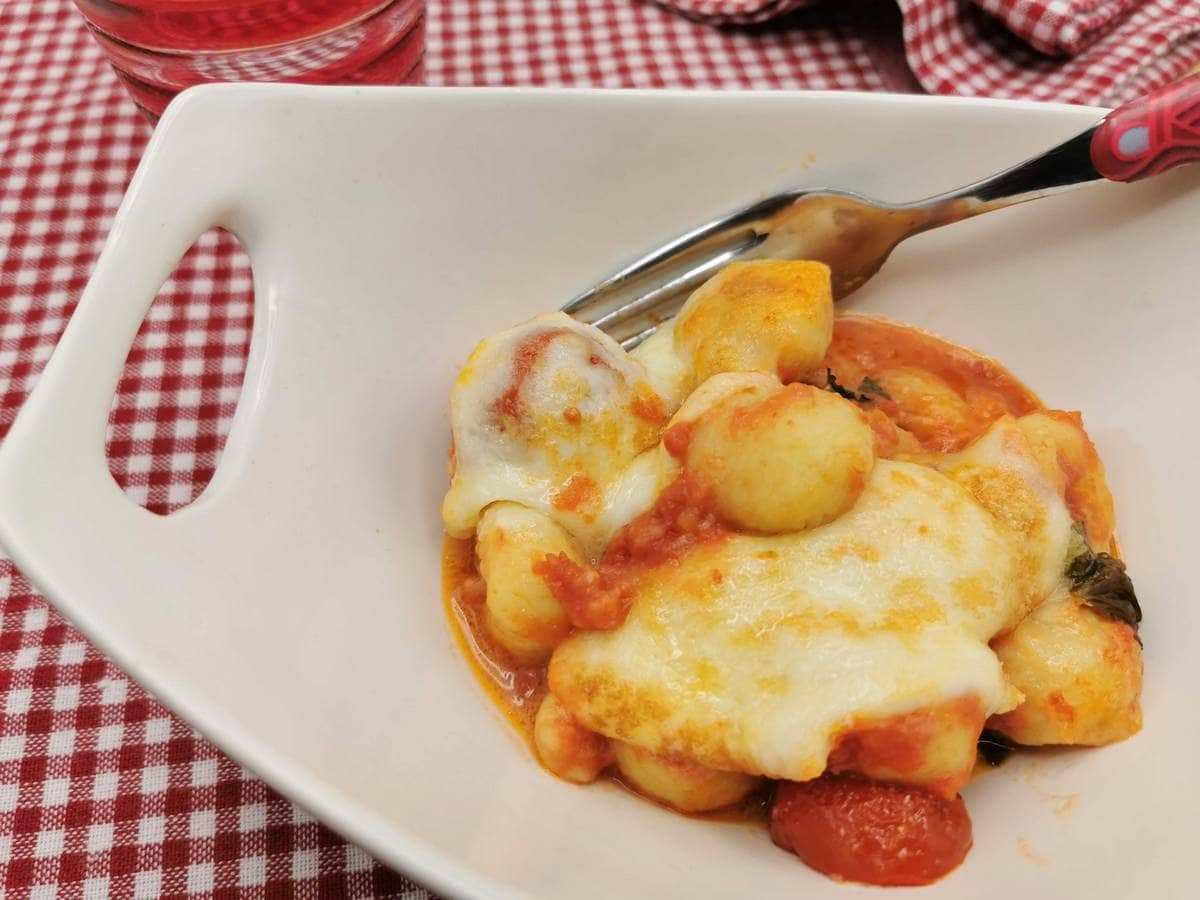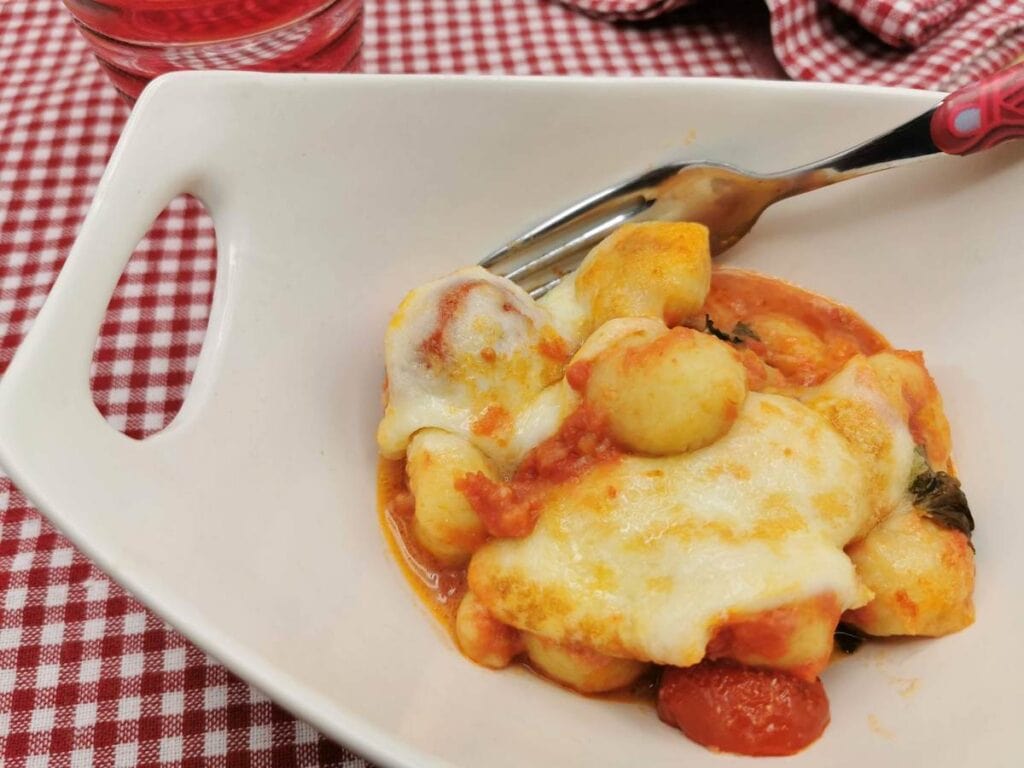 Recipes for your gnocchi.
So far there are some great recipes here on the Pasta Project for your homemade potato gnocchi. Check out gnocchi baked with tomatoes, mozzarella and basil alla Sorrentina and gnocchi with Gorgonzola, to which you can add walnuts, figs or speck, or a combination of those. Plus gnocchi with duck ragu and others (see links below).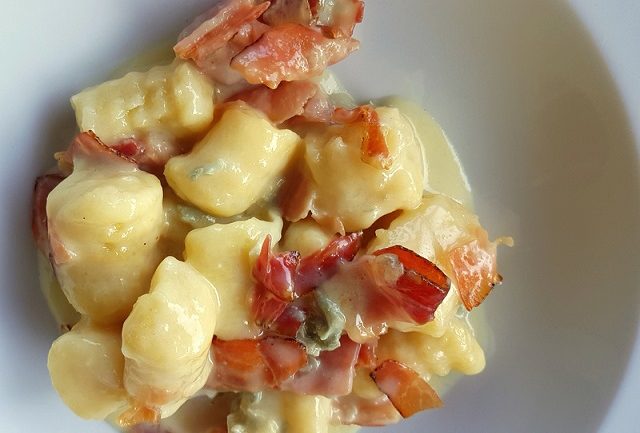 As alternative to plain potato gnocchi you can also replace half the potato with roasted pumpkin and make delicious pumpkin gnocchi the same way! Why not join the club and give making your own gnocchi a try and then use one of my recipes to make a divine meal?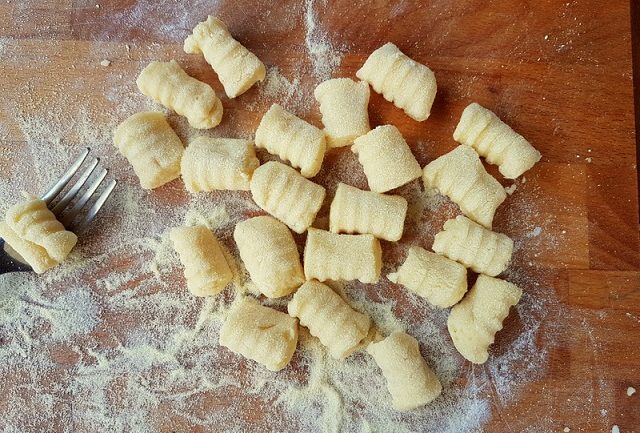 If you do try making your own potato gnocchi, I'd love to hear what you think. Please write a comment here on the blog or post a comment on the Pasta Project Facebook page.
Your feedback means a lot to me!
Buon Appetito!
Some ways to serve potato gnocchi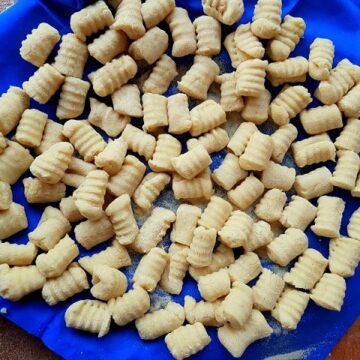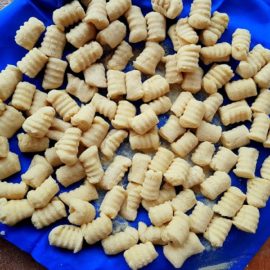 Homemade Italian Potato Gnocchi
Homemade gnocchi are so much better than ready-made. Once you have succeeded in making them, you'll never go back to the store bought kind.
Ingredients
1

kg

Russet potatoes

(2.2lbs) all about the same size

300

g

'00' or all purpose flour

(10.5oz)

1

tsp

salt

1

egg

lightly beaten
Instructions
In a large pot with just enough water to cover them, boil potatoes with their skins on. The skin helps prevent the potato from absorbing access water. (Dry potatoes are good. Watery potatoes are bad.) Boil for about 20-30 minutes or until fork tender. Over-boiling will cause potatoes to become mushy and too wet.

Strain and peel the boiled potatoes, removing any brown spots that might be below the skin. Peel them quickly, as the cooler they get, the less fluffy they become. I held them in a tea towel to peel!

Spread most of the flour onto your work surface and using a potato ricer (in Italian passavedura) press the cooked potatoes into a mound onto the centre of the flour. If you don't have a ricer you can mash the potatoes until smooth. Mix the flour and potato together.

Allow the potatoes to cool a little if they are still hot and then make a hollow in the centre of your potatoes and flour, add a pinch of salt and then pour in the lightly beaten egg. (If the potatoes are still too hot the egg will start to cook)

Start to blend and knead everything together with your hands, adding more flour as you go if you need to. Work carefully and quickly, as the more you handle the dough, the harder it will become. You need the same lightness you would use for pastry. Continue until the dough loses most of its stickiness and becomes more solid.

Cut a quarter of the dough off and cover the rest with a tea towel to prevent it drying out too quickly. Reflour your work surface. I used semolina flour (semola in Italian).

Divide the quarter into two and roll each piece out into a rope or snake about as thick as your thumb and cut it into pieces about 2cm wide. Repeat with the rest of the dough.

Gently roll each gnocco against the floured front tines of a fork or down an gnocchi board to make ridges. Then arrange in a single layer on prepared floured baking sheets. ( I used semolina flour for this).

Allow the gnocchi to rest for 20-30 minutes before cooking.

Potato gnocchi need to be cooked almost immediately, although you can keep them covered in the fridge or at room temperature for a couple of hours. However you have to keep them separated or they will stick together!

When you are ready to cook your gnocchi, bring a large pot of salted water to a boil. In batches, add a few handfuls of gnocchi and cook until most have floated to top, about 2 minutes. With a wire-mesh spider or a slotted spoon, transfer the gnocchi immediately to whatever sauce you have prepared.
Notes
You can freeze uncooked gnocchi (which is what I do) Put them into the freezer on a tray, so they aren't touching each other. When they have frozen (about 30 minutes) transfer them to a freezer bag or small container. Cook them from frozen. Frozen gnocchi taste as good as freshly made.
This recipe makes enough gnocchi for 6 medium sized servings.
Nutrition
Calories:
324
kcal
Carbohydrates:
68
g
Protein:
10
g
Fat:
1
g
Saturated Fat:
0.4
g
Polyunsaturated Fat:
0.4
g
Monounsaturated Fat:
0.3
g
Cholesterol:
27
mg
Sodium:
407
mg
Potassium:
759
mg
Fiber:
4
g
Sugar:
1
g
Vitamin A:
41
IU
Vitamin C:
10
mg
Calcium:
34
mg
Iron:
4
mg
Want to know more about my life in Italy? Why not subscribe to my newsletter? New subscribers get a free series of recipe e-books too!