Gnocchi alla Sorrentina is a mouthwatering dish from Campania, Italy, usually made with potato gnocchi which are oven baked with the quintessentially Italian ingredients of tomatoes, mozzarella and basil.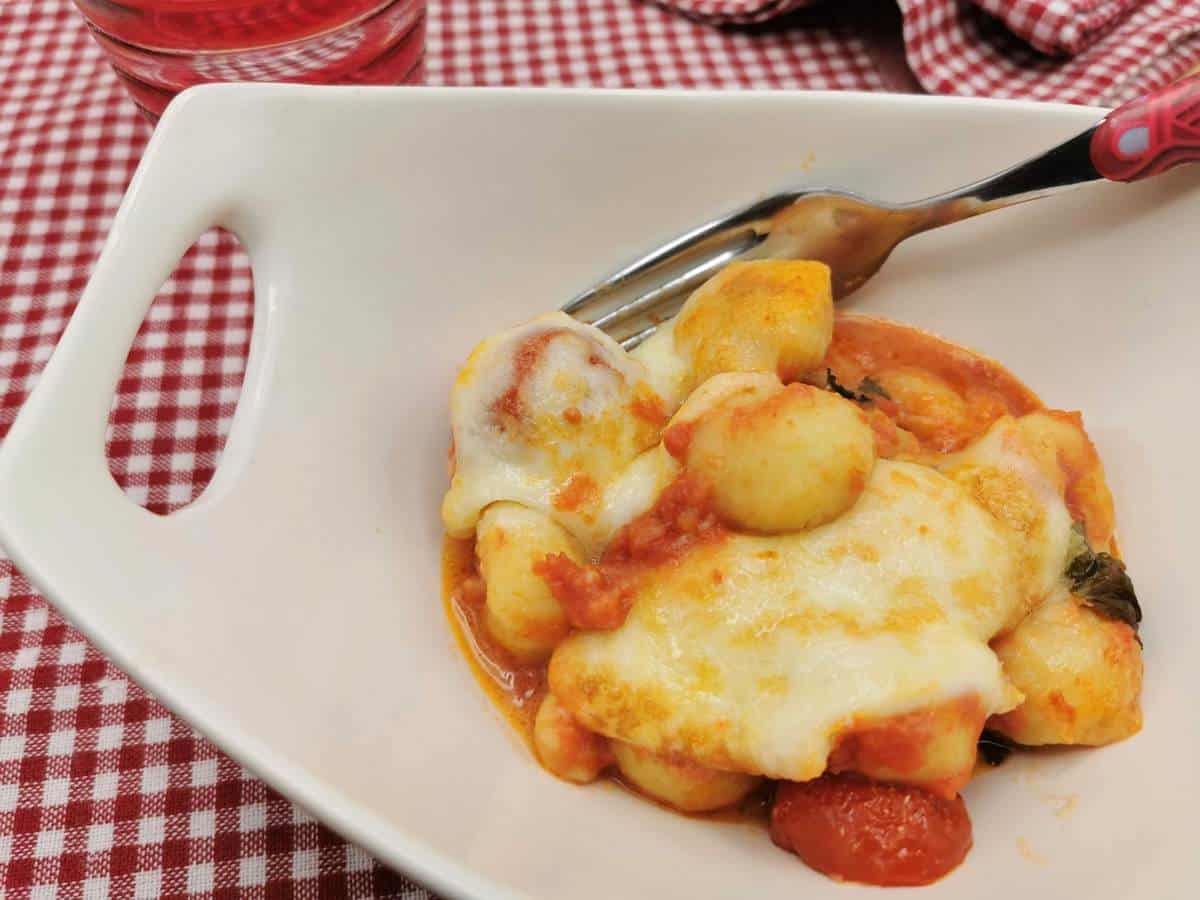 What does sorrentina mean?
Gnocchi alla sorrentina takes its name from the city (and peninsula) of Sorrento, where it originated. Sorrento is in the province of Naples, Campania. The area is also famous for its lemons, from which the best limoncello is made. But that's another story!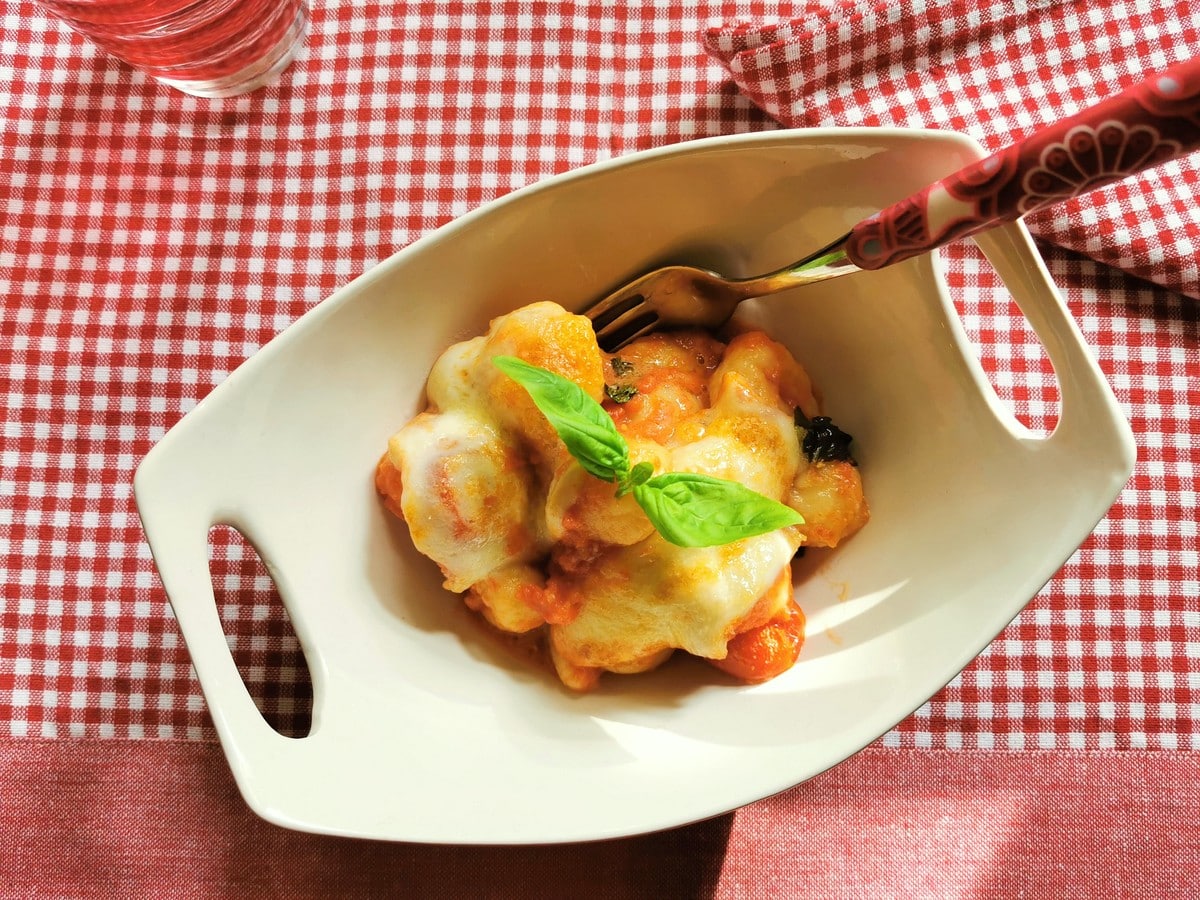 The gnocchi.
The gnocchi in this recipe are traditionally homemade potato gnocchi. However, you can, of course, use ready made fresh or frozen ones. If you want to make the gnocchi yourself check out my homemade potato gnocchi recipe.
Making the gnocchi at home will increase the time it takes to put this dish together. But, I always think it is worth it!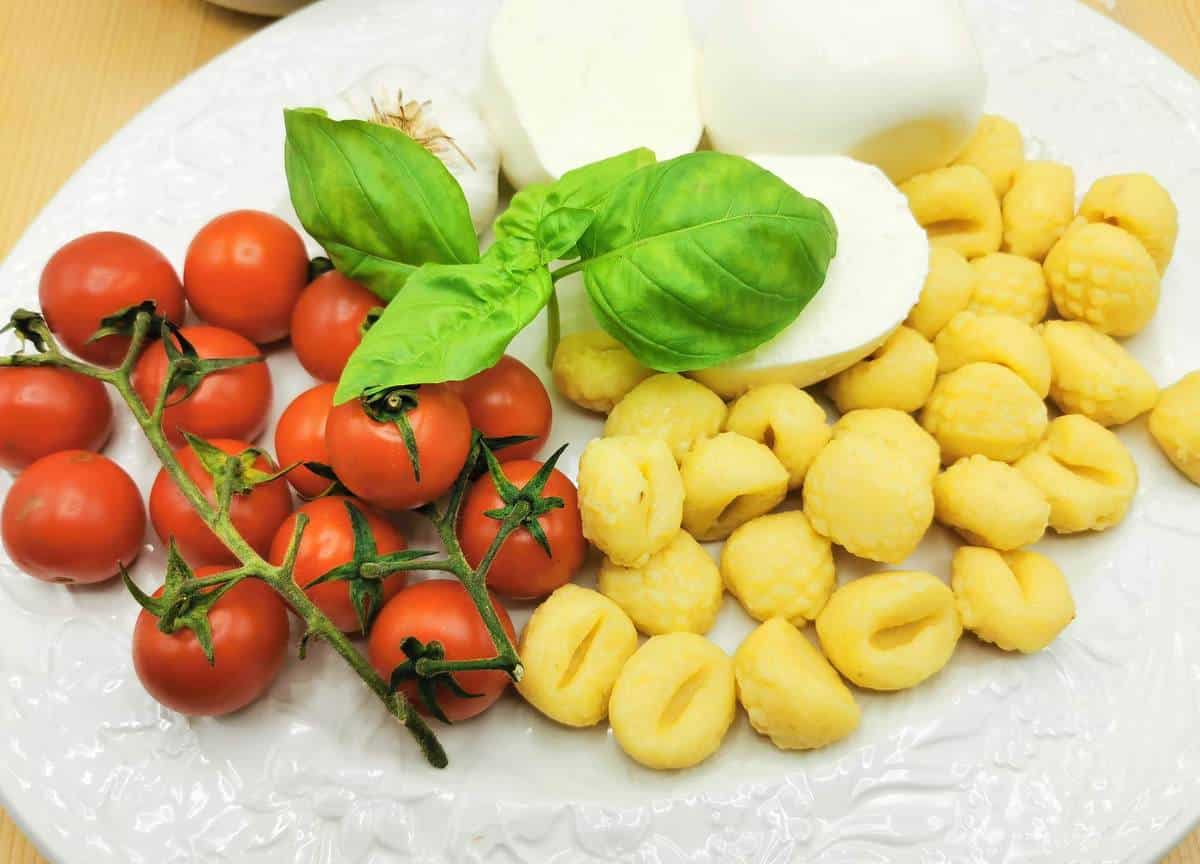 Making gnocchi alla Sorrentina.
Gnocchi alla sorrentina is pretty easy to put together. Whether you use homemade or ready made gnocchi, you just need to parboil them first. Then, mix them with a fresh tomato sauce in an oven dish.
After which, you layer the top with fior di latte or bufala mozzarella, fresh basil and a sprinkling of parmigiano or pecorino cheese. Finally bake your gnocchi all sorrentina until the cheese melts and starts to turn golden.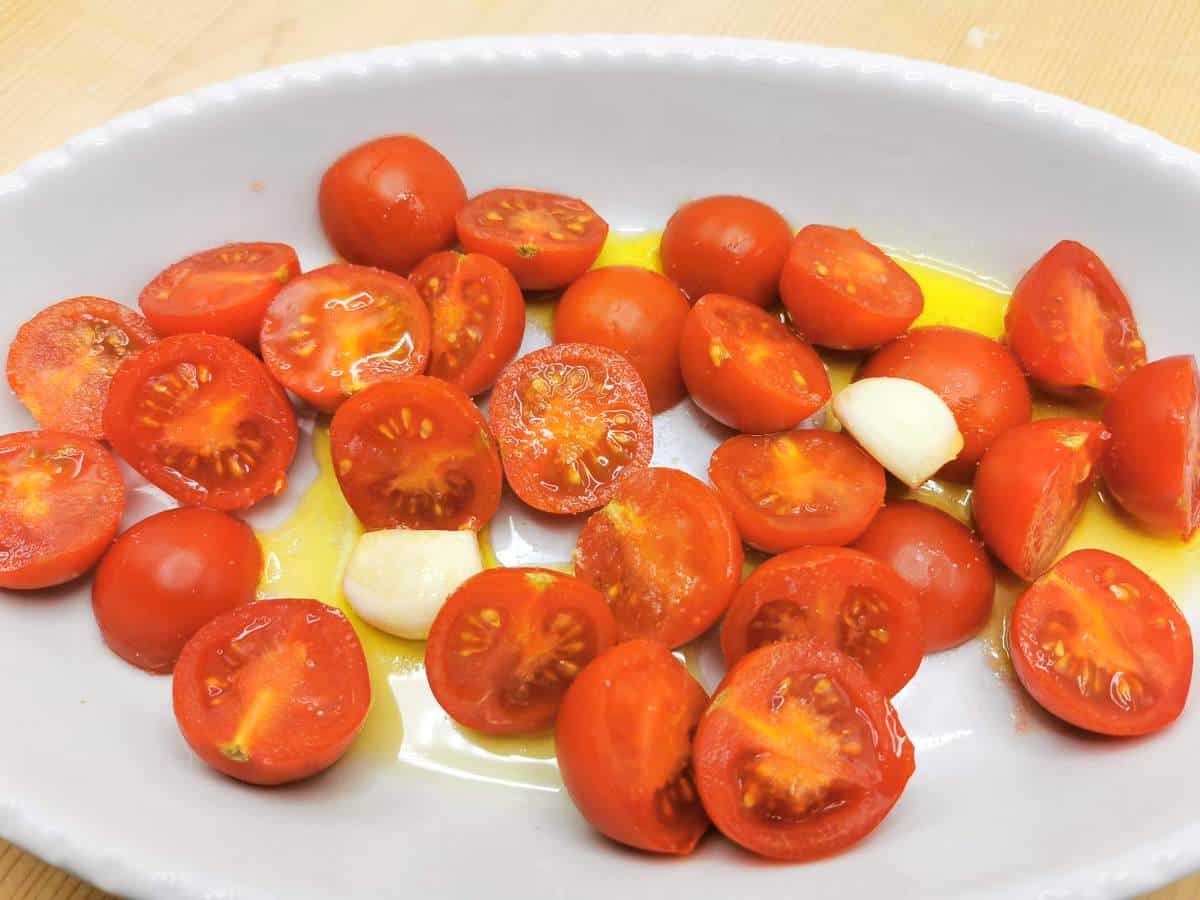 In Campania, they traditionally use a terracotta oven dish, which in Neapolitan dialect is called a 'pigniatiello'. If you don't have a terracotta dish, of course you can use a ceramic (like I did) or a Pyrex dish.
However, it's important to serve the baked gnocchi very warm, preferably in the same baking dish used for cooking.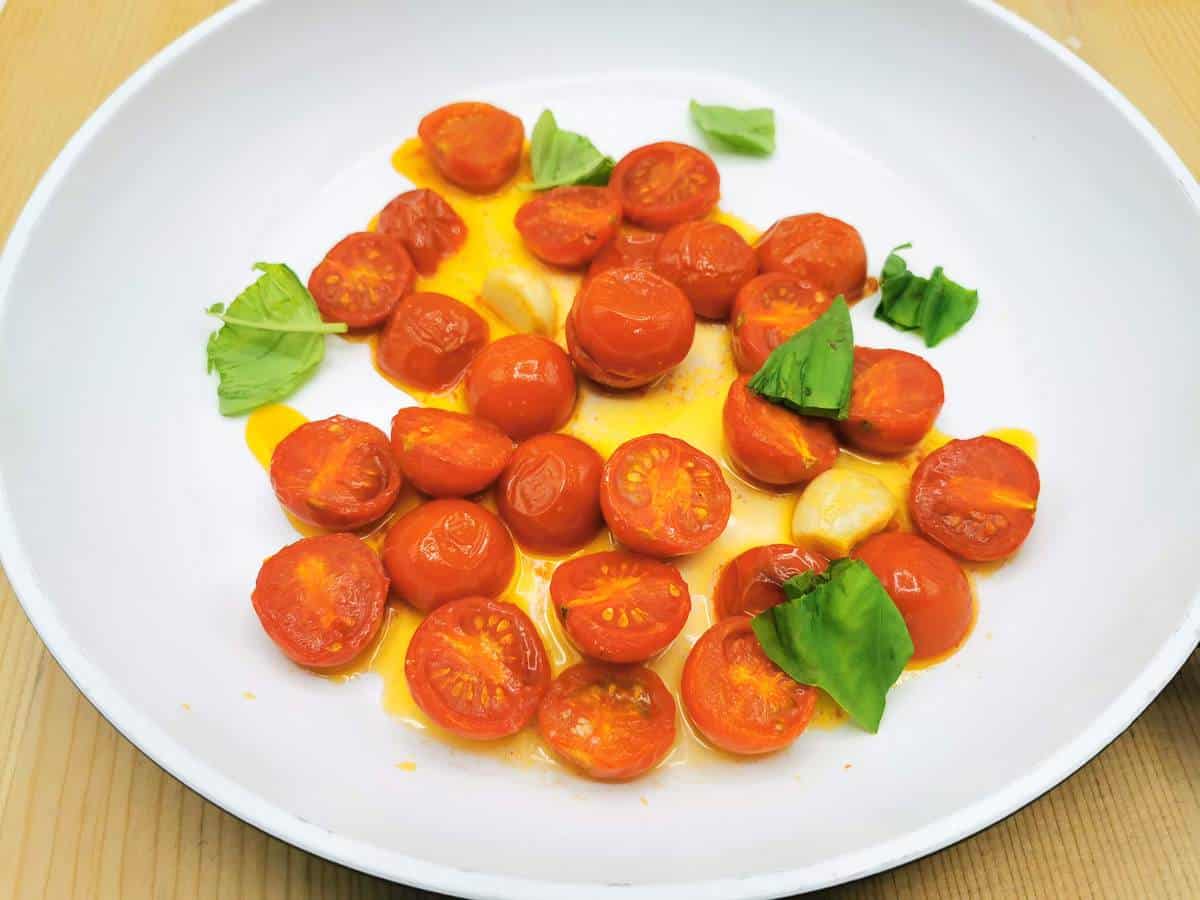 If you make the gnocchi yourself, it will take about an hour longer but the rest of the cooking is pretty quick, so this divine deliciousness can be ready to serve in under 45 minutes. Of course, high quality ingredients are key to getting the best from this dish.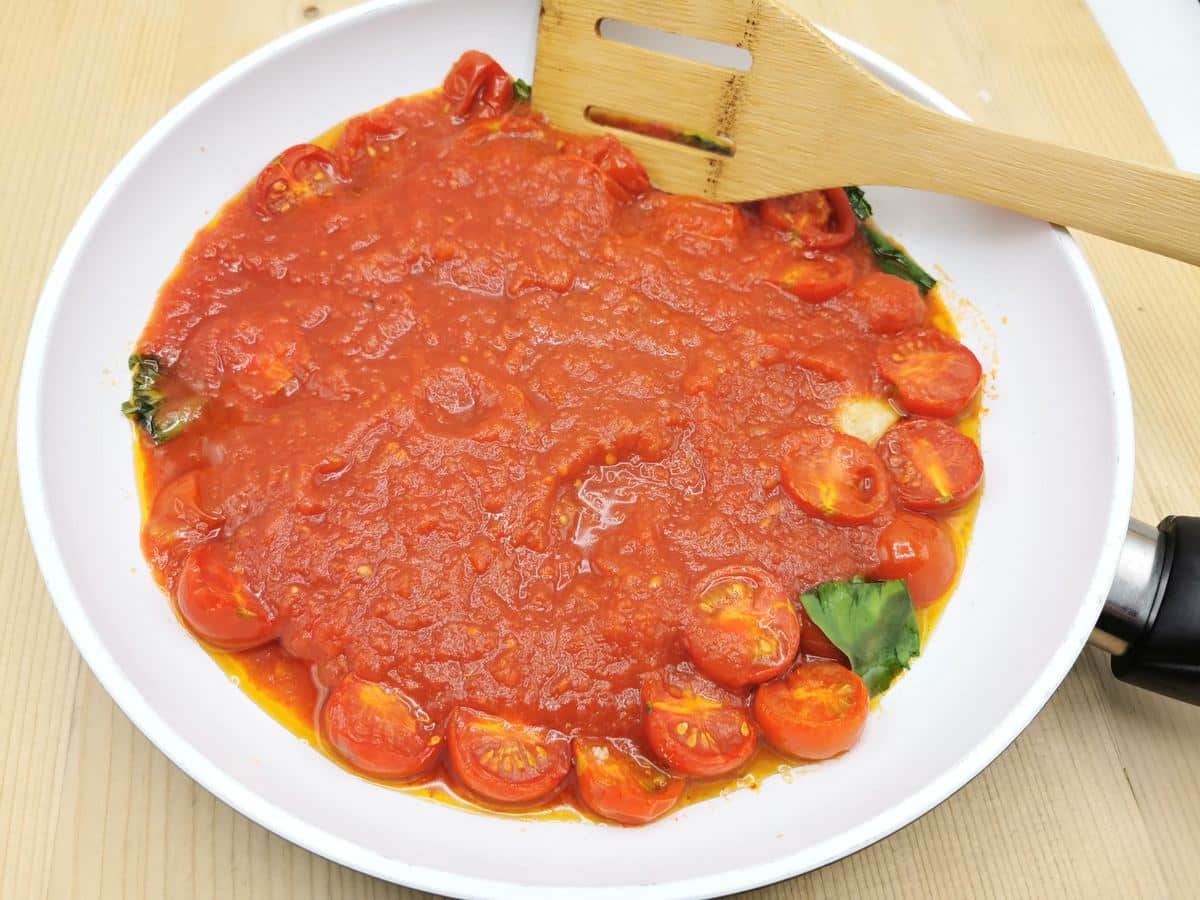 Making the tomato sauce.
Making the sauce with only fresh tomatoes would be best. But outside of summer, good quality sauce tomatoes are hard to come by. You can use good quality canned Italian tomatoes or passata. Or, you can do as I like to, mix fresh cherry tomatoes with passata.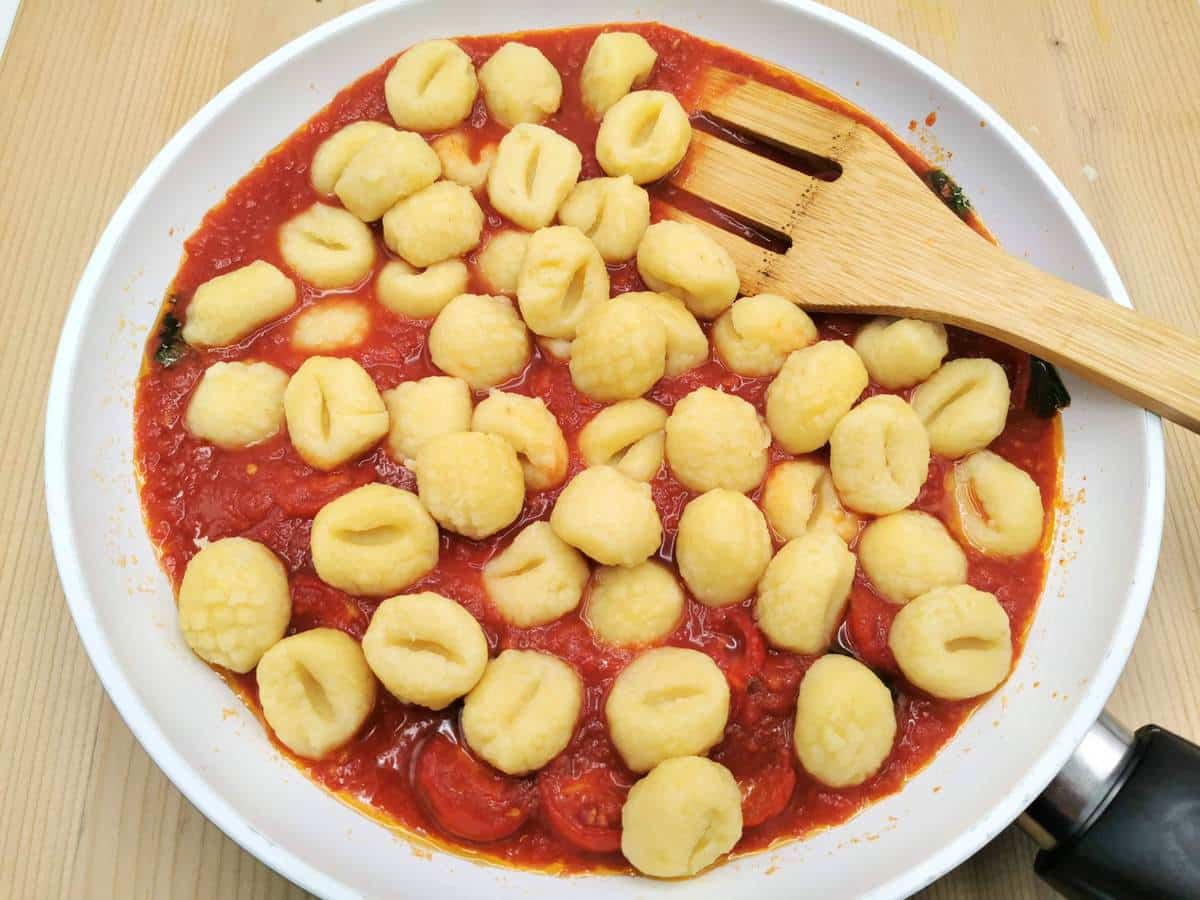 I deviated from the normal recipe for gnocchi alla Sorrentina by roasting the cherry tomatoes with garlic before making the sauce.
This really gives the sauce a more intense flavor. Of course, you can make it without roasting the cherry tomatoes first.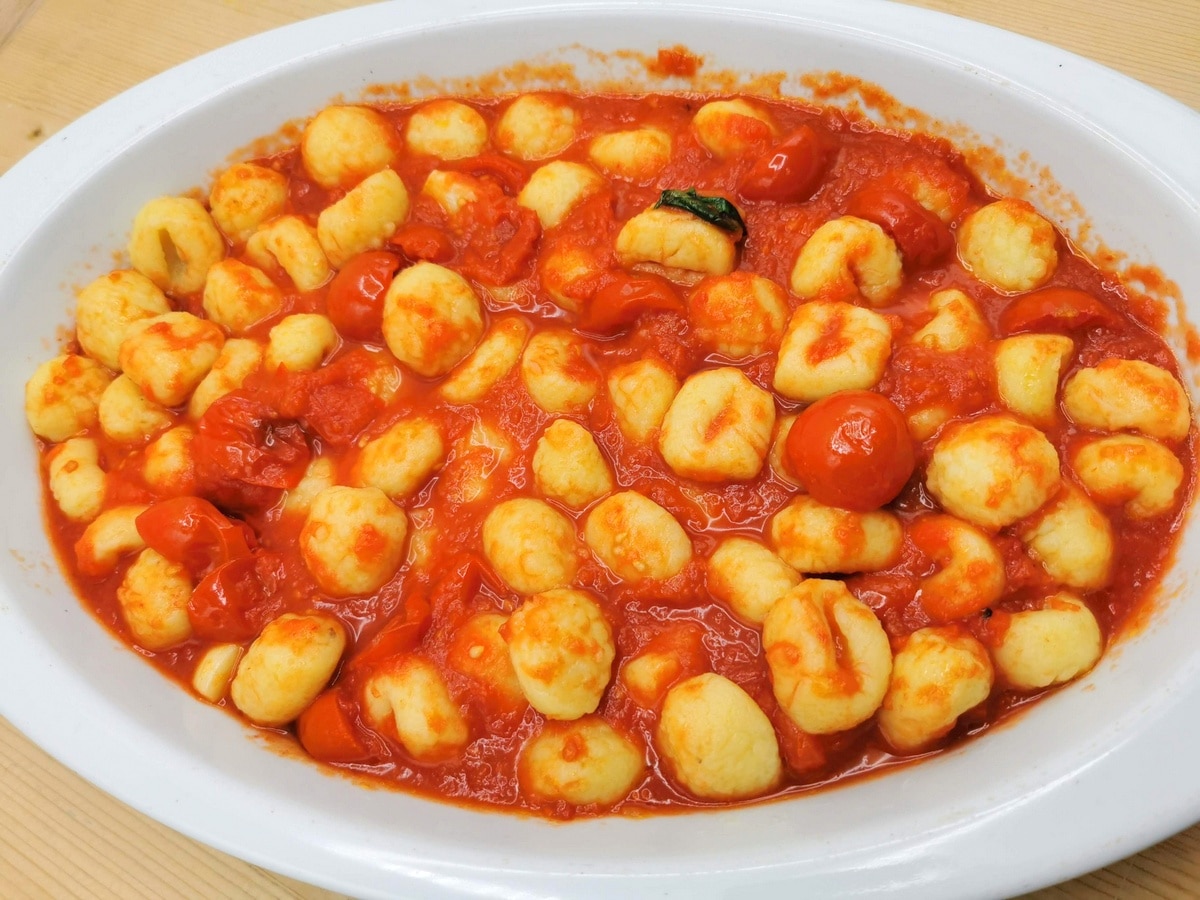 The mozzarella.
The mozzarella for gnocchi alla Sorrentina needs to be really fresh. In fact, it's better not to use the harder type or ready grated. It just won't taste the same.
In Naples, they traditionally use buffalo milk mozzarella (mozzarella di bufula), or fior di latte. The latter is basically very fresh mozzarella made with whole cow's milk.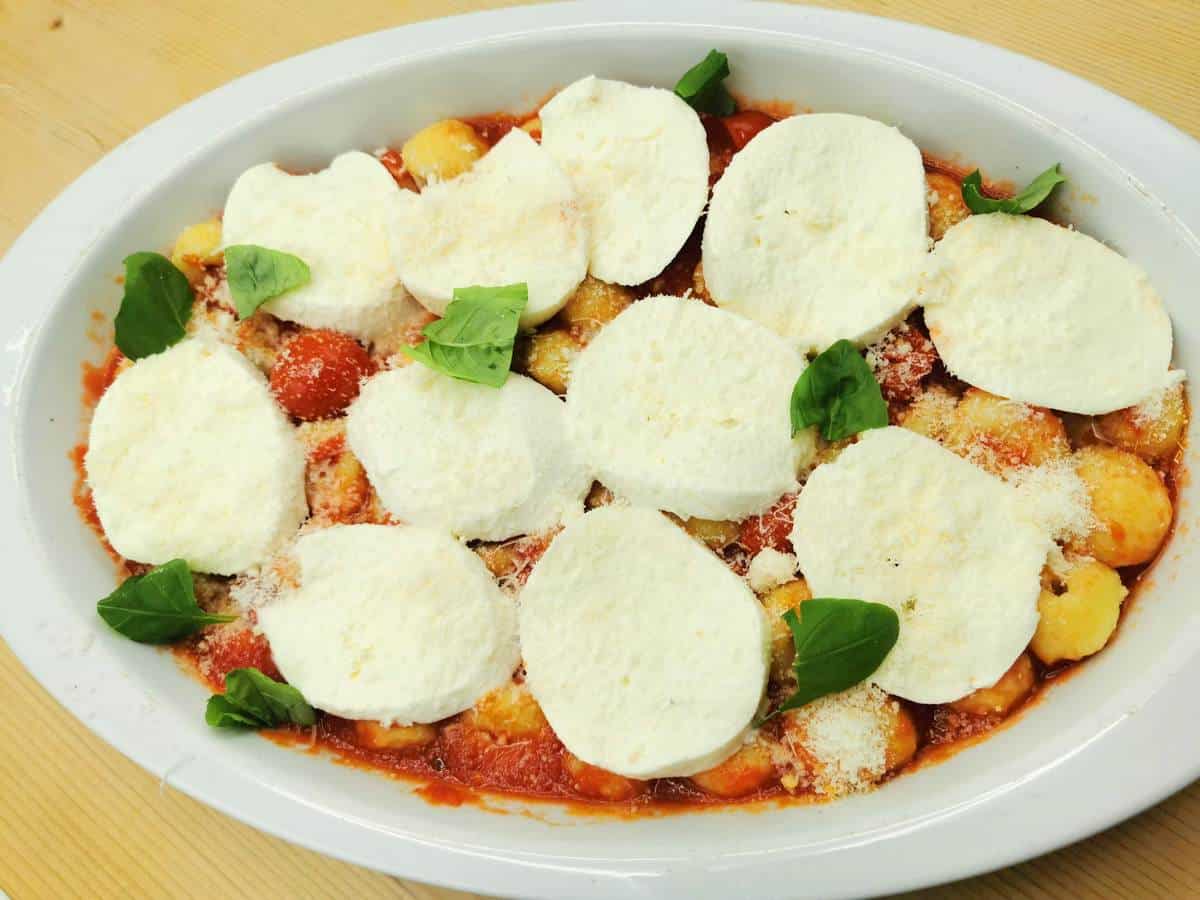 Alternative recipes for gnocchi alla Sorrentina.
Here in Italy, there are some alternative versions of this recipe which include different cheeses such as scamorza or include onions or eggplant.
Some people also make gnocchi alla Sorrentina with ragu, instead of simple tomato sauce. The recipe I have posted here is the simplest and I think the most delicious version.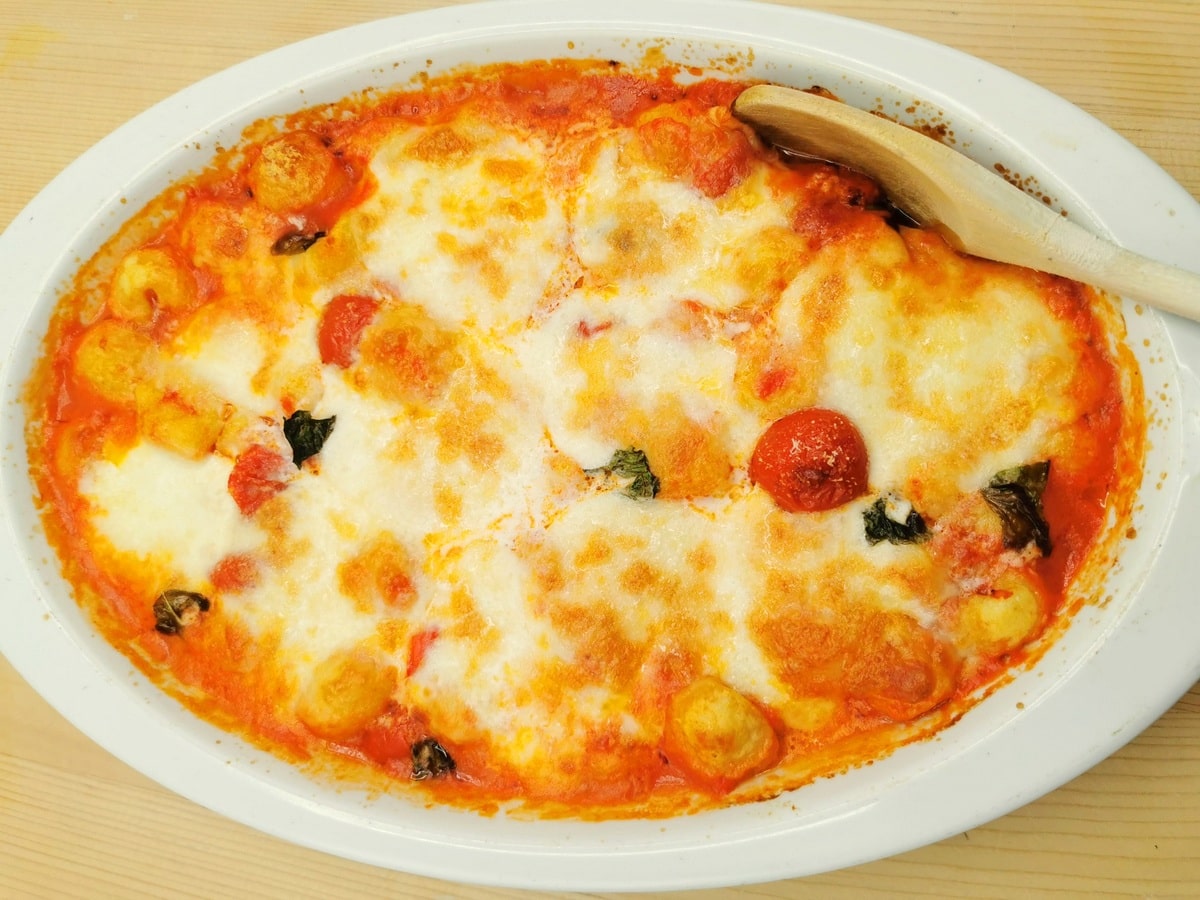 I have also made this dish with semolina gnocchi. That was fabulous too. You can take a look at my recipe for gnocchi alla Romana if you'd like to try this.
Make the semolina gnocchi as per alla Romana, but then cook them in the oven alla Sorrentina. The only difference is that they need less oven time.
This recipe is a real crowd pleaser and loved by kids and adults alike here in Italy. In Campania, gnocchi alla Sorrentina is traditionally cooked on Sundays, when families get together for lunch.
To avoid arguments over portion sizes, you can also bake it in individual dishes, which looks really nice and prevents anyone coming to blows!! Because I promise you they will fight over it!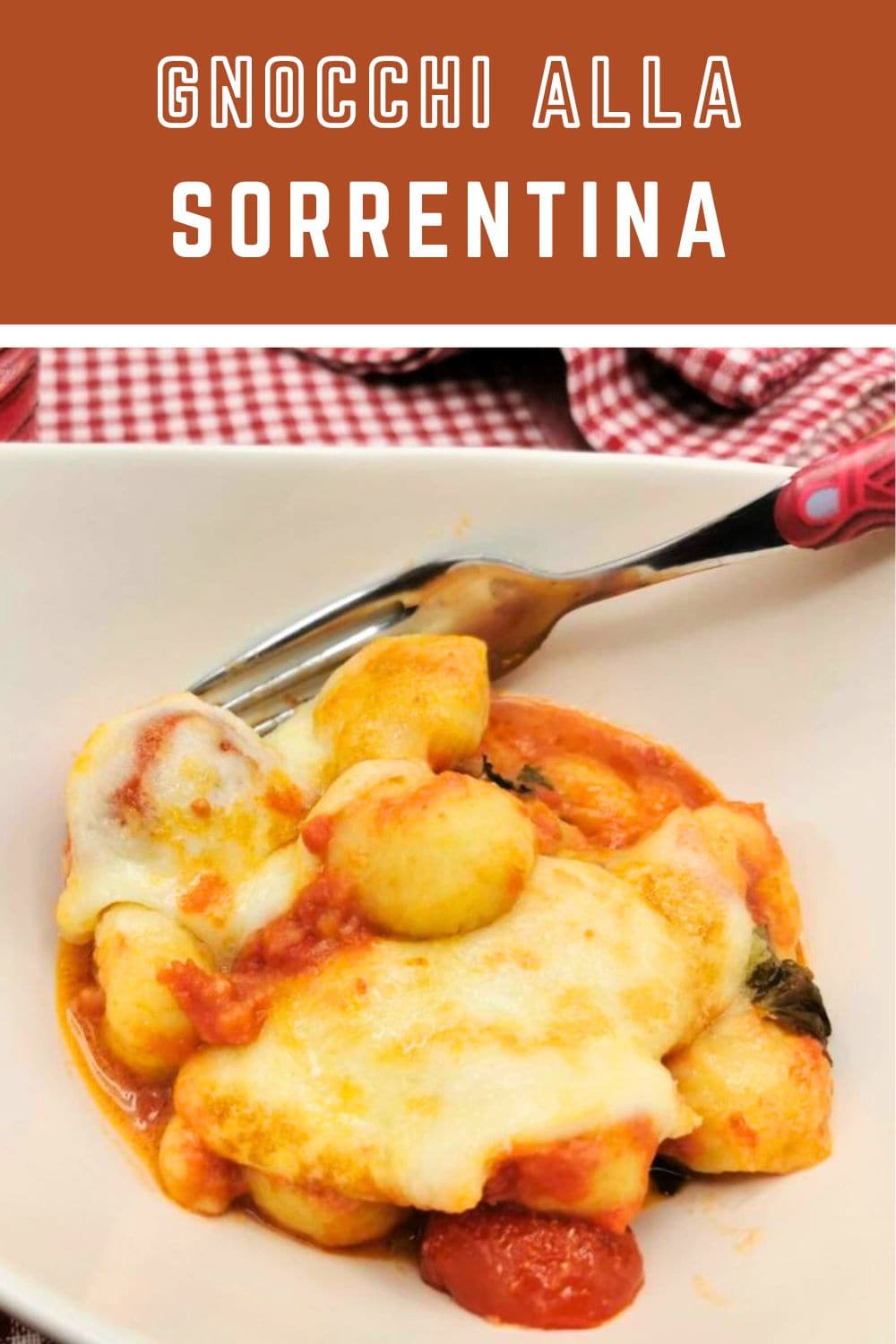 Storage and Leftovers
Store the leftovers by allowing them to cool down to room temperature. Then transfer the leftovers into an airtight container or cover in the baking dish with plastic wrap or aluminum foil. You can then refrigerate the leftovers for up to 3 days.
To reheat the gnocchi alla sorrentina in the oven, transfer it into a baking dish if not already. Then cover in aluminum foil and bake at 350F (180c) for 20-25 minutes, until hot.
To reheat the gnocchi alla sorrentina in the microwave, transfer the gnocchi to a microwave-proof dish and heat for 3 minutes.
More gnocchi recipes you may like:
If you make this baked gnocchi recipe, I'd love to hear how it turns out and if you liked it. Please leave a comment here on the blog or on The Pasta Project Facebook page.
Looking forward to hearing from you!
Buon Appetito!
This recipe was originally published in 2017 but has been updated with new photos and text.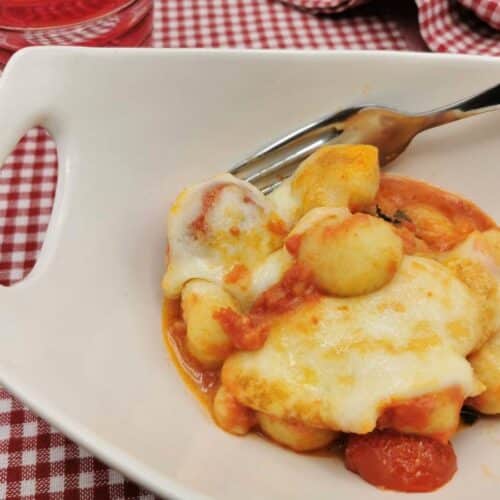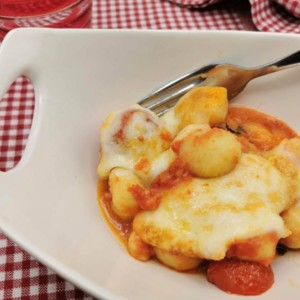 Gnocchi alla Sorrentina
Gnocchi alla Sorrentina is a mouthwatering easy-to-make baked gnocchi dish from Campania which is a real crowd pleaser and loved by kids and adults alike.
Ingredients
1.2

lbs

potato gnocchi

(550g) homemade or fresh

12

cherry tomatoes

14

oz

tomato passata

(400g) I prefer rustica meaning chunky passata

14

oz

mozzarella

(400g) preferably bufala (buffalo milk mozzarella

3.5

oz

Parmigiano or pecorino

(100g) grated

2

garlic cloves

peeled

6-8

basil leaves

chopped

4

tbsp

extra virgin olive oil

ground black pepper

to taste

salt

to cook gnocchi & to taste
Instructions
Put a pot of water on to boil for the gnocchi. Add salt once the water has started to boil.
For the tomato sauce
Roast the cherry tomatoes and peeled garlic cloves sprinkled with half the olive oil and some salt in a preheated oven at

355

°F

(180c) until the tomatoes start to lose their skin.

Put the garlic cloves and roasted tomatoes with the oven juices and a few chopped basil leaves in a little olive oil in a frying pan or iron skillet. Cook for a few minutes. Then remove the garlic and add the tomato passata.

Add salt and pepper to taste and cook for about 15 minutes.
Complete the dish
Cut the mozzarella into thin slices.

Put the gnocchi into the boiling salted water and when they start to rise to the surface remove with a slotted spoon and add them to the tomato sauce.

Mix the gnocchi and tomato sauce together and transfer to a ceramic, pyrex or terracotta oven dish.

Cover the top with a layer of mozzarella slices and then cover the mozzarella with grated parmigiano or pecorino.

Bake in preheated oven at

355

°F

 (180c) until the top starts to brown. About 15-20 minutes.

Serve immediately decorated with some chopped or whole basil leaves.
Notes
This recipe can be made with other gnocchis like semolina gnocchi or even pasta such as penne or rigatoni.
Strict vegetarians should use a hard cheese made without animal rennet. Parmigiano isn't a vegetarian cheese.
Nutrition
Calories:
788
kcal
Carbohydrates:
63
g
Protein:
38
g
Fat:
44
g
Saturated Fat:
20
g
Polyunsaturated Fat:
2
g
Monounsaturated Fat:
19
g
Cholesterol:
95
mg
Sodium:
1515
mg
Potassium:
653
mg
Fiber:
5
g
Sugar:
7
g
Vitamin A:
1652
IU
Vitamin C:
23
mg
Calcium:
849
mg
Iron:
8
mg
SAVE THIS RECIPE FOR LATER: