Whip up the authentic flavors of Sorrento with Gnocchi alla Sorrentina, and do it in just 45 minutes. This recipe combines the beloved flavors of tomatoes, mozzarella and basil with soft pillowy gnocchi to make a simple and mouthwatering dish.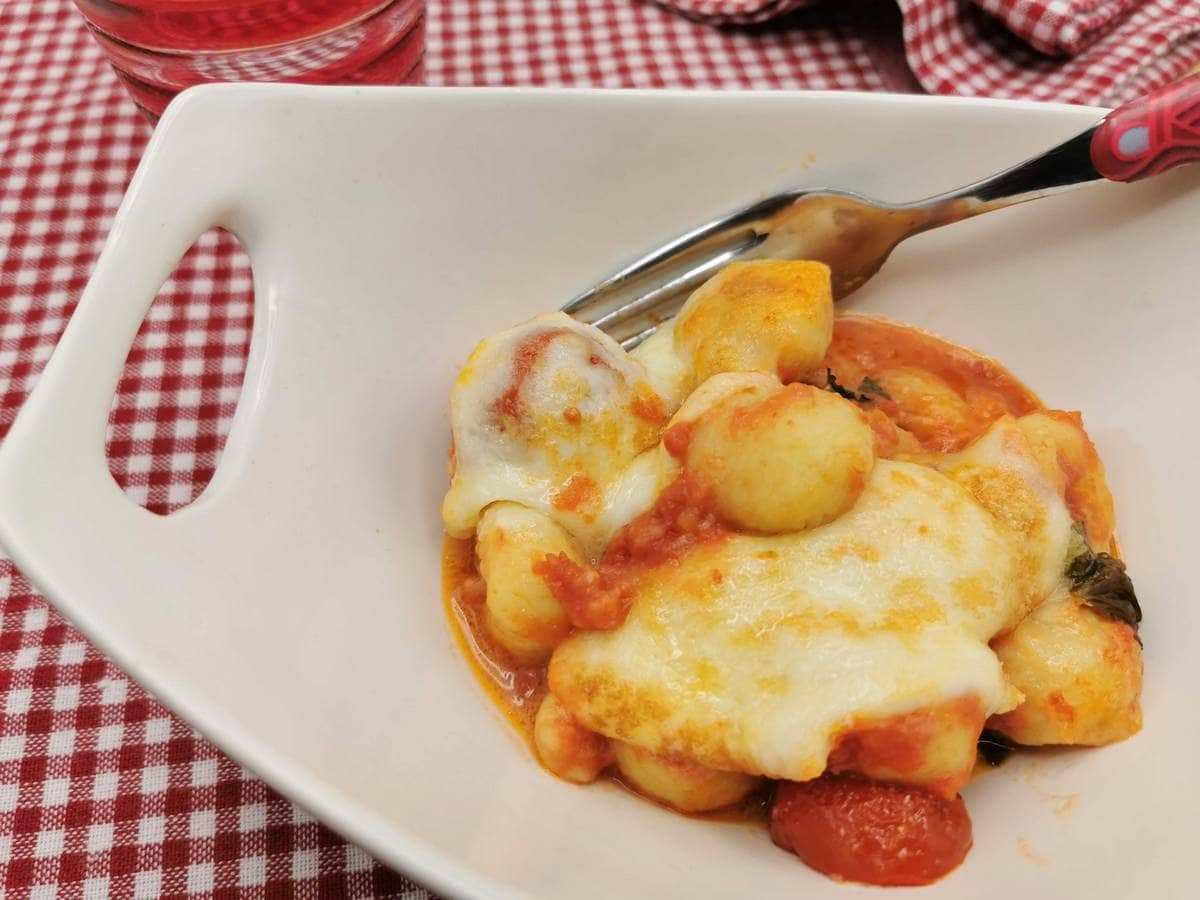 History
Gnocchi alla sorrentina takes its name from the city (and peninsula) of Sorrento, where it originated. Sorrento is in the province of Naples, Campania. The area is also famous for its lemons, from which the best limoncello is made. But that's another story!
In Campania, they traditionally use a terracotta oven dish, which in Neapolitan dialect is called a 'pigniatiello'. If you don't have a terracotta dish, of course you can use a ceramic one (like I did) or a Pyrex dish.
However, it's important to serve the baked gnocchi very warm, preferably in the same baking dish used for cooking.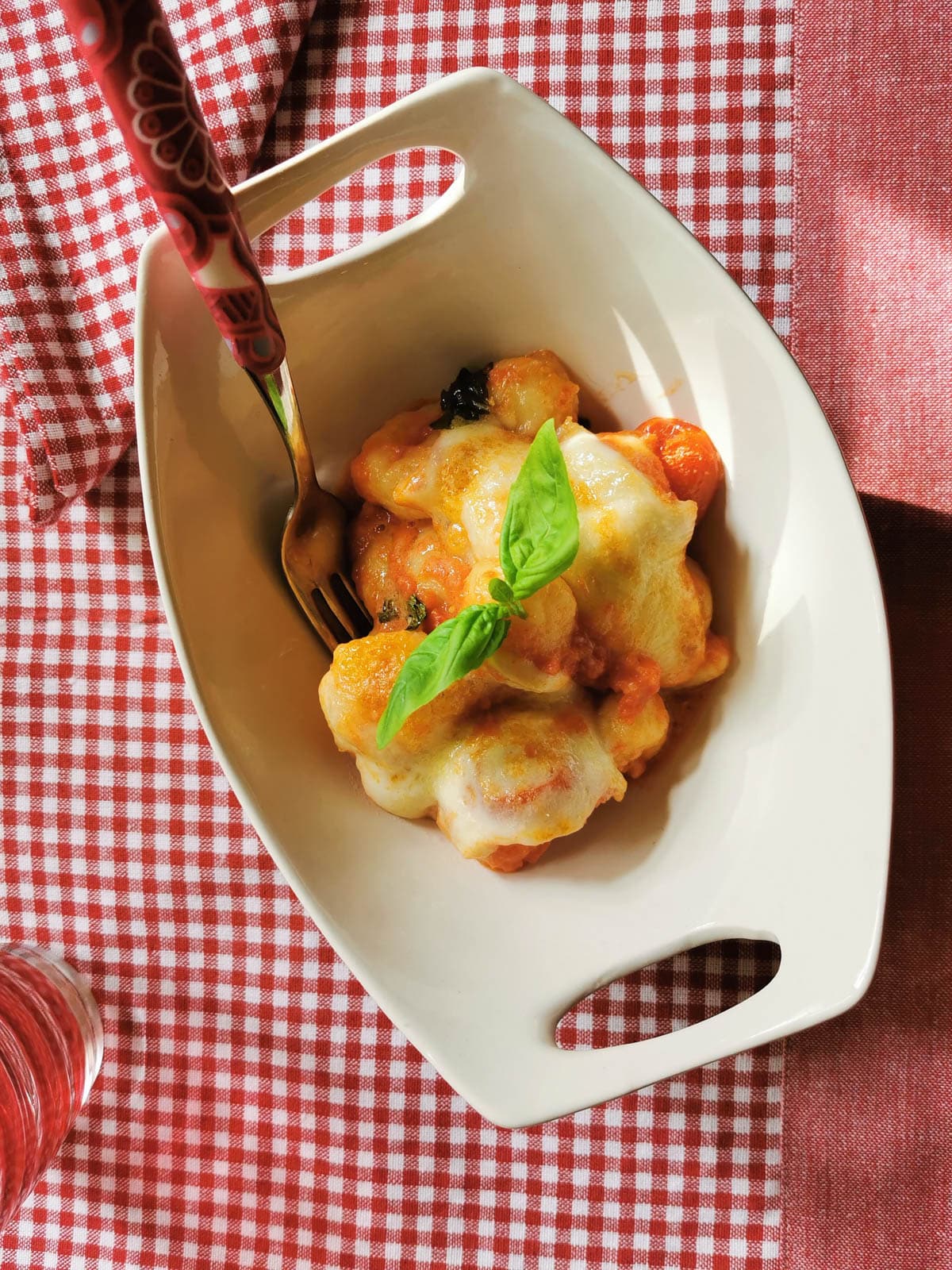 Alternative recipes
In Italy, there are some alternative versions of this recipe, which include different cheeses such as scamorza or include onions or eggplant.
Some people also make gnocchi alla Sorrentina with ragu, instead of simple tomato sauce. This recipe is the simplest and I think the most delicious version.
I have also made this dish with semolina gnocchi. That was fabulous too. You can take a look at my recipe for gnocchi alla Romana if you'd like to try this.
You would make the semolina gnocchi as per alla Romana, but then cook them in the oven alla Sorrentina.
Ingredients
Potato Gnocchi: For a truly authentic touch, consider making potato gnocchi at home. It does demand more time, but the texture and taste can't be matched by store-bought varieties. However, if you're on a tight schedule, opt for high-quality fresh or frozen gnocchi.
Cherry Tomatoes: Use ripe cherry tomatoes; they will add a delightful burst of flavor.
Tomato Passata: Rustica passata is preferred as it offers a rich, textured base for the sauce. If in season, you can use fresh tomatoes, which are also traditionally used.
Mozzarella: Always go for fresh types like buffalo milk mozzarella or fior di latte. Avoid harder types or pre-grated options, which can significantly alter the dish's authentic taste.
Parmigiano or Pecorino: These cheeses bring a robust, umami kick to the recipe.
Garlic Cloves: Fresh garlic infuses the dish with an aromatic depth and richness.
Basil Leaves: Fresh basil leaves add an aromatic freshness, which dried variants cannot replicate.
Extra Virgin Olive Oil: Use a good quality extra virgin olive oil, ideally an Italian olive oil.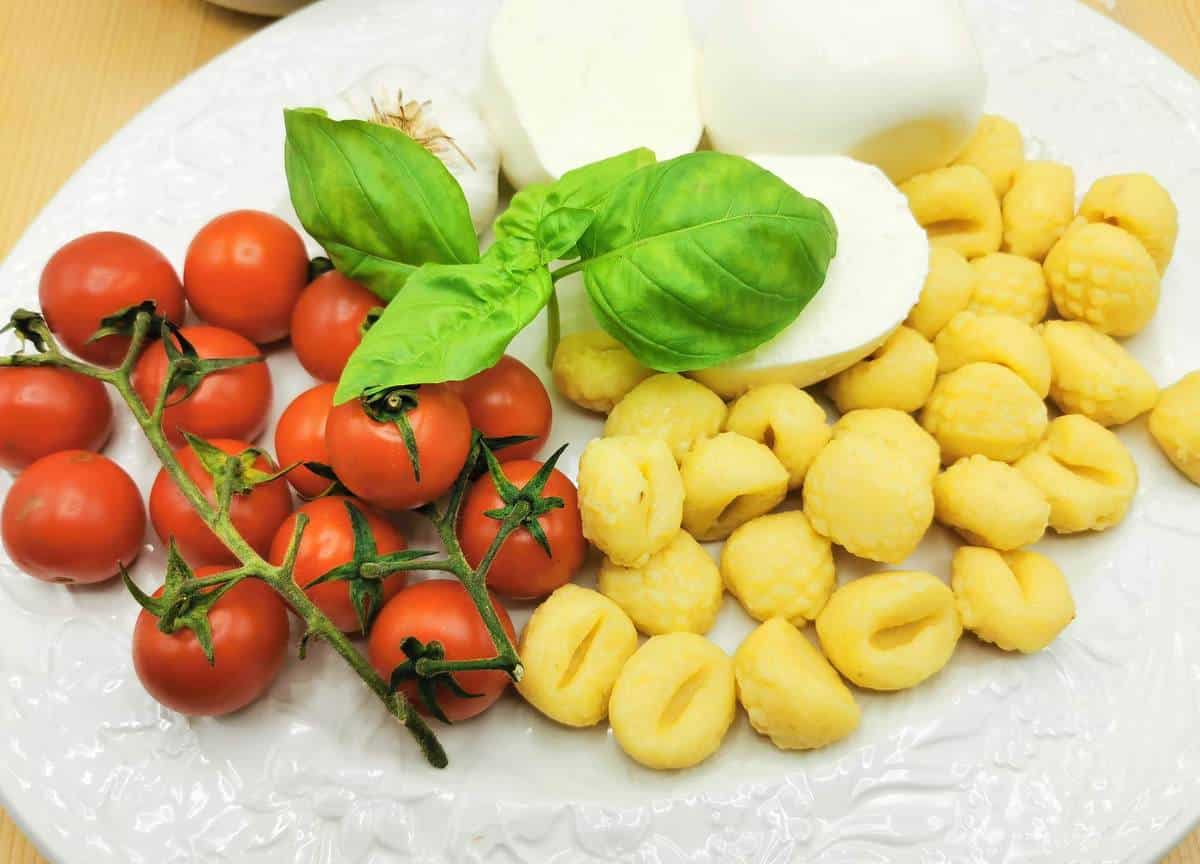 Expert Tips
Cooking the Gnocchi: It's important not to stir the gnocchi when they are boiling. Disturbing them can cause them to float to the surface prematurely, misleading you to think they are fully cooked when they might not be. Wait patiently for them to rise naturally. Then, use a slotted spoon to remove them and add them to the sauce.
Roasting Technique: When roasting cherry tomatoes and garlic, spreading them out in a single layer with ample space between each piece ensures they roast more evenly. This will allow the cherry tomatoes and garlic cloves to caramelize optimally, enhancing their sweetness and flavor depth.
Step by Step Instructions
1) Preheat your oven to 355°F (180°C).
2) Place cherry tomatoes and peeled garlic cloves on a baking tray. Drizzle with half of the olive oil and sprinkle some salt. Roast in the preheated oven until the tomatoes begin to shed their skin.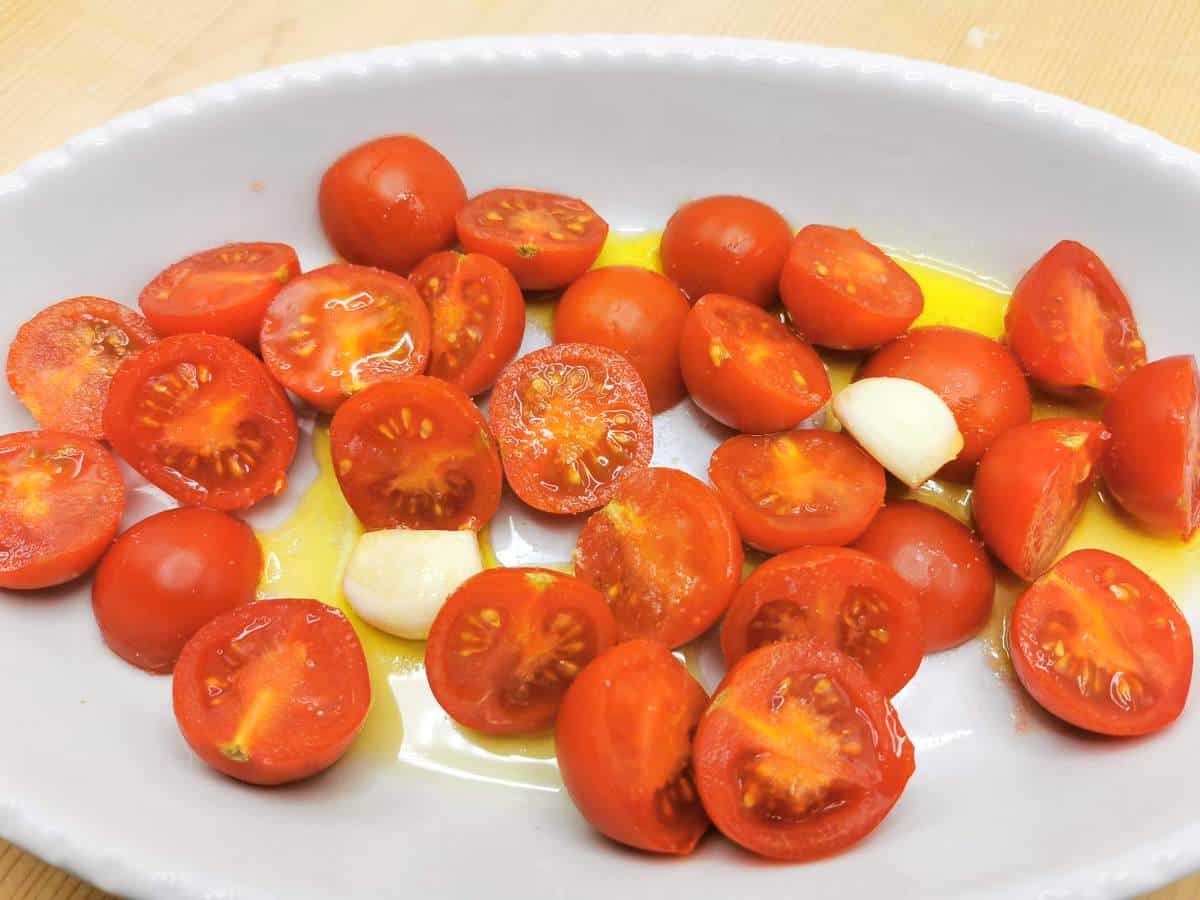 3) In a sauté pan or iron skillet, heat a bit of olive oil. Add the roasted garlic cloves, tomatoes, and some chopped basil leaves, along with any juices from the oven dish. Sauté for a 2 to 3 minutes.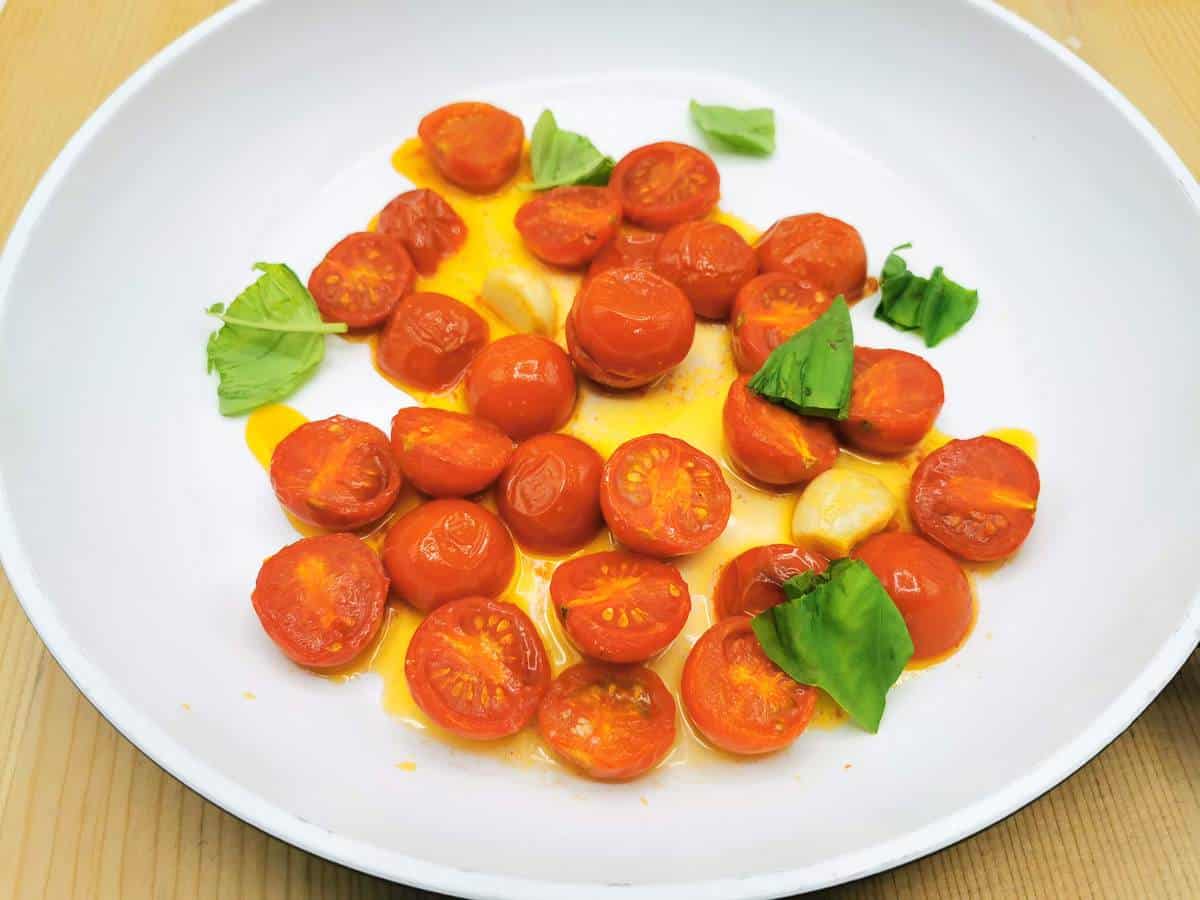 4) Remove and discard the garlic cloves, then stir in the tomato passata. Season with salt and black pepper then let the sauce simmer for about 15 minutes.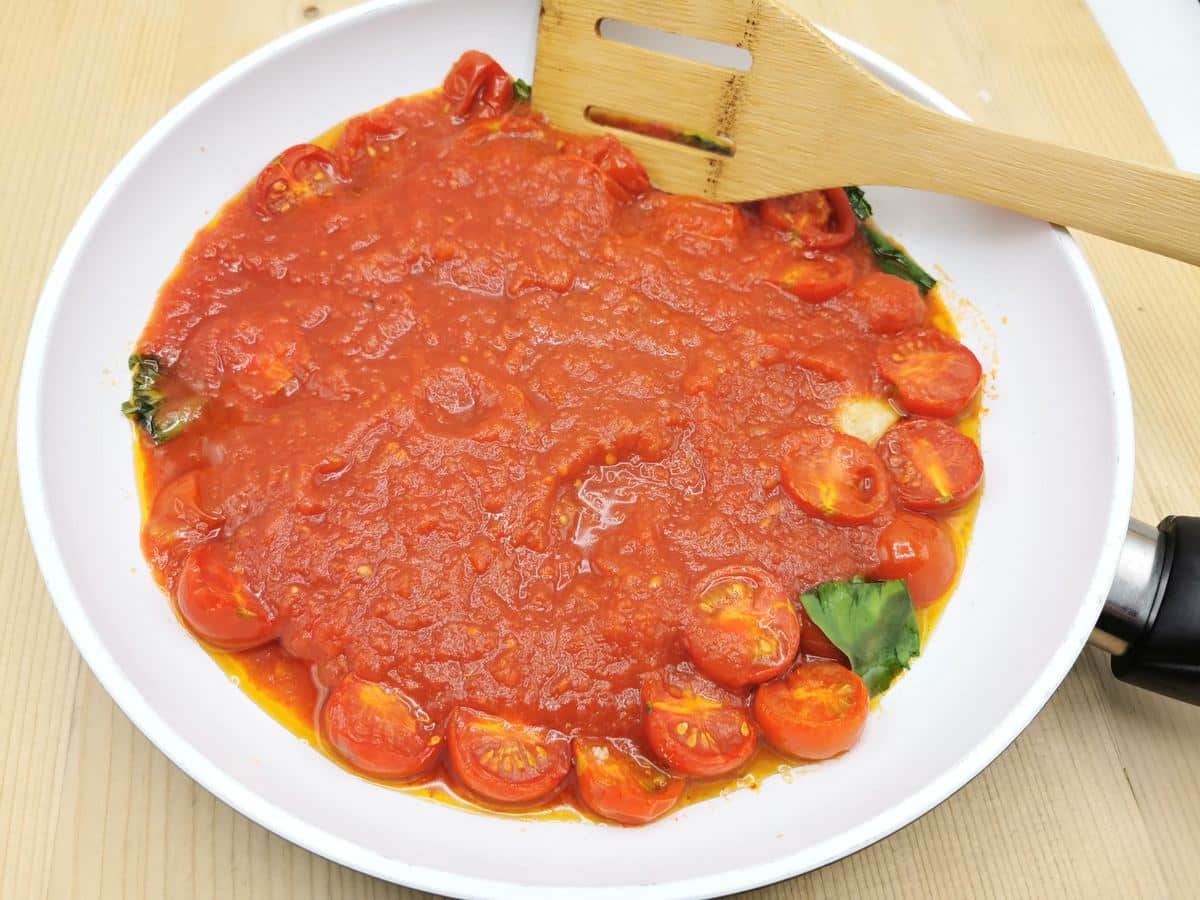 5) In a large pot, bring water to a boil. Once boiling, salt the water generously. Add the gnocchi and cook until they start to float to the surface, then remove them using a slotted spoon.
6) Add the boiled gnocchi to the tomato sauce, mixing well to ensure they're well-coated.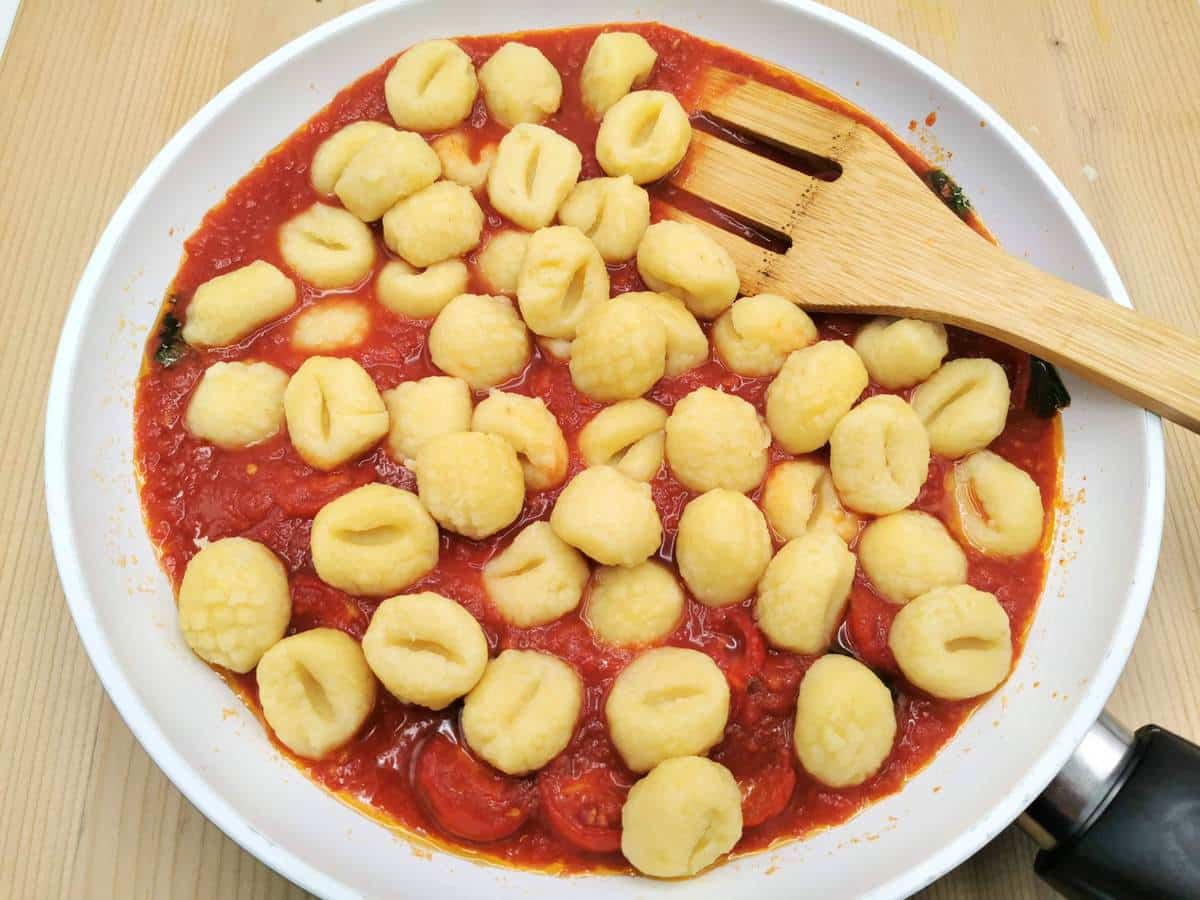 7) Transfer the sauce-covered gnocchi into a baking dish.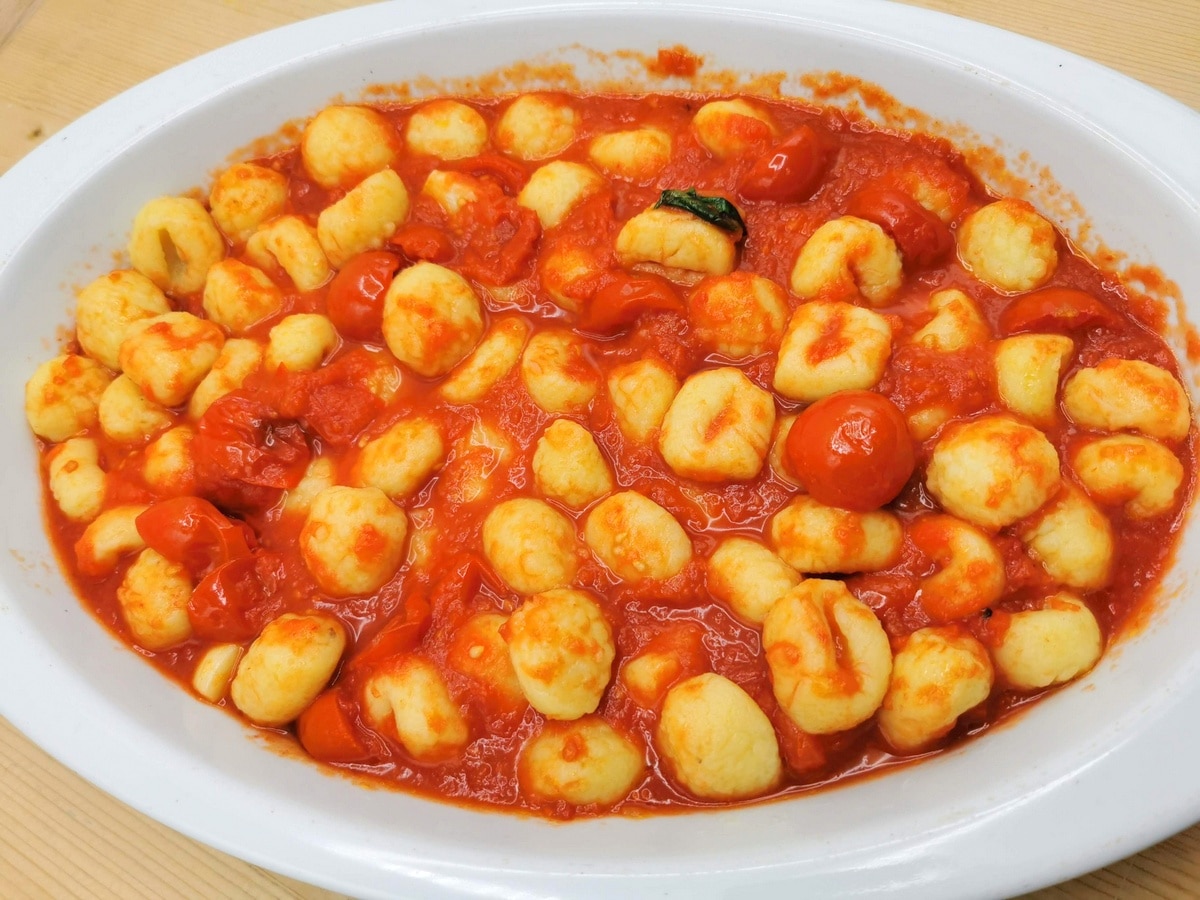 8) Layer the top with mozzarella slices, and then sprinkle the grated Parmigiano Reggiano or Pecorino Romano over the mozzarella.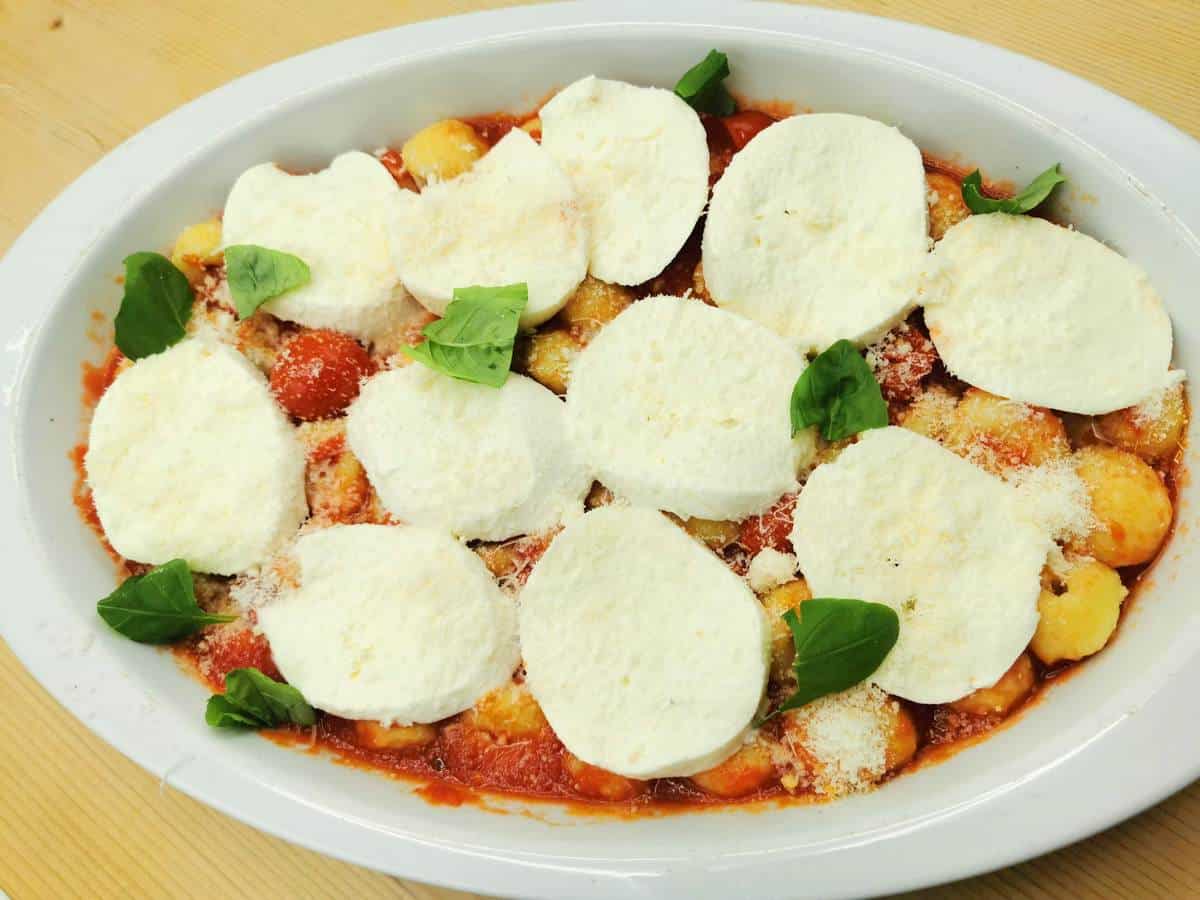 9) Bake in the preheated oven for about 15-20 minutes, or until the cheese on top starts to become golden brown.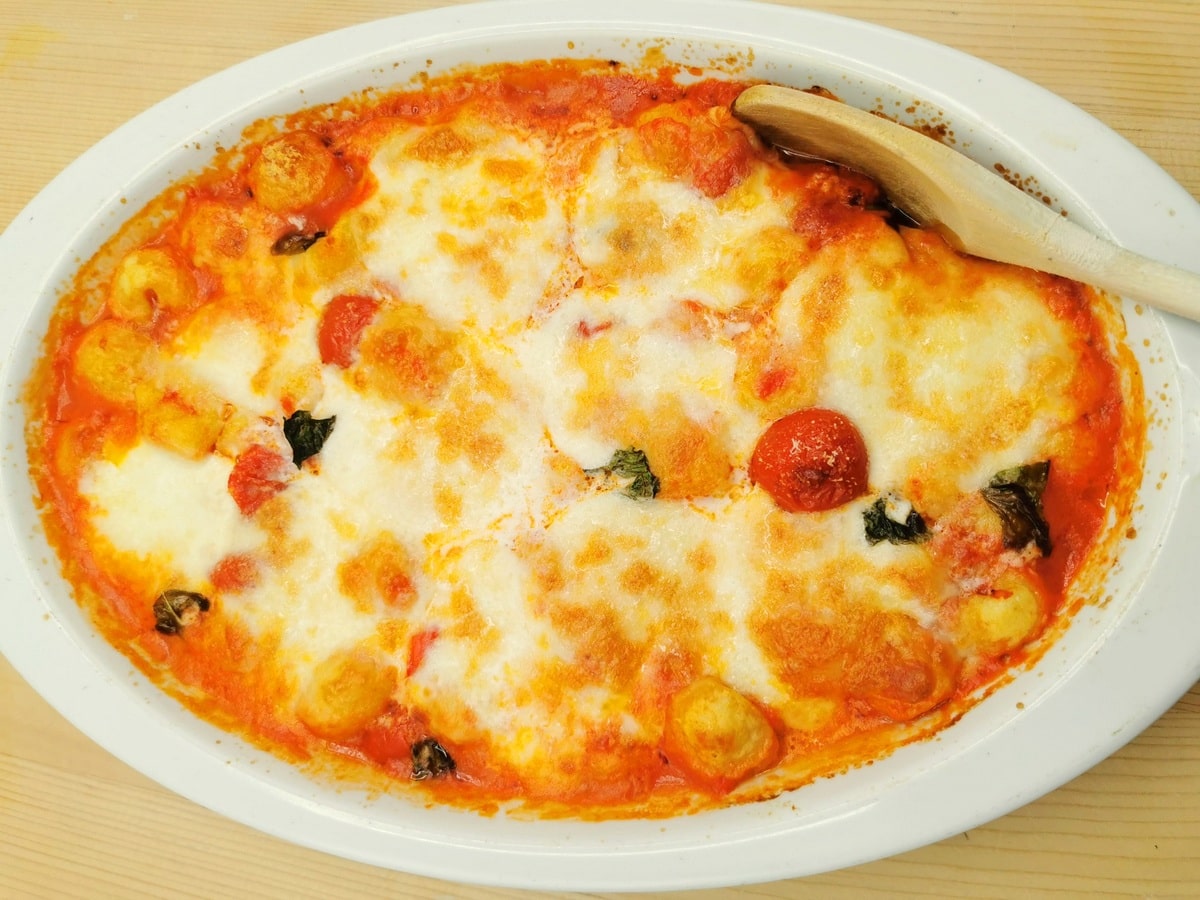 10) Serve immediately, garnished with additional chopped or whole basil leaves.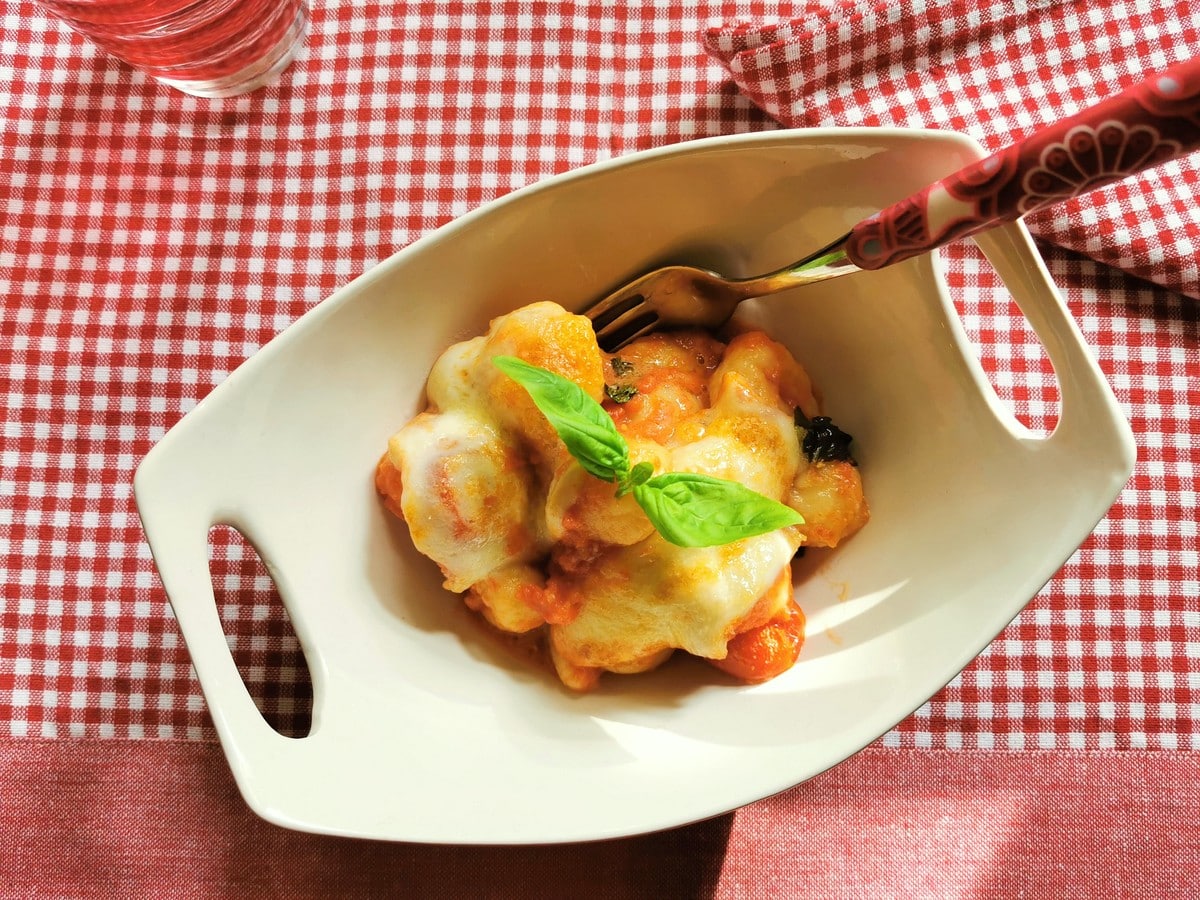 Storage and Leftovers
Allow the Gnocchi alla Sorrentina to cool to room temperature. Then, transfer the leftovers into an airtight container or cover the baking dish with plastic wrap or aluminum foil. They will then last in the refrigerator for up to 3 days.
You can then reheat any leftovers in the microwave or oven:
Microwave: The microwave offers a quick way to heat your leftovers. Place your portion in a microwave-safe dish. Then heat for 2 minutes and mix, then for 30-60-second intervals, until the dish is hot throughout.
Oven: Preheat your oven to 350°F. Place the gnocchi in an oven-safe dish. Heat until the cheese is melted and bubbly, and the gnocchi is hot throughout.
FAQs
Can I use store-bought gnocchi for this recipe?
Yes, while homemade potato gnocchi is traditional and offers a unique texture, you can absolutely use fresh or frozen store-bought gnocchi. If you're keen on making your own, try my homemade gnocchi recipe.
I don't have cherry tomatoes. Can I just use passata?
Yes, you can solely use passata if cherry tomatoes are unavailable. While a mix of roasted cherry tomatoes and passata provides a depth of flavor, using only passata still makes a delicious sauce.
Is Gnocchi alla Sorrentina vegetarian?
Yes and no. While most of the ingredients are vegetarian-friendly, traditional Parmigiano Reggiano is made with animal rennet. To make this dish completely vegetarian, you can opt for a vegetarian parmesan or a similar cheese that doesn't use animal rennet in its production. Always check the label to be sure.
Can I prepare this in advance?
Yes, you can prepare Gnocchi alla Sorrentina in advance. It's best to assemble everything up to the point of baking and then refrigerate. When you're ready to serve, bake it fresh. This ensures that the gnocchi remains moist and the cheese melts to perfection.
More gnocchi recipes you may like:
If you make this baked gnocchi recipe, I'd love to hear how it turns out and if you liked it. Please leave a comment here on the blog or on The Pasta Project Facebook page.
Looking forward to hearing from you!
Buon Appetito!
This recipe was originally published in 2017 but has been updated with new photos and text.
Pin for Later: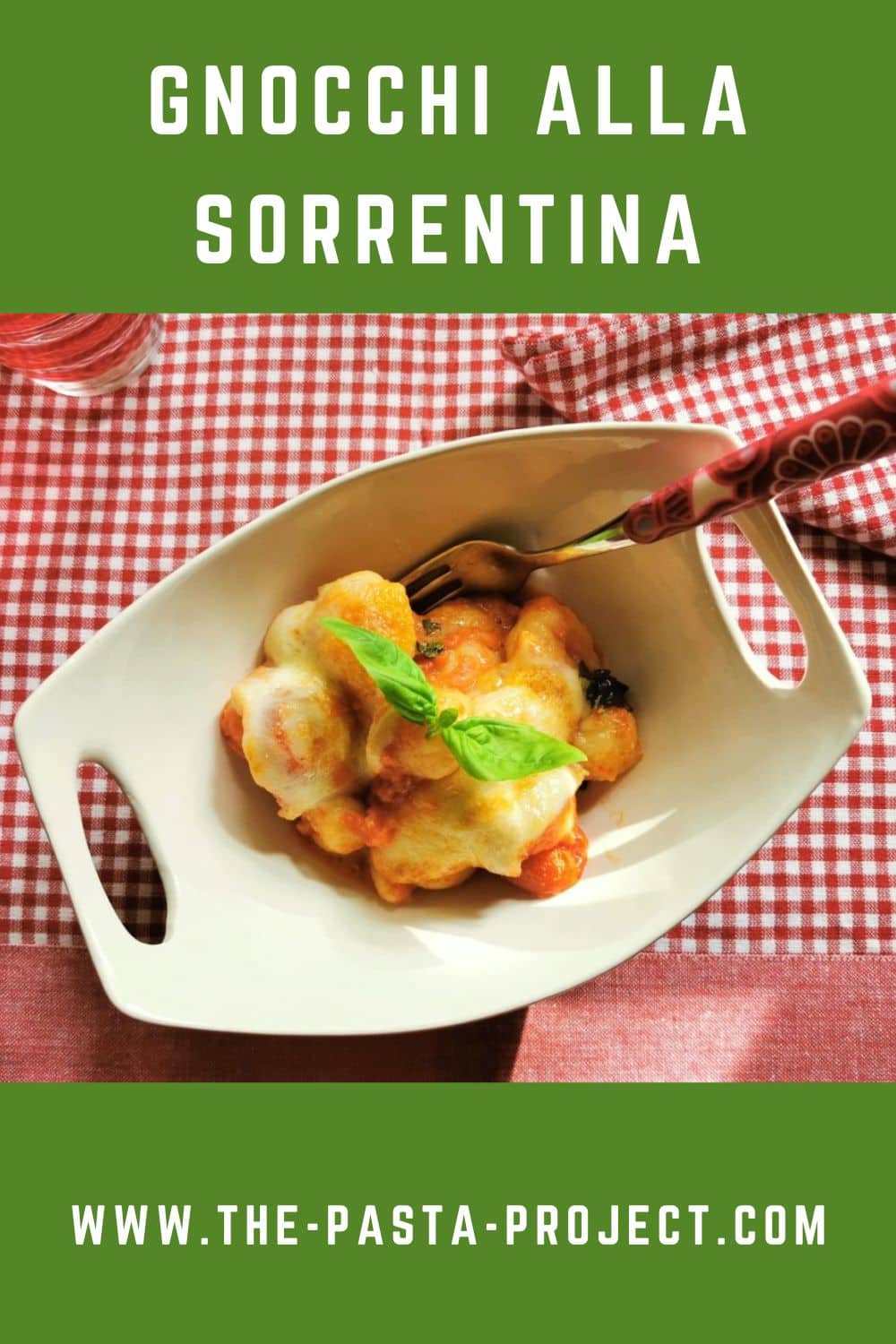 If you are interested in learning how to make other homemade pasta and different types of gnocchi, check out my shop page for some great video online courses from my friends in Rome!
Nothing beats learning to make pasta from Italians! Plus while you're there why not order a copy of one of my pasta recipe cookbooks or checkout some recommended pasta making tools?