Known locally as gnocchi della Val Varaita or ravioles de Melle, these spindle-shaped traditional potato and cheese gnocchi come from the beautiful Alpine valleys of Piemonte (Piedmont). There are many types of gnocchi here in Italy, but this is the best Italian potato gnocchi recipe ever.
Served in a creamy cheese sauce and dressed with browned butter, these gnocchi are a must try for cheese lovers!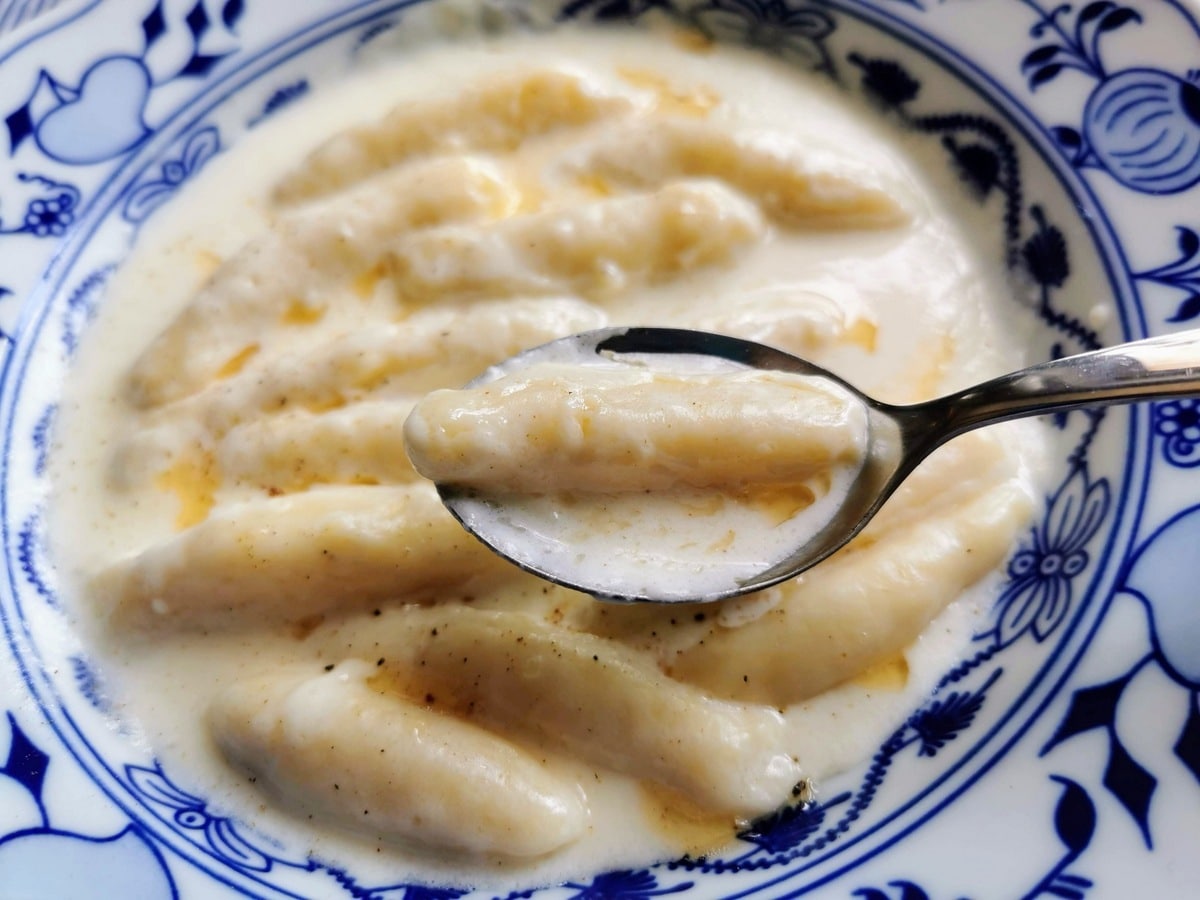 Gnocchi della Val Varaita.
Gnocchi from the Val Varaita, also known as ravioles de Melle, is a typical dish in Piemontese cuisine, traditionally served at special occasions like baptisms and engagement parties.
Local people call these potato gnocchi ravioles because they make them by rolling the dough pieces using their hands to give them their unusual shape. This gesture or movement is called 'raviulè' in the ancient Piemontese dialect.
The name is not connected to Italian ravioli or French Ravioles du Dauphiné, also a type of ravioli.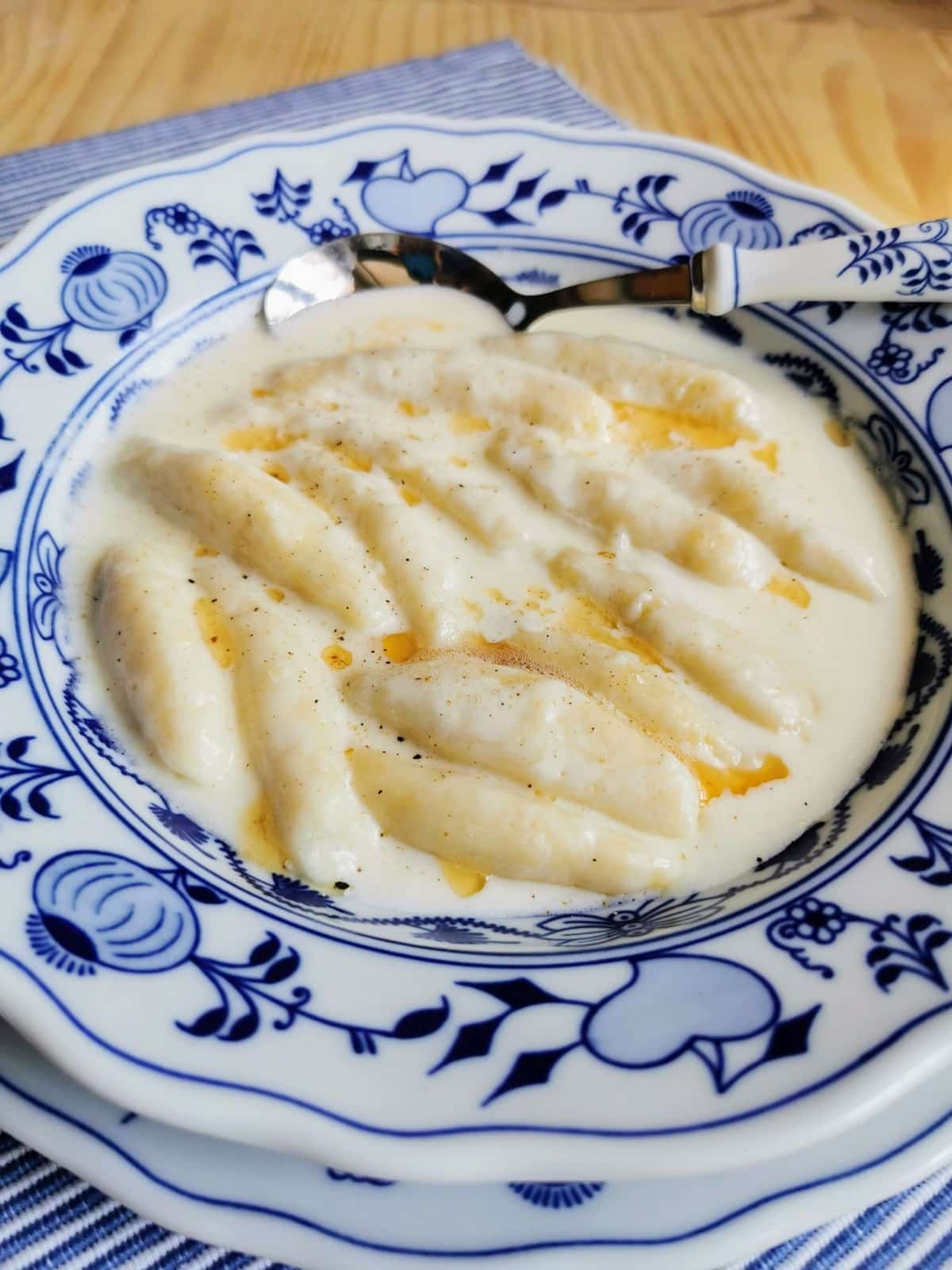 Like other kinds of homemade Italian gnocchi, these cheesy ravioles are made with potatoes. The main difference between ravioles de Melle and other potato gnocchi is the use of a local mountain cheese called Toma added to the gnocchi dough. Another difference is the shape. These gnocchi are spindle shaped.
The original recipe for Val Varaita gnocchi calls for a creamy condiment, made with cream, butter and another local cheese, Raschera, or just browned butter, Parmigiano and fresh cream added separately to the cooked gnocchi.
Of course, you can use other cheeses.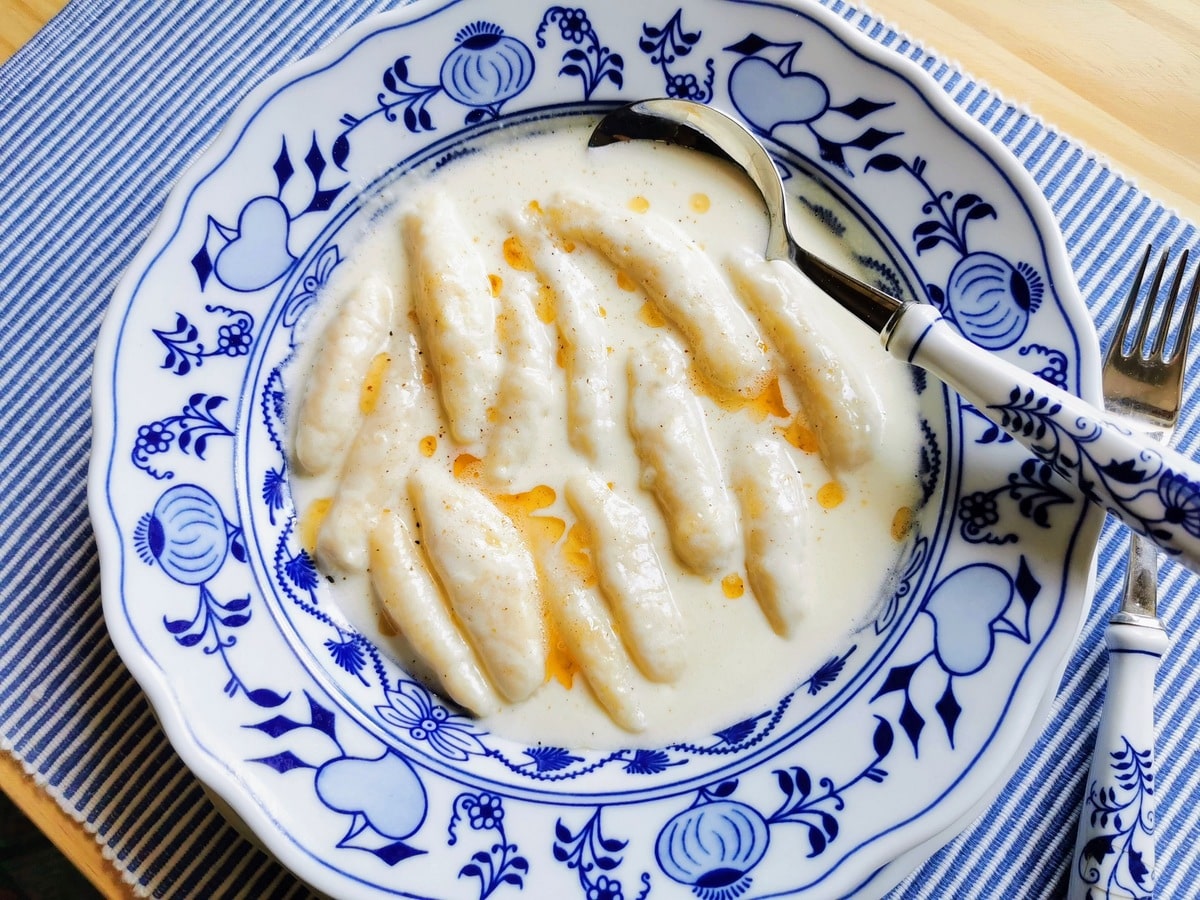 Where is the Val Varaita (Varaita Valley)?
The Varaita Valley is a long and wide Alpine valley located in Southwest Piemonte in Cuneo Province. The valley takes its name from the Varaita river that flows through it.
This part of Italy borders with France, and, in fact, the valley ends at the Colle della Agnello, a mountain pass between France and Italy which is the 3rd highest paved road over the Alps.
As you may imagine, the cuisine in this part of Italy is hearty Alpine food rich in cheese, butter and cream. The gnocchi della Val Varaita in this recipe is one of the best-known local dishes served in both homes and trattorias throughout the valley!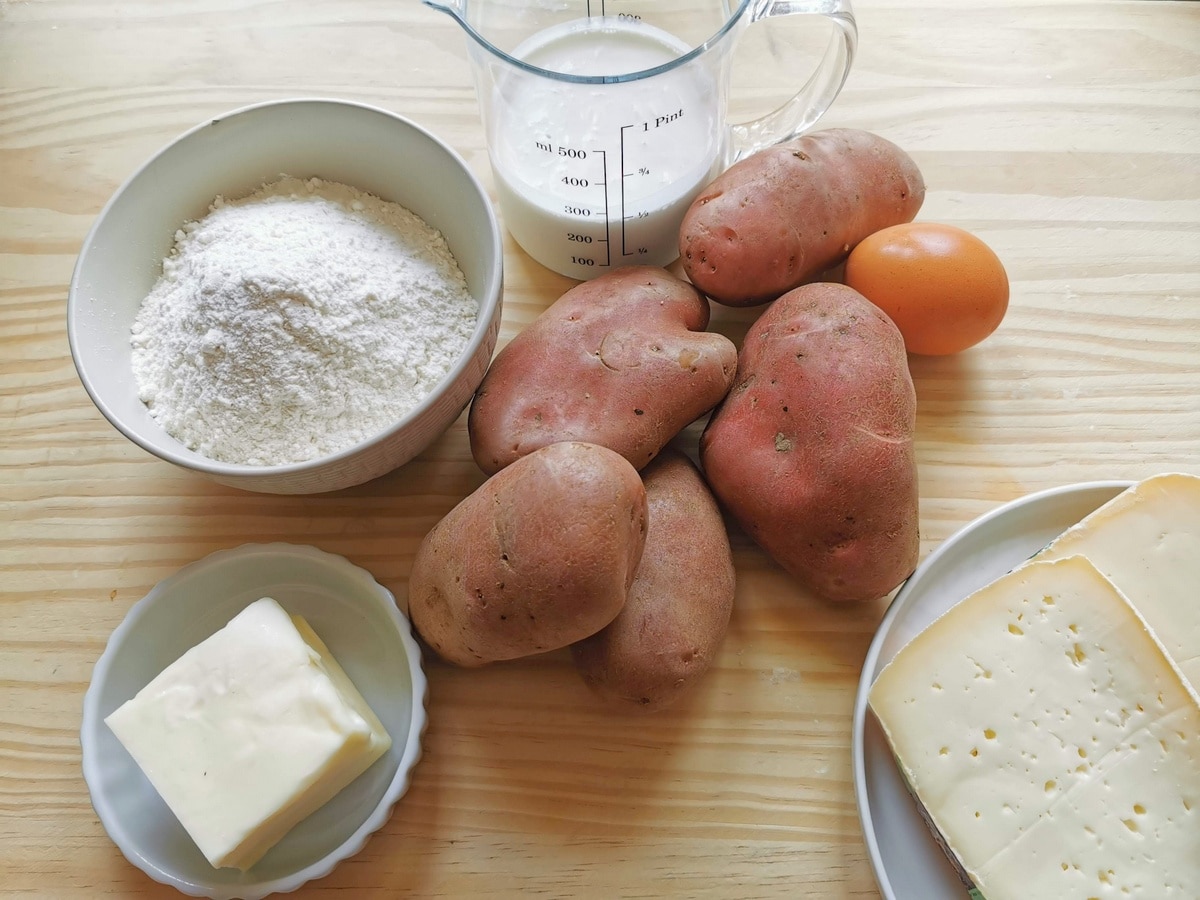 What is gnocchi?
Gnocchi is the Italian name for dumplings. However, there are many varieties of 'gnocchi' in Italian cuisine. The most well-known are made with potatoes like in this recipe or bread like northern Italian canederli.
But Italian also make gnocchi with different types of flour such as wheat, chestnut, buckwheat, rice and semolina and/or other ingredients such as ricotta, pumpkin or various greens.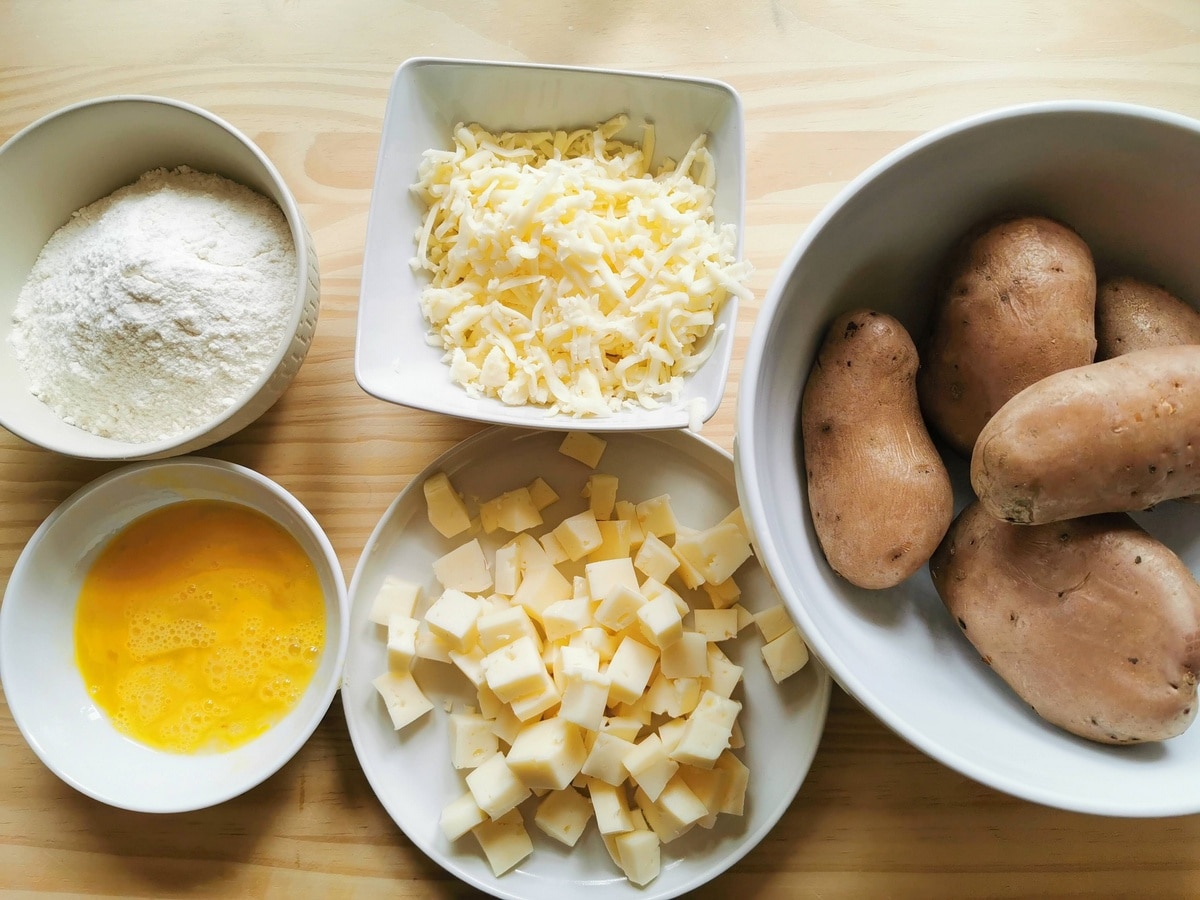 What does gnocchi mean?
The Italian word 'gnocchi' translates to lumps. However, food historians believe the name comes from 'nocchio', meaning a knot in wood or possibly from 'nocca' which means knuckle.
The word gnocchi is actually plural in Italian. The singular is 'gnocco' (the same is true for most pasta names; spaghetti, paccheri, rigatoni etc). But, the singular is almost never used here in Italy, whereas the word gnocchi is often treated as singular by non-Italians.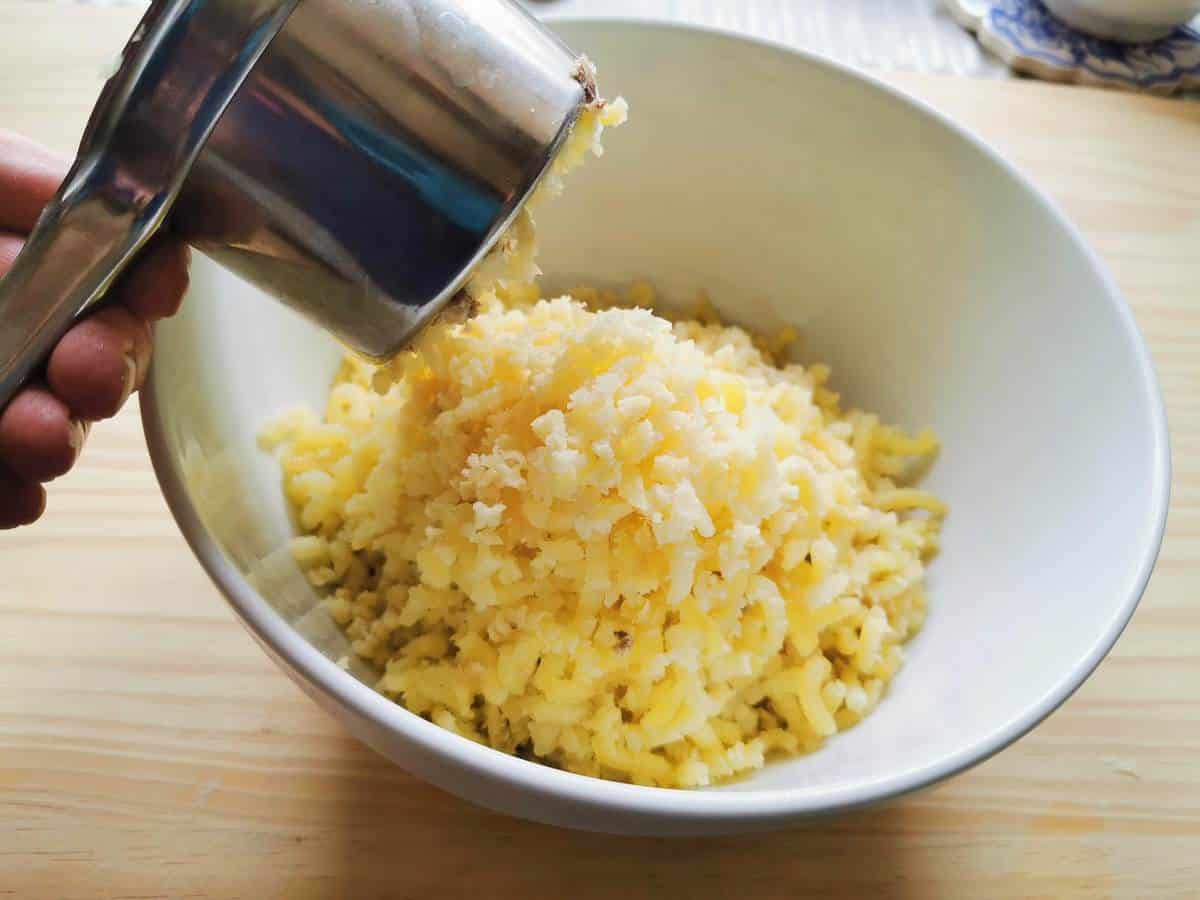 What are the best potatoes for gnocchi?
Italians make gnocchi with many different types of potatoes. The most important characteristic of ideal gnocchi potatoes is that they have a white or light-yellow floury flesh, rich in starch and low in moisture, and they are a little old.
In Italian supermarkets, we can buy potatoes labelled as being good for gnocchi! Outside of Italy, the best potatoes for gnocchi are Yukon Gold, Russets, King Edwards, Desirée or Maris Piper.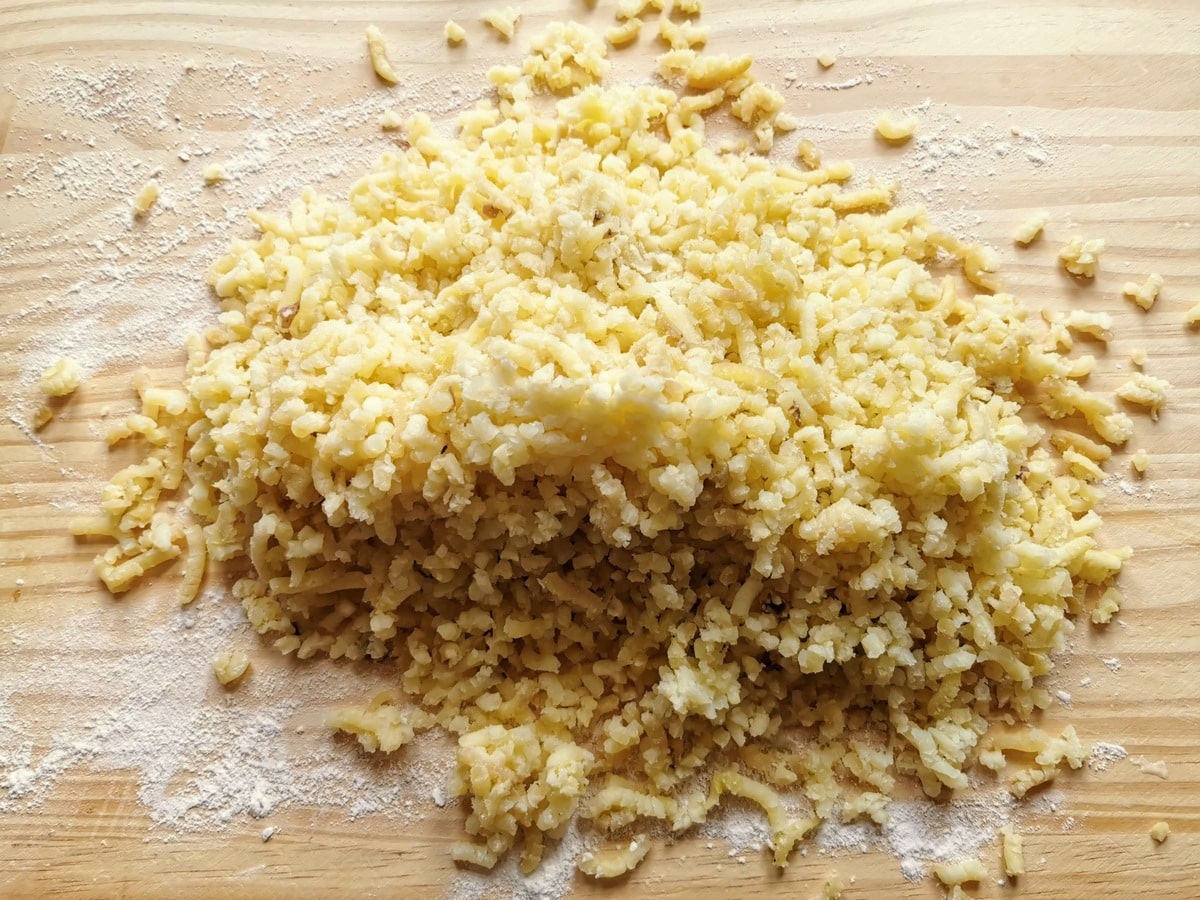 The recipe for gnocchi della Val Varaita I followed calls for red potatoes. Here in Italy, these potatoes have skins in different shades of pink or red and a white or yellow pulp. White is better for gnocchi. There are a number of local varieties of red potatoes to choose from.
Cook's tip 1. Whatever potato you choose, it's best not to use new or young potatoes for your homemade gnocchi as they are more watery. This means that you'll need more flour to make the gnocchi dough and the result could be gummy gnocchi! Older are better.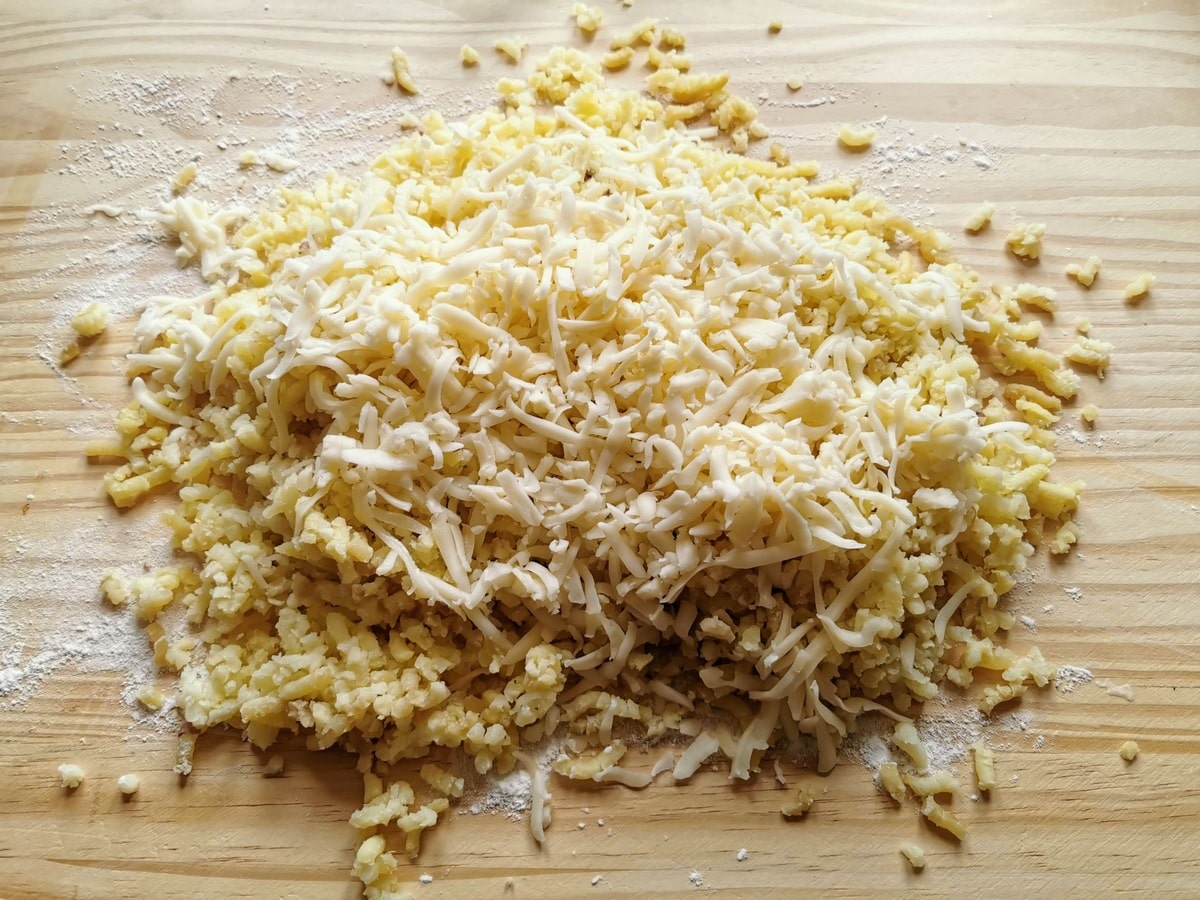 How to cook potatoes for gnocchi.
Traditionally Italians boil potatoes in their skin when making gnocchi. It's important to leave the skin on and boil the potatoes whole so they don't absorb water. However, you can also use foil wrapped baked potatoes or steamed potatoes (both unpeeled).
Ingredients for this Italian gnocchi recipe from Piemonte.
Apart from the potatoes this gnocchi recipe has just a few other main ingredients which are mostly dairy! The gnocchi are made with potatoes, flour, cheese, and an egg. The sauce has cream, cheese, and butter in it. Then you need extra butter to make the browned butter for serving.
The flour.
This Italian gnocchi recipe calls for Italian '00' soft wheat flour. Using Italian flour does give gnocchi a lighter texture, but you can also use all-purpose flour.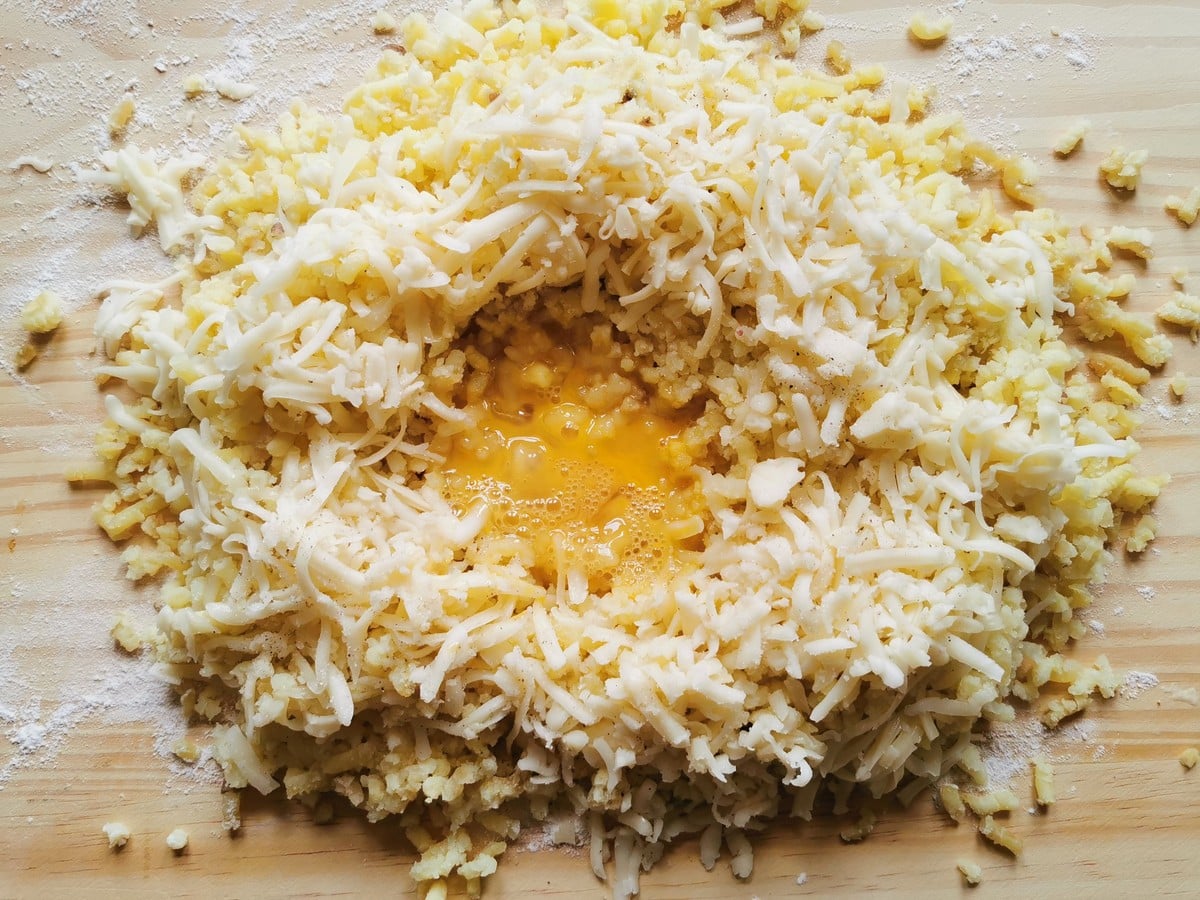 The cheese.
This recipe includes 2 types of mountain cheese from the Val Varaita. The first is Toma Piemontese or tomino di Melle. Both are types of Toma, a soft or semi-hard cow's milk cheese known for its melting properties, very similar to French Tome.
Tomino di Melle is only produced in the Val Varaita. Of course, it's not easy to find this cheese outside of Italy. You can use robiola, taleggio, French Tome or American muenster.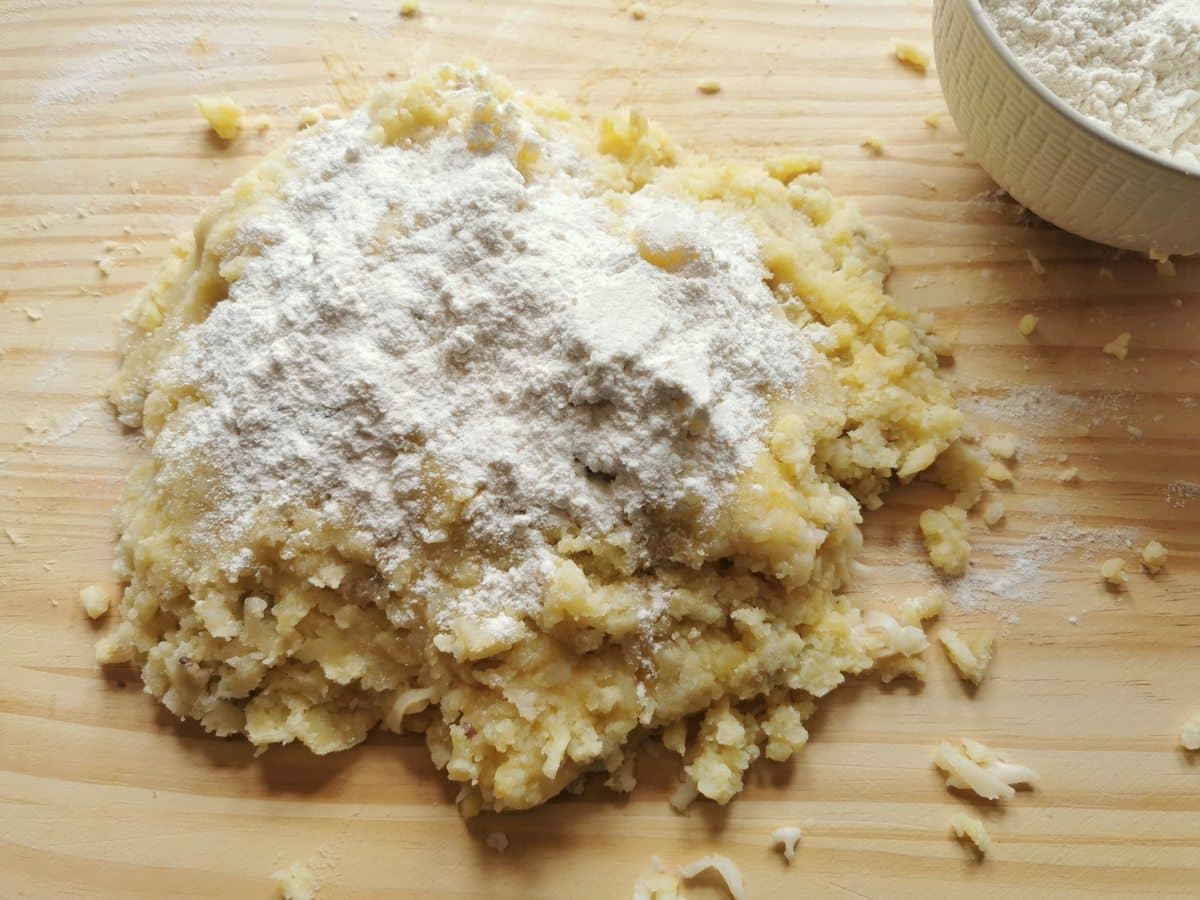 The second kind of cheese in this Italian potato gnocchi recipe is Raschera. Raschera is another typical Piemontese cheese. It's also made with cow's milk, although it is sometimes mixed with a small amount of goat or sheep milk.
I used Raschera for the cheese sauce served with the gnocchi. Raschera can also be substituted with muenster cheese, or fontina.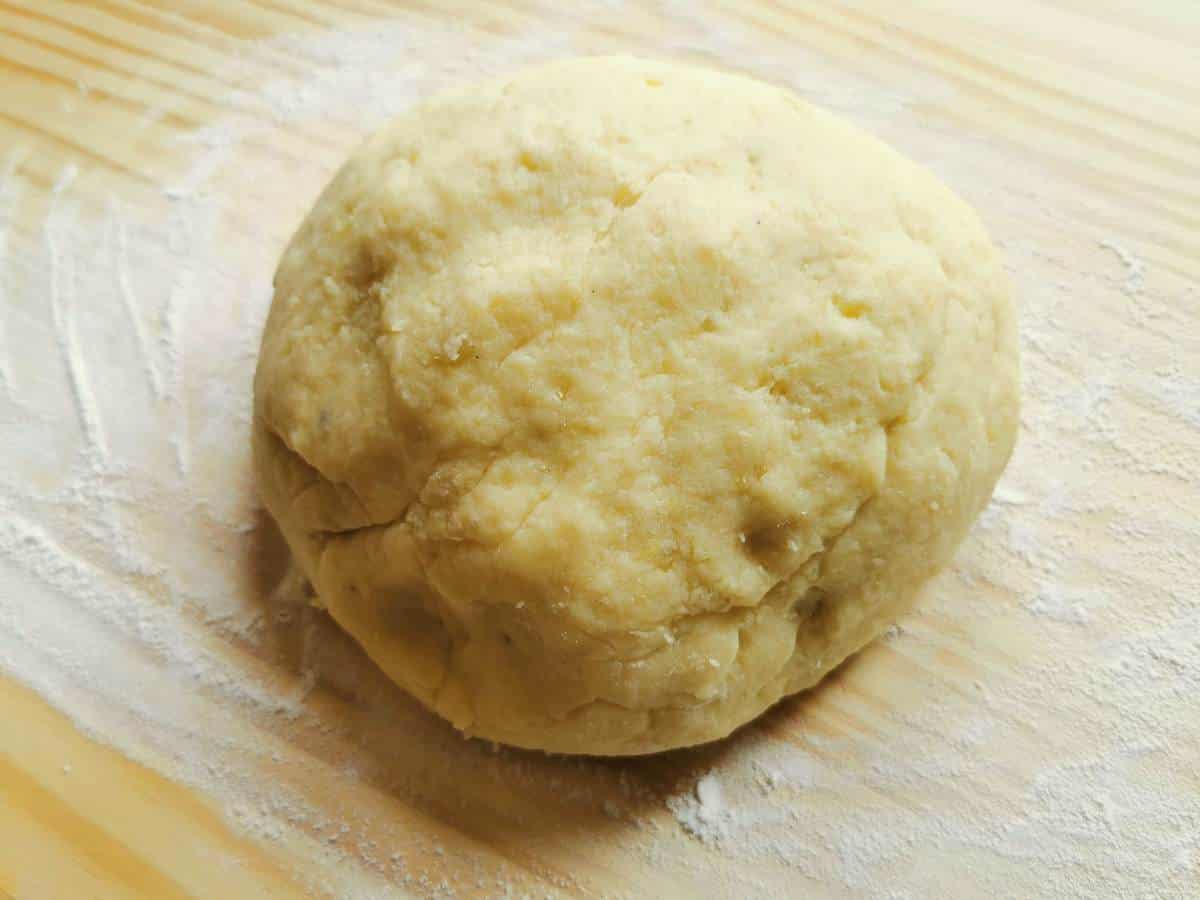 The butter.
Italians mostly use unsalted butter and add salt when needed. If you use salted butter, it's probably better not to salt the gnocchi cooking water.
The egg.
This recipe calls for just one large egg. I prefer to use fresh organic eggs in my recipes. These eggs are more nutritious because the hens are given high quality feed and live better lives. If you keep your eggs in the fridge, bring them to room temperature before using.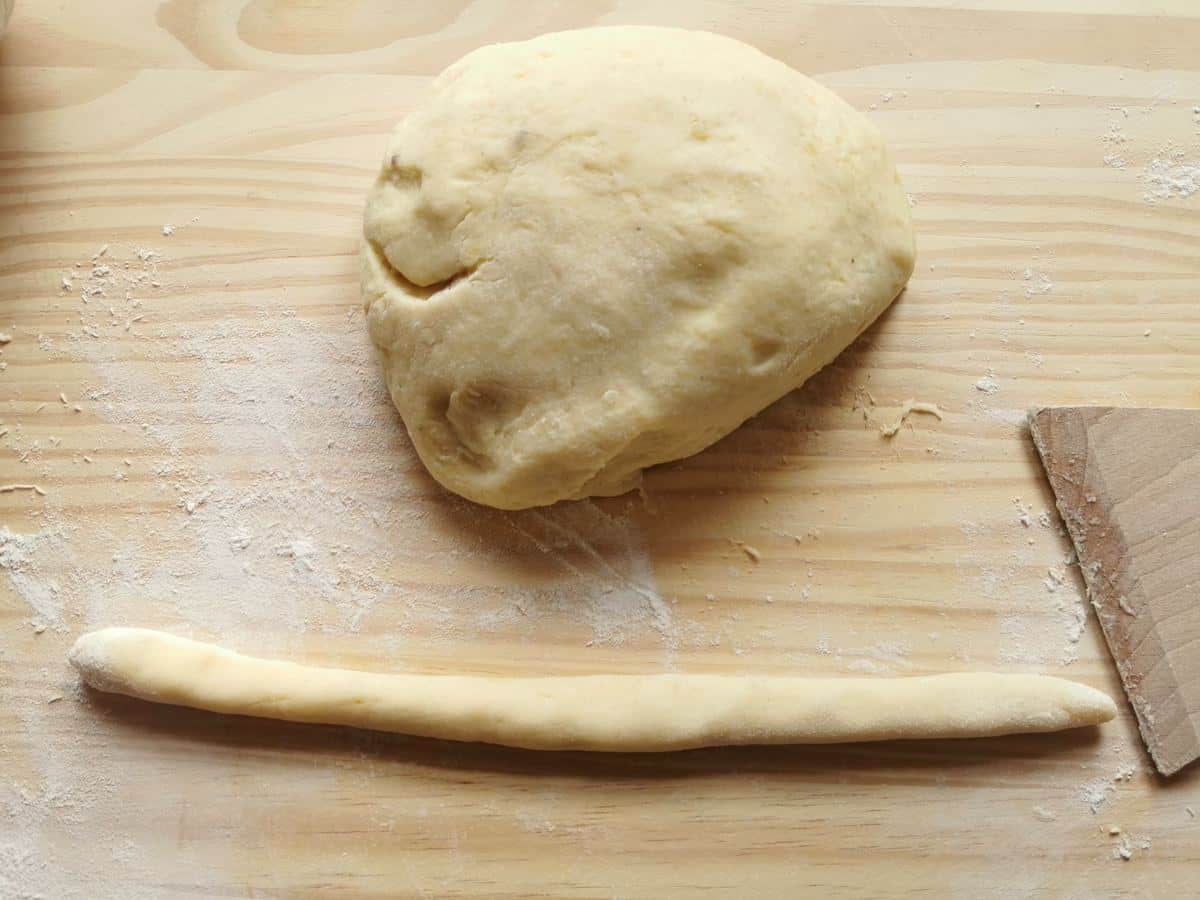 How to make the gnocchi dough.
The first step to this recipe is to cook the potatoes whole and unpeeled in salted water until soft. Scrub them clean first before cooking.
Cook's tip 2. It's better to place the potatoes in cold water and bring it to the boil. If you add them to already boiling water the skins may split, and the potato will get watery.
While you are boiling the potatoes, you can sift the flour, beat the egg in a small bowl, grate the Toma and cut the Raschera into small cubes.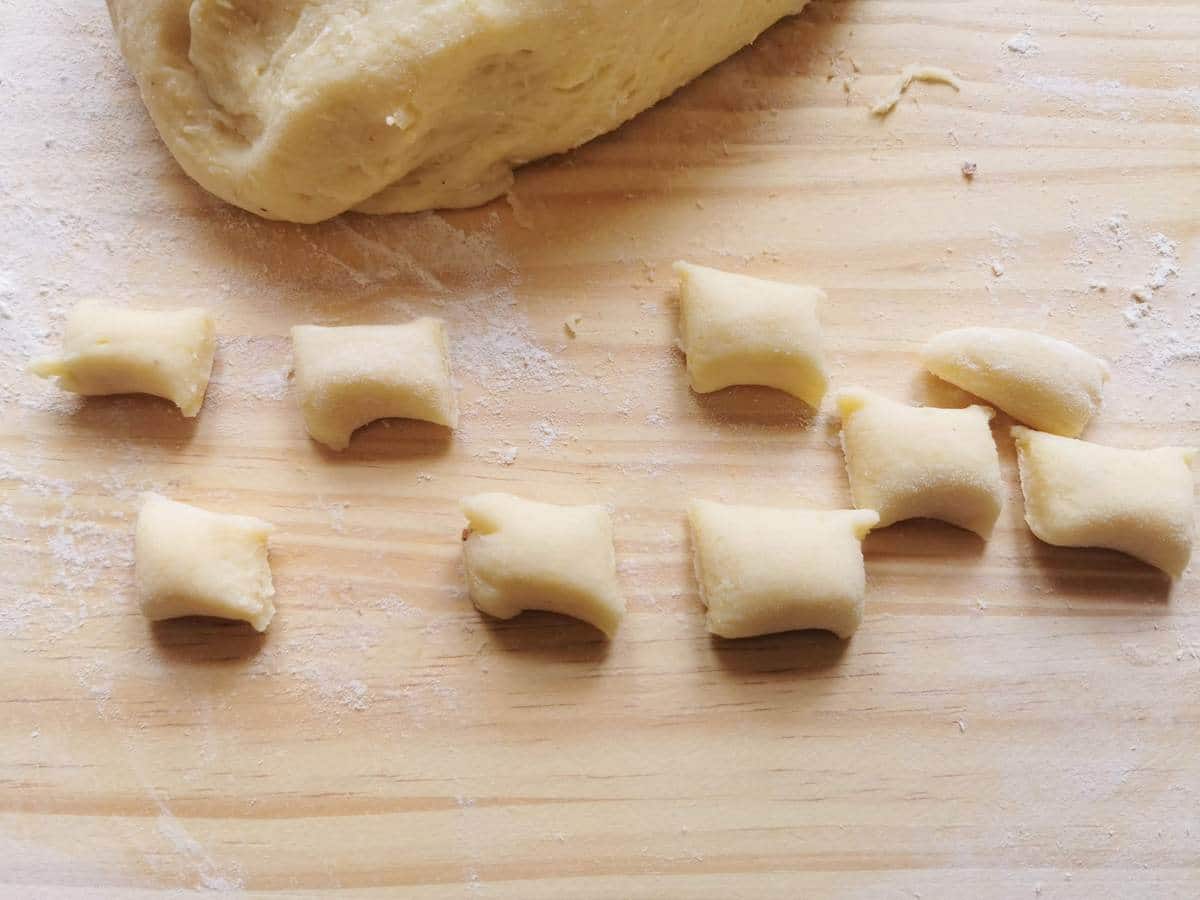 Next, drain the potatoes, cut a small slice into each one and let them cool a little. As is traditional in Italy, I pass the potatoes into a bowl through a potato ricer.
To peel or not to peel?
I don't peel the potatoes first because I found the peel stays mostly in the ricer. If a few bits of peel get through the ricer, I just remove them before making the gnocchi.
But, if you are going to use a food mill or just mash them with a fork, then you'll definitely need to peel them first. Be careful not to burn your fingers.
Cook's tip 3. Gnocchi need to be made with still warm and fluffy potatoes for a lighter result. If using a fork, be sure to fluff the cooked potato to incorporate air.
After you have riced/mashed all the potatoes, turn the mixture out on to a flour dusted surface. Add the grated Toma cheese to the potato and a little salt and some freshly ground mixed pepper.
Then, make a well in the middle and add the beaten egg. Using a fork or scraper bring the potato and cheese from around the edges into the centre where the egg is.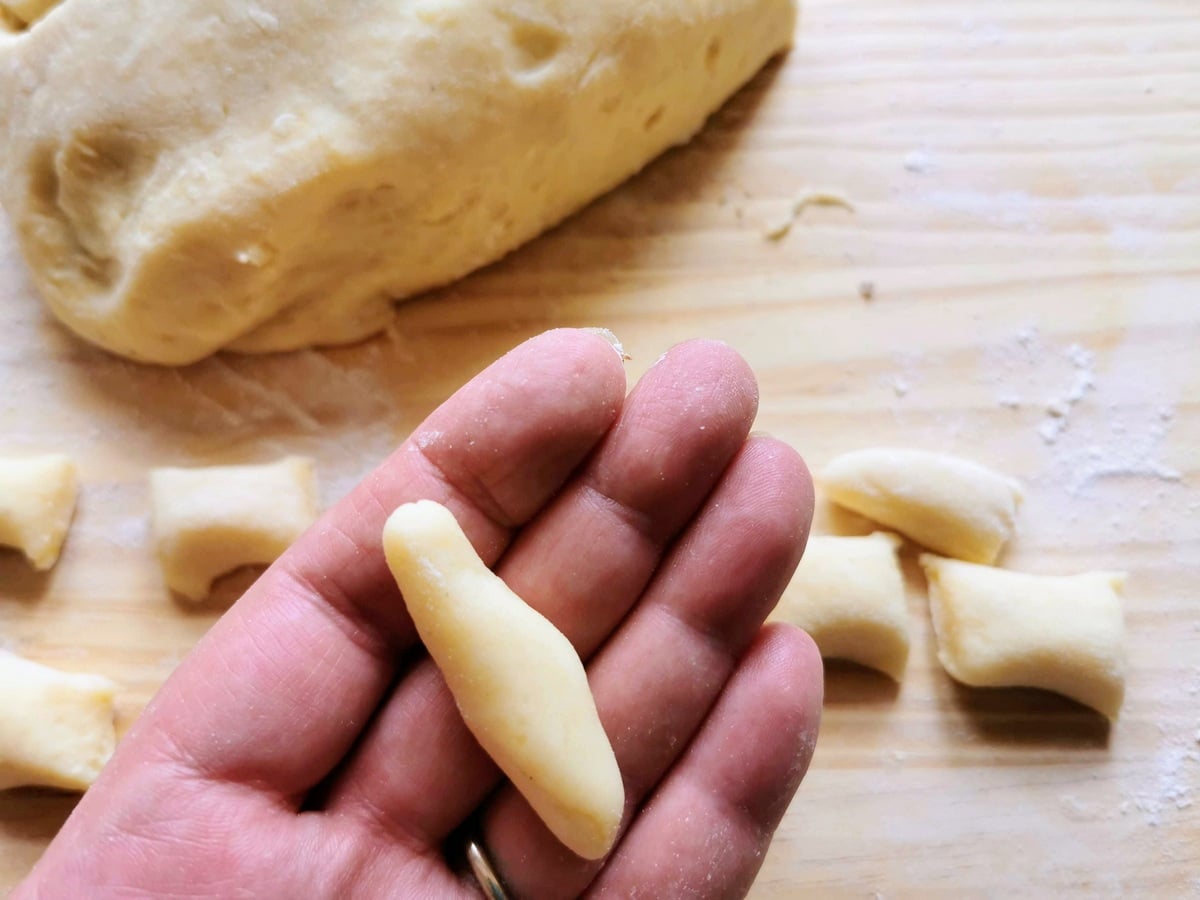 Once the egg is incorporated into the cheese and potato, start to add flour a bit at a time and mix and knead gently with your hands until you have a soft dough. Don't overwork the dough to avoid activating the gluten in the flour.
The dough should feel light, slightly elastic, and a little tacky. It won't be as smooth as pasta dough and may look a bit rough. If your gnocchi dough feels too soft and sticky to handle, add another tablespoon or two of flour. You may not need to use all the flour. It will depend on how 'wet' the potatoes are.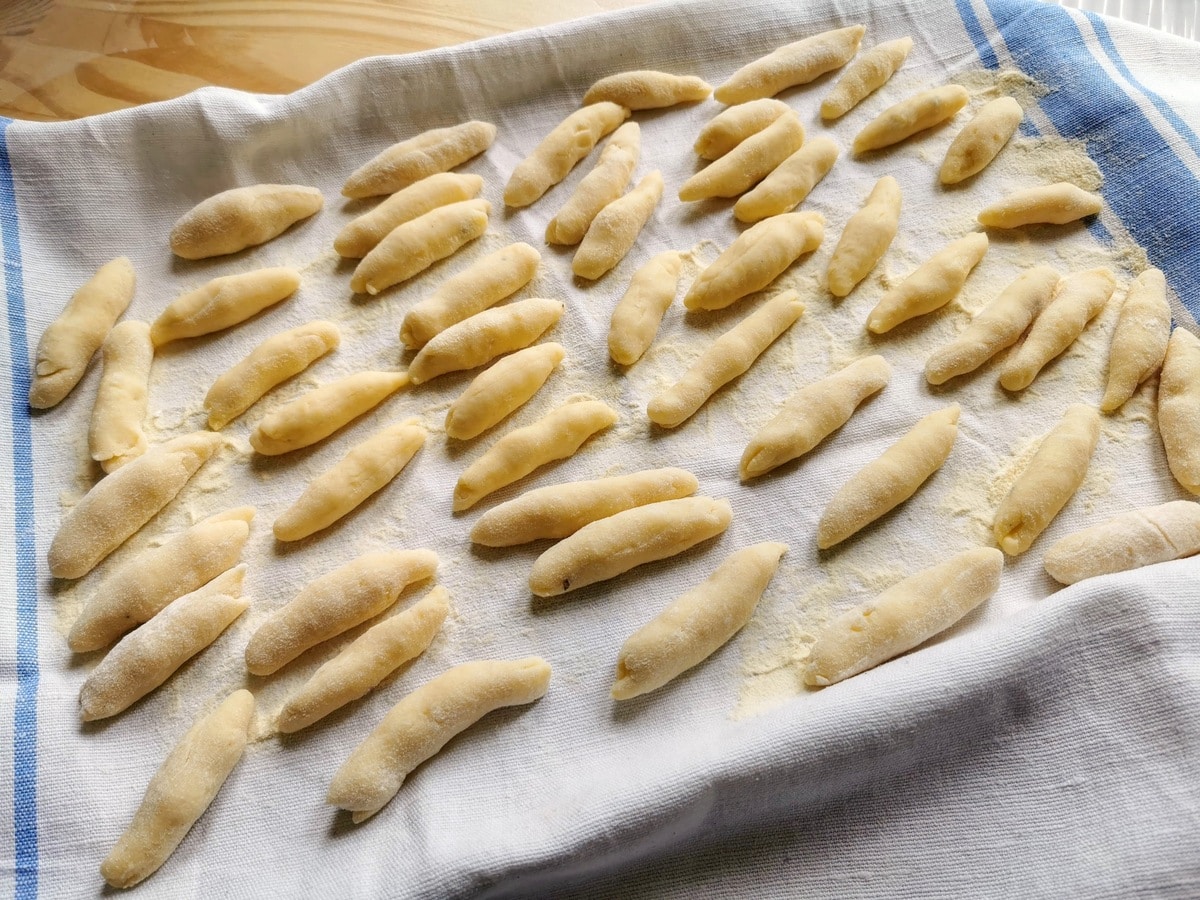 Shape the gnocchi.
Once the dough is ready let it rest covered for at least 15 minutes. Then cut off a piece of dough about 150g (5oz) in weight. Lightly flour your hands and roll the dough into a rope about 1-1.5 cm thick (½-inch).  
Cut the dough rope into 2-3cm (0.75-1in) pieces. Then roll the pieces one at a time between the palms of you hands without squashing them until you have a longish tapered shape.
Place the ready ravioles (gnocchi della Val Varaita) onto a tray covered with tea towel or piece of baking paper dusted with semolina flour or all-purpose flour. Make sure the gnocchi aren't touching so they won't stick together. You may need to prepare 2 trays.  Repeat with the rest of the gnocchi dough.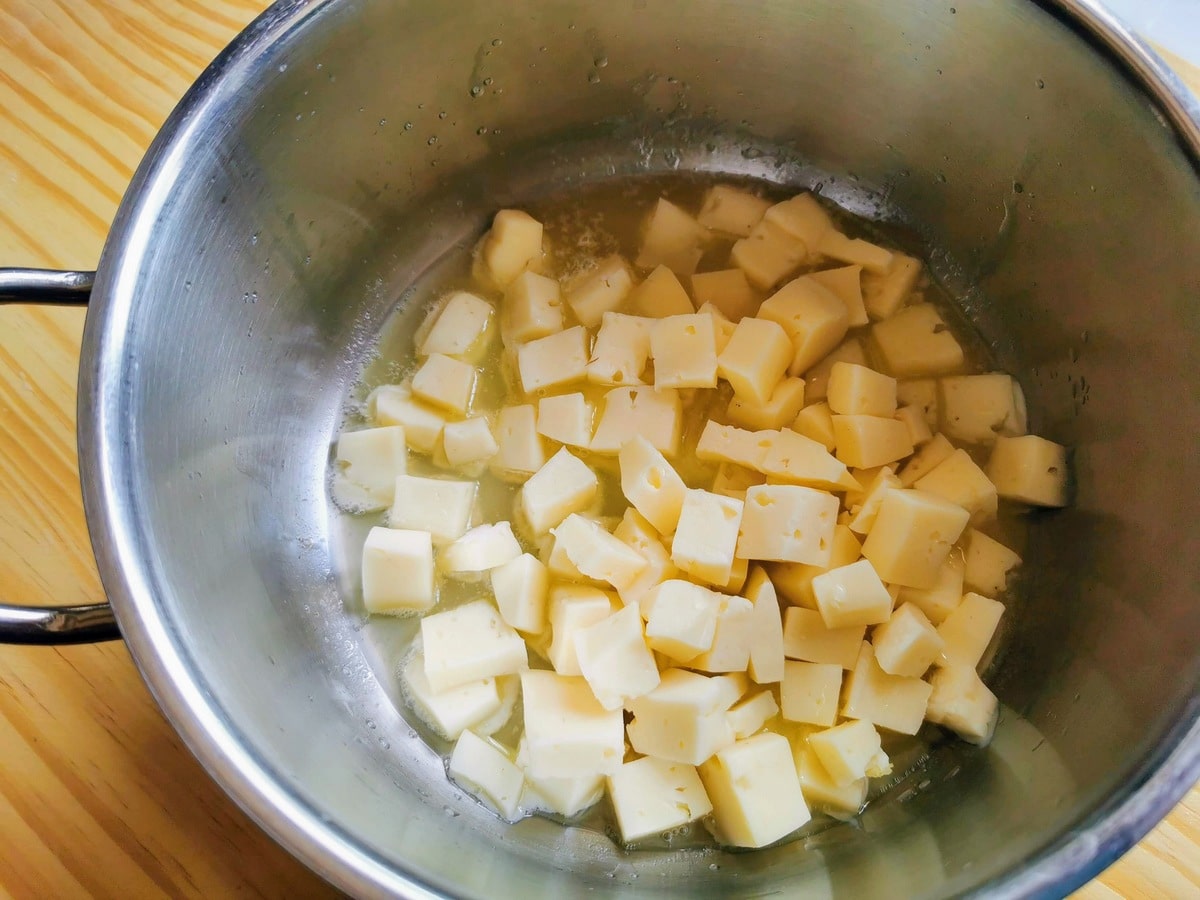 Make the sauce for the potato gnocchi.
Firstly, while making the sauce, put a pot of water on to boil for the gnocchi.
Then, melt the butter in a pan that's large enough to hold the gnocchi too. Once the butter has melted, add the Raschera cheese pieces. Keep stirring until the cheese really begins melting. Then add the cream and continue stirring until you have a smooth sauce.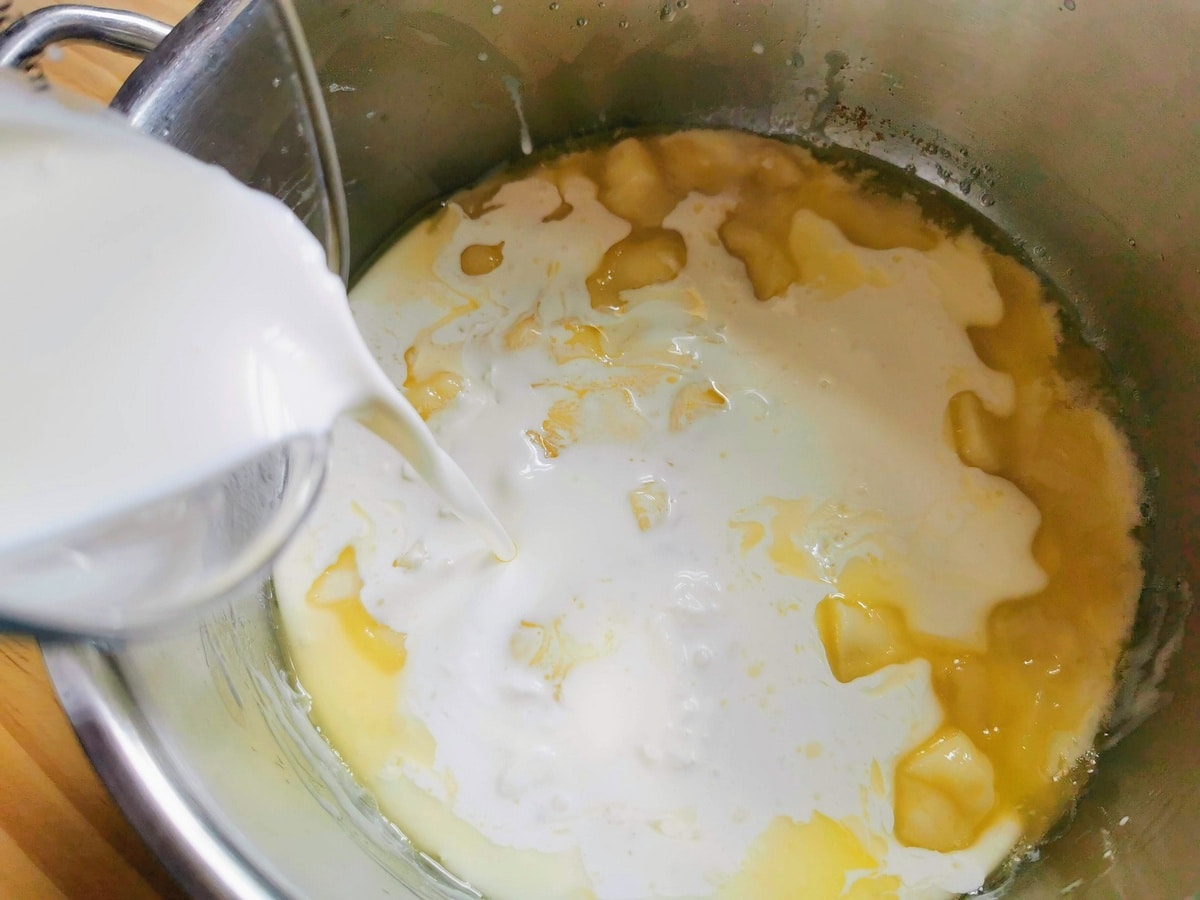 Cook your Italian potato gnocchi.
Once the water starts boiling for the gnocchi add a little salt, bring the water to boil again then gently place gnocchi in the water. You may have to cook your potato and cheese gnocchi in batches as you don't want to crowd the pot.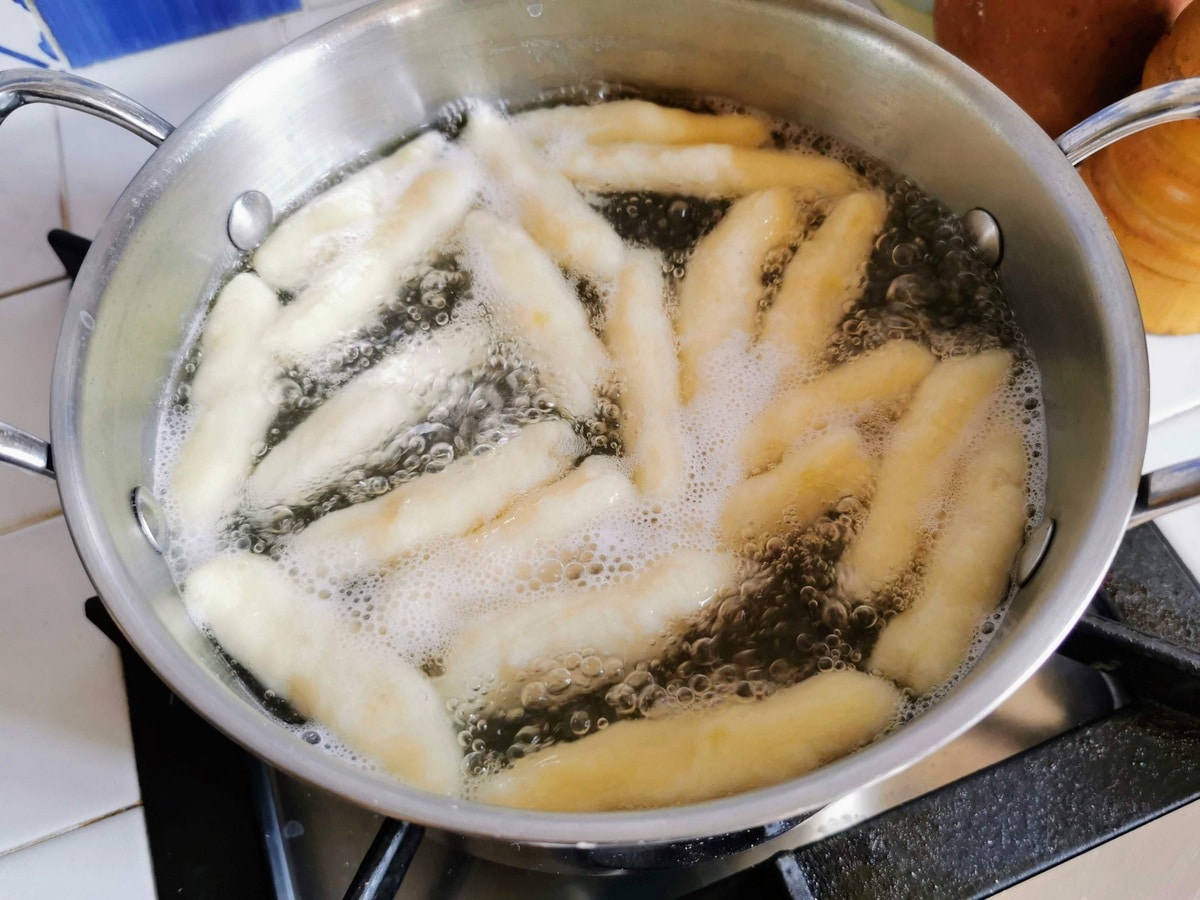 When the gnocchi rise to the surface of the water, taste one and if cooked (no residual flour taste), remove them from the water using a slotted spoon and add to the sauce. Cook the rest of the gnocchi the same way. Finally save a ladle of the cooking water.
Mix the cooked gnocchi with the sauce and a little of the cooking water over a very low heat. Then serve immediately dressed with grated Parmigiano or browned butter.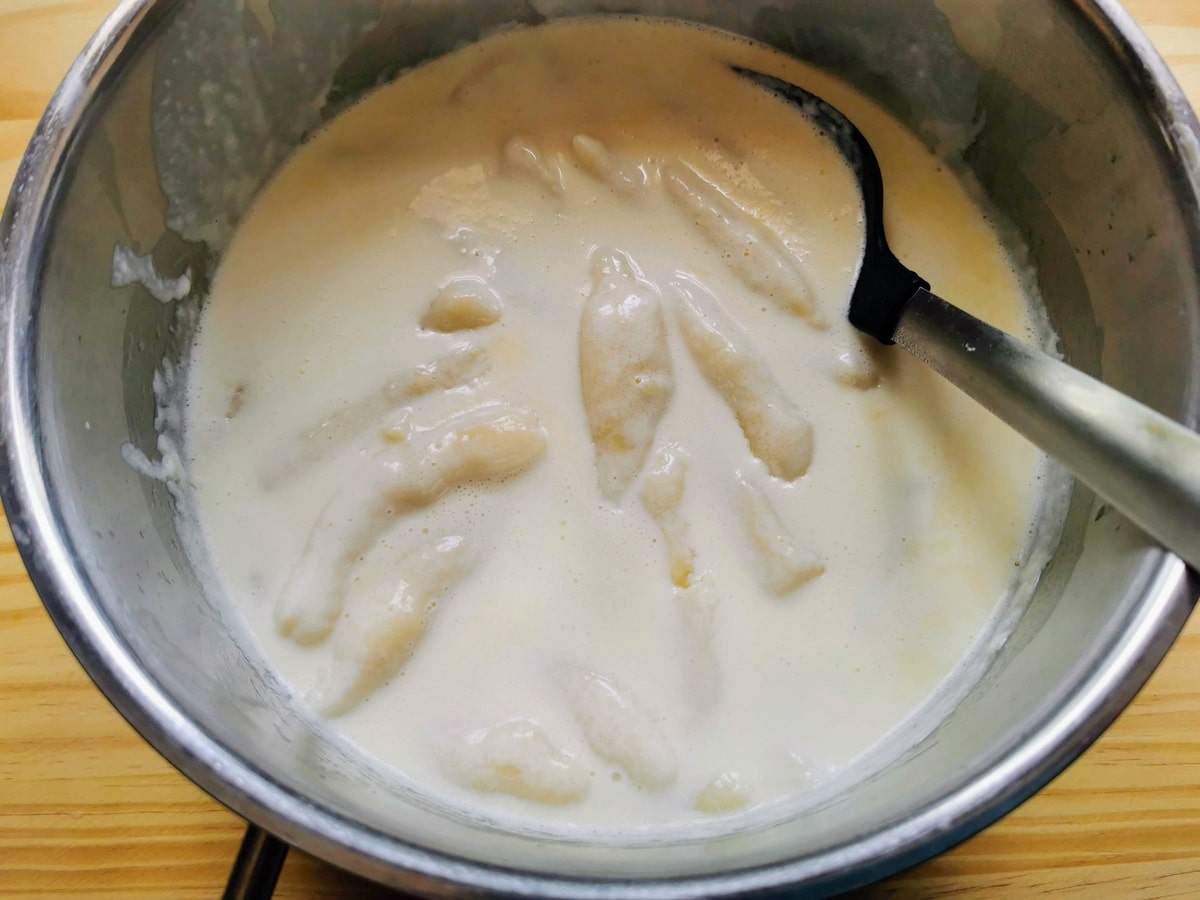 What to do with leftovers.
Once cooked, gnocchi delle Val Varaita, are best eaten immediately. However, if you do have leftovers, I suggest keeping them in the fridge in a sealed container for a day or two, and then reheating in a very hot oven with a little more grated cheese on top!
Leftover uncooked gnocchi can be frozen on a tray, then transferred to a food bag and stored in the freezer for a maximum of one month. Frozen dumplings are cooked from frozen.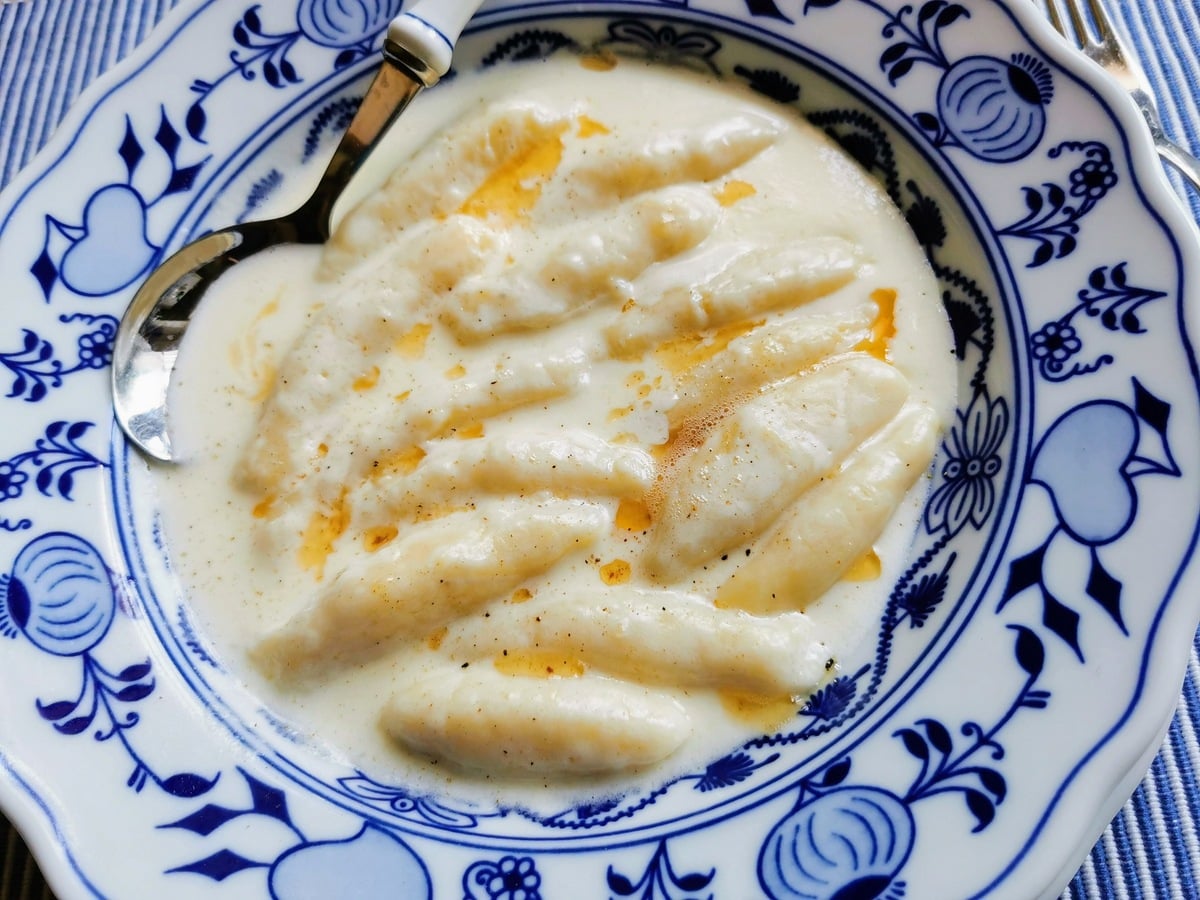 Let me know what you think.
In my opinion gnocchi della Val Varaita (ravioles de Melle) are hands down the best Italian potato gnocchi ever! Really, I am 100% sure that if you try this recipe, you will feel the same. These Alpine gnocchi are soft and delicate but also rich and creamy. Heaven on a plate!
If you make this recipe I'd love to hear how it turns out and if you liked it. Please leave a comment here on the blog or on The Pasta Project Facebook page. Looking forward to hearing from you.
Buon appetito!
Pin for later.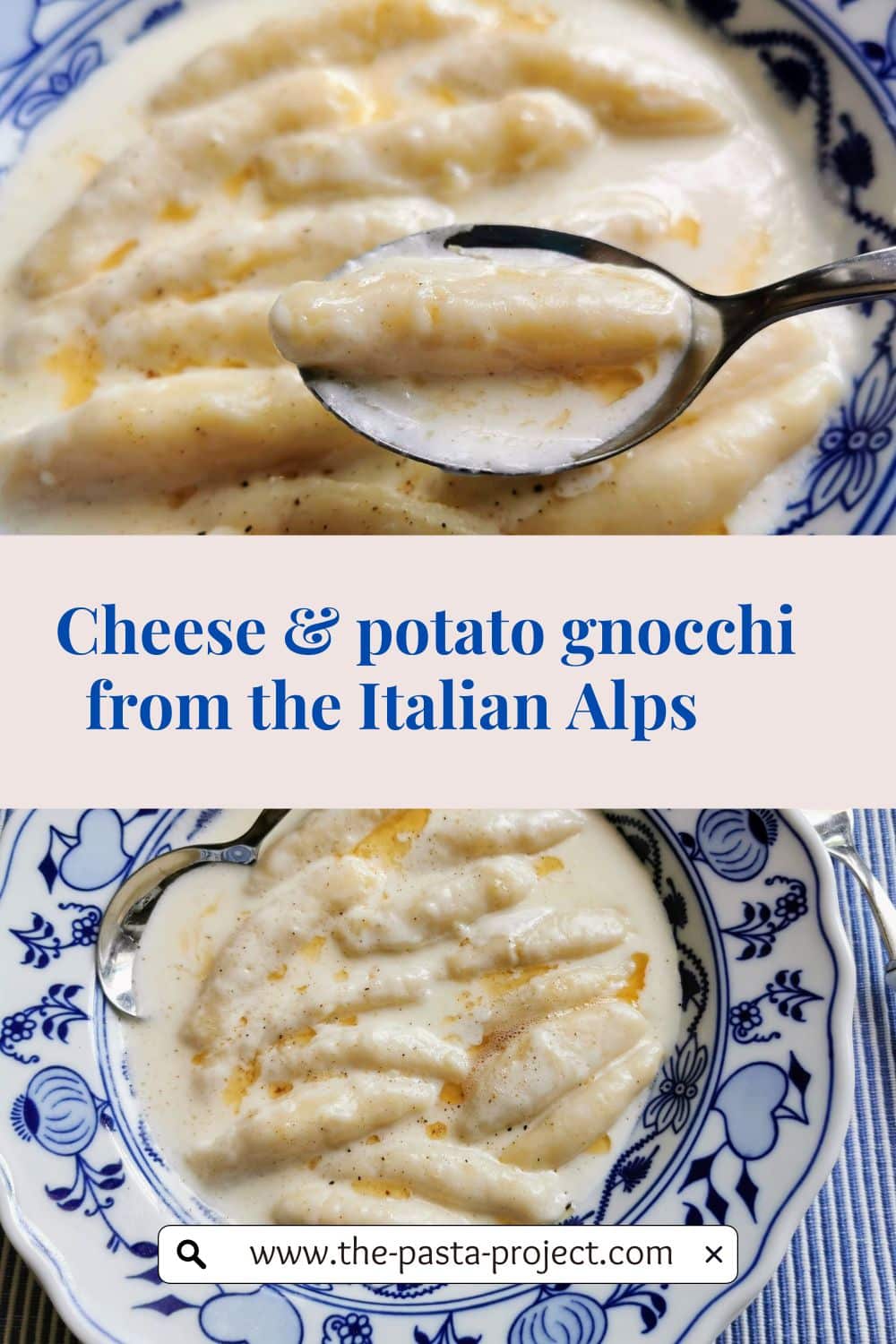 Other Italian gnocchi recipes to try.
If you are interested in learning how to make homemade pasta and different types of gnocchi, check out my shop page for some great video online courses from my friends in Rome! Nothing beats learning to make pasta from Italians! Plus while you're there why not order a copy of one of my pasta recipe cookbooks!?