Homemade Pumpkin Gnocchi with Sage Butter
Italian homemade pumpkin gnocchi are a delicious way to make use of leftover pumpkin! They're easier to make than you think and can be frozen for later use!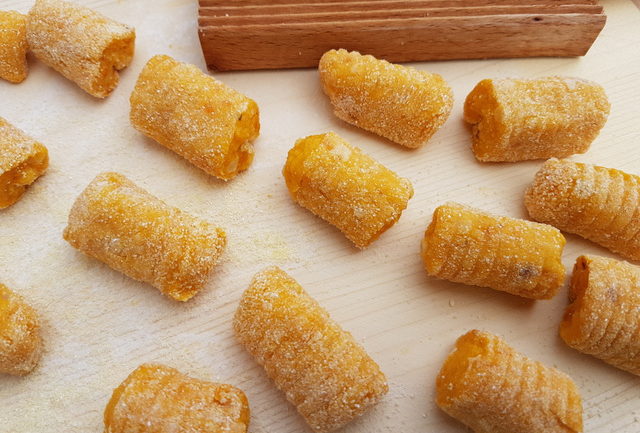 Gnocchi di zucca al burro fuso e salvia.
No matter how good ready-made store bought gnocchi are nothing quite beats the homemade version. This was not my first time making potato gnocchi, but it was my first time making homemade pumpkin gnocchi. I have to confess my first attempt at these gnocchi was a bit of a disaster. My hubby had just bought me a pasta dough maker and I thought I'd try it out with the pumpkin gnocchi dough! However the dough came out way too sticky and stodgy! I guess gnocchi have to be made by hand. It's not that it's difficult, I was just being lazy!
(This post was first published a year ago but has been updated)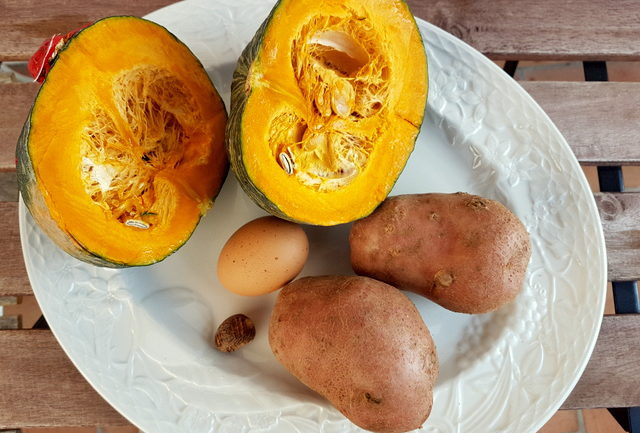 Second time round I kneaded the dough by hand and the result was sensational homemade pumpkin gnocchi! The lesson is gnocchi dough has to be kneaded by hand , as little and as fast as possible.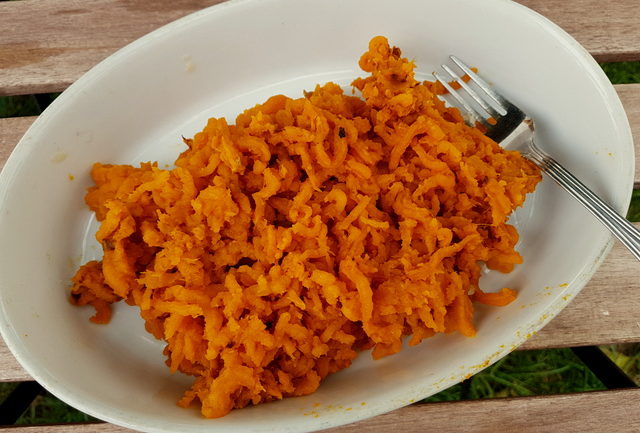 Different kinds of pumpkin gnocchi.
There are different ways of making pumpkin gnocchi. They can be made, as I did with potatoes, flour and roasted pumpkin puree. They can be made without the potatoes, just pumpkin and flour or with ricotta instead of potatoes and some people also make them using breadcrumbs. I am planning to try some of these different versions, but I have started with the most common.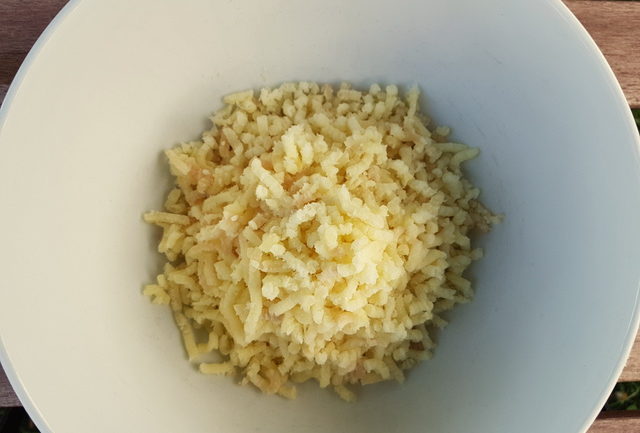 Pumpkins and squash are an important ingredient in the Italian autumn kitchen and both are used in a myriad of recipes including soups, risotto, pasta, desserts and, of course, gnocchi. Interestingly, most Italian recipes call for 'zucca' without specifying which type (pumpkin or squash!). But, I guess in many cases either can be used. After all, pumpkin is a type of squash!
Pumpkin gnocchi recipes work best with the sweeter types of pumpkin/squash such as butternut squash, Calabaza squash, Kabocha squash, Italian zucca Mantovana, zucca Marina di Chioggia and Delica pumpkins.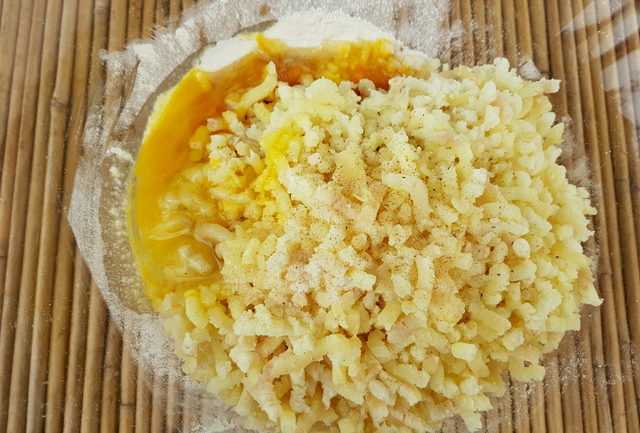 How to serve your homemade pumpkin gnocchi.
Apart from the different methods of making the pumpkin gnocchi themselves, there are a number of ways these gnocchi are served. The most traditional is with sage butter (burro e salvia) which involves frying fresh sage leaves in melted butter until they start to crisp and then mixing the cooked gnocchi with the butter and serving with some grated parmesan if required. So simple, yet delicious!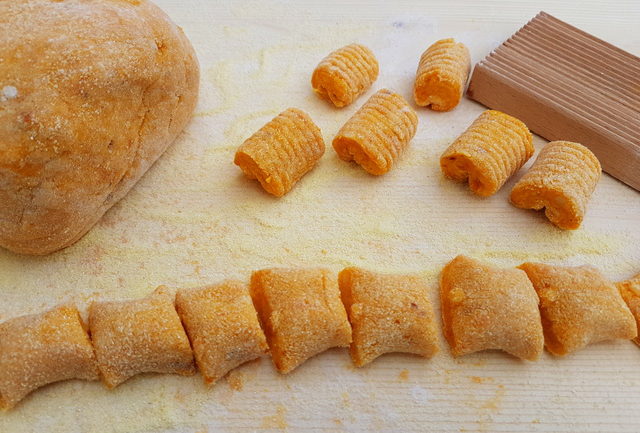 Here in Veneto, these gnocchi are also served with melted butter and smoked ricotta in a dish called 'alla Bellunese' after the town of Belluno where this recipe originated. Pumpkin gnocchi are also often served in a cheese sauce such as parmesan, gorgonzola or tallegio to which ingredients such as truffles, walnuts, broccoli or mushrooms may be added. And speck, pancetta and sausage are the most traditional 'meat' ingredients used in pumpkin gnocchi recipes. These gnocchi are also great baked and can be frozen and used without defrosting. In fact, I have some in the freezer which I will use soon.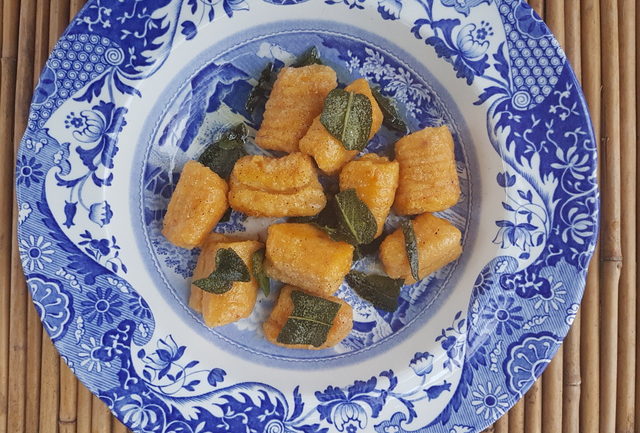 I used my first batch in two recipes, the traditional sage butter and another recipe with parmesan cream, speck, rosemary and walnuts! That was divine. If you'd like to give making your own pumpkin gnocchi a try, the recipe is below along with how to prepare them with sage butter.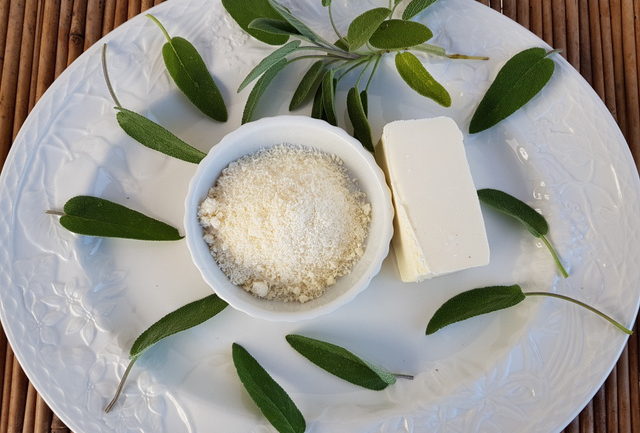 If you make this homemade pumpkin gnocchi with sage butter, I'd love to hear how it turns out and if you liked it. So, please leave a comment here on the blog or on The Pasta Project Facebook page.
Looking forward to hearing from you!
Buon appetito!
Check out the other way to serve these delicious homemade pumpkin gnocchi.
Pumpkin gnocchi with speck, walnuts and Parmesan cream.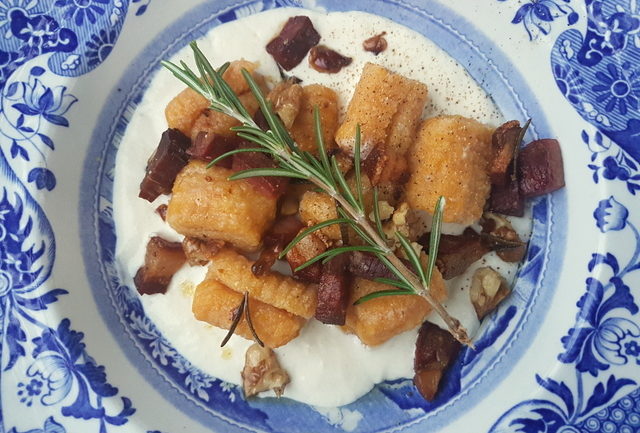 More Recipes You May Like
Save this recipe for later?
If you want to save this recipe for later, you can print it, bookmark this page or save it to Pinterest.
Pin for Later