If you have ever wondered how to color your homemade pasta dough, this post will show you how it's usually done here in Italy! It's not difficult. Italians have been doing it for centuries! To make colored pasta at home, you just need to add a naturally strong colored ingredient to your pasta dough, for example; beetroot or spinach.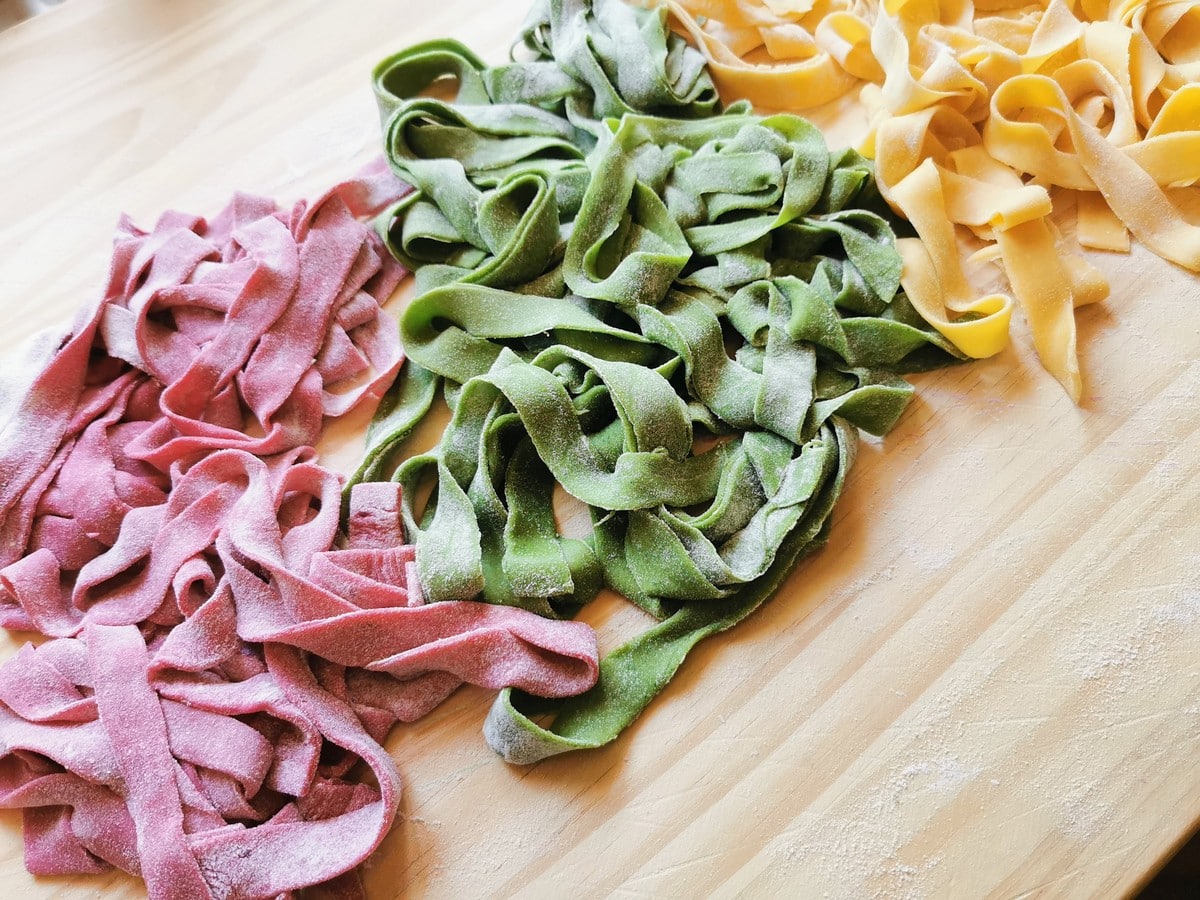 A little coloring pasta history.
Pasta dough is like a canvas that can be colored or imprinted with designs and shapes, or even made with rainbow stripes of different colors. The latter isn't really traditional in Italy and more of a contemporary concept. However, Italians have been making colored pasta for generations.
One of the oldest ways is to add saffron to pasta dough. In Sardinia, homemade malloreddus pasta often has saffron in it. I have also read that some dried pasta used to be made with saffron. Apparently the first penne pasta was a golden yellow color because of the saffron in it.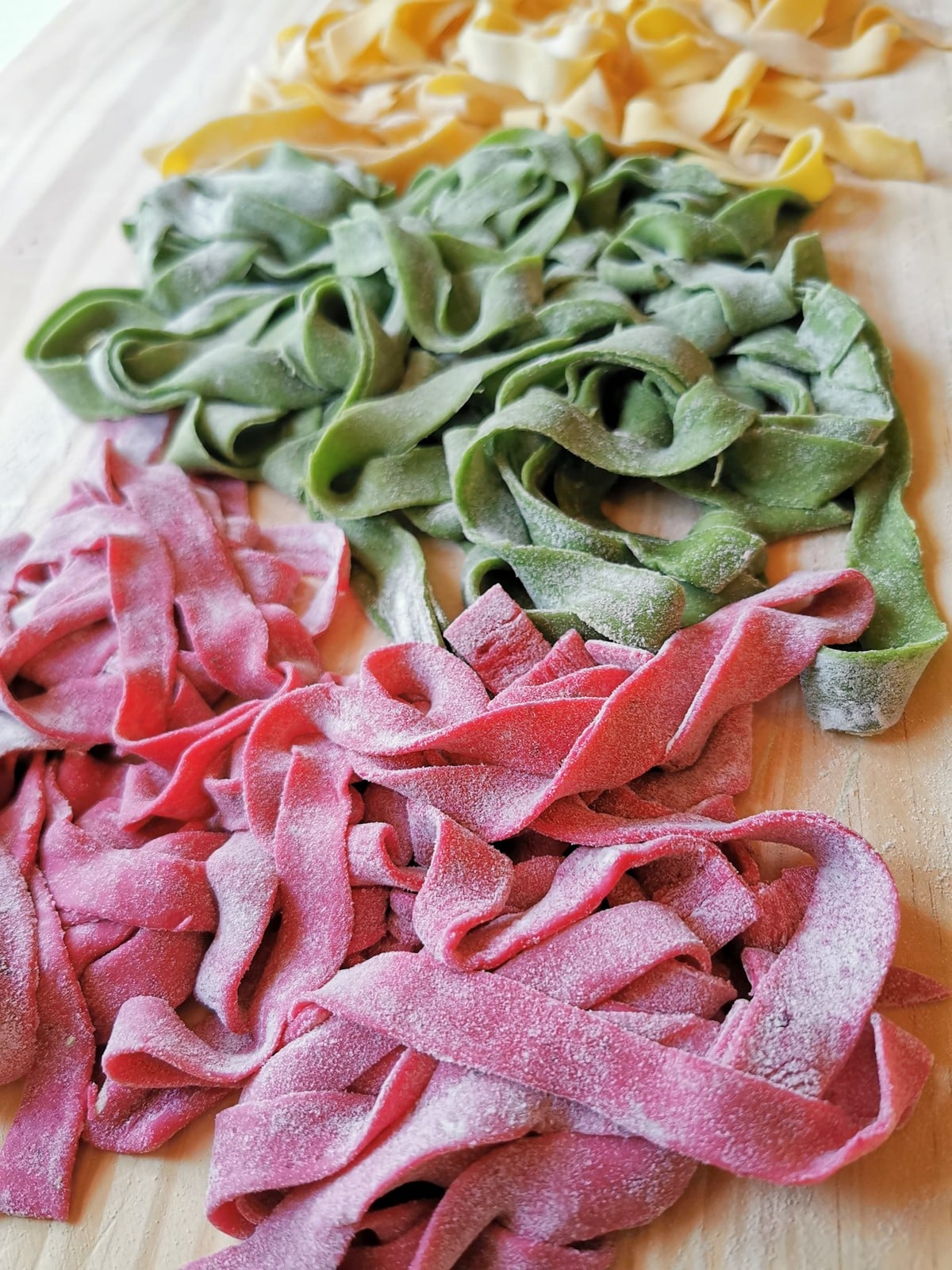 After saffron, the most traditional ingredient to color pasta in Italy is spinach. Green egg pasta is a staple in some well-known Italian pasta dishes such as Lasagne alla Bolognese.
In Bologna, this iconic baked pasta is traditionally made with green pasta sheets. In fact, the official recipe for lasagna Bolognese from The Italian Academy of Cuisine calls for spinach in the pasta dough.
Of course, many people make lasagne alla Bolognese with plain store-bought or homemade egg pasta dough sheets. I'm not sure green pasta influences the flavour of lasagna as the other ingredients are so rich. But it looks very nice!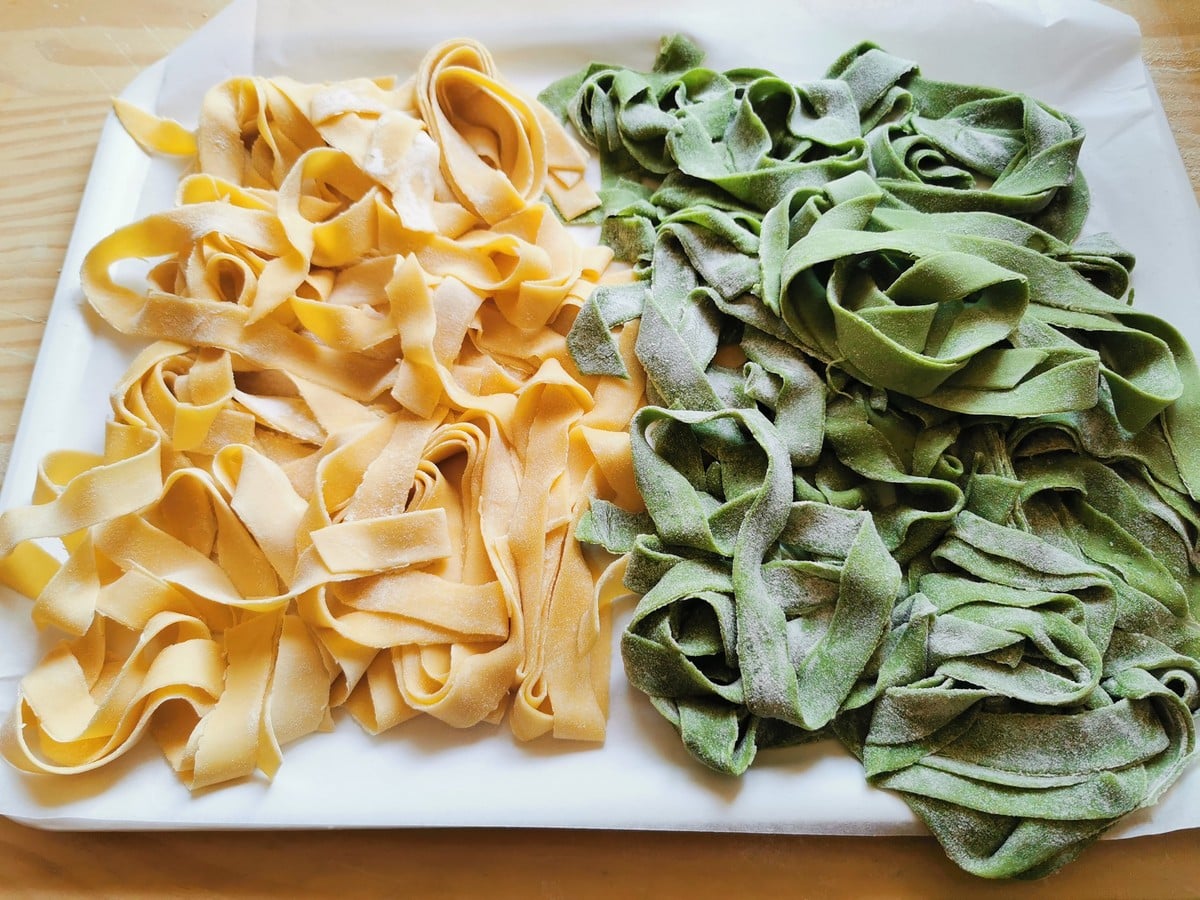 Paglia e fieno.
Italian cooks and pasta makers often pair green pasta with plain pasta, usually tagliatelle or fettuccine, or filled pasta like tortellini. In Italy, they call this combo 'paglia e fieno', meaning straw and hay. We can buy pasta with the two colors packaged together, the most common being green and plain tagliatelle nests.
Dried garganelli and gramigna are also often packaged with the two colors.  Like tagliatelle, both these pasta types come from Emilia-Romagna. You can use the recipe below to make your own paglia e fieno pasta.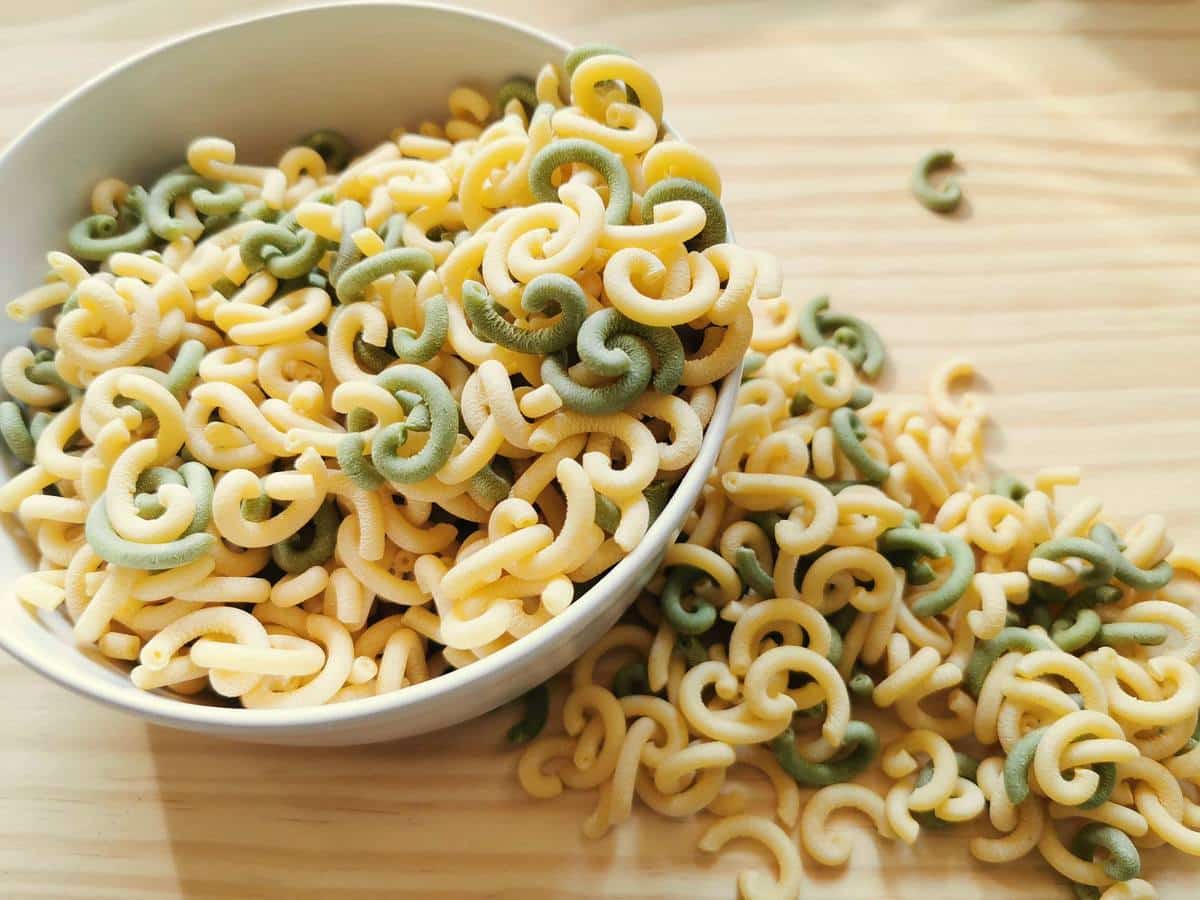 Different sizes of pasta ribbons.
For this recipe, we made red, green and natural plain wide pasta ribbons which are more like pappardelle than tagliatelle. However, you can cut the ribbons to any width you want. There are slight differences of opinion on the width of traditional pasta ribbons, but in general these are the measurements.
Pappardelle is 2-4 cm wide (.75-1.5")
Tagliatelle is 6-8 mm wide. (0.2-0.32")
Fettuccine is 4-6 mm wide and slightly thinner than tagliatelle. (0.15-0.2")
Tagliolini is the narrowest at 2-3mm wide. (0.08-0.1")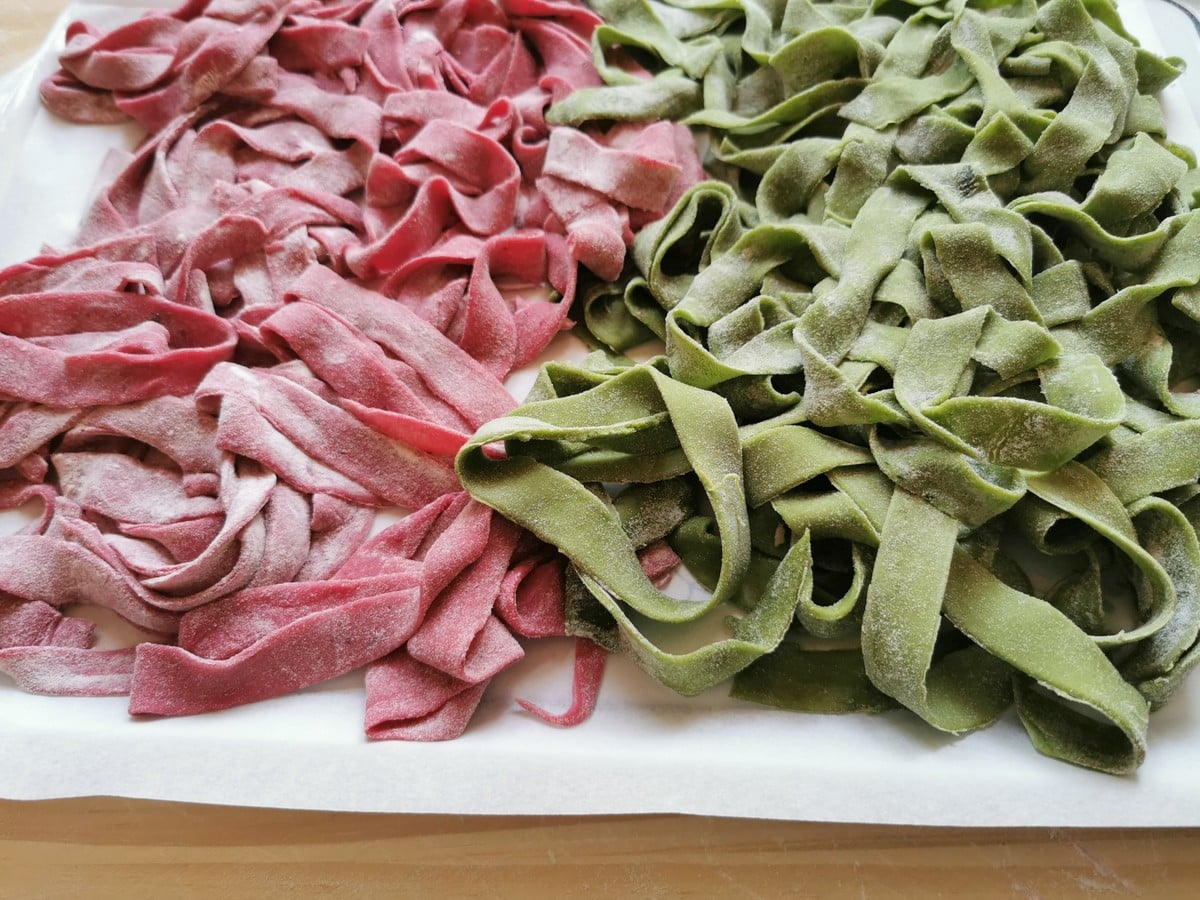 Natural ingredients to color pasta.
Green: As mentioned above, spinach is the most common ingredient Italians use to make pasta green. And, this is what we used. Some cooks use nettles (ortica) and even basil or parsley. The herbs will alter the flavour of the pasta, making it more aromatic.
Red: To make red pasta, many Italians use beetroot, but tomato concentrate is also popular. Obviously, the finished pasta will differ in colour. Beetroot pasta tends to be pinker and tomato pasta more orange in color. We used puréed cooked beetroot (recipe below).
Orange: You can make orange pasta with pumpkin or squash or carrots. The deeper the orange of the pumpkin flesh the more intense the color of the pasta will be. To make orange pasta with pumpkin use 200g roasted pumpkin purée, 200 g Italian '00' flour and one egg and salt.
Yellow: Yellow pasta usually has a little dissolved saffron powder or threads in it. Make yellow pasta dough with 200g Italian '00' flour, 2 eggs, ½ a sachet of saffron powder, water, salt.
Brown/chocolate pasta: You can make chocolate pasta by adding cacao powder to the pasta dough. Make chocolate pasta with 180g '00' flour, 20g cacao powder, 2 eggs, salt.
Black: Black pasta is very popular in Italy, especially in the Southern regions and Sardinia. It originated in Sicily and is made by adding cuttlefish ink to the pasta dough. We can buy cuttlefish ink at most fishmongers. It usually comes in a small jar and costs about 10 euros for 100g (3.5oz).
However, many Italians make a pasta dish with fresh cuttlefish. They use the ink sac in the sauce which then turns the pasta black when it's mixed with the sauce. Alternatively, they double up with the ink and use some in the pasta dough and some in the sauce! This they call 'al doppio nero di seppia'.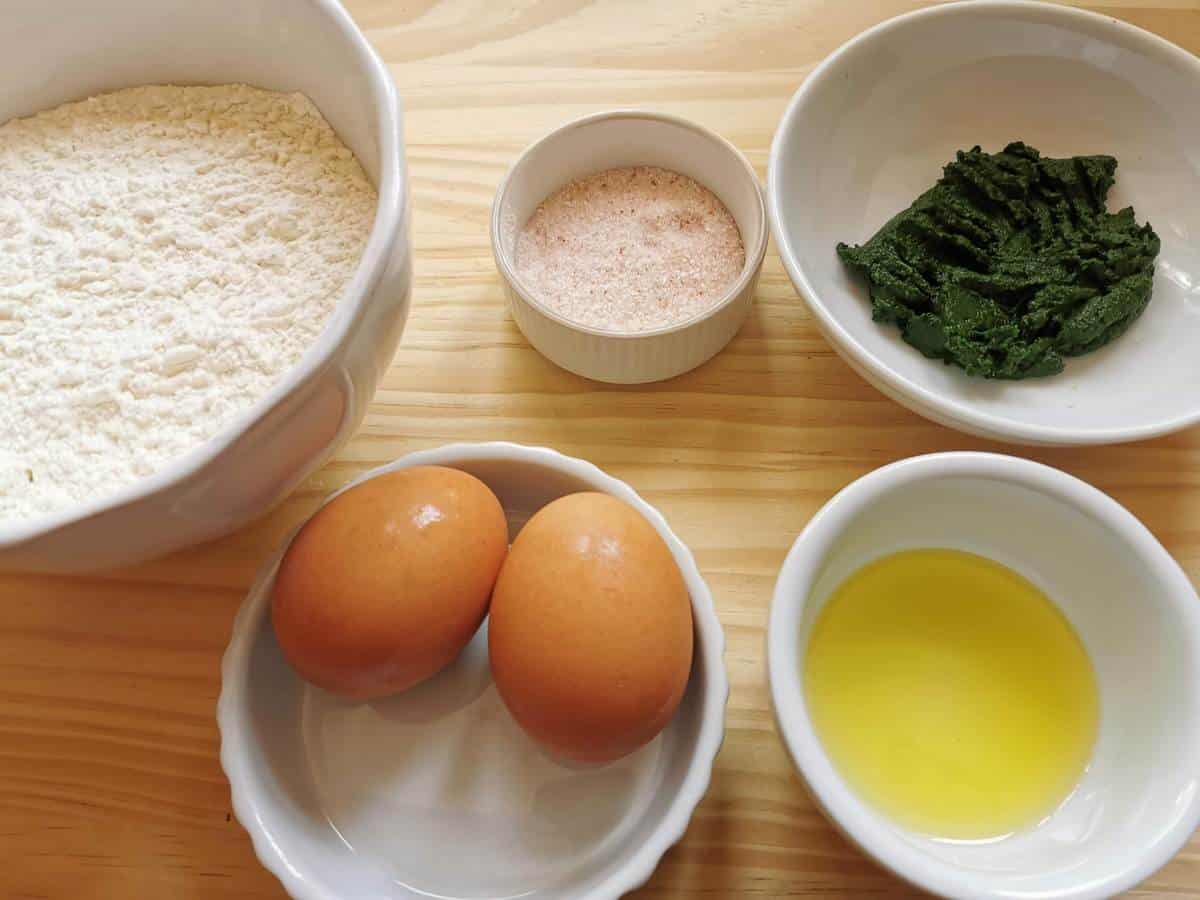 Cook's tip.
When making colored egg pasta it's important to ensure the dough doesn't get to wet because of the ingredient used to color the dough. This can happen when using a puréed vegetable.
Whether you are making green pasta with spinach, red pasta with beetroot, or orange pasta with pumpkin, the purée needs to be as smooth and dry as possible.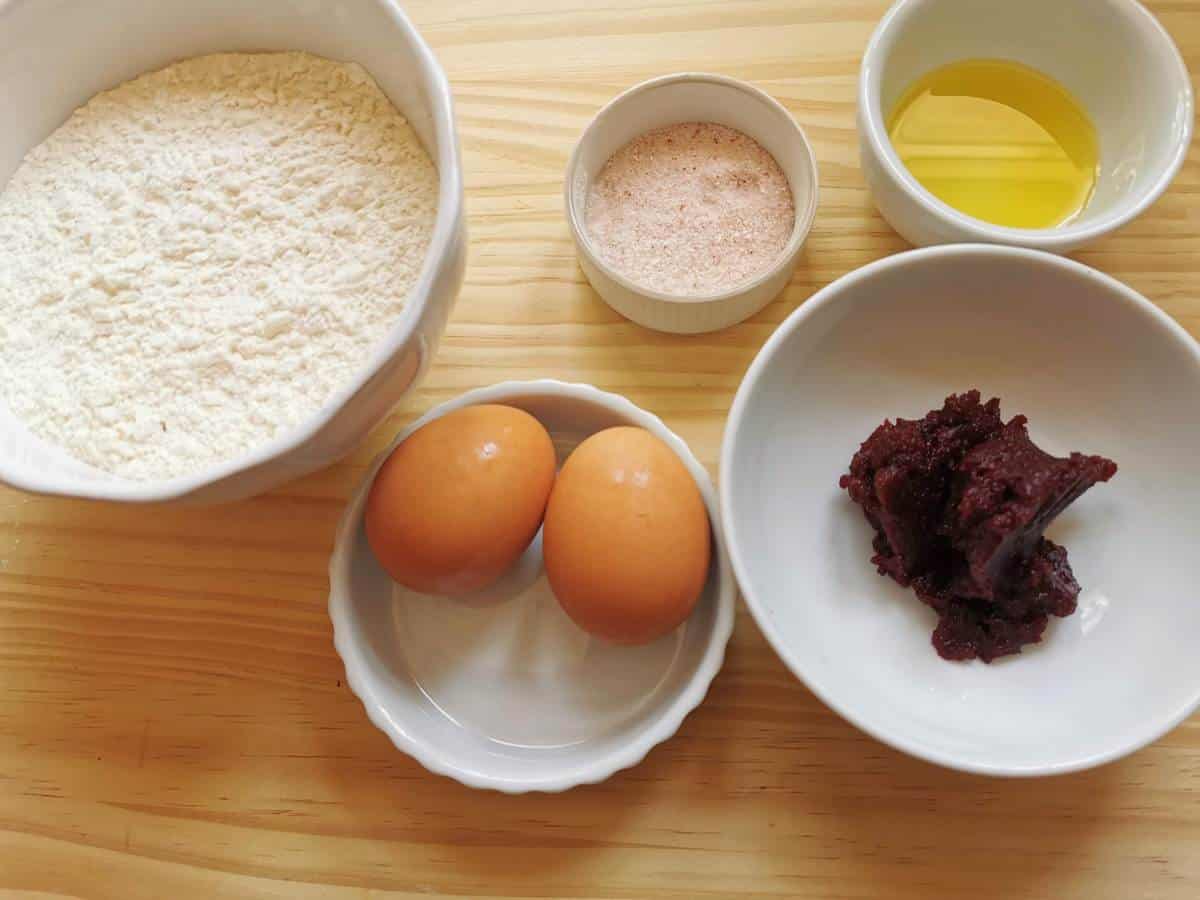 How to make green pasta.
1) The first step to making the green pasta is to wilt the spinach in a pan. Then you need to drain it well and chop it. I usually squeeze the cooked spinach in a tea towel to get as much liquid out of it as possible.
2) Once the spinach is chopped, then purée it in a food processor until smooth. It's difficult to calculate how much fresh spinach will make 45g (1.5oz) of purée. I just cooked a whole bag (normally 400g/14oz) and puréed what I needed for the pasta and used the rest for another meal.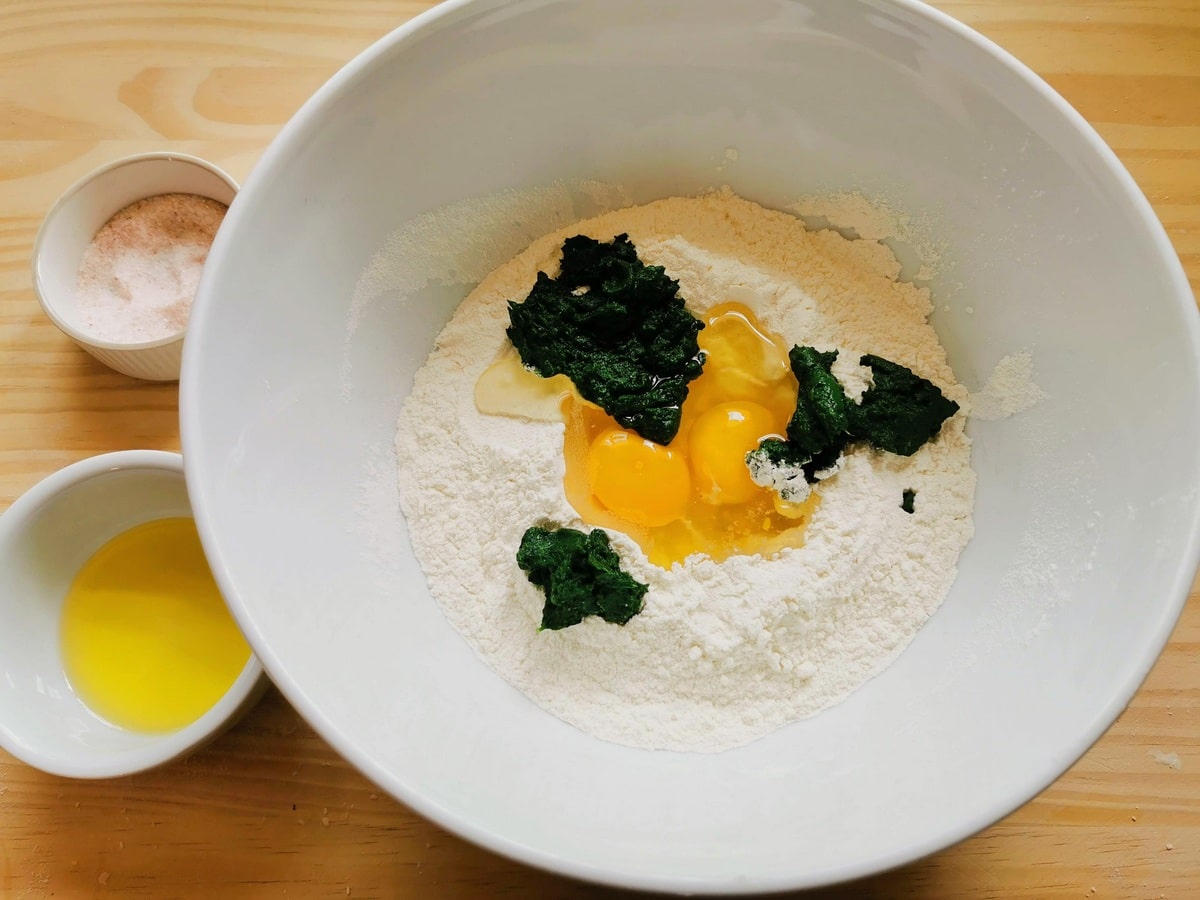 3) Next, sieve the flour into a bowl, add the eggs and the spinach, a pinch of salt and a tablespoon of olive oil. Beat the eggs with a fork and then mix the flour, eggs and spinach together until you have the beginnings of a dough.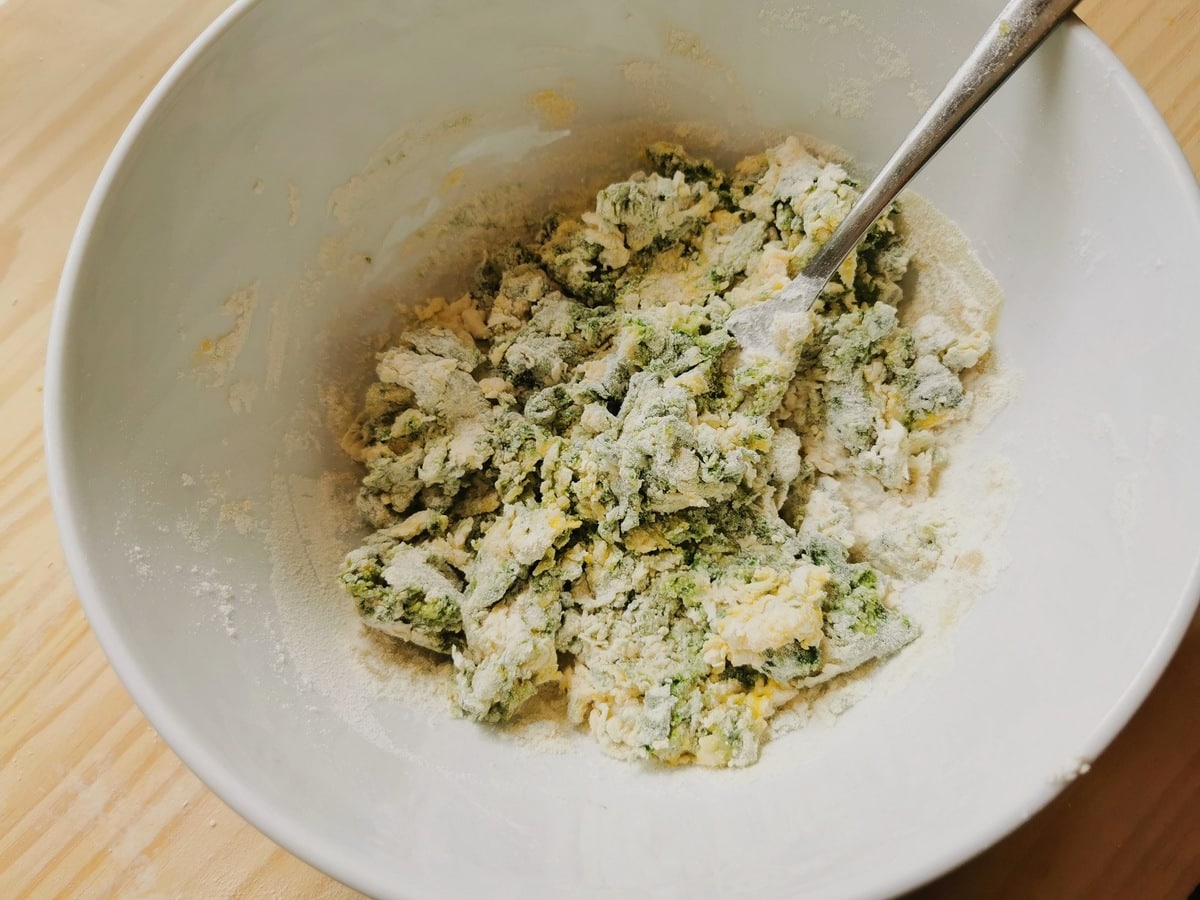 4) Next, use your hands to knead the dough in the bowl until it no longer sticks to the side of the bowl.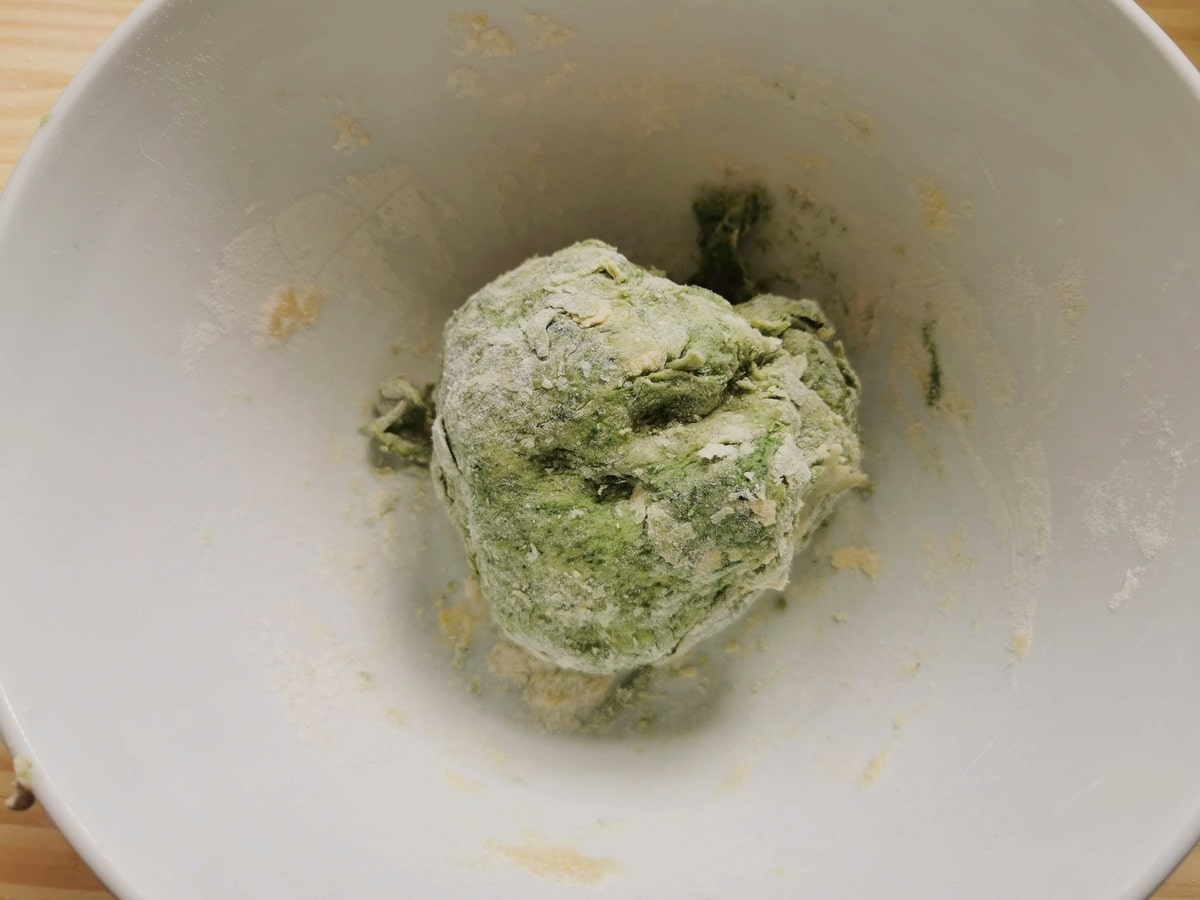 5) Turn the pasta dough out onto a well-floured work top and knead for 10 minutes until the dough is soft and pliable. Then roll the dough into a ball, wrap it in plastic wrap (clingfilm).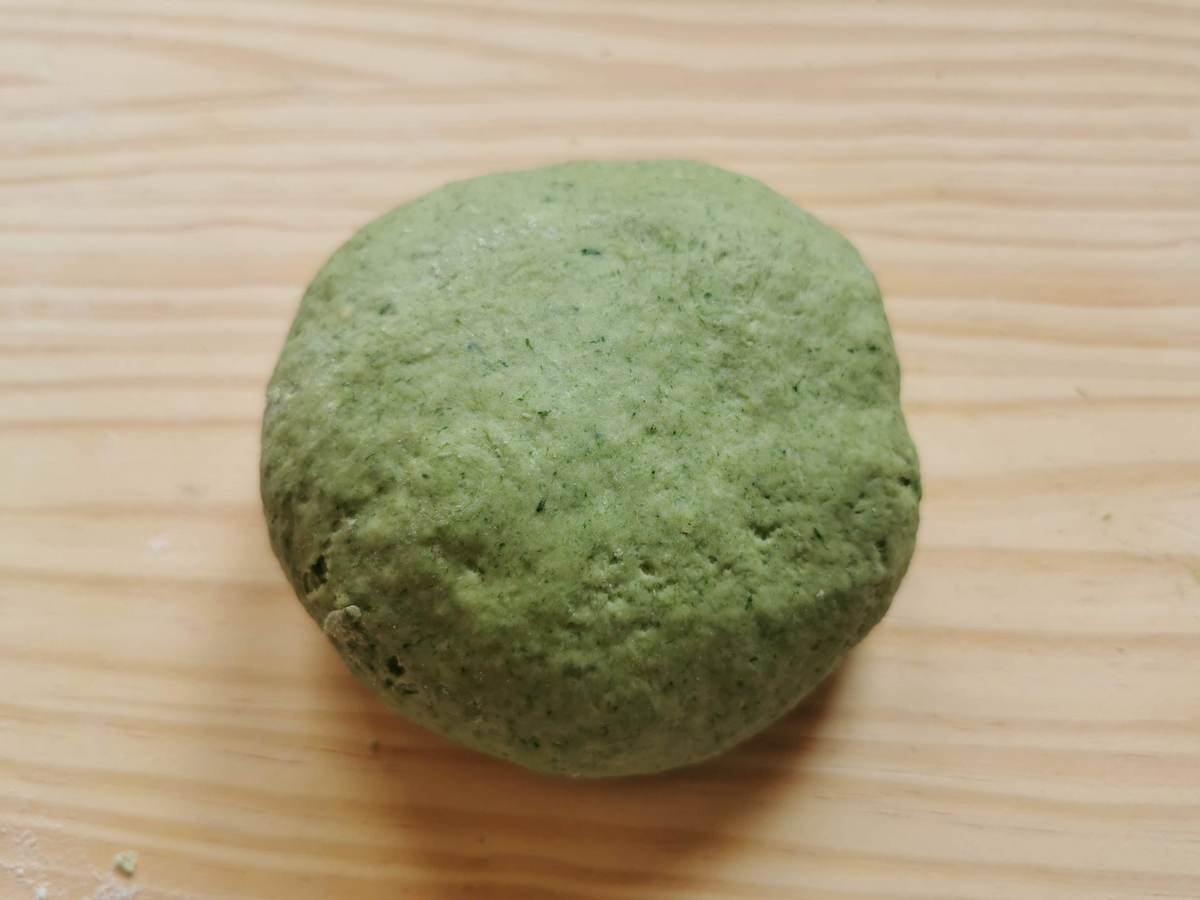 6) After 30 minutes, cut off about a quarter of the dough, flatten it slightly with your hands or a rolling pin, then pass it through your pasta machine 3-4 times through the widest setting.
I fold the dough sheet into thirds the first 3 times I pass it through the widest setting. Then pass it through the next settings until the sheet is thin enough to make noodles with.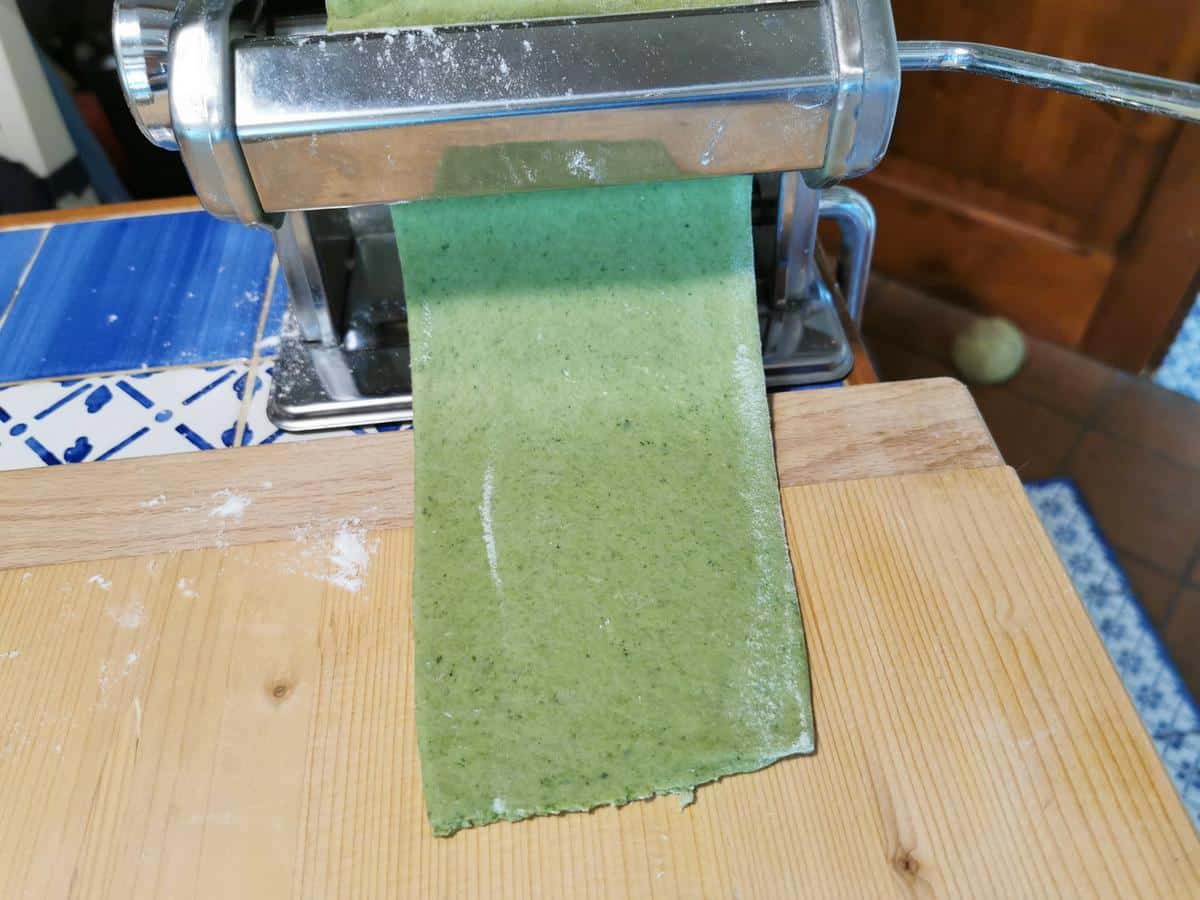 On my machine the widest setting is 7. I passed it though 7 (4 times), then 5, then 3.
7) Finally, transfer the dough sheet to a floured work top. You can cut the noodles 2 ways, either roll the sheet up and then cut it into strips starting at one end.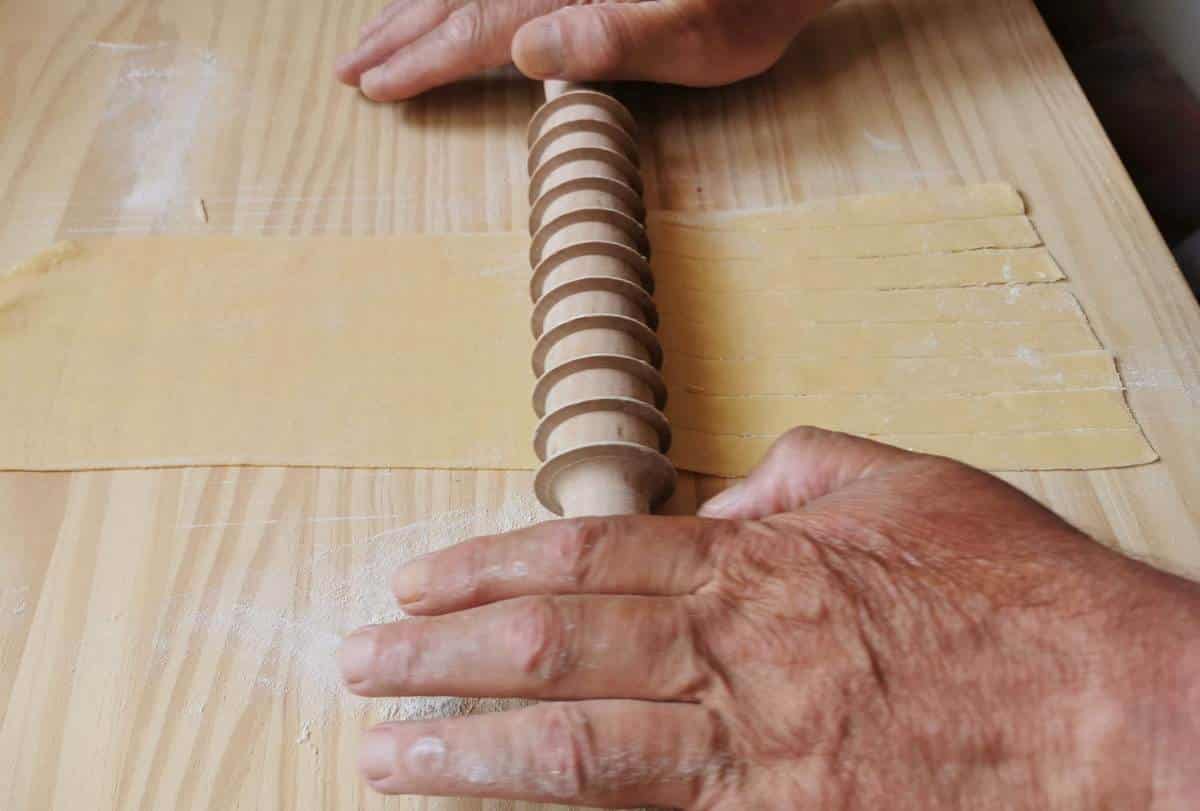 The width will depend on what type of noodles you want to make. We also used a pasta cutting rolling pin which are available in Italy for different types of pasta ribbons.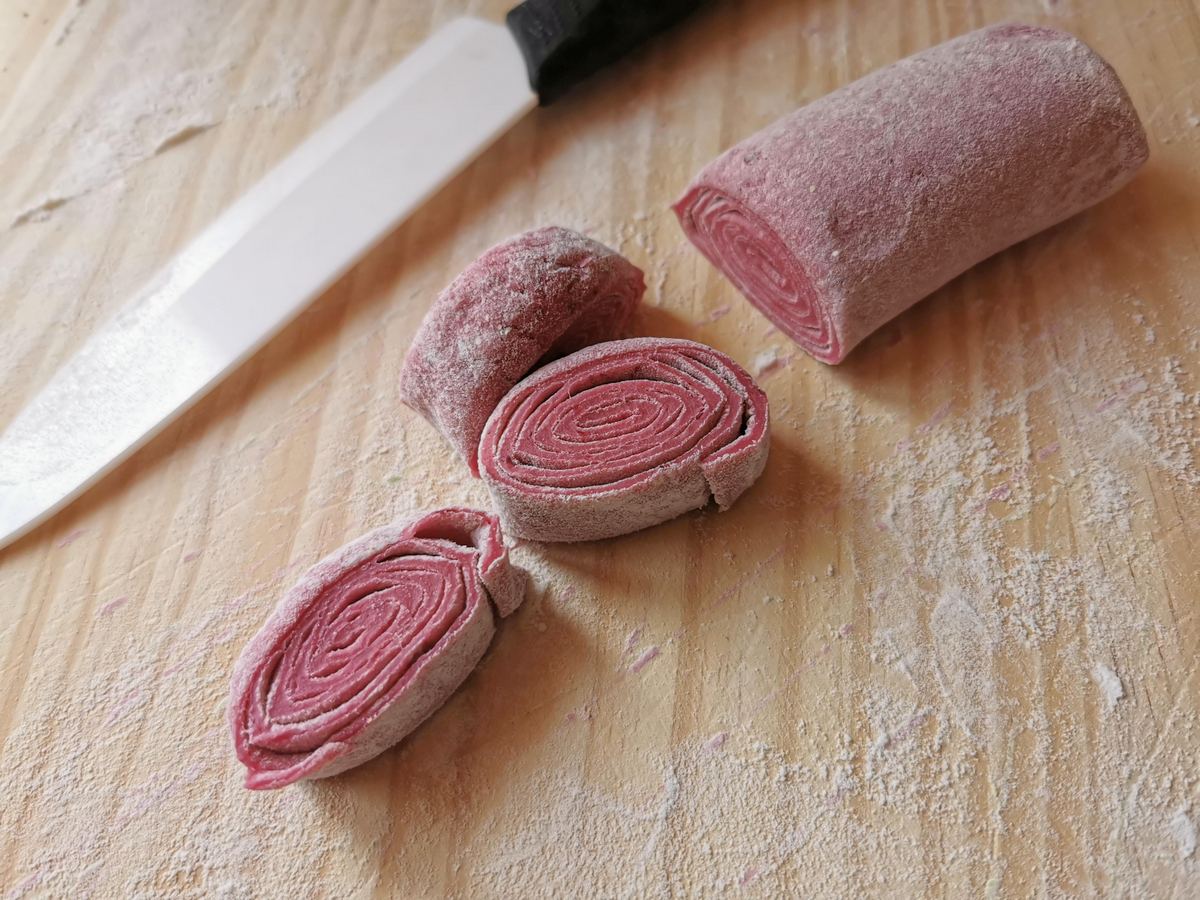 Place the ready pasta ribbons in nests on a well-floured tray. Semolina flour is the best for this. Repeat with the rest of the dough.
How to make red pasta dough.
Making the red pasta dough is almost exactly the same as making the green pasta dough. I used ready cooked beetroot which I puréed in my food processor until smooth. If necessary, you may need to add a little water if it's difficult to purée.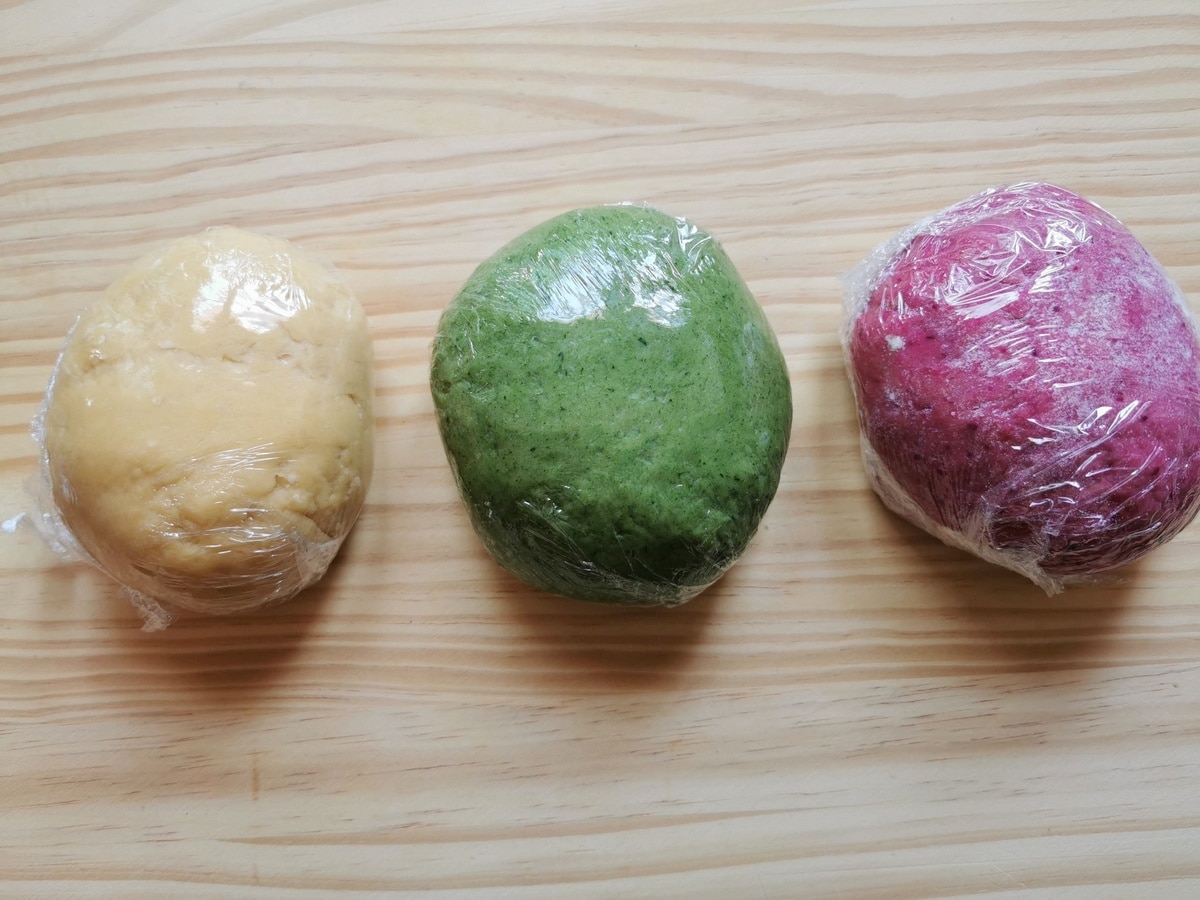 How to make plain egg pasta ribbons.
The plain egg pasta ribbons call for 1 large egg per 100g (3.5oz) of flour and a pinch of salt. You make them using the same method as the colored pasta.
How to store or dry your colored pasta ribbons.
If you are going to use your colored pasta almost immediately, just leave the well-floured noodles on a floured tray in a cool place until ready to cook.
You can keep fresh egg pasta in a really well-sealed container in the fridge for 2 days or you can freeze them in freezer bags and cook from frozen. In both cases, don't try to separate the ribbons before cooking. Just dump them in boiling salted water and they should separate without help.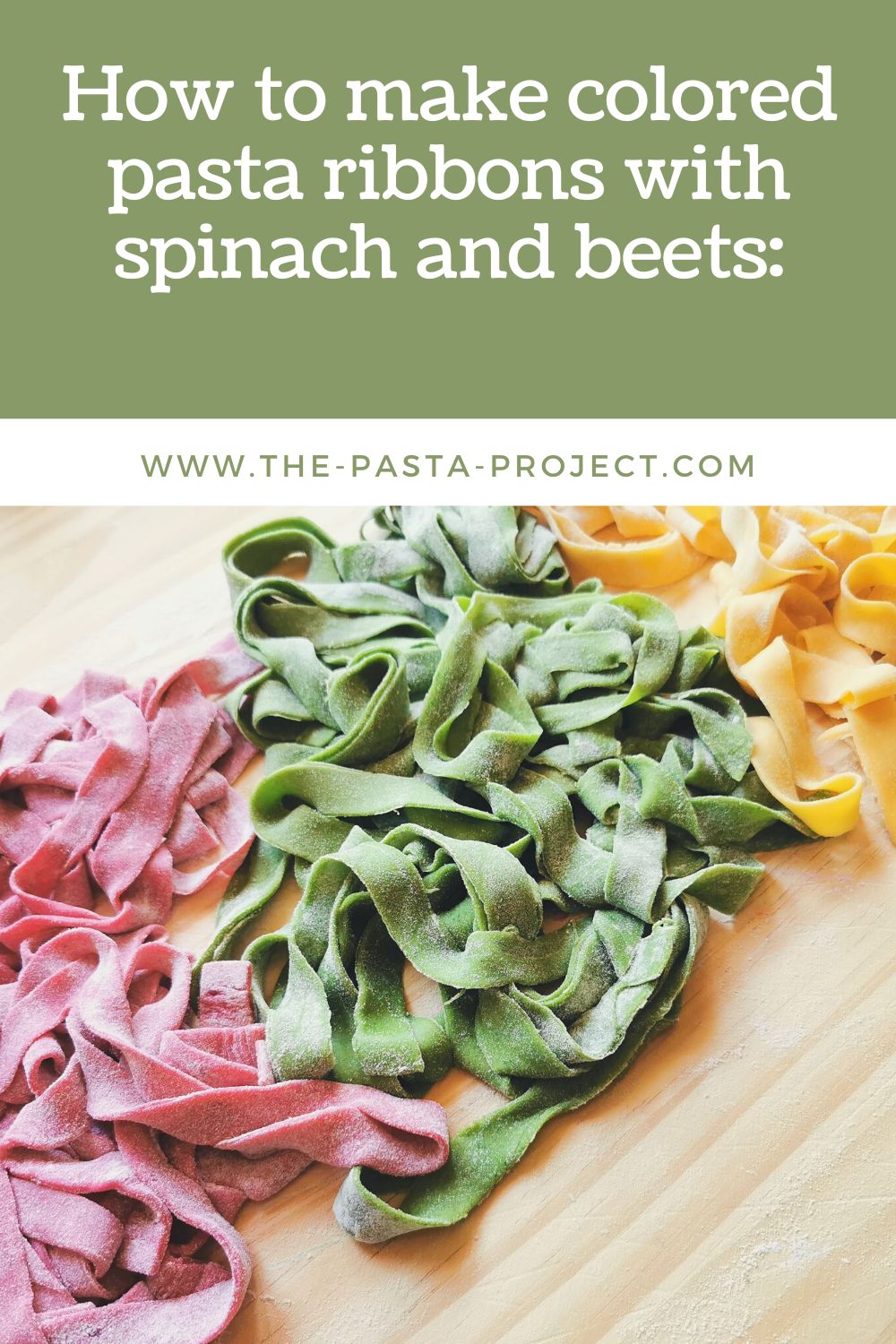 If you want to dry your colored pasta ribbons, you can leave them in a cool dry place on a mesh tray or drying board so that air circulates around the ribbons.
Alternatively, you can dry them in the oven! First preheat the oven to 50°c (120°f), then turn it off. Leave the pasta in the oven for about an hour, with the door open, until it dries. Every now and then check if it's ready. If it is still damp, heat the oven again and repeat the procedure.
FAQ
Can you make colored pasta ribbons vegan?
Yes, you can. To make vegan colored pasta you will need to use 250g (8.8 oz) semolina flour instead of soft wheat flour and double the quantity of spinach or beetroot. Then add water as necessary if the dough is too dry.
Can you cook homemade pasta from frozen?
Homemade egg pasta doesn't defrost well. It should always be cooked from frozen in boiling salted water.
How can I dry homemade egg pasta noodles
You can dry your egg pasta noodles either by leaving it on a meshed drying board in a cool dry place or in an oven that has been heated to 50°c (120°F) and turned off. Leave the door open. Repeat if pasta is still humid.
What condiments go well with colored pasta?
Colored egg pasta noodles go well with most traditional tagliatelle or pappardelle sauces. Green pasta is very good with ragu or creamy sauces. Red pasta goes well with white ragu (no tomatoes).
LET ME KNOW WHAT YOU THINK.
If you make some of this colored pasta at home, I'd love to hear how it turned out and if you liked it. Please leave a comment here on the blog or on The Pasta Project Facebook page.
Looking forward to hearing from you!
Buon appetito!
Recipes to use your colored pasta in.
If you are interested in learning how to make other homemade pasta and different types of gnocchi, check out my shop page for some great video online courses from my friends in Rome! Nothing beats learning to make pasta from Italians! Plus while you're there why not order a copy of one of my seasonal pasta recipes cookbooks or the PDF versions for just $8.99 each?