Looking for a traditional bolognese sauce from Italy? Look no further; this authentic tagliatelle bolognese recipe is the official version commonly served in restaurants and homes in Bologna.
It's much more flavorful than your typical spag bol, and once you try it, I'm sure it'll be your new family favorite.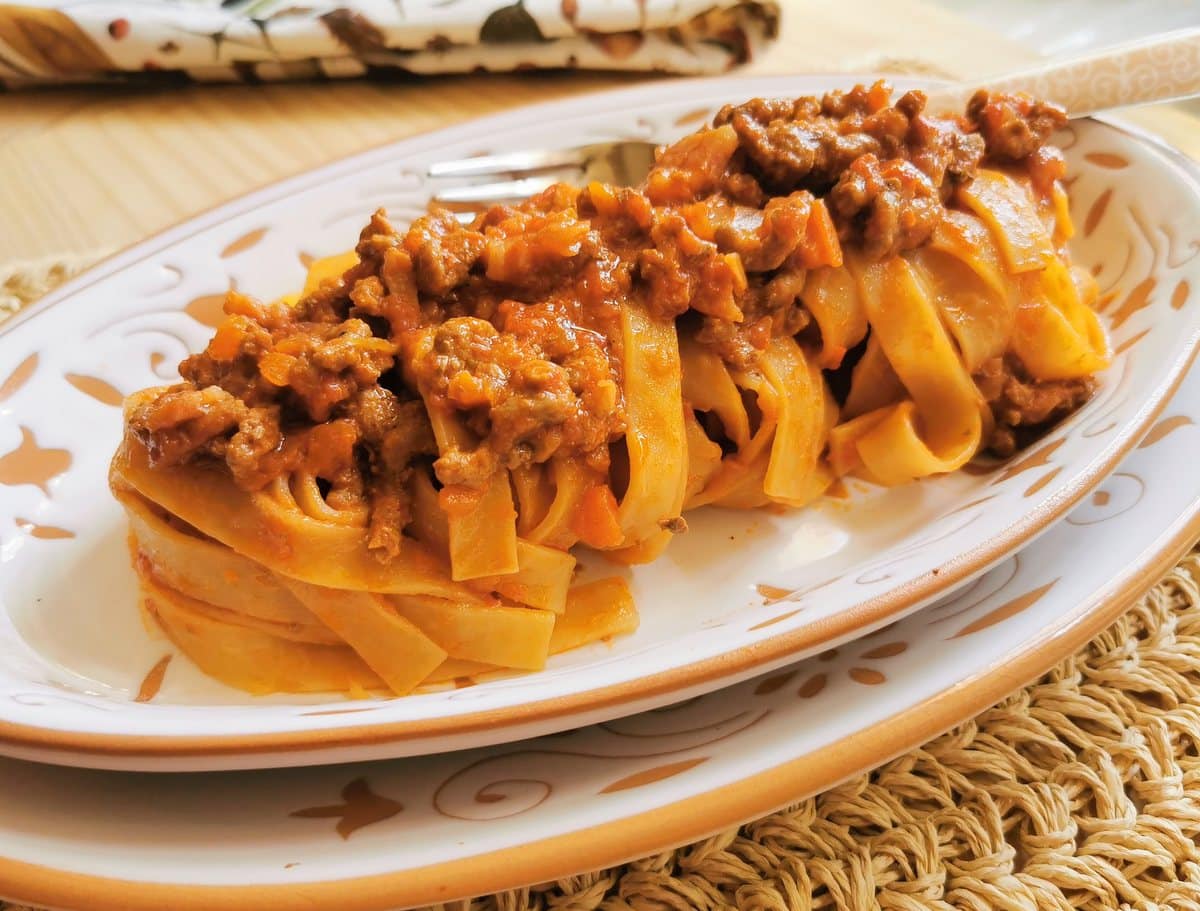 History
Even here in Italy there are different versions of bolognese because it is basically a meat sauce, which Italians call 'ragu'. However, the most famous and original version comes from Bologna, the capital of the Emilia-Romagna region. Authentic bolognese is nearly always served as tagliatelle bolognese or tagliatelle al ragu alla bolognese, not spaghetti bolognese.
Italians prefer tagliatelle because this pasta has a rougher surface than spaghetti and is more porous, making it better suited to heavier meat sauces.
The official recipe for bolognese.
As a result of many conflicting opinions on what bolognese should contain and how it should be cooked, the Bologna branch of the Italian Academy of Cuisine submitted an official version of the recipe for 'ragu alla bolognese' on October 17th 1982 to the Bologna Chamber of Commerce.
In this recipe, they recommend using the skirt from the cow's diaphram and pancetta. However, the offical version was recently updated to cater to modern tastes. They now recommend front cuts that are rich in collagen such as the muscle, the shoulder, the under shoulder, the belly or the brisket.
Nowadays, to reduce the fat content many people use leaner cuts of meat and often a mix of ground pork and beef rather than pancetta. The recommended ratio is 60% beef and 40% pork.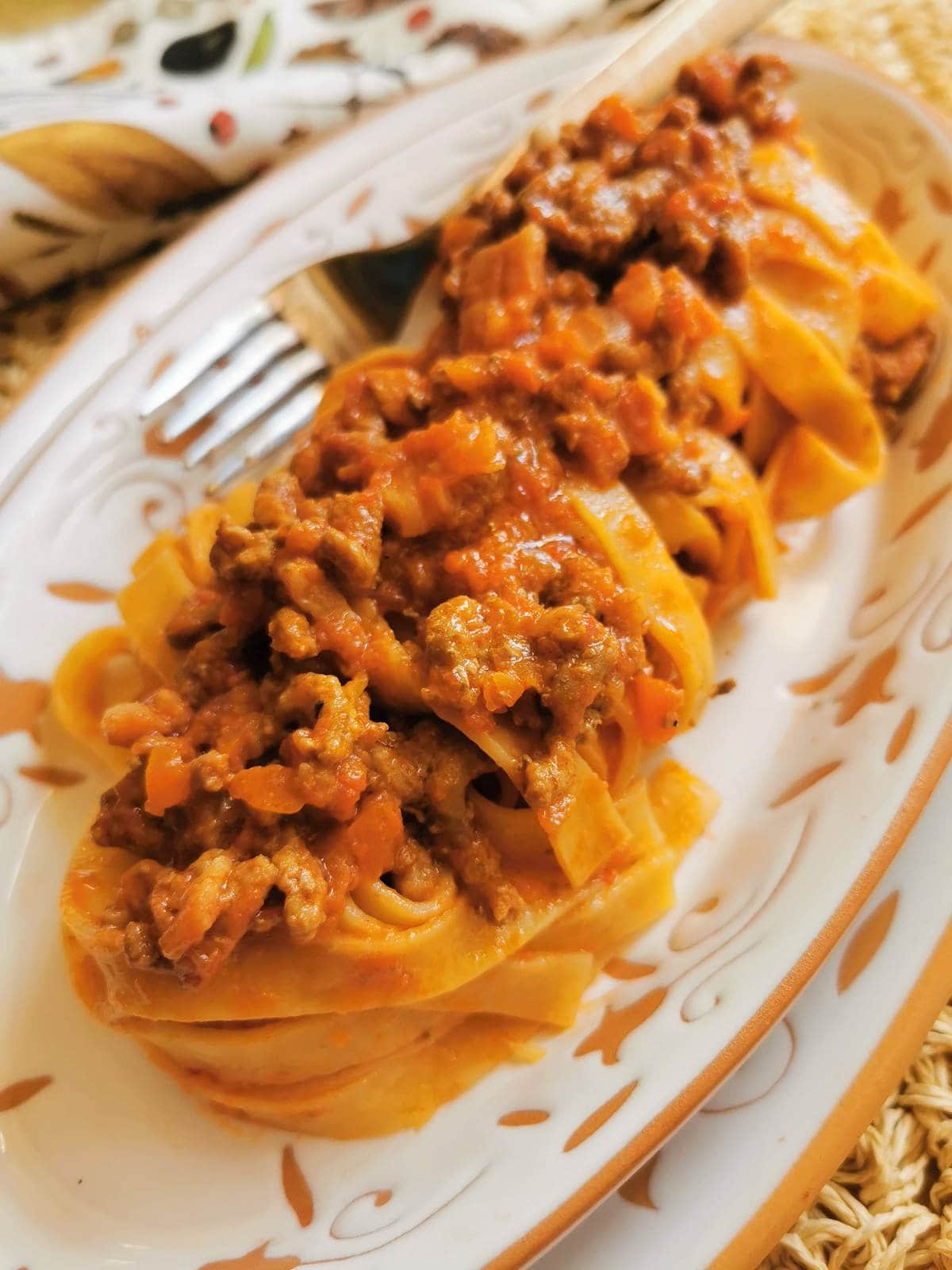 I followed the official version
I followed the official version of this tagliatelle bolognese recipe using a mix of ground beef and pancetta and traditional fresh egg pasta. However, if you're looking for a healthier version, you can swap the pancetta for ground pork and use organic wholegrain tagliatelle instead of fresh tagliatelle.
Ingredient Notes
Pancetta: Unsmoked pancetta is better. You can usually find pancetta cut into thick slabs like the one I used or pre-diced.
Ground Beef: Use a high-quality coarse beef mince, preferrably from one of the cuts mentioned above or a mixture of those. Coarse ground beef will give the bolognese a meatier texture.
Wine: According to the new offical bolognese recipe, you can use white or red wine. When picking a wine, it's best to use a dry wine, as this will help add balance and more flavor to the sauce.
Tomatoes: Fresh tomatoes aren't recommended for a true bolognese because fresh tomatoes are too watery. but both canned chopped tomatoes or passata (purée) work. Plus, you can include a tablespoon of tomato concentrate.
Milk: For a richer bolognese sauce, use whole milk; for a less rich sauce, use skimmed milk. Milk is what gives bolognese it's orangey colour and neutralizes the acidity of the tomatoes.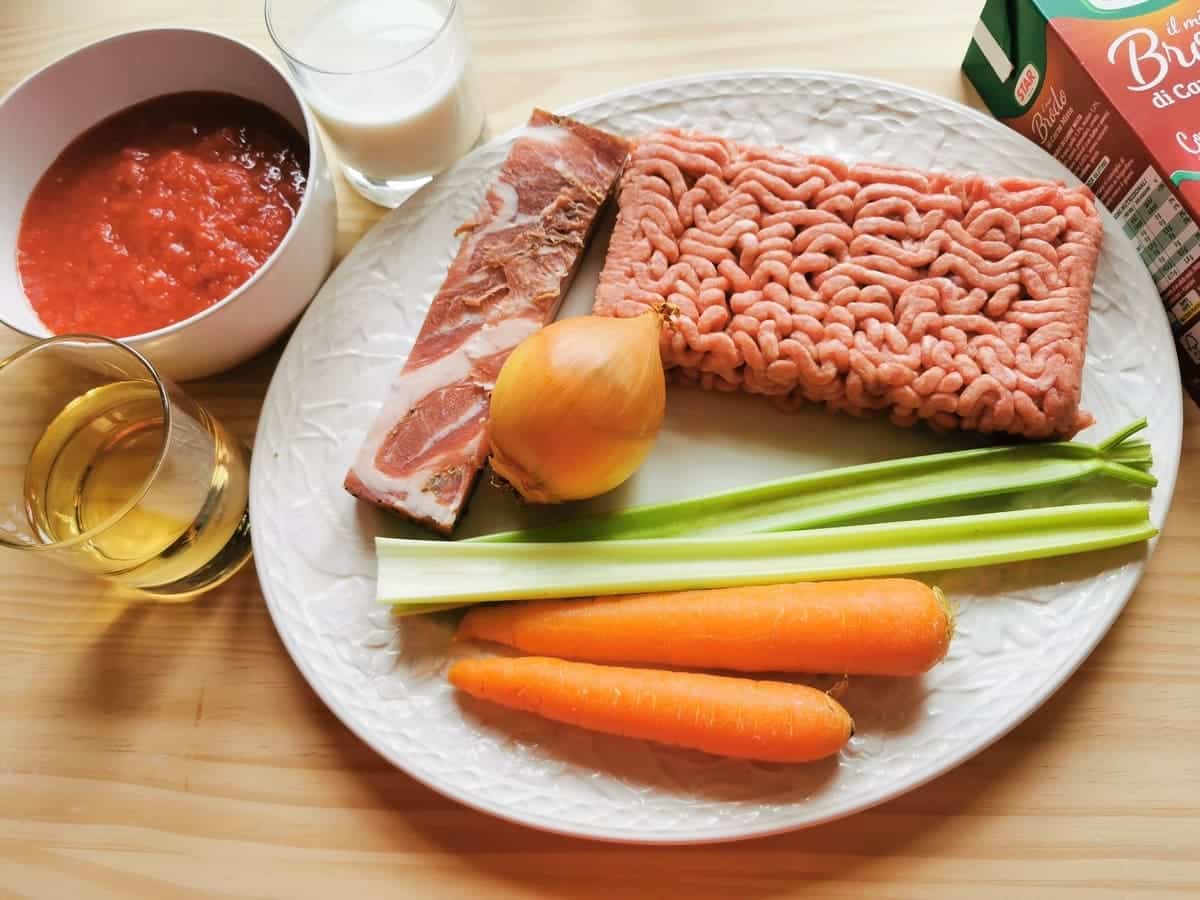 Expert Tips
Follow these tips to make the best traditional bolognese possible and get the most authentic flavor.
Simmer the bolognese for at least 2 hours
Gently simmering the bolognese for at least 2 hours will help intensify the flavors and allow the ingredients to meld together. This is an important step for any authentic bolognese, some Italians simmer their bolognese sauce for 3-4 hours.
Simmering the bolognese sauce will also tenderize the ground meat and allow the meat to absorb flavor from the sauce.
Fry the pancetta before adding the vegetables
Briefing cooking the pancetta before adding the vegetables will help add more flavor to your bolognese sauce. This is because it allows the pancetta to slightly render and brown, giving your sauce more savory flavors.
Deglaze the pan with wine
Deglazing the pan with wine will help incorporate any browned bits of meat or vegetables back into the sauce. This is a good thing because the brown bits are packed with flavor, and it also stops them from burning while the sauce simmers.
Step by Step Instructions
1) Prepare all of the ingredients and set them to the side.
Note: I use a food processor to chop the vegetables as they should be quite finely chopped. However, the traditional way is to chop them with a knife.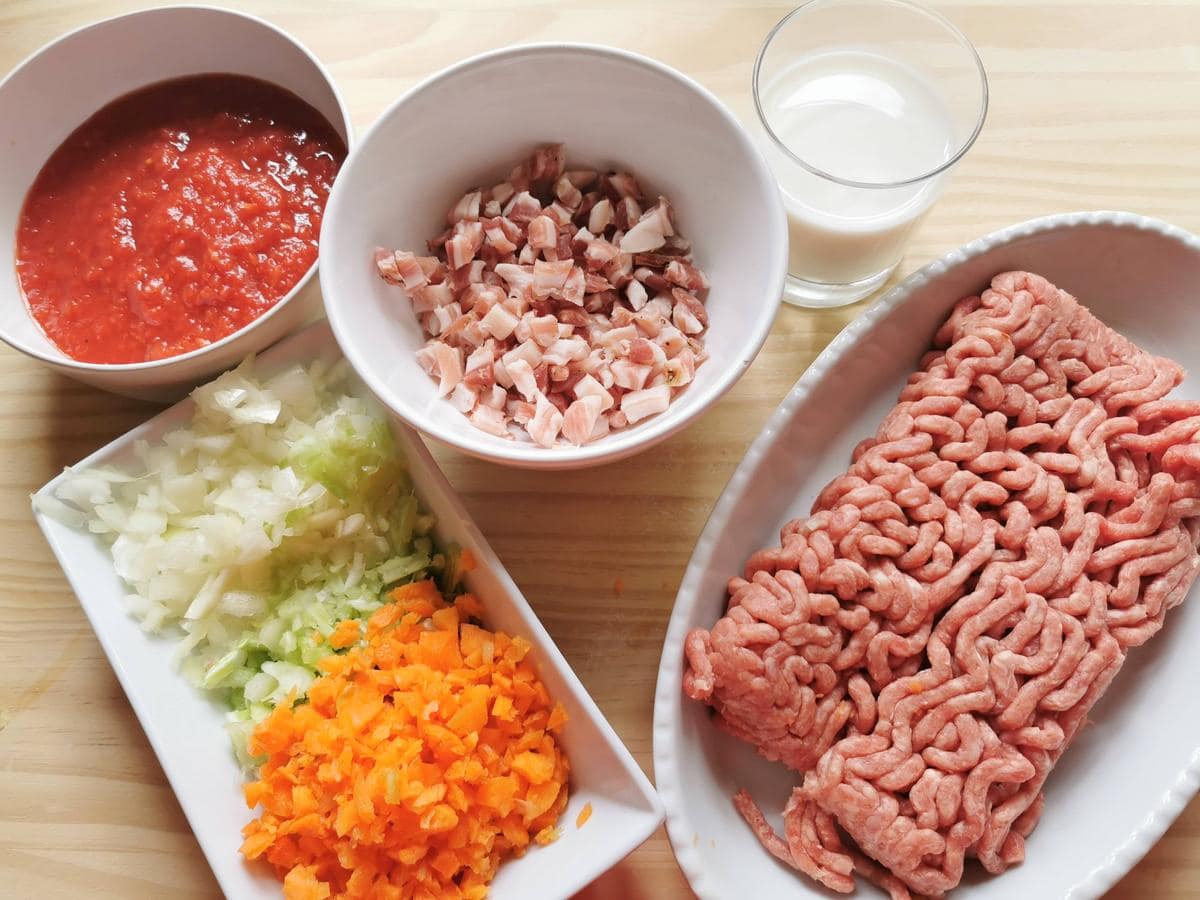 2) In a deep sauté pan over medium heat, add a little olive oil and fry the pancetta for 3 to 4 minutes. Add chopped vegetables and continue to sauté for 6 to 8 minutes, until softened. If necessary add a little more olive oil.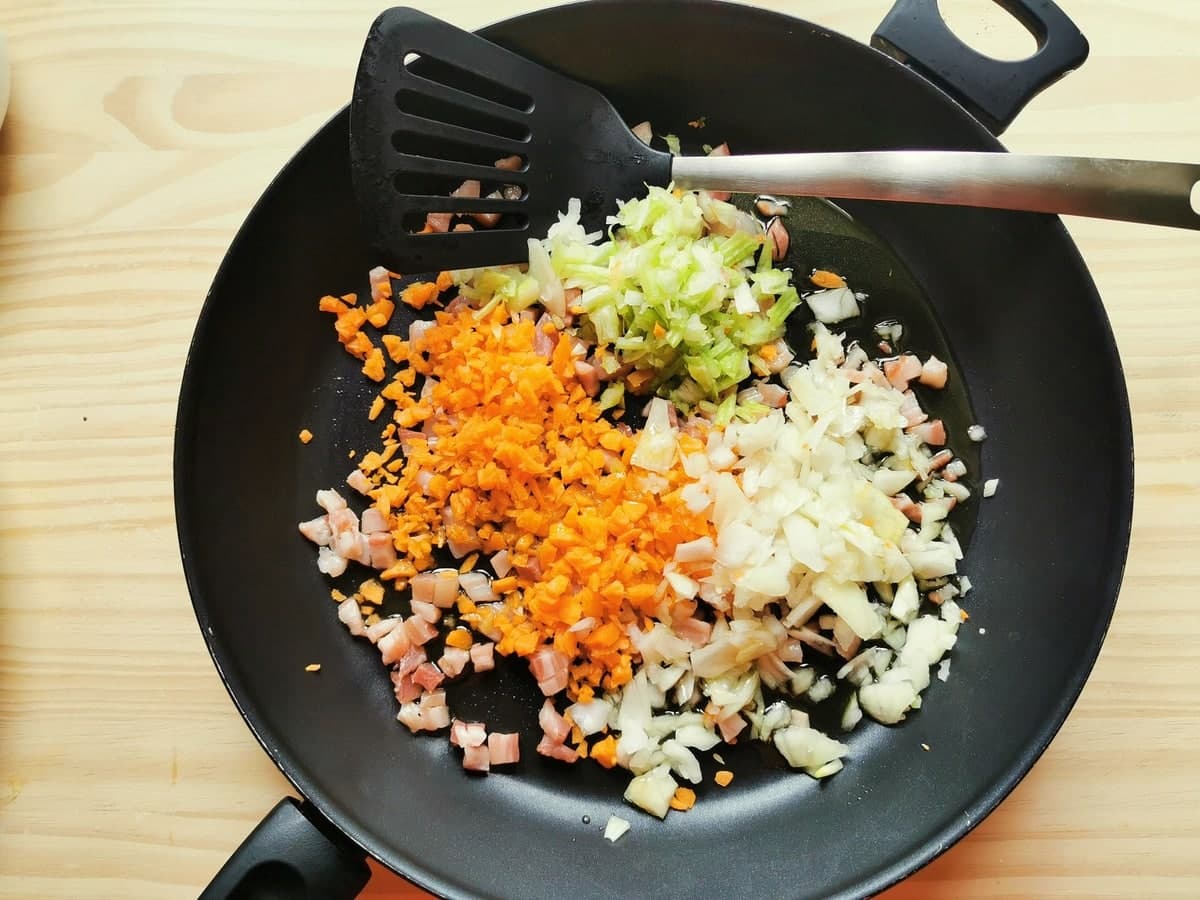 3) Add ground beef and cook for 4 to 5 minutes while occasionally mixing until the beef has browned. If there are any big lumps, you can break them up with a spatula or wooden spoon.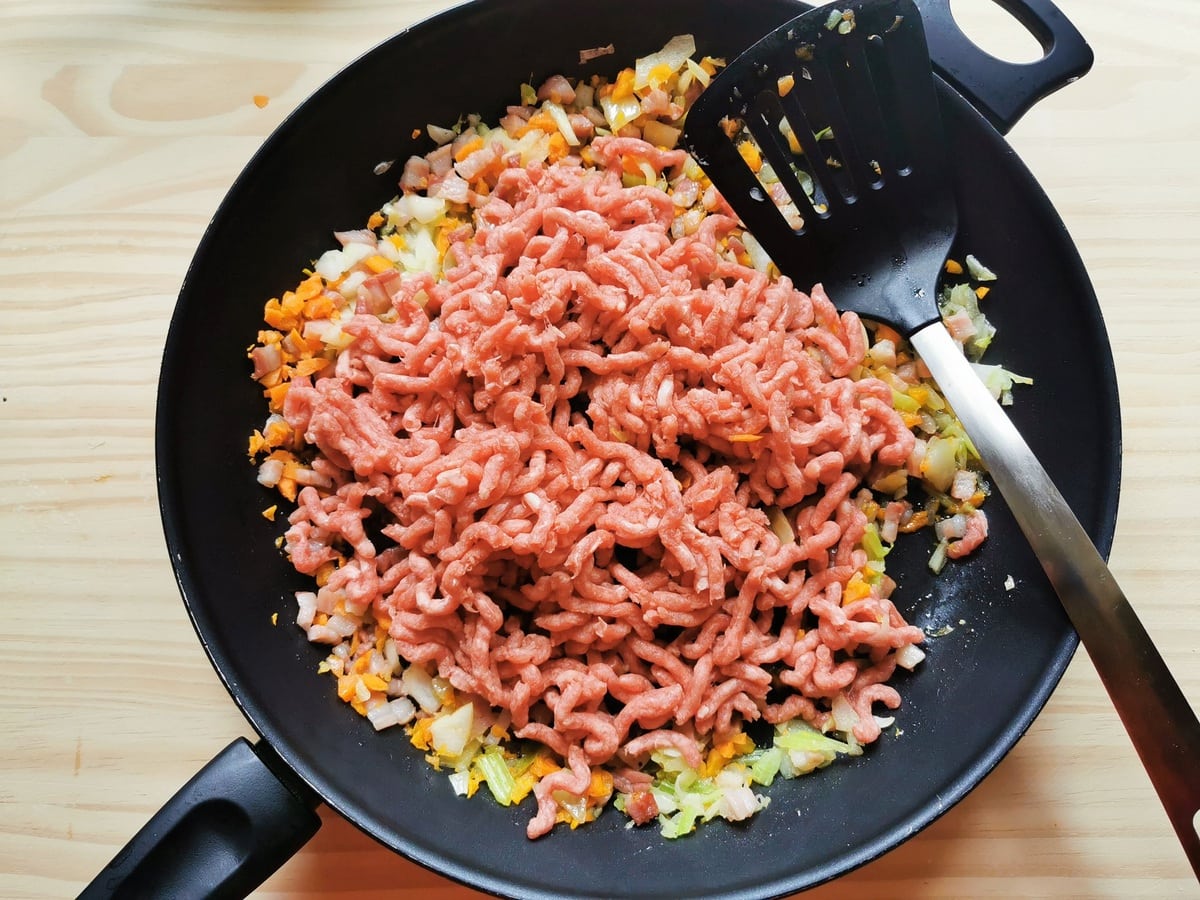 4) Turn up the heat to high and deglaze the pan by adding the wine and scraping any brown bits stuck to the bottom with a spatula or wooden spoon.
Note: Make sure not to use metal utensils, as you don't want to scratch the bottom of the pan.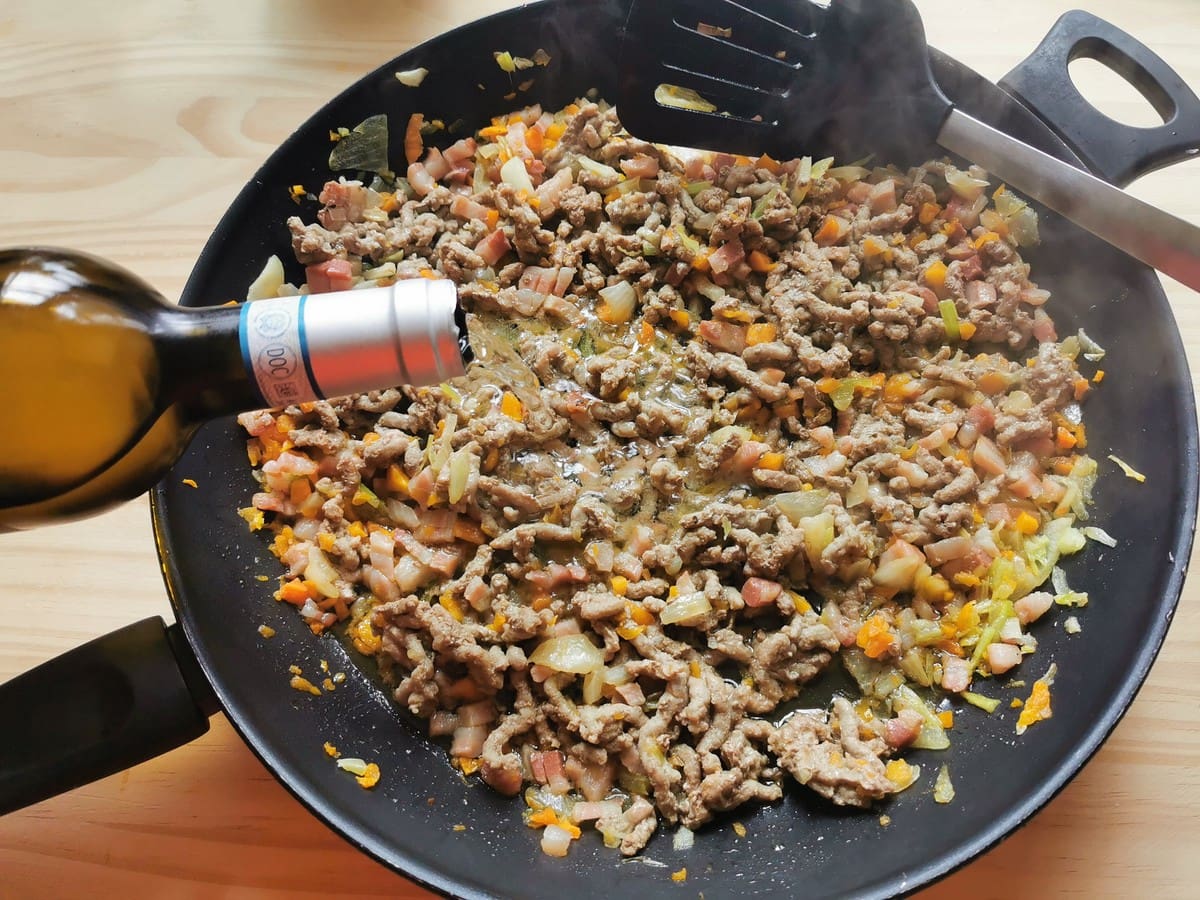 5) Once the alcohol has evaporated, mix in the stock and tomato passata.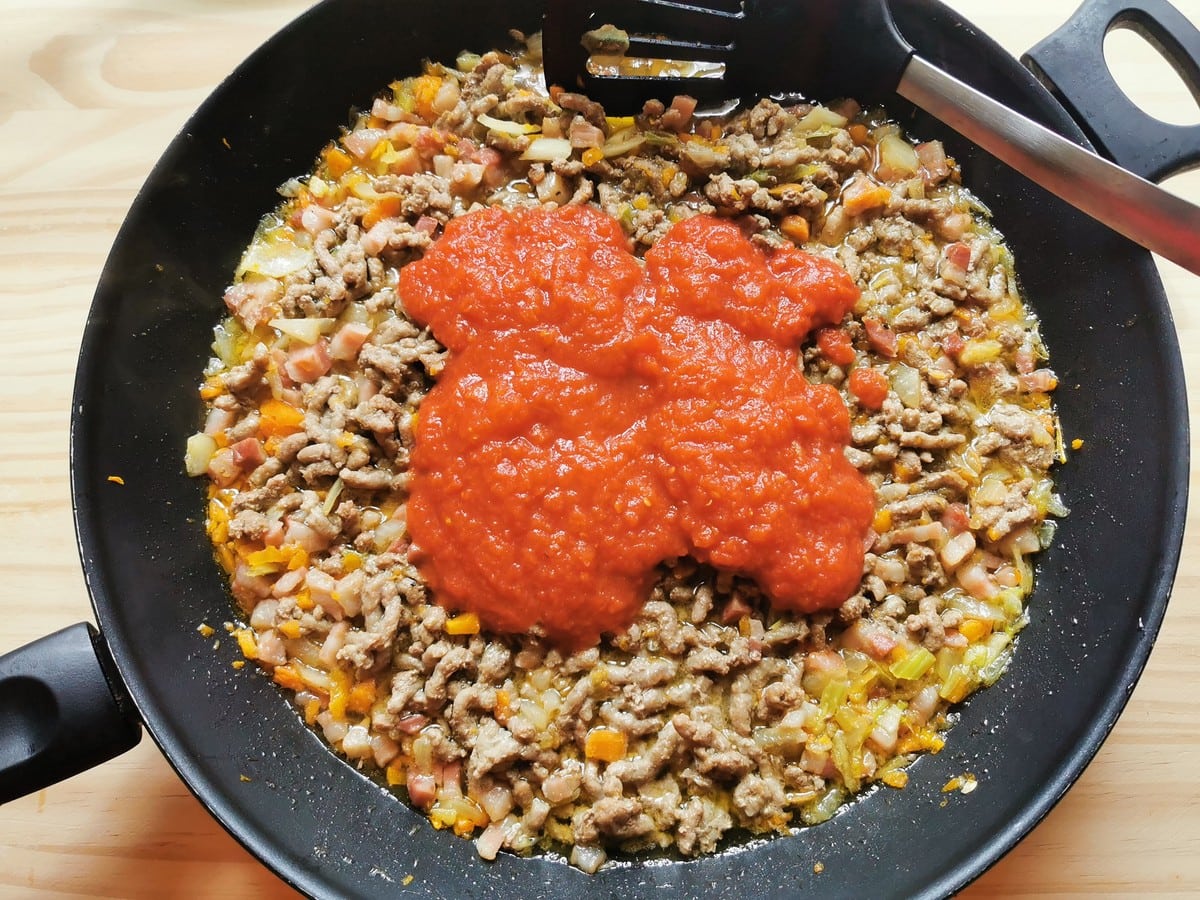 6) Bring to a light simmer and turn the heat low. Partially cover the pan with a lid and lightly simmer for at least 1 ½ hours while stirring occasionally. Add more stock if necessary.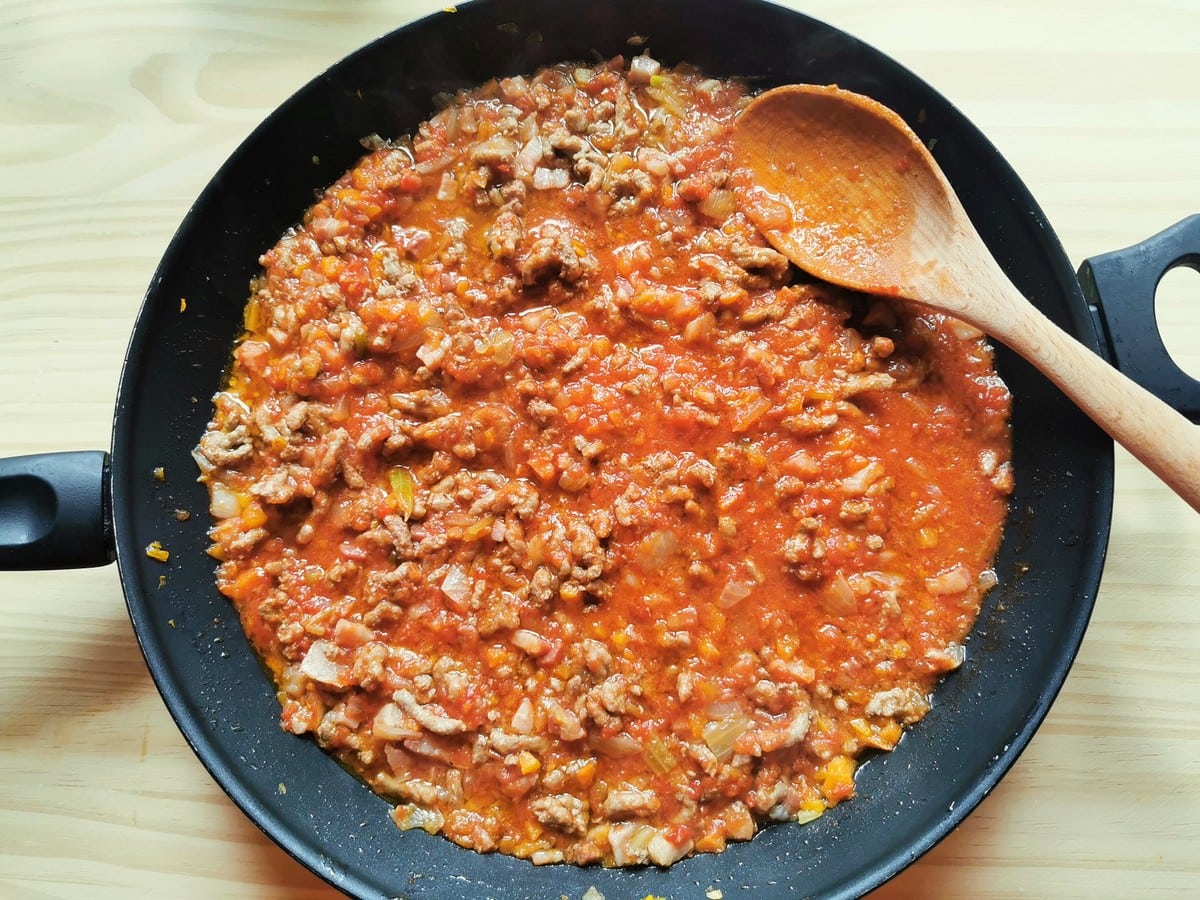 7) Stir in the milk and simmer for an additional 30 minutes.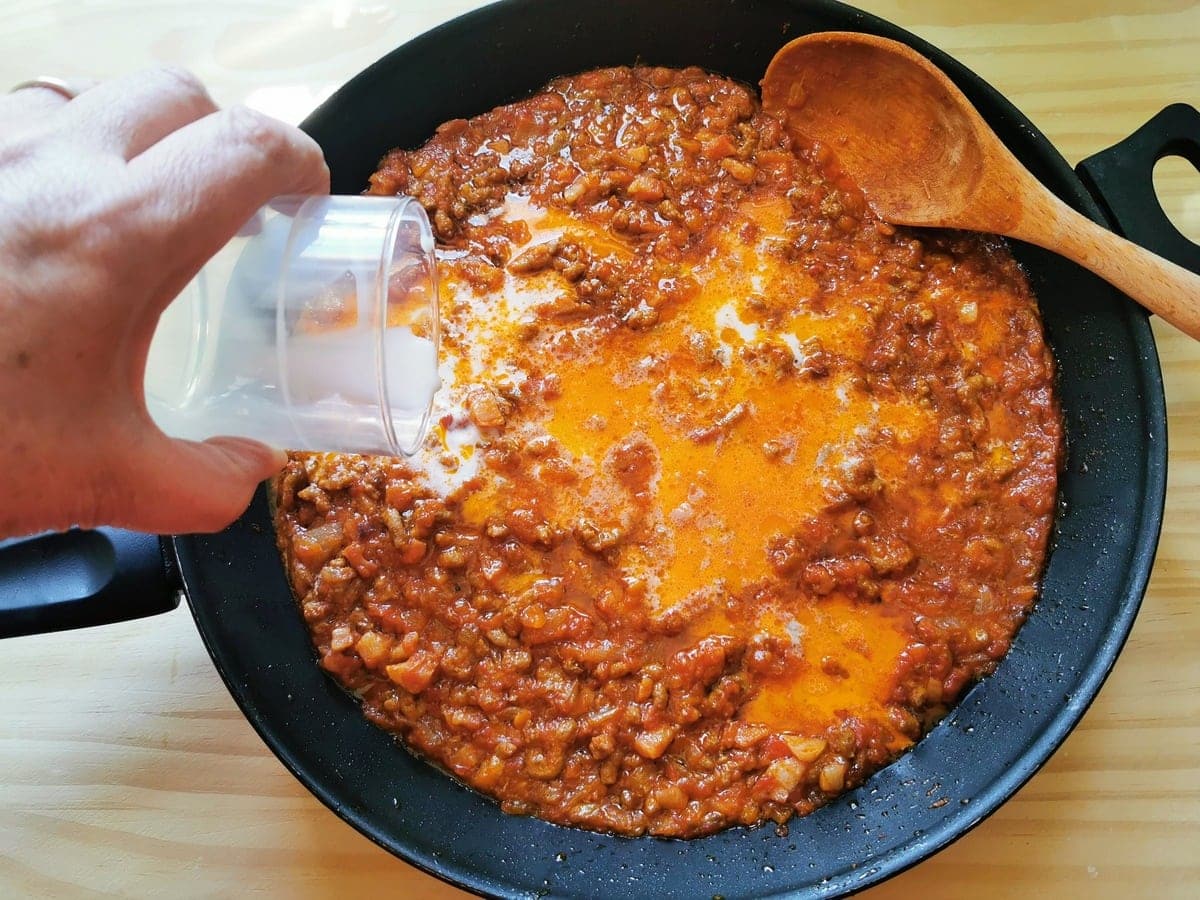 8) Bring a large pot of water to a boil. Add salt and bring to a boil again. Add the pasta and cook until al dente. Take a cup of the pasta water and place it to the side. Then strain the pasta in a colander.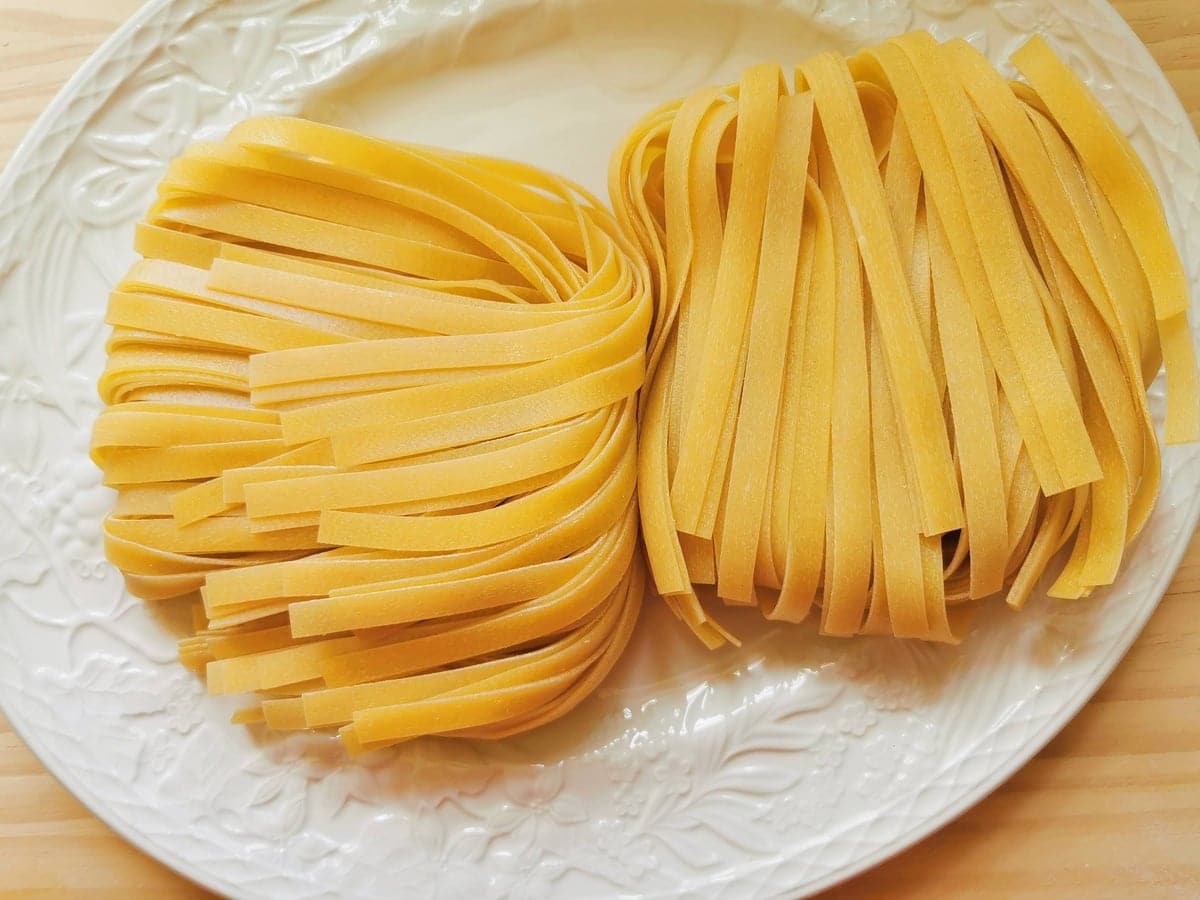 9) If the sauce looks too thick, mix in some pasta water to help thin it out. If not, move on to the next step.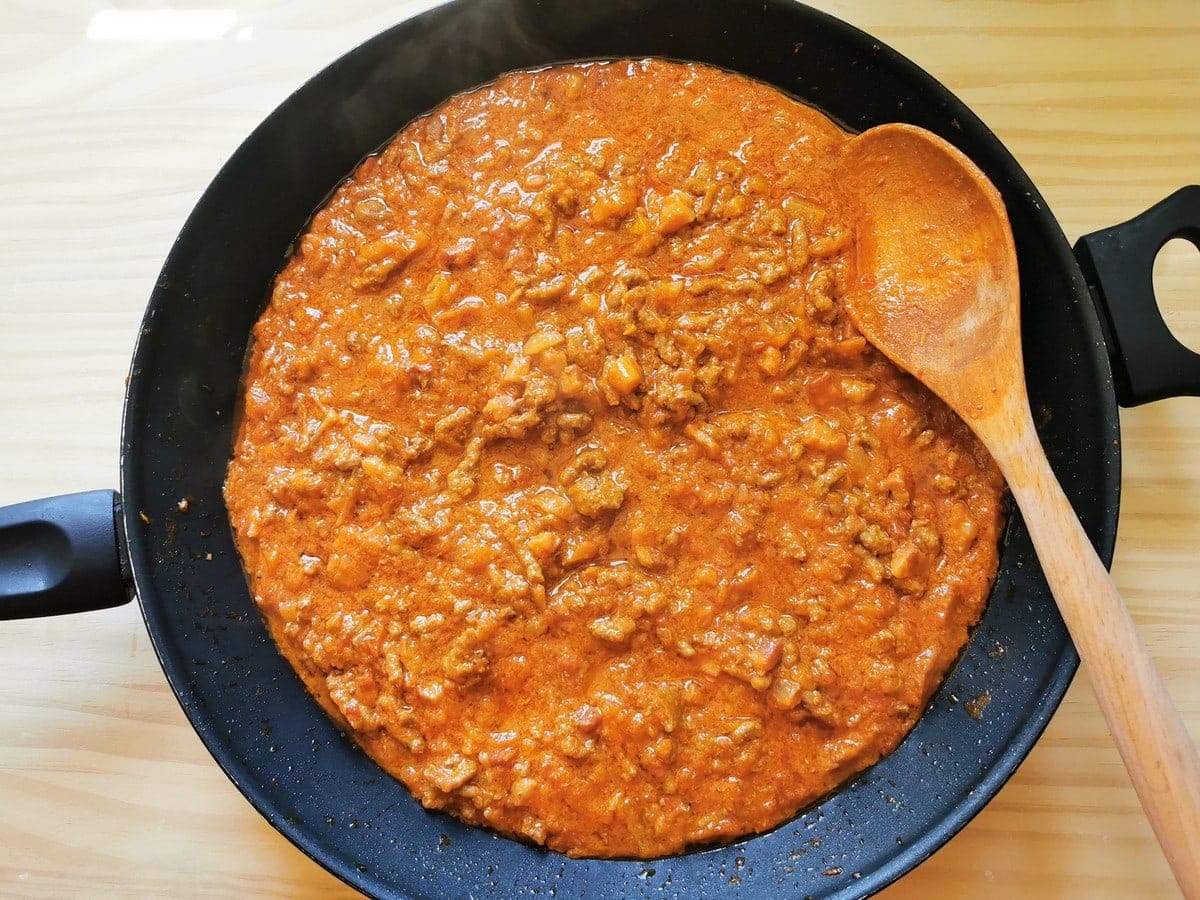 10) Add the cooked tagliatelle to the bolognese sauce.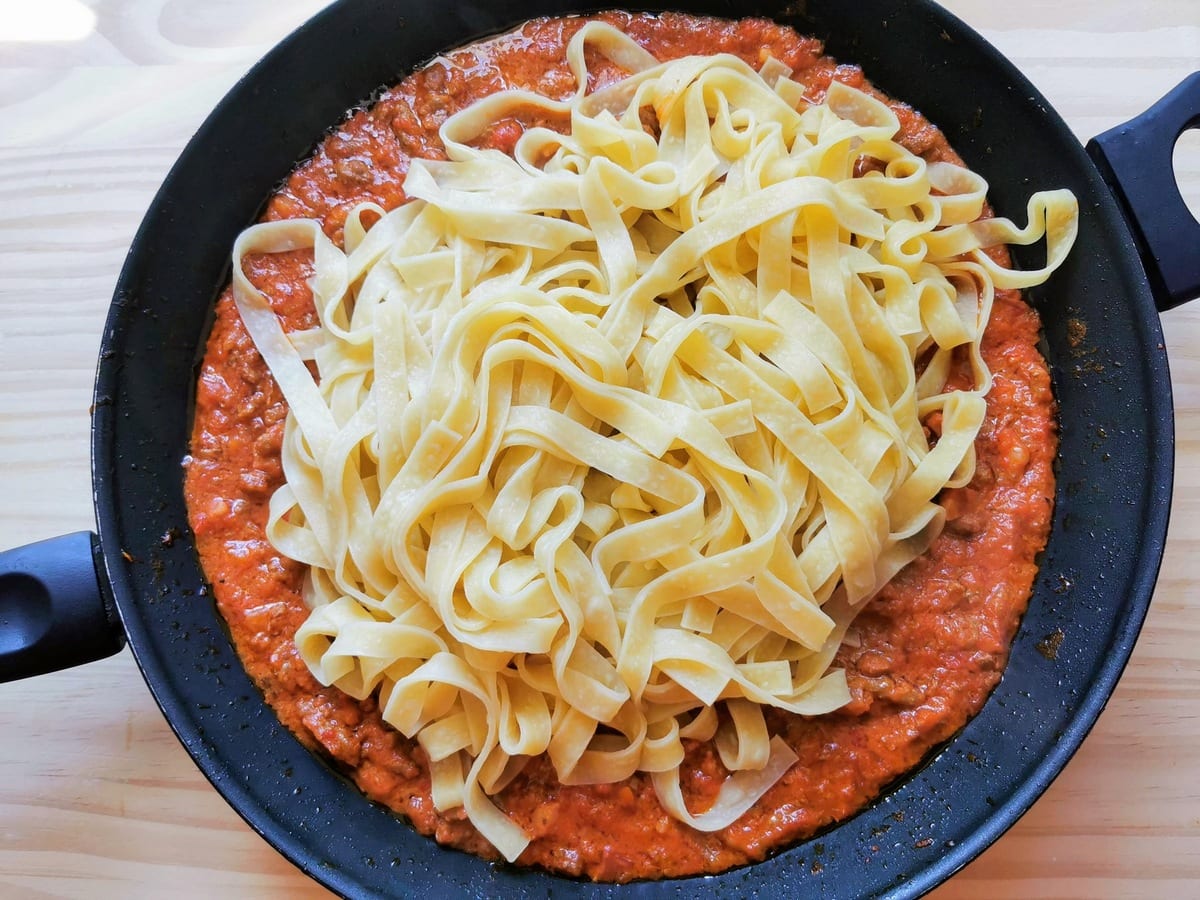 11) Slowly mix together the tagliatelle and bolognese until well incorporated.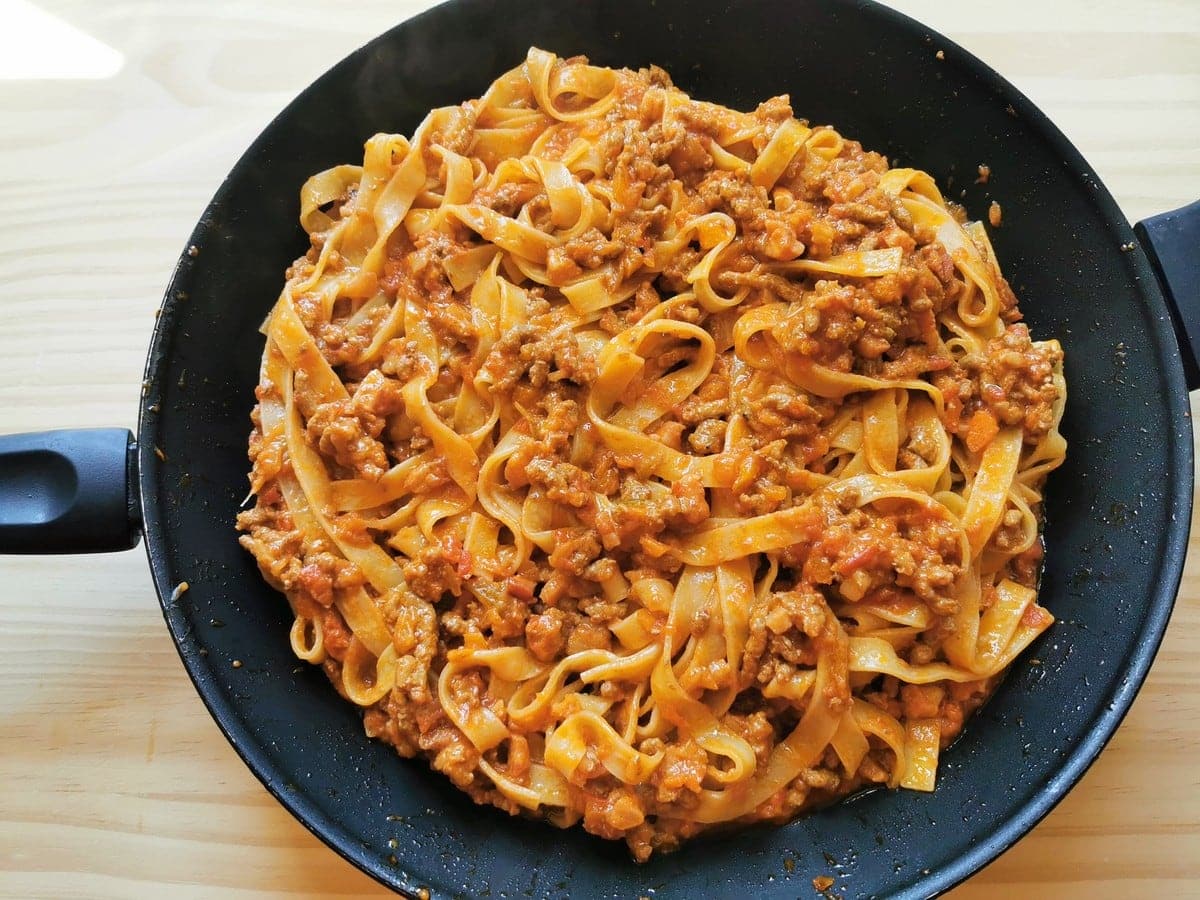 12) Turn off the heat and serve immediately with grated Parmigiano Reggiano.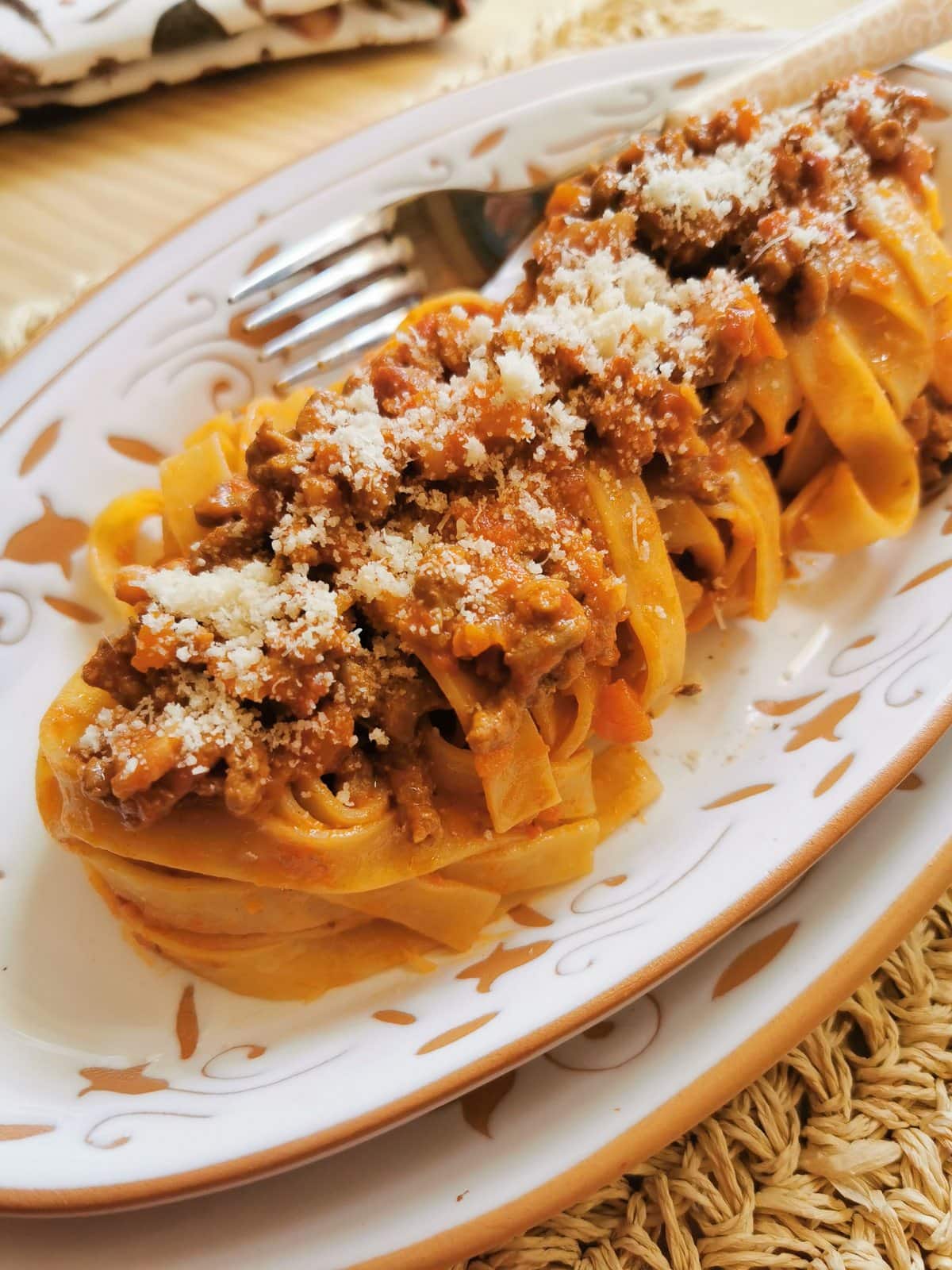 Storage and Leftover Notes
This tagliatelle bolognese can be stored in the refrigerator for up to 3-4 days when placed in an airtight container. To enjoy the leftovers, reheat them in a skillet using a small ladle of stock or in the microwave.
Container Note: Use a glass container to stop your container from staining. Many plastic containers tend to stain when storing a sauce that has been simmered with tomatoes.
Freezing Notes
If you plan on making a big batch of bolognese to freeze, cook only enough pasta for what you will eat that day.
Then, before adding the pasta to the sauce, remove the amount of bolognese sauce you would like to freeze. Bolognese can be frozen for up to 3 months.
FAQS
Which Italian region does bolognese sauce come from?
This world-renowned pasta sauce comes from the city of Bologna in the Italian region of Emilia-Romagna.
Which pasta do they use with bolognese in Italy?
In Italy, the traditional pasta used with bolognese sauce is tagliatelle. Both dry and fresh tagliatelle are commonly used, with the latter being more traditional.
Why is tagliatelle a good pasta pairing for bolognese?
Tagliatelle's thickness and width can help stand up to hearty sauces like bolognese. It's also long and wide, which allows the meaty sauce to become trapped in the pasta when swizzled. Plus, tagliatelle is quite porous so it absorbs more sauce.
Which in ingredients are not in an authentic Italian bolognese?
Bolognese is a very popular, beloved dish enjoyed globally, which is why there are so many variations. For an authentic Italian experience, don't use only ground pork and skip ingredients like ground veal, brandy, flour, garlic, spices, and herbs such as rosemary, parsley, basil, and oregano.
More Recipes You May Like
Interested in more authentic Emilia-Romagna pasta recipes? Have a look at these:
If you make this tagliatelle bolognese recipe, I'd love to hear how it turns out. Please write a comment here on the blog, email me or post a comment on the Pasta Project Facebook page.
Your feedback is really appreciated!
Buon Appetito!
This recipe was originally published in 2018 but has been updated with new photos and text.
Pin for later: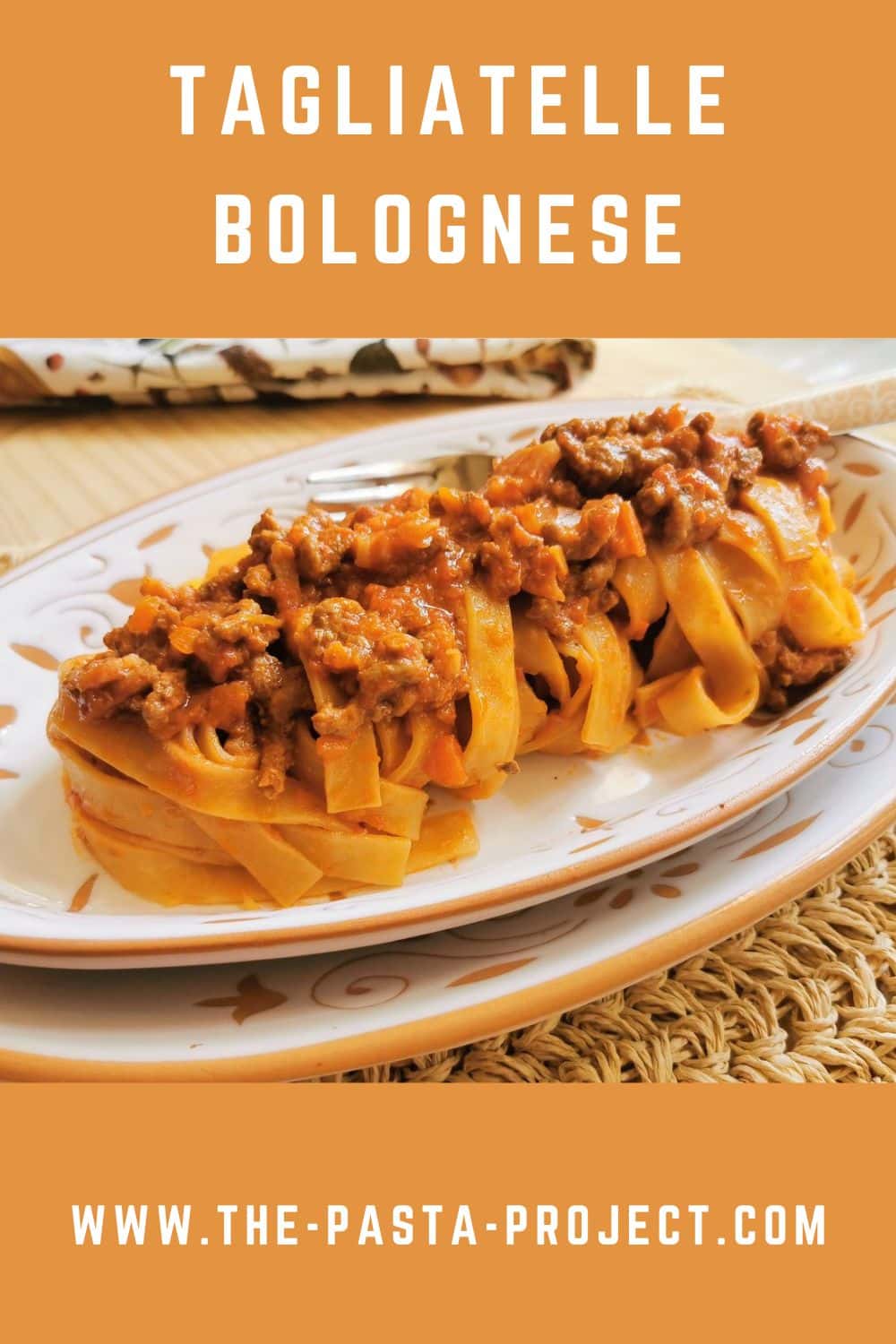 If you are interested in learning how to make homemade pasta and different types of gnocchi, check out my shop page for some great video online courses from my friends in Rome! Nothing beats learning to make pasta from Italians! Plus while you're there why not order a copy of one of my seasonal pasta recipes cookbook!?