This prosciutto ragu with dischi volanti recipe is a fabulous alternative to Bolognese. It's faster and easier to make but just as flavourful! Once you try it, I'm sure you'll be adding it to your list of favourite pasta recipes!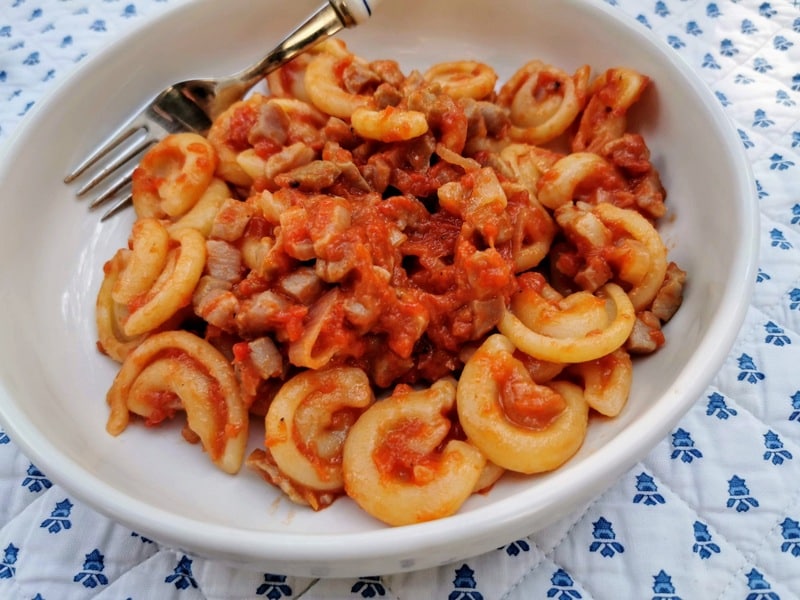 Ragu' di prosciutto crudo.
Prosciutto ragu is popular throughout Italy, especially in the areas where they produce prosciutto crudo (dry-cured ham). In fact, there are lots of well-known types of this ham made throughout the country, even though outside of Italy the most famous are prosciutto di Parma (Parma ham) or prosciutto di San Daniele.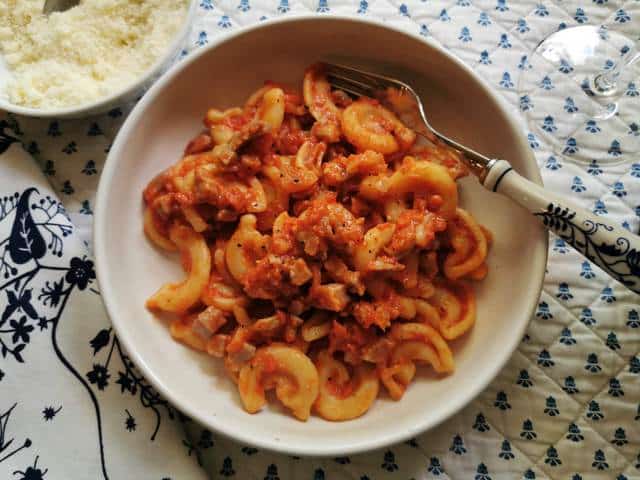 Using prosciutto crudo in cooking.
As many of you probably know, Italian prosciutto crudo is usually eaten cut in very thin slices. Italians eat it as an antipasto along with other salumi, in sandwiches or as a starter with fruit, usually melon or figs. They also add the slices to pizza (normally after it comes out of the oven) and serve it as 'involtini' (stuffed and rolled). These involtini can be raw or cooked.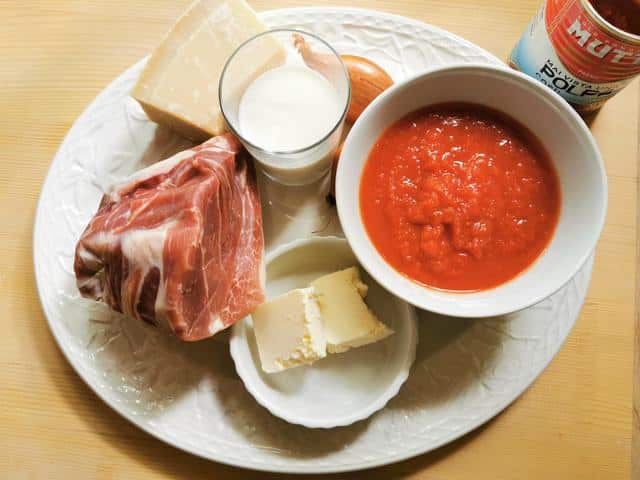 Probably the most popular way to use cooked prosciutto crudo is with pasta. Some recipes call for just adding slices of prosciutto to the finished dish, others include a sauce made with small cubes or juliennes of prosciutto crudo. There are also recipes that have cooked pieces and raw slices like my recipe for tagliolini with San Daniele (see link below)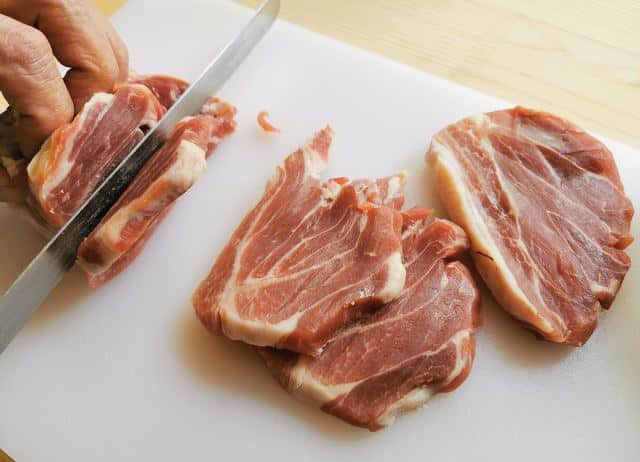 This prosciutto ragu.
In this prosciutto ragu with dischi volanti recipe, the ragu is made with pieces of prosciutto. I don't know about in other countries, but here in Italy we can buy already diced prosciutto crudo. However, Italian supermarkets and delicatessens also sell the end of the ham, called the 'fondo' or 'gambuccio' in Italian. This costs less than buying prosciutto in slices and is great for soups and pasta. However, if you can't find a ham end or ready cut cubes, try to get thicker than normal slices.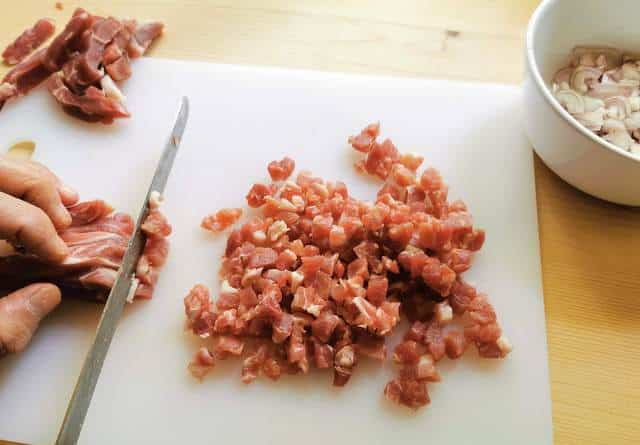 How is prosciutto crudo made?
Italian prosciutto crudo is made with the hind leg or thigh of a pig or wild boar. Italians have been making dry-cured ham since the times of Ancient Rome! Although each type has its own particular flavor and aroma, the overall process to produce prosciutto crudo is basically the same.
First they trim off the skin and fat. Then the ham is salted and left for about 2 months. Then it's washed to remove the salt and hung to dry. How long this takes depends on the size of the ham. After this, they grease the ham with salted lard and finally hang it in special rooms for a longer period of about 1 to 2 years, sometimes even 3.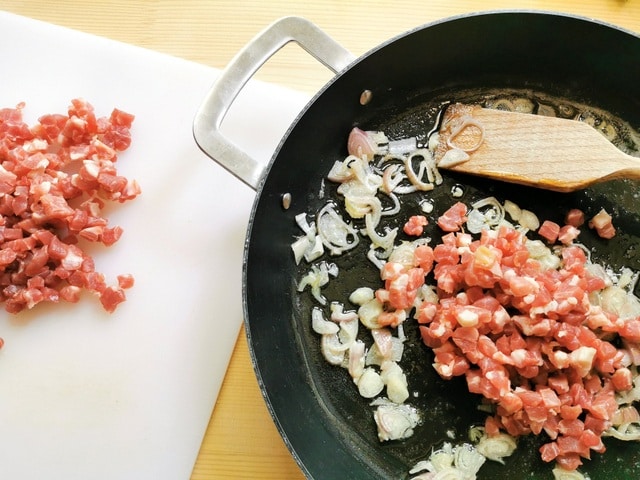 The flavour and aroma of the different types of prosciutto crudo depends on a number of things such as the breed of pigs from which the ham comes, how they are reared and what they eat! For example, Prosciutto di Parma is only made from pigs that are raised on approved farms in North-Central Italy. These pigs are fed with cereals and the whey deriving from the production of Parmigiano Reggiano!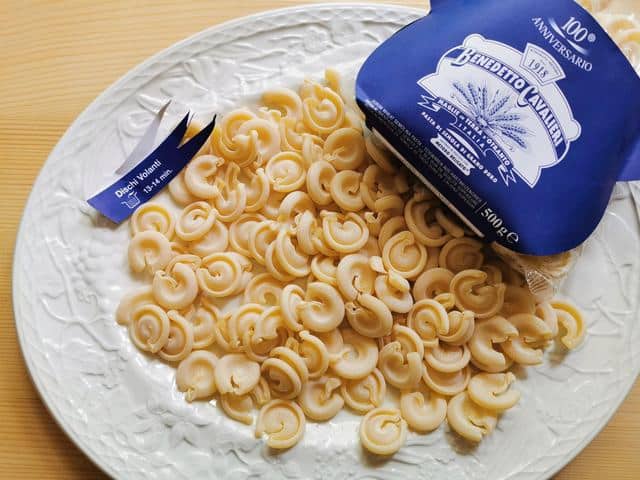 The pasta.
I used an interesting pasta for this prosciutto ragu recipe called dischi volanti. The name basically translates into 'flying saucers'. This pasta shape was apparently invented in Tuscany in the 1950s and was inspired by the sightings of UFOs over Florence in 1954. You can read more about this pasta in my dischi volanti post.
This pasta was inspired by UFO sightings over Florence in 1954.
The dischi volanti I used in this prosciutto ragu recipe I brought back from Salento, Puglia last year. It was given to me by one of the most well-known pasta companies in Puglia, Benedetto Cavalieri. My hubby and I visited them during our holiday.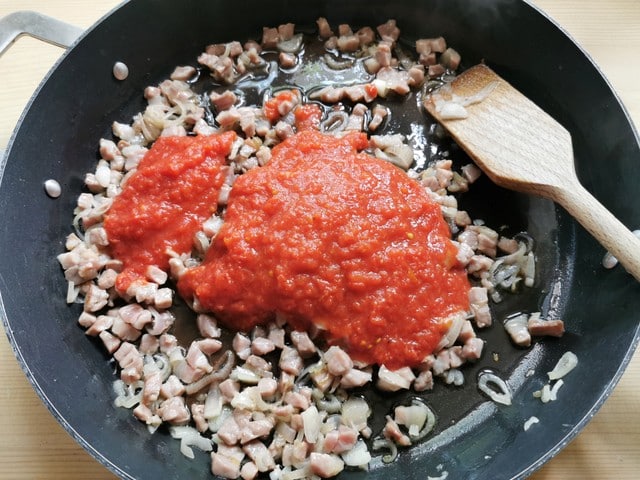 We also came across Benedetto Cavalieri pasta being used in a number of restaurants during our time in Puglia. Interestingly, restaurants there often mention the pasta maker on the menu. It seems this pasta is popular among chefs. I certainly like it a lot. It's got a subtle flavour of grains and is slightly chewy. Sadly, Benedetto Cavalieri pasta isn't available where I live, although I can order it online. I know they export to a number of countries, including the US. So do look out for it.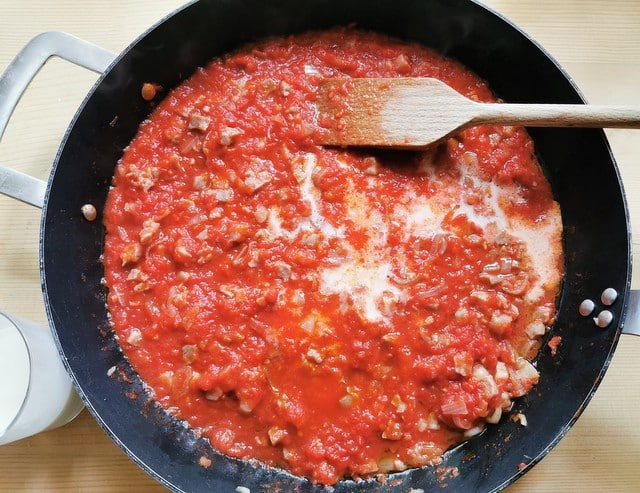 Traditionally, prosciutto ragu is served with tagliatelle in Emilia-Romagna. I decided to use dischi volanti because I came across a version of this recipe from a restaurant in Florence where they used the same pasta. However, you can use a number of different pastas. Pastas like intrecci, penne or rigatoni work great too!
Making this prosciutto ragu with dischi volanti recipe.
This recipe is one of the simplest I found for prosciutto ragu. Like many traditional pasta recipes, there are different versions. In this version, the prosciutto is cut into small pieces, in others it's ground. Also some people make prosciutto ragu with onions, carrot and celery.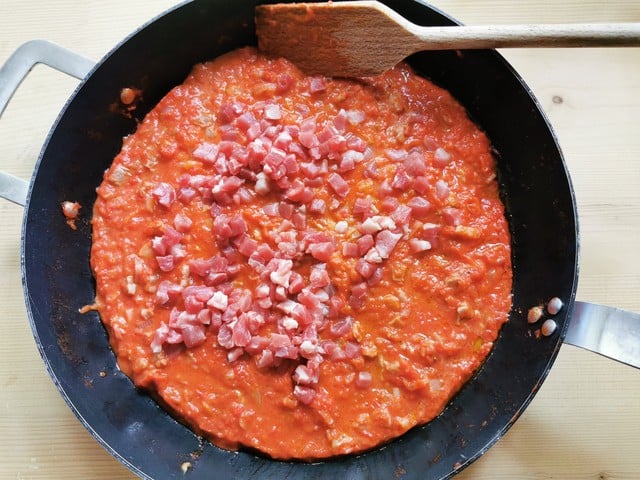 Known as 'soffritto' in Italian, this mix is the base for many Italian sauces. However, in Emilia-Romagna, there are a number of sauces that call for just onions or shallots, like this one for tuna Bolognese. This prosciutto ragu recipe has shallots but you can use normal onions instead.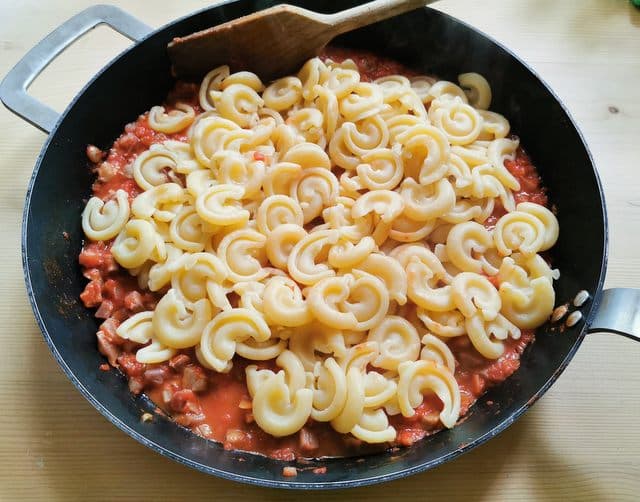 Apart from the prosciutto and the onions, all you need is some tomato passata or polpa, some black pepper, butter and a little milk. Milk may surprise you, but even traditional Bolognese has milk. It helps to offset the acidity of the tomatoes and gives the sauce its characteristic slightly orangey colour. Salt is optional in this sauce as prosciutto is slightly salty and you may not need more.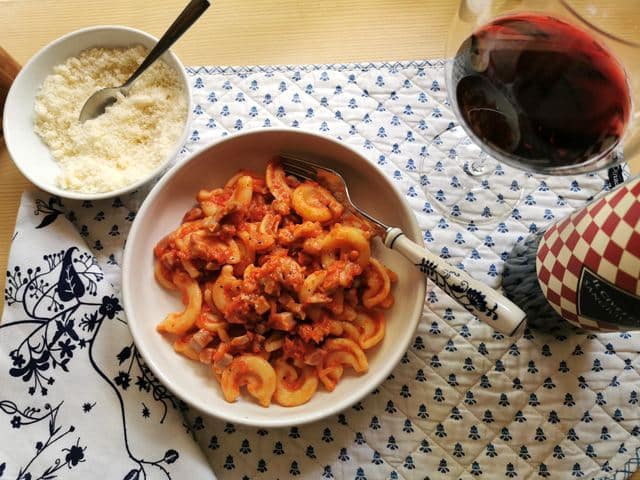 The wine we drank.
Lastly, a quick mention about the wine we had with this prosciutto ragu with dischi volanti recipe. This bottle of Il Civettaio Sangiovese from Tuscany was a present from a friend from UK who comes to Italy to buy organic wine to sell back home. Rob Seddon has a wine importing company and wine club called Jackson & Seddon. They specialize in artisan, organic wines from small wineries in Italy.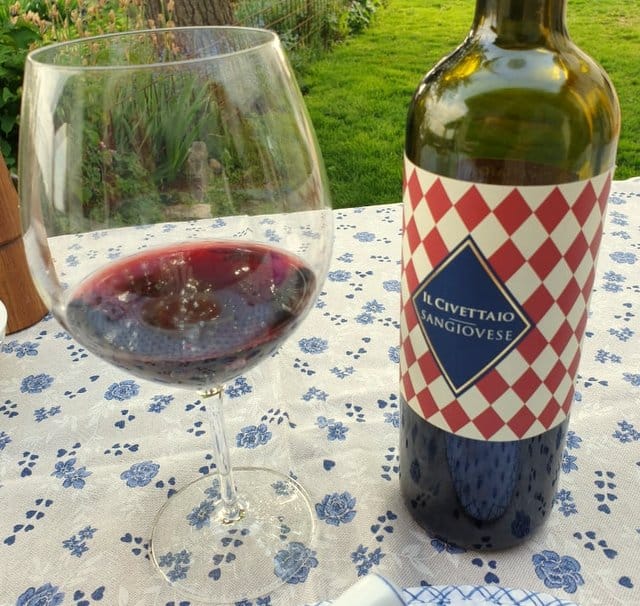 My hubby, Salvatore, loves Sangiovese, so he was really happy with this present. According to him Sangiovese is one of the best wine grapes in Italy. In fact, it's used to make some of the most well-known and prestigious wines from Tuscany; Chianti Classico, Brunello di Montalcino and Nobile di Montepulciano.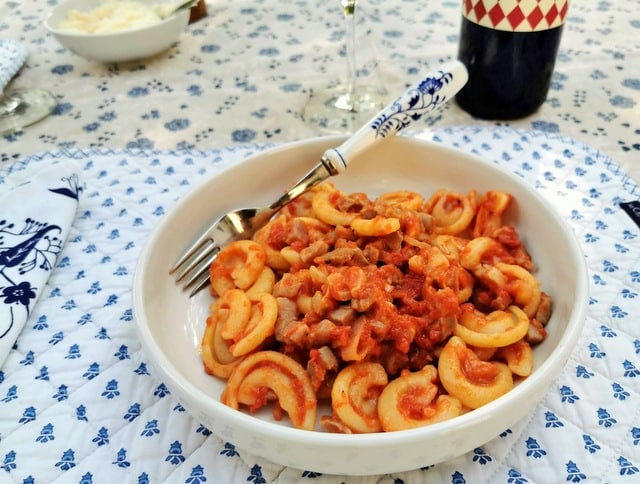 For the same reasons that we love pasta made with organic wheat, we love discovering organic wines too. However, Salvatore is the wine expert in our family. In fact, I'm thinking of getting him to give me wine pairing recommendations for my recipes! Anyway, this wine is really very pleasant and fresh with notes of plums and red berries. It was a great accompaniment to this prosciutto ragu recipe. One of those matches that makes both the wine and food sing!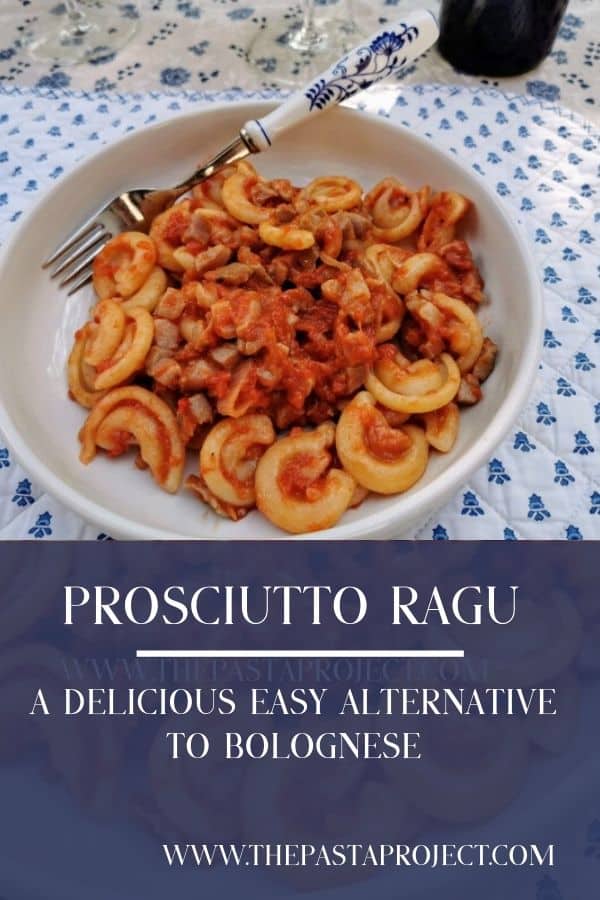 If you do make this prosciutto ragu with dischi volanti recipe, I'd love to hear how it turns out. Please write a comment here on the blog or post a comment on the Pasta Project Facebook page.
Your feedback means a lot to me!
Buon Appetito!
More Recipes You May Like
Save this recipe for later?
If you want to save this recipe for later, you can print it, bookmark this page or save it to Pinterest.
Pin for later