This creamy pancetta pasta is one of the easiest Italian pasta recipes I know. It's super simple to make and can be on the table in the time it takes you to boil the water and cook the pasta. Italians call this dish pasta del Maresciallo, meaning the marshal's pasta.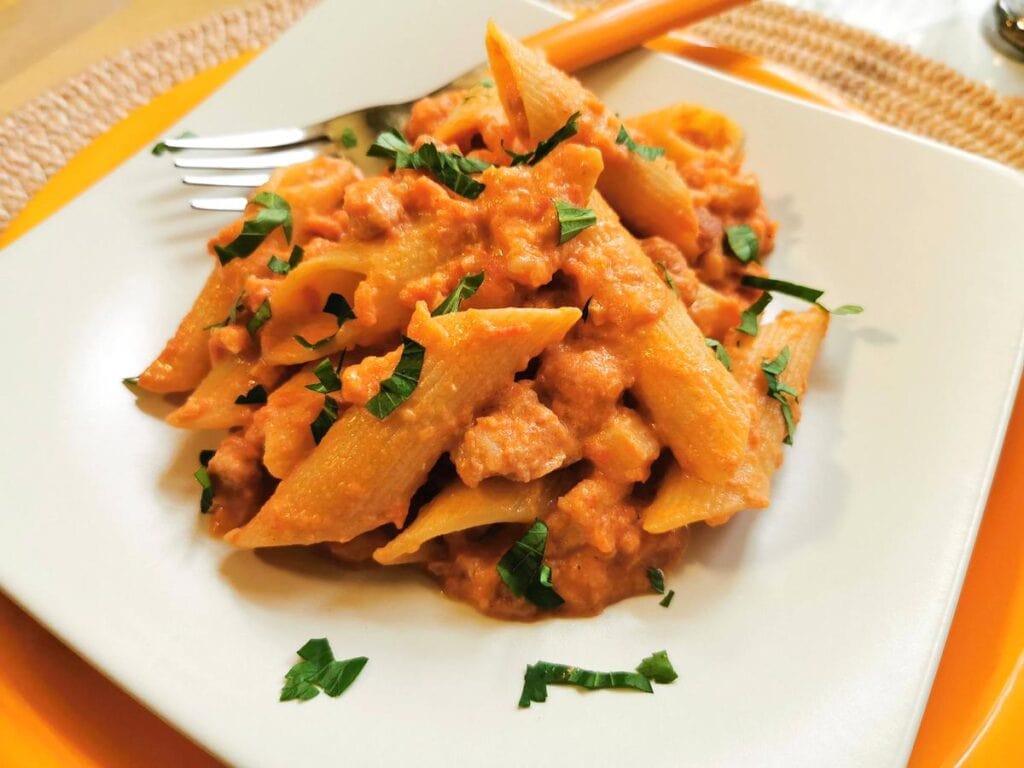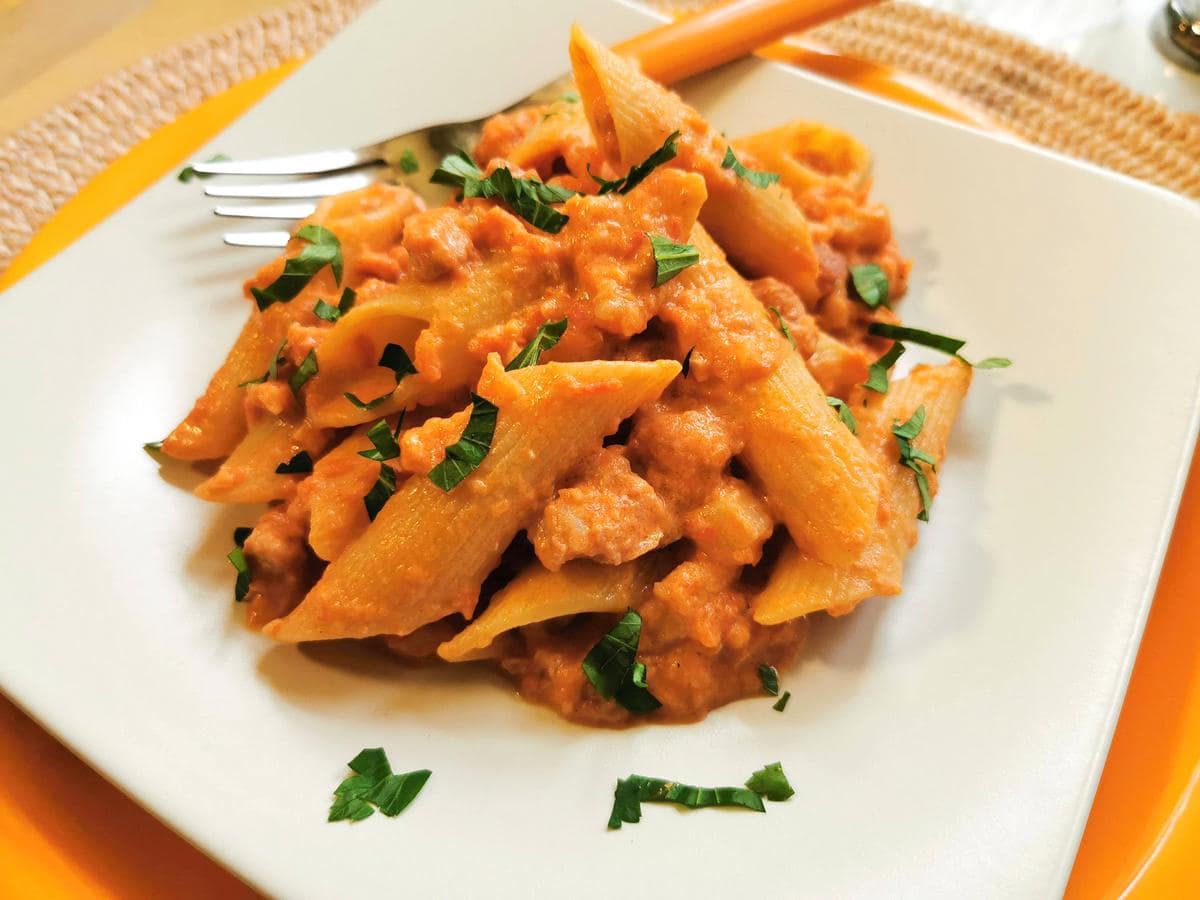 A vintage 80s pasta recipe.
Pasta del Maresciallo is one of a few similar vintage recipes from the 80s when adding cream to tomato sauce was trendy! In fact, adding cream to lots of dishes was really alla moda! Prior to then, Italians mostly didn't add cream to pasta with tomato sauce. In fact, tomato sauce is originally a Southern Italian invention, whereas pasta sauces with dairy based condiments are eaten more in the North. And the two weren't combined. A bit like not using grated cheese on seafood pasta dishes!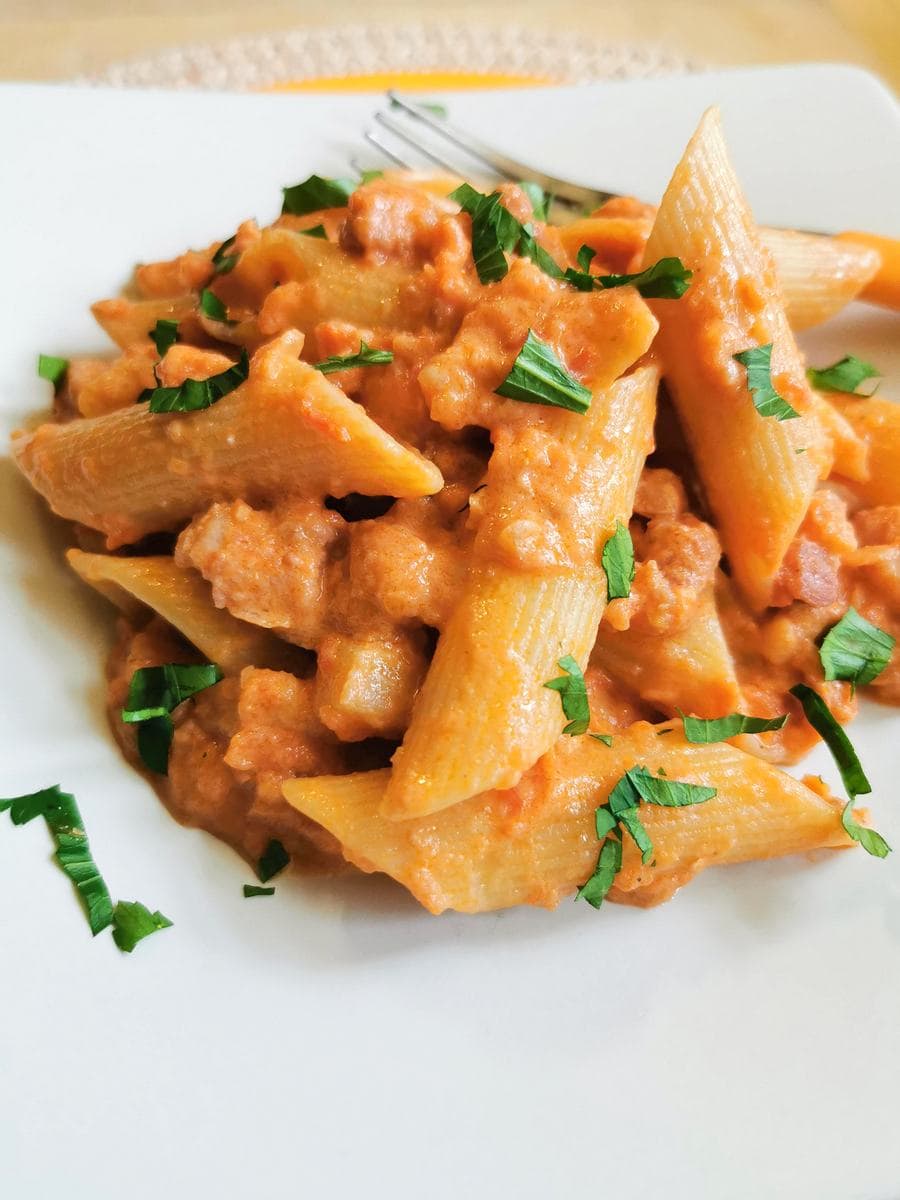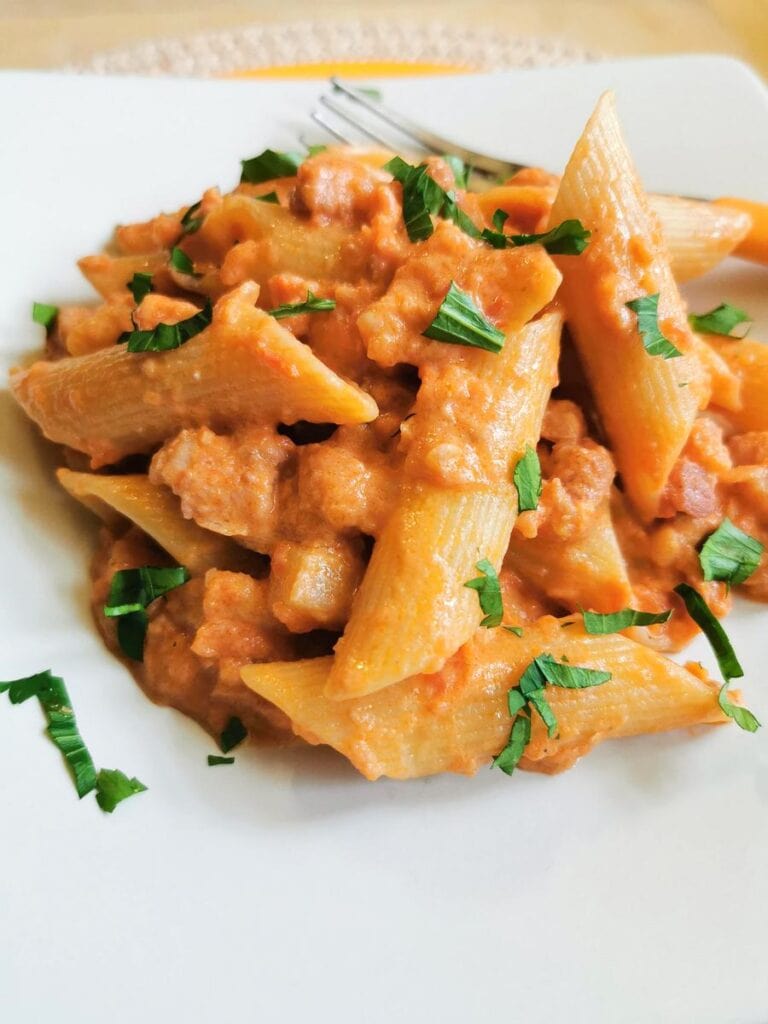 Tomato sauces v cream or cheese sauces.
This difference in ingredients was mostly due to what could be produced or cultivated locally. Most of Italy's tomatoes are grown in the South because the warmer Mediterranean climate offers an ideal growing environment. Also, the southern Italians were the first to integrate tomatoes into their diet when this fruit was originally introduced to Italy by the Spanish who ruled Naples during the 16th and 17th century. You can read more abut the history of tomato sauce in my post the best spaghetti with tomato sauce ever!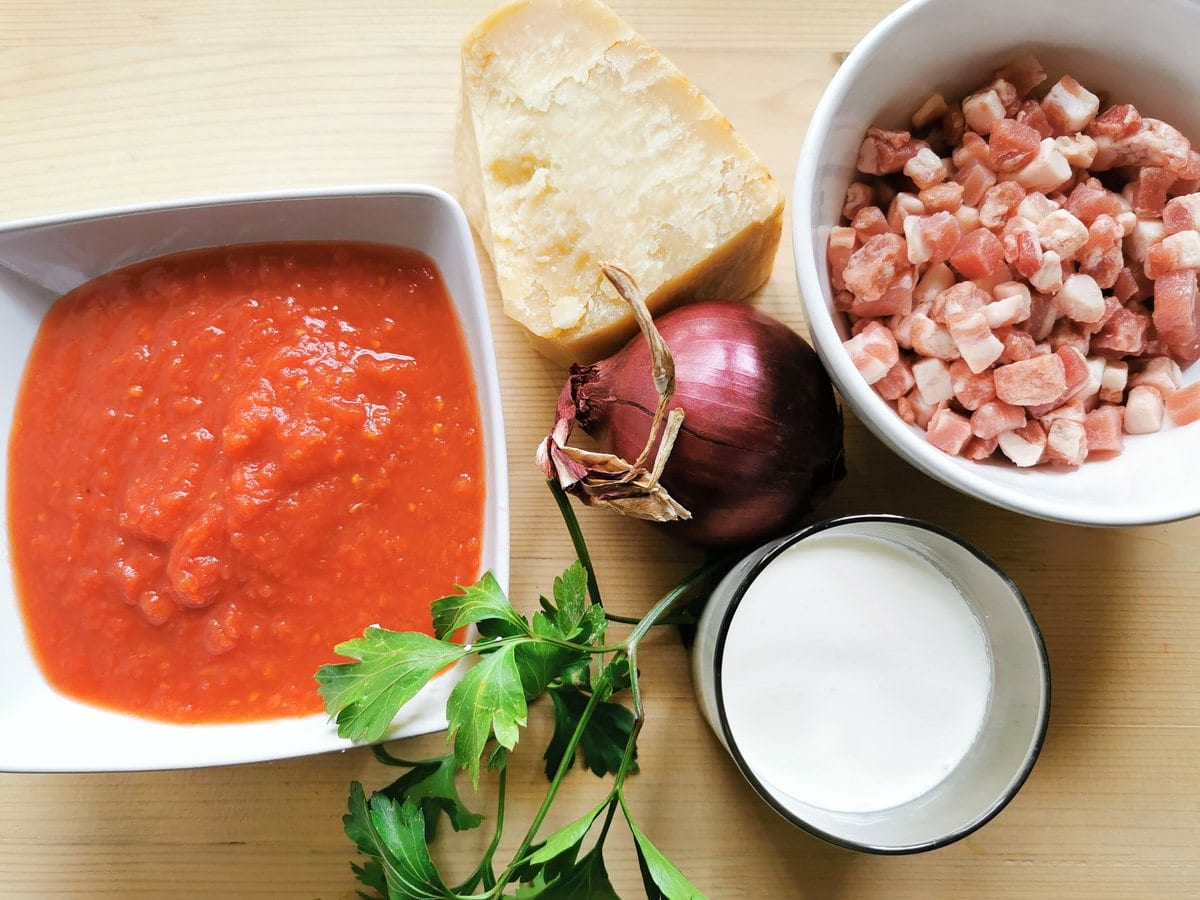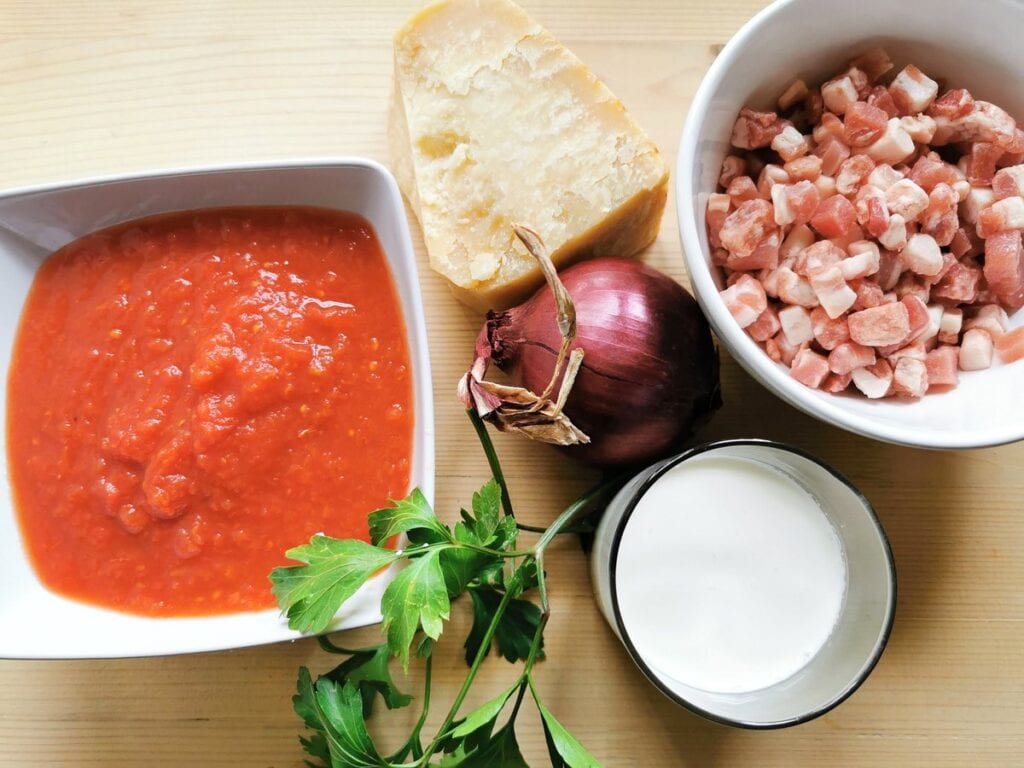 When it comes to dairy, sheep and goat farming has long been far more predominant in the South than dairy cow farming. This is because of the terrain and climate. Consequently, most of the cheeses are made from sheep and goat's milk. Although there's also water-buffalo (for mozzarella) and some ancient cow breeds such as the Podolica which is capable of surviving on poor pastures. Even today, creamy Southern Italian pasta recipes are more likely to be made with ricotta than cream!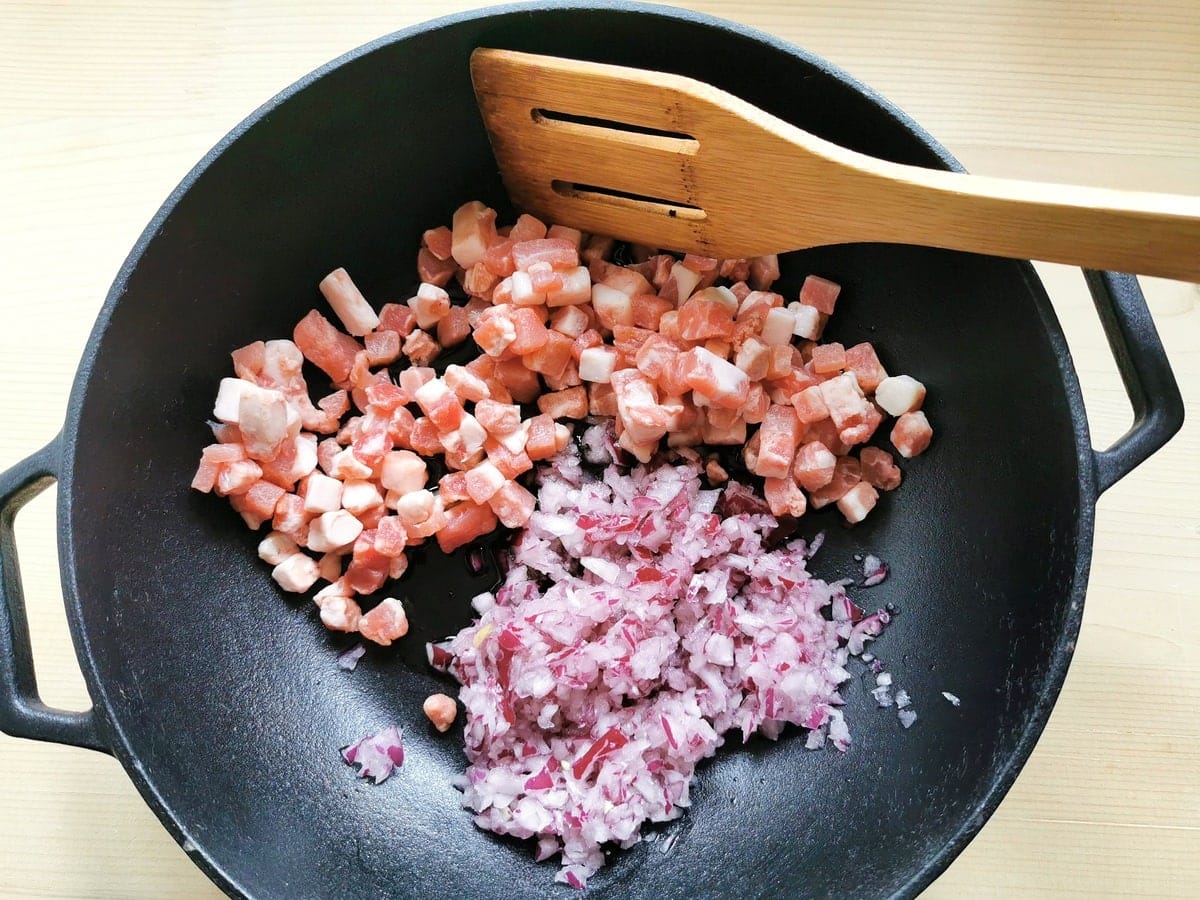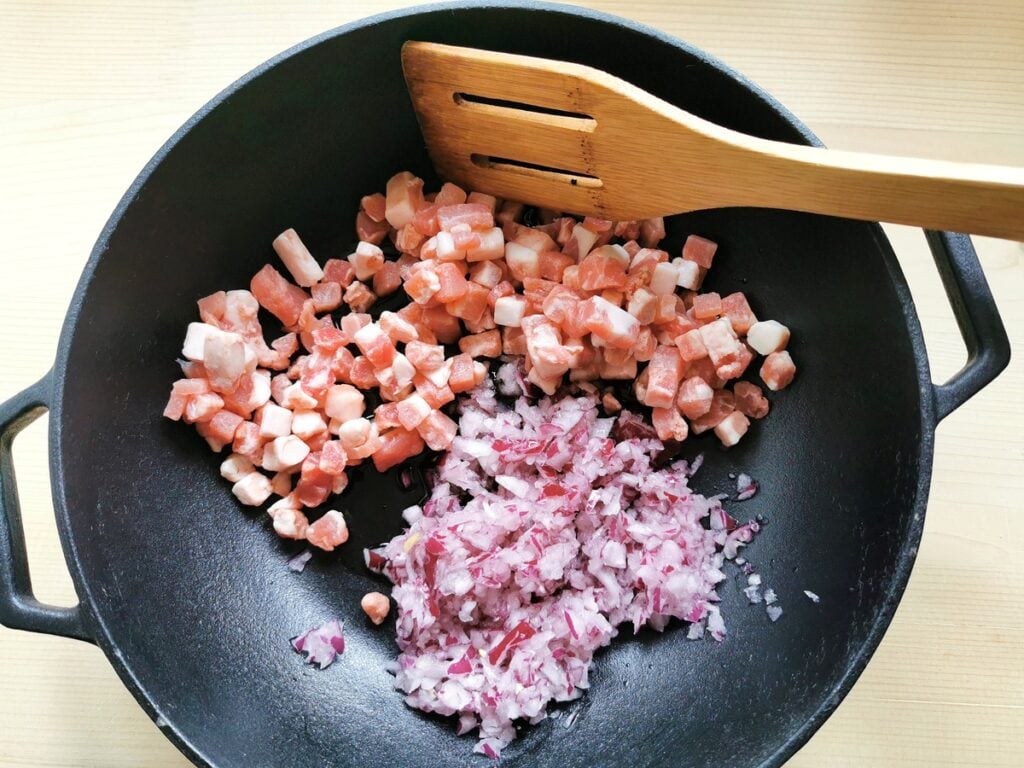 Other similar 80s pasta recipes.
Despite the above differences, this creamy pancetta pasta del Maresciallo is apparently a Southern Italian dish. Two very similar recipes with tomato sauce and cream are penne alla Vodka and pasta al baffo (see links below). The former is very close to this recipe. It also has pancetta, onion, tomato passata and cream. However, as the name suggests penne alla vodka has vodka and it also has some red chili pepper (peperoncino). Pasta al baffo, on the other hand includes cooked ham.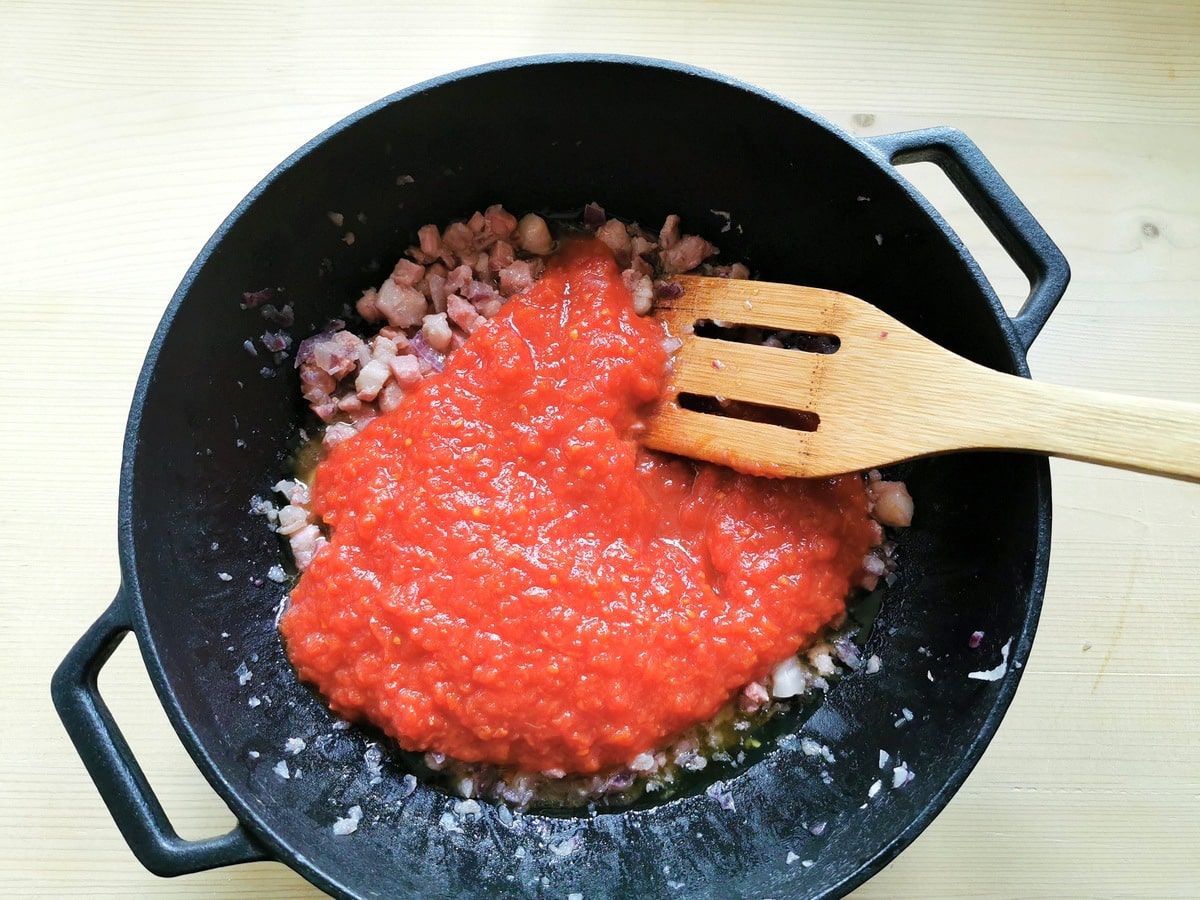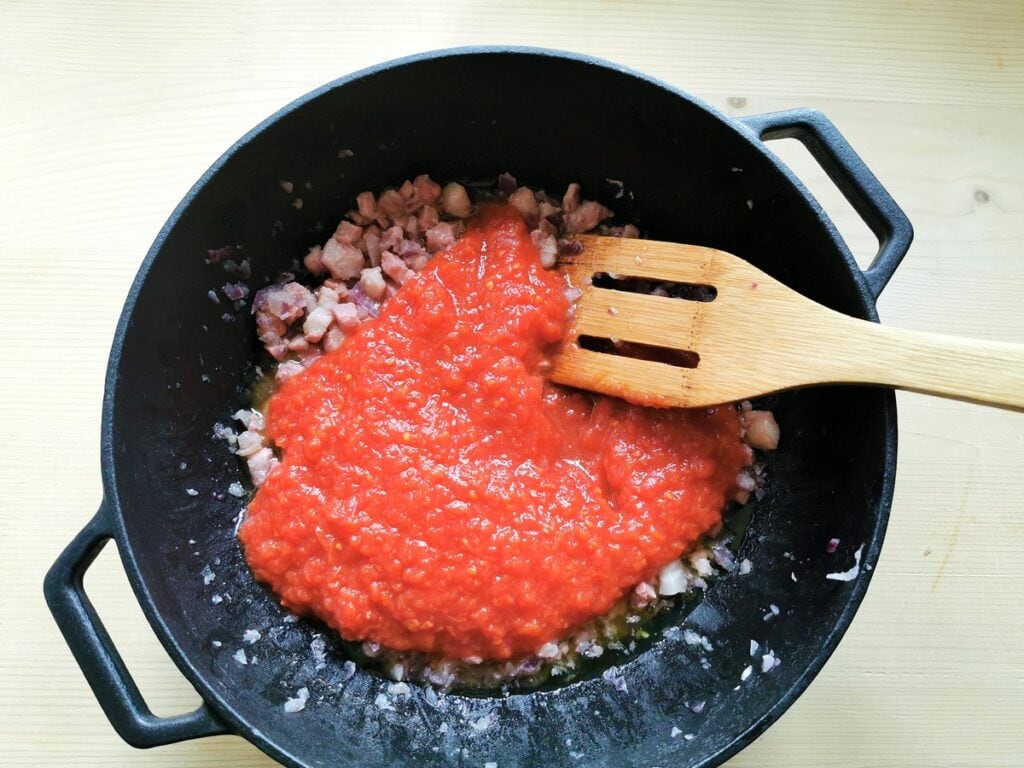 What exactly is pancetta?
Pancetta is really the Italian equivalent of bacon. In fact, pancetta and bacon are both made from pork belly. However, they are normally made differently. Bacon is smoked, whilst pancetta is salt-cured and dried. You can actually eat pancetta uncooked, as the Italians often do. Bacon needs to be cooked. Also, because of the curing method there's a difference in taste. Bacon is smokier, and pancetta is saltier.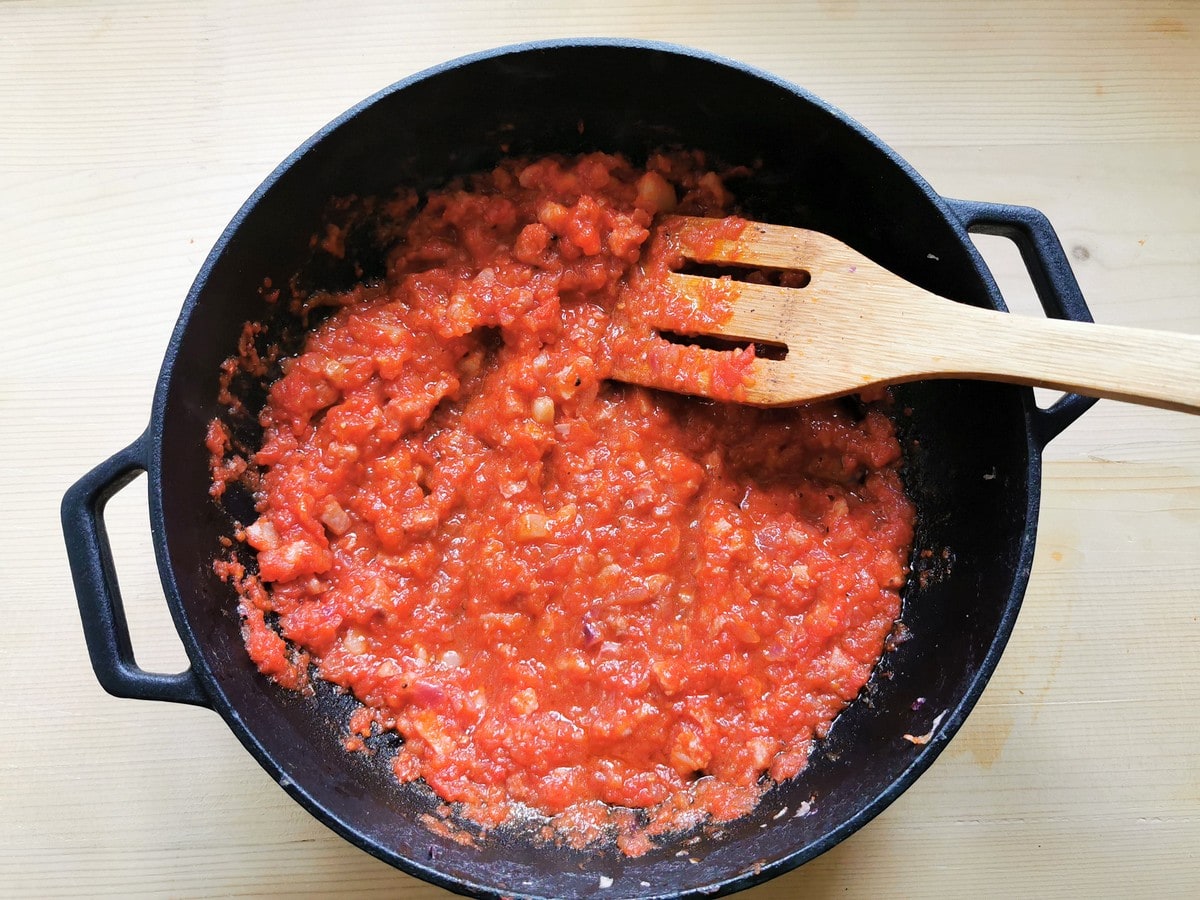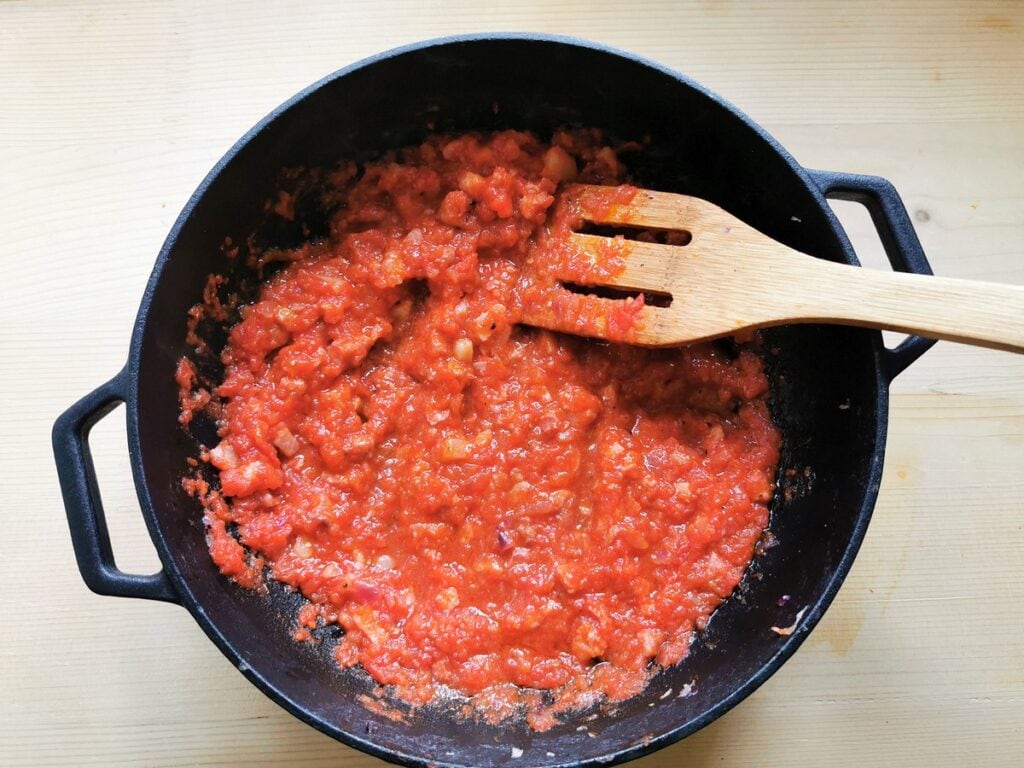 If you don't have pancetta, you can make this pancetta pasta recipe with bacon. Of course, the taste won't be exactly the same, but it will still be delicious. I would suggest using thick slices of fatty bacon that can be cut into small cubes or juliennes.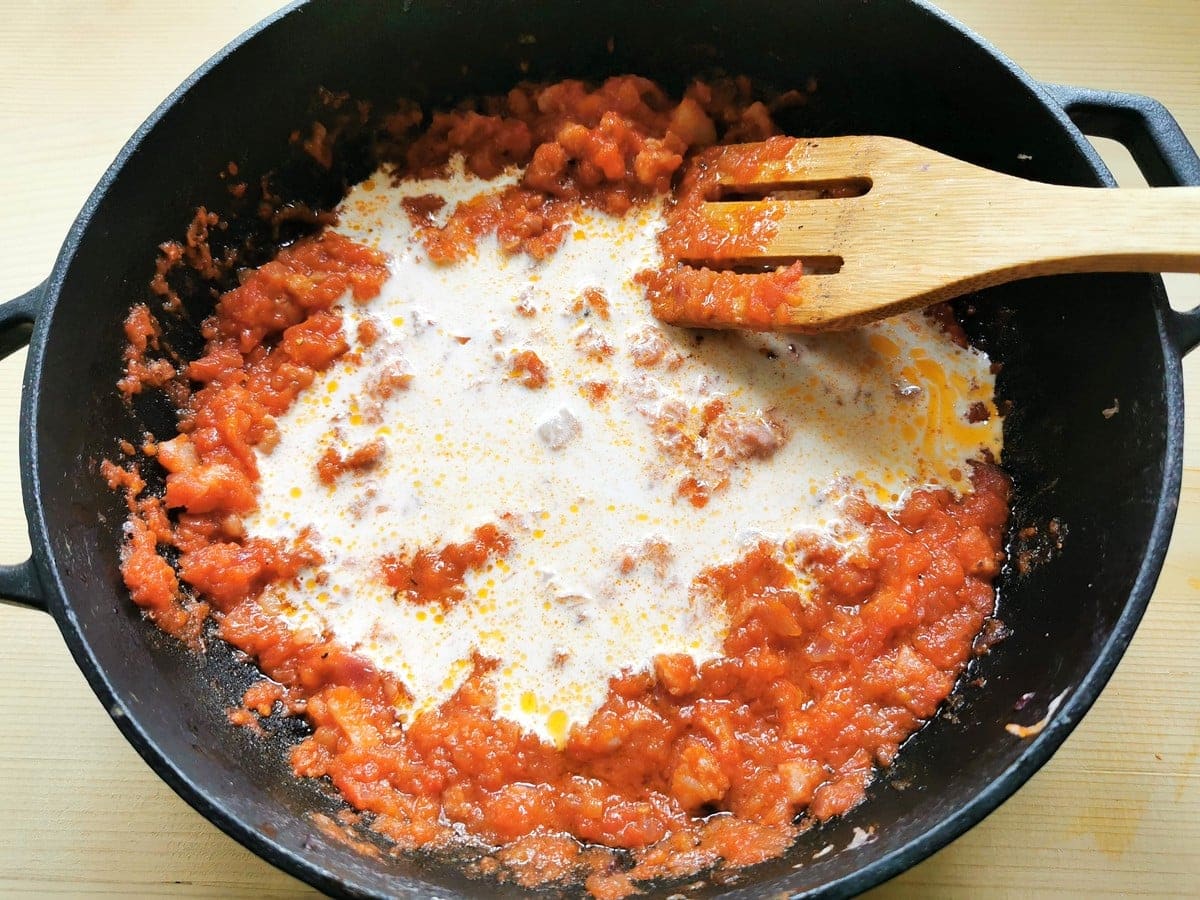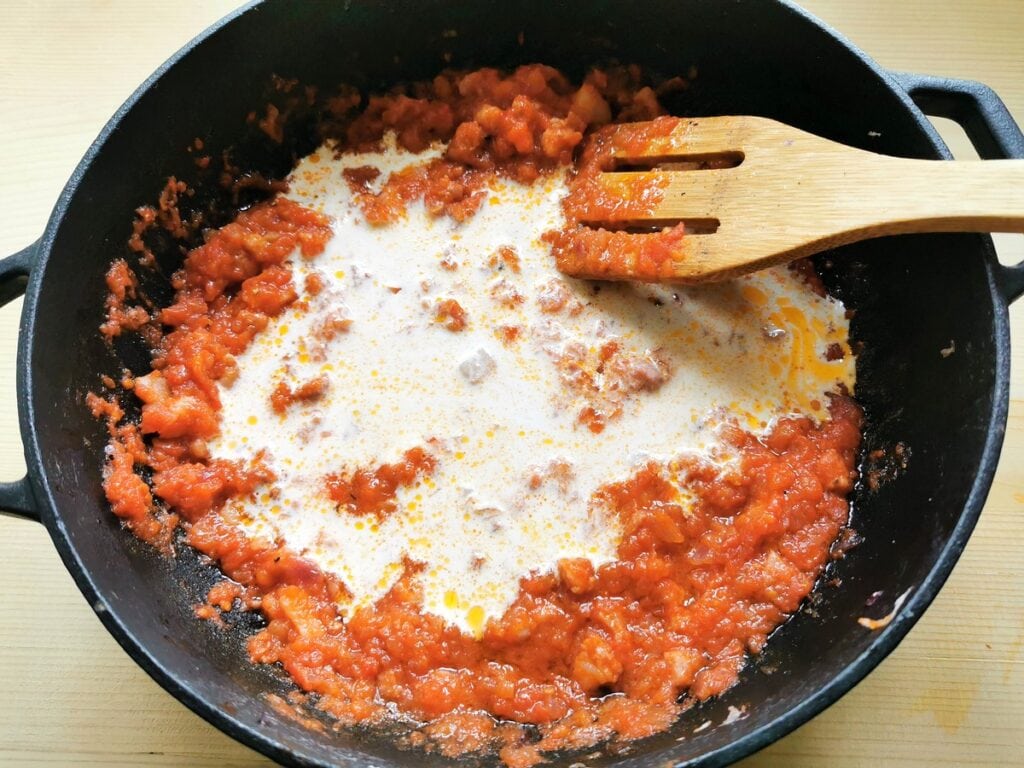 Other ingredients in this pancetta pasta.
Apart from the pancetta, this pasta sauce has just 3 other ingredients. Onion, cream and tomato passata or peeled fresh tomatoes. Italians use either. I like to use fresh tomatoes in summer as they really have so much flavour. Of course, using tomato passata or canned crushed tomatoes means less work. Here in Italy, passata is a pantry staple in all households. Italians use it a lot!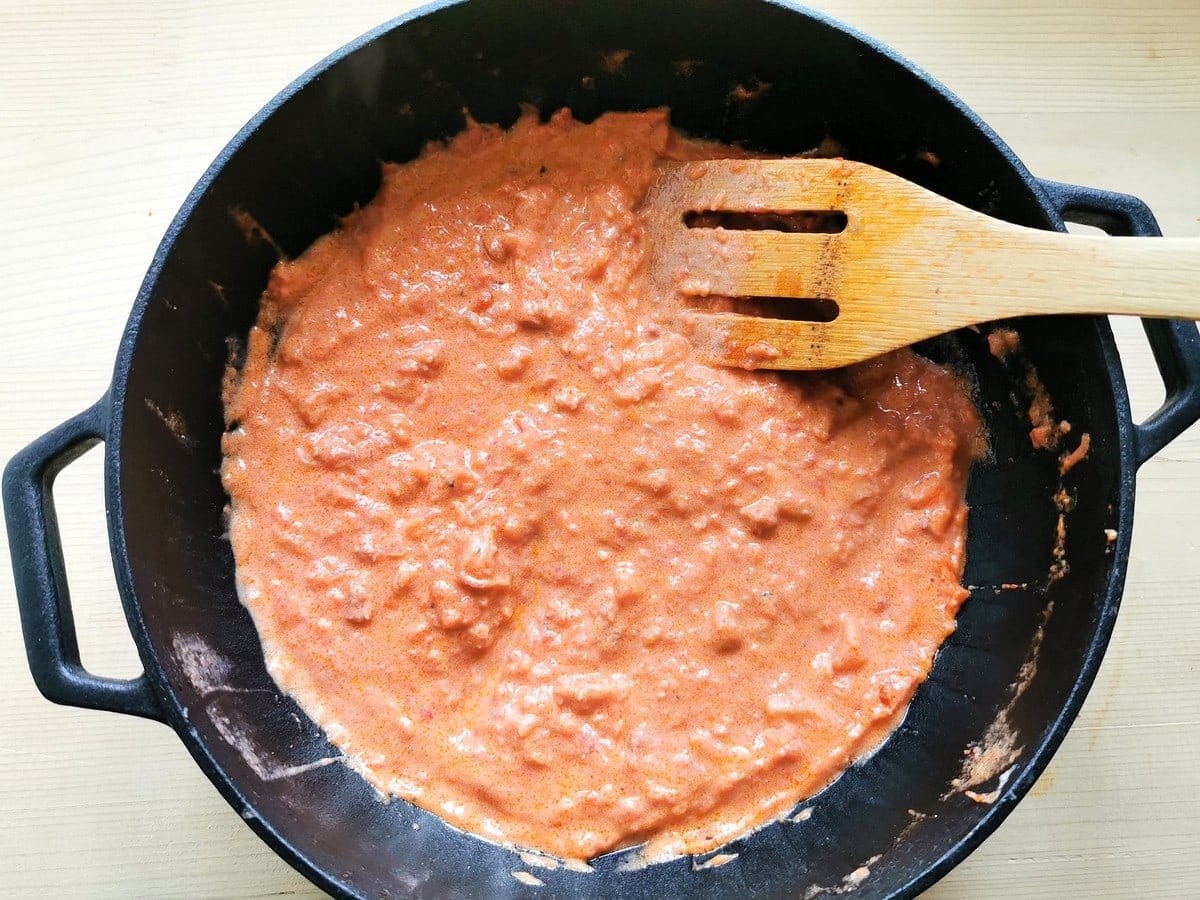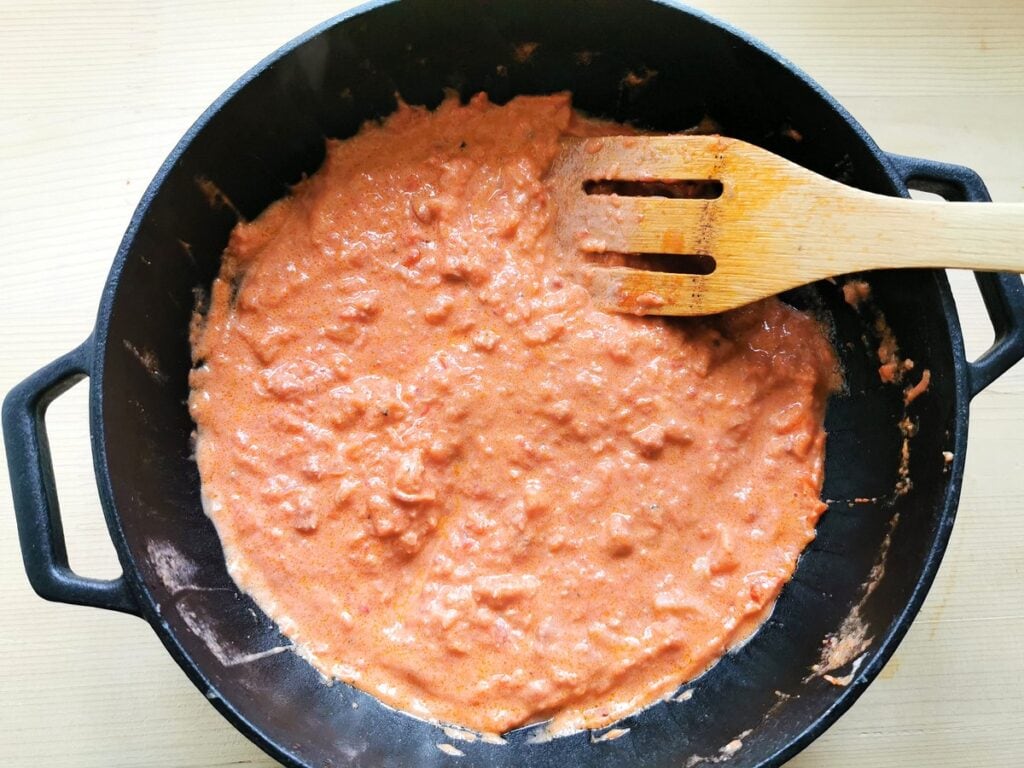 I used fresh single cream to make this pancetta pasta. You can also use heavy cream or what Italians call 'panna di cucina' (cooking cream). This is a long-life heavy cream sold in small cartons. Fresh cream needs longer cooking as its more liquid.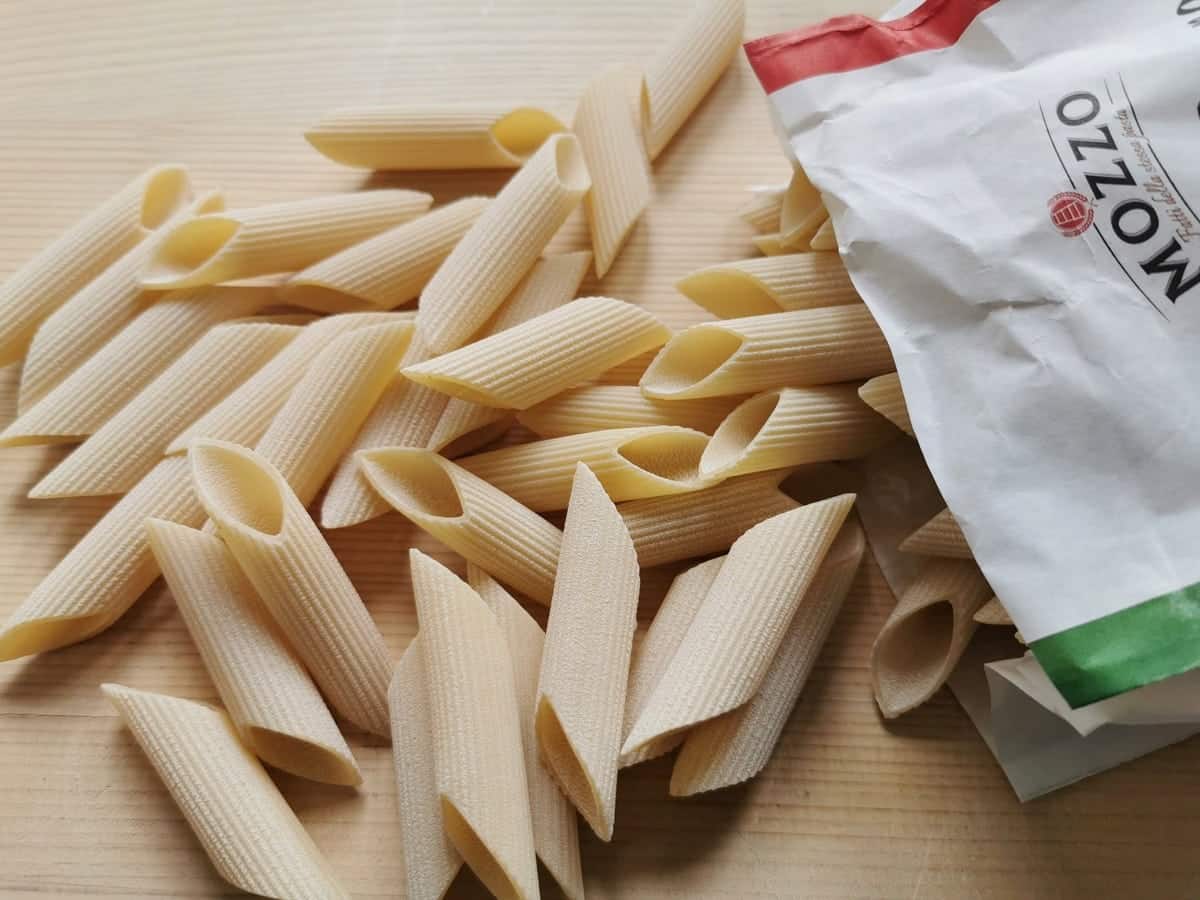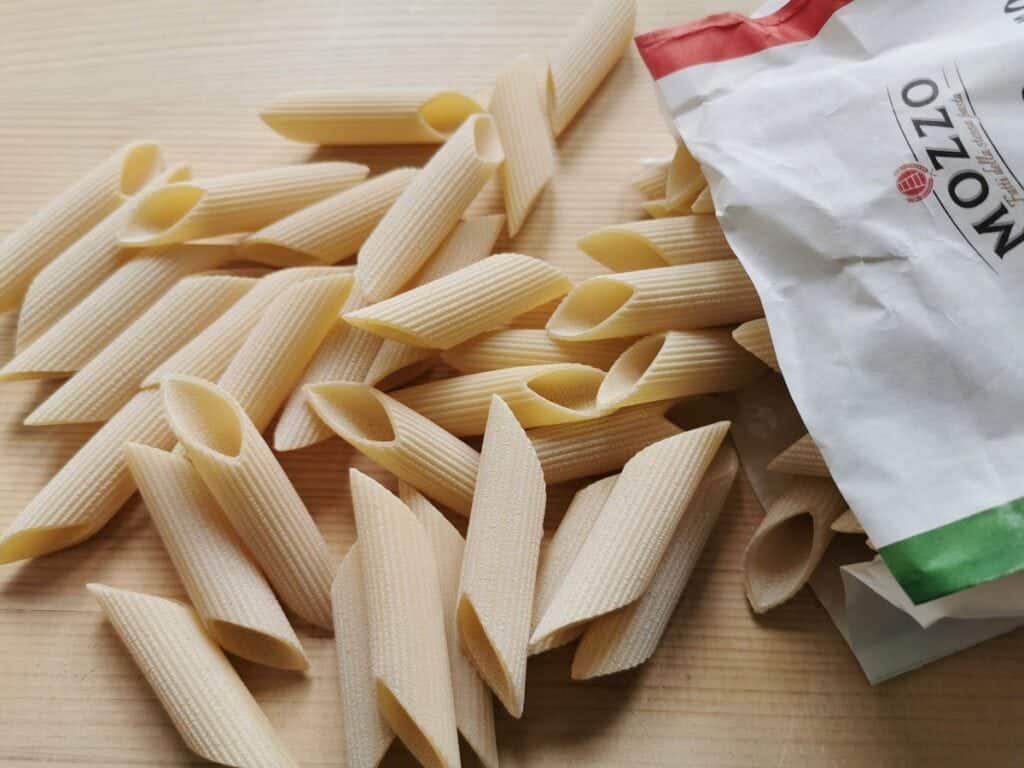 The pasta.
Most recipes for pancetta pasta del Maresciallo call for penne. However, you can use other tube pasta such as rigatoni or fusilli or even spaghetti. I used giant penne which Italians call pennone!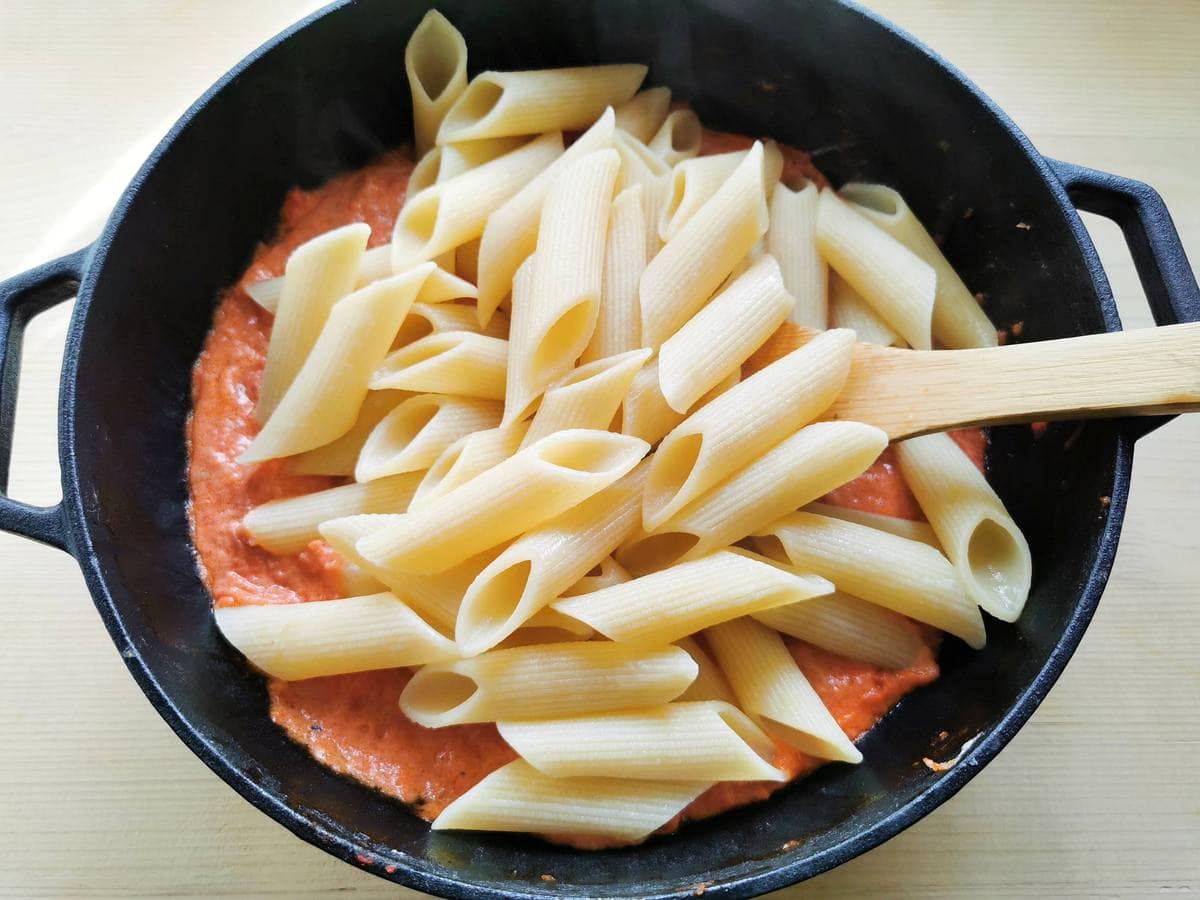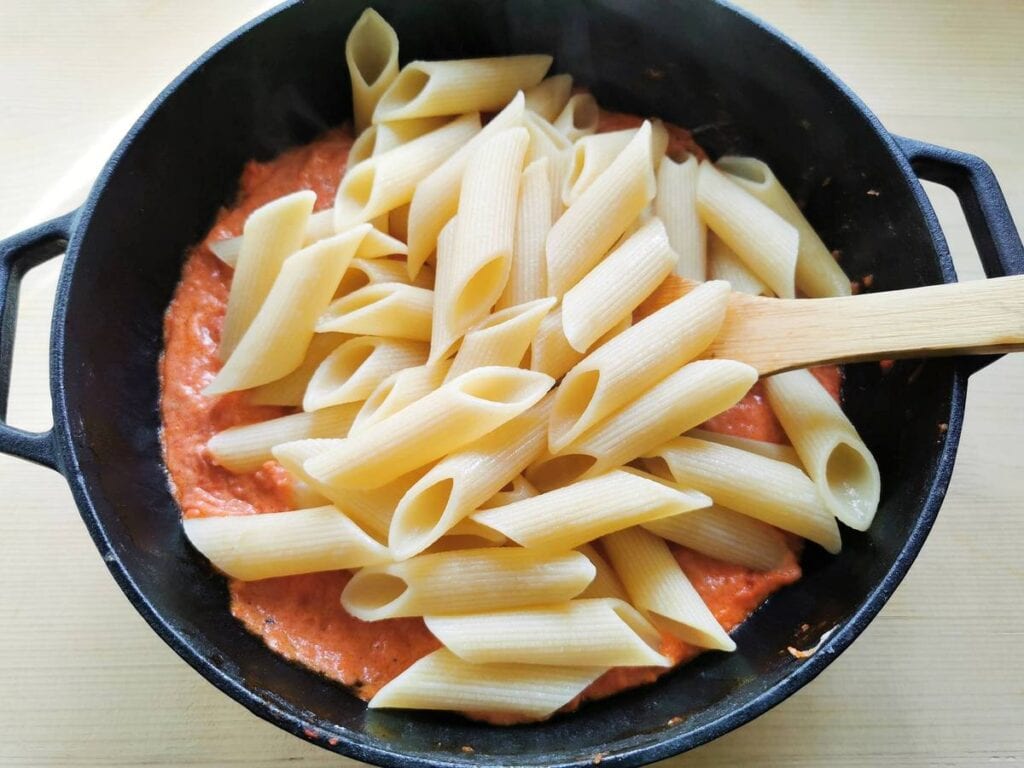 How to make pasta del Maresciallo.
As I mentioned above this recipe is super simple. All you need to do is sauté the chopped onion in olive oil, then add the pancetta. Once the pancetta has browned, pour in the tomato passata, season with salt and pepper and simmer whilst you cook the pasta. While the pasta is cooking, add the cream to the sauce, mix well and cook for a while longer. Finally, add the cooked pasta to the sauce, mix and serve with grated parmigiano and chopped parsley! Simple but seriously delicious!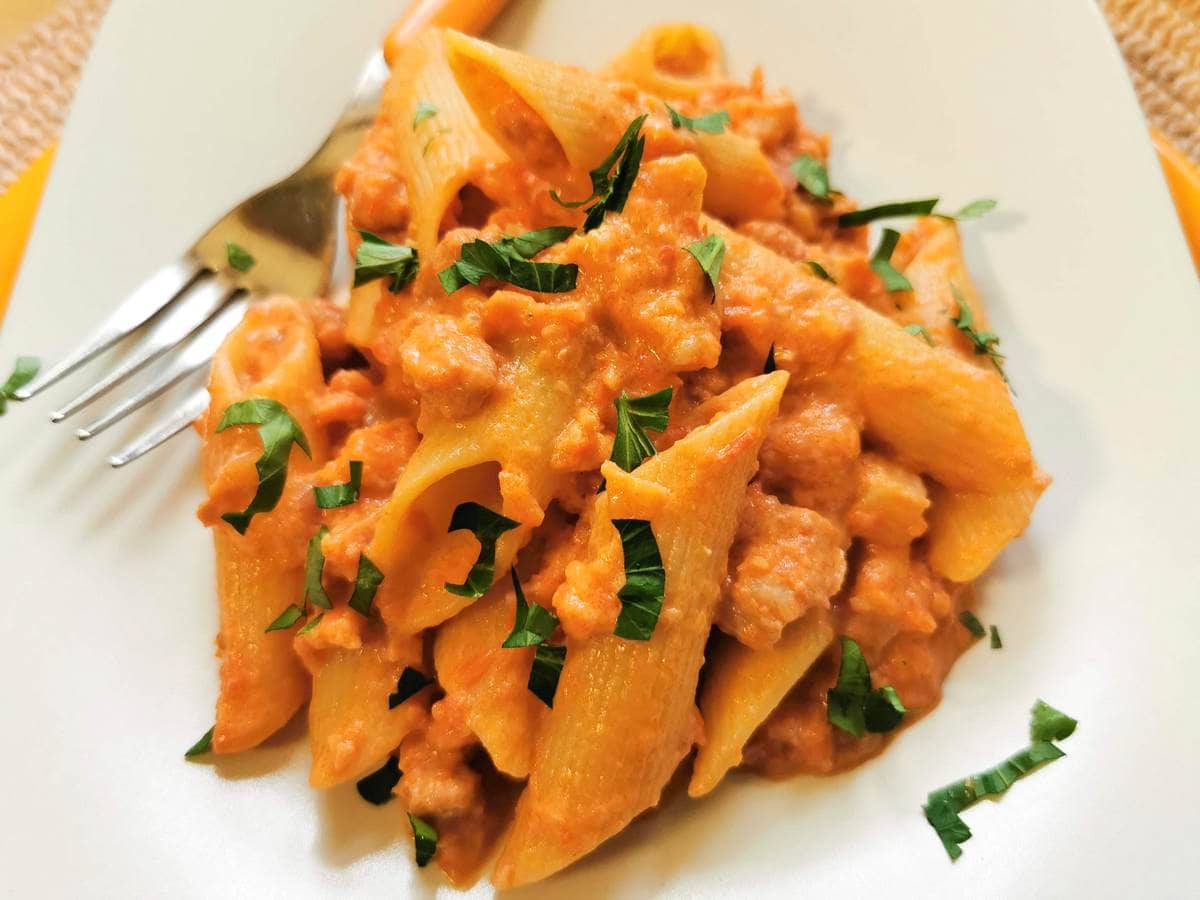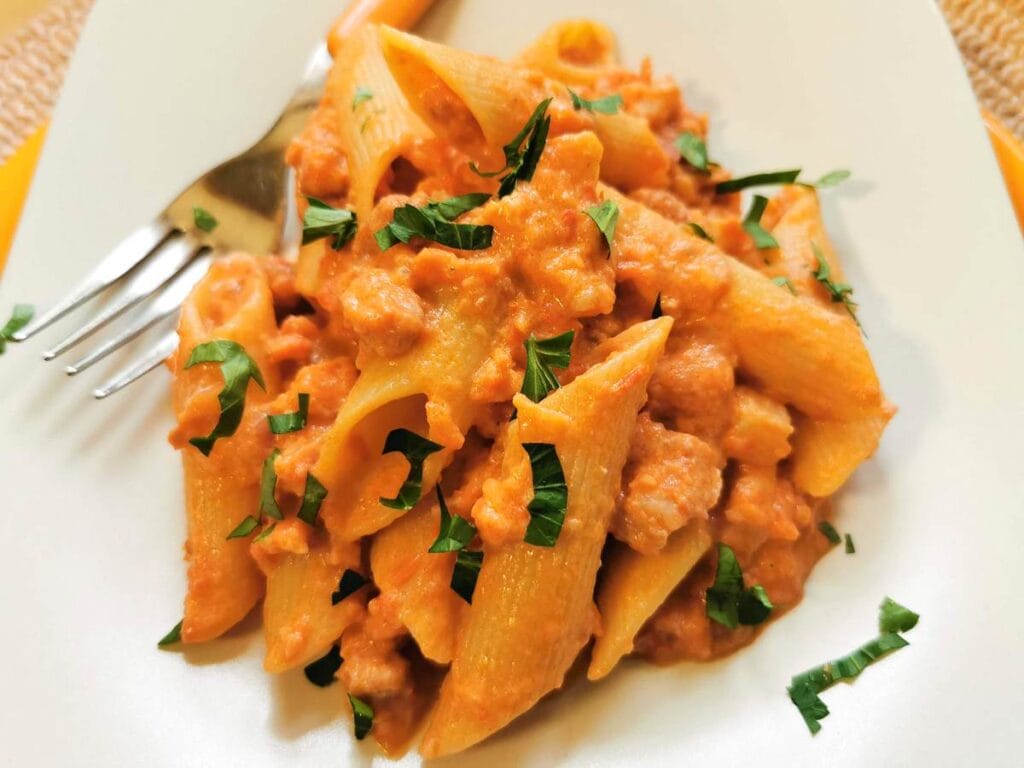 If you make this pancetta pasta recipe, I'd love to hear how it turns out. Please write a comment here on the blog, email me or post a comment on the Pasta Project Facebook page.
Your feedback is really appreciated!
Buon Appetito!
Other similar vintage 80s pasta recipes to try.
More pasta with pancetta recipes.
SAVE THIS RECIPE FOR LATER?
If you want to save this recipe for later, you can print it, bookmark this page or save it to Pinterest.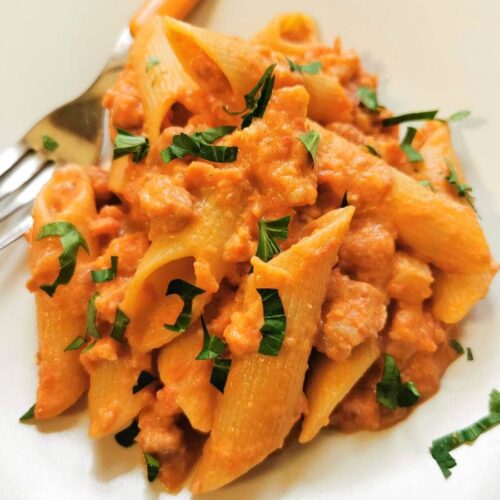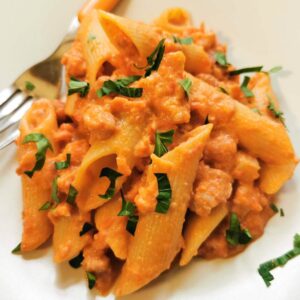 Creamy Pancetta Pasta del Maresciallo.
This creamy pancetta pasta is one of the easiest Italian pasta recipes I know. It's super simple to make, has only a few ingredients and can be on the table in the time it takes you to boil the water and cook the pasta.
Ingredients
400

g

penne pasta (14oz)

or rigatoni, fusilli or spaghetti

200

g

pancetta (7oz)

cut into small cubes or bacon

400

g

tomato passata (140z)

1

onion

3-4

tbsp

extra virgin olive oil.

200

ml

fresh cream (7floz)

single or heavy cream

50

g

Parmigiano Reggiano (2oz)

grated

salt

for pasta and to taste

freshly ground black pepper.

to taste
Instructions
Cut the pancetta into to cubes (if necessary). Peel and chop the onion finely.

Put the extra virgin olive oil in a large pan or skillet and heat. Cook the onion for a couple of minutes until soft. Add and sauté the pancetta until it starts to brown.

Add the tomato passata, a pinch of salt and some freshly ground black pepper. Cook for 5 minutes over high heat then lower the heat and let it cook gently over low heat for another 10 minutes. Add the cream and mix. Cook for a further 5 minutes.

While the sauce is cooking put a pot of water on to boil for the pasta. Add salt once it starts to boil and bring to the boil again. Cook the pasta al dente according to the instructions on the packet.

Drain the pasta. Add it to the pan with the sauce, mix everything together and sauté for about 2-3 minutes over a high heat. Serve immediately with grated parmigiano and chopped parsley
Nutrition
If you are interested in learning how to make homemade pasta and different types of gnocchi, check out my shop page for some great video online courses from my friends in Rome! Nothing beats learning to make pasta from Italians! Plus while you're there why not order a copy of one of my pasta recipe cookbooks or checkout some recommended pasta making tools? All great prezzies for pasta lovers!