Pasta with pancetta is a very popular combo in the Italian kitchen and there are lots of recipes with it. This fettuccine all'Abruzzese (Abruzzo style) is one of my favourites. It's quick and easy to make and yet, really delicious. All you need is pancetta, pecorino, onion, parsley, basil and pasta!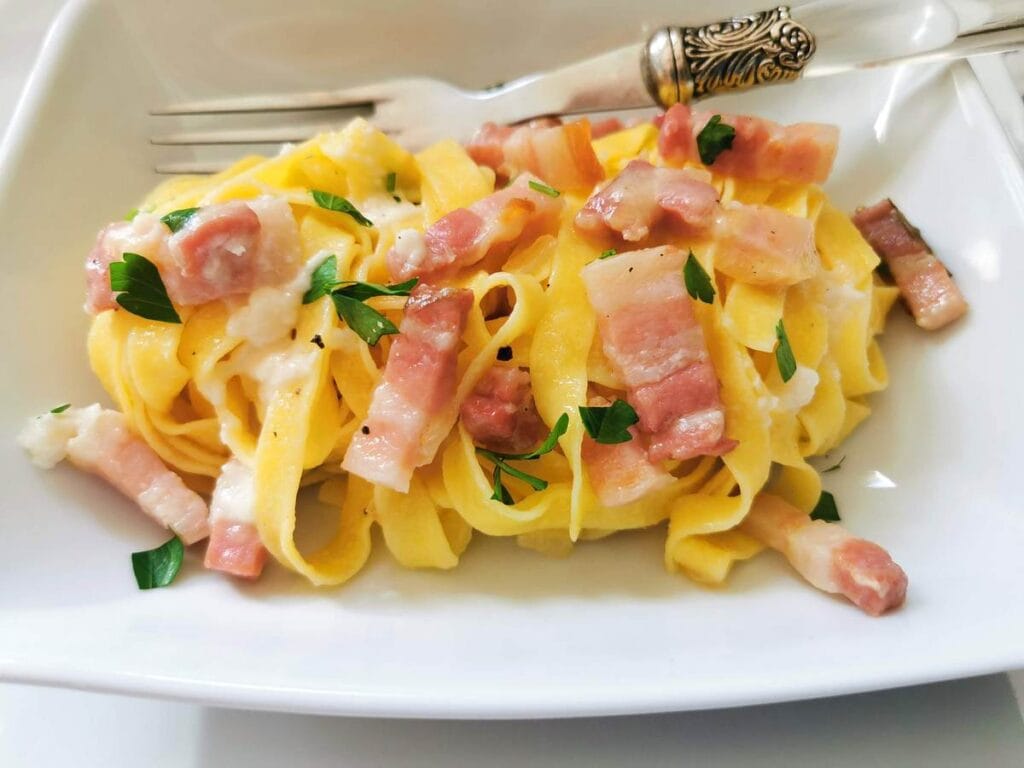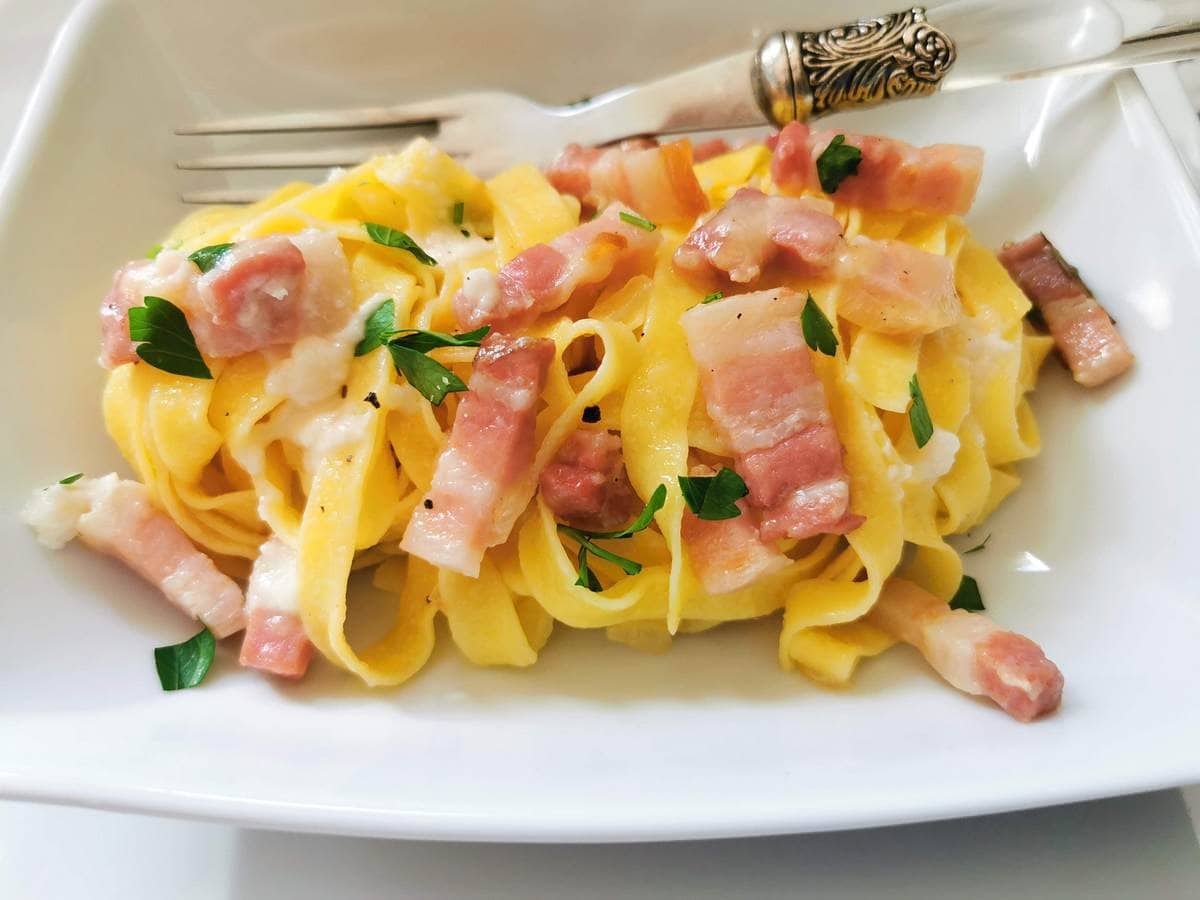 Where is Abruzzo?
For those that don't know it, Abruzzo is an Italian region on the Adriatic coast in Central Italy. This region is one of Italy's best kept secrets. Because much of inland Abruzzo is mountainous, this region was relatively isolated up until the 20th century. Consequently, it remains fairly unspoiled and most the tourists are Italians!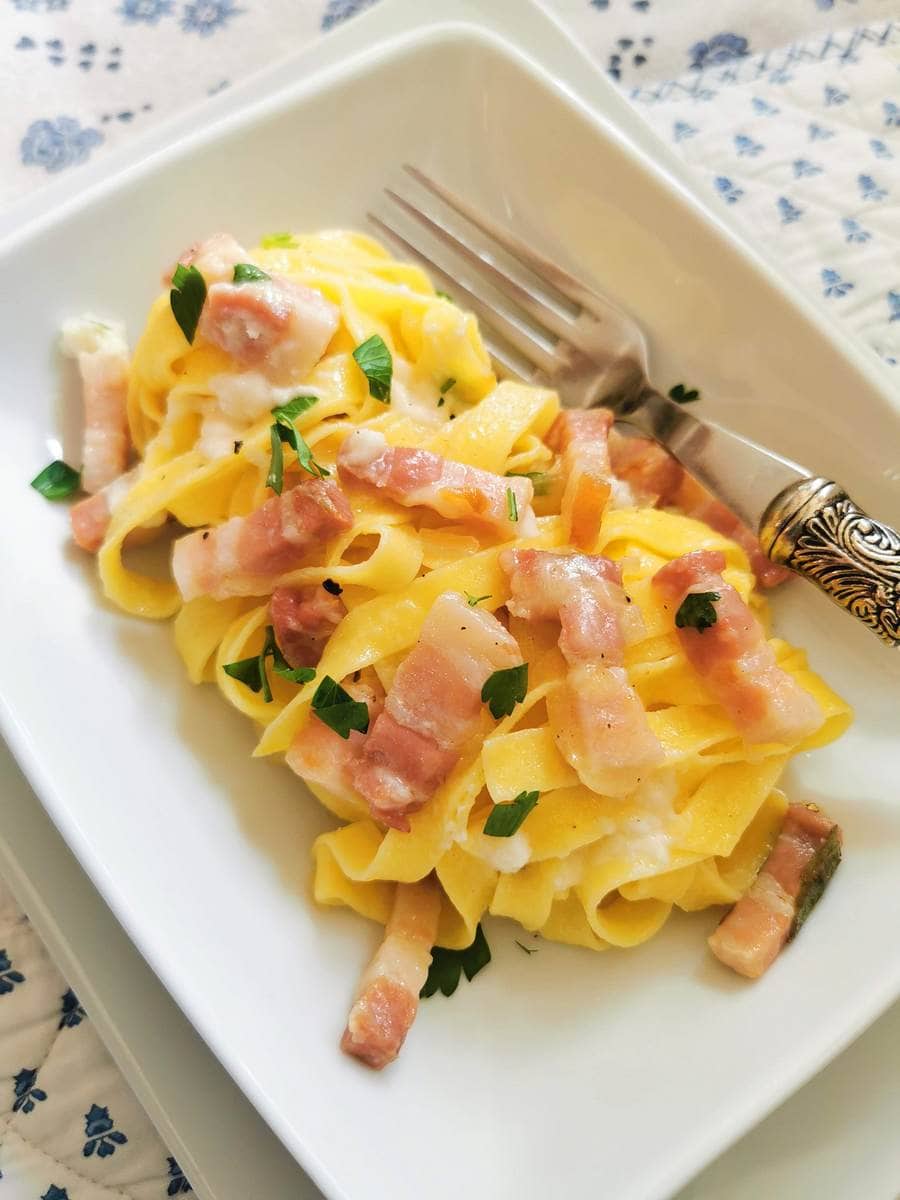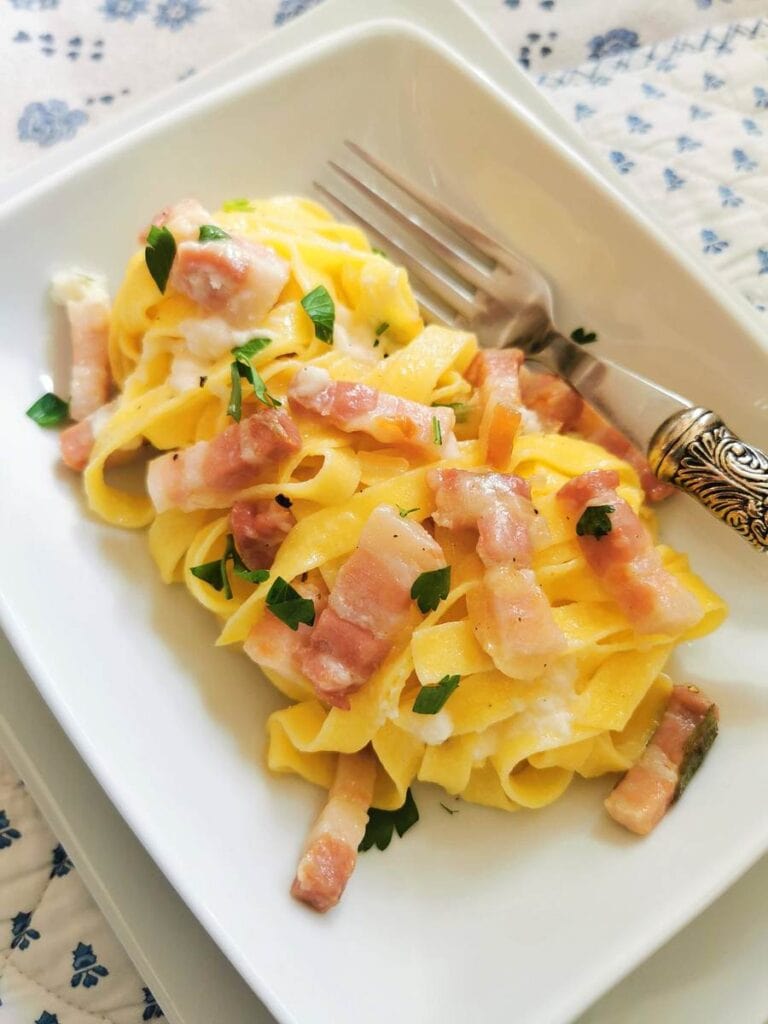 Pancetta in Abruzzo.
Like in other mountainous Southern and Centra Italian regions, animal farming in Abruzzo has historically centred on sheep, goats and pigs. Consequently, many regional dishes are based on these meats or the various salumi from the region, as well as sheep and goats' cheese.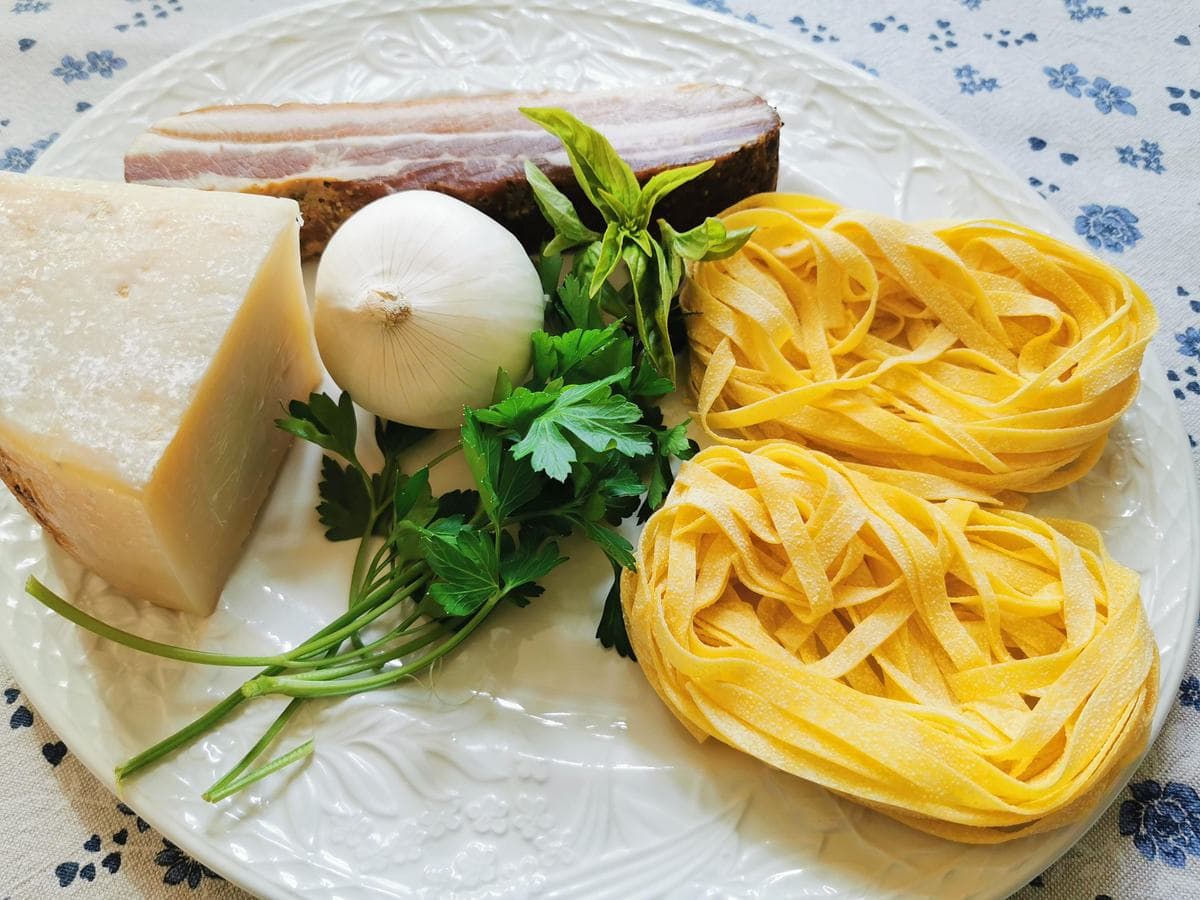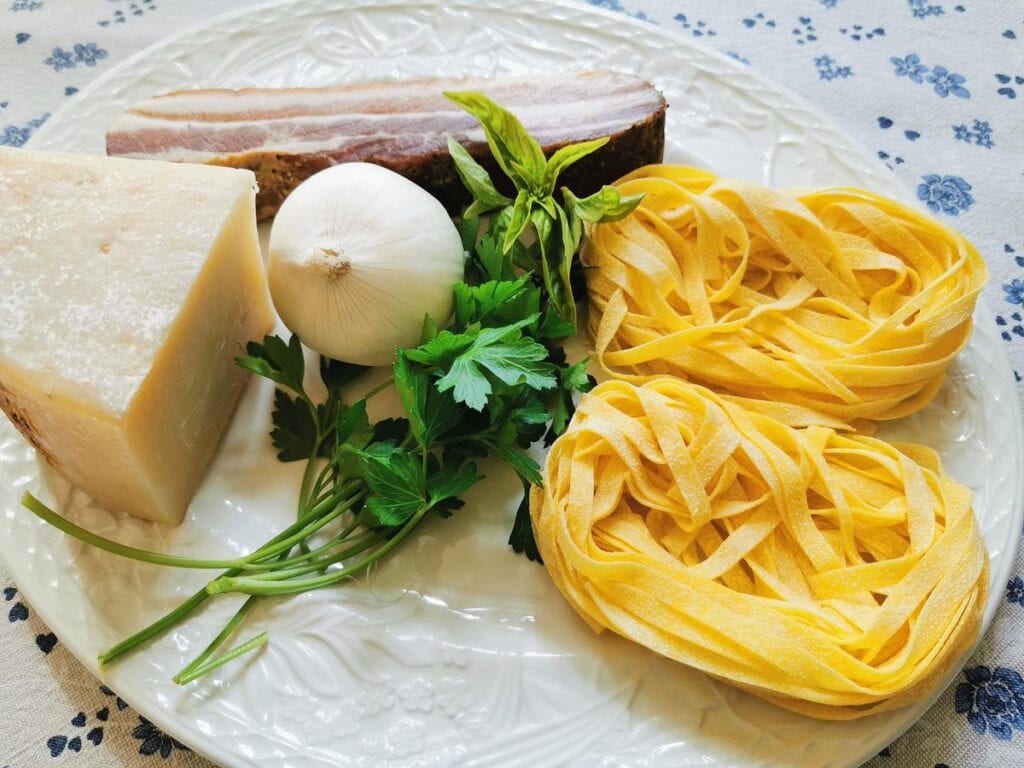 Traditionally, this Abruzzo style fettuccine pasta with pancetta would be made with local pecorino and pancetta. In fact, you can find really good pancetta in the region made from the meat of Abruzzese black pigs called Nero D'Abruzzo. Something to look out for if you ever visit that part of Italy!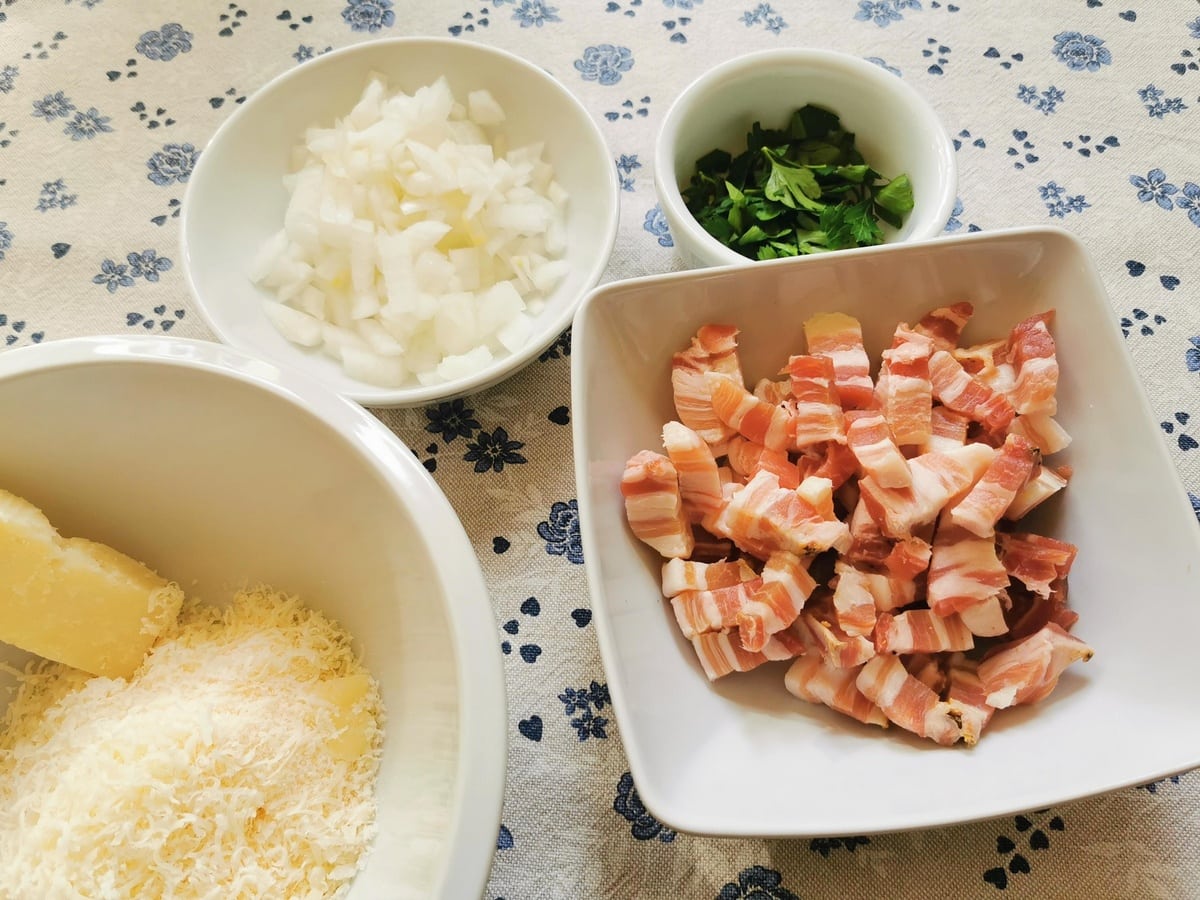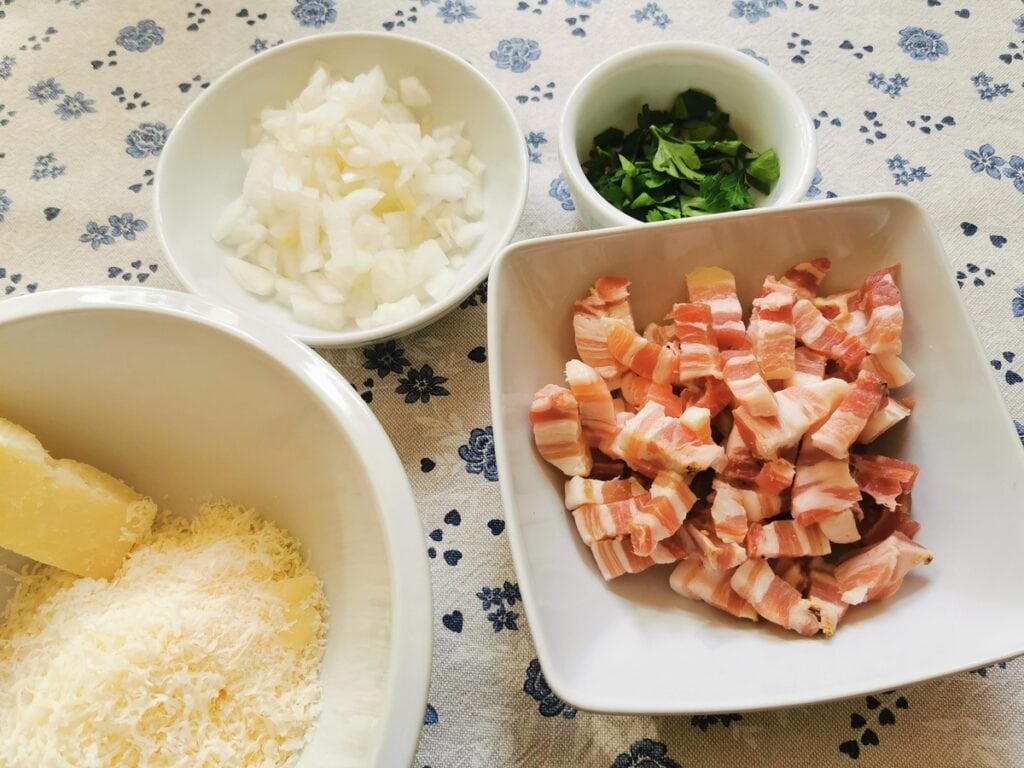 What's the difference between pancetta and bacon?
Although pancetta and bacon are both made from pork belly, they are normally made differently. Pancetta is salt-cured and dried, whilst bacon is smoked. This means that you can eat pancetta uncooked, as the Italians often do, but bacon has to be cooked. Also, because of the curing method there's a difference in taste. Bacon is obviously smokier, and pancetta is saltier.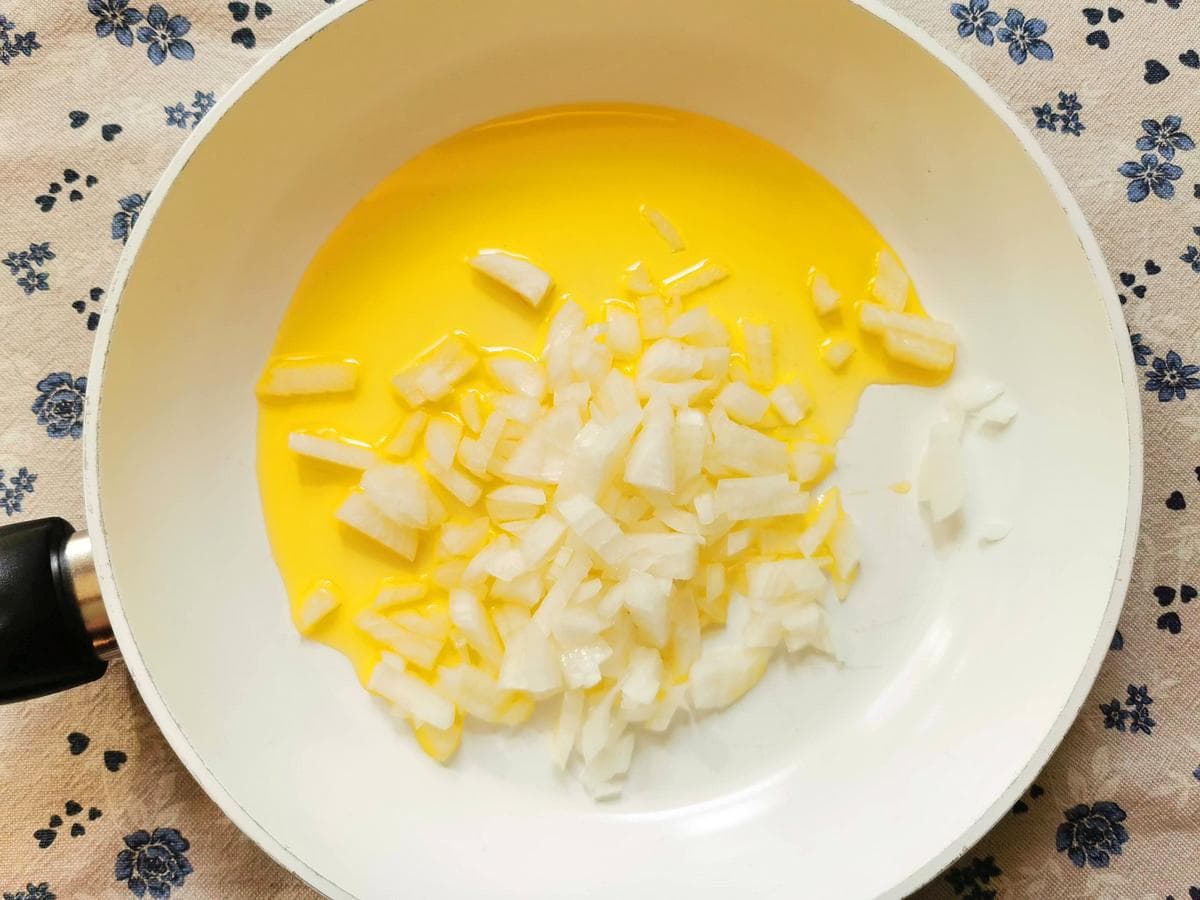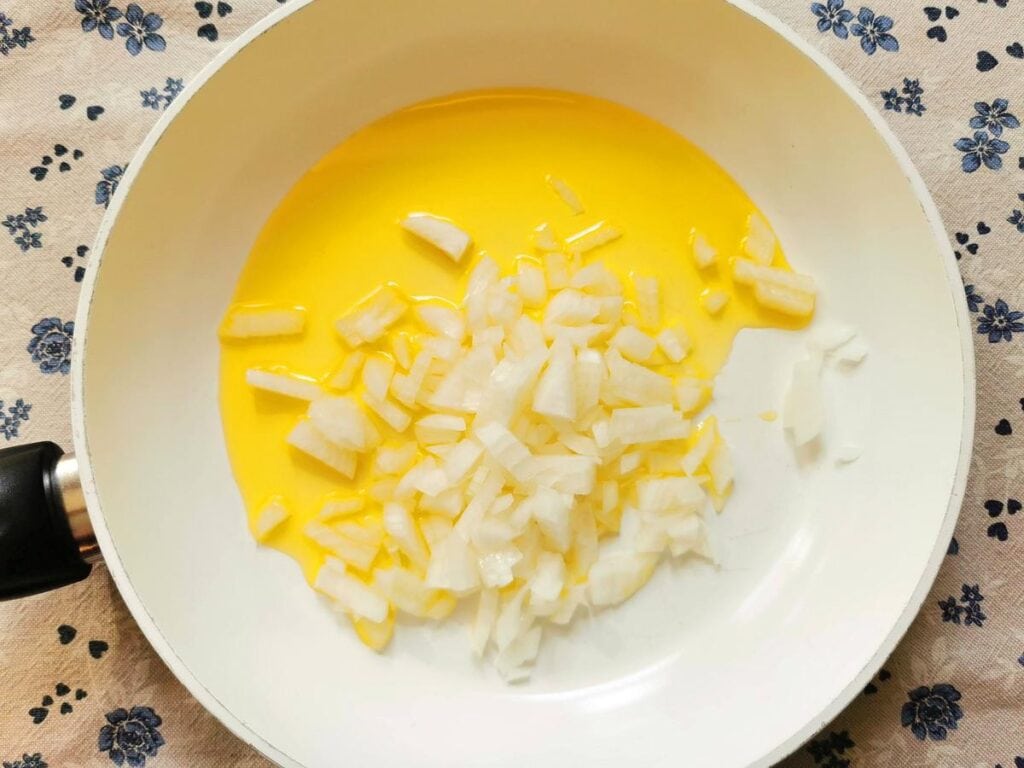 Buying pancetta in Italy.
In Italy, we can buy pancetta prepared in 3 ways. Like overseas, it comes in ready cut cubes in small plastic containers weighing about 100g each. It's possible to find these pasta cubes smoked (affumicato) or unsmoked (dolce). Normally, I have some in the fridge in case I want to make an unplanned gnocchi or pasta with pancetta!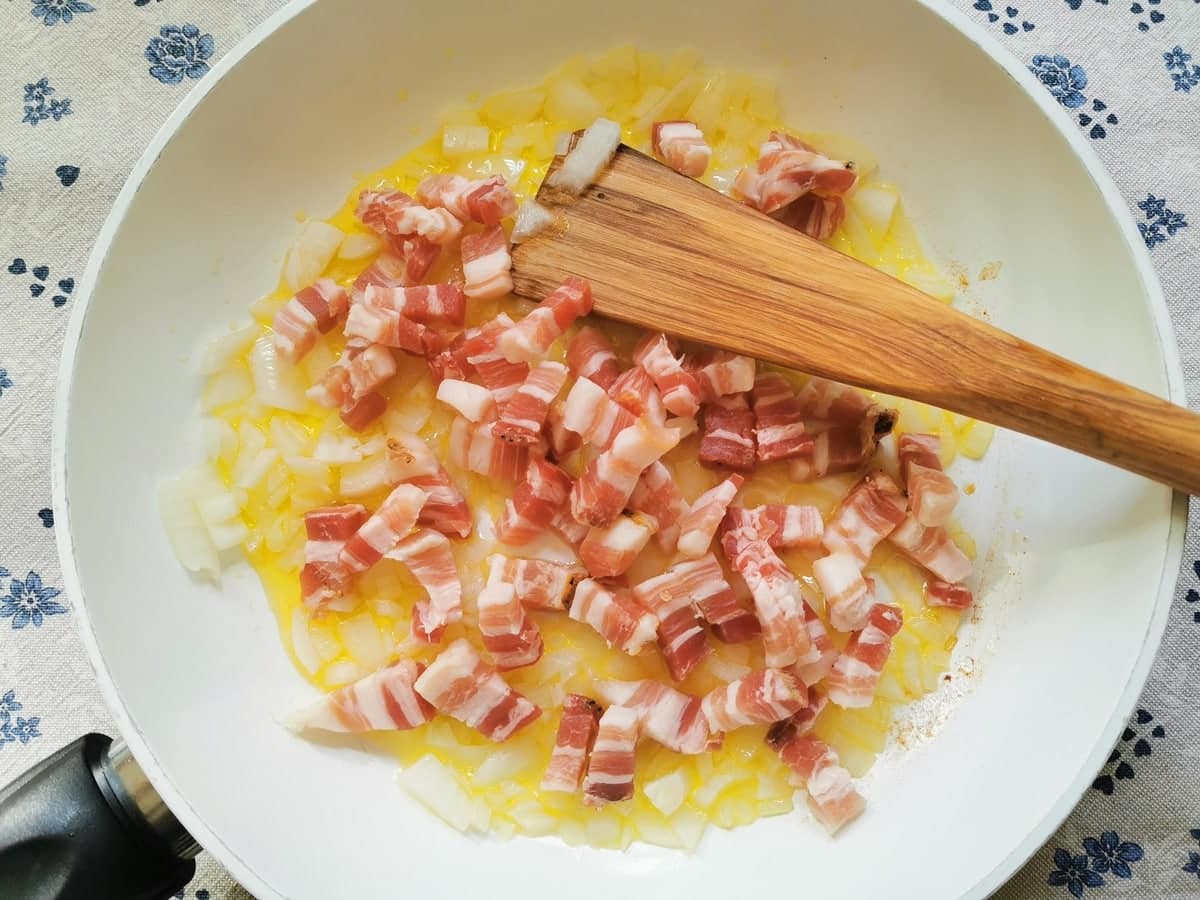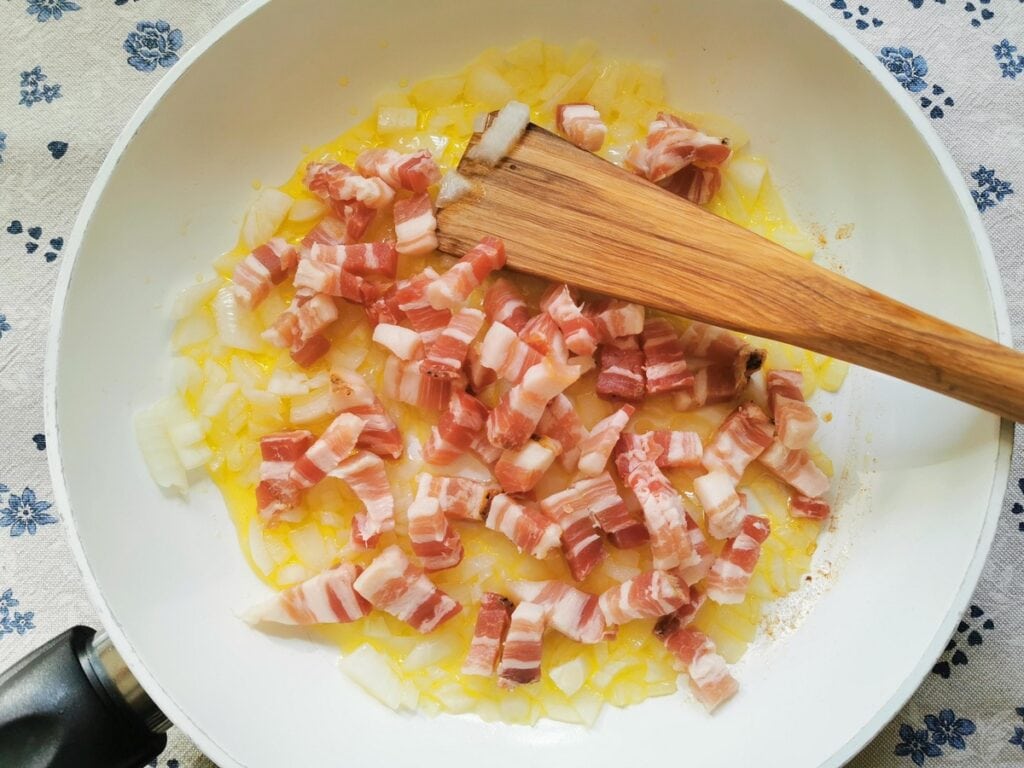 However, in my opinion the tastiest pancetta for cooking comes in a slab. Italians call this pancetta tesa or stesa (flat). In fact, this is what I used for this fettuccine all'Abruzzese. We can find the slabs ready packed and weighed or buy them at the weight we want from the butcher or salumi counter. We can also buy it in thick or thin slices. Italians like to cook thickly sliced pancetta tesa on the outdoor grill.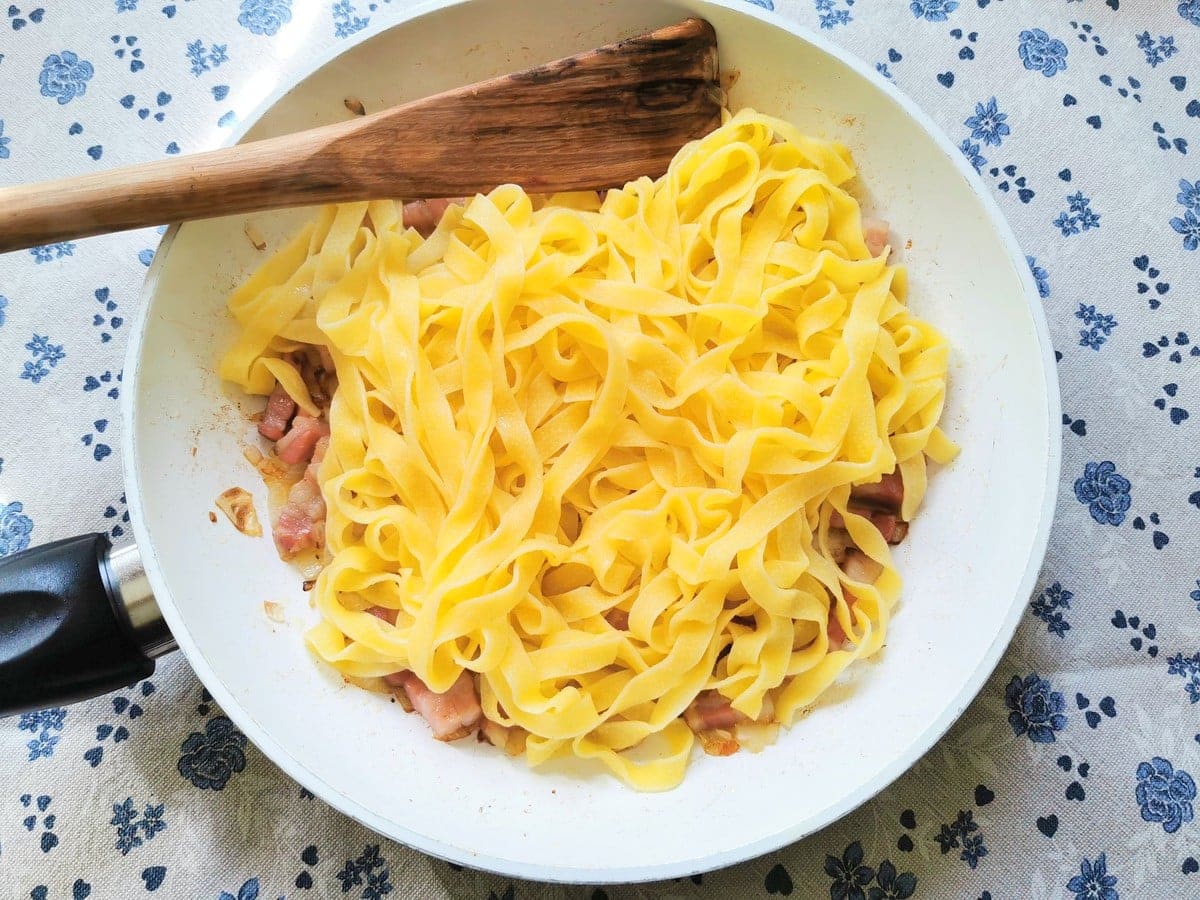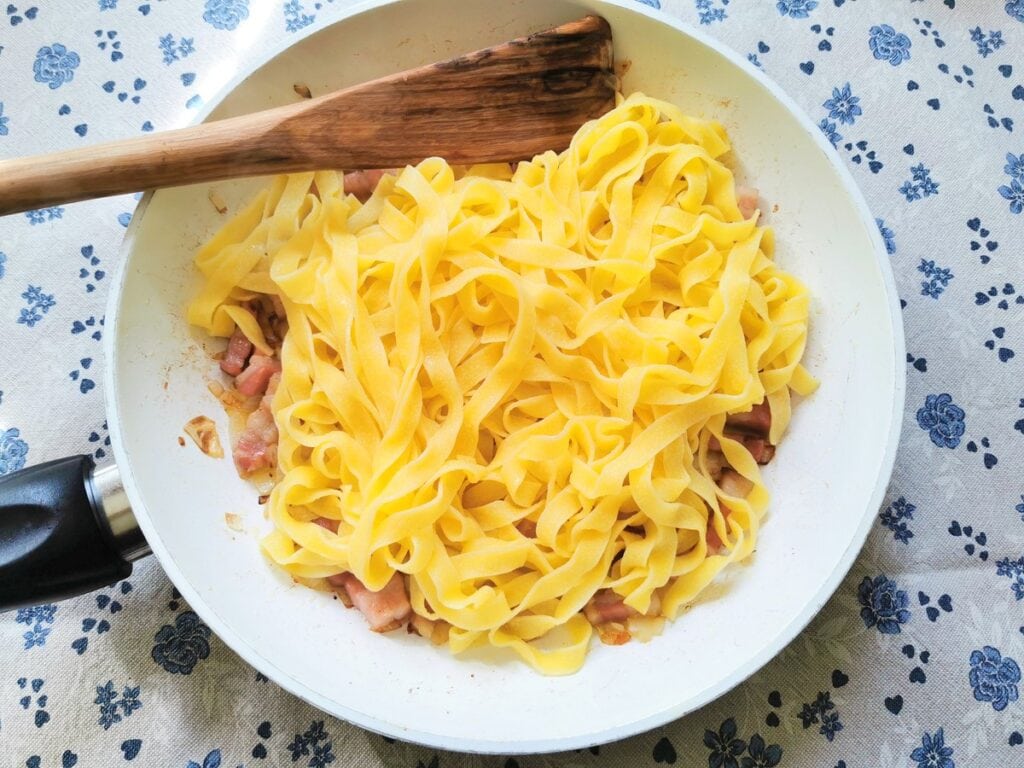 When it comes to buying pancetta to eat uncooked as part of a salumi platter or in a sandwich, Italians normally go for pancetta arrotolata. This is pancetta that has had the rind removed and then been rolled and put into netting or casings and then hung and dried. It's normally cut into thin slices like salami. But, it's also used in cooking too.
I've been wanting to make homemade pancetta arrotolata myself. Apparently, it's not that difficult. However, I'd be cautious about eating homemade pancetta raw!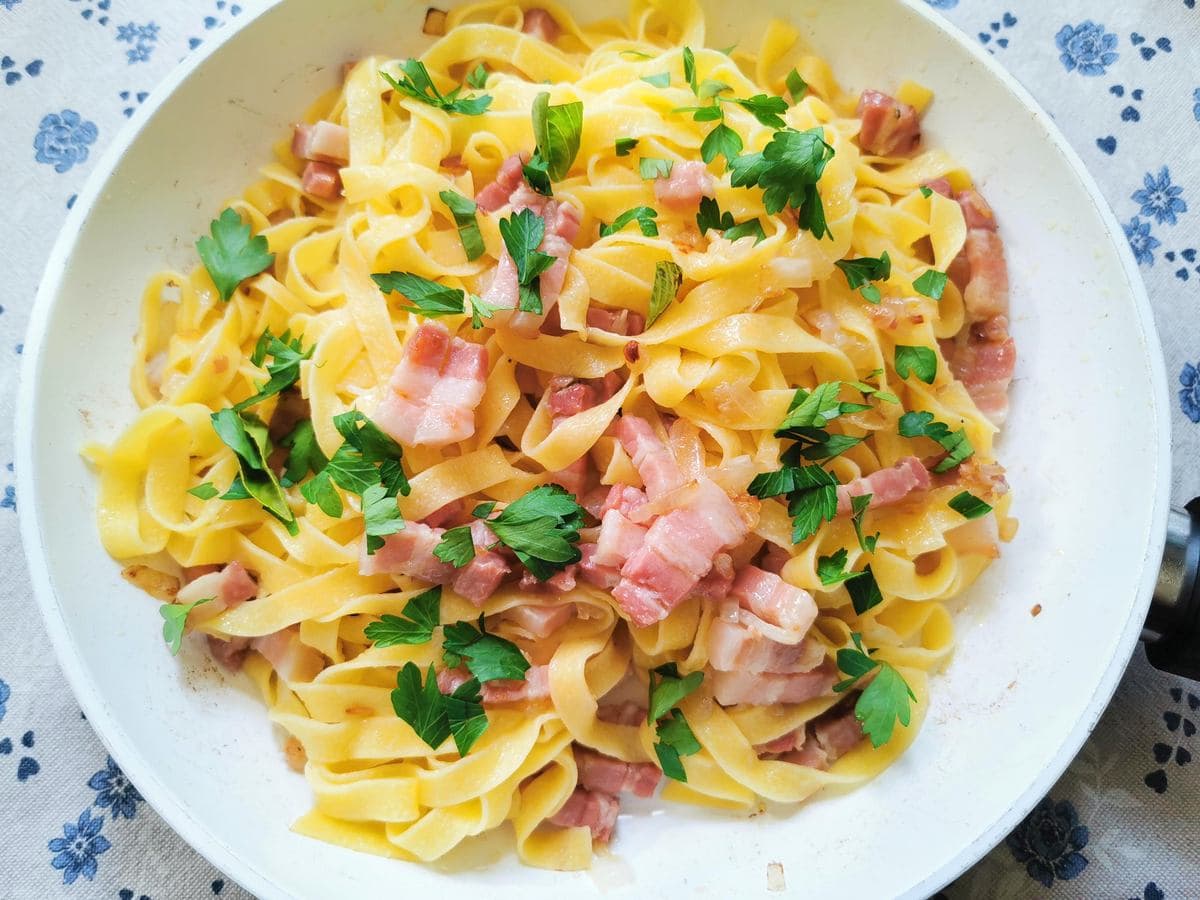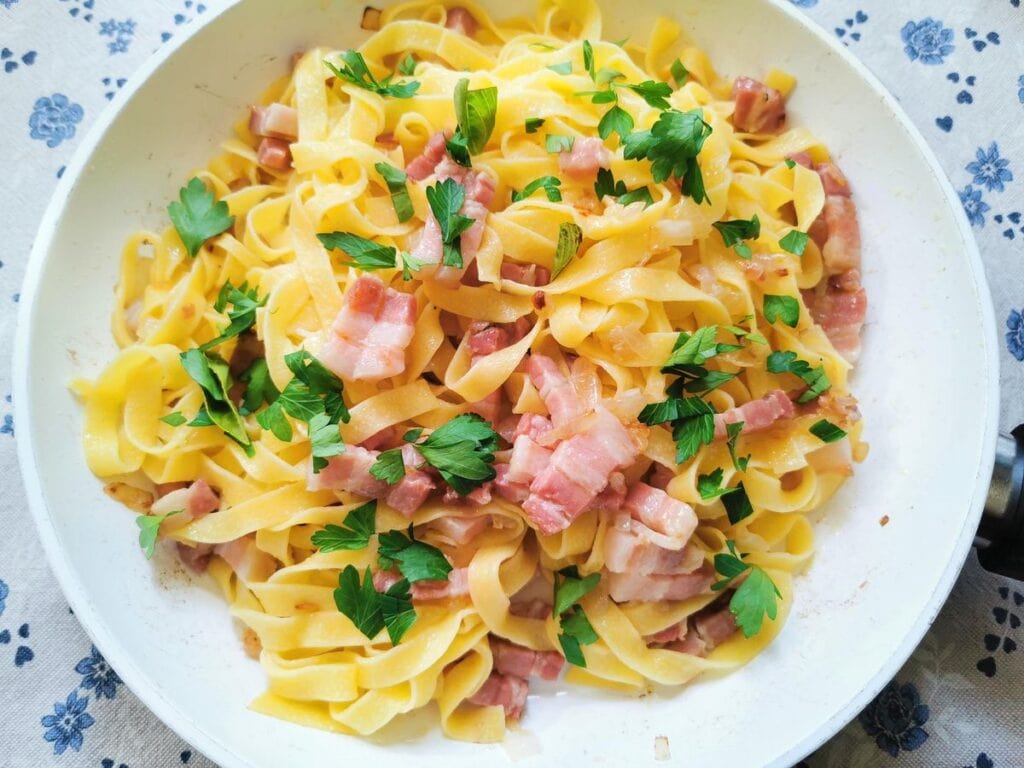 Can bacon be used instead of pancetta in this recipe?
Of course, if you can't find pancetta, then bacon is a good substitute for your fettuccine all'Abruzzese. The best would be fairly thick slices which you then cut into cubes. Thick streaky bacon would be great because it has more fat, like pancetta.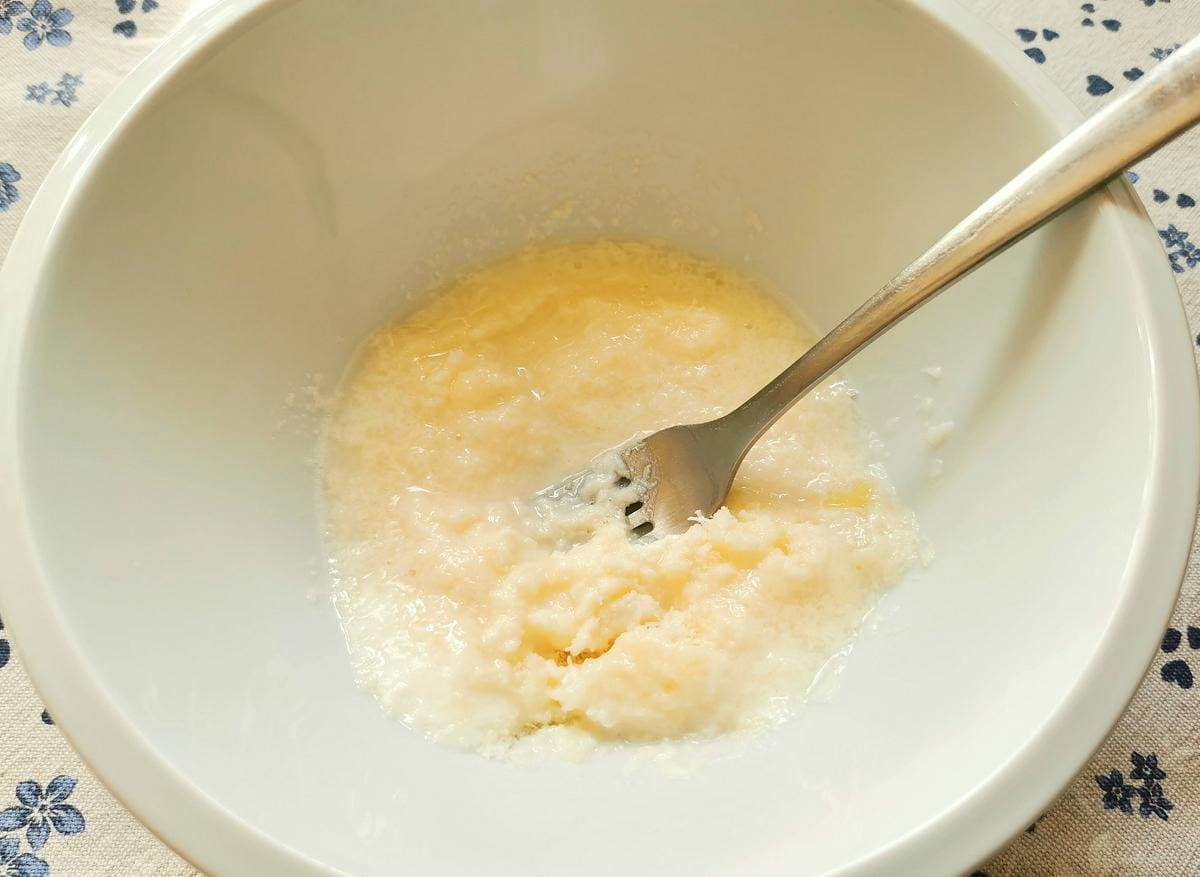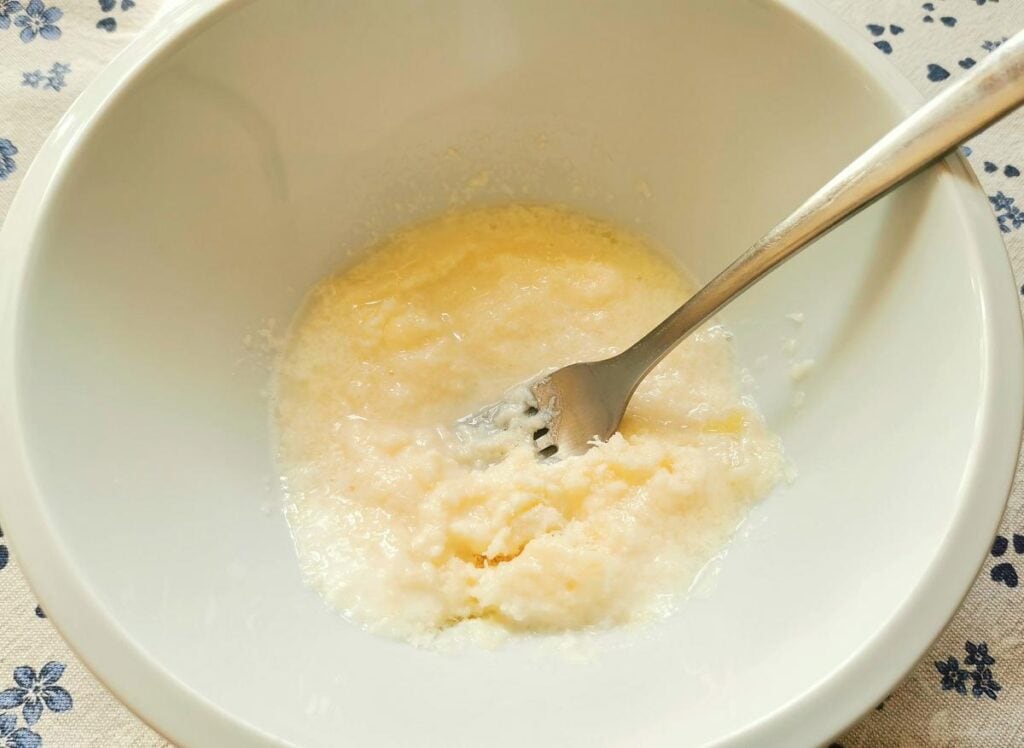 Other ingredients in pasta with pancetta all'Abruzzese.
As I mentioned above, this recipe is pretty simple and calls for just a few ingredients. Apart from the pancetta, all you need is an onion, fresh parsley, garlic and pecorino. In Abruzzo, the pecorino would be locally made. Most Southern and Central Italian regions produce their own pecorino. Of course, you can use pecorino Romano.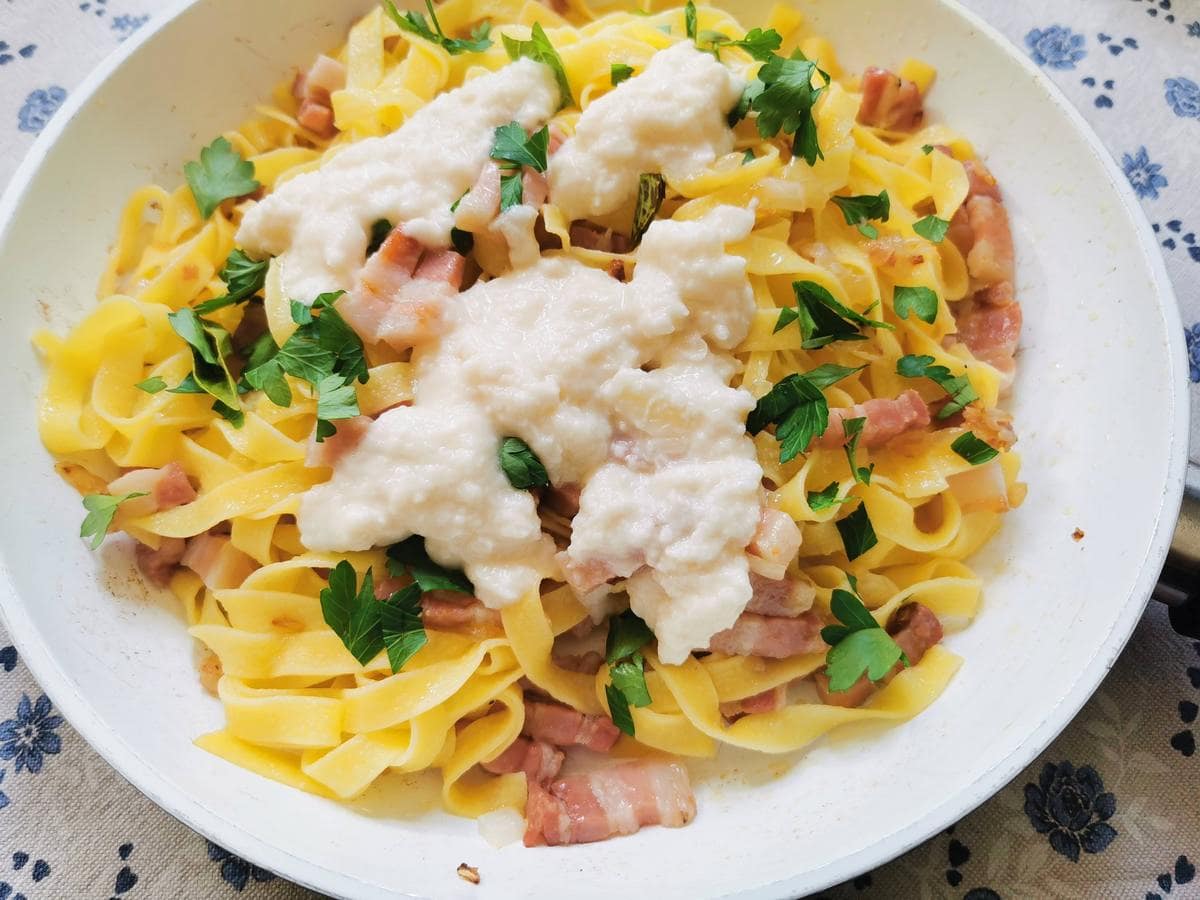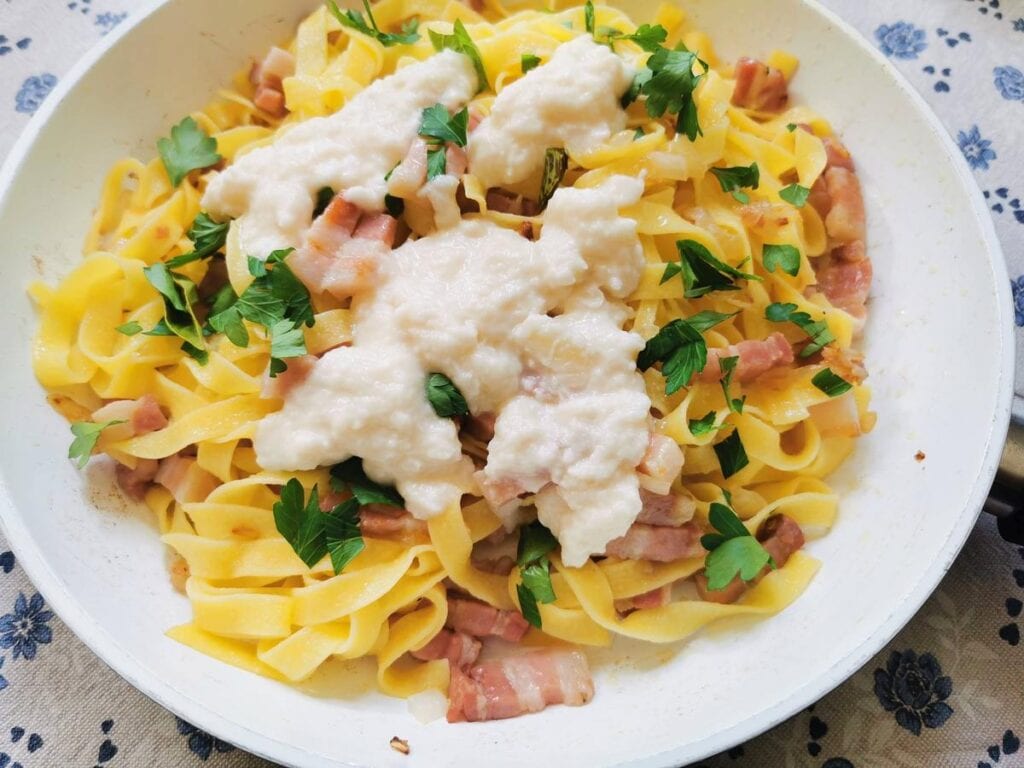 The Pasta.
Nearly all the recipes I found online for pasta all'Abruzzese called for fettuccine. I used dried fettuccine nests. You can also use tagliatelle, fresine or spaghetti.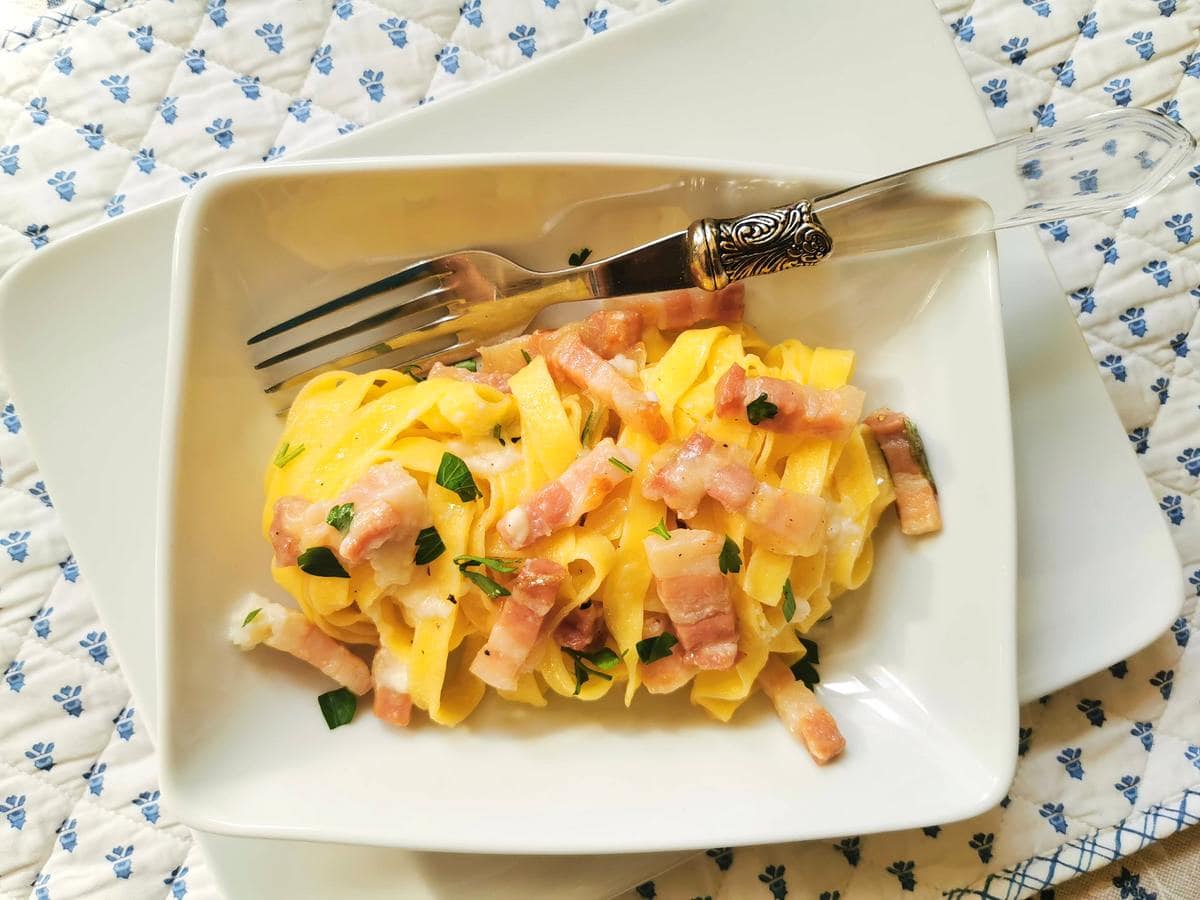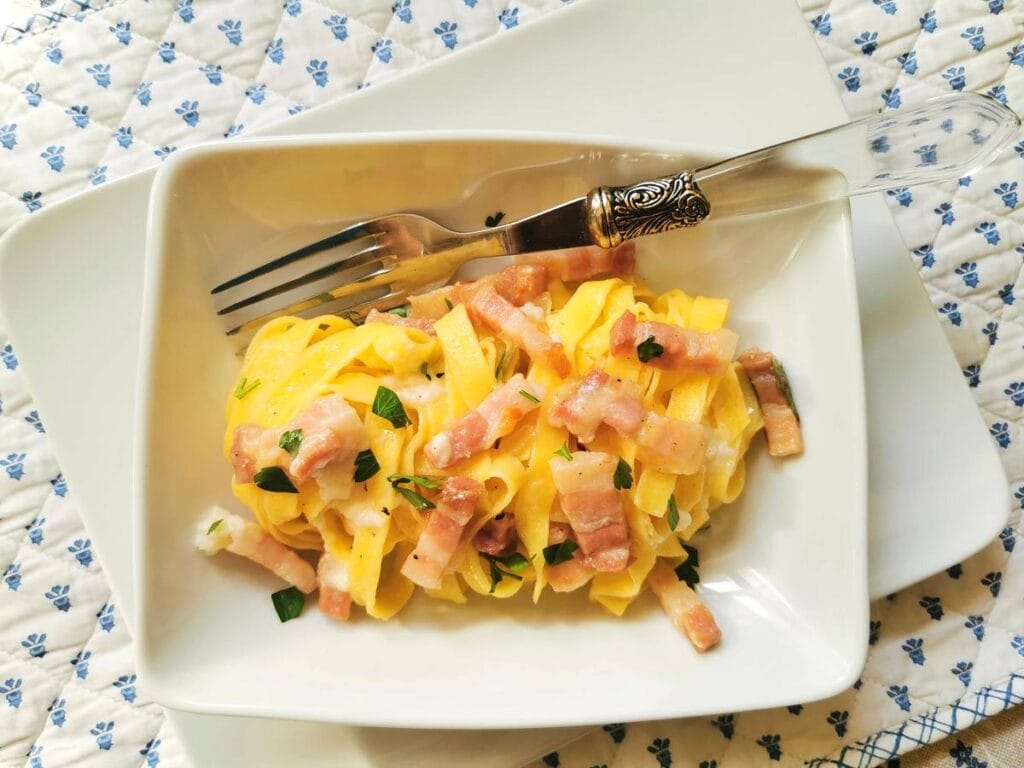 Making Abruzzo style fettuccine with pancetta.
I love this recipe as it can be on the table in the time it takes you to boil the water and cook the pasta! Once you have cut the pancetta (if necessary) and peeled and chopped the onion, just sauté them in good olive oil.
In the meantime, cook the pasta al dente. Save some pasta cooking water, drain the pasta and mix it with the pancetta and onions and some of the water. Finally mix the grated pecorino with some more warm pasta cooking water to create a sauce, add this to the fettuccine with some chopped parsley and basil, mix and serve! Easy, right?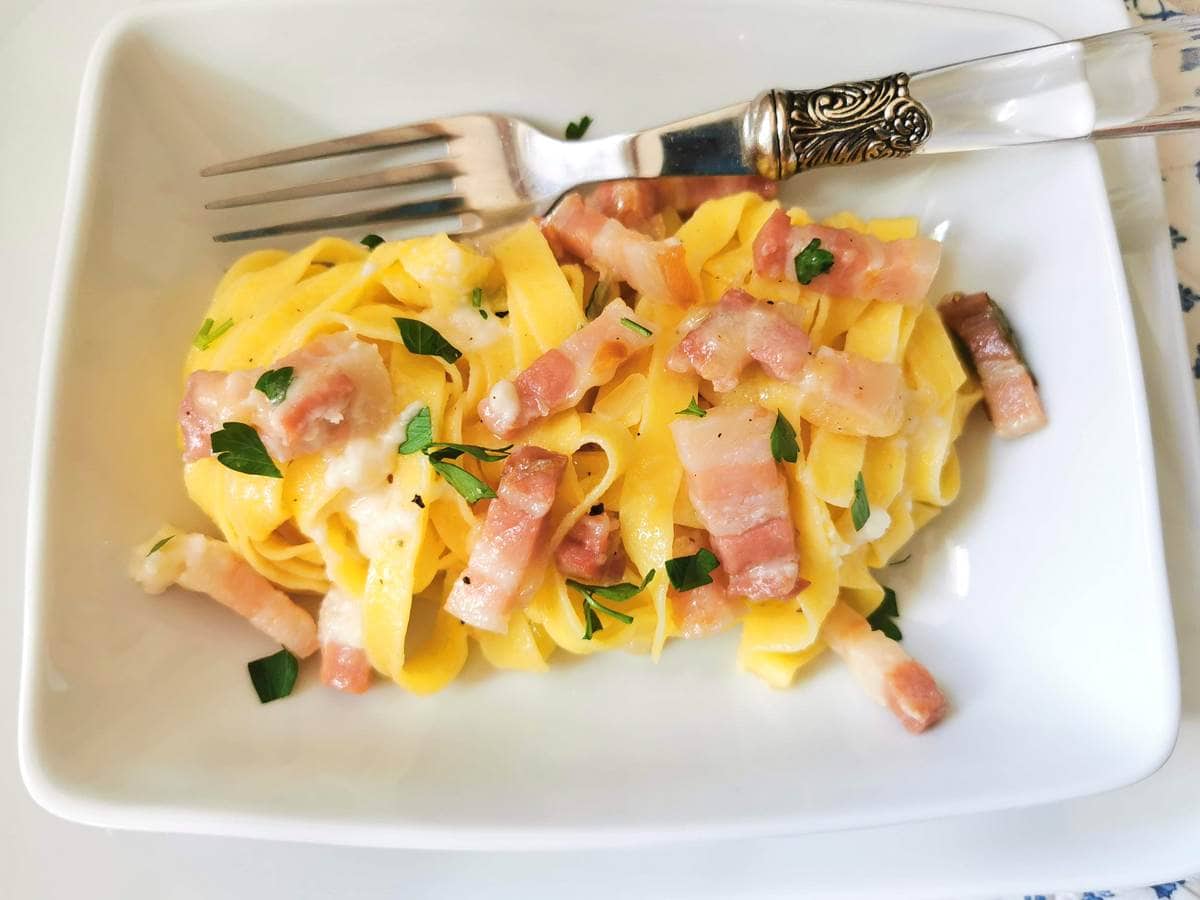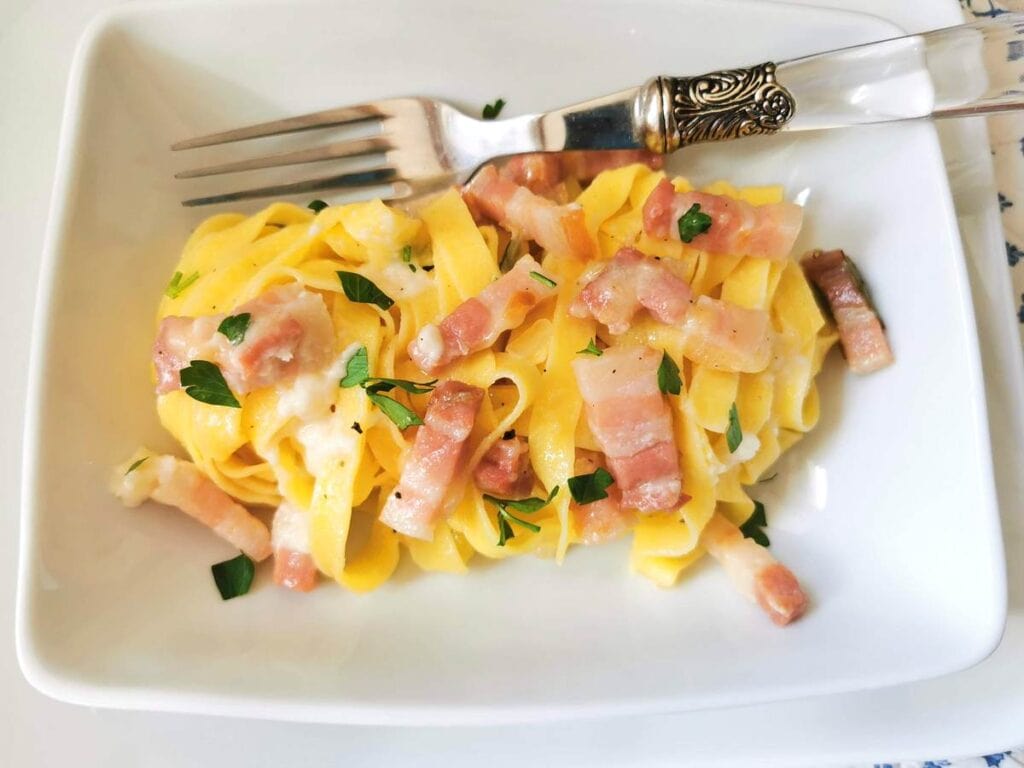 Let me know what you think.
If you do make this pasta with pancetta (fettuccine all'Abruzzese), I'd love to hear how it turns out and if you liked it. Please leave a comment here on the blog or on The Pasta Project Facebook page.
Looking forward to hearing from you!
Buon Appetito!
SAVE THIS RECIPE FOR LATER?
If you want to save this recipe for later, you can print it, bookmark this page or save it to Pinterest.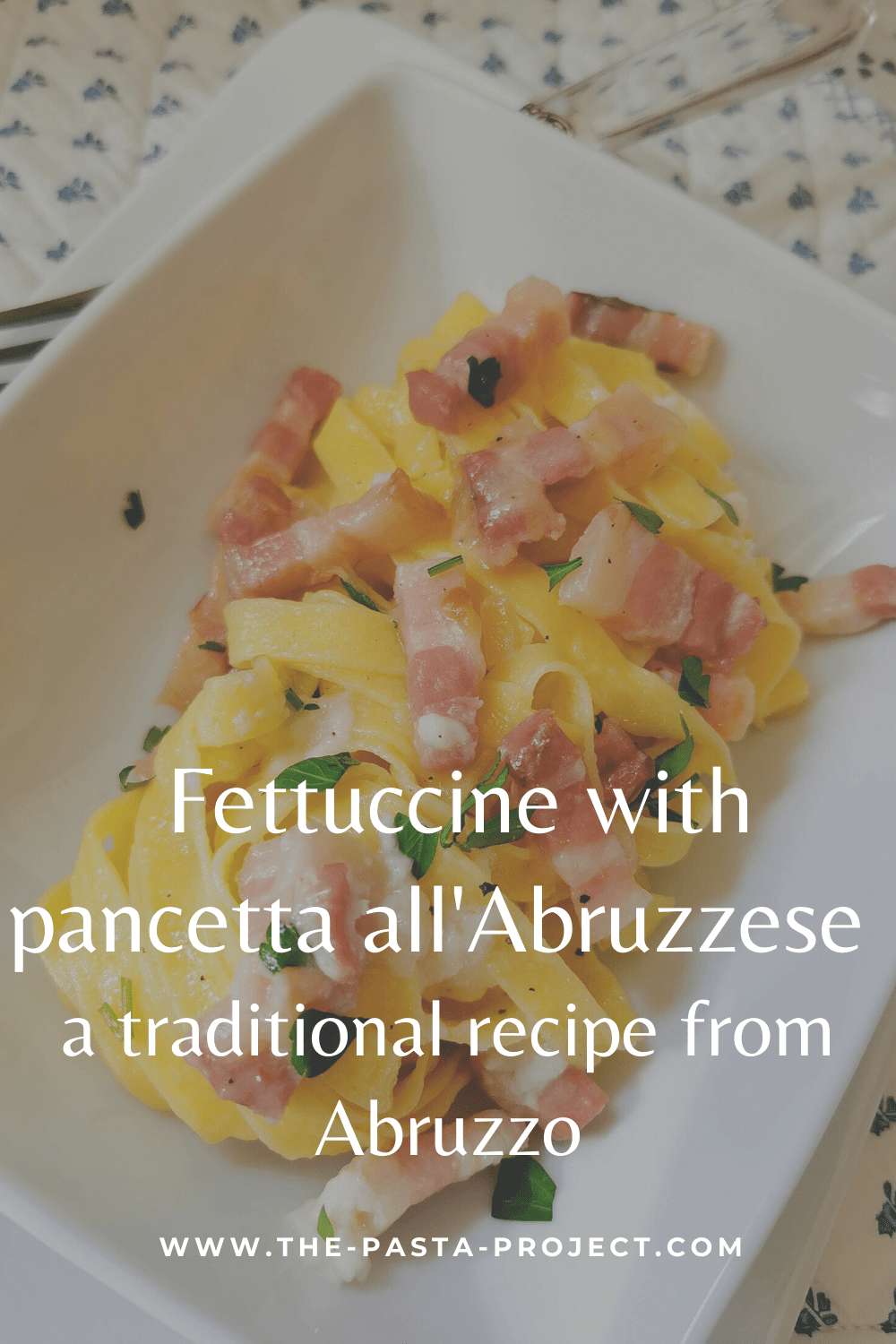 Other pasta with pancetta recipes to try.
If you are interested in learning how to make homemade pasta and different types of gnocchi, check out my shop page for some great video online courses from my friends in Rome! Nothing beats learning to make pasta from Italians! Plus while you're there why not order a copy of one of my pasta recipe cookbooks or checkout some recommended pasta making tools?