This mixed corn and wheat flour pasta from Abruzzo is one of the easiest types of homemade pasta I have made. It is slightly different in taste and texture to the fine dried or fresh egg pasta most people eat, but that is what makes it so worth making. The dough is slightly sweet because of the corn flour in it and it is also quite porous and rustic. Known as patellette, this pasta is traditionally served in a brothy tomato and pancetta sauce. However, it actually goes well with many other sauces, including seafood.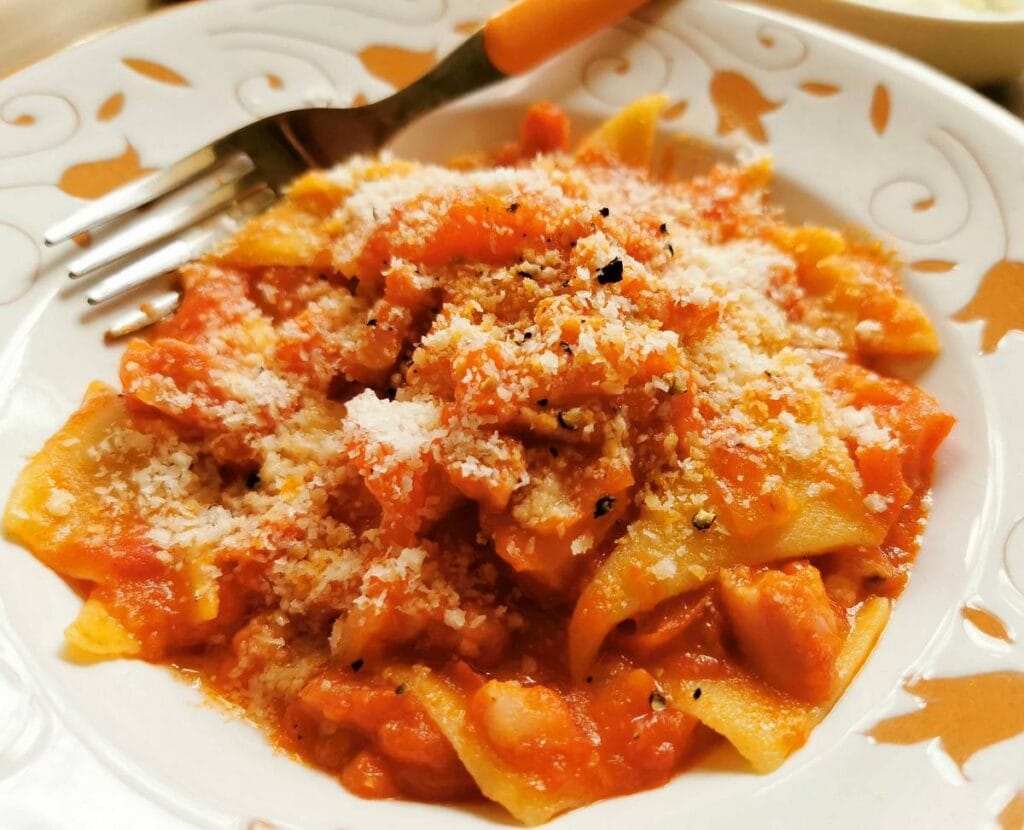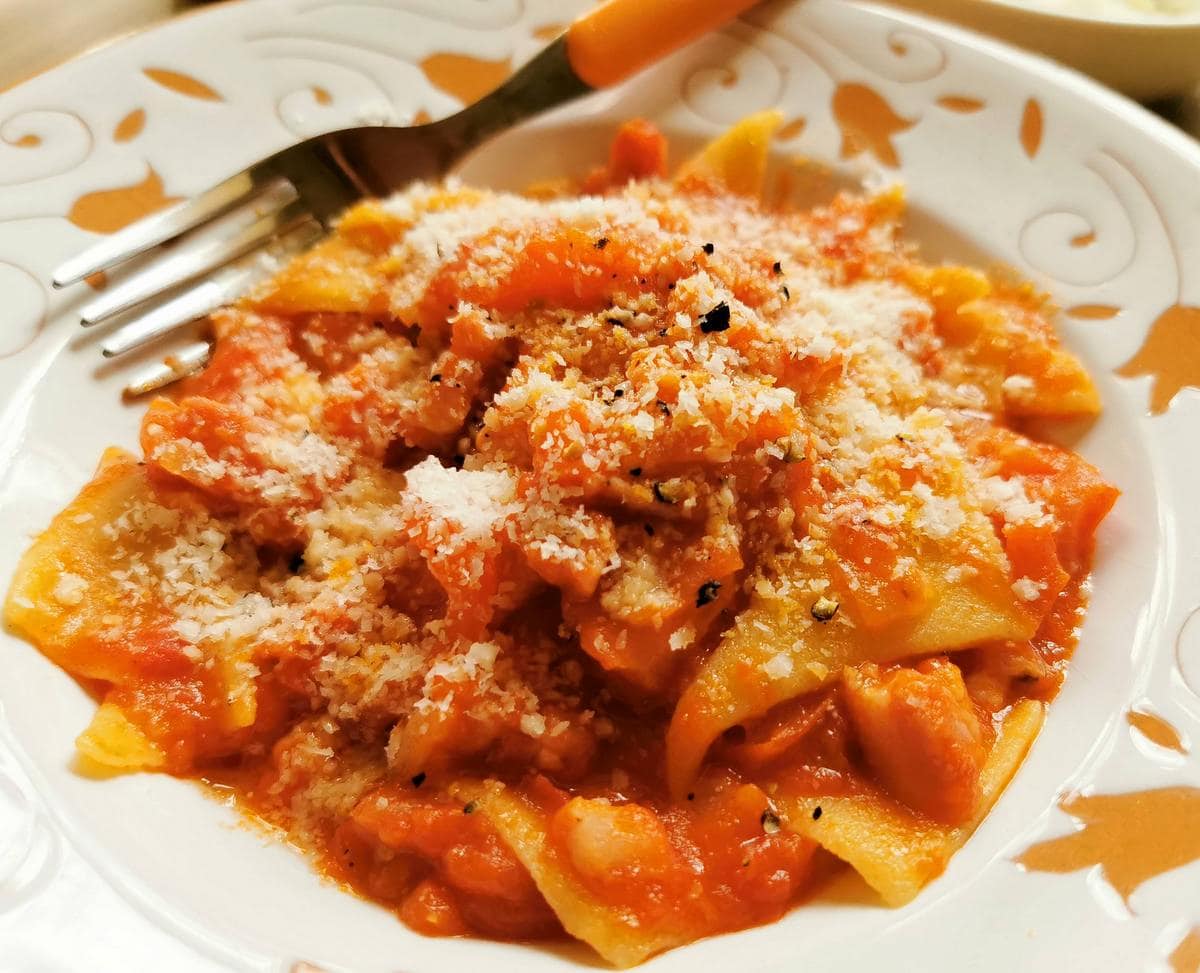 Le patellette Abruzzese.
Patellette is an ancient peasant pasta from the Teramo province in Abruzzo, usually made with a combination of corn and wheat flour. The dough is rolled out into quite thick sheets, cut into wide strips and then into triangles. This flour and water pasta is one of many simple flat short pasta shapes that originated in what Italians call 'La cucina povera', literally translated as the kitchen of the poor.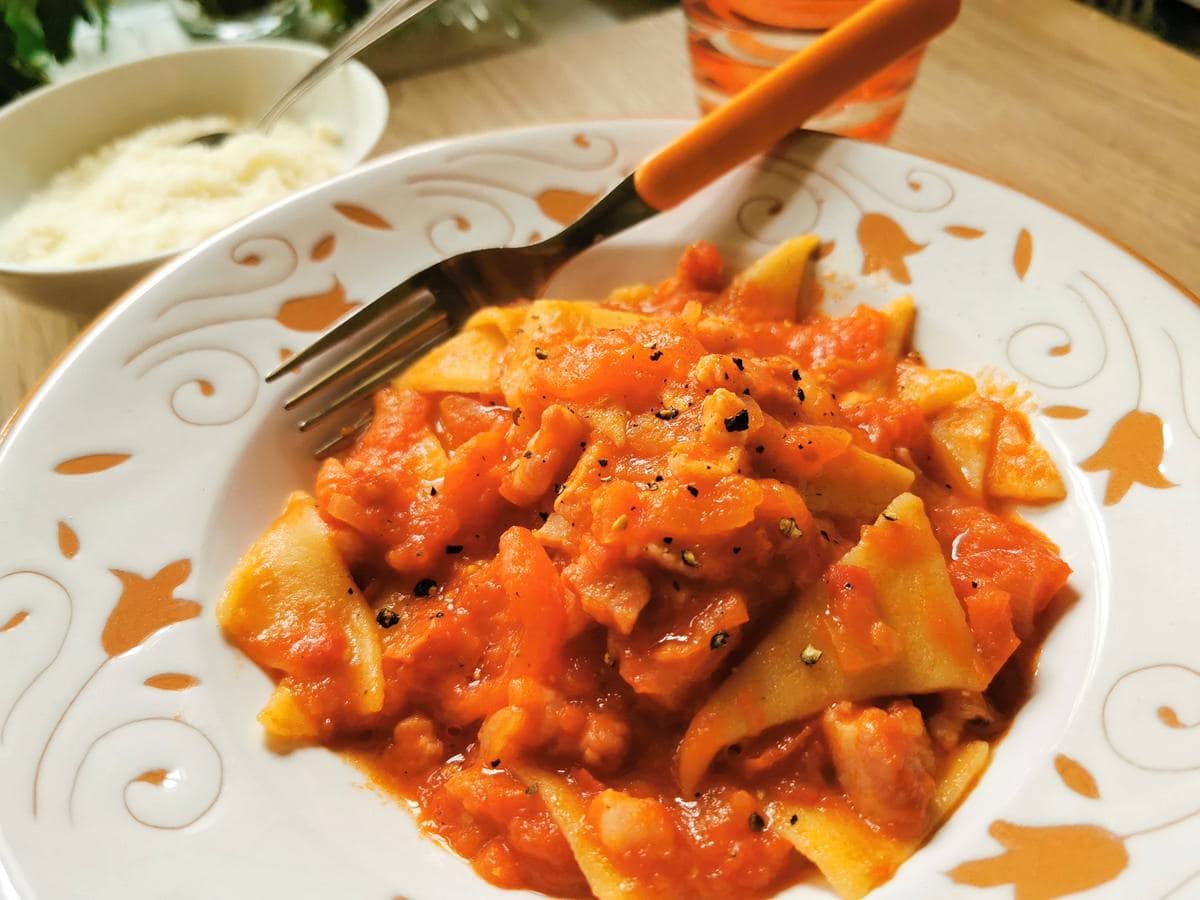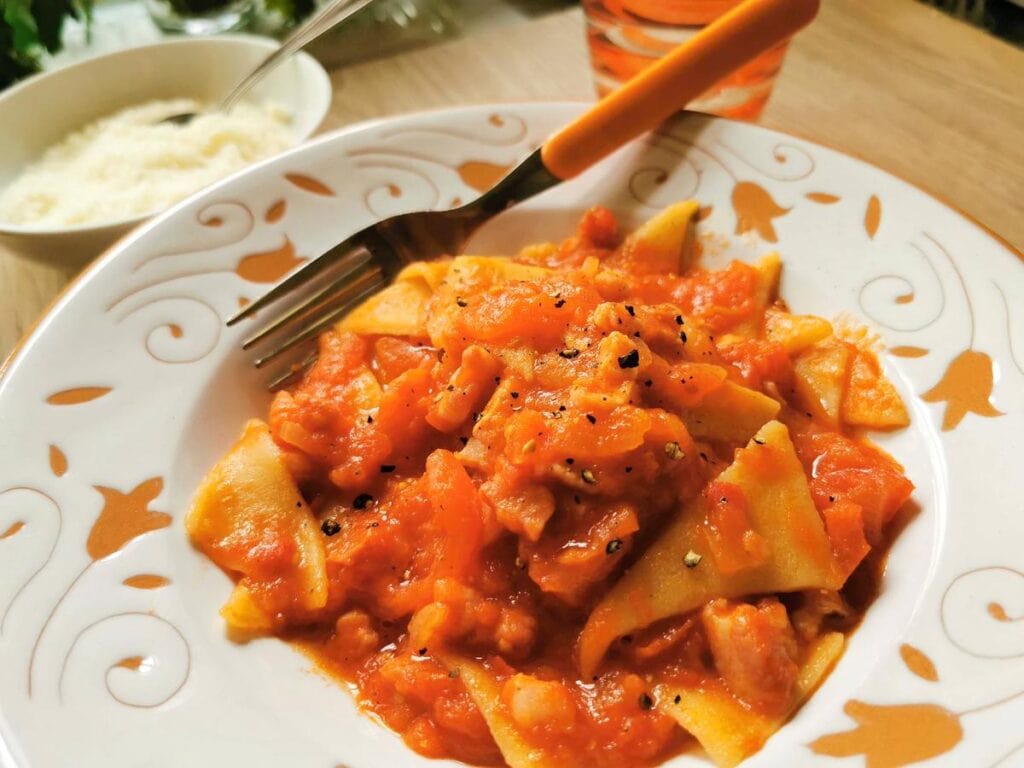 As an umbrella term, one could call patallette a type of maltagliati. The word maltagliati mean 'badly cut' and often refers to pasta Italians make from dough leftover after making other types of pasta. These types of maltagliati are usually a collection of irregular shapes. However, you can find these rustic short flat pieces of pasta in a number of Italian regions, where they make them all more or less the same shape. So, they can be square, rectangular, rhomboid or triangular like this corn and wheat flour pasta from Abruzzo.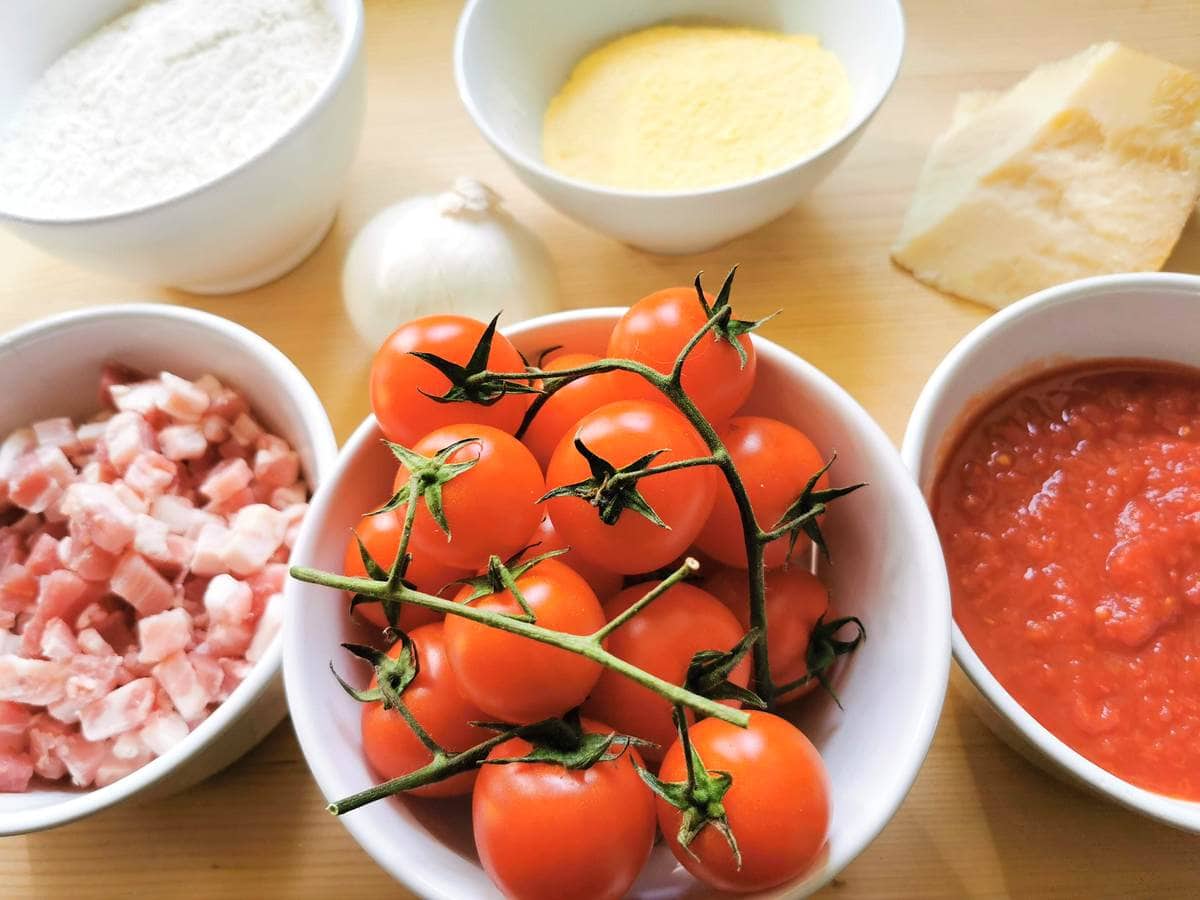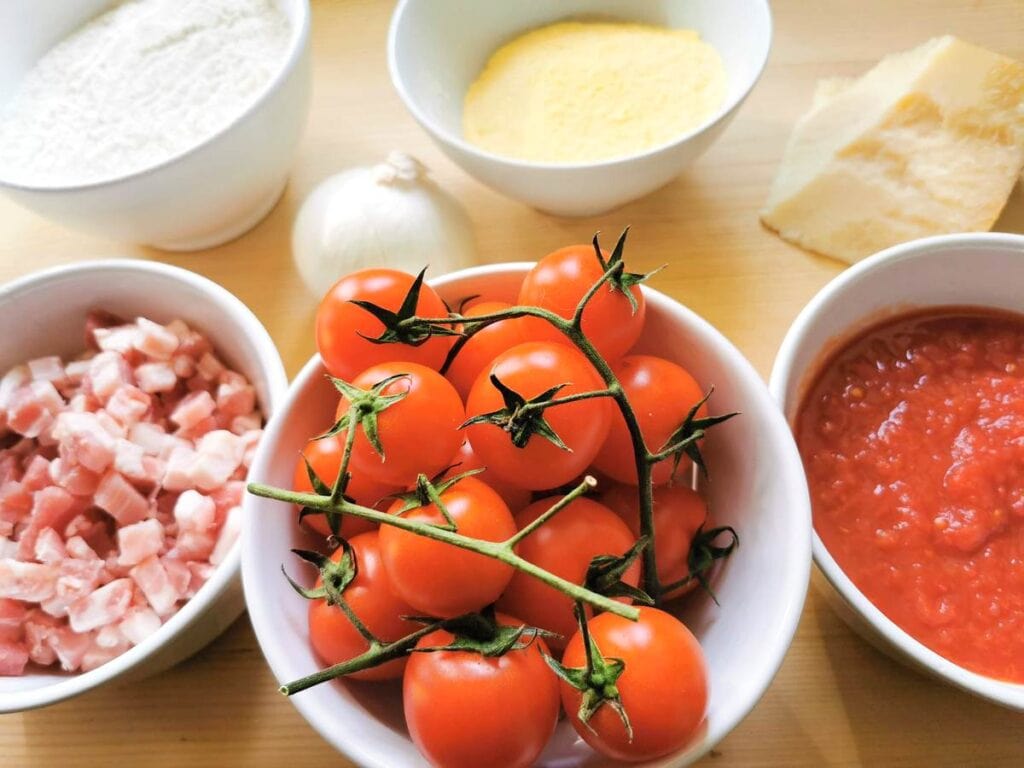 Originally, all types of maltagliati were homemade and most typically eaten in some type of broth. Today, a number of pasta companies make dried maltagliati. Needless to say, this pasta is usually uniform in shape. However, I really think making it oneself is better. It's also quite easy. I'm sure you'll agree if you try this corn and wheat flour maltagliati recipe.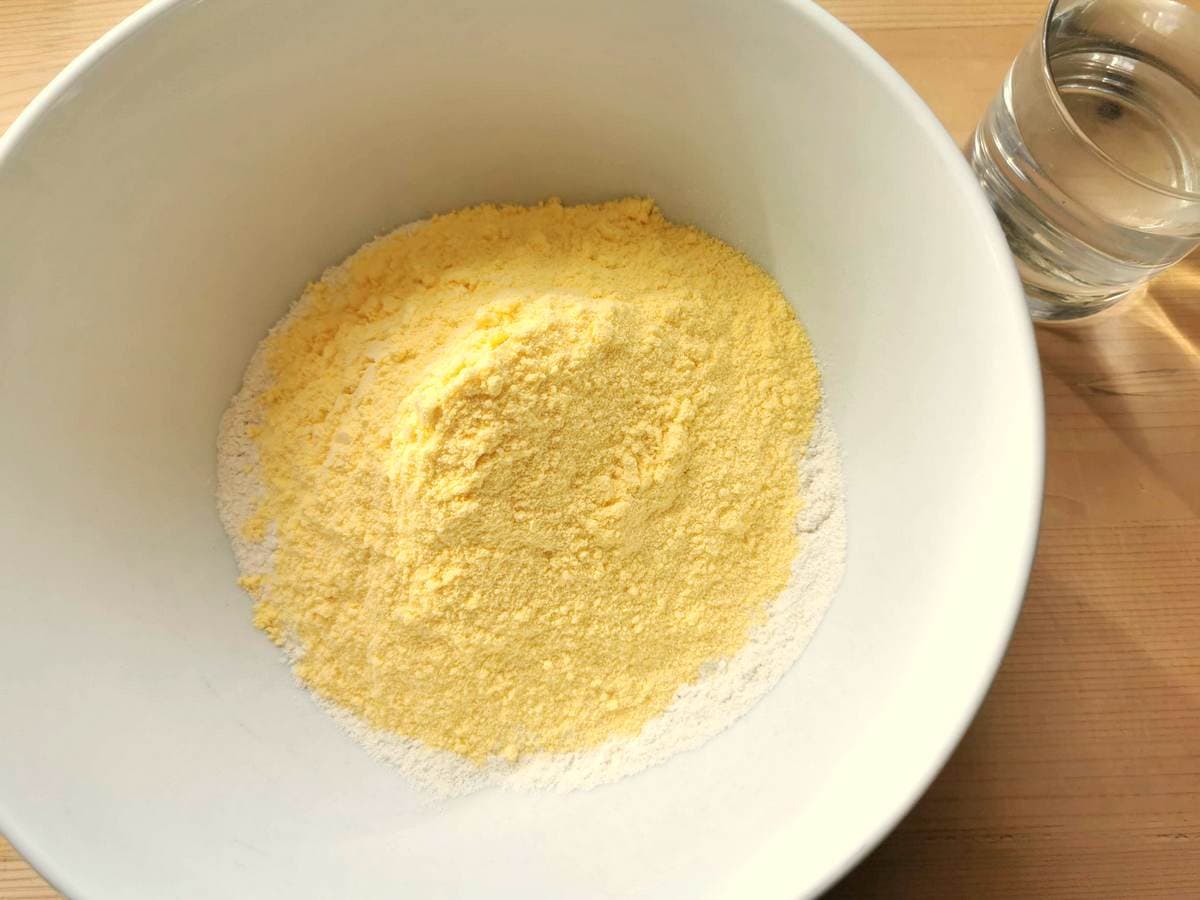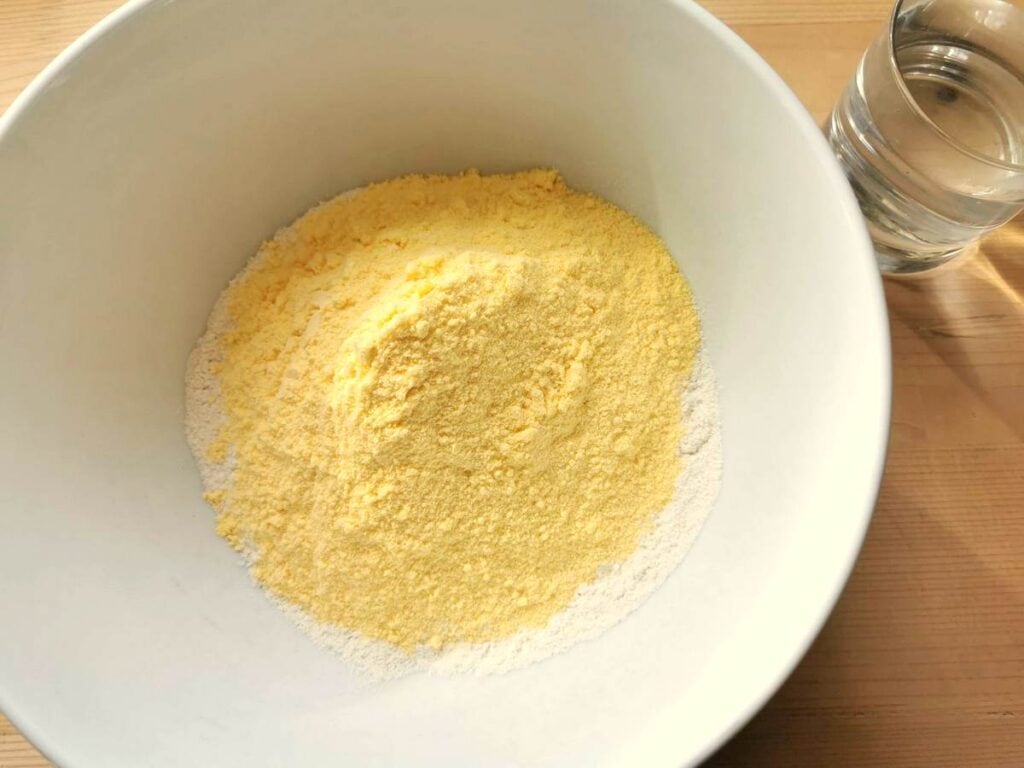 Other types of traditional corn and wheat flour pasta.
Patellette is not the only type of Italian pasta with corn flour. In Abruzzo, they also make tiny gnocchi called gnocchetti or ciccierchie with a combination of corn and wheat flour. In a part of Piemonte, there's a type of tagliolini that has corn flour in the dough. This pasta is called tajarin di meliga or di granoturco.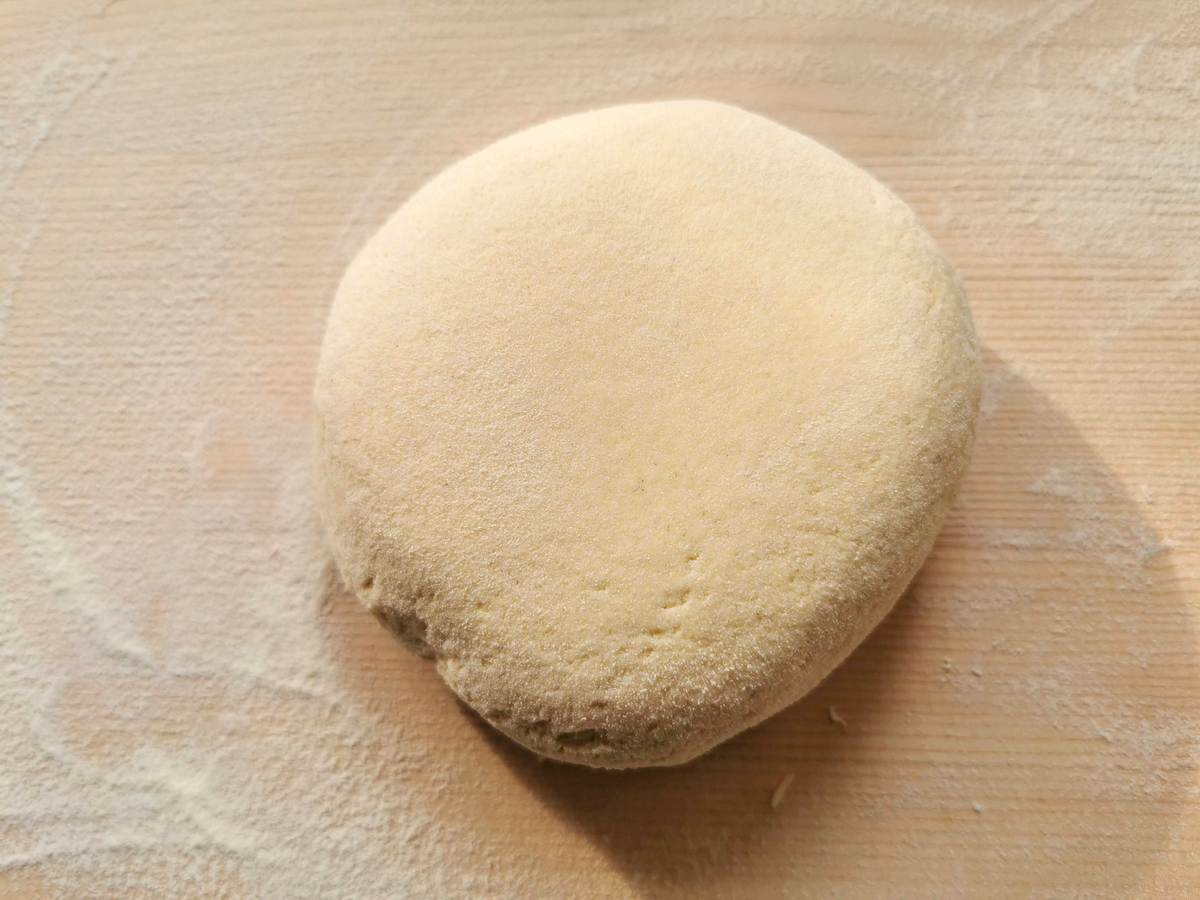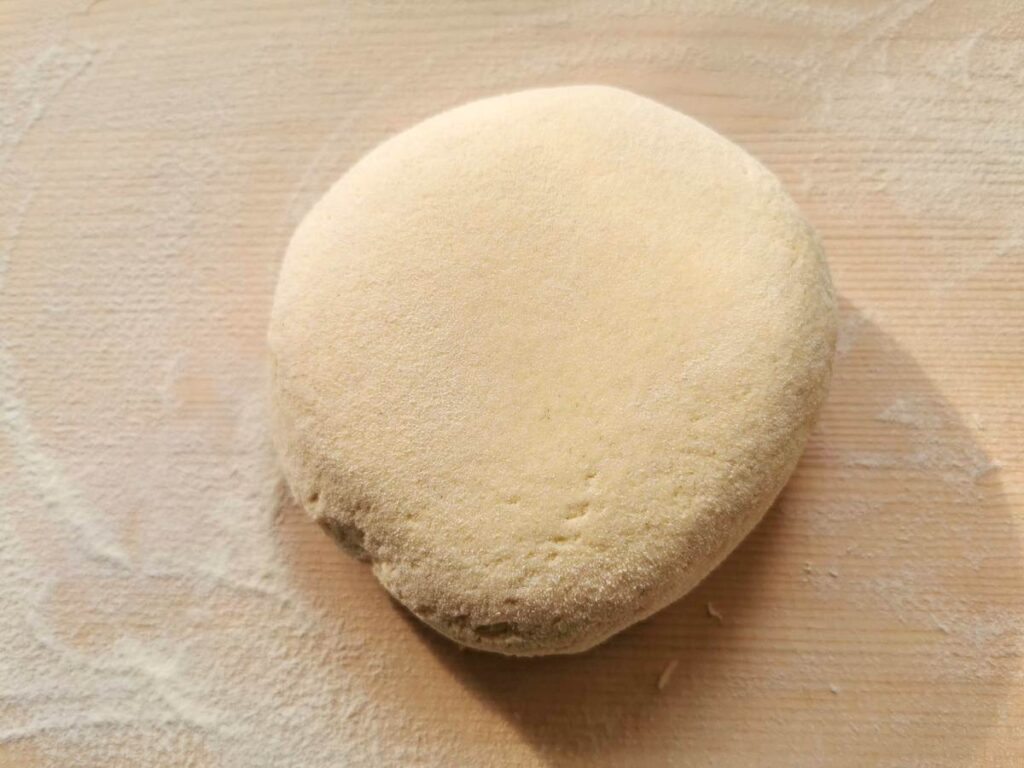 Pizzarelle are shortish narrow flat corn flour pasta noodles from Subiaco, Lazio. They used to make them with water but nowadays they use eggs. In Le Marche, they have a very similar pasta to patellette, known locally as crestaiate, cristaiate or cresc' tajat in the local dialect. The latter is cut into rhomboids. Interestingly, it was originally made with leftover cooked polenta but nowadays they make it with polenta flour.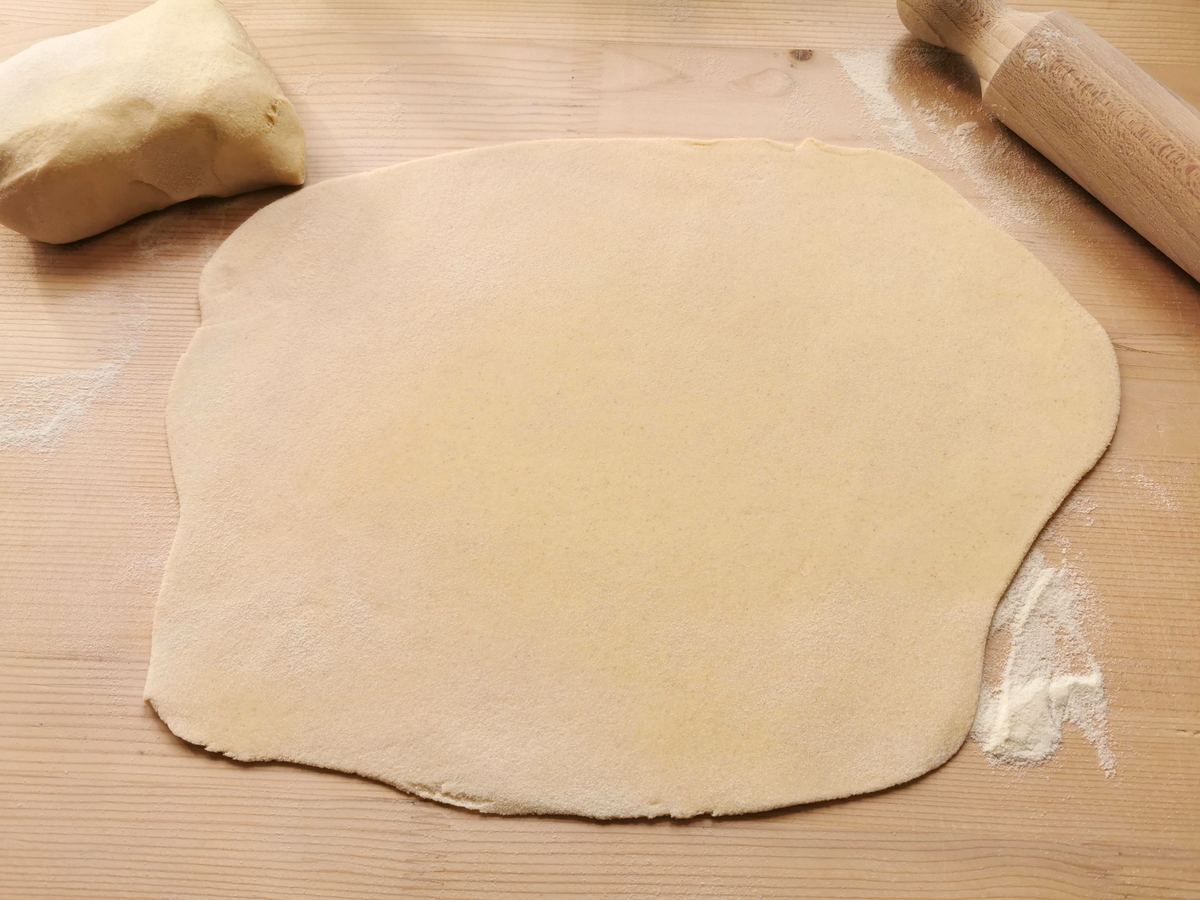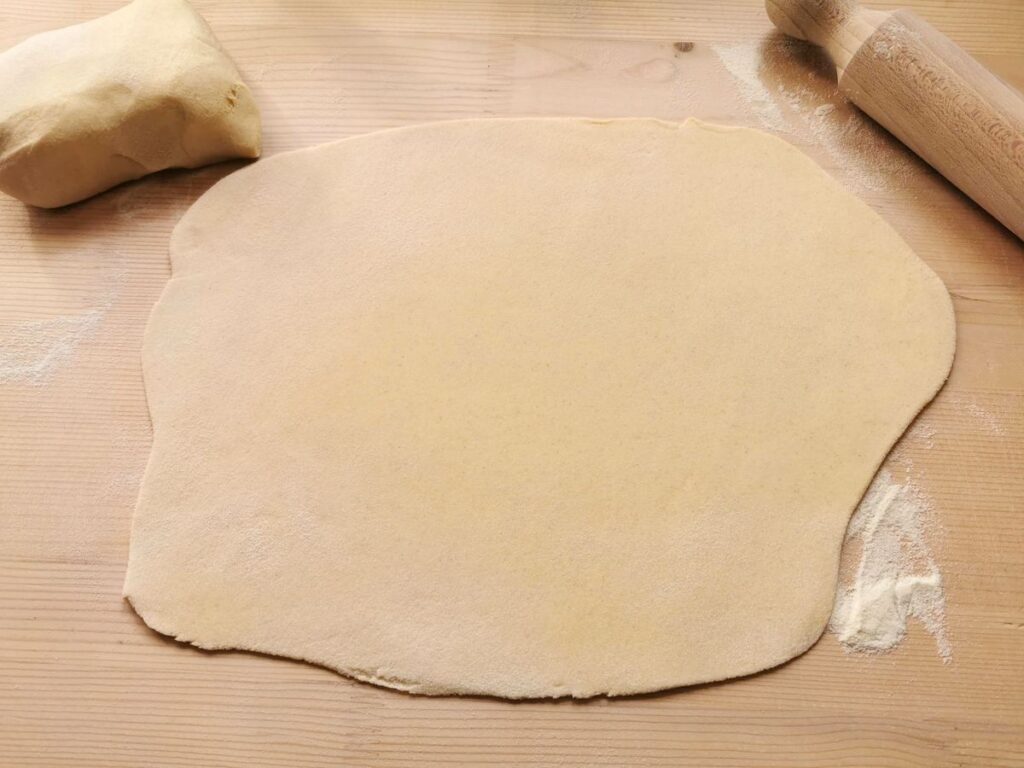 What's the difference between corn flour and polenta?
The difference between the corn flour I used to make this triangular maltagliati and polenta can be confusing. In fact, many Italians themselves are unsure of the difference between the two. In short, normal Italian corn flour is produced using fine, medium or coarse ground corn kernels. Blue, yellow, or white corn can be used to make corn flour, while polenta or polenta flour is made predominantly with yellow corn kernels that are medium or coarsely ground.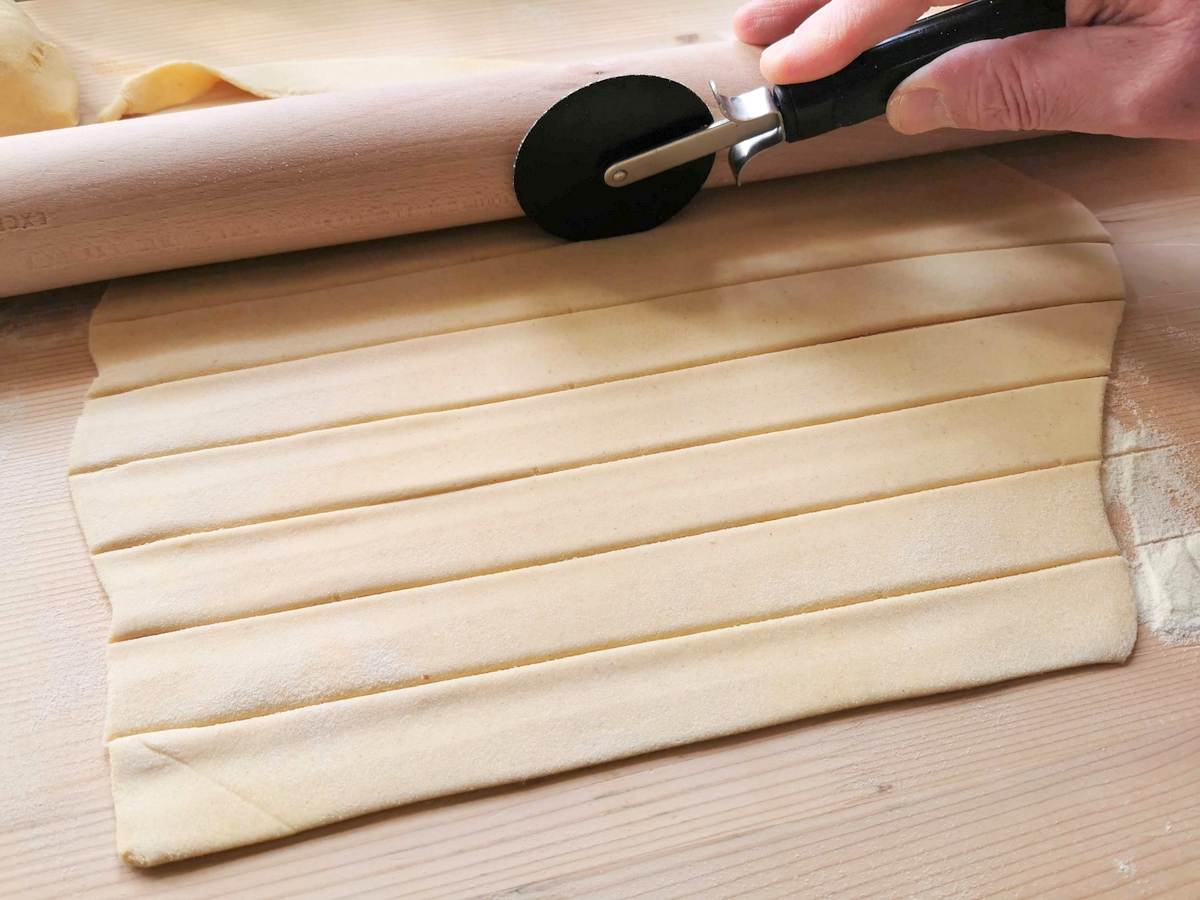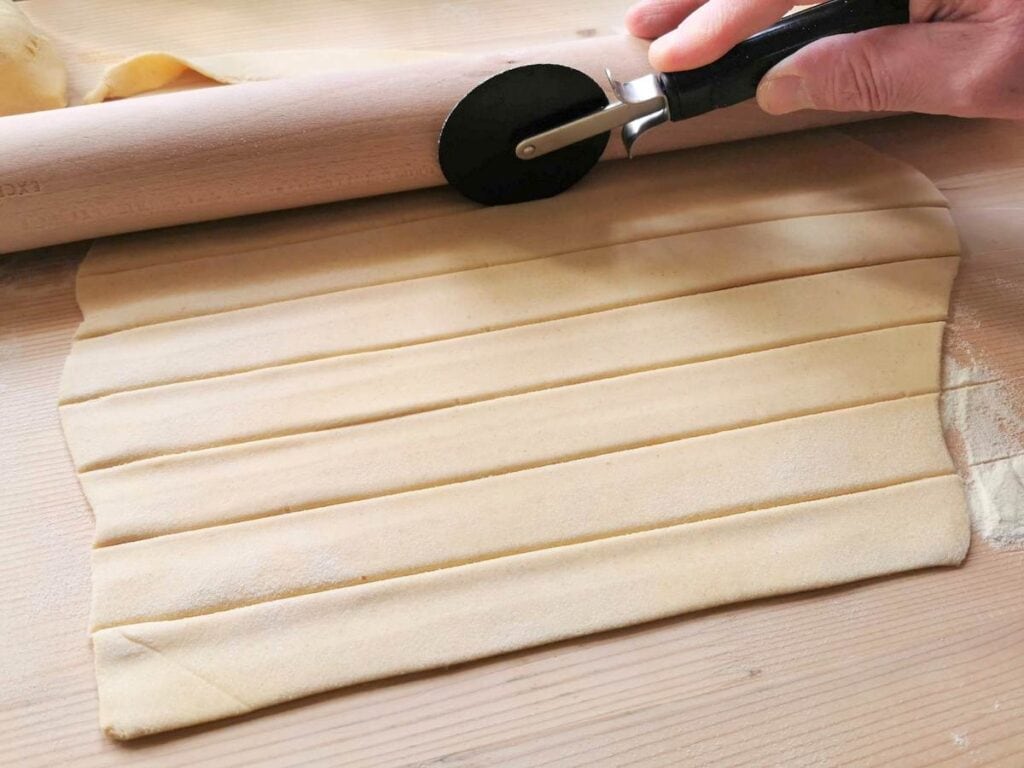 Some Italians say that polenta is a dish not an ingredient. Others say it is both and some brands label yellow cornflour as polenta. But, obviously, that cornflour is made from yellow corn and isn't finely ground. Fine corn flour doesn't work for polenta. The result is too doughy! However, when it comes to pasta, you can probably use either.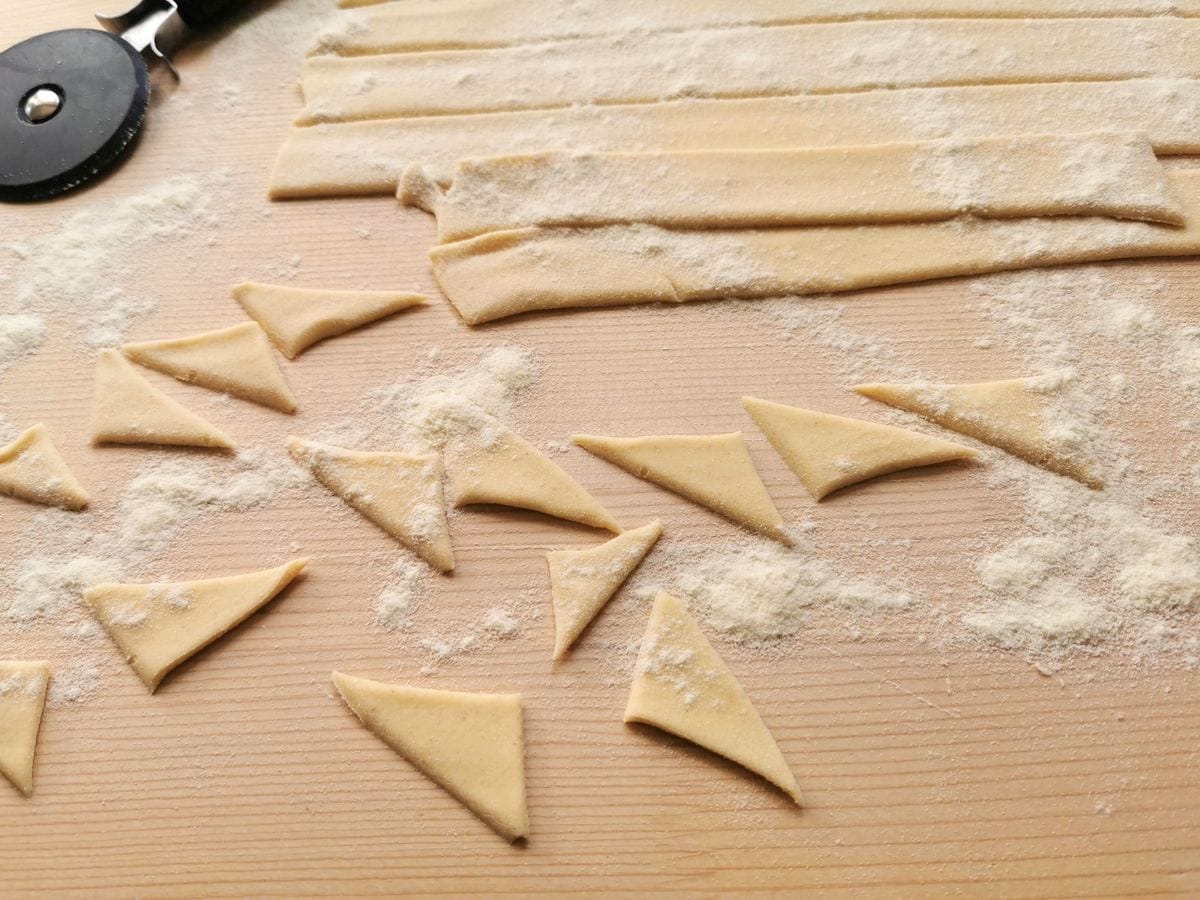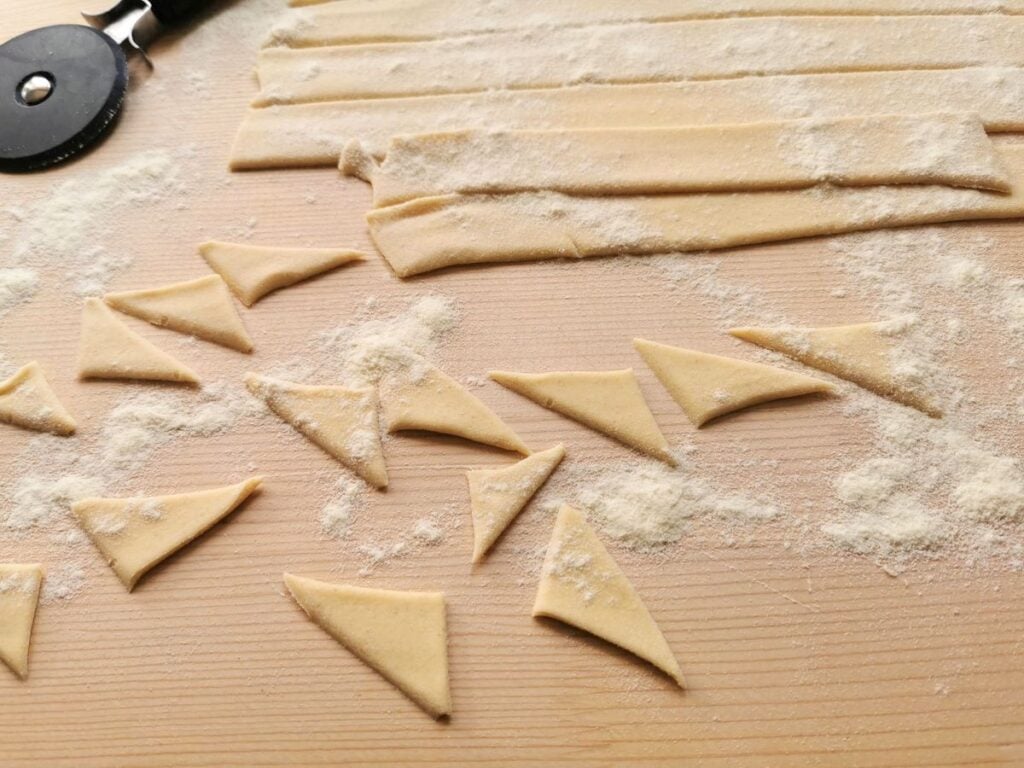 Can this pasta be made gluten free?
Although corn flour is gluten free, obviously the wheat flour in this recipe means that this triangular maltagliati pasta is not. In fact, traditional Italian corn flour pastas are nearly all made with wheat flour too. You could make this pasta gluten free by replacing the wheat flour with another gluten free flour and adding xanthan gum or replacing it with a gluten free flour mix that already contains xanthan gum.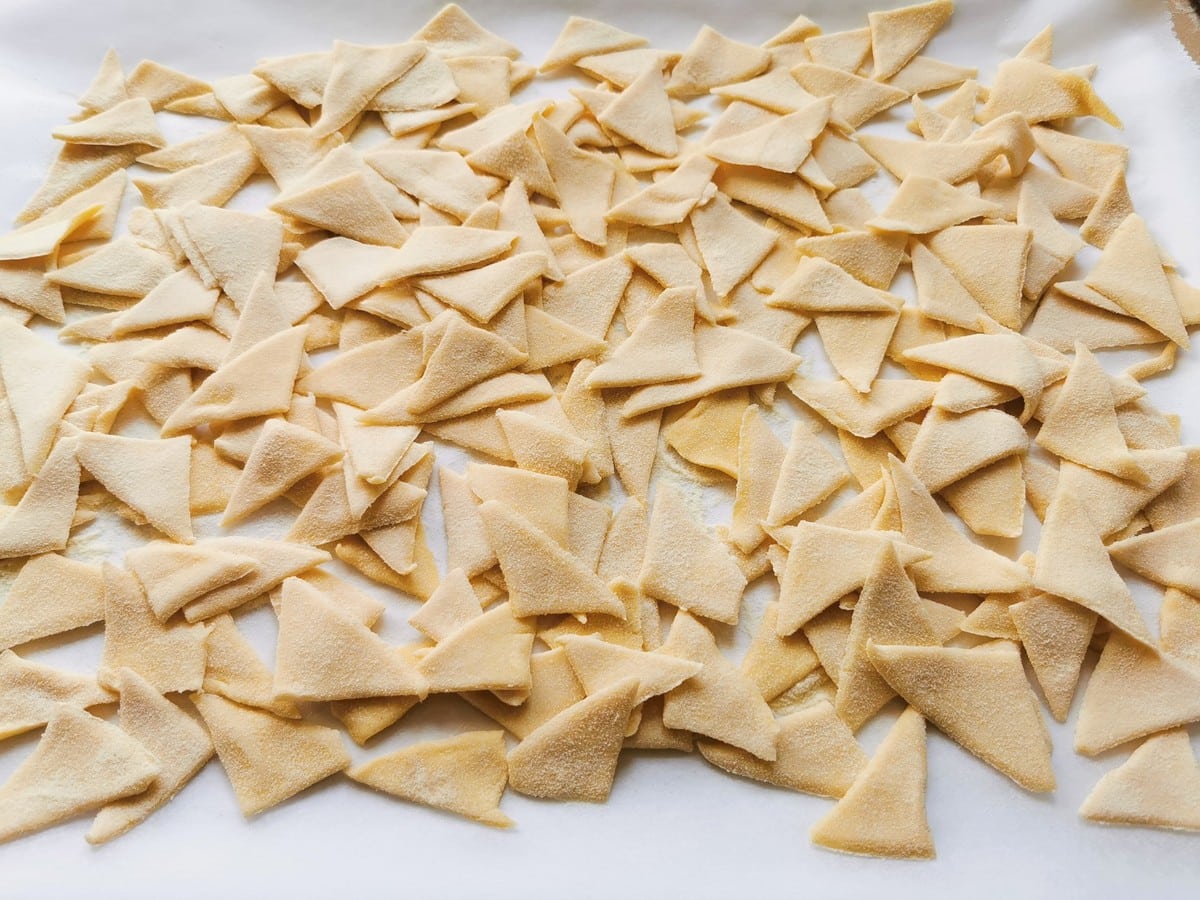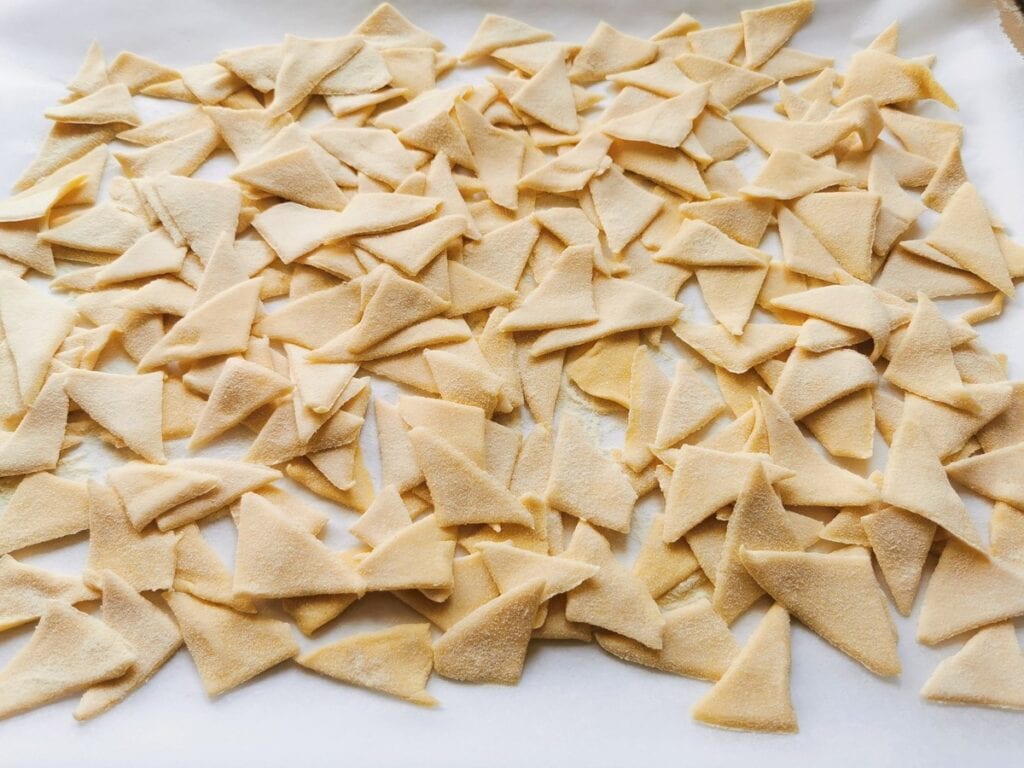 Making the sauce for this triangular maltagliati pasta.
Like other similar types of pasta, homemade corn and wheat flour maltagliati is usually served in a very liquid sauce or broth and eaten with a spoon. The traditional sauce is quite simple but full of flavour. It has pancetta or guanciale, onions, tomatoes and optionally, peperoncino (red chilli pepper) for a bit of a kick. In Abruzzo, they serve it with a generous sprinkling of pecorino. You can also use parmigiano or leave the cheese out for a dairy-free version.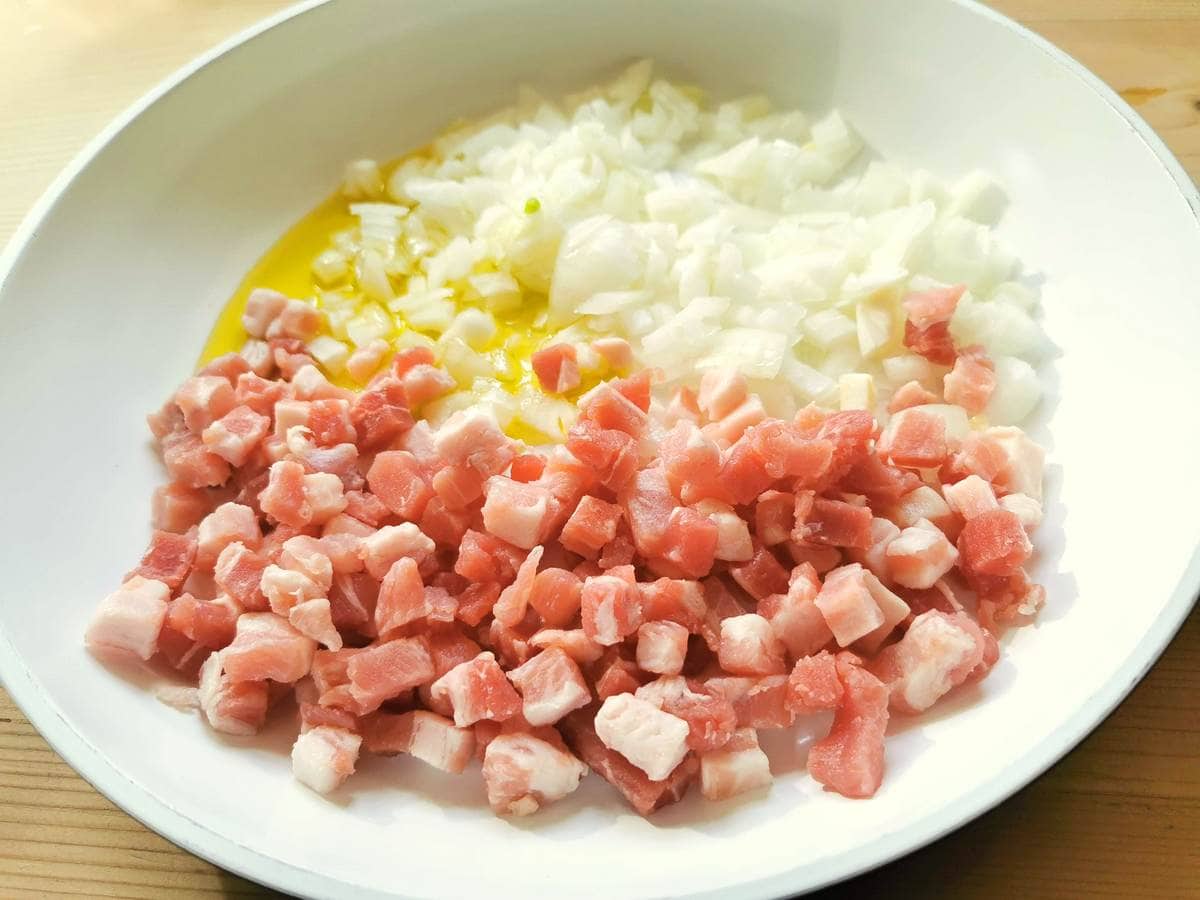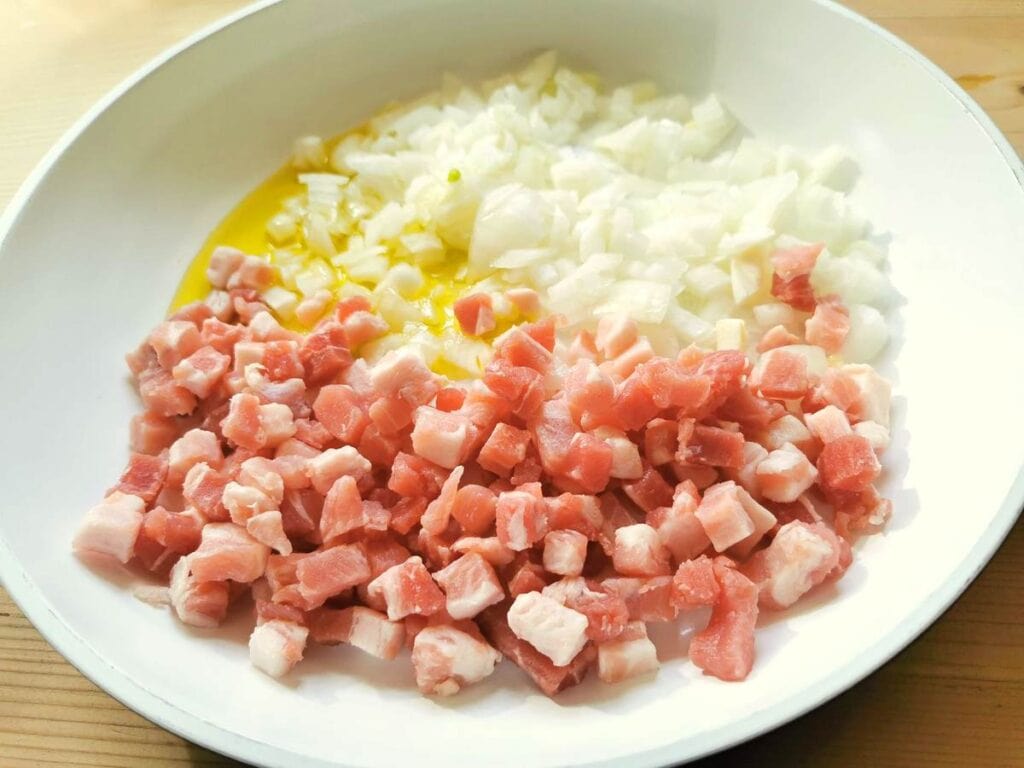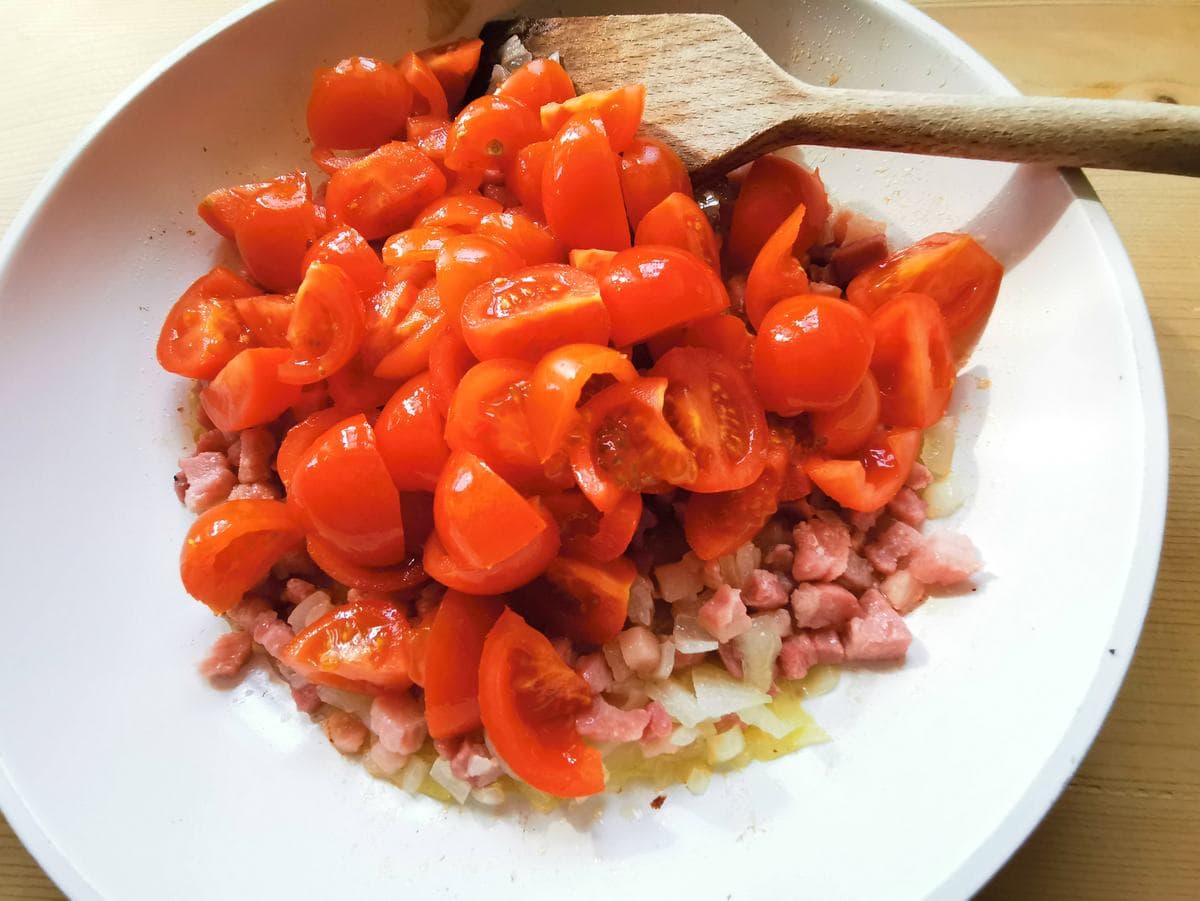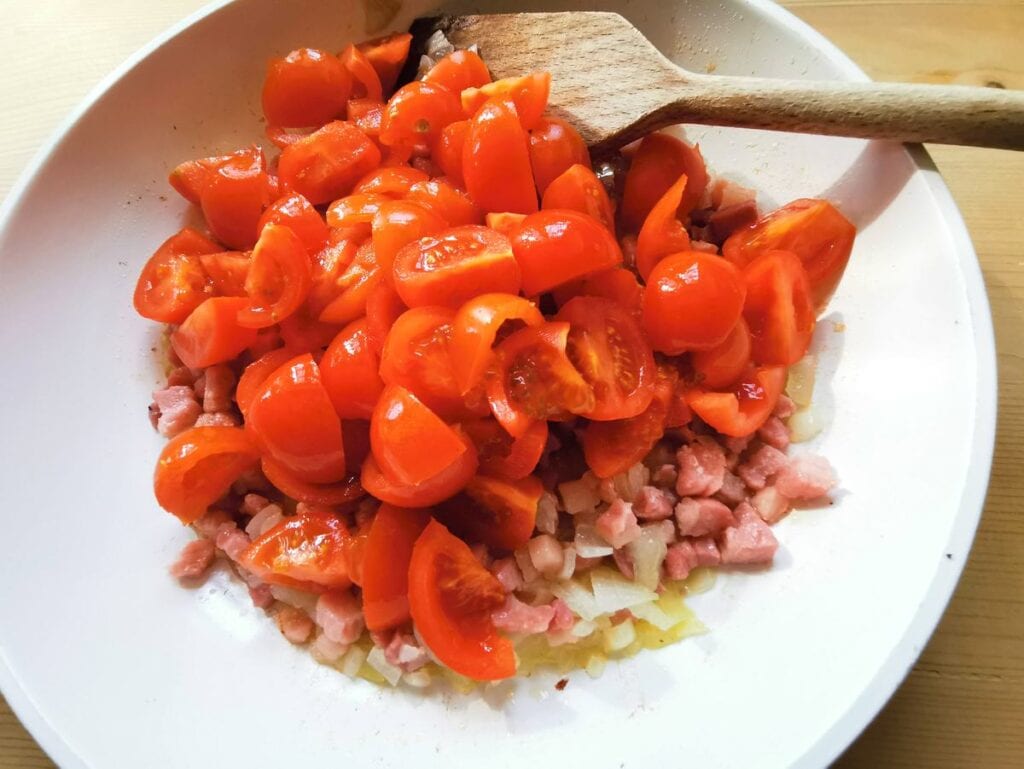 This sauce is pretty easy to make and doesn't take long. In fact, traditionally it is supposed to be quite liquid. So, you can make it while you boil the water for the pasta. For a vegetarian version, just leave out the pancetta and use a vegetarian cheese. Both Italian pecorino and Parmigiano are made with animal rennet, so are not suitable for strict vegetarians.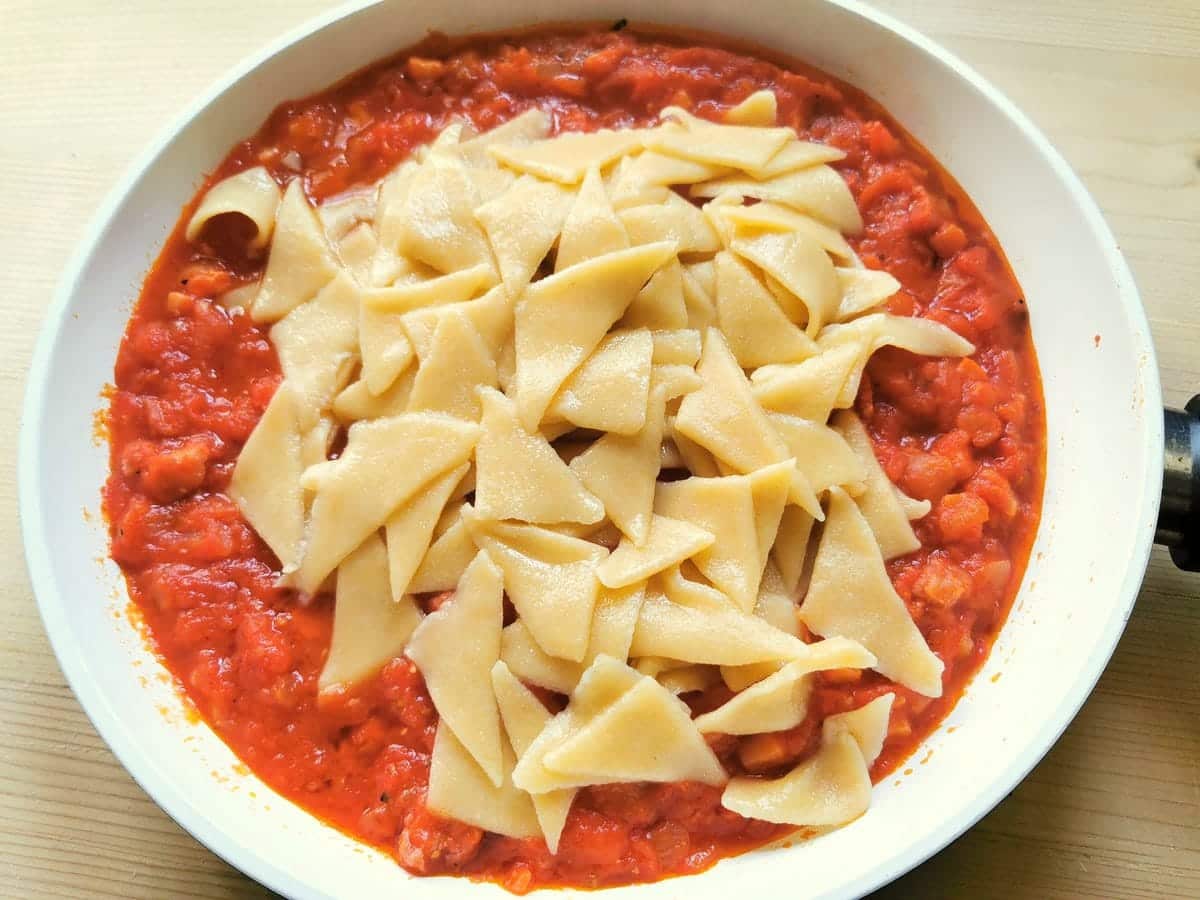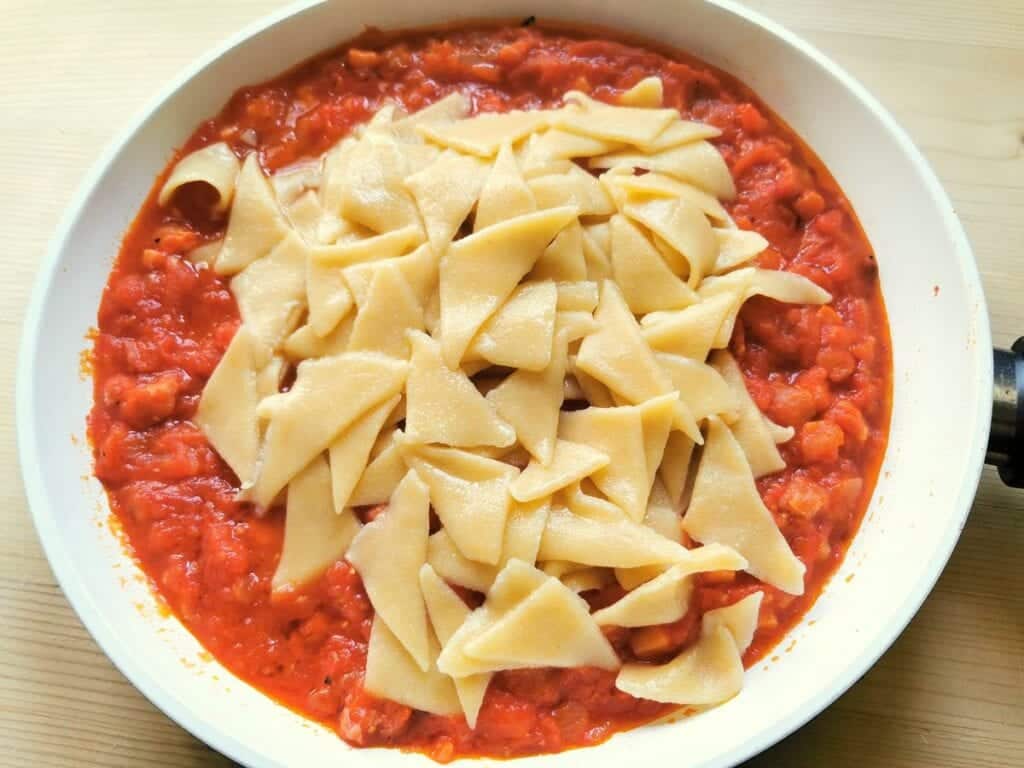 Let me know if you try this patellette from Abruzzo!
As I mentioned above, patellette is definitely a homemade pasta worth making. However, it's not available dried so the only way to try it, is to make it yourself. Luckily, it's pretty easy to do. So full of authentic Italian flavours, this is real traditional Italian food that was made by past generations who lived off the land and cooked with simple, staple ingredients they usually grew or produced themselves.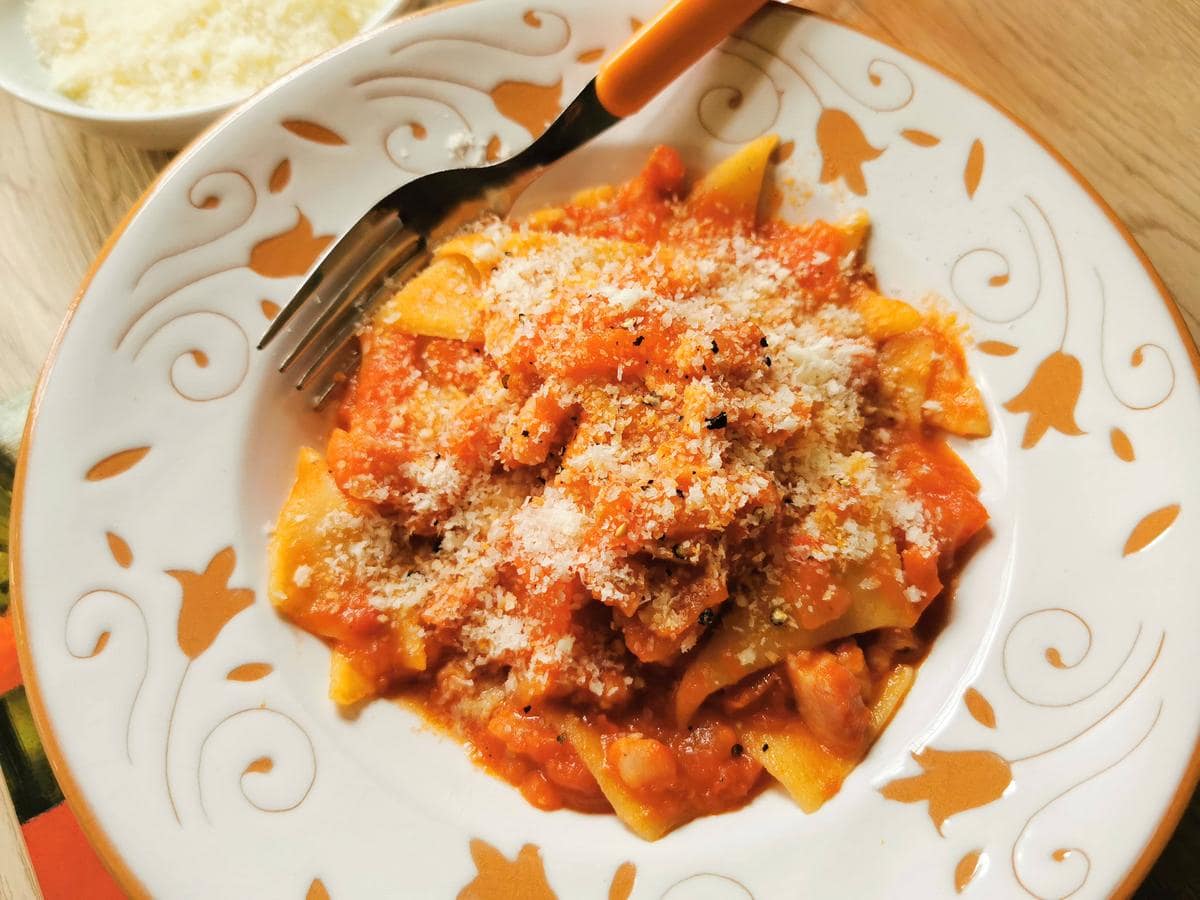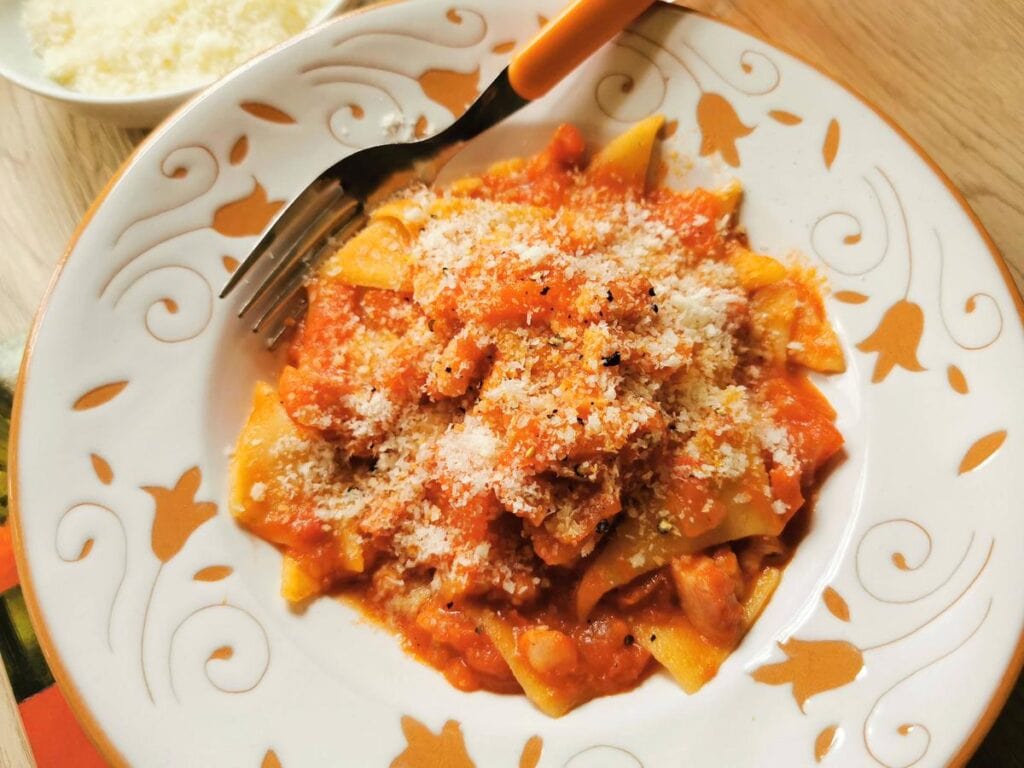 If you do try this homemade corn and wheat flour pasta recipe, I'd love to hear what you think. Please write a comment here on the blog or post a comment on the Pasta Project Facebook page.
Your feedback means a lot to me!
Buon Appetito!
SAVE THIS RECIPE FOR LATER?
If you want to save this recipe for later, you can print it, bookmark this page or save it to Pinterest.
PIN FOR LATER.
Want to know more about my life in Italy? Why not subscribe to my newsletter? New subscribers get a free series of recipe e-books too!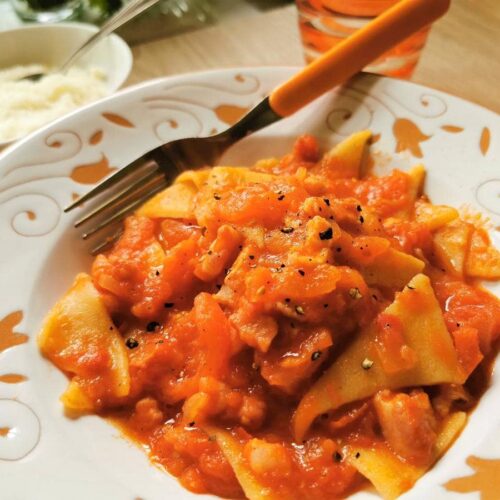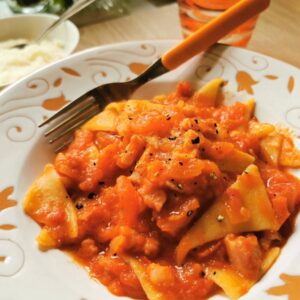 Homemade corn and wheat flour pasta triangles with pancetta. Recipe from Abruzzo
Known as patellette, this homemade corn and wheat flour triangular pasta is traditionally served in a delicious brothy tomato and pancetta sauce but actually goes well with many other sauces, including seafood. Easy to make and full of authentic Italian flavour #maltagliati #patellette #homemadepasta #thepastaproject
Ingredients
For the pasta dough
300

g

wheat flour

(10.5 oz) you can use Italian '0', '00' or all-purpose flour

150

g

fine corn flour

(5.3oz) not cornmeal for grits

250

ml

tepid water

(8.5floz)

1

pinch

salt
For the sauce
300

g

pancetta

(10.5oz) cut into small cubes or guanciale

500

g

sauce tomatoes

(1.1lbs) or half cherry tomatoes and half passata (tomato puree) or pulp.

1

onion

peeled and chopped

1/2

fresh peperoncino

(optional) or red chilli flakes as required

2-3

tbsp

extra virgin olive oil.

salt

for pasta and to taste

freshly ground black pepper.

to taste

grated pecorino cheese

as required
Instructions
Make the pasta
Mix the flours, then sift them together into a mound on to a pastry board, make a well in the middle and pour about 250 ml of water into the centre, add a pinch of salt. Mix the flour and water together until you have a dough. Work the dough until no dry flour remains. Then knead until smooth and elastic. About 5-10 minutes. Roll the dough into a ball and cover with plastic wrap or a teatowel. Let it rest for about 15-30 minutes. (Some people don't do this with flour and water dough, but I like to).

I sometimes start the dough in my kitchen aid or even just in a bowl and then turn it out onto a pastry board and finish kneading by hand.

After the dough has rested, cut off 1/3 and with a rolling pin roll it out into a sheet. It doesn't need to be very thin. Cut the sheet into 5 cm wide strips. Either one strip at a time or after putting 4-5 strips on top of each other cut the strips obliquely into triangles (patellette). Spread them out on a lightly floured surface to dry a little. Repeat with the rest of the dough.
Make the pancetta and tomato sauce
Peel and finely chop the onion, dice the pancetta and if using fresh sauce tomatoes blanch, peel and chop them. I like to use fresh cherry tomatoes and pulp or passata(tomato puree) together. I don't peel cherry tomatoes. Remove the seeds from the red chilli pepper (peperoncino) if using and finely chop that too!

Heat the olive oil in a large pan, add the onion and pancetta and sauté until the pancetta has just started to brown. Add the cherry tomatoes (if using) and let them soften slightly, then add the passata/ pulp or canned tomatoes. Cook briefly because the sauce should be quite liquid. Add salt and pepper to taste.
Cook the pasta, finish and serve
Puta pot of water on to boil for the pasta. Add salt once it starts to boil and bring to the boil again. Cook the pasta for a few minutes in the boiling salted water. You will need to test taste before draining as cooking time will depend on the thickness of your pasta. Probably around 5 minutes. Save a cup of the pasta cooking water and drain the pasta.

Add the patellette to the sauce and mix carefully. The sauce should be quite brothy so if it seems dry add some of the saved pasta cooking water! Serve immediately with a generous helping of grated pecorino and some red chilli pepper if using.
Other homemade pasta to try!
If you are interested in learning how to make other homemade pasta and different types of gnocchi, check out my shop page for some great video online courses from my friends in Rome! Nothing beats learning to make pasta from Italians! Plus while you're there why not order a copy of my autumn/winter pasta recipes cookbook!?