Ricotta ravioli with saffron and lemon from Sardinia.
These delicious, aromatic ravioli are filled with sheep ricotta, saffron and lemon zest. Compared to many homemade ravioli recipes, this one from Sardinia is quite simple to make. Known as cruxionis de arrascottu in the local dialect, Sardinian ricotta ravioli are traditional at Christmas and on other holidays!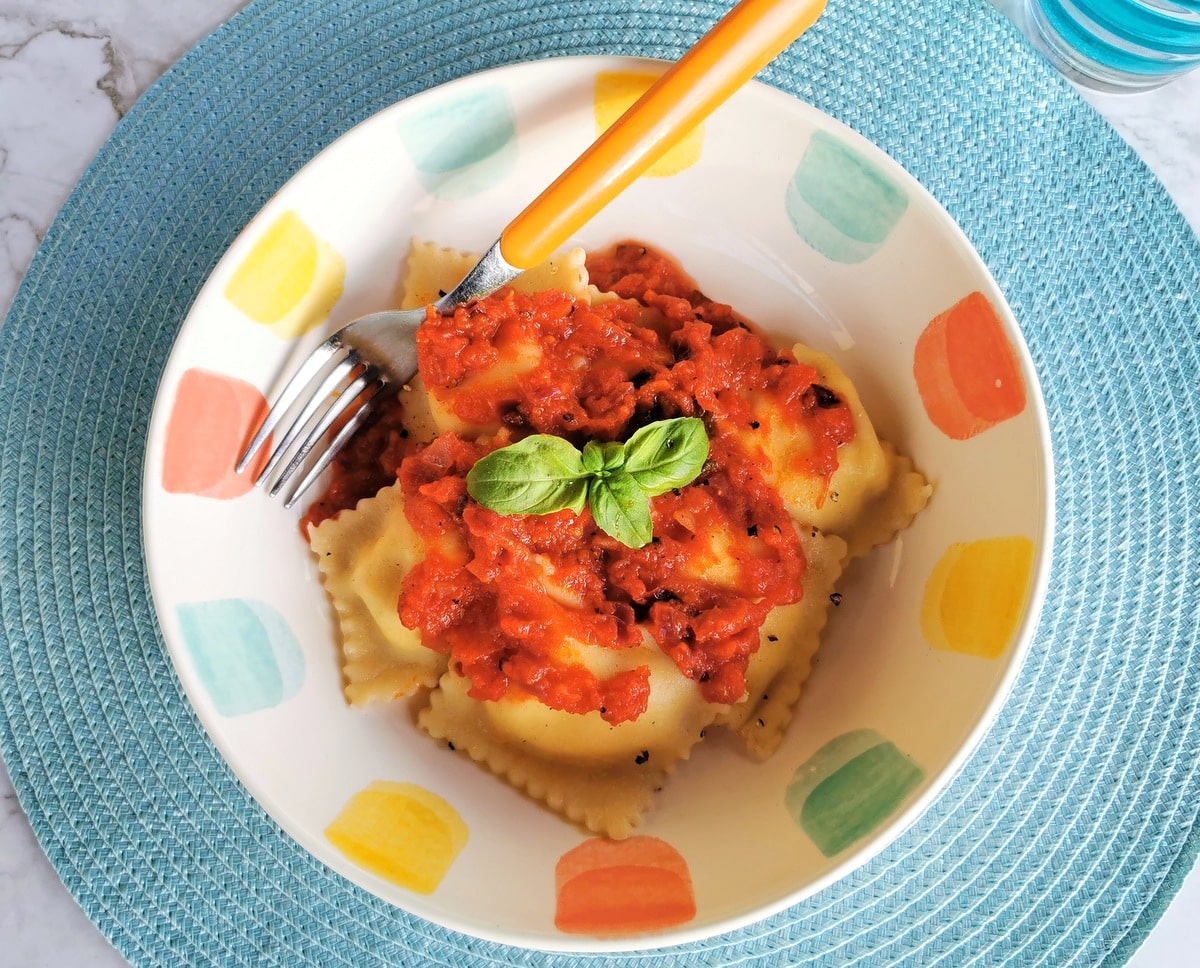 Different types of ravioli.
You can find local types of ravioli all over Italy, particularly in the north and centre of the country. However, they are not always called ravioli and they're not all square. In some regions, ravioli can be round or semi-circular (mezzelune meaning half-moons). Although some half-moon ravioli has other names depending on where it is traditional, for example cjarsons from Friuli and casunziei in the Dolomites.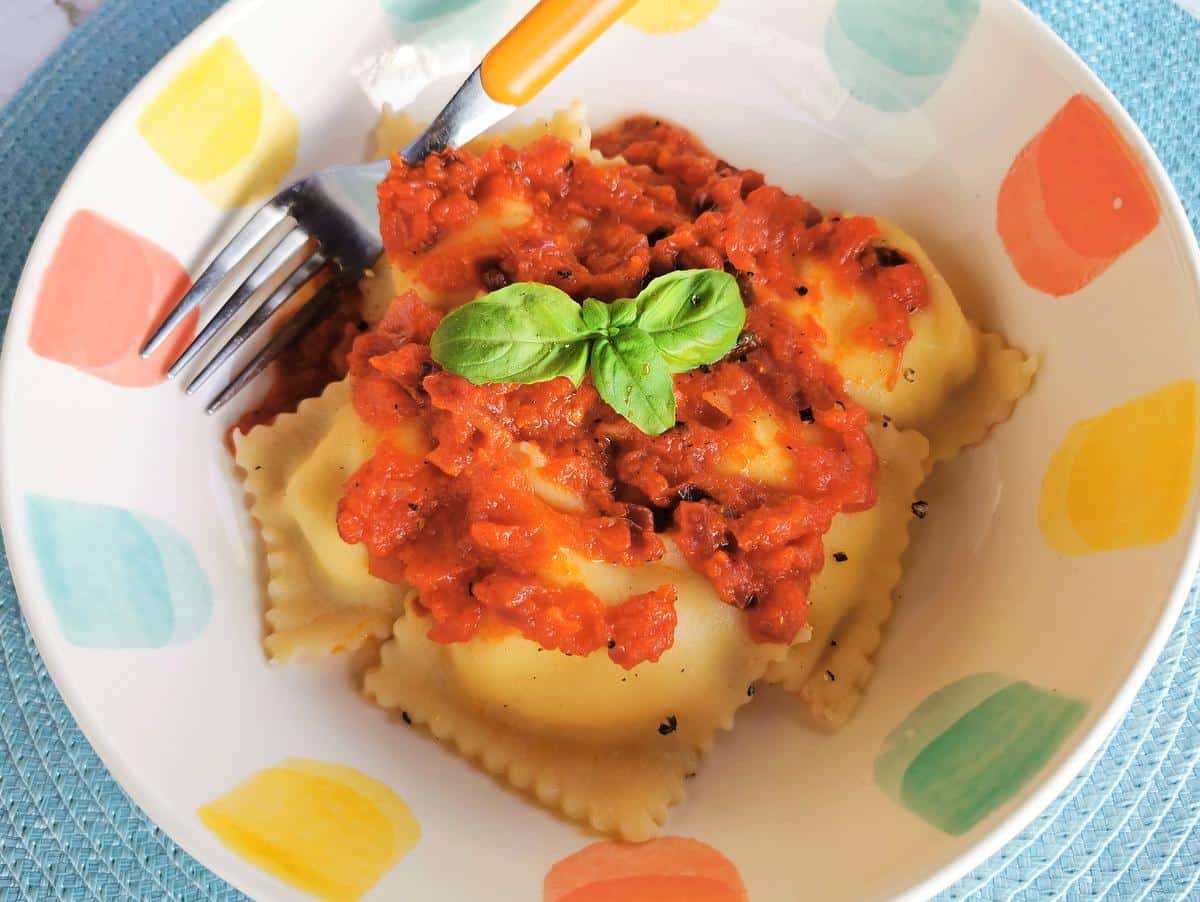 Even some types of square ravioli are called something else, like agnolotti pavesi from Pavia and agnolotti piemontese from Piemonte! Then there's rectangular ravioli often called tortelli. Although tortelli can be square too! Confusing right?
Well, Italians have been making ravioli type filled pasta for hundreds of years from well before Italy was one country. So, I guess, it's understandable how each region developed its own particular types of filled pasta and named them using words from the local dialect. Read more in my ravioli and tortelli post!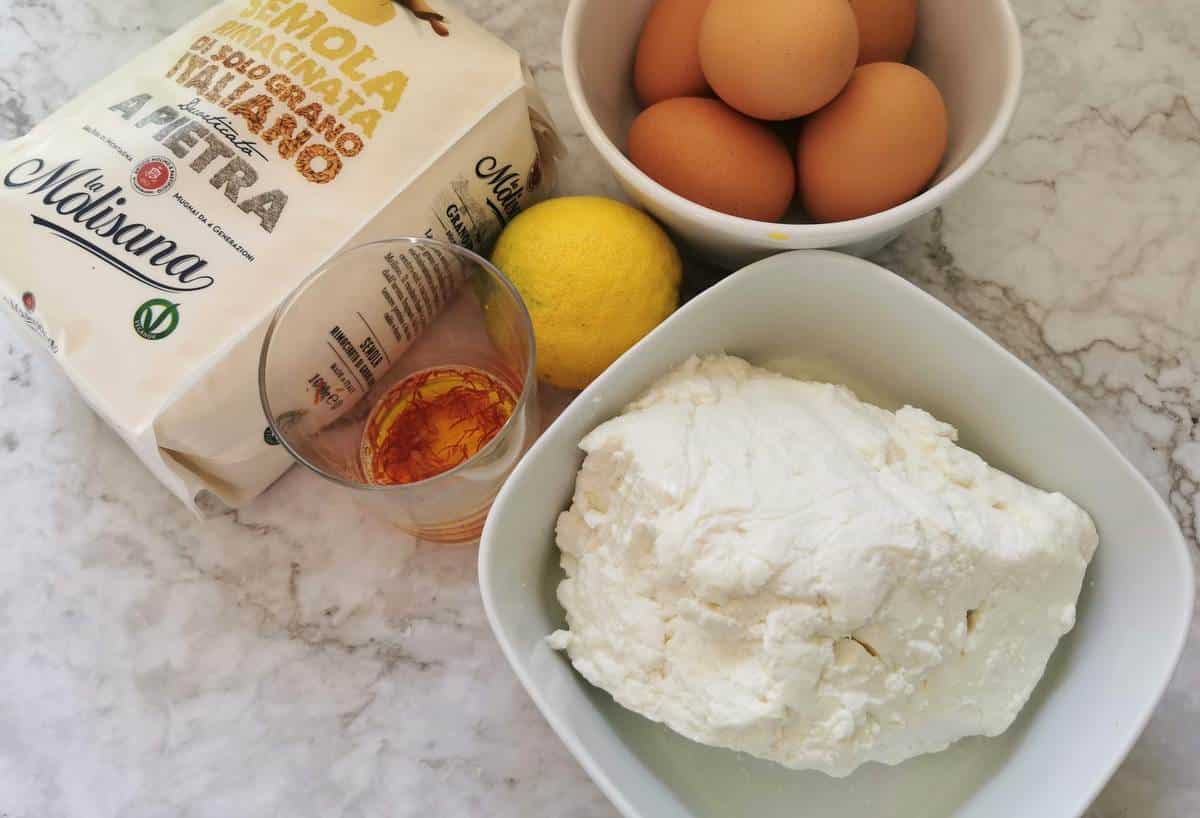 Ravioli in Sardinia.
As in other regions, Sardinia, has local types of filled pasta, like these ricotta ravioli with saffron and lemon. Another well-known Sardinian ravioli is 'culurgiones ogliastrini', also called just culurgionis. That ravioli is more complicated to make as the dough is pleated to form a rather unique shape. On my to make list!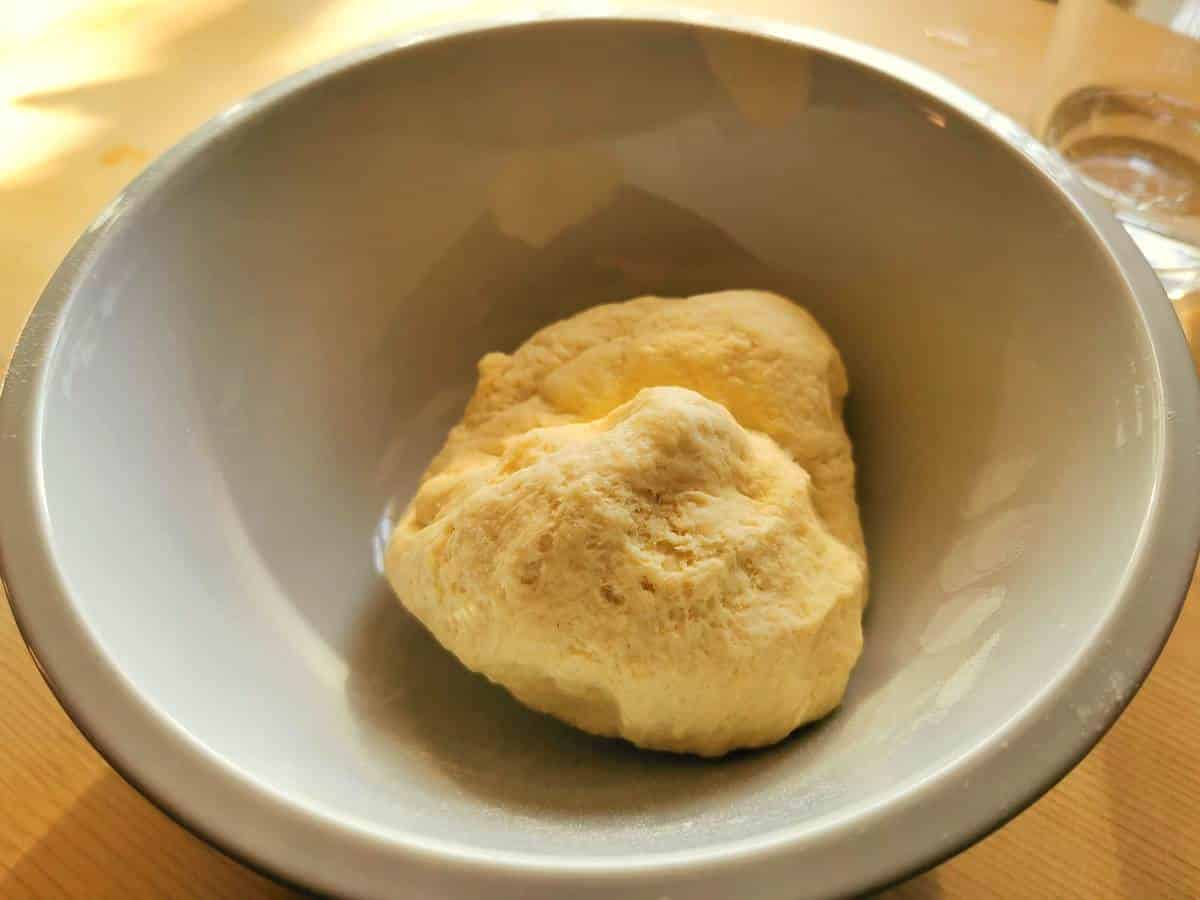 The other thing that makes Sardinian ravioli unique is that it isn't traditionally made with soft wheat flour and eggs. Sardinians make their ravioli with durum wheat semolina flour, a little olive oil and water. At least, that's the old way. Nowadays, some people add eggs or egg yolks to the pasta dough. But I didn't.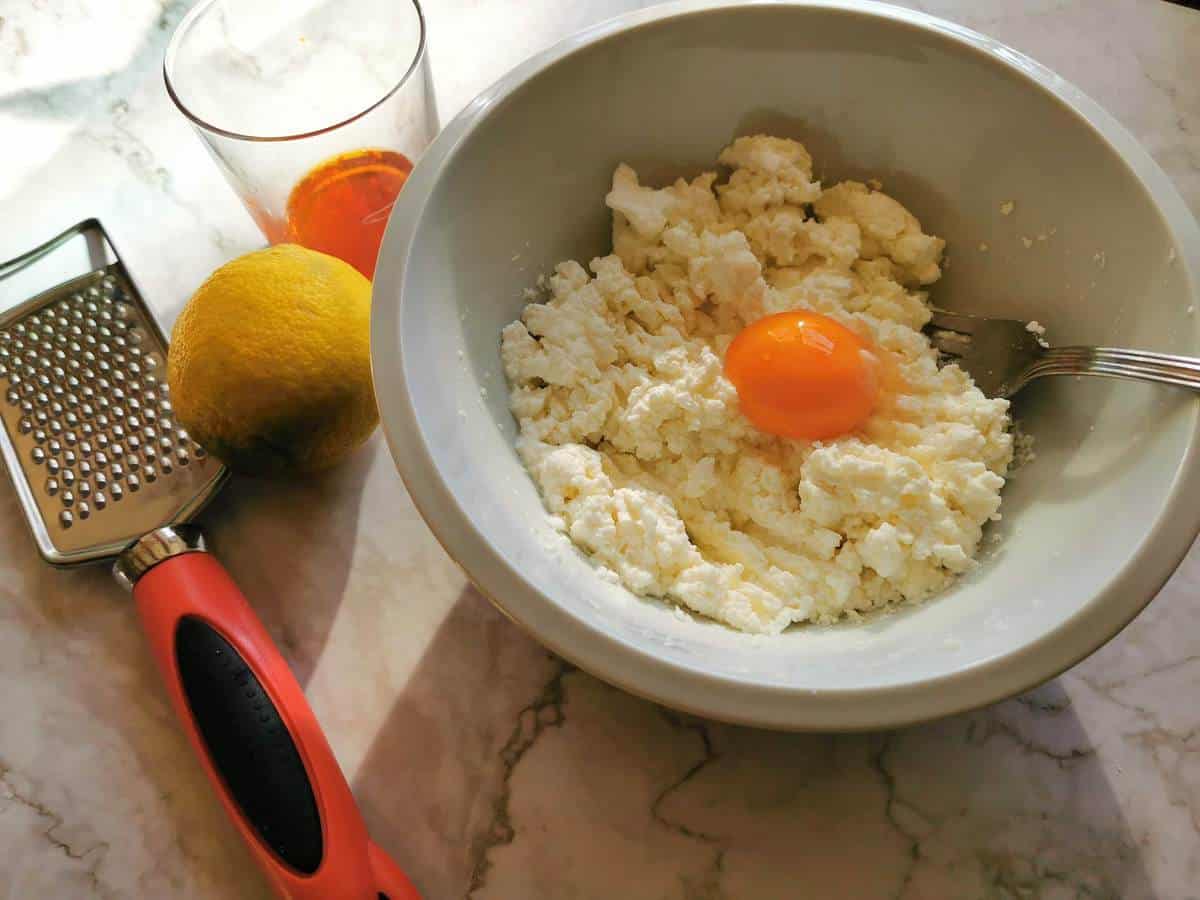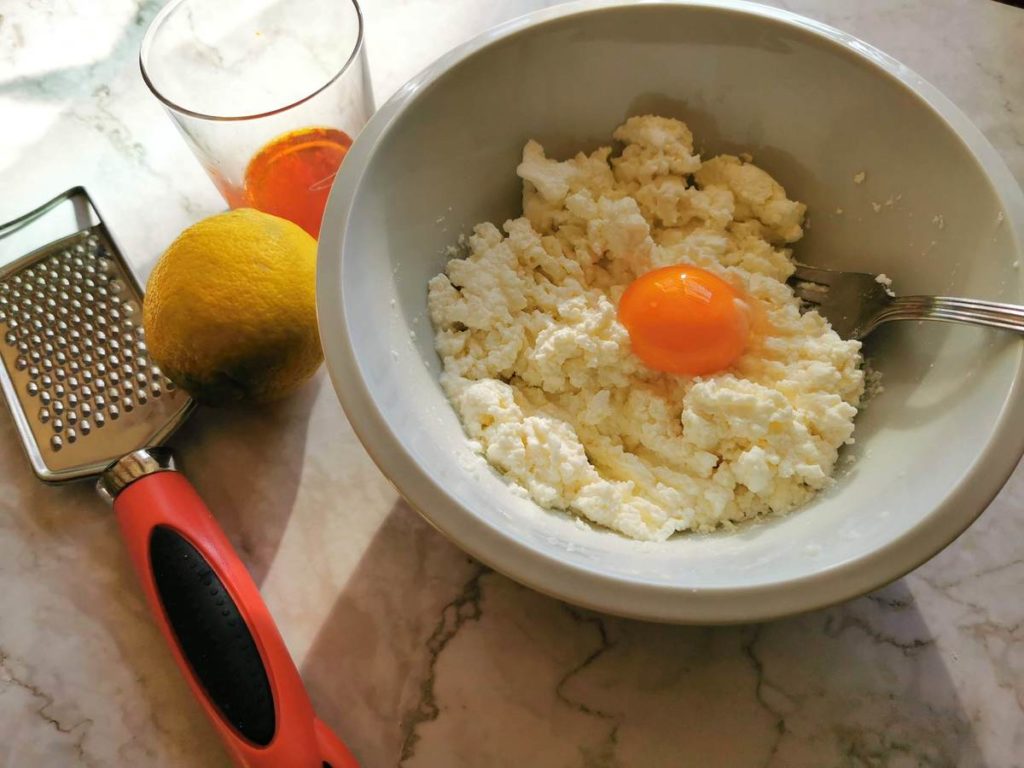 Durum wheat semolina is a bit tougher to work with than soft wheat flour but the resulting pasta really holds its shape well. However, you can also make these Sardinian ricotta ravioli using soft wheat flour and eggs like in my baked fish ravioli recipe.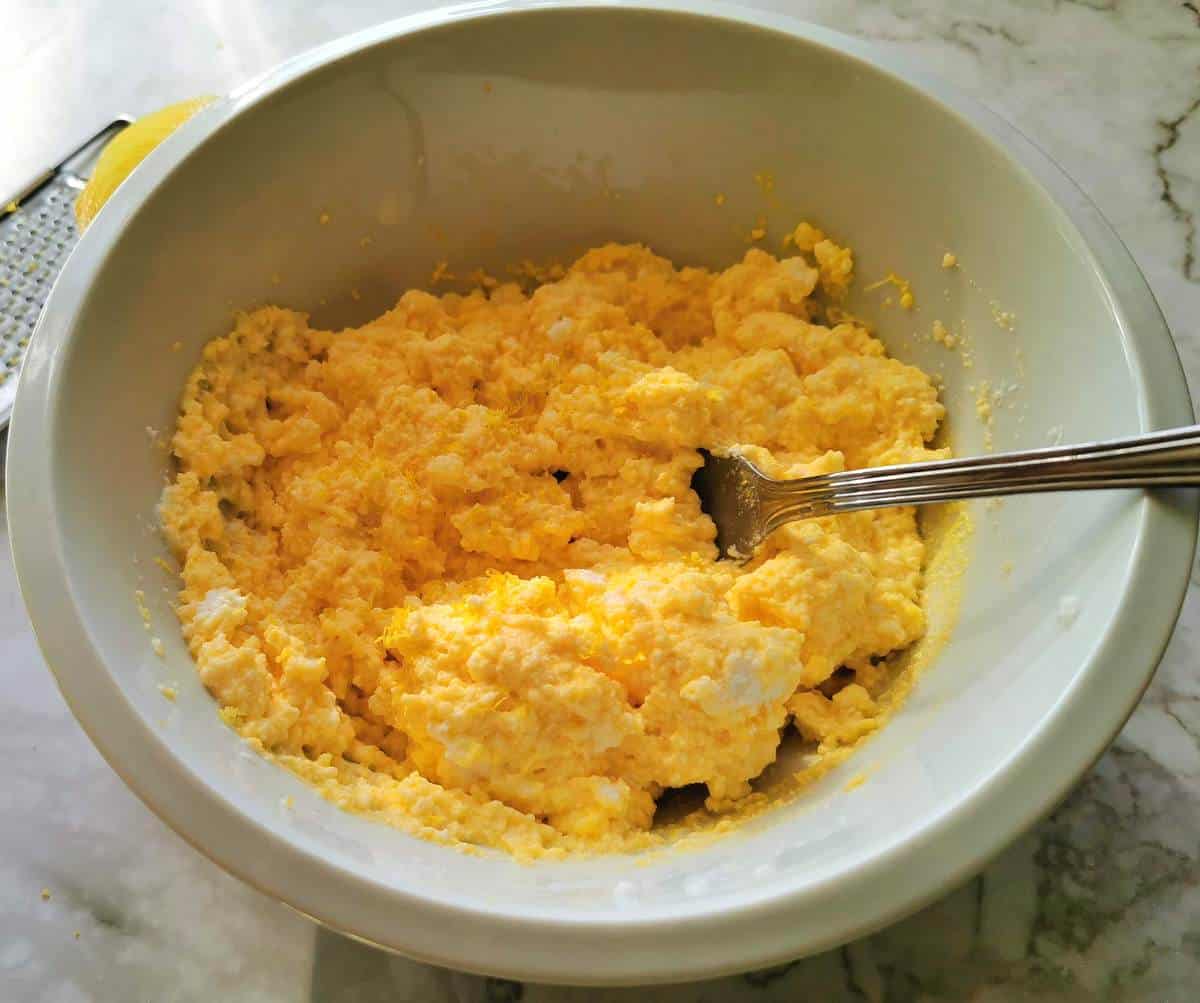 Other ingredients for this Sardinian ravioli.
The filling for this Sardinian ravioli is super simple to make because you don't have to cook it. Many ravioli recipes are pretty time consuming because the filling is made with pre-cooked meat or fish. This one calls for fresh ricotta, traditionally sheep ricotta. However, you can use cow's milk ricotta instead. Sardinia is home to 4 million sheep and is where most Pecorino Romano is produced. So, as you can imagine, sheep ricotta is more traditional there.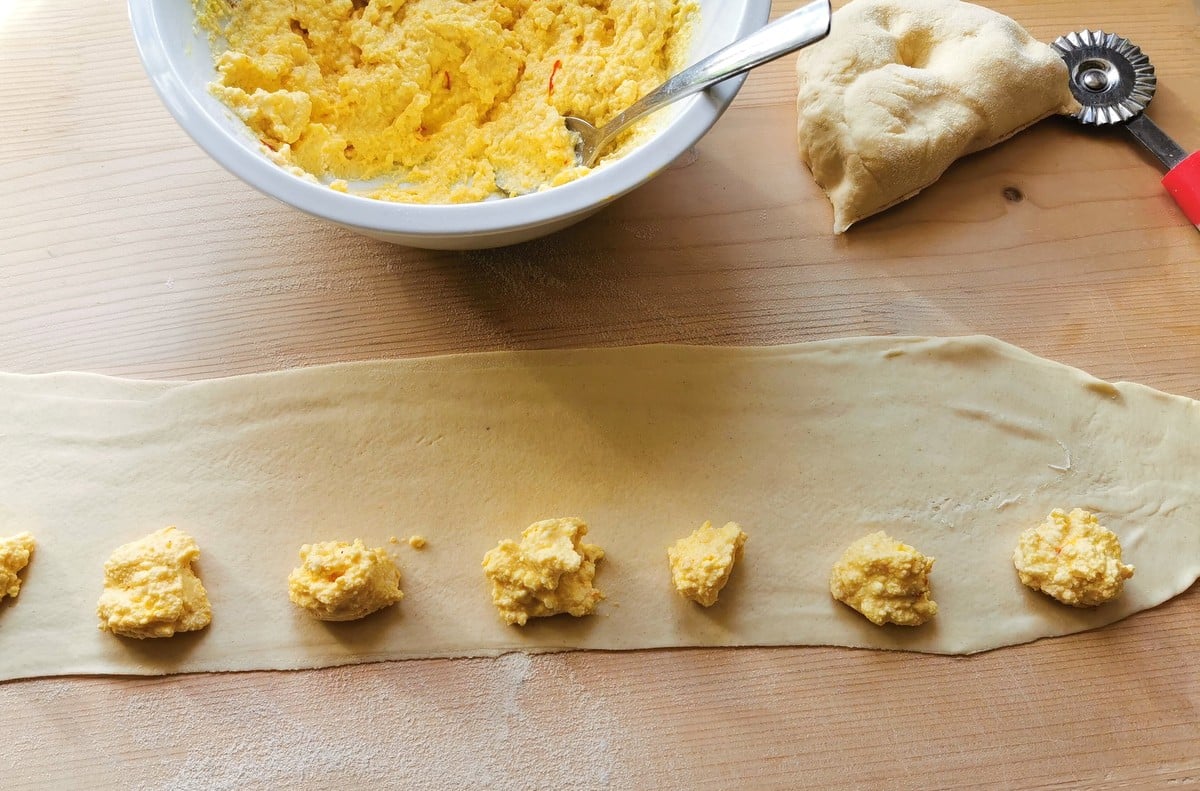 The second filling ingredient is saffron. This is also very traditional in Sardinia because the region is one of the parts of Italy where saffron is cultivated. In fact, some traditional Sardinian pasta, like malloreddus, is often made with saffron in the pasta dough. I used saffron threads from Abruzzo where the best saffron in Italy comes from. You can also use ground saffron.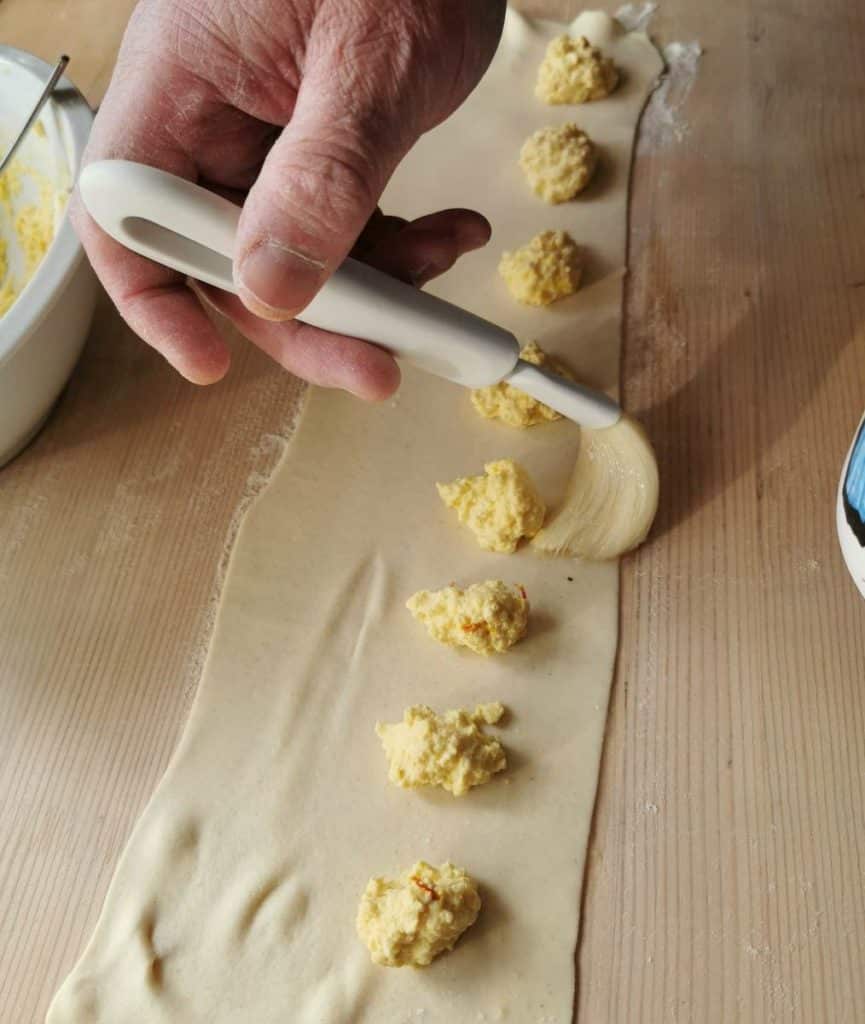 The final main ingredient for the filling is lemon zest. However, some recipes include orange as well. Others call for just orange zest. I used only lemon. Of course, it is better to use organic or unwaxed lemons with edible peel.
Other versions of Sardinian ricotta ravioli.
Apart from the addition of orange zest as I mentioned above, some recipes for this ravioli include greens such as spinach, borage or nettles. I've also seen recipes which include mint instead of saffron. Quite a lot of Sardinian ricotta ravioli recipes also have sugar in the filling. These sweeter ravioli are often fried and served with honey and citrus peel!! Sardinians call this sweet fried version 'Curruxionisi drucisi frittusu'! I'm dying to try this way too!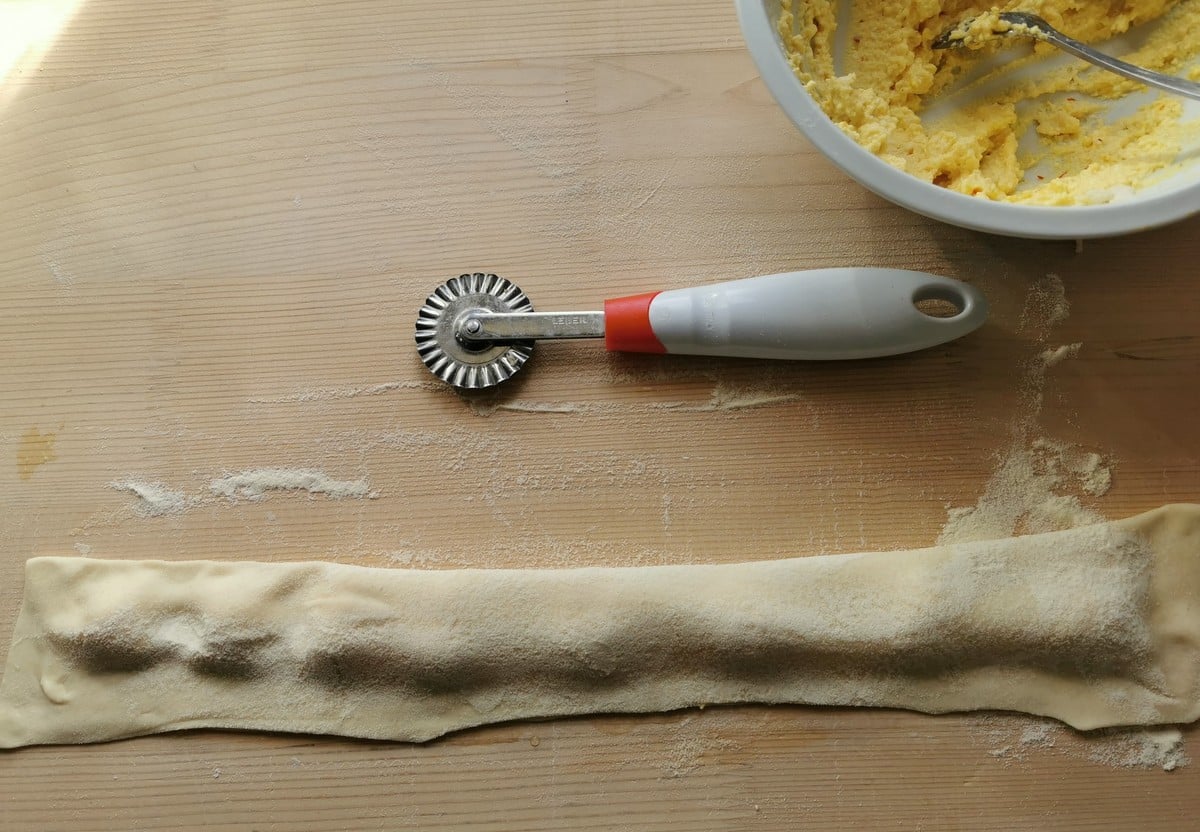 The sauce for ricotta ravioli from Sardinia.
I've seen these ravioli served with a meat ragu, but traditionally Sardinians eat them with a tomato sauce . I made a super simple sauce with just onions, tomato passata and basil. I think a meat ragu would cover the aromatic taste of these ravioli. Ragu would work better with the ricotta ravioli that also has spinach in the filling.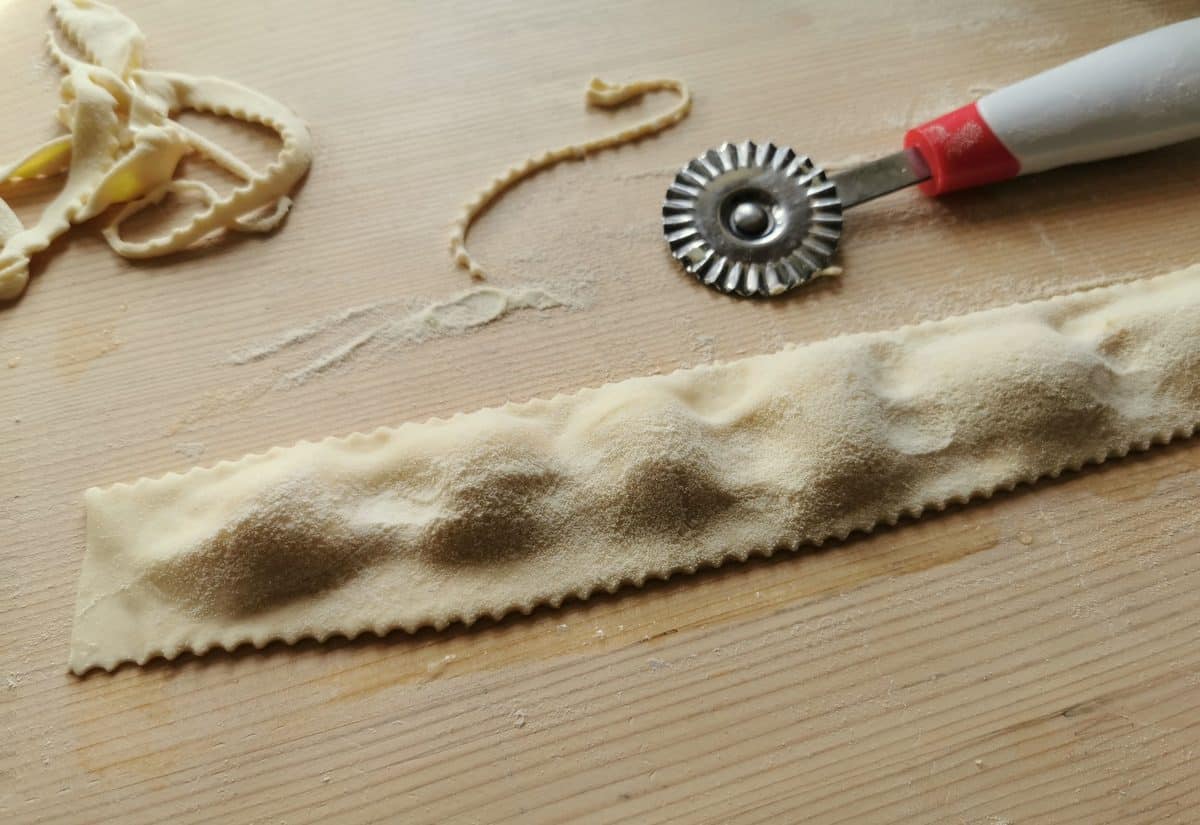 Making the dough and filling for Sardinian ricotta ravioli.
The first step in making this ricotta ravioli recipe is to make the pasta dough. This dough has just durum wheat semolina flour, a little soft wheat flour, water, a pinch of salt and a little olive oil. Italians call the durum wheat flour 'semola rimancinata'. This is durum wheat flour that has been ground twice (rimacinata). It's pale yellow in colour, quite fine and soft. In fact, this is the flour most dried Italian pasta is made with.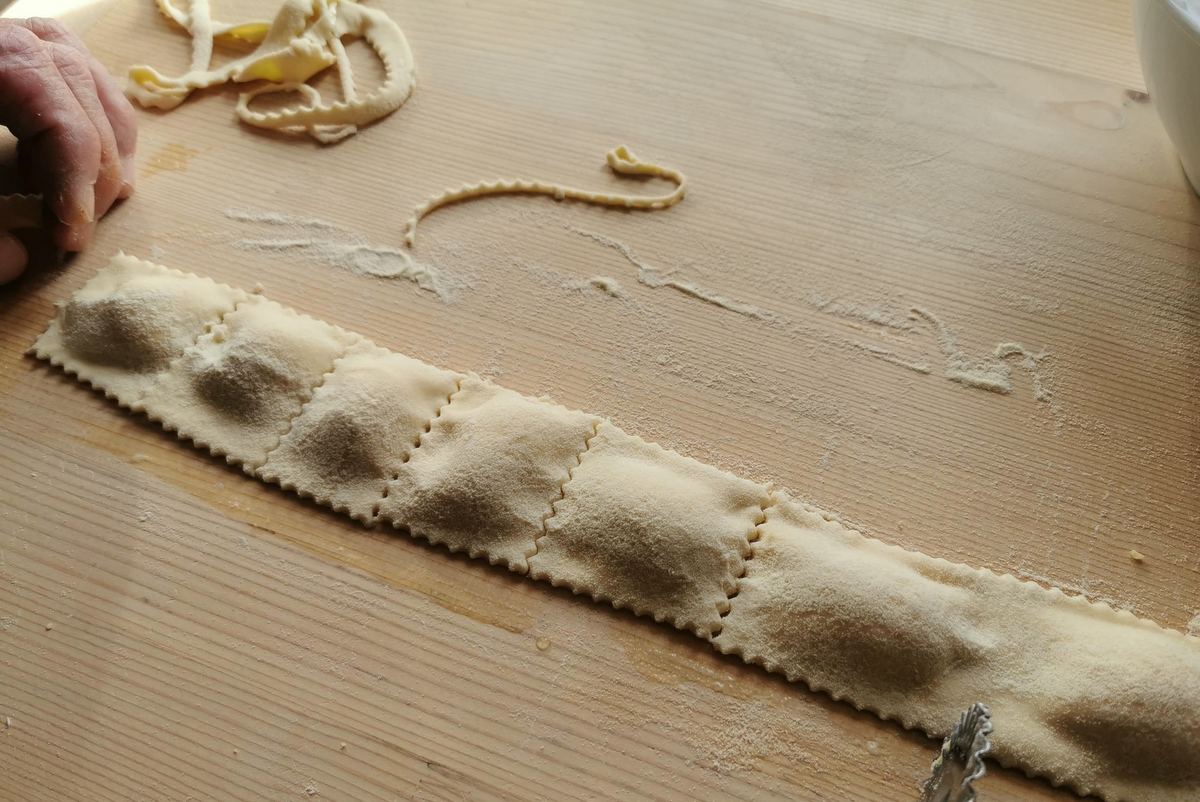 Once the dough is ready, it needs to rest for 30 minutes. So, during that time you can make the filling. If using saffron threads, it's best to soak the threads in warm water for some minutes before starting on the pasta dough. Then drain the ricotta and just mix all the filling ingredients in a bowl.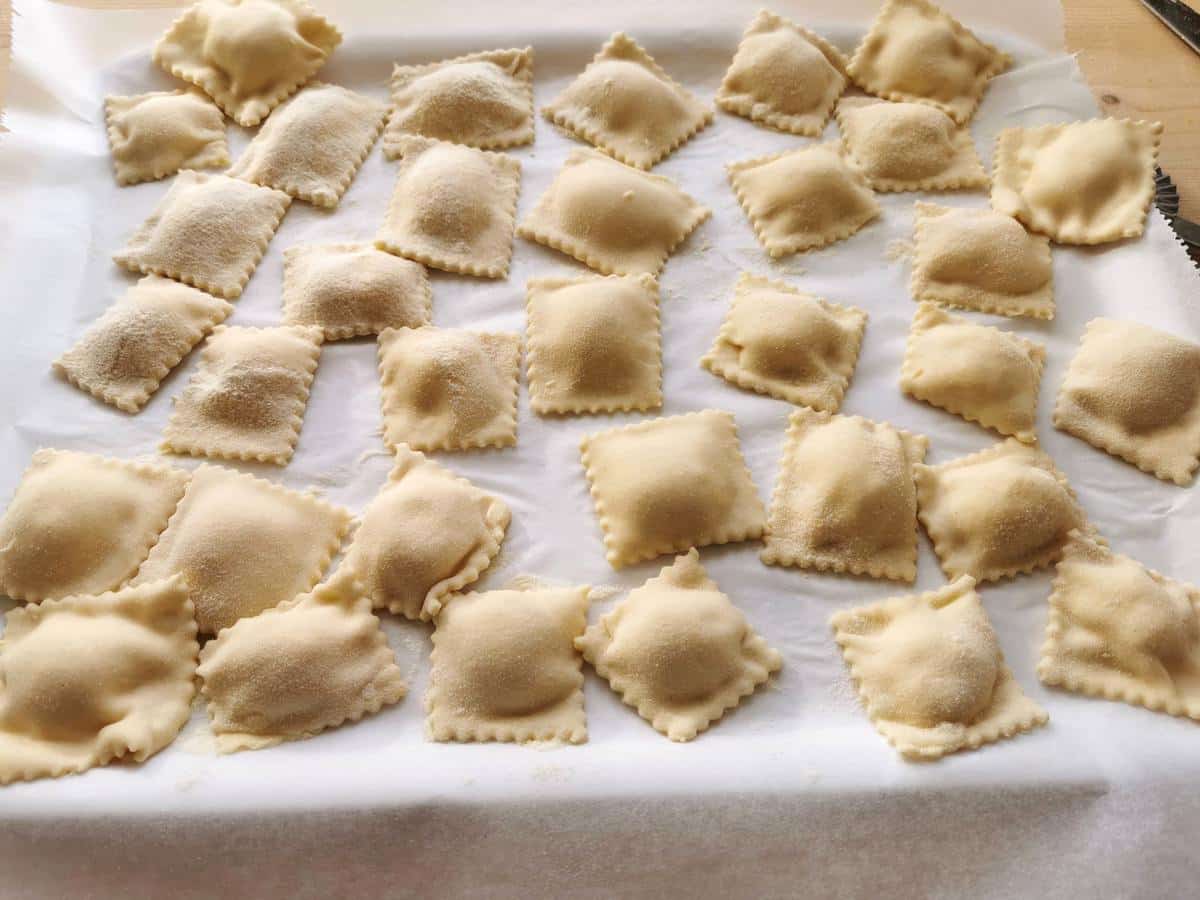 Making the ravioli.
After making the filling, it's time to start on the ravioli themselves. The dough needs to be rolled out into quite thin pasta sheets. You can do this by hand or with a pasta machine. I make the ravioli in stages. So, I cut off a ¼ of the dough, roll it out and make the ravioli. I then put the ready ravioli on a floured tray or board. I repeat this 4 or 5 times till all the dough it used up.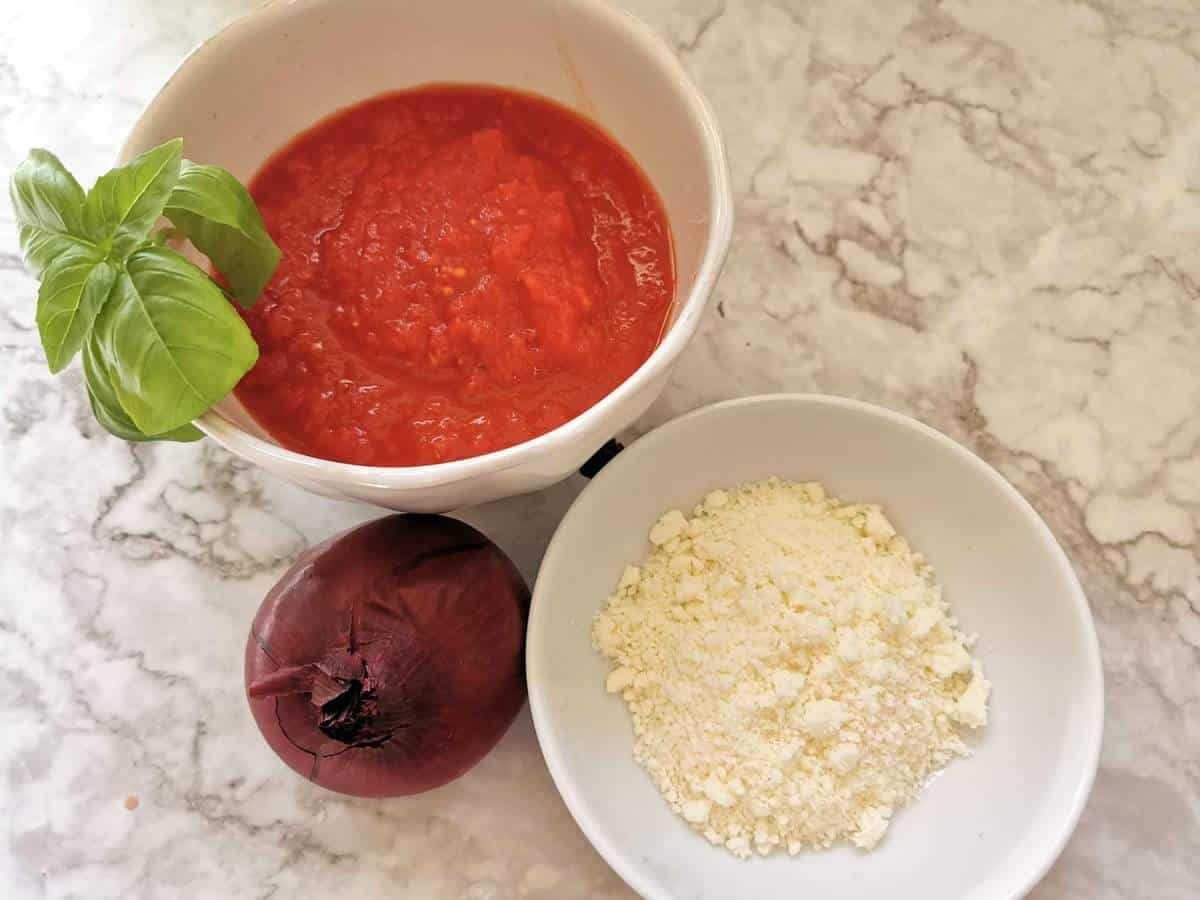 There are 2 ways to make ravioli. Put teaspoons of the filling in a line along the pasta sheet, brush some egg white along the edge and then fold the sheet over, press down around the sides of the ravioli and then cut them out with a pastry wheel. Some people make 2 lines of filling along the pasta sheet and then cover it with a second pasta sheet. I prefer the first way!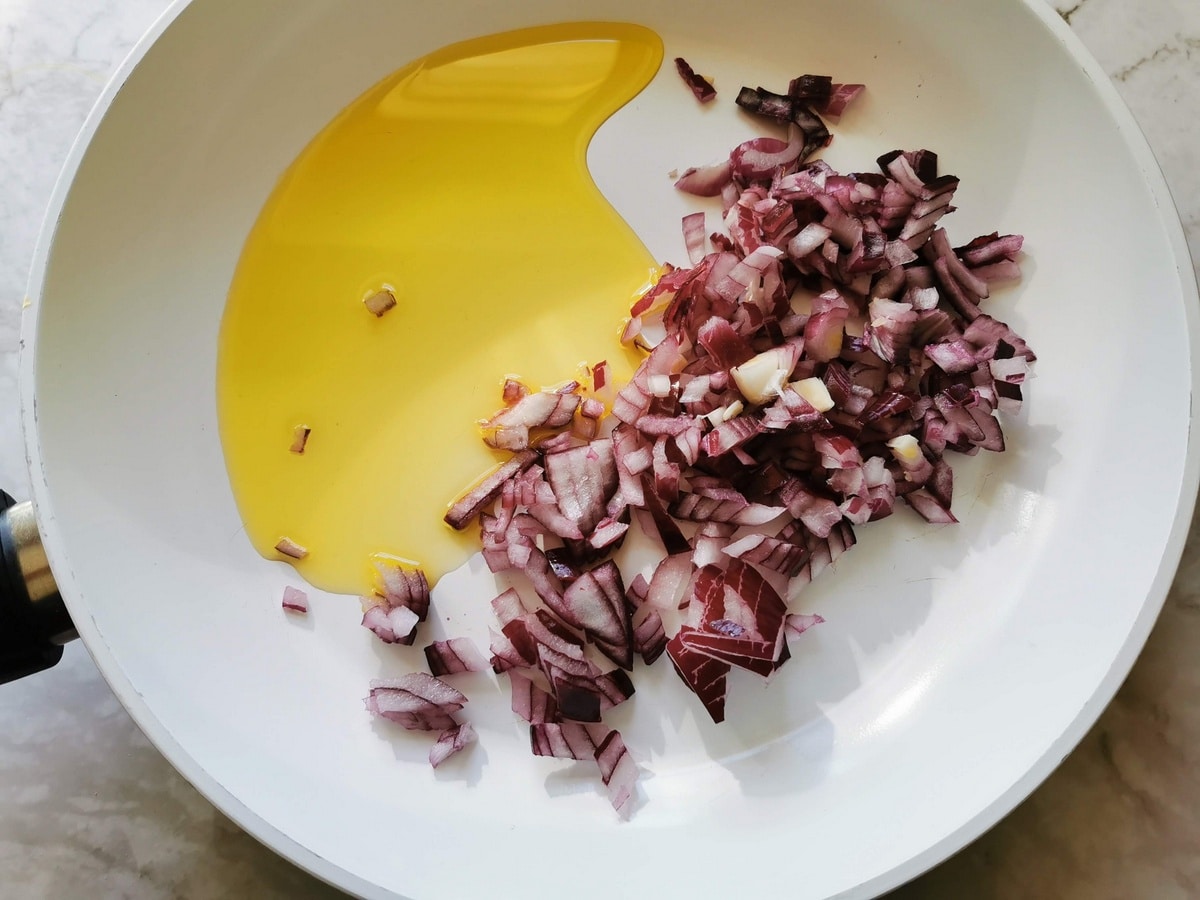 Use your ravioli quite quickly or freeze them.
These ravioli are best eaten soon after making. Of course, you can make the tomato sauce once the pasta is ready or in advance. But, I prefer not to make the ravioli too far ahead. Because of the filling and any humidity in the air, homemade ravioli can end up getting soggy and sticky after a few hours. If you need to make them well in advance, it's best to freeze them and cook from frozen.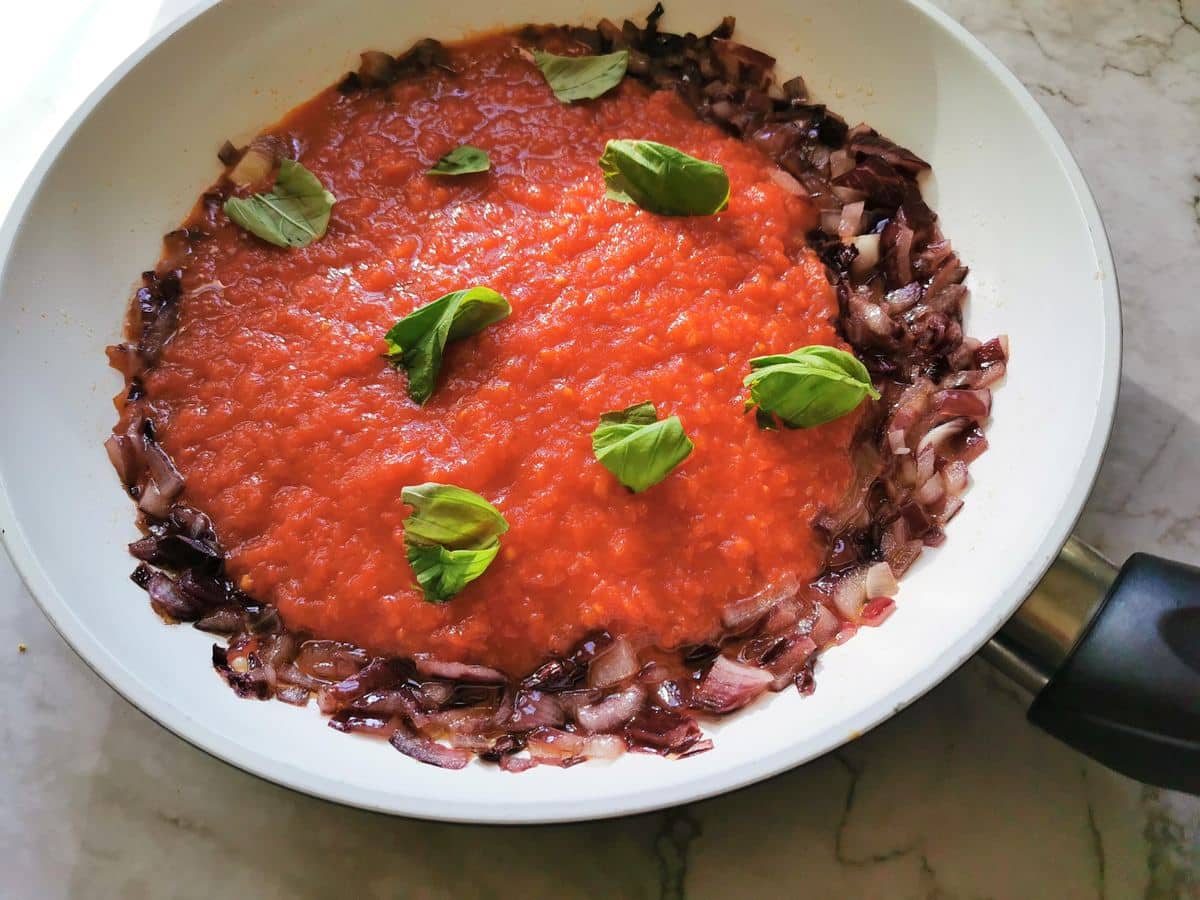 Whether you eat these Sardinian ricotta ravioli from fresh or frozen, I'm sure you'll love them as much as my hubby and I do. This is also a great recipe if you've never made homemade ravioli before. It's pretty simple and yet totally yummy! A great way to bring a taste of Sardinia to your table!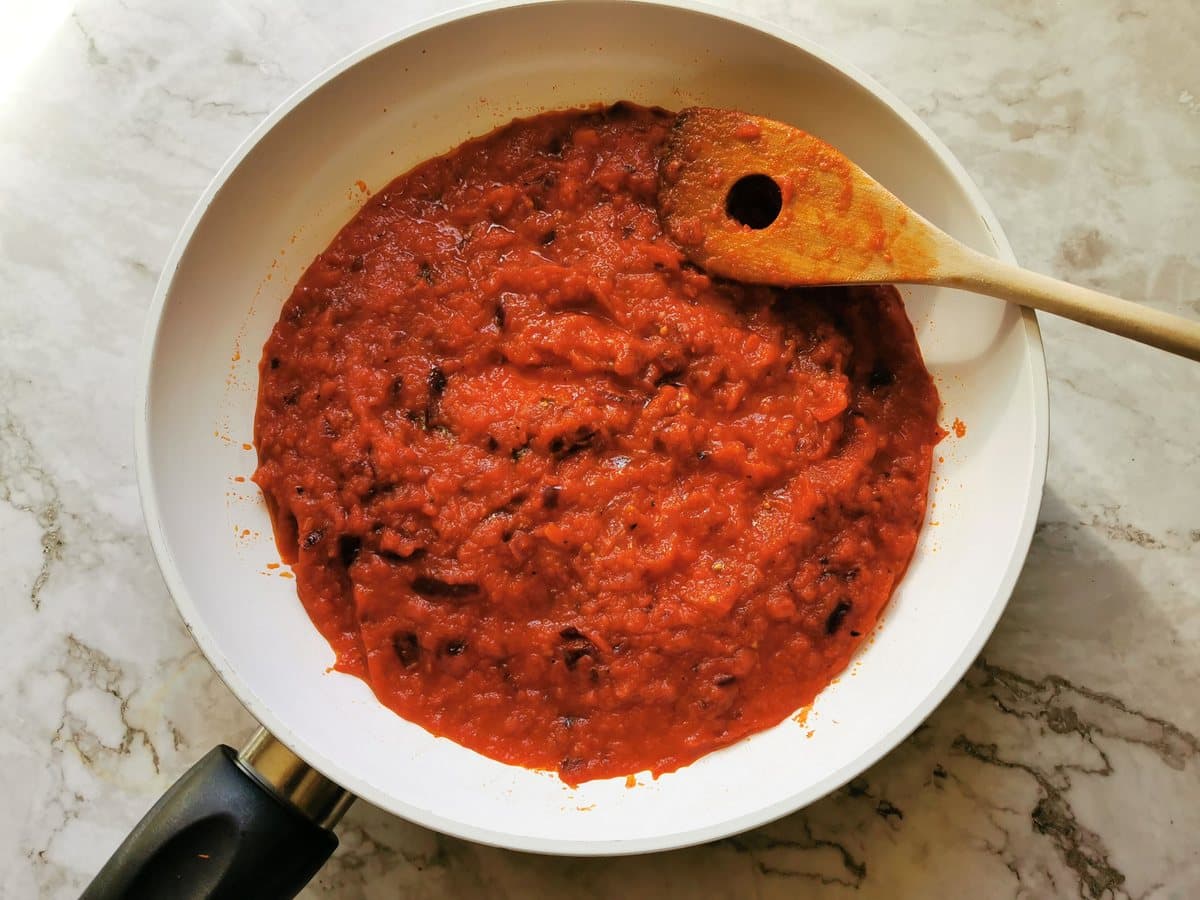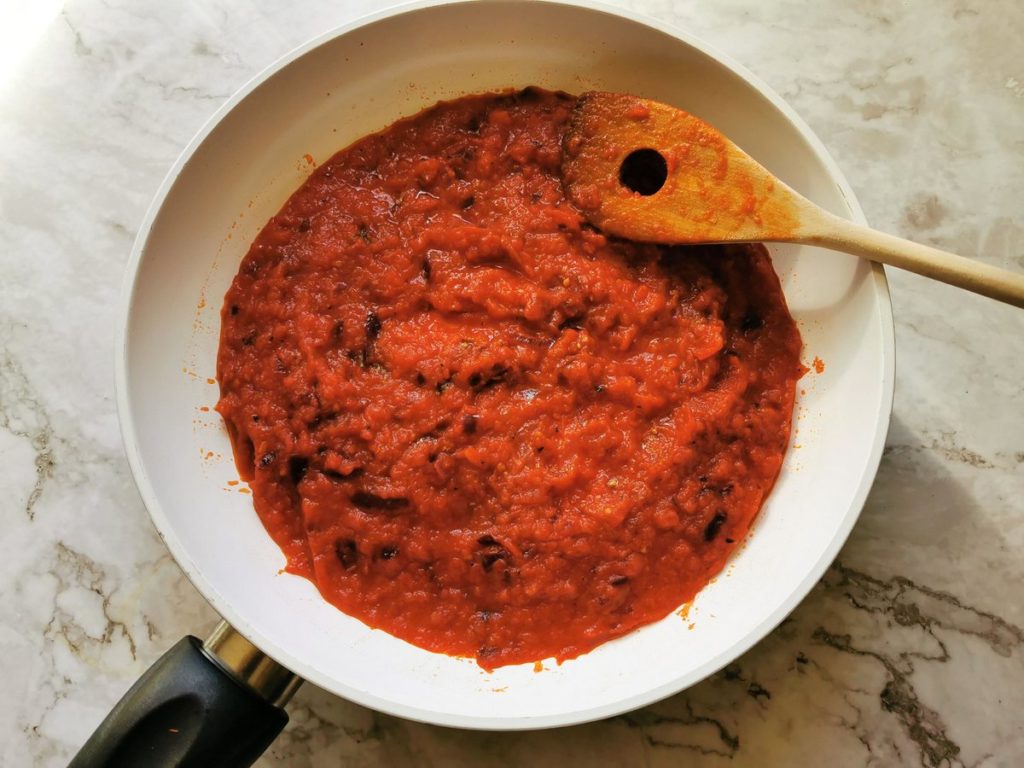 If you make this Sardinian ricotta ravioli recipe I'd love to hear how it turns out and if you liked it. Please leave a comment here on the blog or on The Pasta Project Facebook page.
Looking forward to hearing from you!
Buon appetito!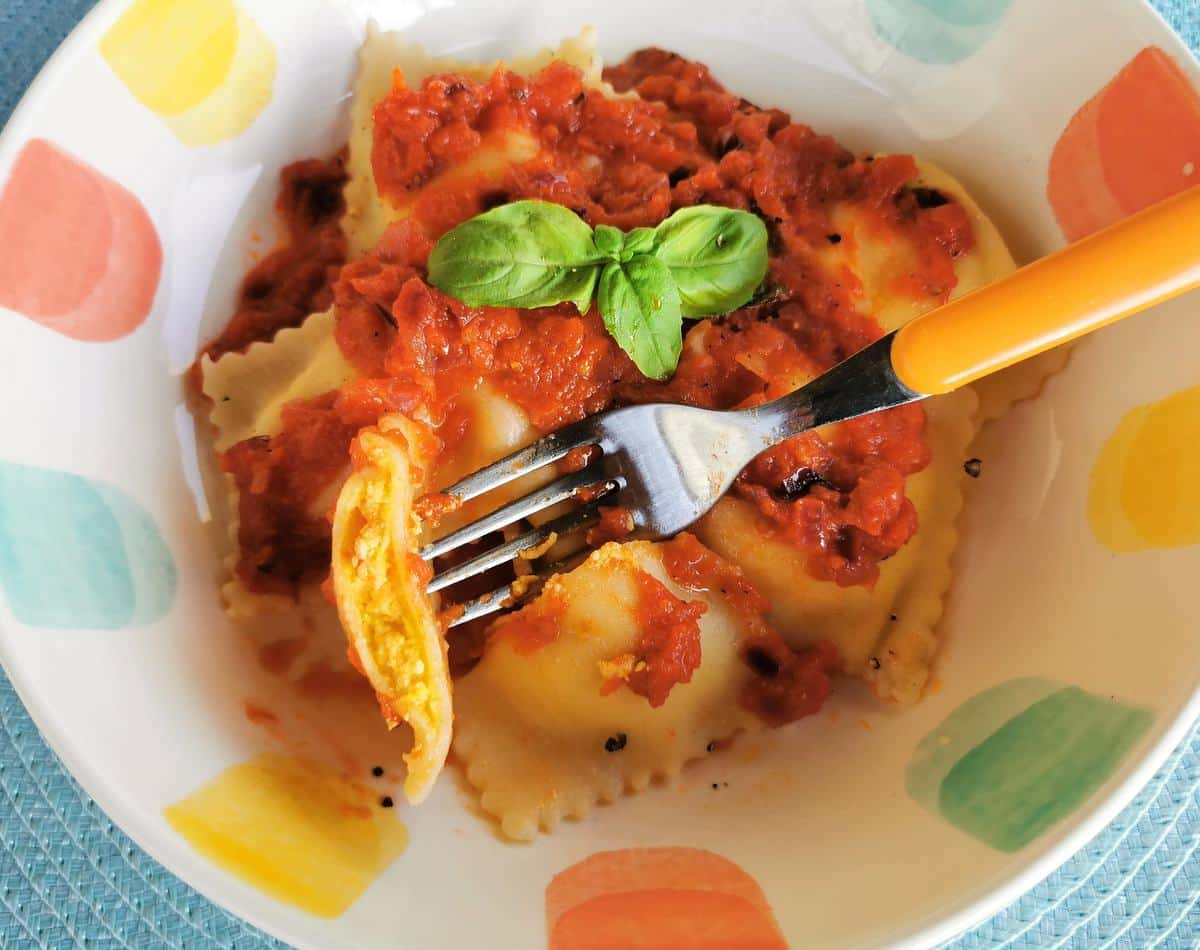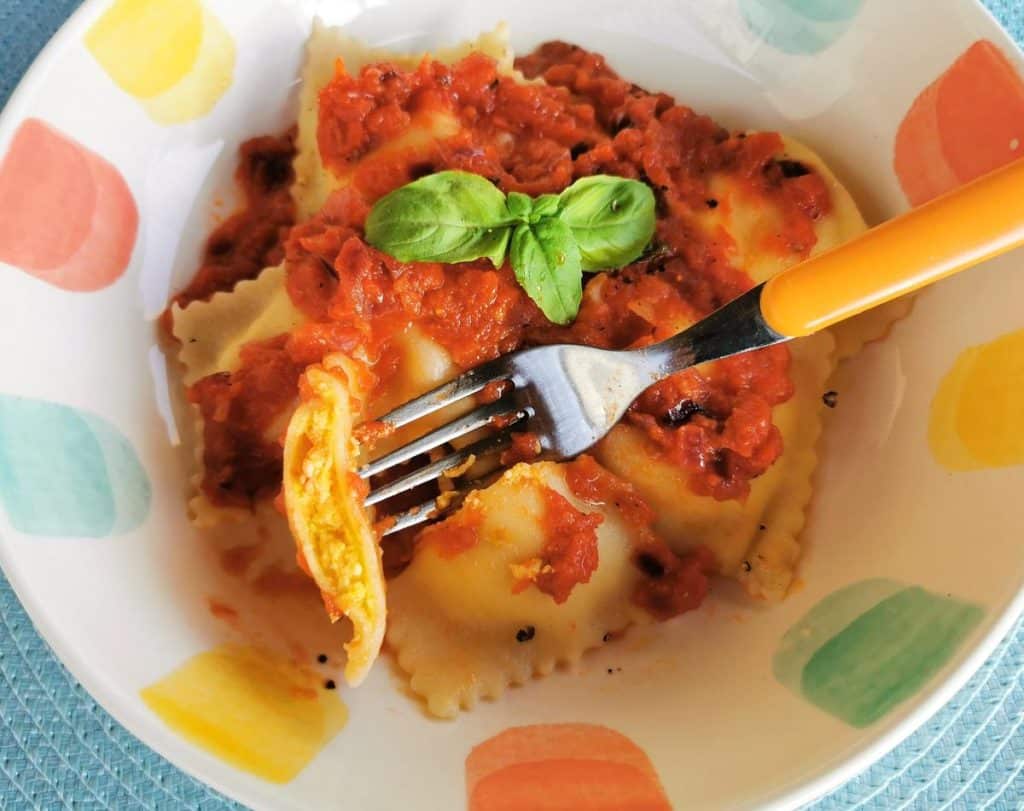 Other ravioli recipes to try
If you are interested in learning how to make homemade pasta and different types of gnocchi, check out my shop page for some great video online courses from my friends in Rome! Nothing beats learning to make pasta from Italians! Plus while you're there why not order a copy of my newly published autumn/winter pasta recipes cookbook!
Want to save this recipe for later?
If you want to save this recipe for later, you can print it, bookmark this page or save it to Pinterest.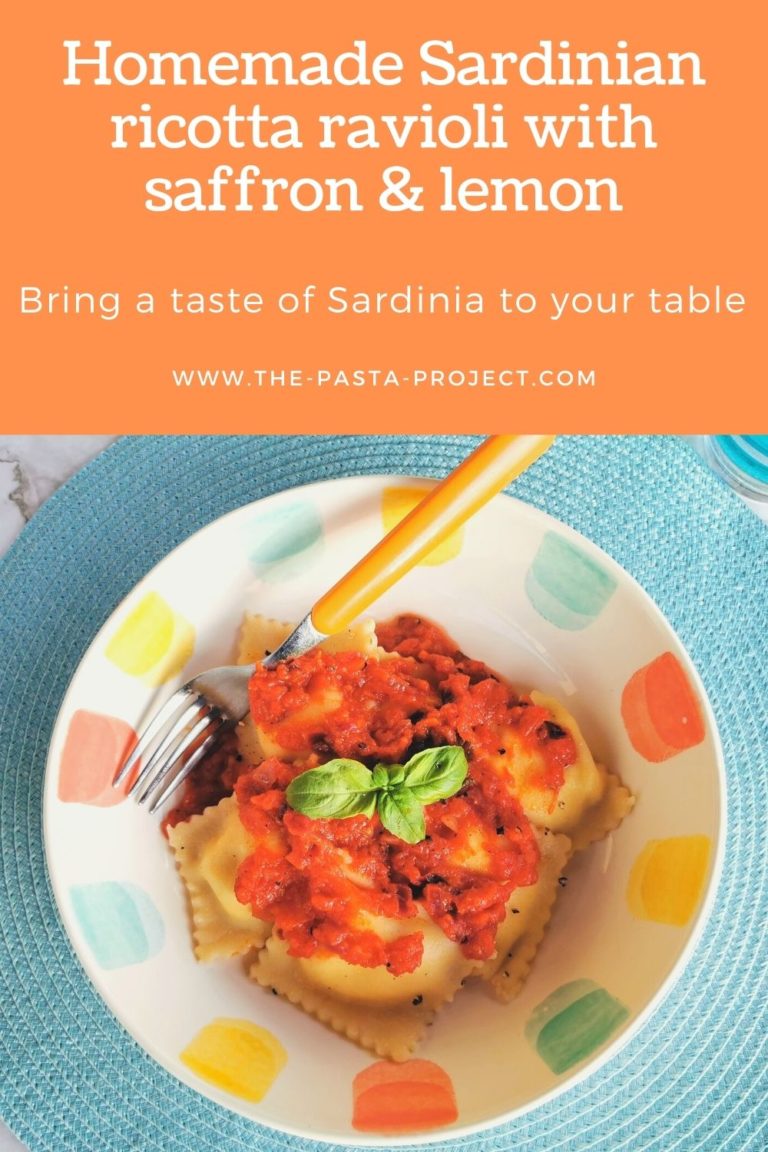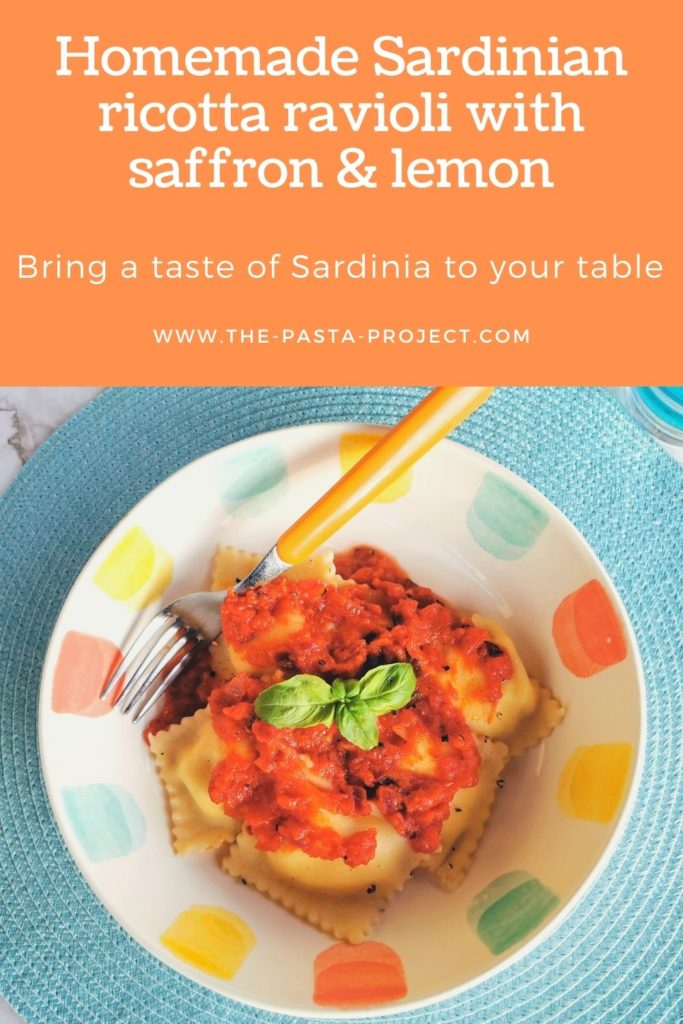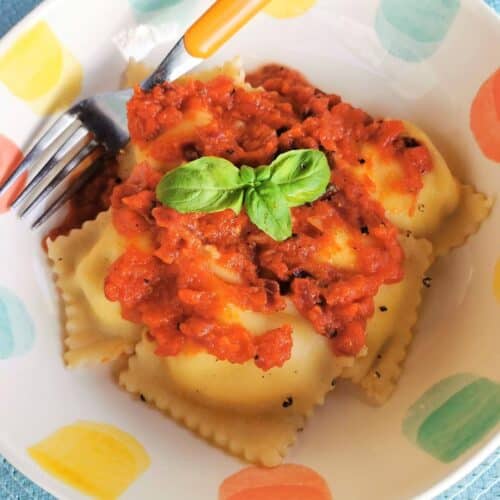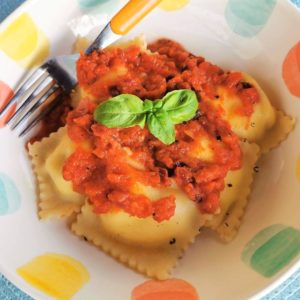 Sardinian Ricotta Ravioli with Saffron and Lemon.
These ricotta ravioli from Sardinia are pretty easy to make and full of Sardinian flavours. Perfect for special occasions and weekends, this is also a great recipe for first time ravioli makers!
Ingredients
For the pasta dough
350

g

durum wheat semolina flour

(12oz)

50

g

Italian '0' flour

(1.8oz)

1

glass

warm water

1

tbsp

extra virgin olive oil.

1

pinch

salt

1

egg white

for brushing dough
For the filling
300

g

fresh ricotta (sheep's milk or cow's milk)

(10.5oz)

1

tsp

saffron threads or 1 sachet saffron powder

saffron threads need to be soaked in a little warm water.

2

egg yolks

1

tbsp

fresh parsley

chopped

1

tbsp

soft wheat flour

1

tsp

lemon zest

grated

1

pinch

salt
For the tomato sauce
1

red onion

(small) peeled and chopped

400

g

tomato passata

(14oz) I prefer 'rustica'. It's chunkier.

1

handful

fresh basil leaves

salt

for pasta and to taste

freshly ground black pepper.

to taste.

grated Parmigiano or Grana

as required
Instructions
Make the pasta dough.
Mound the semolina and '0' flour on a pastry board and make a small 'well' in the middle. Add a pinch of salt, the olive oil and some of the water into the well. Start to mix the flour and water by bringing flour to the middle from the outside of the mound. Add more water little by little until the dough starts to hold together. You can also do this part in a large bowl and then turn the dough out onto a pastry board to knead.

Knead the dough well until it becomes quite compact, firm and smooth. Roll it into a ball and let it rest covered with cling film or a tea towel for at least half an hour.
Make the filling.
Meanwhile, prepare the filling. If using saffron threads soak them in a little warm water (1-2 tbsp) before making the dough. Drain the ricotta and if it seems too wet, squeeze it in a tea towel to get rid of as much liquid as possible. In a bowl, use a fork to mix the ricotta with the egg yolks, a pinch of salt, saffron, chopped parsley, lemon zest and wheat flour in a large bowl. Once the filling is well mixed, a little compact and creamy, set it aside.
Make the ravioli.
Cut off ¼ of the dough and roll it out into a thin sheet. You can use a rolling pin or run it through your pasta machine. Using a teaspoon put a small ball of filling along one side of the pasta sheet, not too close to the edge. Brush egg white along the edge of the pasta and around the filling. Fold the sheet over the filling and press down the sides of each ravioli to seal. Then cut along the pasta sheet to remove the extra dough using a circular pastry cutter and finally cut ravioli into squares. (see photos in post).

Place the ready ravioli on a well -floured tray or board. Cut off another ¼ of the dough and repeat the ravioli making process. Continue until you have used up all the dough and filling.
Make the tomato sauce.
Peel and chop the onion and wash the basil leaves. Sauté the onion in olive oil until it starts to soften. Then add the tomato passata and basil leaves. Mix and simmer for about 20 minutes. Add salt and pepper to taste.
Finish and serve.
Cook the ravioli in boiling salted water. Fresh ravioli only needs about 5minutes. But, try one before removing them all from the water. Frozen ravioli may take a bit longer. If using frozen, don't add too many to the pot at once as this will lower the water temperature. Cook the ravioli in batches. You can remove them with a slotted spoon and then cook another batch.

Serve immediately dressed with the tomato sauce and some grated cheese (if required).
Pin me for later.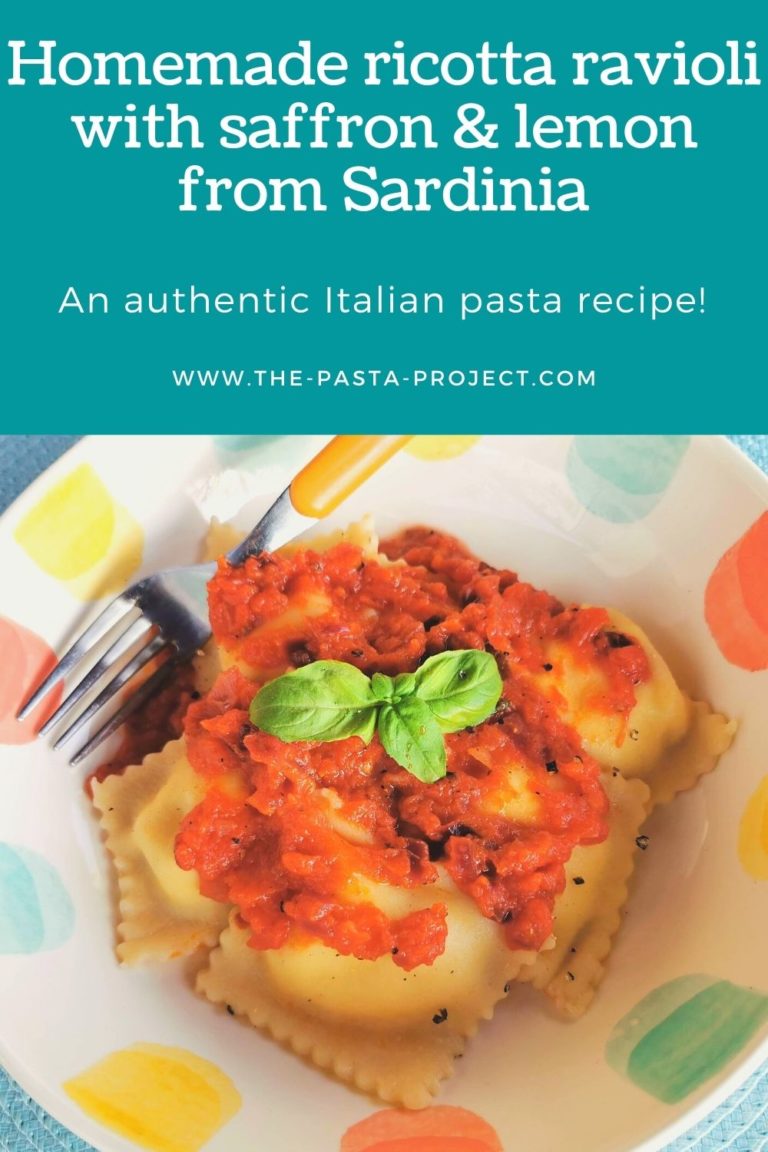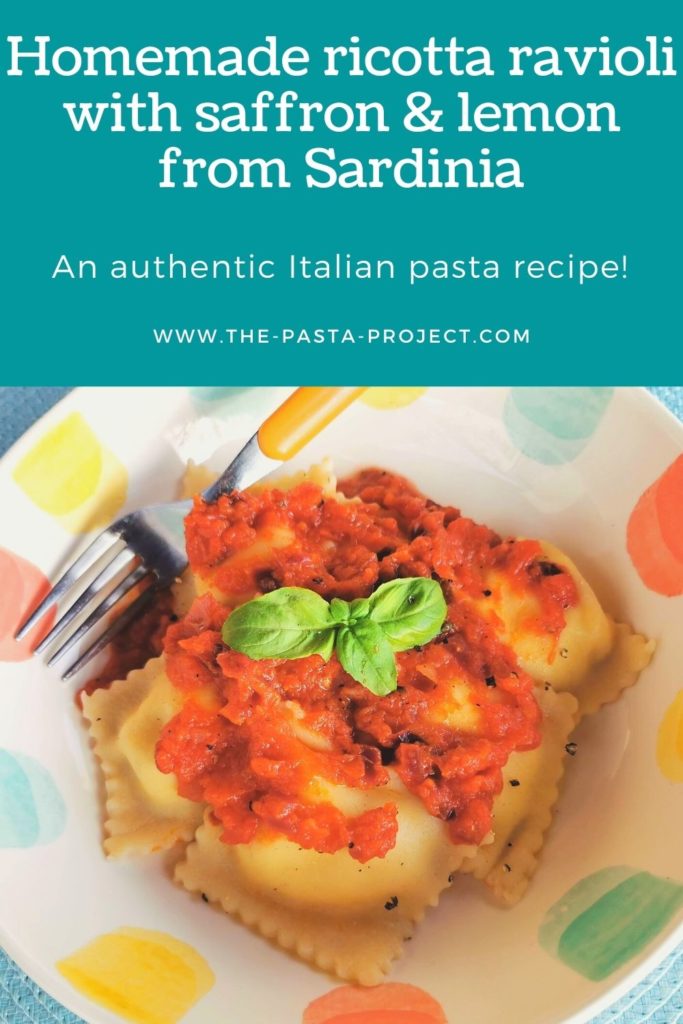 Want to know more about my life in Italy? Go to the homepage and subscribe to my newsletter. New subscribers get a free recipe e-book series too!