Piconi Ascolani: Baked Easter Ravioli.
As I write this post, Easter is less than 3 weeks away. Throughout Italy, cooks and housewives in every region will be starting to prepare the local dishes, snacks, cakes and pastries that are particular to the Easter holiday celebrations. As you can imagine, there are many. These piconi ascolani are a baked ravioli from the Ascoli Piceno province in southern Le Marche, Central Italy, traditionally eaten at Easter.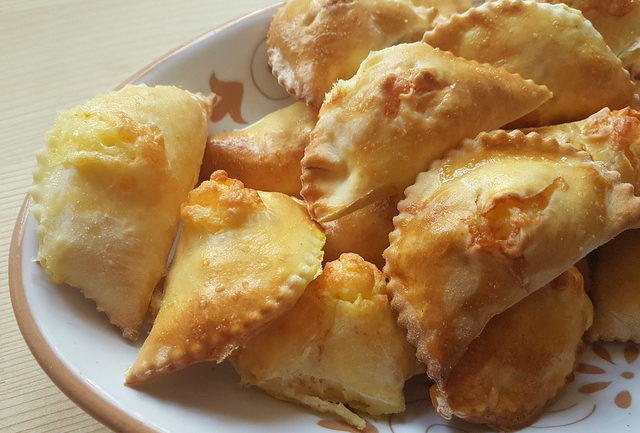 Easter Ravioli
Unlike other types of ravioli, piconi ascolani are baked in the oven and eaten as a snack or as part of a traditional Easter breakfast with boiled eggs and salumi. Normally, these baked ravioli are not eaten hot. However, I have to say I love them when they are still a bit warm and the cheese inside is soft!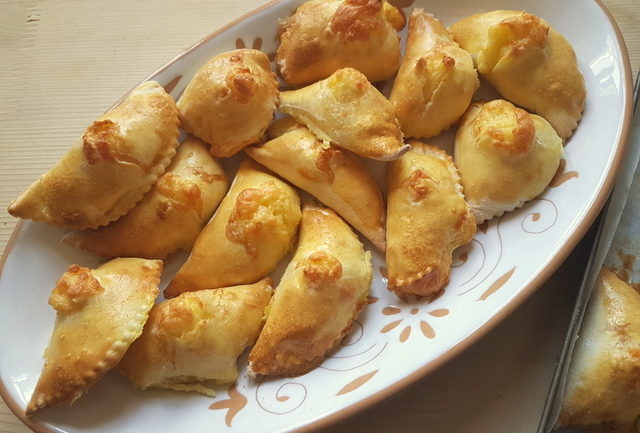 As with many traditional Italian dishes, there is no single recipe for piconi ascolani. Apparently, every Ascoli family had its own recipe handed down through several generations. Unfortunately, nowadays, commercial bakeries abound with piconi, so less people make them at home than in the past. However, I found quite a few recipes for these delicious Easter ravioli.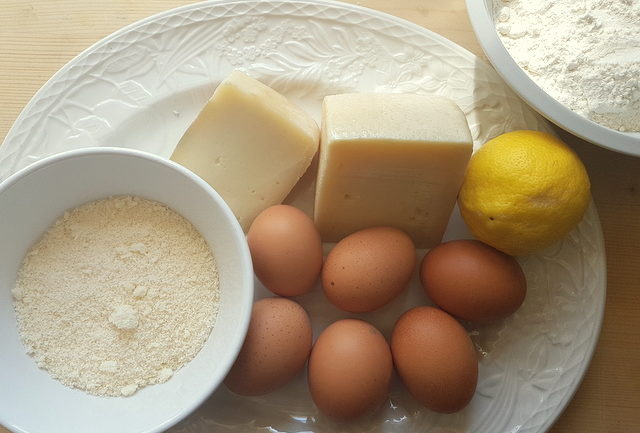 Baked ravioli are, in fact, made throughout Le Marche, but may also be called calcioni, caciunitti, caciuni, ravioli with cheese and ravioli Ascolani. The basic ingredients are the same for all types of these piconi with some differences in the ingredients for the filling and dough. For example, in some places, they put lemon juice or white wine in the dough, others use only pecorino in the filling. One thing is certain, they are called 'piconi' because of the typical 'piccata' or cut that is made on the top of the ravioli that allows the filling to escape during cooking.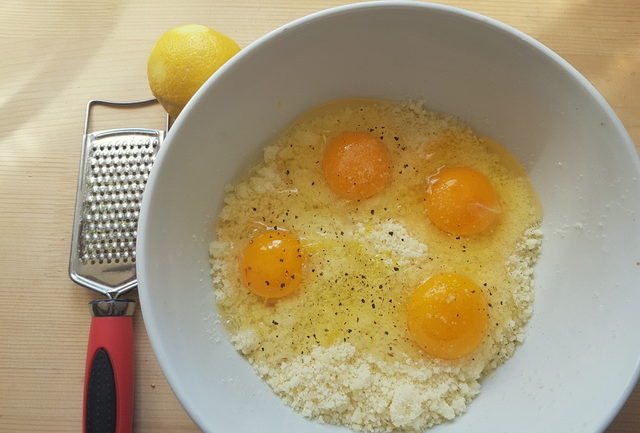 The filling.
All piconi are filled with a mixture of eggs and cheese. The cheese is traditionally 3 types of pecorino ( fresh, semi mature (12 months) and aged/mature 24 months) all freshly grated. One type of pecorino used for Piconi ascolani in Marche is known as Barzotto. This is usually semi mature, not hard or soft. They say, the best Barzotto is the one produced with milk collected in the months of April and May, when the pastures are rich in fresh and aromatic herbs and fragrant flowers.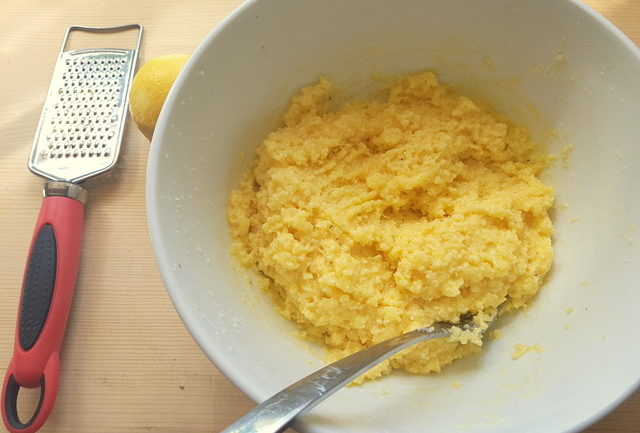 In fact, pecorino is the most produced cheese in Le Marche and there are many different types. However most people outside of the region and Italy can't find the exact 3 types of pecorino, so many Easter ravioli recipes call for just an equal amount of mature pecorino and Parmigiano. I used a mature pecorino, a semi mature pecorino (not Barzotto) and Parmigiano. The ratio of eggs to cheese in the filling is normally one egg or egg yolk to 100g of cheese.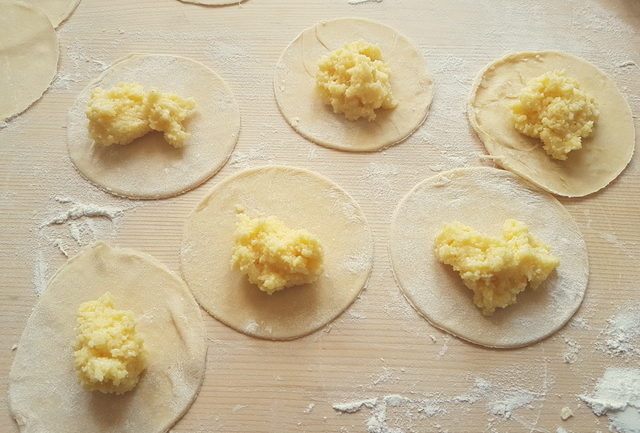 Apart from the eggs and cheese, I added some salt, pepper and lemon zest to the filling. Some people also add nutmeg. This piconi ascolani recipe is from the Ascoli Picena province. In another part of Marche they make them sweet by adding sugar to the filling. These sweet baked ravioli are traditional in Ancona where they are called 'calcioni'.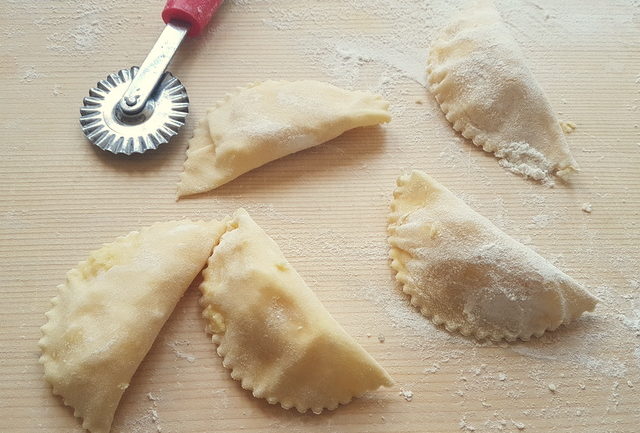 The dough.
The dough for piconi ascolani is very similar to most fresh egg pasta dough. 100 g of '0' or '00' flour to one egg. The only addition in most recipes is some kind of fat, traditionally lard but many use butter or extra virgin olive oil. I used olive oil and added a pinch of salt. However, there are variations to the dough mixture. As mentioned above, some people add lemon juice or wine. Others may include a bit of sugar or cheese in the dough.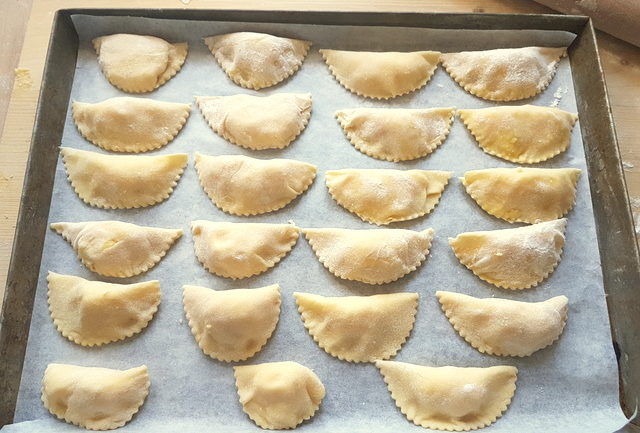 Making these piconi ascolani.
Piconi ascolani are no more difficult to make than normal ravioli. In fact, the process is the same. The only difference is that once ready, these Easter ravioli are cooked in the oven. This recipe will make about 35 baked ravioli. If you want to make less just reduce the quantity of ingredients. For example 300g flour and 3 eggs for the dough and 300g cheese and 3 eggs for the filling. However, you may regret that as these baked ravioli from Le Marche are so tasty and moreish, you will probably wish you made more!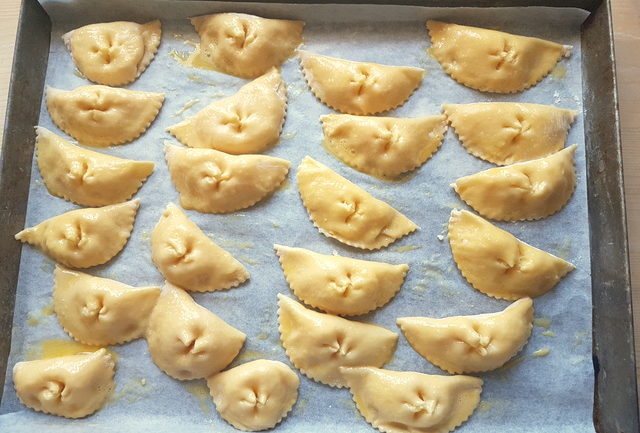 If you do try this piconi ascolani recipe, I'd love to hear what you think. Please write a comment here on the blog or post a comment on the Pasta Project Facebook page.
Your feedback means a lot to me!
Buon Appetito!
Other Italian Easter or Spring recipes on The Pasta Project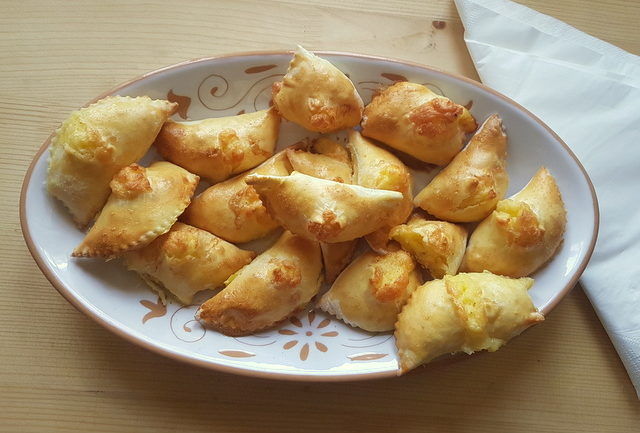 Save this recipe for later?
If you want to save this recipe for later, you can print it, bookmark this page or save it to Pinterest.
Want to know more about my life in Italy? Why not subscribe to my newsletter? New subscribers get a free series of recipe e-books too!
Pin for Later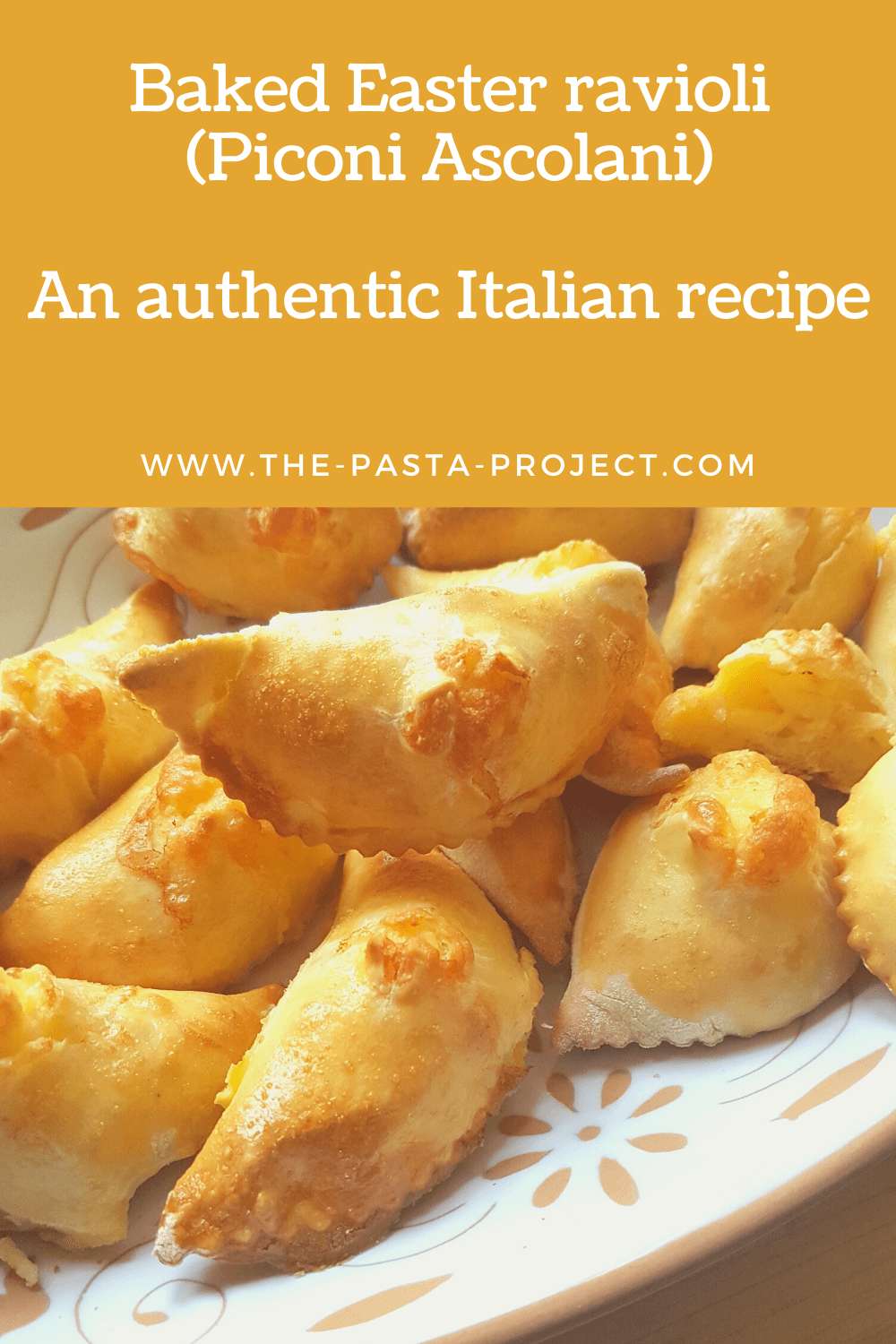 If you are interested in learning how to make other homemade pasta and different types of gnocchi, check out my shop page for some great video online courses from my friends in Rome! Nothing beats learning to make pasta from Italians! Plus while you're there why not order a copy of my newly published autumn/winter pasta recipes cookbook!?